---
Safari, an experience as synonymous with the wild endure of nature as with incomparable luxury. The desire to be immersed in the unpredictability of nature in its most elemental while indulging in the effusive comforts of a luxury African safari lodge.
A romanticised notion of the classic, time-honoured safari experience? Far from it. The traditional safari style of journeying in Africa, as established by William Cornwell Harris in 1836 is not only alive and well, traditions have endured preserving one of the world's truly unique experiences.
The romance of safari is a dream that I have returned to many times. It is an adventure, a world of refinement set against a rugged and powerful landscape".

Ralph Lauren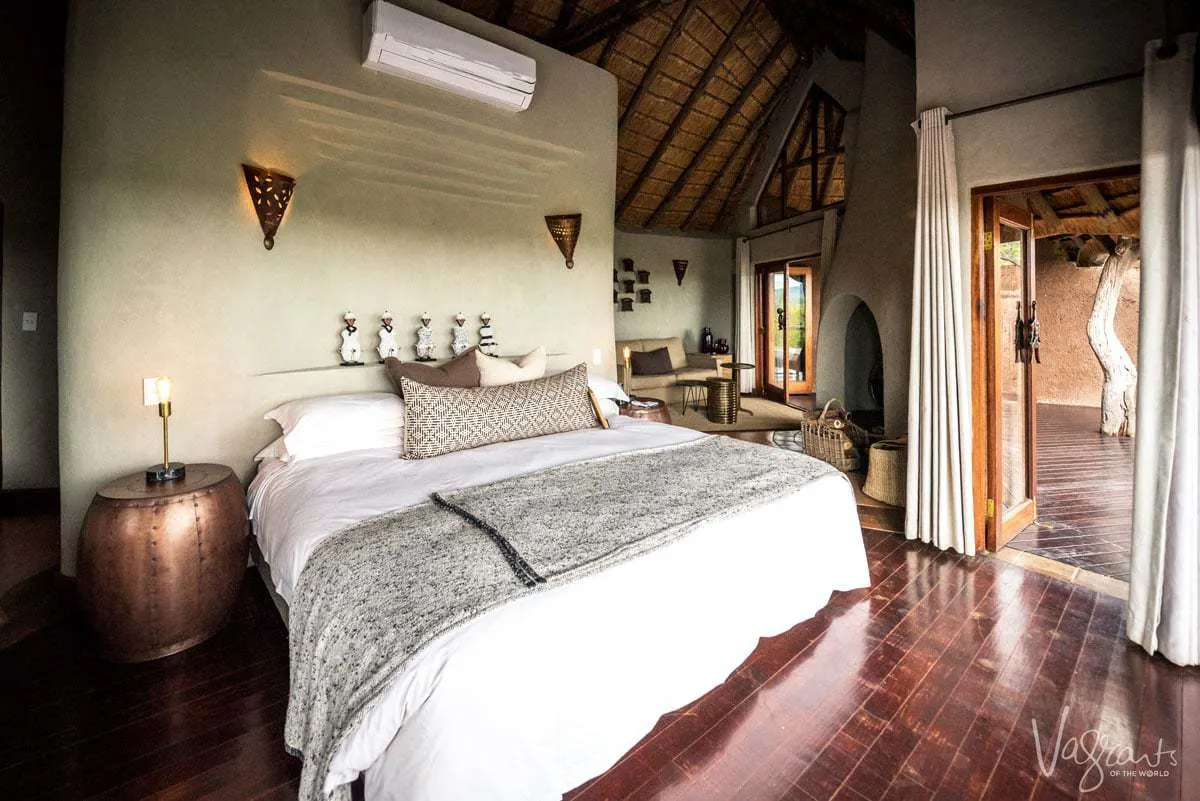 Madikwe Safari Lodge
In the 75,000 hectares Madikwe Private Game Reserve, north-west of Johannesburg along the Botswana border, you will find a rare taste of natural beauty at Madikwe Safari Lodge. An infinite and undisturbed African wilderness.
Madikwe Safari Lodge has a unique take on what a safari lodge should be. While luxury safari is at the core, the emphasis is on family and a sense of home. Madikwe comprises of three separate lodges. Each lodge is designed to offer the complete luxury safari experience for all manner of guests.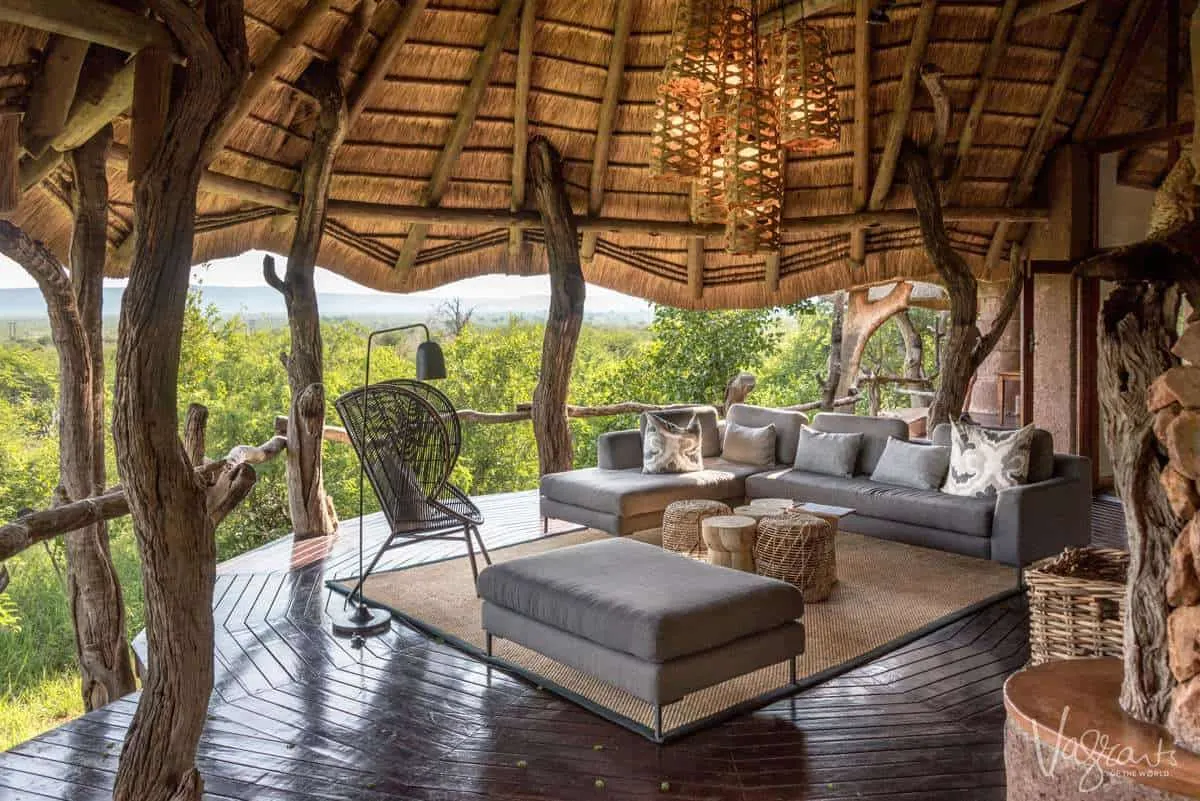 The Three Safari Lodges
Madikwe is made up of Lelapa Lodge, Kopano Lodge and Dithaba Lodge. While connected by walking paths in between, each lodge operates independently.
Although, there remains a common theme, a strong ethos of being at home. On arrival you will not merely be welcomed, you are welcomed "home". And as you make yourself at home, you are welcomed into the Madikwe family.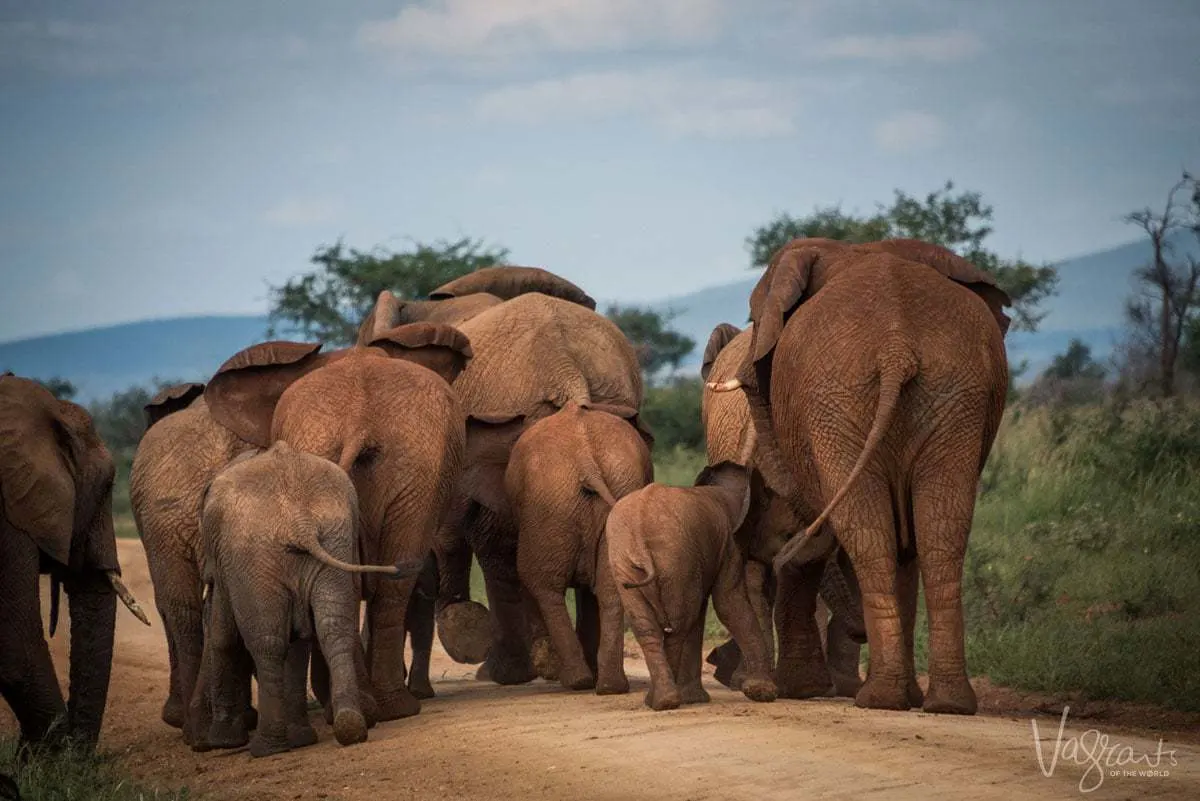 Couples and Honeymoon Safari
Kopano Lodge
Kopano means 'small gathering'. With only four suites, Kopano Lodge is well suited to couples. With the ideal retreat from the world in mind, a beautifully appointed common area boasts numerous lounges and alcoves. Intimate spaces to steal some quiet time and enjoy the sweeping landscape beyond the lodge.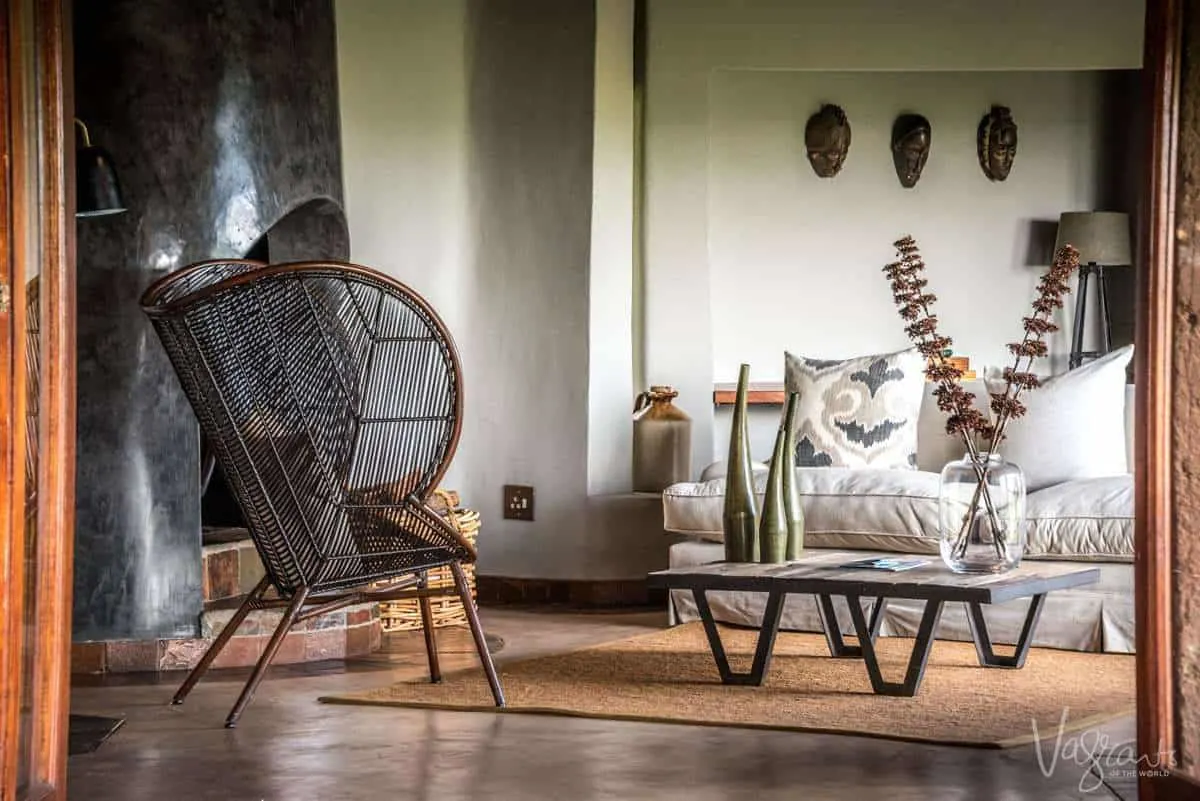 The four suites are more aligned to mini lodges than merely a suite. Like a breath of fresh air, each suite gives a feeling of infinite space, the vast landscape an extension of the room.
Spacious ensuite bathrooms, lounge and private deck, give couples space enough to enjoy nature from the comfort of their private retreat. Each suite even has a wood burning fireplace for a romantic touch on cooler evenings.
The pleasure of watching elephants graze while you relax in your private plunge pool is such a unique experience you nearly have to pinch yourself. These are the moments that set Safari apart from any other journey.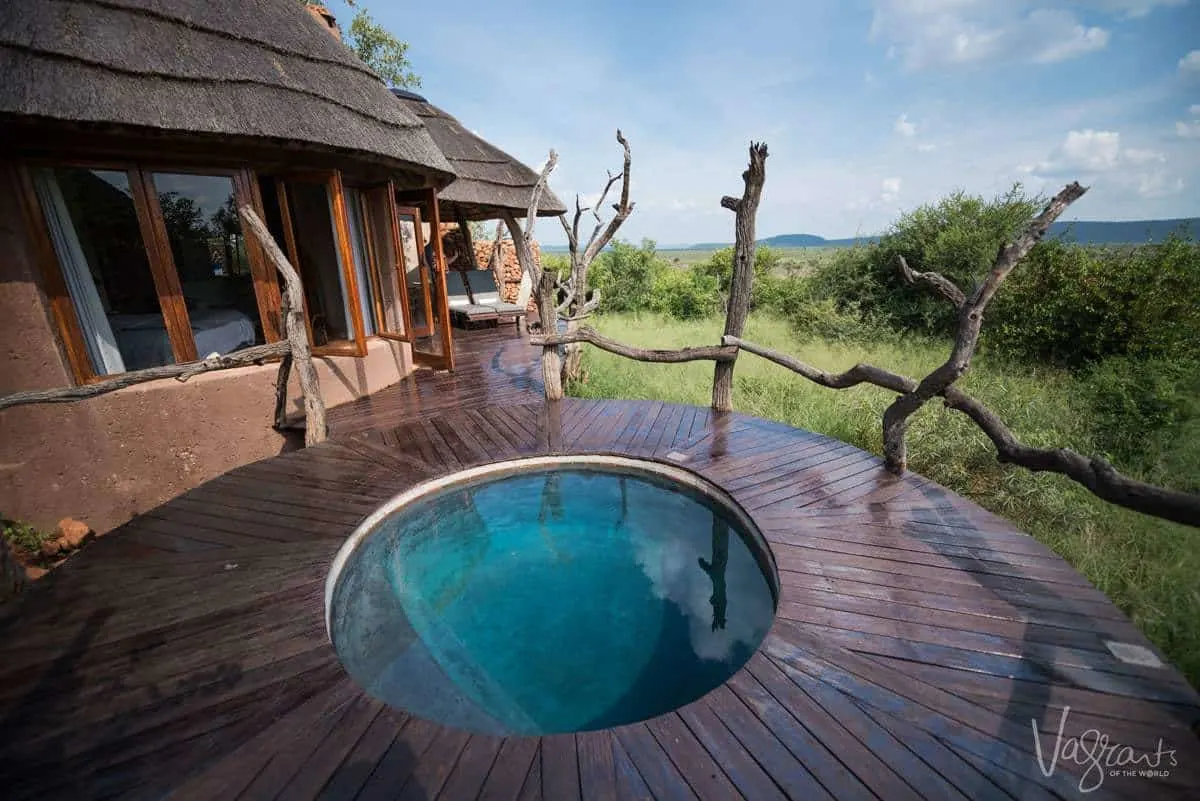 At night, the lodge is transformed by lantern light into four private fine dining spaces. For couples planning the ultimate getaway or even a safari honeymoon, the perfect balance of solitude and company is achieved in the lodge layout and planning of daily activities.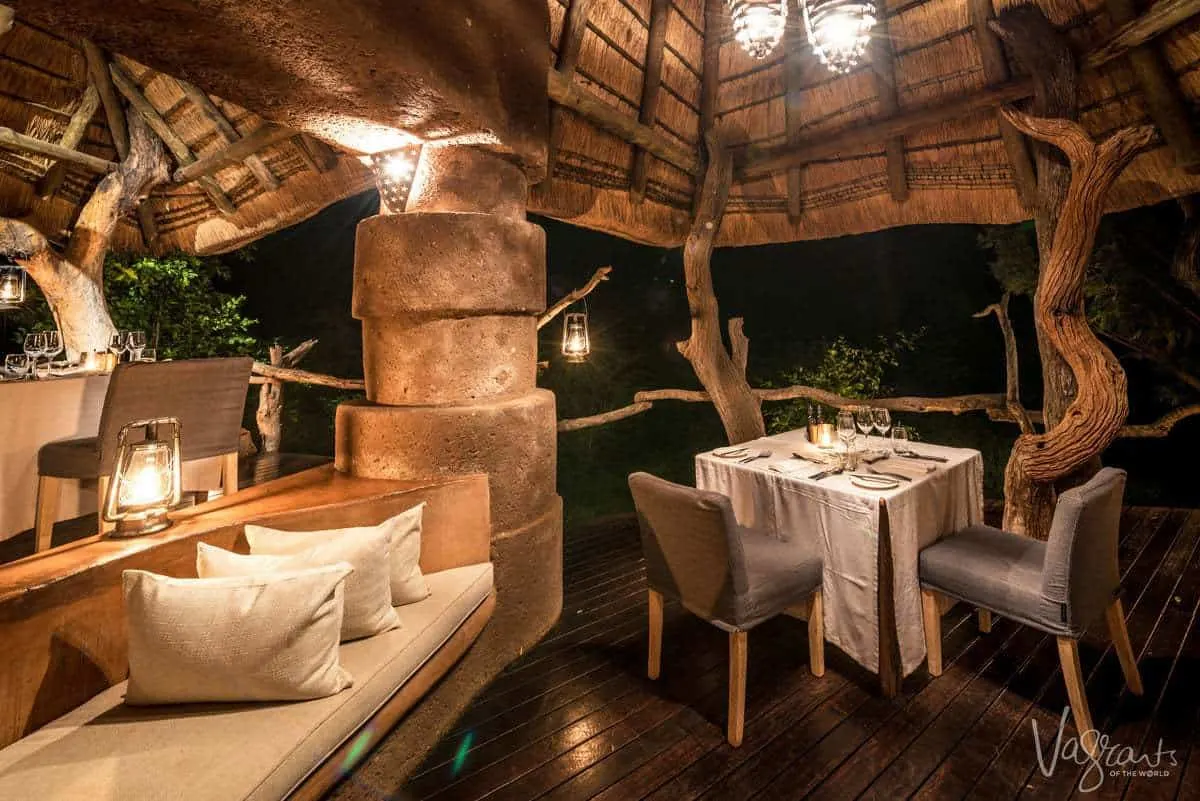 Friends and Family Safari
Lelapa Lodge
Appropriately, Lelapa translates to "family". Lelapa Lodge is about making African safari's for families not only possible but luxurious. Whether it be young families with small children or multi-generational families, Lelapa has thought of your every need, without compromising on luxury.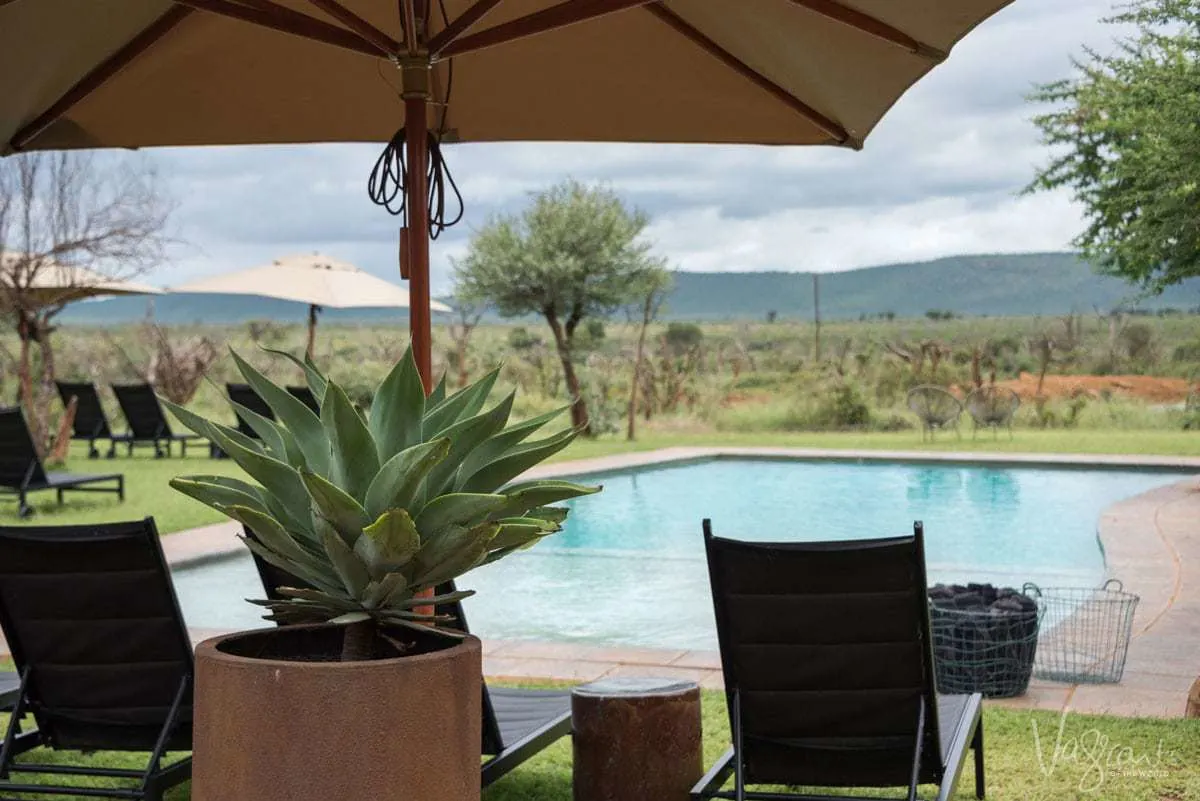 Lelapa offers the same spacious suites with private plunge pools as well as a communal guest pool. Ideal for larger family groups, the perfect spot to take lunch on a hot day.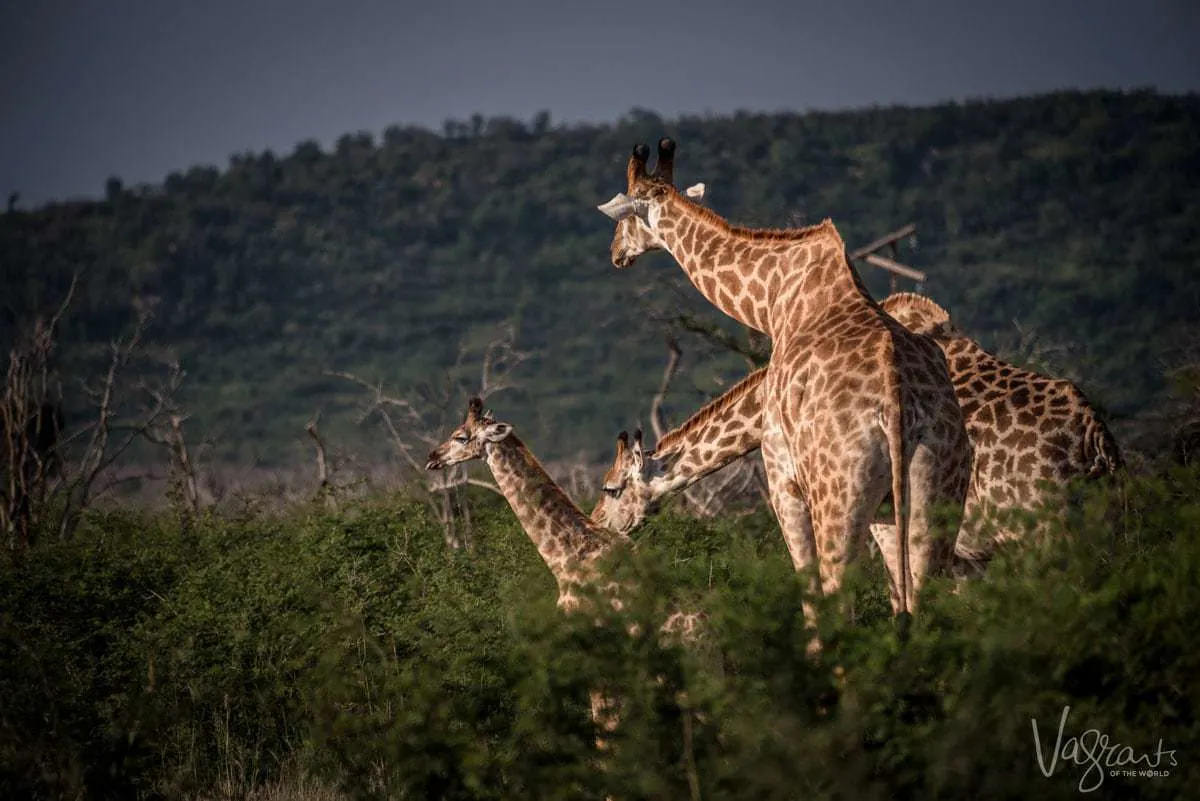 You won't be the only ones cooling off in the heat of the day. Enjoy the spectre of zebra coming to drink at the waterhole directly in front of the pool while elephants also take advantage of an opportunity to cool down. These experiences will stay with you for a lifetime no matter how young or old.
Lelapa has 12 suites with the option of family suites with adjoining rooms to accommodate young adventurers. Enormous effort goes into designing activity programs to suit families, especially those with younger children.
A dedicated eco house gives children a place to spend time with the wildlife rangers engaged in fun activities while they learn about the bush and wildlife.
Shorter "bumble" safaris are scheduled daily for the younger ones allowing children to experience the wonder of an African game drive at their pace, searching out what interests kids most. Mum and dad then have ample time to enjoy some time alone on longer game drives.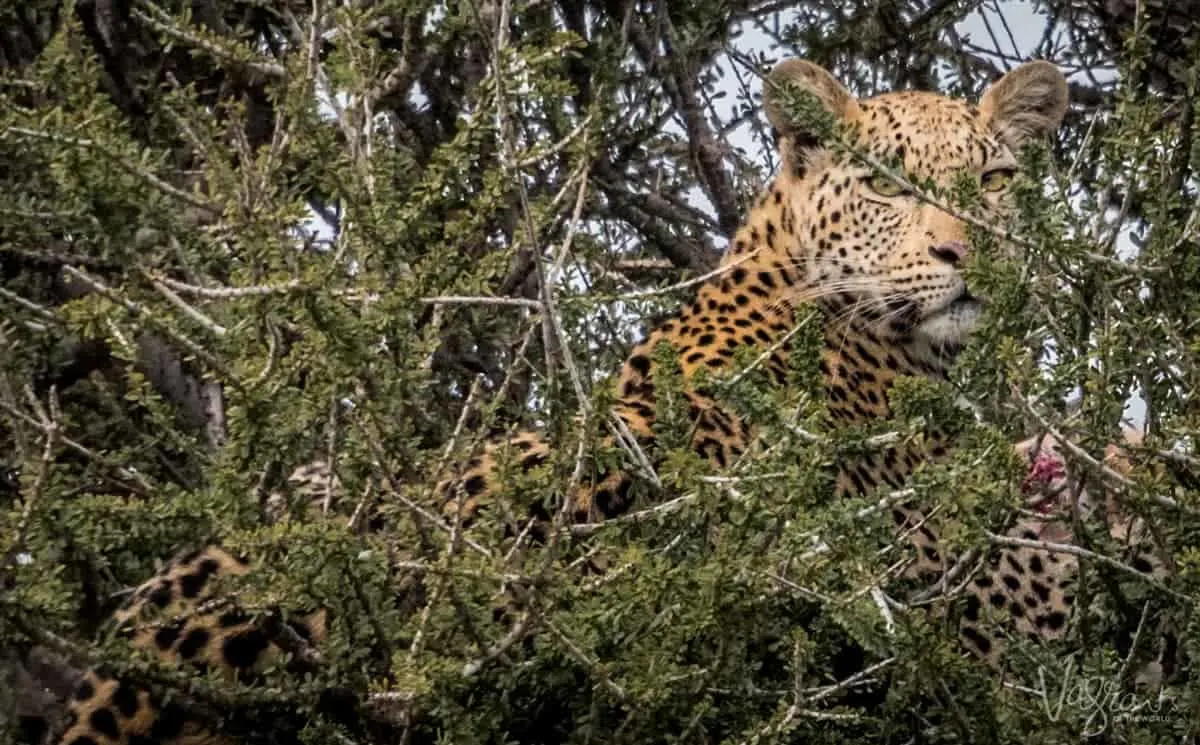 Private Group Safaris
Dithaba Lodge
Higher on the hill with sweeping views of the vast open plains sits Dithaba Lodge. Designed around the private villa style accommodation, Dithaba has only four suites, again with private pools. Dithaba is ideally suited to a group of friends or family looking for a private safari experience.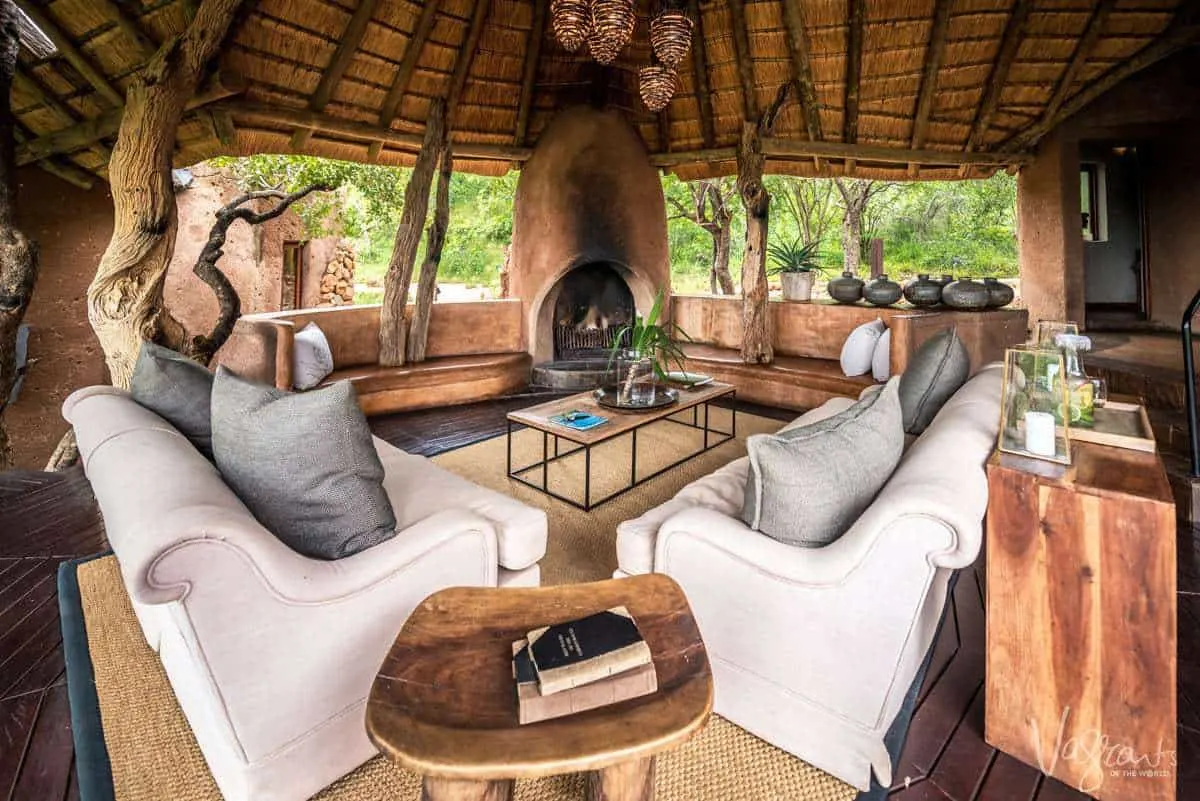 Much like Lelapa and Kopano lodges, Dithaba exudes a contemporary take on classic African design. Natural palettes of stone and wood have been selected to bring the natural landscape indoors.
Communal areas have been designed with group gatherings in mind. Separate lounge areas for children to get away from the grown-ups to enjoy a movie or for grown-ups to sneak away and read a book.
A large family style dining area offers a beautiful space for group dinners. Or, perhaps dinner under the stars on the Star Deck for a unique dining experience.
Dithaba is intimate and homely, the perfect setting for a private group safari or family safari vacation.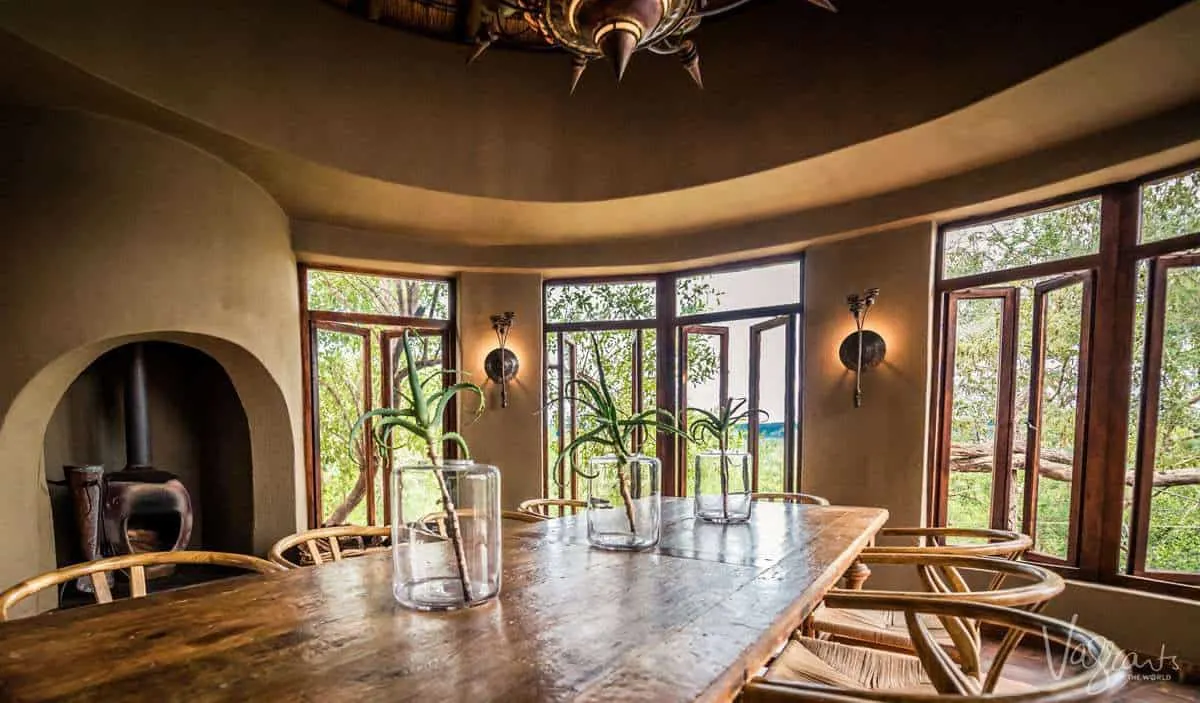 At all the lodges, it's the little touches that give daily life at Madikwe a personal feel. This is what being part of the Madikwe family is all about.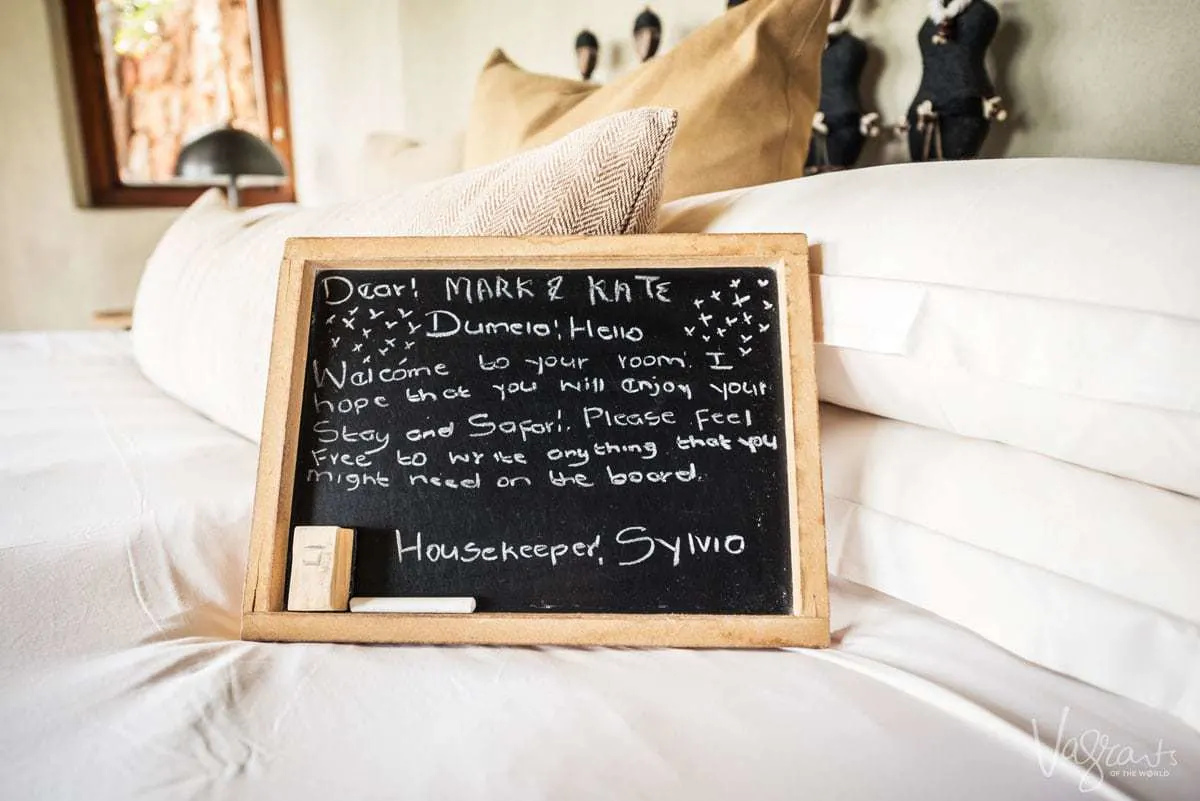 Daily Game Drives
While lounging by your private pool might sound enough to keep you happy, the thrill of safari is the main attraction. Daily morning and evening game drives are where the real adventure of a wildlife safari comes alive.
A wake-up call at dawn, followed by fresh coffee and juice. Then, board the open safari vehicle in pursuit of Africa's big game. What better way to start your day than the possibility of sighting one or more of the Big 5.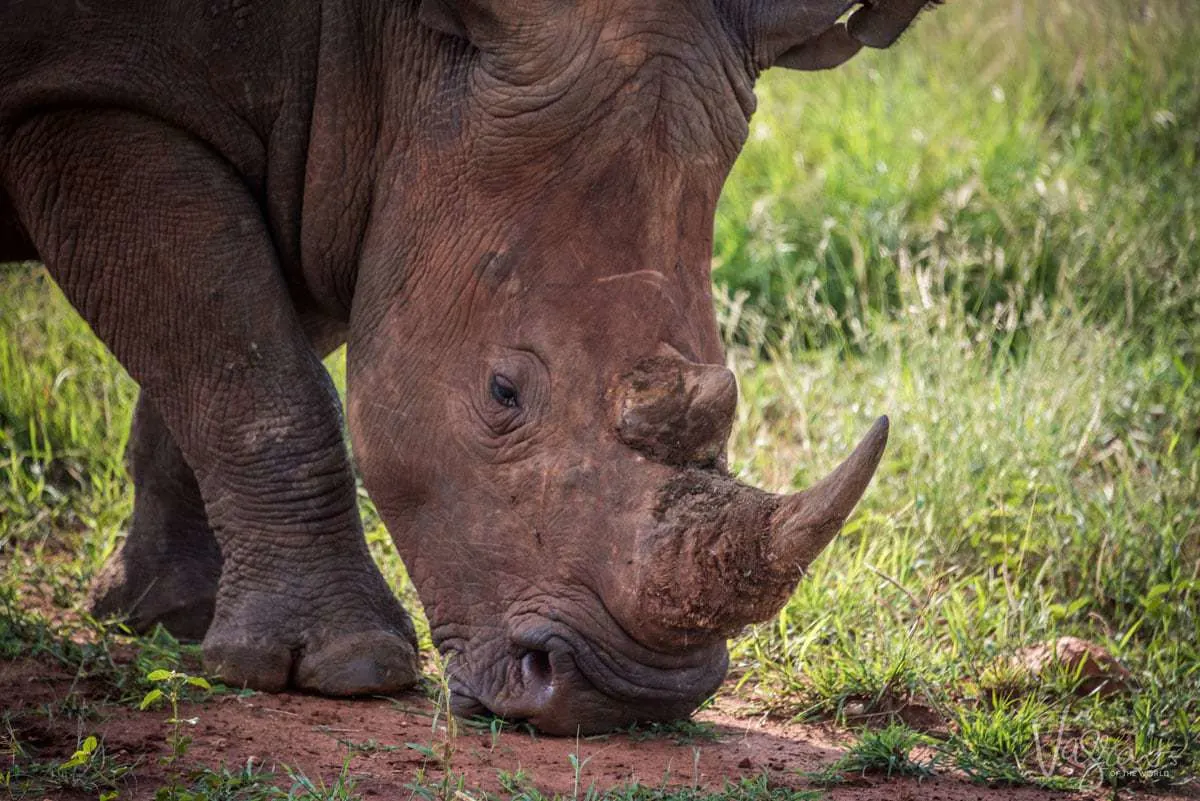 Even in the wild, after an exhilarating hunt for leopard or rhino, Safari is still a civilised affair. Take time out mid morning for some fresh hot coffee with just a hint of South Africa's famous Amarula liqueur.
There is a delightful feeling of indulgence to stand in the African bush next to a freshly laid picnic table sipping hot coffee and snacking on homemade biscuits. Just enough to tide you over before returning for a sumptuous breakfast back at the lodge.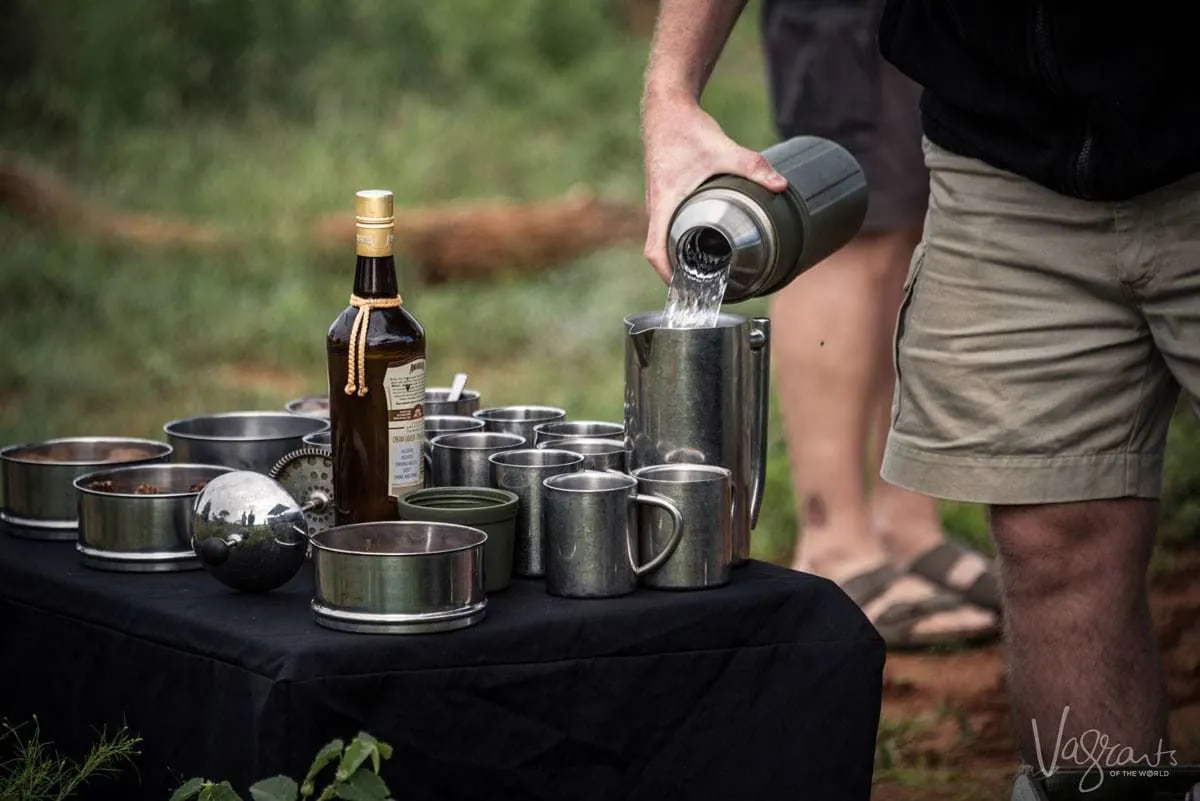 After a relaxing day at your leisure, the setting sun signals safari time. In the cool of the afternoon, the predators will be on the move. Much like you, after lazing in the heat of the day, the bush comes alive again. Imagine an afternoon watching cheetah on the hunt or elephant jostle while a rhino grazes indifferently behind them.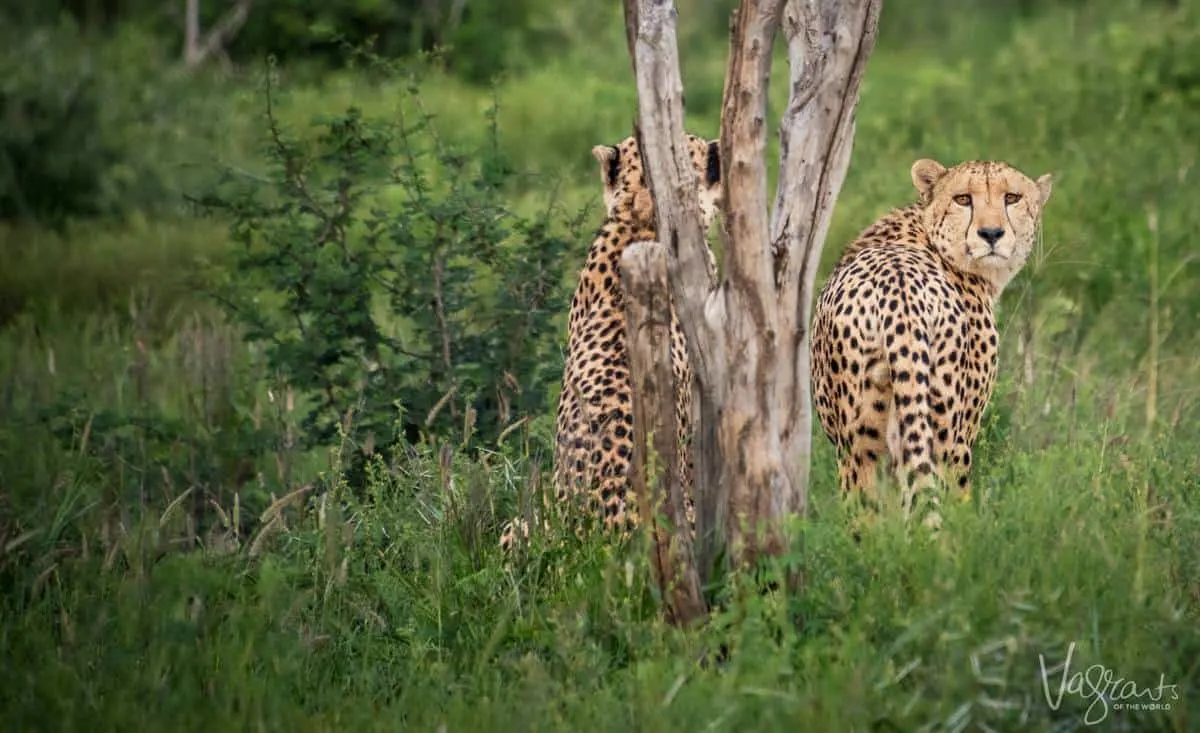 As the sun sets, there is always time to stop for a sundowner. Like magic, from the dusty safari vehicle, our guide produces icy cold aperitifs, served with delicious handmade canapés.
These are the traditions that have endured, the subtle touches of dignified extravagance against a rugged wilderness. It is what sets a luxury African safari apart from any other activity or style of hospitality.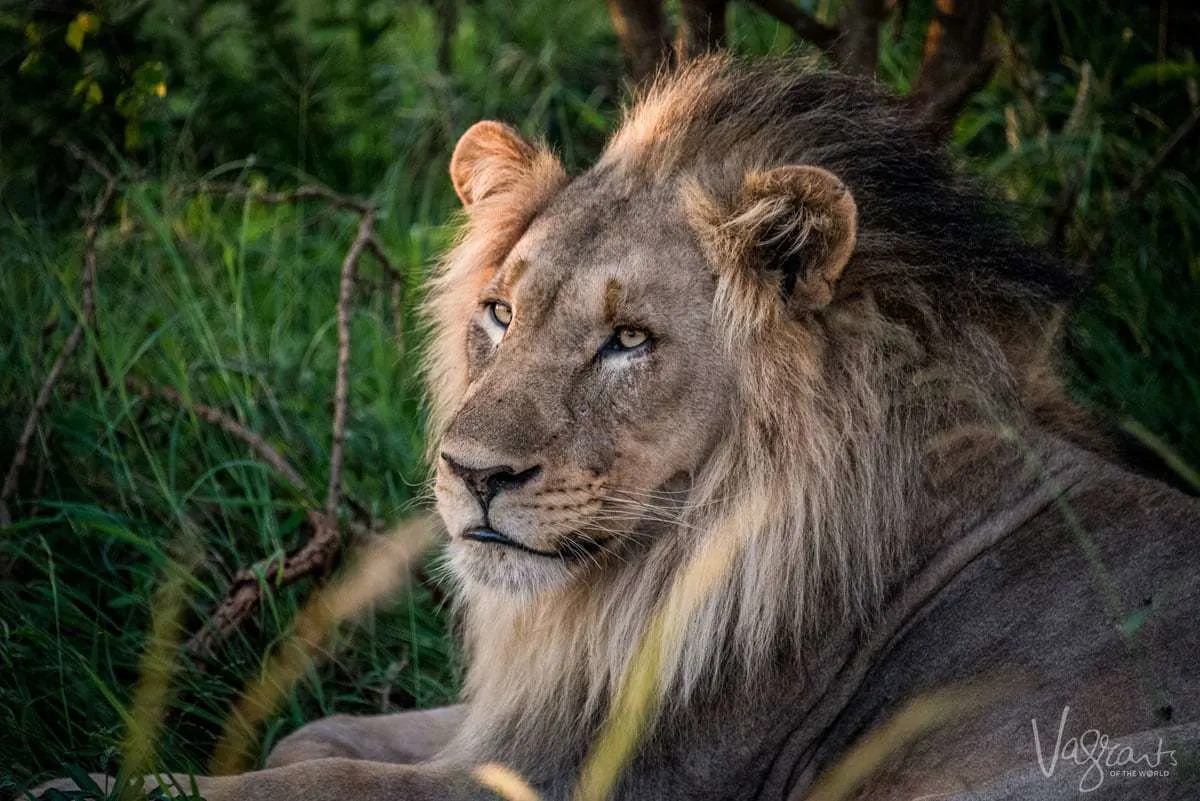 See More of Madikwe [Video]
Recommended Travel Accessories for Safari in Africa
---
Facts for Madikwe Safari Lodge
For more detailed information, current rates or booking enquiries, contact Madikwe Safari Lodge.
Rates for all Lodges (Rates are subject to change)
Shared occupancy
R6,895.00 (~$550 USD) per person per night in low season.
R10,365.00 (~$825 USD) per person per night in high season.
Single occupancy
R10,343.00 (~$825 USD) per night in low season.
R15,548.00 (~$1240 USD) per night in high season
Dithaba Lodge rates are based on shared occupancy only, min 6 guests.
Only children over 16 are accepted at Kopano Lodge.
Inclusions
Accommodation.
All meals.
All drinks – Alcoholic and soft drinks.
Two game drives daily with FGASA qualified ranger.
Game drive refreshments & snacks.
Transfers to and from the Eastern Madikwe airstrip.
Specified inclusive safari activities.
Additional Specialist activities
Bush walks.
Astronomy.
Wildlife lectures.
Bush breakfasts, picnic lunches & bush dinners.
Children's activities
Exclusions
Premium beer, wine & spirits.
Non-specified flights and transfers.
Spa treatments and shop purchases.
Madikwe Game Reserve landing fees.
Madikwe Game Reserve entrance and conservation fees.
Getting There
Fly –
Federal Air operates a daily charter service from O.R. Tambo International Airport to Madikwe airfield. The airfield is 10 minutes drive from the Lodge. Expect Approx. R3,735.00(~$295 USD) pp each way.
Drive –
Madikwe Safari Lodge is approx-
2 hours from Gaborone, Botswana. The lodge can arrange transfers to and from Botswana.
4.5 hours from Johannesburg, 4×4 is not required. Varying routes depending on how long you mind driving on a gravel road. The lodge can advise you on a preferred route at the time of booking.
Road transfers from Johannesburg can be arranged with Madikwe Safari Lodge at the time of booking.
We would like to thank Madikwe Safari Lodge and the excellent staff from Kopano Lodge for hosting us. All opinions expressed are our own and have not been influenced in any way.