If you're planning a trip to South Africa, adding the Garden Route to your itinerary is a must.
There are many scenic drives in South Africa, such as the iconic Panorama Route in South Africa's Mpumalanga province. However, the Garden Route is one of the most popular and for a good reason.
The spectacularly scenic 300 km drive is sandwiched between high rising mountains and the ocean dotted with quaint little towns along the way.
Although it might seem a bit tight, a 3 day Garden Route itinerary is enough to give you a taste of this incredible South African self-drive route.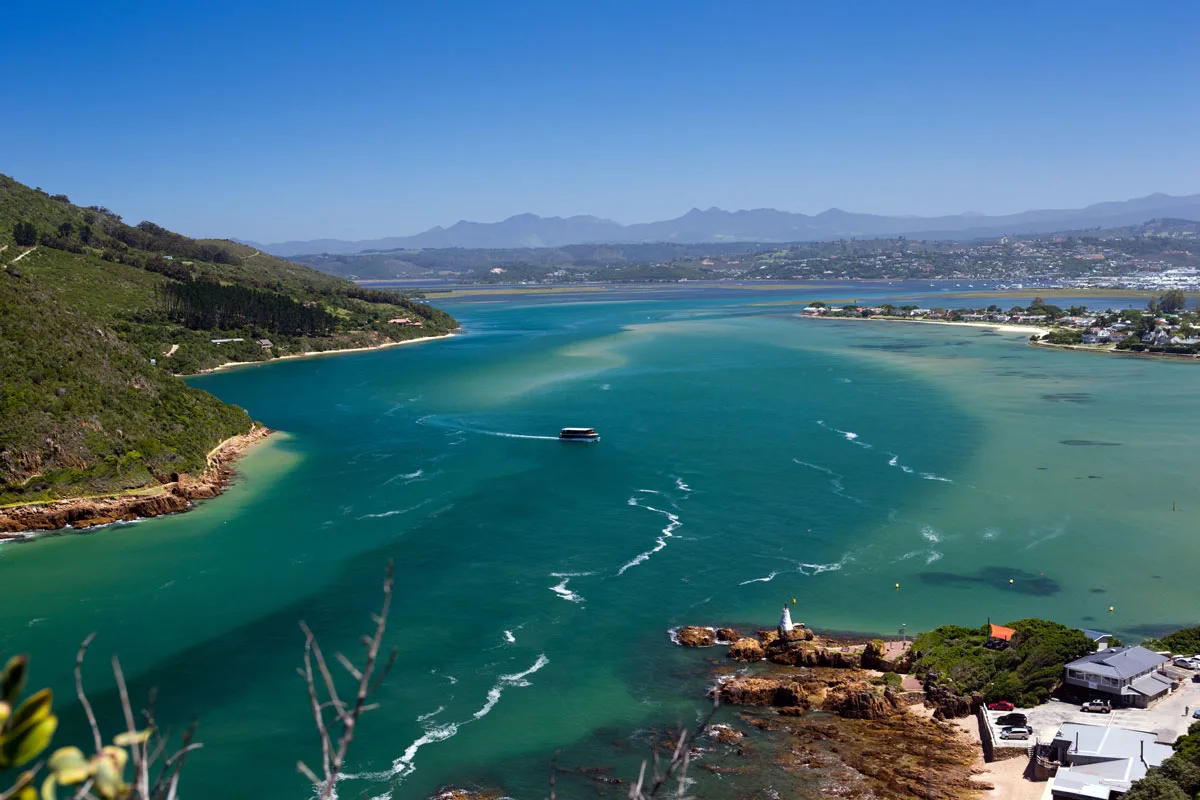 Where is the Garden Route
Many people assume the Garden Route begins in Cape Town and often include it as part of their Western Cape adventures. The Garden Route starts in Mossel Bay and ends at the edge of the Western Cape Province at Storms River.
Driving The Garden Route
The Garden Route is a relatively short drive, so, it can be easily driven in a couple of hours. However, to fully appreciate one of South Africa's most scenic drives, taking your time to discover all the best bits of the Garden Route is highly encouraged.
With three days on the Garden Route, you'll have a chance to see all the highlights – from the Garden Routes best towns, and beautiful beaches to unspoiled nature.
How to Get to the Garden Route
Fly
The fastest way to get to the Garden Route is to fly. The nearest airport to Mossel Bay is George Airport, roughly 30 minutes away. There are frequent and affordable flights from Johannesburg OR Tambo Airport daily. Once you arrive in George, you can rent a car at the airport to travel onwards.
From Cape Town
Travellers coming from Cape Town could rent a car and self-drive directly to Mossel Bay (roughly 384 km). Alternatively, you may consider flying from Cape Town International Airport to George. However, flights from the Mother City are rather pricey and less frequent.
Car Rental in Cape Town
If you are planning to self drive the Garden Route (which is a great way to see the Garden Route), car rental in Cape Town and South Africa as a whole is very affordable.
Discover Cars have excellent Car Rental Deals in Cape Town with no hidden fees and free cancellation.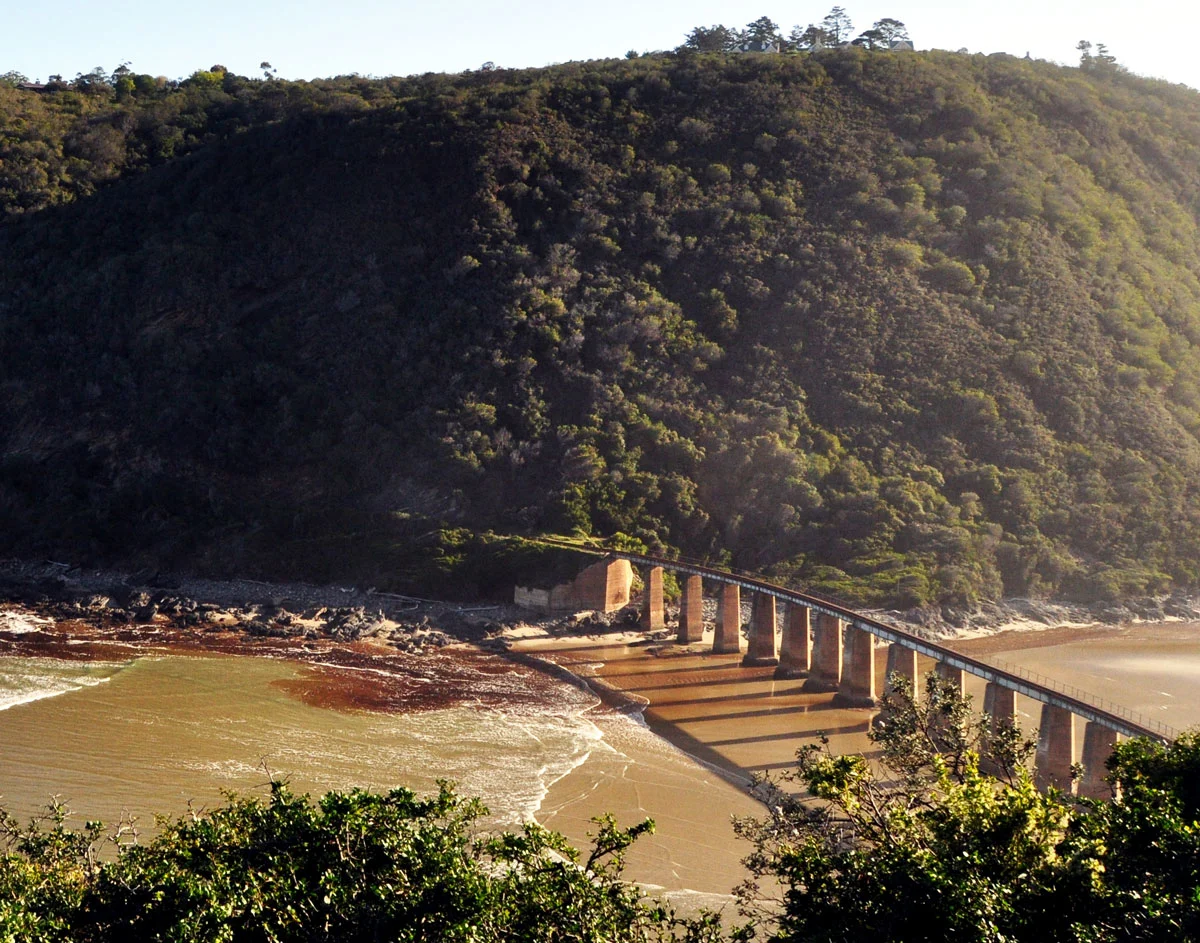 How to Travel the Garden Route
Self Drive
The best way to experience a Garden Route road trip at your leisure is undeniably self-drive. Whether you rent a car in Cape Town or on arrival in George Airport (car rental prices from George Airport will be about the same as from Cape Town).
Shuttle
If self-drive is not an option for you, you may want to consider using a shuttle service to transport you from one stop to another. Zeelie Taxi is a reputable and affordable shuttle which offers services to various places in the Garden Route.
Organised Tour
If none of the above options appeals or are possible, there are multiple day Garden Route Tours available departing from Cape Town.
Garden Route Tour Recommendation
4-Day Garden Route Experience
Highlights
Explore the Big 5 with a 4-Star overnight lodge stay. Enjoy the magnificent starlight skies from your terrace and fall asleep to the sounds of the African bush. The possibility to jump off the highest bungee bridge in the world and view whales from Hermanus, the whale watching capital of the world.
Inclusions
Qualified Guide & Transport
Dinners & Breakfasts (as indicated)
Reptile Park at the Garden Route Game Lodge
Entrance fees: Cango Ostrich Farm, Cango Caves, Tsitsikamma National Park and Penguins at Betty's Bay
Optional Inclusions: Accommodation & 2 Big 5 game drives
Price: Start from ZAR 5700 (~ USD $ 375) See here for full tour details.
Garden Route Itinerary – Quick Overview
In this 3 day Itinerary, you'll have plenty of time to see all the highlights dotted along the Garden Route with plenty of time to deviate and explore at your leisure.
Here's a quick overview of how to spend three days in the Garden Route.
Day 1: George Airport -> Mossel Bay -> George
Day 2: George -> Wilderness -> Knysna
Day 3: Knysna -> Plettenberg Bay
3 Day Garden Route Itinerary
There is so much to do in the Garden Route; chances are you'll probably wish you could stay longer. That said, this 3 day itinerary covers all the Garden Route highlights, allowing ample time to enjoy the best attractions.
Day 1
Mossel Bay
Mossel Bay is a beautiful harbour town roughly a 40-minute drive from George Airport and marks the start of the Garden Route.
While Mossel Bay is quite small compared to other destinations along the Garden Route, it boasts a fascinating history and plenty to keep you busy on your first day.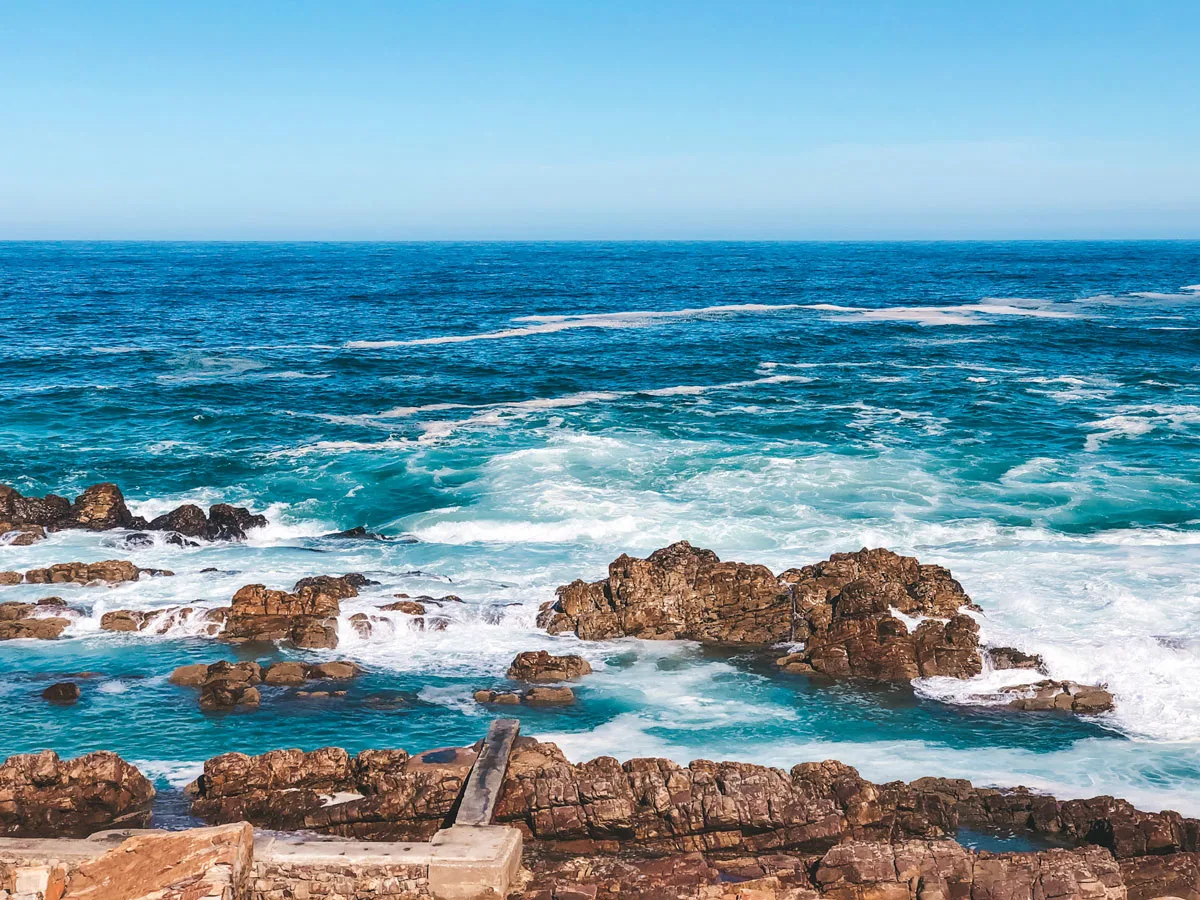 Morning: Explore Old Town, Museums & Historical Highlights
Start your day with a stroll through the old town for a glimpse into the town's unique history and beautiful architecture.
Visiting the Dias Museum Complex is a must for anyone interested in South Africa's rich maritime history. The museum houses a life-sized replica of the ship Bartolomeu Dias used to first sail to Africa. There are also many interesting artefacts and exhibits showcasing early Portuguese explorations of Africa.
A few steps from the museum, you'll find the Old Post Office Tree, believed to be the oldest post office in the country.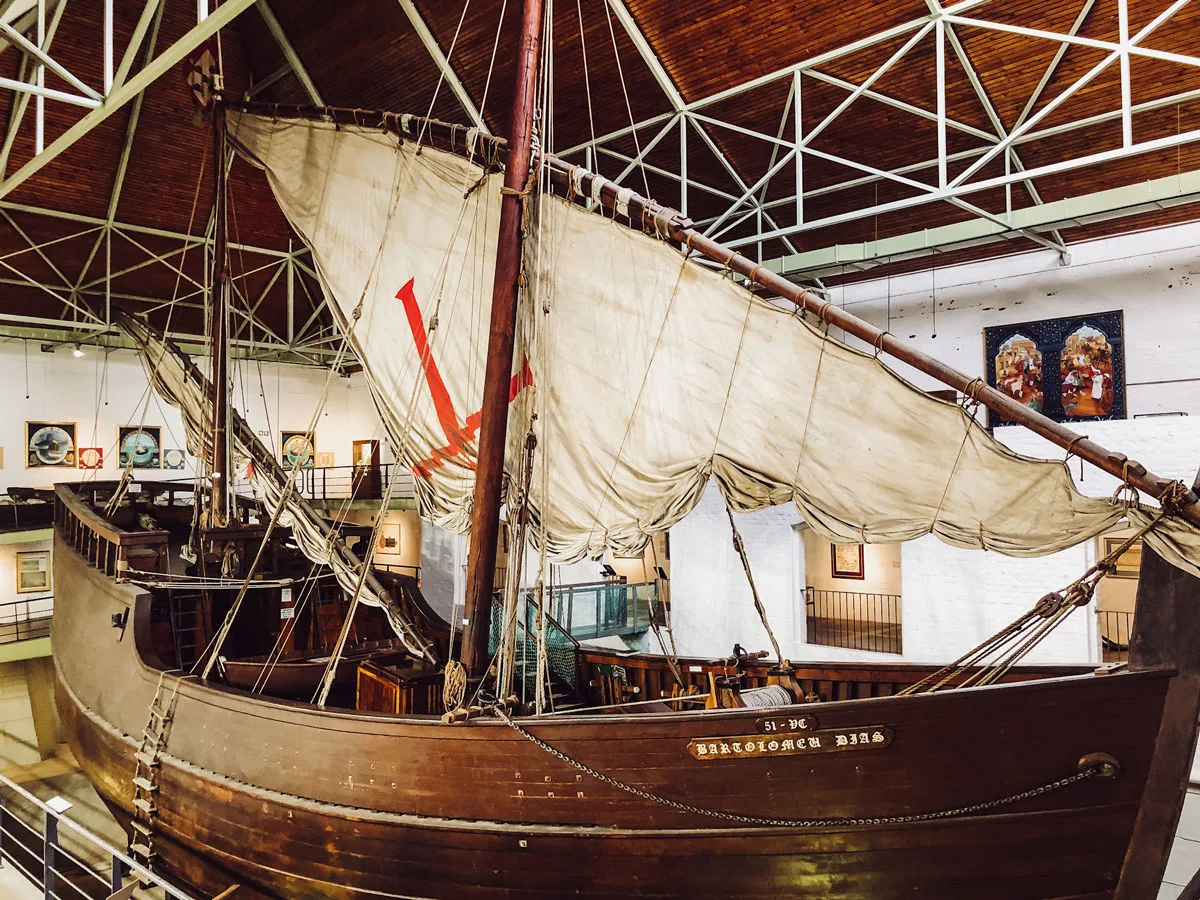 Cape St. Blaize Lighthouse
Further afield, drop by the 19th-century Cape St. Blaize Lighthouse for magnificent views over the bay. There is a steep path with many stairs leading to the lighthouse, so a good pair of sensible, non-slip shoes are highly recommended.
While the climb may not be everyone's cup of tea, especially if you are wary of heights, the spectacular ocean views from the top are worth the climb.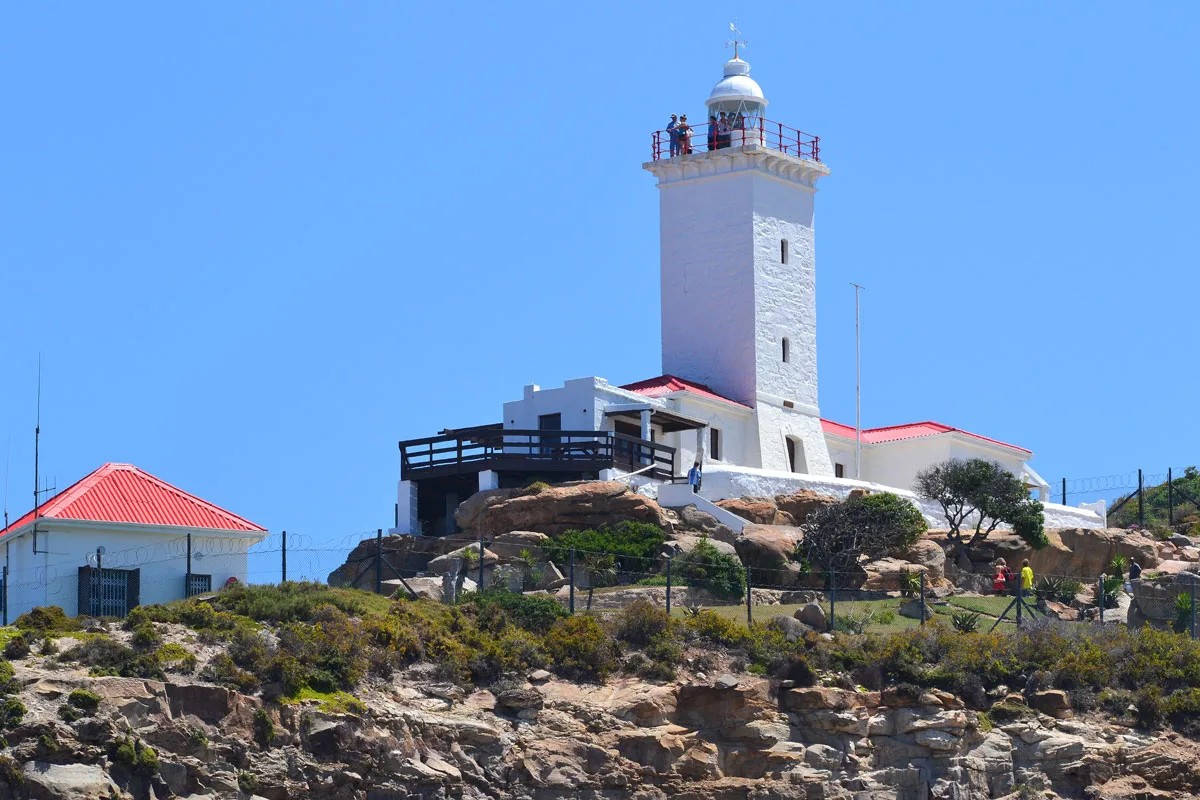 Lunch
Along Point Road, you'll find a good selection of restaurants serving South Africa's signature quality cuisine with breathtaking views over the ocean.
Afternoon: Santos Beach
In the afternoon, head to the famous Blue Flag Santos Beach for a swim in the waters of the Indian Ocean or a stroll along the magnificent coastline.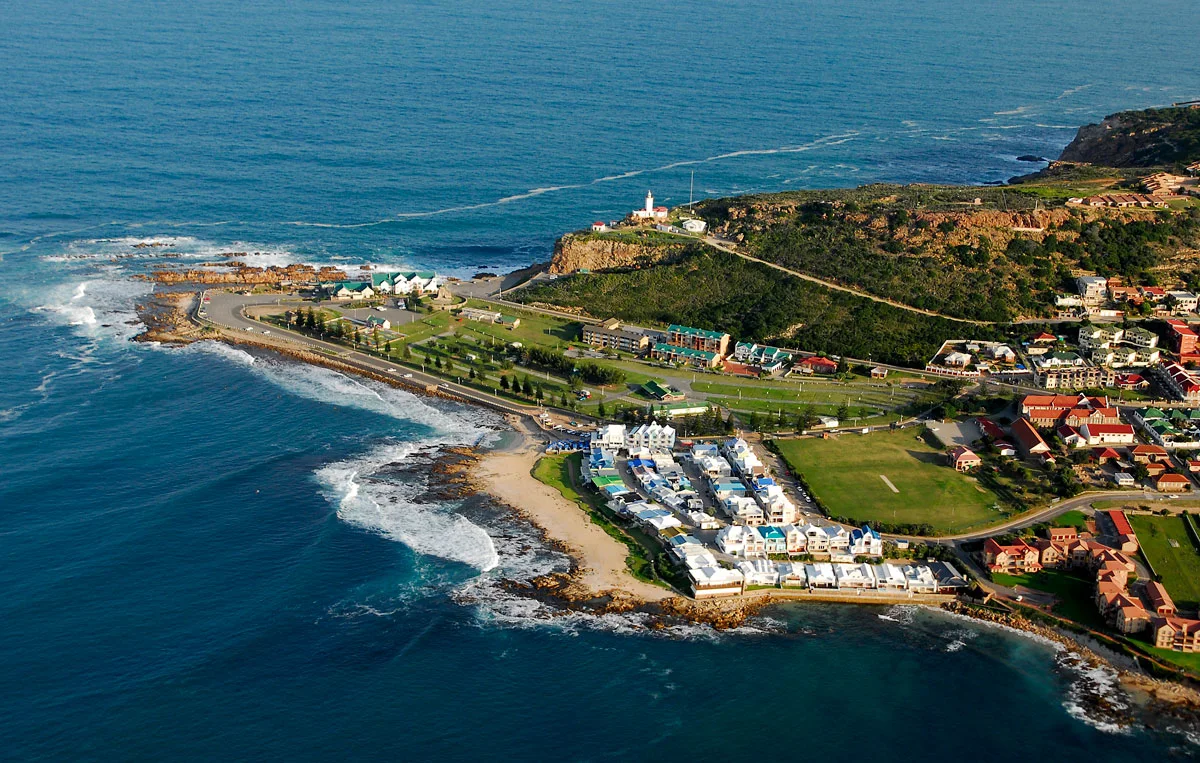 Where to Stay in Mossel Bay
As an all year round holiday destination, there is plenty of accommodation to choose from in Mossel Bay. The Santos Express offers unique accommodation 100 metres from Santos Beach in converted train carriages with sea views. Choose from dorm-style carriages to luxurious King Suites with sea vistas
However, if you want to make a good start on the second day, a night in George is recommended for location and depending on the time of year – availability in Mossel Bay could be a factor. Town Lodge in George is an excellent mid-range hotel located near the N2 highway allowing easy travel onwards.
Day 2
Wilderness and Knysna
Morning: George to Wilderness (16 km | 9.95 miles)
From George travel along the N2 to Wilderness, the next stop on your 3 day Garden Route itinerary. Wilderness is a charming small town surrounded by lush mountains with a lovely lagoon and one of the best beaches on the Garden Route. While Wilderness is a peaceful, laid back kind of town, there's quite a lot to do.
Dolphin Point & Map of Africa Lookouts
First, make a quick stop at the Dolphin Point Lookout for a photo stop. During whale season (June – November), this is one of the best lookout points to see whales in the bay. All other times of the year, dolphins sightings are always possible (as the name suggests) as well as seals.
Take a stroll on the beautiful long white sand beach below. If you want to take a swim, make sure you stay in the designated swimming area as the currents are quite powerful.
A ten-minute drive from Dolphin Point Lookout is the Map of Africa View Point. From the spectacular viewpoint, you can see where the Kaaimans River has carved its way through the lush landscape to create a distinct outline of Africa.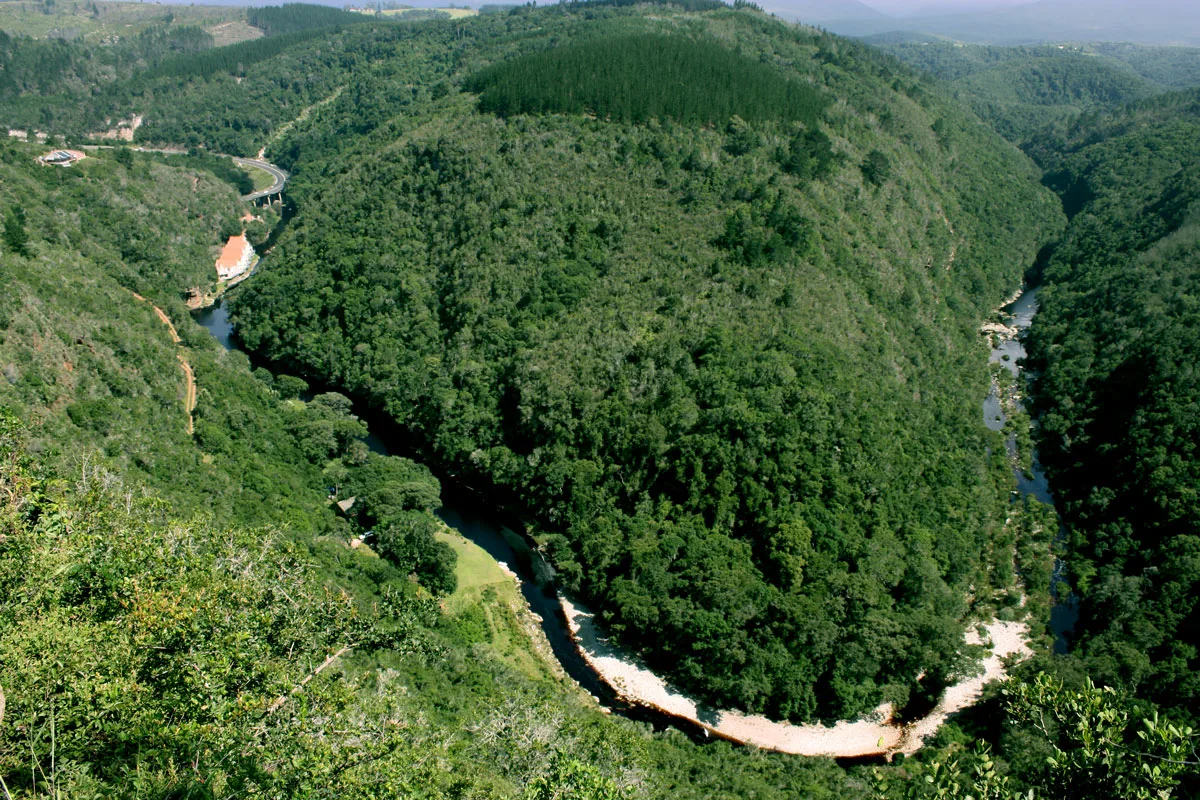 The lookout is also a popular launch spot for paragliders which adds to the already impressive vista.
Wilderness Activity Recommendation
Try a Tandem Paragliding Experience
If you are feeling adventurous, try a tandem paragliding flight with a qualified pilot to experience Wilderness from a different perspective and a once in a lifetime experience.
Prices start from ZAR1,120 (~ USD $ 73) See here for bookings or activity details.
Afternoon: Wilderness to Knysna (47 km | 29.2 miles)
Drive from Wilderness past Buffelsbaai to Knysna – a quaint historic village with several points of interest.
Knysna Heads
There is quite a lot to do in Knysna, but a must for first-time visitors to Knysna is the pair of dramatic sandstone cliffs that mark the entrance to the Knysna Lagoon from the ocean. It's also one of the Garden Routes' most iconic landmarks. There is plenty of parking nearby, and the paved walkway offers different vantage points over these two massive cliffs.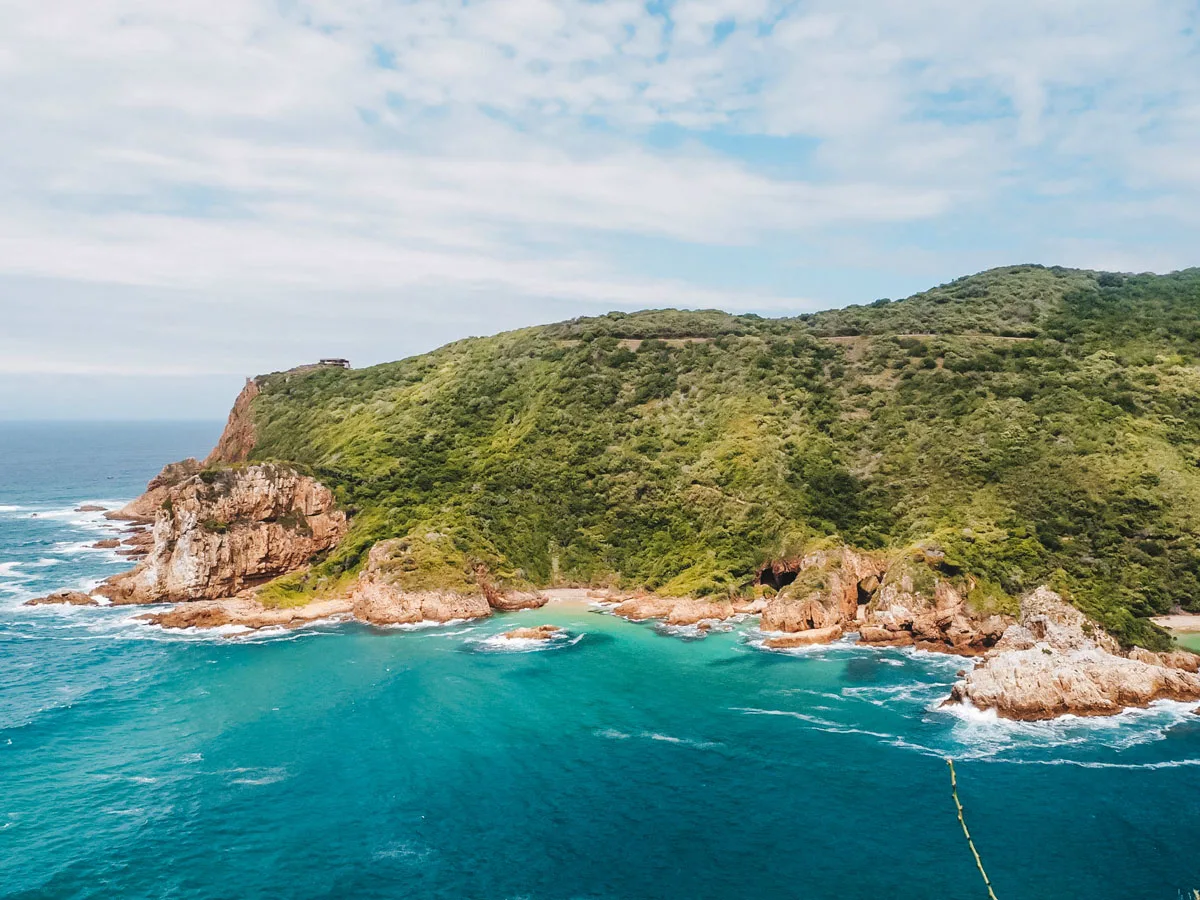 Knysna Waterfront
Head to the Knysna Waterfront for a bite to eat and browse the eclectic mix of shops in town from antiques and home decor to artisan and bohemian clothing. For great seafood, pop into 34 Degrees South, a hip waterfront seafood deli and restaurant. The fresh Knysna oysters won't disappoint.
Knysna Activity Recommendation
Take a Sunset Cruise
Watch the sunset over Knysna from the deck of a luxury yacht with a glass of bubbly in hand.
Take a 2.5-hour sunset cruise to see the natural beauty of the Knysna Lagoon from a different perspective as you sail through the world-famous Knysna Heads to the Indian Ocean. Activities are available such as snorkelling and fishing.
The cruise includes:
A qualified crew with host
Snacks and glass of champagne
Activities: Stand up paddleboards, fishing gear and snorkel equipment
Cruise prices start from ZAR 990 (~ USD $ 65) See here for cruise bookings or more information. Advance bookings are recommended in high season.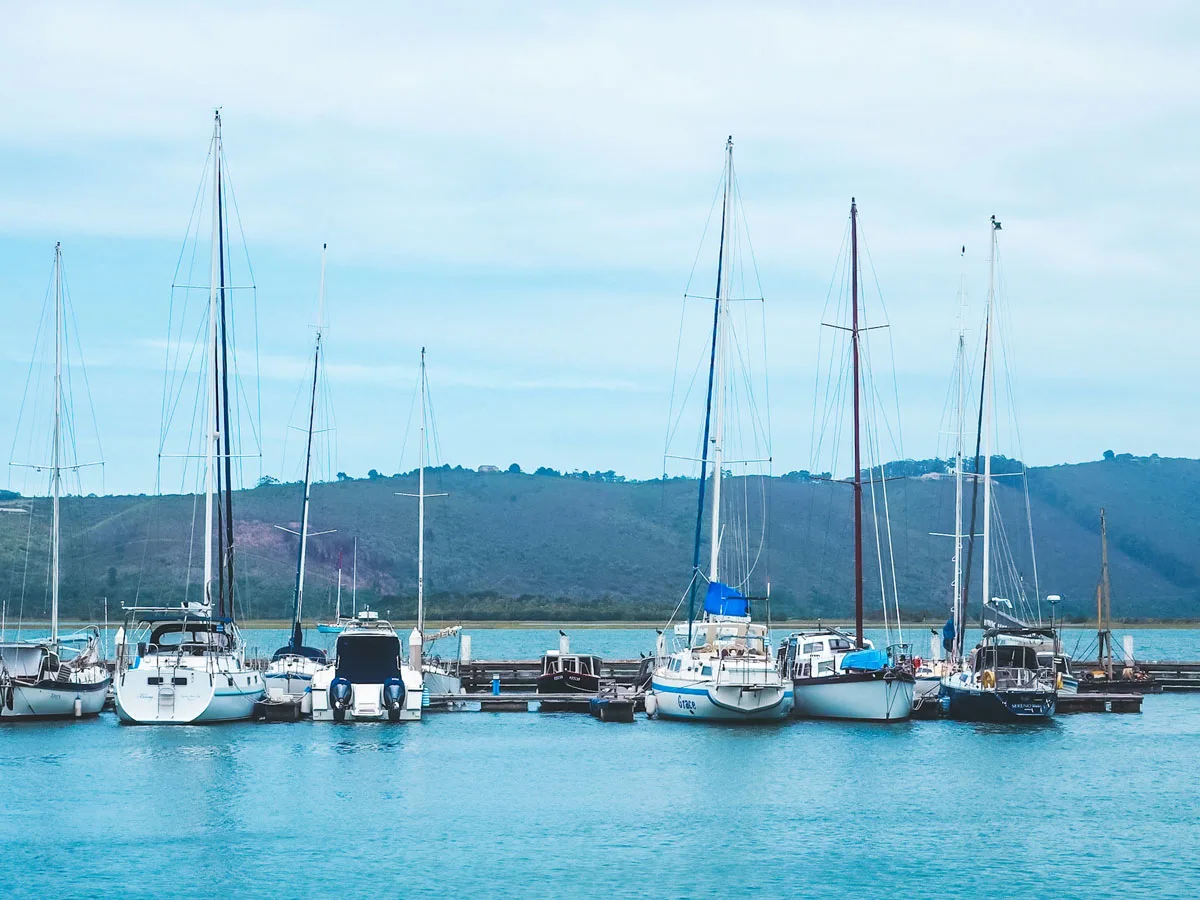 Where to Stay in Knysna
Most of the accommodation in Knysna is centred around the lagoon and in town. As Knysna is a top-rated tourist destination, you'll find accommodation options for all budgets and preferences. You will also want to make sure you book in advance to get what you want.
If you are looking for something unique, try the Turbine Hotel on Thesen Islands in the Lagoon. The 5-star boutique hotel and spa is a beautifully repurposed power plant. It is ideally located for everything you want to do in Knysna and has everything you need. For a 5 star hotel, the prices are also quite reasonable.
If you want to venture a little further out, nestled at the eastern head of Knysna, Pezula Resort & Spa; is undeniably the crème de la crème of luxury experiences. The luxurious hotel is loaded with top of the range amenities including a championship golf course, two pools and spa.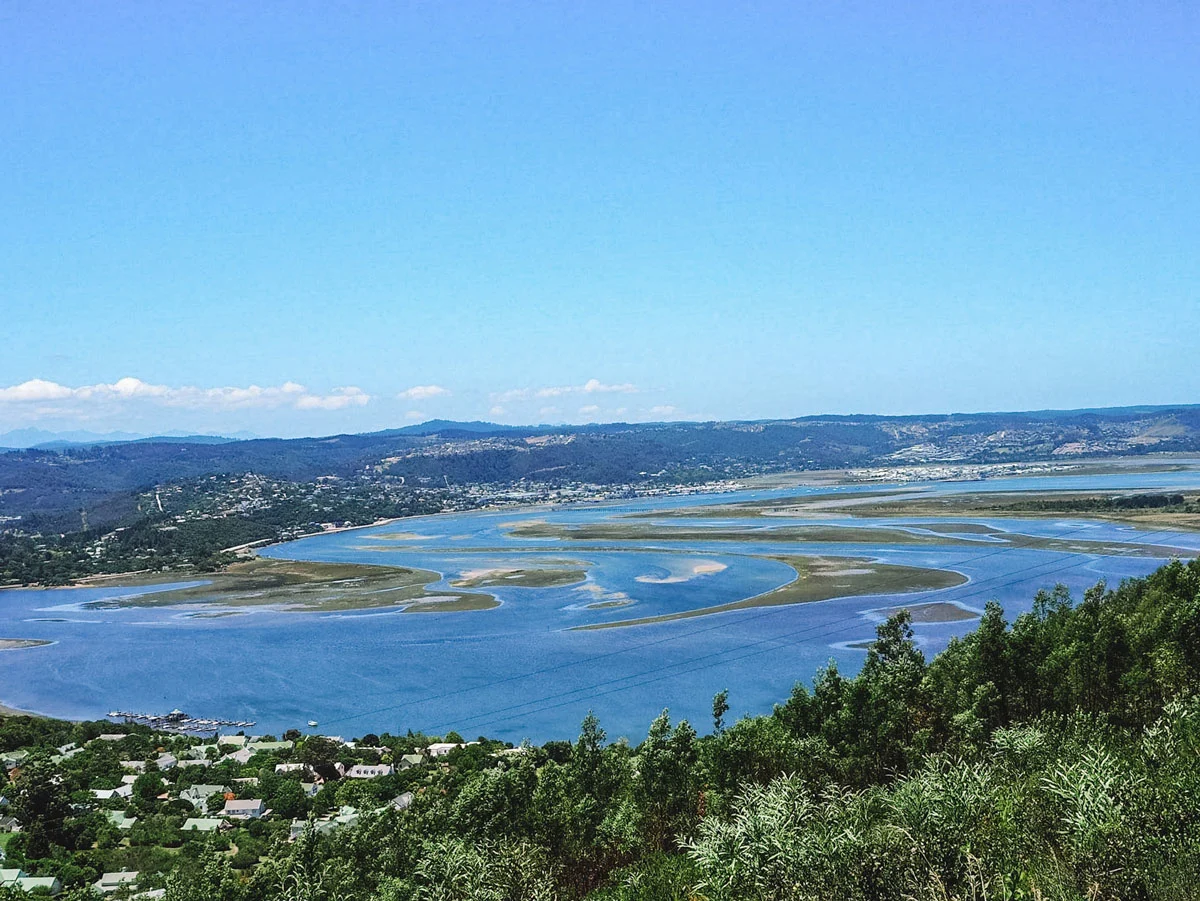 Day 3
Plettenberg Bay
Morning: Knysna to Plettenberg Bay (32.5 km | 20.1 miles)
From Knysna, you have around an hour's drive to the last stop on your three day Garden Route itinerary – the beautiful seaside town of Plettenberg Bay.
"Plett" is one of the most popular stops on any Garden Route road trip. Whether it's relaxing on the beach, hiking the scenic trails at Robberg Reserve, or visiting the wildlife sanctuaries, there's so much to do around Plettenberg Bay. It's worth planning to spend some time here to discover what makes Plettenberg Bay so popular.
Plettenberg Bay is also an excellent base to enjoy some of the Garden Routes top adventure activities. Nearby, Storms River offers a wealth of activities ranging from bungee jumping and snorkelling to zip-lining and rafting to keep thrill-seekers busy.
Robberg Nature Reserve
Start your time in Plett with a hike in the Robberg Nature Reserve. The reserve has several trails ranging in length and difficulty, so it's easy to explore the peninsula at your own pace and skill level.
Along the way, you're likely also to spot dolphins and seals frolicking in the waters, and if you're lucky, perhaps even a rare blue duiker.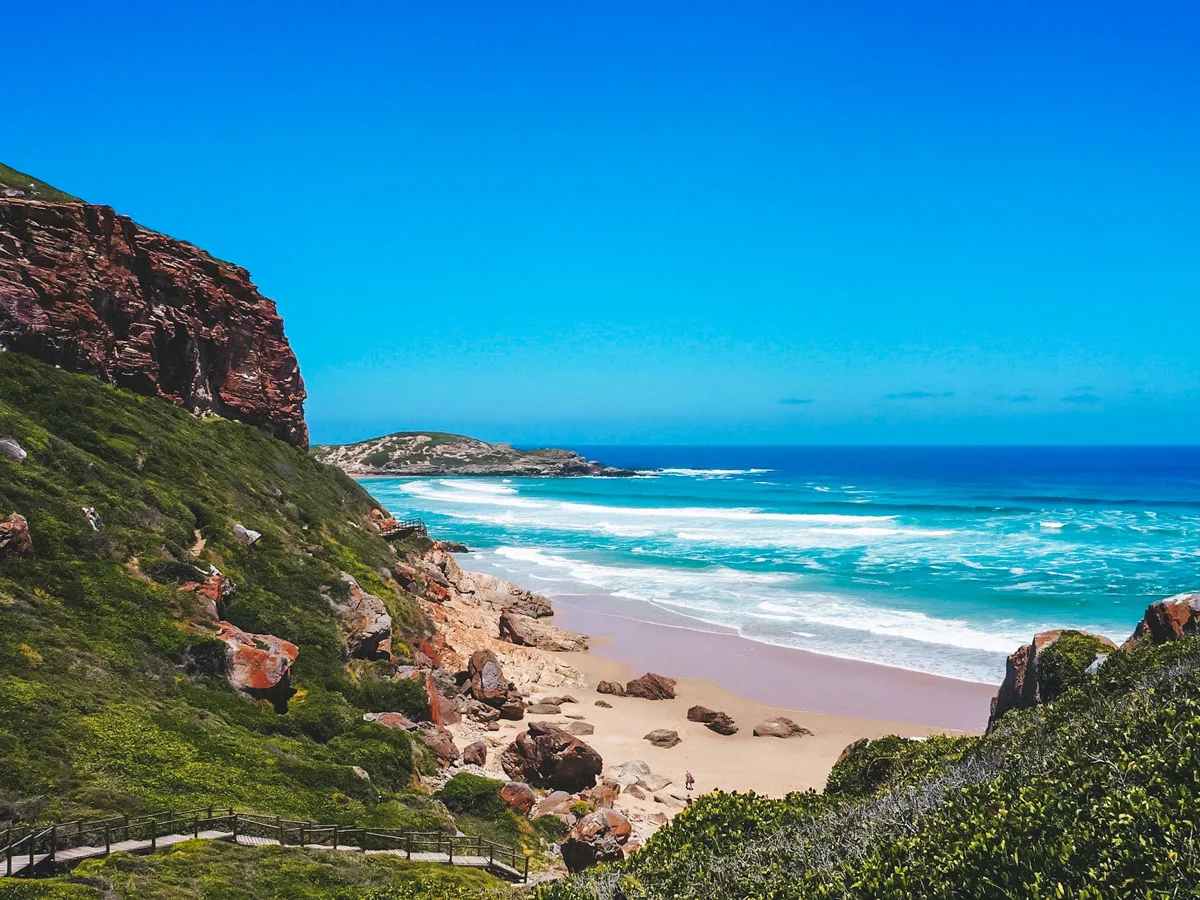 Hit the Beach
What better way to end a hike than with a swim and some time on South Africa's most beautiful beaches.
There are three prominent beaches in Plett. Lookout Beach is one of the most exquisite beaches on the Garden Route and the perfect place to stop for lunch. The Lookout Deck Restaurant is a lovely spot to grab a bite and watch the waves roll in.
From here, follow the small footpath to the Whale Tail Lookout Point, where you can enjoy unparalleled views over the beach, Keurbooms Lagoon, and the Outeniqua mountains in the distance.
Travellers looking for something a bit more laidback, venture a bit further to Keurbooms Beach. Only a 10-minute drive from Plett, it is sometimes possible to have the stunning white sandy stretch of Keurbooms Beach all to yourself. Enrico's is a fabulous restaurant offering excellent food, boozy cocktails, and epic ocean views.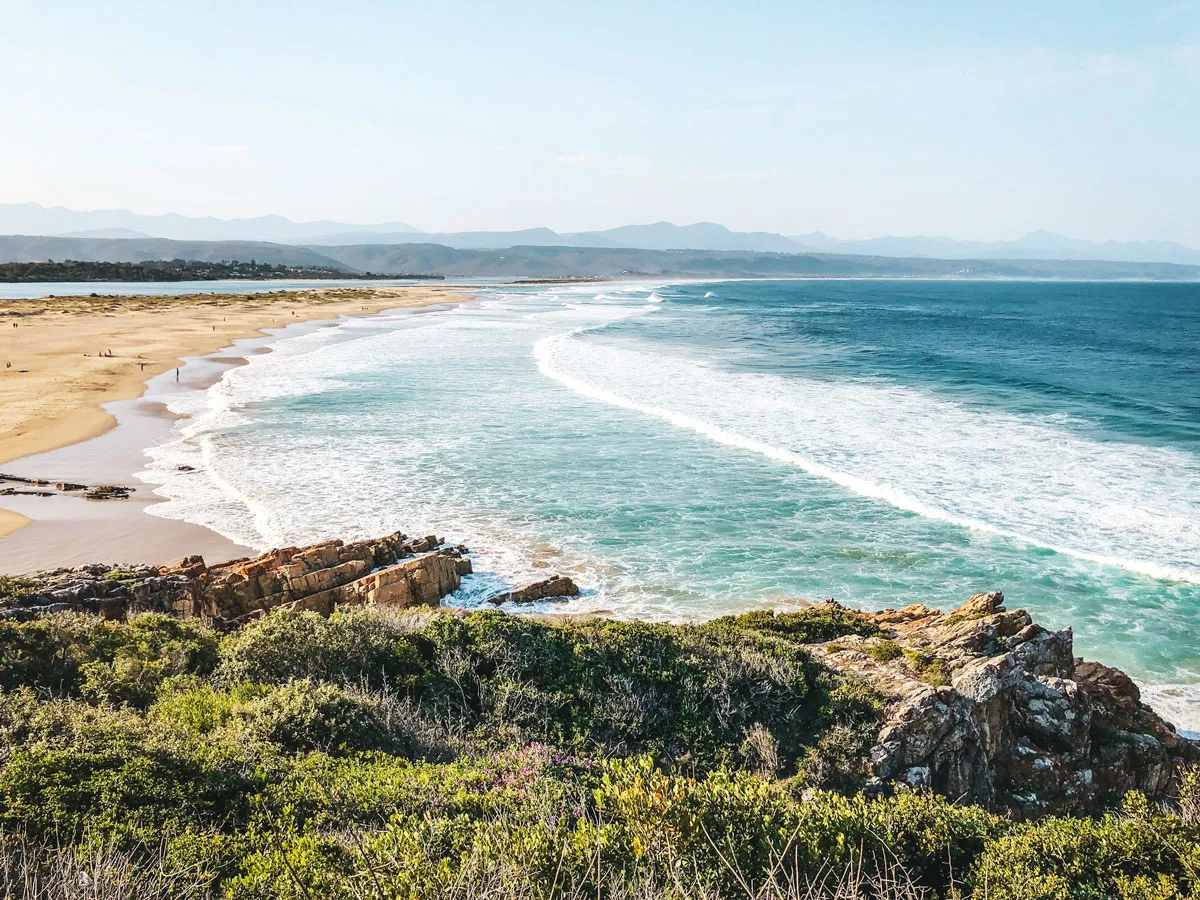 Where to Stay in Plettenberg Bay
As one of the Garden Routes most popular destinations, there are plenty of accommodation options in town, from hostels to fancier hotels. For budget on the beachfront, Plett Beach Front Accommodation offers cosy, modern dorms and private rooms right on the beach.
For laid back luxury right on the sand, The Bungalow has beautifully decorated and super comfy triple and twin rooms at a very reasonable price right through to luxe deluxe two-bedroom apartments with all the creature comforts and views to die for.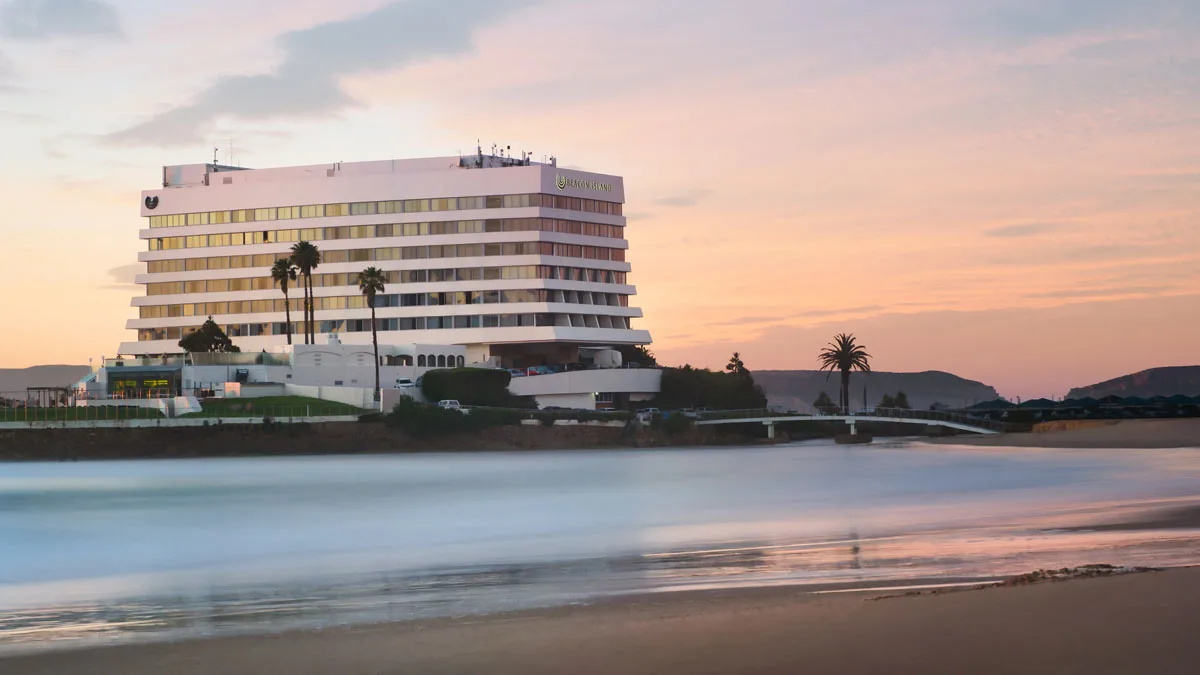 Start Planning Your Garden Route Itinerary
If you're looking to experience a slice of South Africa's scenic coastline, make sure to include a Garden Route itinerary in your travel plans.
The Garden Route is, without doubt, one of South Africa's premier destinations – brimming with history, culture, natural wonders and of course, fine food and wine, there's plenty to keep you busy for a few days.
---
---
About the Author
Mariza Lange
Mariza is a South African based in Taiwan. When she's not juggling work, you can find her binge-watching the news, sipping on lattes, or mapping out her next adventure. Mariza shares in-depth destination guides filled with handy tips and tricks on her blog Hoponworld to help people travel hassle-free in South Africa and Asia.