Disclaimer: Our articles may contain affiliate links. This means if you make a purchase after clicking on a link, we may receive a small commission at no extra cost to you. See end of article for more details.
nThambo Tree Camp Lodge encompasses the complete luxury African safari experience without the high price tag. 
Much like her sister camp, Africa on Foot, nThambo Tree Camp prides itself on being eco-friendly but the main focus here is intimate yet affordable luxury safari.
nThambo has taken its cue from some of the finest traditions in safari accommodation and packaged it into a more relaxed and personal experience. If you are looking for an affordable African safari without scrimping on the experience, this boutique safari lodge will not disappoint. 
Situated in the heart of the Klaserie Private Nature Reserve, one of the least commercially developed private game reserves in Greater Kruger, you can expect a truly pristine wildlife experience at nThambo Tree Camp.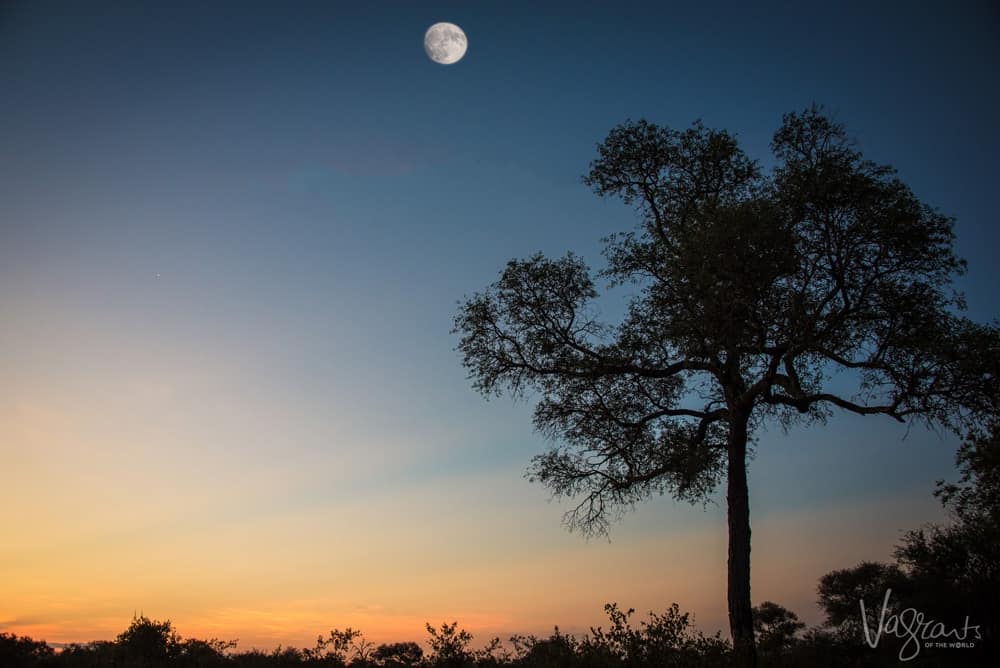 Safari Accommodation
Catering to a maximum of ten guests, nThambo has five large tree house chalets for double or twin occupancy only. Wooden tented cabins raised on stilts to the tree tops, ideally positioned for game viewing from your private verandah. The raised chalets also make the most of the spectacular views of the plains leading to the Drakensberg mountain range.  
The chalets are spaced well apart ensuring maximum privacy and furnishings are as you would expect from a luxury safari experience. Very spacious and ensuited, the chalets are designed with the old fashioned rustic charm of the bush in mind. 
Luxurious beddings and fittings throughout make for a very comfortable bush experience. And while solar is the main power source, full power and charging capabilities are available in room 24 hours a day. The smaller details of comfort and convenience have been carefully considered in each tented cabin.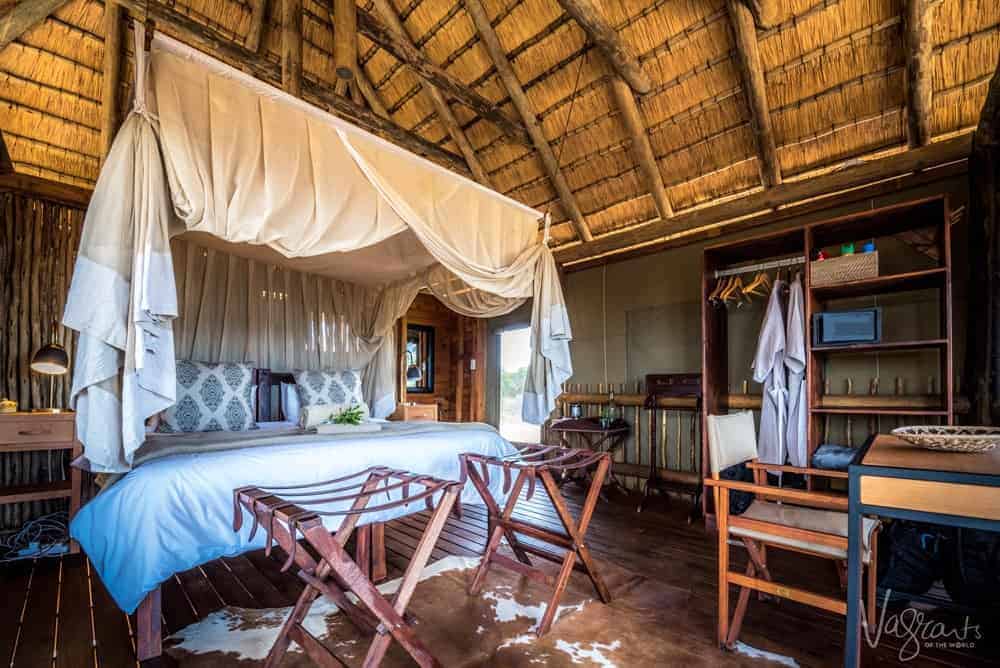 Daily Activities
An early morning wake-up call followed by the smell of fresh coffee is how you start the day at nThambo. There are two game drives daily, the first of the day will depart when the sun is barely over the horizon and the second returns after sunset. The best game sightings are to be had in the cooler parts of the day and an experienced guide will remind you, you have plenty of time to sleep during the day.
On our first evening, we were delighted with our safari experience. A highly skilled tracker had us hot on the trail of a leopard. A bracing off-road adventure to track the Big 5's most elusive as tracker and guide coaxed our safari vehicle through thick bush. The leopard was near.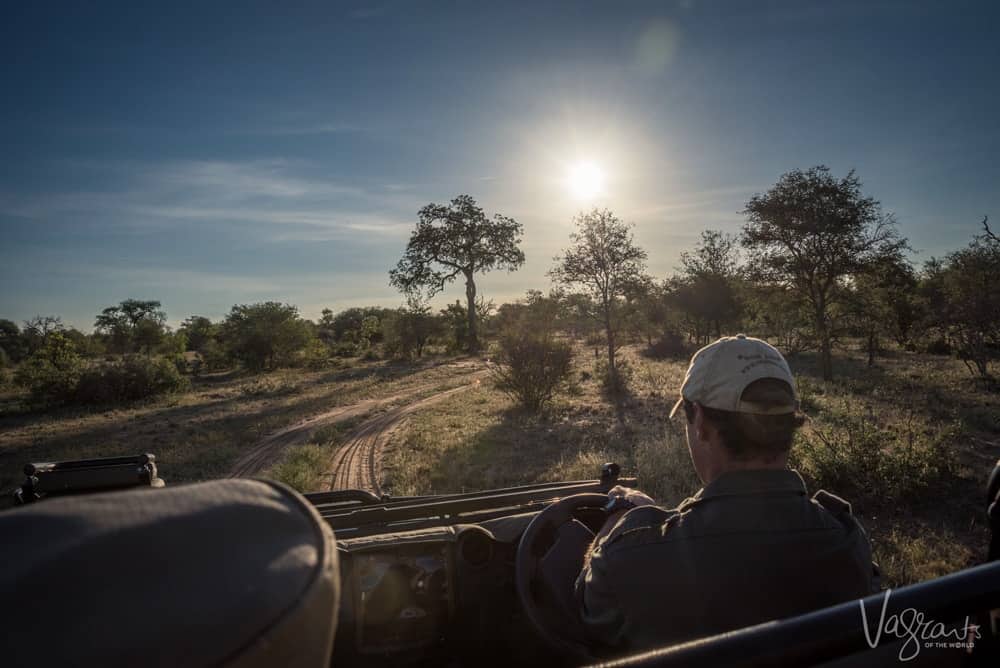 We sighted the leopard manoeuvring through thick foliage, fresh kill limp in his mouth. A baby warthog by the look but the leopard was not resting to satisfy our curiosities. We doubled back searching under instruction from the tracker. He knew which way the big cat would move. He was right. Another glimpse of the cat, the Warthog still firm in his jaws. He gave us one steely glance and was gone.
It was exhilarating to track an animal as cunning and elusive as the leopard. Two quick sightings were all we needed, the thrill of the chase more than met our wildlife safari expectations. Watching experienced trackers follow the tiniest signals of the bush to find Kruger's big game was something to behold.
On our way back to camp more than one curious giraffe was keeping an eye on our movements and herds of impala gathered on high alert as the sun began to set on their safety. The predators were on the move.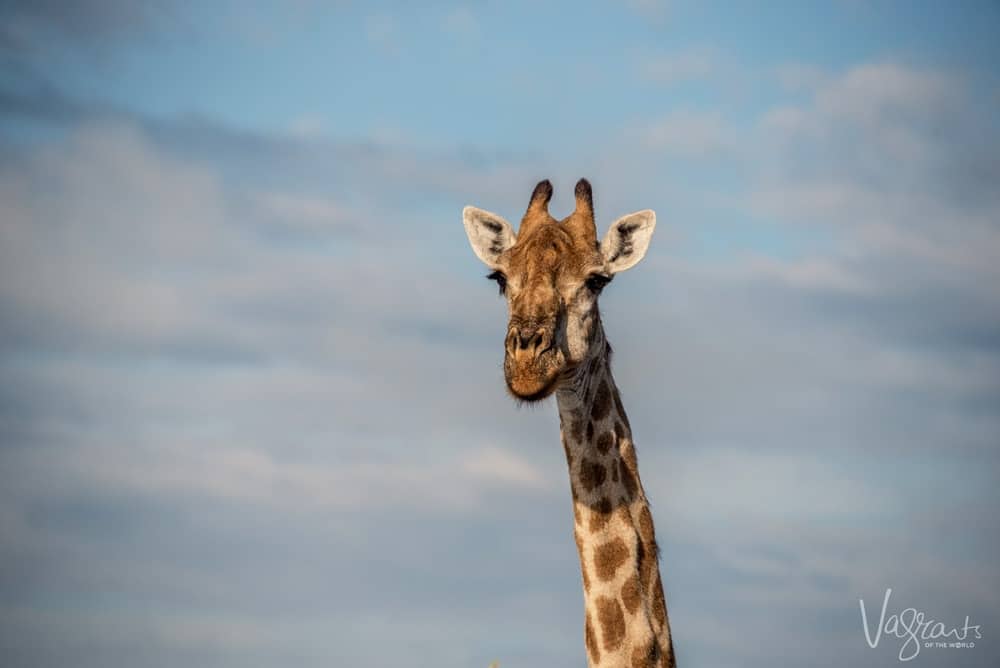 Relax and Recline
In between game drives, your time is yours to relax and enjoy the atmosphere and serenity of the bush in any way that suits. Catch up on sleep, read a book or cool off by the pool. Like any luxury African safari, it's all about indulging yourself at nThambo.
A small waterhole in front of the camp entices animals into the unfenced area throughout the day. This provides delightful sightings from the comfort of a cosy chair in the shade. Even while relaxing, there is never really a quiet moment in the African bush.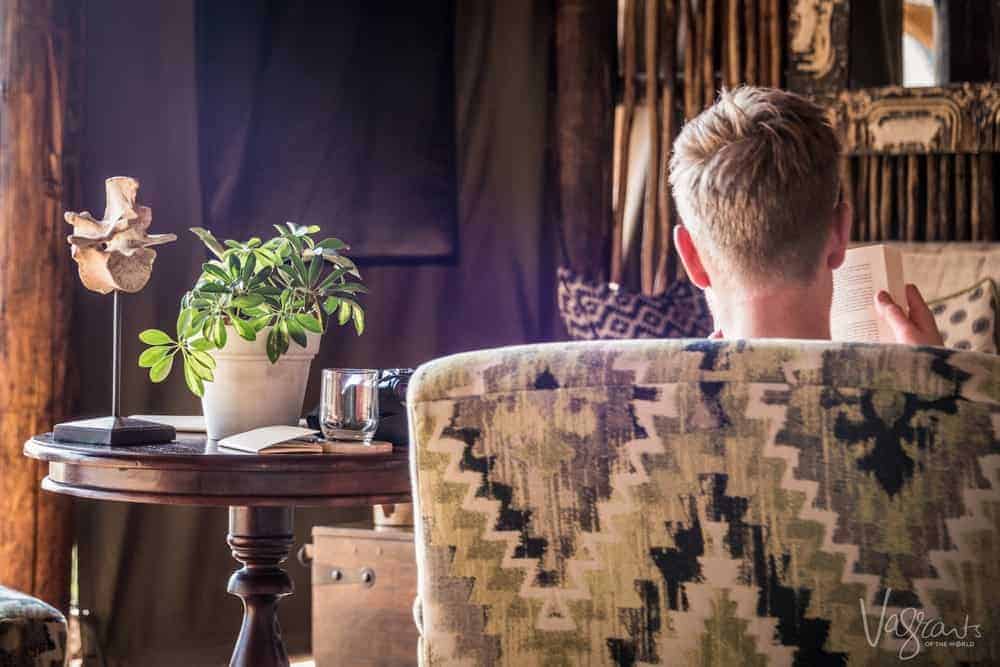 Wine and Dine
After an evening game drive, staff will greet you at the car with a cool towel and refreshing aperitif to toast the day. A welcome touch after a few hours in the heat and dust. With time to freshen up and enjoy a drink in the lounge before dinner, you can enjoy the possibility of wildlife passing the camp at night from the open lounge and dining area.
We were treated to a herd of buffalo passing by the dining area at close range, their presence only obvious by the reflections of their eyes in the torchlight. These are the experiences that make African safari holidays so unique.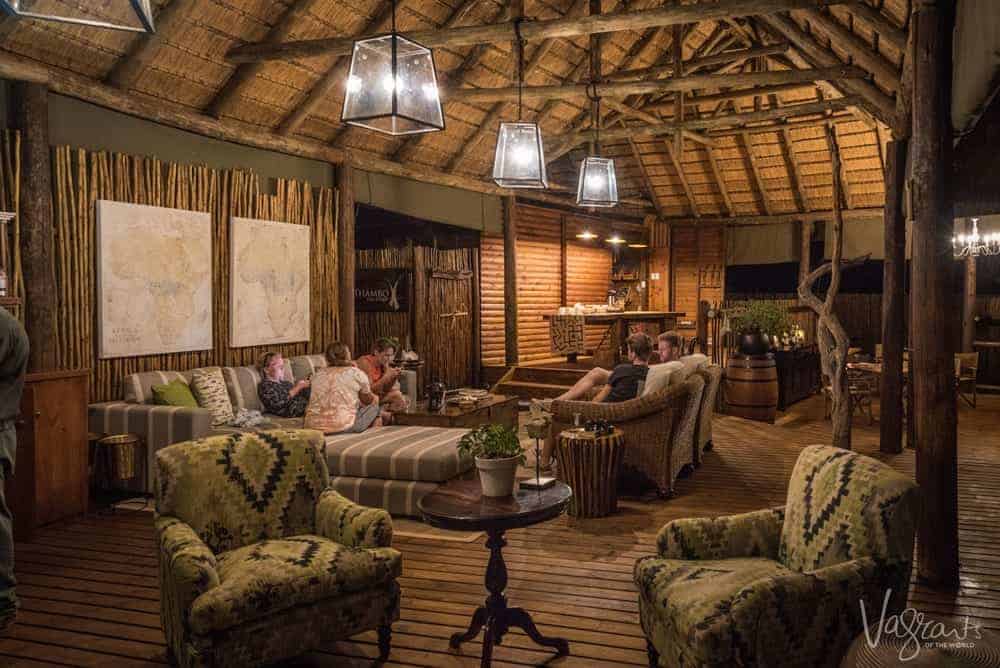 The Ultimate Wildlife Safari Experience
As the sun began to rise over the bush, we were already underway in our safari vehicle. In the low morning light, the tracker had spotted tracks of big cats in the sand. He knew how many there were and which way they were headed. We waited patiently while he took off on foot into the bush. He was sure the big cats were close by.
Returning from the shrubs, he quietly guided the vehicle. Suddenly, one of our group noticed a big male lion behind a bush. He was right, there were two big cats in the area. They had just taken down and killed a large buffalo. One of the cats had already feasted and retreated to lounge in the shade in the distance. The other, however, was still in the midst of his feeding frenzy.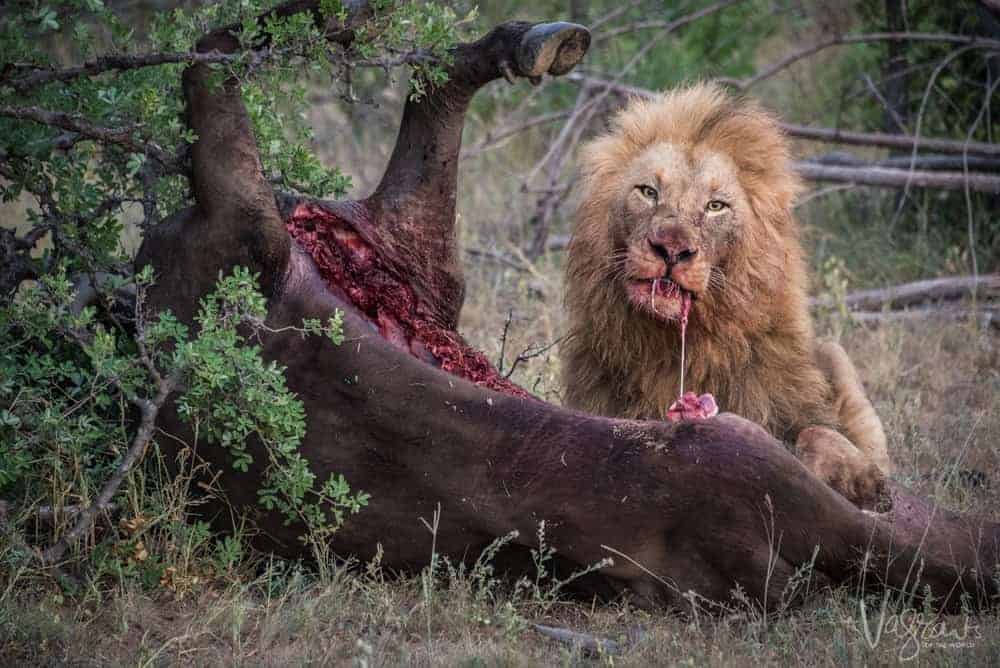 It was quite a remarkable experience to sit not two metres from a large male while he feasted on his kill. This was the ultimate African safari experience. All this before breakfast. What a way to start the day.
Before You Go – Recommended Travel Gear For Safari In South Africa
---
---
Facts for nThambo Tree Camp
For more detailed information, current rates or booking enquiries, contact Sun Destinations 
Inclusions
Full Board Rate Includes-
All meals.
Two game drives daily and bush walks.
Tea & coffee.
Fully Inclusive Rate Includes –
All meals.
All drinks – Alcoholic and soft drinks
Two game drives daily and bush walks.
Tea & coffee.
Exclusions
The Klaserie Conservation Levy of R200 (~$15 USD) per person per stay.
The Timbavati Gate fee of R140 (~$10 USD) per vehicle if self-driving.
Rates     (Rates are subject to change)
Full Board Rates      R3, 095.00 (~$240 USD) per person per night
All Inclusive Rates  R3, 495.00  (~$270 US) per person per night
No Single Supplement Rate Applies
Children's Rates   Children over 12 yrs pay full rate.   No children under the age of 12.
Getting There
nThambo Tree Camp is located in the Klaserie Private Nature Reserve in the Greater Kruger.  There are three options for accessing the camp.
Self Drive
Fly to Hoedspruit or Nelspruit Airports from any of the major city airports and request road transfer- Road transfers from Hoedspruit Airport – R300.00 pp (~$23 USD) each way.
Daily shuttle service from Pretoria, Johannesburg and OR Tambo departing 06.00 arriving 13.00 at Timbavati Gate – Road transfers from Timbavati Gate – R250.00 pp (~$19 USD) each way.
All road transfers can be requested at time of booking with Sun Destinations.
---
We would like to thank Sun Destinations and nThambo Tree Camp for hosting us. All opinions expressed are our own and have not been influenced in any way.
---