Thanks to its location, there are so many great day trips from Toronto that don't require hours in the car.
While there is plenty to do in Toronto, in less than two hours, you can find yourself on beautiful hiking trails, swimming in lakes, or even visiting friendly alpacas.
These day trips from Toronto dish up a gorgeous dose of nature and charming towns for a breath of fresh air away from the city.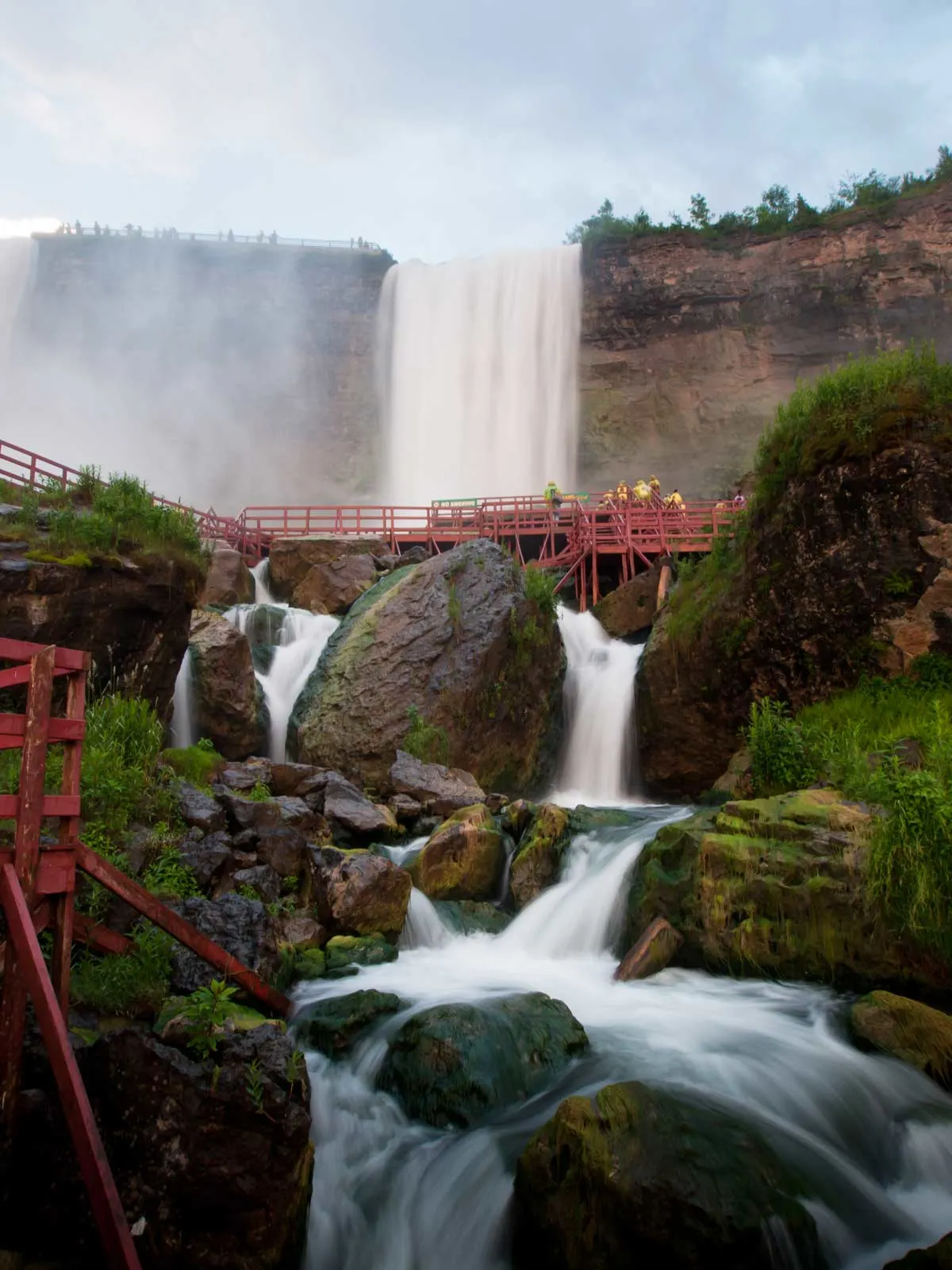 Before we dive into six of the best day trips from Toronto, let's break down how you can enjoy these Ontario activities.
How to Get Around
Personal Car and Car Rentals
The simplest mode of transport for these Toronto day trips is by car. If you have a car, you're all set to go. Otherwise, you can rent a car for the day.
Usually, the airport is the best place to pick up a rental, but there are loads of car rental offices around Toronto City if you just want a car for the day.
Discover Cars is a good search option for rental cars as they aggregate all the current rates from local and international rental companies, have no hidden fees, and offer free cancellation.
Parkbus
Parkbus is a bus service that connects Toronto with nature. They operate bus services to several national and provincial parks from major cities across Canada. You can check out Parkbus here.
Public Transit
You'd be surprised how many places you can go using Toronto's public transit system. The TTC, combined with GO Transit, connects you to many of the towns outside of the city.
6 Best Toronto Day Trips
Swim at Bass Lake and Explore Orillia
Bass Lake is a small lake just a 10-minute drive from the pretty town of Orillia.
The lake is home to Bass Lake Provincial Park. One of the best Ontario parks, a day pass gives you access to all the park's facilities, such as picnic areas, a beautiful sandy beach with a playground, and boat rentals on site.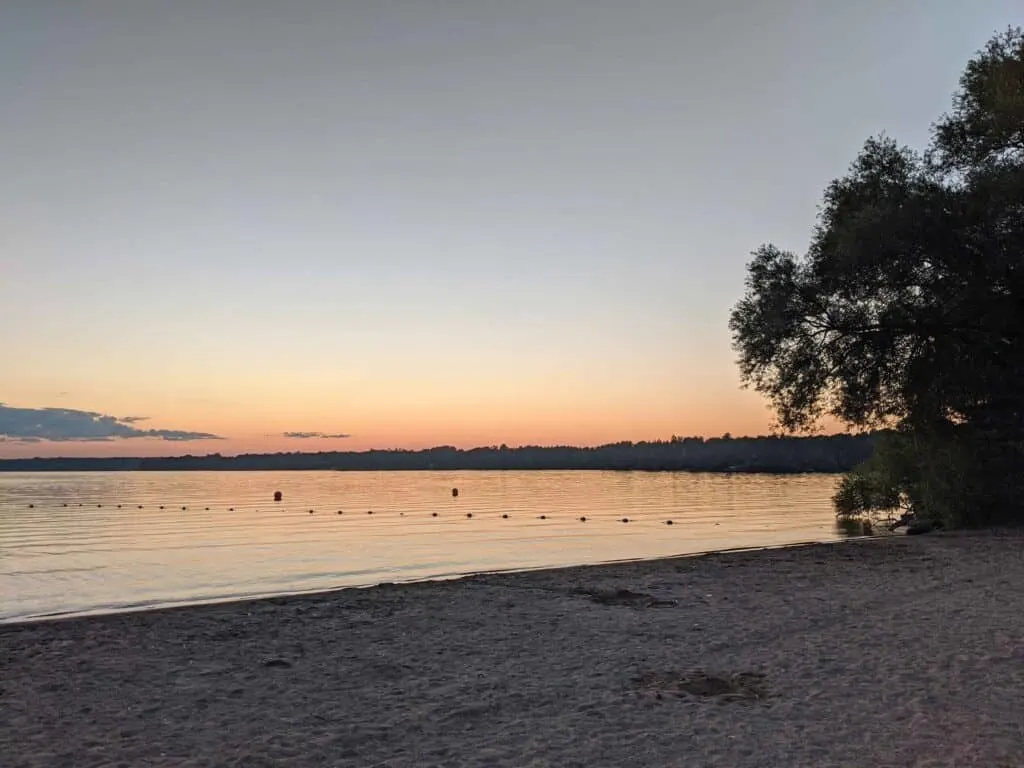 The lake has shallow, clear waters that are perfect for swimming and paddling. Once you've had your fill of lake life, head into Orillia.
Orillia has two farmer's markets that are worth checking out—the downtown market, which is super accessible, and the Orillia Fairgrounds Market.
You can discover local artisans, try locally-made foods, and buy fresh produce at both. After exploring the markets, head to Orillia's main street. There you'll find lots of trendy boutiques selling everything from cottage decor to clothing.
The Mariposa Market is an Orillia staple, having been on the main street for over 30 years. The Mariposa has a gift shop, bakery, market, and scent shop.
When you're hungry, head to the Studabakers patio, and then drop by Couchiching Craft Brewery for a locally made beer.
How to get to Bass Lake and Orillia
It's easiest to get to Orillia by car. The drive from Toronto to Orillia is about 1.5 hours.
Take Highway 400 north, and then switch to the ON-11 to Mississaga St W in Orillia. Take exit 131A. When you take the exit, turn left to go to the lake or right to go into Orillia.
Explore the Famous Niagara Falls
Niagara Falls has held the title of the "Honeymoon Capital of the World" since the 1800s.
Without a doubt, the Falls have a romantic feel, but they are equally fun to visit with friends, family, or even alone.
While many think of it as a summer destination, Niagara Falls in winter is especially impressive if you're looking for a different experience.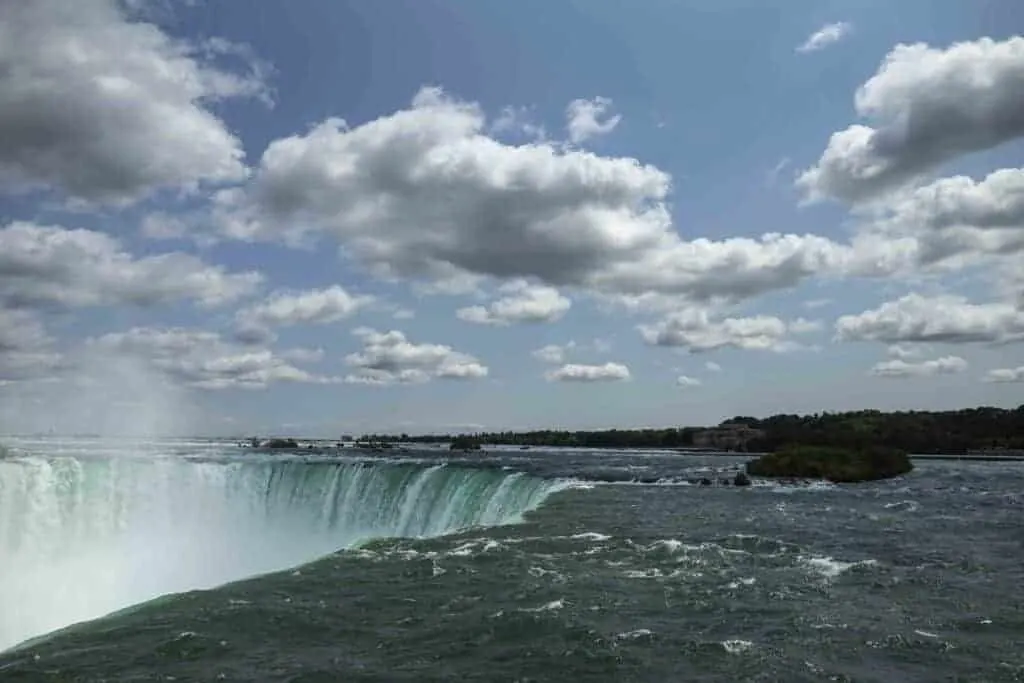 The city is named after the impressive waterfall known worldwide for the staggering amount of water flowing over them.
Where a typical "tall" waterfall has comparatively very little water flowing over, Niagara has an epic combination of height and volume, making them particularly breathtaking.
There are tons of ways to experience the falls. You can admire them for free at the Table Rock Welcome Centre. The viewing platform is open all the time, day and night.
You can also opt to get up close to the falls by taking a boat ride on the Maid of The Mist or taking the Journeying Behind the Falls tour.
When you've finished enjoying the falls, head downtown to visit one of Niagara's museums or dine in one of the city's restaurants.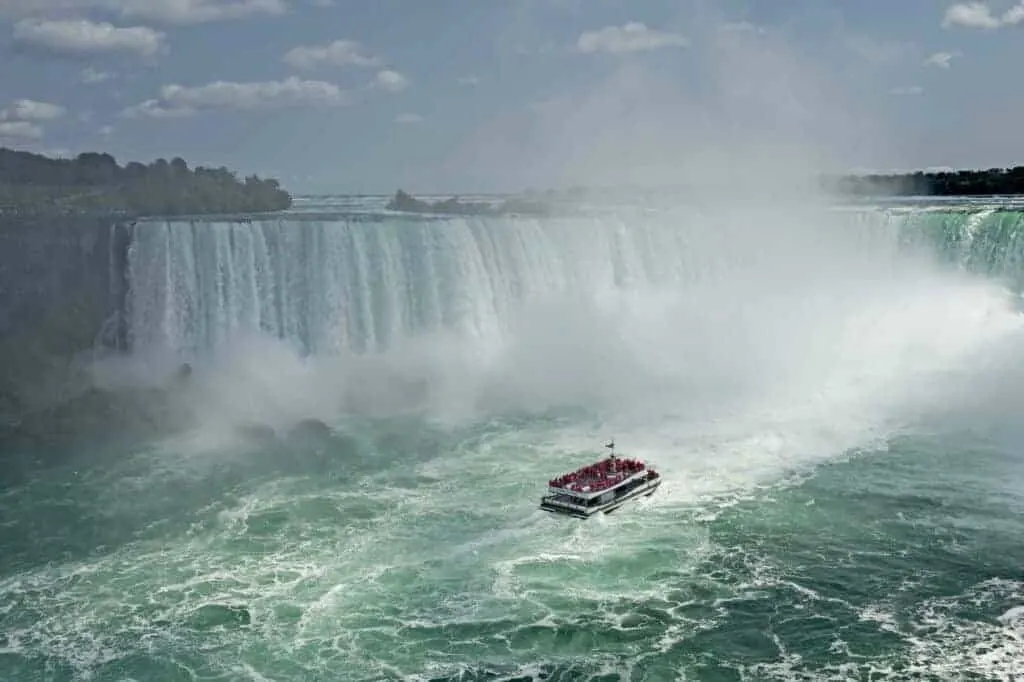 How to Get to Niagara Falls
The trip to Niagara Falls is easy from Toronto. You don't even need a car.
Toronto's GO Transit will take you there and back by bus. The trip is about 2 hours each way. You can also opt to visit the falls on an all-day tour.
The trip there and back by car is around the same length – just under two hours each way.
Hike to a Waterfall at McCrae Lake
McCrae Lake is a medium-sized lake connected to Georgian Bay by a stream called the McCrae Rapids.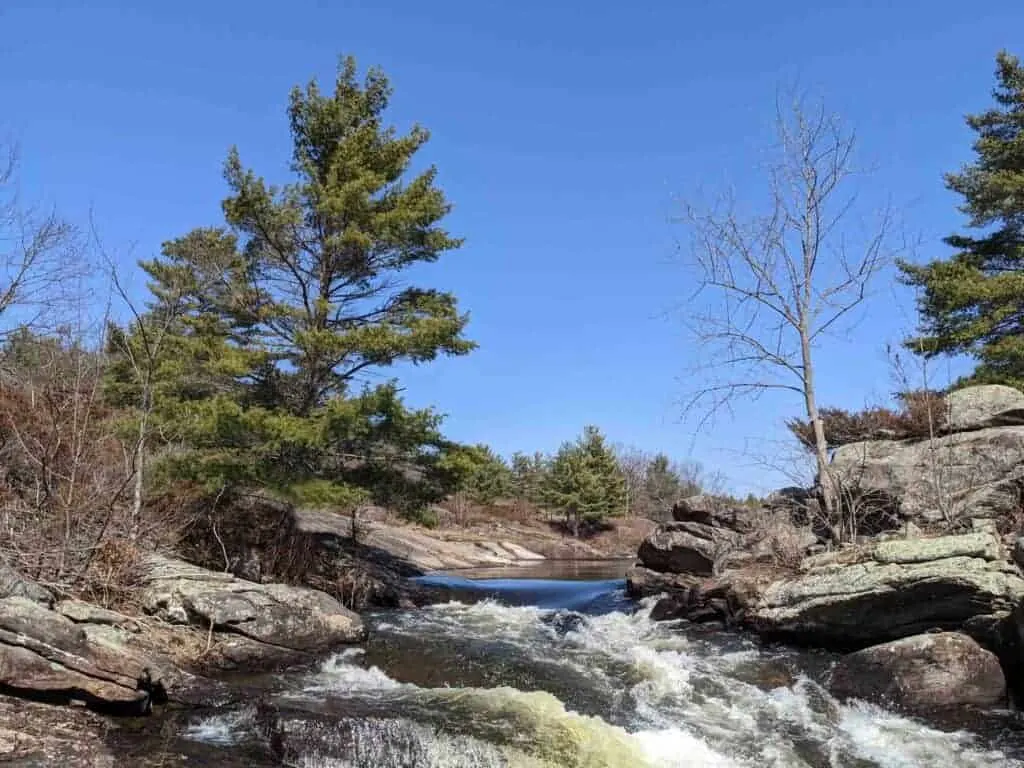 Because the lake is near Georgian Bay, it's part of the famous Canadian Shield, a unique terrain resulting from glacial erosion during the last ice age.
McCrae Lake is a special part of Georgian Bay because, unlike most of the lakes in the region, it has no cottages on it. This makes it a quiet and serene lake to explore on foot or by paddling.
There are two hikes you can do at the lake. The first is the McCrae Lake Waterfall Trail, a 2.5-kilometer trail that brings you to a beautiful waterfall that connects McCrae to another lake.
The other trail is more of a challenge. The McCrae Lake Conservation Yellow Blazes Trail is a 14.3-kilometer out-and-back trail that takes you around the entire lake.
This hike will easily take up a full day, so if you'd like to do a shorter version of it, you can hike part of the trail to the Eagle's Nest Lookout and back. Hiking just to the lookout and back takes about two hours in total.
How to Get to McCrae Lake
Accessing the lake by water is possible, but car is the best bet if you're coming to McCrae Lake for a day trip.
The drive takes just under two hours each way. It makes for a long day trip, but having done it myself, I can confirm it's doable (and very fun).
Take Highway 400 north, and take Exit 168. There is a small parking lot at the trailhead, which brings you to McCrae Lake. Finding the little parking lot can be tricky, so be sure to pop McCrae Lake into your GPS.
Float or Paddle Down the Grand River
There are many spots around Toronto where you can paddle, but you can also venture outside of the city to paddle down the Grand River. And if you're feeling lazy, you can simply float.
You can rent a canoe, kayak, tube, or another floating device through The Grand River Rafting Company. Some of their floating devices fit up to 8 people, which makes a great group day trip.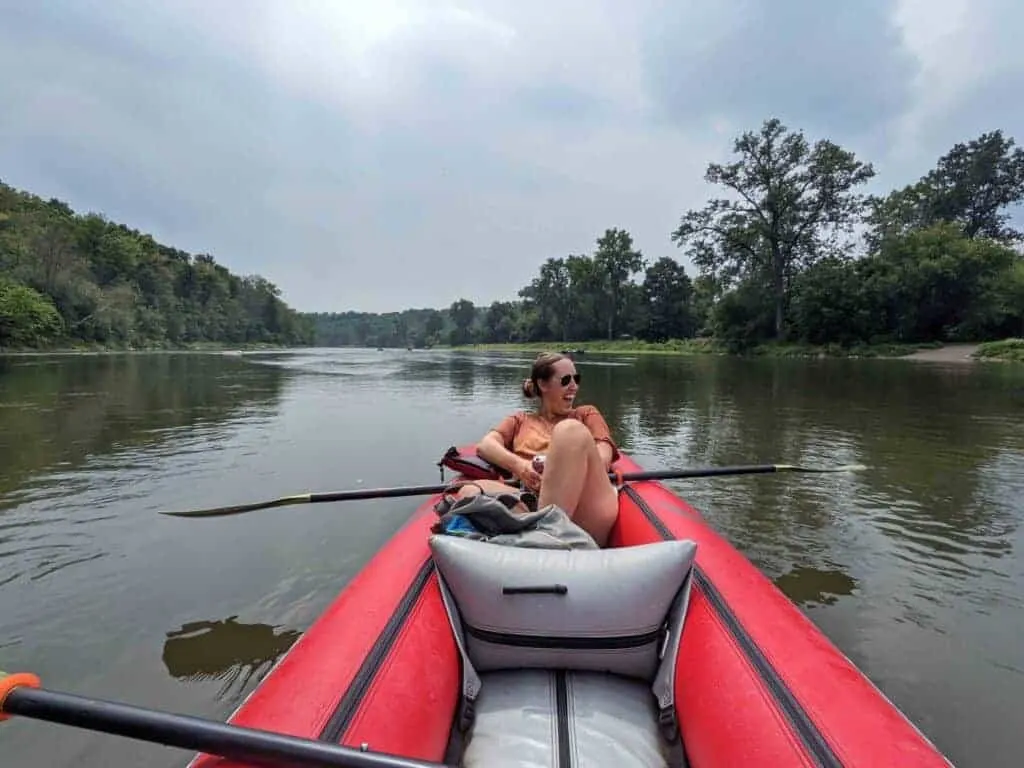 You can do various river routes, so choose your route, and Grand River Rafting will drive you to the river starting point. Then, you paddle or float down the river back to where you've parked your car. When I did this, I did the Paris to Brantford route.

You can park at the Brant Conservation Area (just outside Brantford), where you will pick up your paddles and life jackets and get a safety briefing. Then you'll hop on a school bus which takes you to the town of Paris and drops you off at the river entry point.
This river floating route is three to four hours long. Because of the river's current, you don't have to paddle. You can sit back and relax and let the river do the work. Pack lunch and your swimsuits, and enjoy floating, paddling, and occasionally hopping into the river for a swim.
How to Get to Brant Conservation Area
Brant Conservation Area is just outside Brantford, Ontario, about a 1.15 hr drive from downtown Toronto.
Take the ON-403 West past Hamilton, and get off on exit 38. You'll leave your car parked in the Brant Conservation Area to do the river floating through Grand River Rafting.
Visit Port Perry and Meet Alpacas
Port Perry is a small town on the southwestern banks of Lake Scugog. It's a picturesque Ontario town with plenty of history and tons of activities.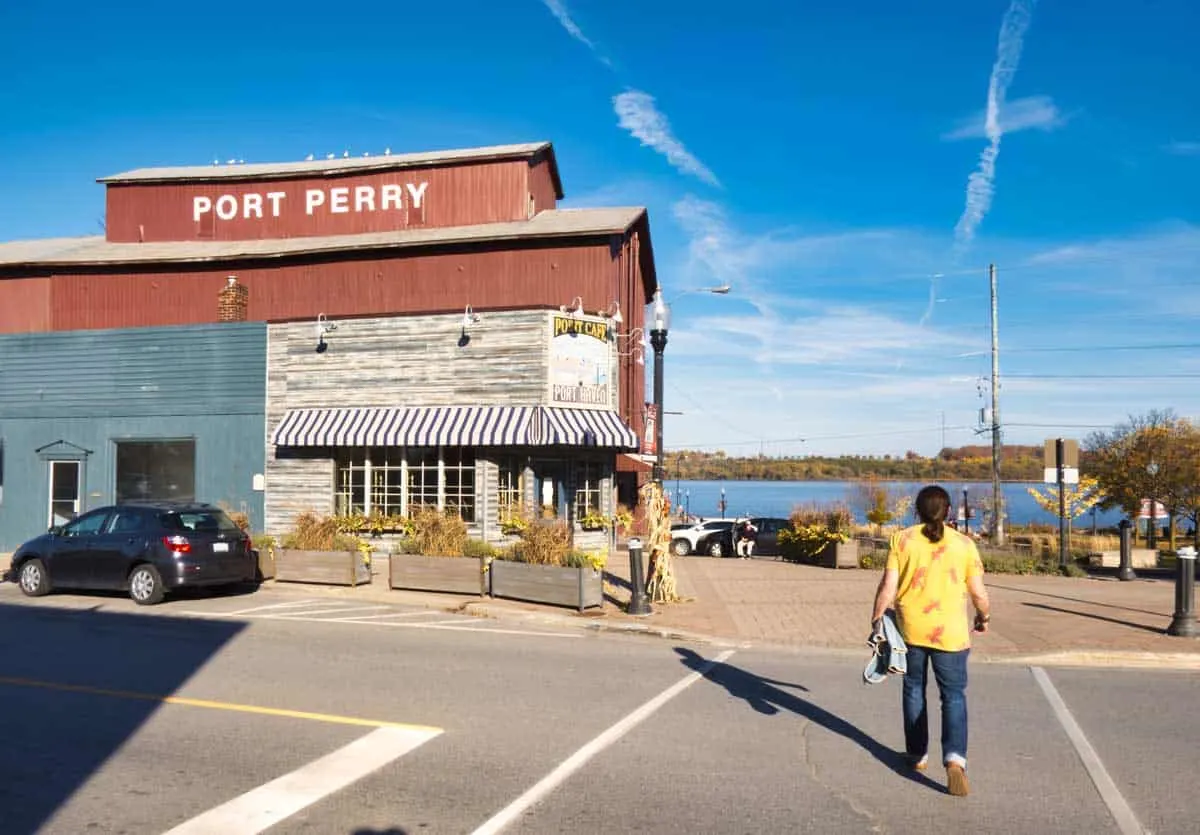 The main streets of Port Perry are lined with historic Victorian-style buildings. Many serve as boutiques, shops, restaurants, cafes, bakeries, and more.
Be sure to drop by Hank's Pastries for one of their famous cinnamon buns. This iconic bakery is 100 years old.
From Port Perry's main street, you can walk to the waterfront of Lake Scugog, where you'll find walking trails with beautiful views. There are also two parks to explore.
Bring a blanket and picnic, or stop by one of Port Perry's restaurants for lunch.
After exploring Port Perry, drive 20 minutes into the countryside to visit Our Tiny Farmstead. Mitch and Moranda offer farm tours, including alpacas, honey bees, babydoll sheep, free-range hens, horses, and donkeys. You can learn all about the farm animals and even take one of the alpacas for a walk.
Be sure to book your visit ahead of time online and pick from various experiences, from a classic farm tour to yoga with alpacas.
After your farm visit, swing by Sargent Family Dairy to pick up some fresh dairy products.
How to Get to Port Perry
Port Perry is a 1-hour drive northeast of Toronto.
Take Highway 407 east and then Highway 12 north. Getting to Port Perry by public transport is possible, but be warned that the trip there (and back) takes twice as long.
Go Swimming at Rockwood Conservation Area
Rockwood Conservation Area is a Grand River Park in Rockwood, Ontario. It's the perfect park to escape to during the summer for an easy hike, swimming, and paddling.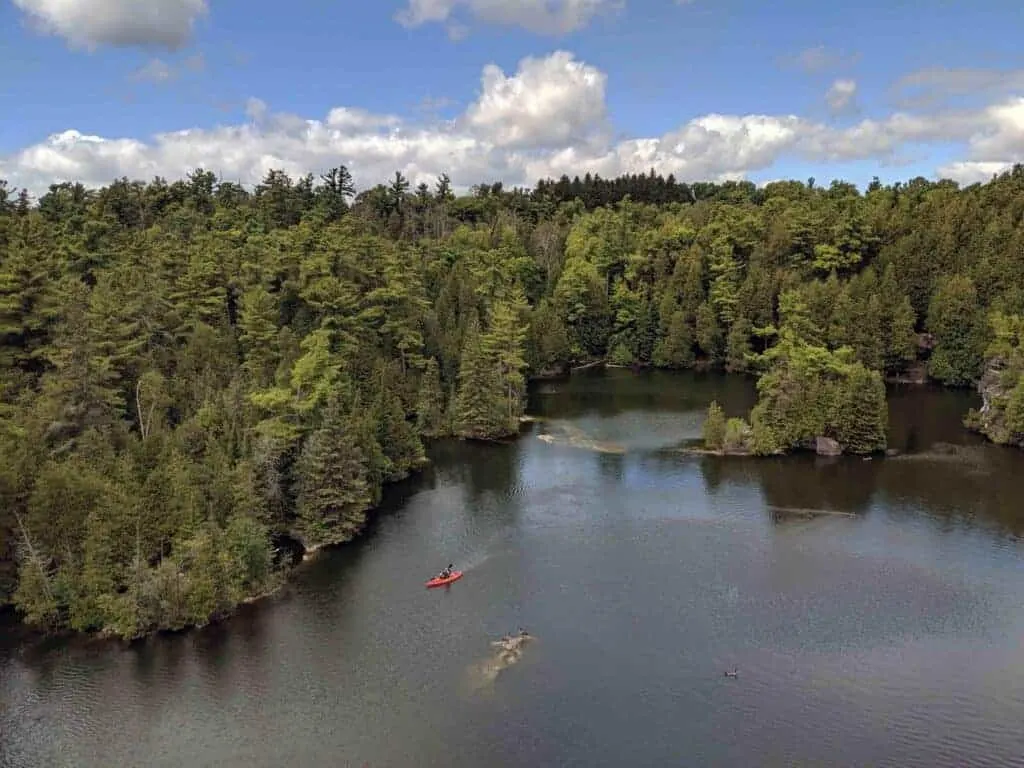 Rockwood has a public beach with a sandy and grassy area, and the water is perfect – plenty of shallow water that eventually becomes deeper.
If you'd like to get active at Rockwood, you can launch a kayak, canoe, or paddle board from the beach. If you don't have your own, rent one from Inside Out Nature Centre.
The park also has two hiking trails, the Pothole Trail and the Cedar Ridge Trail.
The trails run along the Eramosa River, and although they aren't very long or challenging, both trails provide stunning views overlooking the river below. You can stop at two designated lookout spots to take in these views.
You'll find an interesting attraction at one end of the Cedar Ridge Trail: a collection of natural caves. Some of them stretch back quite deep, so much so that you'll need a headlamp or the flashlight on your mobile phone to be able to explore them.
You're free to explore the caves during the summer, but they are closed from October 16 to March 31 to protect hibernating bats.
How to Get to Rockwood Conservation Area
It's an easy 1 to 1.5-hour drive from Toronto to Rockwood.
Take Highway 401 headed west, and at Campbellville exit onto Guelph Line 1 headed north. If you don't have your own vehicle, you can book transit to Rockwood for a day trip using the Parkbus service.
Plan Your Day Trip
From beautiful waterfalls to charming towns, there are plenty of exciting day trips from Toronto. Take advantage of these stellar destinations so close to Toronto City.
About The Author
Erin Hynes
Erin has been traveling solo and with her partner for over a decade. She's traveled across six continents and has lived in two countries abroad. Erin also hosts the travel podcast, Alpaca My Bags, where she interviews travel industry thought leaders and experts about responsible tourism.