Bangkok, Phuket, and Krabi (especially the islands) have long been hotspots for visitors to Thailand. We'll walk you through our Best 3 Days in Chiang Mai Itinerary.
However, in recent years, Northern Thailand has been thrust into the tourism limelight as travellers start to discover the beauty of Chiang Mai.
Surrounded by mountains and beautiful scenery, the city itself is rich in history and culture. Chiang Mai is also home to a staggering 300 temples, many located within the walls of the Old City.
For first-time visitors, three days is a perfect amount of time to spend in Chiang Mai. Our 3-day itinerary will help you plan your stay so you don't miss any of the best things to do in Chiang Mai. If you want to stay longer, there are some excellent day trips from Chiang Mai to show you more of this unique part of Thailand.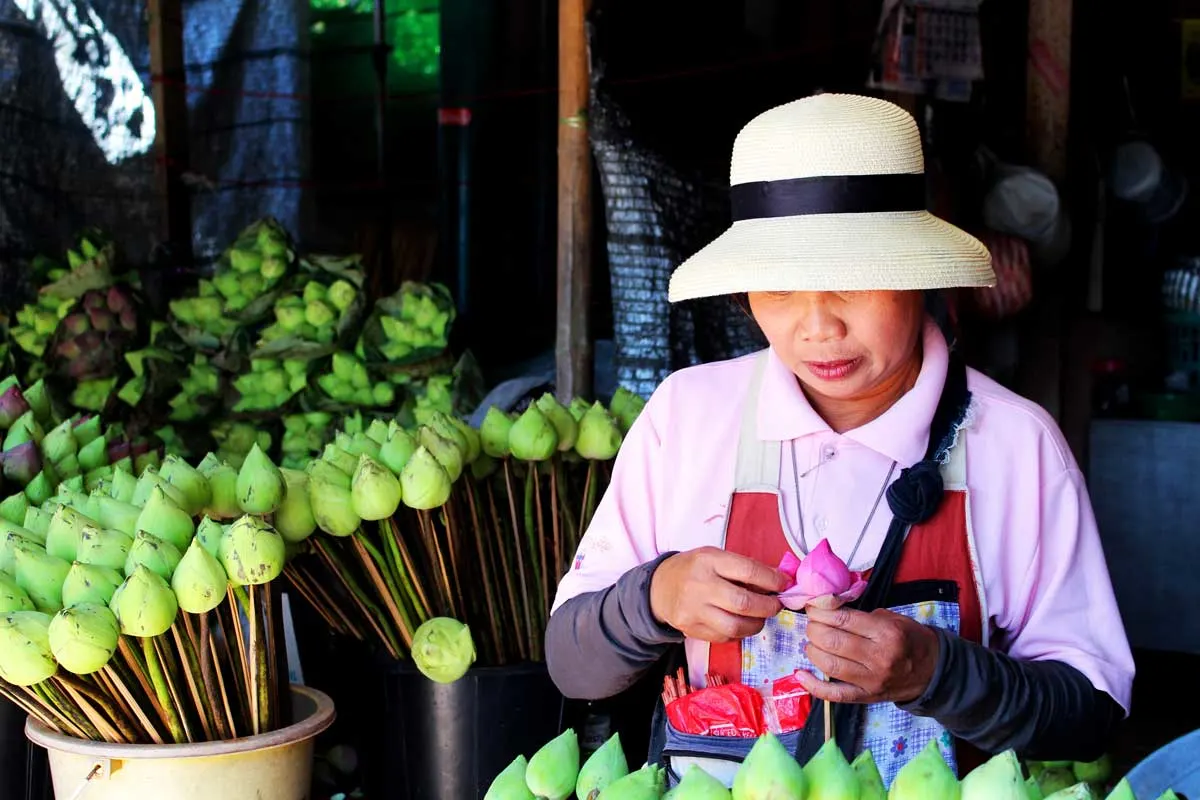 3 Day Chiang Mai Itinerary
Day 1
Explore the Temples and the Old City
The Old City in Chiang Mai is encompassed by brick gates protected with a surrounding moat. There are so many temples in the Old City, you wouldn't be able to visit them all in one day. However, there are definitely a few stand-out temples that help narrow the list.
Seven Must-See Temples in and Around Chiang Mai Old City
Doing a loop of all seven temples starting from the centre of the Old City is around 10 km. Allowing time to admire the architecture, you'd easily need half a day (around 6 hours).
If you're not used to the heat, either choose a few temples closer together or take advantage of a Grab Taxi to Wat Suan Dok which is a little out of the way from the old City.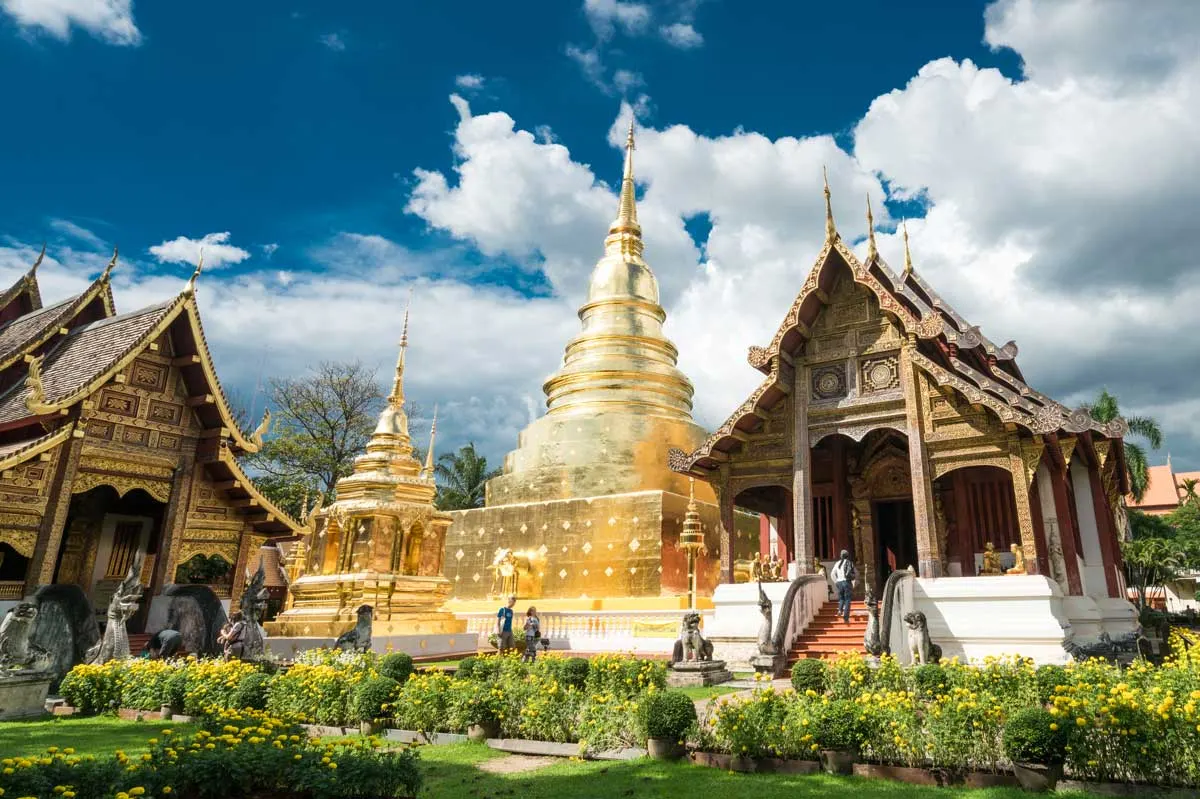 Wat Chedi Luang
Dating back to 1402, Wat Chedi Luang is one of the most popular temples to visit in Chiang Mai. Nothing like the other temples in Chiang Mai and certainly not as grand as Wat Phra Singh, the massive mythical serpents and elephants guarding the pagoda are sure to impress.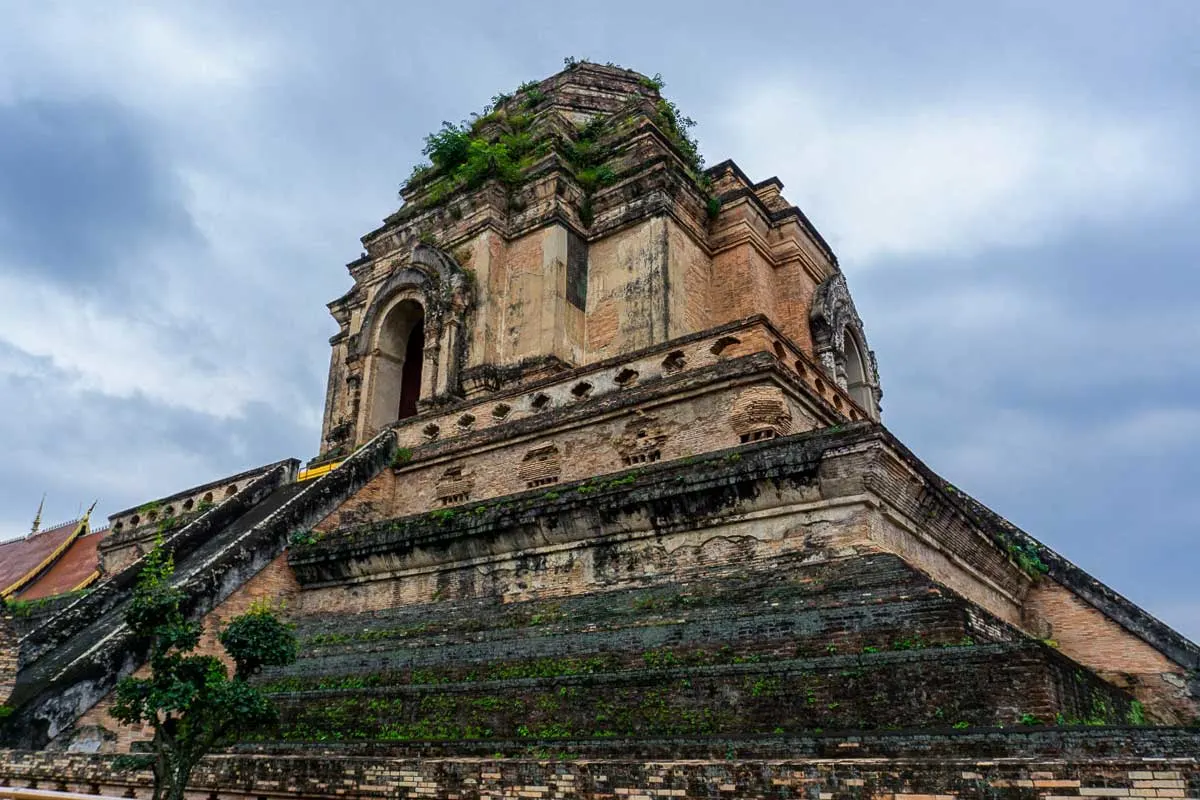 Wat Phra Sing
Considered the most beautiful temples in Chiang Mai. Wat Phra Sing, with stunning reflecting gold stupas, is not only one of the most brilliant and embellished temples in Chiang Mai, but it's also one of the most popular. Be there early to beat the crowds.
Wat Mahawan
Located just out of the Tha Phae Gate, Wat Mahawan is considered one of the most handsome temples outside the Old City. The whitewash square architecture of the chedi is characteristic of influences from the Burmese traders who once worshipped in the temple. You can also get a massage at Wat Mahawan for around 150 THB (~$5 USD)
Wat Chiang Man
Wat Chiang Man is Chiang Mai's oldest temple dating back to the late 1200s. In the grounds, you'll also find a lotus pond, library, and murals.
Wat Lok Moli
Wat Lok Moli is located just north of the Old City, west of the Chang Puak Gate. It is one of the older temples in Chiang Mai, dating back to the 14th century.
Wat Suan Dok
Wat Suan Dok is a little out of the way – about 1 km from the west (Suan Dok) gate. Regardless, it's worth a visit. The grounds are filled with white chedis which surround a grand gold chedi.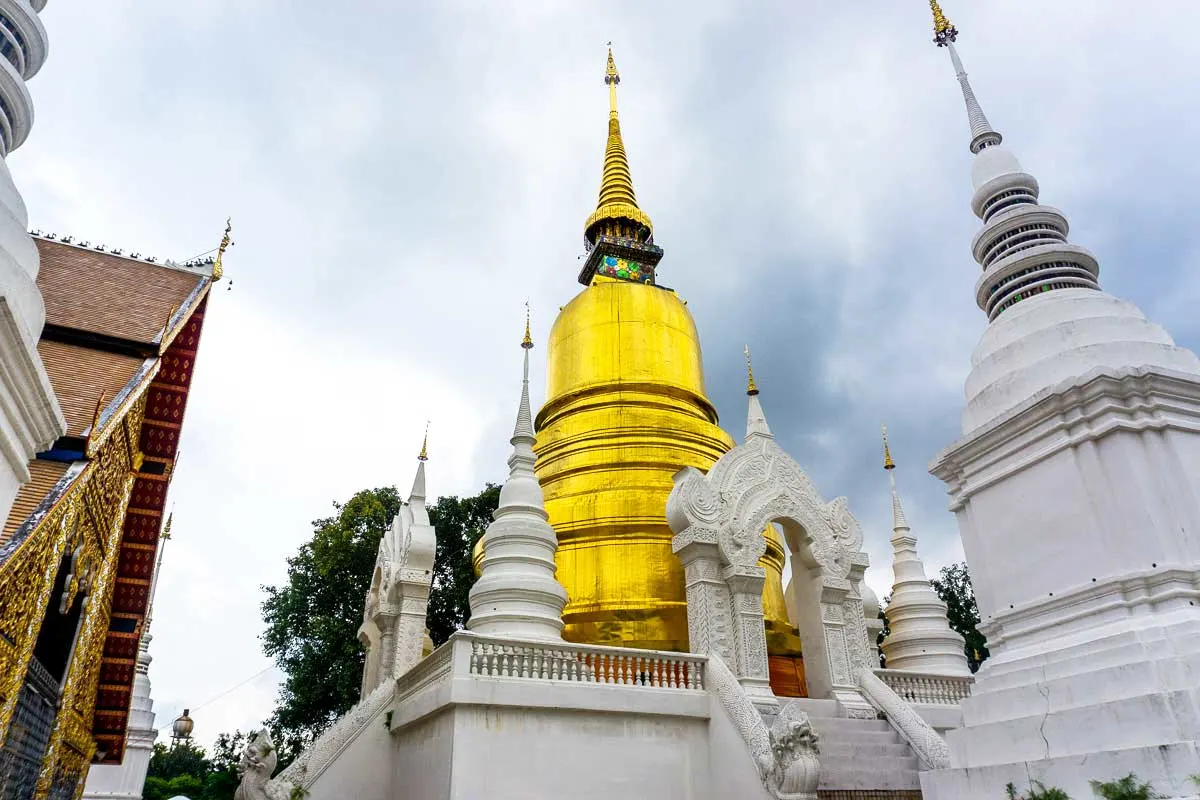 Wat Sri Suphan (Silver Temple)
As its name suggests, the Silver Temple is a metallic Buddhist shrine with impressive handcrafted silver decorations depicting Buddhist legends. Inside the grounds, there are many working silver studios where you can buy or commission works.
Between 5.30 PM and 7.00 PM Tuesday, Thursday and Saturday, the temple hosts a monk chat session for visitors to ask questions about Buddhism and meditate with the monks. The session continues to 9.00 PM with group talk and meditation for everyone. Donations are appreciated for these sessions.
Please note that women are not allowed to enter this temple.
Chiang Mai Temple Tour Recommendation
Don't feel like self-guiding around Chiang Mai's most famous temples?
This half-day tour takes you to Chiang Mai's most popular temples to discover the architecture and history with a professional guide. Visit Wat Chedi Luang, Wat Phra Singh, Wat Chiang Man, and Wat Suan Dok.
The tour includes hotel transfers, guide, drinking water, and all entry fees. See here for full tour details.
Chiang Mai Night Market
After a day of exploring the Old City, it's time for food and shopping. Head to the Chiang Mai Night Bazaar from 5 pm. Situated 500 metres from the Tha Phae Gate it is a great place for souvenirs, just remember to haggle.
While there are loads of cafes, bars, and restaurants all over Chiang Mai Old City, the best Thai food is always from the street markets, cooked fresh. Hit the stalls just outside the Night Bazaar for a feast of authentic Thai and an ice-cold beer.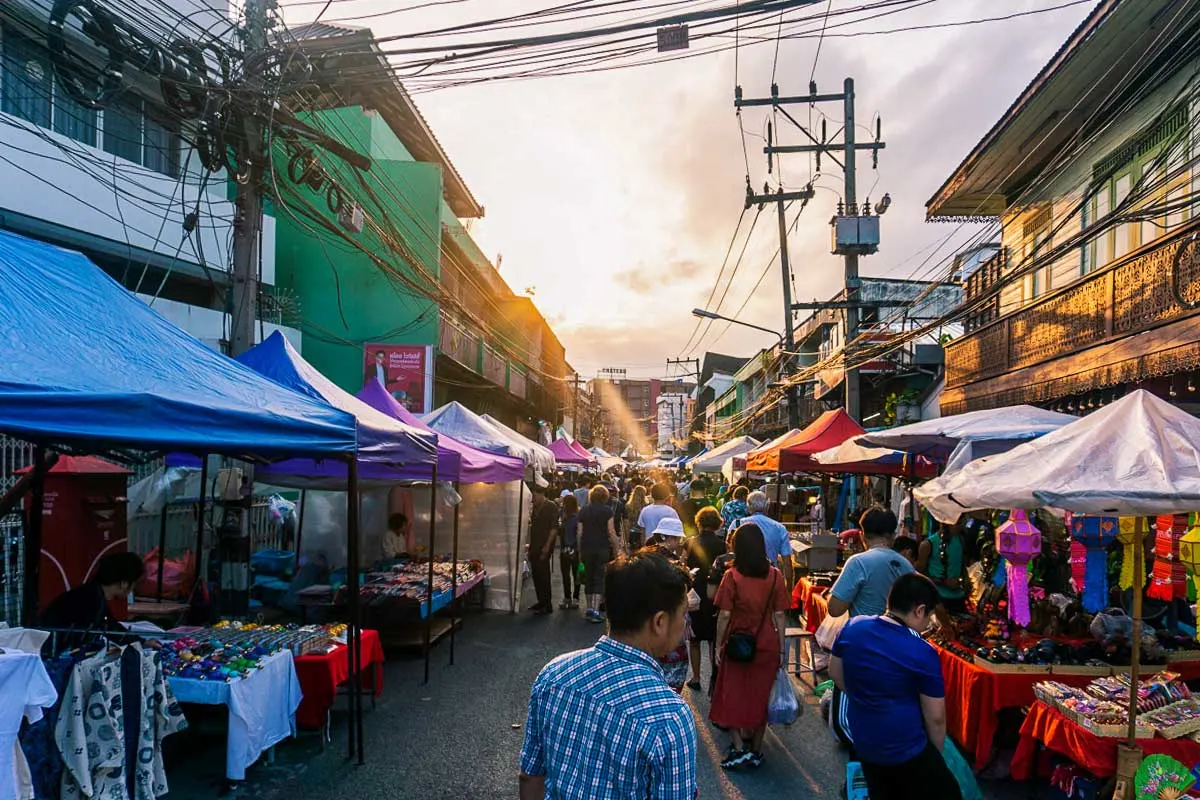 Night Market Street Food Tour Recommendation
If you want to get really serious about Thai street food, which we can highly recommend, take an evening local street food market tour.
Take a tour of at least two of Chiang Mai's colourful street food markets. Learn the ins and outs of Thai food, including what to eat and how to order.
Sample up to eight dishes including Chiang Mai's famous local dishes and Northern Thai delicacies. The tour runs for 2.5 hrs and includes hotel drop off and pick up. See here for the full tour details
---
What to Read Before You Go: Start your Thai travel journey with these great books about Thailand.
---
Day 2
Ethical Elephant Sanctuary
All over Thailand, there are opportunities to spend the day with elephants. But, there are a few very important things to consider before partaking in any kind of animal tourism in Thailand (or anywhere).
There is a dark side to animal tourism many travellers are blissfully unaware of. Elephant riding, tricks, and other practices are far from ethical. From young, these poor creatures are tortured while being trained for human entertainment and in some cases, are literally worked to death.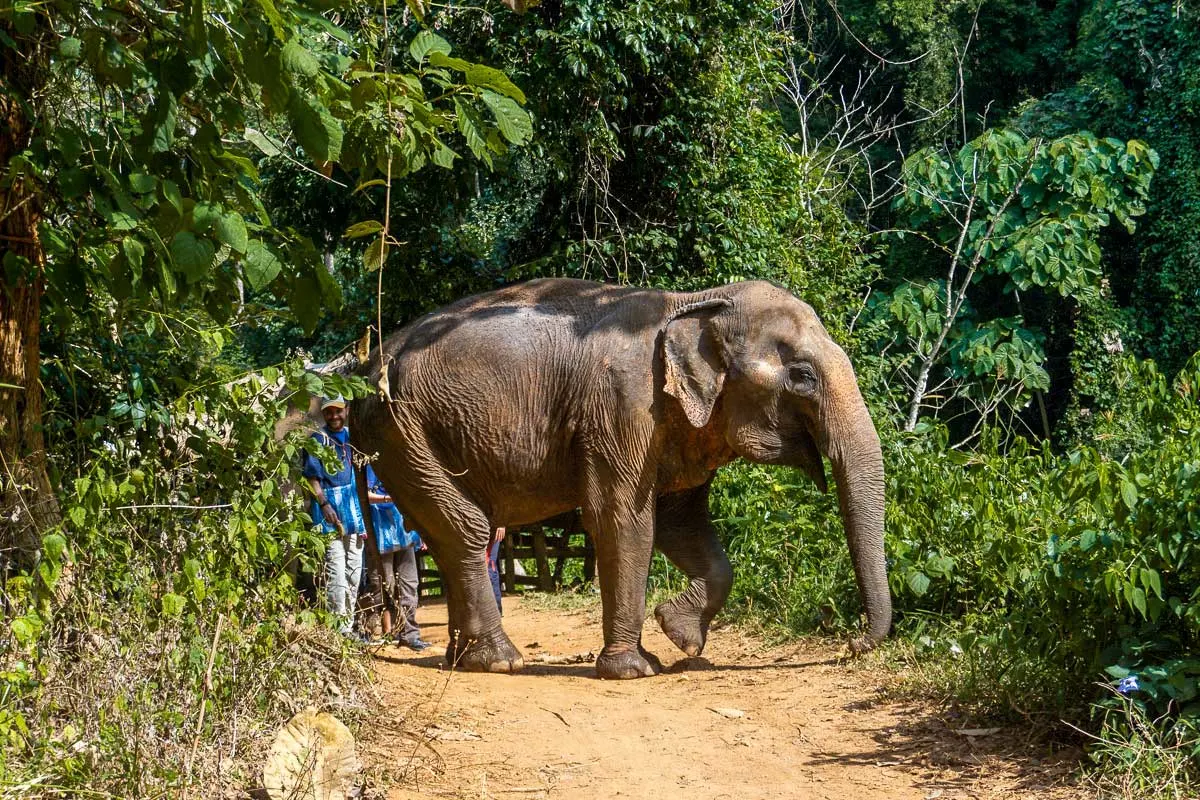 Many companies try to overcome the bad press by calling themselves a "sanctuary" because they do not allow elephant riding. However, these animals are still terribly mistreated.
So, which companies do you trust? Unfortunately, there are very few ethical elephant sanctuaries in Chiang Mai or Thailand for that matter. The best way to avoid supporting these so-called "sanctuaries" is to do your research so you can make an informed decision.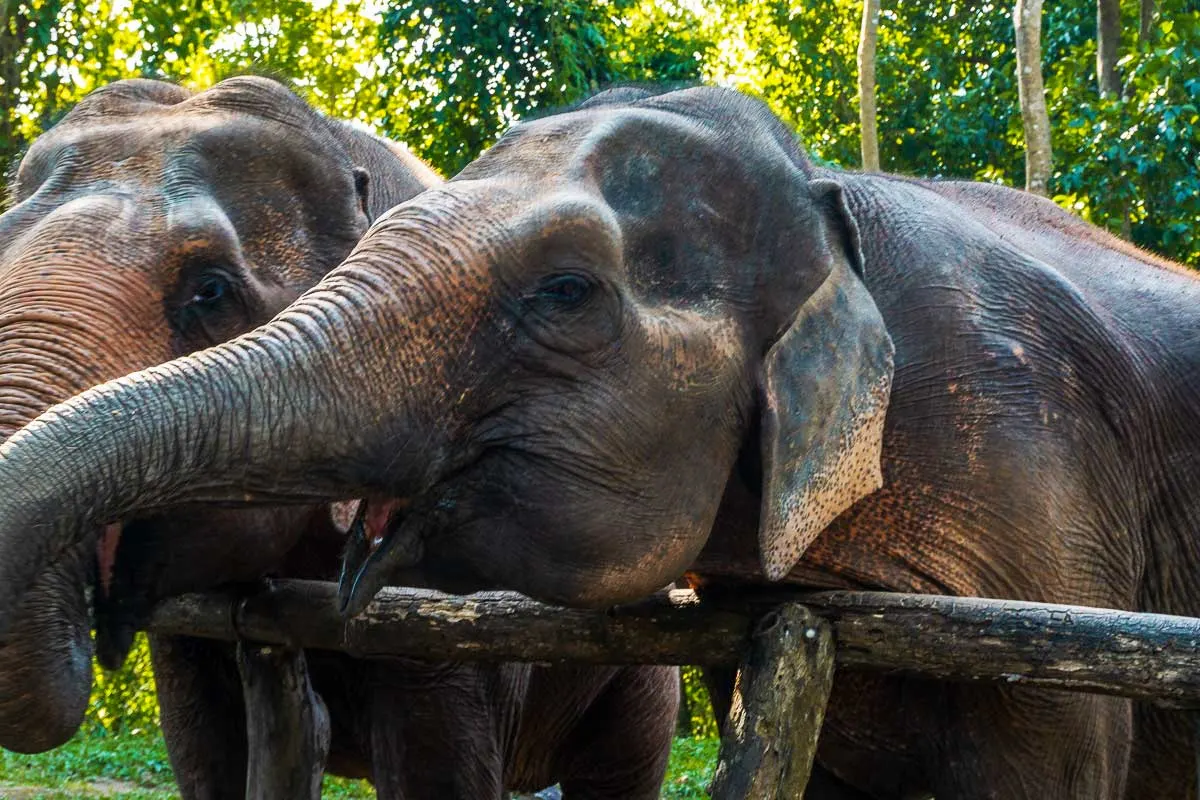 If you really must have an up close encounter with an elephant, Elephant Nature Park Rescue and Rehabilitation Centre (approx 60 km from Chiang Mai) is the best option in Chiang Mai.
Elephant Nature Park Tour Recommendation
There are many different day trips from Chiang Mai to the Elephant Nature Park, from half-day tours – around 7-hours including travel, to full-day tours of up to 10-hours.
Tours start from 1700 THB (~$58 USD) for most of the programs. The full-day tour includes return hotel transport, activities for the day and a tasty lunch. See here for full tour details.
Thai Massage
After the day at the Elephant Nature Park, treat yourself to a traditional Thai massage. There are many massage parlours in Chiang Mai and prices vary greatly depending on the company and the treatment provided. A one-hour Thai massage could cost you as little as 150 THB (~$5 USD).
---
Day 3
Wat Phra That Doi Suthep
Wat Phra That Doi Suthep often referred to as Doi Suthep should definitely be on your list of things to do in Chiang Mai. Doi Suthep is around 40 minutes from Old Town, but the extravagant temple should not be missed. Considering it used to take 5 hours to hike to the mountain, a 40-minute drive is well worth the effort.
To reach the temple you must ascend no less than 306 steps. But you will be rewarded with spectacular views of Chiang Mai City from the top. If you really can't face that many steps, for around 20 THB you can take the funicular to the top. The grounds of the temple are large and a visit warrants at least a few hours if not more.
Best time to visit Doi Suthep: Early morning – not only do you beat the Thailand heat, but you also beat the crowds. Go late in the day and you can see the lights of Chiang Mai City – Tour recommendation for this further on.
Dress Code: Like the other temples in Thailand, conservative dress is required for both men and women. Ensure your shoulders and knees are covered. Either dress appropriately or bring along a scarf or sarong for cover. We always suggest packing a lightweight travel scarf for such occasions. Again, for both men and women.
Wat Phra That Doi Suthep Opening Hours – 5.00 AM – 9.00 PM Check before you visit as this may change seasonally and on religious holidays.
How to get to Wat Phra That Doi Suthep
The most popular way to get to Wat Phra That Doi Suthep is by red Songthaew truck taxi. The red pickup trucks are lined with seats in the back – you'll see them all over the city. Expect to pay around 100 THB for a return trip.
There are quite a few full and half-day tours to Doi Suthep which include additional attractions in the area. A tour will enable you to see much more of the park without the hassle of transport.
These are some of the better Wat Phra That Doi Suthep tours:
Nimmanhaemin Road
Nimmanhaemin Road, also called Nimman or coffee street is a fashionable part of Chiang Mai on the city's west side. Close to the university, it's a popular spot for young Thai's as well as ex-pats.
Nimman is where you will find modern restaurants – both Thai and international, hipster cafes, art galleries, and boutique shopping with a focus on local designers.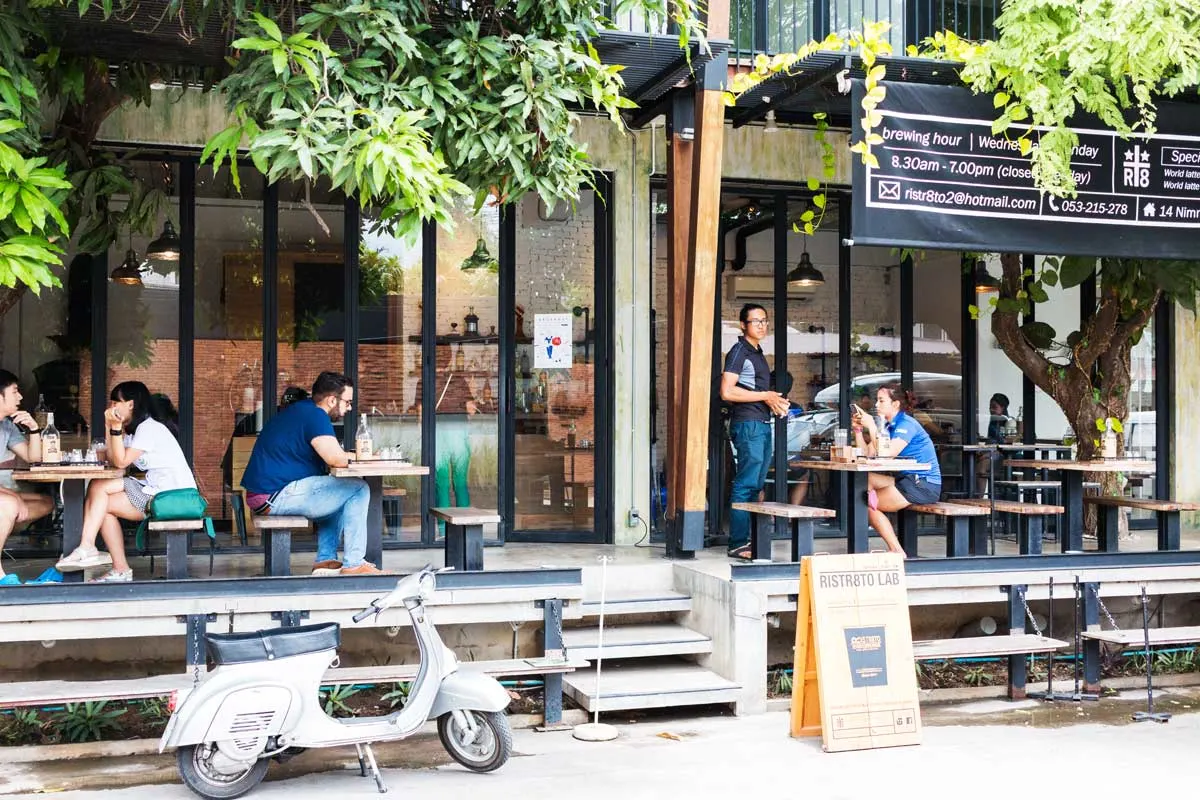 The name "coffee street" comes about for good reason. Nimman has a booming coffee scene with loads of hip independent cafes that take a good brew seriously.
Head to Graph Cafe or Ristr8to where serious blends are the order of the day with a focus on local coffee farms. Experimental brews such as nitrogen-brewed coffee infused with rose water or God Mother Mocha renown for its deep flavour of Brazilian cacao syrup and the skull shaped-glass it comes in ups the coffee ante a notch or two.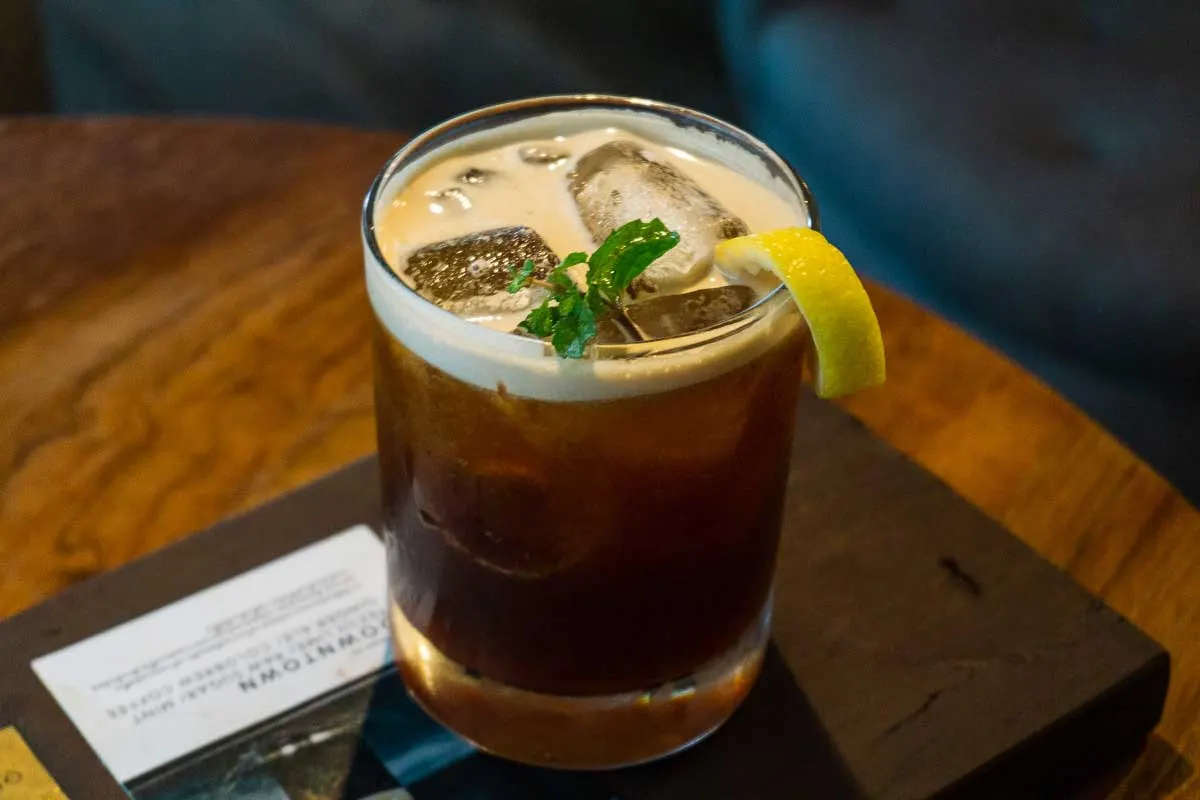 A teetotaller? Never fear. Koland Cafe is a coffee house/tea room serving up exotic flavours such as sakura perfume tea with pomelo skin, honey lemon with Chinese orange and Koland Kumquat. You'll find all these in Nimmanhaemin.
Thai Cooking Class
There is no better souvenir of a destination than learning to cook a local dish. A Thai cooking class will be a highlight of your trip. Take a meaningful souvenir home and experience Thai culture from a local level. Let's face it, nothing brings people together like food and food speaks volumes about a culture.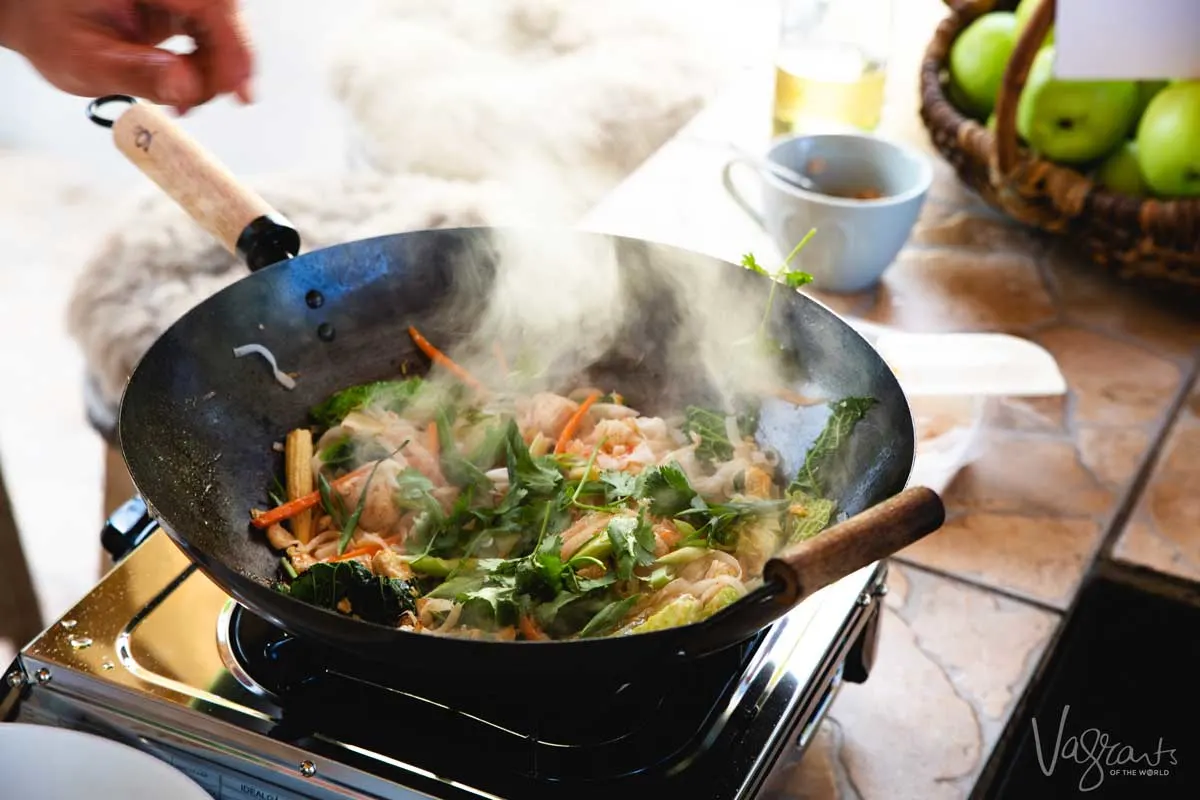 There are plenty of cooking classes to choose from in Chiang Mai. Many classes commence late afternoon which is perfect for dinner and the cooler climate.
Most cooking classes will include a market visit to purchase ingredients. However, for an even more authentic experience, a farm cooking class will also visit an organic farm to give you a great understanding of the produce and farming culture in Chiang Mai.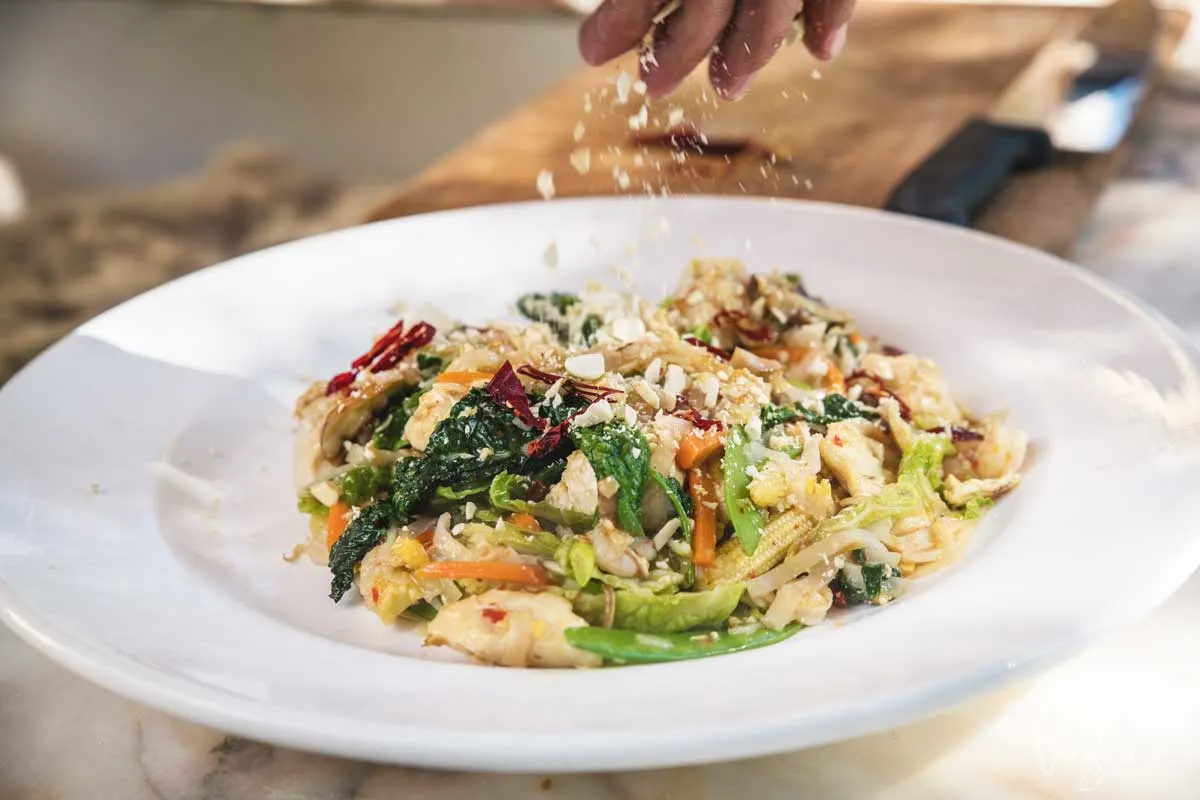 Thai Cooking Class Recommendation
Evening cooking class usually starts from 4.00 PM and runs for 4-6 hours where you will learn to cook up to five dishes. (Full day class is also available)
The small group class includes transfers to and from your hotel, cooking class with professional instruction, market and farm visit, E-recipe book. See here for full Thai Cooking Class details.
About the Author
Delilah Hart
Delilah is a Kiwi-born writer for
Our Travel Mix
. She is a lover of travel photography and is currently travelling the world, one country at a time. Currently, Delilah is in Yogyakarta, Indonesia visiting the largest Buddhist temple in the world, Borobudur. Her travel plans over the next few months include Cambodia, Laos, and Vietnam before heading on to Europe.