British food often gets a bad wrap. Most people perceive British food as bland and to be honest, not very nice.
The first time I went to the UK, I was served lasagne with peas and fries in a pub – Yuck. I was so put off by the food, I even made myself a little ''don't starve in London'' box with Belgian goodies when I moved to the UK.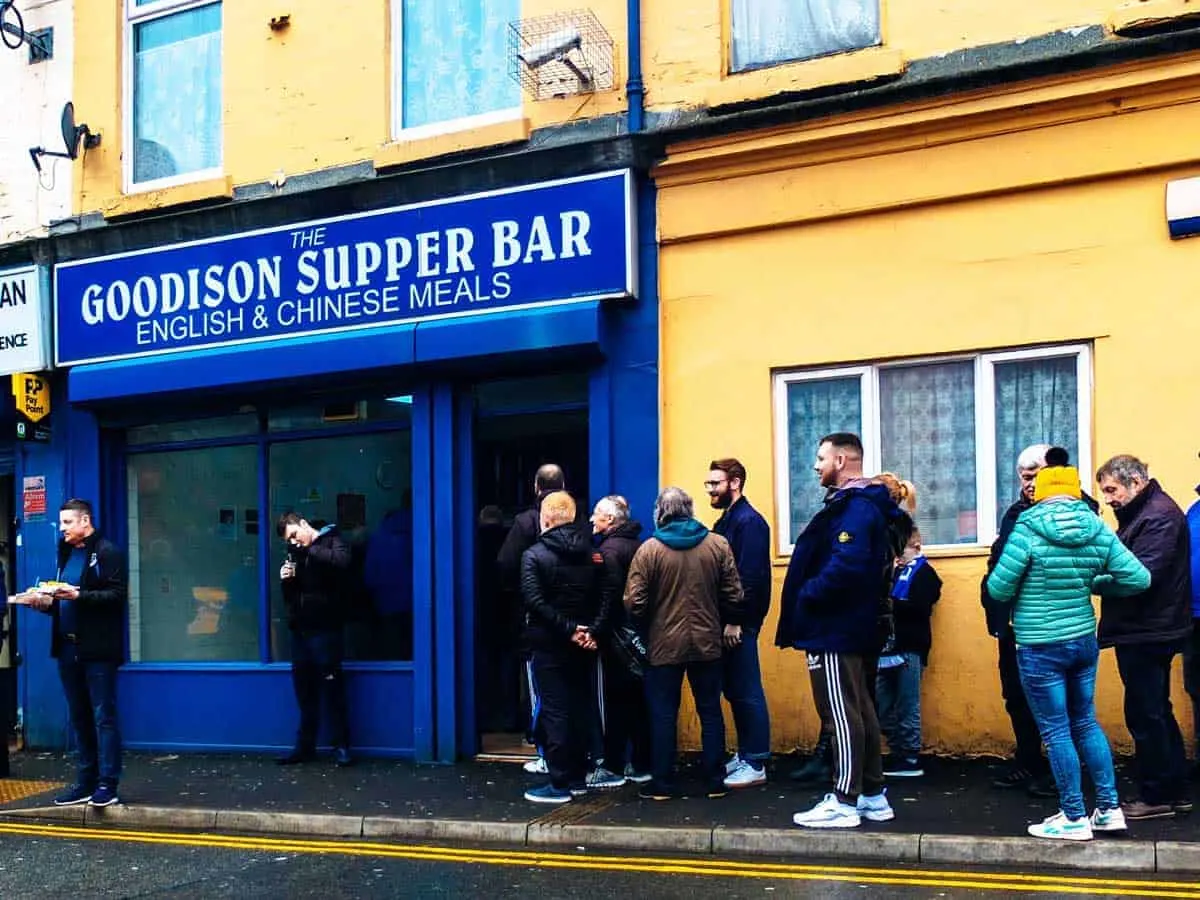 Needless to say, the food in the UK turned out to be actually pretty nice, you just need to know what to order, where to order it, and how to eat it.
Yorkshire puddings, for instance, need to be dowsed in gravy, while a full English breakfast is best to be enjoyed in a greasy spoon café, not a high-end hipster bar or restaurant.
Food to Try in The UK
To help you navigate the world of British food, I have put together a list of 10 dishes you need to try when visiting the UK.
Salt Beef Bagel
If you are visiting London, you should definitely head to Brick Lane. Brick Lane is not only an amazing little area to explore, but you can also try one of the best Salt Beef Bagels I have ever had. Salt Beef Bagels are absolutely delicious – the perfect marriage between the food cultures of the UK and Israel.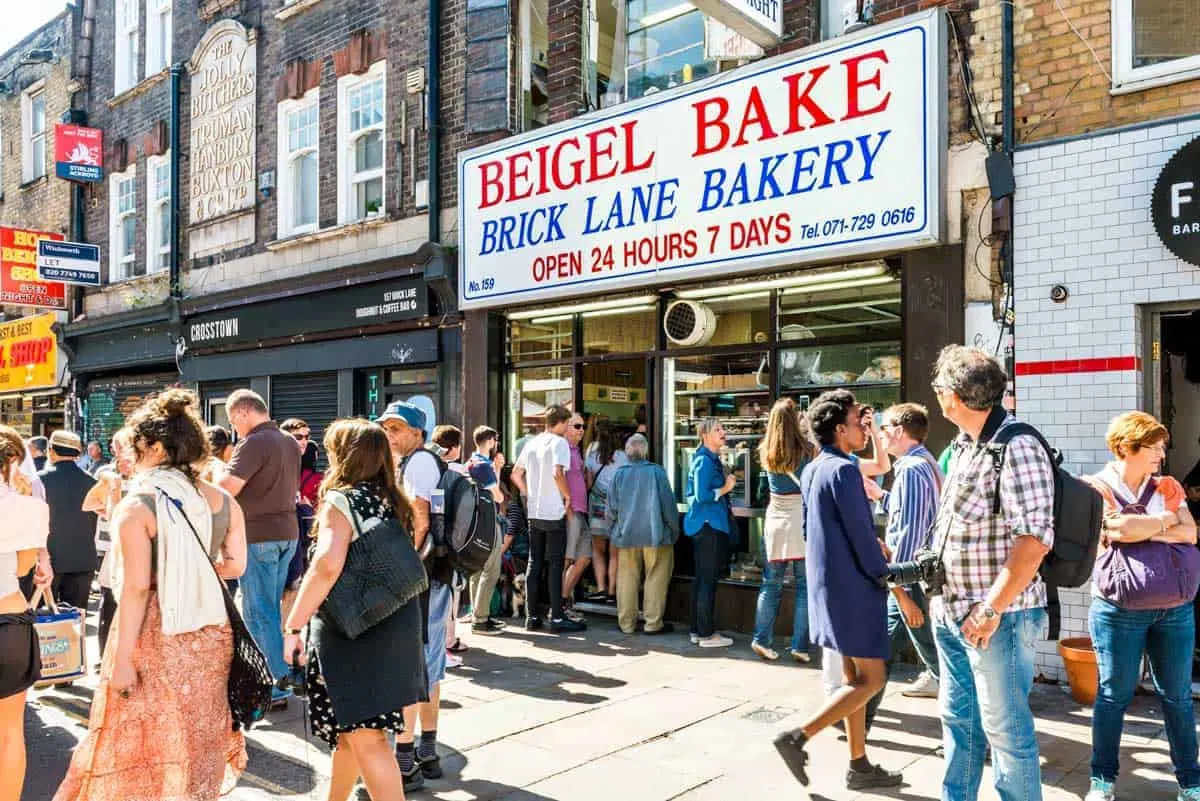 The salt beef bagel comes with a nice sharp mustard and a large pickle that tops off the flavour. I cannot recommend going for a Salt Beef Bagel more because they are not only delicious but also cheap. A great (and often rare) combination in London.
Where to get a Salt Beef Bagel: Brick Lane Beigel Bake
---
Classic British Pork Pie
One of the snacks I found most surprising in the UK is the classic British Pork Pie. British Pork Pies can be eaten with bread or just as a little snack at teatime. We have also had them on cheese platters and charcuterie boards.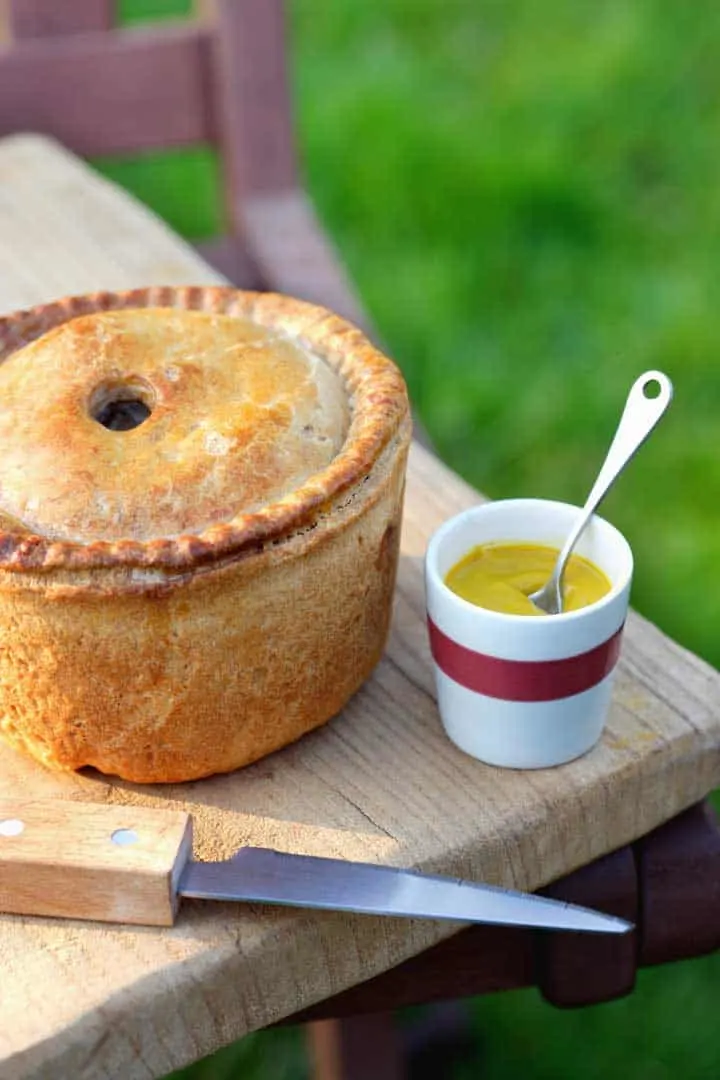 Mostly eaten cold, you can pick up a pork pie in the local supermarket or even order one at the pub. At Christmas, you can order large pork pies decorated with berries and filled with pork, game, and other delectable fillings. It is definitely one of the British staples I miss the most after moving away.
Where to get pork pies: Local supermarkets and traditional pubs
---
Fish and Chips
Fish and Chips is possibly the most famous dish from the United Kingdom and an absolute staple. If you don't have Fish and Chips on your trip to the United Kingdom, can you really say you have been to Great Britain?
Fish and Chips shops – or "Chippies" as they are often called, can be found all over the United Kingdom. As with fried breakfasts, there is an unspoken rule that the best fish and chips come from greasy fish and chips shops.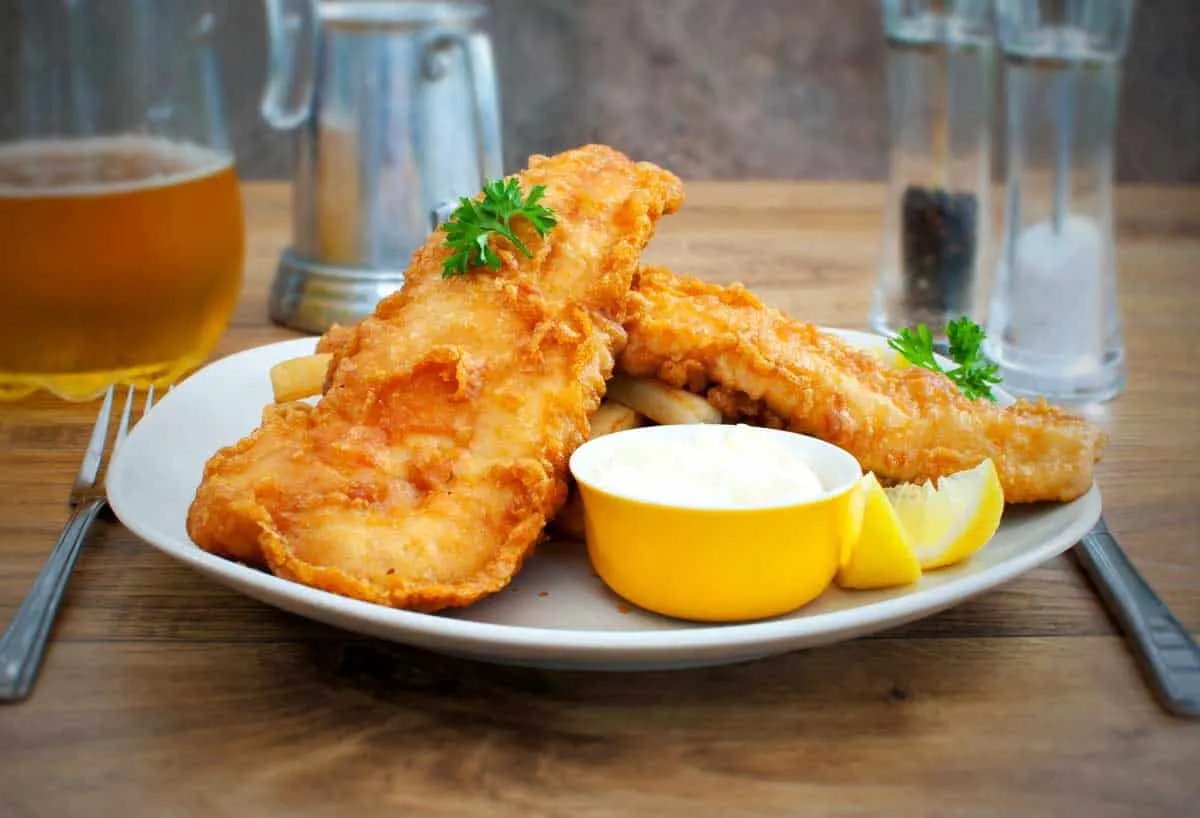 If you are not into deep-fried cod, you can also get a deep fat fried garlic sausage or deep fat fried fake sweet prawns called Scampi. I myself always order scampi with the dregs of the chips as I prefer small and well-baked chips rather than the big fluffy ones.
Where to get Fish and Chips: Local chippy. In London try Poppie's in Camden, Soho and Spitalfields
---
Haggis, Neeps, and Tatties
While many would probably pass on a slice of haggis, this well-known Scottish dish is actually quite tasty. Think of it as a sheep sausage with a gamy flavour.
Made with sheep's heart, liver, lungs, onions, spices, and stock, haggis is like delicious spicy meat sausage.
---
Want to Visit Scotland on a Budget? We've got the best things to do in Edinburgh for free to get your travel budget off to a good start.
---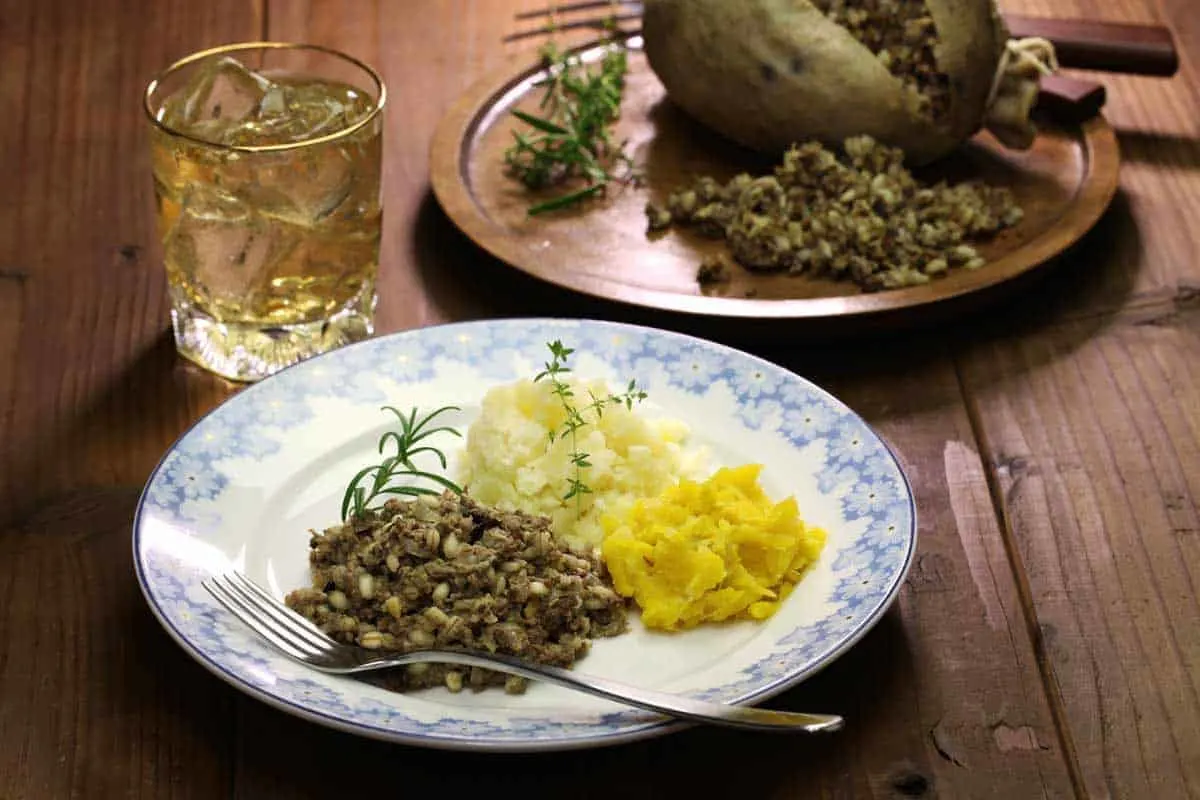 Traditionally haggis is served with Neeps and Tatties. Neeps being roasted turnips and tatties roast potatoes. I would recommend eating haggis with a nice Scottish Whiskey.
Where to eat haggis: Scotland. But if you are in London, try a Boisdale near you.
Bangers and Mash
You cannot escape bangers and mash when travelling around the United Kingdom. This very simple dish is a staple in British cooking and can be incredibly satisfying after a day of exploring cities and countryside.
You'll find it in almost every British pub, usually with lashings of gravy. Some pubs will serve bangers and mash with peas, while others will serve them with roasted vegetables.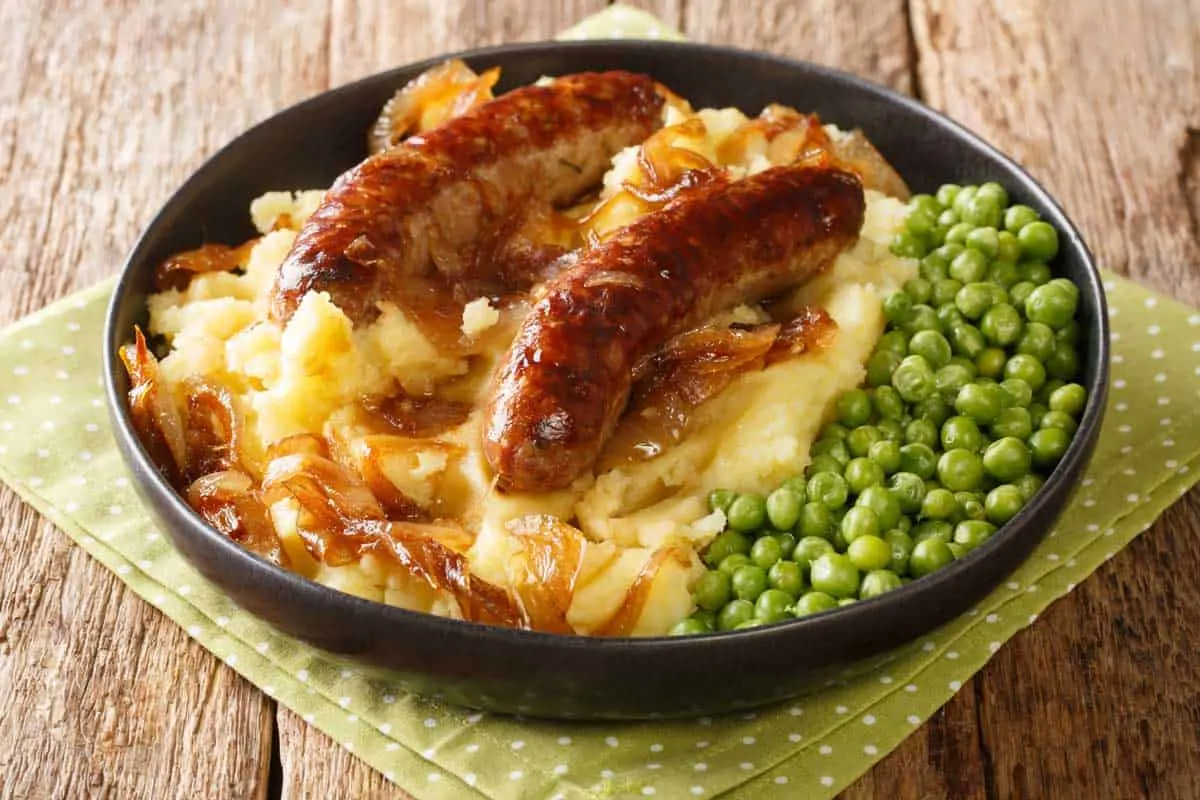 Make a point of asking the waiter what sausages are used. I only order bangers and mash when they are offering pork sausages as legally, they must have a pork content of at lest 80%.
If you find a pub offering pork with leak sausages or pork with caramelised onion – you're in for a treat.
Where to eat bangers and mash: any British pub. I can recommend Mothermash and Bangers in London.
---
Welsh Cawl
Welsh Cawl is such a heart-warming and filling dish, it quickly became one of my absolute favourite dishes in winter. This soup is such a great pick-me-up after a long day, it a great dish to order after a day of touring and exploring.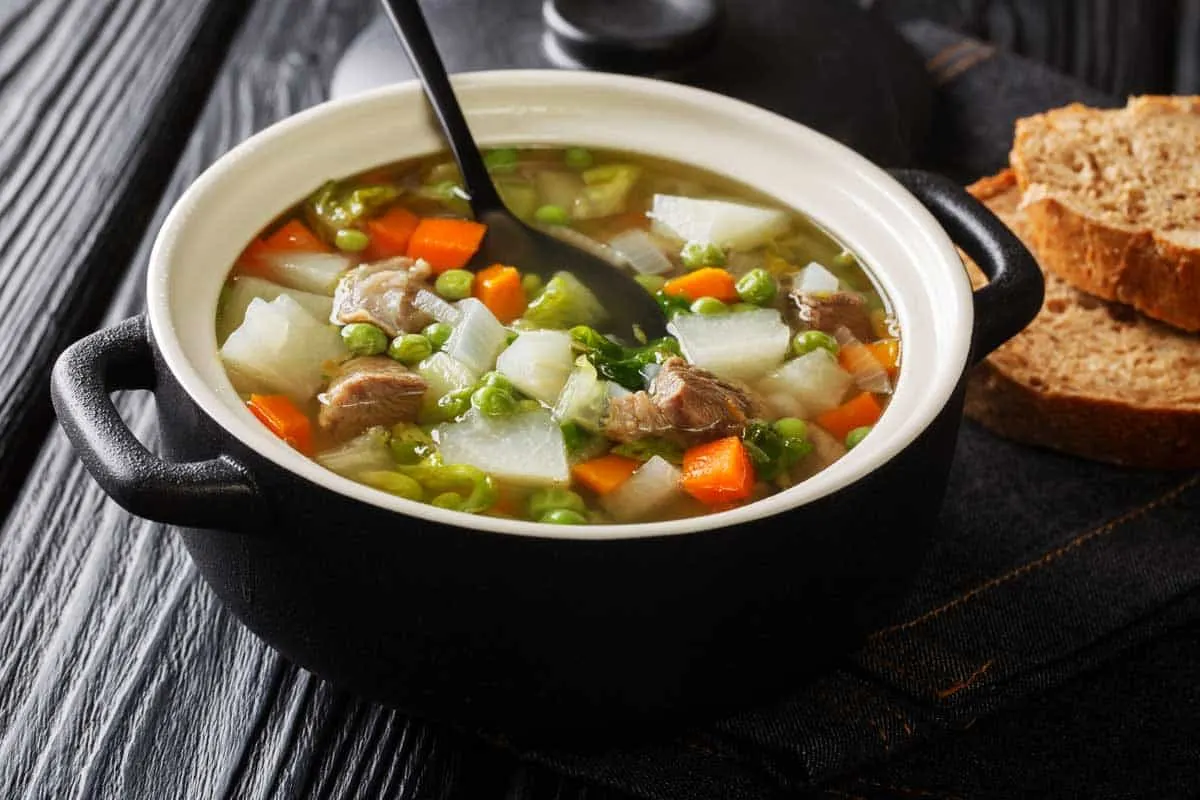 A thick soup filled with coarsely cut vegetables and stewed meat akin to a hearty broth, it also comes in a vegetarian version.
The best way to eat Welsh Cawl is with a large chunk of fresh bread and some local butter.
Where to get Welsh Cawl: Most places in Wales will serve Cawl. It might be quite hard to find Welsh Cawl in London.
---
Bacon Bap
Before I met my husband and moved to the United Kingdom, I would never have put bacon between a bun or in a sandwich. I would always have it with mash or eggs.
However, Bacon baps sold me on the whole concept. Just take some bacon and put it between a bun or two pieces of bread and lather it in ketchup or brown sauce.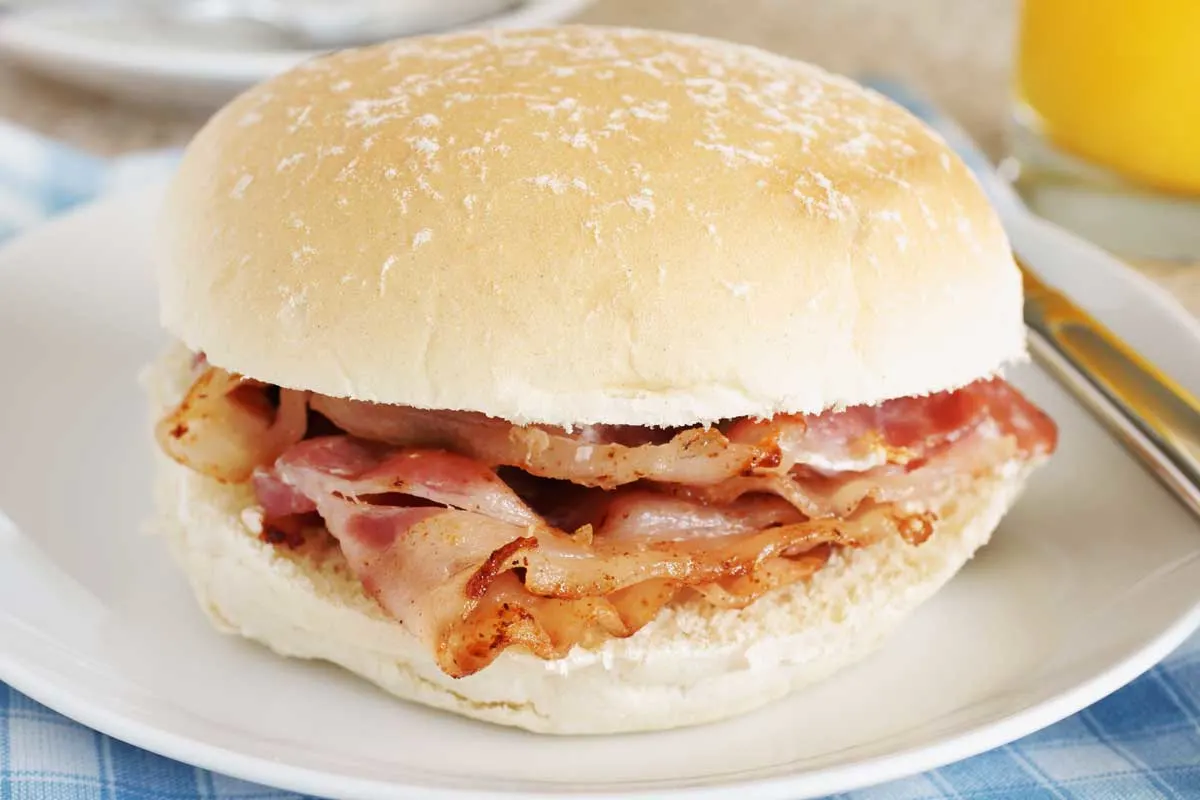 Bacon baps are a staple British breakfast or lunch and can be bought in most greasy spoon café's. They are an incredibly cheap guilty pleasure and a great way to start the day.
Where to buy bacon baps: Any greasy spoon café you see along the road will have them. If not, head to a Greggs nearby (although these are not as nice as the ones from a greasy spoon).
---
Chicken Tikka Masala
Did you know the food most commonly eaten in the UK are curries? I am not kidding, the British love Indian Curries that much. Sure, the curries are Anglicized and hardly resemble their Indian counterparts, but they are tasty.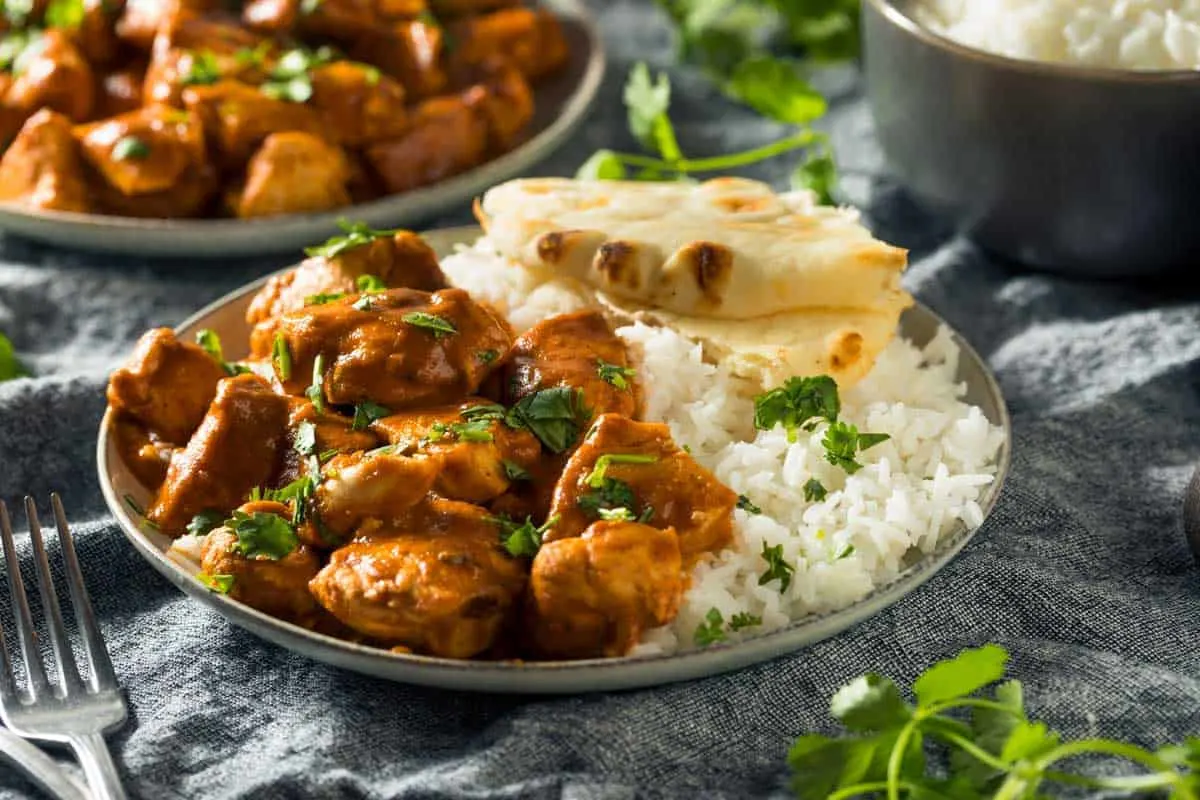 You can go out for a curry in an Indian restaurant or if you want to make it very British, order a curry in.
Chicken Tikka Masala is one of the most popular curries in the UK and a fan-favourite of many families because of its soft flavour and it's not too spicy.
Where to get Chicken Tikka Masala: There are Indian restaurants everywhere. A lot of pubs will also serve some curries. In London try Punjab Restaurant in Seven Dials.
---
Roast Beef and Yorkshire Pudding
Every Sunday, families across the United Kingdom come together for a Sunday Roast. A roast often consists of roast beef, roast lamb or roast turkey with roast potatoes, roast vegetables, and heaps of Yorkshire puddings with lots and lots of gravy.
A good roast will pile so high on your plate you'll wonder how you'll be able to get through it all.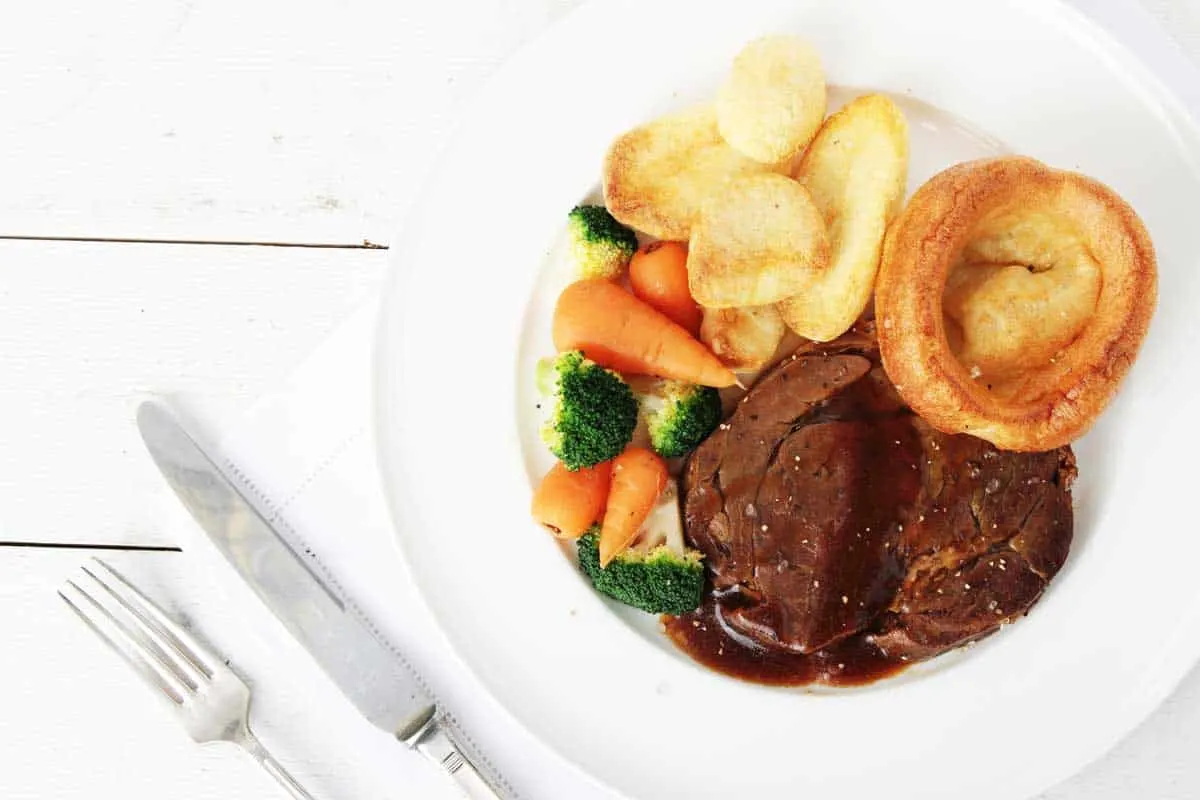 For those who don't know what a Yorkshire Pudding is, it's a bread-like
little pastry, kind of like a bowl baked in the oven and served hot. Most people will put their gravy in the Yorkshire pudding.
On Monday, many Brits will eat bubble and squeak with eggs, sausages and a bit of bacon. Bubble and squeak is all the leftover roast vegetables and roast potatoes mashed together, then baked in the oven or in a pan. It's very delicious, especially with some nice gravy.
Where to get a good roast dinner: On Sundays, most pubs will serve a roast dinner. If you are in London, try The Pig and Butcher.
---
Fried Breakfast (Full English)
One of the biggest mistakes friends and family always made when visiting me in London was having fried breakfasts in sophisticated, cute and modern restaurants. They always seemed so disappointed. The breakfasts were expensive, small, and overall, not very nice.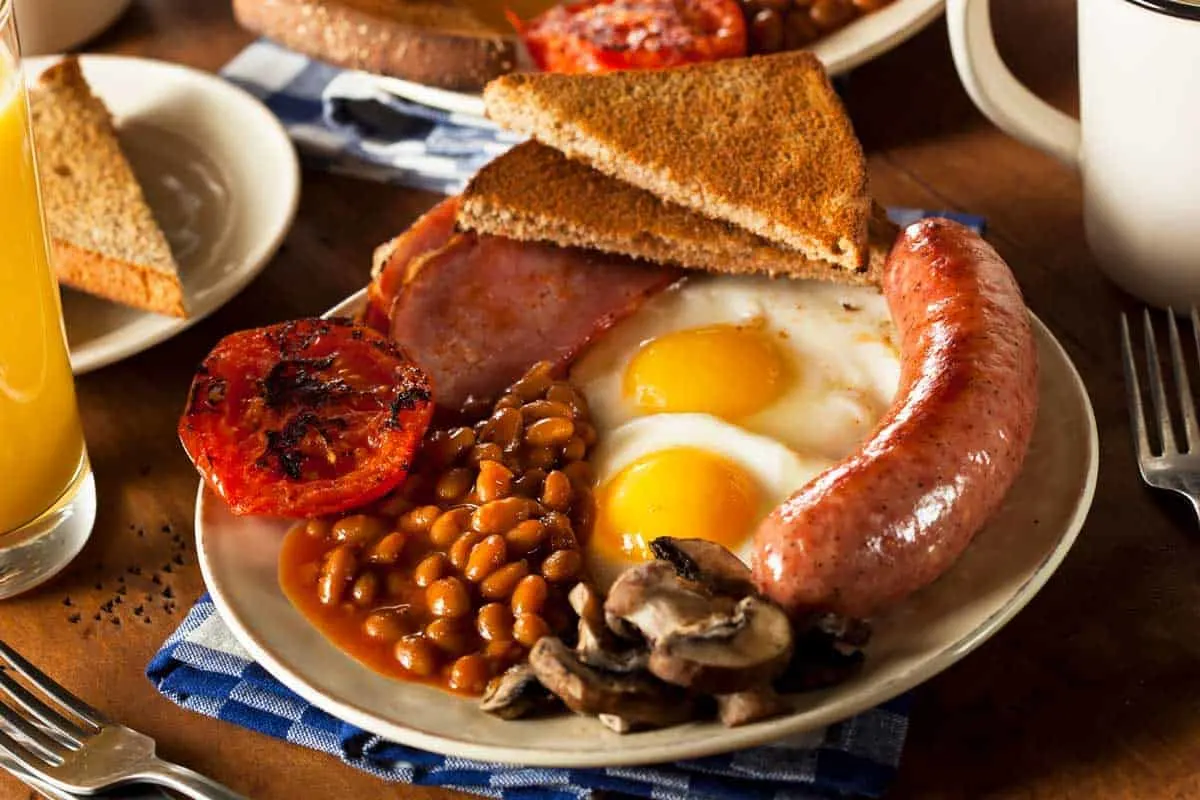 For a great fried breakfast in the UK, you should look for a nice greasy spoon in your area. The kind of place tradesmen and workers would frequent. In fact, any place with builders eating breakfast is often an indication you're onto a good place.
A good fried breakfast consists of sausages, bacon, baked beans, hash brown, fried toast, buttered toast, fried eggs and mushrooms. You can also choose to add bubble and squeak to your breakfast. Any decent fried breakfast will also come with tea of coffee.
Where to eat a good fried breakfast: Your local greasy spoon. In London, try Ozzie's Café in Old Kent Road or The Corner Café in Lambeth.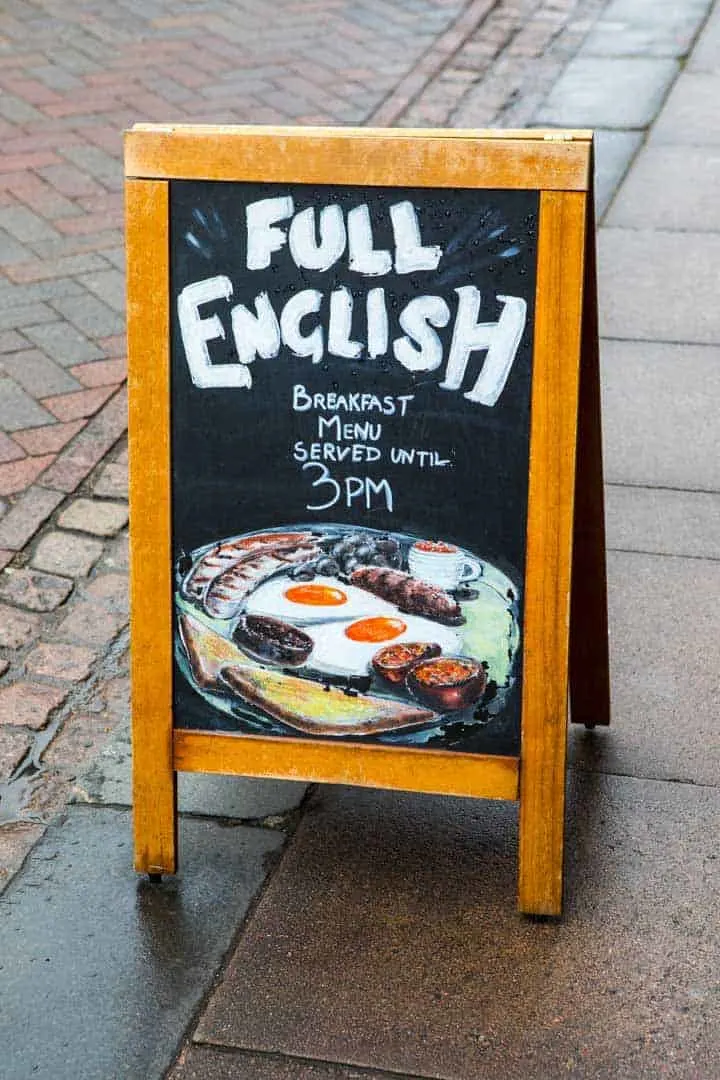 About the Author

Lieze Neven

Lieze is the creator behind Glitter Rebel travel blog. A Belgian who has lived in the UK, she writes extensively about travel in the UK including comprehensive information on the best places to stay throughout the United Kingdom.