Brighton England has a wonderful reputation for dirty weekends, a hedonistic lifestyle and a cosmopolitan, bohemian vibe that would make 1960's San Francisco blush.
All this started back in 1787 when the Prince Regent, George IV came to town to build a seaside party retreat. George set a scene that continues today.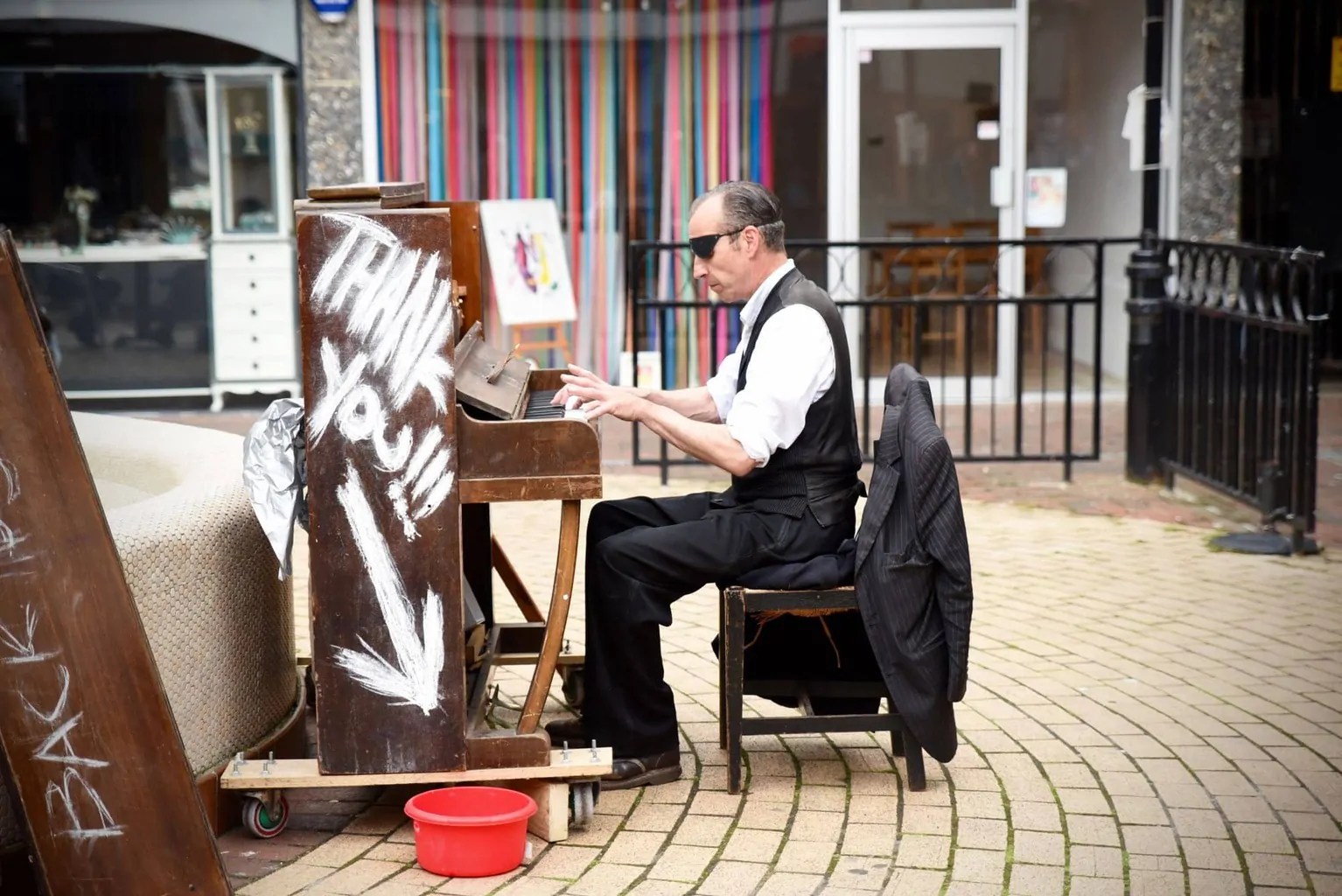 Described as one of Britain's most outlandish cities, this seaside town has a flair for burlesque, Britain's largest gay community and a serious club scene. Summer festivals draw more than a crowd including the UK's biggest Pride festival.
Throughout history, Brighton has been the place to come for new experiences, to have fun, or maybe just to get up to some good old-fashioned shenanigans.
One thing is for sure; Brighton has always been entertaining.
Day Trips from Brighton
Got a day or two extra? Extend your Brighton itinerary with some day trips beyond the seaside.
Take day trips to Kent, exploring further into Sussex beyond the coast to experience the regions geographical diversity and cultural highlights.
Or, meander down the coast of West Sussex to Hayling Island for some of the best paddle boarding in Hampshire.
What to do at Brighton Beach
Don't be deceived by the naughty facade, Brighton has something for everyone. After a burlesque show, you can enjoy some of the UK's finest dining. Pubs and cafes attract only the coolest and most discerning with microbrew ales and a talent for great coffee. Galleries, museums and theatre to rival London's and, of course, the famous Brighton Pier – fun for all the family.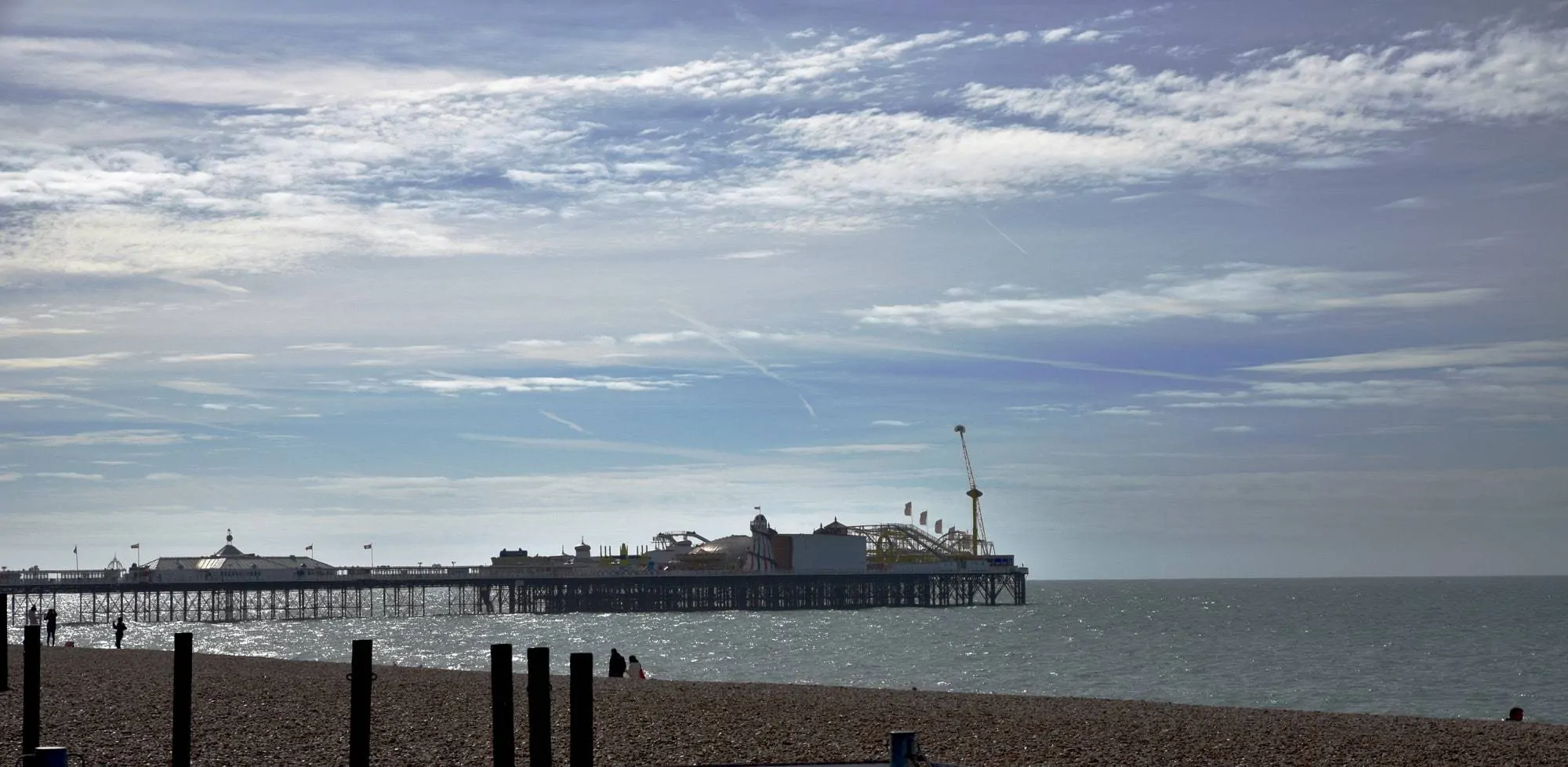 This grand old flamboyant town by the sea not only caters to all tastes but also all budgets. Families enjoying a "fish and chips on the pier" type holiday, backpackers on a budget bender to the well-heeled, escaping for the quintessential 'Brighton Dirty Weekend'. Fun, food and places to stay in Brighton are well within all budgets.
Here is a snapshot of what draws a crowd all year round to this stylishly vibrant, innocently naughty, and possibly a little kinky seaside town.
---
Brighton Lanes
The Lanes, part of Brighton's historic quarter are a fabulous maze of tiny alleyways and cat creeps crammed with unique, quirky and designer shops nestled amongst cafes, restaurants and pubs.
The Lanes are to be explored leisurely, taking in the atmosphere, the buskers and fabulous food at every twisting turn.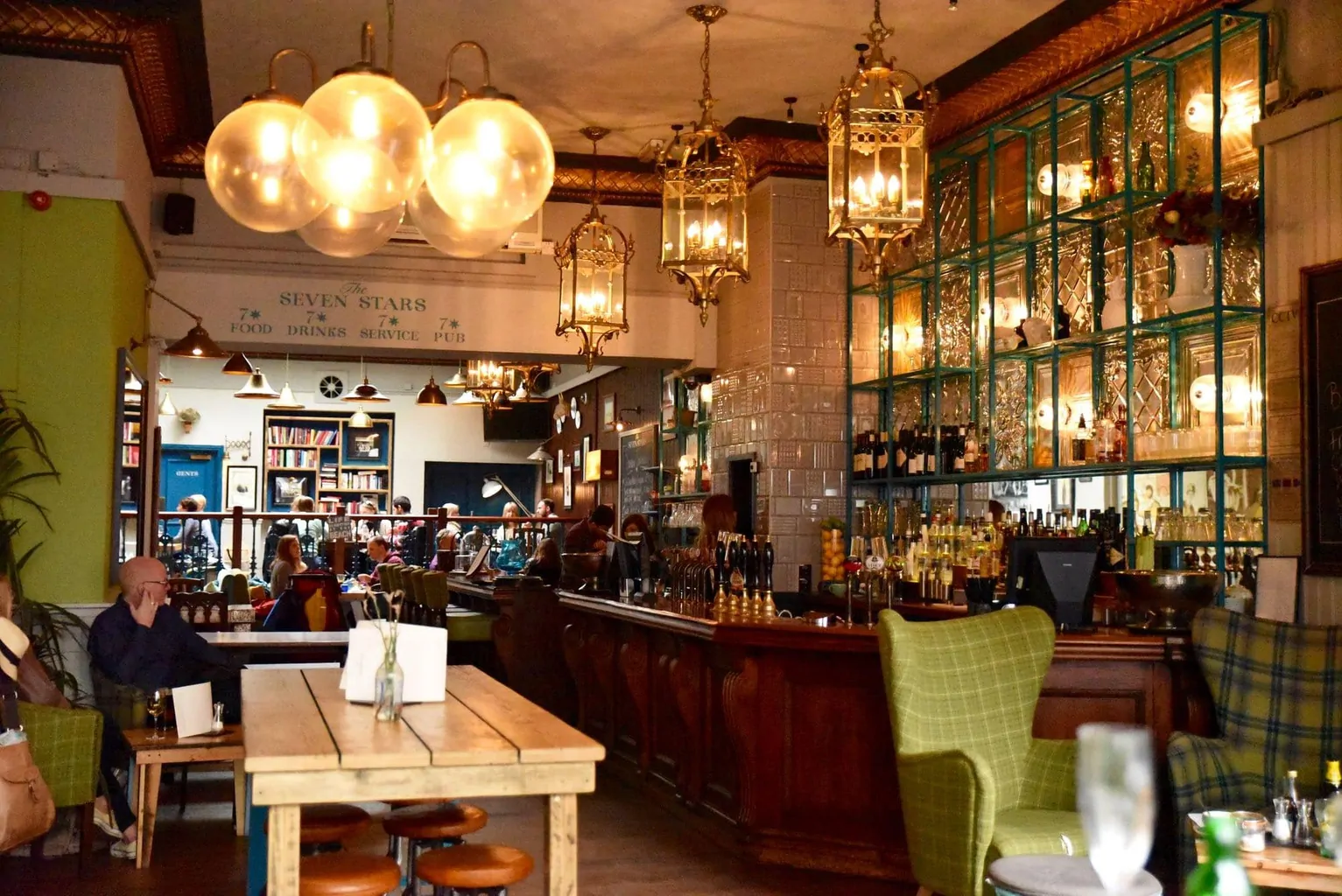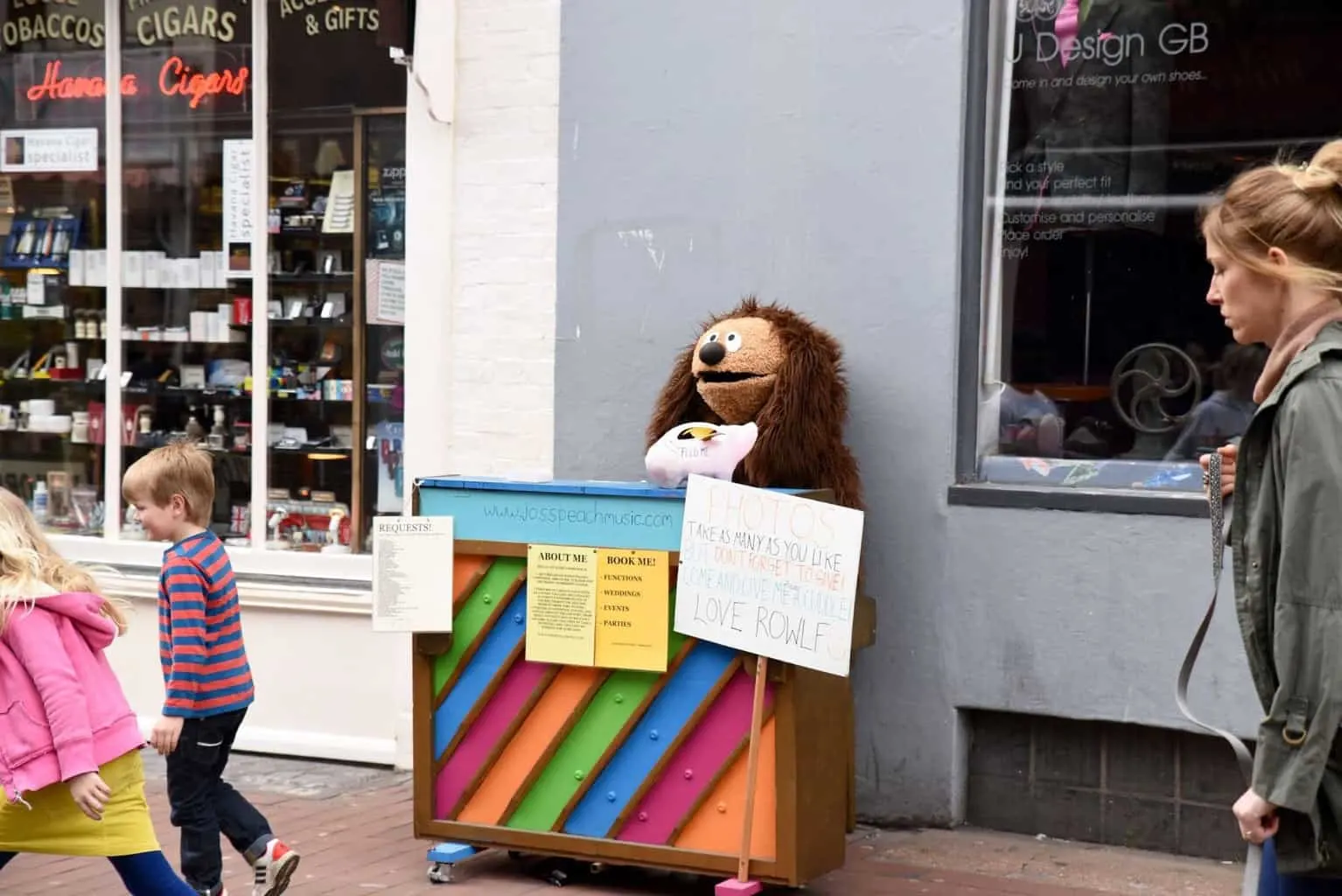 North Laines
Head to the North Laine district, and you will find the cultural quarter of Brighton. A series of streets offering some of the best shopping in the UK with over 300 independent retailers, all in less than half a square mile.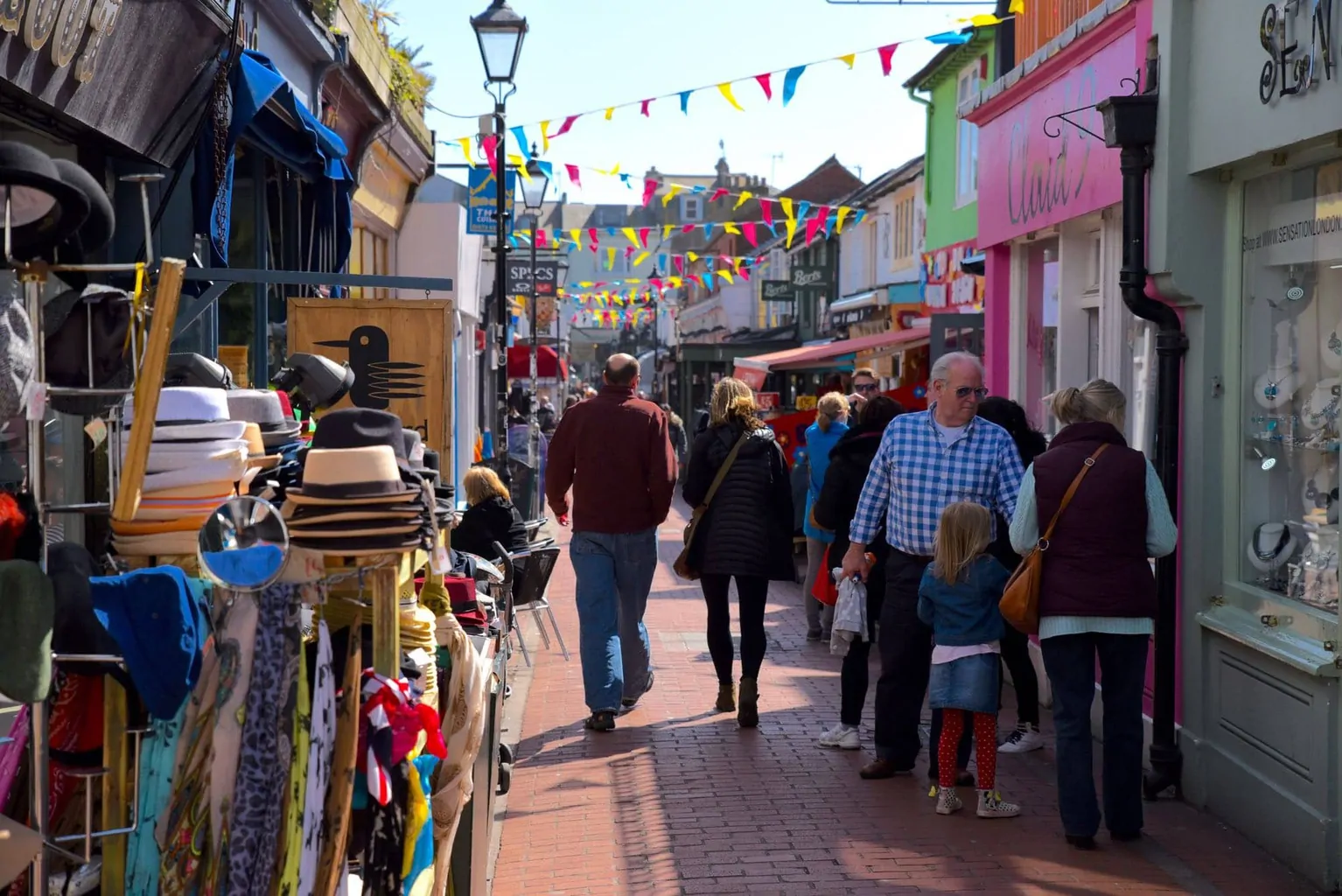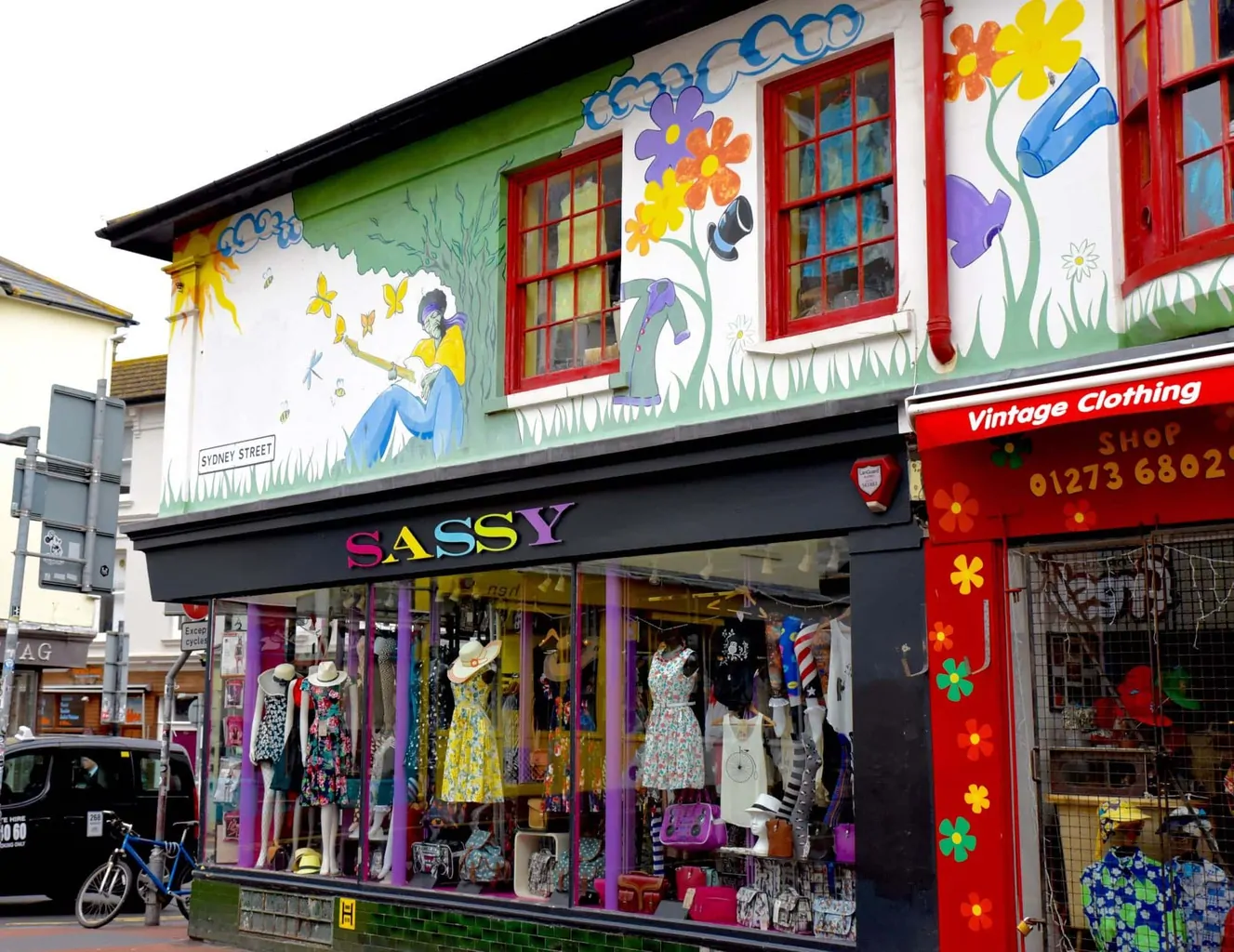 Kitsch, funky, retro, vintage chic and bohemian are all words used freely to describe this little corner of town. But one thing is for sure; it positively oozes personality.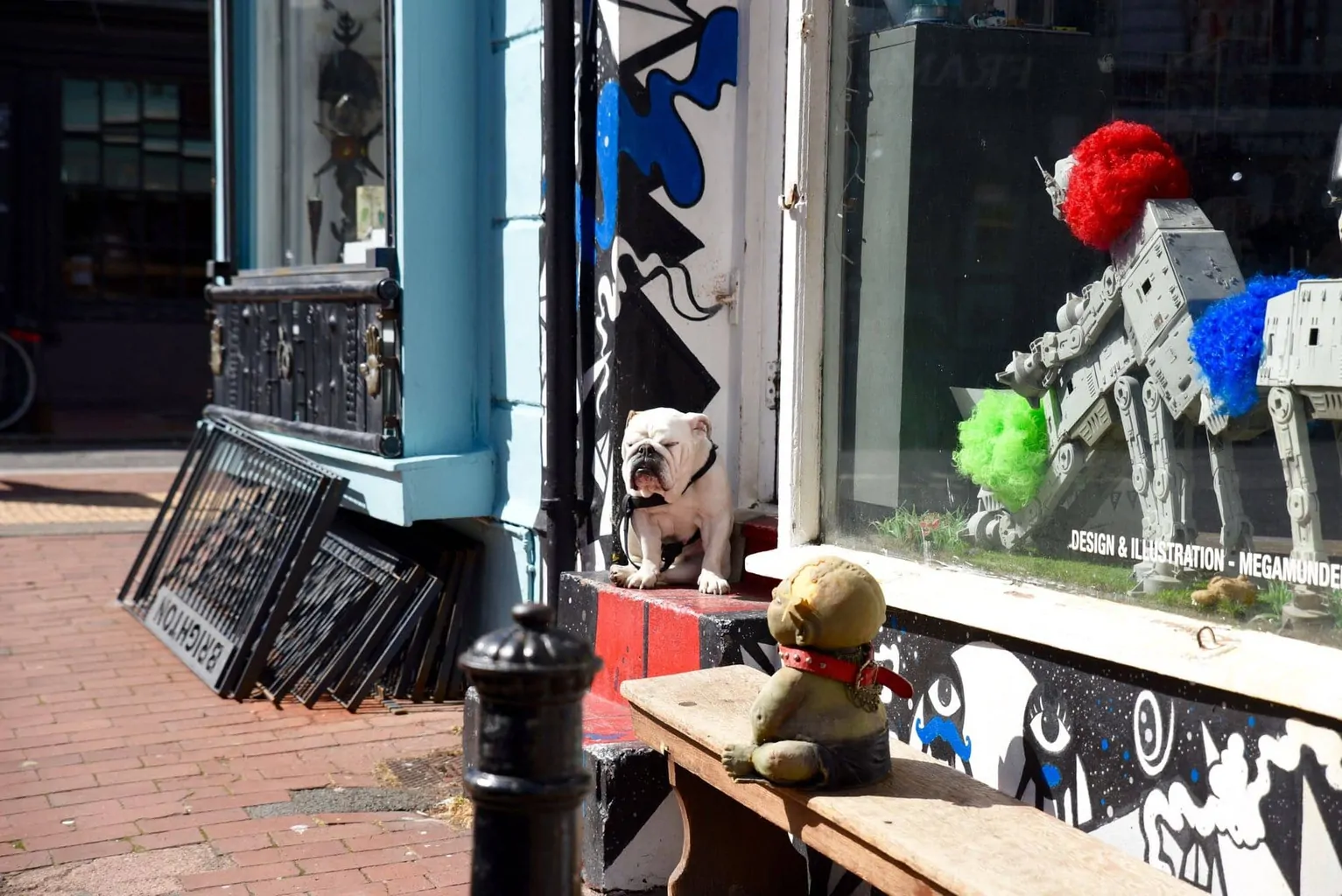 The Lanes and North Laine are reasons enough to visit Brighton, fabulous food, music, shopping and atmosphere, what more could you want.
Visit around festival times, such as the Fringe in May, and you will find loads of shows on offer, many for free at any of the plethora of venues dotted around this area.
---
Brighton Street Art
Brighton, particularly in the North Laine area has the most fantastic array of street art; it's everywhere. It is colourful, beautiful, thoughtful and some, including the replica of Banksy's 'Kissing Policemen' – carefully considered.
Brighton has earned an international reputation for its stunning and original street art. So much so, top European graffiti artists visited the area in 2015 to make their mark on this fabulous city.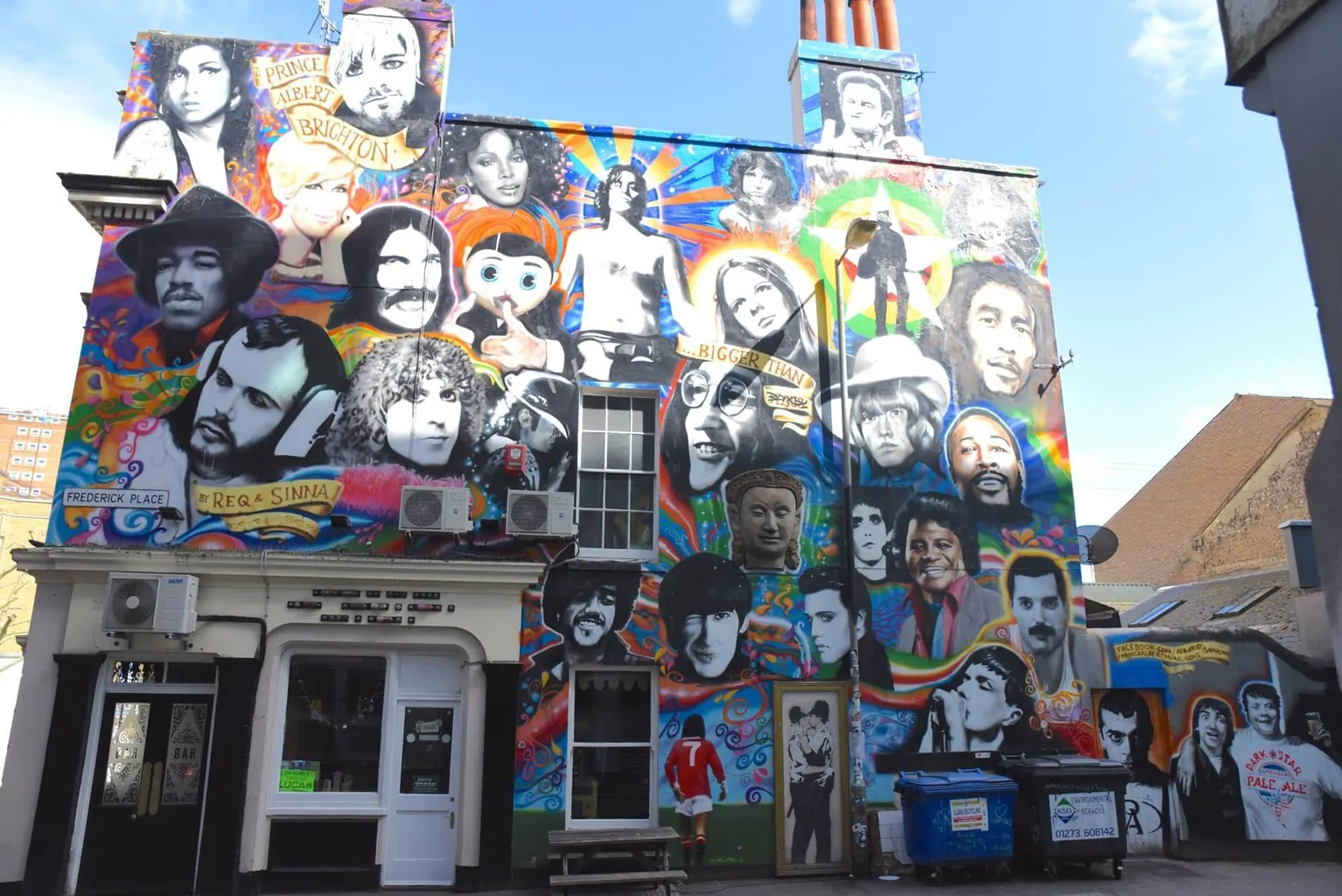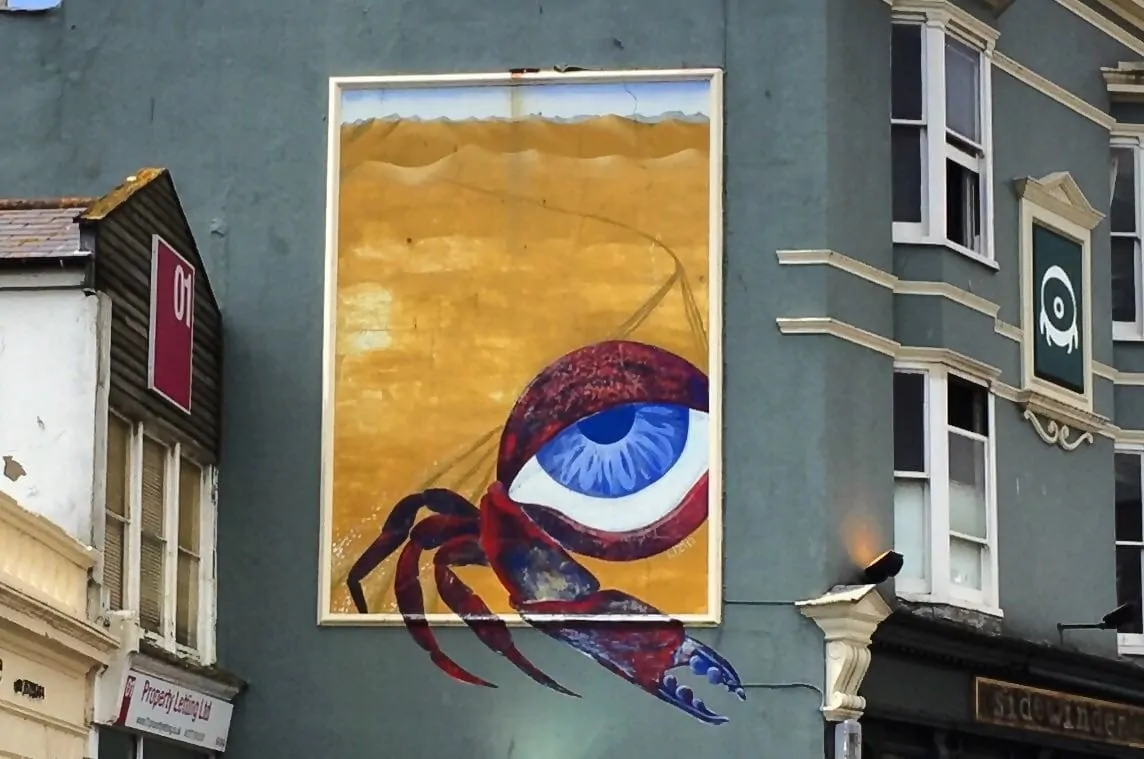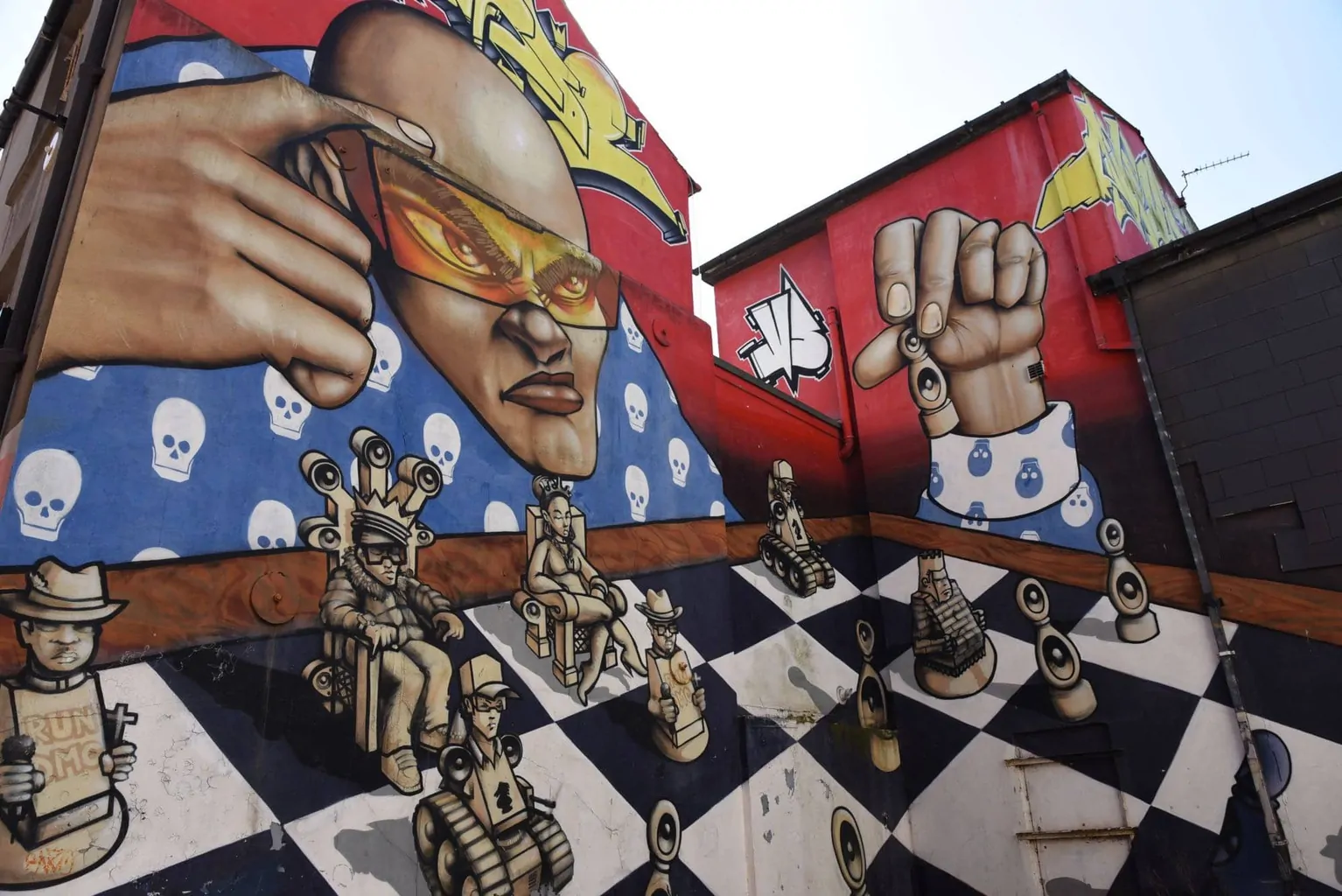 ---
The Royal Pavilion
The Royal Pavilion is possibly where Brighton's reputation for being a "good time town" began. An oriental fantasy conceived by John Nash for George IV. Regency grandeur blended with the style of India and China. The Royal Pavilion is a monument to style and finesse. A technologically ambitious undertaking, but above all else a tribute to pleasure and indulgence.
For more than 200 years, Brighton has been inextricably linked with this strikingly exotic building and the reputation surrounding it.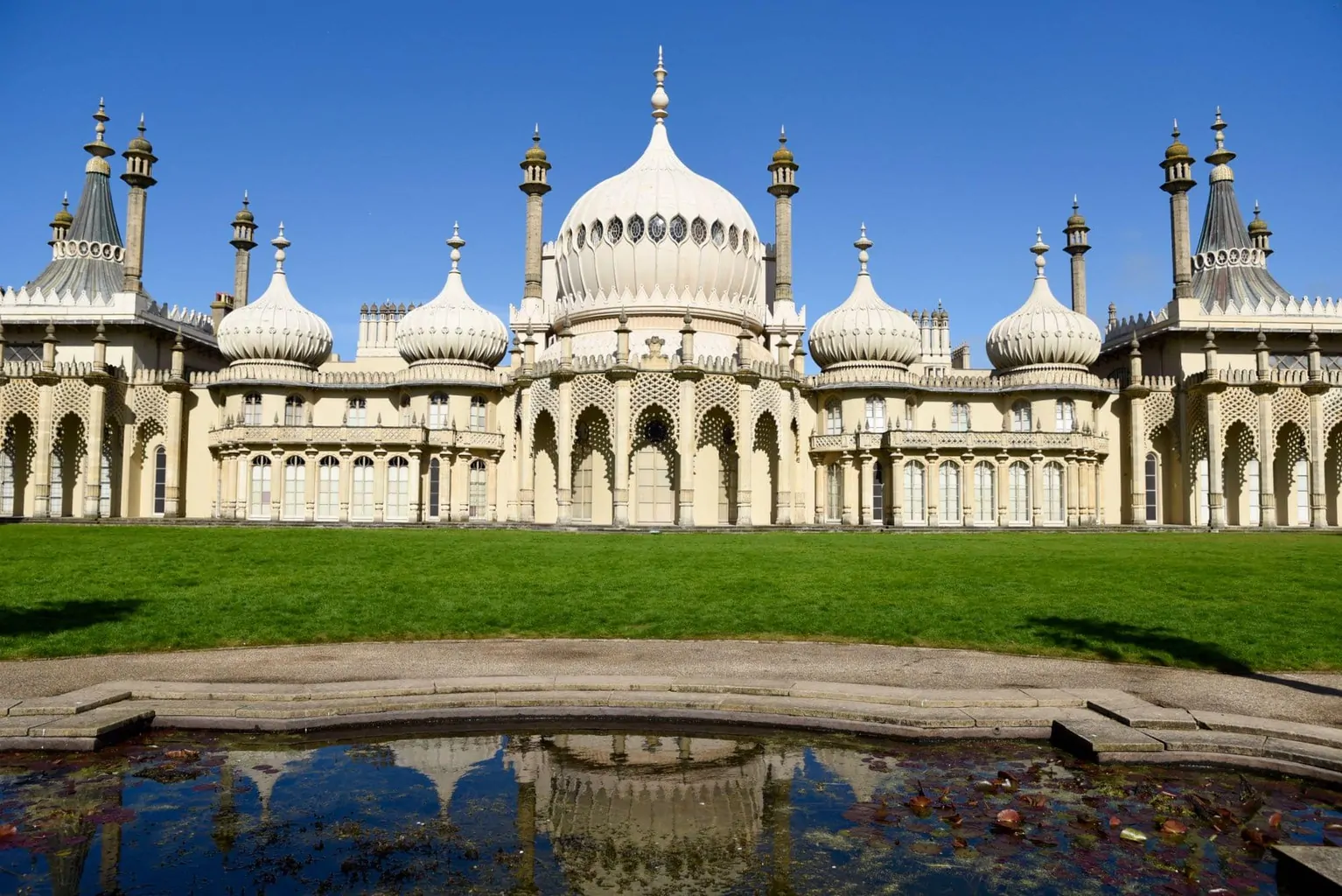 The Royal Pavilion Gardens are open to the public free of charge, as is the Brighton Museum and Art Gallery located in the Pavillion Gardens. A fantastic collection of exhibits and exhibitions make this a Brighton must see.
The building forms part of the Brighton Dome, the concert hall that was originally The Royal Stables and Riding House. It is worth having a look just to understand the real opulence of George IV. A man whose taste for the flamboyant and a penchant for mistresses was well documented.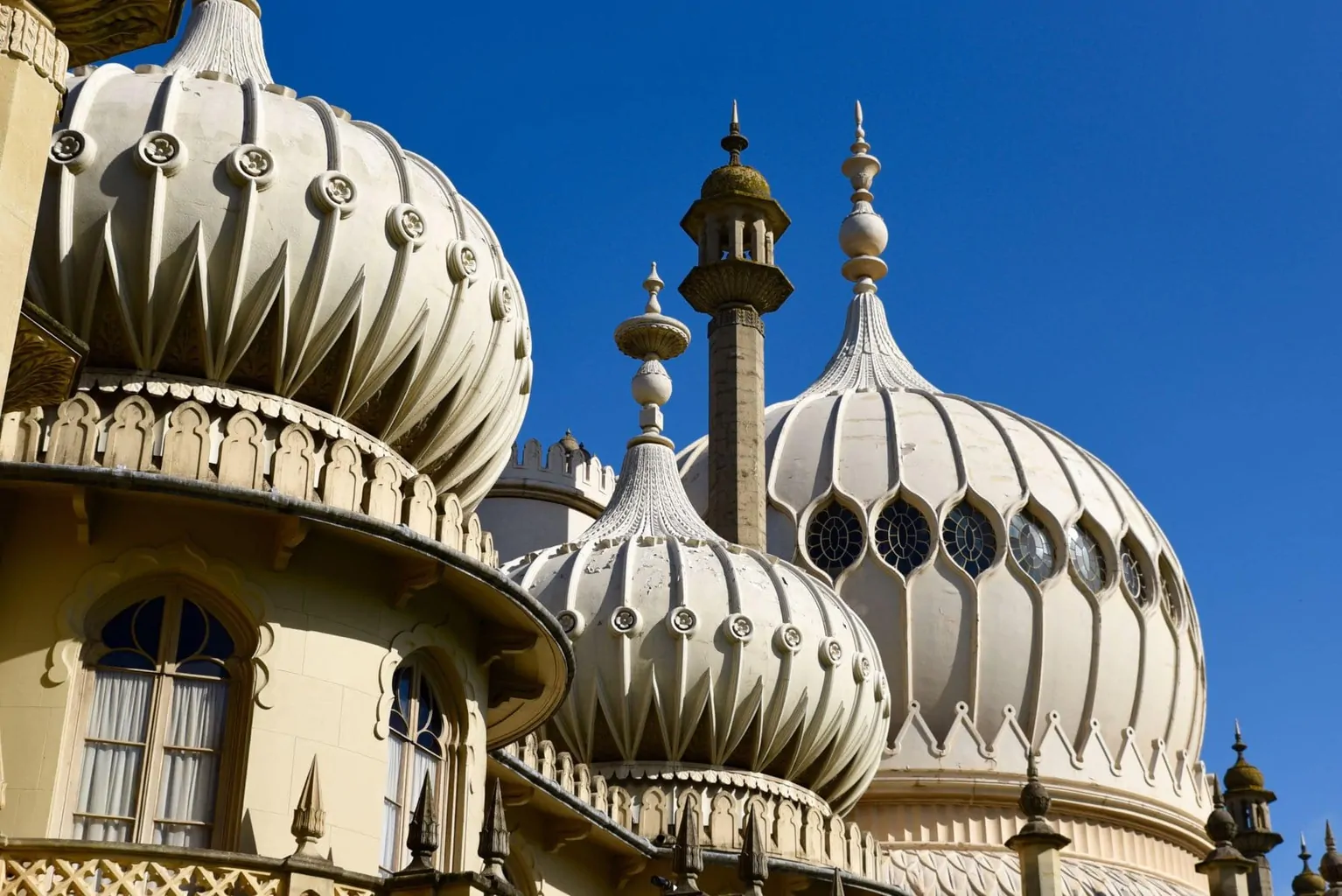 Entry to the Royal Pavillion:
While admission to the Royal Pavilion Gardens and Brighton Museum and Art Gallery is free, entry inside the Royal Pavillion is ~£11 / adult.
---
Brighton Beach.
Brighton Beach is one of the most iconic beaches in the world. Perhaps not the most beautiful, but undoubtedly iconic. The long stretch of pebbled seaside has everything you want in a beach getaway.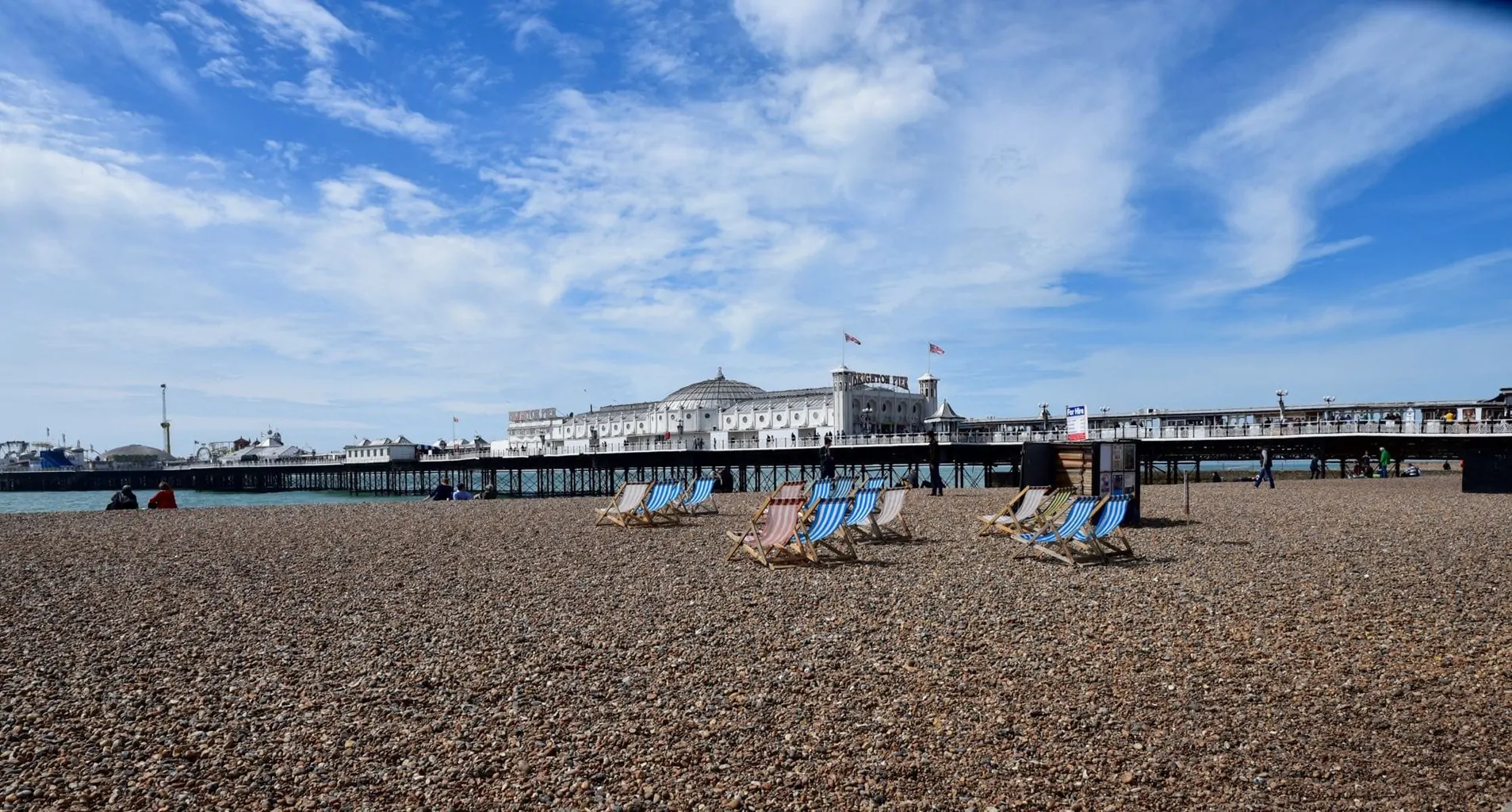 Grand hotels line the waterfront overlooking the original promenade. Take a stroll along the strip, and you will find enough to keep you busy for an afternoon or more.
Cafes and restaurants rub shoulders with little museums offering a gorgeous glimpse into Brighton Beach's colourful past. Beautifully ornate carousels sit right on the beach as if straight from a childhood memory.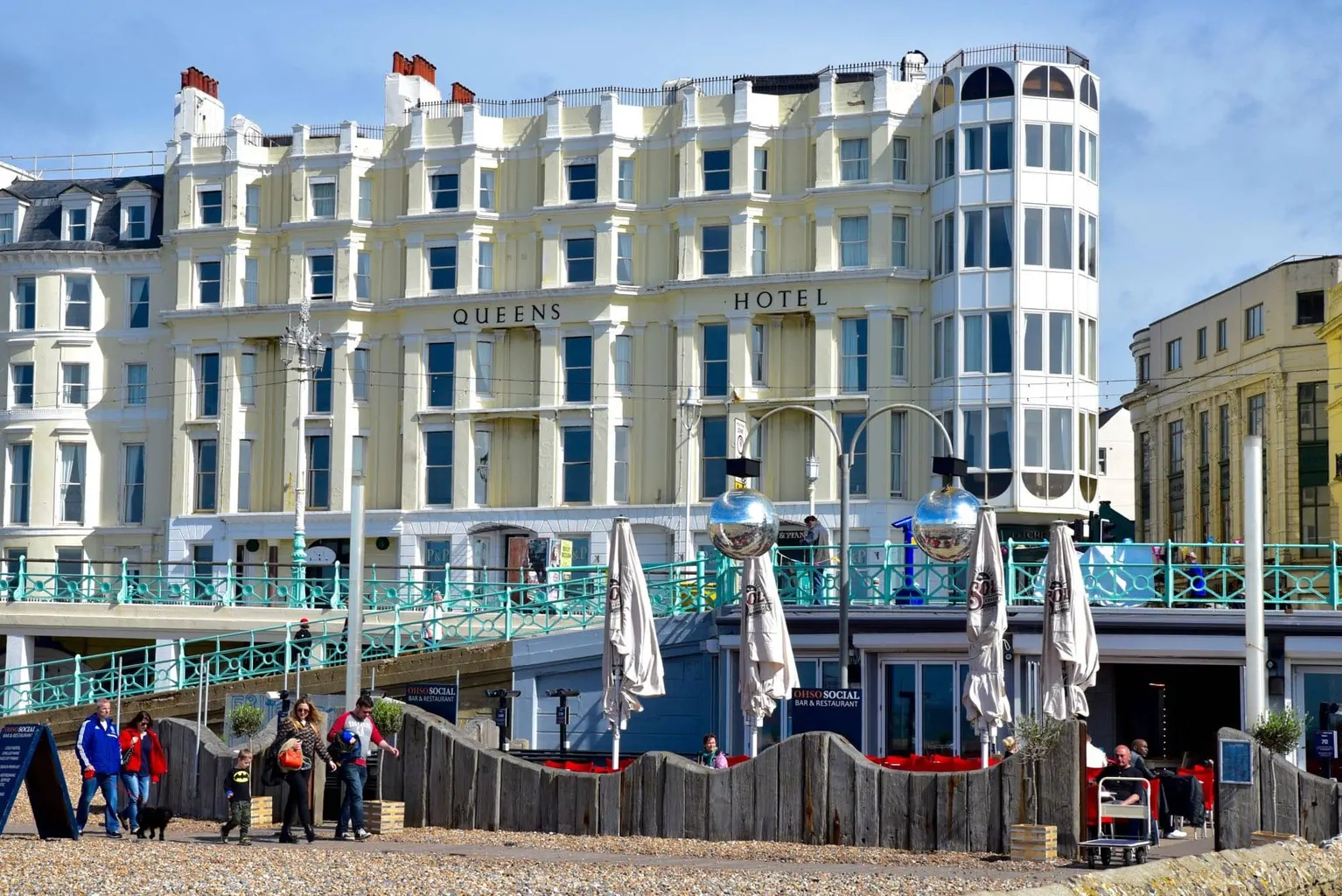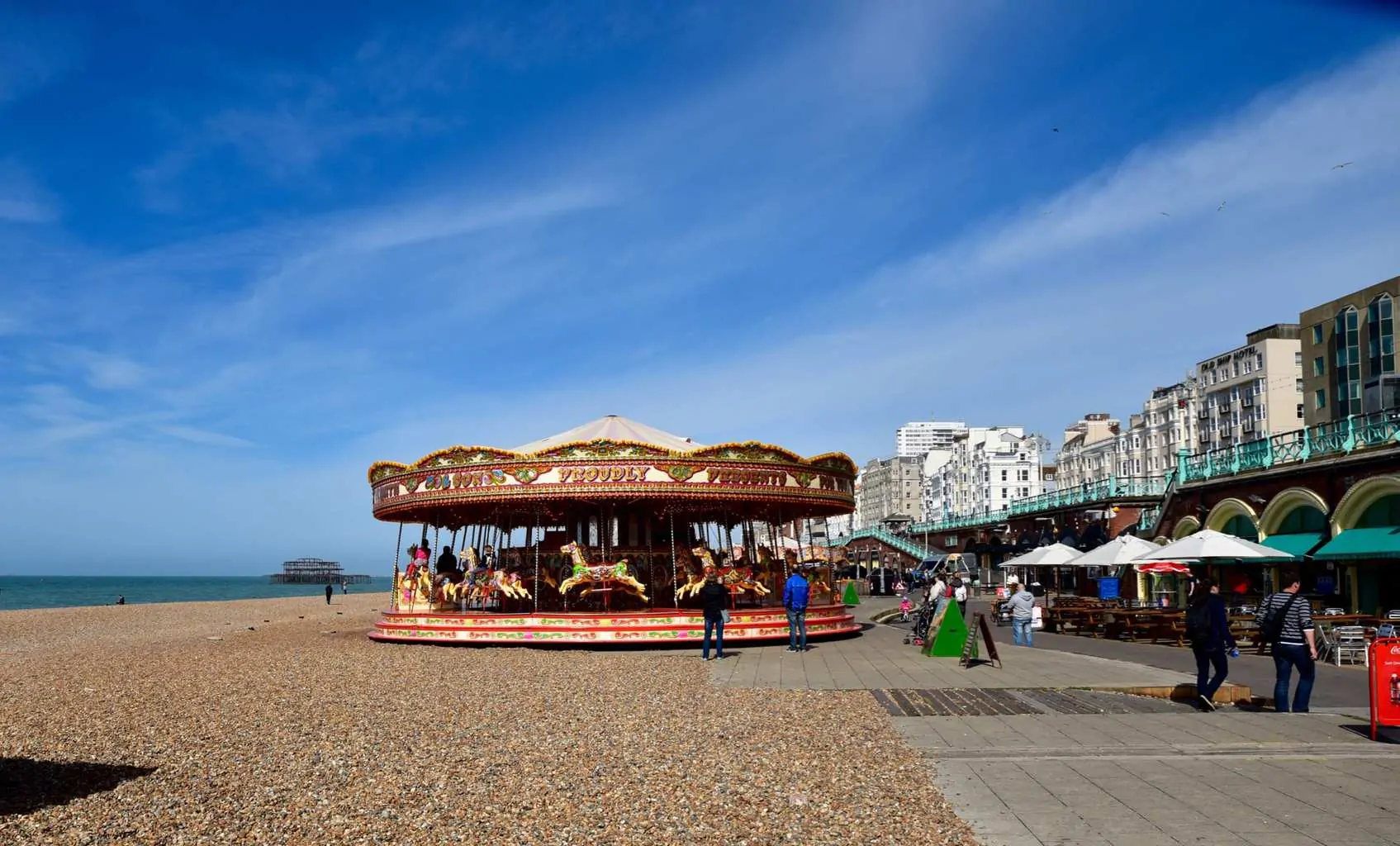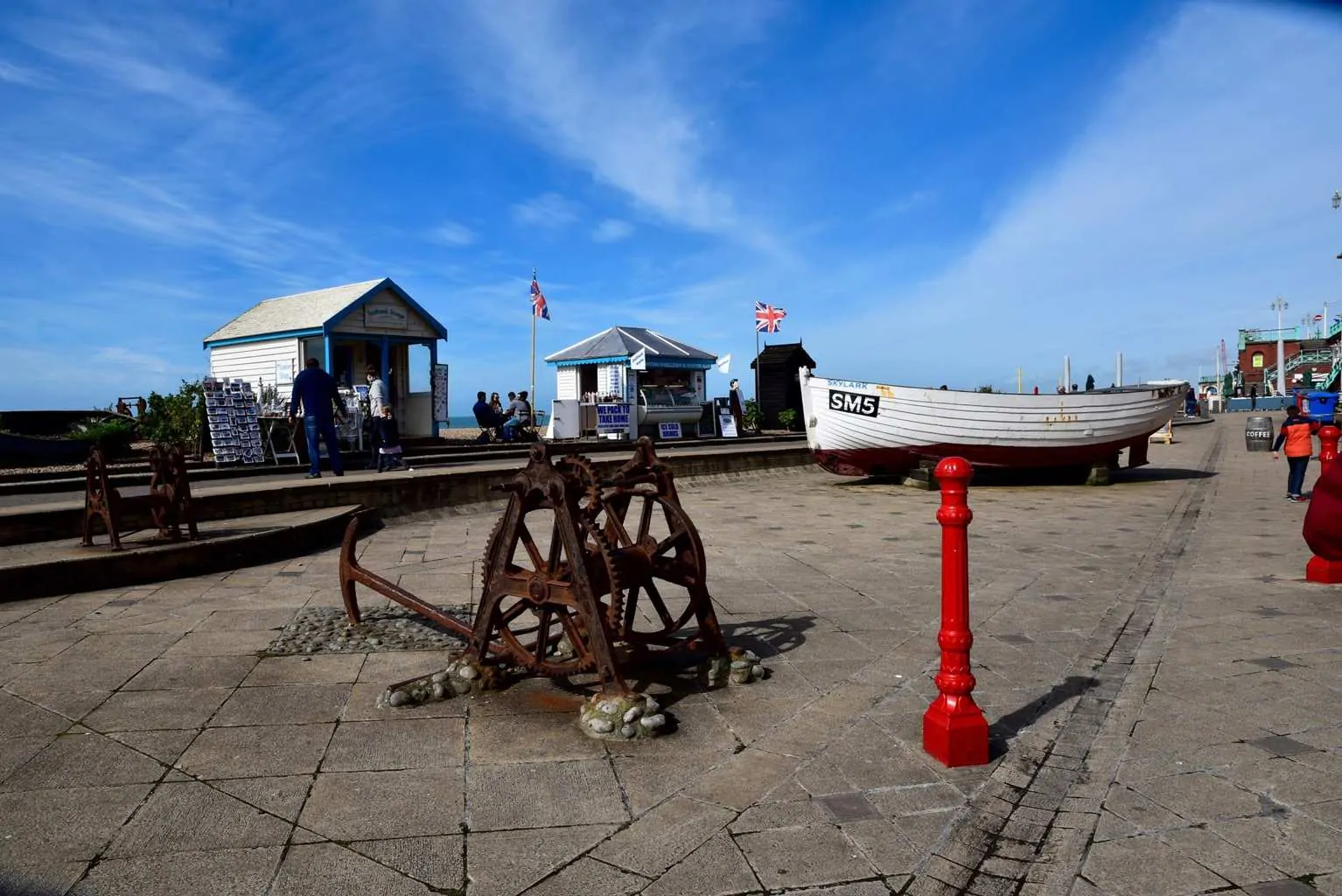 Eat Fish and Chips
If you feel like putting your feet up, grab some traditional British fish and chips from one of the many stalls claiming to have the freshest line caught cod. Then pull up one of the free beach chairs and watch the waves roll in.
You couldn't have a more quintessentially English experience than eating fish and chips in Brighton.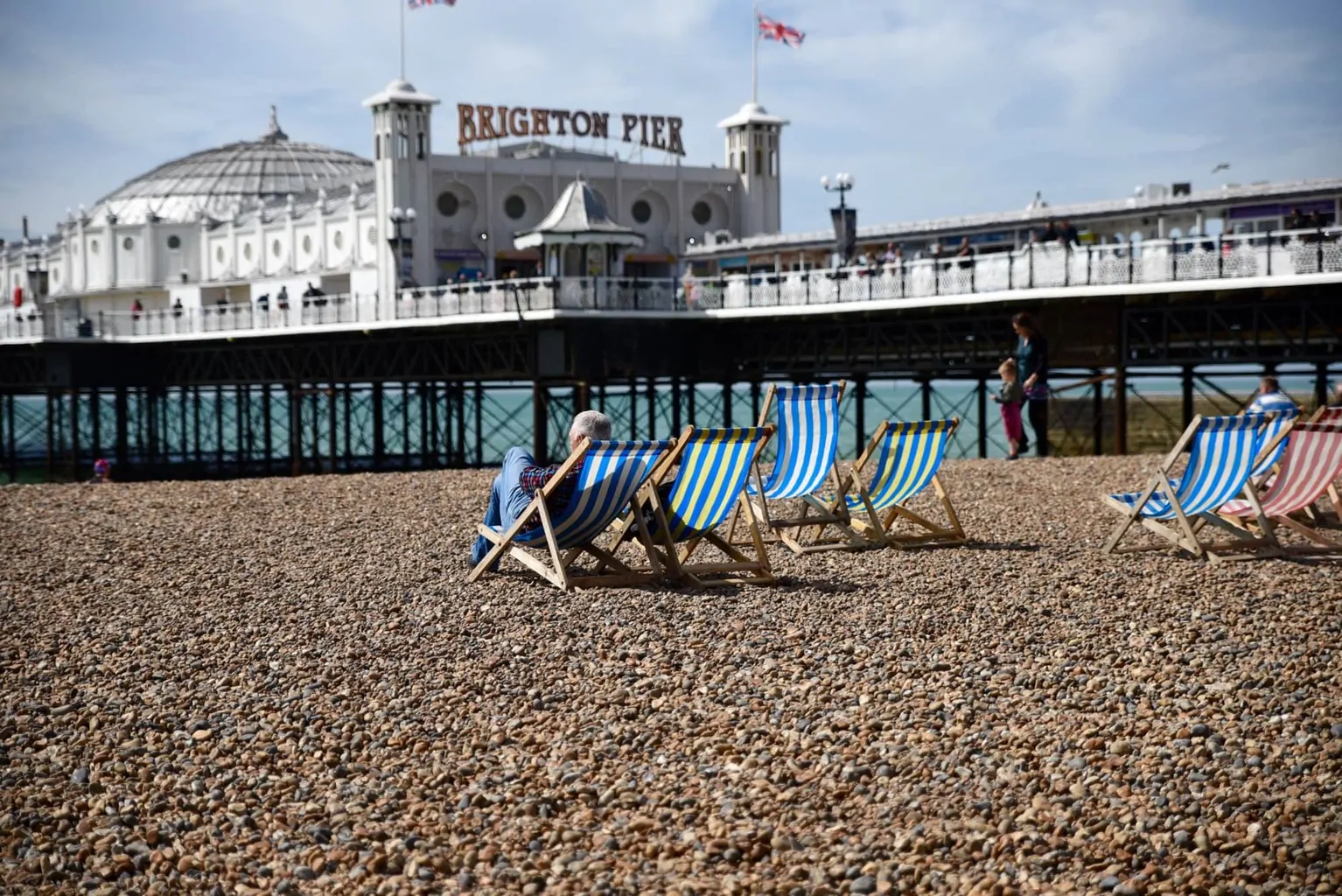 ---
Brighton Marine Palace And Pier
Also known as the Palace Pier for short, it is the last remaining non-derelict pier in Brighton. The other- West Pier sits like a haunted skeleton after being closed in the 70's and subsequently suffering at the hands of storms and severe fire.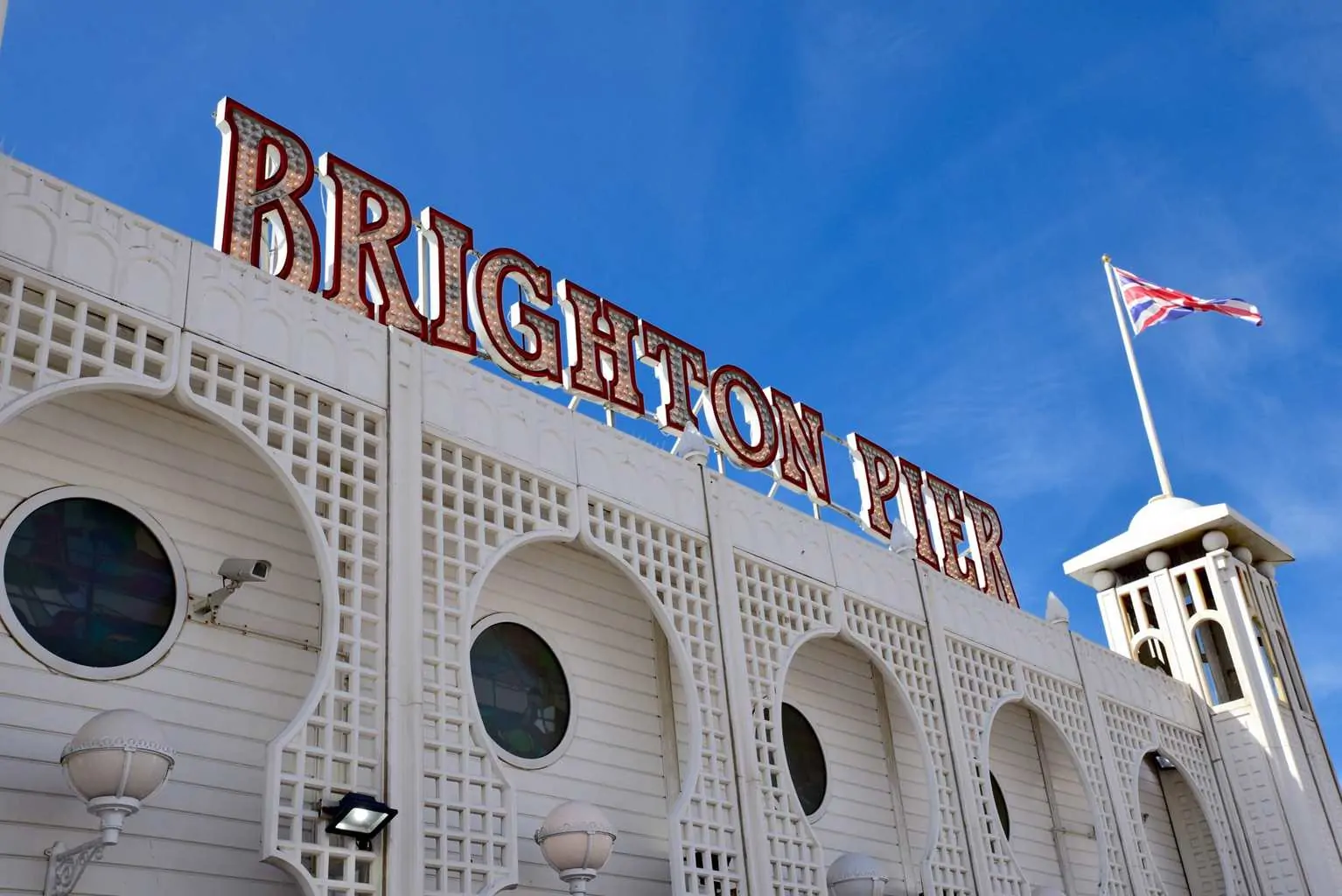 Brighton Pier is what is known as a 'Pleasure Pier', an old school carnival by the sea. The pier has been restored to a level where it is easy to imagine the days of big bands and dances on the boardwalk.
Little restaurants, candy stores and even a bar make the pier much more than just a stroll over the ocean. The Brighton Pier is a day out.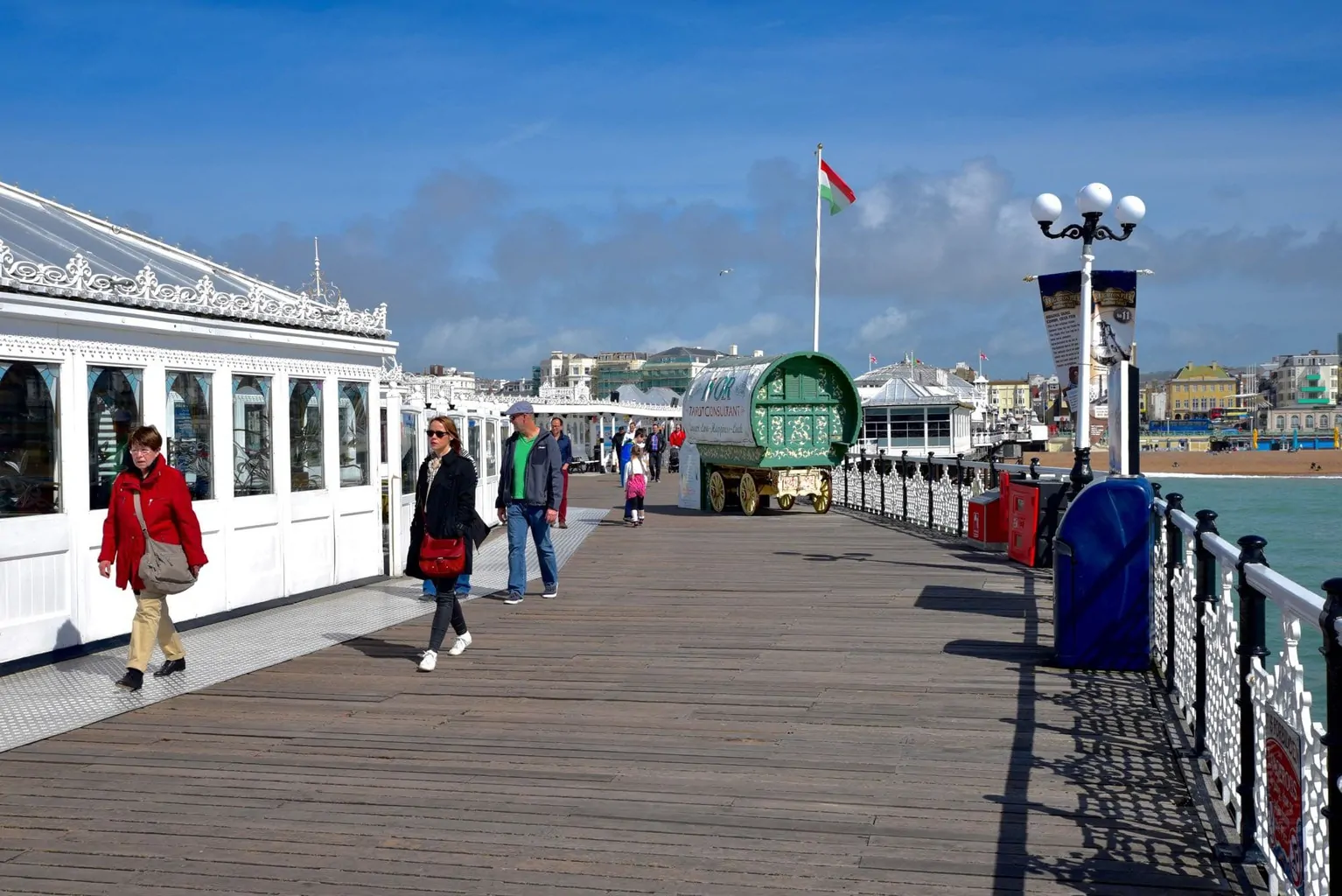 And, of course, there is no shortage of the carnival atmosphere putting the pleasure into this pier. Rides and games a-plenty. There is enough here to keep any family happy without too much compromise.
Wristbands are sold for unlimited rides, so mum and dad can enjoy lunch while the kids (or big kids) go wild on roller coasters and the like. This is one of those "oh, you can't go to Brighton and not stroll the pier" situations.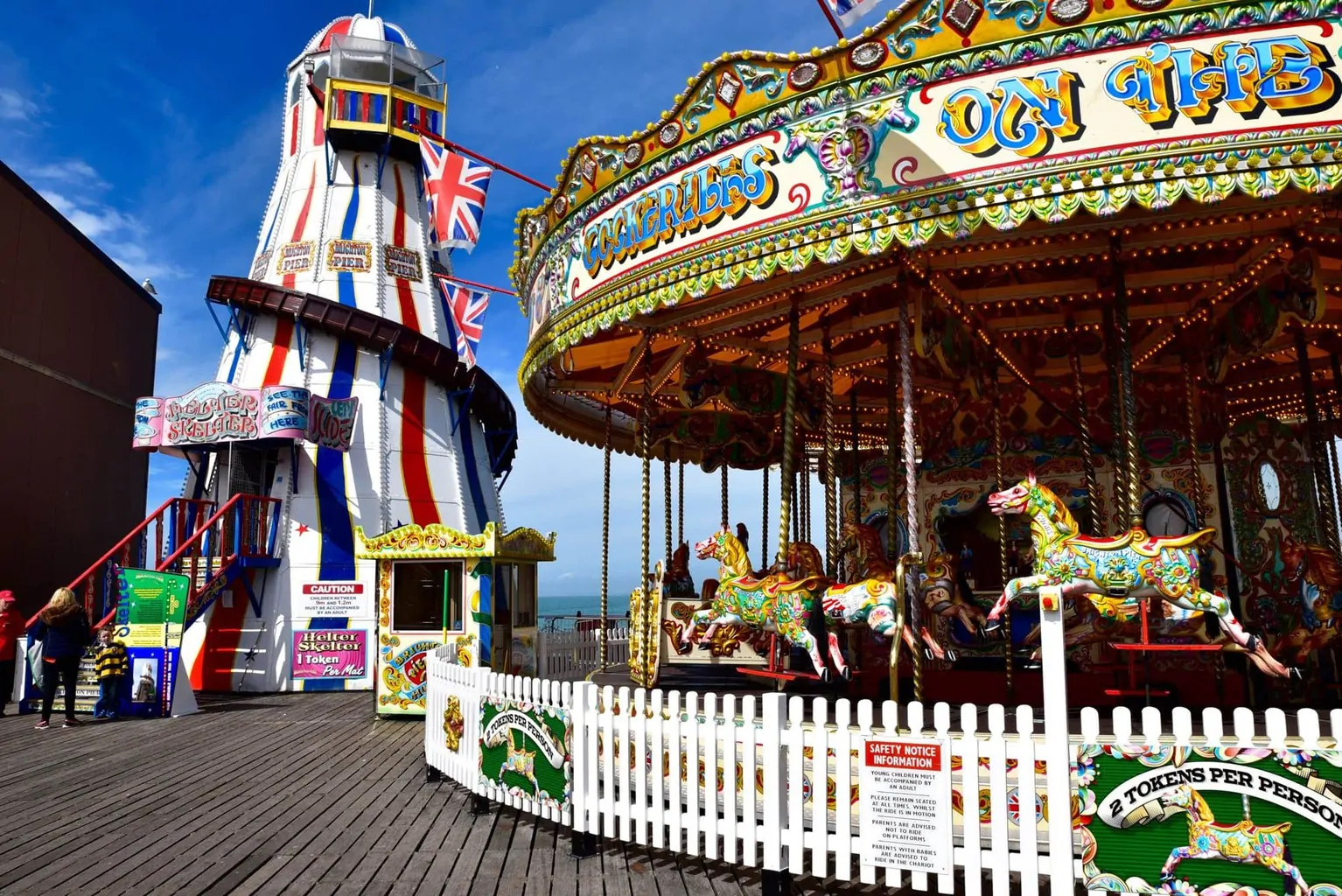 Whether carnivals are your scene or not, the Brighton Pier has loads of old-fashioned charm coupled with just a dash of tourism tacky.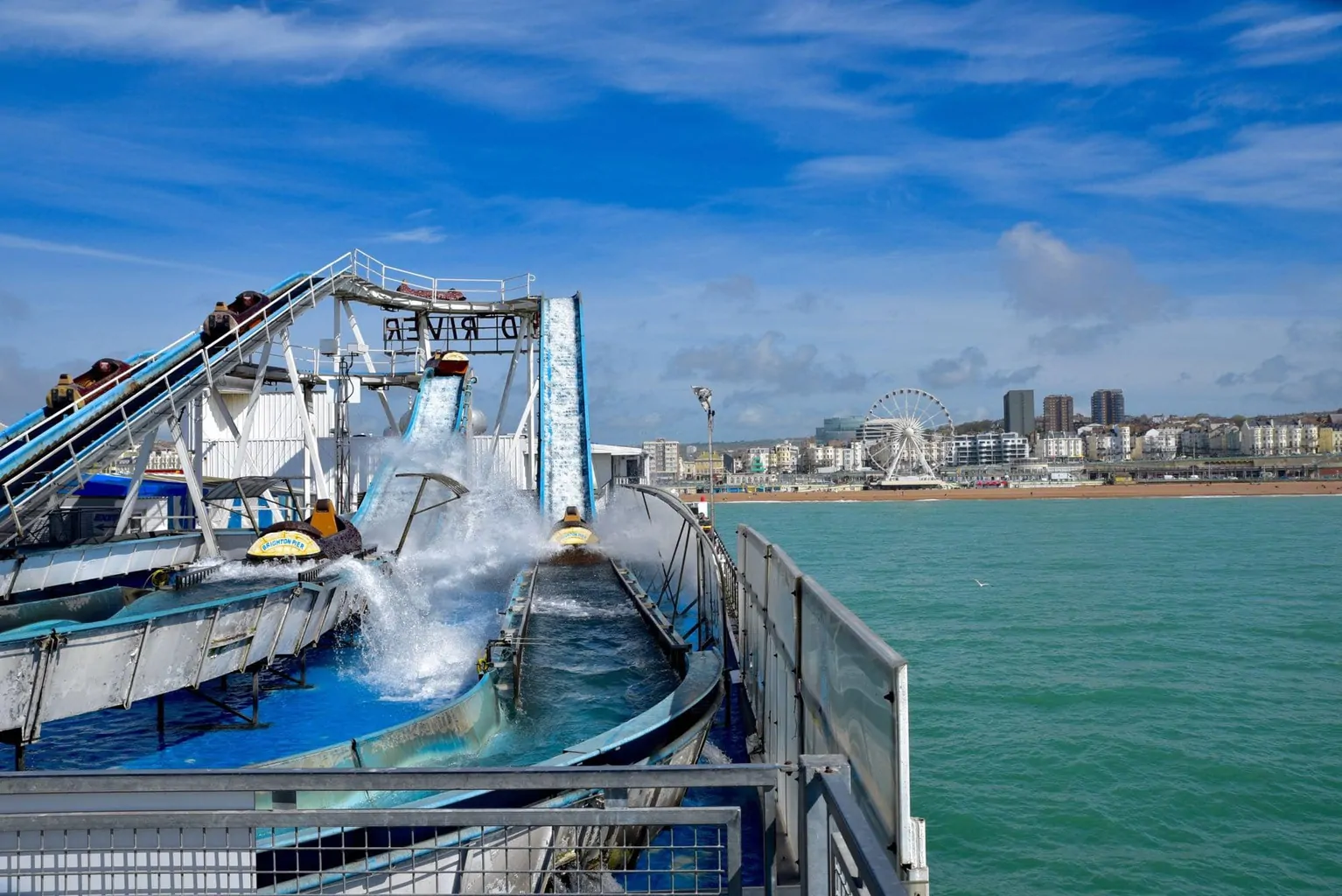 The Brighton Wheel
If you prefer to observe the frivolity from above, take a spin on the Brighton Wheel. Brighton's newest attraction will set you back ~£8.00 for an aerial view of this glorious town.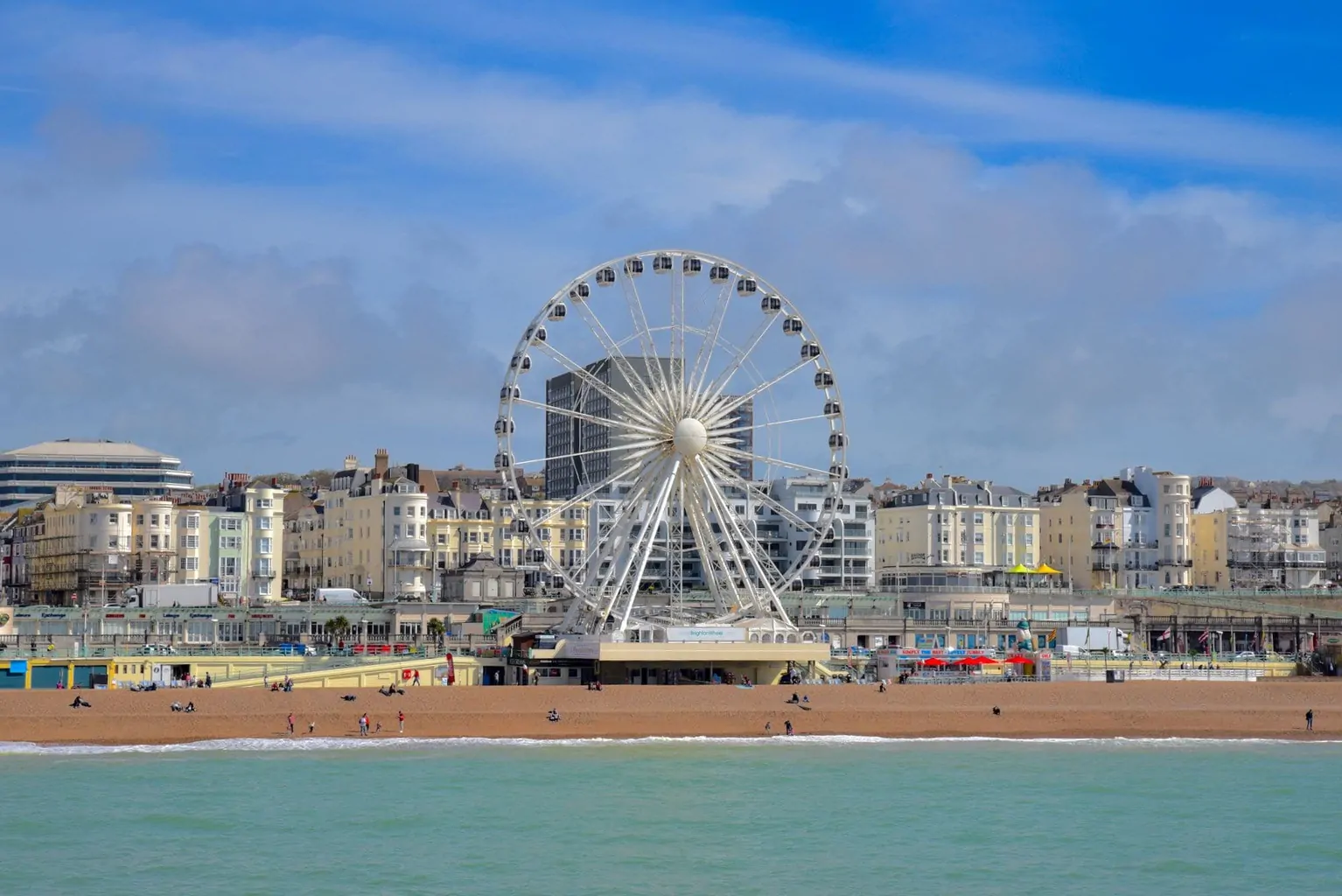 ---
Getting to Brighton and Around
By Car:
Brighton is around 54 miles from London, less than 2 hrs from city to beach if driving.
By Train:
If you don't have your own transport, regular trains depart daily from various stations around London. Some direct trains will get you there in under an hour. Visit Brighton has some great information on getting there and loads of other great tips for things to do and see in Brighton and Hove.
Once you arrive at Brighton station, central Brighton and attractions are easily walkable.
How Long to Spend in Brighton
While Brighton has long been a popular day trip, we recommend allowing yourself at least a couple of days to properly soak up the atmosphere and everything this great city has to offer. When planning your visit, keep an eye on Brighton's great calendar of festivals such as The Brighton Pride Festival, The Fringe and the annual Burning of the Clocks
Where to Stay in Brighton
You will find all levels of accommodation from budget backpackers to gloriously appointed grand hotels. We, however, chose Airbnb. There are a fantastic array of apartments and houses on offer such as the great two bedroom apartment smack in the middle of the North Laine district we stayed in for much less than a hotel would have cost.