Places People. PLACES!  
This is what you expect to hear any moment when you enter Jemaa El-Fna. The central square in the old city of Marrakech.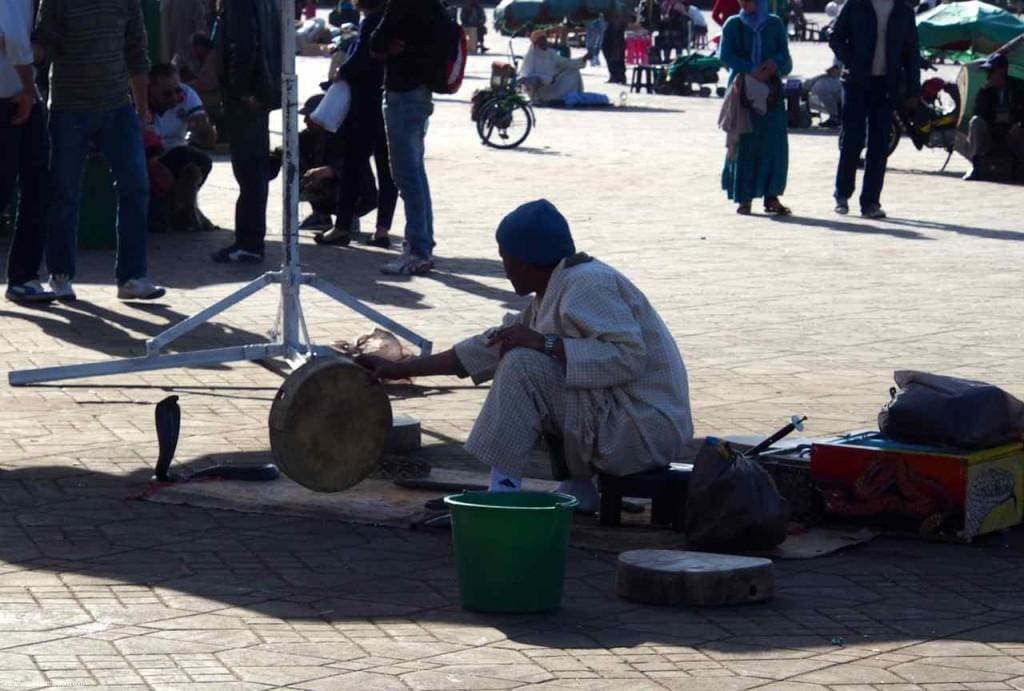 You feel like you are on a movie set that on the cue from the director is about to spring to life. This place is quintessentially what you would expect from an Arabian Nights or Indiana Jones movie, down to the snake charmers and the touts in the darkened mazes of the souks that run off this square into a tangle of markets, local business and Riads.
In the main part of the square, you will find all the trappings that attract the tourists. A large open and vibrant space surrounded by European style cafes and Moroccan style roof top tea houses and restaurants over looking the madness. Although most of what you see here has been camped up for the tourist (not unlike a drag queen impersonating Edith Piaf, strangely mesmerising but still OTT!) It is actually not far removed from the real Morocco.
For around 20 Dh you can have your photo taken with a real life vulture on your shoulder, or you can pay for the privilege of having a monkey (on a chain) pee on your arm. Just ask the poor French man that came pleading for a wet wipe holding his arm at such a distance from himself as if it was the deformed appendage of a leper.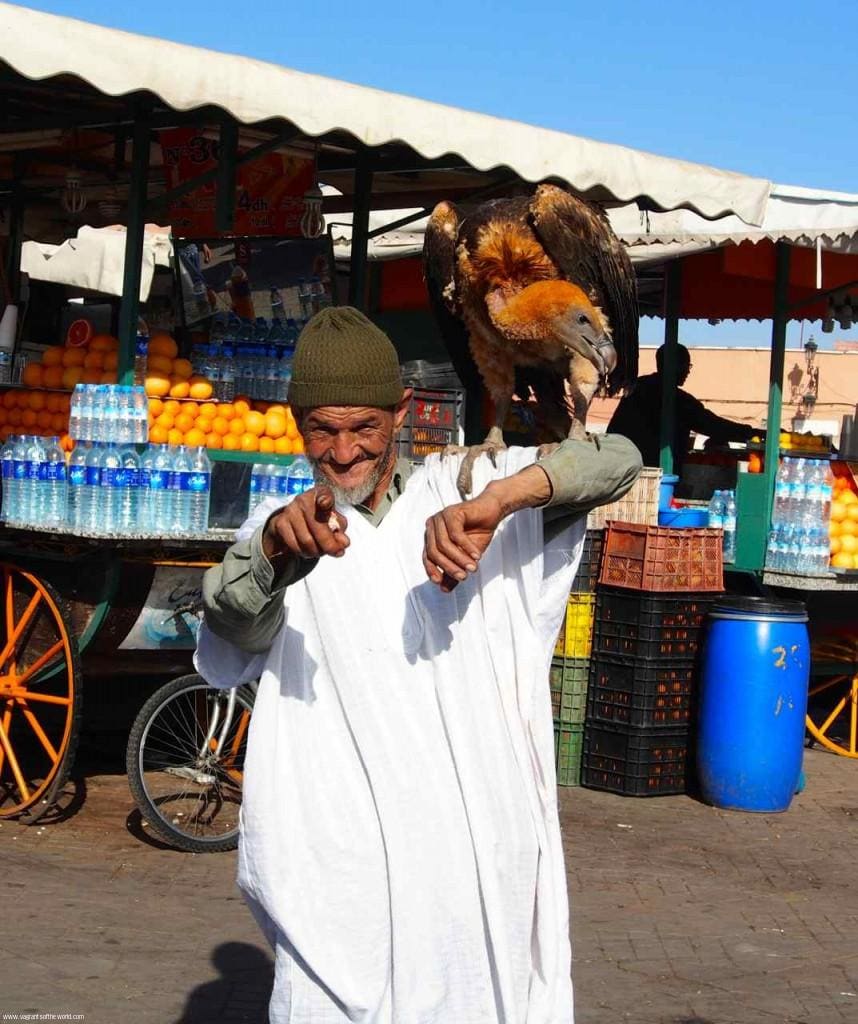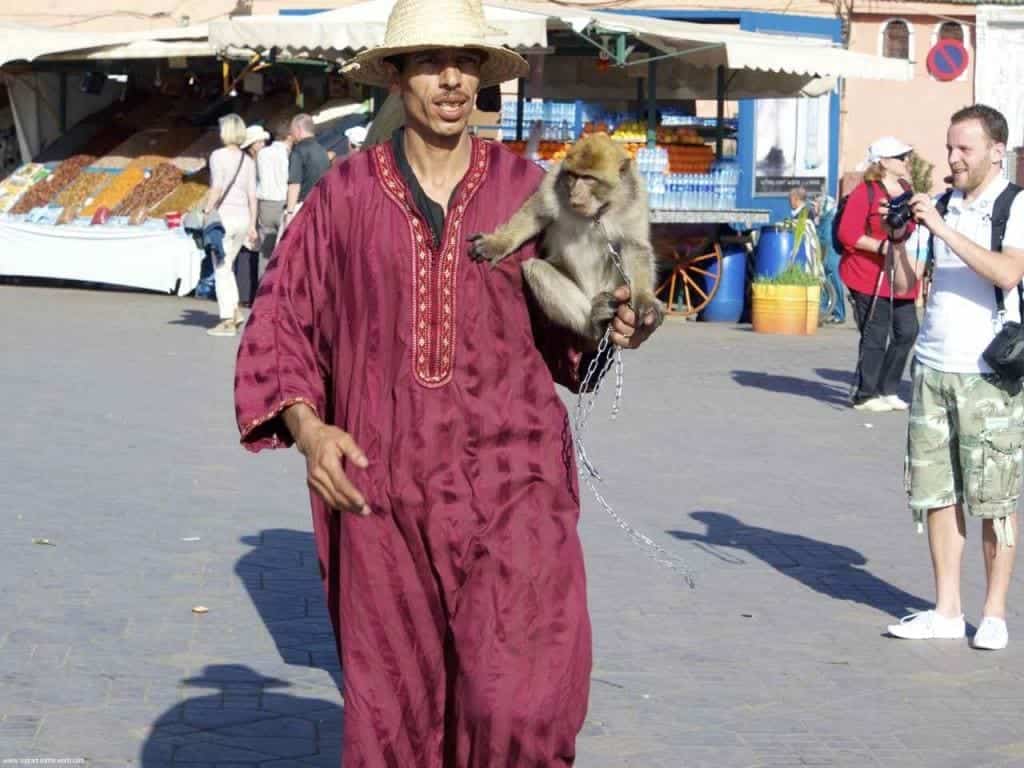 Hoards of tourists, mostly European clog the Parisian style seating that flows from the cafes onto the square, sipping mint tea and enjoying the safe offerings of a toasted sandwich with fries while the circus unfolds before them. For something different, take a Disney style horse and cart ride through the square and onto the outlying streets of Marrakech.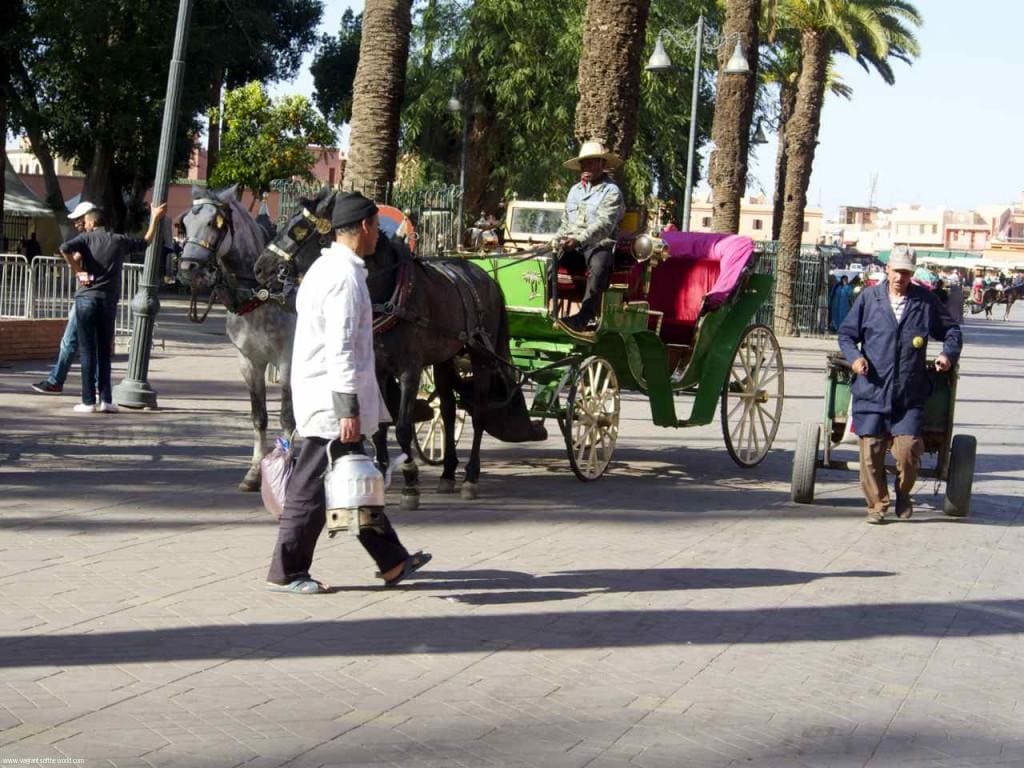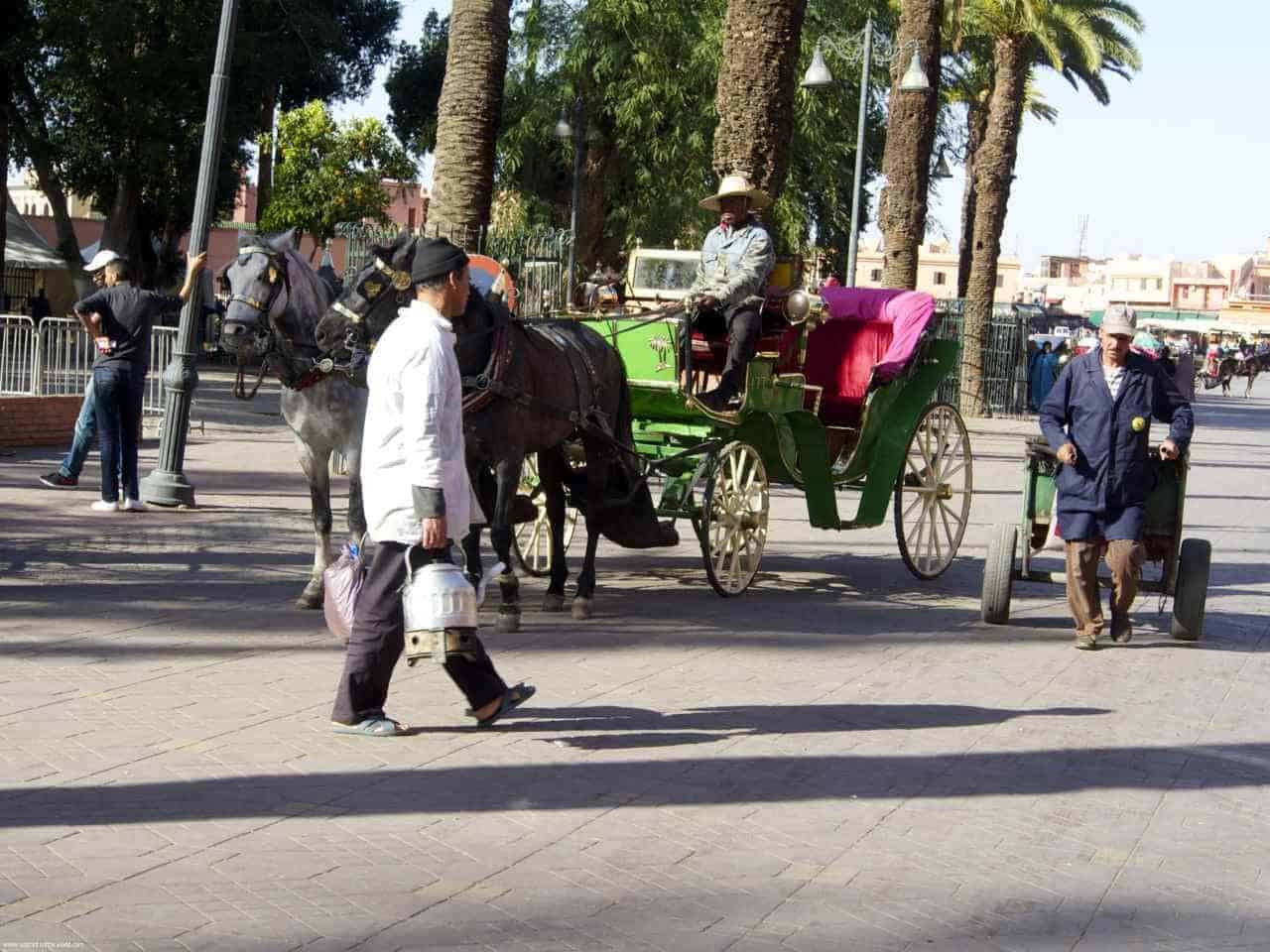 Leave the square and enter the Souks that run like tentacles from the central madness and you will find the business end of Marrakech. Narrow lane-ways clogged with people, donkeys, small business and the day to day comings and goings. Lane-ways run from lane-ways which lead to more lanes-ways and onto more dark alley's. Take a bearing before you enter or tie a rope around your waist because you may not come out
Lane-ways run from lane-ways which lead to more lanes-ways and onto more dark alley's. Take a bearing before you enter or tie a rope around your waist because you may not come out anytime soon and more than likely not where you went in!  Beware the helpful child that offers for a fee to help you back to your starting point, one of two things can happen here, they can either give you misleading directions (for their own amusement) that will more than like lead your further into the maze or lead you in the wrong direction to purposely position you somewhere for a greater scam.
Mark and Mary fell victim to such a scam. Wandering through the souks a nice man will tell you not to go down that laneway; there is nothing there. He will then direct you to another on the promise of something more interesting. Soon another young man will appear, just as helpful as the previous man he too seems to know the way to something more interesting.
Before long they found themselves in the foul stench of the local tannery in the very very back blocks of the medina. A place perhaps best not visited by tourists. Once there the requests for money began. Fortunately for them, they literally had no money on them. All wallets had been left at the Riad. (I think this breaks rule 10 of travelling, always have some money on you in case of emergency!) In this case, it was probably their saving grace.
As exciting and interesting as the lure of the back alleys of the back blocks of Marrakech may seem, this is not recommended, there is definitely an element of crime in this small city.
Marrakech itself is relatively small, but jam packed! I think a couple of days would suffice and then head to the sights beyond Marrakech such as the Atlas mountains.
We rented a little 3 bedroom Riad; Le Petit Riad Carmel situated in a laneway off one of the souks a short walking distance from the square. We definitely recommend this type of accommodation in Marrakech or anywhere in Morocco.
Even though you are right in the hub of it when you enter your Riad, it is like someone turned the volume off. Other than the call to prayer that echoes through the medina 5 times a day, it is so peaceful you can't imagine the hustle and bustle going on outside.
 Riad Carmel was great value; $100 AUD/night for a 3 story 3 bedroom home that could sleep 8 with a beautiful roof garden and all the amenities you need, especially mid-trip. Things like a washing machine can be such a blessing.
The Riad came with a very sweet lady; Fatima. Fatima cleaned for us and for a small fee cooked us a magnificent Moroccan breakfast and dinner. Another night we were able to duck down the alleyway and pick up some local offerings from the souk our Riad was situated off. A beautiful whole chicken slow roasted in turmeric, saffron and a mix of spices you could never quite put your finger on. A roti style bread made by a street vendor while you wait and of course, olives. No meal in morocco is complete without olives, including breakfast.
Marrakech is testament that each of the Moroccan cities has their own style and their own flavour.