One of the most ancient cities in the world, The capital of Vietnam has so much to offer visitors. There are many exciting and fascinating things to do in Hanoi, from discovering the city's rich history to experiencing the eclectic mix of cultural influences. We'll show you the best things to do in Hanoi, Vietnam, to help plan your Hanoi itinerary.
Immerse yourself in a mystical city renowned for its overwhelming and hectic pace to discover the finer nuances unique to Hanoi Vietnam.
---
You Might Also Like: Add a Halong Bay Cruise to Your Vietnam Itinerary
---
Take a Hanoi walking tour as soon as you arrive to enhance your time in the city further. A walking tour is one of the best introductions to any city, especially one as hectic as Hanoi.
Guided by Hanoi locals, tours generally last from 1.5 – 2 hrs, some as long as a half-day with several different types of free walking tours available such as –
Hanoi City Walking Tours which include the highlights;
Hanoi Old Quarter Walking Tour;
Hanoi Street Food Tour
How Do Free Walking Tours Work?
Guides earn money by way of tips given at the end of the tour, so work hard to ensure the best Hanoi experience for you.
A free walking tour will not include entry to the most popular attractions in Hanoi but provides a great way to get your bearings in the busy city, and tips for further independent exploration. It is also an opportunity to glean some local knowledge on where to eat and what to see during your stay in Hanoi.
There are several free walking tour companies in Hanoi, many run by local students who have excellent local knowledge of their city. Try Hanoi Free Local Tours or Free Walking Tours Hanoi.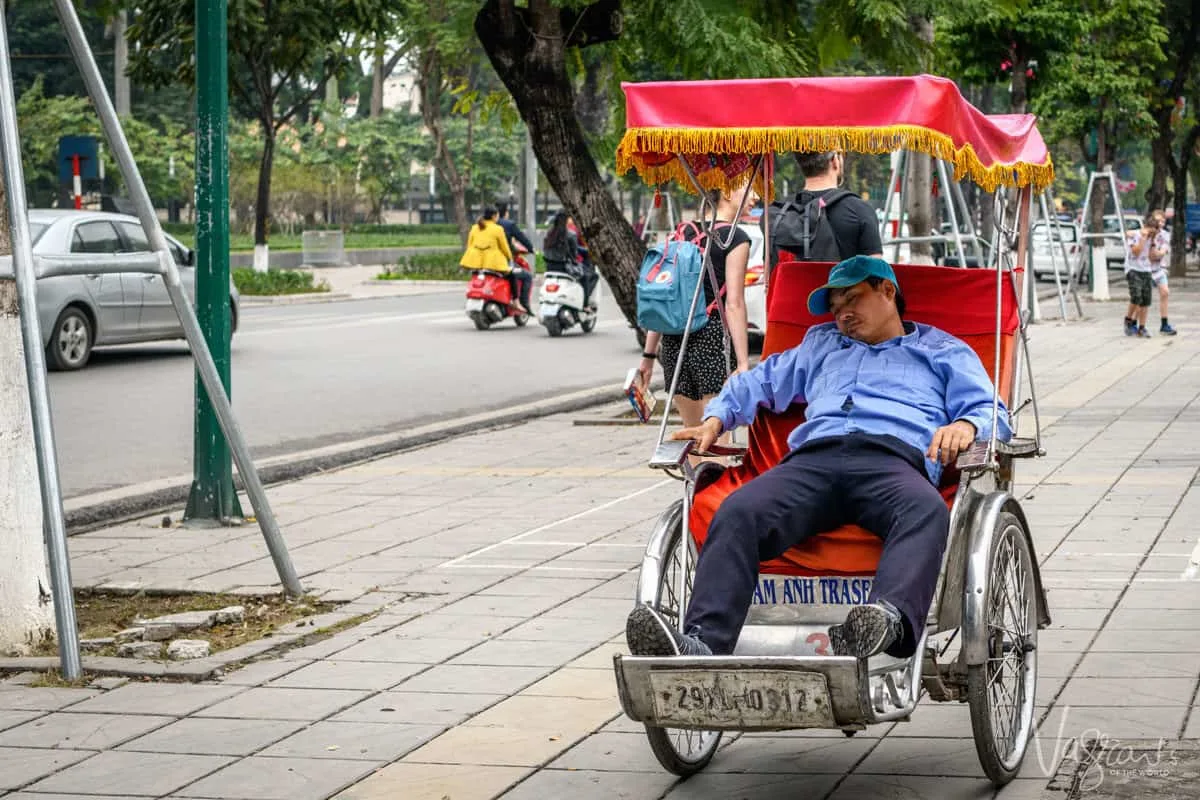 ---
Visiting Ho Chi Minh City?: Discover the Best Things to do in Ho Chi Minh City with 18 great things to do and see in the former city of Saigon,
---
Hanoi celebrated a millennial birthday in 2010 and the Old Quarter is where you will find Hanoi's complete history on full display. Ancient pagodas, French Colonial architecture, Buddhist temples, Catholic cathedrals are all found among the chaos of commerce and traffic.
---
Discover the Best Things to do in Mui Ne, one of the best beaches in Vietnam with a coastal resort vibe.
---
The 36 streets of Hanoi still bear the names of their trades. Names like Tin Street, Silk Street, Bamboo Street etc. While some businesses have moved into more modern merchandise, the layout of the street remains, and many of the original trades still operate in their street.
Paper Street
One such street is Paper Street or Hàng Mã. Paper Street is where Vietnamese still purchase joss paper products burnt in traditional ancestor worship ceremonies.
Traditionally, paper money or "Hell Money" was burnt as an offering to ensure the comfort and well being of dead ancestors. Now, you can buy the paper version of any modern convenience or item you think your dead ancestors may need in the afterlife.
Anything from paper jewellery, paper scooters, houses, furniture, or shoes. You can even get a paper Mercedes Benz or washing machine. Whatever the deceased need in the afterlife, they've got it for a few bucks.
You can read more about the 36 streets of Hanoi here. You can find Paper Street on Google Maps here Hàng Mã, Hoàn Kiếm, Hà Nội

Train Street
Train street is one of the more unusual things to do in Hanoi. Twice a day, at 3.30 pm and 7.30 pm, the train that connects Ho Chi Minh City in the south with the capital Hanoi hurtles through a narrow residential street in the middle of Hanoi's old town.
The train line takes up the full width of the street so when the train comes through, the resident of Ngõ 224 Lê Duẩn have to make sure everything and everyone is tucked away.
As the horn blasts down the road and the tracks start to rumble, bikes, drying laundry, makeshift kitchens, children and dogs are whipped inside. The train allows only a narrow space on either side for bystanders to stand pressed against a wall or in the alcove of a doorway.
You can literally feel the wind of the speeding train on your face as you stand flush against a wall on the edge of the tracks. It is much more exciting than we had anticipated.
Once the train has passed, residents return to life on the tracks until the next brief interruption to their day at 7.30 pm.
When to Visit Train Street
If you want to experience the unusual spectre of life on train street, we advise arriving at least half an hour before the train is due. It often runs early – or late. Arriving early also gives you time to find a spot and to witness the nonchalant attitude of the street's residents and businesses in the preparations for the approaching train.
The 3.30 train is better for taking photos due to it being lighter although the rush of the train through the narrow street at night adds an additional thrill.
Things to Consider When Visiting Train Street
Train street is becoming a very popular spot with tourists. With this in mind, be respectful of the fact it is also where people live. Ask to take photos of locals and respect private property.
Train street can also be hazardous. The train is travelling at high speed and will not slow for any reason. Do not do anything stupid in the quest for the perfect Instagram shot or selfie. Make sure you have a safe place to stand and are well clear of the tracks when the train comes through.
Where to Find Train Street
Train Street is located in Hanoi's Old Quarter at Ngo 224 Le Duan between Lê Duẩn and Khâm Thin street, in Hanoi's Old Quarter.
If walking, it will take approx half an hour from the city centre. Otherwise, take a Grab Taxi or Grab Bike from the city. Expect around VND 25,000 for a taxi and up to VND 15,000 for a Grab Bike.
---
You Might Also Like: A Complete Guide to Hiking in Sapa Vietnam: Trekking in the mountain region of Sapa offers a unique look at Vietnams ethnic minorities and some of Vietnam's most beautiful scenery.
---
Hanoi City
Hoàn Kiếm Lake
The Old Quarter may be the heart of Hanoi, but Hoan Kiem Lake (Turtle Lake) is the centre of the city. Hoan Kiem is where you can join locals who gather to escape the madness of honking scooters and traffic.
Head there early morning, and you will find locals enjoying the parks around the lake for exercise and Tai Chi.
Go in the evenings for a photo opportunity like no other in Hanoi. When the sun sets the famous landmarks on Hoan Kiem Lake are lit, leaving beautiful reflections on the lake.
The lake is such a central story in Hanoi's history. It is also one of the most popular Hanoi attractions and continues to be an essential leisure area for Hanoi locals and tourists.
Head to Hoan Kiem Lake on the Weekend
There is no denying, city exploration in Vietnam can be death-defying thanks to the insane traffic. In a bid to return the city to the people, the streets around Hoan Kiem Lake are closed to traffic from Friday evening until late Sunday night.
It is lovely to enjoy the anomaly of a traffic-free Hanoi in a festival atmosphere with live music, street stalls, and hoards of Hanoi locals enjoying the city unencumbered by traffic.
What to See Around Hoan Kiem Lake
Turtle Tower
The lake's iconic status stems from the ancient legend of an Emperor and a turtle, one of the four sacred creatures of Vietnam.
The legend states that Emperor Le Loi lost his magic sword at Hoan Kiem Lake to a turtle.
The Emperor believed it was the Golden Turtle God, the same turtle who had initially given him the magic sword. It is why the lake is often referred to as the Lake of the Returned Sword.
In the centre of the lake is a small island with a symbolic tower known as Turtle Tower, home to a softshell turtle population, a species that is becoming increasingly endangered.
Ngoc Son Temple (Temple of the Jade Mountain)
On the northeast corner of the lake, visit Ngoc Son Temple (Temple of the Jade Mountain) reached by the famous red Húc Bridge which translates to "Perch of the Morning Sunlight".
Turtle sightings are frequent around the temple, but it is at the temple where you can see a preserved example of the lake's most famous giant turtle inhabitants.
Entry to the temple is VND 20,000 (USD $0.80).
Visit Hoa Lo Prison Memorial ( The Hanoi Hilton)
The infamous Hoa Lo Prison Museum, dubbed by American POWs "The Hanoi Hilton" is a must-see in Hanoi.
The museum shows the suffering of Vietnamese revolutionaries held by the occupying French government during the early 20th century and later, US POWs captured by the North Vietnamese during the Vietnam war.
The unique location of the prison in the city centre was a strategic placement by the French Government as a message to Independence agitators. Ironically, the central location also served prisoners well in that it created an industry for street peddlers passing messages and contraband through and over the walls.
The massively overcrowded prison was plagued with accounts of grossly inhumane conditions and human rights atrocities. These atrocities are documented in many post-war accounts including Senator John McCain's semi-autobiographical memoir Faith of my Fathers.
---
Discover the Charm of Historic Hoi An With Our 2 Day Hoi An Itinerary. One of the most charming towns in Vietnam, Hoi An should not be missed.
---
Dong Xuan Market
Visit the Dong Xuan Market to shop where the locals shop. The largest indoor market in Hanoi, Dong Xuan dates back to 1889 during French Colonial rule.
The building has since had a Soviet-style makeover, but you can still find anything in the old four-level marketplace. Knock-off t-shirts, shoes, bags, souvenirs, and electrical and household appliances, they have loads of stuff for the bargain hunter as much of the merchandise is at wholesale prices.
On the lower level is a bustling wet market where locals barter over seafood, meat and veg. At the back, a pet and flower market with cats, dogs, fish, birds and flowers from all over the country.
See the World Record Ceramic Road
Hanoi is home to the largest ceramic mural in the world. Created in commemoration of the millennial anniversary of Hanoi, Ceramic Road measures 6 km in length.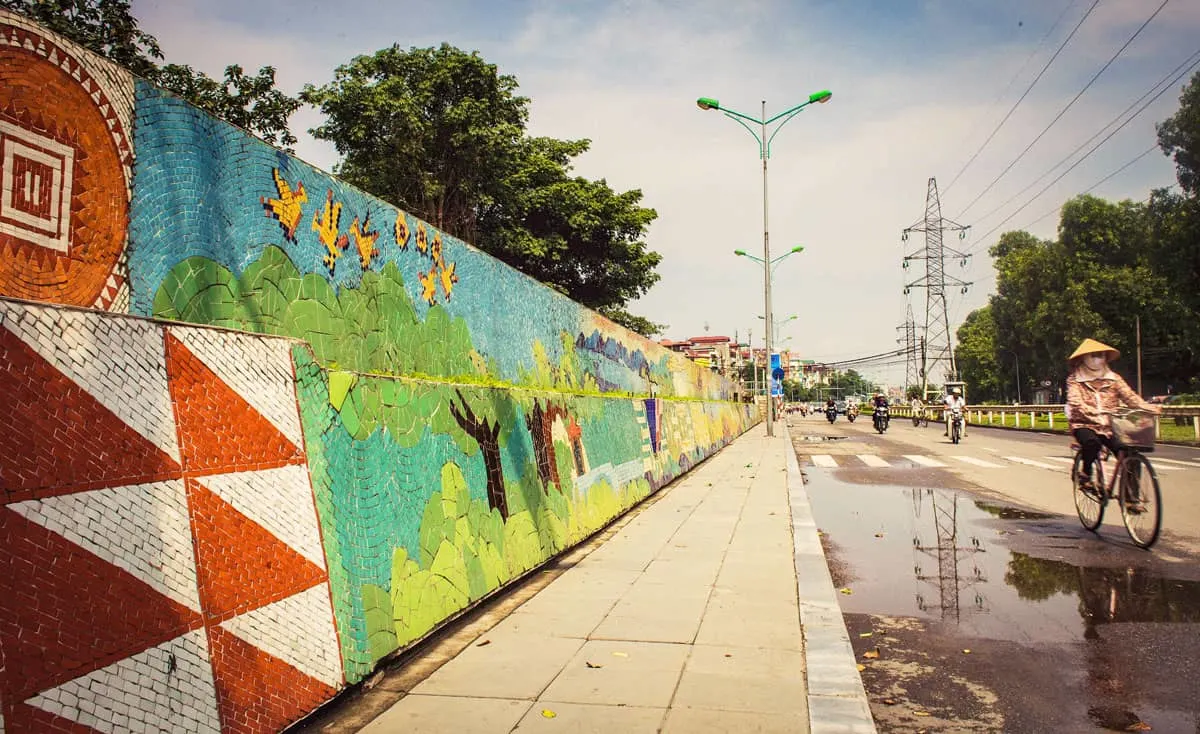 Using ceramic tiles from local artisans measuring no more than three cm; the mural depicts Vietnam's history, world monuments, and even includes drawings from local children.
You can find Ceramic Road on Google Maps at Hồng Hà, Ấp Thạnh Vinh, Ba Đình, Ấp Thạnh Vinh Ba Đình Hà Nội. The majority of the mural is on a busy highway so take a Grab Taxi or Grab Bike for a cruise along its length.
Long Bien Morning Market & Long Bien Bridge
Plan an early start for the best local market experience in Hanoi. Long Bien morning market is where restaurants and local market vendors come to buy their produce.
Trucks from country farms start to arrive at around 1.00 am signalling the start of a frenzy of trade under the eerie radiance of artificial light. Duck and weave your way through the lanes of commerce which continues at a boisterous pace until around 6.00 am.
Arrive at Long Bein Market early enough; you can still make it to Long Bien Bridge in time for sunrise.
Explore Ngoc Ha Neighbourhood and B52 Lake
A quiet oasis in Hanoi, Ngoc Ha Neighbourhood in the Ba Dinh district has one of Hanoi's best attractions. A reminder of how Hanoi used to be, the quiet neighbourhood is a tranquil area with temples, pagodas and lotus filled lakes.
However, in the Huu Tiep Lake, now known as B52 Lake, the upturned wreckage of a B52 bomber shot down on Christmas day 1972 reminds us of the horrors of the Vietnam war.
Explore the markets and enjoy the day to day life of this quiet corner of Hanoi. You may glean a little insight into how the city of Hanoi was once made up of small villages like this.
Hanoi Food
Hanoi Street Food Tour
Vietnamese food has long captivated foodies around the world, and Hanoi is a food lovers dream. From street food to fine dining, Hanoi has the lot, but exploring the street food culture is hands down one of the best things to do in Hanoi.
SE Asia is renowned for its street food, and Vietnamese street food is some of the best in the world. Street food is not just an integral part of Vietnamese culture; it is an extremely cheap way to eat delicious, fresh and healthy food in Vietnam.
Take a Vietnamese Cooking Class in Hanoi
One of the most fun things to do in Hanoi is to take a Vietnamese cooking class. What better souvenir of Vietnam than learning how to cook some of the local dishes.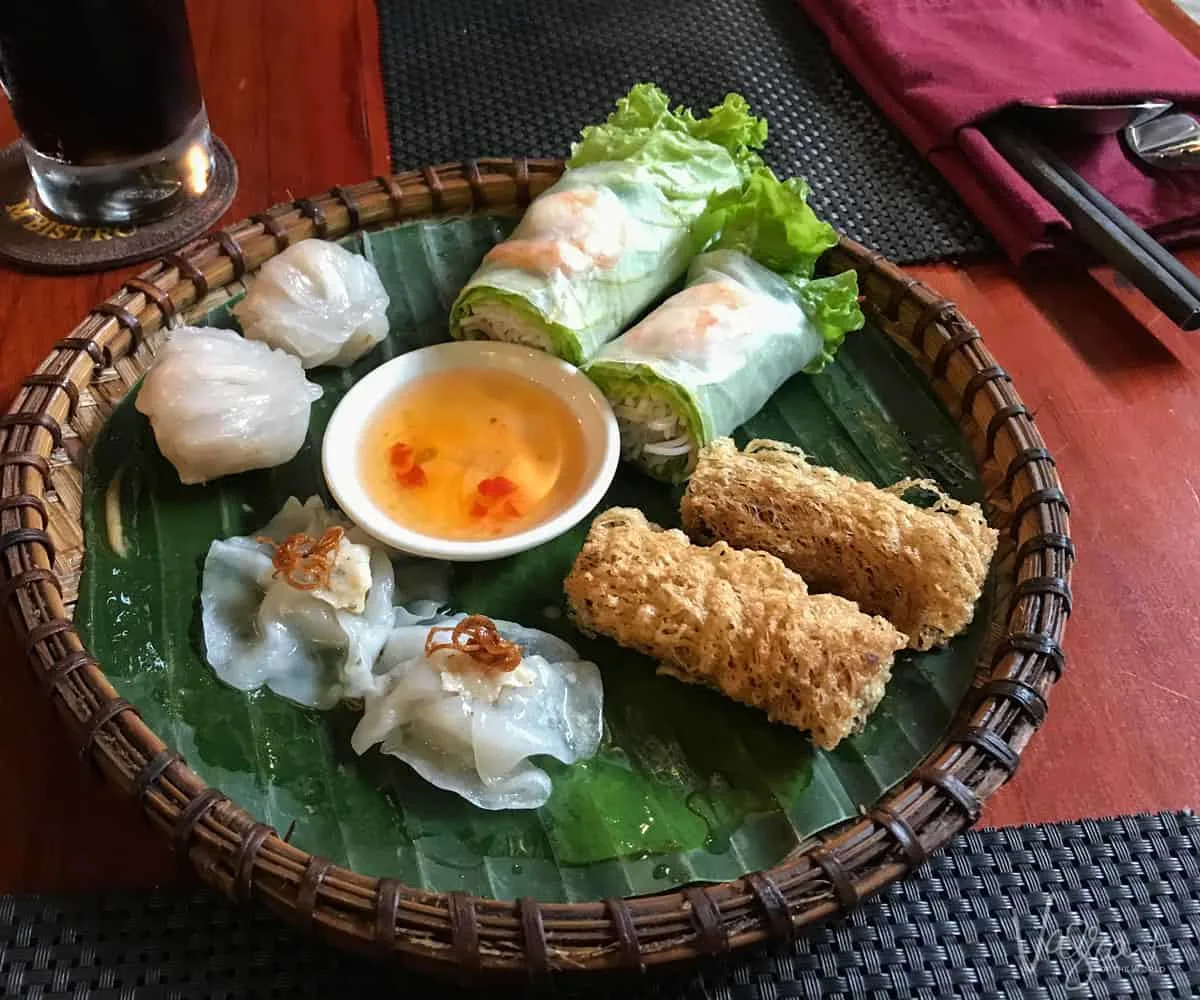 Most cooking classes in Hanoi will include a market visit. Your guide and chef will teach you about the local produce and guide you in selecting fresh local ingredients for your dishes. A cooking class is a great way to see another, more local side of Hanoi and learn more about Vietnamese food and culture.
Grab a Drink at a Rooftop Bar Hanoi Style
The perfect way to appreciate the city scene of Hanoi, especially at night, and escape the constant rush of traffic is to go up. Hanoi has loads of rooftop bars worth exploring, each offering a unique vibe and view.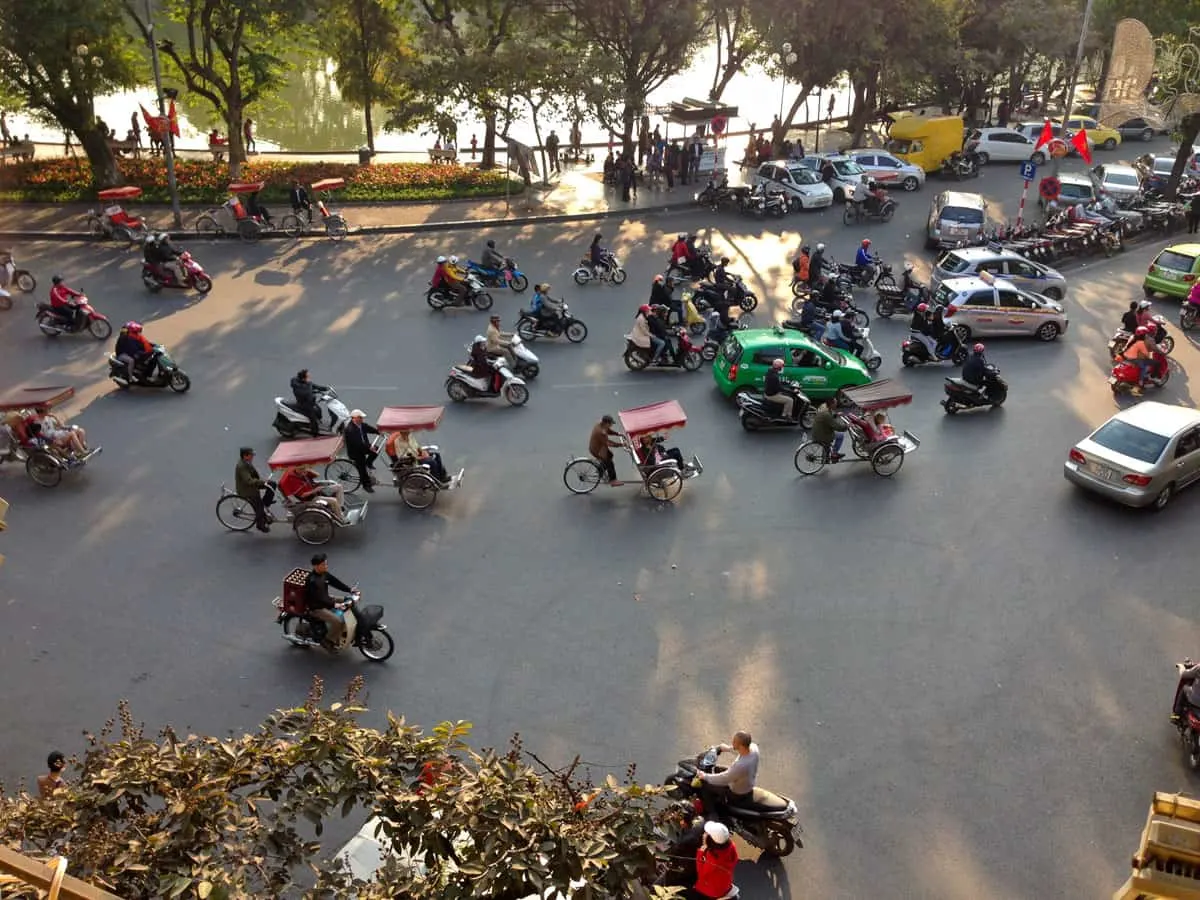 From the chic Diamond Sky bar in the heart of Old Town with sweeping views of Hanoi from its three terraces to the Top of Hanoi on the 65th floor of the Lotte Centre – the highest rooftop bar and restaurant in Vietnam. Hanoi has no end of impressive rooftop bars to suit all budgets.
Tip: The Top of Hanoi has a very generous 3 hr happy hour starting from 5 pm, making it a great value place to live it up at sunset.
See six of Hanoi's best rooftop bars here.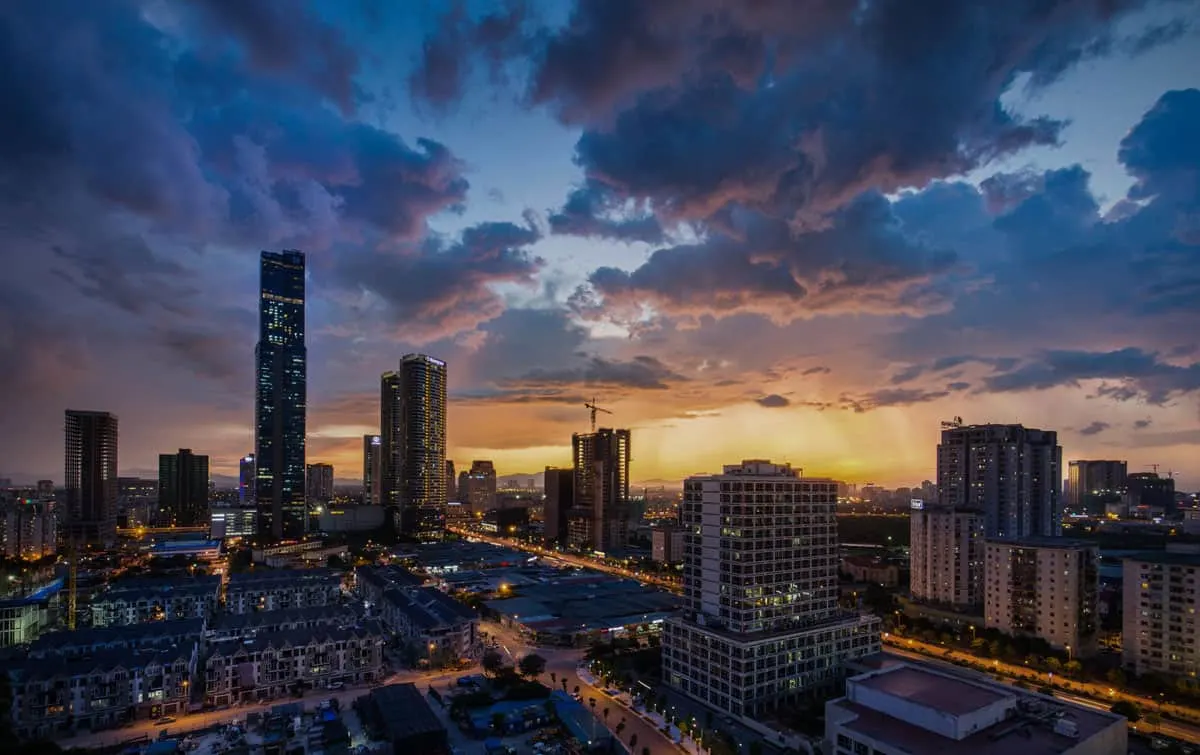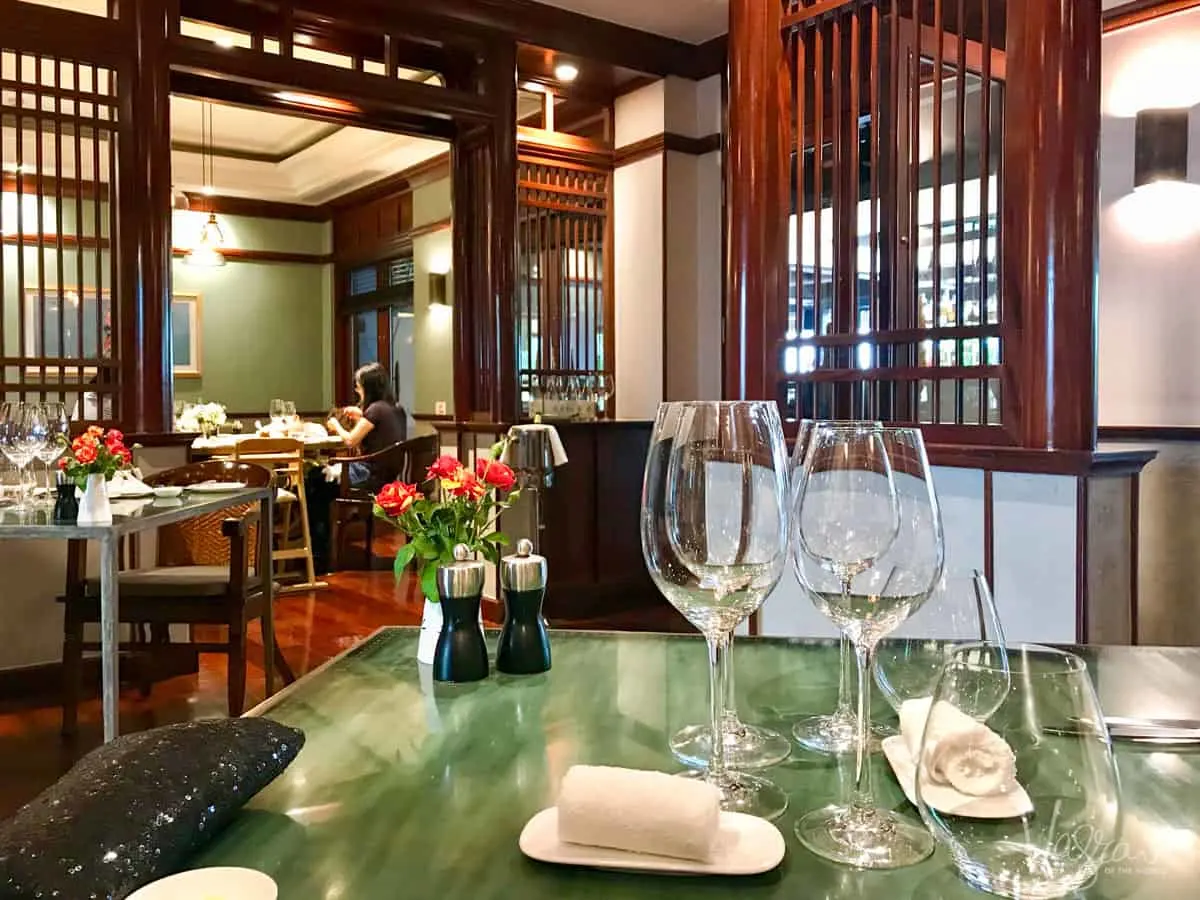 Have Lunch at the Historic Press Club Hanoi
Looking to spoil yourself with Hanoi's most exceptional French dining? Head to the Press Club Hanoi, a Hanoi institution in the French Quarter.
The Press Club is aptly located above the renowned Journalist Association, a centre for journalists, correspondents, and writers since the war.
While Vietnam has one of the most famous street food scenes in the world, conversely, they also excel in exceptional dining experiences. The Press Club has French Michelin star chef Alain Dutournier at the helm so you can always expect a stunning dining experience.
For excellent value for money fine dining in an iconic and historic venue, The Press Club has great degustation lunch deals. Make sure you book in advance, especially on weekends or public holidays.
Check the Press Club website for the set menu or degustation lunch deals. Expect prices to range from VND 450,000 (USD $19.50) – VND 600,000 (USD $26) for a 3-course degustation menu.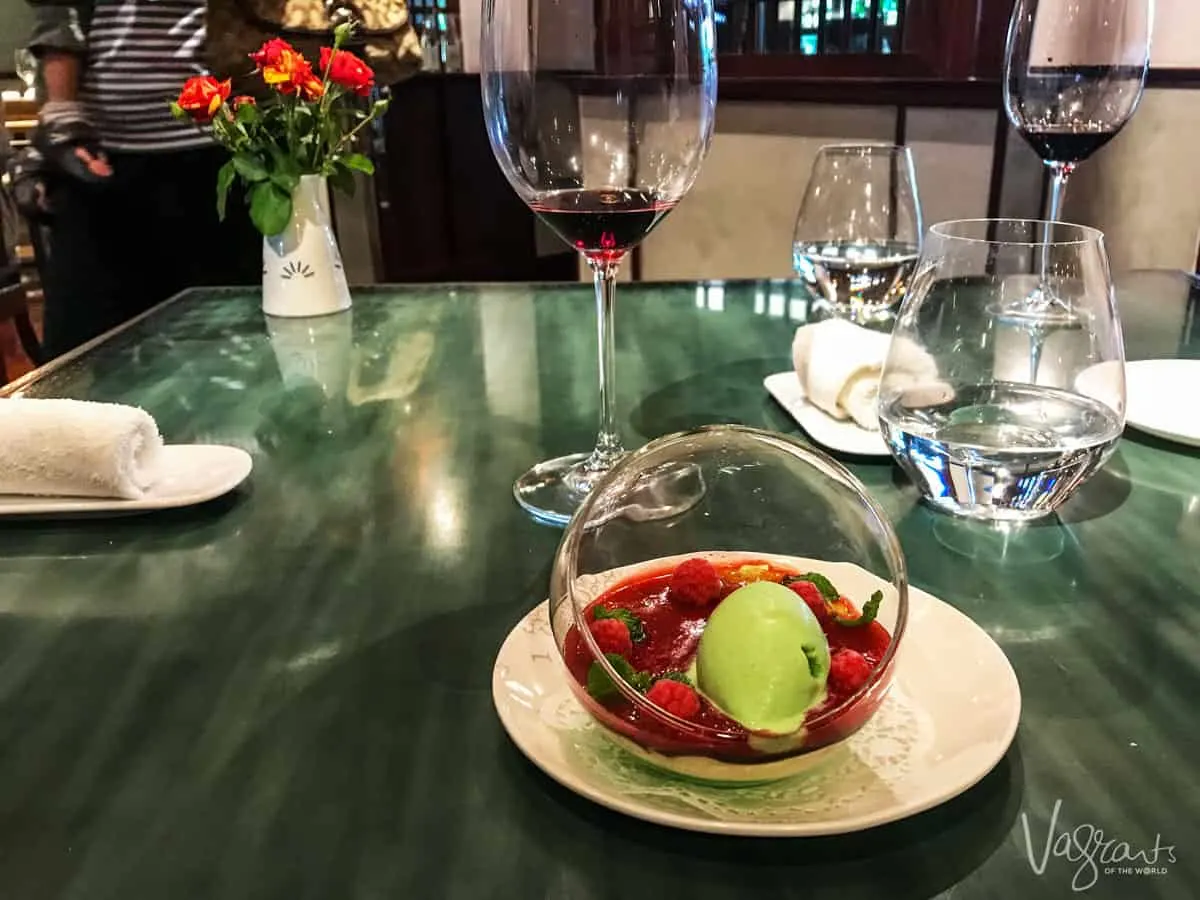 Try the Original Vietnamese Egg Coffee
No visitor to Hanoi should leave without trying the creamy sweet cà phê trứng egg coffee.
Much like Ho Chi Minh City, Hanoi has a thriving cafe culture, and there is no shortage of cafe's laying claim to the best egg coffee in Hanoi. We believe that if you are only to try this deliciously sweet beverage once, you should at least try the original.
Café Giang was founded in 1946 along with the first egg coffee recipe. A milk shortage in the 40s' was the impetus that spawned the egg coffee recipe.
A barman, Nguyen Van Giang from the Metropole Restaurant went in search for milk alternatives, and so the whisked egg espresso drink was born. Although the original recipe is still a guarded secret, it is said to contain not just coffee and egg yolks, but also butter and cheese.
Where to Find Café Giang
Café Giang is hidden down a narrow alley off the main street, so it is hard to find, but it is worth the effort. You'll be surprised at how delicious Hanoi's signature drink is.
You can find Café Giang here on Google Maps– 39 Nguyễn Hữu Huân, Hàng Bạc, Hoàn Kiếm, Hà Nội. Look for the sign hanging over a narrow alley.
---
---
The Ho Chi Minh Complex
Around Ba Dinh Square and the Ho Chi Minh Mausoleum in the Ho Chi Minh Complex, there are numerous important and impressive monuments and museums to visit. The area is closed to traffic, so it is an enjoyable space to walk around.
In the inner sanctum of the tomb, Ho Chi Minh lays perfectly preserved in a Khaki suit in a glass sarcophagus, overseen by an honour guard of four sentries at each corner.
Prepare for queues as visiting the mausoleum is a highlight for tourists and, Vietnamese visiting the capital would rarely miss a chance to see the father of their country.
When entering, you will have to surrender any bags and cameras. Visitors are expected to move slowly and quietly through the mausoleum. Absolute respect must be shown at all times while inside the tomb, including in your dress. Anyone not deemed to be behaving or dressed respectfully will be singled out by guards.
Presidential Palace
Constructed in 1900 by French architect Auguste Henri Vildieu as the residence for the French Governor-General of Indochina, the Presidential Palace was also intended as the residence of Ho Chi Minh.
The lavish three-storey, 30 room yellow building surrounded by lush gardens still serves as a government building so visitors may only visit the surrounding gardens and Ho Chi Minh's Stilt house.
Ho Chi Minh's Stilt House
When Ho Chi Minh became president of Vietnam, memories of French rule were still too fresh in the minds of the Vietnamese. Not wishing to follow in the footsteps of the French, Uncle Ho chose to live in a modest stilt house behind the lavish French Colonial Presidential Palace.
Inspired by traditional stilt houses from the northwest; Ho Chi Minh asked that the toilet be removed from the initial plans as it did not represent the traditional design.
Phung Hung Fresco Street, Hanoi's Best Photo Street
The Vietnamese love a great photo opportunity so, it is no wonder the new fresco street of Phung Hung in Hoan Kiem District is a hit with both locals and visitors.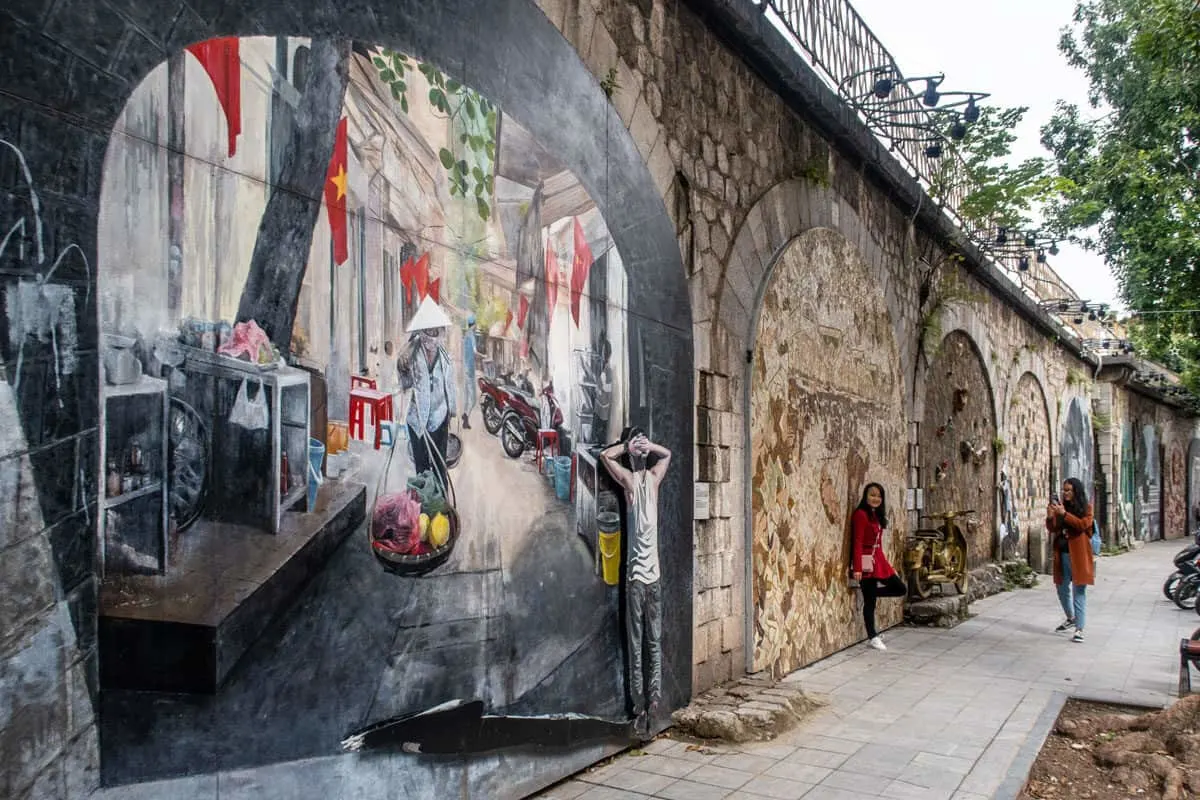 Motorbike Street has had a fabulous makeover with gorgeous 3D murals depicting the history and culture of Hanoi. Much like Hoan Kiem on the weekend, the area is being made pedestrian-only to provide a new cultural and entertainment space for Hanoi locals.
You can find Fresco Street on Google maps here at 29 Phùng HưngHàng Mã, Hoàn Kiếm, Hà Nội, Vietnam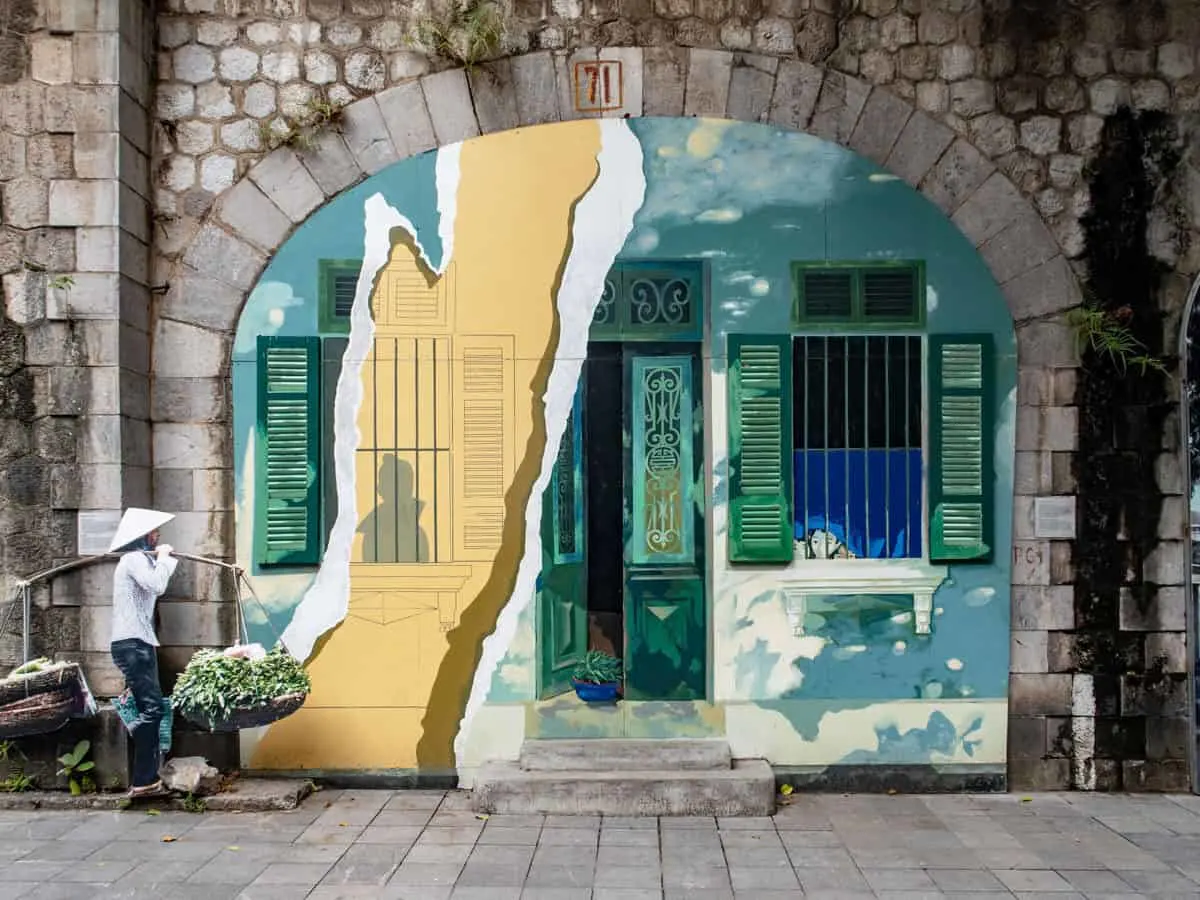 Where to Stay in Hanoi
One thing Vietnam does exceptionally well, other than fantastic cuisine, is quality, value for money accommodation. You might be surprised at how affordable high end accommodation is and the quality, value for money budget options available.
Old Quarter, Hoan Kiem
Stay close to the Old Quarter for ease of access to the best Hanoi attractions, nightlife, and dining options. You will also find a more diverse range of accommodation here, which makes it popular for budget travellers.
Ba Dinh
Choose Ba Dinh for a quieter inner-city option but still close to all the best Hanoi sights such as Ho Chi Minh Mausoleum and the Temple of literature. Accommodation in Ba Dinh tends to lean towards the mid to high range accommodation.
Hai Ba Trung
Hai Ba Trung is a more modern area adjacent to the Old Quarter offering excellent fashion shopping (a good choice for tailor-made clothing), the beautiful inner-city Union Park and the fascinating Women's Museum which is well worth a visit.
Tay Ho, West Lake
Tay Ho, West Lake is a quieter area popular with ex-pats. Here you will find loads of good quality restaurants and peaceful temples. While not close to the main attractions, the area offers a different experience than the mainstream of the Old Quarter.