While Lisbon currently enjoys tourism's capricious limelight, Porto is following suit as one of the best places to visit in Portugal.
A small city compared to the capital Lisbon, Porto still packs a punch when it comes to attractions and rich and varied heritage.
From the Port wine cellars in Vila Nova de Gaia, and the medieval tangle of Ribeira to cutting edge architecture, art, and gastronomy; Porto is historic, edgy, contemporary, and even a little chic.
One of the most beautiful places to visit in Portugal, there is so much to love about the charming city that rises from the banks of the Douro River. You may want to take your time to savour the nuances of Porto's appeal.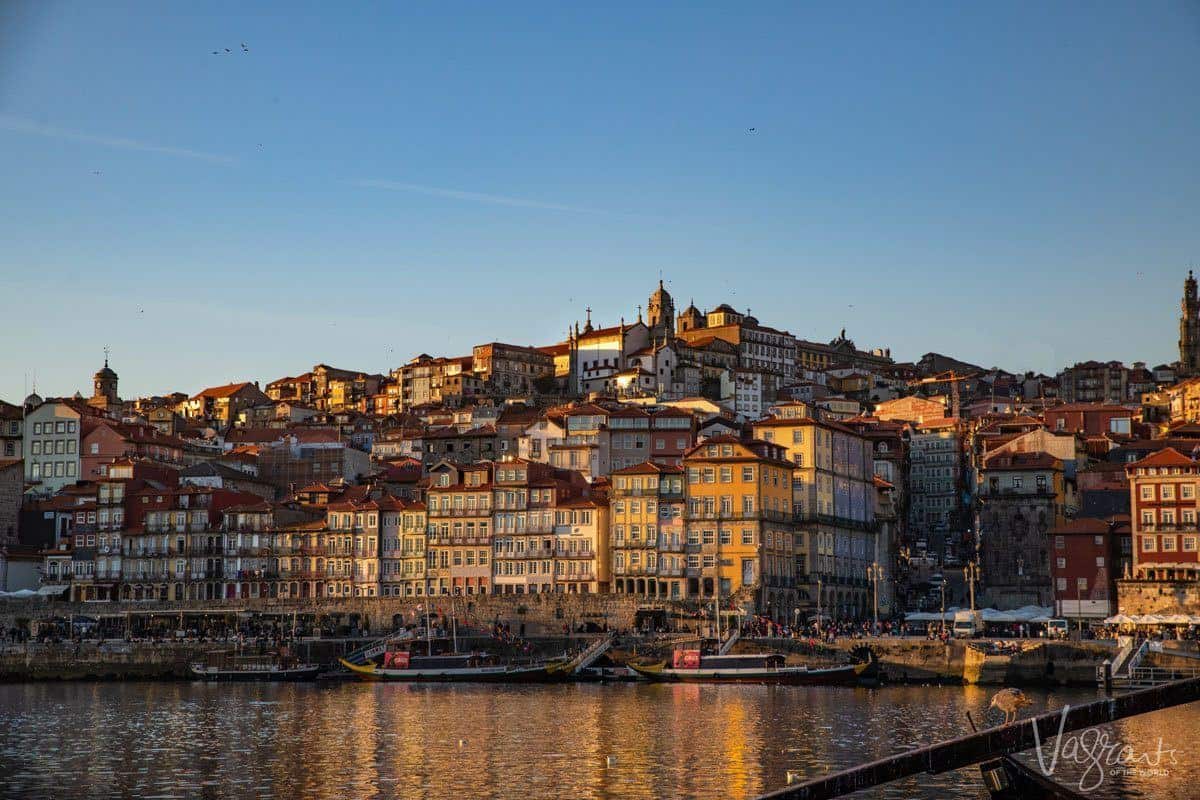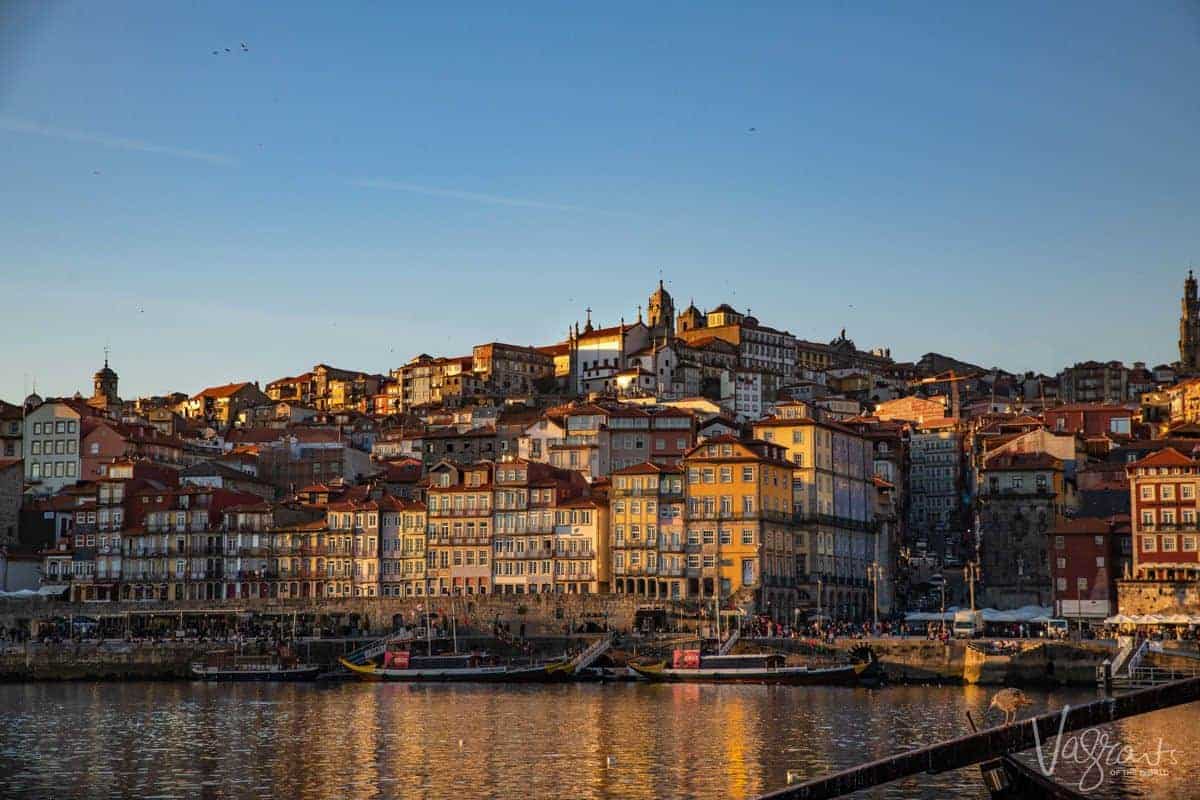 We have put together a Porto travel guide covering the best things to do in Porto. From the highlights to the slightly offbeat with travel tips to help you plan your perfect Porto itinerary and make the most of your time in one of Portugal's most charismatic cities.
If you happen to be short on time, we've compiled this great 2 days in Porto itinerary here so you don't have to miss a thing.
---
Books to Read Before You Visit Portugal
---
PLAN YOUR PORTO ITINERARY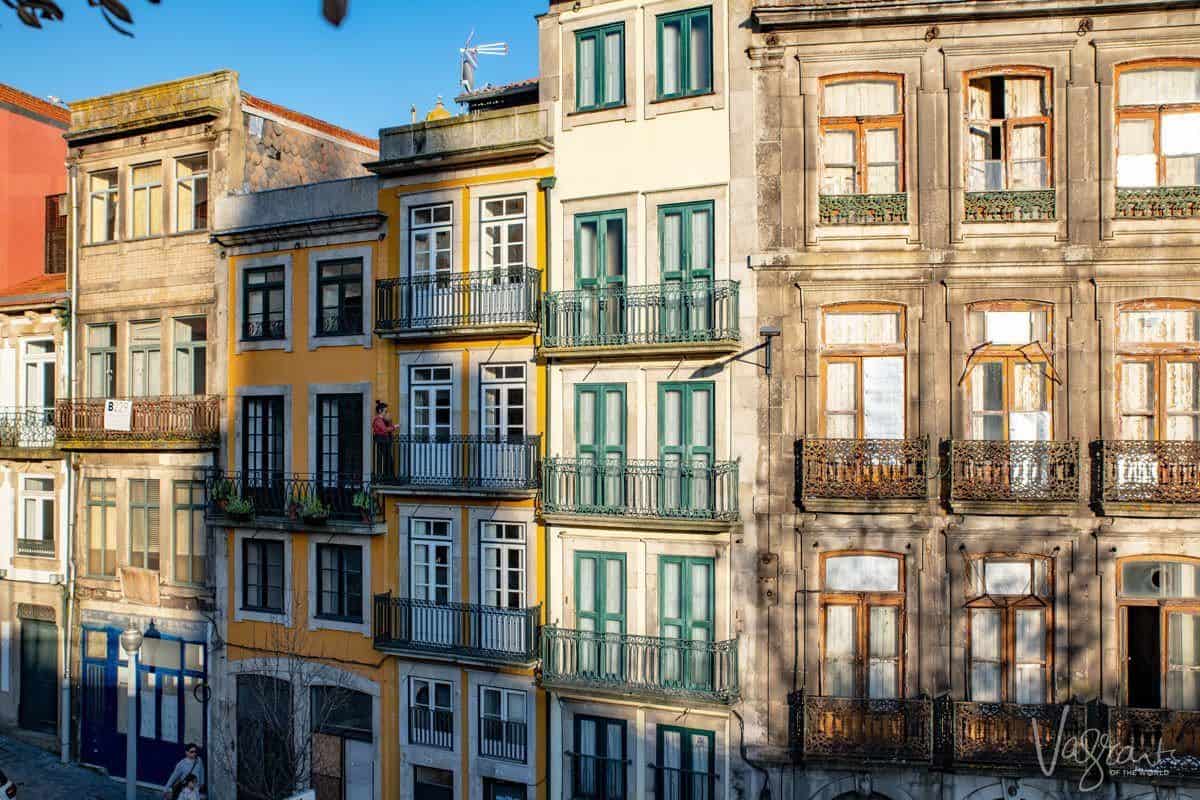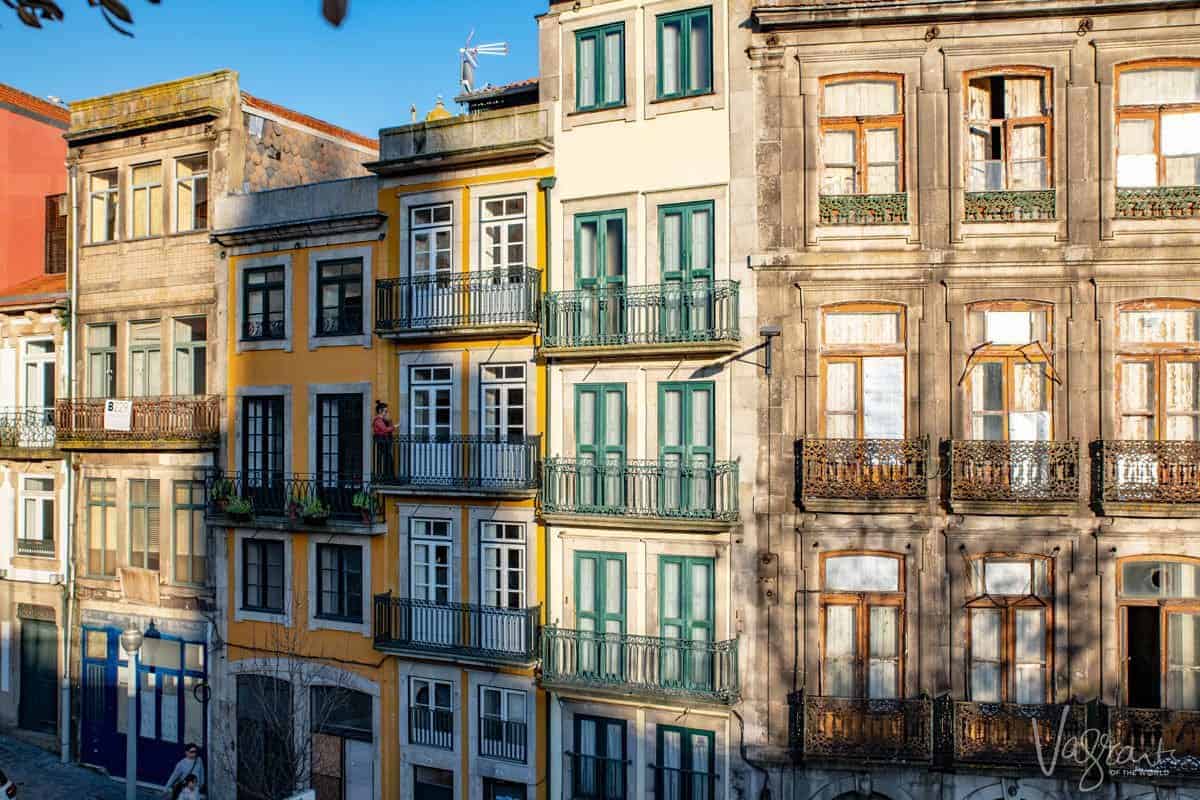 PORTO TRAVEL GUIDE
Best Time to Visit Porto
Spring & Autumn in Porto
The shoulder seasons of Spring (March-May) and Autumn (September–October) are always the best time to visit Europe and the same goes for Porto.
The shoulder seasons are a great time to visit Portugal as a whole. The weather is mild, sometimes even warm, there are fewer tourists, and accommodation prices are reasonable.
Winter in Porto
That said, Porto is a great all-year-round destination. While the winters can be wet, the temperatures remain relatively mild with highs reaching 17℃ (63℉).
Winter is also a great time to avoid crowds and even experience some of Portugal's festive season.
Summer in Porto
The peak summer months (June– September) can be hot, often exceeding 30℃ (86℉). It is also peak tourist season so crowds will be at a maximum as will accommodation rates.
July and August are the busiest months, especially at Porto's beaches.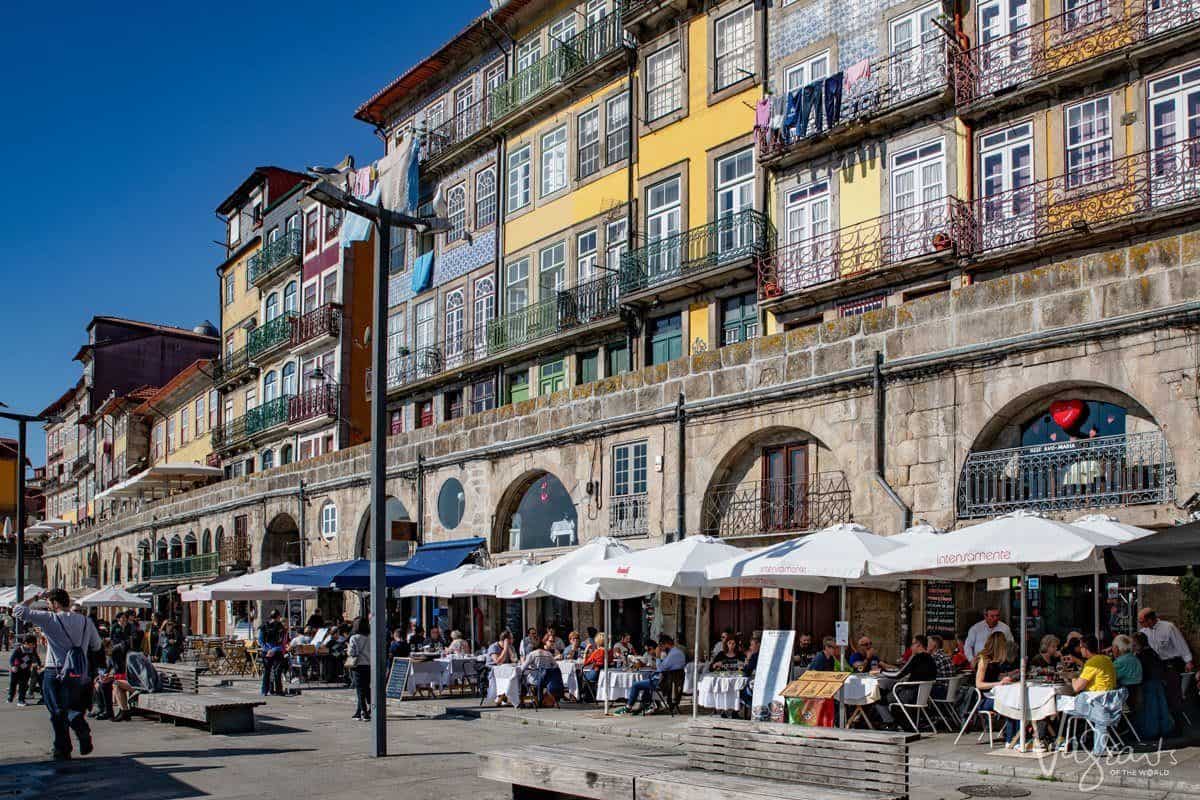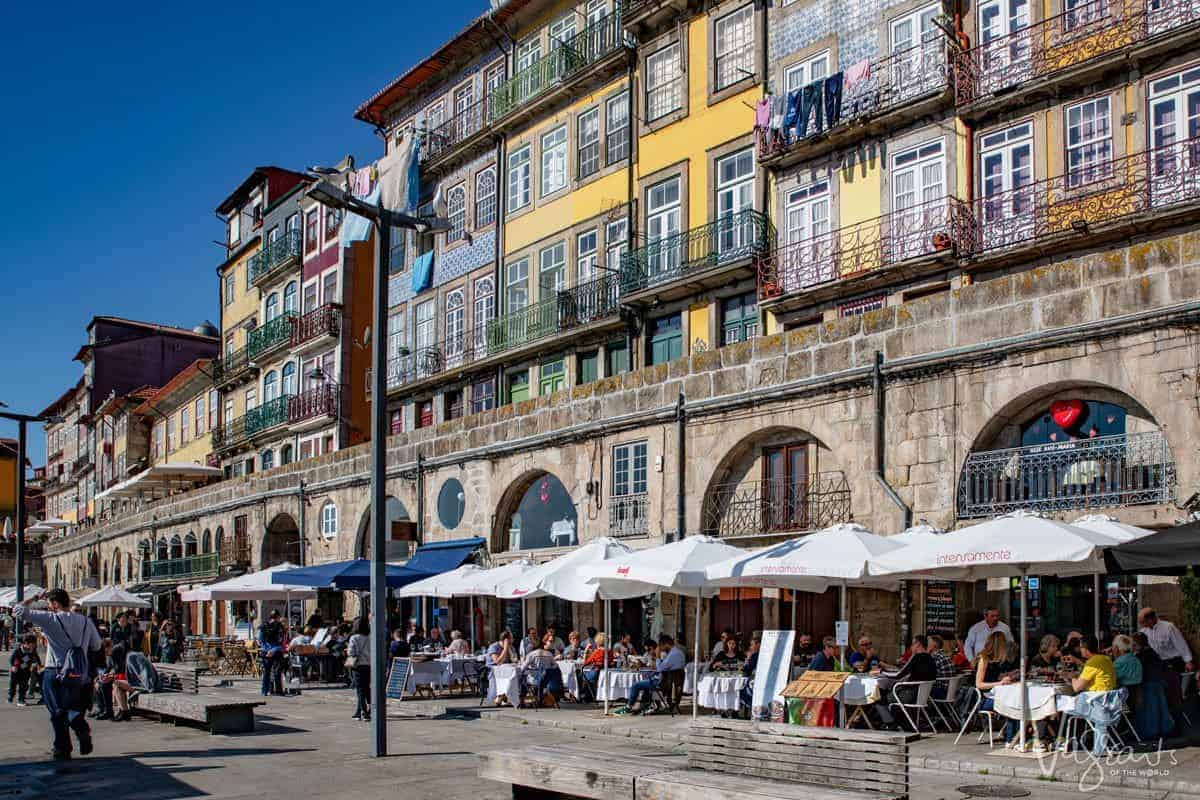 Late Spring, Early Autumn is the Best Time to Visit Porto
If you want the best of both worlds – great weather and atmosphere visit Porto in late spring (May/June) or early autumn (September).
The weather is almost guaranteed to be glorious and, in late spring (13th-24th June), the city takes on a festival atmosphere during the Festas Santos Populares celebrations.
September heralds the beginning of the harvest season in the Douro Valley. The perfect opportunity for a day trip to some of Portugal's top vineyards.
Bear in mind though, September is the most expensive month for accommodation in Porto so book well in advance.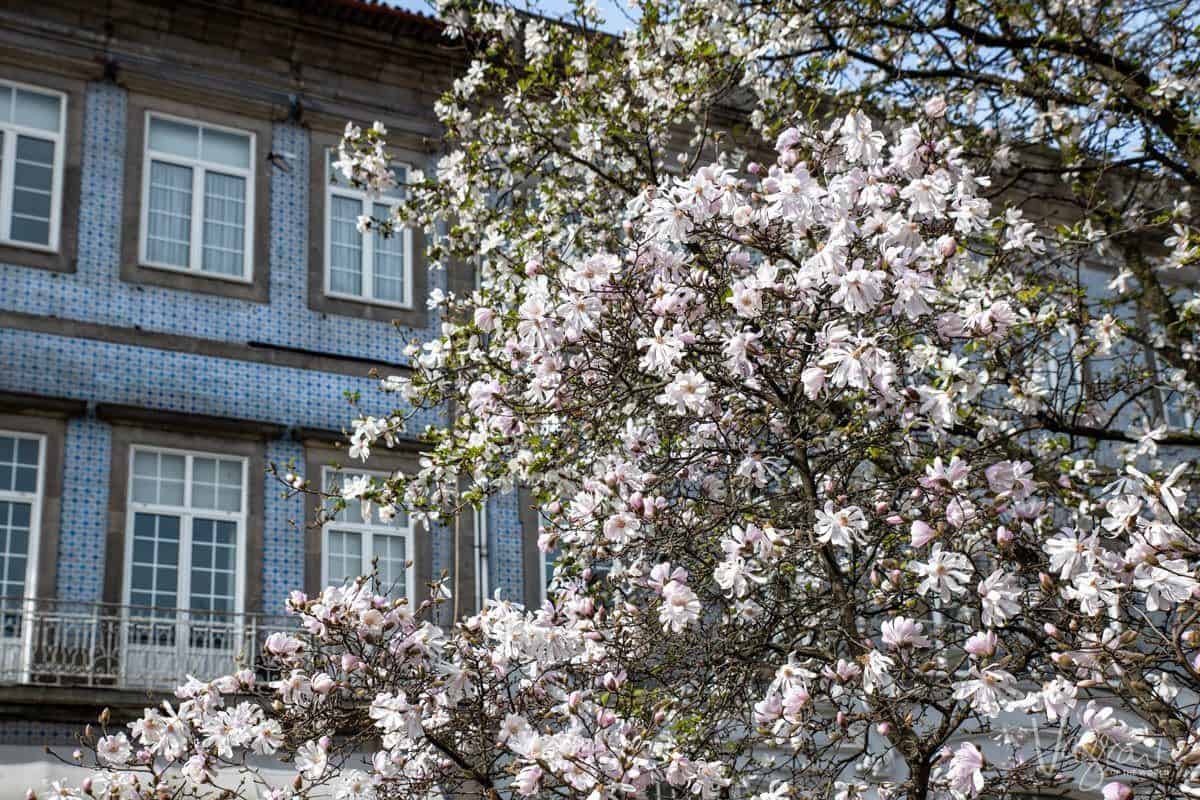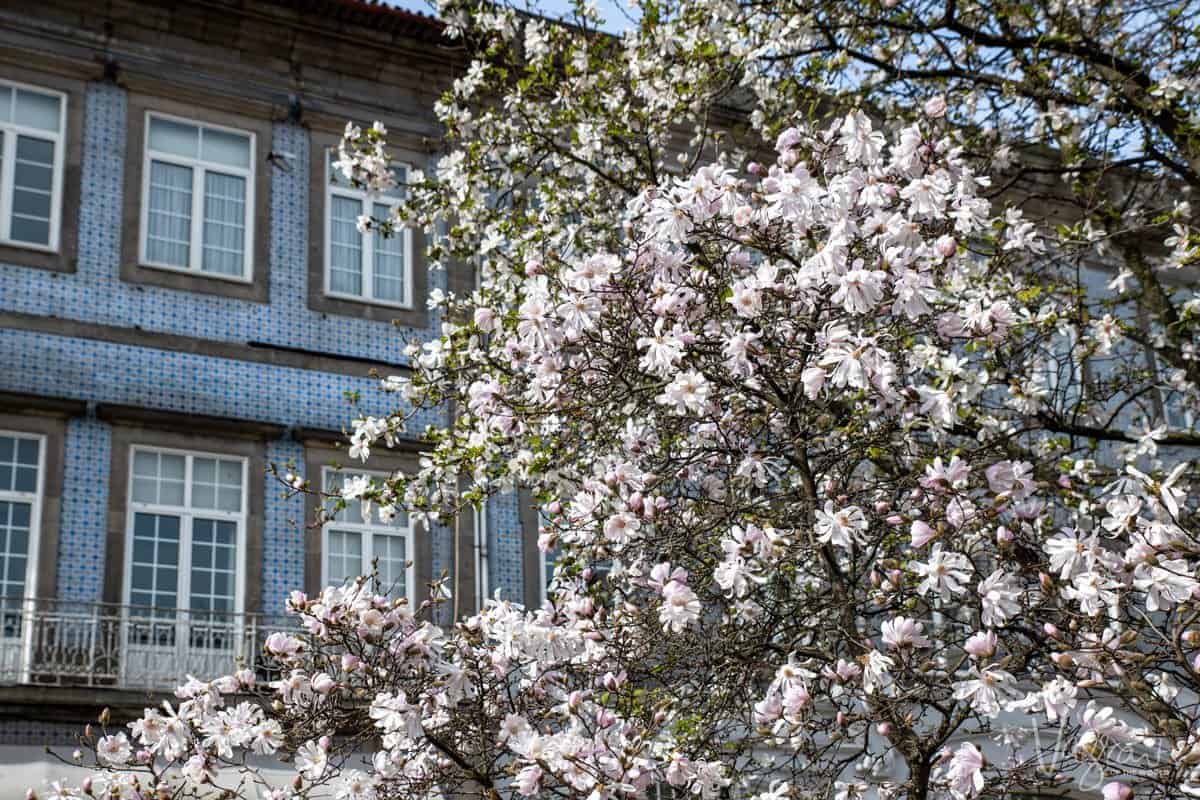 Search The Best Place to Stay in Porto
How Many Days in Porto
To see all the best Porto attractions and highlights, we would recommend allowing at least two full days. Three would be better. There is so much to enjoy; it would be a shame to rush.
If you add a few extra days, there are some easy day trips from Porto, especially in the warmer months. There are stunning beaches as close as 15 minutes from the city by bus, and the Douro Valley is a great day trip from Porto.
Douro Valley Day Tour Recommendation
A full day Douro Valley wine region tour with lunch and a cruise of the Douro river is a fabulous day trip from Porto.
Cruise the Douro River in a traditional "Rabelo" boat. Visit two wine estates in the Douro Valley and taste wines from one of the world's oldest and most beautiful wine regions.
Sample local olive oils, almonds, and honey and enjoy a typical Portuguese lunch at a traditional restaurant. Enjoy one of the most beautiful viewpoints in the world.
More Day Trips From Porto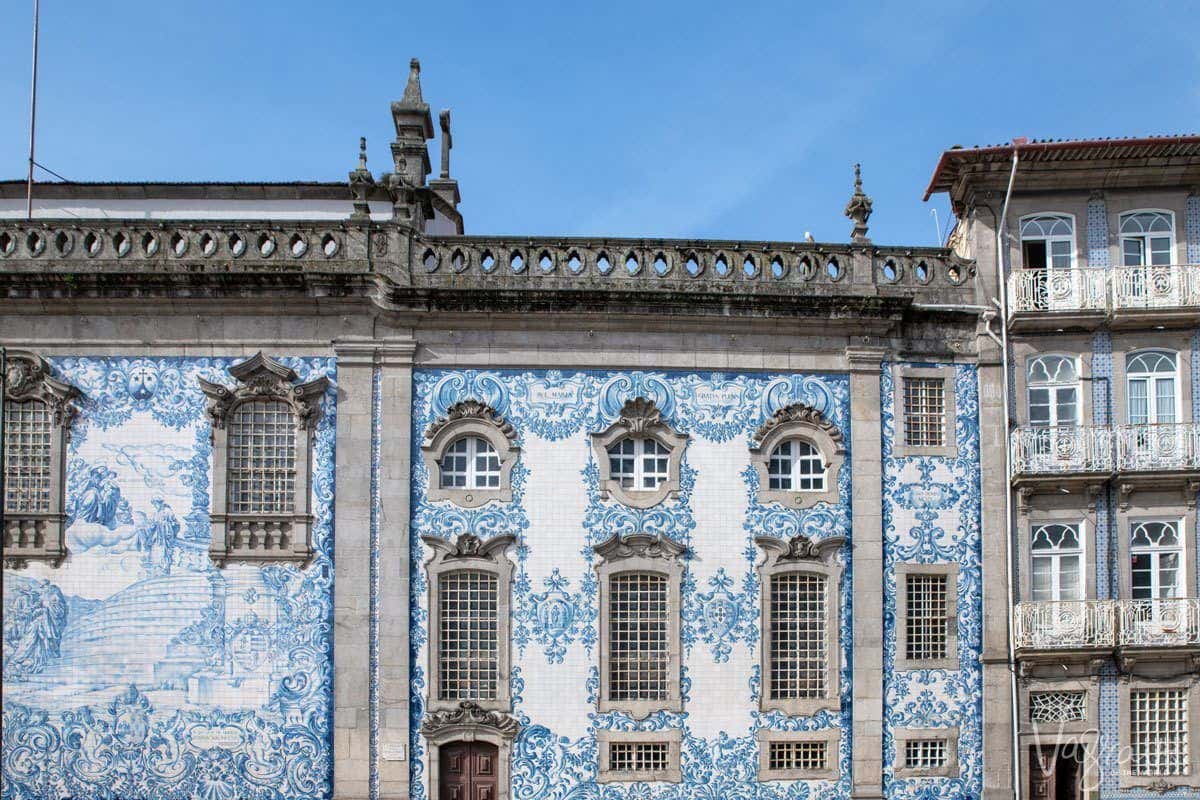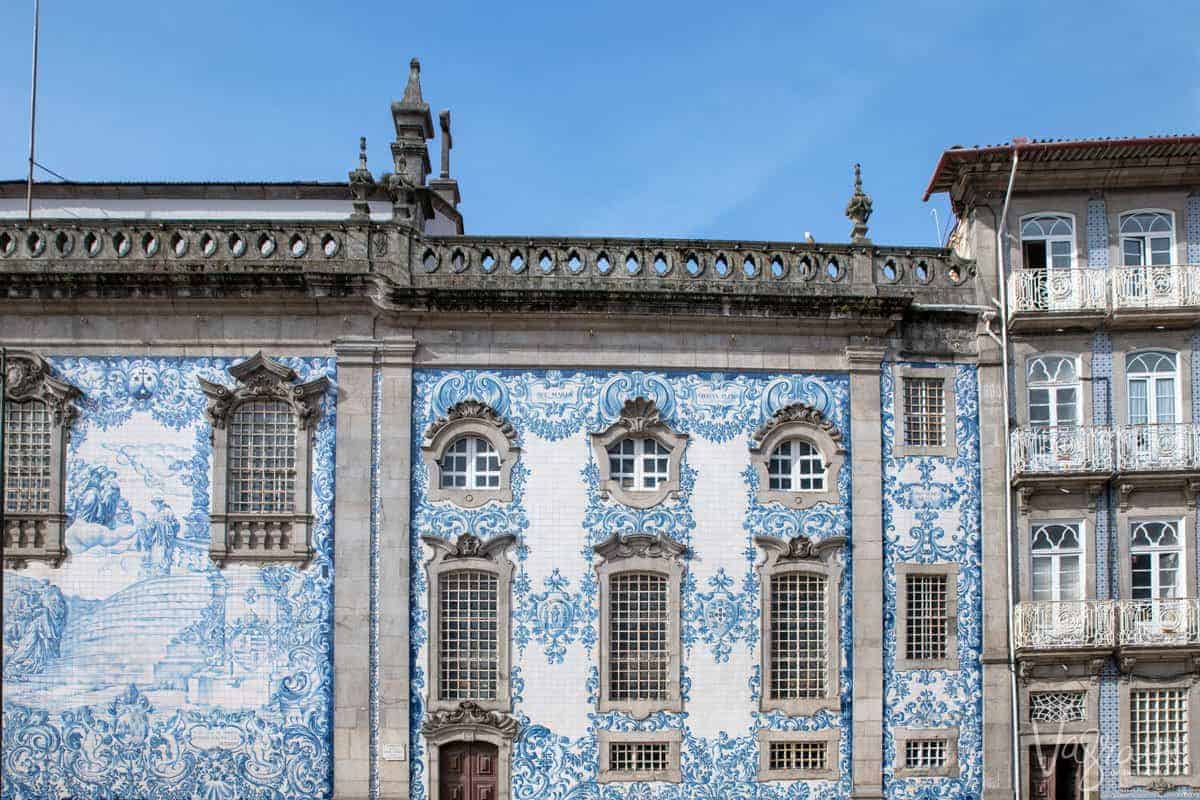 How to Get to Porto
Porto is easily reached via road, train or by air.
Flights to Porto
There are regular direct flights to Porto's Francisco Sa Carneiro Airport from all over Europe, especially with the low-cost carriers. The airport is also well connected to international destinations.
Porto Airport Transfer Tip
If arriving in Porto by plane, pre-book a shared transfer from the airport to the city centre or your accommodation from as little as €10 ( taxi will cost approx. €20–€30). Find out more here.
Train to Porto
Many visitors to Portugal will arrive in Lisbon which makes the train the best way to reach Porto. Porto's Sao Bento Train Station services all major rail routes throughout Portugal.
The train from Lisbon to Porto will take approx. 3 hrs depending on the service. There are more than 15 services per day.
Train Discount Tip
Did you know you can get train travel discounts of up to 40% if you book well in advance? These discounts apply for train travel throughout Europe.
A ticket from Lisbon to Porto – First class is usually €37–€43 depending on the service. Tickets purchased in advance – usually a week or more out, range from €22–€27 for first class.
See the Comboios De Portugal site for timetables and prices.
Bus to Porto
Portugal has good intercity bus services. While the bus is often cheaper than the train, the bus may take longer. A typical bus journey from Lisbon to Porto will take approx. 3.5hrs, sometimes longer, and cost €19 (Note– a 2nd class train ticket €25–€31 or €15–€19 pre-booked).
See Rede Expressos site for bus timetables and cost.
Drive to Porto
Self-drive holidays in Portugal are a great way to enjoy the country. Portugal has excellent road connections, also, being a small country, most of the popular destinations are a day or less apart.
Just be mindful when calculating your budget for self-drive – Nearly all of the major highways in Portugal have tolls which can add up quite quickly.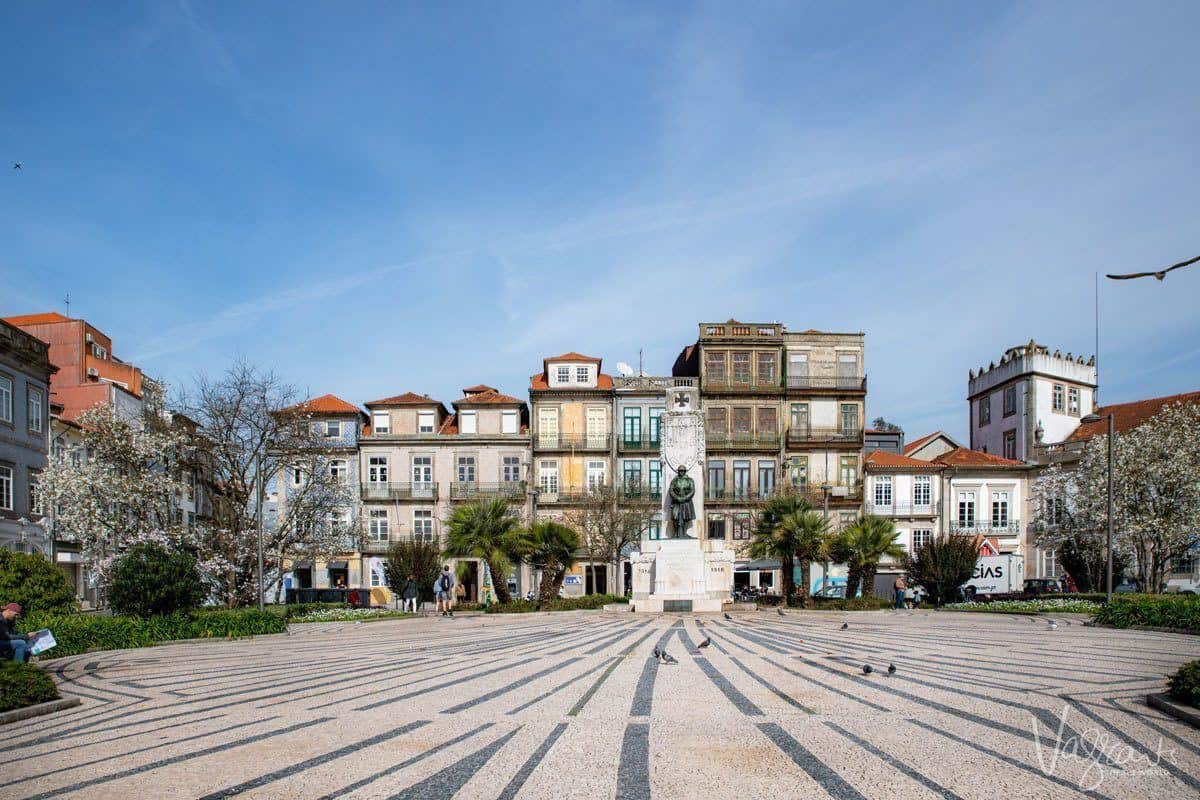 How to Get Around Porto
While quite hilly, Porto is very easy to explore on foot. Walking is the best way to enjoy the city and its beautiful views.
Most of Porto's attractions are fairly close together, but if you are travelling further or don't want to tackle the hills, there is a great public transport system; metro, bus, and tram.
Tip for Getting Around Porto
A Porto Card which is valid for 1-4 days allows unlimited use of public transport systems.
Starting at €13, you also get over 170 discounts around Porto, including 50% off at Palácio Da Bolsa, Torre Dos Clérigos, and Museu Da Misericórdia as well as free access to over ten museums and a free visit to a port wine cellar. See here for details.
A 1 or 2-day panoramic hop on hop off bus pass starts at €15 pp and also includes additional discounts and benefits. See here for details.
Take the Funicular dos Guindais
If the thought of climbing the hill from Ribeira is too daunting, take the Funicular dos Guindais. Built-in 1891, the funicular has been revamped and offers sweeping views over the Douro river and the Luiz I bridge while making light work of Porto's steep hills.
Cost: €2.50 / adult.
Tip: Get a combination ticket to include the funicular.
A 2-day combination ticket includes:
2 Hop-on, hop-off sightseeing bus tours
1-day access to the Porto Tram City Tour
1 Ride on the Guindais funicular.
Funicular dos Guindais R. da Ribeira Negra 314, 4000-509 Porto

Things to Do in Porto Portugal
Whether you are a first time visitor and want to see the highlights and best Porto attractions. Or, you are looking to seek out some of Porto's less-known treasures, we have put together a list of things to do and see in Porto to cover all tastes.
From what to see, what to eat, and where to explore, there are enough things to do in Porto to keep you busy for at least a few days or more.
---
PORTO ATTRACTIONS & HIGHLIGHTS
Torre dos Clérigos
The bell tower of the Baroque Clérigos Church is visible from all over the city. Torre dos Clérigos is one of Porto's most emblematic symbols.
Constructed between 1754 and 1763 the 76-meter high tower was the tallest building in Portugal at the time and is still the tallest bell tower in the country.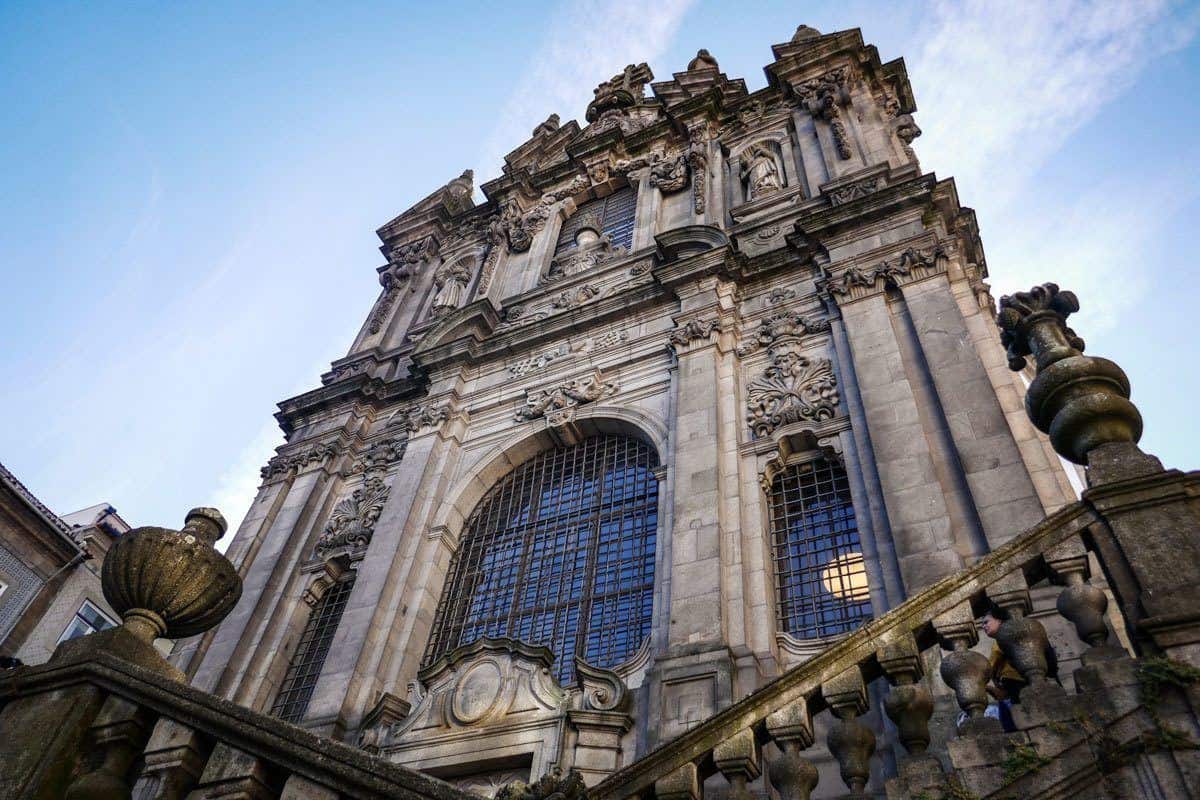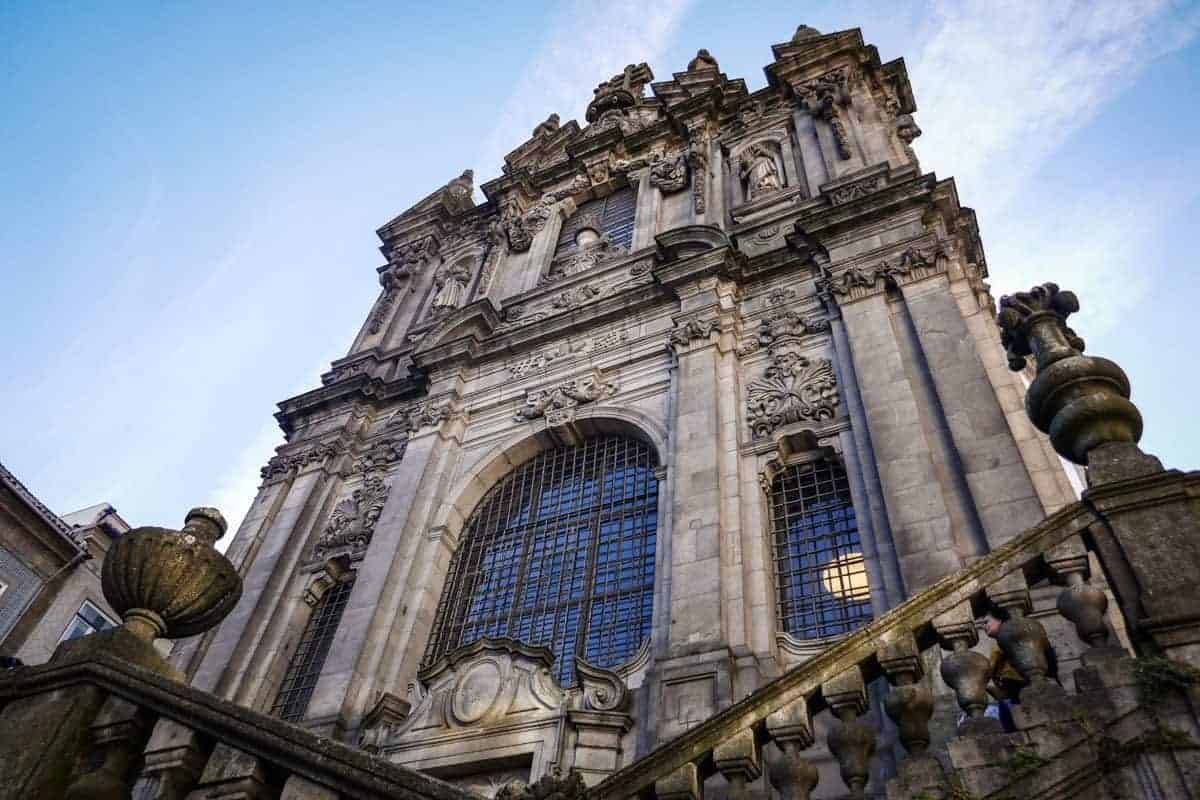 Climb the 240 steps to see the 49 bells and the most amazing views of Porto. Visit the Torre dos Clérigos first when you arrive in Porto as the view from the top of the tower is a great way to see the layout of the city and get your bearings before you head off to explore.
Visit Praça de Lisboa
Stop by the adjacent Praça de Lisboa while you are in the area. The two-level shopping square has shops and cafes on the ground level and a fantastic public green space with olive trees on the roof.
Opening Hours
Daily: 9 AM–7 PM. Times may vary on religious holidays.
Entry
Tower & Clérigos Museum: €5 | €2.50 with Porto Card
Guided Tour – Clérigos Museum, Church & Tower: €6.50
Tower Night Pass 7 PM–11 PM: €5
Clérigos Church & Clérigos Tower R. de São Filipe de Nery, 4050-546 Porto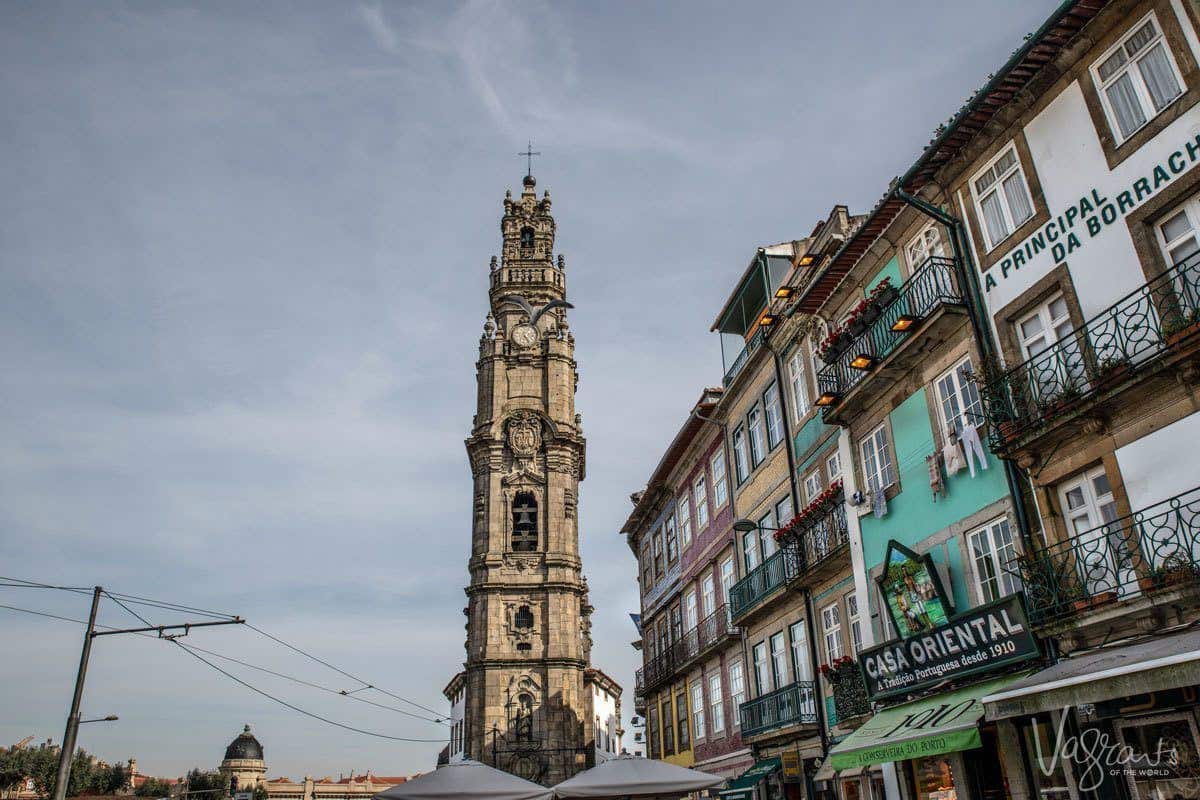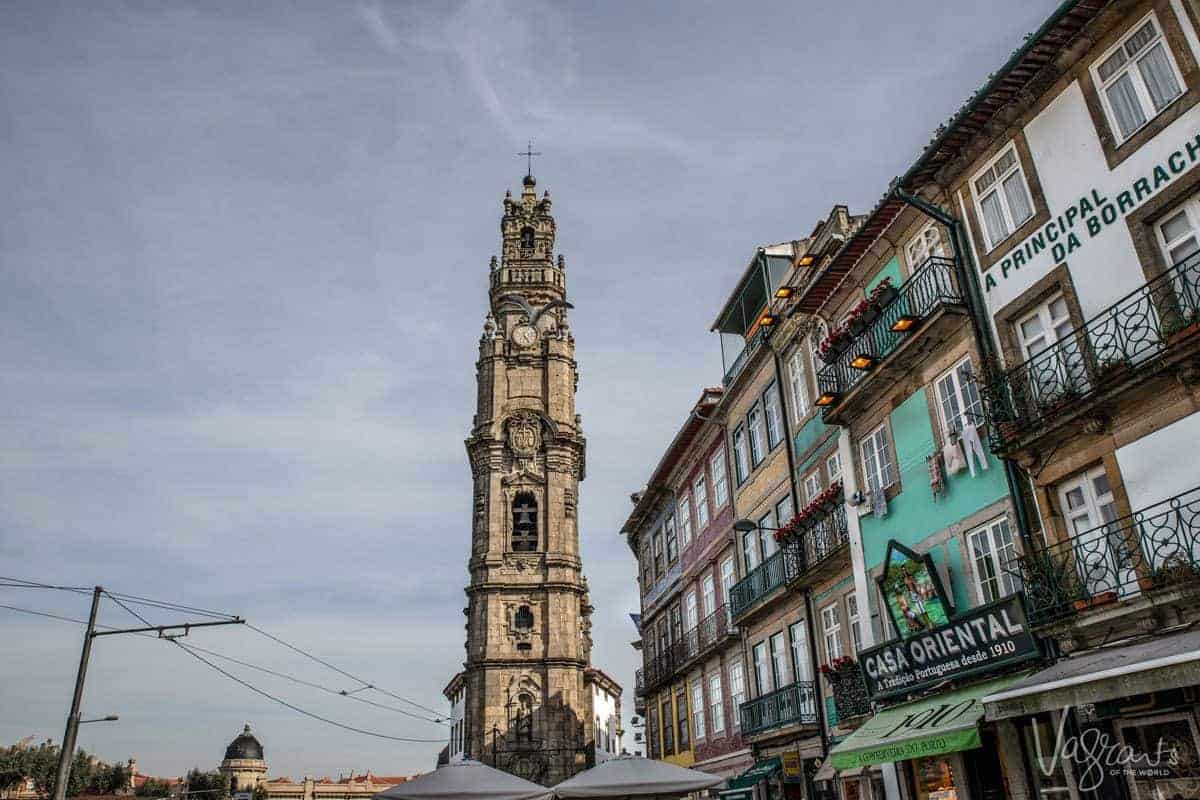 Livraria Lello (Lello Bookstore)
The famous book store with the iconic red staircase, Livraria Lello is one of Porto's most popular attractions.
Named one of the most beautiful bookstores in the world, Livraria Lello draws a big crowd every day. Queues of tourists wait to have their photo taken on the staircase that is loosely associated with inspiring author JK Rowling.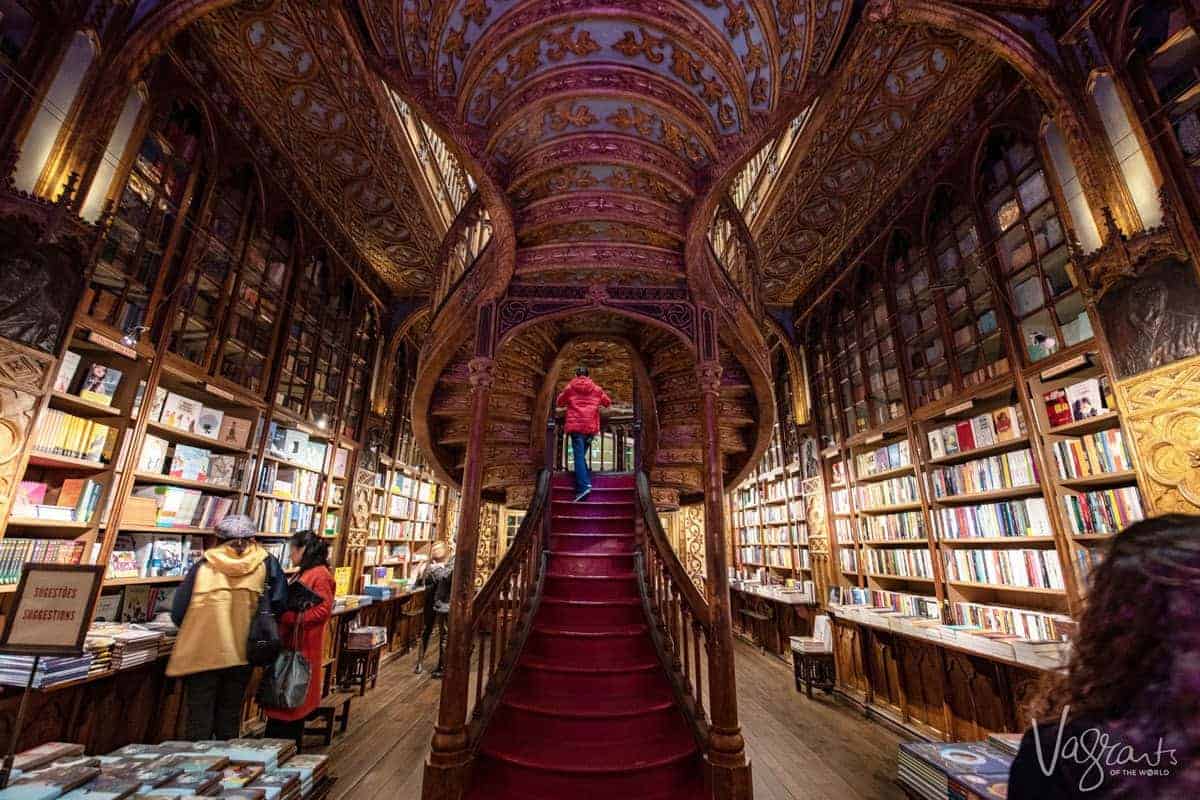 Visit Livraria Lello Without The Crowds
With literally thousands of people visiting Livraria Lello every day, is it still possible to visit the iconic bookstore without doing battle with crowds and wannabe Instagramers vying for "the shot"?
Well, yes, if you plan your visit wisely.
While many of the tourists who visit Lello Bookstore are independent travellers, a good percentage of the daily trade is made up of guided tour groups and day visitors to Porto.
At least a half an hour before opening, a queue will start forming with those who have bought tickets online.
Throughout the day, there will be a constant line outside the shop as people wait for their turn inside the crowded bookshop.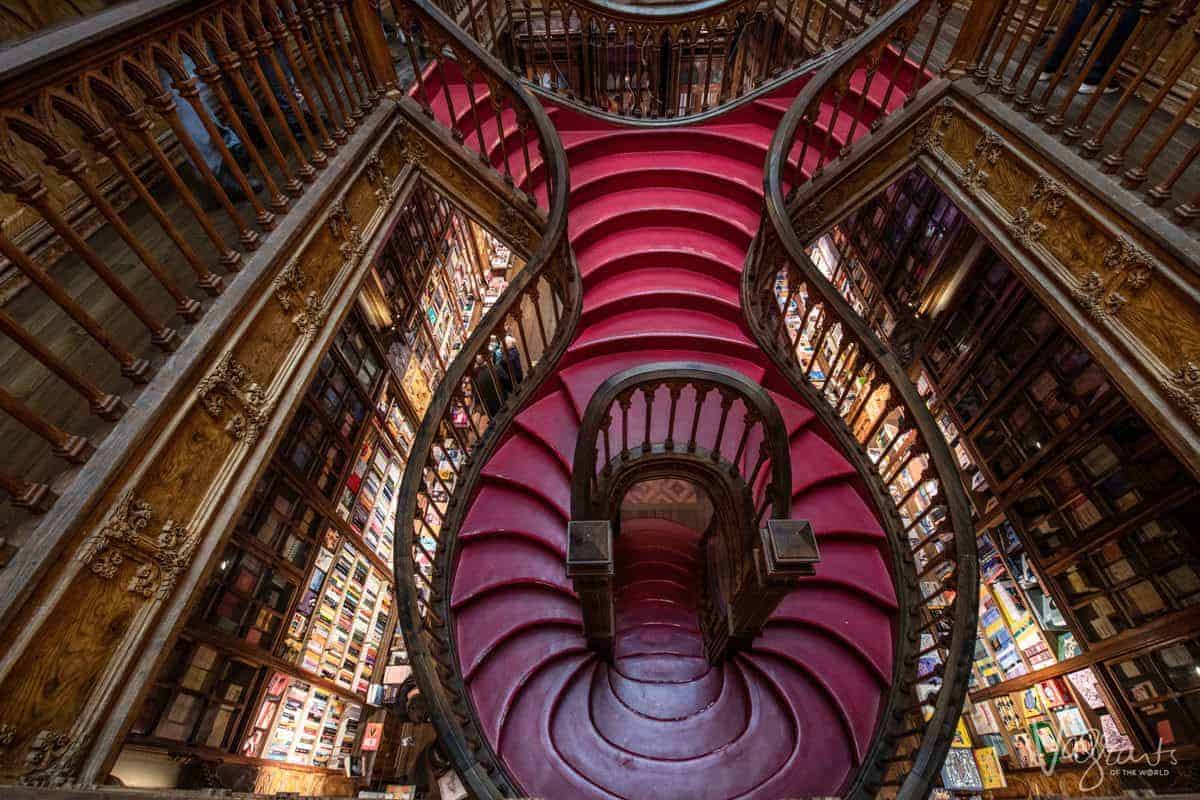 Best Time to Visit Livraria Lello
If you want to have a pleasant visit where you can browse freely and not have to endure the pushing and shoving of selfie-takers vying for their spot on the staircase – time your visit for late in the day. As late as you can make it.
Our suggestion is 45 minutes – one hour before the store is due to close. (Maybe allow a little longer in the peak summer months of July & August)
The day-trippers will have left, and city tours have finished for the day. If you are smart and visit Porto outside of the peak summer months, you may even be one of only a few in the famous bookstore.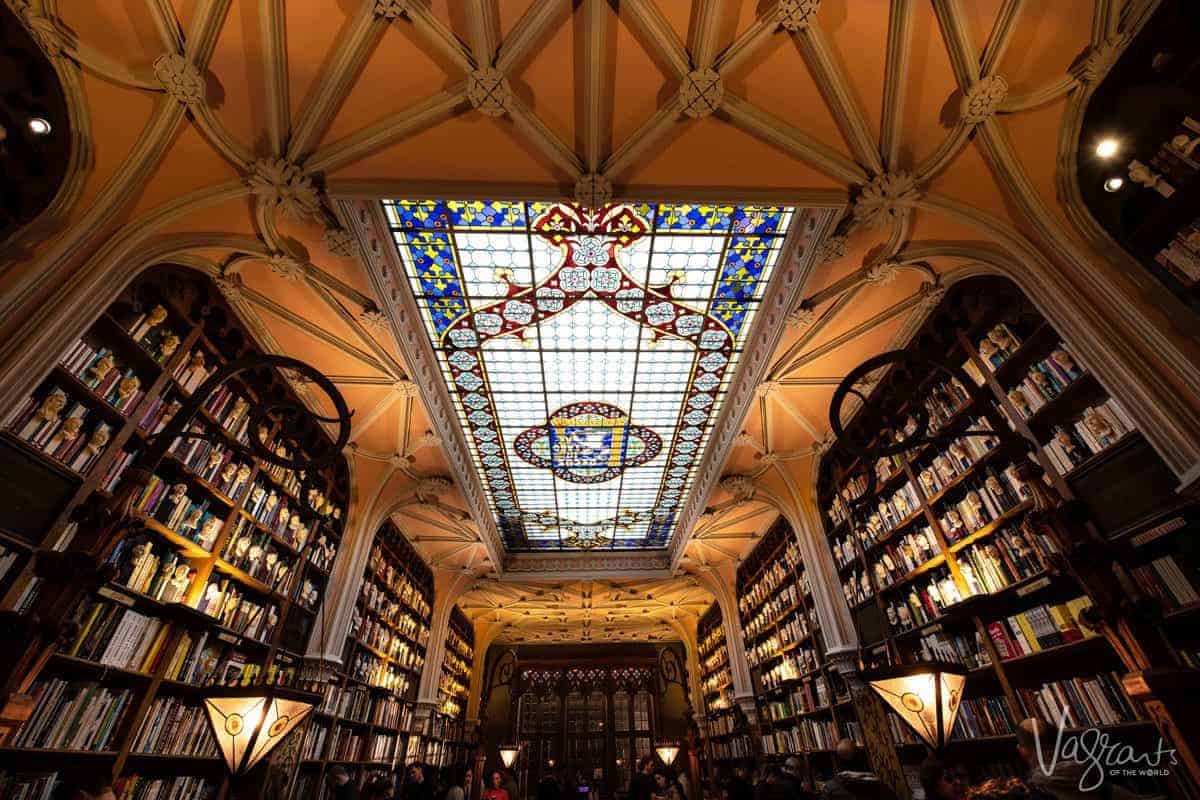 Entry
It costs €5 pp to visit Livraria Lello which is deducted from any book purchases made in the store.
Livraria Lello Tickets Online
You may purchase your tickets online direct from the Livraria Lello website here. Pre-purchase tickets do not guarantee you priority entry.
If you have not bought tickets online, you will have to purchase one from Armazéns do Castelo on the corner. They do not sell entry tickets at Livraria Lello.
Armazéns do Castelo opens from 9.45 AM–7 PM
Note – backpacks or large bags are not allowed in the store so will have to be checked at Armazéns do Castelo even with prepurchase tickets.
Livraria Lello Opening Hours
Daily 9.30 AM–7.00 PM
Livraria Lello R. das Carmelitas 144, 4050-161 Porto
Porto is Full of Beautiful Bookshops
Don't want to battle the crowds at Livraria Lello or want to discover more of Porto's love for books?
There are loads of beautiful and fascinating book stores and literary haunts in Porto to explore. Some are more than simple book stores. These are just a few of the best bookstores in Porto.
---
D. Luís I Bridge
"The City of Bridges" Porto is the only city in Europe to boast six bridges. While each of the six bridges comes with a unique tale and history, most visitors to Porto will have some knowledge of the D. Luís I bridge.
The famous two-level bridge, designed by a protégé of Gustav Eiffel was once the longest metallic arch bridge in the world.
Eiffel designed the oldest bridge in Porto – The Maria Pia Bridge, his last project before overseeing construction of the Eiffel Tower.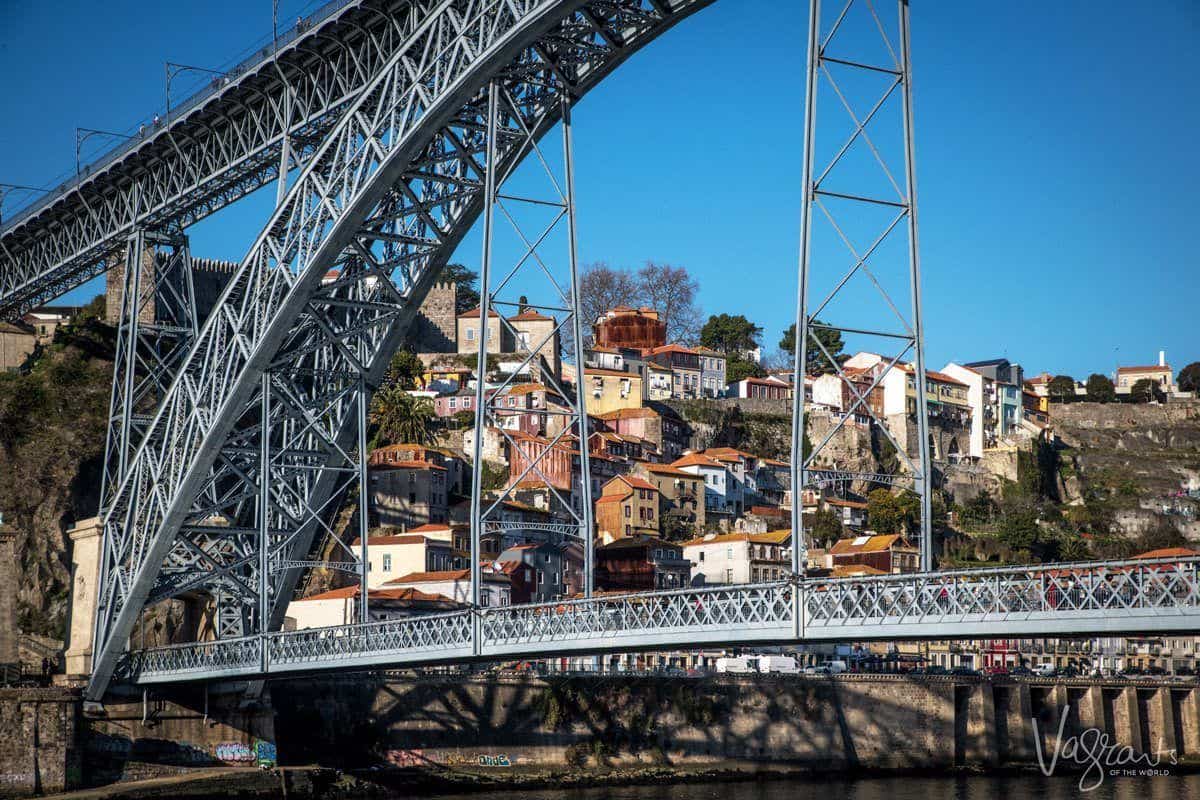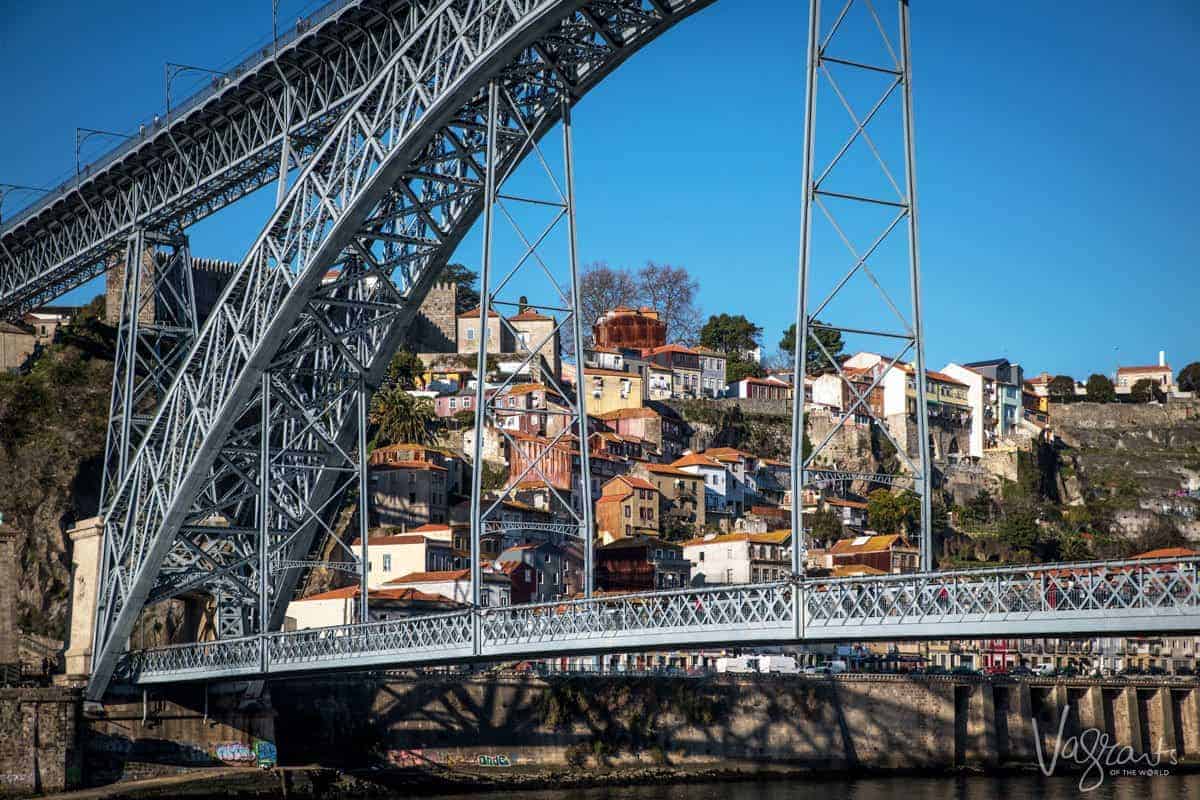 Strolling across the D. Luís I bridge to visit the Port wine cellars in Vila Nova de Gaia is one of those "must-do" things to do in Porto.
From the bridge, you have some of the most stunning views of the Douro river and the city of Porto. It is the perfect photo opportunity.
Six Bridges Tour Recommendation
Another way to see and learn the fascinating history of the six bridges is on a Six Bridges River Cruise.
Take an hour-long cruise down the Douro in a traditional Rabello boat and learn about the six bridges of Ribeira and Vila Nova de Gaia.
Cruises start from as little as €15 pp. You can find out more here.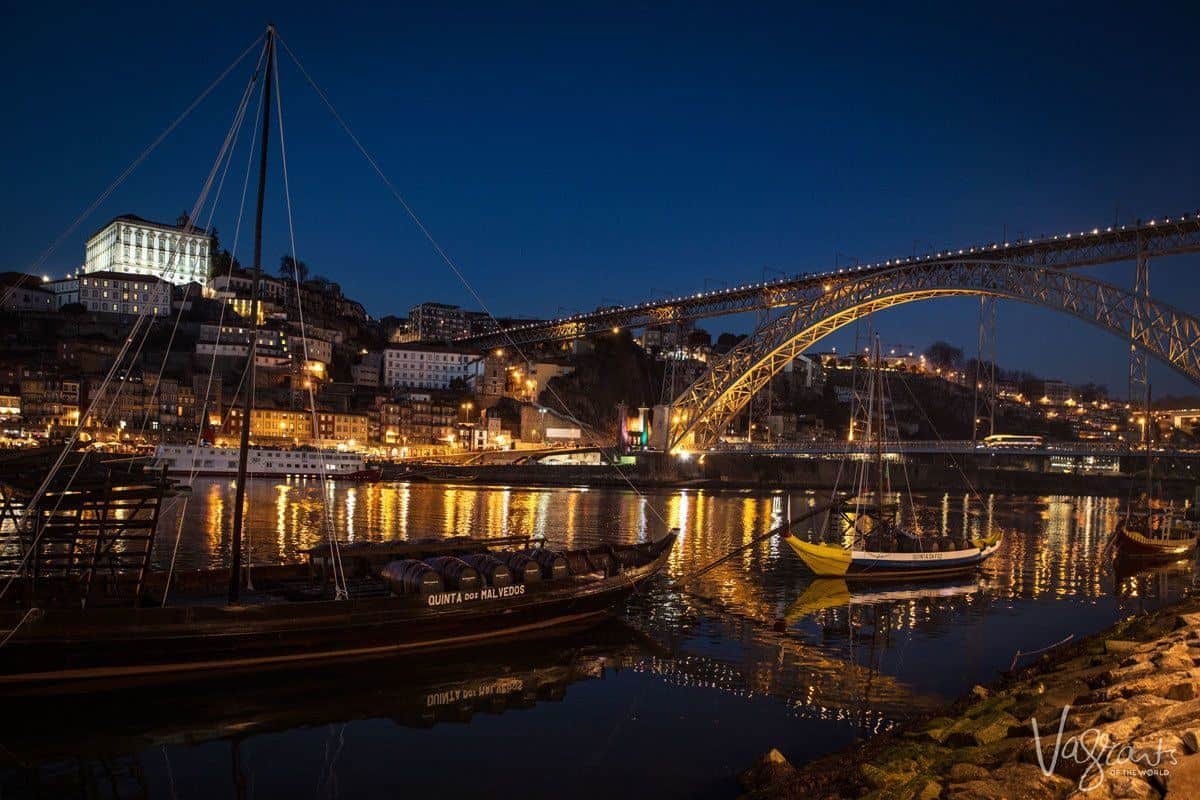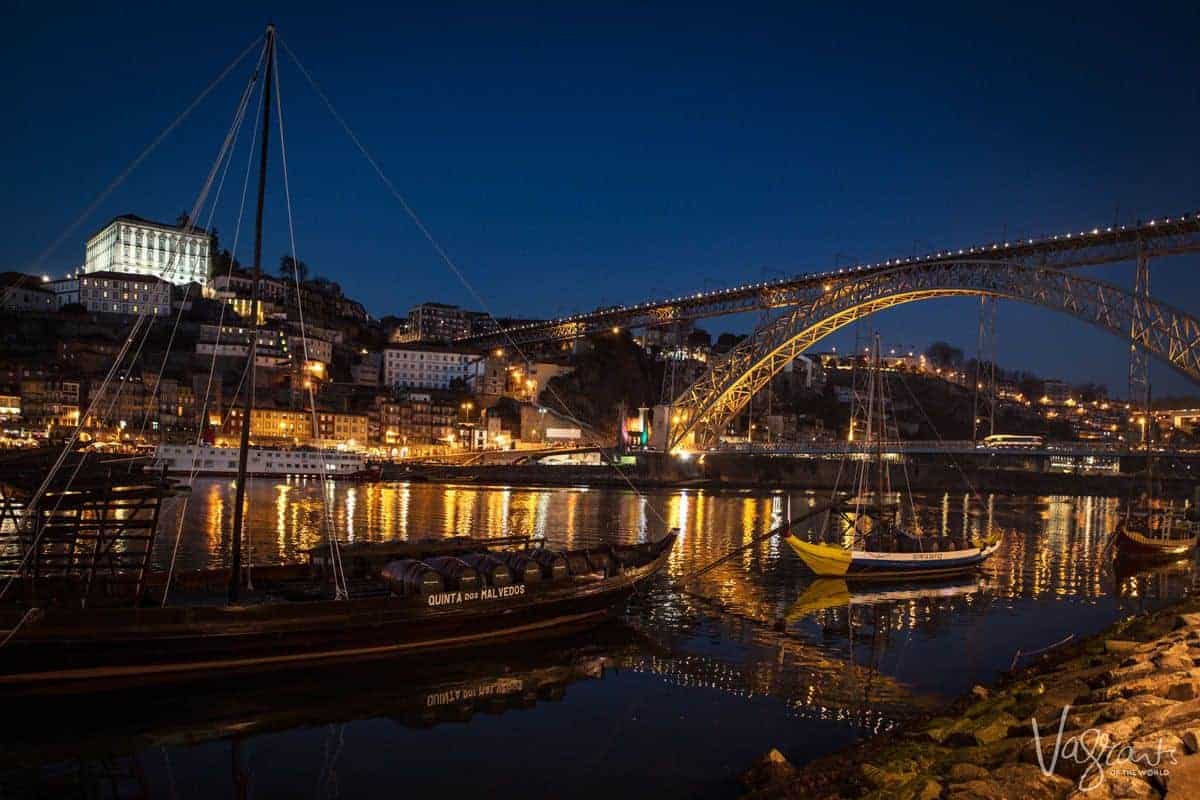 The Ribeira Neighbourhood
While we are down at the river, let's talk about the UNESCO listed Ribeira neighbourhood. One of the most famous places in Porto.
The oldest part of the city, Ribeira, as its name suggests sits right along the Douro river.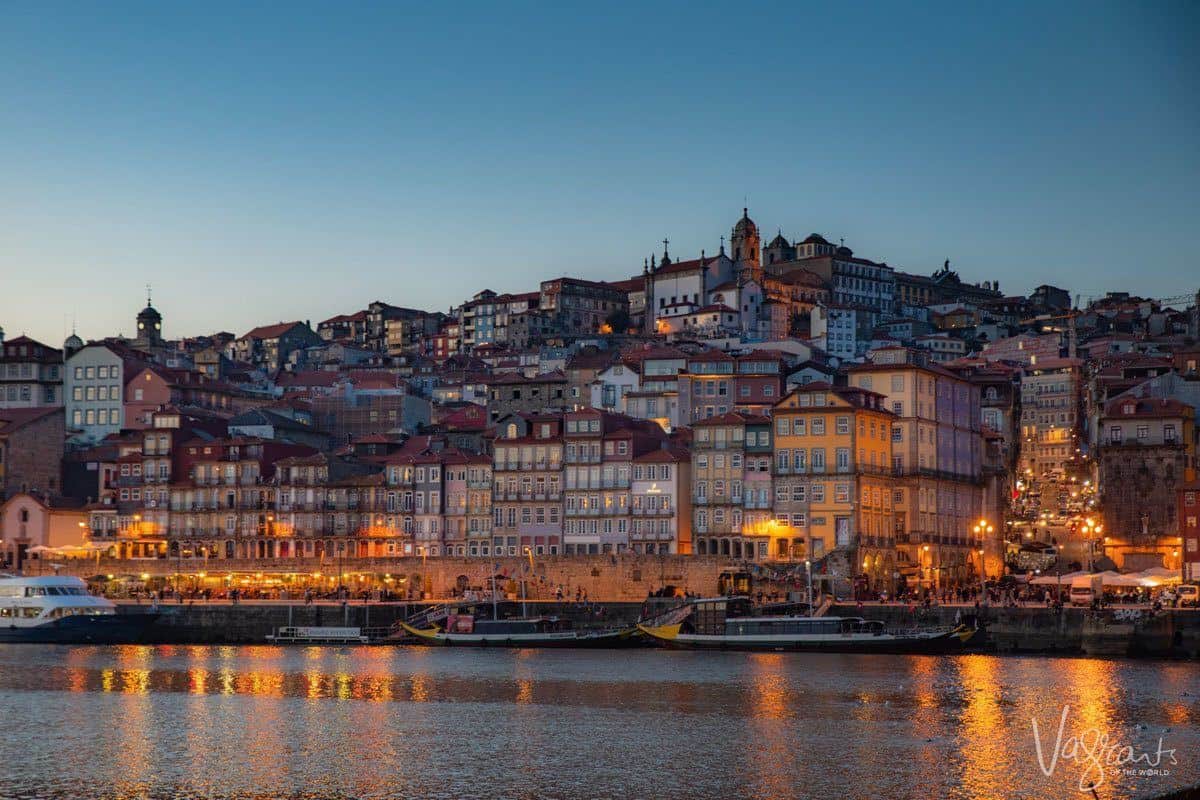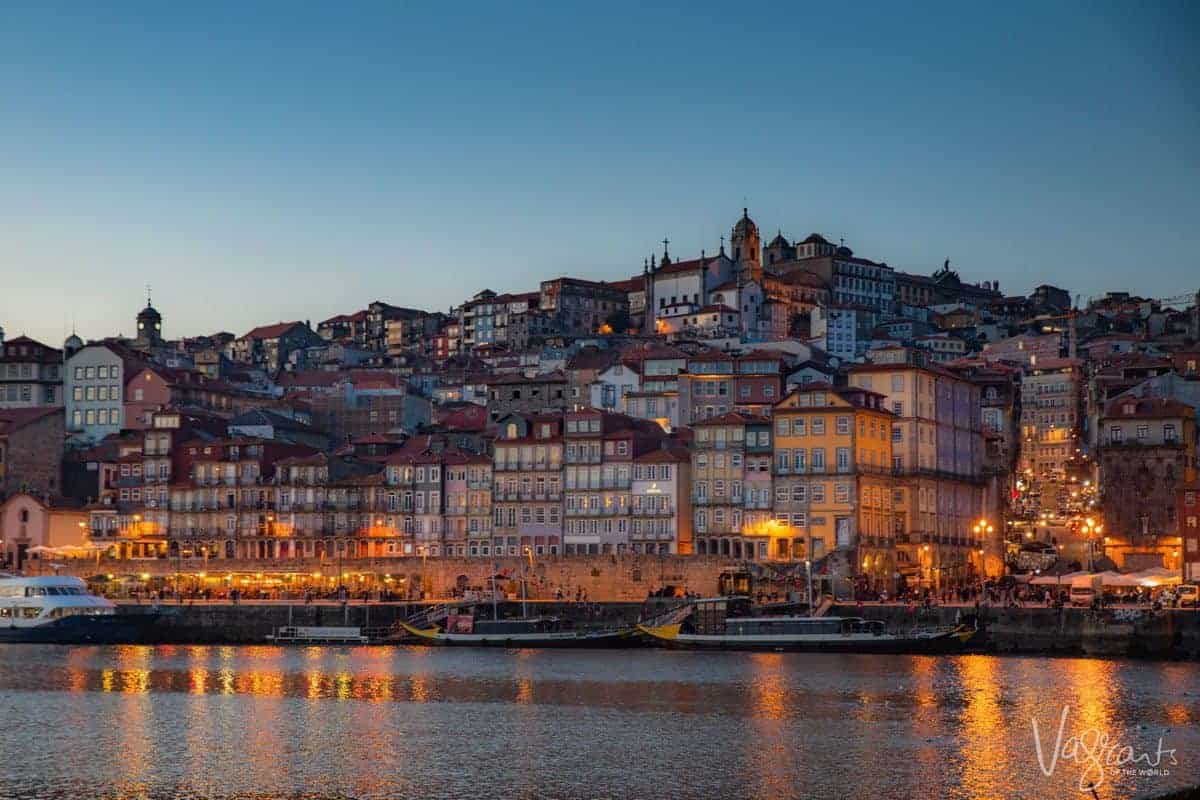 Narrow twists of streets, colourful tiled 18th-century townhouses, small bars and eateries along the riverfront serving traditional Portuguese fare – Ribeira is the quintessential postcard neighbourhood.
Once considered a neighbourhood of ill repute, a place for thieves, crooks and prostitutes, Ribeira is now the place to be in Porto, especially when the sun starts to set.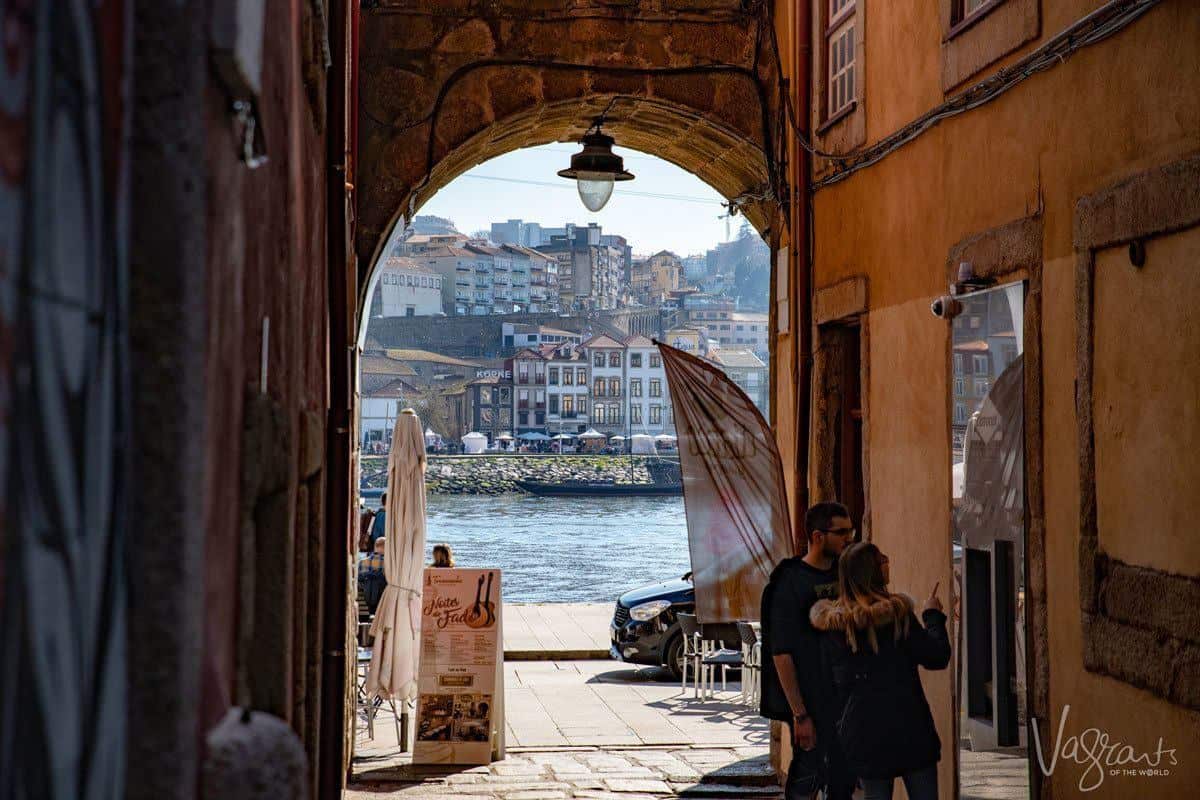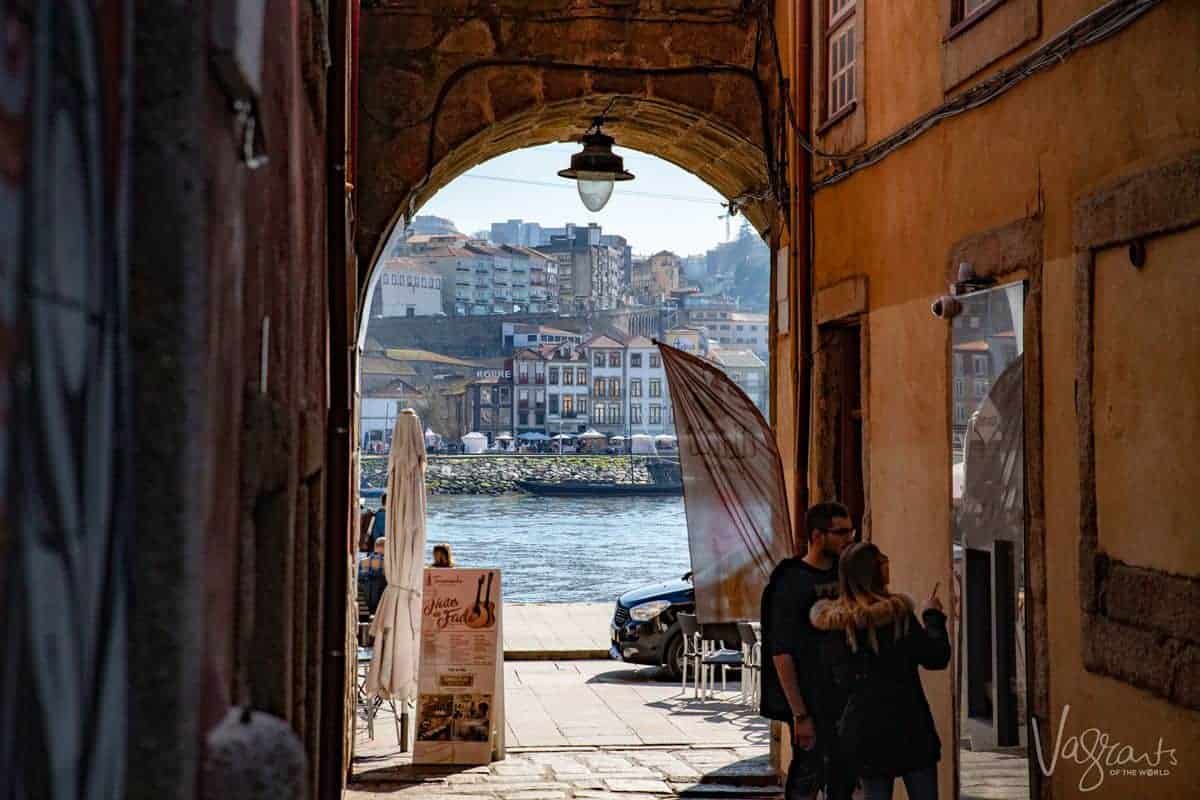 In Ribeira, you will also find the magnificent Palácio da Bolsa, the former stock exchange building famed for its ornate interior, the Gothic Igreja de São Francisco church with an opulent Baroque interior and the iconic red marketplace turned venue – The Hard Club.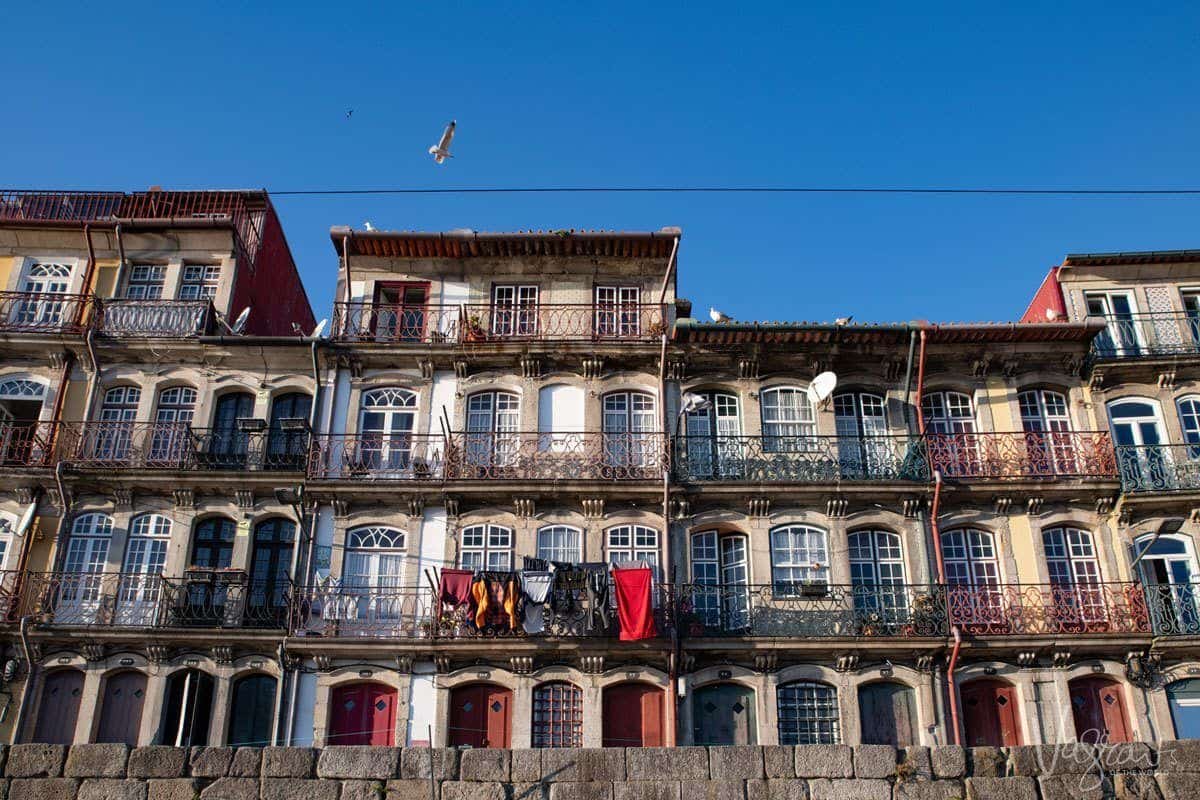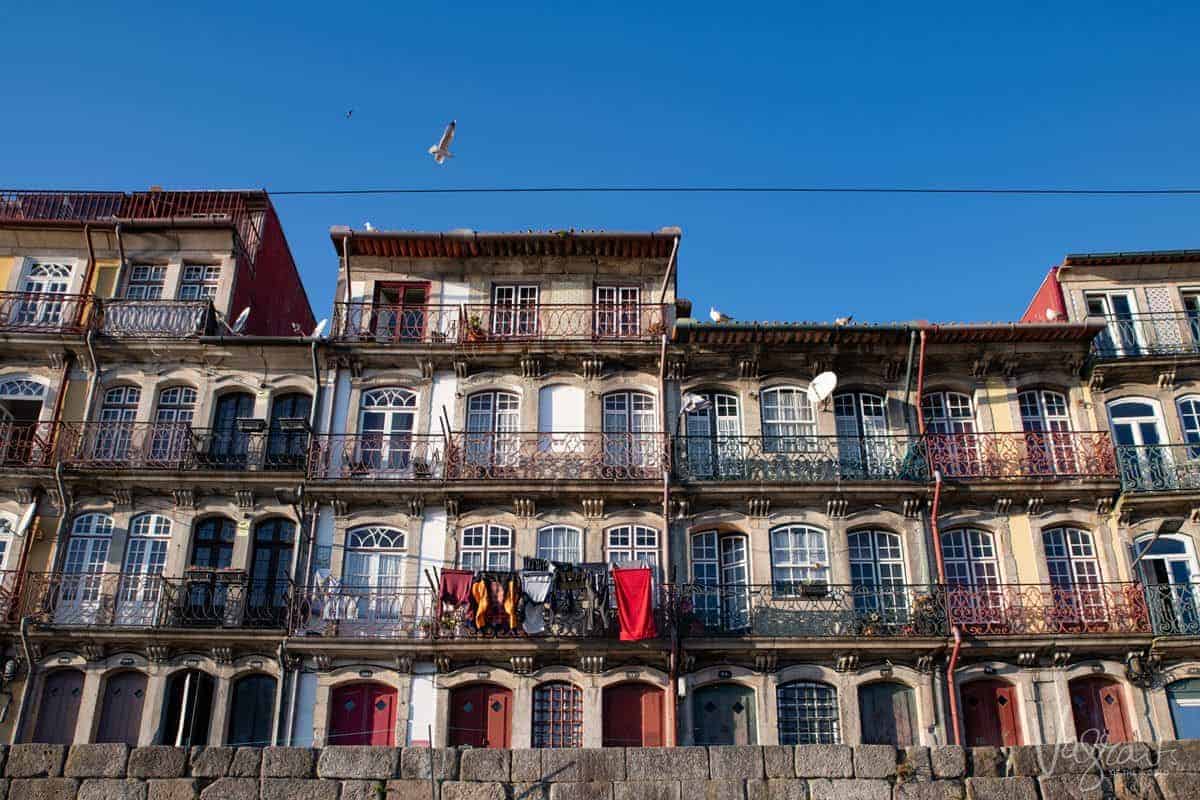 ---
Mercado Ferreira Borges (Hard Club)
Mercado Ferreira Borges, a red iron and glass building, built-in 1885, is considered one of the finest remaining examples of Europe's iron period.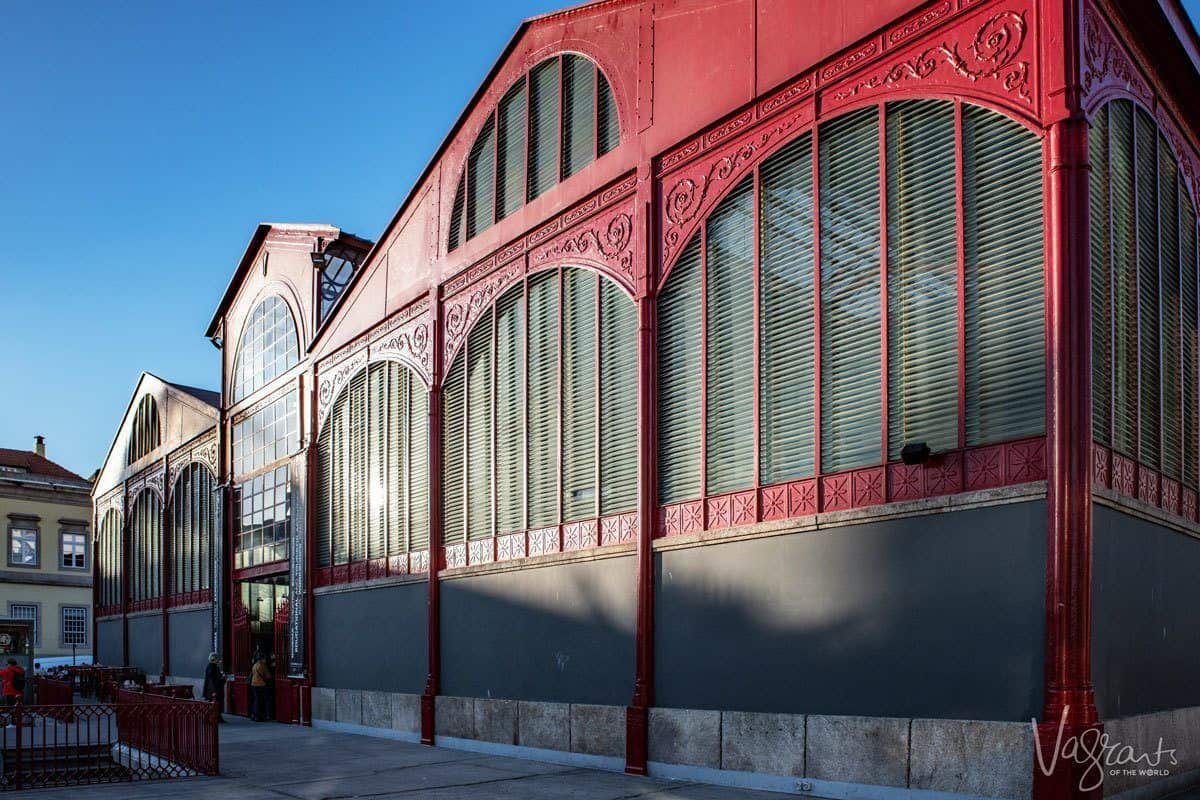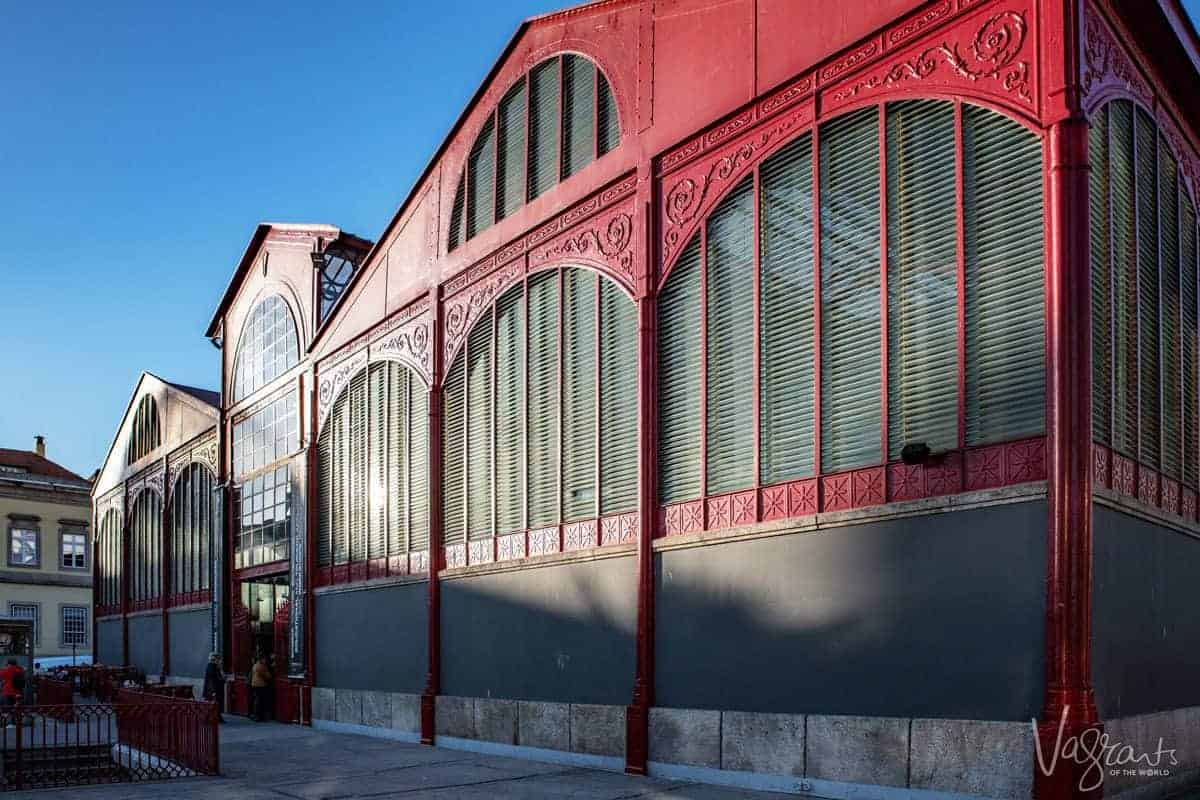 Built to replace the old marketplace in Ribeira, curiously, it was never used as a market. Vendors in the old market decided they didn't want to move and so the building never met its intended purpose.
Throughout the years it has been used for all manner of purpose including a storage facility for military equipment, even a soup kitchen for the homeless.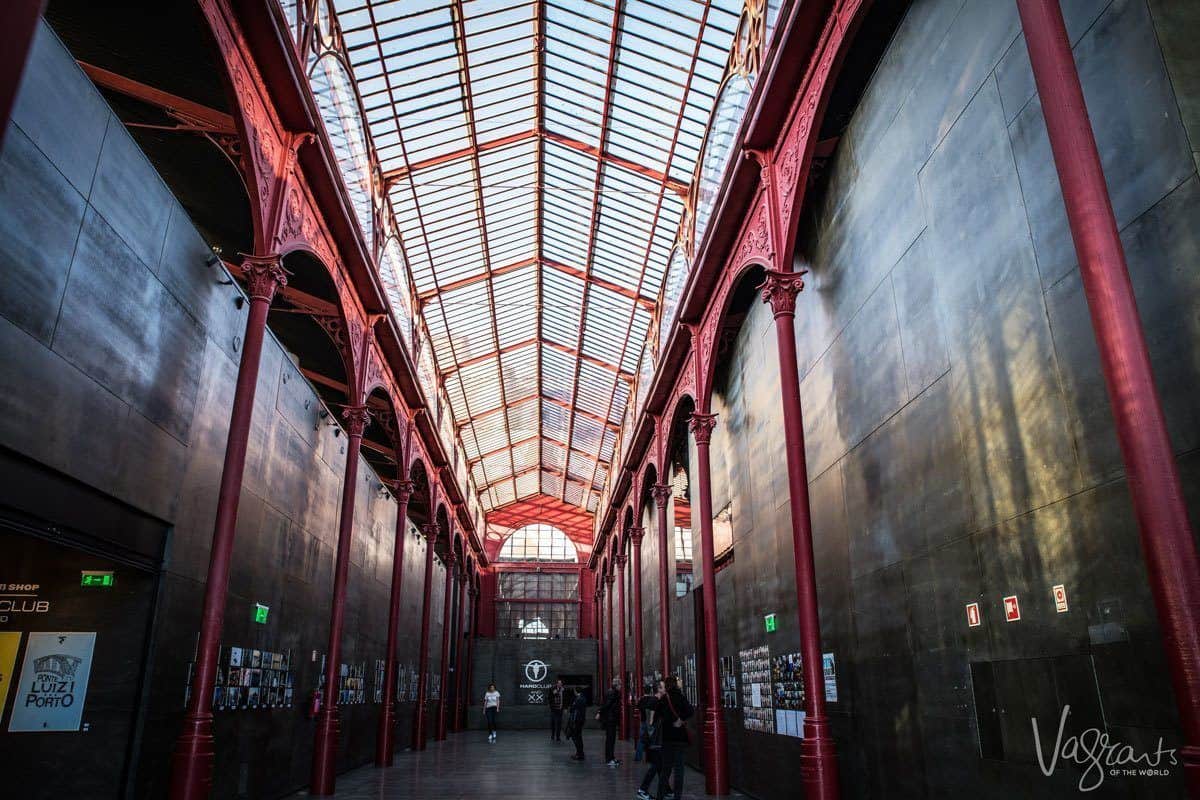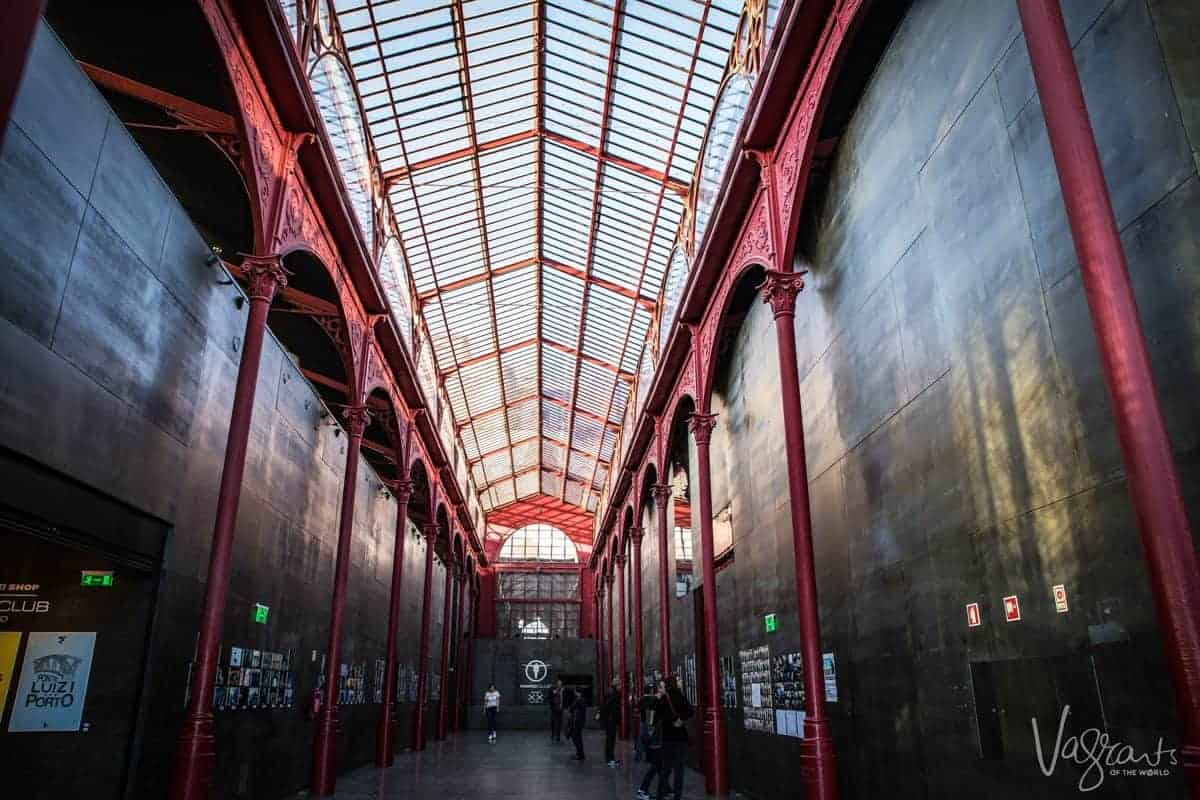 Narrowly dodging demolition in the '70s to make room for a carpark, the building has again been repurposed. The iconic red building has been restored and transformed into the popular exhibition, events, and concert space – Hard Club.
There is a terrace cafe at the front with views over Praça Ribeira and upstairs is home to microbrewery restaurant O Mercado.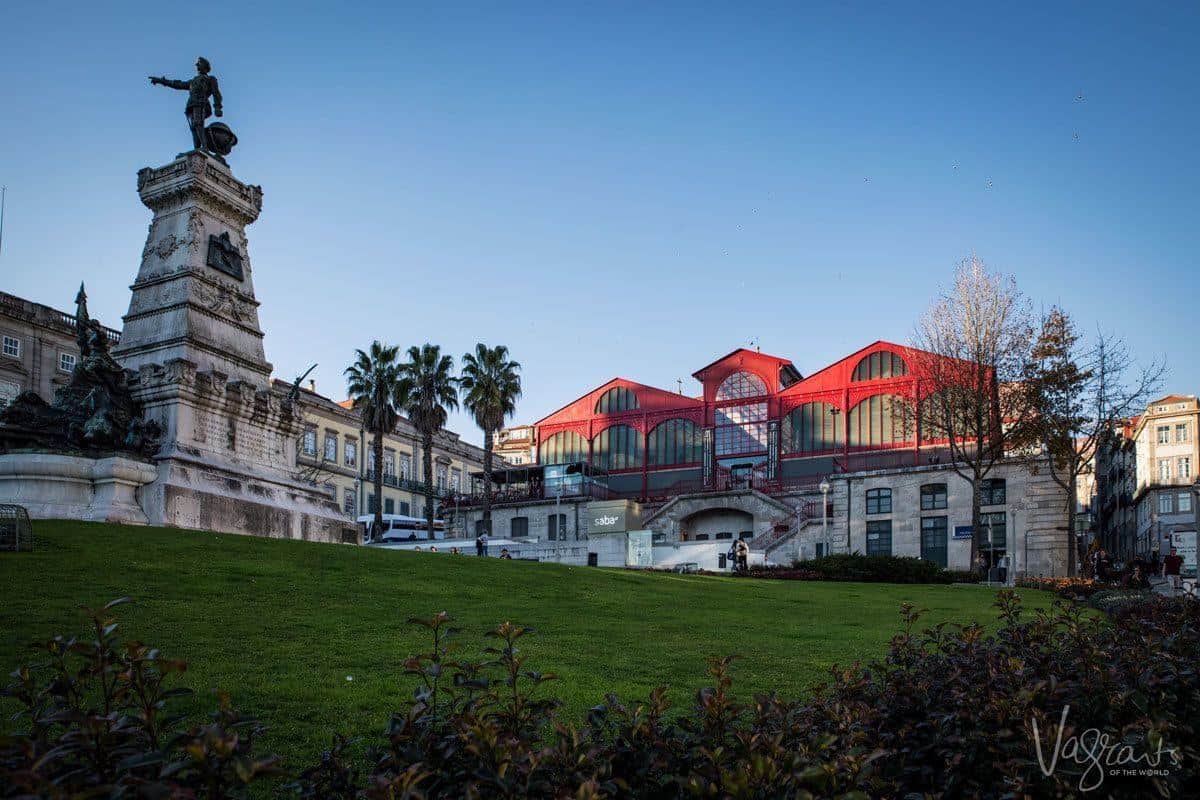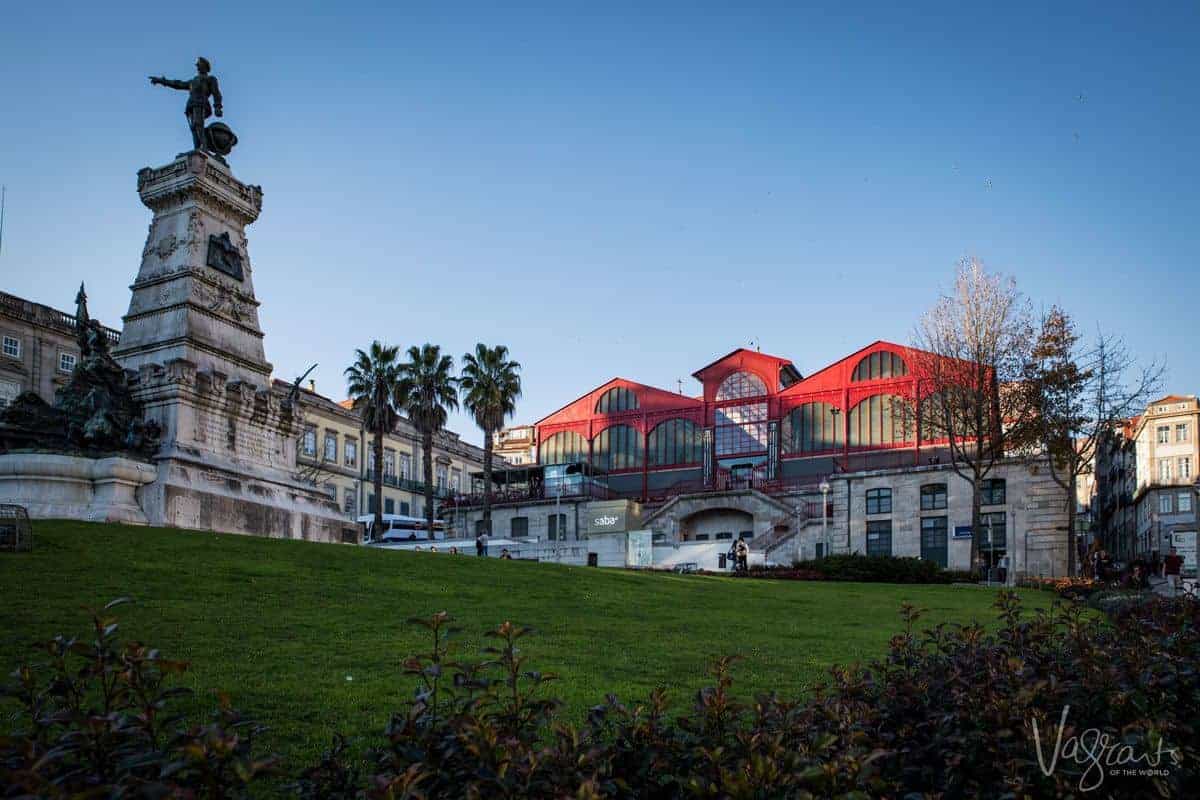 Hard Club Opening Hours
Hard Club is open from midday to midnight. See the Hard Club website for upcoming shows, events, and exhibitions.
Mercado Ferreira Borges R. da Bolsa 19, 4050-253 Porto
---
Palácio de Bolsa (Stock Exchange Building)
Palácio de Bolsa, the former stock market was built between 1842 and 1910 to impress potential European investors. And impress it did.
The Neoclassical, Moorish inspired building is considered one of the most beautiful monuments in Porto.
Take a tour to see the impressive central glass courtyard – Pátio das Nações (Hall of the Nations).
From the marble and granite grand staircase, you can explore some of the buildings more impressive rooms such as – the Gold Room decorated in gold leaf, or the General Assembly Room decorated with exquisite wood finishes.
The highlight of the palace, the Arab Room, is reserved for official functions. It is decorated in the exotic Moorish Revival style inspired by the Alhambra.
Bolsa Palace Tour
It is recommended to take the 45 minutes guided tour. However, the language of the tour is determined by the first arrival so be early. Languages are Portuguese, Spanish, French, English. See the Bolsa Palace website for more information.
Entry
Single: € 10.00
Student / Senior: € 6.50
50% off with Porto Card
Opening Hours
April–October: 9 AM – 6:30 PM.
November–March: 9 AM – 12:30 PM | 2 PM – 5:30 PM.
Bolsa Palace R. de Ferreira Borges, 4050-253 Porto
---
São Bento Railway Station
The main railway station of Porto, São Bento Station sits on the site of a former 16th century Benedictine Monastery for which the station is named.
Opened in 1916 to the public; the station is famed for the 20,000 azulejo tin-glazed ceramic tiles placed over 11 years from 1905–1916 by artist Jorge Colaço.
The tiles depict Portugal's history, the story of its royalty, its transportation history and its historic battles including the conquest of Ceuta in 1415 by Henry the Navigator.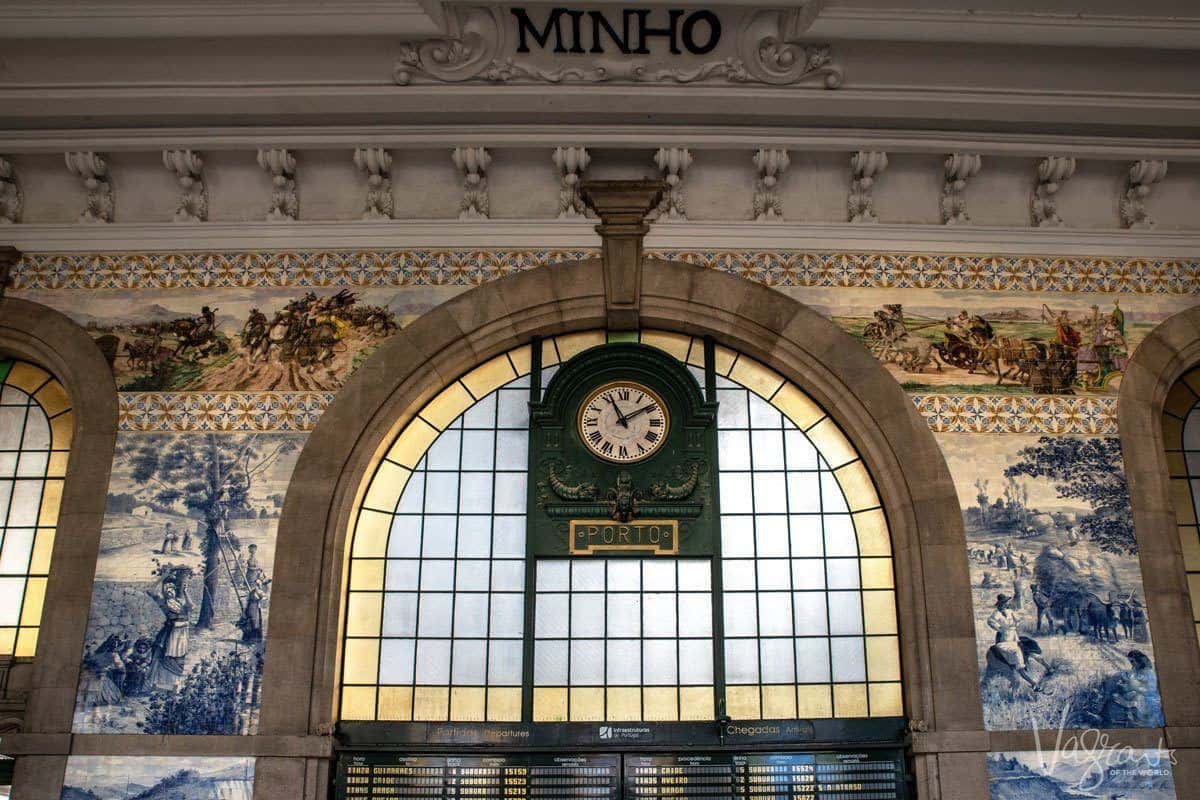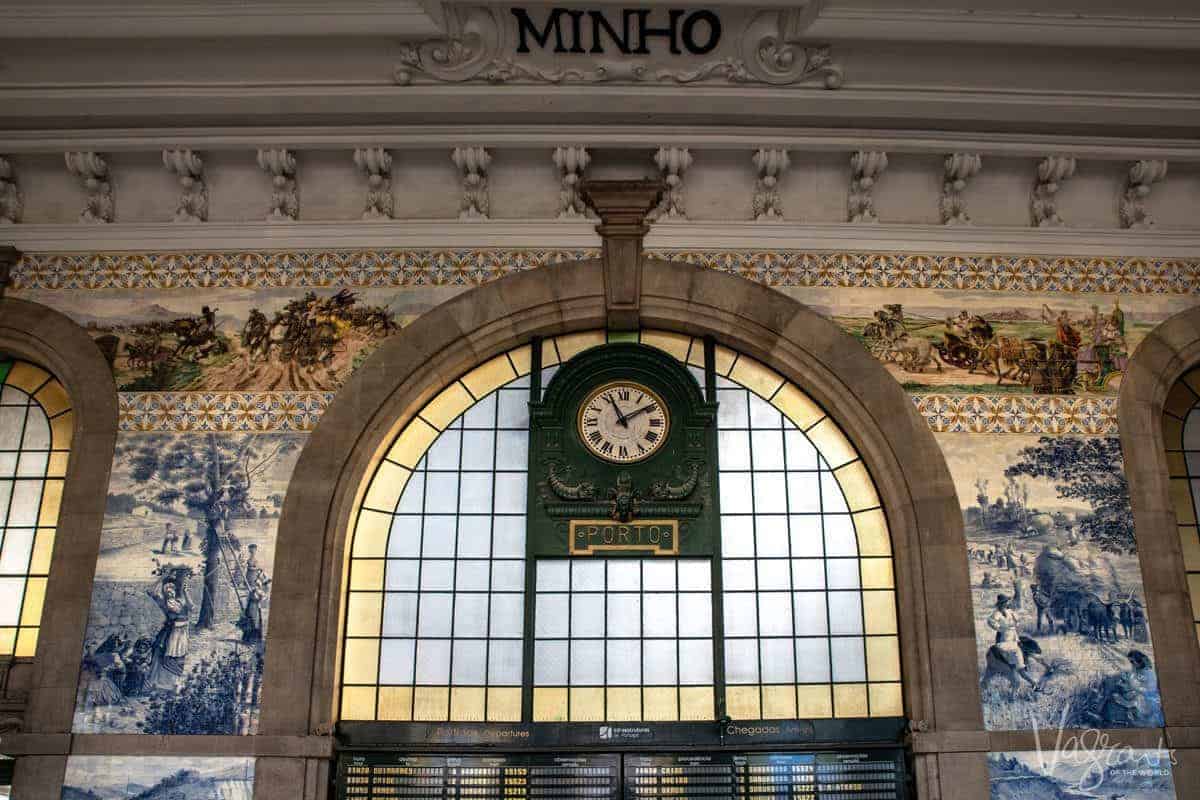 São Bento Railway Station is right in the city centre so you will undoubtedly pass it numerous times during your stay even if you don't arrive in Porto by train.
Make sure you take a few minutes to stop in and take a look at the main hall.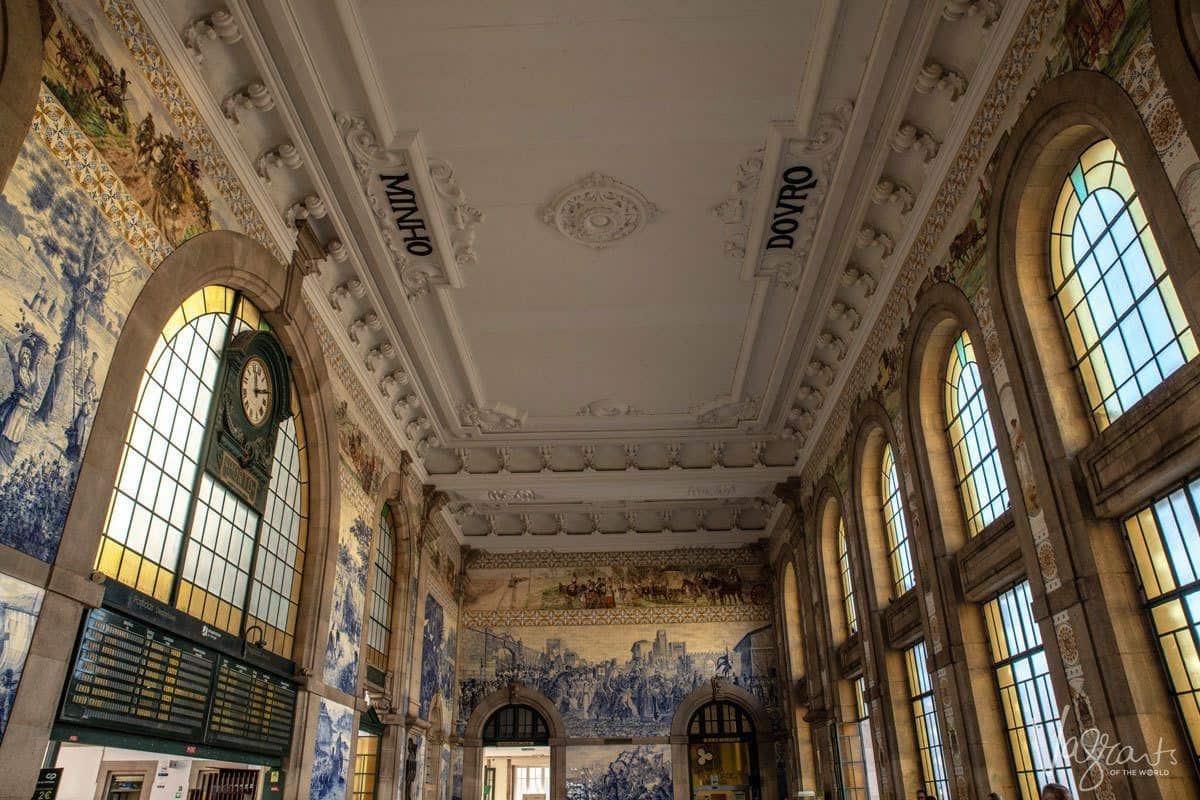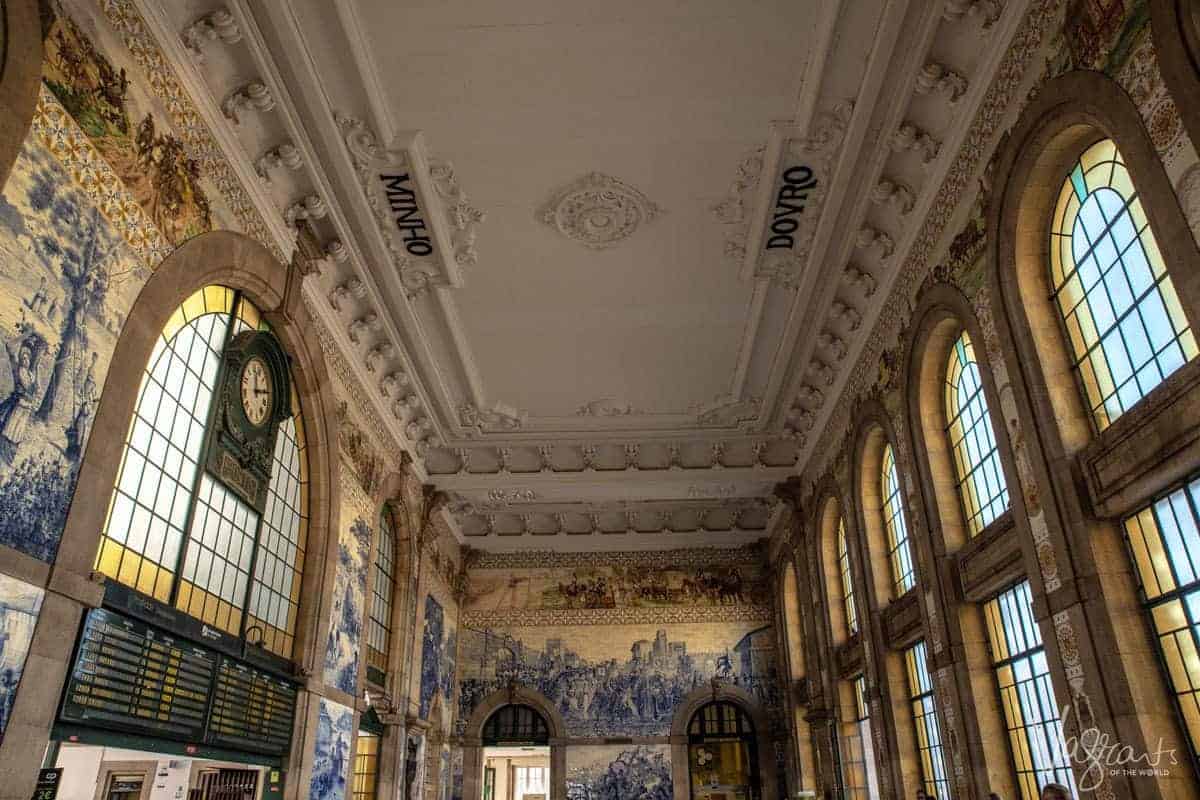 São Bento is where you can catch the train to the Douro Valley or if you have the time, take a day trip to other beautiful villages and towns in the region such as Braga, Guimarães, or Viana do Castelo.
São Bento Railway Station Praça Almeida Garrett, 4000-069 Porto
---
Jardins do Palácio de Cristal
The gardens instantly identifiable by the unusual domed building built to replace the original Palácio de Cristal constructed for Exposição Internacional do Porto in 1865.
The current dome pavilion, Pavilhão Rosa Mota was built to accommodate the 1952 Roller Hockey World Cup in Porto.
The gardens around the Pavilhão Rosa Mota are Porto's largest and most popular green spaces.
Overlooking the city, Jardins do Palácio de Cristal is a mosaic of different gardens dotted with fountains and sculptures flanked by gorgeous trees.
Sit and watch the peacocks roam freely around enormous magnolia trees while enjoying the sweeping vistas of the city and the Douro.
Entry
Free
Opening Hours
Daily: 8 AM– 9 PM
Jardins do Palácio R. de Dom Manuel II, 4050-346 Porto.
---
Gaia Cable Car to Jardim do Morrow
Get a birds-eye view of Porto and the river Douro from the aerial gondola Teleférico de Gaia. The five-minute ride runs between the southern end of the D. Luís I bridge and the riverside on Vila Nova de Gaia.
From the top, at the Jardin do Morrow gardens are where you get postcard views of Porto and the rustic red roofs of the wine cellars in Gaia.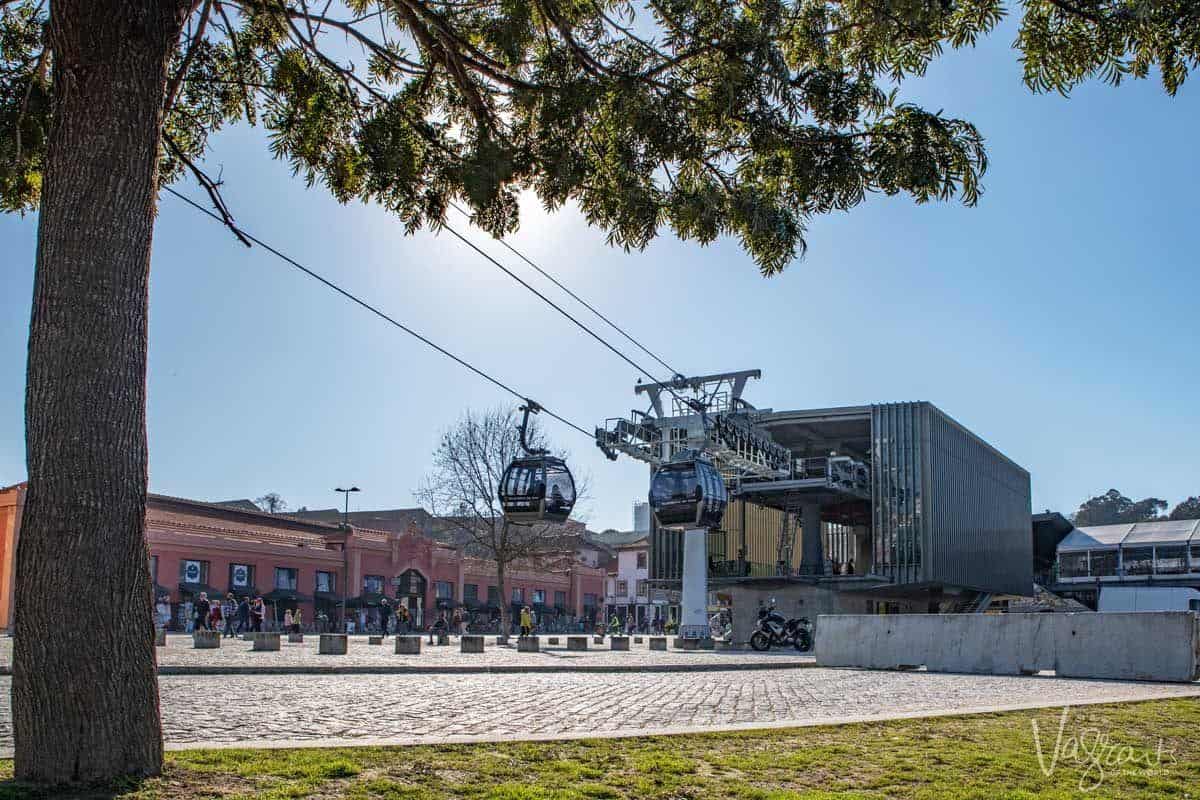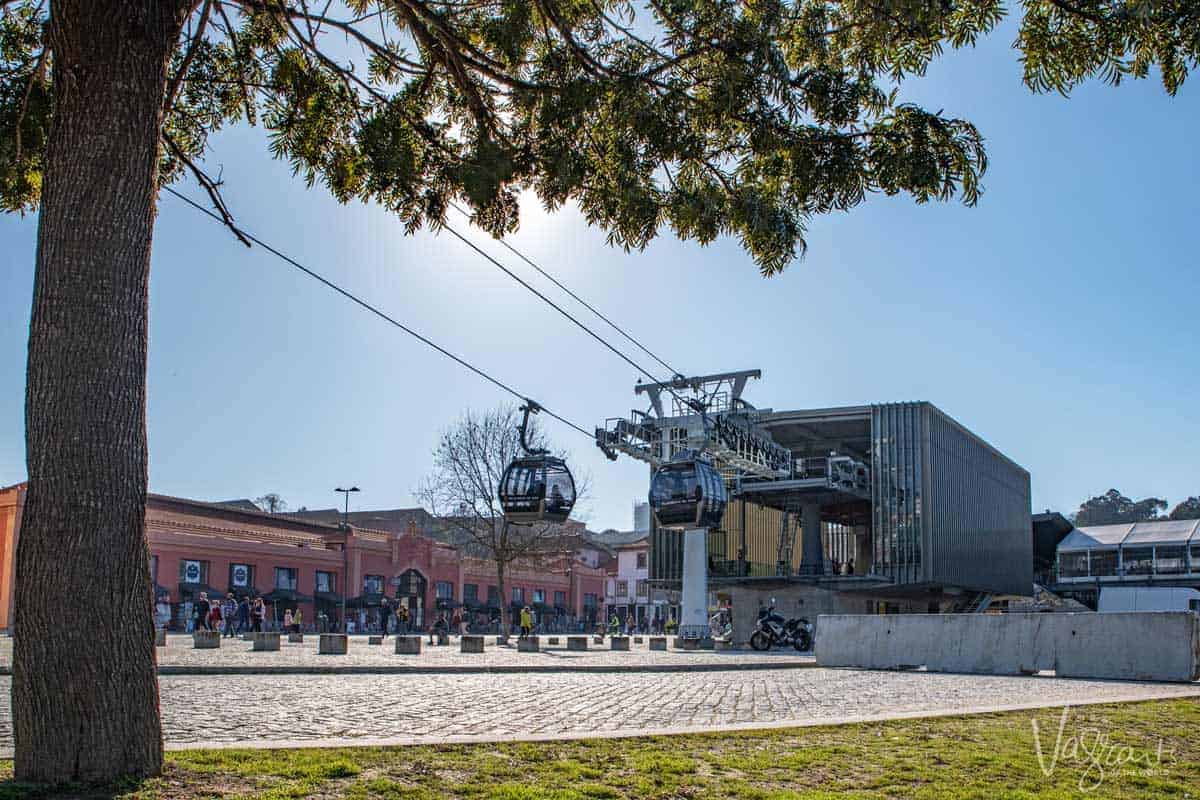 Cost
Adult: €6,00 one way | € 9,00 return
Child (5-12): € 3,00 one way | € 4,50 return
Operating hours:
Summer: 26 April– 24 September: 10 AM–8 PM
Spring 24 March–25 April | Autumn 25 September–24 October: 10 AM–7 PM
Winter: 25 October– 23 March: 10 AM–6 PM
Teleférico de Gaia R. Rocha Leão 236, 4430-148 Vila Nova de Gaia
---
Street Art in Rua das Flores
Rua das Flores, an ancient street once used by aristocracy and merchants is one of the most visited streets in Porto by both locals and tourists.
Charming hotels, modern restaurants and relaxed cafes, gourmet grocers and traditional wine shops make Rua das Flores a must-visit while you are in Porto.
As you stroll through, keep an eye out for the street art making a mark on this pretty street. From artistic electrical boxes to murals the height of multi-story buildings. There is a lot to see on Rua das Flores.
Rua das Flores Porto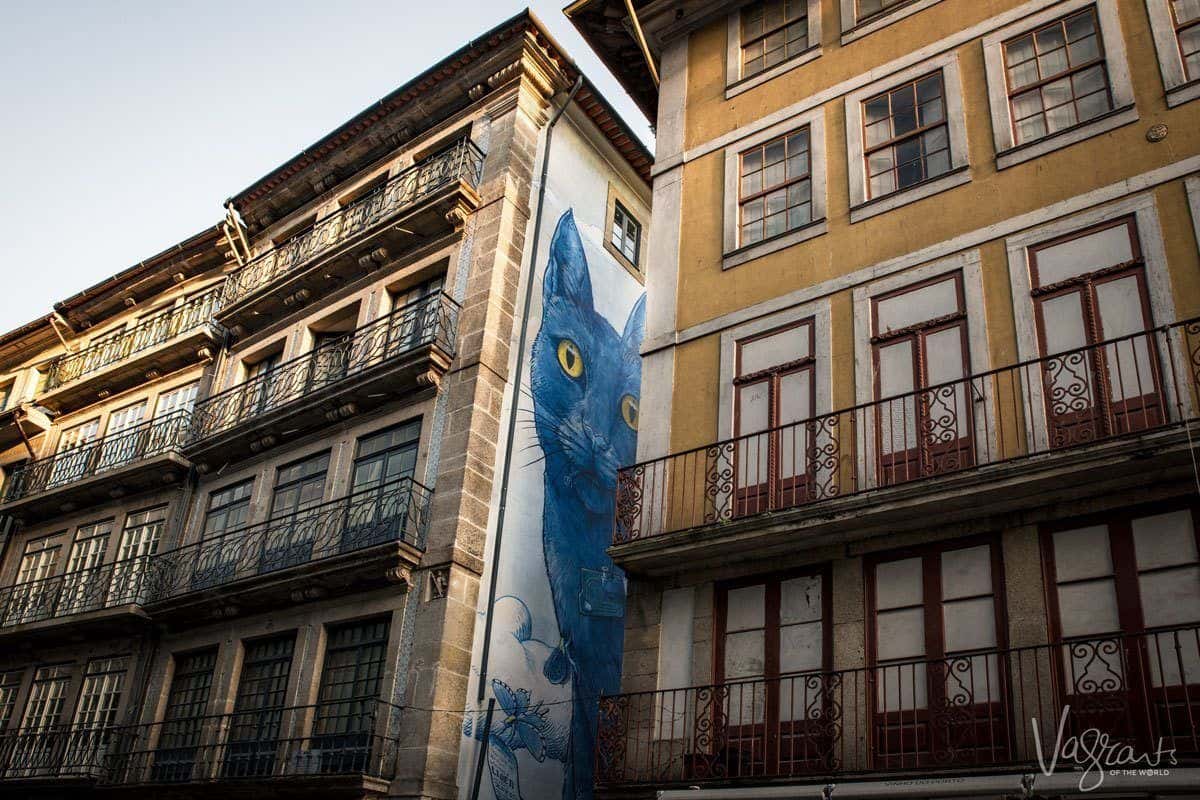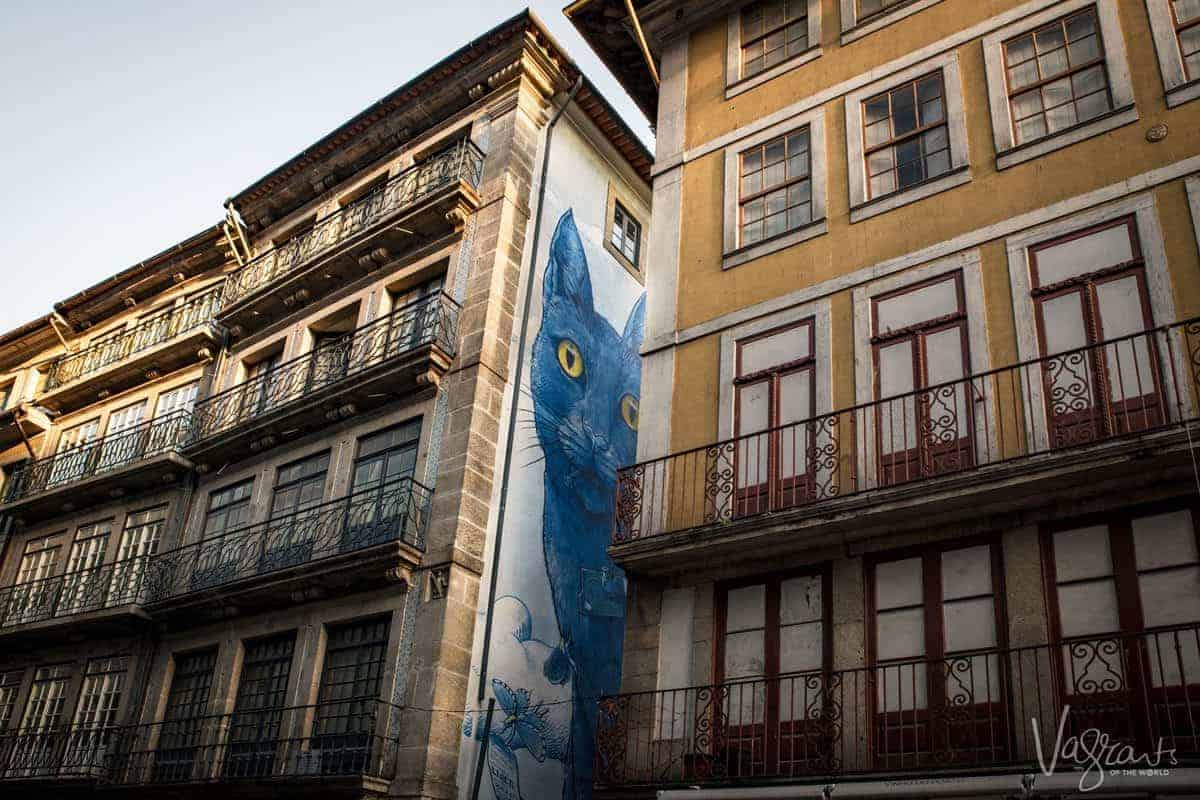 Take a Street Art Walking Tour
Want to know more about Porto's artists or the story of Porto's architecture and traditional tiles, take a street art walking tour. Two-hour tours start from as little as €9. Find out more here.

More Street Art Walking Tours
---
FOOD IN PORTO
Porto is renown worldwide for its sumptuous cuisine and of course, world-class wines. It would be a massive undertaking to list all the best places to eat in Porto.
However, there are some aspects of Porto's food culture that do warrant a mention.
From charming cafes with history to historical cheese shops and traditional grocers, there are some food experiences in Porto worth seeking out beyond just a good place to eat.
---
Francesinha
While Portugal is famous for many things, it would be remiss of us not to mention Porto's most famous, or infamous dish depending on your taste.
Described as a layer cake of meat, the Francesinha, which translates to "little French woman" or simply "little Frenchie" is Porto's sandwich of sandwiches.
The Francesinha is made with bread – the thicker, the better and a medley of meats including, cured ham, Portuguese sausage, steak or roast beef, then covered with melted cheese and served literally swimming in either tomato or beer sauce.
If all of that is not stodgy enough for you, add a fried egg on top and some fries on the side for dipping in the sauce.
We usually sidestep any food that feels like the main contender in a food challenge so cannot vouch for the "little Frenchie". If you do decide to take the challenge, it is recommended to do so on an empty stomach and preferably wearing elastic-waisted pants.
Porto Food Tour Recommendation
Learn about Porto's regional specialities on a half day food tour.
Taste a variety of regional dishes at the most authentic taverns and restaurants learning the history and stories behind each of the dishes and ingredients.
Combining sightseeing with culinary experiences, you will explore the local streets of Porto as you eat and drink your way through the city.
The tour includes five tastings of Porto's most typical dishes and beverages at different tavernas and restaurants so you can experience Porto's gastronomy in it's most authentic settings.
Private tour prices start at €47 including guides, food and drinks. Find out more here.
---
Café Majestic
Opening its doors in 1921, Elite Café as it was first known, was the belle of Belle Époque in Porto. The café enchanted Porto's upper echelon with its beautiful Art Nouveau design by architect João Queiroz.
Falling into neglect during WWII, the cafe was nearly lost altogether. In 1983, the cafe was declared a "Building of Public Interest" and finally, in 1992, 71 years after its grand opening a massive two-year restoration began to make Majestic Café once again the most elegant cafe in Porto.
Majestic Café, along with Livraria Lello has earned its status as one of those must-visit places in Porto so do expect the prices to be much higher than an average cafe.
For example; an espresso coffee will cost €5 as opposed to less than a euro in a typical cafe.
If you would like to treat yourself to a charming Majestic Café experience, high tea is served between 3 PM and 7 PM – Cost: €25 pp
Majestic Café Opening Hours
Monday–Saturday 9 AM–11.30 PM
?Majestic Café Rua Santa Catarina 112, 4000-442 Porto
---
Café Portas do Olival
Dating back to 1853 Café Portas do Olival is one of Porto's oldest cafe's. While it looks both inside and out like any of the typical snack bars you will find in Portugal, the cafe has quite a distinctive feature.
Inside you can see an original section of the 12th century Fernandina Wall and a small arch from the Porta do Olival, one of the most important gates of the old city.
Phillipa of Lancaster entered the city of Porto through the Porta do Olival to marry King D. João I in 1387.
The marriage was vital in establishing the Anglo-Portuguese Alliance which was later immortalized on the famous azulejo panels in São Bento Train Station by Jorge de Colaço.
The current owners have run the cafe, maintaining the section of the medieval wall for over 40 years. Pop in for a coffee and read a brief history of the wall and the cafe inside.
Café Portas do Olival R. Campo dos Mártires da Pátria 126, 4050-367 Porto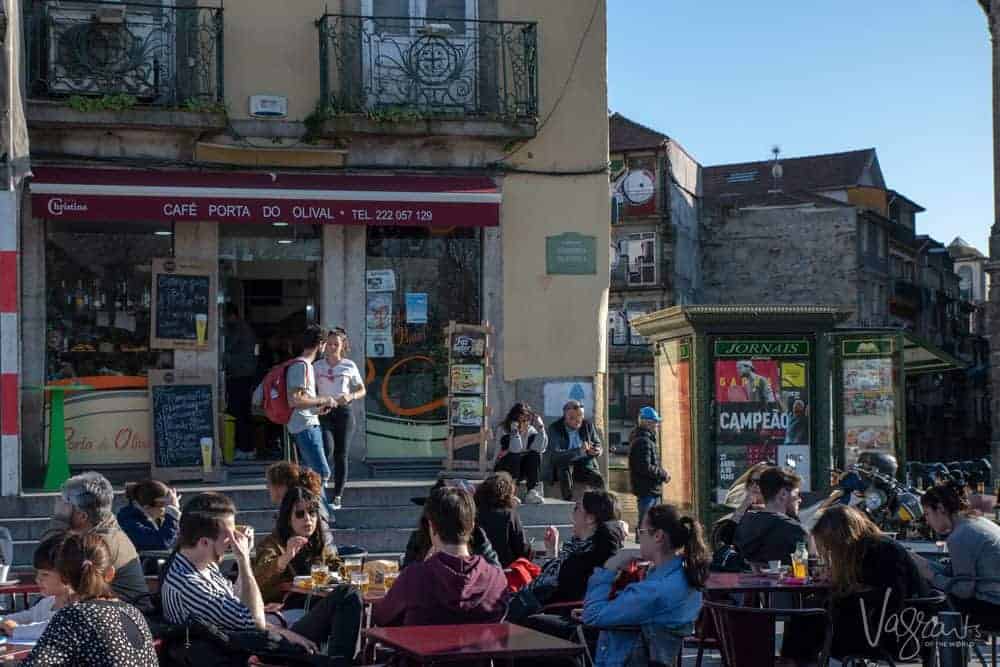 ---
A Pérola do Bolhão Traditional Grocery Store
More than just another striking Art Nouveau facade, A Pérola do Bolhão is one of Porto's most loved institutions and landmarks.
Founded in 1917, A Pérola do Bolhão is one of those charming shops where you will find the heart of culinary Porto. The traditional Portuguese deli style grocery store is stacked to the rafters with fresh and dried typical Portuguese produce.
Be tempted by Portuguese smoked chouriço sausage, olives, fresh mountain cheeses from Serra de Estrela, and of course, Port.
The friendly owners will gladly guide you through the product and are known to impart some precious advice for visiting their city.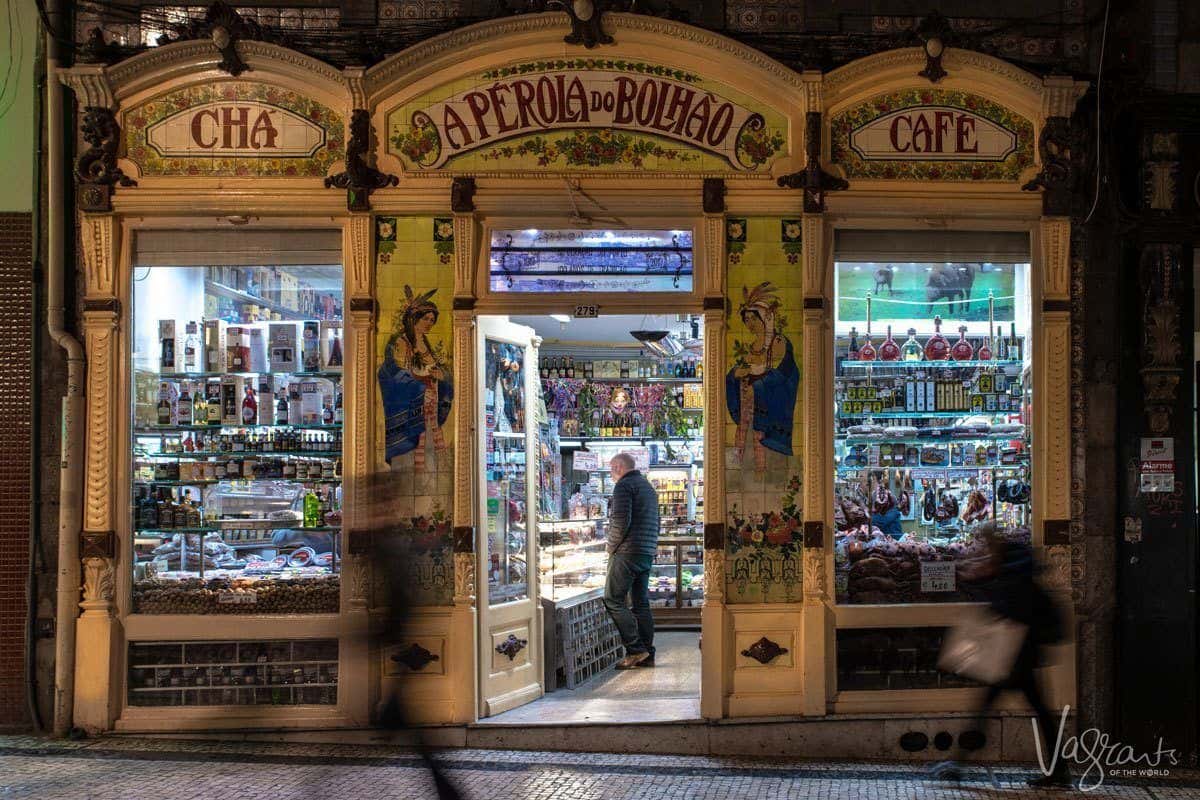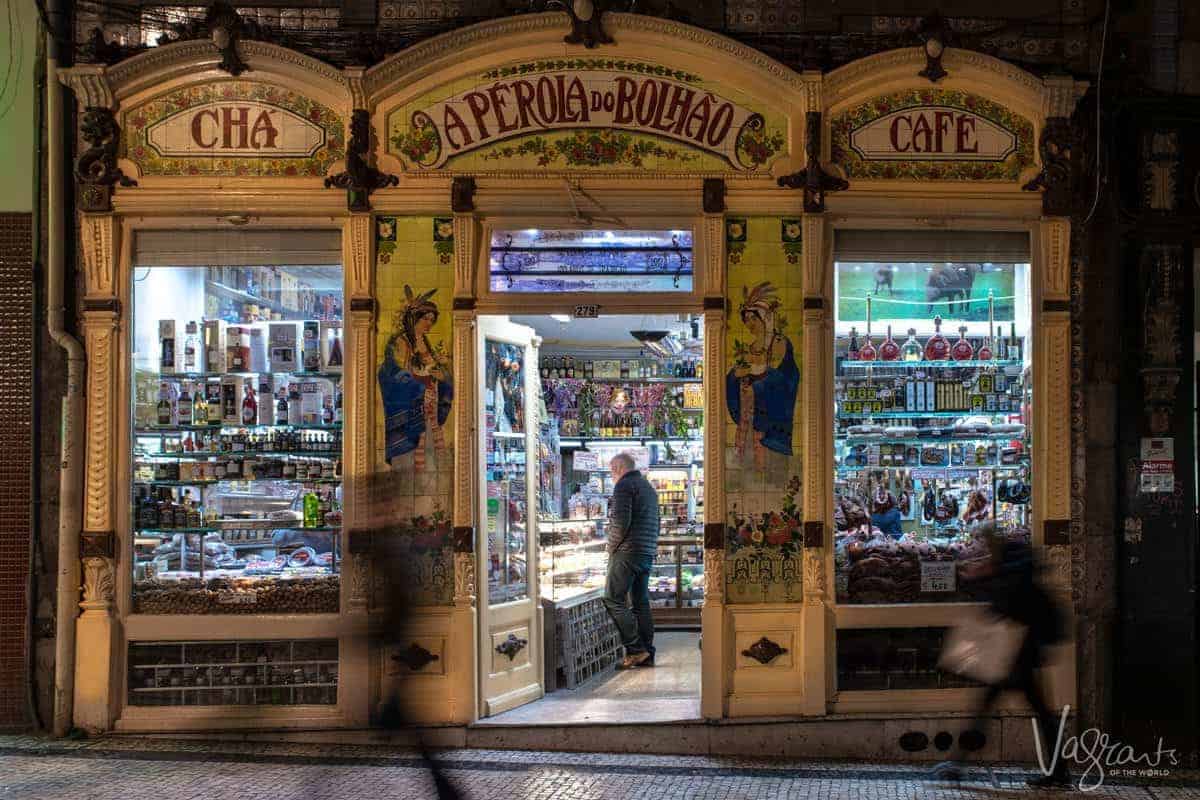 The shop facade is adorned with Portuguese tiles dating back to the beginning of the last century with unique depictions of two women on either side of the doorway, one holding café (coffee) and the other chá (tea) plants.
A Pérola do Bolhão R. Formosa 279, 4000-252 Porto
---
Mercado Municipal da Beira Rio
Mercado Municipal da Beira Rio is in the heart of Vila Nova de Gaia's Port wine district. Dating back to the late 1930s the historical marketplace has been revamped to attract more than just the local shopping crowd.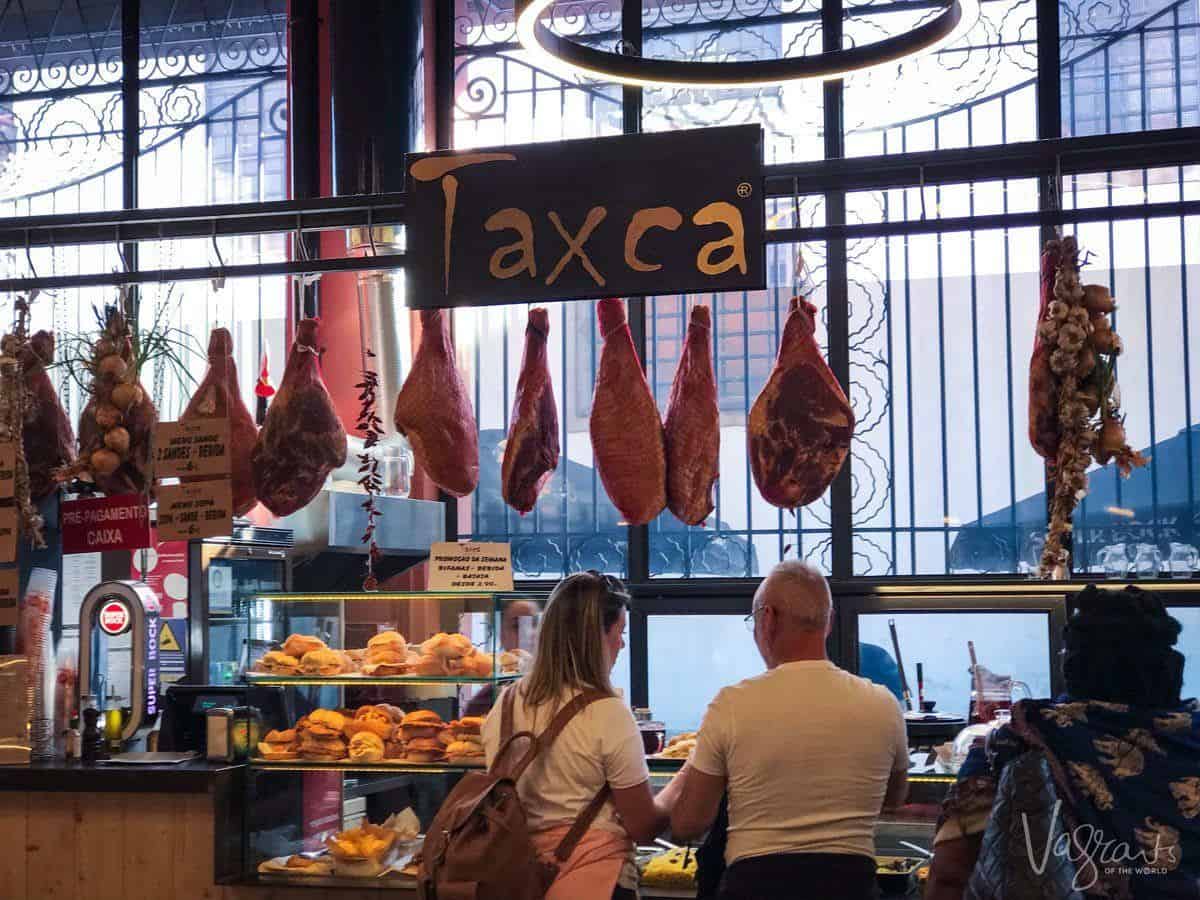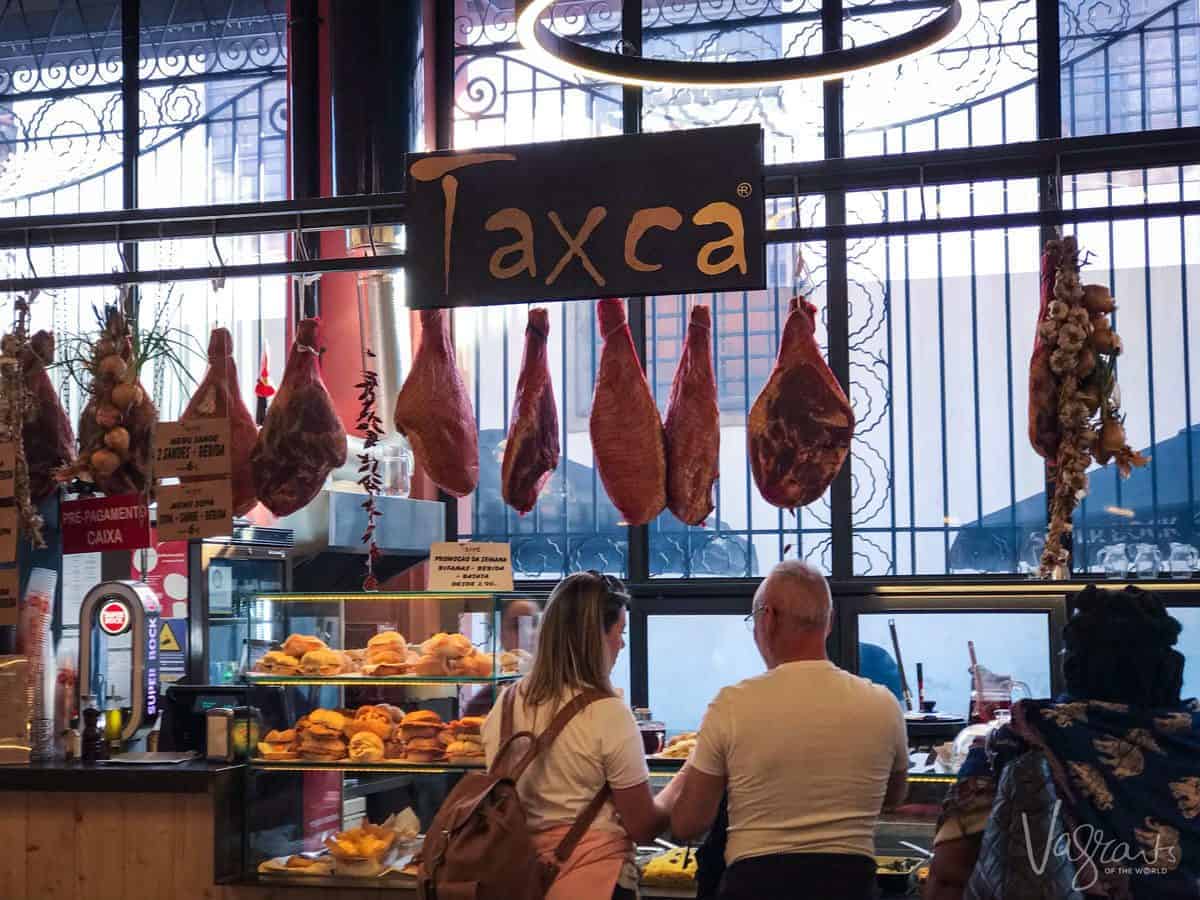 Preserving the market's original roots with fresh produce stalls, the market also now bustles with a variety of independently owned food stalls, a mini brewery, wine bars, even a newsstand.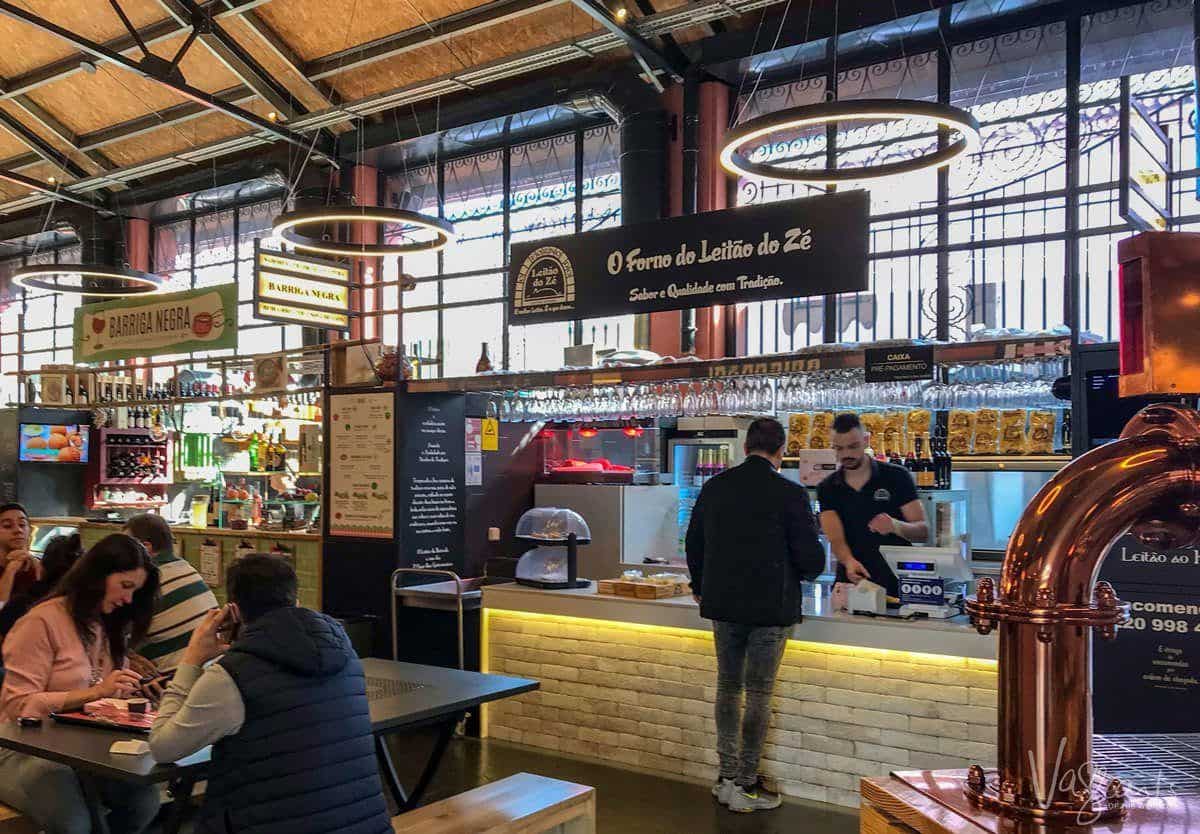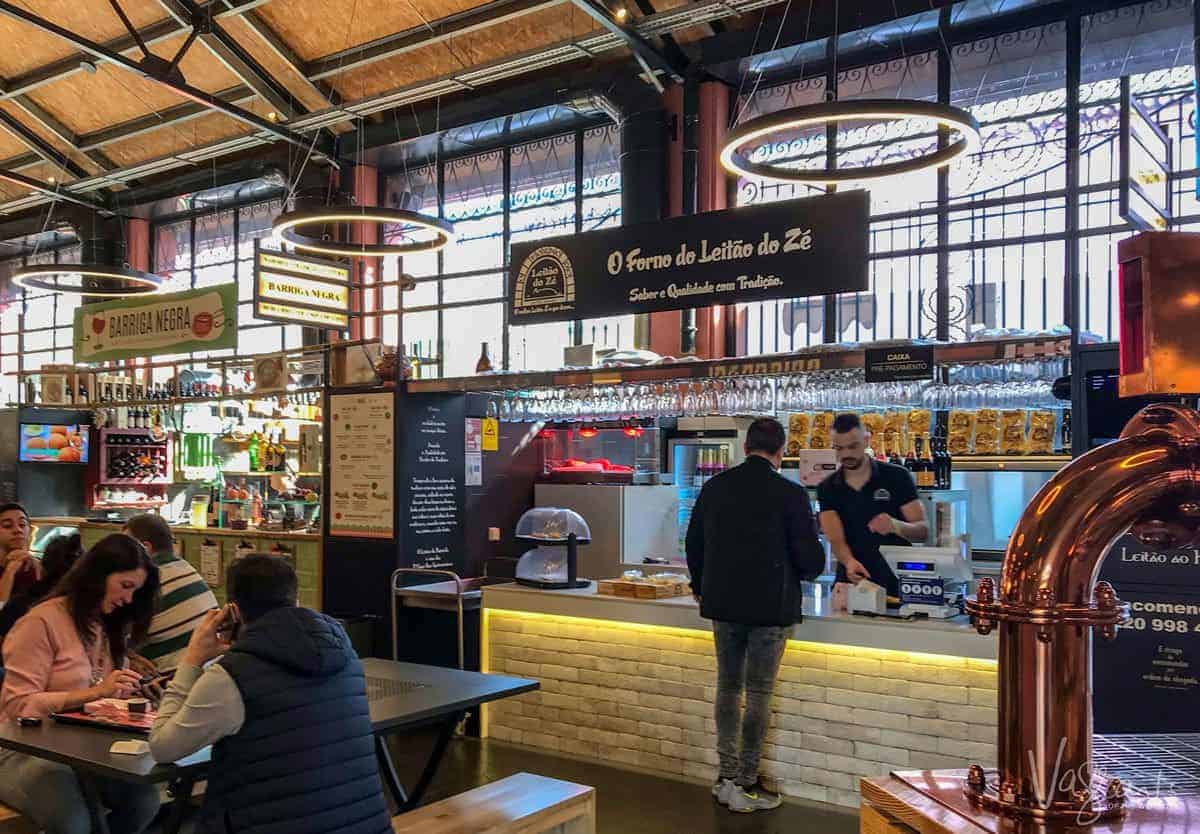 A favourite spot with both locals and visitors at lunchtime, you can do more than enjoy a meal and a drink at Mercado Municipal da Beira Rio.
The market has an ever-changing menu of local produce and dining options as well as live music, recitals and exhibitions.
Mercado Municipal da Beira Rio Opening Hours
Summer (May-Sept): Sunday –Wednesday 10 AM-Midnight | Thursday–Saturday 10 AM–2 AM
Winter (Oct–April): Sunday –Wednesday 10 AM-11 PM | Thursday–Saturday 10 AM–1 AM
Mercado Municipal da Beira Rio Av. de Ramos Pinto 148, 4400-261 Vila Nova de Gaia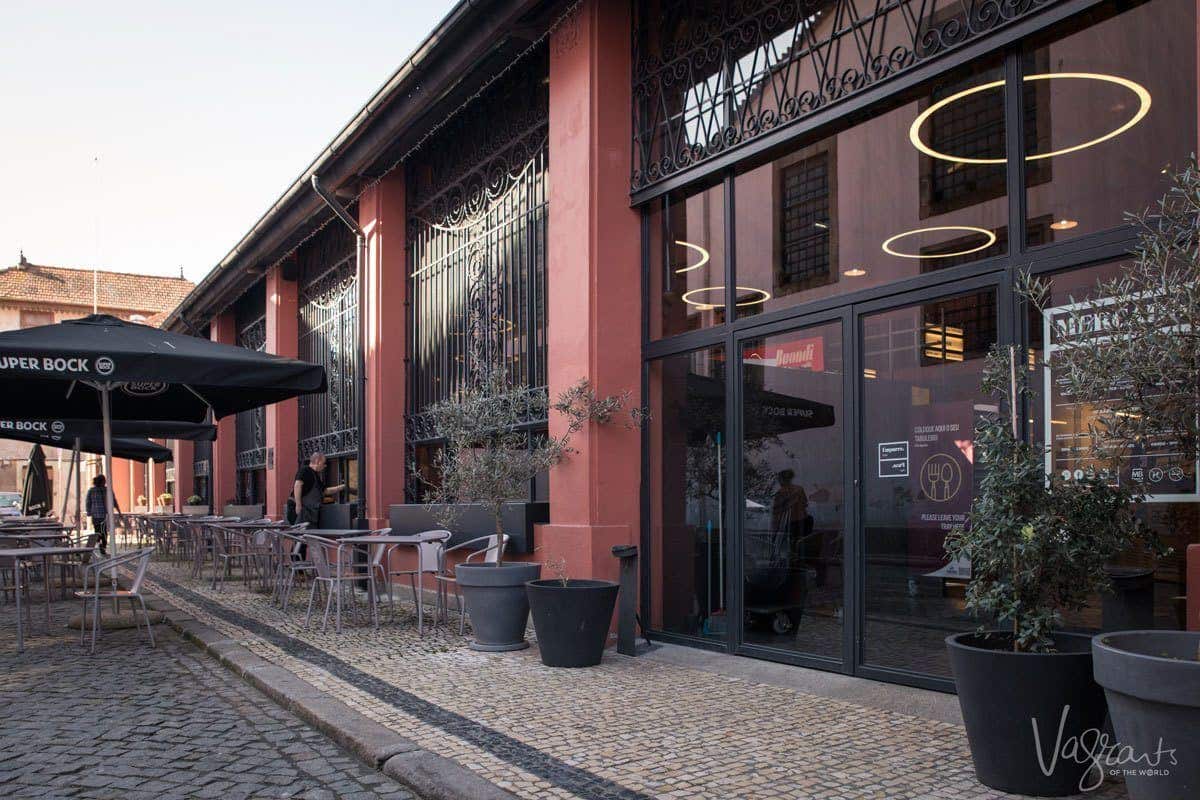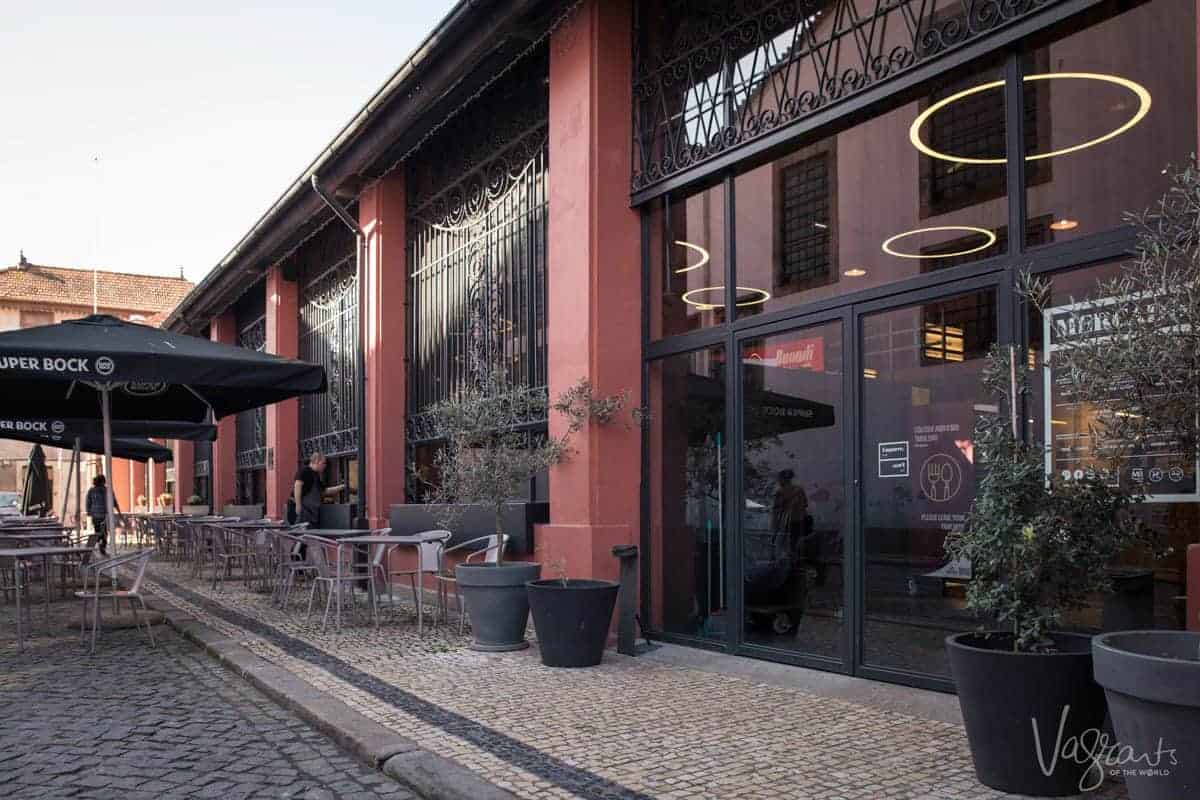 Wine & Dine in Porto's Secret Gardens
O Pretinho do Japão
Behind the slender buildings and pokey shop fronts, a world of secret gardens reveal some of Porto's coolest urban spaces.
From cafe veggie patches where free-range chooks roam to chilled out courtyards where you can enjoy a drink or some of Porto's best garden dining.
Some of Porto's best cafe's, bars, and dining can be found beyond the rabbit hole of pokey shopfronts.
Places such as O Pretinho do Japão grocery store open out into gardens and terraces you would never know existed from the street.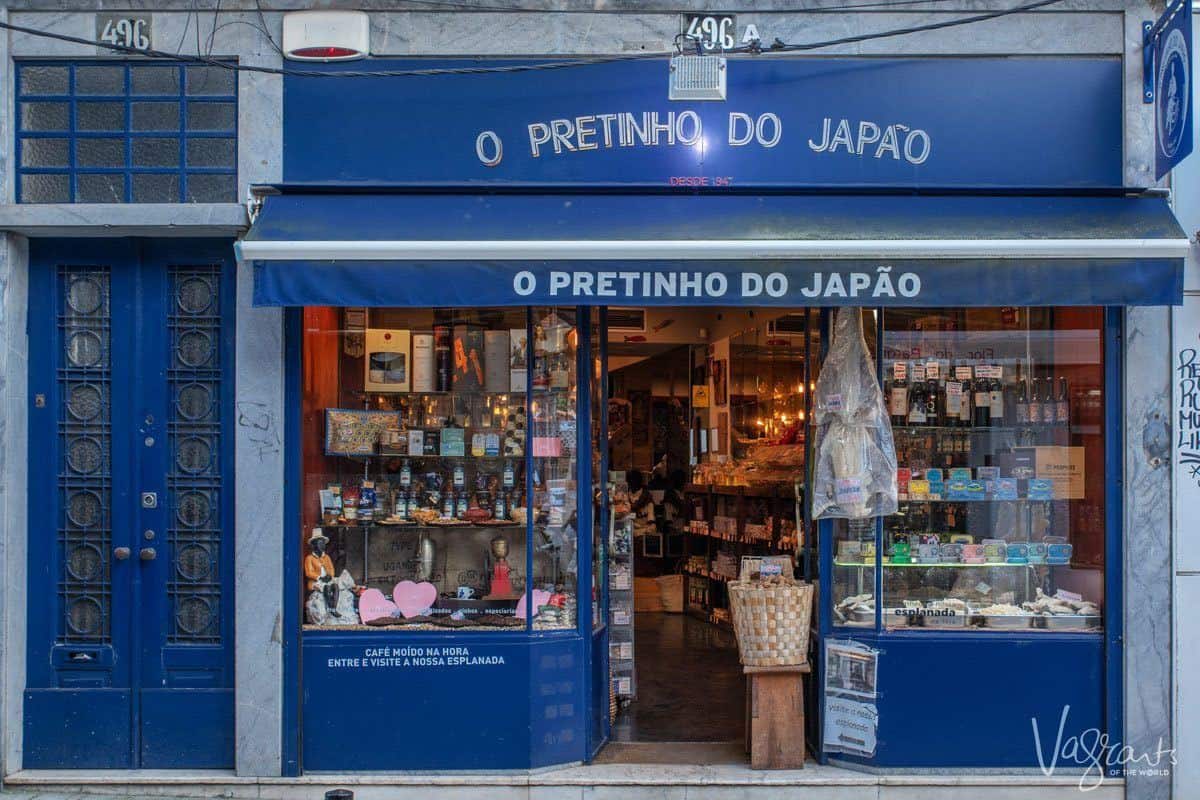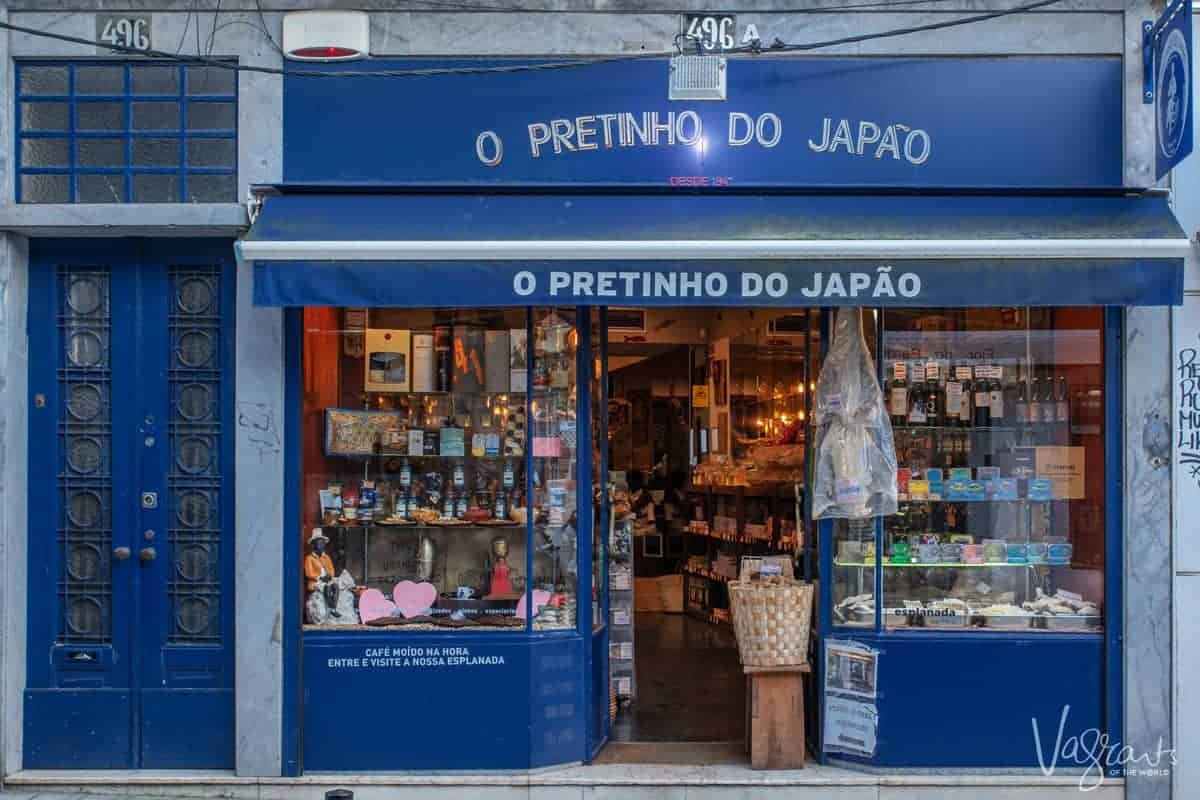 At O Pretinho do Japão, dodge the Bacalhau hanging in the doorway and find yourself in a world of culinary delights.
O Pretinho do Japão has been the merchant of an eclectic mix of speciality Portuguese grocery items such as dried fruits, traditional sweets and chocolates, teas and gourmet tinned sardines since 1947.
A wall of beautifully crafted wooden draws occupies the space behind the counter. Here is where staff work their magic with speciality blends of coffee beans ground to order.
Further into the ambient store is a browse-worthy selection of wines, whiskeys and liqueurs.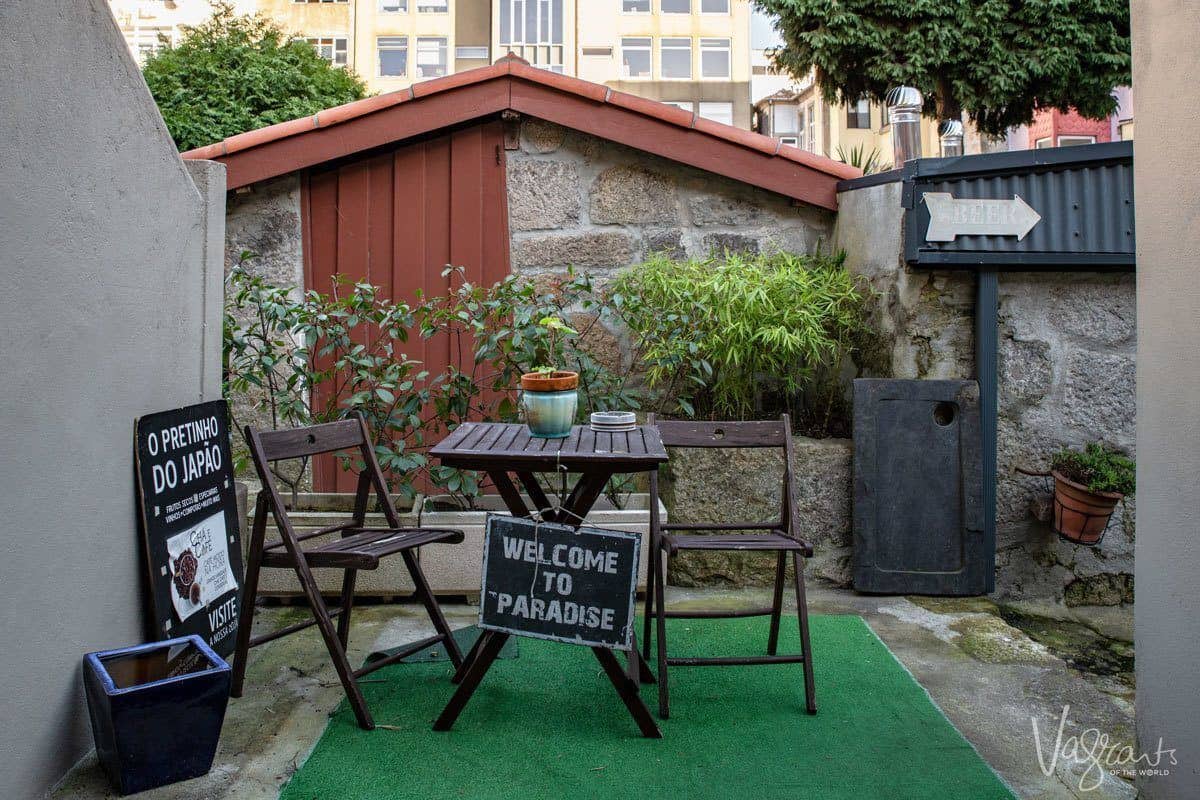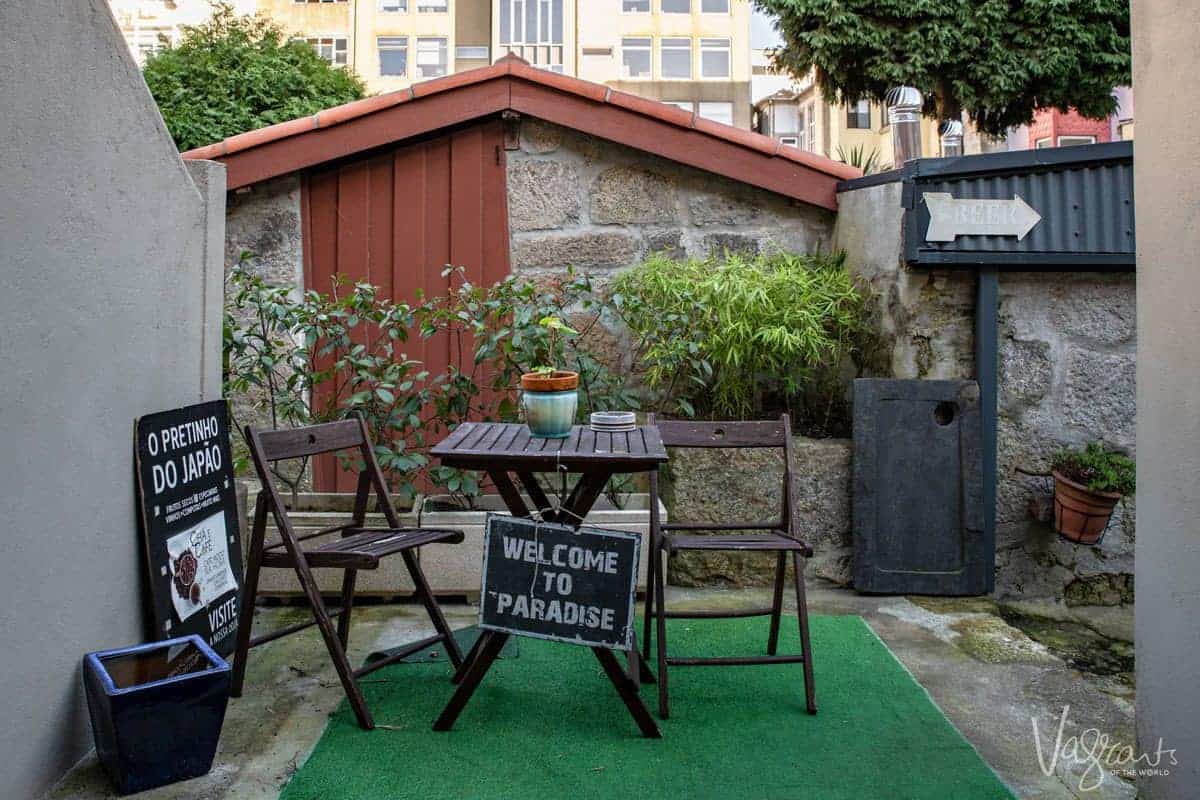 While the sheer ambience and quality of the product sold in O Pretinho do Japão is reason enough to visit, at the back of the carefully curated store is a sign inviting you to paradise.
Follow the sign, a few turns later at the end of a narrow path you will find a secret garden and cafe which resembles a modern glass house.
The delightful terrace and cafe mean you can enjoy the garden at any time of year. These are the kind of secret garden experiences you can find around the city.
O Pretinho do Japão R. do Bonjardim 496A, 4000-118 Porto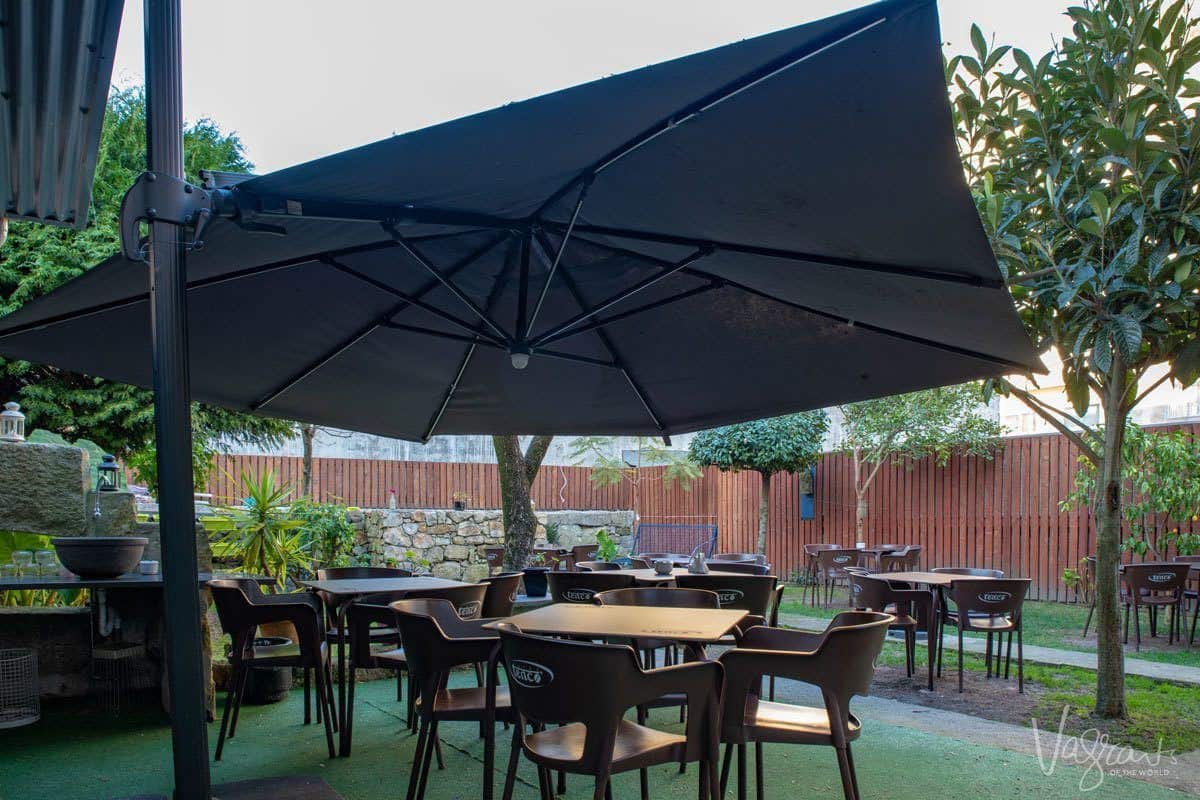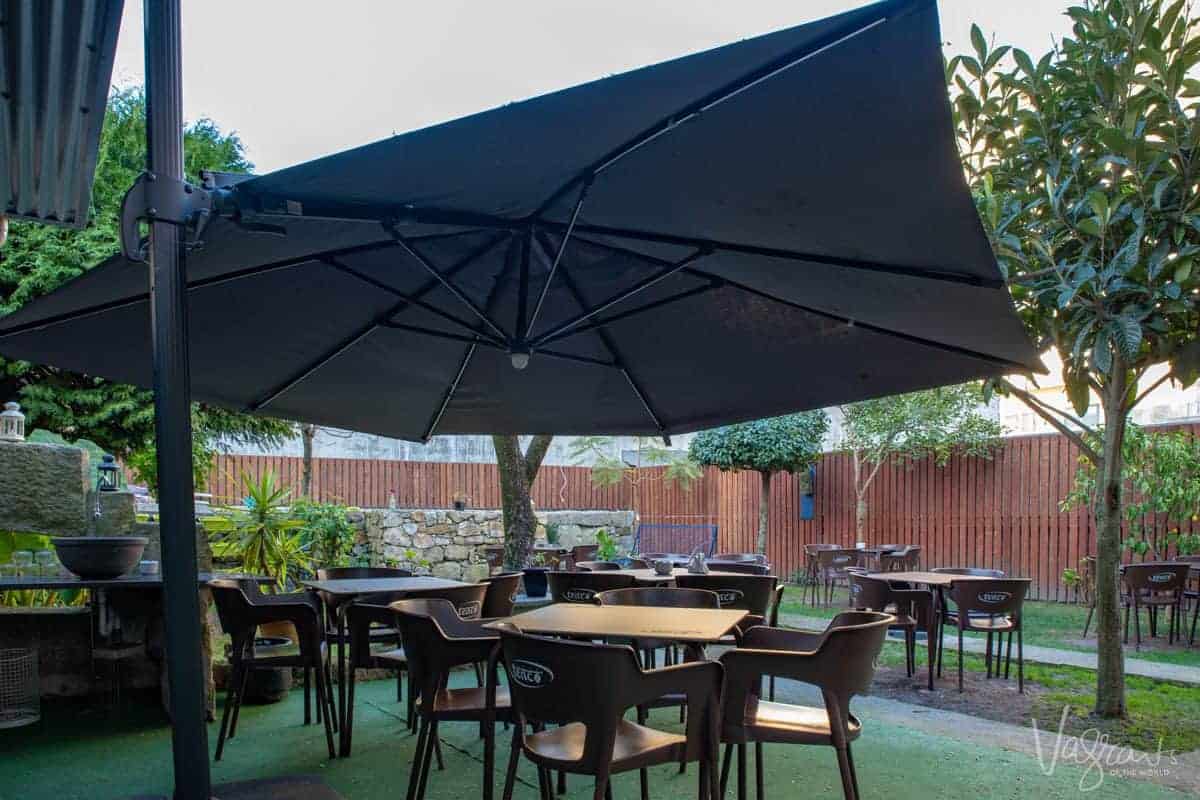 Other Secret Gardens in Porto
Rota do Chá
Rota do Cha is a delightfully bohemian tea house that not only boasts over 300 teas from all over the world; it also hides a big shaded tea garden at the back that can only be described as tranquil. Rota Do Chá Rua de Miguel Bombarda 457, 4050-378 Porto
Quintal Bioshop
At the back of the organic supermarket/cafe, you will find a relaxed wooden deck in the garden where you can enjoy an array of vegetarian and vegan meals from the cafe. You may even enjoy the company of some of the resident cats. Quintal Bioshop Rua do Rosário 177, 4050-124 Porto
Casinha Boutique Café
The small modern deli-style cafe looks like it has minimal seating but head past the counter and you'll find a large leafy garden where you can enjoy fresh homemade food, cakes, and ice-creams. Casinha Boutique Café 4100 421, Av. da Boavista 854, Porto
Terraplana Café
A hip bar atmosphere, woodfire pizzas and local bands and DJ's. The outdoor terrace behind Terraplana Café is the perfect spot for a chilled afternoon set or late-night session. There is also a sneaky upstairs patio where you can enjoy a coffee or an afternoon drink. Terraplana Av. de Rodrigues de Freitas 287, 4000-421 Porto
Letraria Craft Beer Garden
Another addition to Porto's flourishing craft beer scene, Letraria has the edge thanks to a spacious shady garden out back where you can choose from more than 20 brews on tap. Letraria – Craft Beer Garden Rua da Alegria 101, 4000-042 Porto
Em Carne Viva
Beyond the romantic dining room of this vegetarian restaurant, you will find a charming garden space where you can sample the vegetarian version of Porto's Francesinha sandwich.
Everything in the restaurant is made in-house right down to the jams which accompany the freshly baked scones. Em Carne Viva Av. da Boavista 868, 4100-421 Porto
Espiga
Catering mostly to a late afternoon and evening crowd, Espiga is a cafe, gallery, and bar. At the end of the long, narrow building is an upstairs terrace where you can enjoy a drink and live performances in the summer. Espiga R. de Clemente Meneres 65, 4050-202 Porto
---
Queijaria Amaral
If you love cheese, you're going to love Queijaria Amaral. Selling the most typical cheeses from Portugal since 1928 Queijaria Amaral is Porto's oldest cheese shop.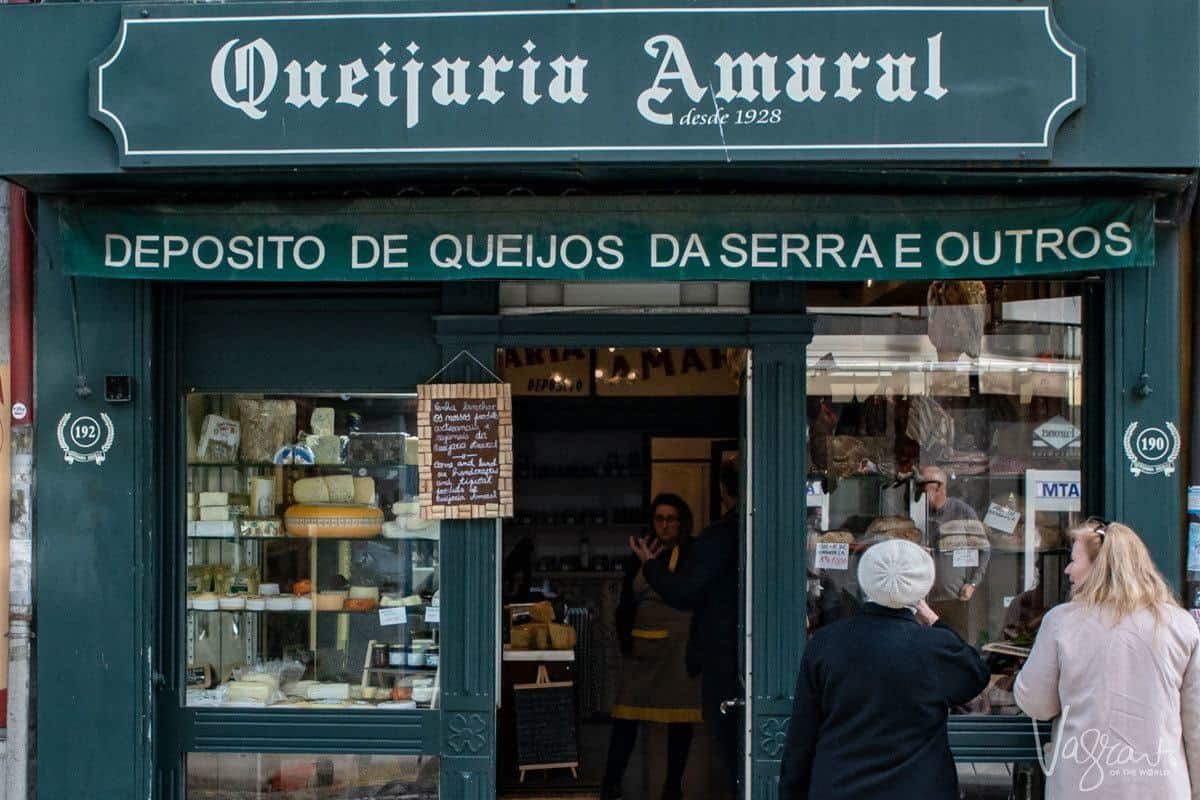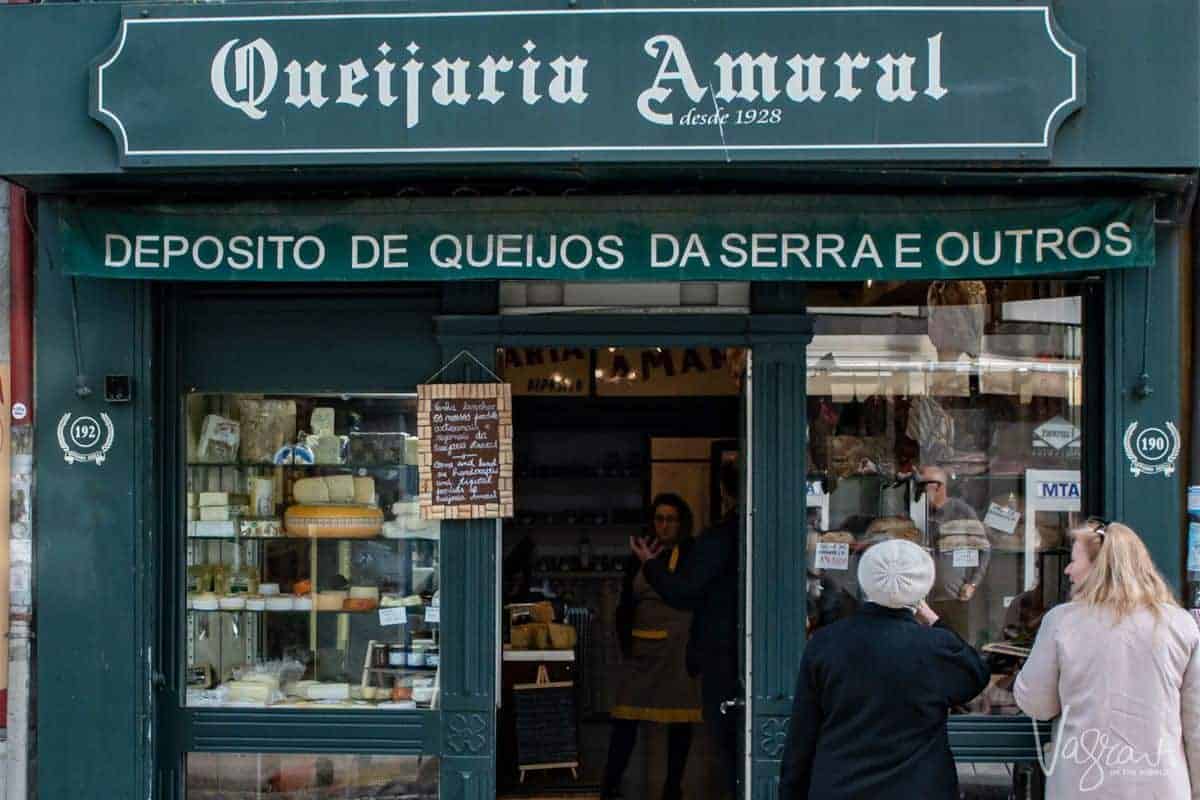 Today, the shop also sells the best cheeses from around the world but still specializes in cheeses from Portugal, especially cheese from the north and Portugal's Azores Islands.
They have some fantastic mountain cheeses from Serra da Estrela as well as a range of locally sourced cured meats and sausages.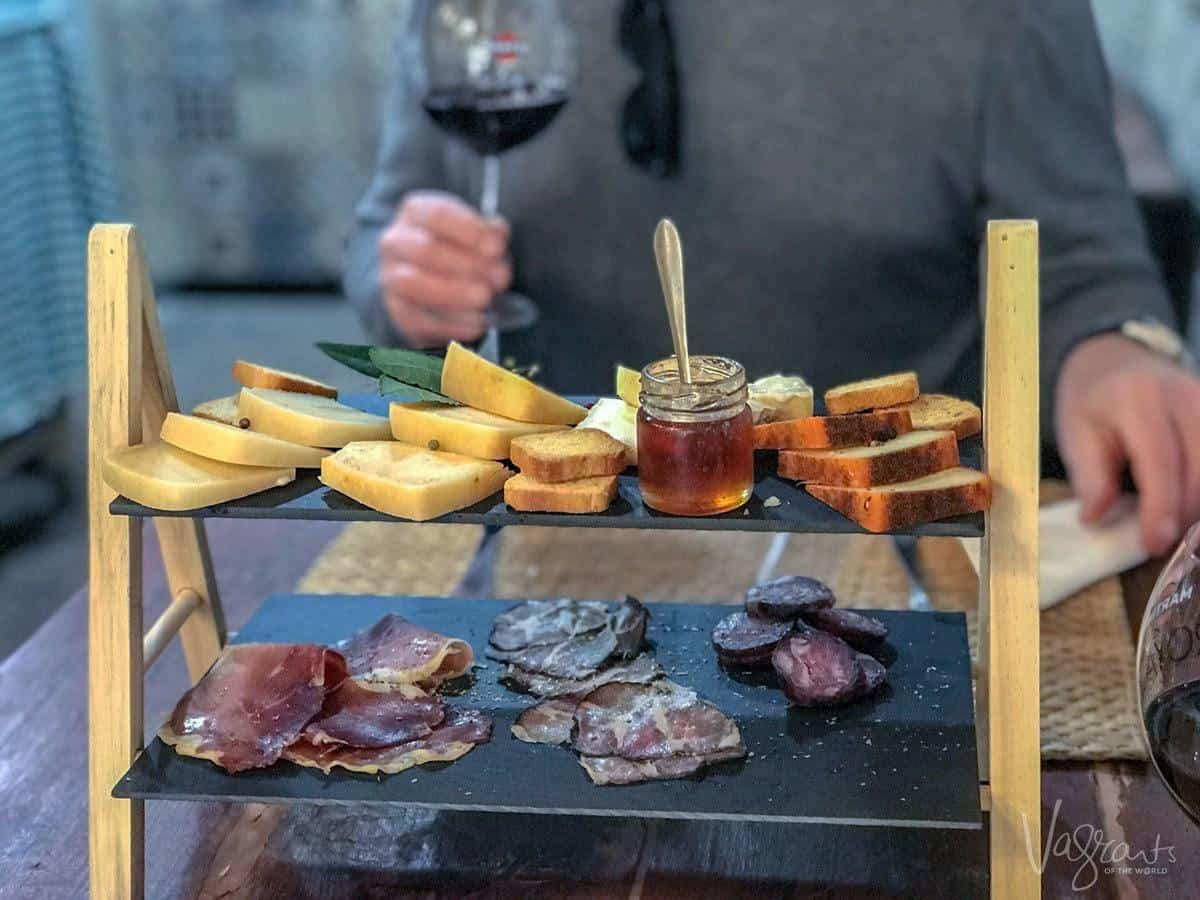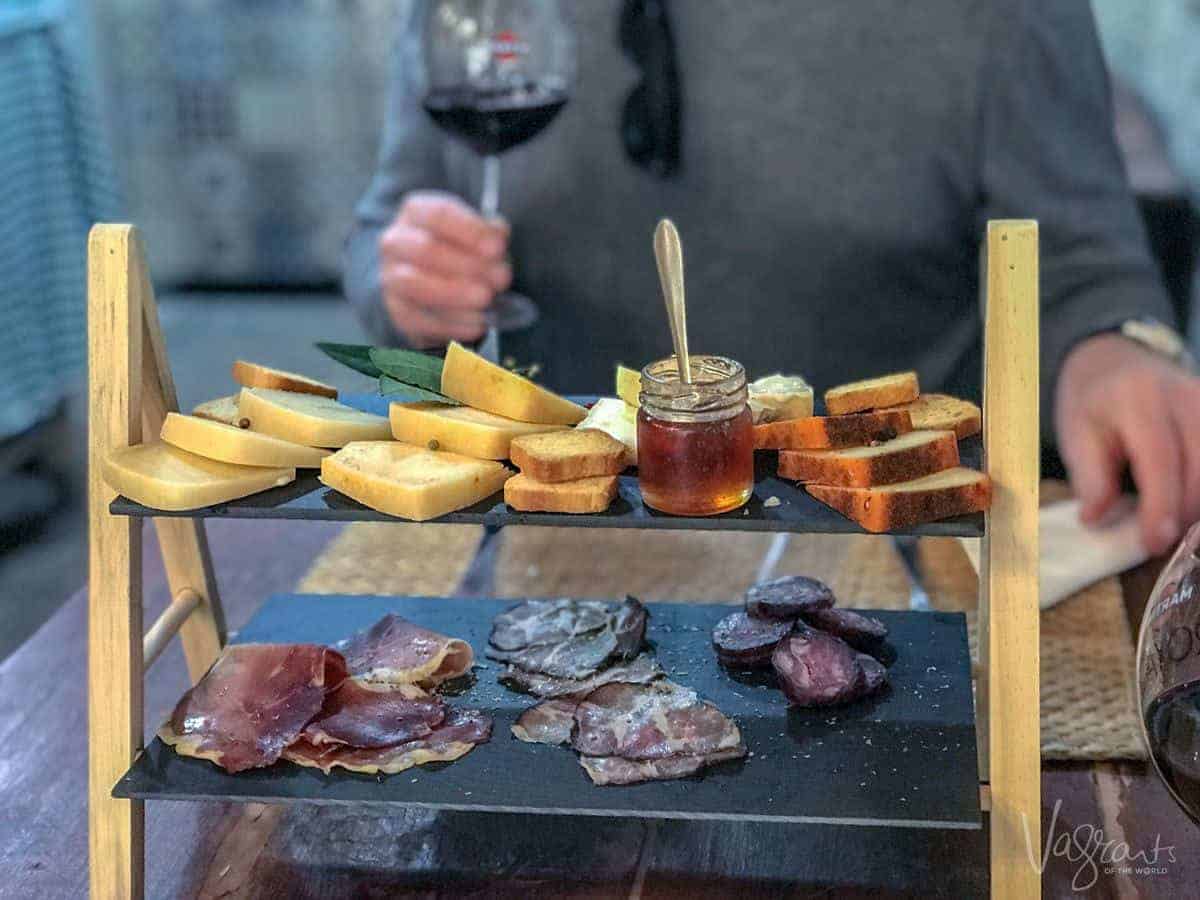 The owners and staff are delightful and full of enthusiasm for all things cheese. Pop in for a cheese and wine tasting, you can even have cheese specially packaged for travel should you want to take a souvenir home.
The shop hosts regular cheese and wine happy hours where you can indulge in a mini wine and cheese degustation for as little as €5 pp.
Or, you can settle in for a bottle of wine and cheese and meat selection of your choice.
Queijaria Amaral Rua Santo Ildefonso,190, 4000-465 Porto Since 1920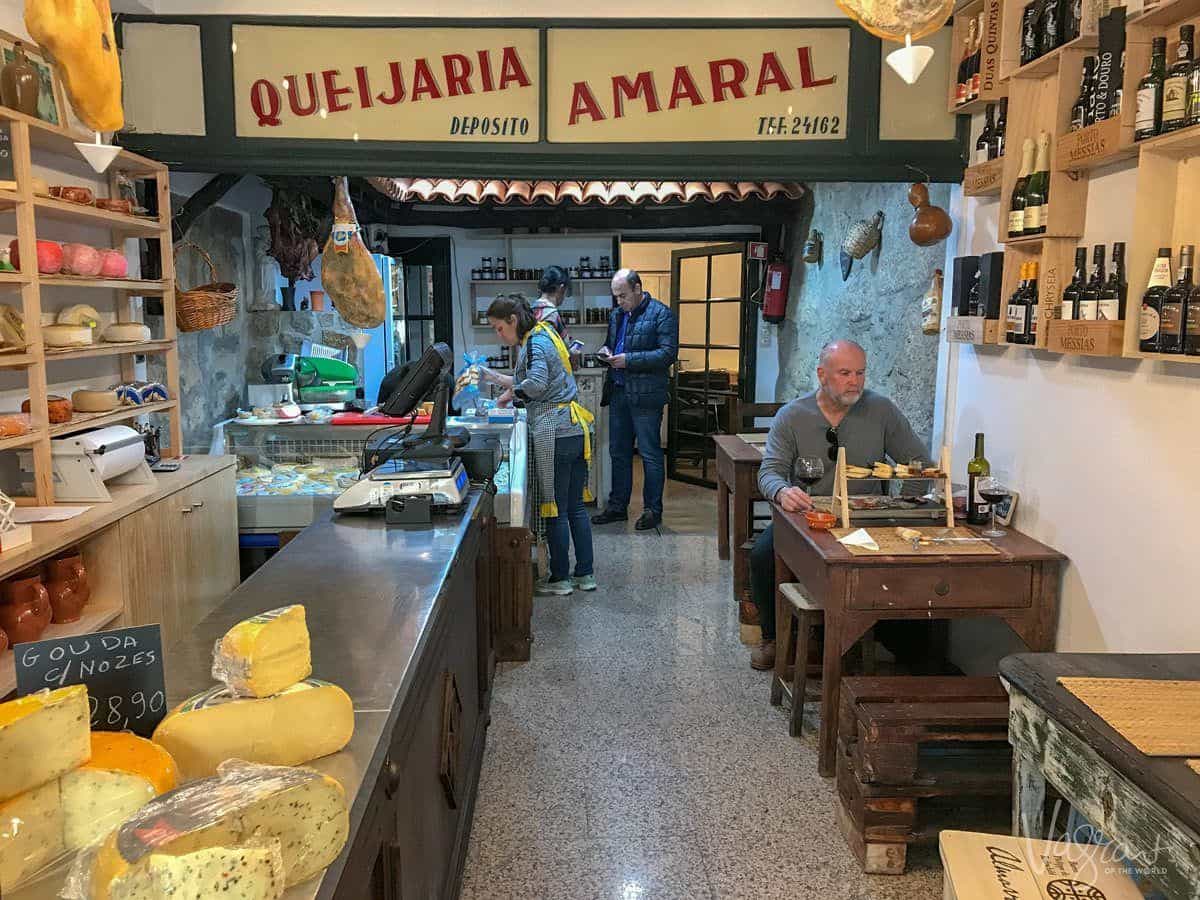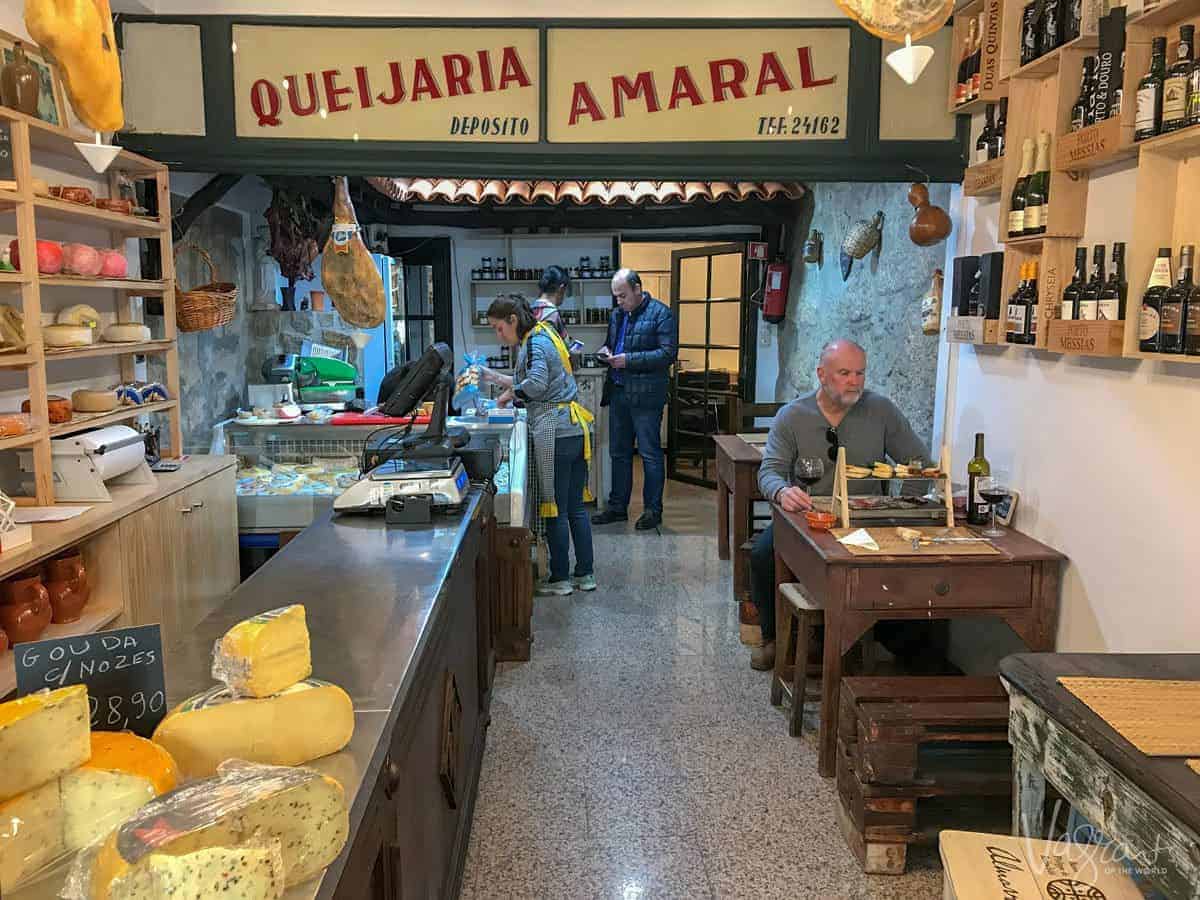 ---
PORTO BARS WORTH VISITING
There is no shortage of cool bars in Porto, but there are a couple we feel warrant a visit if not for their community spirit and great views but their welcoming atmosphere and commitment to beer.
Guindalense Football Club
First things first – Guindalense Football Club is not actually a football club per se. It's more of a local sports/social club and local drinking hole with a fantastic view.
The club was established in the 70s by a small group of friends. The group would meet at local cafes to arrange athletics, fishing, and football events for the neighbourhood.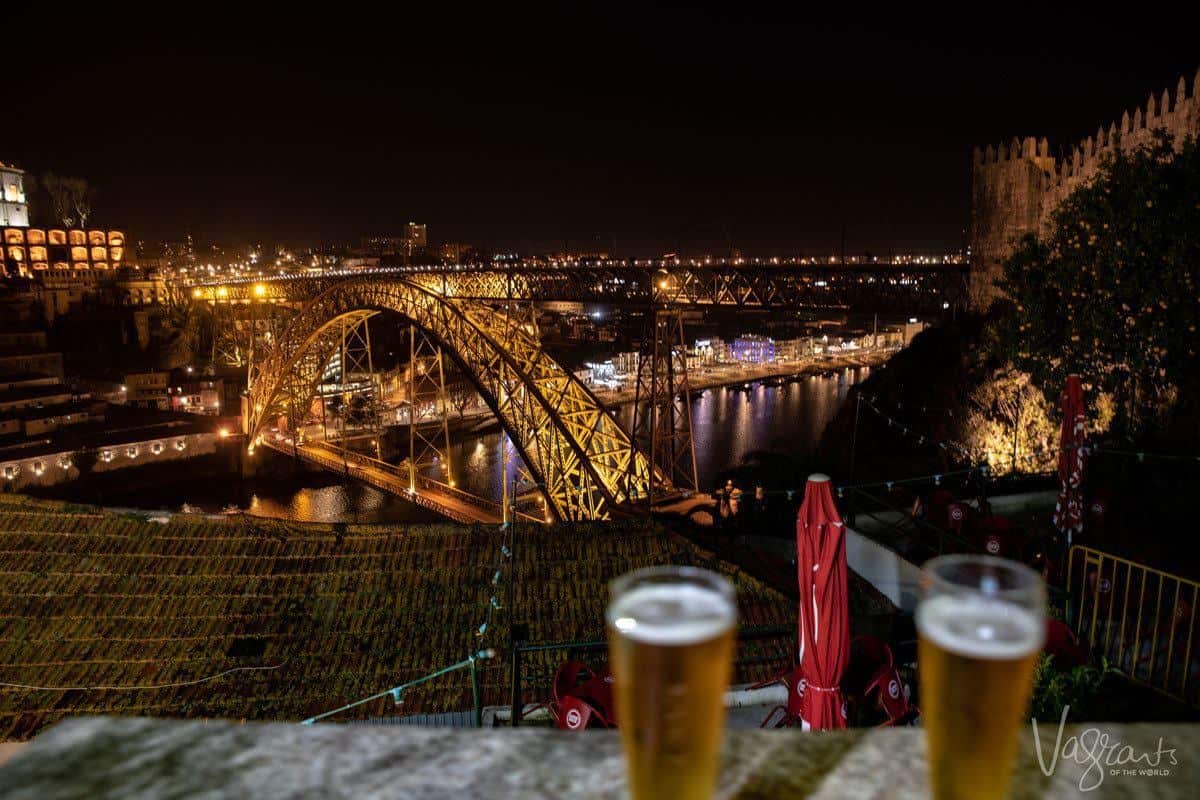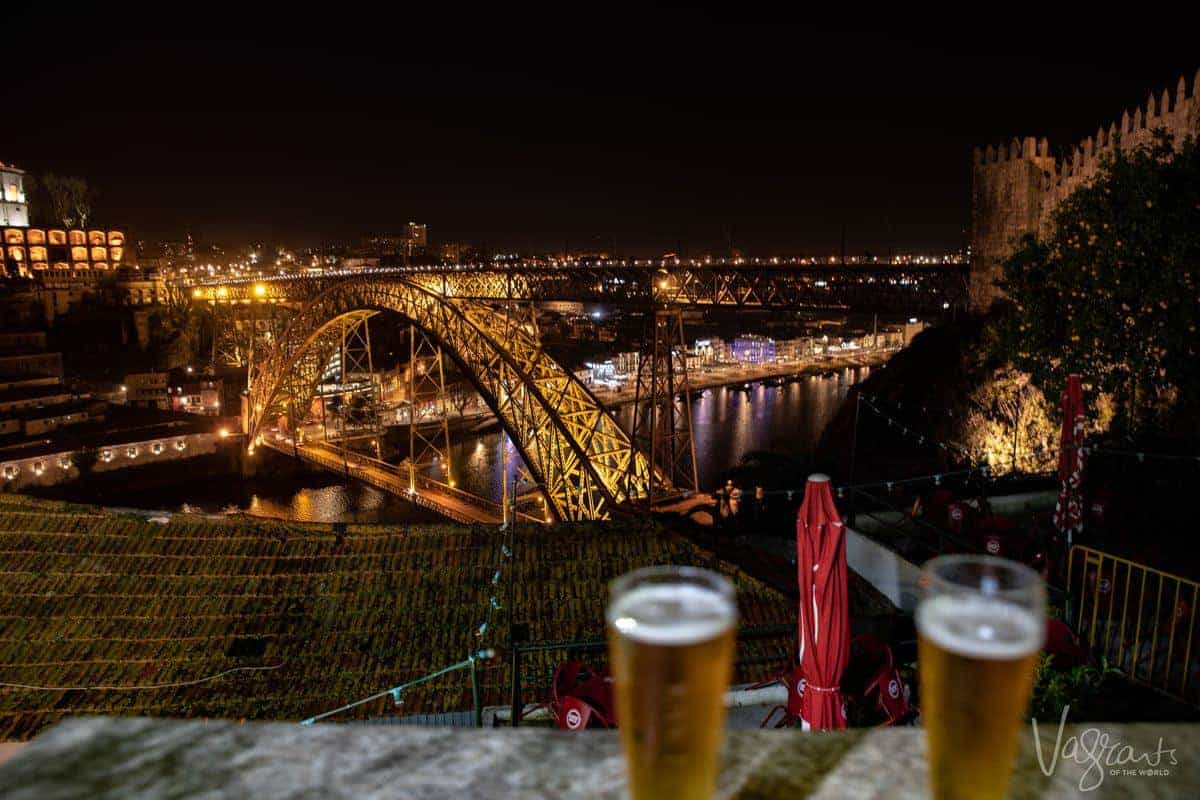 As the club took shape, club premises were established in various buildings until finally settling on a small shed next to the Ferdinand Wall.
The club grew, and so did the humble shed. From the beer garden of the pub, you have front row seats to the best view in Porto over the river and the Luíz I Bridge.
Acknowledging the unique location of the club, members began welcoming visitors to enjoy the views of Porto from their terraces.
The club has expanded over the years to include not just sports, but cultural, and social activities which are free and open to the entire community and visitors to Porto.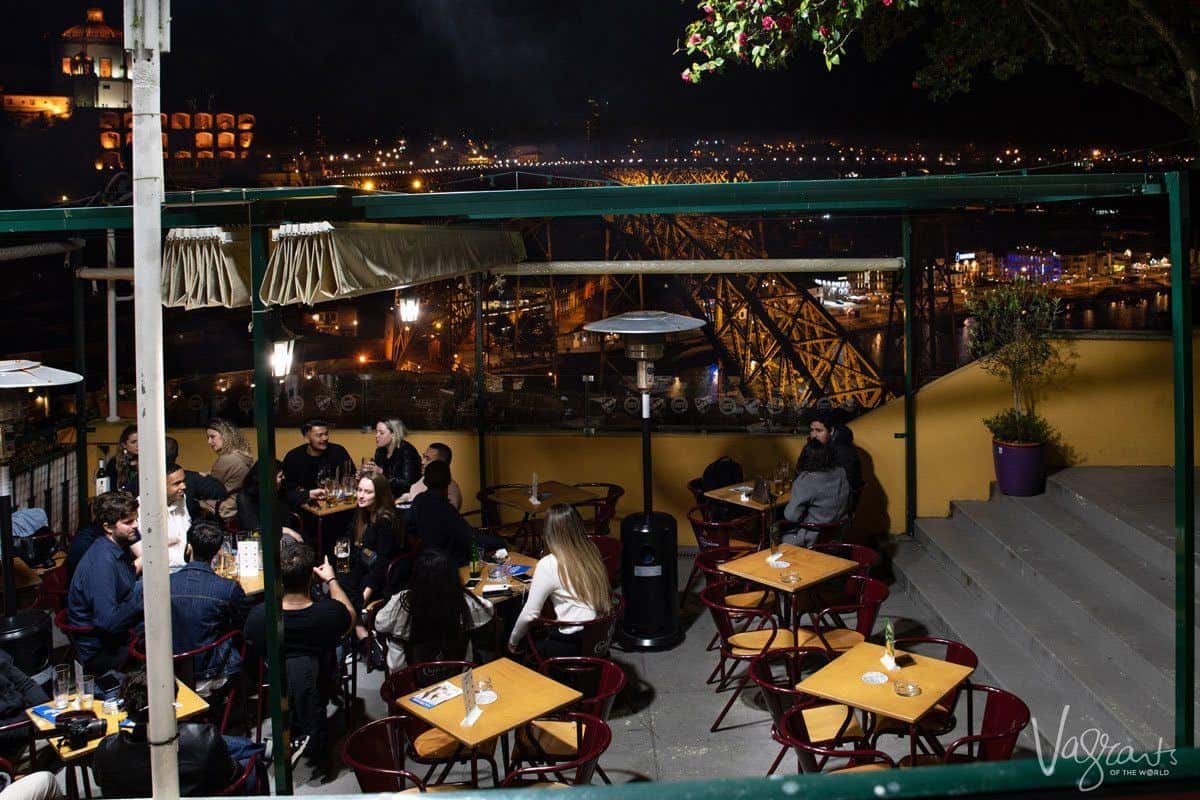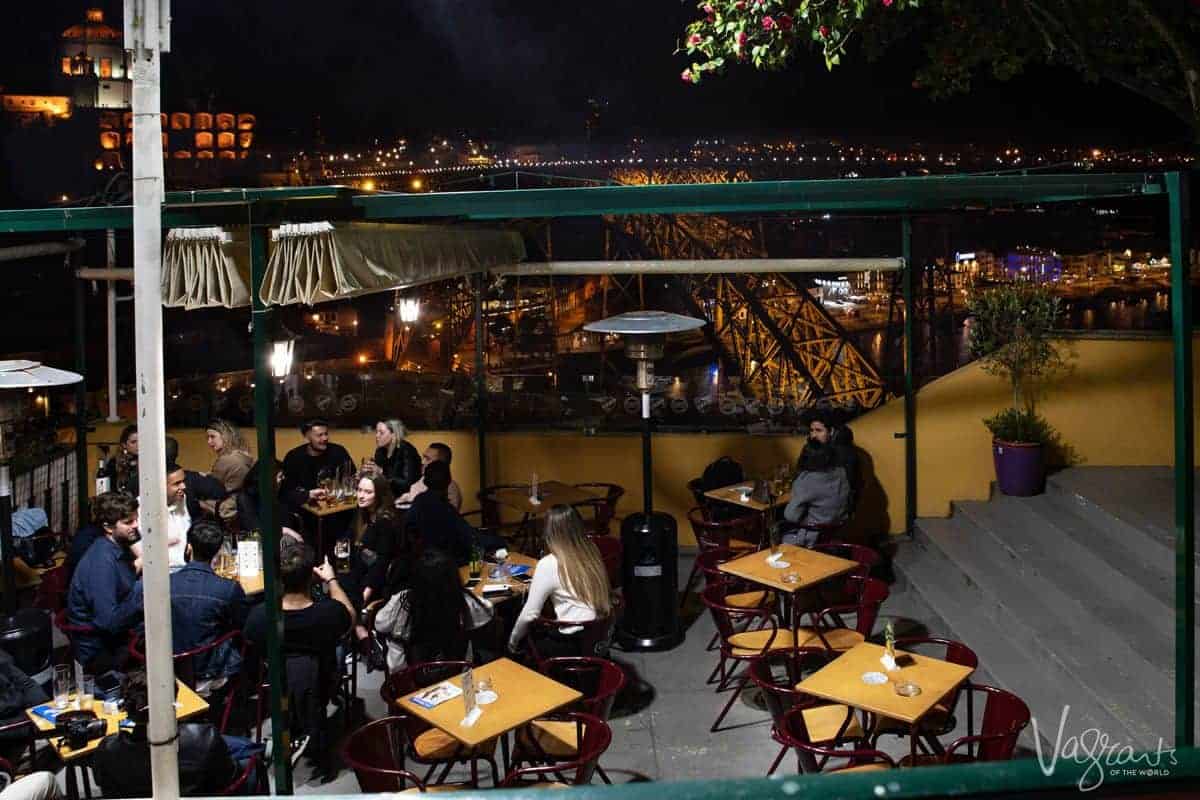 Guindalense Football Club is a great bar for an afternoon drink on the sunny terraces or at night for a spectacular view of the Luíz I Bridge.
The drink prices are very reasonable, and the bar also has a basic yet quite tasty snack bar-style menu.
Guindalense Football Club Opening Hours
Monday– Saturday: 1.30 PM– 11 PM
Guindalense Football Club Escada dos Guindais, 4000-279 Porto
---
Armazém da Cerveja
Porto's craft beer scene is flourishing as it is in cities all over the world. Armazém da Cerveja stands out for its casual and welcoming atmosphere.
There are no pretentious beer snobs here just a no-nonsense, relaxed atmosphere for people who are enthusiastic about beer.
The bar has a changing menu of between five to eight brews on tap from Portugal and around the world as well as their in-house beer.
There is an extensive selection of bottled beer which you can also purchase to go from the shopfront.
There is a small menu of snacks such as cheese and chouriço platters, chips and nuts etc. but the bar is mainly BYOF (bring your own food).
If you need it, the staff will order in for you from a selection of local restaurants. In good weather, you might even get lucky with a BBQ in the beer garden.
Pop in for a pint and some friendly discussion with local beer enthusiasts.
Half pints range from €1.50–€3.20. Pints from €2.80–€6.80
Armazém da Cerveja Opening Hours
Sunday–Thursday: 4 PM–12 PM
Friday–Saturday: 4 PM–1 AM
Armazém da Cerveja R. Formosa 130, 4000-254 Porto Craft beer warehouse.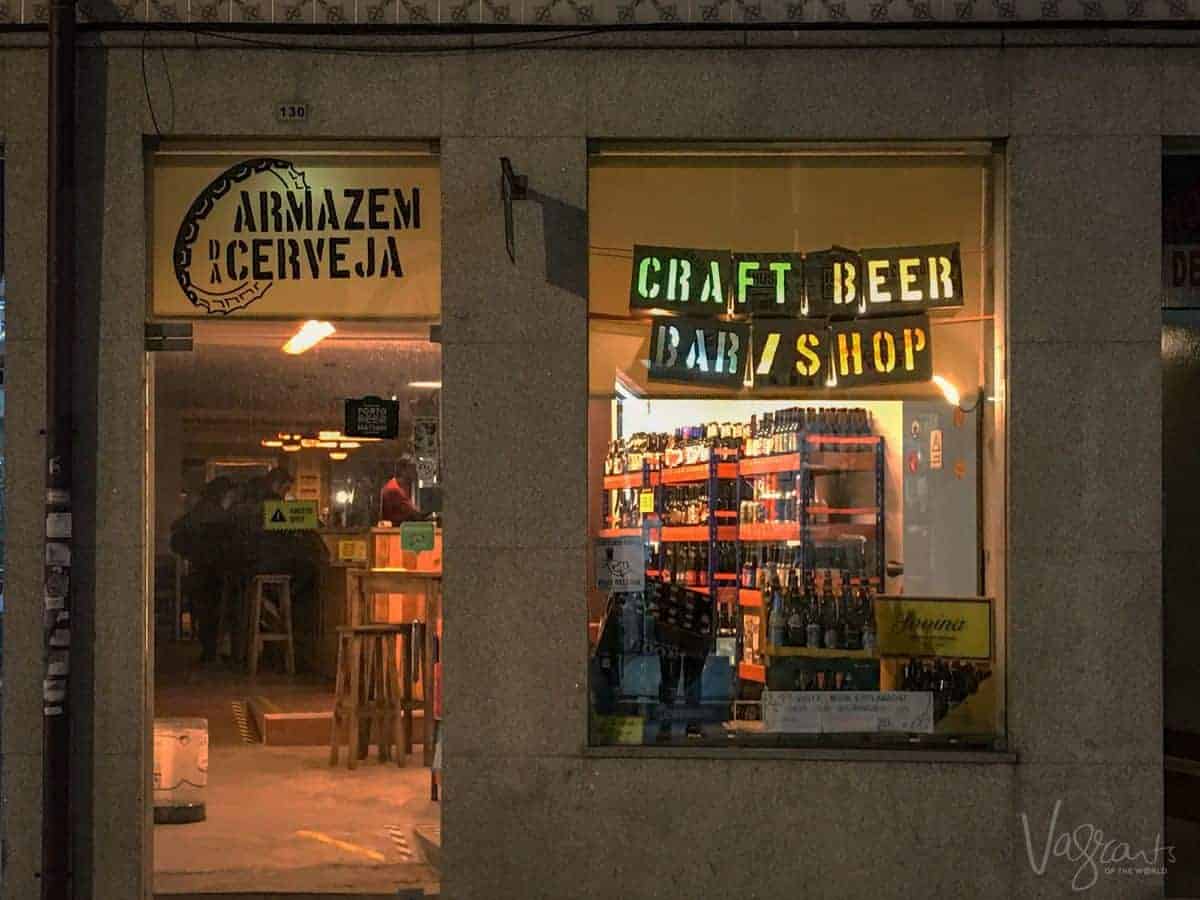 ---
DRINK PORT WINE
Originating in Porto in the 17th century, Port wine is still very much part of the city's heart and soul. With more than 50 Port wine cellars in Vila Nova da Gaia on the other side of the Douro, there are plenty of opportunities to sample the wine that put Porto on the map.
Take a Port Wine Tour
There are lots of affordable tours that give you the opportunity to learn about the production processes of the famous fortified wine and taste various varieties from renown and historic cellars.
There is also the possibility to include a Port wine tasting with a cruise, enjoy an evening of Fado in a Port wine cellar with tasting, or take a 3 hour Port wine walking tour with tastings.
Port Wine Cellar & Tasting Tours
---
Visit the Port Wine Museum
Founded in 2004 the Museu do Vinho is appropriately housed in a 17th-century warehouse on the banks of the Douro River.
Explore the history and traditions surrounding Port wine, and its importance to the development of the city of Porto, culturally, economically, and socially.
Museu do Vinho Opening Hours
Tuesday–Saturday: 10 AM–5.30 PM
Sunday: 10 AM–12:30 PM | 2 PM–5:30 PM
Closed: Monday
Entry:
Weekdays: €2.20 | Free with Porto Card
Weekends: Free
Port Wine Museum Rua da Reboleira 37, 4050-492 Porto
---
17.56 Museu & Enoteca. Porto's Oldest Wine Producers
Portugal's oldest wine company– Real Companhia Velha (RCV) has transformed a historic warehouse on the Douro into a beautiful space dedicated to the history, wine, and gastronomy.
17.56 Museu & Enoteca draws from over 260 years of experience in producing wines from the Douro.
The beautifully refurbished warehouse incorporates a visitor centre with a tasting room, wine library, and sleek museum dedicated to the history of Real Companhia Velha and the Douro wine region – the oldest demarcated and regulated region in the world.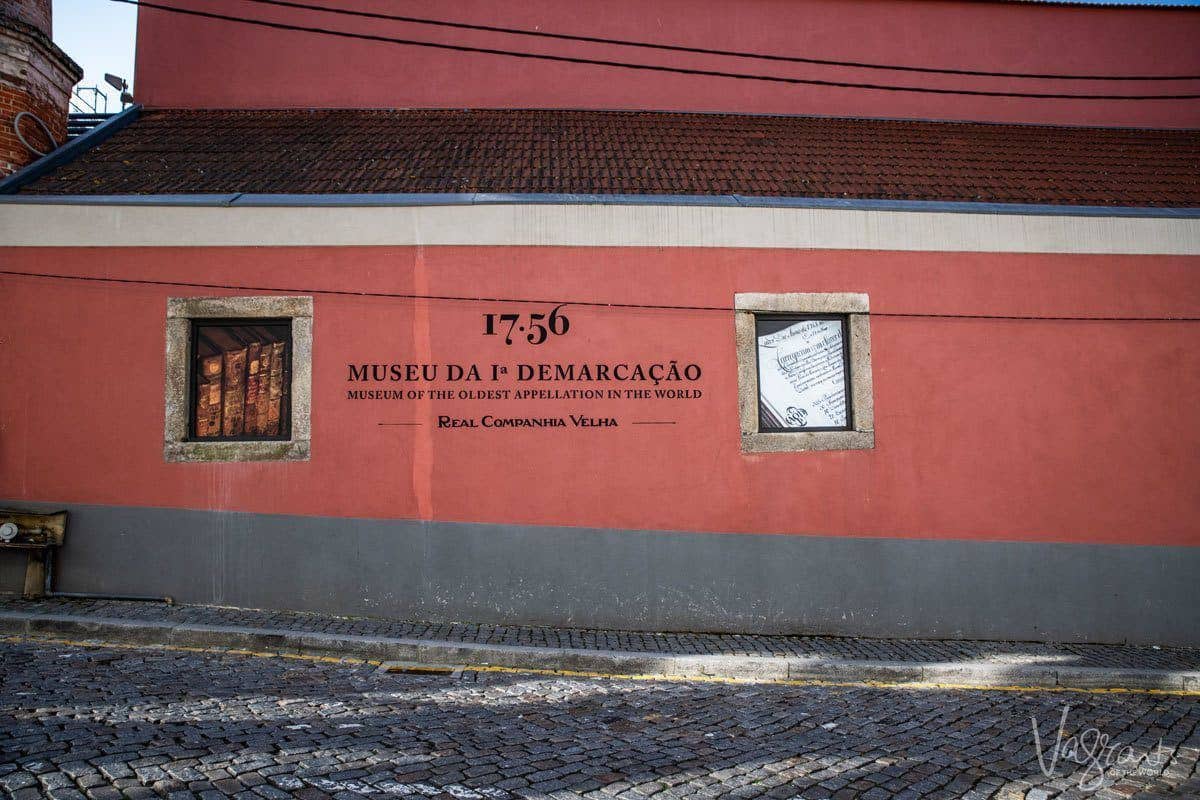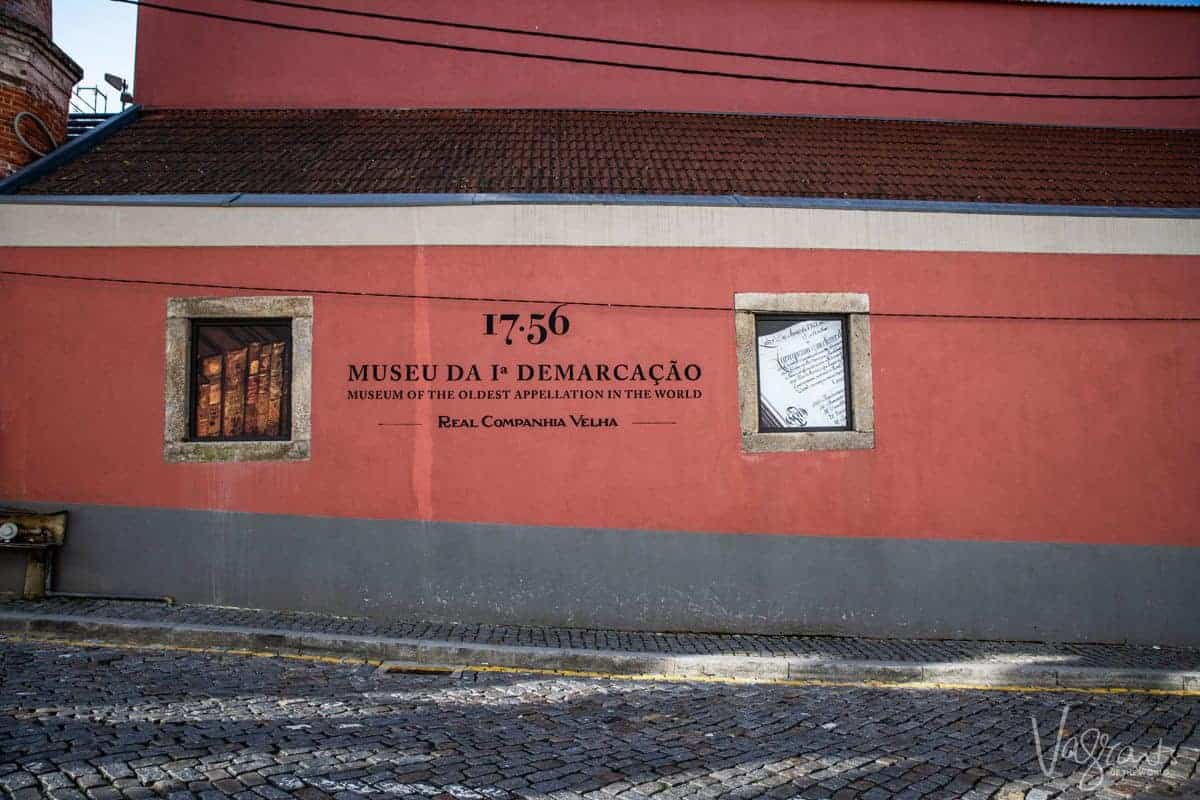 On the first floor, the panoramic terrace steals the scene, but you'll also find a lounge, two private tasting rooms, a cigar club and a luxe modern restaurant.
Expect a range of dining options including traditional Portuguese cuisine, a steakhouse, gourmet snacks and sandwiches; there's even a raw bar.
Entry to the museum is €15 pp and includes a wine tasting.
17.56 Museu & Enoteca R. de Serpa Pinto 44B, 4400-307 Vila Nova de Gaia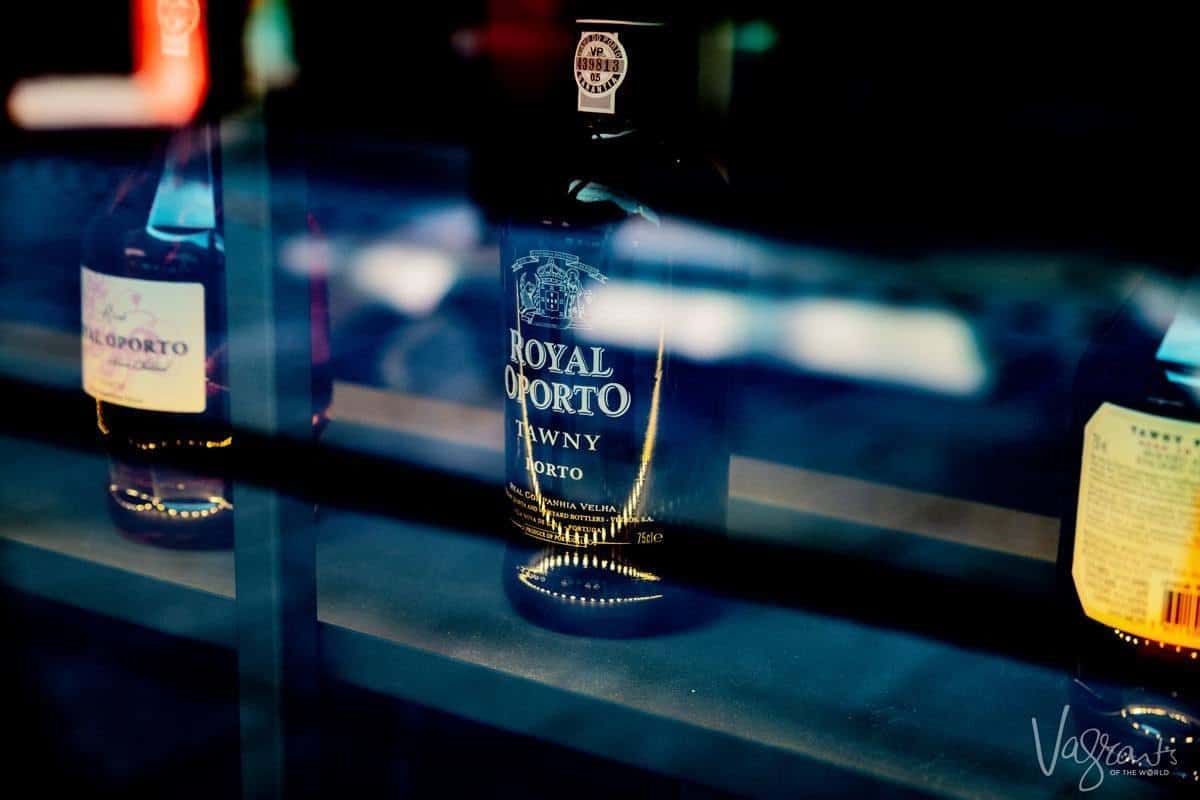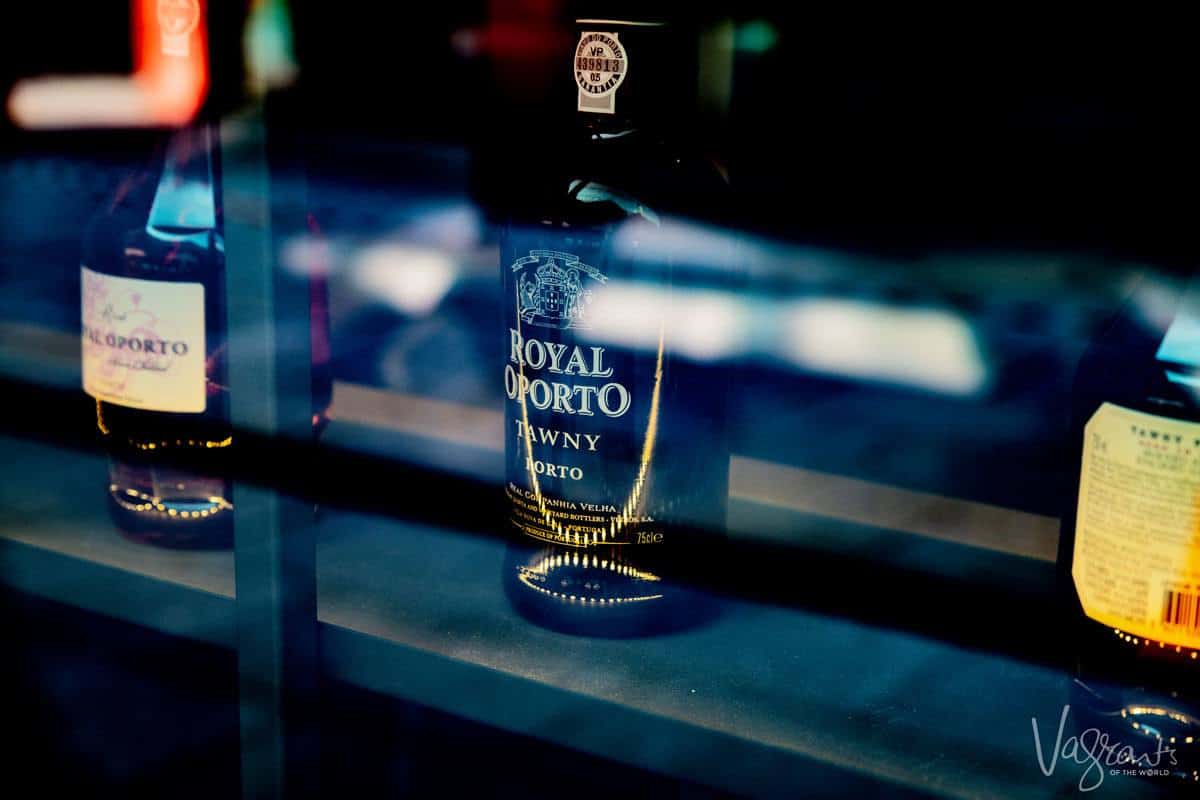 ---
PORTO MARKETS & SHOPPING
From fresh produce to flea markets, Porto is not short on market experiences that will have you mingling, bartering, and fossicking with Porto locals.
Centro Commercial Bombarda
Possibly Porto's coolest shopping mall, Centro Commercial Bombarda (CCB) is a part shopping mall, part market place.
A mall dedicated to creatives, you'll find a slick retail space with local design wear, artisan home and garden wares, organic cosmetics, vinyl records, and all kinds of vintage treasures.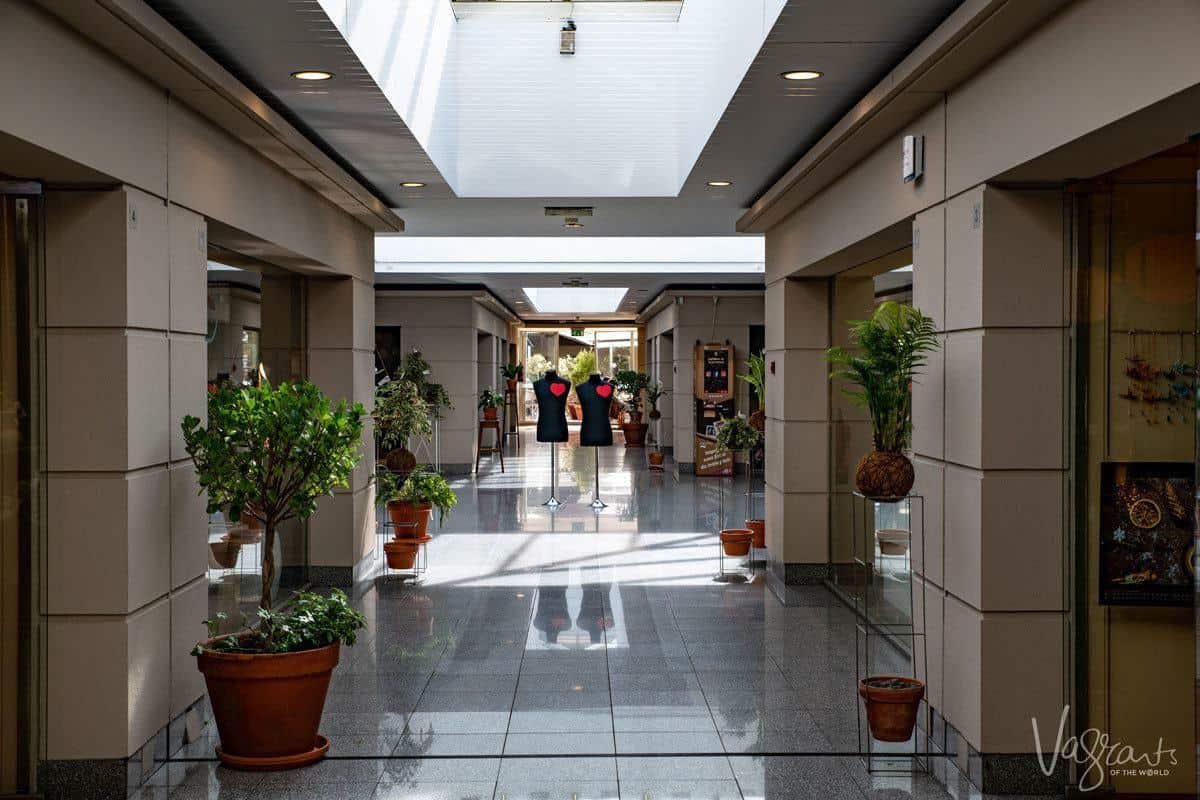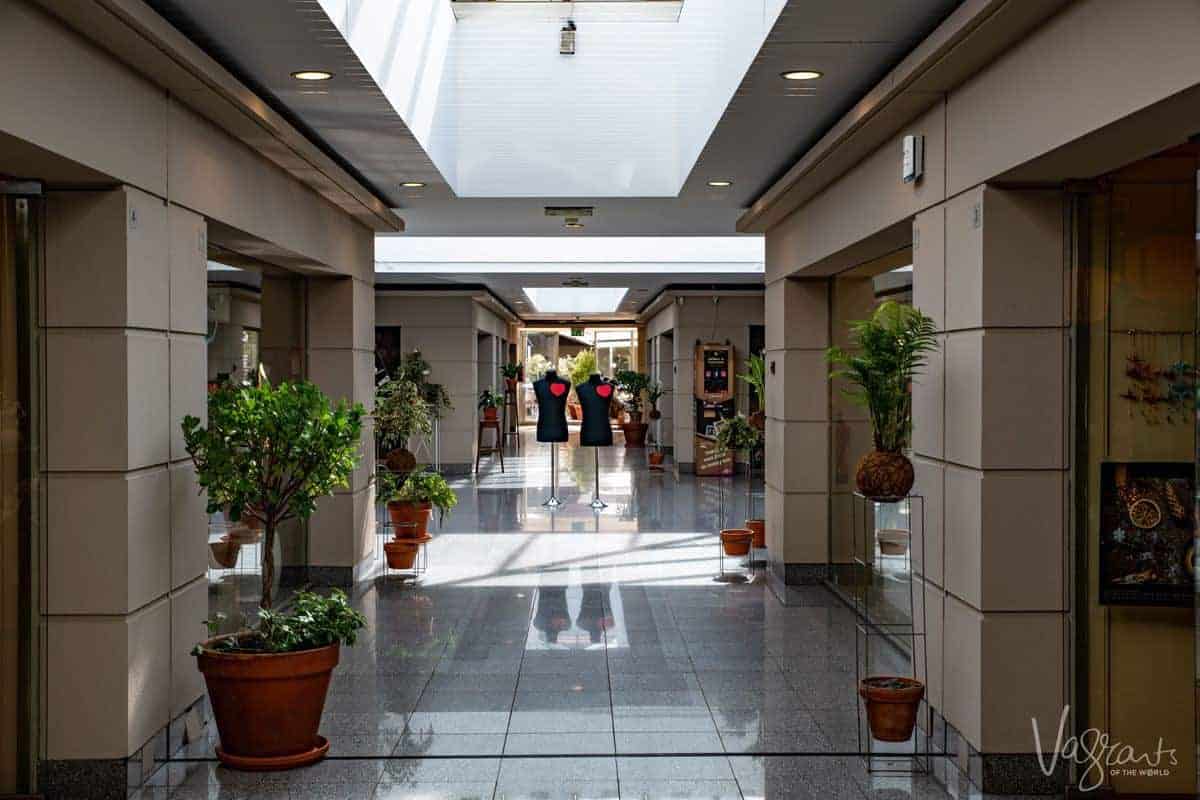 In the middle of the mall is a sunny courtyard where you can enjoy a fabulous selection of food from various food vendors and cafes.
Woodfire pizzas, vegetarian, a modern take on traditional Portuguese dishes, or Indian inspired dishes, it is all very reasonably priced.


CCB is a great space for browsing unique local and vintage gear and to enjoy lunch in the lovely central garden space. Keep an eye out for weekend or evening events and exhibitions held there.
Centro Comercial Bombarda Rua de Miguel Bombarda 285, 4050-381 Porto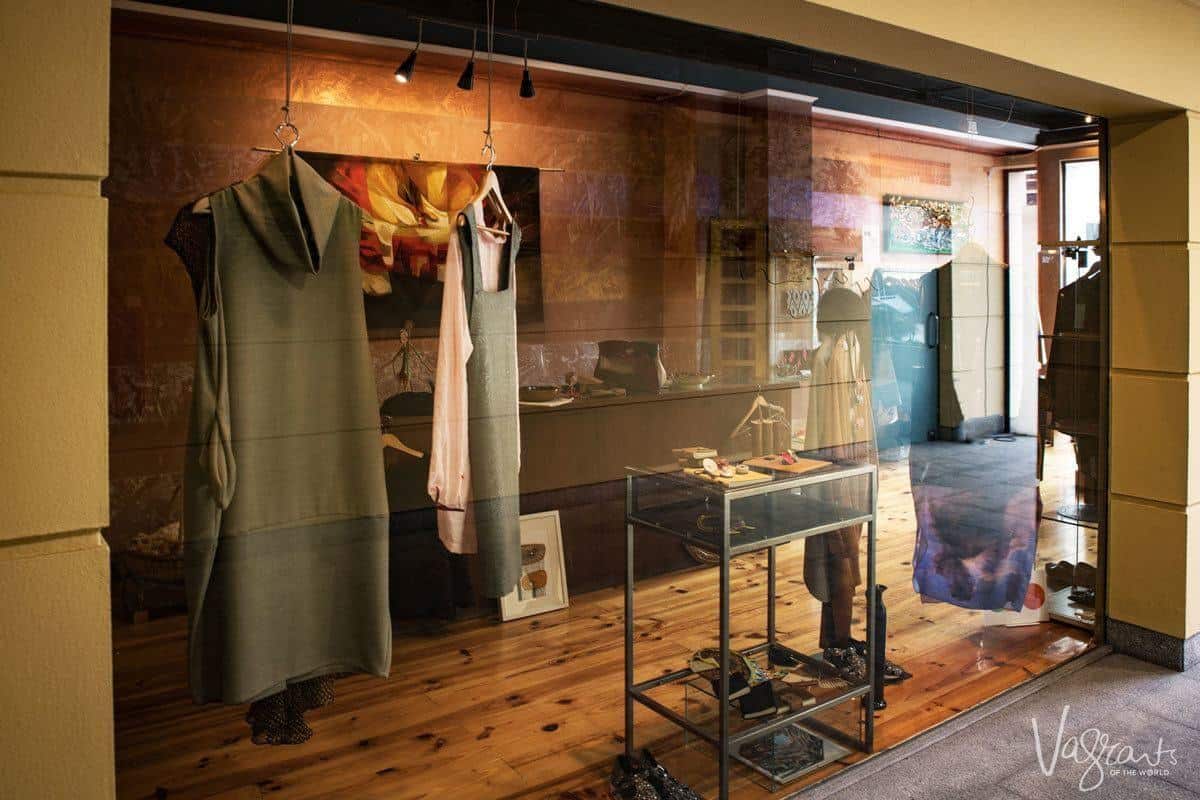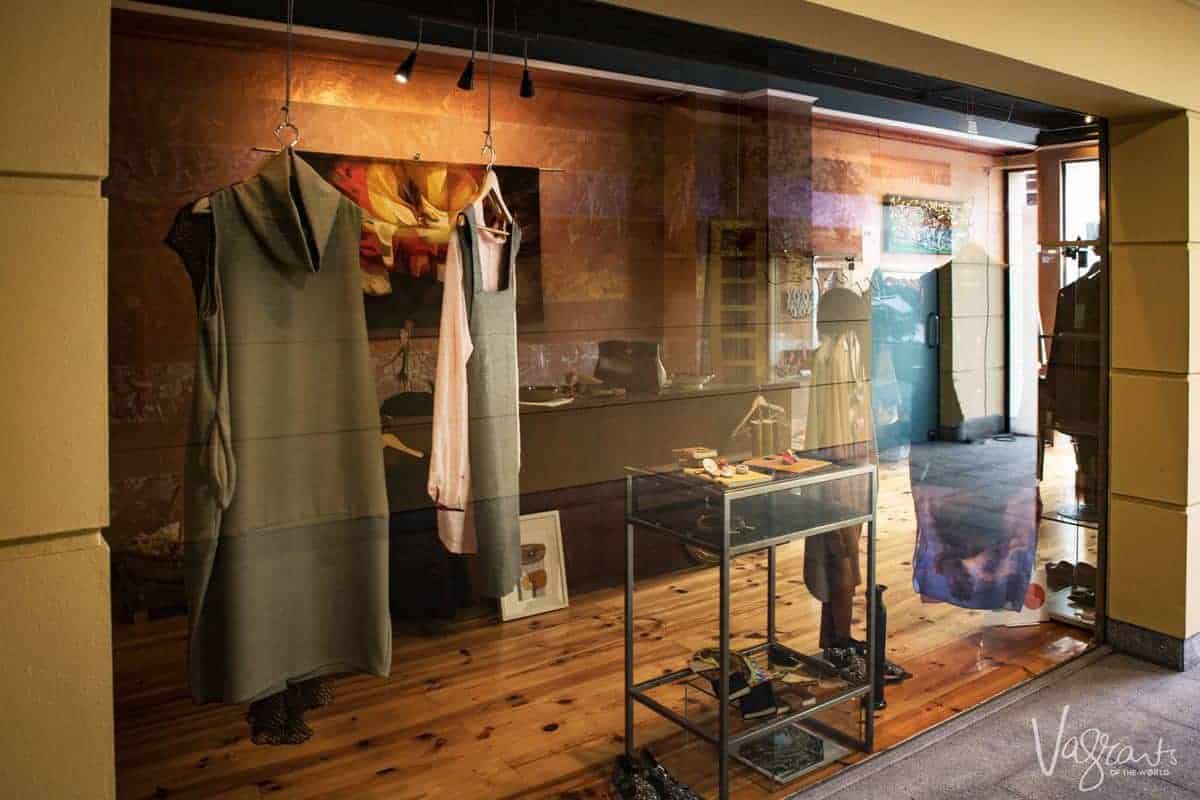 ---
Porto Belo Market
One of Porto's most popular weekend markets, Porto Belo literally means "beautiful Porto". It is also a bit of a nod to the famous Portobello Market in London.
Held every Saturday afternoon in pretty Carlos Alberto Square surrounded by a gorgeous collection of traditional azulejo tiled buildings, Porto Belo attracts artisans, designers, antique and vintage memorabilia collectors.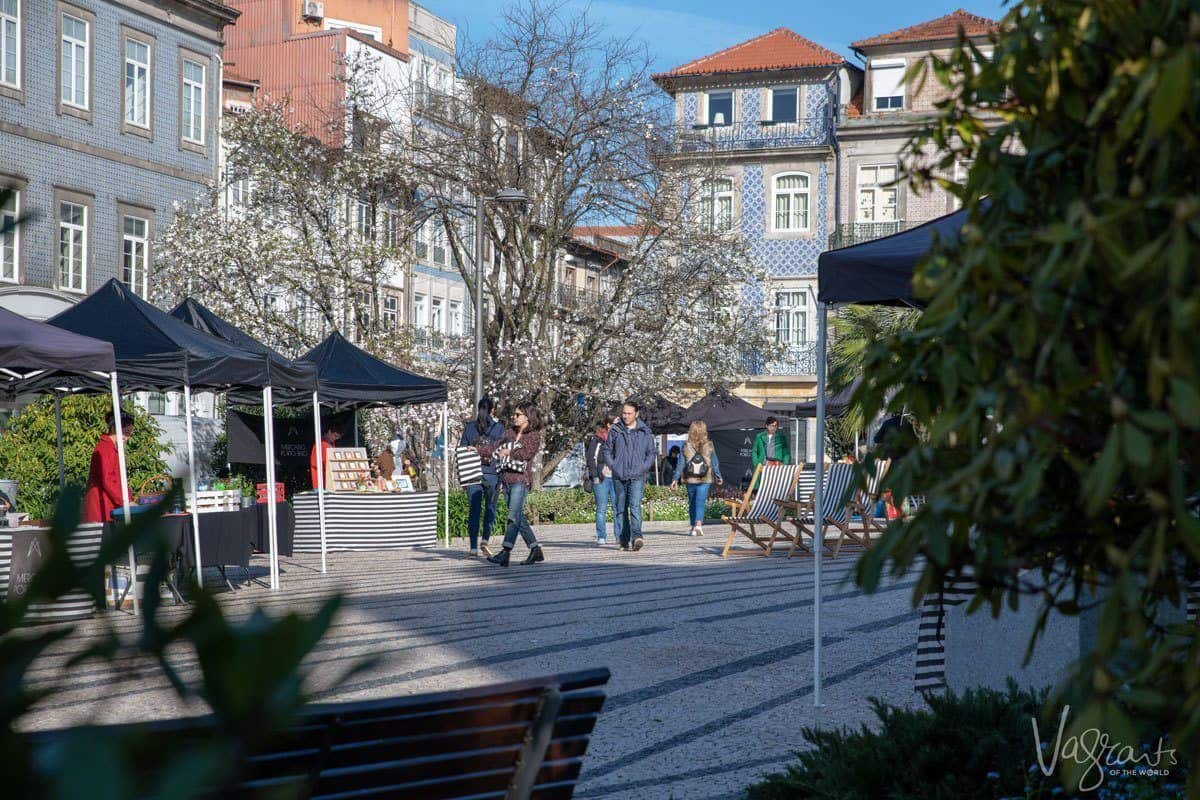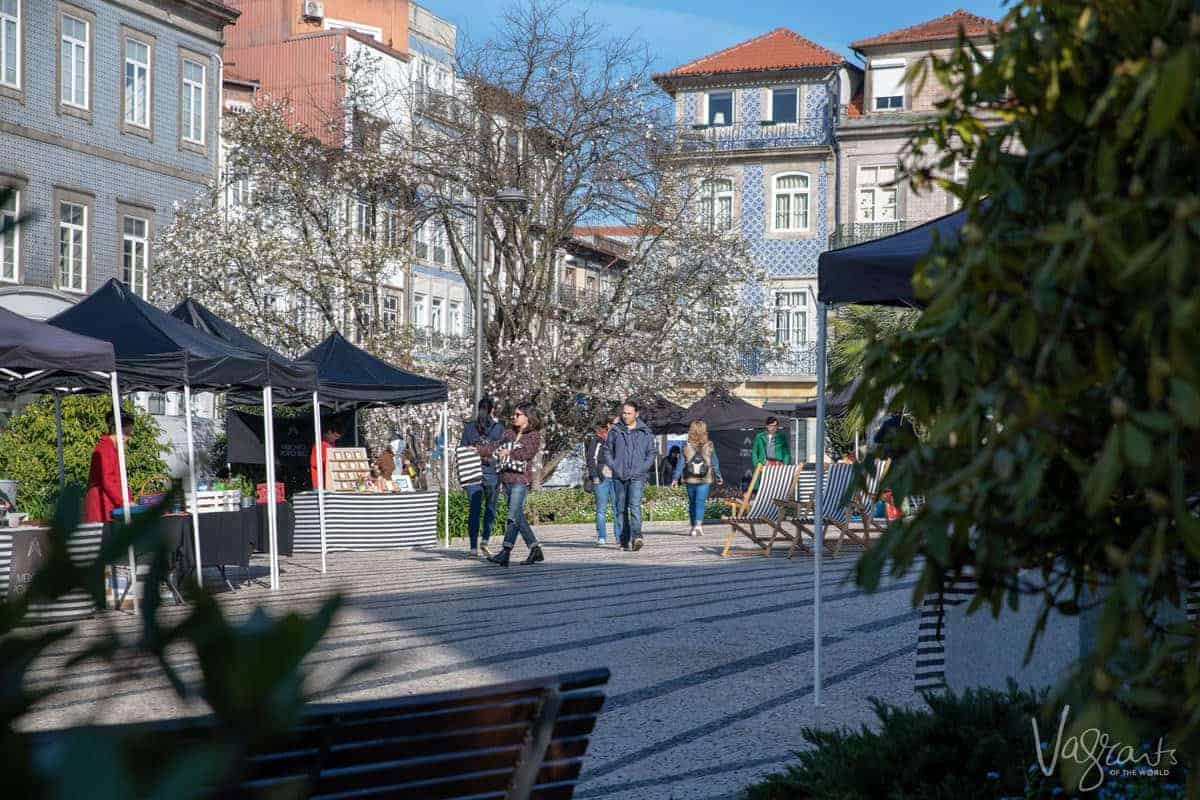 From around 11 AM every Saturday you can fossick through antique stalls, racks of vintage clothes and vinyl records.
Browse artisan, and design stalls of organic cosmetics, local leather goods, hand-pressed olive oils, even designer pot plants.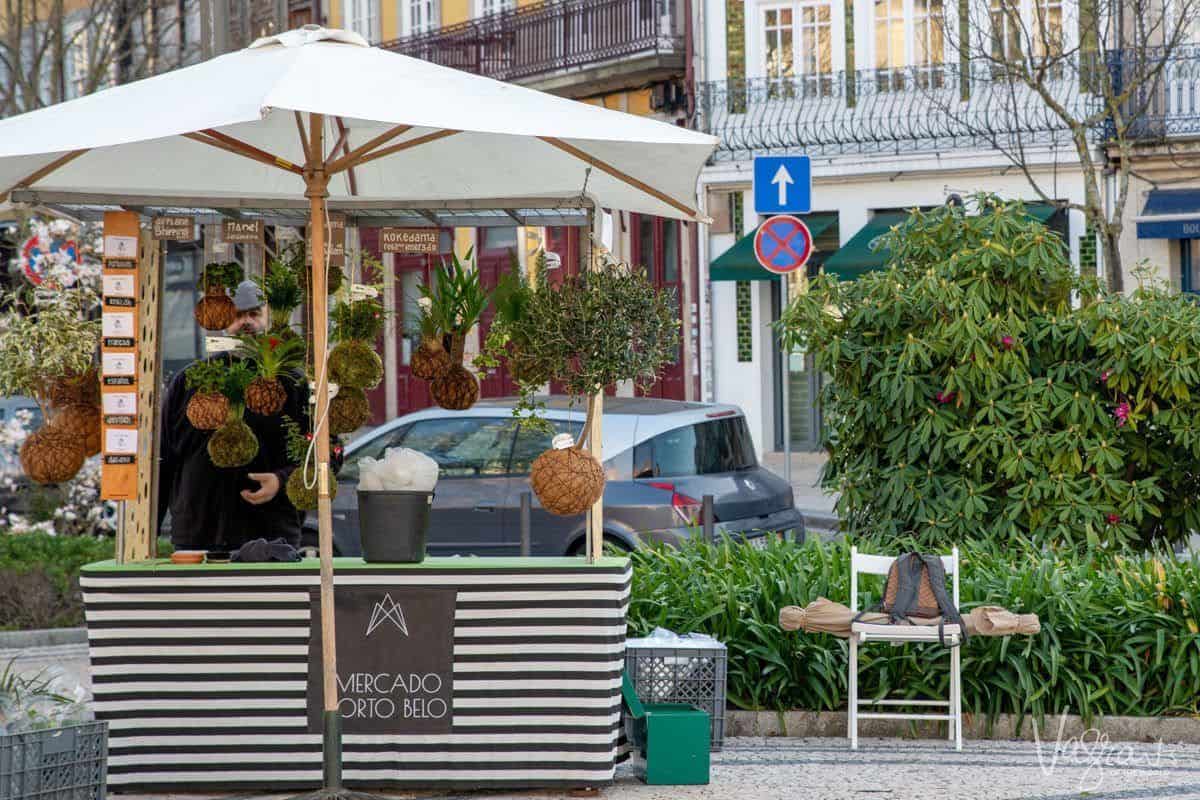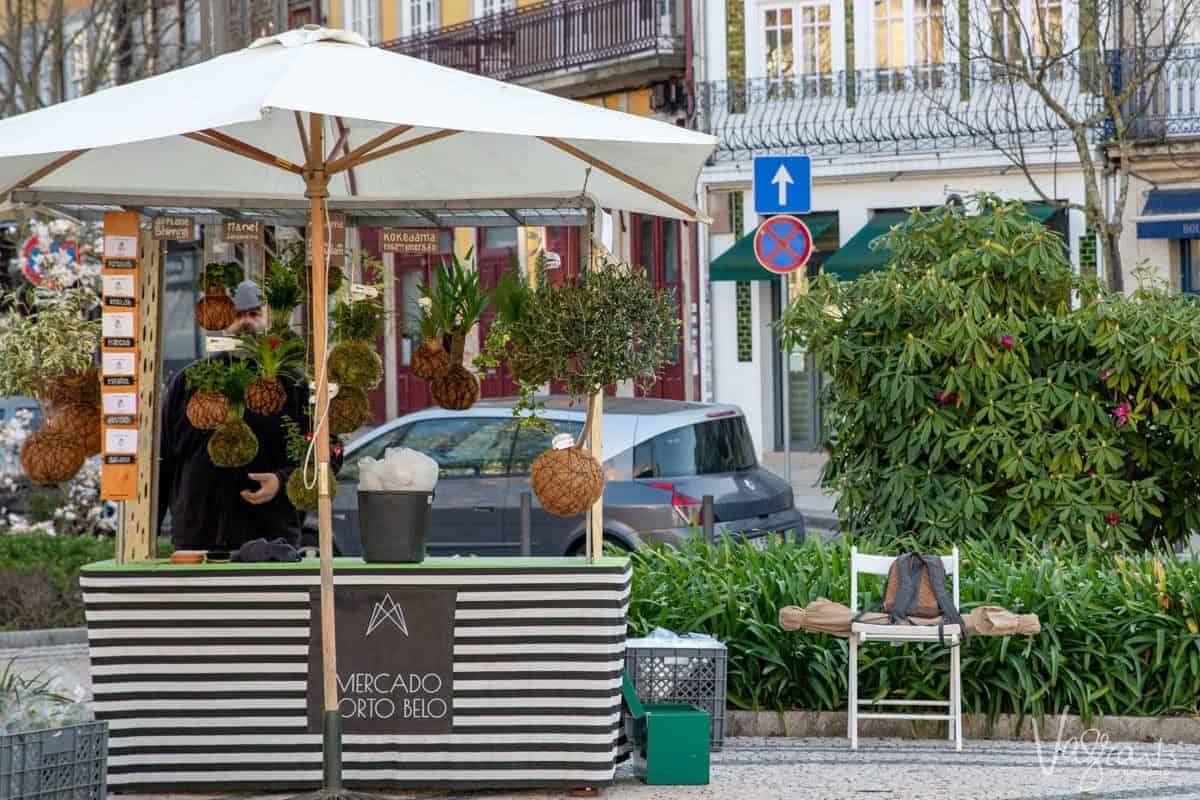 If there's no room in your suitcase for shopping, soak up the atmosphere of Mercado Porto Belo on the central sun lounges and enjoy live music.
Every Saturday from 11 AM
?Porto Belo Market Praça de Carlos Alberto
---
Mercado do Bolhão
The most famous market in the city, The Bolhão Market was classified a Place of Public Interest in 2006.
The beautiful wrought iron Neoclassic double-level market opened in 1914 is dedicated mainly to fresh produce vendors divided into specialities such as the fishmongers, butchers, florists, and greengrocers.
Mercado do Bolhão R. Formosa, 4000-214 Porto
Market Restoration Project
Mercado do Bolhão closed its doors in May 2018 for major restoration work. It is estimated the restored marketplace will be open again in Spring 2020.
The market has been moved during the restoration works and is still worth a visit – Bolhão Temporary Market at La Vie Shopping Center, at Rua de Fernandes Tomás.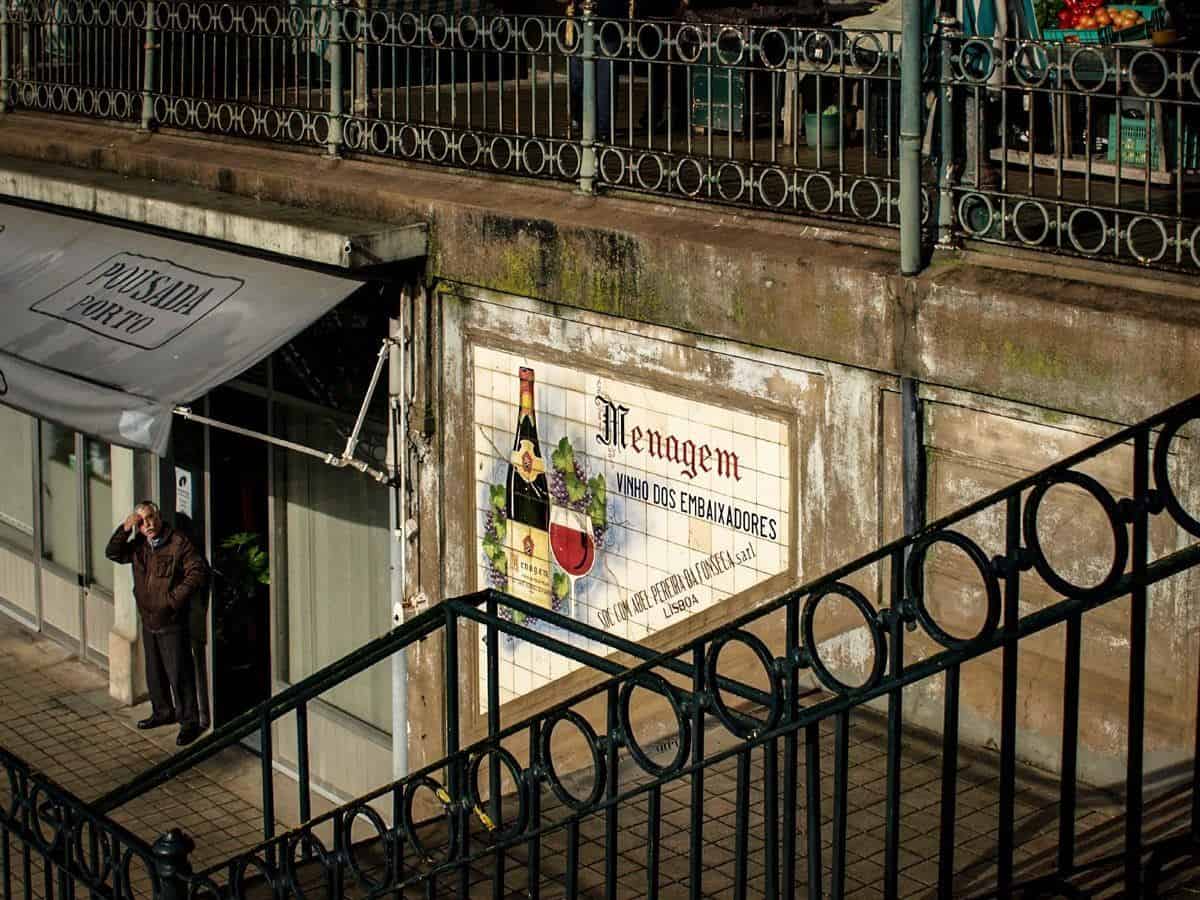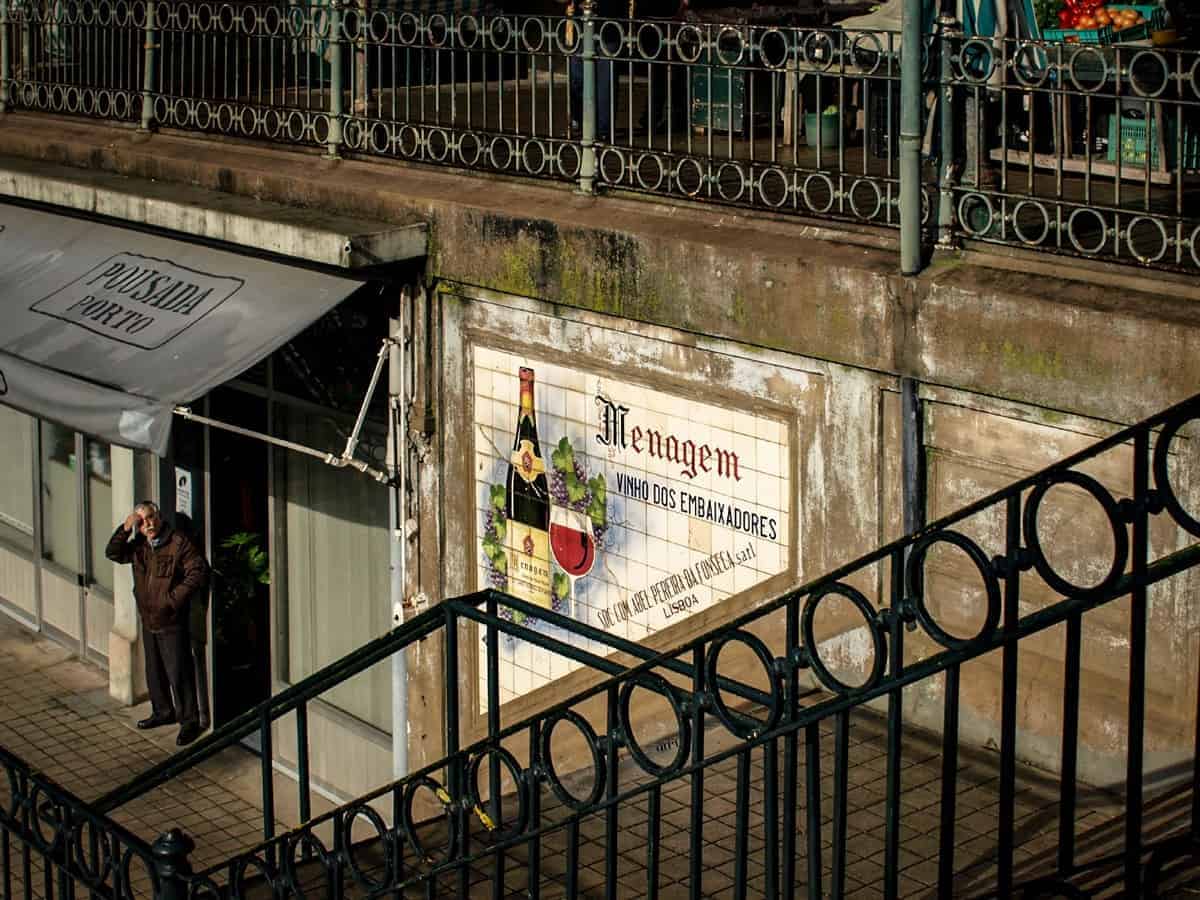 More Porto Markets
The Clérigos Market
Flea market for artisan, second hand, vintage and collectables, flowers, food and live music.
The market takes place on the second and last Saturday of the month, from 10 AM to 8 PM. Next to the Clérigos Tower Rua de Cândido dos Reis, 4050-151 Porto
Urban Market
Think everything urban design and they have it. Stylish and funky clothes, jewellery, home and decor by local creatives.
You'll even find services such as hair and massage at the Urban Market. Urban Market tends to change location from weekend to weekend so check Portugal Lovers site for dates and locations.
Feira da Vandoma
One of the oldest markets in Porto, Feira da Vandoma started many years ago as a place for students to sell their old books. It has now expanded to a much larger flea market with all kinds of second-hand household items.
Be prepared to find both trash and treasure. The second-hand market is held every Saturday from 8 AM–1 PM. ?Feira da Vandoma Av. 25 de Abril, Porto.
---
PORTO MUSEUMS & CULTURE
Soares dos Reis National Museum
Founded in 1833 the museum served to exhibit religious art confiscated from Portuguese convents many of which are still on display today. Sadly, many of the earlier pieces were taken from followers of deposed King Miguel I.
The museum is named after António Soares dos Reis, a 19th-century sculptor from Vila Nova de Gaia on the Douro.
In addition to pieces by Soares dos Reis, the museum has works by celebrated Portuguese painters and sculptors such as Miguel Ângelo Lupi, Silva Porto, Domingos Sequeira, and Vieira Portuense.
Opening Hours
Tuesday– Sunday: 10 AM–6 PM
Closed: Monday
Soares dos Reis National Museum R. de Dom Manuel II 44, 4050-342 Porto
---
Tram Museum
In 1872, Porto saw the first mule pulled tram lines followed in 1895 by the first electrified transport system in Iberia, one of the oldest electric systems in Europe.
The Porto Tram Museum – Museu do Carro Eléctrico honours this integral and elegant part of Porto's transport history.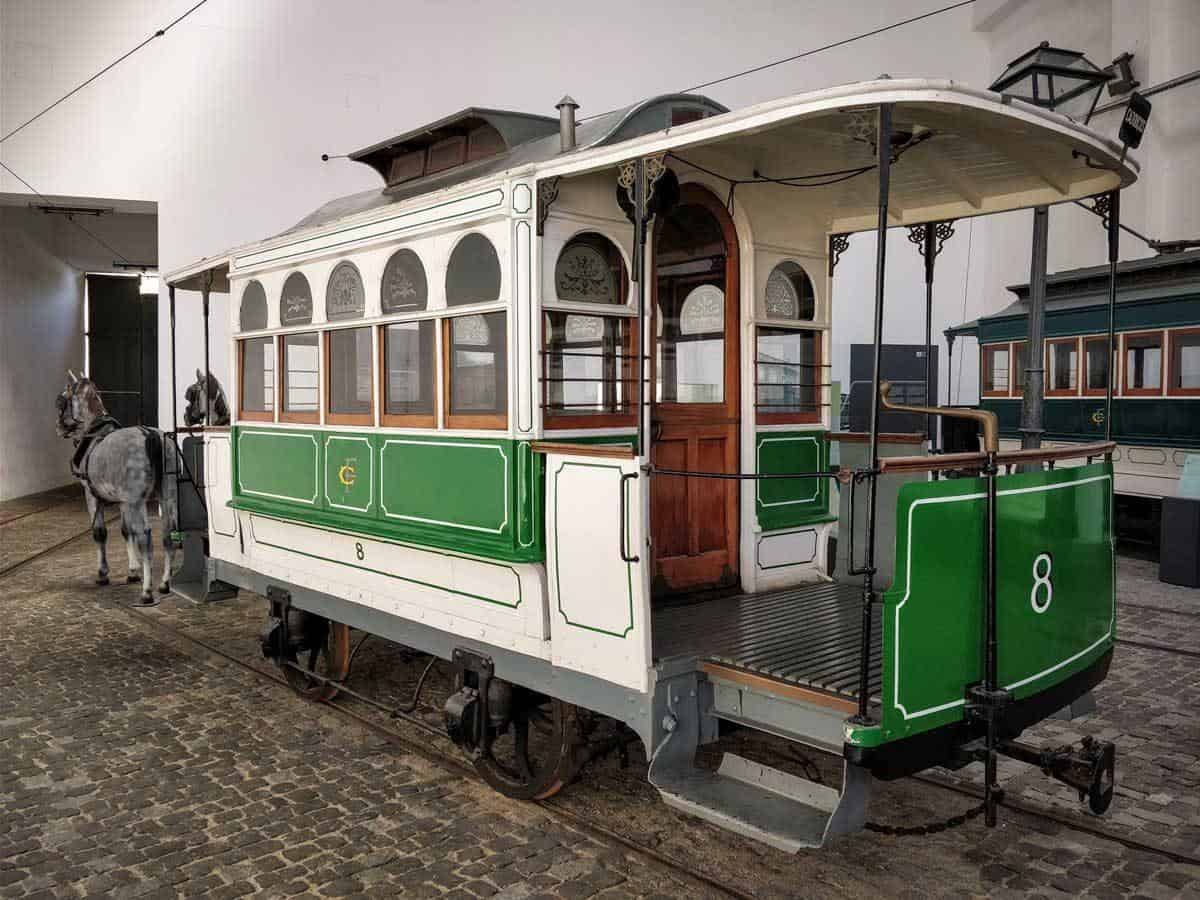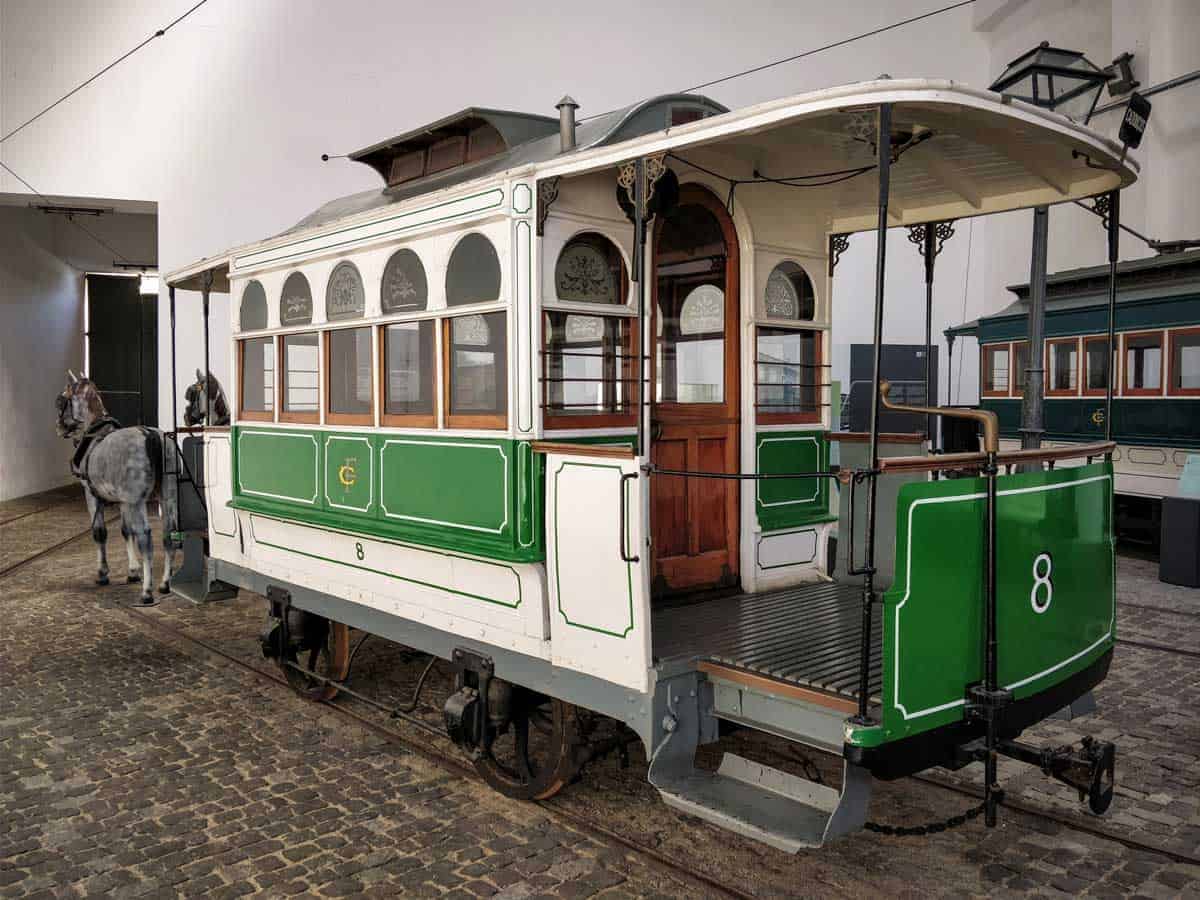 Housed in the old Massarelos Thermoelectric Power Station built-in 1915, the museum has 25 historic trams ranging from the first horse-drawn trams through to the last tramcars of the 50s as well as a section dedicated to the tramway workers.
The museum maintains a fully functioning workshop to keep all the historic trams in perfect working order as each of the trams; even the oldest are taken out for a run around the city occasionally.

Opening Hours
Tuesday–Sunday: 10 AM–6 PM
Monday: 2 PM–6 PM
Entry
€8 Adults | Children & Seniors €4 | Under 6 Free | 25% off with Porto Card
Tip For Visiting the Tram Museum
The Tram Museum admission fee entitles you to four hours of free transport all over Porto with the Tarjeta Andante card (Porto Public transport card).
If you take the historic tram circular sightseeing trip around Porto (€3), present your ticket at the Tram Museum for a 30% discount on your entry.
Tram Museum Alameda de Basílio Teles 51, 4150-127 Porto
---
Ride The Old Trams
Porto still has many of the historic trams in service and is a far less crowded prospect than the iconic trams in Lisbon. There are a few lines in service:
Line 1, a very scenic line, will take you from the historic centre along the northern banks of the Douro to the beach district of Foz.
Lines 18 & 22 work their way through the old city which makes a great sightseeing option.
Tram Ticket Cost
A single tram ride costs €3 and a 2-day unlimited ticket €10 applicable for the trams only. Line 1 to Foz requires two single tickets for a return ride – €6.
The Hop-On Hop-Off Bus, Tram & Funicular Combination Ticket gives you 24 hr access to ride the historic electric trams on the Porto Tram City Tour with three different lines.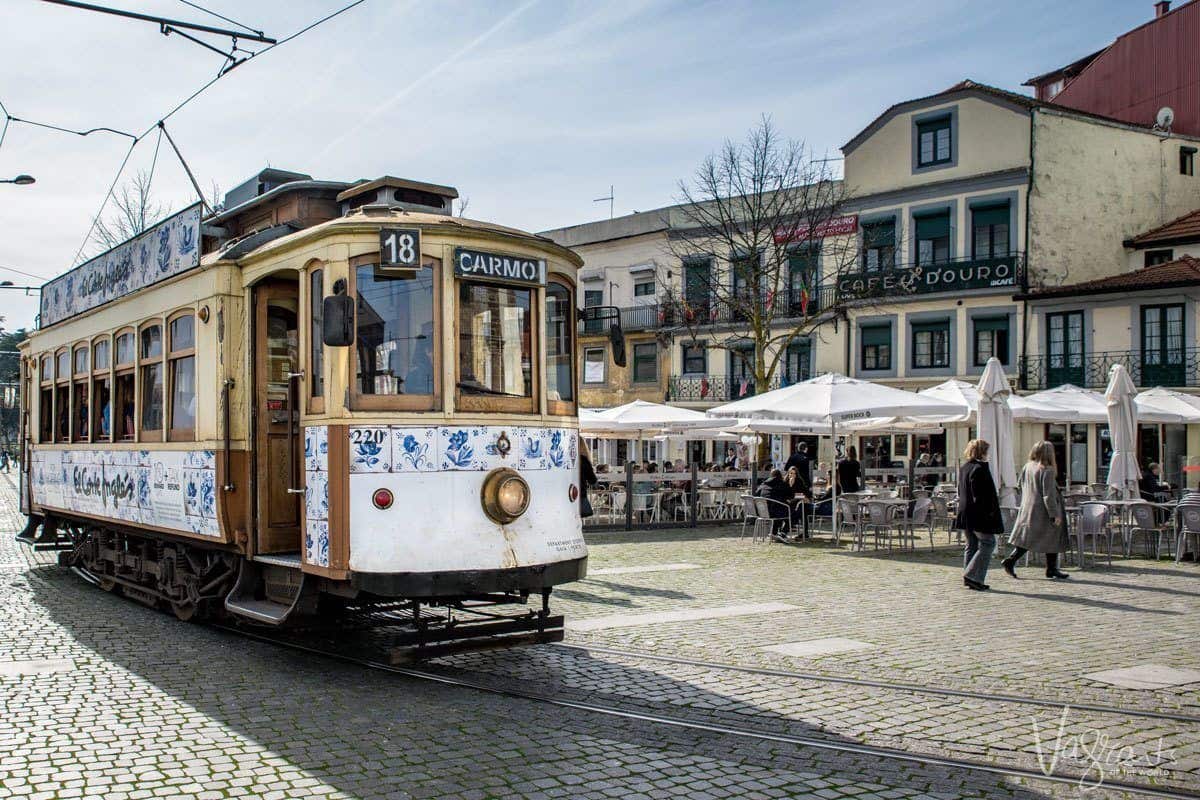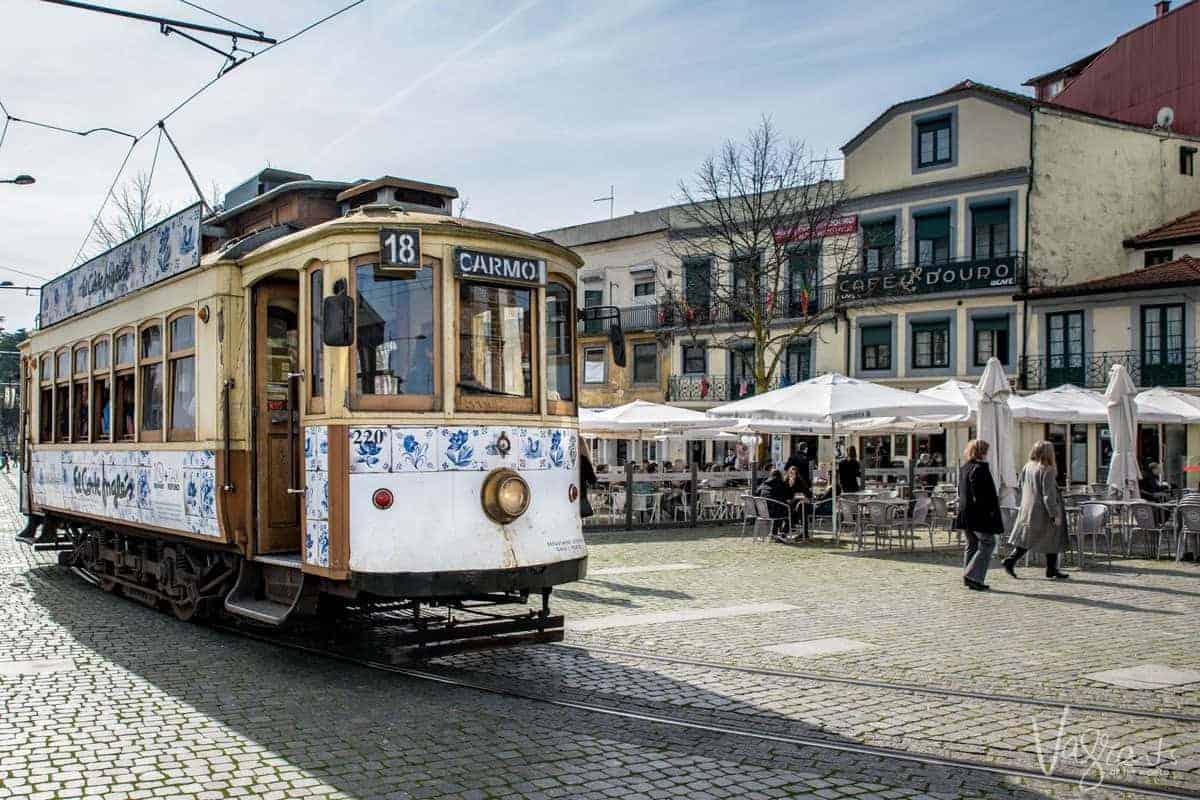 ---
Photographic Museum. Centro Português de Fotografia
Located in the Cadeia de Relação City Prison and Courts of Justice built-in 1756, The Photographic Museum was home to Porto's most felonious and infamous for over two centuries.
A notable building due to its unusual shape and bulk, comparative to the city's other architecture, it was considered one of the most imposing buildings in Porto at the time.
The building was designed to accommodate the limited space available between the medieval Ferdinand Wall and the Benedictine convent.
After Portugal's return to democracy in 1974, the prison was shut down and later restored as an exhibition centre.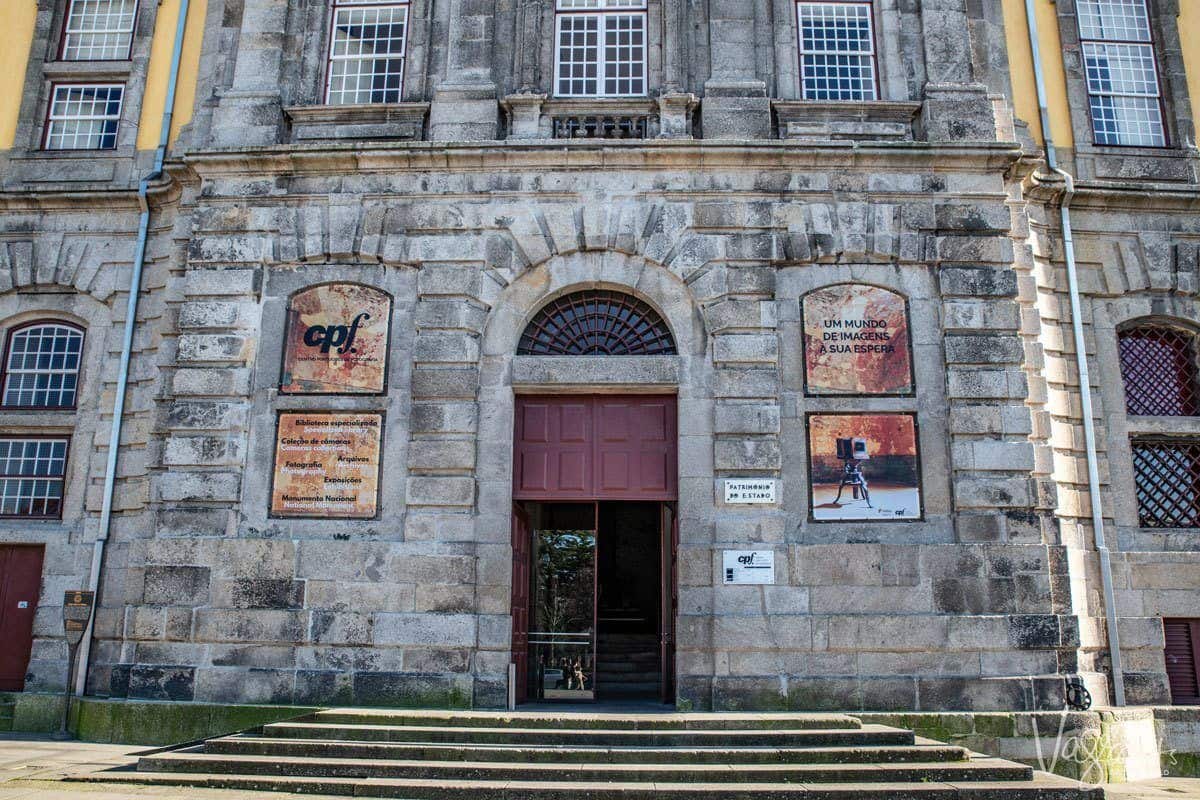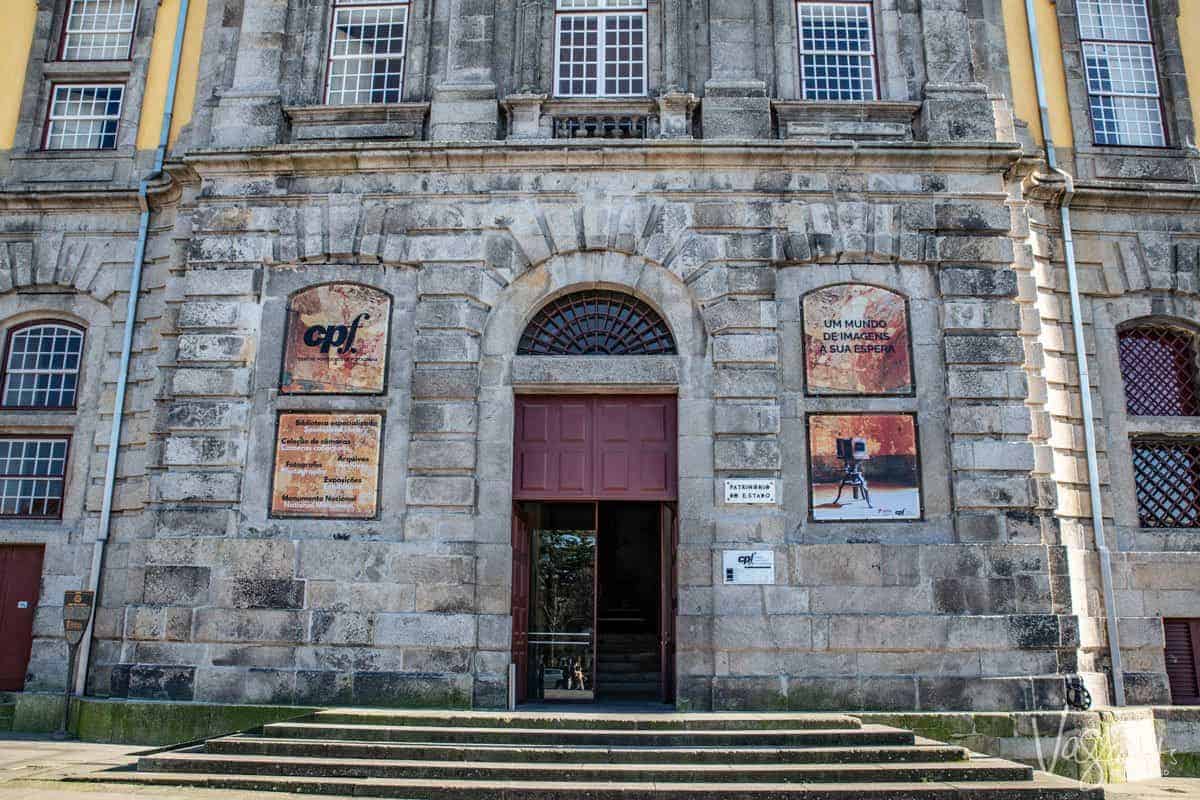 The goal of Centro Português de Fotografia is the promotion and preservation of Portugal's photographic heritage.
On the upper floors of the former prison, where the prison's women and white-collar crims once resided, is the museum's permanent collection.
Rare and valuable photographic cameras and equipment from early model Kodaks to fun and innovative spy cams from the cold war years, as well as a specialized library.
On the ground floor, you can view photographic collections and temporary exhibitions in the old group cells where some of Portugal's most hardened and lower-class criminals were incarcerated.
Opening Hours
Tuesday–Friday: 10 AM–6 PM
Saturday & Sunday: 3 PM–7 PM
Entry
Free
Centro Português de Fotografia Largo Amor de Perdição, 4050-008 Porto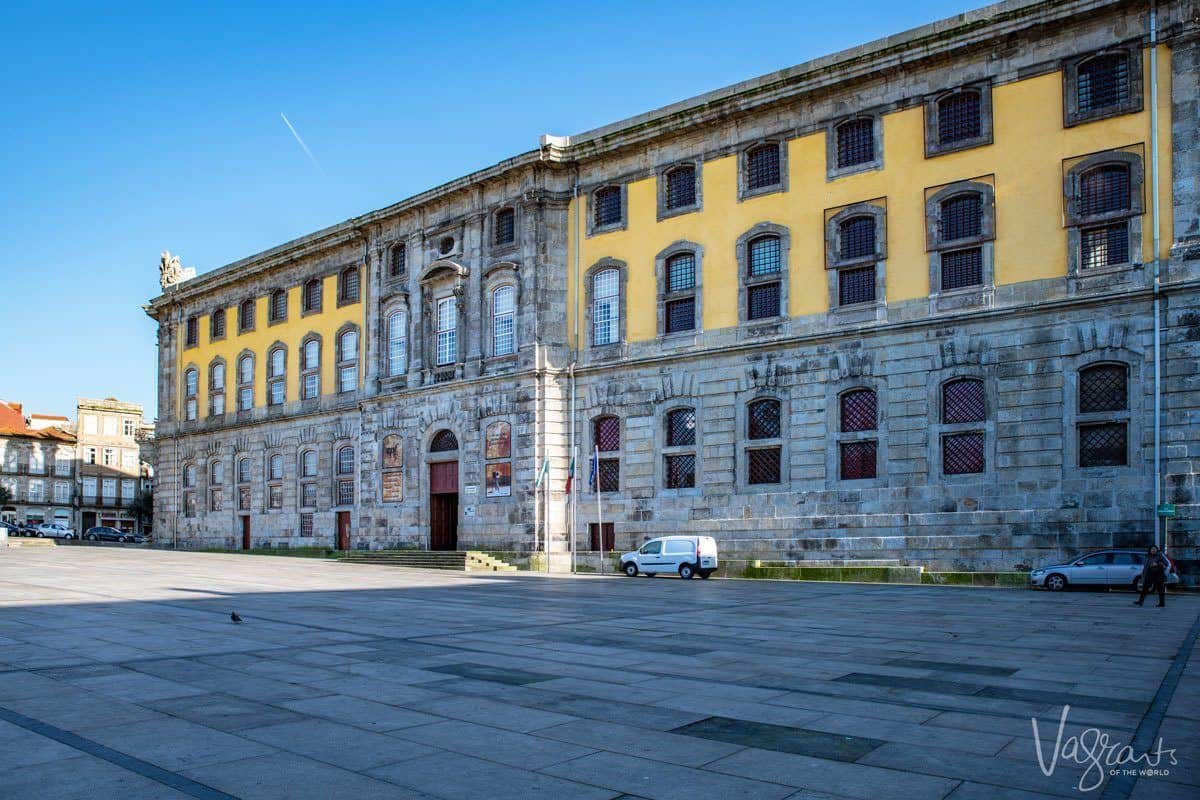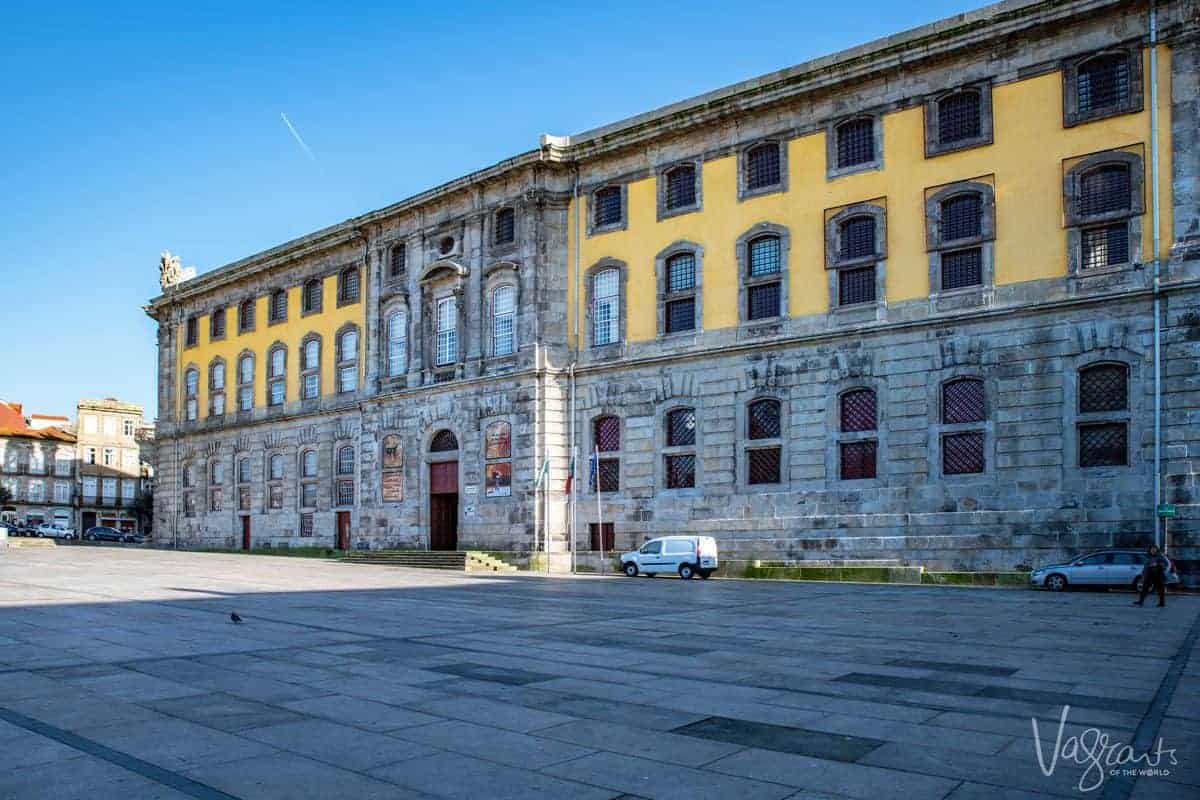 ---
Fundação Serralves Museum (Casa de Serralves)
Described as a cultural Eden, Serralves is one of the most important cultural spaces in Porto, if not the country.
The strikingly minimalist Fundação Serralves contemporary art museum designed by Pritzker Prize-winning architect Álvaro Siza Vieira is the most visited museum in Portugal.
The museum has no permanent displays but instead dedicates the space to continually changing exhibits of "cutting-edge works" by modern artists.
Casa de Serralves
Visit the fabulously glamorous Casa de Serralves, Carlos Alberto Cabral's famous 1930's pink Art Deco mansion located in the surrounding formal gardens.
Parque de Serralves
Parque de Serralves is made up of breathtaking sculptured gardens with native and exotic species, fields, lakes, and farmland. A day can easily be spent wandering around the stunning 18-hectare property.
The gardens also host seasonal farmers markets which aim to educate and promote the value of locally produced food as well as holding demonstrations in the use of local and often undervalued produce.
In both spring and autumn, Serralves holds two-day non-stop Festa's with free art and cultural events to celebrate the seasons. See the Serravles website for exhibition and events information.
Entry
Museum, Park & Villa: €15
Museum & Park: €12
20% off with Porto Card
Opening Hours
Winter – 1 October–31 March: Weekdays: 10 AM–6 PM | Weekends & Holidays: 10 AM–7 PM
Summer – 1 April–30 September: Weekdays: 10 AM–7 PM | Weekends & Holidays: 10 AM–8 PM
Museu Serralves R. Dom João de Castro 210, 4150-417 Porto
---
Casa da Música
A place for music lovers and architecture buffs, Casa da Musica, has been described as intriguing, original, mysterious, and one of the most beautiful buildings in Porto.
The design by prestigious Dutch architect Rem Koolhaas has been heralded as his most beautiful work ever, "a building whose intellectual ardour is matched by its sensual beauty".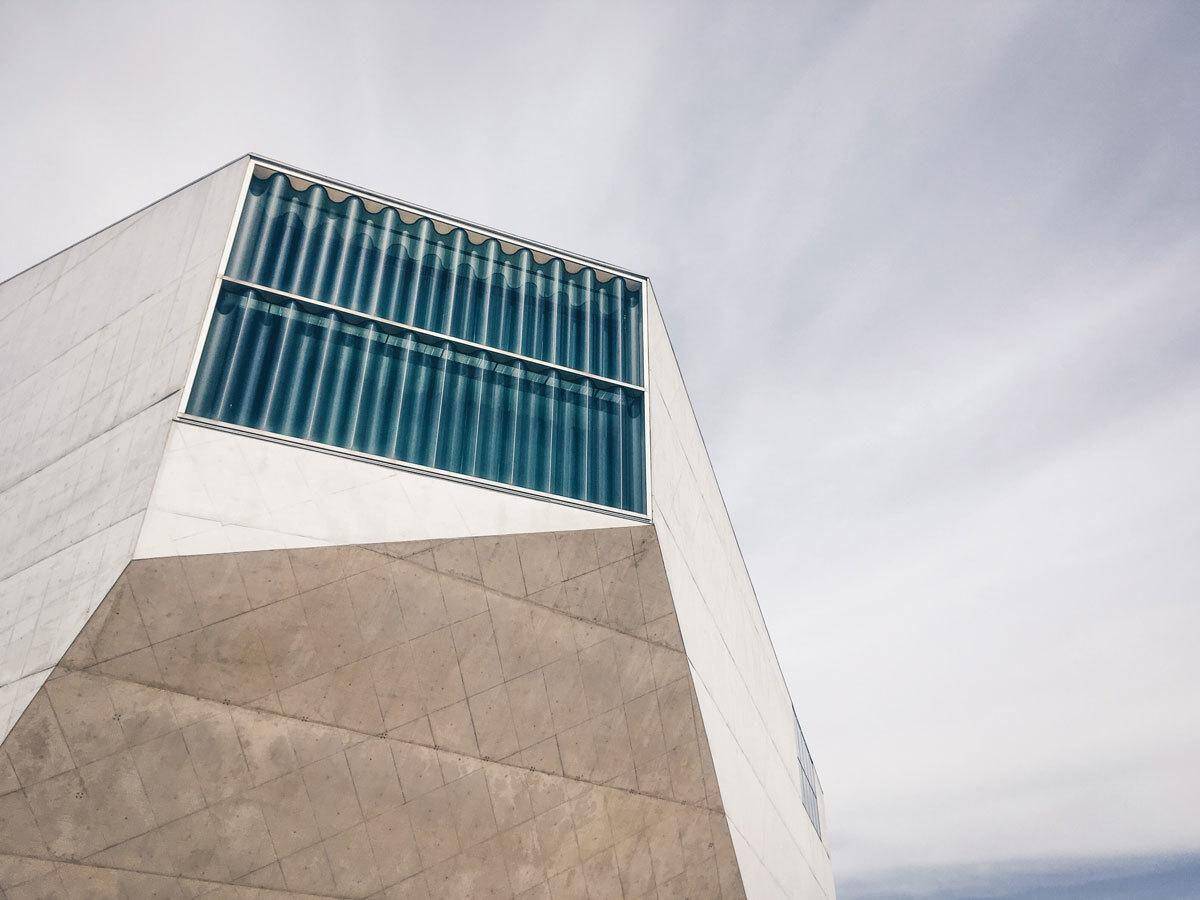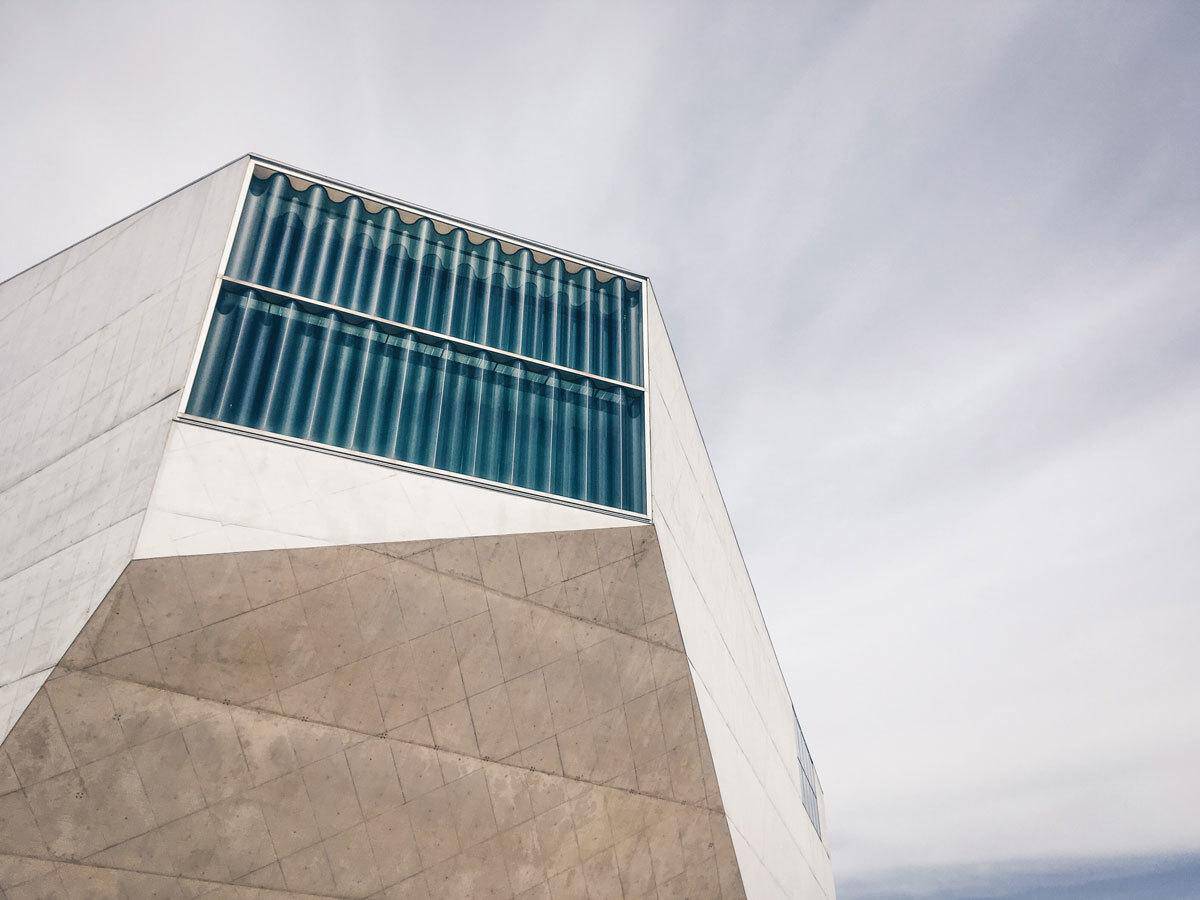 It is the only concert hall in the world with two walls made entirely of glass. Koolhaas wanted the public to be able to see what was happening inside the monument, from rehearsals and performances to the workers in the cafe.
By inviting everyone into Casa da Múscia, he wanted the building to be part of the cultural and social life of Porto.
Opening Hours
Monday–Saturday: 9:30 AM–7 PM
Sunday:9:30 AM–6 PM
Daily Guided Tours
Cost: € 10/person | 50% off with Porto Card
Portuguese: 11 AM & 4 PM
English: 11 AM & 4 PM
During Summer Until September 30
Portuguese: 11 AM, 2:30PM & 4 PM
English: 10 AM, 11 AM, 4 PM & 5 PM
During August there is a daily guided tour in French at 3 PM
?Casa da Música Av. da Boavista 604-610, 4149-071 Porto.
---
PORTO CHURCHES
Igreja do Carmo
Named the Two-headed Church, Igreja do Carmo is interesting for both its magnificent tiled facade and its unusual construction. Look closely, and you will notice the building is actually two adjacent churches. The one on the left is the Church of the Carmelites.
Due to a complicated law, no two churches could share the same wall, so a tiny house was built, wedged between the two churches. The house was occupied up until around 20 years ago.
Igreja do Carmo R. do Carmo, 4050-164 Porto

---
Porto Cathedral (Sé do Porto)
Cathedral sé do Porto is a landmark of the old centre and one of Porto's oldest monuments. Construction of the Cathedral began early in the 12th century continuing well into the 13th century.
Significant additions and modifications were made right through until the 18th century, so the cathedral represents all of the significant historical styles including Romanesque, Gothic and Baroque.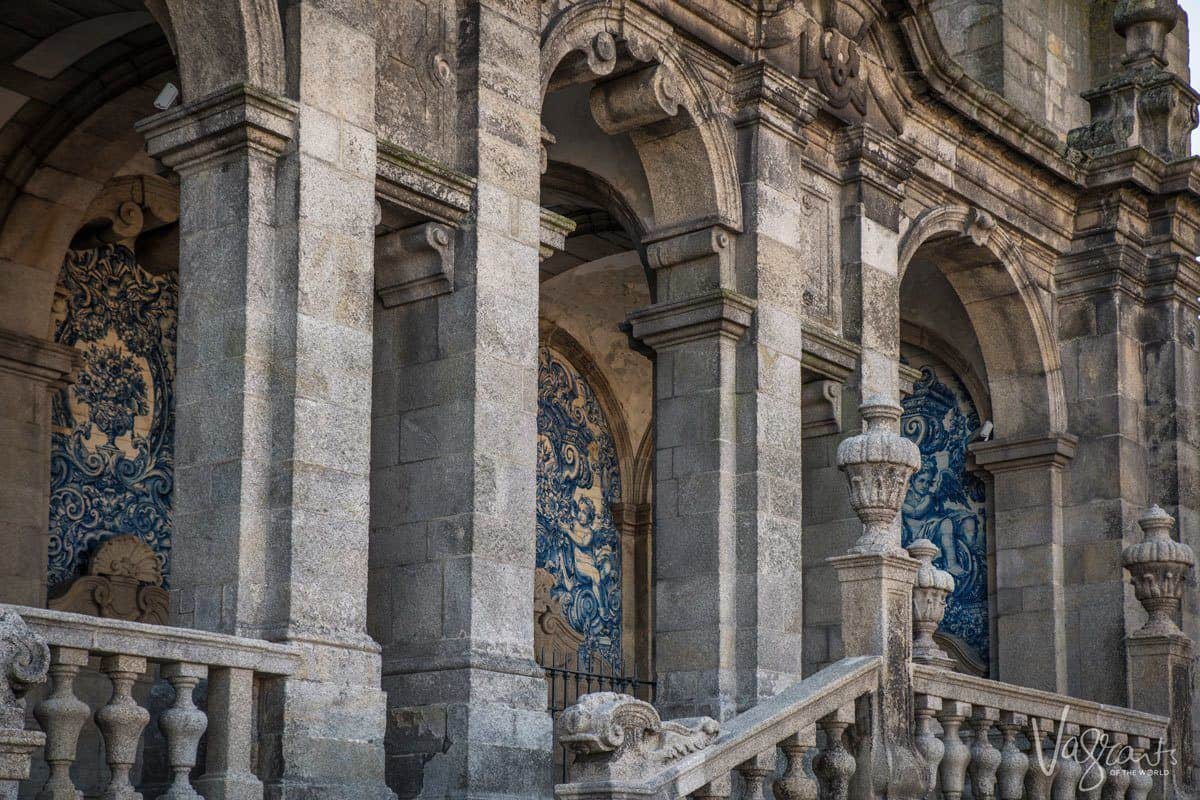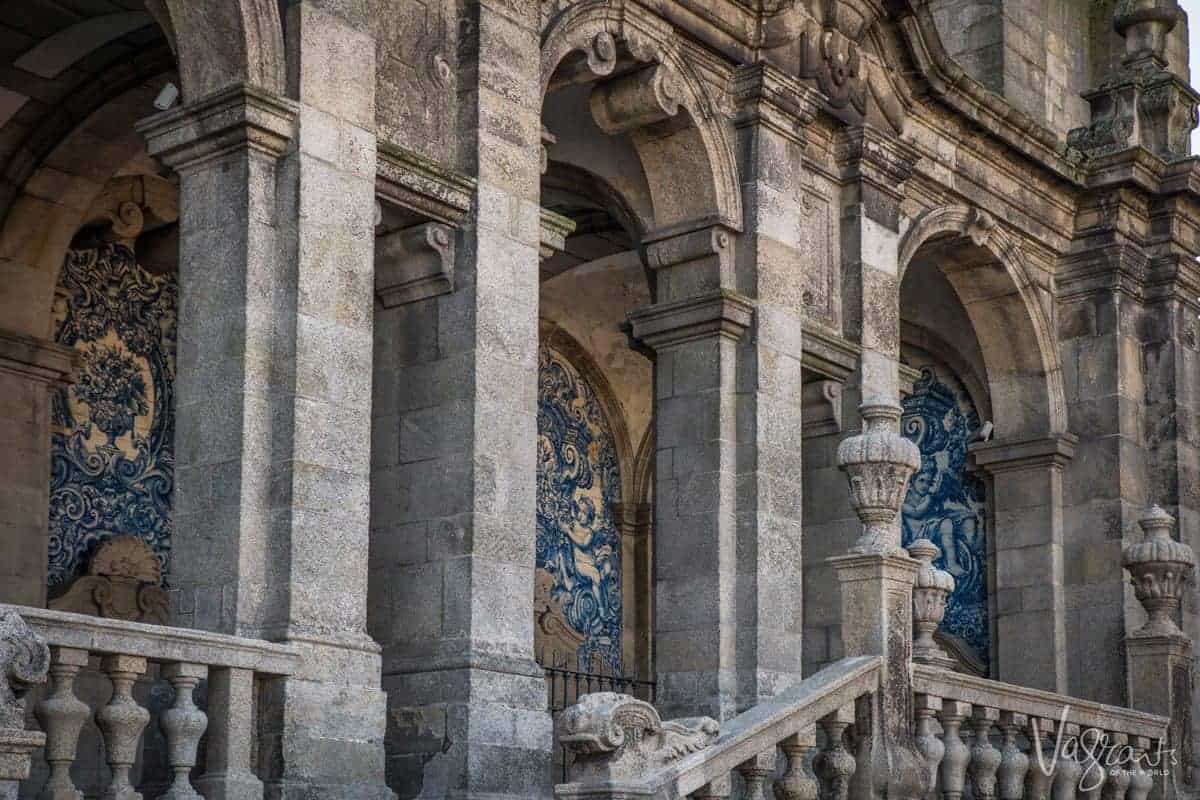 The oldest district, Morro da Sé and its residents are considered the most genuine part of Porto. During the middle ages, the large square around the cathedral was the centre for all commerce and trade in the city.
It was also where the Crusaders came in 1147 to assist King Afonso Henriques and the Portuguese army in their conquest to claim Lisbon from the Moors.
From Largo de Sé you have fantastic views of the city and the river.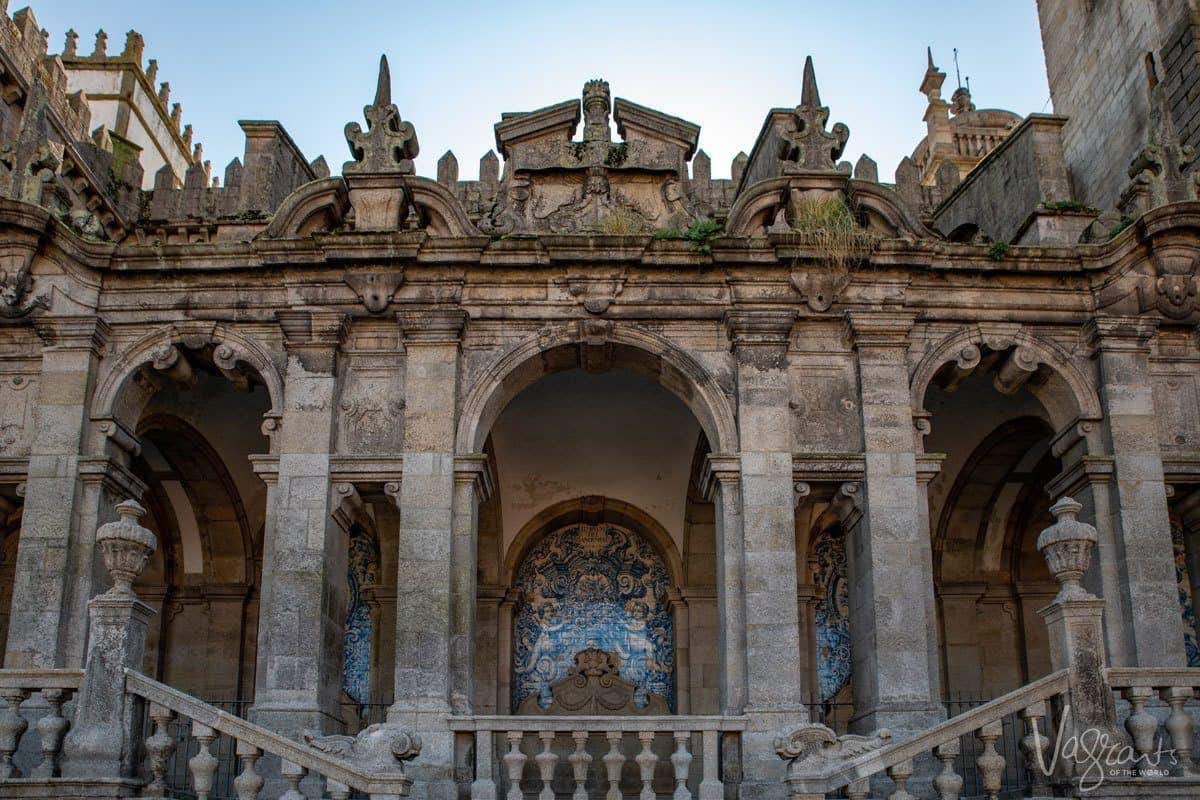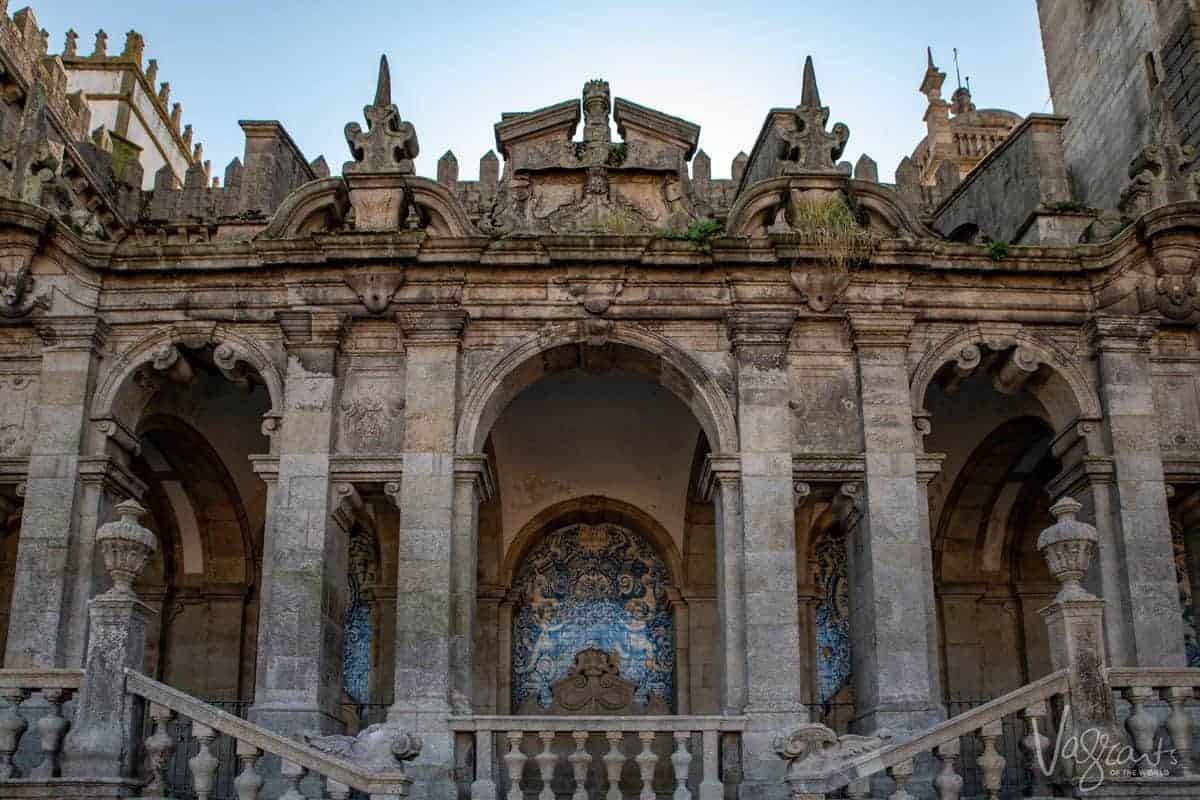 Opening Hours
Summer – April–October: 9 AM–12.30 PM | 2.30 PM–7 PM | Cloister: 9 AM– 6.30 PM
Winter – November–March: 9 AM–12.30 PM | 2.30 PM–6 PM | Cloister:9 AM–12.15 PM | 9 AM– 6.30 PM
Closed: Christmas and Easter
Note: The Cloister is only open in the afternoon on Sundays and religious holidays.
Entry
Cathedral: Free
Cloister: €3.
Porto Card and students: €2.
Port Cathedral Terreiro da Sé, 4050-573 Porto
---
Church of Saint Ildefonso
The graceful twin-towered Baroque church on Praça da Batalha is quite a head-turner. Standing alone in the square, one can't help but be drawn to the glorious azulejos facade depicting scenes from the life of St Ildefonso and stories from the gospel.
Over 11,000 tiles by Jorge Colaça make up the facade, the same artist responsible for São Bento Station.
The Baroque church took 30 years to build from 1709 finishing the main church in 1730, initially without the two bell towers; these were completed in 1739.
Opening Hours
Monday: 3 PM–6.30 PM
Tuesday–Saturday: 9 AM–12 PM |3 PM–6.30 PM
Sunday: 9 AM–1 PM |6 PM–8 PM
Entry
Free
Igreja Paroquial de Santo Ildefonso R. de Santo Ildefonso 11, 4000-542 Porto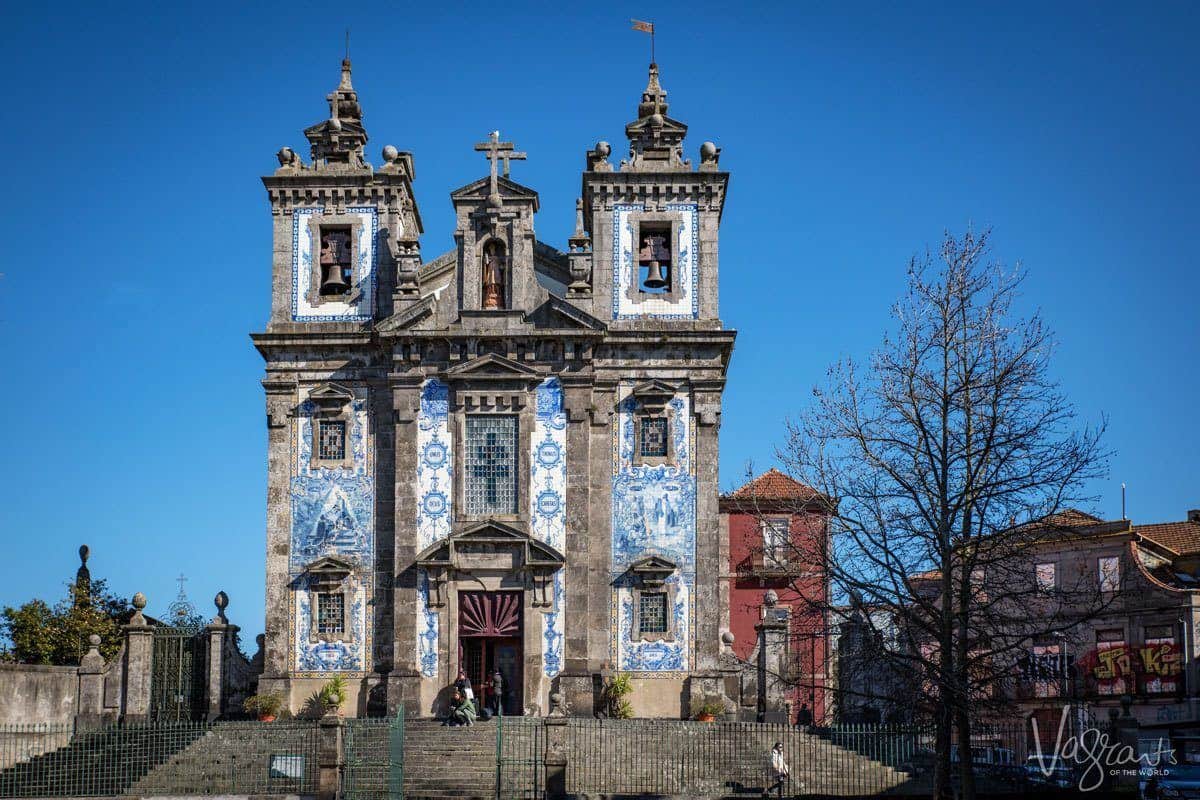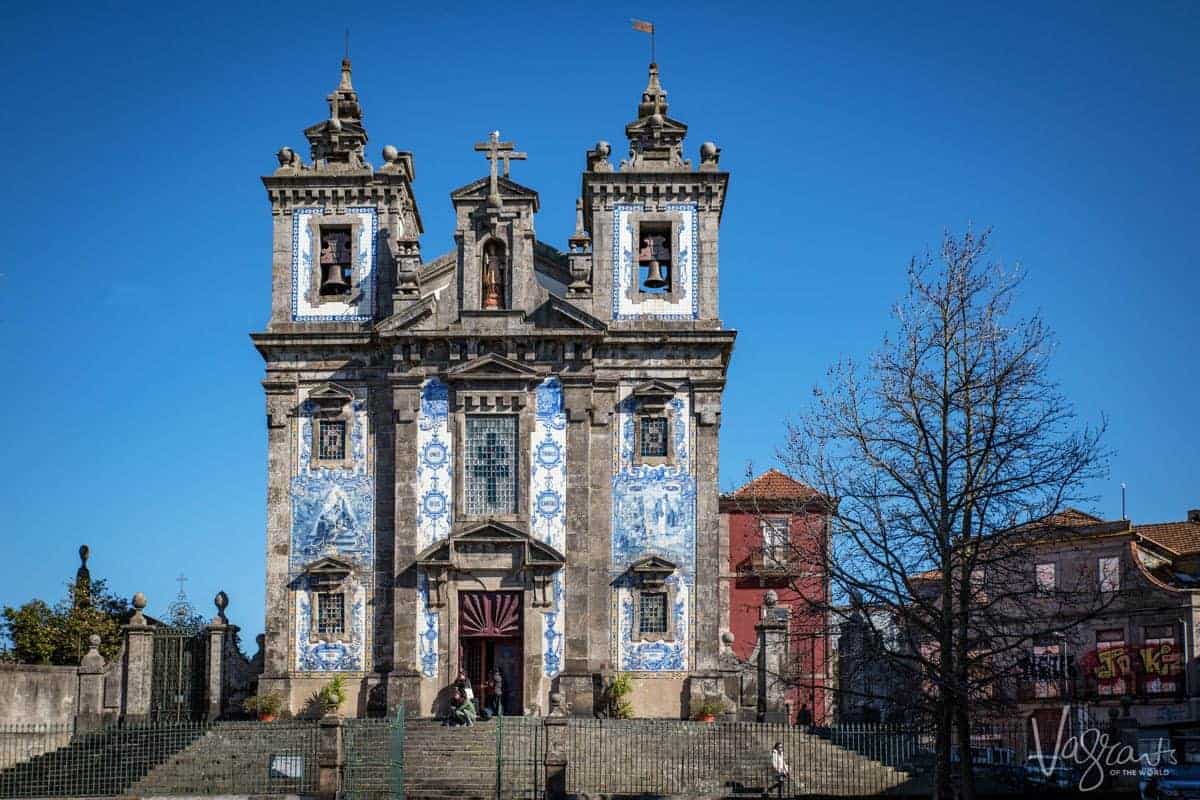 ---
Igreja de Santa Clara
Classified as a National Monument, Igreja de Santa Clara was completed in 1457 to replace a medieval Franciscan convent.
Behind a very unassuming facade lies an overwhelming Baroque interior of gilded woodwork depicting angels, cherubs and saints.
Igreja de Santa Clara was owned by the cloistered Franciscan order of nuns, the order of Poor Clare until the 19th century, when the last nun of the order died.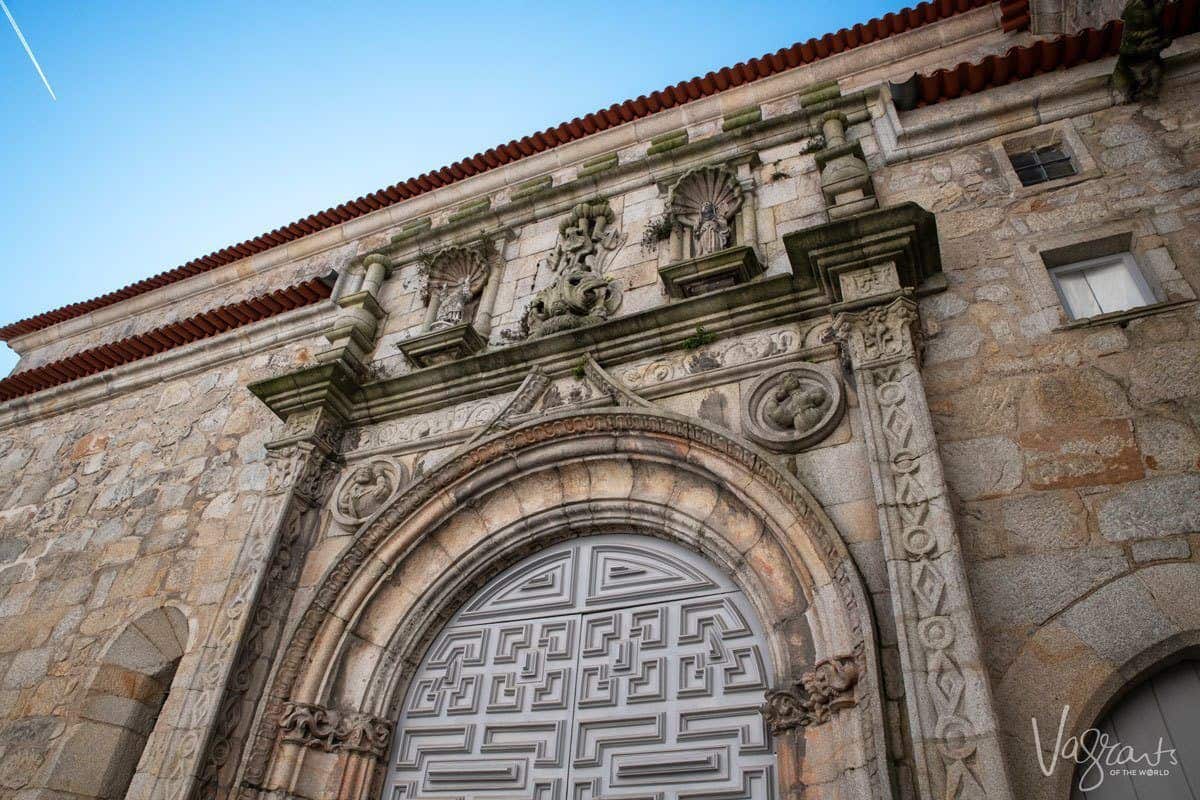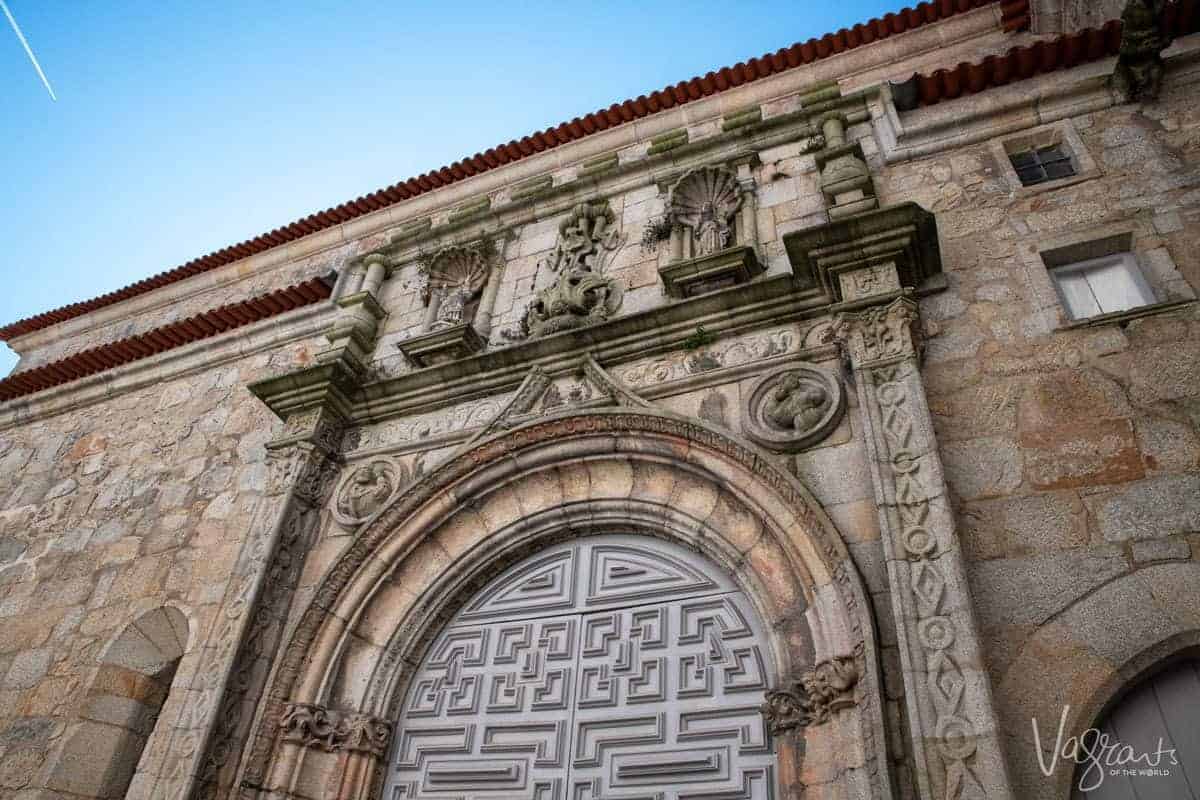 Inside the church, you can still see the revolving wooden door used by the nuns to sell sweets to the public, much like we still see in the closed convents of Seville.
As the nuns were forbidden to have contact with anyone outside the order, the revolving door was used to make the transactions.
The church has just reopened from a meticulous restoration which will be ongoing. It is forbidden to take photos inside.
Opening Hours
Monday–Friday:9.30 AM–12 PM | 3.30 PM–7 PM
Saturday: 10 AM–12 PM | 3 PM–6 PM
Sunday 10 AM–12 PM
Entry
Free
Igreja de Santa Clara Largo 1º de Dezembro, 4000-061 Porto
---
Igreja de São Francisco (Monument Church of Saint Francis)
The most prominent Gothic monument in Porto and a UNESCO World Heritage Site, the Monument Church of Saint Francis, built in the 14th century during the reign of King D. Fernando is renown for its outstanding Baroque interior decoration.
Some say it is the most beautiful church in Porto; perhaps because it took more than 400kg of gold to complete the ornate gilded interior.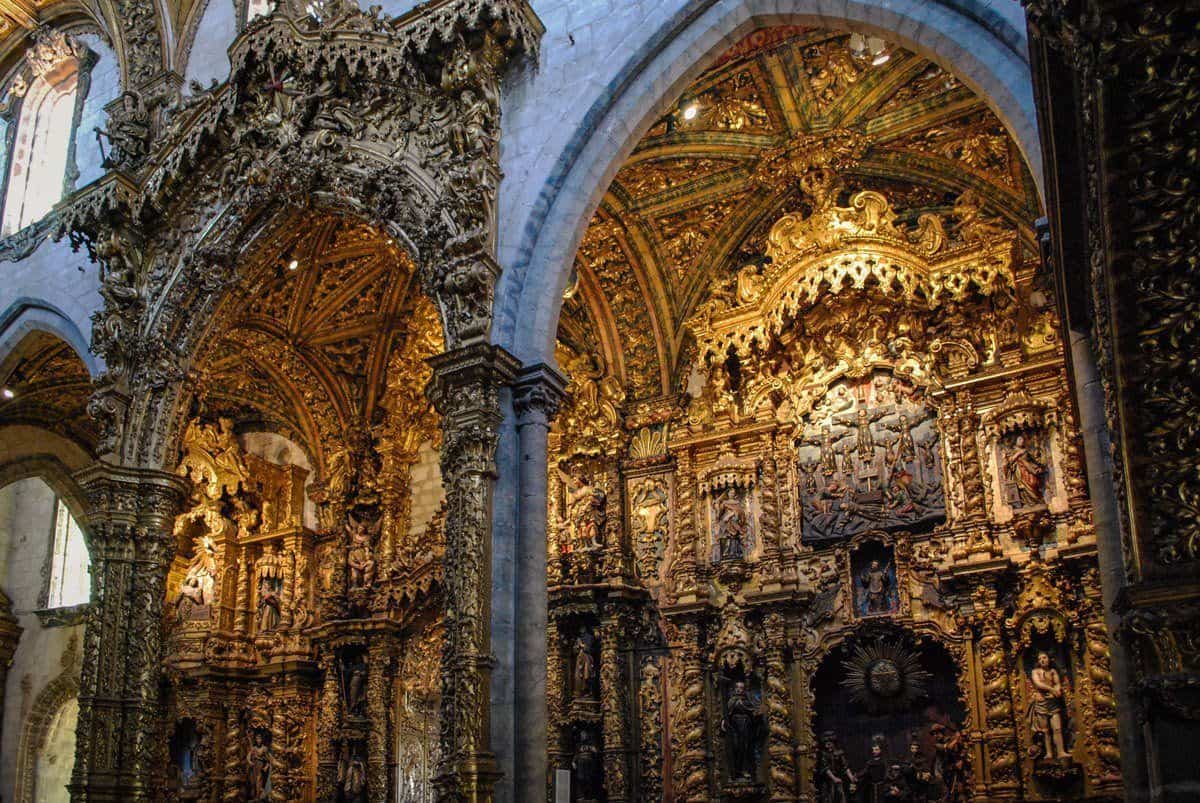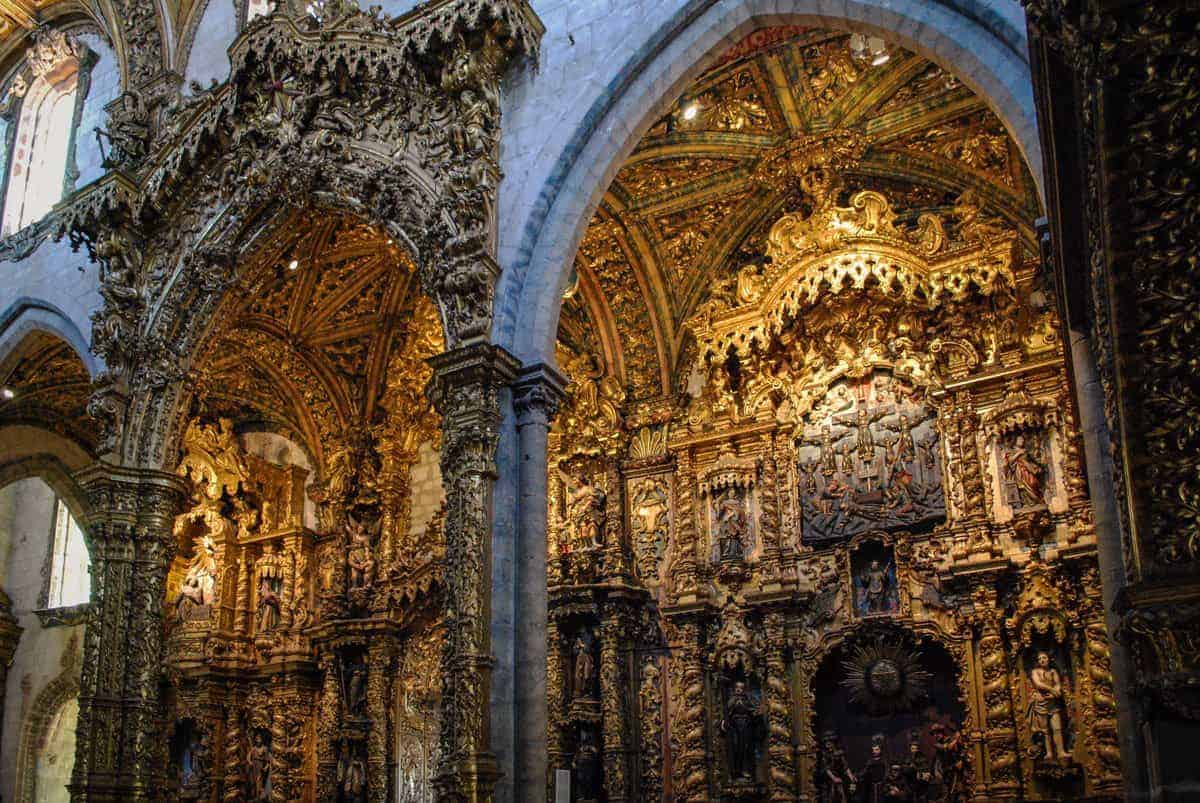 Concierge.2C CC BY-SA 3.0
The church also has a small museum; a highlight is the restored sculpture of Jesus' family tree known as the "Gold Church".
Head below the church's interior chapels to the catacombs where deceased members of the Franciscan order await judgment day. A grated window in the floor allows visitors to view the piles of human bones below their feet.
Opening Hours
July–September: 9 AM–8 PM
March, June & October: 9 AM–7 PM
November–February:9 AM–5.30 PM
Entry
Monument Church of Saint Francis Rua do Infante D. Henrique, 4050-297 Porto
---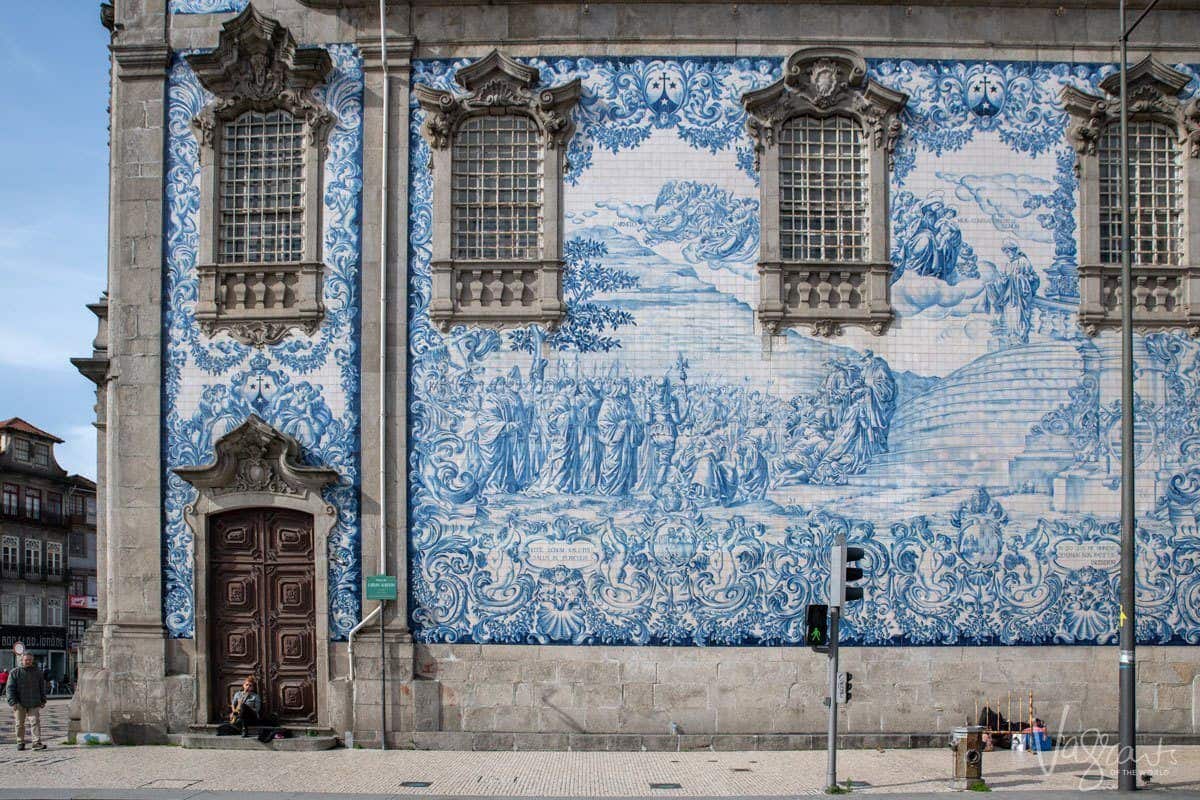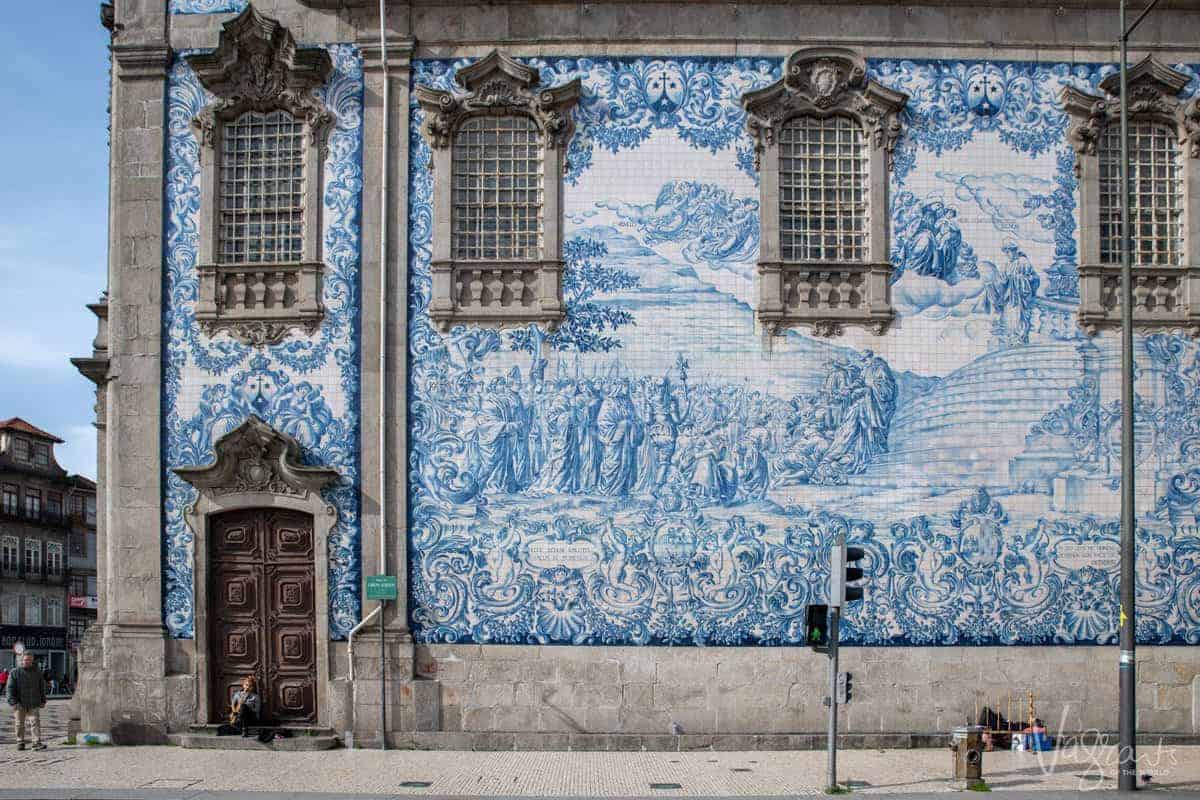 Stay Safe While You Travel
10 Safe Travel Tips to Put in Place Before You Go
Safe & Stylish Anti-theft Handbags for Travel
Don't Forget Travel Insurance for Portugal.
Travel insurance is the first thing we buy as soon as we book a trip no matter where we are travelling. Aside from possible cancellations, lost or stolen gear, we like to know we are covered, especially in medical emergencies. We hope you have some sights about the things to do in Porto Portugal and enjoy your vacation.
Get a Free Quote From World Nomads Travel Insurance.



---