If Texas' second-largest city only invokes thoughts of The Alamo, think again.
San Antonio, a city brimming with history, has reinvented itself in recent years emerging as a vibrant and cosmopolitan city begging to be rediscovered.
The city's historic restorations have resulted in UNESCO recognition. A contemporary restaurant scene inspires locals and visitors to look well beyond tacos and refried beans. A vibrant cultural scene boasts exceptional museums and galleries alongside world-class hotels.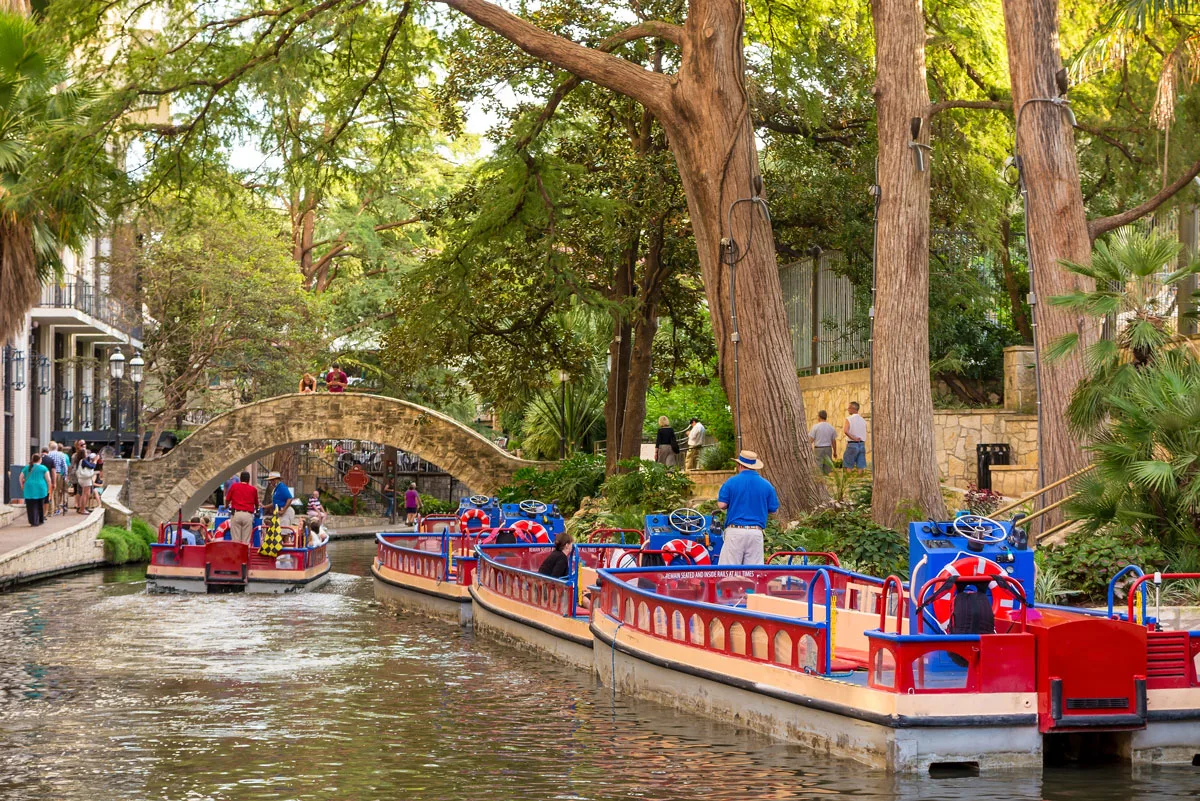 While the Alamo may be one of the most popular attractions in Texas, there are so many more great reasons to visit including some fabulous weekend getaways day trips from San Antonio.
These are some of the best things to see and do, as well as the top places to visit in San Antonio.
---
You Might Also Like: Fort Worth is only 4 hours from San Antonio, a great base for access to all the attractions of Dallas and Arlington. A perfect weekend road trip from San Antonio.
---
Things to Know Before Your Visit
Fun-Filled Fiestas
San Antonio knows how to celebrate. The city's annual calendar is loaded with events and festivals that celebrate culture, music, food and wine, the arts, and much more. From highlights like The San Antonio Fiesta to the contemporary arts festival The Luminaria, there are a plethora of exciting events to enjoy throughout the year.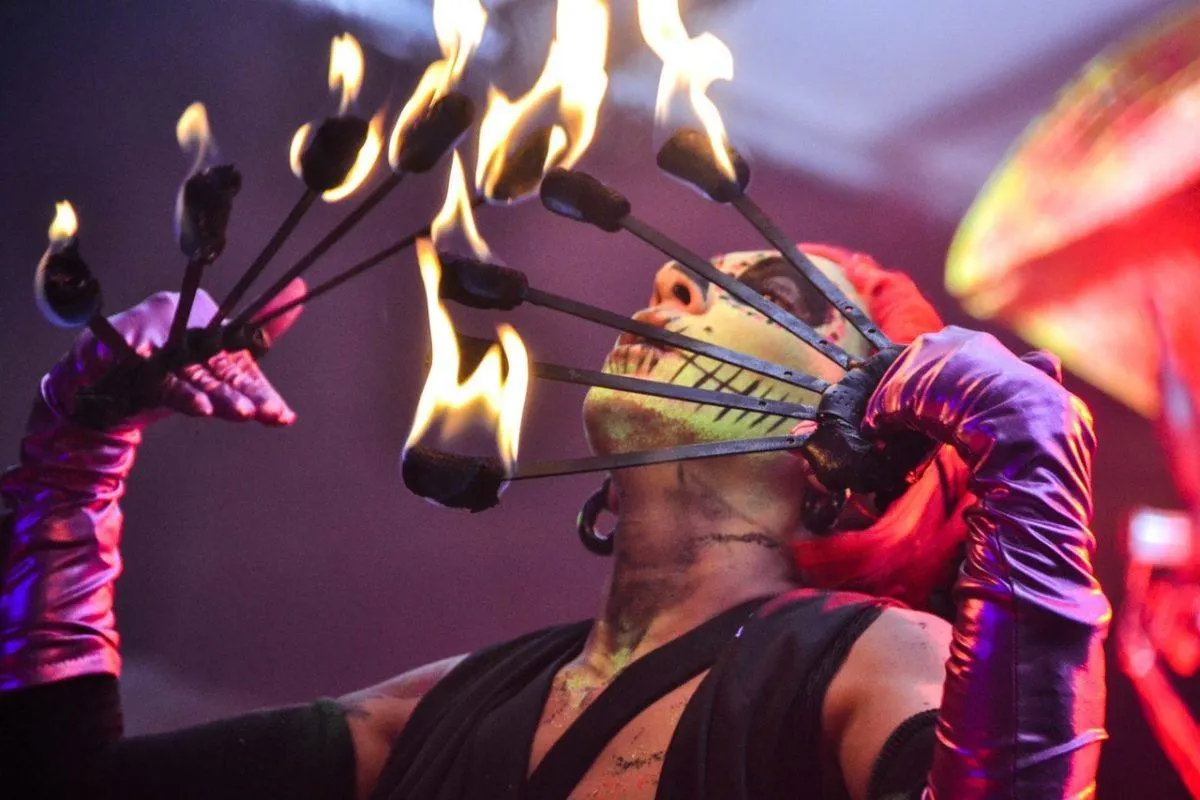 Wine and Dine
You shouldn't ignore the city's reputation for Tex-Mex cuisine. Embrace it, and you'll find exceptional tacos on nearly every street corner. There's more than just mouth-watering Mexican to savor in San Antonio, though.
Throughout the city, San Antonio's best restaurants dish up a world of gastronomic treats at upscale Asian fusion spots and casual Tuscan-inspired eateries. Hip cafés and wine bars offer snacks and small plate options, setting a slick and sophisticated scene. Head to Southtown to find food trucks reinventing the way you view food to go. Head for Texas Hill Country to find more than 30 wineries producing delightful Sangiovese and Syrah varieties.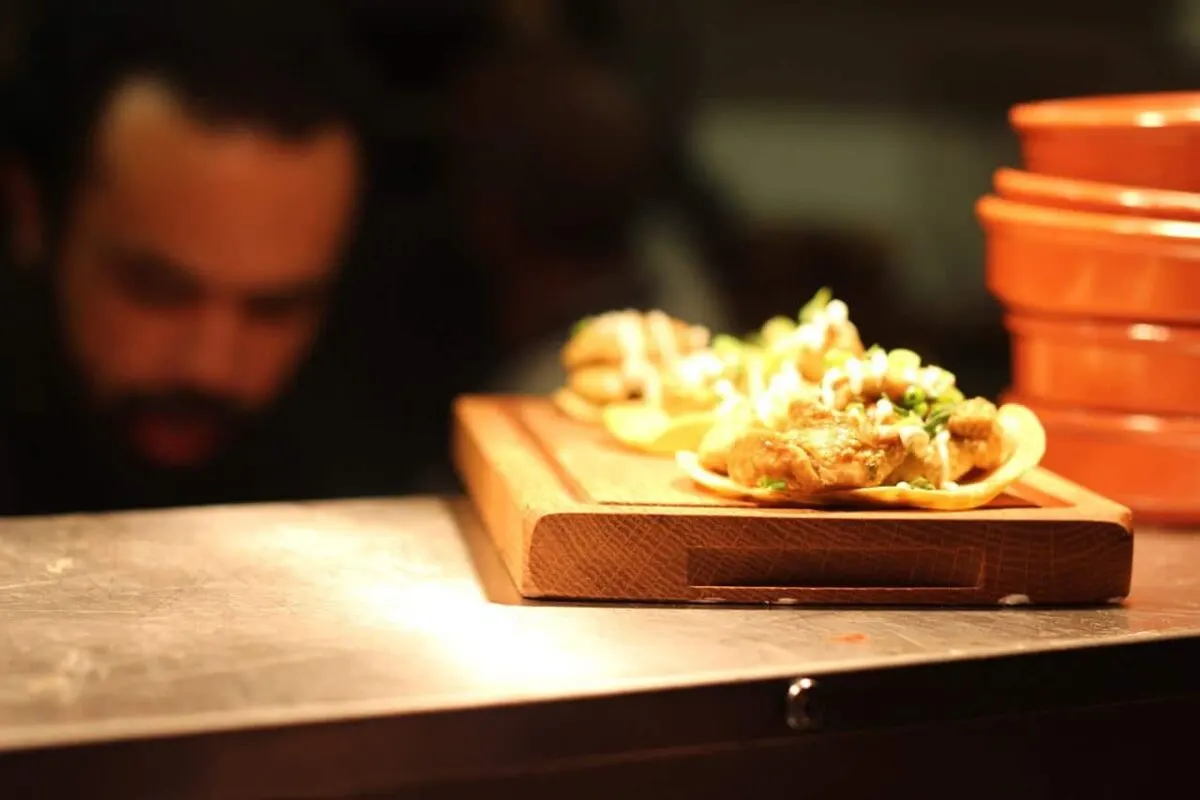 Where to Stay in San Antonio
When choosing a hotel in San Antonio, you'll want to stay downtown. San Antonio is the seventh-largest city in the U.S. and the second-largest in Texas, but it still manages to exude the laid-back feel of a small town. San Antonio's downtown area is oozing with history and loaded with things to see and do including the famous Alamo and the San Antonio River Walk.
Why not stay in the hub of this very walkable city? While you'll find plenty of large chain hotels across the city, San Antonio also hits the mark with several new boutique and design hotels, which offer something a little different from the standard hotel.
Search the Best Hotel Deals in San Antonio
Heritage and Culture
San Antonio's art, cuisine, and music are undeniably steeped in Mexican culture. Many San Antonians speak Spanish, and Latino influence spreads well beyond the Tex-Mex cuisine that once dominated the city's menus.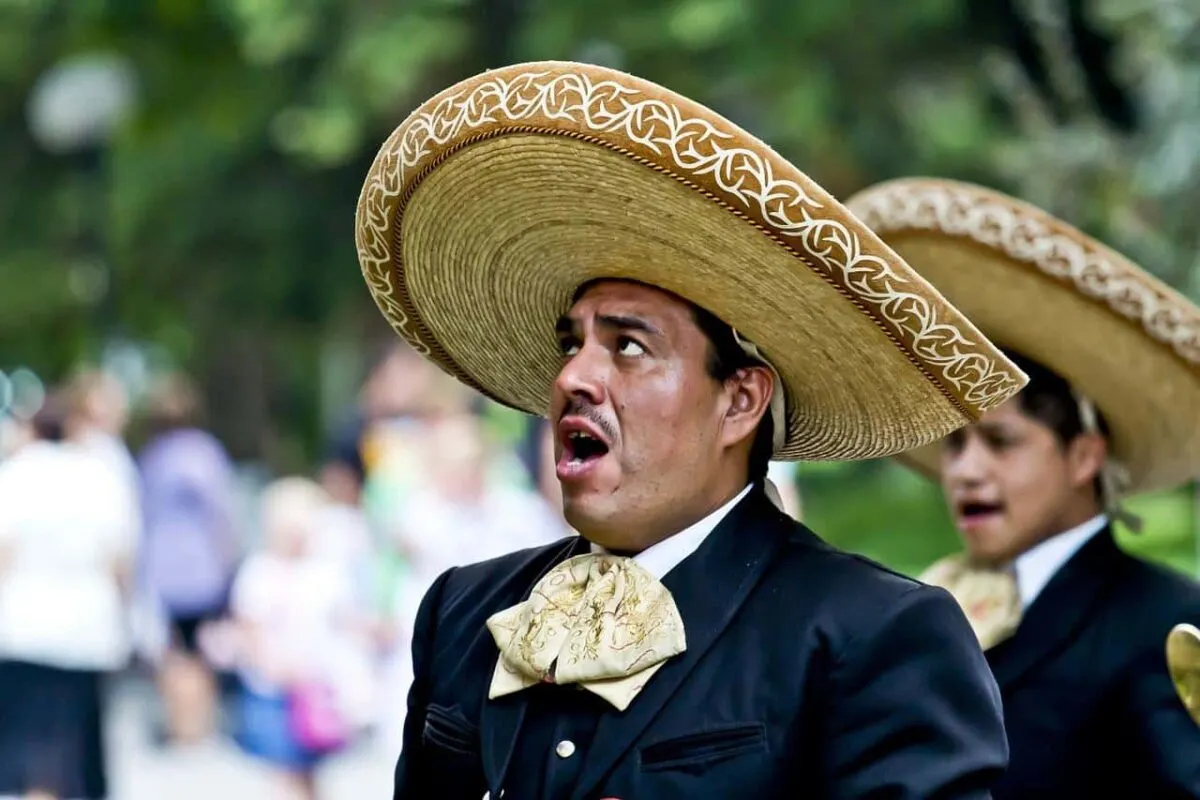 While the city continues to reinvent itself, Mexican culture still courses through the city's veins and remains one of its biggest draws. Streets lined with shops selling authentic Mexican crafts and the sound of mariachi bands along the River Walk create an atmosphere akin to being in Mexico itself. Take a stroll through El Mercado, a historic market that bursts with color and a quintessential Mexican vibe.
Even if you visit with only The Alamo in mind, prepare to be rewarded with so much more to do in San Antonio, you may even end up wanting to stay longer.
9 Top Things to do in San Antonio, Texas
The Alamo
The 18th-century Alamo, a former Roman Catholic Mission and later turned into a fortress, is undoubtedly one of the most popular San Antonio attractions and well worth a visit for it's significant historic importance.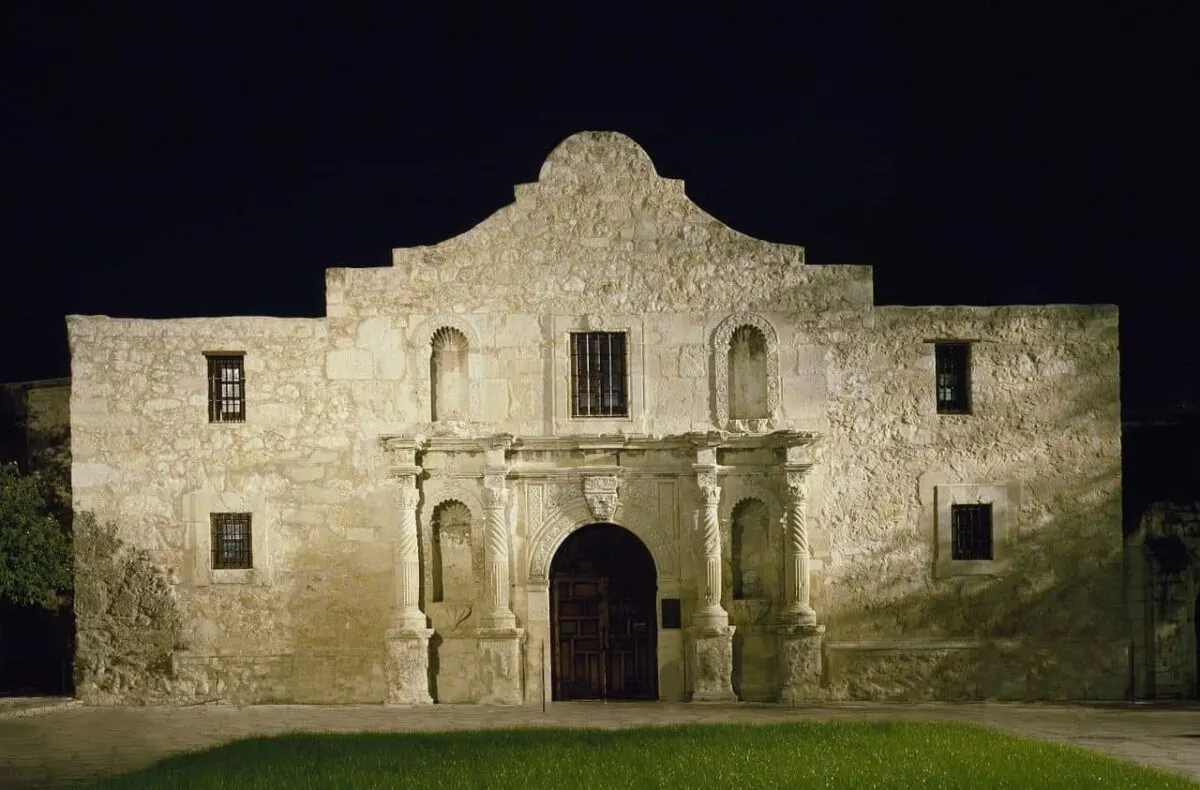 A pivotal site in the Texan Revolution, it is here in 1836 that the Texan revolt against Mexico saw a massive defeat and loss of life at the Battle of Alamo. Although a huge loss for the US, the loss spurred Texans on even more to take up arms and fight back, hence the famous quote "Remember the Alamo, remember Goliad".
Today visitors can wander around the sight free of charge and although some of the original buildings were destroyed, you can still visit the much-photographed chapel, the Long Barracks, as well as a host of other buildings too.
For a more informative experience, you may also opt for a paid guided tour to learn more about the incredible history and work of this mission.
San Antonio Tour Recommendation
Get your bearings of San Antonio and learn the history and stories of the cities most famous sites on a 4-hour afternoon sightseeing tour with a local guide.
Your tour starts downtown with a visit to the San Antonio River Locks. Explore unique sites and points of interest in the Museum Reach and Mission Reach of San Antonio, areas known for their beautiful architecture. See the original frescos at the UNESCO World Heritage Site: Mission Concepcion, the oldest unrestored stone church in the nation.
Explore the Japanese Tea Garden with its koi ponds, stone archways, and tea house
Enjoy a stroll along the koi ponds, stone archways, and visit the tea house at the Japanese Tea Garden ending your tour exploring the famous Alamo. Tours start from $65 including hotel pick up and drop off. See here for full tour details.
River Walk
A wander down the famous River Walk is one of the best things to do in downtown San Antonio. Born out of tragedy after a devasting flood, today the 15-mile long River Walk meanders through the city center and links many of the city's top attractions.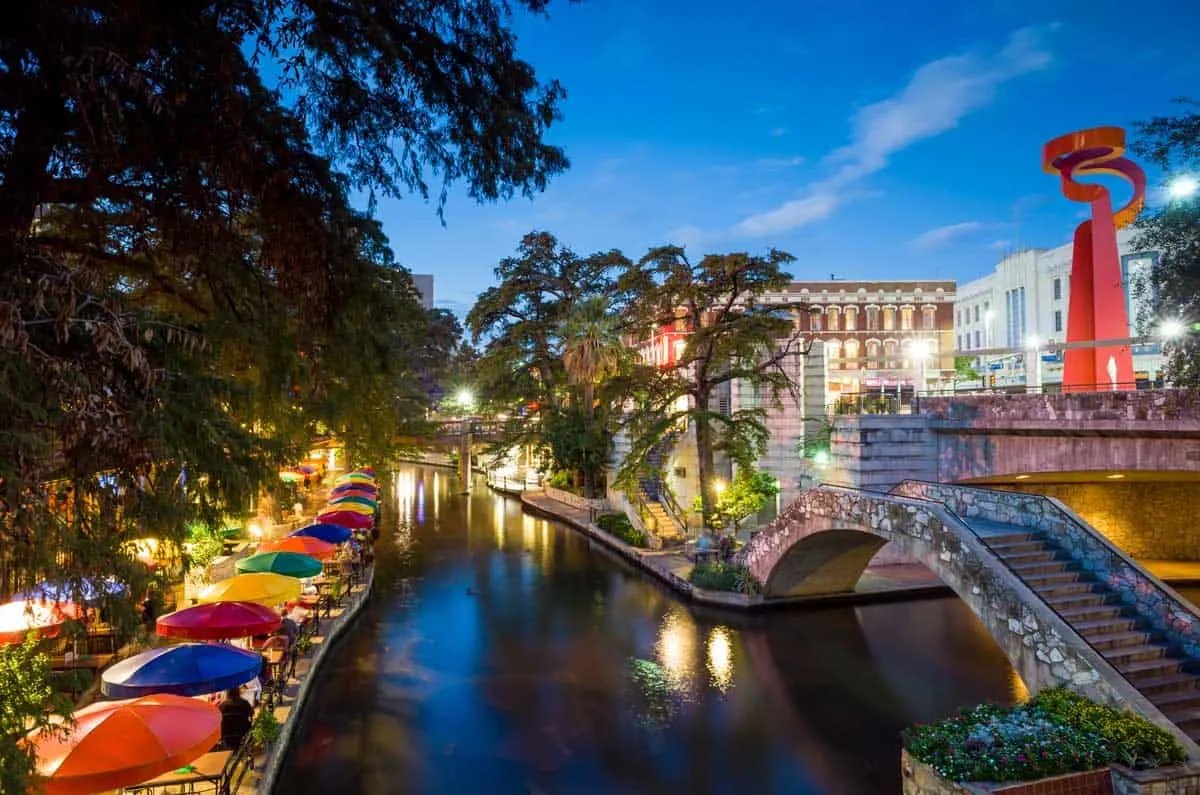 The walk itself consists of two separate walkways on either side of the river and is set one level down from the city's main streets. This riverside walk is a great way to escape the hustle and bustle and take in the beautiful riverfront scenery. Along the way, you'll pass numerous great shops, boutiques, bars, and restaurants too.
If you don't feel like walking the entire stretch you could opt for a scenic river cruise, some of which include an audio-guided tour.
Tip: The 2 day San Antonio hop-on hop-off bus pass also includes a 40-minute river cruise. See here for details.
Fiesta San Antonio
If you happen to be visiting during Spring, then don't miss out on the Fiesta San Antonio festival when colorfully decorated barges float along the river.
Market Square
The colorful and vibrant Market Square in San Antonio is not only a feast for the eyes but also for the tastebuds. Whilst the city is renowned for its Tex-Mex cuisine, Market Square is probably one of the best spots to try out authentic Mexican food.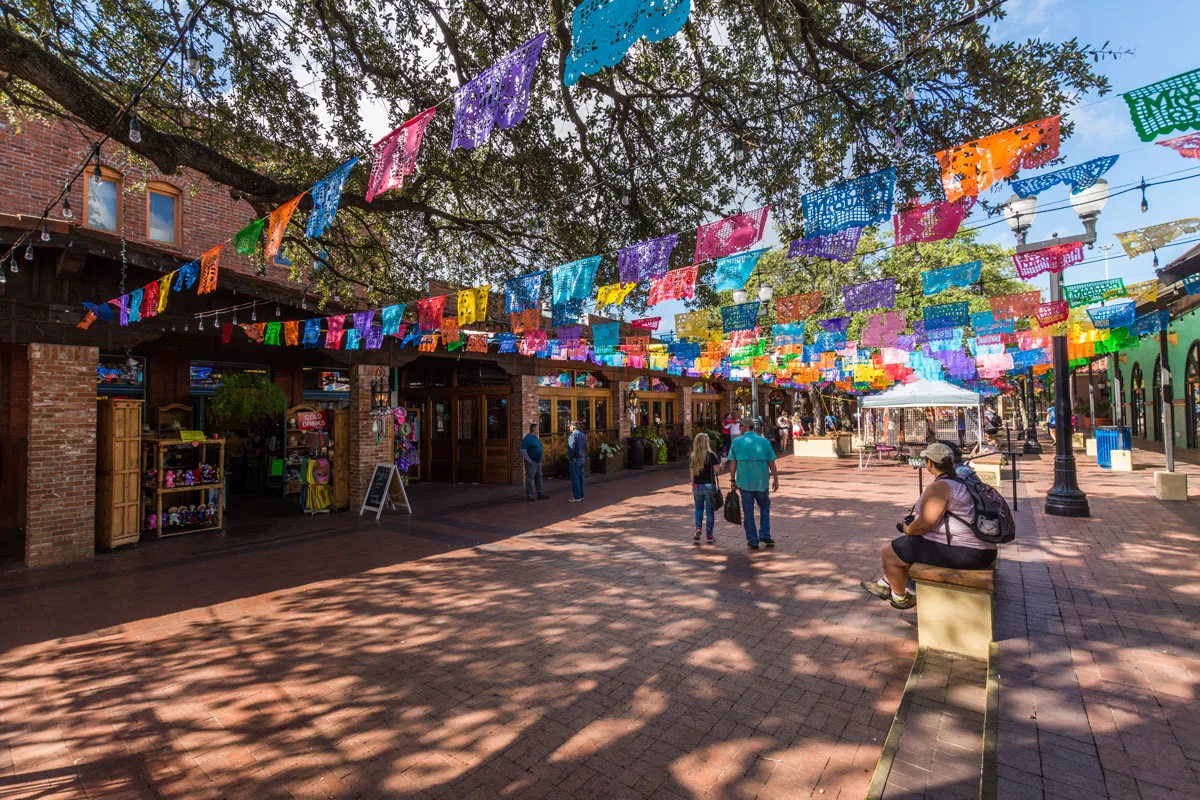 Along with the awesome restaurants, including the oldest restaurant in the city, Shilo's, you'll also find an incredible array of boutique stores and specialty shops selling all manner of Mexican souvenirs, arts, and crafts spanning across three blocks.
The ambiance of this bustling market is always very vibrant and lively and it's not uncommon for several Hispanic festivals and concerts to take place here throughout the year.
San Fernando Cathedral
The imposing San Fernando Cathedral that dates back to 1750 making it one of the oldest in the US, is also set smack bang in the center of the city and definitely one of the top things to do in San Antonio at night.
The Roman Catholic cathedral, which is also the seat of the Archbishop of San Antonio, is beautiful to admire for its exterior and interiors. However, most visitors flock to the cathedral at night to behold the dazzling 24-minute light show created by artist Xavier de Richemont that details the city's history. It really is one of the must-see things in San Antonio.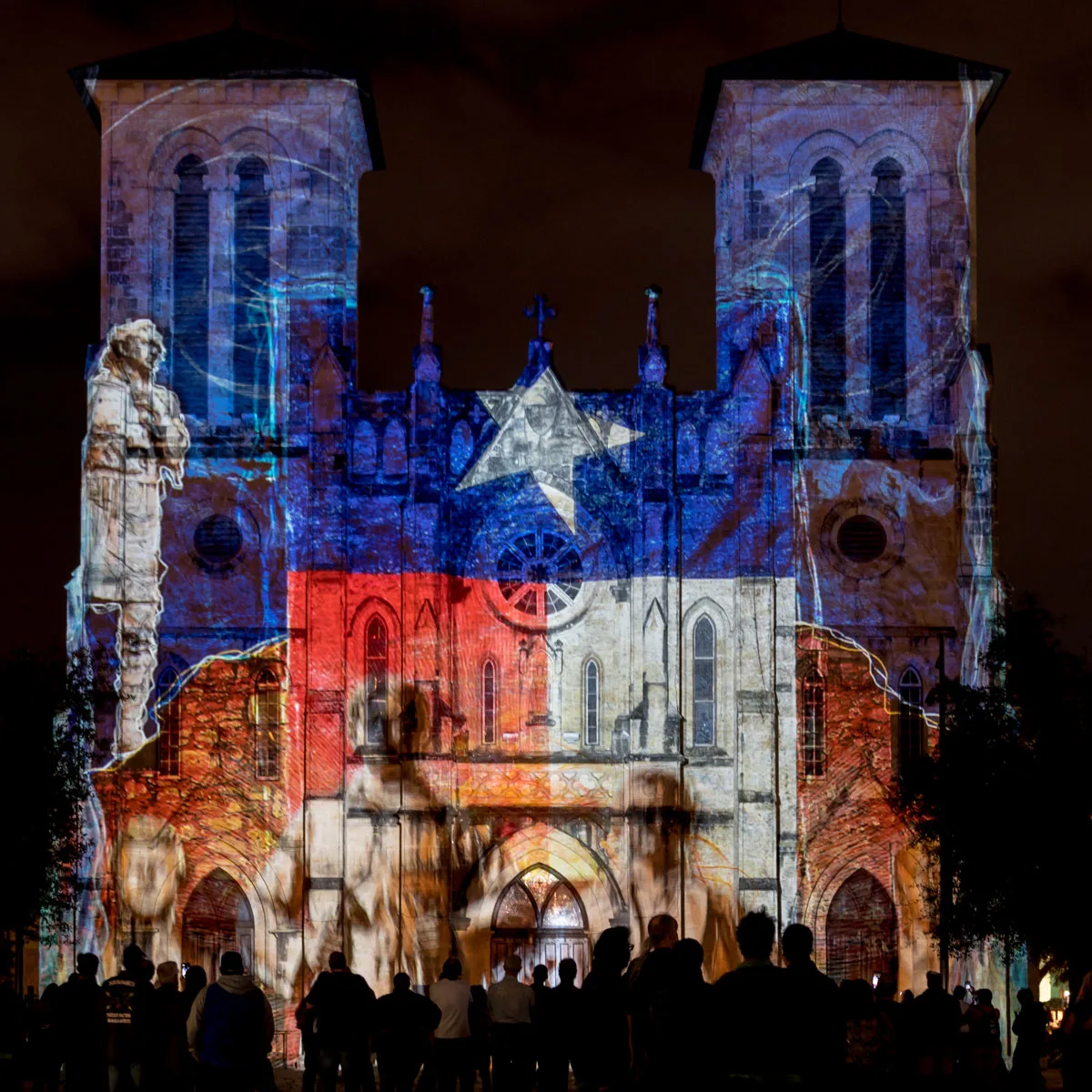 The show takes place on Tuesdays, Fridays, Saturdays, and Sundays at 9 pm, 9.30 pm, and 10 pm. It's free to visit but seats are limited and given its popularity, it is a good idea to get there early to grab your spot.
Texas Wine Trail
What many visitors to the city don't realize is that the nearby Hill Country is home to more than a dozen incredible wineries and estates perfect for a day trip or weekend getaway.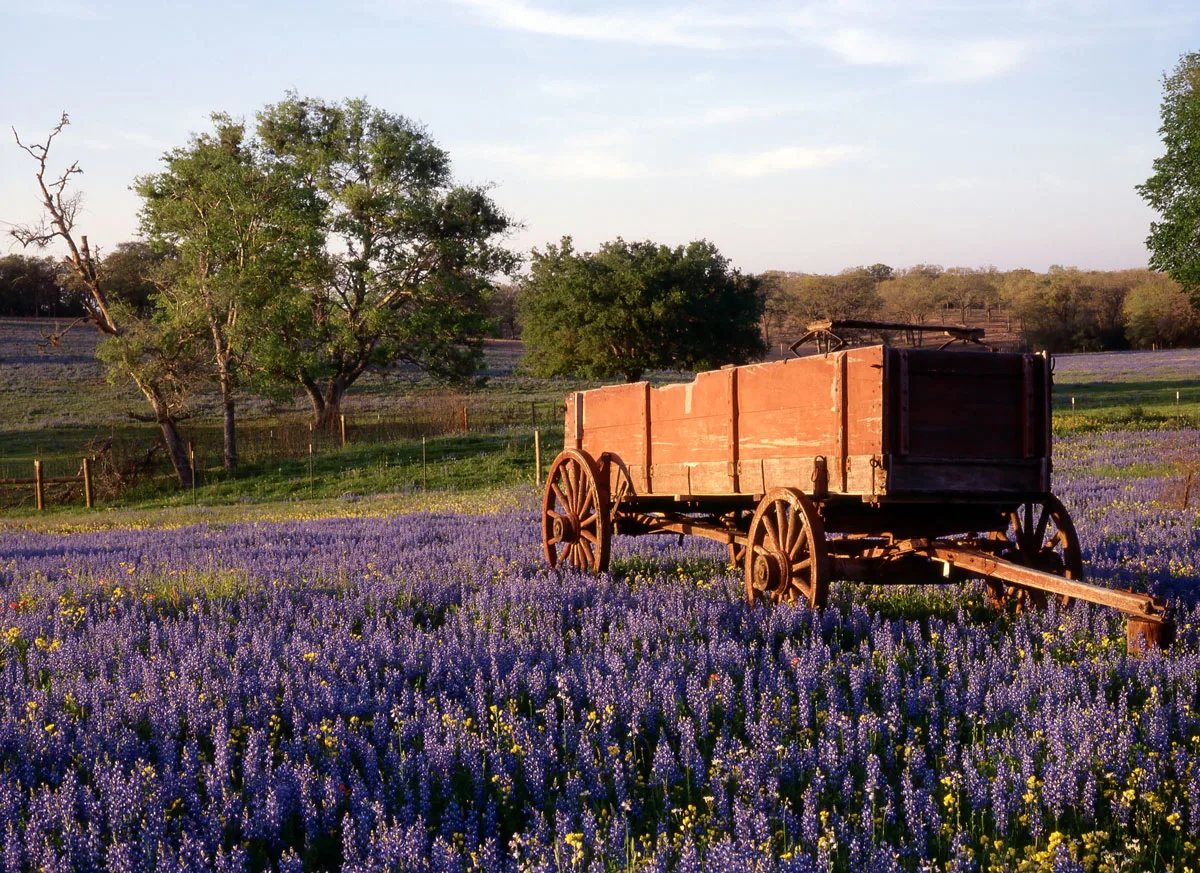 On the Texas Wine Trail, visitors can explore over 50 wineries dotted through the region, including in charming towns such as Fredericksburg and New Braunfels. Apart from sampling the area's stunning wines, many wineries also play host to a range of events throughout the year, including grape stomping, music festivals, and wine paired dinners.
Texas Hill Country & Wine Tour Recommendation
Travel from San Antonio or Austin to the rolling hills of the Texas Hill Country through wineries, lavender fields, and peach and pecan orchards on a full-day tour. Explore the famous LBJ Ranch known as the "Texas White House," stroll around historic Fredericksburg, and experience the magic and music of Luckenbach one of the oldest and most preserved towns in Texas. Finish the day learning about the Texas wine industry and visit the award-winning winemakers at Sister Creek Vineyards. See full tour details here.
Hiking in San Antonio
Want to go hiking in San Antonio. Only a short drive out of the city you'll encounter some of Texas' most beautiful natural landscapes and parks dotted around the Texas Hill Country and some of the best hiking in the US.
All within an easy drive from San Antonio you can explore the stunning Guadalupe River State Park, Canyon Lake, and Garner State Park to name a handful.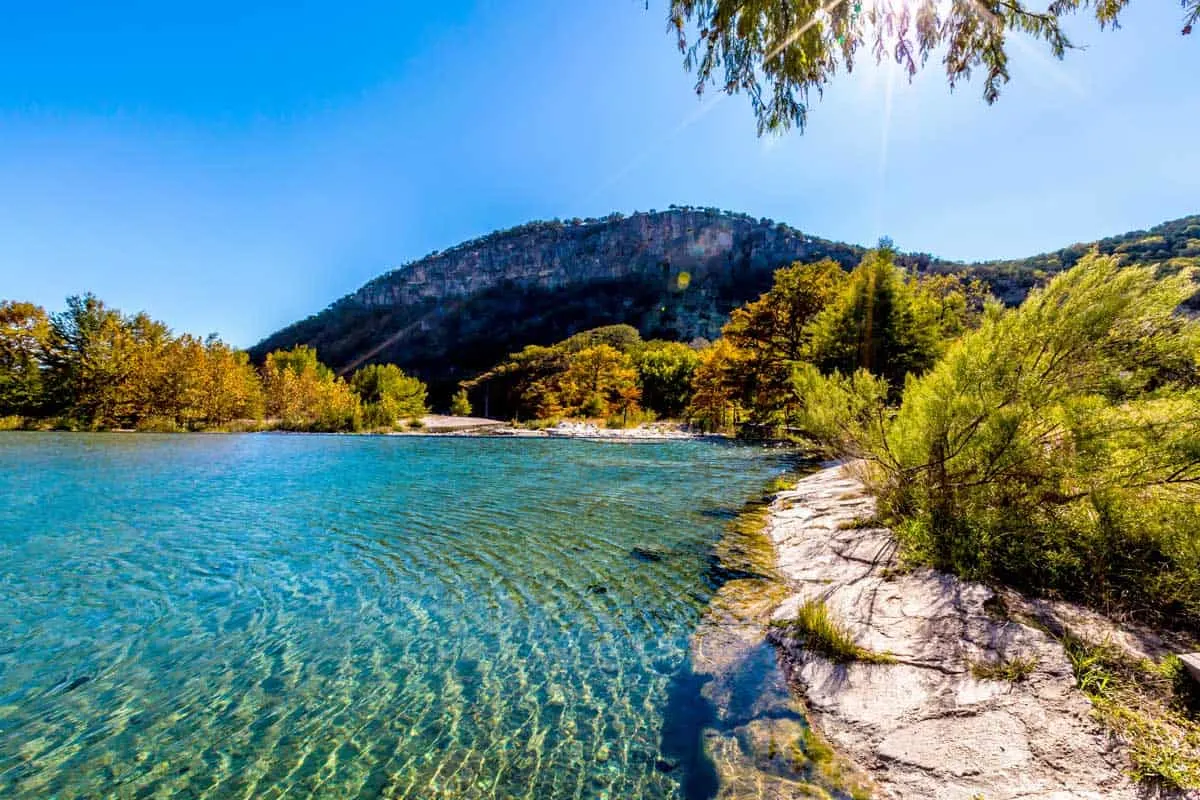 These sights allow nature lovers the chance to bike, fish, dive, horseback ride, or uncover some of the best hiking trails San Antonio and its surroundings have to offer.
The Buckhorn Saloon and Texas Ranger Museum
As far cool places in San Antonio go, it doesn't get better than the 2-for-1 Buckhorn Saloon & Museum that will deliver loads of amusement and fun for both young and old.
Your entry ticket will grant you access to both museums located onsite. The Buckhorn Museum consists of a collection of more than 520 species of mounted animals from around the globe, originally collected by Albert Friedrich and then expanded upon over 100 years. This particular display may not be everyone's cup of tea, but it's still a fascinating display worth visiting.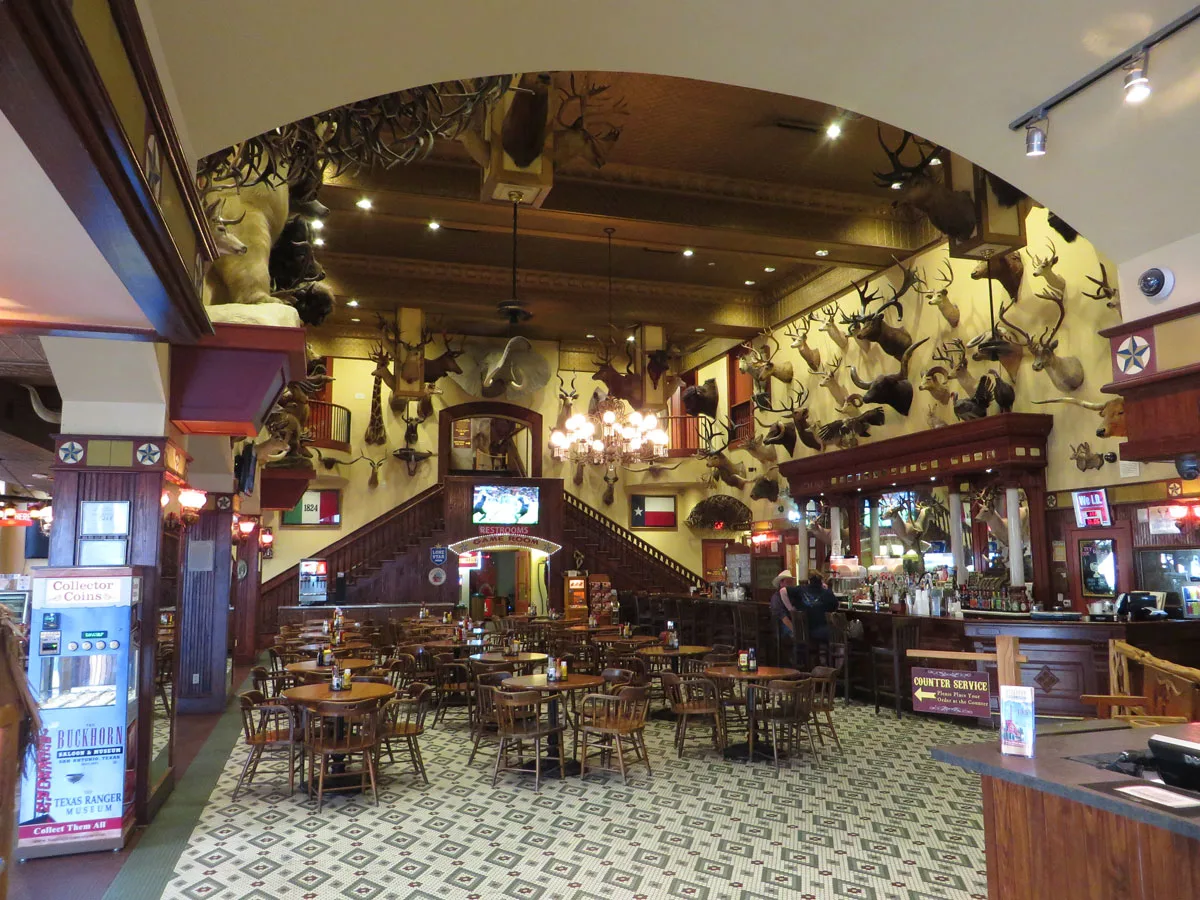 At the second, The Texas Walker Ranger Museum, you can learn all about the history of Texas Rangers and includes several interesting historic artifacts, some of which are more than a century old.
Before leaving take a trip to the iconic Saloon or browse the gift shop for the perfect Texan keepsake.
San Antonio Botanical Garden
Outdoor and nature lovers alike will fall in love with the changing seasonal landscapes of the San Antonio Botanical Gardens which was originally established in 1980 and includes 38-acres of land.
This sprawling paradise encompasses a range of different gardens (including a Japanese garden, a Rose garden, and many more), the Lucile Halsell Conservatory that features a myriad of plants from around the world, as well as various other amenities, event spaces, and spots to explore.
A visit to the Botanical Garden is one of the best things to do in San Antonio with kids as they explore the Family Adventure Garden or as they learn to cook healthy nutritious meals at the Culinary Health Education for Families Program.
The gardens are open Monday to Fridays 9 am – 7 pm and on Weekends from 9 am to 5 pm.
The Majestic Theatre
On the hunt for some unique and fun things to do in San Antonio? Why not consider a night at the theatre. The Majestic Theatre to be exact.
Dating back to 1929, the Majestic is the city's oldest and biggest theatre and was the home of the San Antonio Symphony up until 2014. Today, you'll find large-scale local and international productions taking place at this 2,311-seater theatre including shows like The Lion King, My Fair Lady, as well as several comedic, musical, and theatrical spectaculars.
Be sure to consult the event calendar ahead of time and add a trip to the Majestic to your San Antonio itinerary.
More Things to do in San Antonio
Six Flags Fiesta Texas Amusement Park
San Antonio Museum of Art
San Antonio Missions National Historical Park
Japanese Tea Garden
La Villita Historic Arts Village
Mission Concepción
Spanish Governor's Palace
Natural Bridge Caverns & the Canopy Challenge and Zip Lines
Pearl District and Farmers Market