Want to experience the best of Istanbul like a local? Then take a local's guide to Istanbul tour.
Sure, a visit to Turkey wouldn't be complete without visiting all the best attractions in Istanbul.
But, if you have a spare day in Istanbul, make like a local and take the path less tourist-trodden or just wander the streets. You might just like Istanbul from a local's perspective.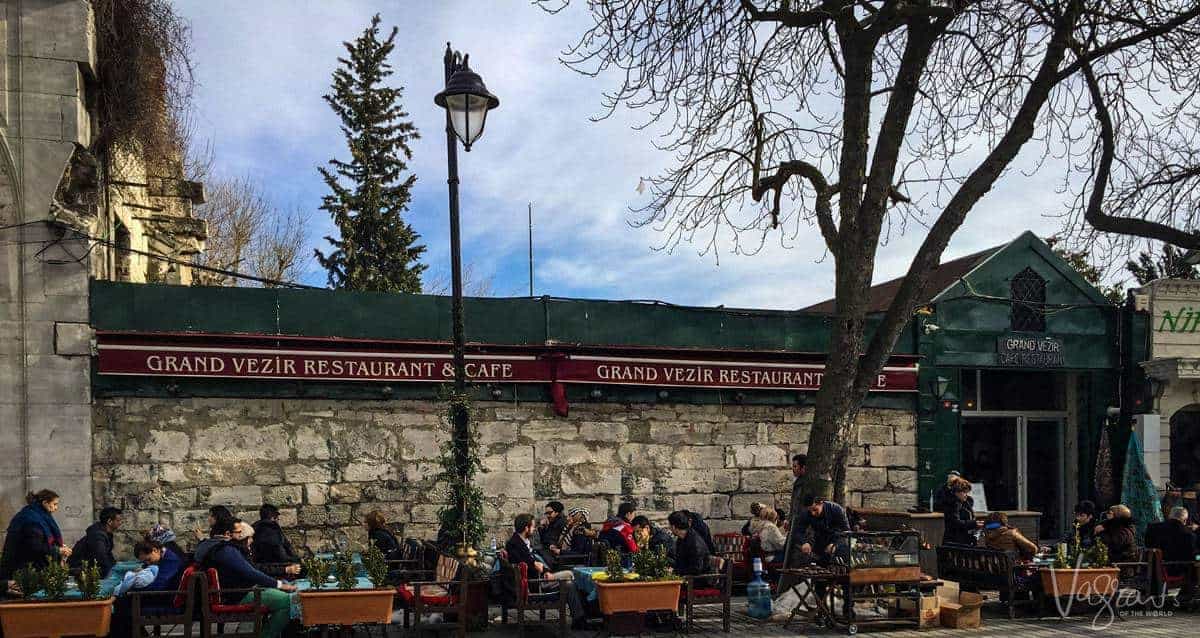 Istanbul Local Guides
A private tour with an Istanbul Local Guide will show you the best things to see in Istanbul as well as where the locals eat, shop, drink, explore and relax.
There's a new breed of tour guide on the travel market. They are young, mostly university-educated and well-informed in local and world affairs. They are up with popular culture and what is fashionable. This means knowing the latest local fads in food, fashion and socialising.
As well as sharing an in depth, educated knowledge of local history, art and architecture, they can guide you to the hottest restaurant, art exhibition or off the tourist trail markets.
Book a private full or half-day tour with a local, and you are bound to see much more of Istanbul than you will find in the guidebooks.
---
---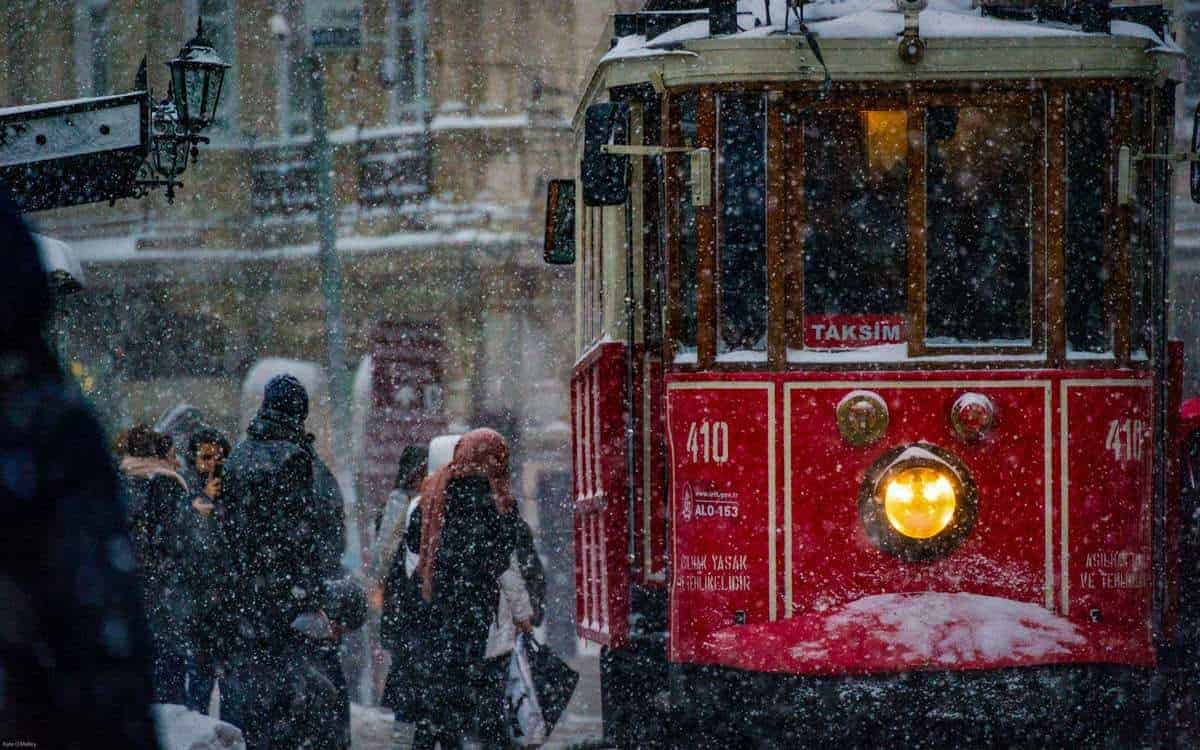 ---
Private Istanbul Tours
Istanbul had experienced a very unexpected, heavy snowstorm the day before we had a private tour of Istanbul booked. We had a plan of what we wanted to see, but the snow and ice meant it was going to be difficult getting there. Istanbul had virtually come to a standstill!
Thankfully, the company we had arranged the tour with was just the kind we like – flexible, and open to whatever we wanted to do.
---
Plan Your Trip to Europe with our Guide to the Best Time to Visit Europe. Peak season isn't always the best time to travel anywhere. Work out the best time to visit Europe based on where you want to visit and what you want to experience.
---
The Flexibility of a Local Guide to Istanbul
Our guide explained that while set tour options of the main tourist attractions are available, they are open to whatever the customer wants to do. If we wanted to sit on the banks of the Bosphorus all day, drink wine and chat- "Fine, we can do that!" (note: schedule this for another day)
He once had a very wealthy customer who wanted to go to the new fancy shopping centres to buy furniture. "No problem, it's your day!" He had absolutely no interest in or knowledge of furniture shopping, but hey.
So on the premise, we would not be trudging the tourist trail, we left ourselves open to seeing the places our guide liked to visit, as a local. A local's tour of Istanbul.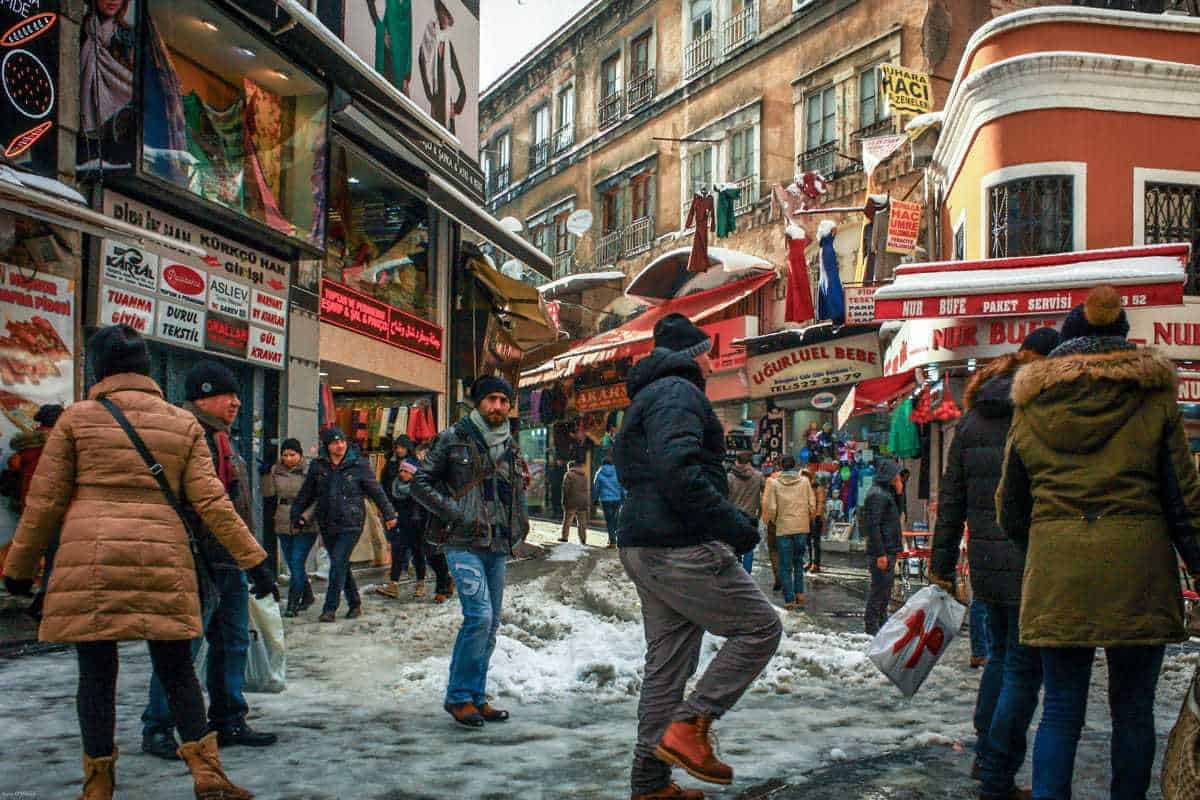 Museums in Istanbul
Panorama 1453 Museum
We had shown an interest in visiting this museum which surprised our guide. Panorama 1453 is a history museum mostly frequented by high school students and Turkish people interested in Ottoman history. So it doesn't get many "tourists" through. The museum commemorates the Ottoman siege of Constantinople in 1453. It is also pretty cool.
The centre point of the museum is a 3D panoramic depiction of the actual 15th-century siege. A massive dome, hand painted by eight artists over five years, measuring 38 metres in diameter and covering 2,350 square metres.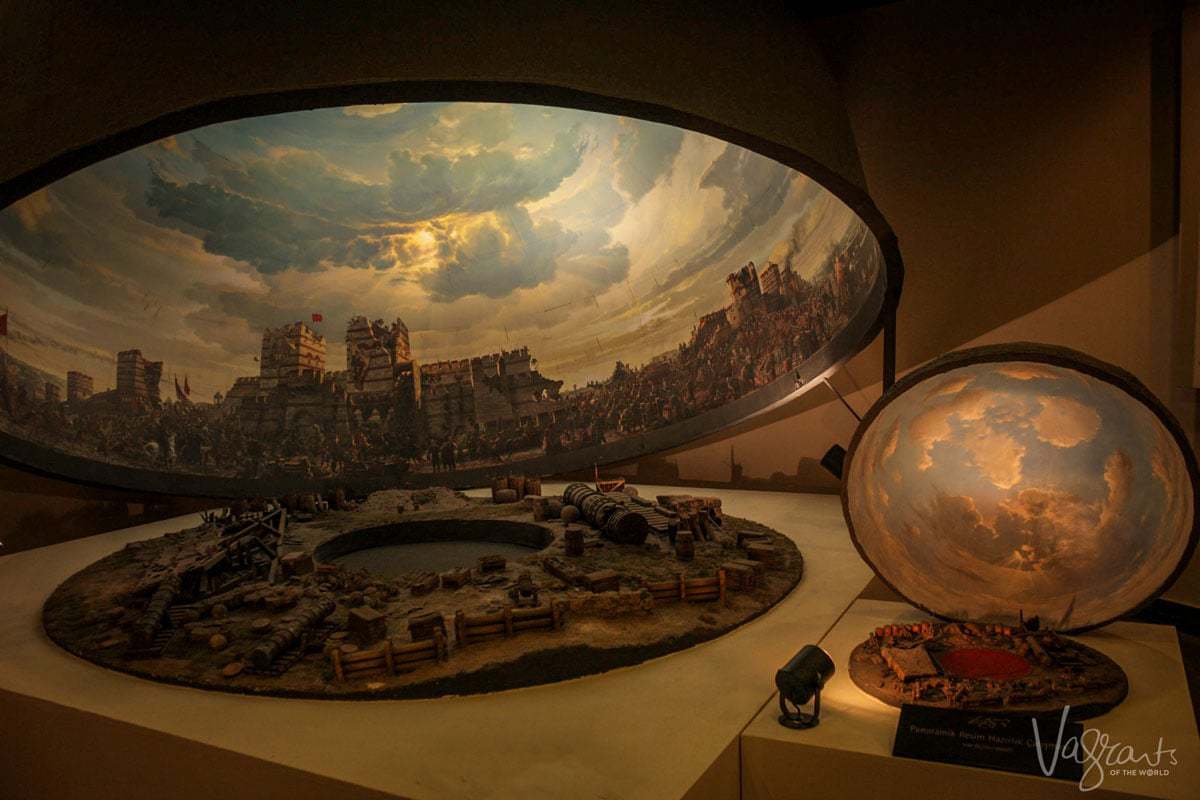 When you first enter the centre platform and stand under the dome, the sound of cannons roaring leaves you feeling slightly dizzy. Flaming cannonballs and arrows look as if they are flying through the air directly at you.
At any moment, you could get caught up in the battle. Your entire sense of balance gets momentarily thrown as you are suddenly immersed in this dramatic environment. It really is quite an incredible installation.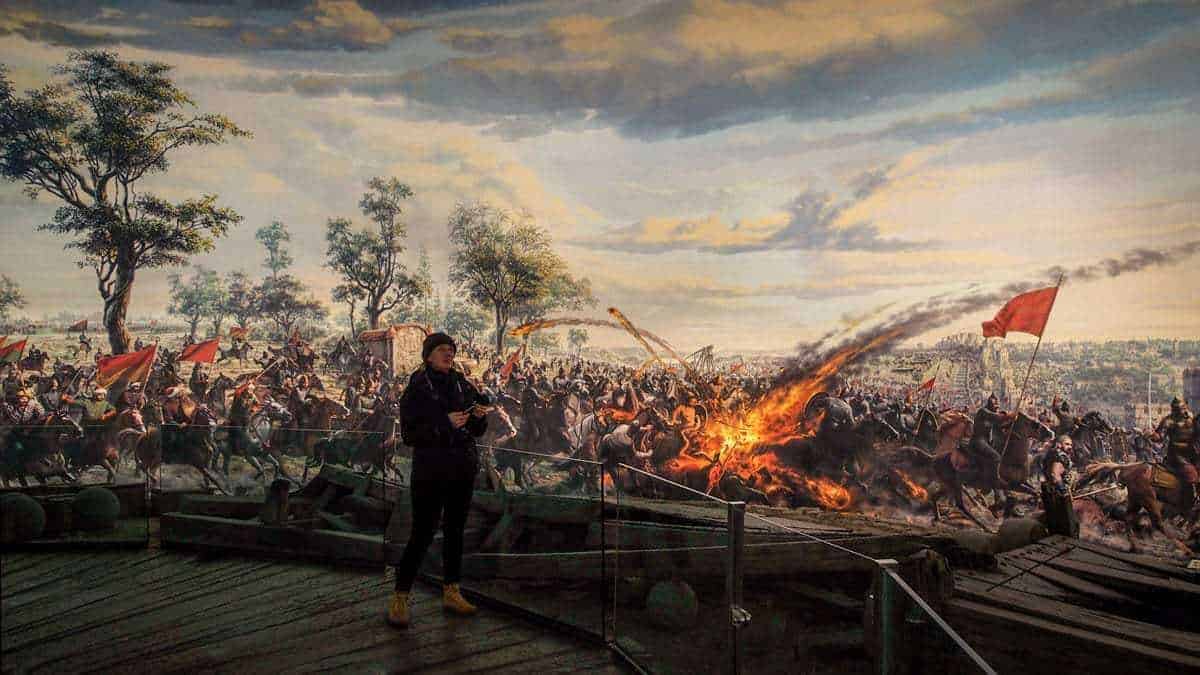 The real-life scene of this moment in Turkish history is here, the old city walls of Istanbul. Stretching 22km's, making Constantinople an almost impenetrable city. Of course, until the Ottomans came along.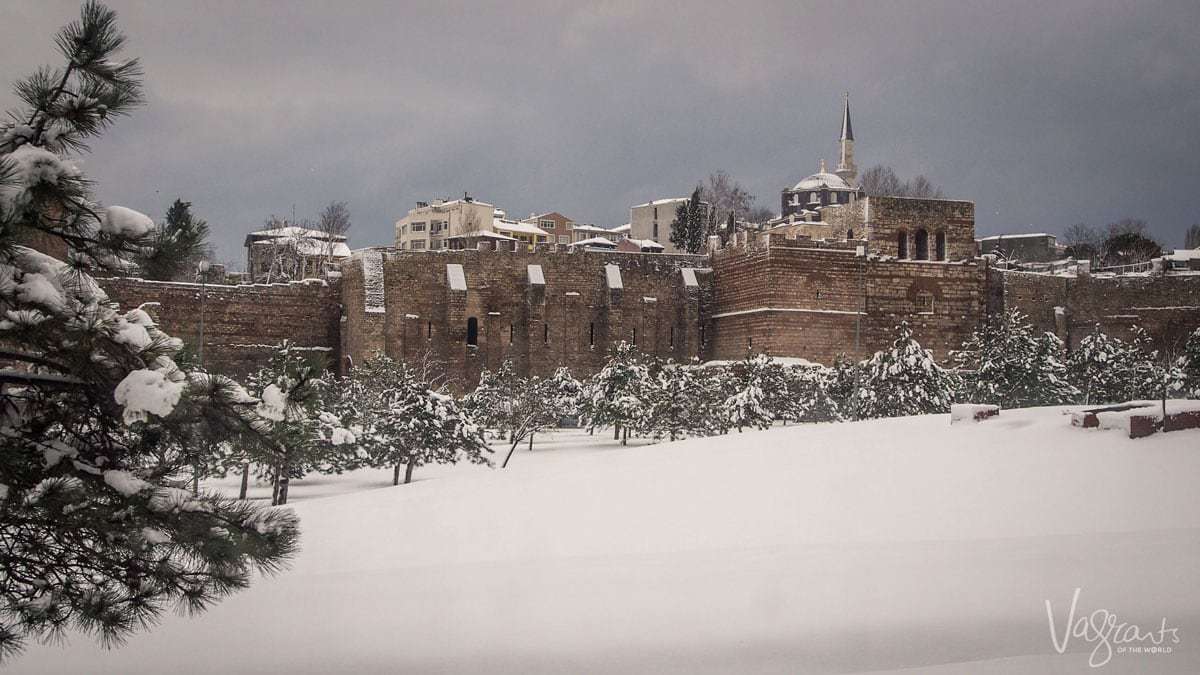 Kariye Museum – Chora Church
Kariye Museum Or Chora Church, Church of the Holy Savior, considered one of the most beautiful remaining Byzantine churches in the world. It is also possibly one of the most underrated museums in Istanbul.
Chora Museum receives a fraction of visitors the Hagia Sophia does but is equally, if not more striking due to the interiors stunning array of frescoes and mosaics.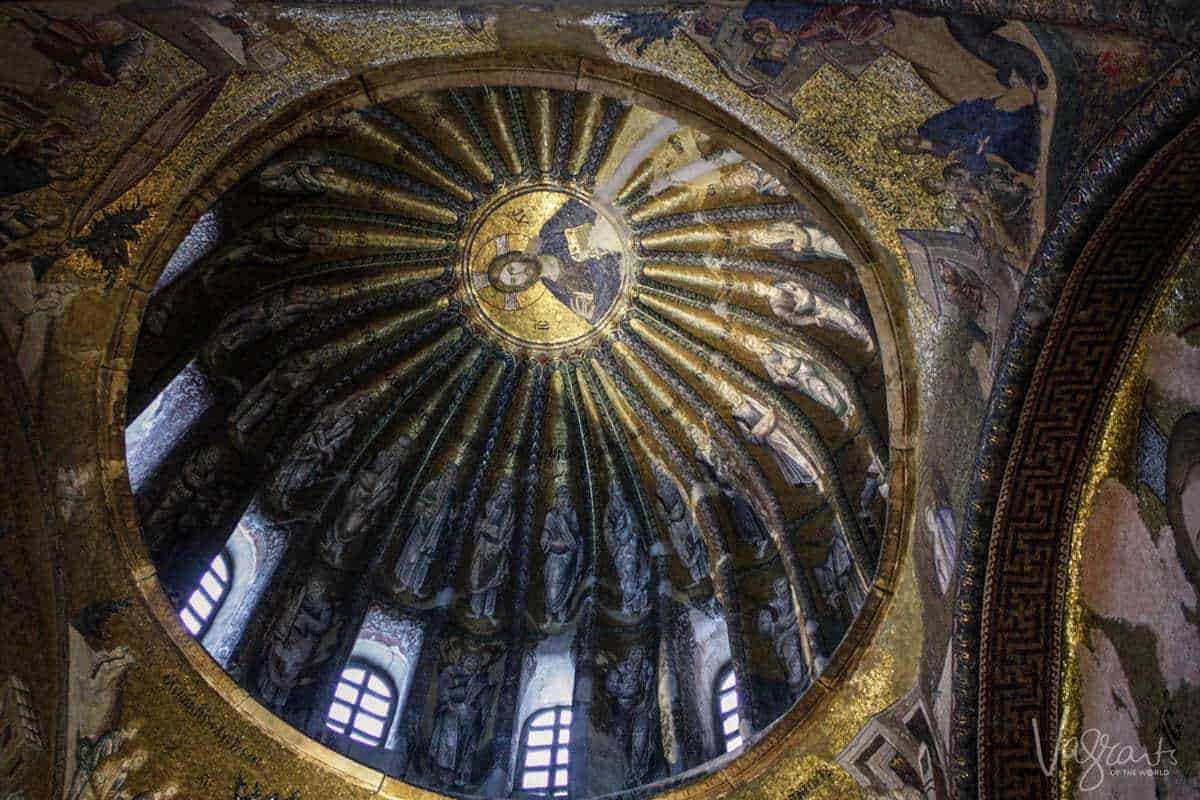 The majority of the frescoes and mosaics depict the lives of Jesus Christ and the Virgin Mary, including some rare depictions of the birth and life of Mary herself.
Like Hagia Sophia, Chora was converted into a mosque after Constantinople fell to the Ottomans and the stunning frescoes and mosaics were plastered over. In 1948 restoration began and around 10 years later the building was opened as a public museum.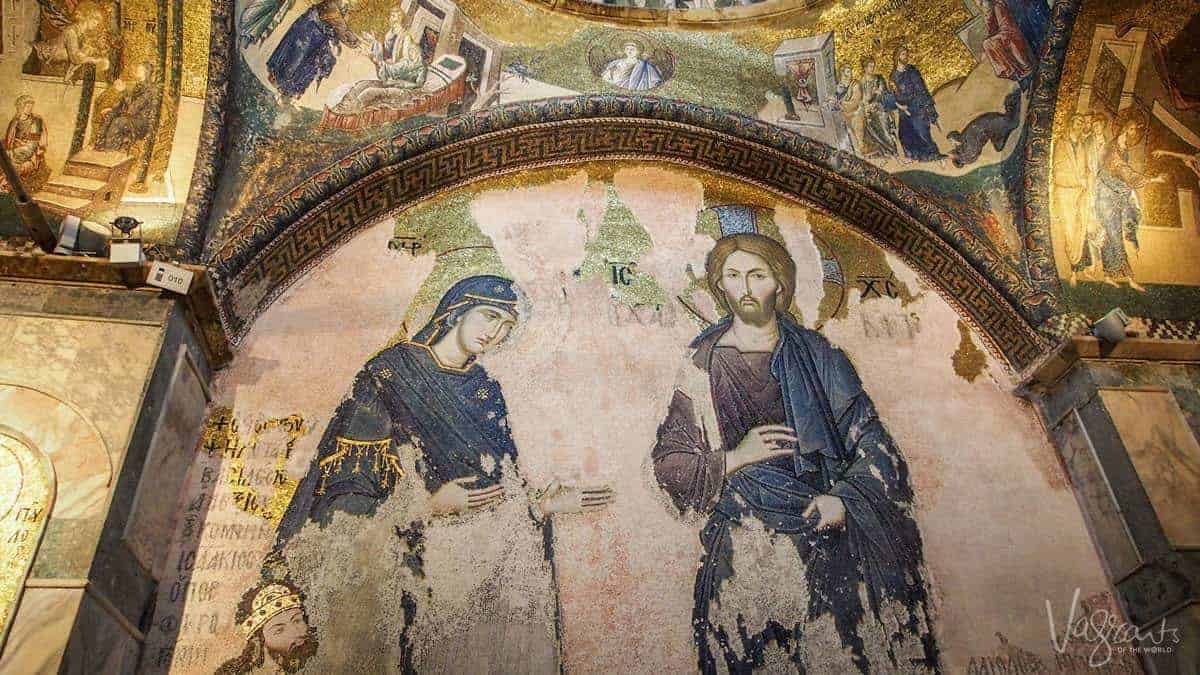 On your way to Chora, keep an eye out for all the gorgeous timber Ottoman style architecture in the area.

Süleymaniye Mosque
While the Blue Mosque is undoubtedly on the "Must See" list for Istanbul, there is another mosque that doesn't draw quite the same crowds but is equal in beauty and a much more pleasant visiting experience.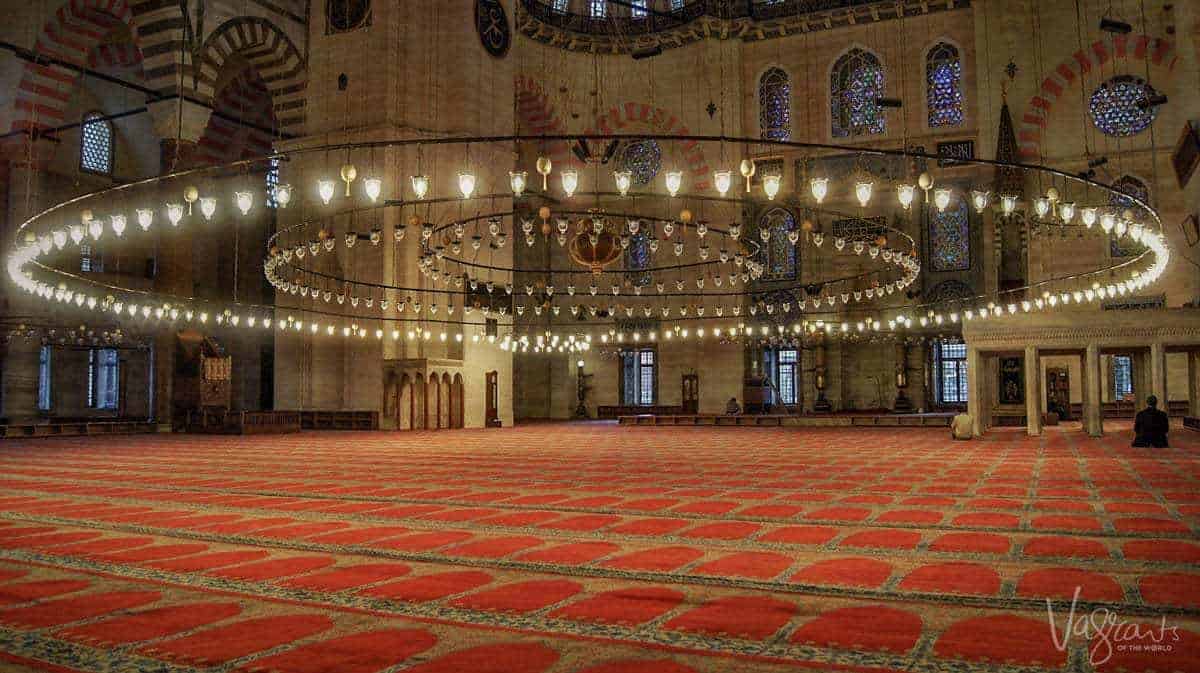 Süleymaniye Mosque may not be the most well known with the tourist crowd, and there are many worth visiting, it is the largest mosque in the city and a landmark that sits atop the third hill of Istanbul. So while many see it, many do not visit.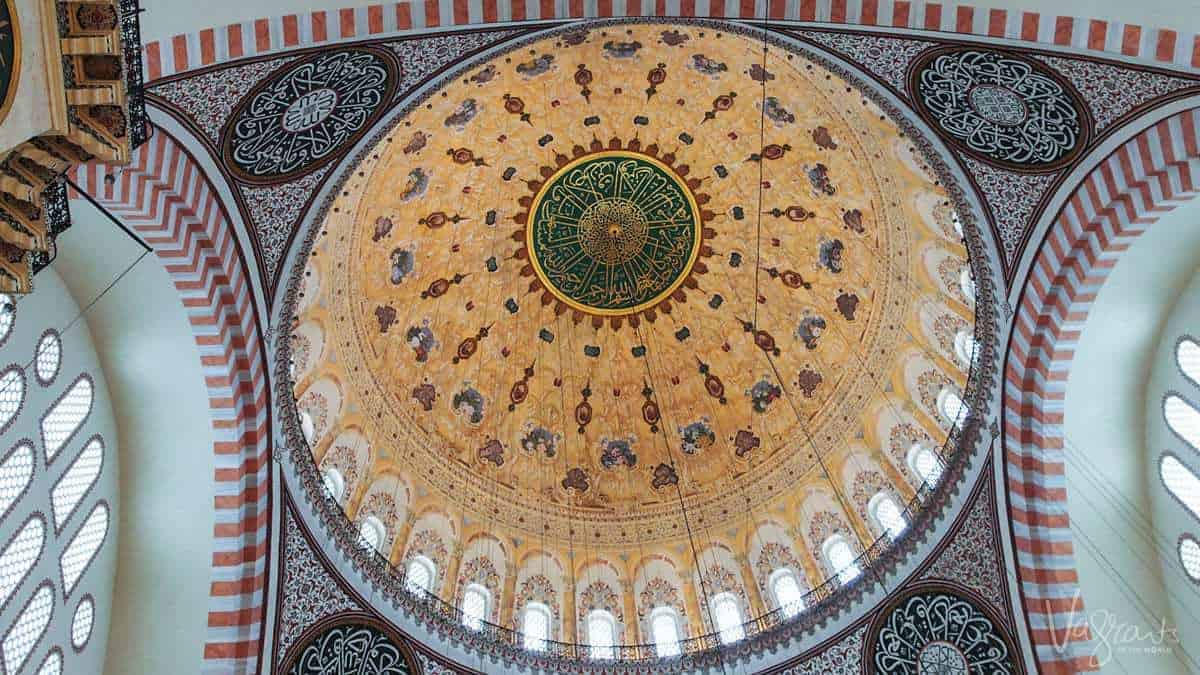 The gardens surrounding the mosque offer incredible views of Istanbul, even on a cold, dark, snowy day.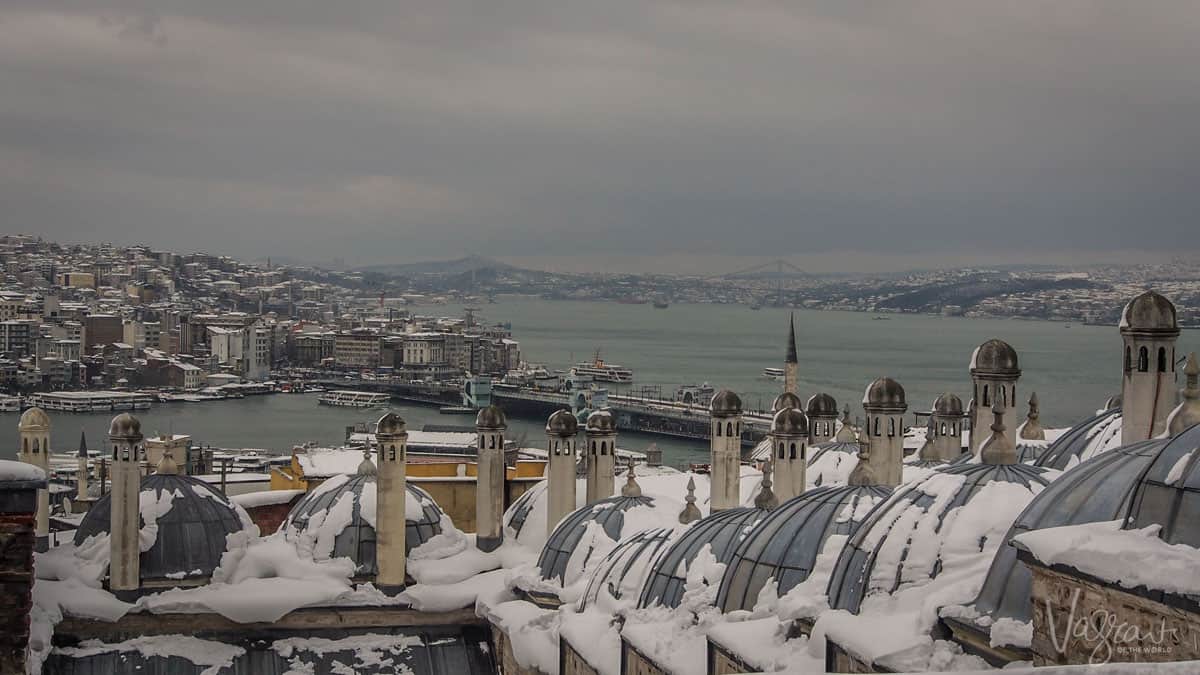 Istiklal Avenue
Head into the Pera district and take a stroll down the famous Istiklal Avenue. A 1.4 km pedestrian strip lined with shops, restaurants and historical patisseries.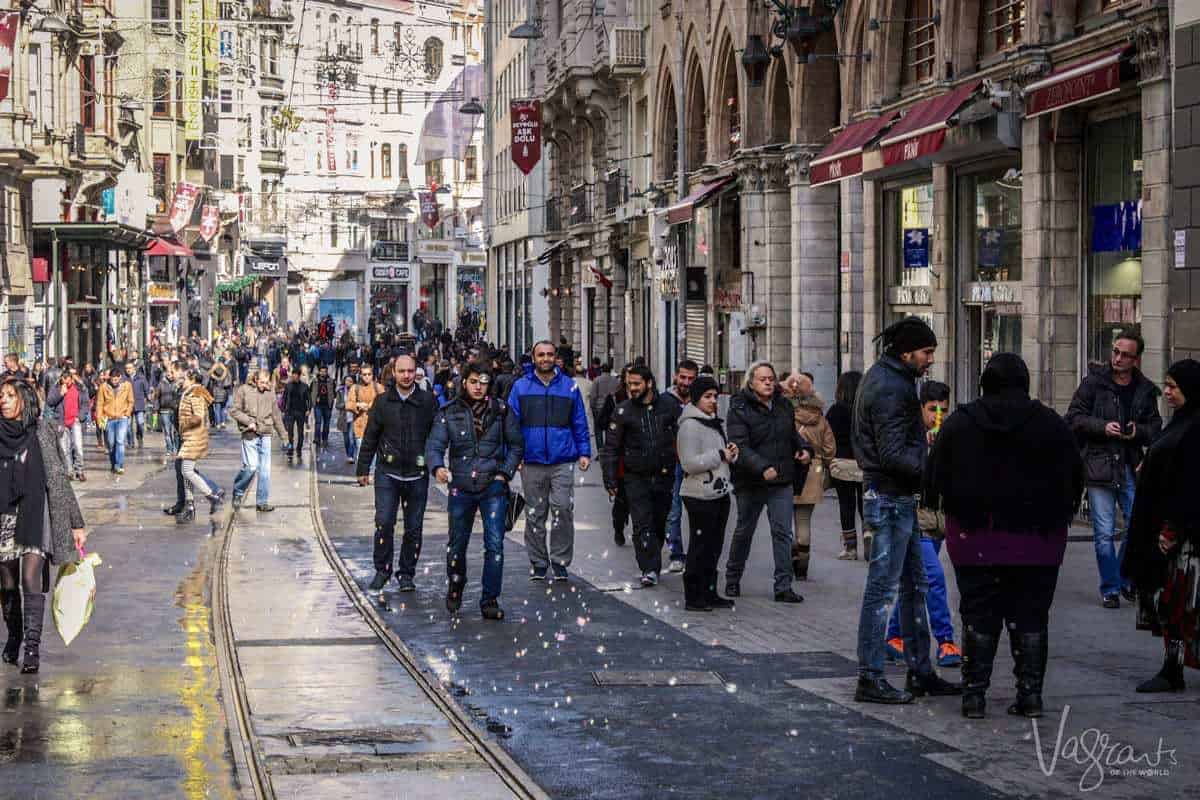 Istiklal Avenue can become very crowded so make sure you keep an eye on your stuff. Make sure you keep bags zipped up and valuables secure in internal pockets. We always recommend using a good anti-theft backpack or anti-theft handbag in crowded touristic cities.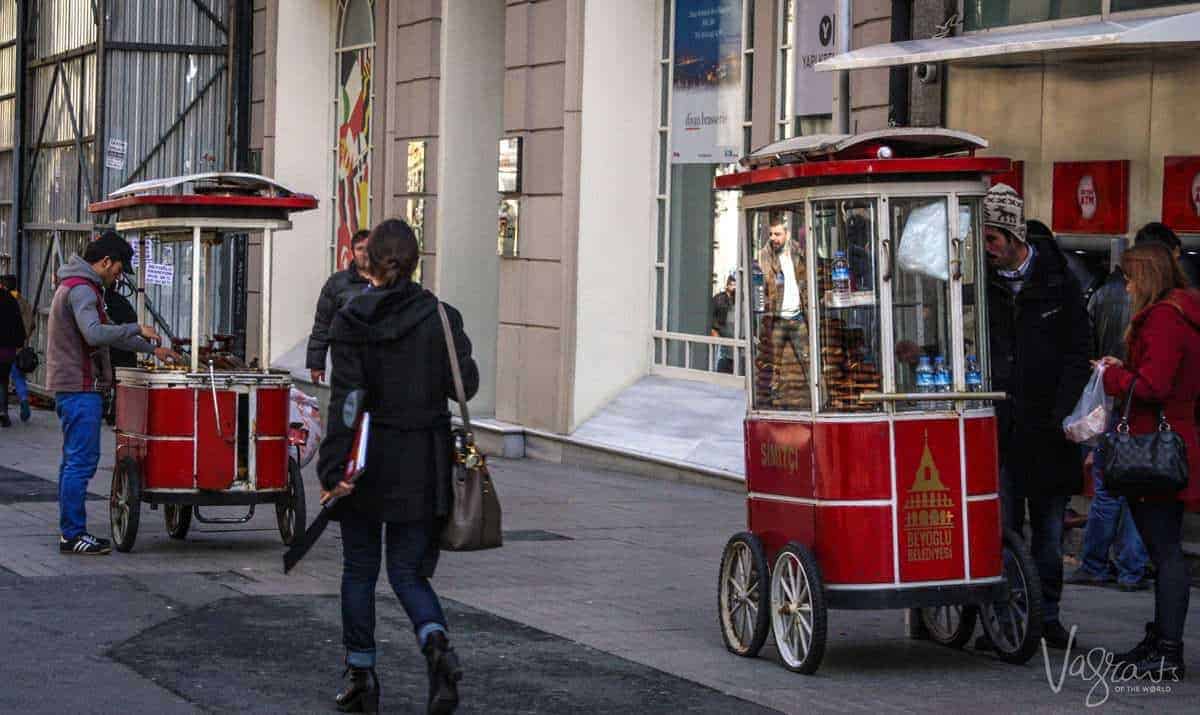 Explore the Pera District
Thanks to our newfound local knowledge, we headed off Istiklal Avenue and wandered the back streets. Stopping for mint tea in our guides favourite cafe we got to meet some of the local cafe crowd and discuss the best places to eat and shop in the district.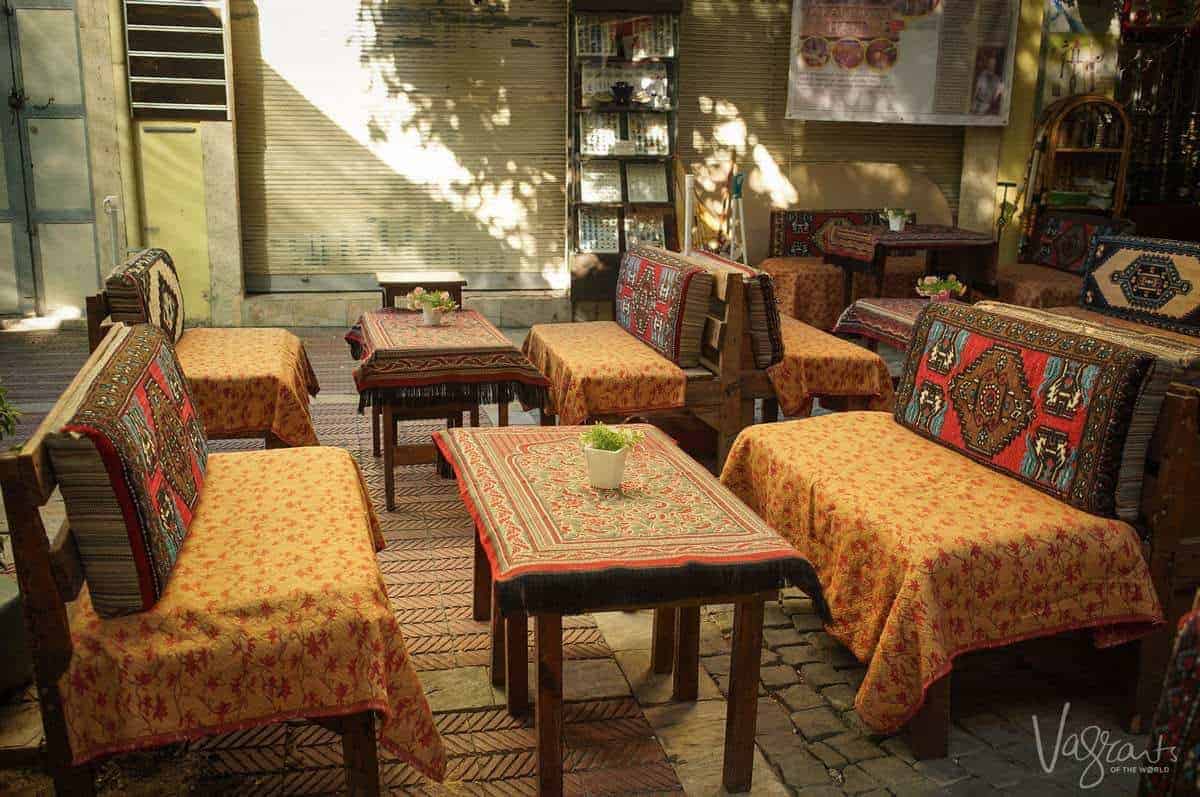 Visit Cité de Péra
We strolled the famous arcade Cité de Péra, a beautiful passage that joins İstiklal Avenue with Sahne Street. Built in 1876, the covered arcade houses rows of historic cafes, wine houses and restaurants. It epitomises the European side of Istanbul.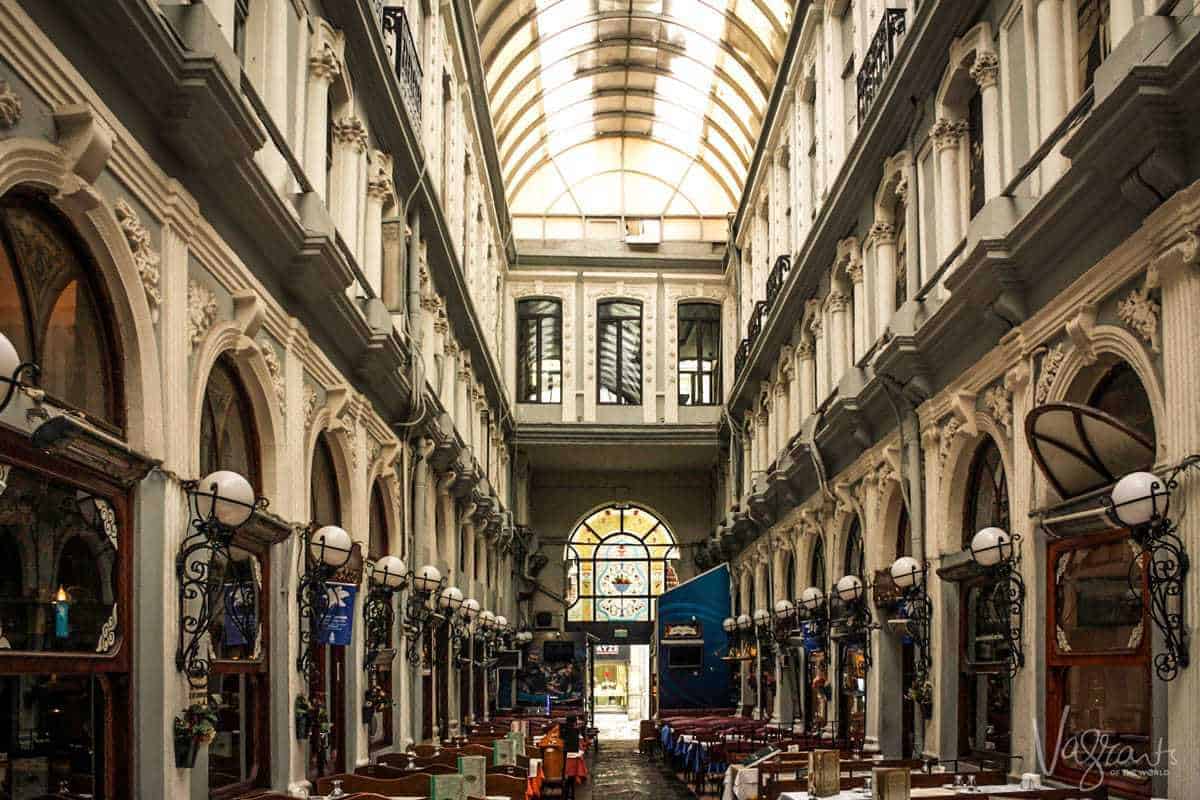 Vintage Clothes Shopping in Istanbul
By Retro is one of the coolest vintage shops in Istanbul. Also, a favourite hangout for our guide. While we never envisage vintage clothes shopping in Istanbul, this shop was a real treat.
Everything from retro space suits to classic lounge suits. Chandeliers to Martini sets. This fabulous labyrinth of vintage riches has become as much a favourite with the Turkish film and television industry as it is with Istanbul's fashion-forward.
You will find By Retro downstairs in Suriye Passage, off Istiklal Street.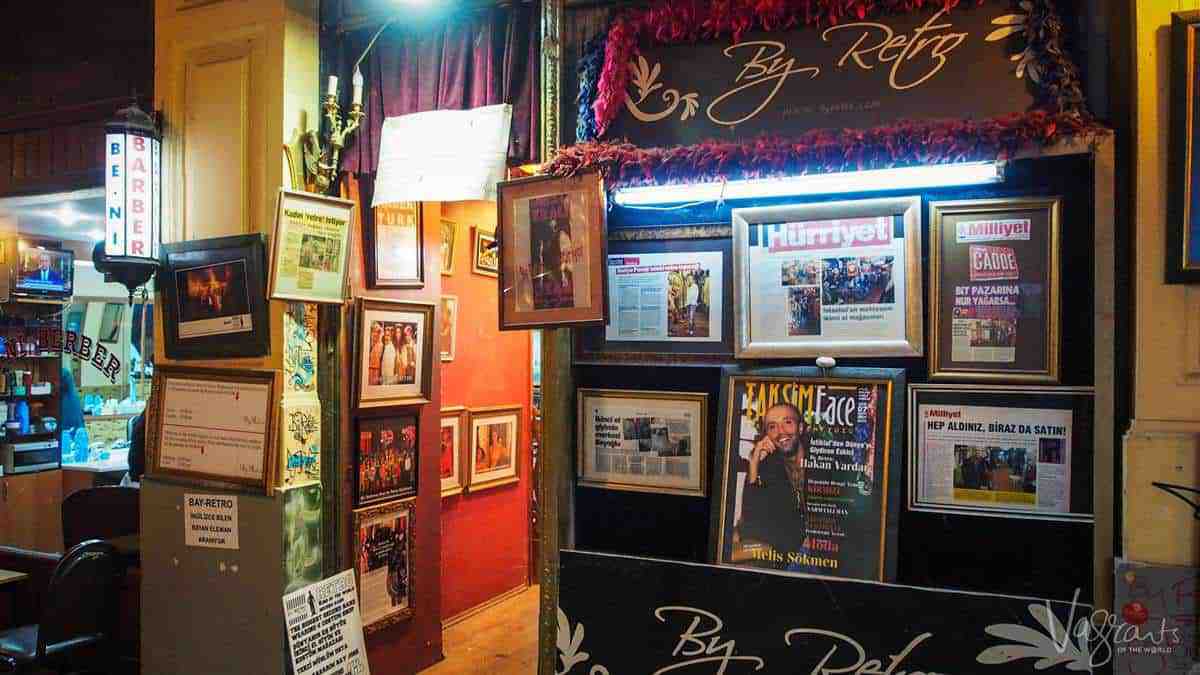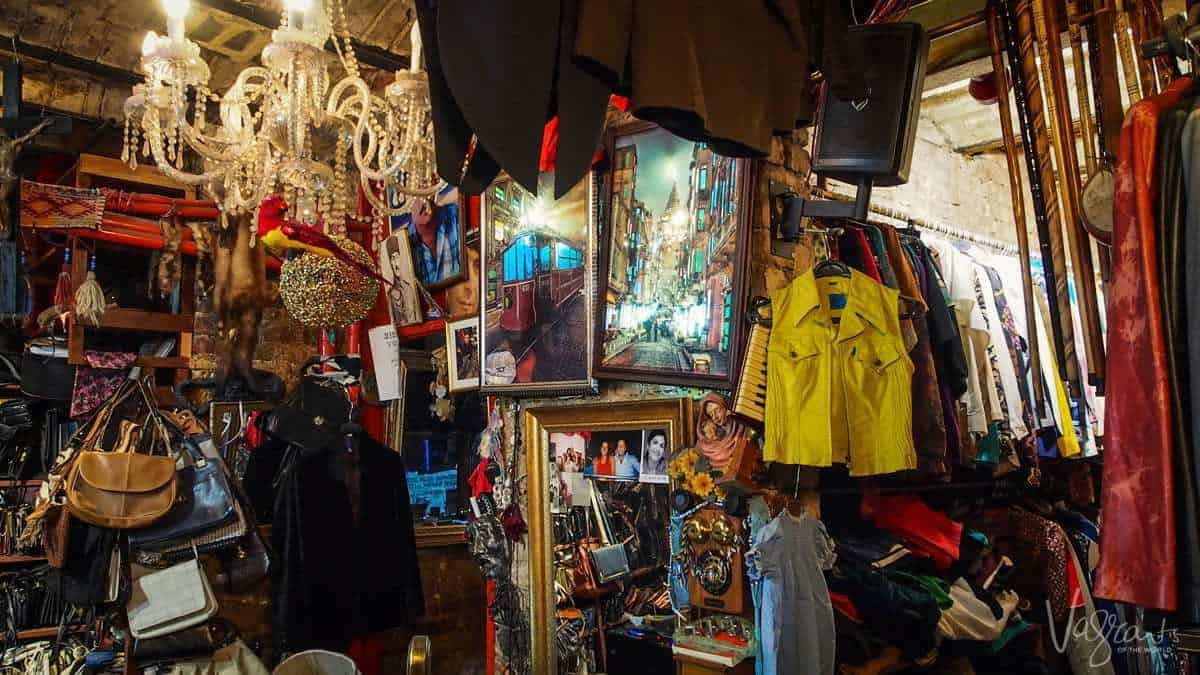 Take the Tünel to the Waterfront
Take the Tünel back down the hill and join other Istanbul locals for a stroll along the waterfront before lunch.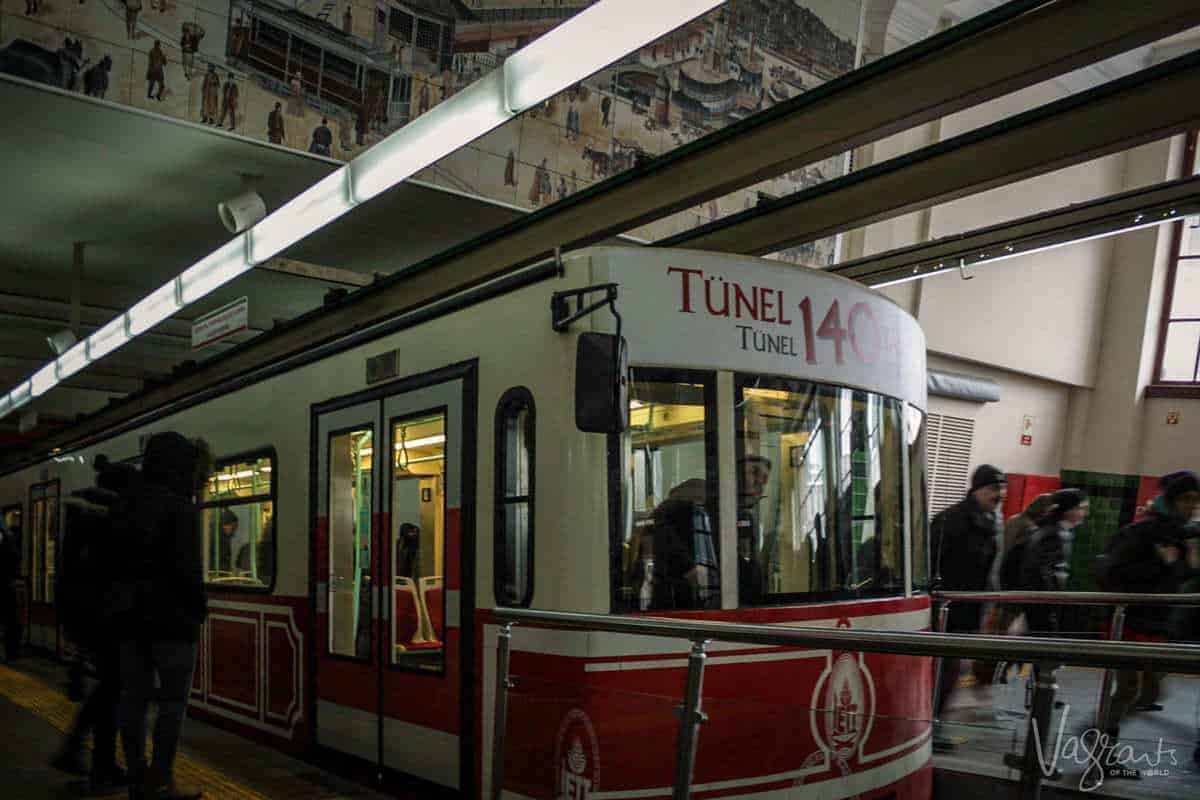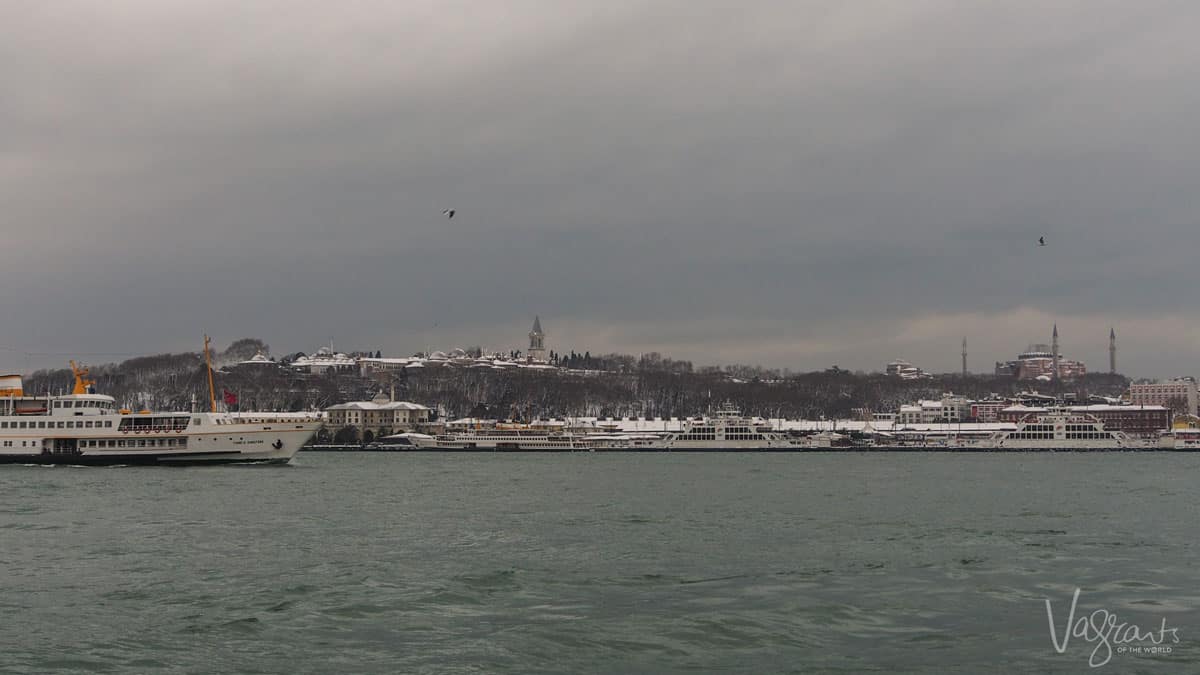 Lunch with The Locals
It was too cold to take up on the offer of sitting by the water, drinking wine and chatting for the afternoon. Maybe next time. Instead, we joined the local city crowd at the restaurant of the moment for a relaxing lunch of modern Turkish cuisine.
One of our guides favourite haunts and a refreshing change from the normal mainstream tourist restaurants tour guides often take you to. A perfect finish to a great morning exploring Istanbul like a local.
---
Istanbul Local Tours
Get a Private Tour Guide– We went with Guided Istanbul Tours who offer a number of quality private tours around Istanbul and Turkey. They are also happy to guide you on any tour or activity you would like to do. Prices are subject to tour type.
Eat Like a Local Food Tour – Enjoy local cuisine or even dine with locals on an Eat Like a Local Tour. Want to discover vegetarian Turkish food? You'll find some great vegetarian Turkish food tour recommendations here.
More Great Local Istanbul Tours
Tours should include transport, entry fees and bilingual guides.
Best Time to Visit Istanbul
Istanbul experiences very hot summers and cold winters with snow being quite common. Spring and autumn, from March to May and from September to mid-November respectively, are the ideal times to visit Istanbul when temperatures are pleasant and the skies are clear.
Crowds at the cities major attractions are also more manageable than the peak summer months of June to August when accommodation prices will also be inflated.
Spring also sees the city in a brilliant display of colour thanks to millions of tulips planted by the government throughout the city. The annual Istanbul Tulip Festival is held throughout April each year.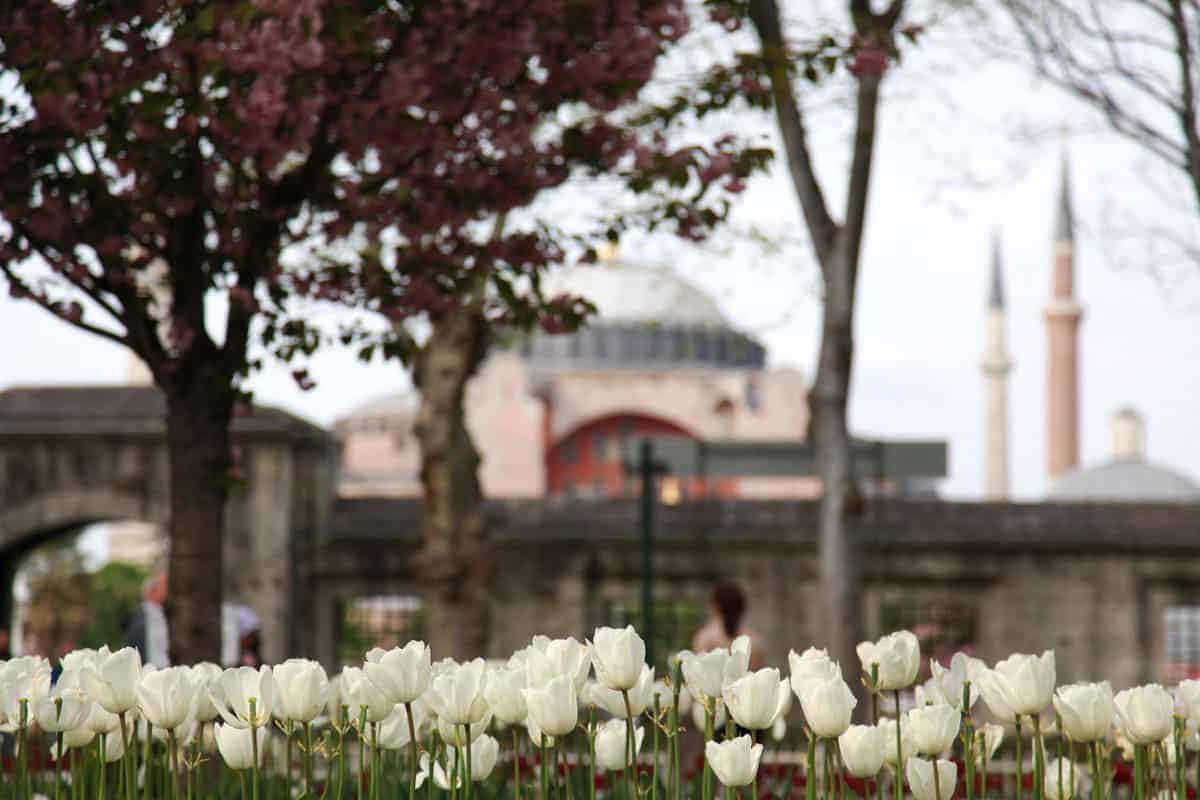 Plan Your Trip to Istanbul
We have a few go-to websites for planning and booking our travel. These are some we trust for the best deals:
Flights to Istanbul:
Atatürk Airport is the main international airport serving Istanbul and the biggest airport in Turkey.
We use a combination of Kayak and Google Flights for researching the best flight deals and times. It's the easiest way to compare fares, look at the cheapest times to travel or find alternative airports you may not have known about.
Get a Turkish Visa Before You Leave:
Most non-Turkish nationals will require a tourist visa to enter Turkey. The new e-Visa system makes it very straightforward to obtain a Turkish visa online.
You can check your visa requirement and apply online here and have your visa as quickly as half an hour.
---
Where to Stay in Istanbul
Many people will choose to stay in Sultanahmet due to its proximity to major attractions such as Hagia Sophia, the Blue Mosque, Topkapi Palace, the Basilica Cistern, Grand Bazaar, etc.
Check current accommodation rates for Old City Sultanahmet here.
Equally, others will choose to stay in the Beyoglu district on the European side where you will find the Dolmabahçe Palace, the Galata area with its famous tower, Istiklal Caddesi and the wide array of restaurants, cafés, and Istanbul nightlife the area is famous for.
Check current accommodation rates for Beyoglu District here.
It doesn't matter which side you choose, both sides are easily accessible and undoubtedly you will visit both during your stay. We stayed at a delightful 19th century Ottoman boutique hotel in Sultanahmet – Dersaadet Hotel which gave us easy access to all attractions.
Research more Istanbul hotels here.
What to Pack for Istanbul
While this is not an extensive packing list, these are a few items you may want to pack to make your trip to Istanbul more enjoyable.
For the ladies especially, a lightweight scarf is perfect for visiting mosques to cover your head, shoulders or even legs if caught wearing shorts or short skirts. It is also handy for both men and women for sudden changes in weather or keeping the sun at bay.
Check Price
---
It goes without saying, you are going to do a fair amount of walking when visiting any city. Istanbul is no exception. Make sure you have sensible, comfortable shoes appropriate for the season. These are some of our favourite shoes for travel that doesn't completely forgo form for function.
---
Aside from the obvious reasons for travelling with earplugs, Istanbul is a city with a whole different reason to pack some earplugs. A city full of some of the biggest and most beautiful mosques in the world means the Call to Prayer over loudspeakers five times a day. While there are few sounds more beautiful in a city such as Istanbul, it may not be so welcome at four in the morning.
We love these reusable earplugs because they also reduce aeroplane pressure and are more hygienic than the disposable foam variety.
---
Travelling anywhere in the world we need to be careful of both ourselves and our belongings. Istanbul's crowded bazaars and tourist attractions make ideal environments for pickpockets. There are so many stylish, lowkey antitheft travel bags on the market these days you don't have to stand out like a tourist while being safe. Find more practical and stylish anti-theft bags for travel here.
---