We recently spent a long weekend in Riga, and while this was a mostly unplanned trip we found a city we instantly liked. From the moment you step off the plane, Riga endears itself to you.
So much so the "L" word was even bandied around, which doesn't happen often – could we LIVE here? 
Named the European Capital of Culture in 2014, Riga is a pretty city, in a whimsical fairytale kind of way. From the impressive art nouveau architecture, the finest collection in Europe, the winding, medieval lanes of the UNESCO listed Old Town to the skyline of storybook spires; Riga is picture postcard pretty wherever you look.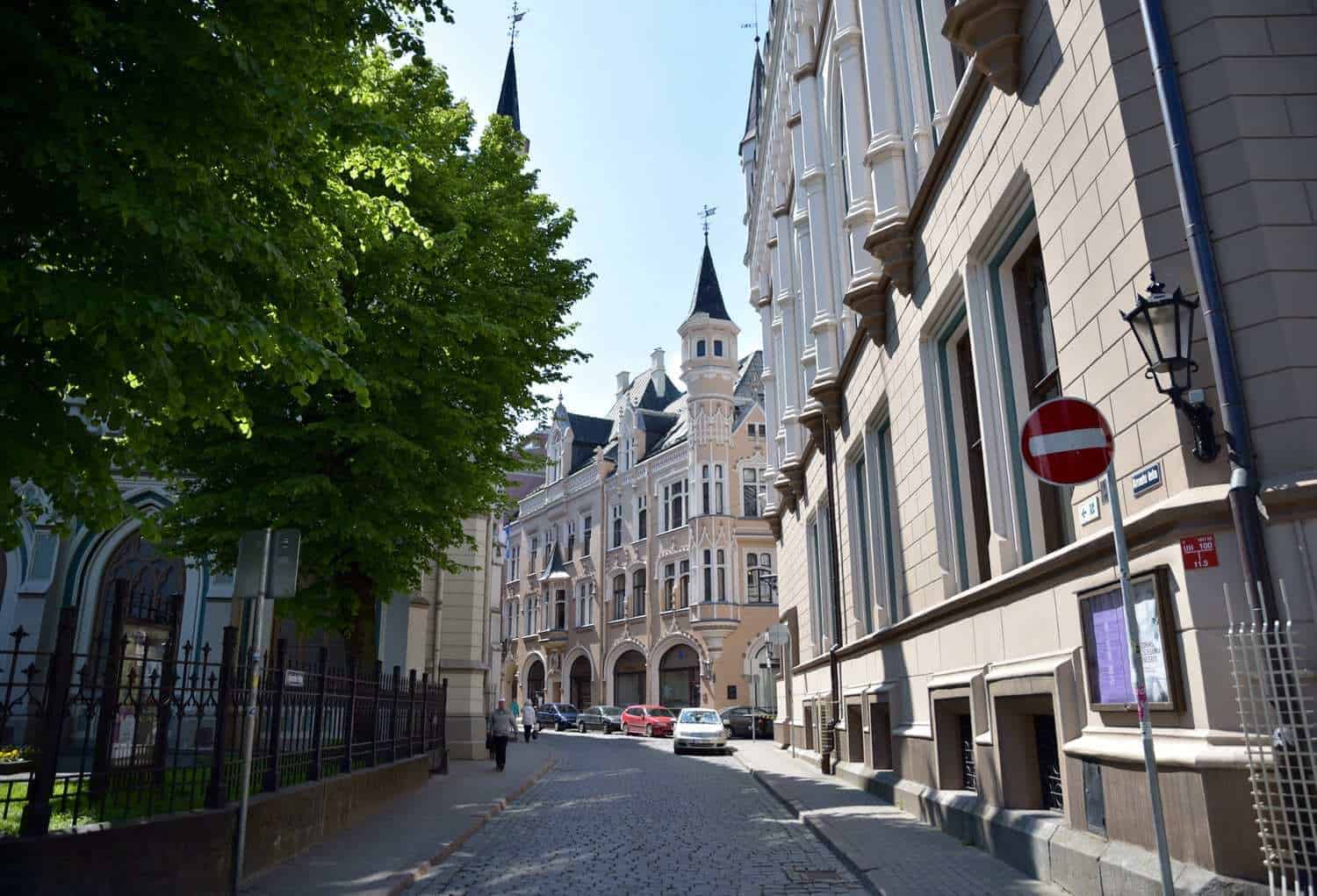 While Riga is the largest capital city of the Baltic States, it is by no means a "big city". It's charm also stems from the wide main streets, unclogged with traffic and a bicycle friendly culture in the city centre.  There is no shortage of lush city parks making this a very walkable and pleasant city.
Everyone walks or cycles, it is clean, friendly and really quite civilized. Throw in a modern and fresh cafe culture, some of the best restaurants in Europe, a great bar scene and you have a wonderful weekend away.
---
A Weekend In Riga
The Art Nouveau District
Nowhere else in Europe will you find a better collection of beautifully preserved art nouveau buildings than in Riga. Head to the Art Nouveau Quarter, a short walk from Old Town.  Around Elzabetes and Alberta streets you will find a few blocks of the most astonishing architecture.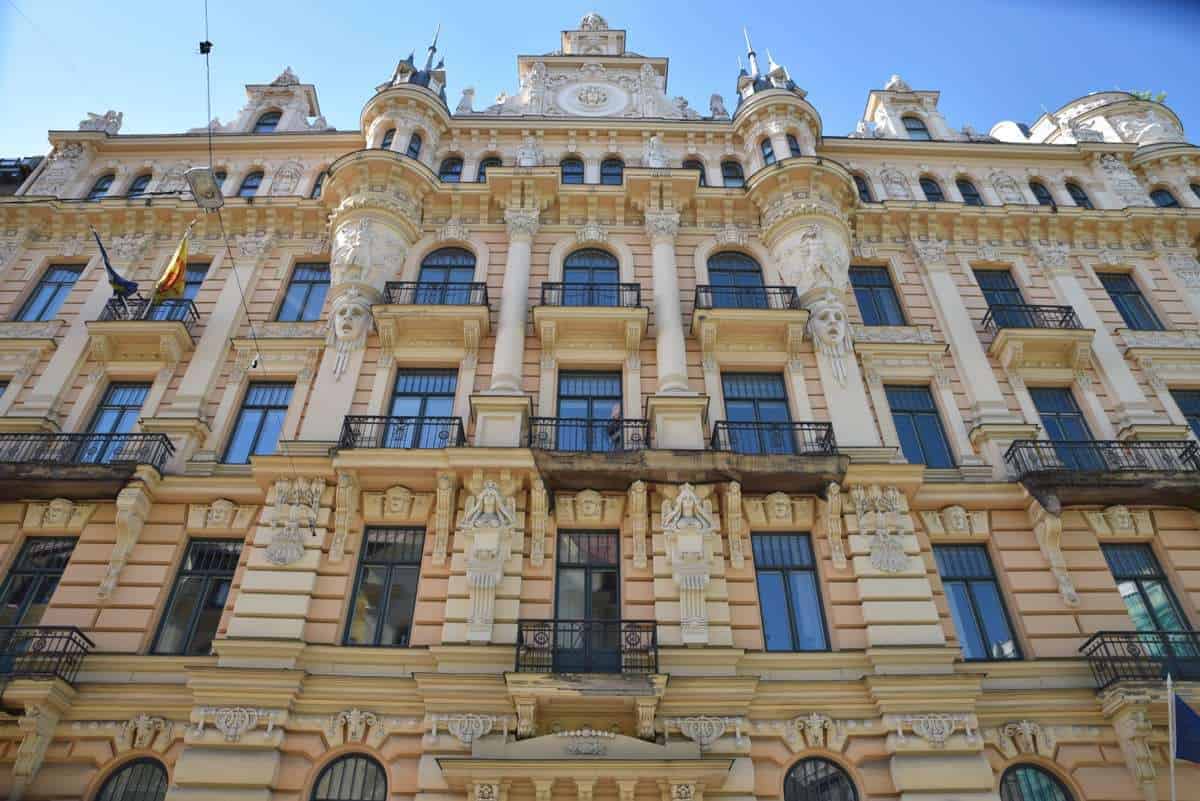 With over 800 art nouveau buildings in the city, Riga is referred to as the biggest gallery of work by Russian architect Mikhail Eisensten. Facades, some with wedding cake intricacy, others as fanciful as a children's storybook have people, necks craned,  wandering in awe of this beautiful little neighbourhood.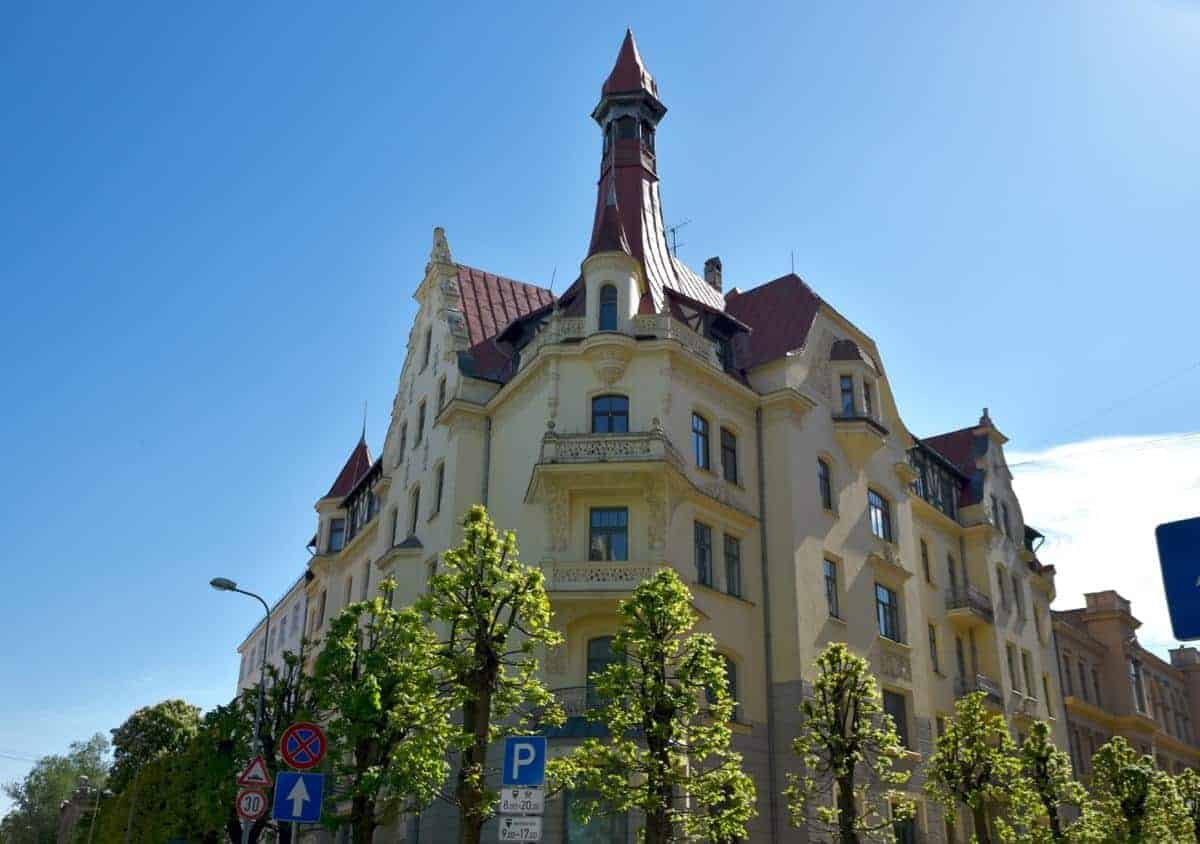 Stop by the Art Nouveau Museum in Alberta St to gaze from the foyer at this incredible staircase. That you can do for free, entry to the museum will cost a few Euro.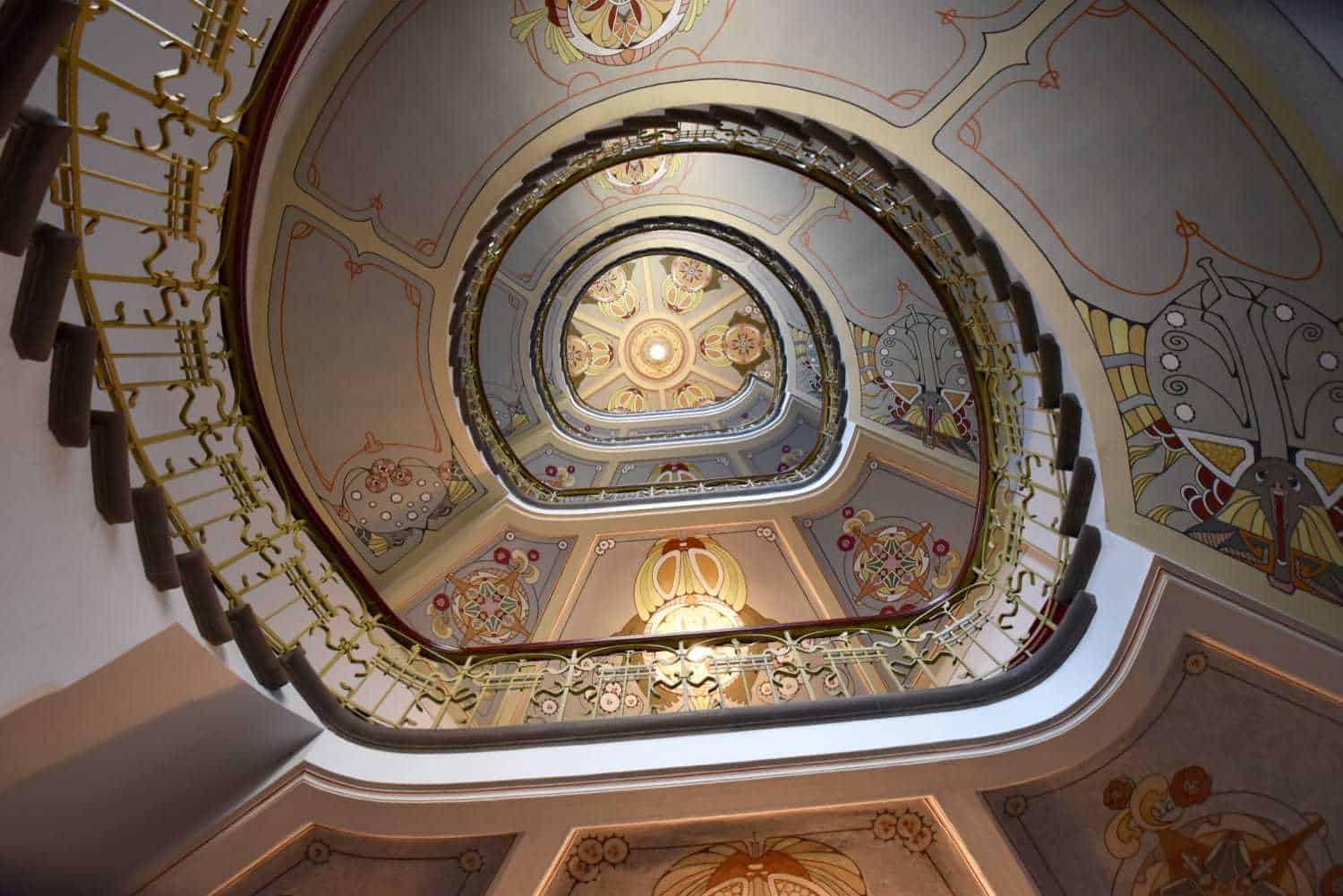 The Old City
The heart of Riga.  The UNESCO listed Old Town is as picturesque as it is quaint. Narrow cobblestone streets wind their way past cafe's, museums, galleries and medieval churches, unexpectedly opening up onto squares bustling with street cafe's and markets.
Old Town just begs to be explored and the best way is to lose yourself, meandering the streets and ancient alleyways. If you are short on time head by the tourist information centre for a town map to help you find the highlights, because there are enough highlights to keep you busy for a day.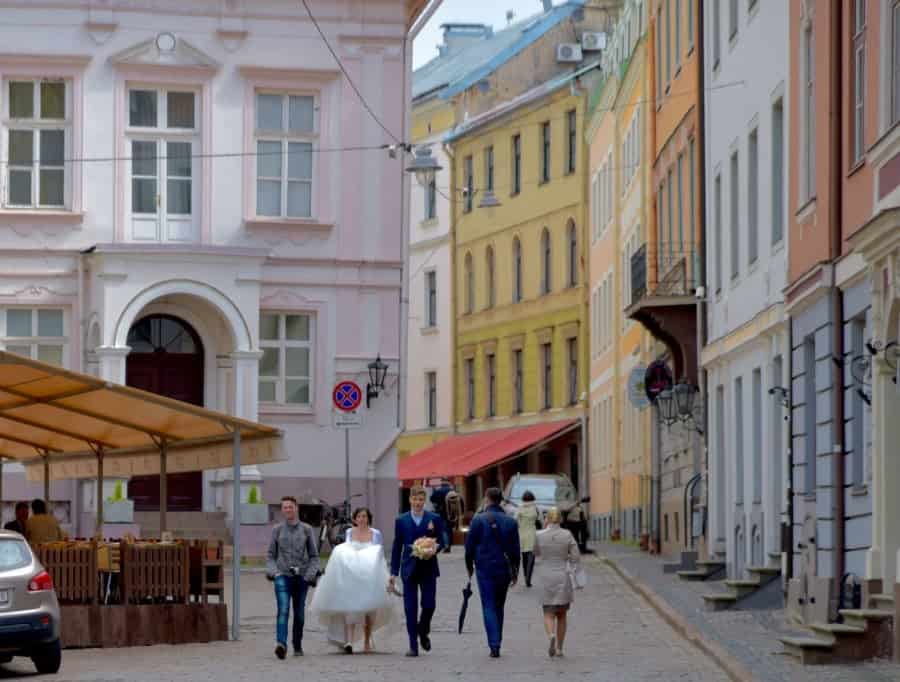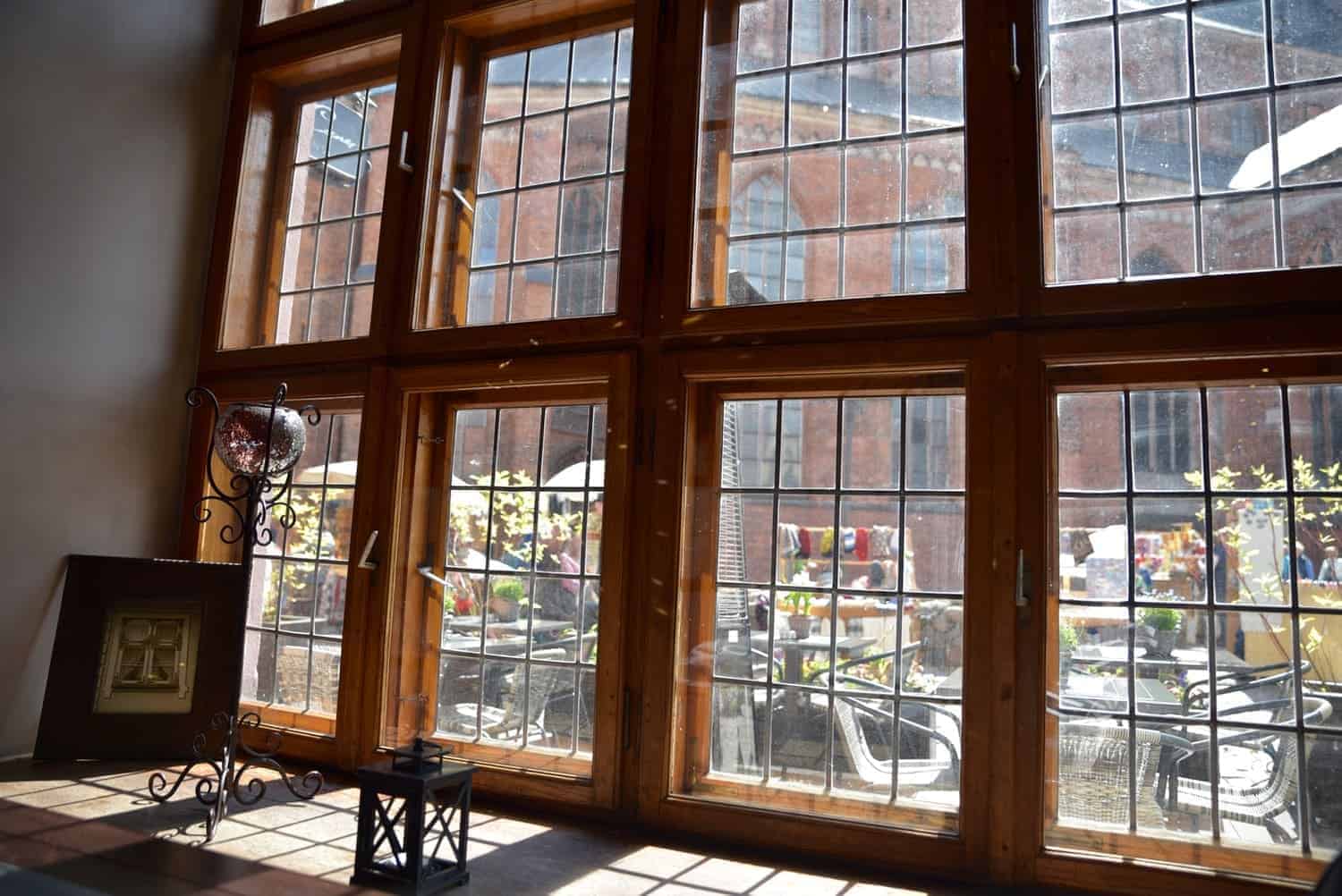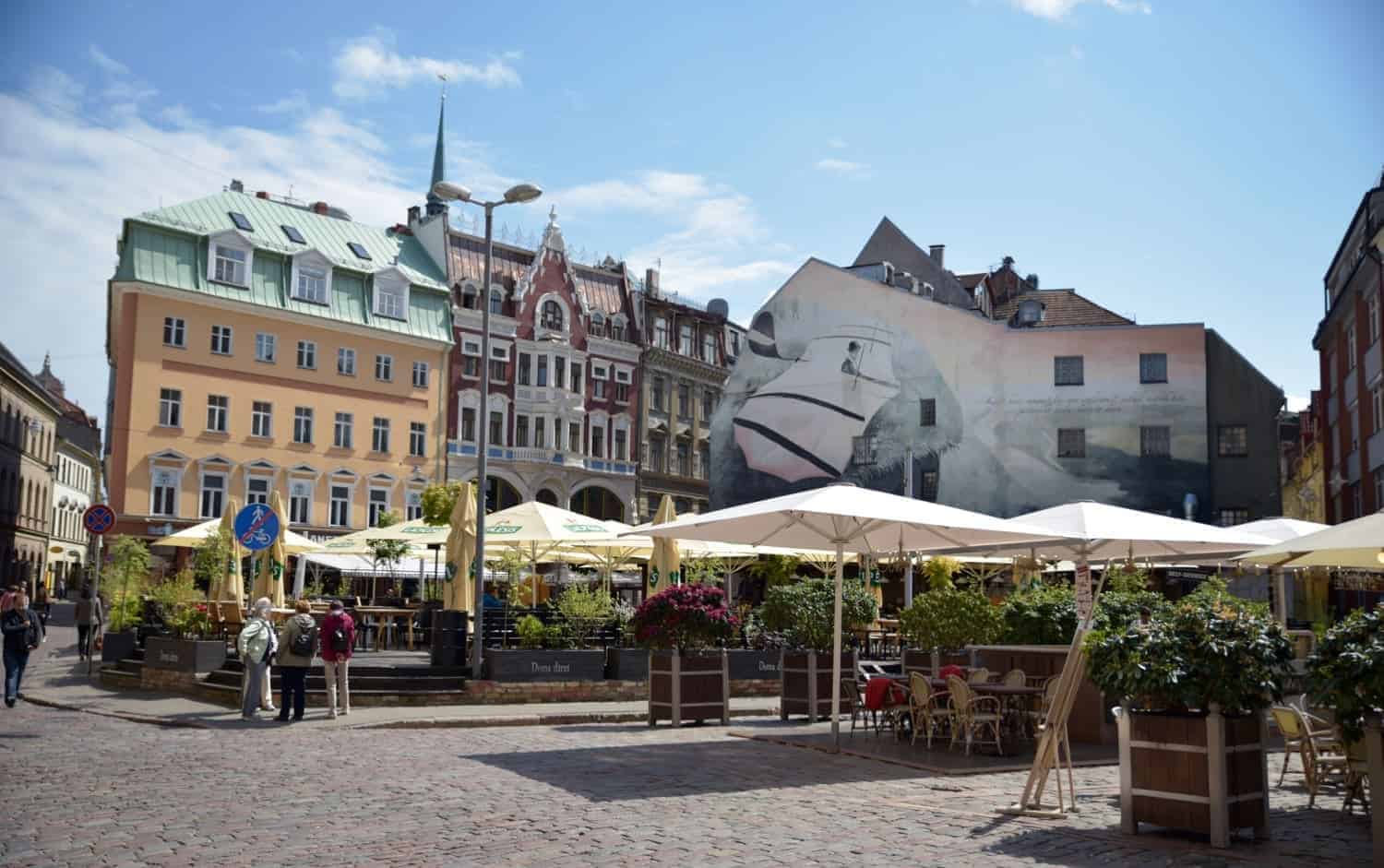 The Cat House in Old Town is a must if for no other reason than the story behind it. The yellow art nouveau mansion was built in the early twentieth century by a wealthy Latvian merchant. It so happened the building faced Riga's Great Guild. The Guild oversaw the business interests of the town so it made sense the wealthy merchant would see it in his best interests to become a member of this esteemed organisation.
Unfortunately, the Guild did not agree and declined his application. So incensed was the merchant he commissioned two black cat statues, backs arched and tails aloft. He installed them on the two corners of his roof, anuses squarely facing the Guild!
The members of the Guild were so outraged by the cats bums pointed in their direction they took the merchant to court winning an order to have the cats turned around which is how they face today. While this may sound like a childish version of some urban myth, there are actual court documents to prove that revenge may be served many ways.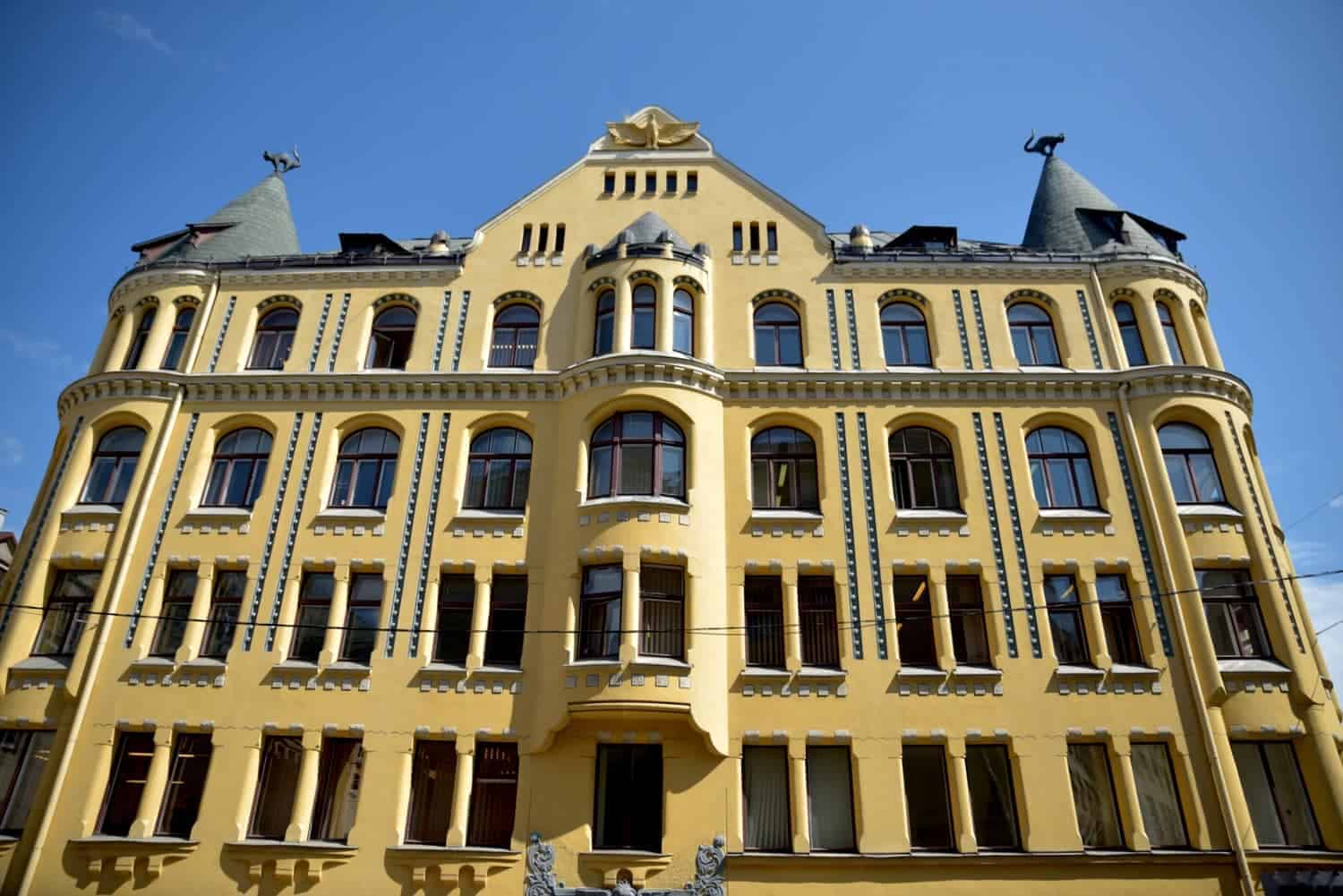 The Central Market
We have never met anyone who doesn't like to explore local markets, Riga delivers on this front, in spades. This market is slightly fascinating, well organised and a great place for lunch. Reportedly one of the largest and oldest markets in Europe, five food pavillions are located within the enormous converted Zeppelin hangars. That fact alone was enough to draw us in.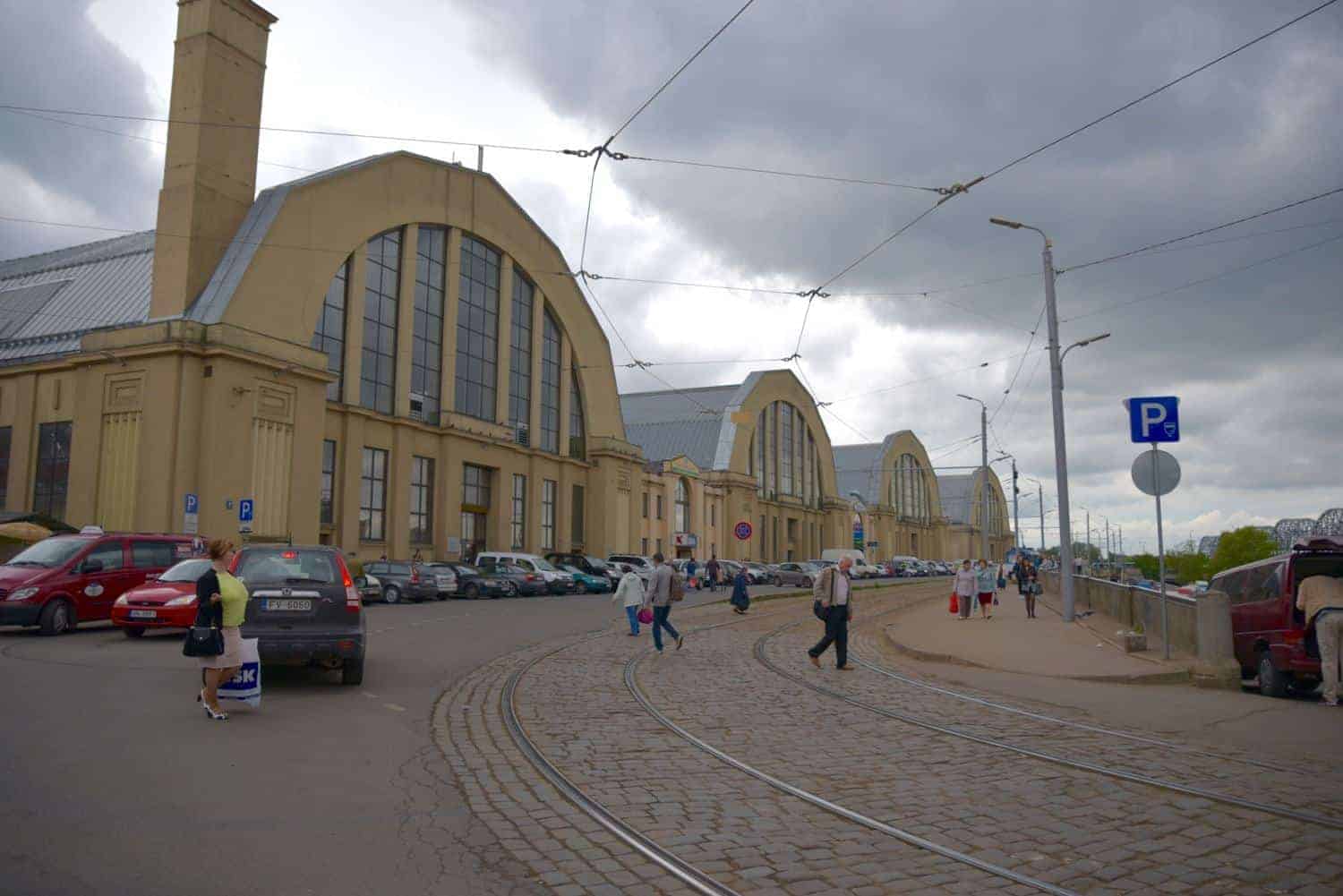 Each of the pavillions houses different types of produce with open air stalls in the spaces between each hangar. The hangars are so spacious and clean it makes for a very pleasant market experience. As with everything in Riga, it is very orderly.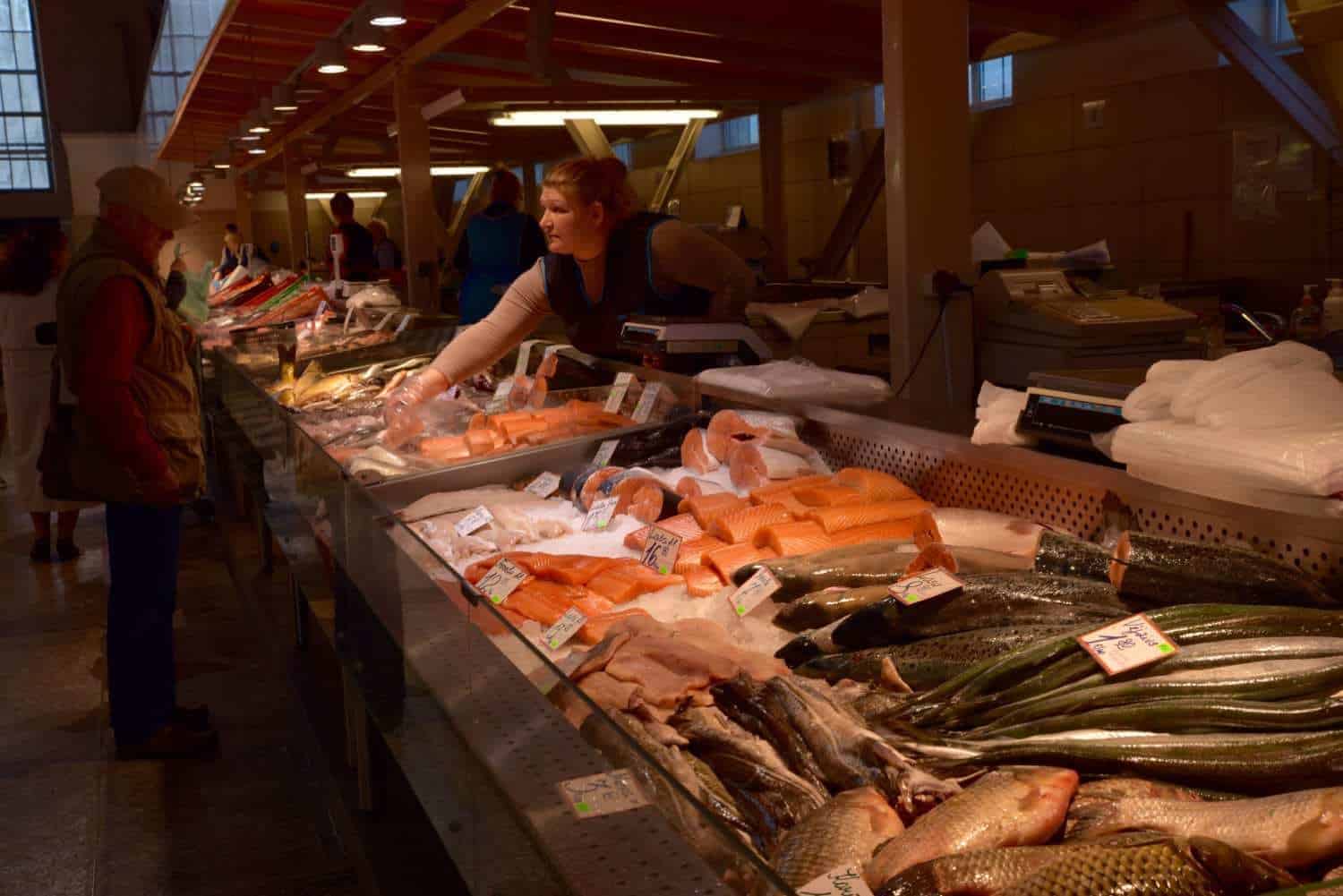 Each of the food pavillions has small eateries where you can stop for a bite to eat. These range from little takeaway bakery style shops, diner style restaurants through to very nice fish cafes. We strongly recommend at least one lunch at the Central Market and if you are anything like me and enjoy good quality rye bread, Latvian rye is some of the best in the world and here is where you find the best in Riga.


The Freedom Monument
It would be hard to visit Riga and at least not see the Freedom Monument even if somehow you didn't pass it. It has been a symbol of Latvia's freedom, independence and sovereignty since it was erected in 1935 to honour soldiers killed during the Latvian War of Independence. The monument again became an important symbol of Latvia's freedom following the fall of the Soviet Union, honouring those lost during the Soviet occupation. And so it remains Riga's most important landmark.
Set alongside the canals and with beautiful adjacent parklands, the area around Freedom Monument is a lovely place to spend an afternoon. Hire a boat and take a cruise down the canals or just wander the parklands.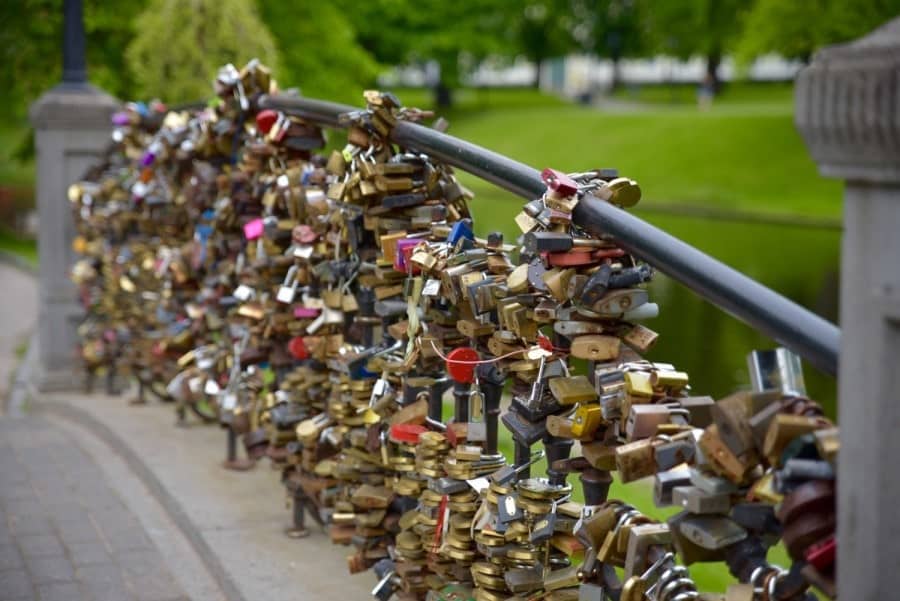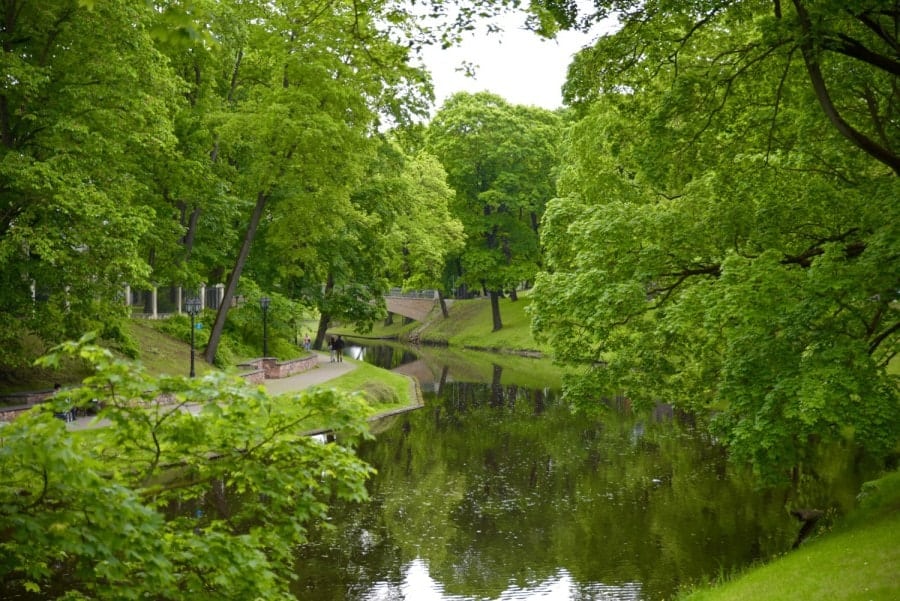 Pauls Stradins Museum for History of Medicine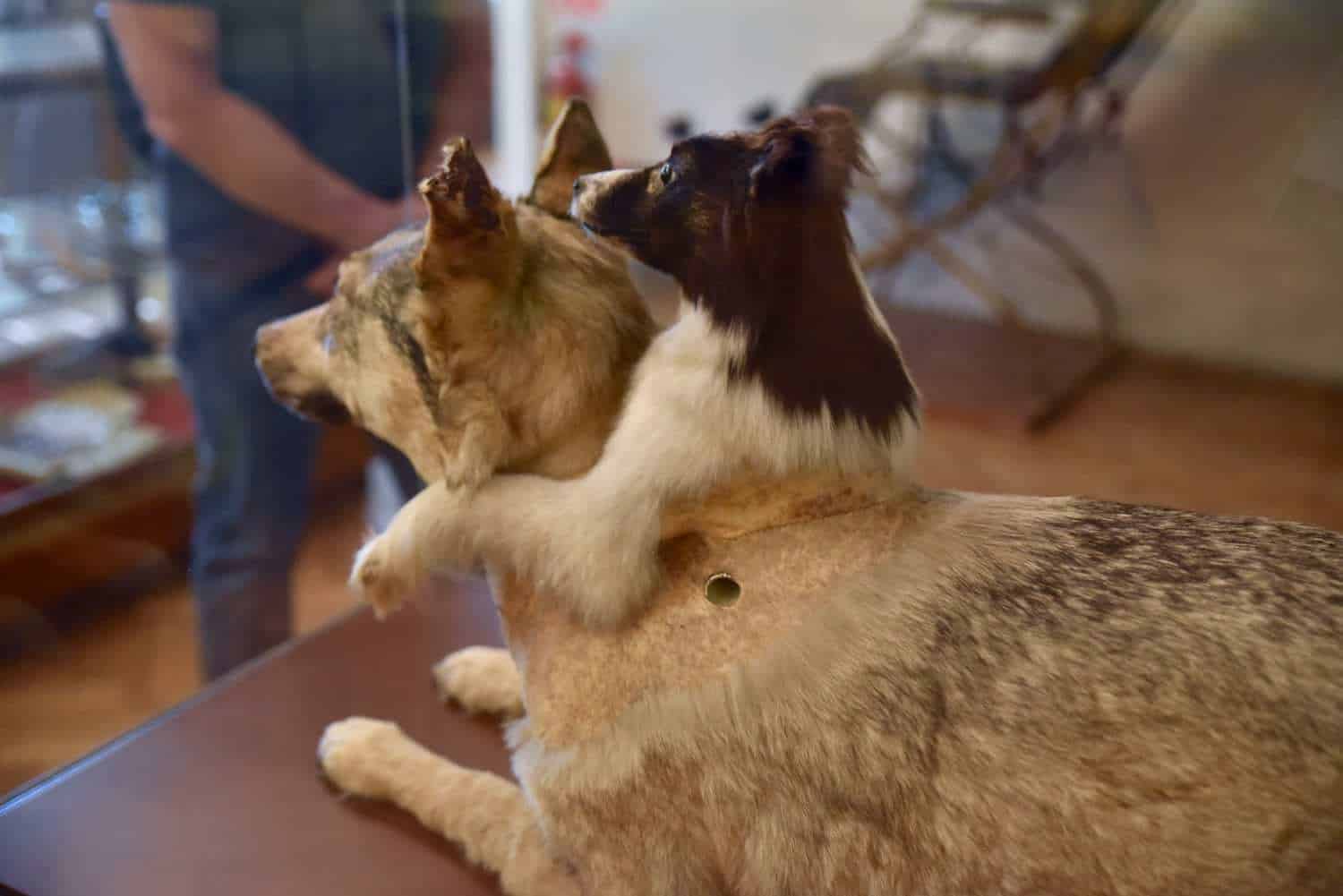 This is one of the more unusual and fascinating museums we have ever been to. Established in 1957 based on Pauls Stradins personal collection, it has been curated to explore the development of medicine from ancient times to present day and to understand the relationship between history and medicine.
You will find some fairly standard medical displays, such as dentistry through the ages, as well as examples of the Soviet Unions medical contributions to the space race. But by far the most outstanding and intriguing exhibit is the two headed dog which, believe it or not, was the pioneering research that gave us what we know today as organ transplants.
Festivals & Culture
In addition to some of the finest classical arts and galleries in Europe, hence being named the European Capital Of Culture; Riga has a full calendar of festivals throughout the year.
We were lucky enough to stumble across the Latvian Beer Festival in May. This perhaps should have been named the Latvian Beer and Meat Festival, but I suppose, ask any man; what is beer without meat.  A fantastic day in one of Riga's beautiful city parks, sampling craft beers and delicious Latvian cuisine. And as with everything in Riga, this was not your standard rowdy beer fest, this was a more cultured and relaxed affair. Although, we did board a flight to Russia the next day with some very sore heads.
We really did enjoy Riga, so much so we have talked about returning to explore the rest of Latvia and the other Baltic States. There is a wonderful vibe about this city that has been described by some as "pleasant". We found it to be more than just pleasant. It is cultured, progressive, friendly, clean and has an almost youthful quality. Maybe this is something that comes from being a newly liberated country. Is this the quality that possibly bought the "L" word to the table?
---
FACTS
Latvia is one of the three countries that form the Baltic States. Riga is less than a two hour flight from England, making it very accessible for a weekend away.
Where We Stayed
We stayed at The Gallery Park Hotel. Rated as the best hotel in Latvia and home to one of Europe's top 5 restaurants, we can highly recommend this property for an indulgent weekend away. And even if you don't stay here, we encourage you to pop in for dinner. You can read our full review of this beautiful hotel HERE
[yo-widget href="https://www.yonderbound.com/stories/vagrants-of-the-world/review-gallery-park-hotel-spa-riga-latvia/3731/hotels/ACT3550″]