Got one day in Granada to spare?
Mix it up a little with these great ways to spend one day in Granada, Nicaragua. Tour this impressive colonial city in the morning and by afternoon, cruise the volcanic islands of Lake Nicaragua. 
We have talked before about city tours, they are no longer the reserve of robotic tour guides and name tag wearing tourists being herded from one destination to the next to a pre scripted soundtrack no one is interested in. City tours have had a make over and are again a great way to really check a place out, especially if you are short on time.
Take a private tour with guides who know their stuff and give you a personal spin on their city, as well as some great recommendations of where to eat, drink, shop. Skip the queues at all the right museums and sights and have all your entry fees covered in the price – no surprises!
We spent a morning cruising Granada with  Tierra Tours. Granada is a city that makes you go Awww as soon as you arrive.  It is colourful, vibrant and screaming to be explored.
We headed off across the Parque Colón, the central plaza which is always buzzing with bright cafe stalls, vendors of all kinds full of stuff you kind of don't want and  lined with horse drawn carriages giving it an almost Disney vibe. The square is also surrounded by great restaurants and some very cool cafes bringing a whole new feel to Granada.


Playing center stage to this almost film set city scene is the most prominent and recognisable building in Granada (and possibly Nicaragua), the Granada Cathedral.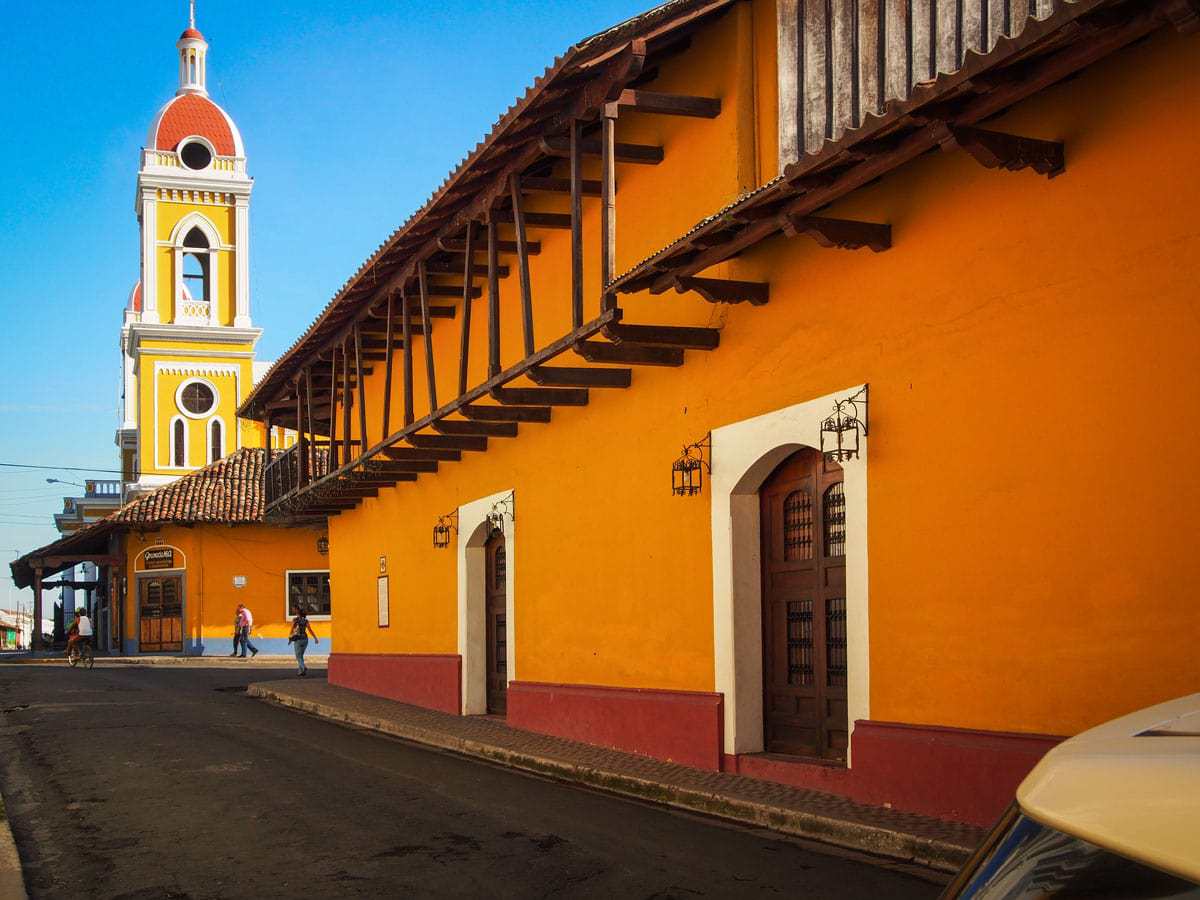 This grand old building, built in 1583, completely destroyed by the pirate William Walker in 1856 and rebuilt over a period of 15 years in 1915, houses three naves, four chapels and a series of underground tunnels.  The tunnels join to other churches in the city used by the priests to move around in more dangerous times.
The cathedral has recently undergone a makeover, as is the rest of Granada, to both restore the beautiful city to its former colonial glory and to support a number of UNESCO applications. This landmark building can be seen from almost anywhere in Granada.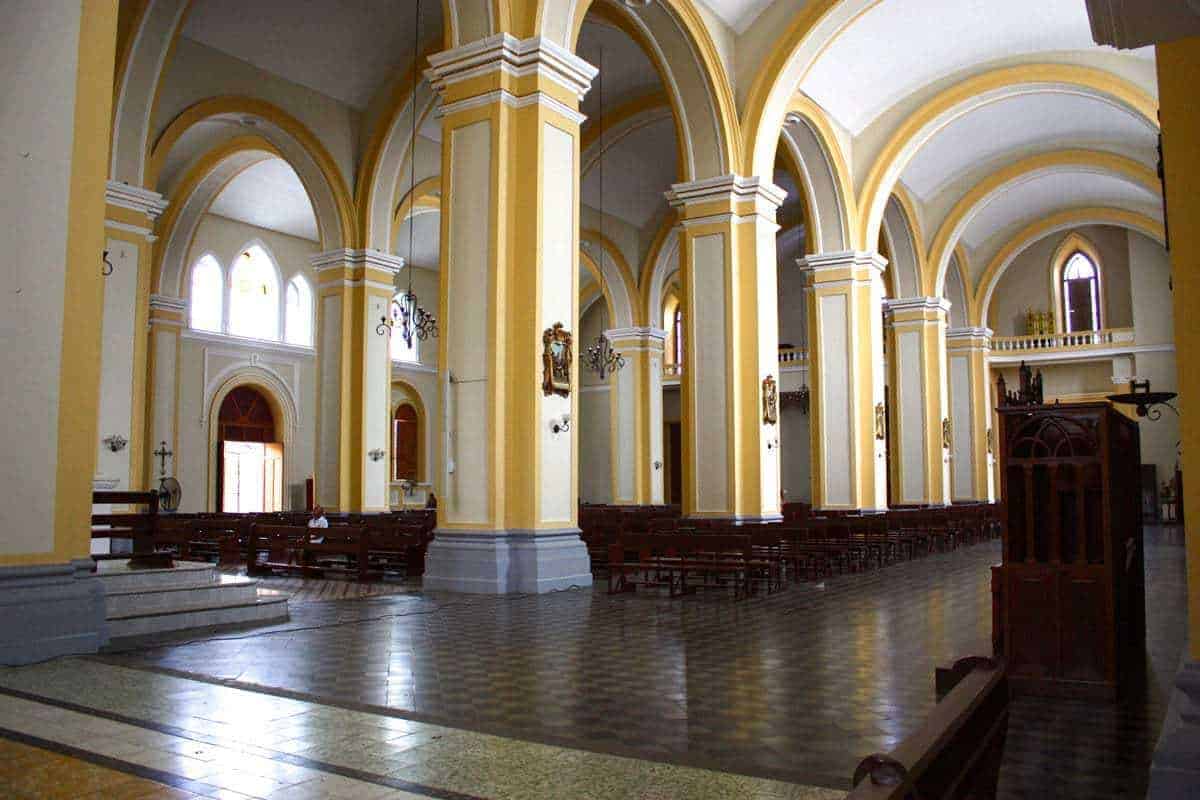 Next stop, the San Francisco Church. The church and the convent attached have also undergone many reincarnations. Originally built from wood and straw shortly after the founding of Granada, it burned down in 1685.
After being rebuilt it also suffered at the hands of William Walker in the great fire of 1856 with a final rebuild completed in 1939.
The convent now serves as  a museum housing some of Granada's most important antiquities, salvaged from the hands of pirates and a history of destruction. It is also one of the most visited museums in Granada.
What better way to explore the outer areas of the old city than by horse and cart. Cruising the back streets soaking up the atmosphere.
Past the old train station built in 1886 to service the rum industry and the old fort built in 1748 to protect the cities gun powder supply. This was required to ward off pirates all the way down the Rio San Juan at El Castillo as it was too humid to store the powder there. Nicaragua has quite a colourful history.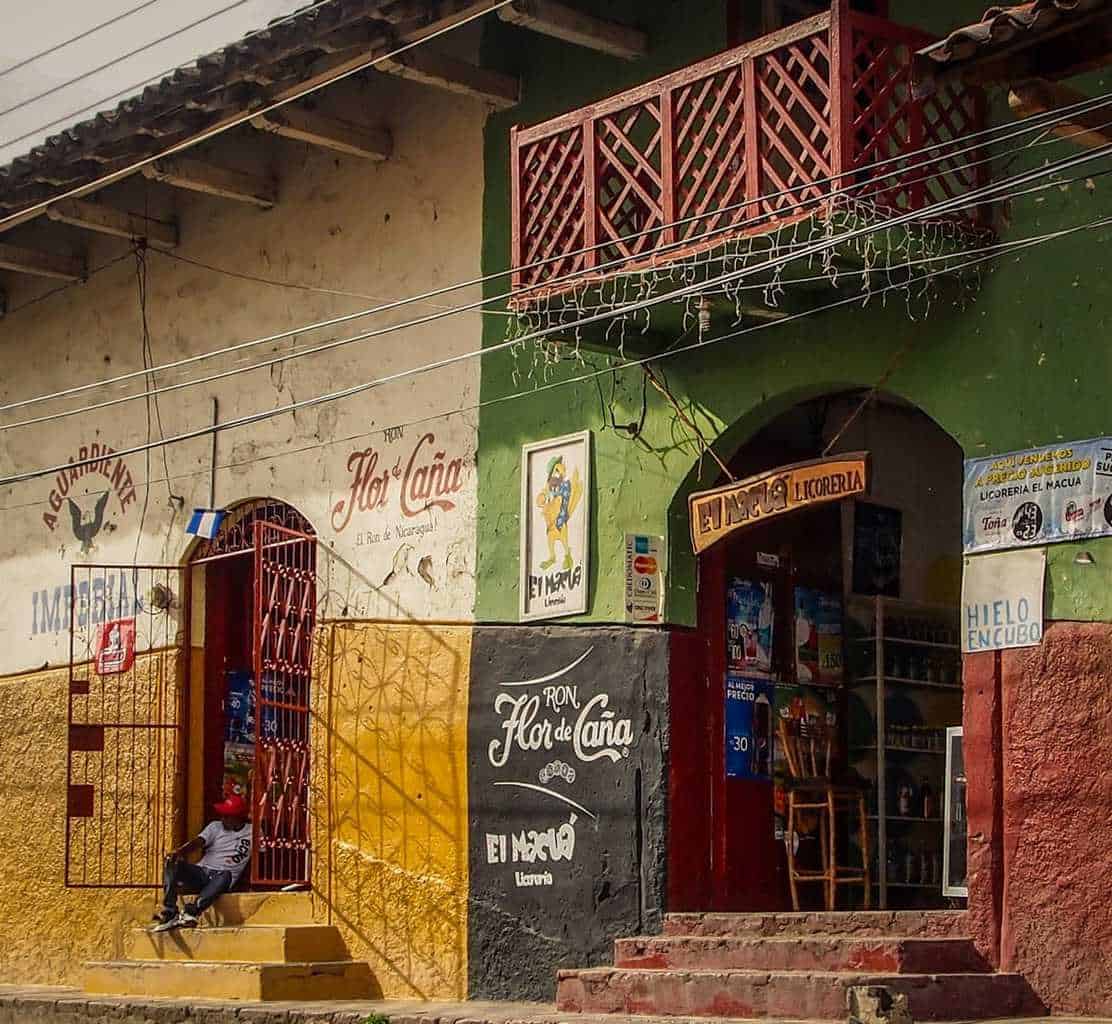 Then, the Hospital San Juan de Dios, known simply as "The Old Hospital".  Completed in 1905 this building comes complete with stories of a big fire that destroyed both the building and occupants.  Stories abound from residents close by of screams in the night and even visions of patients in the windows. Every ghost story lovers dream. The gloomy, rainy day made a very appropriate backdrop for a deserted, haunted old hospital, and for our next stop.
The Granada Cemetery. Said to be the oldest cemetery in Central America, this huge cemetery has some of the largest and most ornate tombs and graves we have seen. Imposing marble statues and tombs big enough to lay at least 10 generations to rest. It is quite beautiful to meander around the grounds.
We visited the day after Nicaragua celebrates "The Day Of The Dead" where families spend the day visiting graves, cleaning them, doing repairs and laying flowers. In contrast to the day before, it was very quiet and serene.
And in Granada, the dead are still delivered to the grave by horse and cart. You will often see very ornate carriages with horses draped in black lace trotting through the city en route to the cemetary.



Back in the buggy and off to La Merced Church in the center of town where we leave our buggy driver. Built in 1534, the big draw card to this church is the bell tower. For a small fee (around $1 USD) you can climb to the top for the best view of Granada.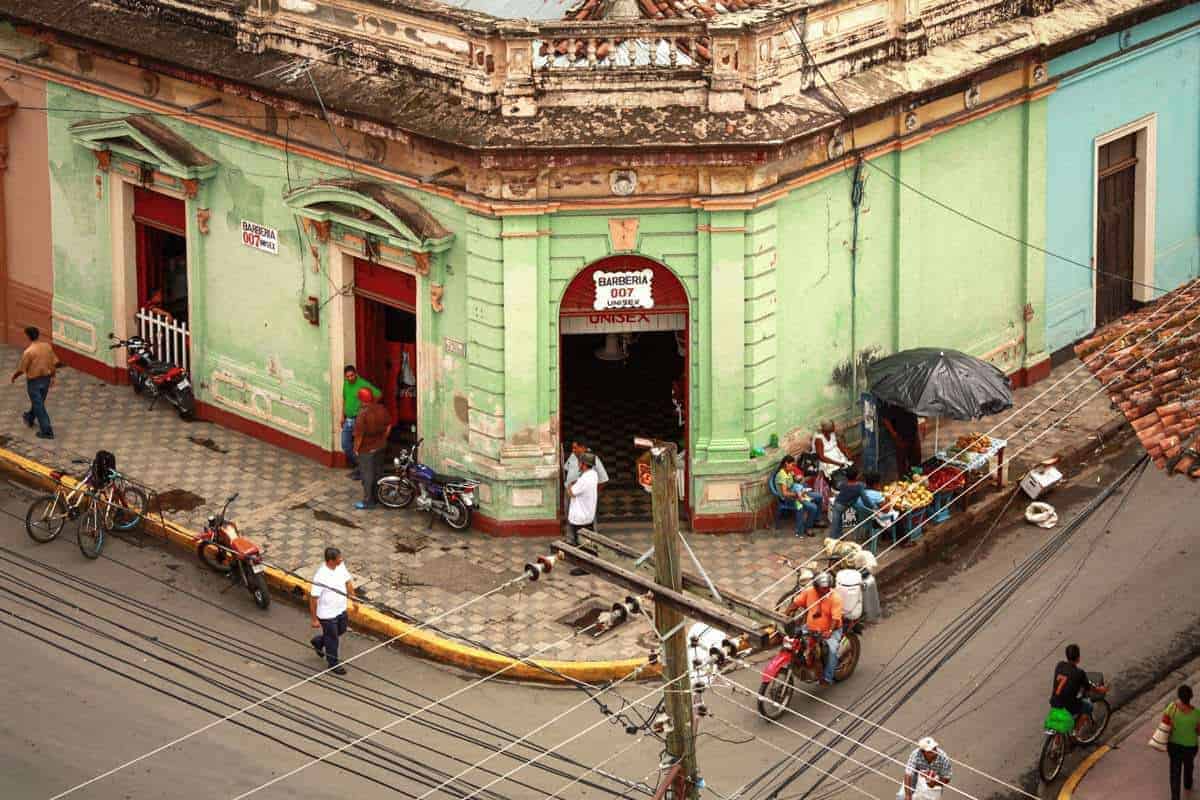 The Granada Cathedral takes center stage again.
Last stop for the morning is a cruise through the Granada Central Markets. Like any market in any city, the market itself and surrounding streets are all hustle and bustle. Everything from food to frocks is sold here. This is definitely the commercial hub of the city.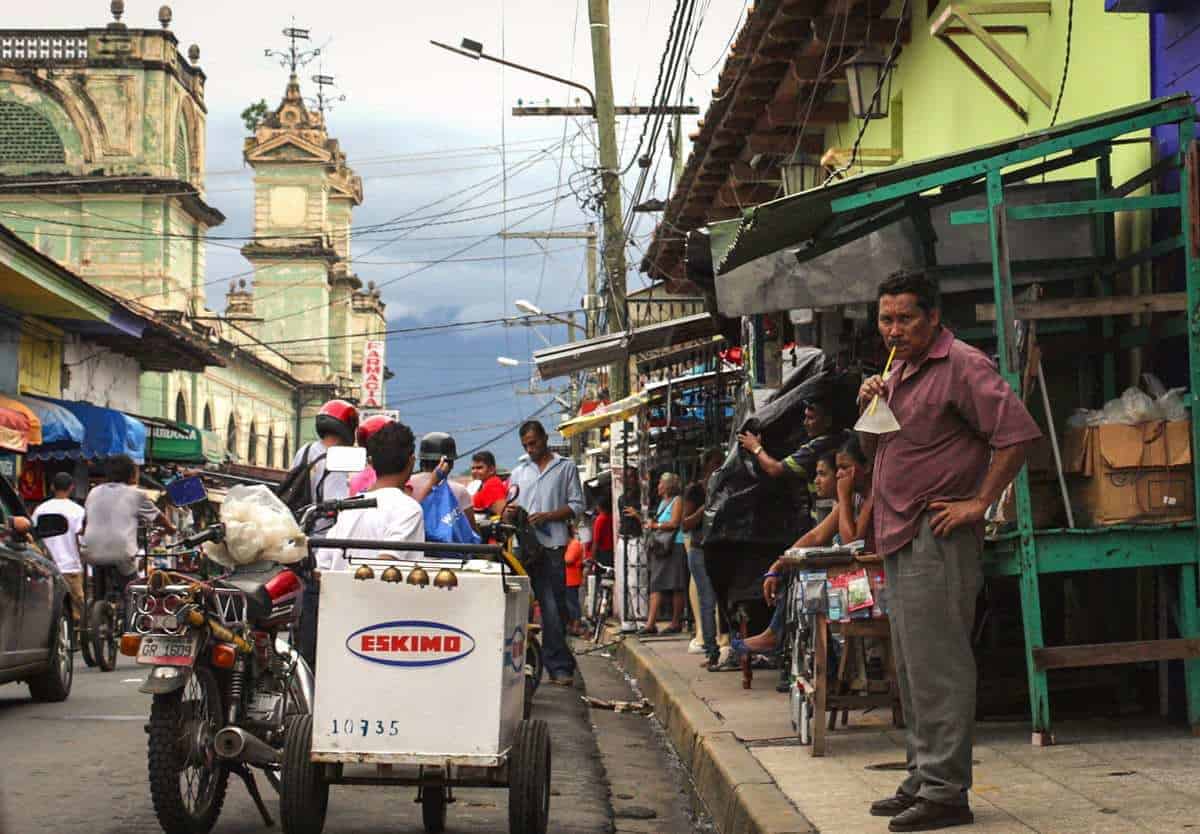 To our surprise, everything at these markets is made by the stall holders right there in Granada. We had assumed this market would be full of your standard "sweat shop knock offs".  Even the shoes, which we later find out are a Nicaraguan speciality, are made here.
Granada is a vibrant and exciting city with a fascinating past. If you only had one day to explore Granada Nicaragua, you can still get the best of this fabulous city.



Taking a break for lunch we ready ourselves for an afternoon of cruising the 365 islands on Lake Nicaragua along the shores of Granada, courtesy of a massive volcanic explosion thousands of years ago.
Next stop
Want to explore more of Nicaragua? Here's all the facts on Backpacking Around Nicaragua
---
Facts
We did a private tour with Tierra Tours in Granada. Tours twice daily at 9.00am & 2.00pm. Cost is $20 USD pp. Duration 3 hrs.
Tours include transportation (horse drawn carriage), entrance fees and bilingual guide.