Imagine a day trip from Granada that ticked all the boxes, or at least catered to a myriad of interests?
There is a day trip from Granada to Masaya that does just that.
---
You want to get up close with a live, smoking volcano without having to do a 1500 meter vertical climb?- Tick!
Visit local artisan markets?- Tick!
Have lunch overlooking one of the most beautiful lakes in the country?- Tick!
Get a first-hand taste of local culture and crafts dating back to pre-Columbian times?- Tick!!
All of this in one day, with the afternoon still free to explore Granada. Masaya is a fantastic day trip from Granada.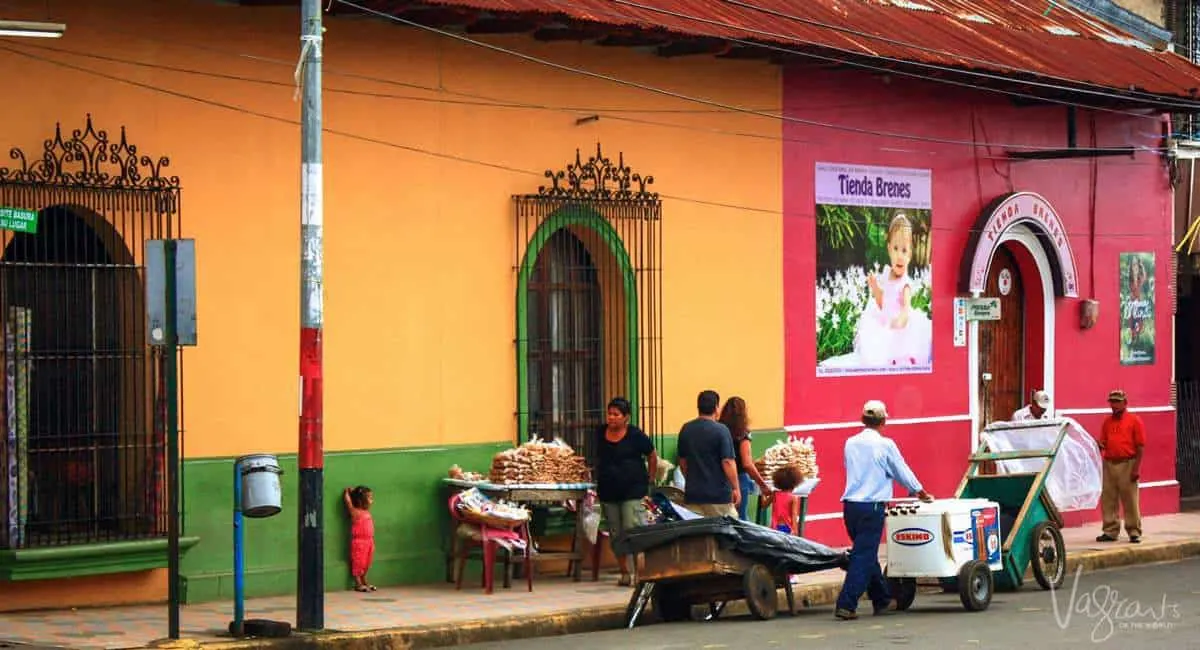 Only 16km's northwest of Granada, Masaya is the gateway to the Masaya Volcano National Park, one of the most popular attractions in the Pacific region of Nicaragua. This small and quite unremarkable town is also famous for the crystalline crater lake Laguna de Masaya, and it's artisan market,
Mercado de Artesanías de Masaya
.
Come on the right day and you may find yourself amongst one of Masaya's many festivals Nica locals come for or the cultural and dance exhibitions held every Thursday evening.
Masaya Volcano
Masaya Volcano in the Masaya National Park may not be as steep as other volcanoes in Nicaragua, but it is by no means any less dramatic. The Spanish described Masaya Volcano as "The Gates of Hell". Masaya is the most accessible active volcano in the country. This in itself is a good reason for a day trip from Granada.
An easy drive to the top, park the car, not too close, and you are looking straight into the "Gates of Hell". Masaya has a complex system of active craters. The two main craters are accessible from the road provided by the national park and on most days will be spewing volcanic gases from their depths.
If this is something you have never experienced before, the sulphuric gas literally takes your breath away, in turn limiting the time you should spend up there. None the less, this is a live volcano experience available to anyone with transport without having to spend hours clawing your way to the top like we did when climbing Volcan Concepcion on Ometepe Island.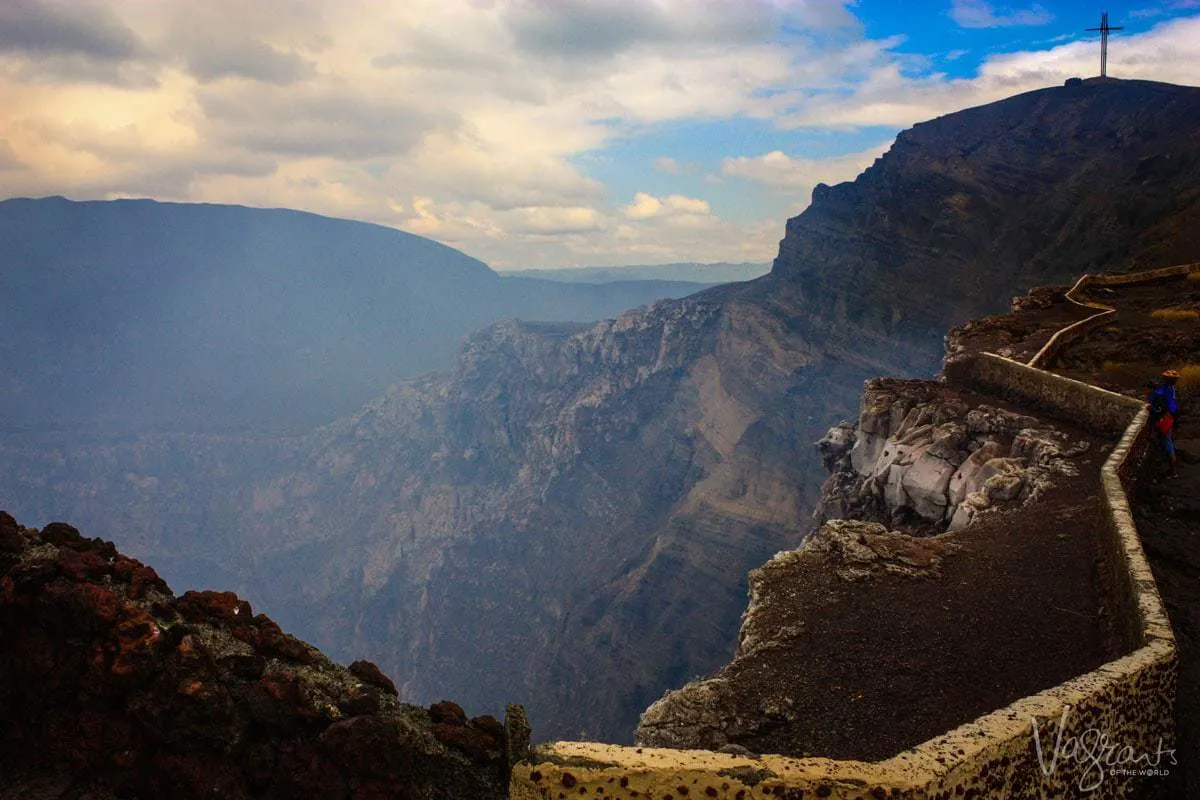 Standing on the rim and staring into the crater of an active volcano is a once in a lifetime and very humbling experience. The Masaya Volcano has been known to throw rocks from its depths, landing straight on top of parked cars.
The Masaya National Park and visitor centre is open daily from 9.00 am – 4.30 pm.
Entry to Masaya National Park is C$100 (~ $4USD)
Masaya Volcano Night Tour
For a volcano experience with a twist, there are also night tours of the Masaya Volcano so you can witness the glowing lava lake. You also have the opportunity to walk through the lava tubes to see different species of bats and the unusual parrot that lives amongst the gases in the inner rim of the volcano.
The Masaya Volcano night tours run from 5.00 am – 8.00 pm. Cars are asked to enter the park in order of arrival on a one by one basis.
Entry for the Masaya Volcano night tour is ~C$300 (~ $10USD)
Tip: Due to volcanic activity in Nicaragua, several volcanoes, including Volcan Masaya may be closed. Check accessibility before planning your trip to Masaya.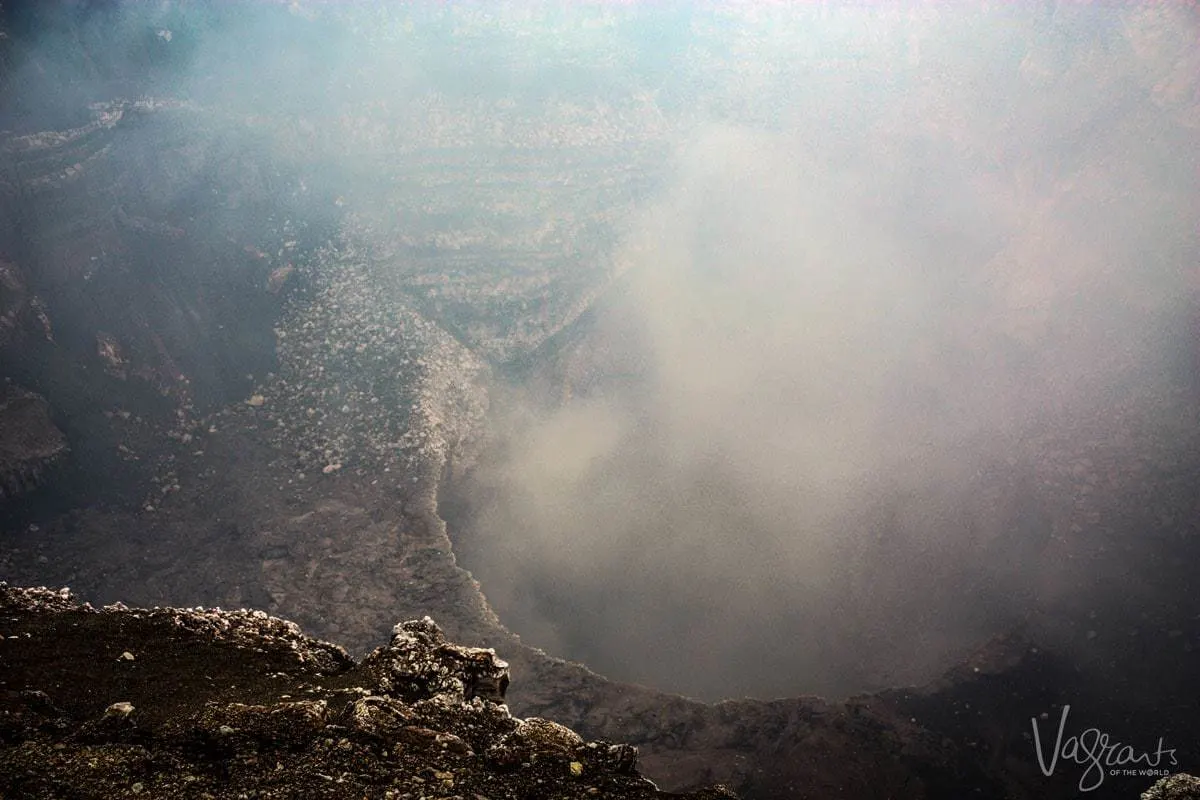 Masaya Markets
Masaya is known for its National Artisan Market; Mercado de Artesanías de Masaya. Shop to your heart's content at the Masaya market. Handmade ceramics, woodcrafts, jewellery, cigars, leather, and the signature Masaya hammocks. While there is still a fair amount of touristy stuff in the market place, there is still a lot of great local artisan products to be found here. If nothing else, this a great place to pick up a quality Nicaraguan hammock at a good price.
Don't be scared to barter and like the many who make the special trip just to shop, you may walk away with a good deal.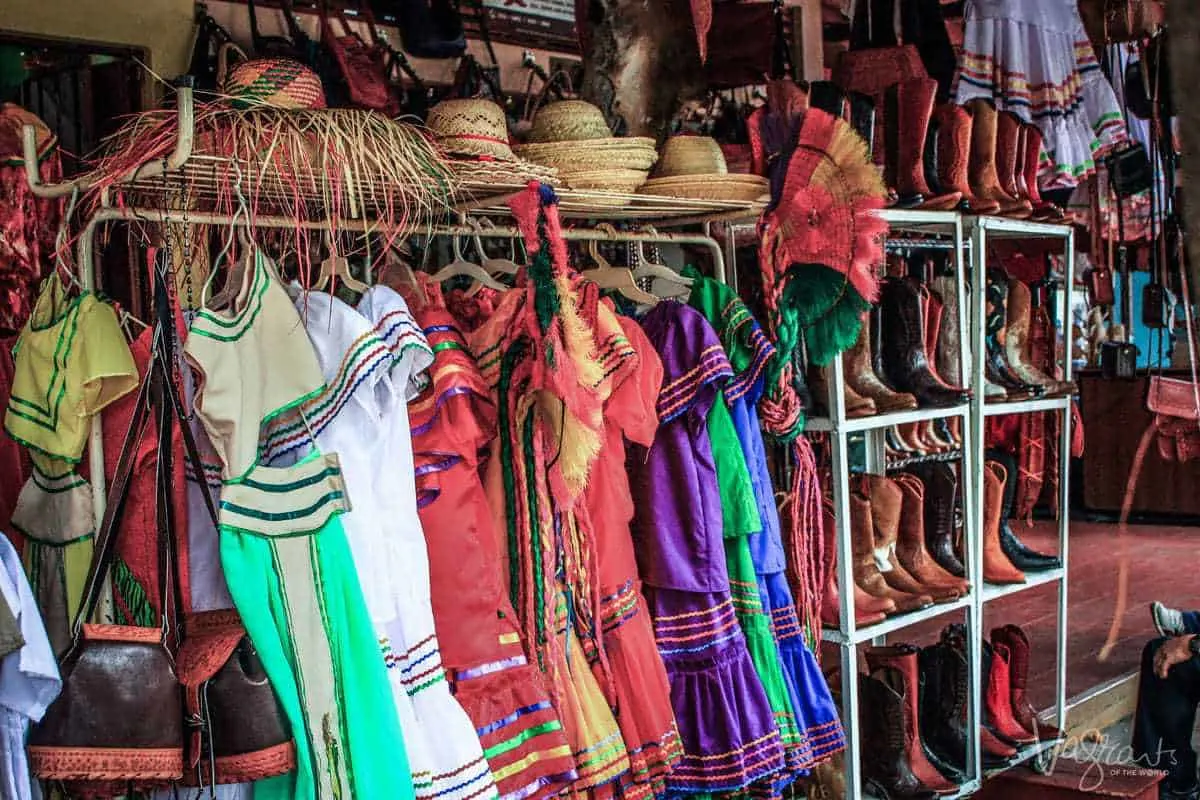 Catarina and Laguna de Apoyo
Once you have shopped your entire baggage allowance at Masaya Market, head out to the serene town of Catarina about 15 mins from Masaya. A perfect spot for lunch. Known for its nurseries and flowers the town centre sits high above the crater lake of Laguna de Apoyo. From Catarina, you can enjoy uninterrupted views of Laguna de Apoyo Mombacho Volcano and the city of Granada. Catarina is a popular spot for locals to spend Sunday afternoon picnicking or having lunch at one of the many restaurants sitting high above the spectacular lake.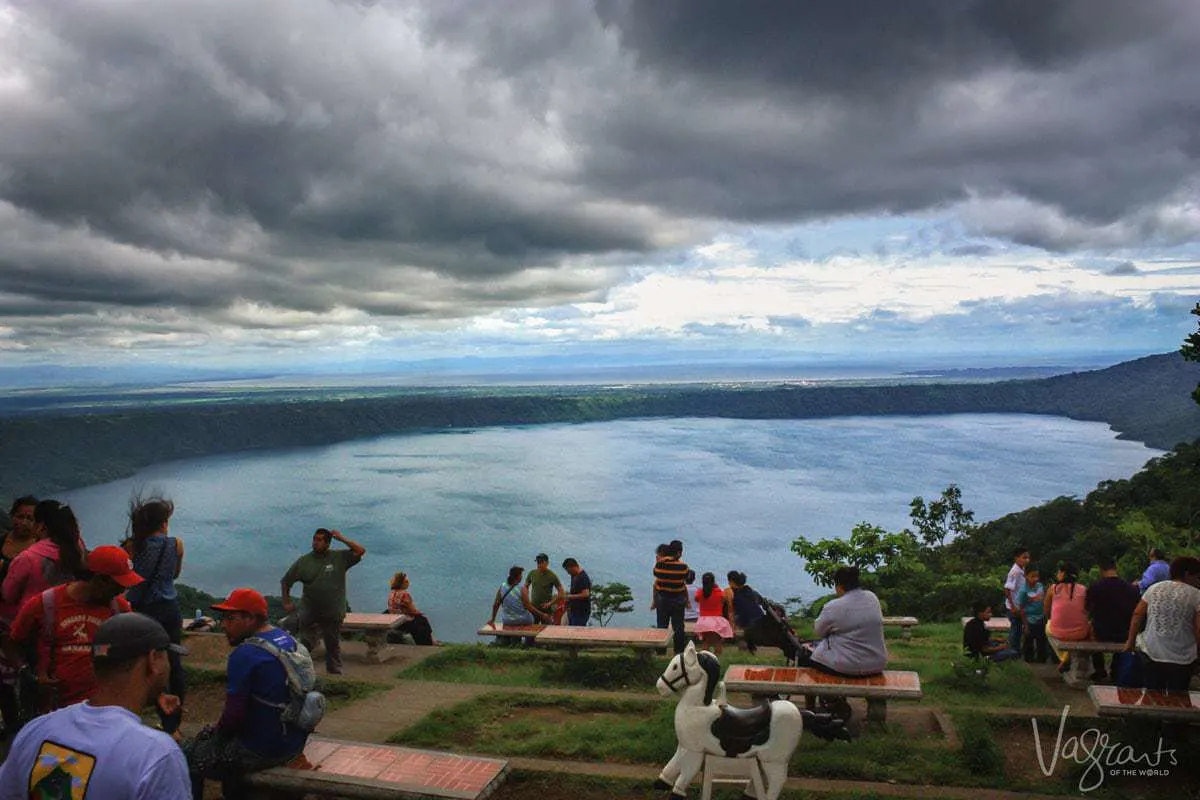 San Juan de Oriente
Not far from Catarina is the pre-Columbianan town of San Juan de Oriente renown for its ceramics. There is a school dedicated to keeping the traditional art alive. Starting with clay sourced from a local quarry, they lead you through the processes of making these beautiful ceramics unique to this region.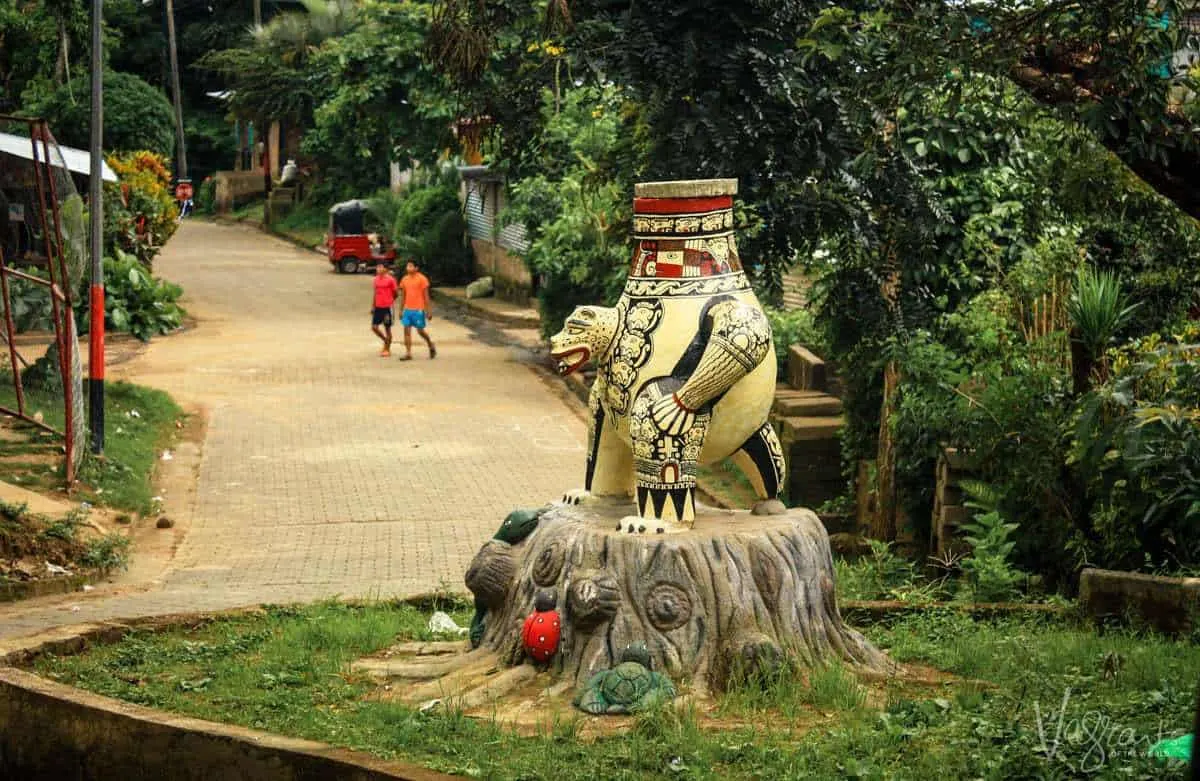 Baked in wood fired kilns that reach incredibly high temperatures, similar to those produced by volcanoes makes these ceramics especially durable. Every process in making these ceramics uses natural products and is done completely by hand. It is a wonderful initiative to see schools dedicated to keeping the traditional skills and art alive. This is the vision and passion we have seen throughout Nicaragua.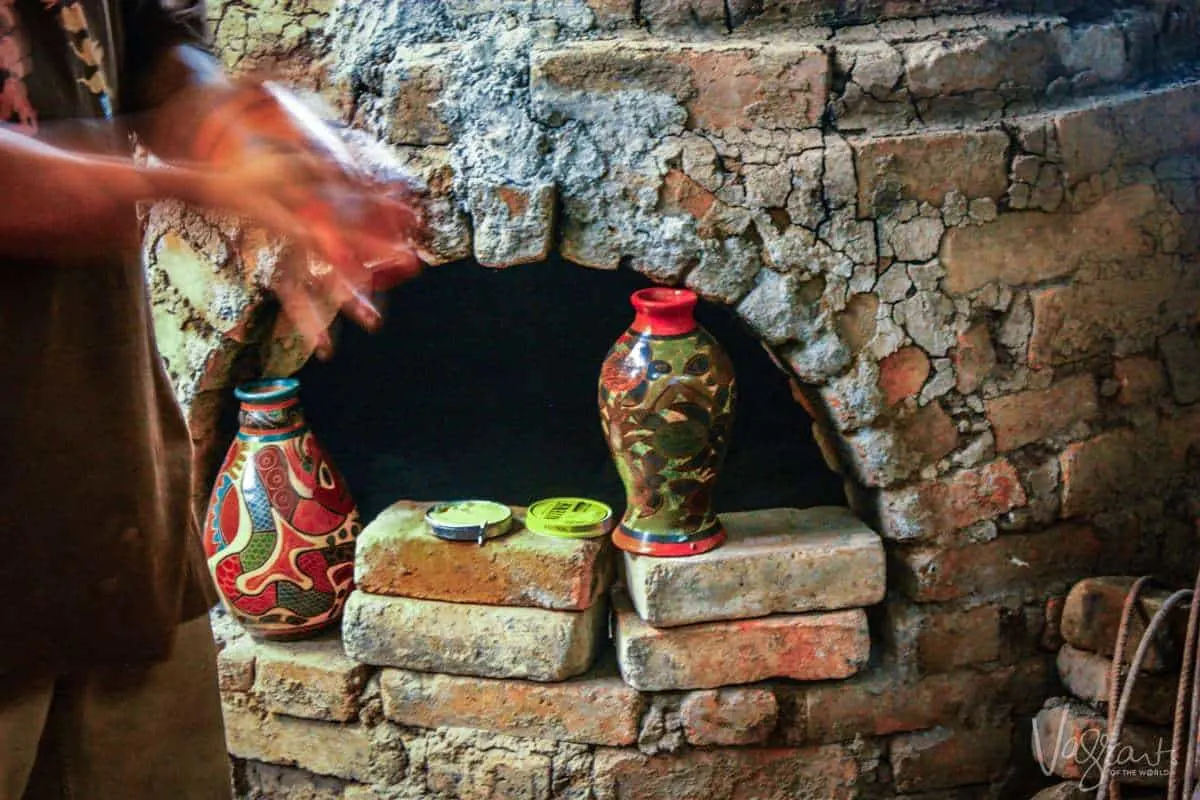 ---
Getting to Masaya
Masaya is approximately 14 km west of Granada and 31 km southeast from Managua.
By Public Transport
Regular buses run from the Granada bus terminal to Masaya's Mercado Municipal. Once you are in Masaya, Microbuses en route to Managua will drop you at Masaya National Park. Return buses to Granada can be waved down outside the entrance of the Masaya National Park on the highway.
Expect to pay anywhere from c$10 cordobas (~$0.36) – c$19 cordobas (~$0.68) depending on the trip.
Shuttle or Taxi
Shuttles or taxis can be arranged by your accommodation or you could barter yourself. Expect to pay around C$300 (~ $10USD) each way. Just be sure to agree on a fixed price before you leave.
Day Tour of Masaya
A day tour can cost anywhere upwards of $35 USD pp depending on the tour you opt for and inclusions. What you will get is your return transport, entry to the National Park, a guide and transport around the area. Some tours will also include lunch. Get more details for Granada to Masaya day tours.
Full Day and Volcano Night Tour
If you are short on time, it is possible to include Granada, Masaya and surrounding regions and a night tour of the Masaya Volcano all in one day. Check here for more details.
Other Things to Do In Granada Nicaragua
Take a Tour of the Old Town
Before you Go-

Recommended Travel Gear for Nicaragua –

See our Complete Packing List for Nicaragua Here