Head up into the hills of the northern region of Nicaragua and you will find stunning landscapes and beautiful cities. 
If you like chocolate and coffee, this is where the world looks to find the finest of both; this is Matagalpa, Nicaragua's Coffee Country.
Don't mind a fine cigar?  Then this is the region for you too. We took a chicken bus from León and headed to the hill country of Matagalpa.
Tip: Don't leave it until the last bus on a Friday afternoon to travel to Matagalpa. This is the worst chicken bus scenario one could imagine. Every single uni student from León heads home for the weekend and of course they can ALL fit on the already over crowded buses! So if you don't want to spend 3 hours cramped in a kind of standing chicken position, aim for an earlier bus or another day of the week.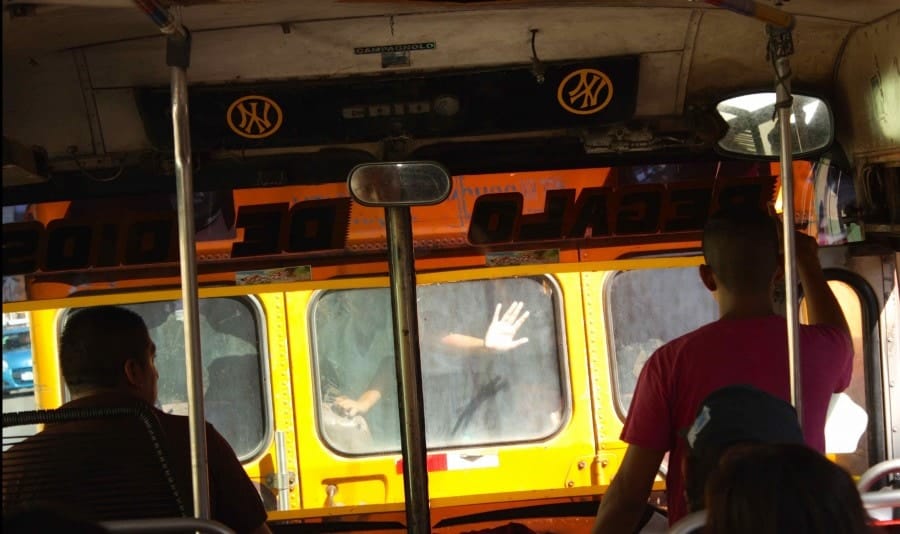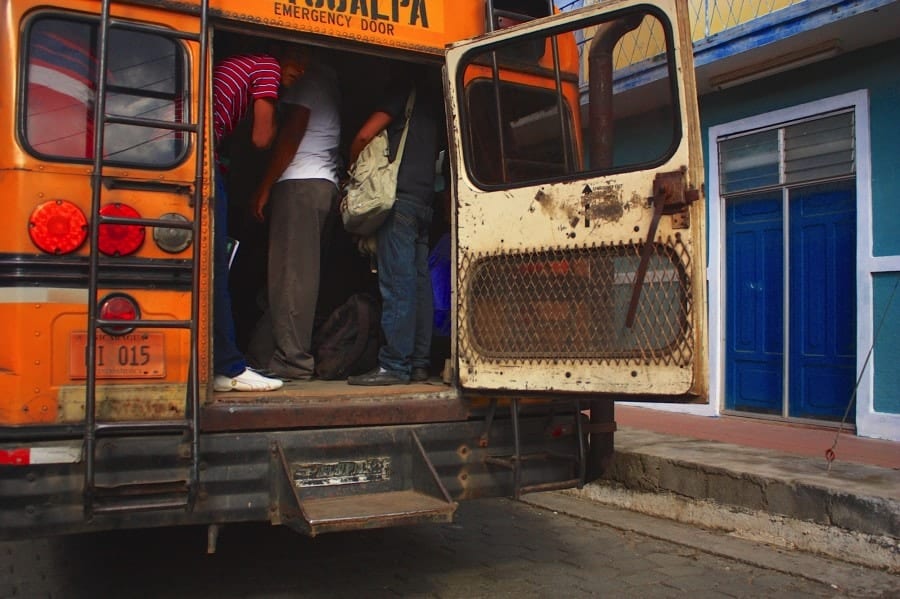 Matagalpa is a great base for those interested in coffee, cocoa and tobacco farms.  It also offers great hiking, scenery and wildlife encounters. Set at an elevation of around 700 meters you can also enjoy a lovely temperate climate which locals refer to as "eternal spring".  A nice reprieve from the mostly tropical heat of the rest of the country. The entire mountain region, including nearby
The entire mountain region, including nearby Estelli, specialise in eco and agri-tourism, so this is the place to get back to nature and get a first hand experience of local farming cooperatives.
We headed out to the La Carona community, around 25 km from Matagalpa for a hike and day tour through the local farming cooperatives.
La Corona Community comprises around 250 families, each with varying sized parcels of land.  They have formed a farming cooperative to enable them to best utilise the land, seasons and selling power. The combined coffee plantations of the cooperative gives them access to the Fair Trade markets that would be unattainable to them as individual farmers.
It is at one of these farms, Finca el Gayabo we realise, we have been taking our humble morning coffee very much for granted.
How Coffee is Grown and Harvested
As we walk through the plantation, we consider some of the coffee facts being presented-
A seed will take one month to germinate.
The seedling will mature for another 6 months before being planted, under the advice of an expert bought in to decide which of the seedlings will or won't make the grade.
It will be another 3 years until the first harvest which will only take place for 3 months commencing each November.
Are you getting the drift? This is a huge investment of time and land for a short harvest period and one shot at a return on your efforts each year.  Lose one harvest to disease or drought, which happened not so long ago, and it can be 6 years before you see an income!
Now lets consider the logistics of all this. Workers must be brought in to complete the harvest. They come from all over the region so must be housed and fed on the plantation for the harvest season. As this is the coffee pickers one shot at a big income each year, they work as much as they are able throughout the 3 months, earning around $1.30 USD for every 2 baskets they pick.
This is a lot of picking to make a quid. Also consider, the beginning of the season starts slow as the coffee cherries are still ripening so pickings can be slim. In turn, the back end of the season slows down as well. This means, at the peak of the season, the more pickers and the smaller the window you have to make a buck (or Córdoba).
The cherries must then be processed to remove the first outer skin and graded into first, second and third grade quality. All of this done in a shed less than the size of the average one car garage.
While these processes are not done completely organically, the cooperative, nor the average farmer cannot afford the risk required to meet the standard of the Rainforest Alliance, the processes ensure sustainable farming practices. 
The cherries are then taken by truck to another plant where they will be washed again and have the next skin removed to establish a final grade before being sold to the Fair Trade market.
Okay, so we now have a renewed respect for that cup of coffee I previously took for granted, and this is not even going into the politics, world economics and market fluctuations.  Not to mention the fact, these people who labour so hard and invest so much risk, earn very little for the most important part of what is a huge global industry.
While we meandered through this gorgeous plantation, we were not only enlightened as to the beginnings of our morning cup of coffee, we were also lucky to have a number of wildlife sightings, including the ever elusive sloth!
Back at the homestead, over a beautiful lunch prepared by the daughter of the owner of Finca el Gayabo, we can sit and absorb all of this information, followed by a great cup of coffee of course!
After lunch, an afternoon is spent hiking through forests and the farms that make up this community. Throughout, we see the secondary farming initiatives the community has put in place to ensure a year round income. This includes everything from organic free range chicken farming, (we are told eggs are very expensive for the average Nicaraguan family, so they form a good income for the farmers) to fruits we have never heard of.
Cacao is the second biggest industry in the region and is apparent throughout all the farms we hiked through. Matagalpa produces some of the finest chocolate and cacao products in the world. This is real deal chocolate.
The Matagalpa region really is a delight for those looking to immerse themselves in picturesque scenery and a local experience. An easy hike through areas like this,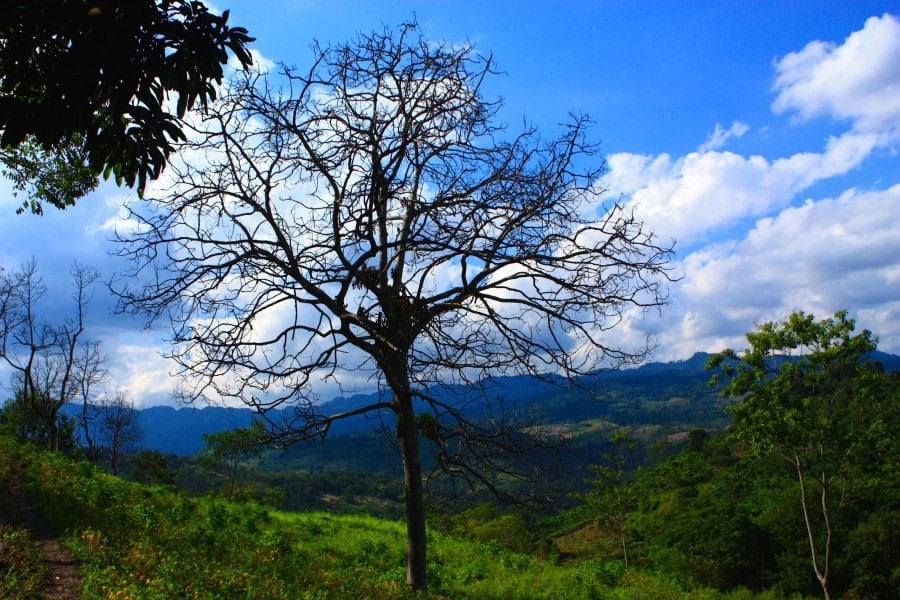 and you find yourself here at Cascada Blanca.  A lovely way to end your day. There is even a hotel at the base of the waterfall should you want to stay for a day or two.
We had really not expected to enjoy this tour as much as we did. While it is always interesting to take tours to learn about local production processes, this was an entirely more engaging and personal experience.


FACTS
Day Tours Matagalpa
Community La Corona and the Waterfalls of the Yasika River Tour:  Departs daily at 08.30am – 3.00pm. Cost is $28 – $55 USD depending on numbers. Tour includes: Bilingual guide, Local Guide, Private Transportation, Traditional Nicaraguan Lunch and Entrance fees.
---
Hike – Crossing the Natural Reserve "Cerro Apante":  Departs daily at 08.30am, Duration: 7 – 8 hours. Price $23- $45 USD depending on numbers. Tour includes: Private transportation, Bilingual guide, Picnic lunch, Entrance fees, Snacks.
If you haven't had enough of this beautiful countryside in one day, back it up with a spectacular hike offering views from the heights of the nature reserve of Apante. Nearly 2,000 hectares offers an array of spots to enjoy the landscape of Matagalpa. Nature and wildlife lovers will love this hike.
Of easy to moderate grade, this hike of more than 7 hours, gives you the opportunity to experience different types of forests, plantations and communities with gorgeous landscapes, starting at Matagalpa and finishing in the small town of San Ramón.
---
Where We Stayed
While we were in Matagalpa, we stayed in one of the best 'Hostals' of our entire trip through Nicaragua.  La Buena Onda Hostal is a premier boutique hostel, which is more hotel than hostel, offering both dorm and private rooms.
We had a very large, very comfortable double room with private bath and Hot Water! A real luxury in the regional areas of Nicaragua. With breakfast included, very friendly helpful staff and a central location, this is probably one of the best accommodation options for Matagalpa.
Cost: A private room costs around $30 USD so is great value.  Plus, they have a pet hotel bunny; Deyito. You will often find him guarding the front door.
Check Latest Accommodation Rates for Matagalpa Nicaragua
---
 Contact Matagalpa Tours for more information on the wide range of quality tours they operate through this region.
---
Disclaimer: Whilst we received a media rate for our tours courtesy of Matagalpa Tours, as always, all opinions expressed in this review are our own and have not been influenced in any way.