Palm Beach is famous for its pristine beaches and affluent island lifestyle, one of the biggest drawcards for visitors and day-trippers from Fort Lauderdale and Miami. However, there is a whole other side to Palm Beach worth seeing.
Head to West Palm Beach for a breath of fresh air on some of Palm Beach County's pristine hiking trails and paths. Hikes that will take you through striking landscapes from wetlands to the ocean or along some of the most scenic urban shorelines.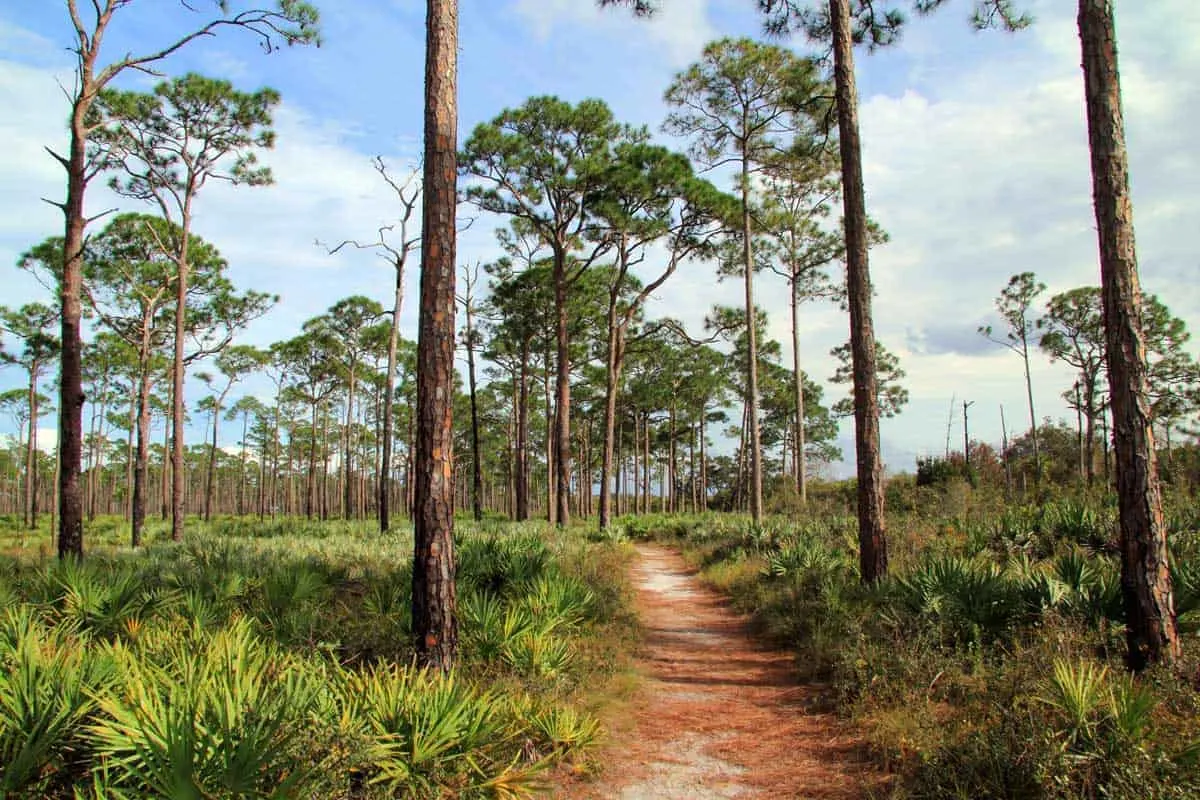 Florida has an incredibly unique ecosystem made famous by the Everglades (one of the most popular attractions from Miami) and the unparalleled natural parks of the Florida Keys. But Palm Beach offers a fabulous opportunity to enjoy this rare and special wilderness without the same tourist crowds.
Get Back to Nature in Palm Beach
These are some of the best hiking trails in Palm Beach County. Hiking trails to suit even the most casual hiker, all very accessible from Palm Beach.
It might be bird watching or the unique wetland habitats that interest you. Or, you just want to hit the pavement for a breath of fresh air and see a different side of Palm Beach. No matter your style, we have a hiking trail or path for you.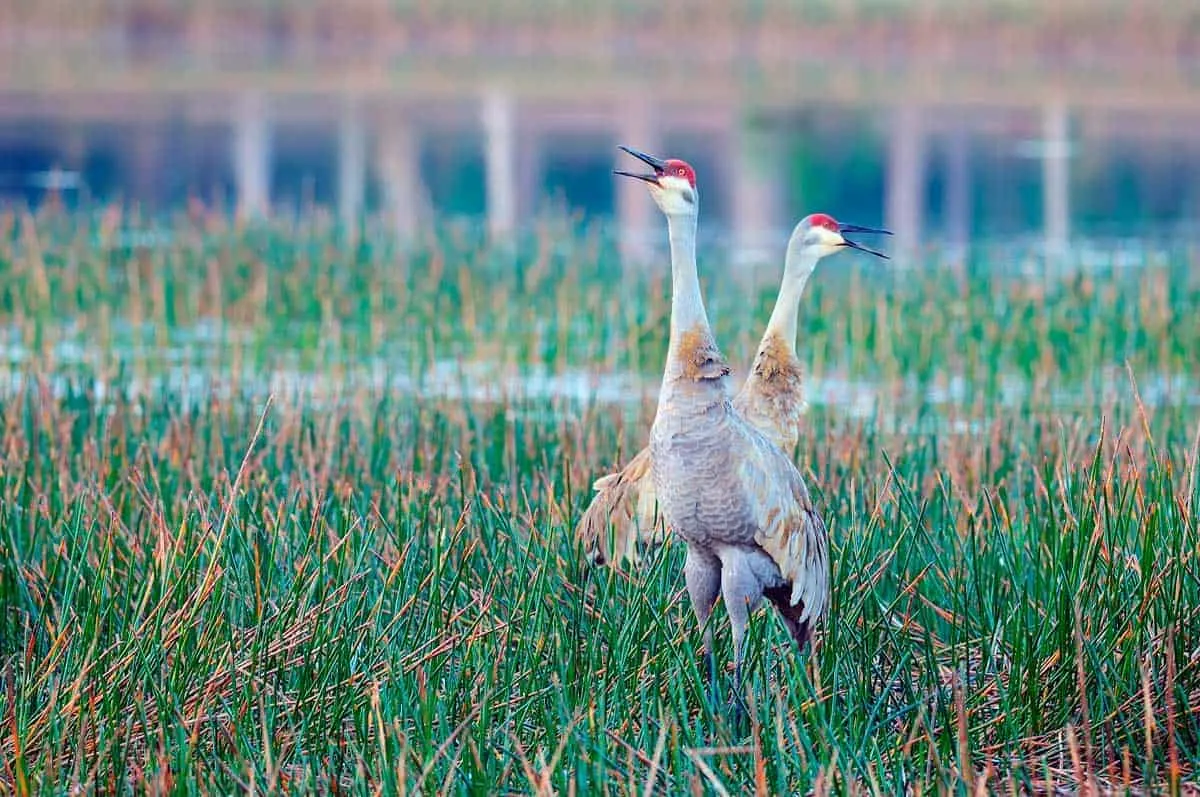 Where to Stay in Palm Beach.
While Palm Beach is often associated with the glamorous jet-set and famous golfing fraternity, there is still a multitude of accommodation options in Palm Beach County to suit every style and budget.
From premium beachfront resorts to city break-style hotels, cosy studios, and self-contained villas, there is an accommodation option to suit any visitor to Palm Beach.
Choose to stay in West Palm Beach, and you get the best of both worlds – beautiful beaches, vibrant nightlife, and plenty to keep a family entertained. You also expand your accommodation options ranging from budget-friendly to luxe deluxe and position yourself closer to some of South Florida's most beautiful natural parks.
---
Discover More Great Destinations in the US for a Hiking Vacation
---
10 Palm Beach Hiking Trails and Paths Worth Exploring
Okeeheelee Nature Trail
Distance: 2.5 miles
Type: Loop
Difficulty: Easy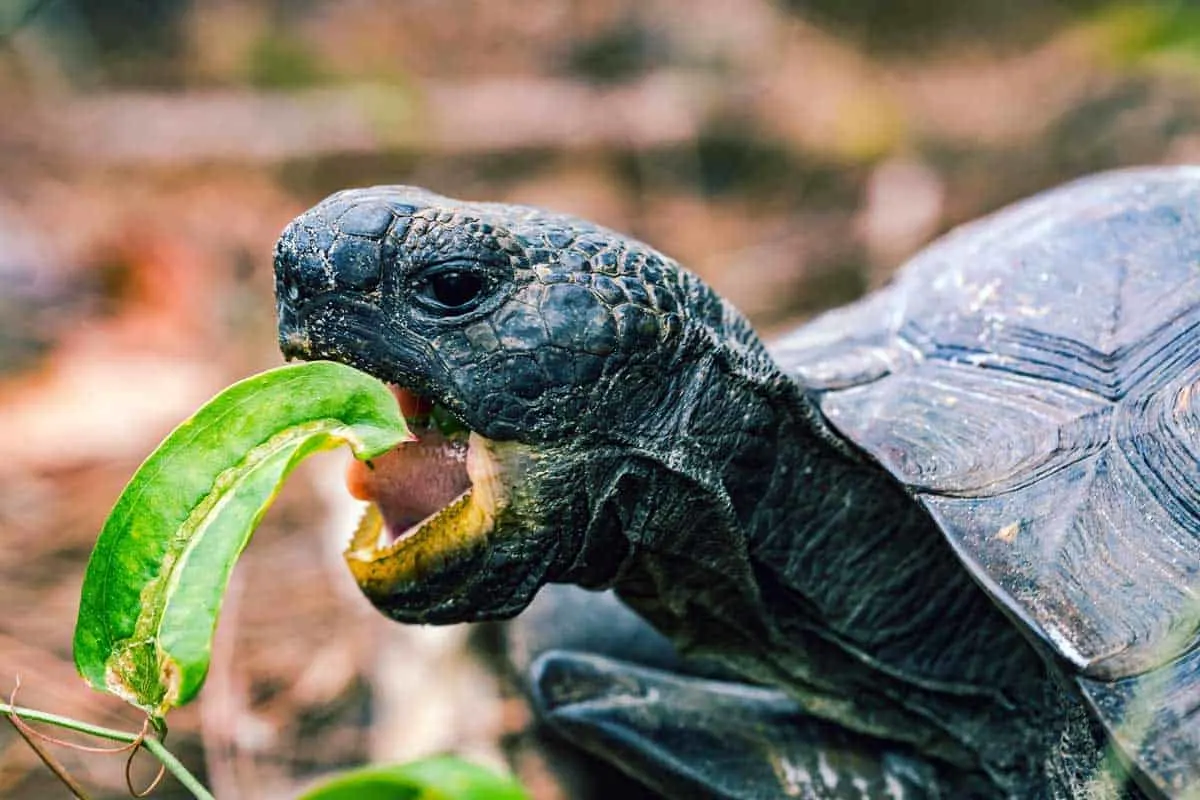 Okeeheelee Park is a massive green space just west of Palm Beach – one of the largest parks in South Florida. Covering over 1700 acres, the park offers a plethora of recreation areas and activities including sports facilities, kayaking, paddle boats, fishing, expansive water skiing lakes, mountain bike, hiking, and multi-purpose trails. There is even an equestrian center with 9 miles of equestrian trails.
The park also has the Okeeheelee Nature Center and Nature Trails – Over 90 acres of woodlands with 2.5 miles of wooded trails winding around various ponds.
The nature trail takes you through easy trails of pine flatwoods, dense palm hammocks, and wetlands brimming with bird and wildlife – habitats once common in the now densely populated West Palm Beach area.
Enjoy scenic views over the ponds made from former rock pits, spot deer in designated enclosure spaces and giant gopher tortoises grazing are a common sight along the trails.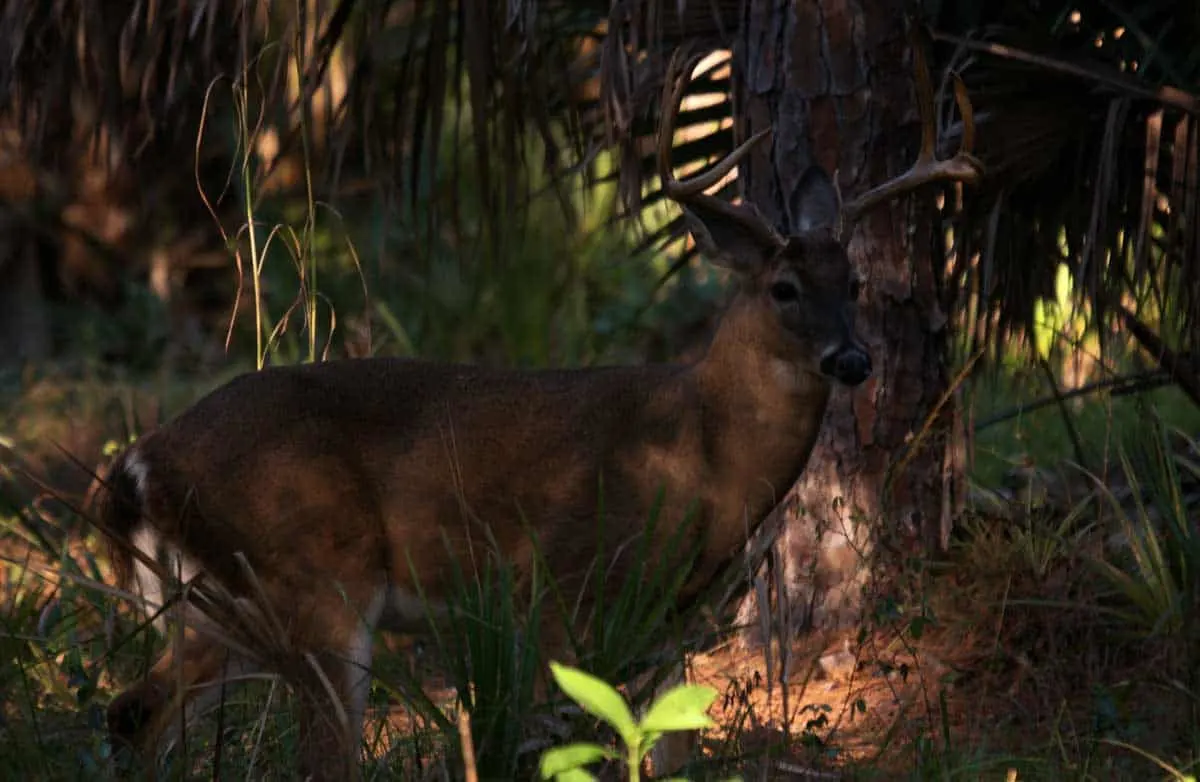 The Okeeheelee Park Nature Trails are different from those around the park and are accessed via the Okeeheelee Nature Centre.
The Nature Centre is open:
Wednesday–Friday, 1:00–4:30 pm
Saturday, 10:00 am–4:30 pm.
Closed Sunday–Tuesday
The nature trails are open from sunrise to sunset.
You can get more information on the facilities and opening hours of Okeeheelee Park here.
---
Apoxee Park & Owahee Wilderness Trail
Distance: 4.7 miles
Type: Loop
Difficulty: Moderate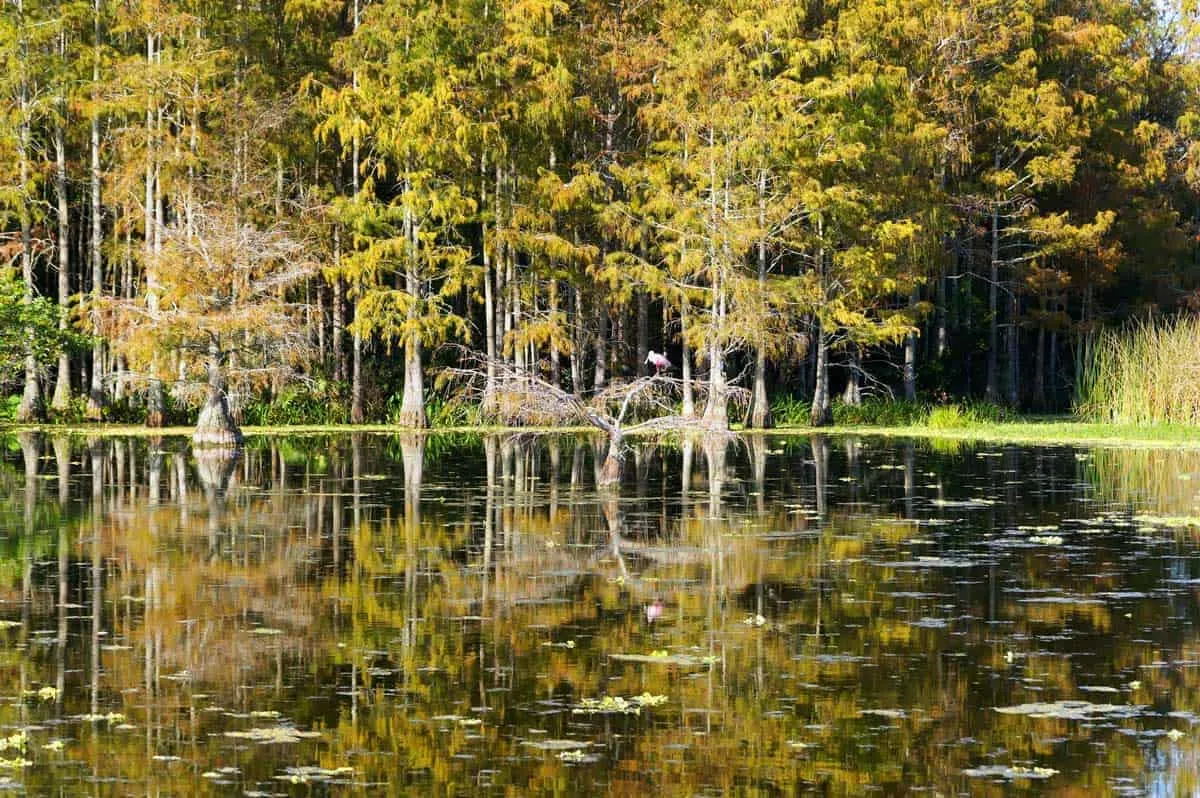 The Apoxee and Owahee Trail Loop is a 4.7-mile loop trail near West Palm Beach. The first urban wilderness park set aside by the City for the preservation of natural areas.
This section of the Owahee Trail takes you over the West Palm Beach water supply as you hike the wet prairies and tropical hammocks of Apoxee Park and the southernmost part of Grassy Waters Preserve.
A combination of boardwalks and natural trails takes you through stunning water views and unique habitats that thrive in the wet and humid environment. Popular with bird watchers, the area has abundant opportunities for wildlife sightings, in particular wading birds.
This is a great hike for all skill levels and is accessible all year round. However, it should be noted, after heavy rains, sections of the trail can become flooded so be prepared for some low-level wading in the wet season.
Add the Butterfly Orchid Trail
If you are looking for a shorter trail, the Butterfly Orchid Trail, is also a part of this hike accessed directly from the trailhead. Paved and mostly shaded it provides a very accessible brief loop through the tropical hammock. As the name suggests, you can expect to see various species of butterfly—a good trail for families with small children.
---
Satinleaf Trail
Distance: 0.25 mile
Type: Loop
Difficulty: Easy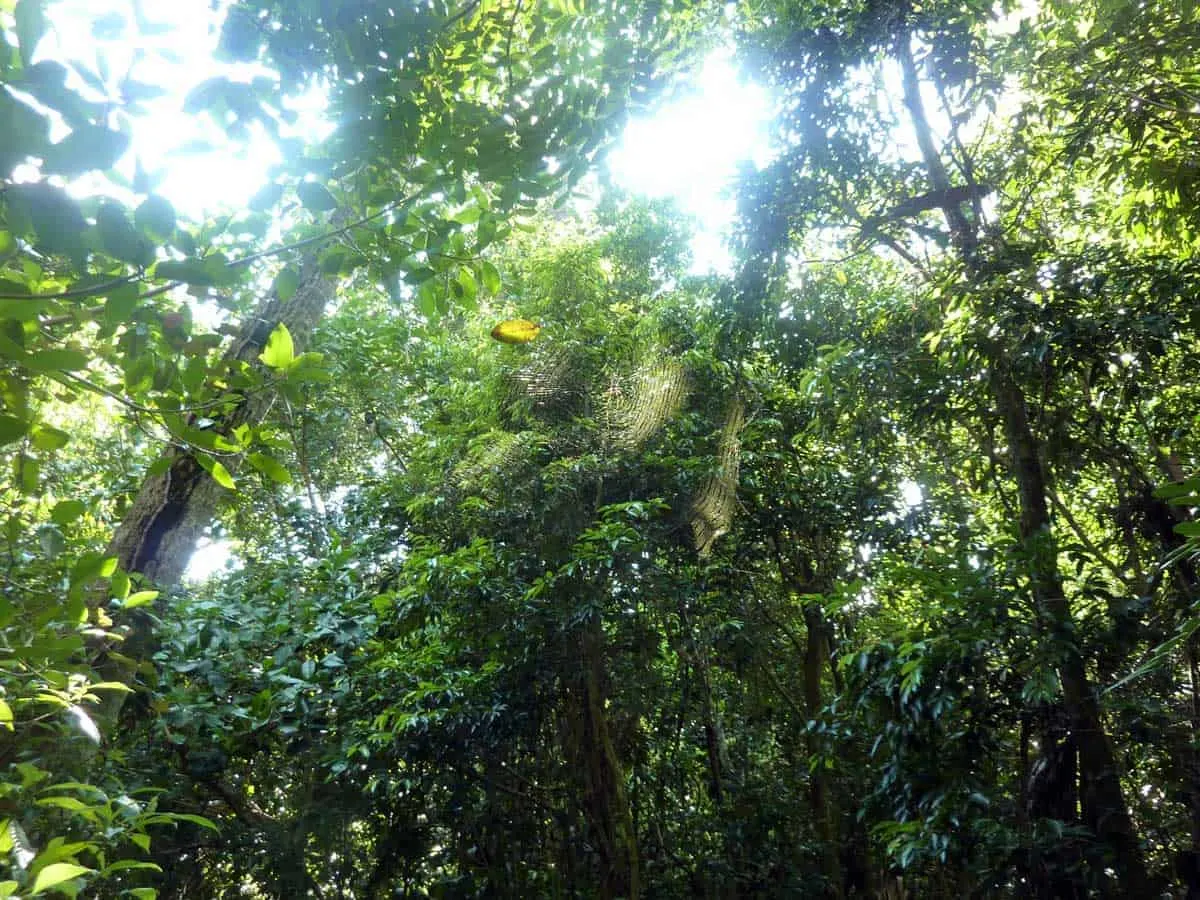 A leisurely 1/4 mile loop on Singer Island in MacArthur Park, this trail takes you under a beautiful jungle of tropical canopies and unique protected habitats in the park.
The easy interpretive nature trail is a delight for flora enthusiasts and an insight into what the real natural Florida was once like. The Satinleaf Trail takes you through a mixed maritime hammock made up of around 60-70% tropical plant species. Follow the interpretive markers to learn about unusual resident plant species such as paradise trees, pigeon plums, marsh ferns, and gumbo limbo.
Along the path, you will notice how the vegetation changes in the hammocks correspond with slight elevation changes.
The trail starts near the Nature Centre in the park. There is a small entry fee for the park.
---
Wetlands Hammock Trail at Pine Jog
Distance: 0.5 mile
Type: Loop
Difficulty: Easy
Take the short ½ mile loop hike along the extensive boardwalk along the Wetlands Hammock Trail to experience Florida's vast array of wetland wildlife.
The interpretive trail traces a large pond not far from the Pine Jog Environmental Center. From the boardwalk, you have the opportunity to view various species of colorful wading birds and frogs.
There are around 3 miles of trails all together at the Pine Jog property. The trails are open between 9 am – 4 pm weekdays, and 9 am – 2 pm on Saturdays. Bear in mind that sections of trails may flood after heavy rain.
---
Eagle Trail
Distance: 0.5 mile
Type: Loop
Difficulty: Moderate
Located in the Grassy Preserve, the Eagle trail is a short half-mile loop around Gator Lake. A popular spot for bird watching, the trail takes you through a tropical hammock and across a boardwalk with views over the lake and the wet prairies of the Loxahatchee Slough.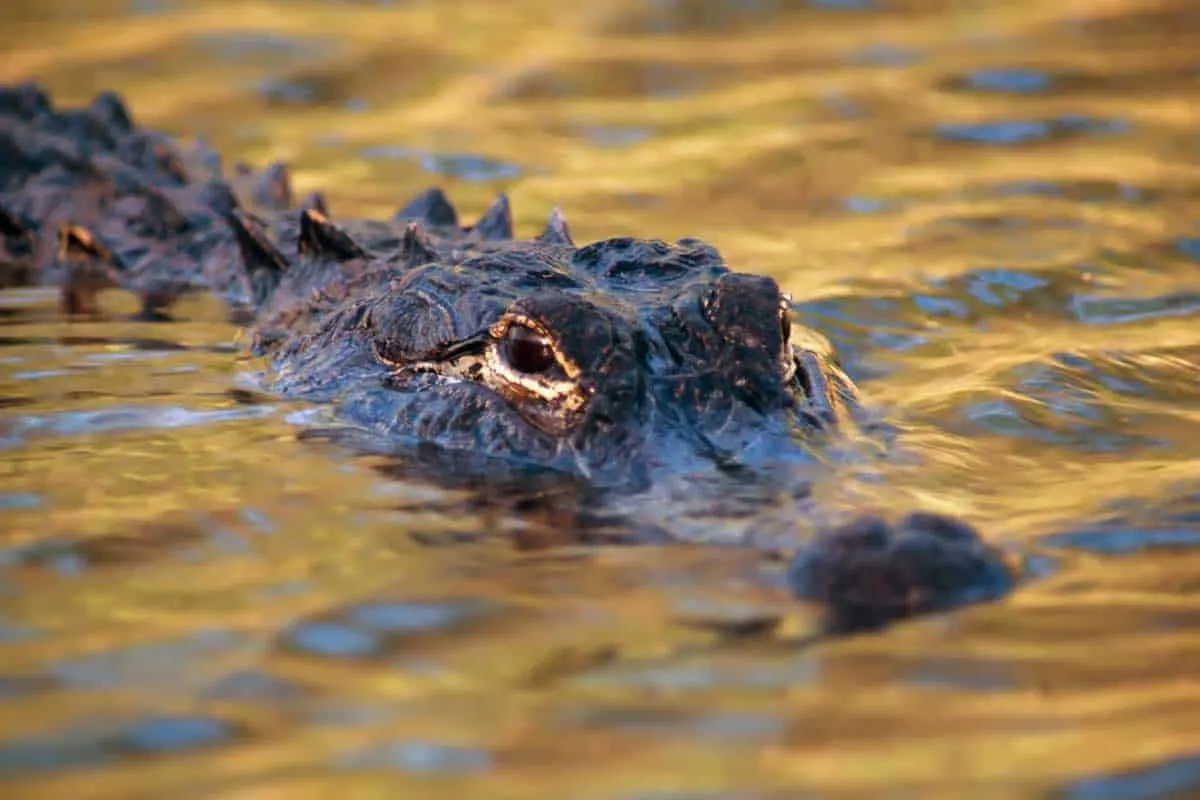 The trail starts from a pier where there is a canoe launch and a good spot for anglers. There are also several good bird-watching viewpoints. As the name suggests, yes, you can spot alligators in the lake.
The trail is open from 7 am – 5.30 pm.
---
Hog Hammock Trail
Distance: 1.9 miles or optional 2.2-mile round trip.
Type: Loop and spur
Difficulty: Moderate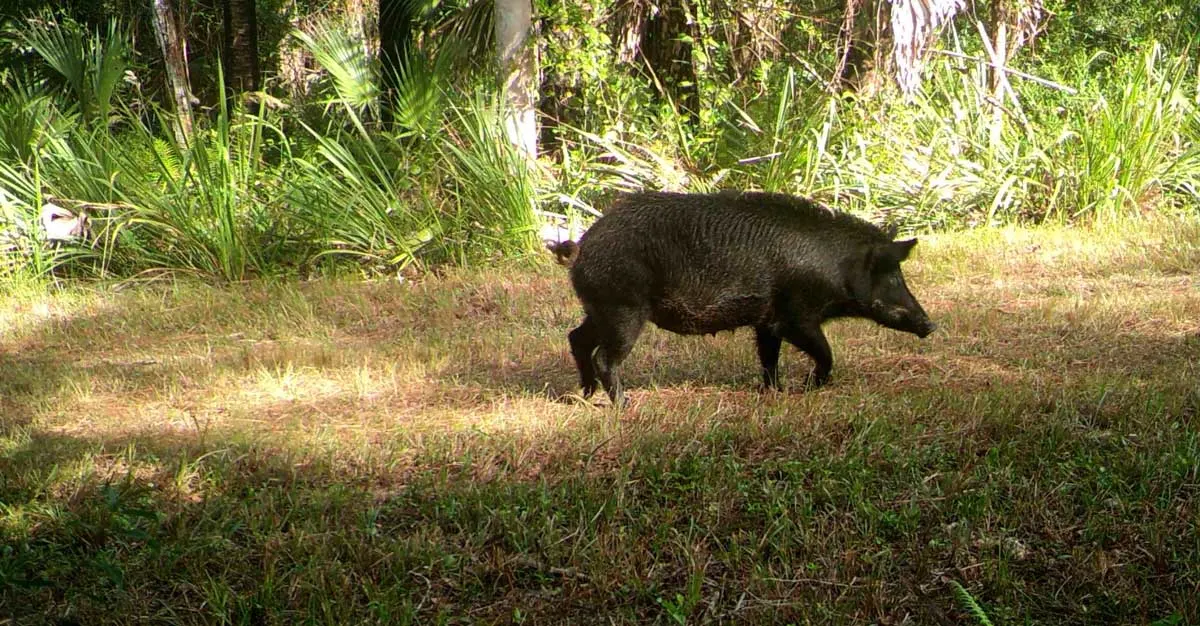 View the vast Loxahatchee Slough from another angle on the Hog Hammock Trail at Grassy Waters Preserve. You have two options on this hike by adding the Promontory Trail extension for a longer hike of 2.2 miles which takes you out into the open marshland.
The Hog Hammock Trail is a breathtaking hike through dense tropical and fern-filled landscapes which border the wet prairies of the slough. A favorite trail for bird watchers and wildlife photographers, it is also popular for biking as well as hiking.
Expect to see a lot of wildlife – be on the lookout for wild boars especially and don't be surprised if you see black bears.
---
Frenchman's Forest Natural Area
Distance: 2.9 miles over four trails.
Type: Multiple loops.
Difficulty: Easy to moderate.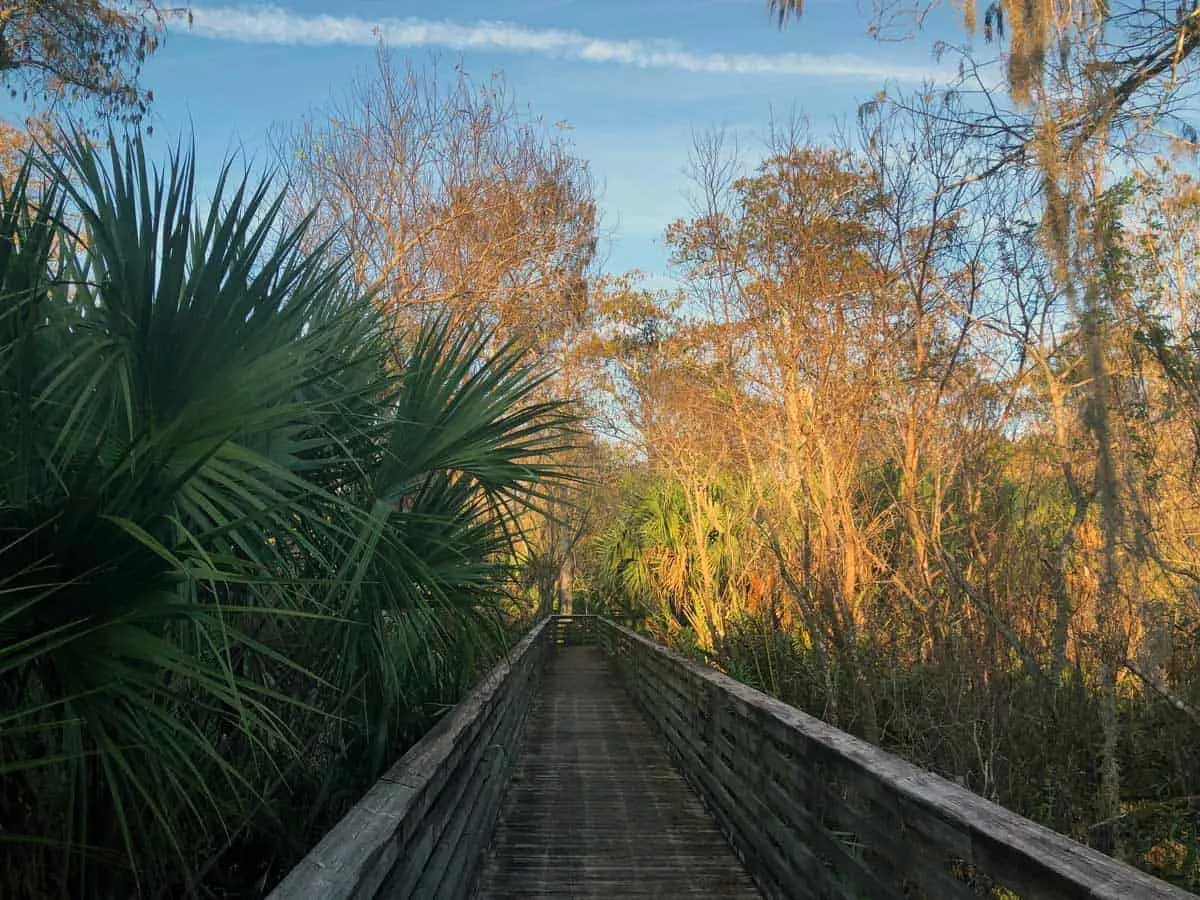 The Frenchman's Forest Natural Area supports seven different habitats over 172-acres and has four different hiking trails. This natural wonderland is conveniently hidden behind the Gardens Mall in Palm Beach Gardens.
The natural area is a stellar spot for bird watching, which is why it is part of the Great Florida Birding Trail. Expect to see woodpeckers – downy, red-bellied, and pileated, great blue herons, blue jays, various warblers and cuckoos, to name a few. Frenchman's Forest is also home to many other interesting species such as the majestic Gopher Tortoises and river otters.
The four hiking trails intertwine to showcase the natural areas diverse habitats. Enjoy sweeping views of the mangrove waterways and scrubby Flatwoods or take the boardwalk through a magical cypress swampland.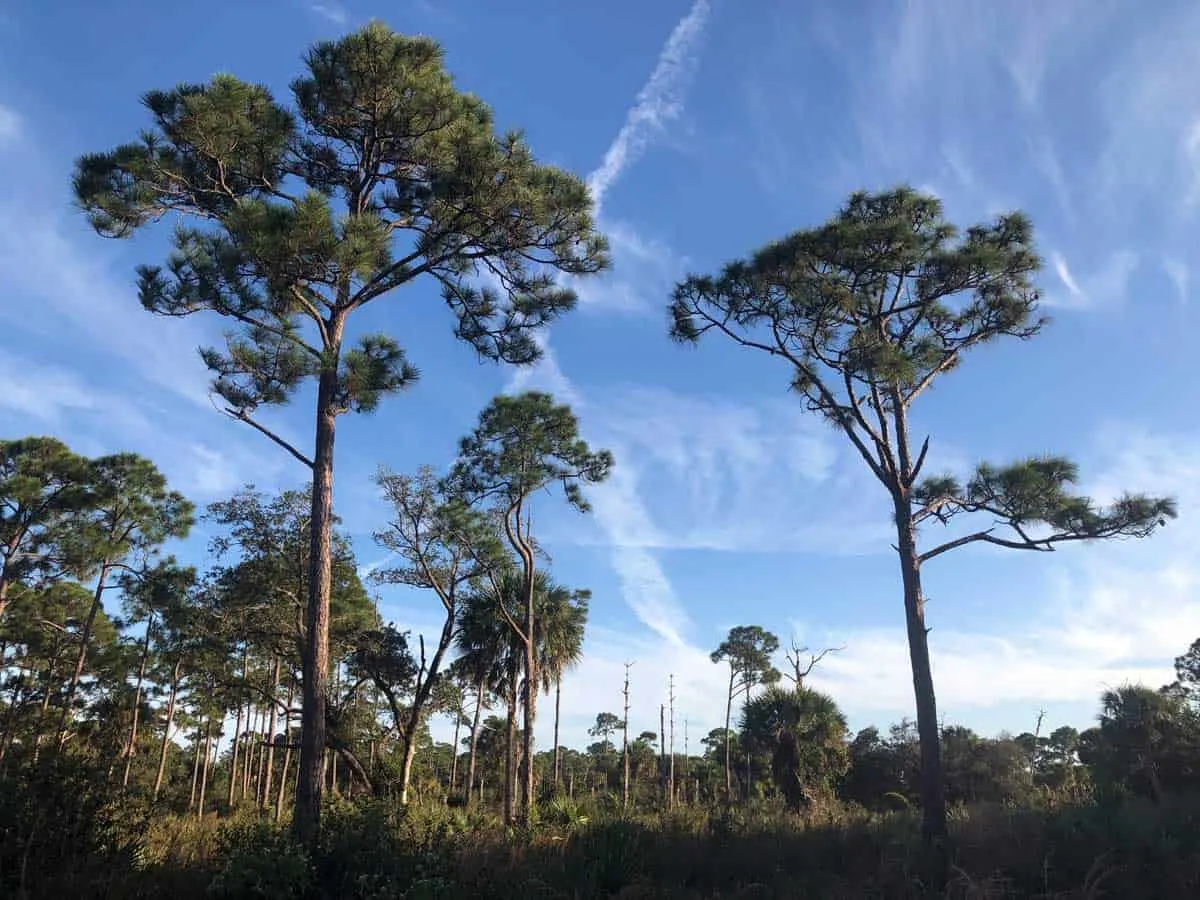 The four trails include Blazing Star Nature Trail, a short and accessible paved 0.4-mile loop, the Saw Palmetto Hiking Trail at 1.3 miles, and Staggerbush Hiking Trail that loops through scrub habitat and connects to Archie's Creek Hiking Trail.
Frenchman's Forest Natural Area is open from sunrise to sunset. There is a map of the trails displayed at the trailhead kiosk.
---
Palm Beach Lake Trail
Distance: 11 miles.
Type: Out and back.
Difficulty: Easy.
I like to think of this as more of an urban hike but a worthy breath of fresh air none the less. The Palm Beach Lake Trail follows a paved path along the shores of Lake Worth.
Nicknamed the "Trail of Conspicuous Consumption", the trail not only offers striking views of Lake Worth Lagoon but also offers a glimpse into the lifestyles of Palm Beach's rich and famous as you pass the rows of opulent mansions that line the trail.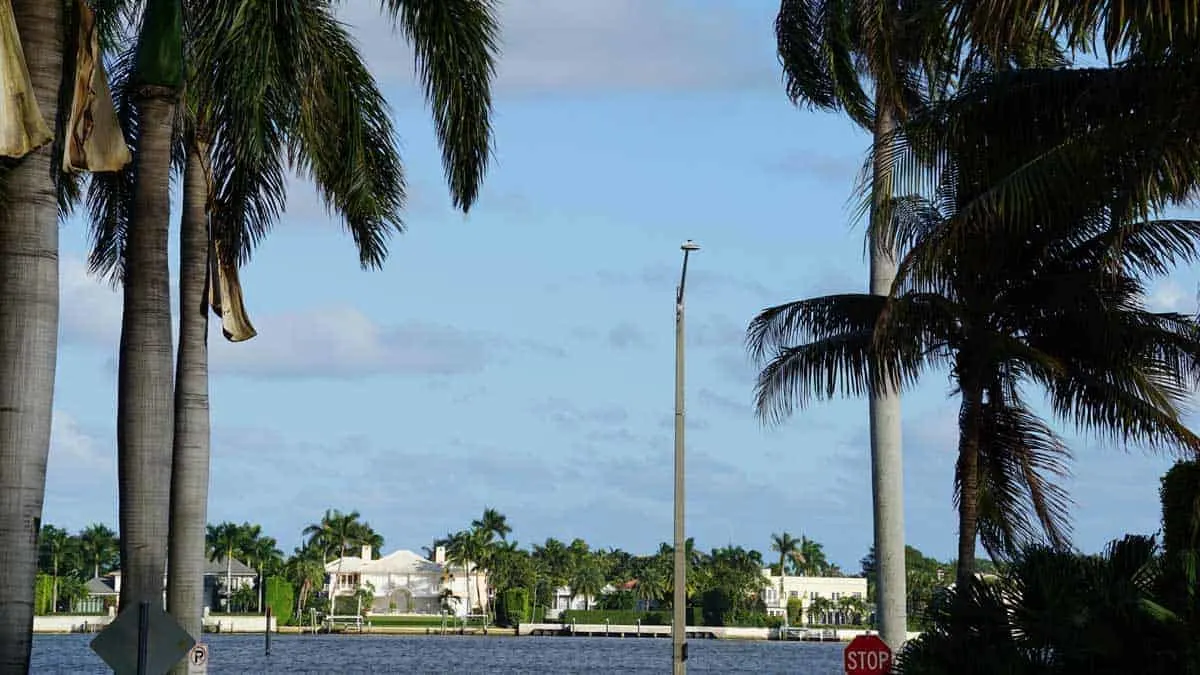 The entire length of the trail makes a relatively long hike out and back, but it is possible to veer off at any stage to shopping and restaurant areas to break it up.
Apart from a few street crossings on the southern end, the trail stays mostly off the main road. It is also a very popular path for cyclists.
---
Riverbend Park
Distance: 10 miles of trail networks.
Type: Various trail networks.
Difficulty: Easy.
Riverbend Park, the 680-acre preserve near Jupiter is a step back in time to the wilds of Southwest Florida – a wilderness experience more than a decade in the making.
The historic park has more than 10 miles of interconnecting trails which take you through diverse landscapes of cypress swamps, pine flatwoods, oak hammocks, and wet prairies.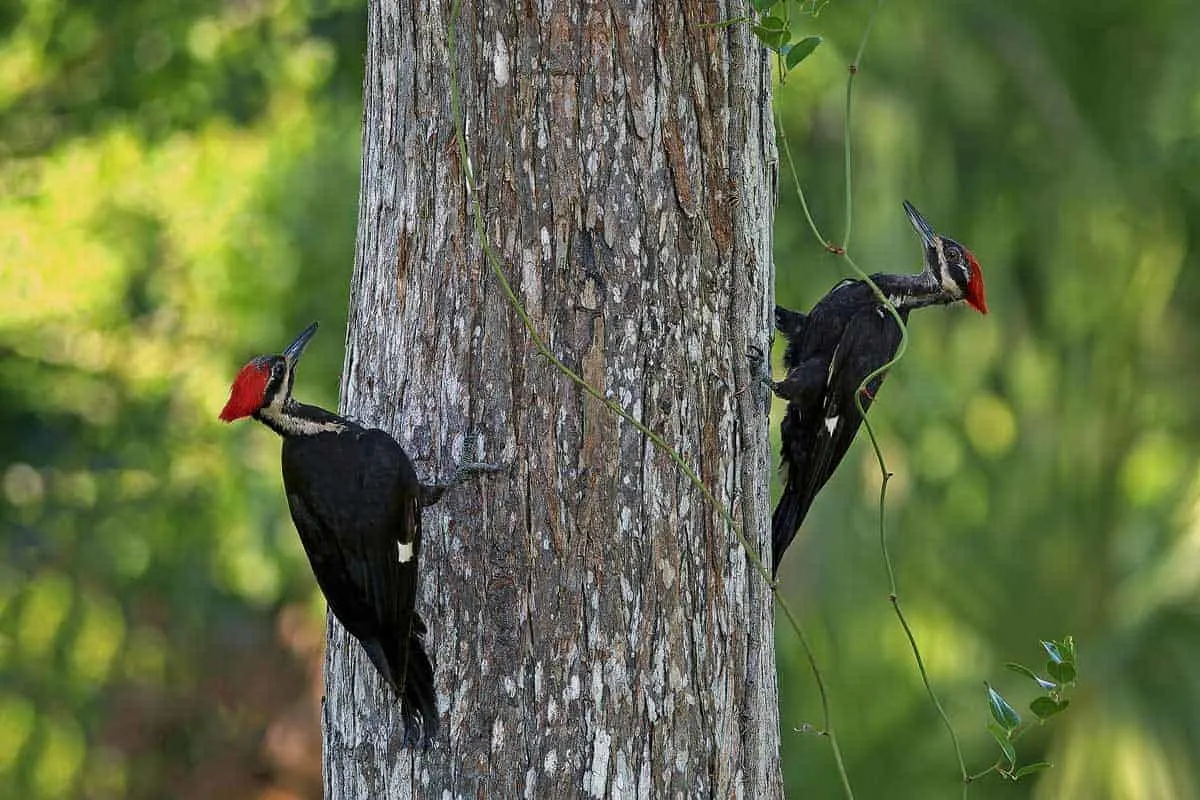 Enjoy views over sloughs, freshwater lakes, and ponds, and expect to see an abundance of wildlife including white-tailed deer, armadillos, wading birds, woodpeckers, and wild turkeys.
In addition to hiking, Riverbend is a popular cycling area and has over seven miles of equestrian trails and five miles of canoeing and kayaking areas. The park is well signed, making it very accessible even for novice or casual hikers.
---
Jonathan Dickinson State Park
Distance: 3 trails ranging from 5 – 10 miles.
Type: Loops.
Difficulty: Easy-moderate.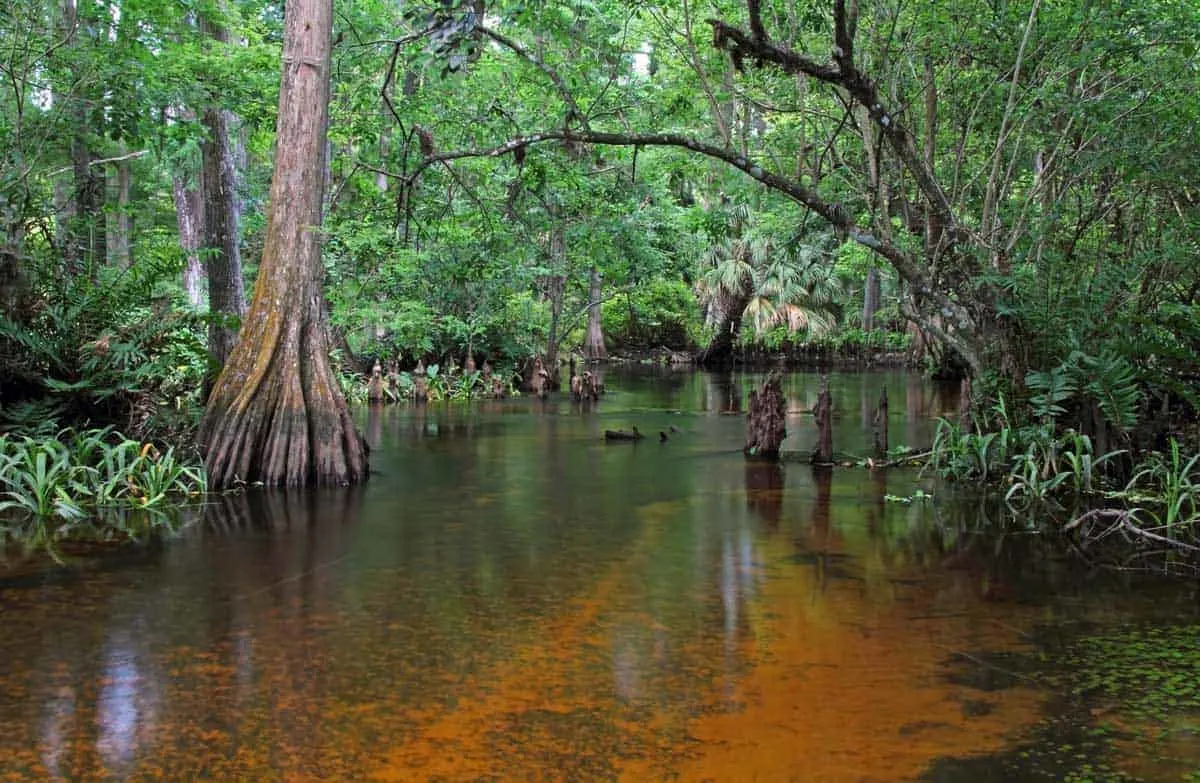 Jonathan Dickinson State Park, just north of Palm Beach offers a variety of trails for all abilities as well as a plethora of outdoor activities including – equestrian trails, paved and off-road biking trails, boating, canoeing, kayaking, and fishing in over 11,500 acres of natural wilderness.
Florida's first designated "Wild and Scenic River," the Loxahatchee River, winds through the park under a canopy of cypress trees which makes canoeing and kayaking another great way to see the park.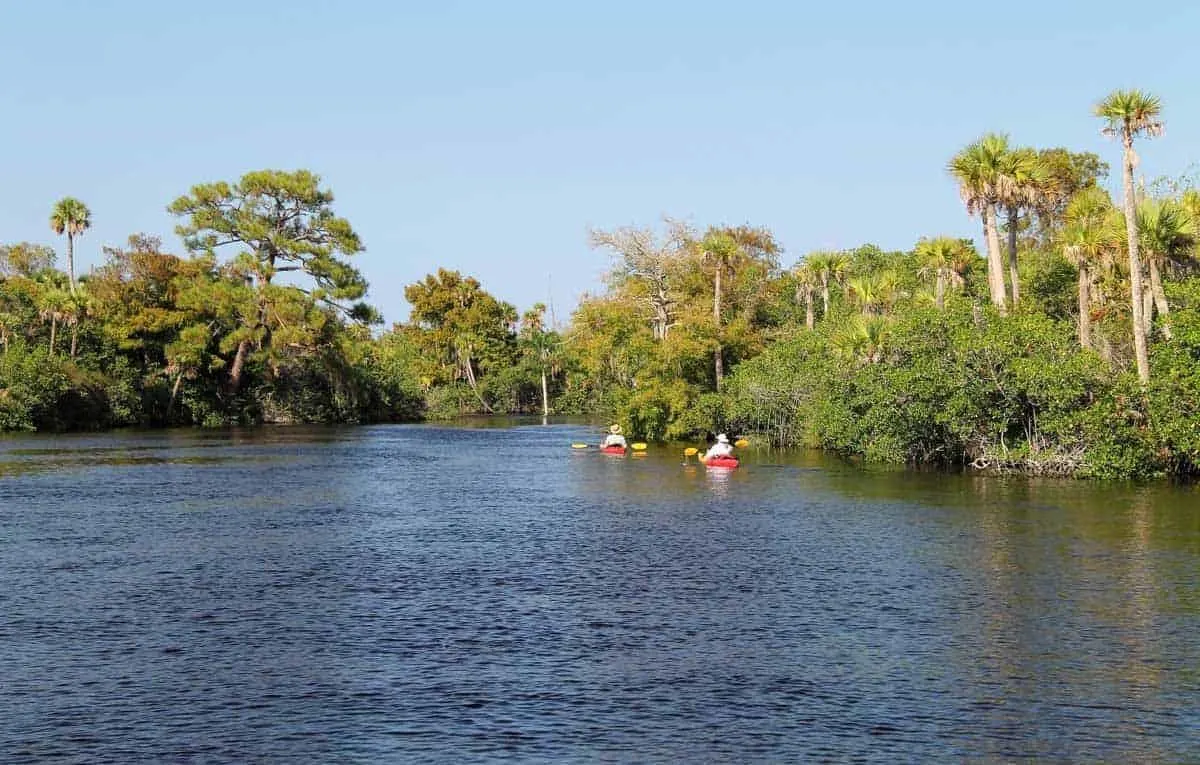 A popular park for hikers, especially along the 9.8 mile East Loop Trail where some of the highest hills in South Florida offer spectacular views, and you can see the WWII remains of Camp Murphy. In addition to unique and diverse flora, the park also offers plenty of opportunities for wildlife enthusiasts with abundant birdlife, turtles, deer, and alligators.
There is also camping within the park for those who would like to do more than just a day hike. You can find full campsite details here. The park is open from 8 am until sundown daily.
Experience More of Palm Beach's Unique Natural Gems
While undoubtedly Palm Beach is a premier beach destination, there are so many rare and exciting natural parks and wilderness reserves worth exploring. These are just a few of the hiking trails on offer in Palm Beach County, but allow some time in your Palm Beach itinerary and you will discover how expansive and special the region's natural habitats are.