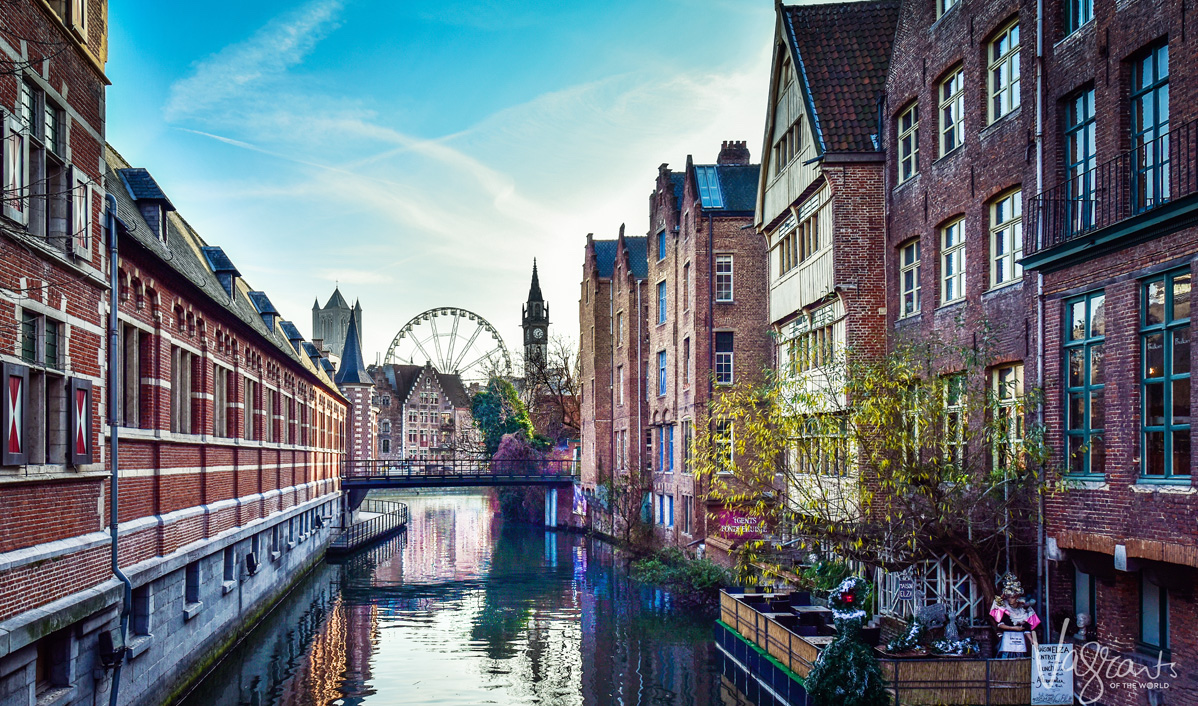 Discover some of the best things to do in Ghent and find out why those in the know rate Ghent above Belgium's other popular tourist destinations.  
Ghent is a city where historic and modern blend seamlessly. An architectural treasure tastefully woven with modern and innovative museums, galleries and public spaces. Ghent is forward thinking with town planning, environmental and arts initiatives. It has one of the most exciting culinary scenes in Europe and a calendar of festivals and events uniquely Ghent.
Lonely Planet claims Ghent is "the best kept secret in Europe". Visit Ghent and you will find a modern town of historic beauty ready to show you a good time. Not only is Ghent a true gem of Belgium, it is one one of Belgium's most exciting cities.
So you want to know what to do in Ghent?



Take a Ghent Walking Tour
Ghent is a city on a small town scale making it very accessible on foot. The city centre has been designed to be both pedestrian and bike friendly. The main Ghent attractions are walking distance from one another, so walking or cycling is the best way to soak up the cities atmosphere and explore all her little gems.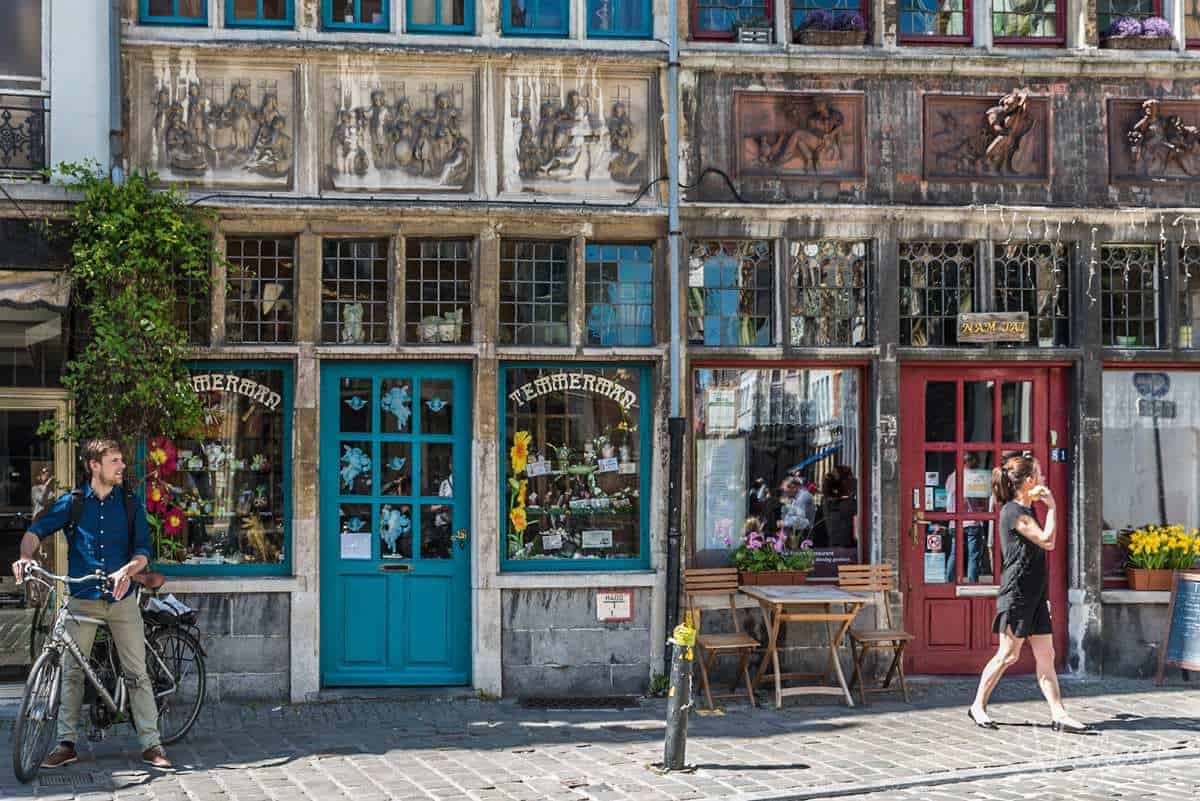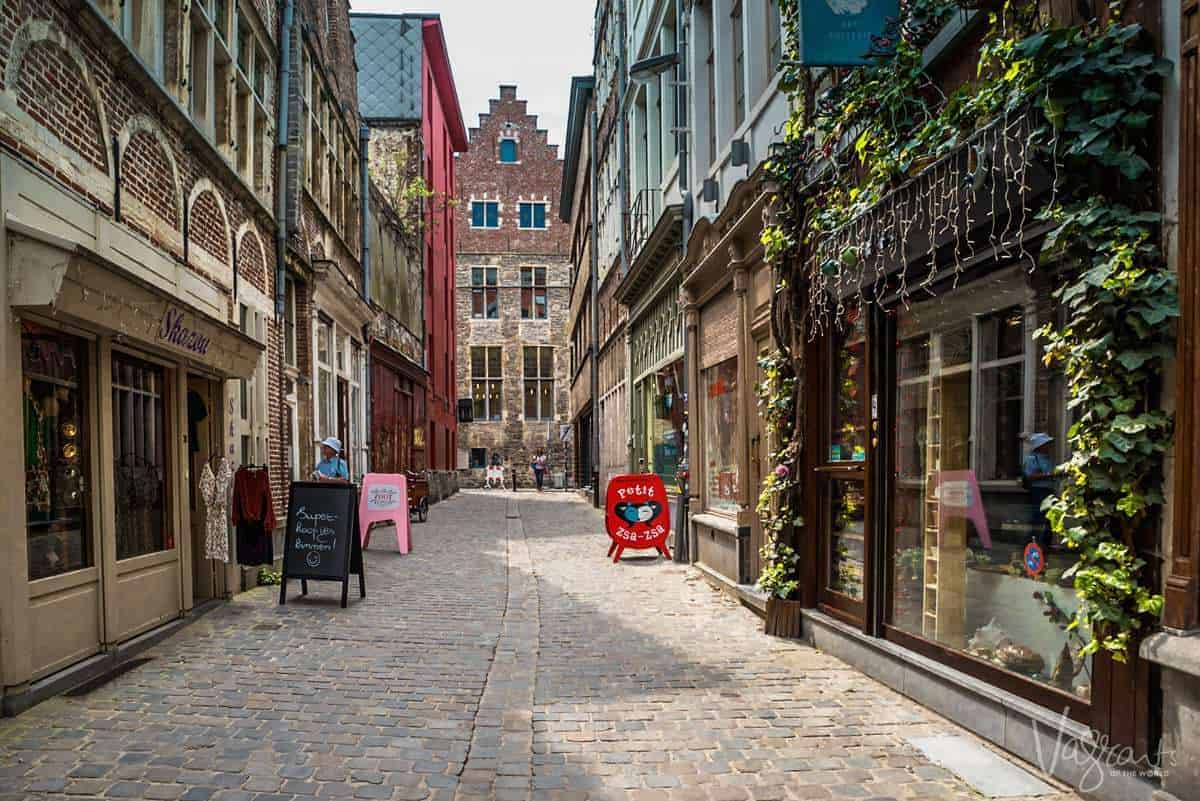 Walk through Ghent and discover its historical beauty and experience Ghent's unique take on modern urban life.
A sprawl of cobble lanes spread from city squares revealing old merchant houses, monasteries and churches. Many have been repurposed into stylish boutiques, galleries, public spaces or low key restaurants and bars.
Restaurants in Ghent are leading a culinary charge in Europe with a fresh and understated approach to high end dining. Ghent also lays claim to being the vegetarian capital of the world. Thursday is "veggie day" in Ghent, an environmental and health campaign started by Ghent City, an initiative which has been embraced wholeheartedly by locals and restaurants alike.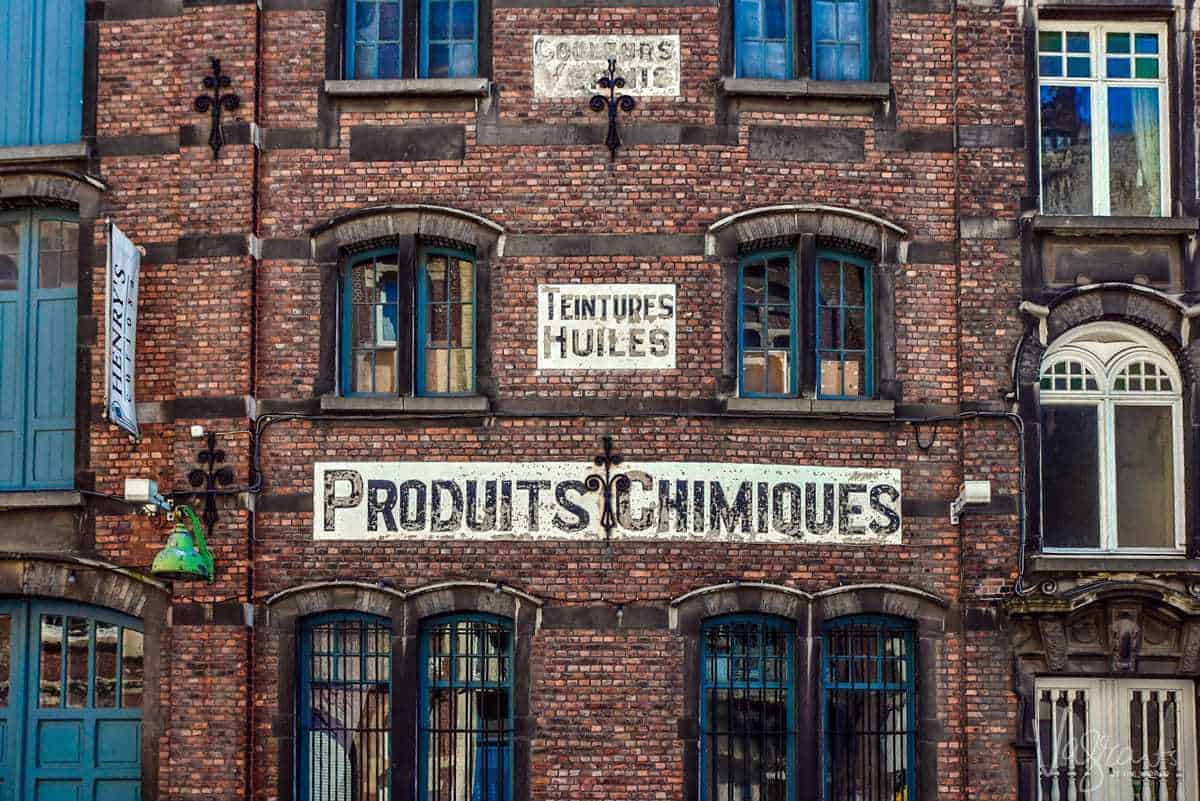 A walking tour of Ghent is by no means just a day time activity. A walk through the city by night is one of the most rewarding things to do in Ghent. We explored Ghent by night and discovered the unique city lighting plan which gives a new spin on Ghent nightlife.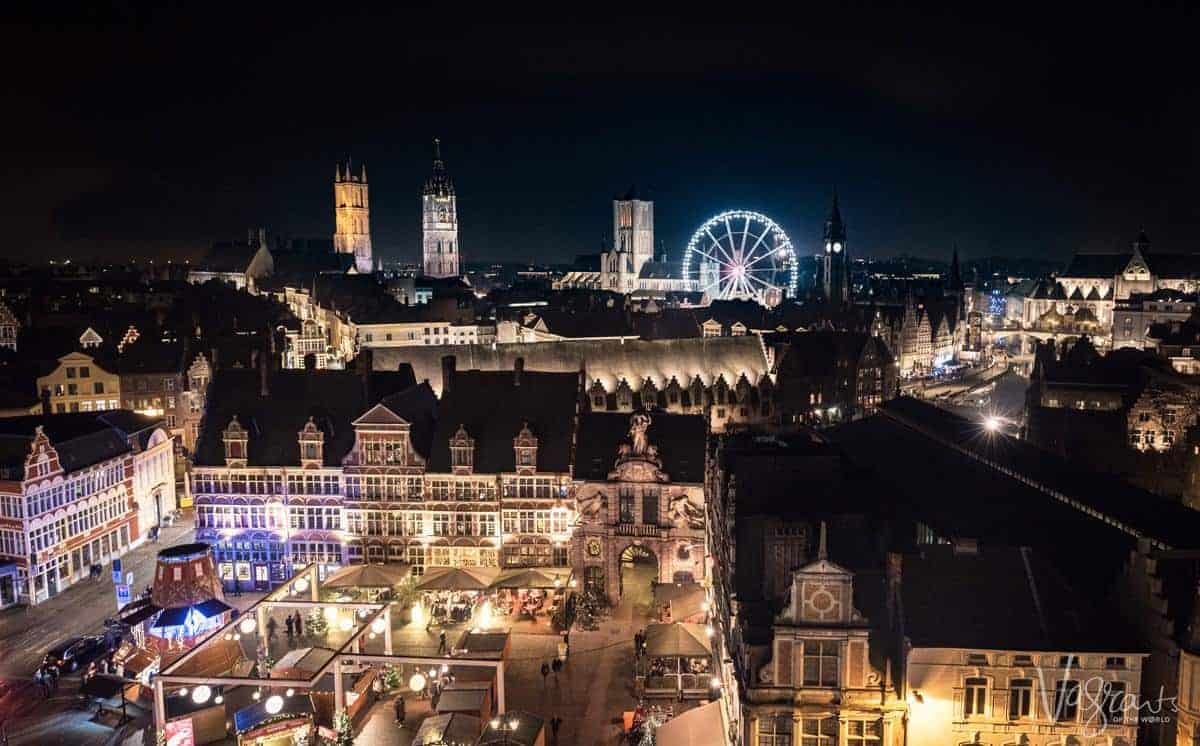 While strolling along the canals in the centre of Ghent, one quickly realises this is a city to rival Bruges' popularity for beautiful canal side architecture. If you ever had to choose; Ghent or Bruges? We would quickly recommend both. Although, expect a much more authentic experience in Ghent.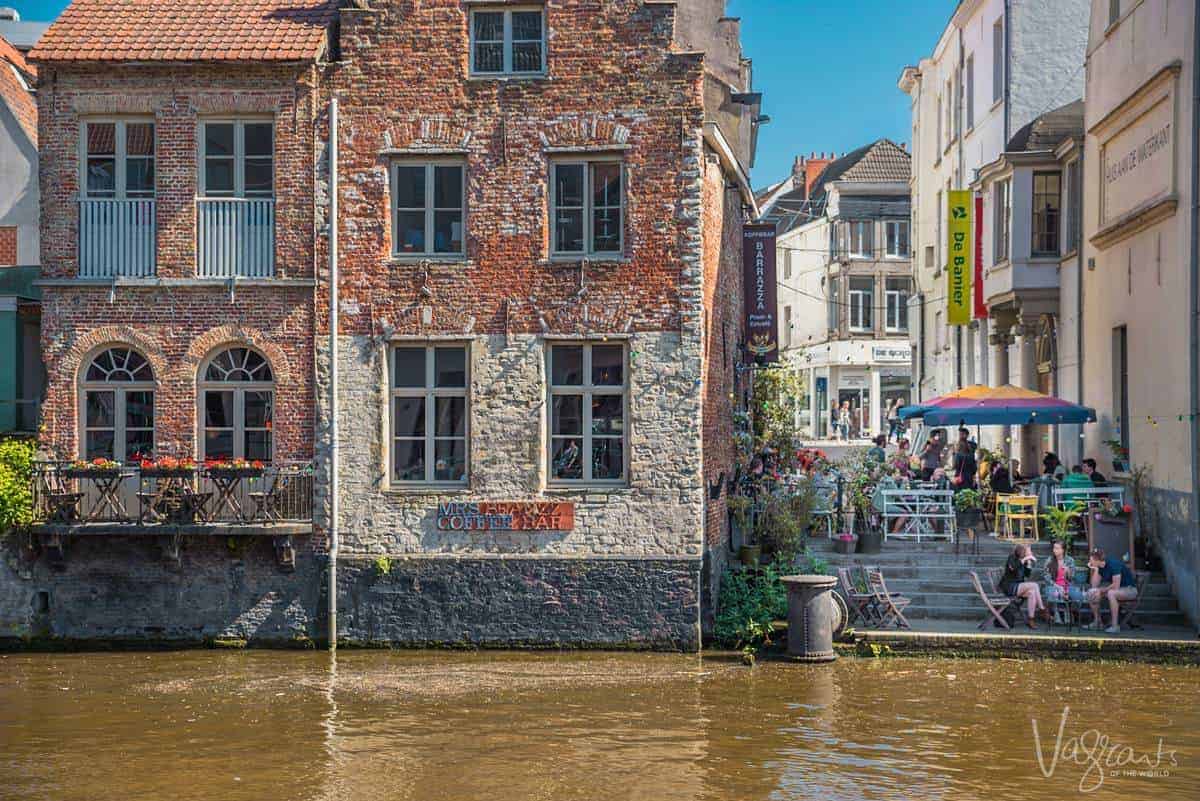 Walking Tour and Bike Hire Facts
Visit Gent has downloadable maps for self-guided walking tours covering different routes including the Sunday Market Route, The So Much City city walk and the Ghent Illuminated night walk.
Guided walking tours or, for the more energetic, jogging tours can be arranged at the Ghent Tourist Information Centre.
If you want to cycle and head further afield you will find downloadable cycling routes here and there are plenty of bike hire options in the city centre.
Bike rental starts at €7 for 1/2 day. 1 day free with Ghent City Card
Gravensteen. The Castle of the Counts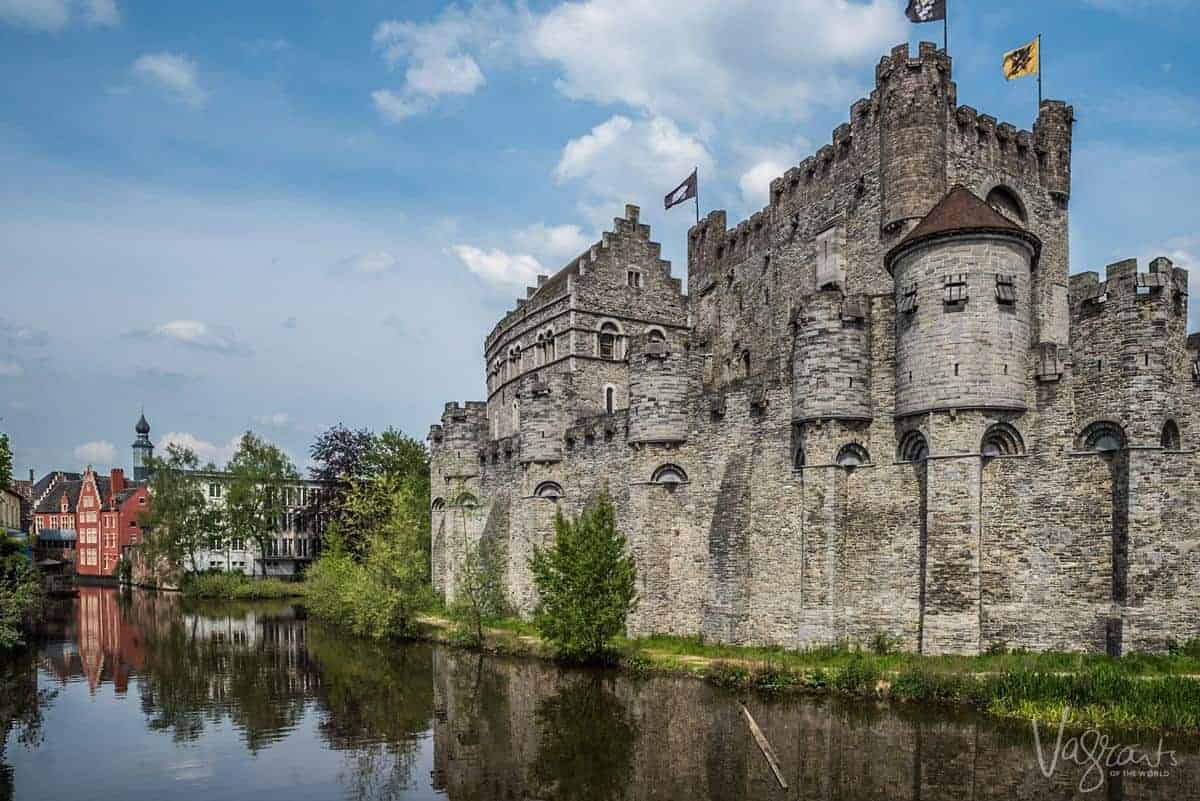 Who doesn't love a medieval castle smack in the middle of the city? The meticulously restored 12th-century castle comes complete with everything you want in a castle. A moat, turrets and even an exhibition of medieval torture devices. The castle also affords you a wonderful view back across the city.
Over the Christmas period, the castle is transformed into a wonderful winter wonderland and sets the stage for fairytale stories such as this years spin on Swan Lake.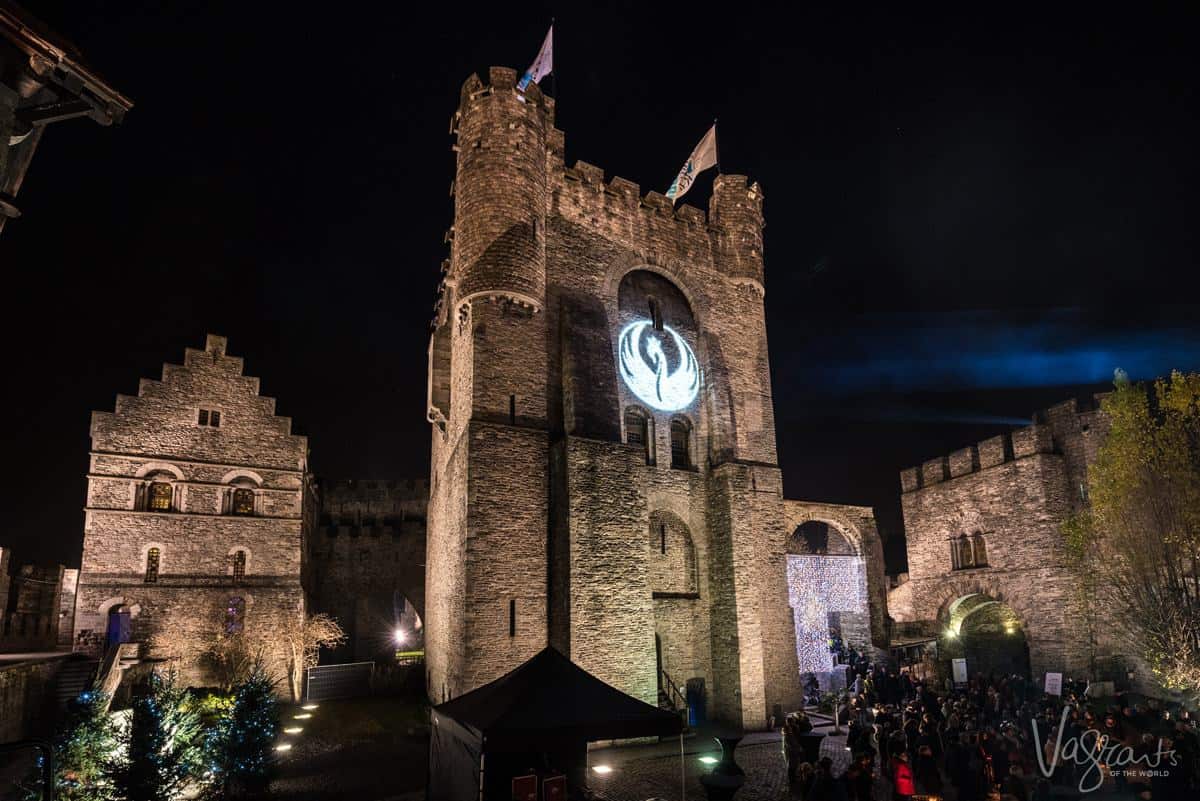 Castle of the Counts Facts
The castle is open every day except public holidays.
Entry ranges between €6 – €10. Free with the Ghent City Card.
The Great Meat Hall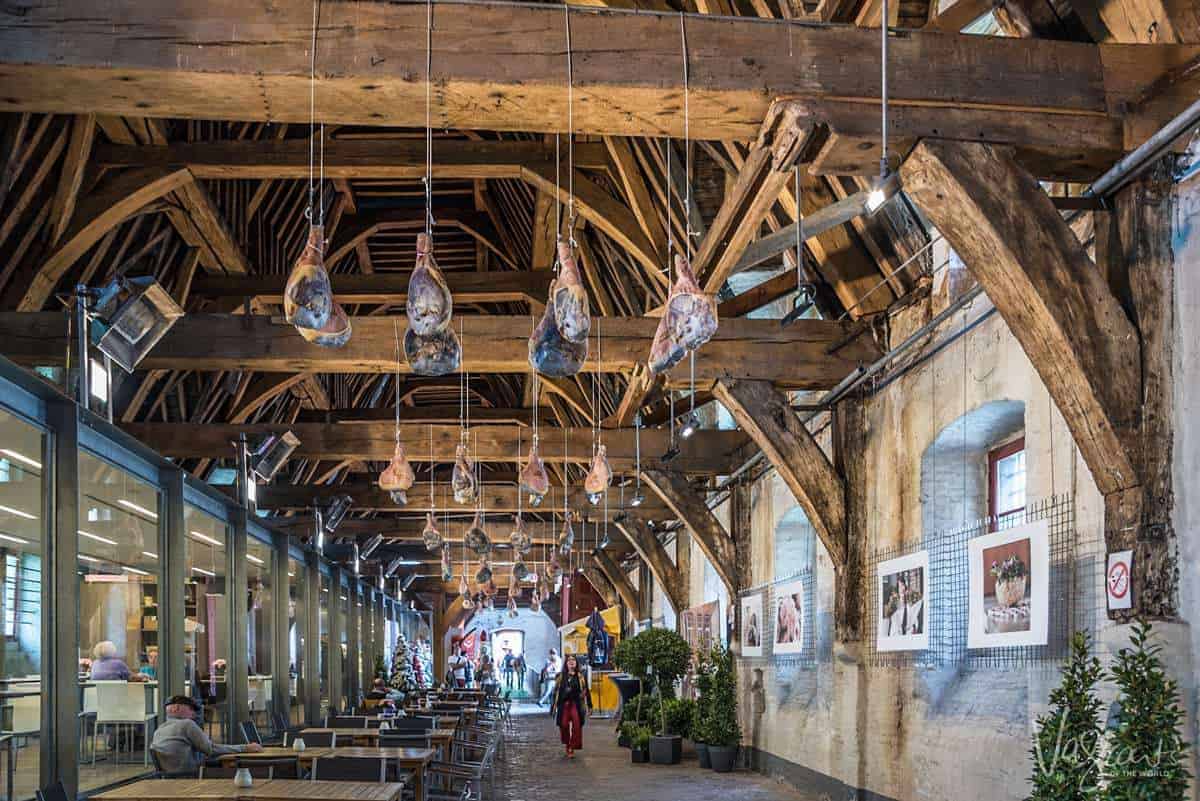 The Great Meat Hall or Butchers Hall dates back to the 15th century, when by law, all meat sales had to be centralised to ensure freshness. This wonderful old building has a magnificent open trussed roof where hams still hang from the rafters to cure traditionally as they always have. Careful where you step as the occasional drop of fat may drip from the ceiling.
At the end of the great hall, you will find the original small chapel which contains a 15th century painting depicting a church service.
Today the hall has casual cafe style dining and sells local Flemish produce. This is a wonderful place to stop for a snack and sample one of the many local beers.
The Great Meat Hall is open every day except Monday
Ghent Boat Tour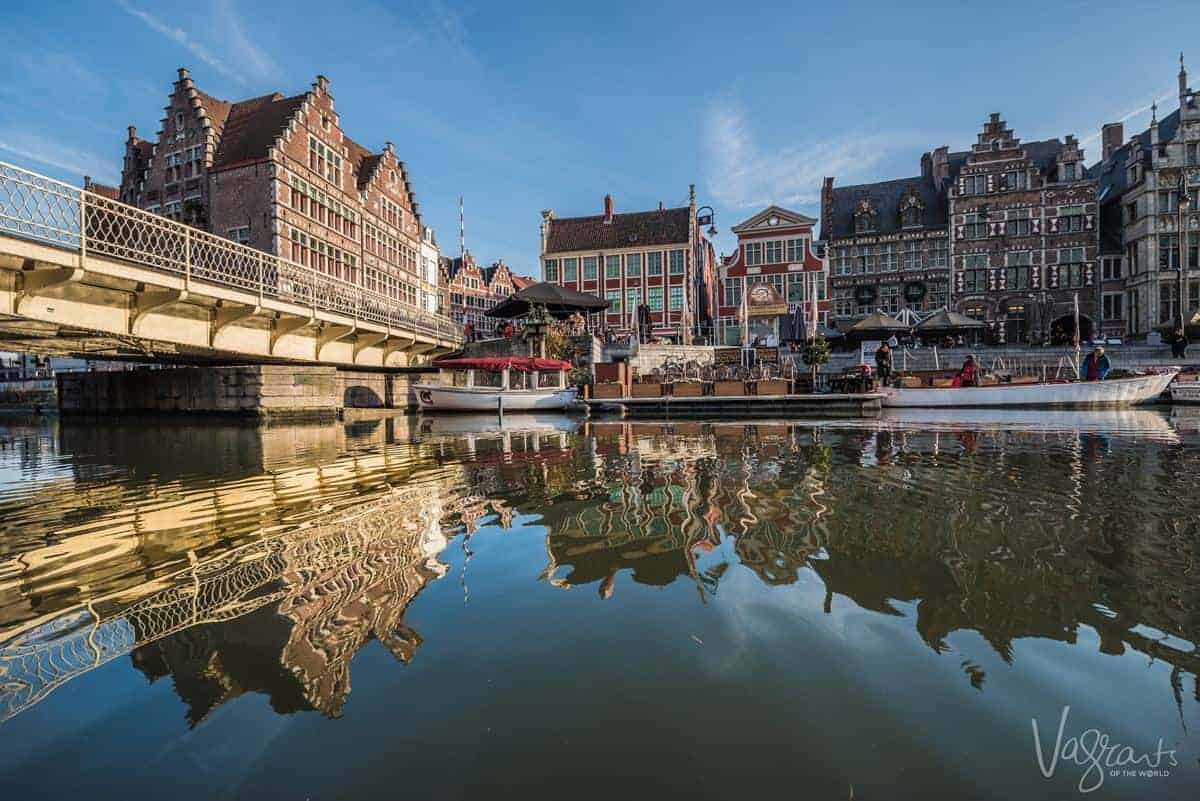 You will find a number of companies offering round trip historic tours of the inland canals of Ghent City. This is a lovely way to see Ghent and to view some of Ghent's biggest attractions from a different angle. A 40 min guided round trip will take you past some of the best views and give you insight into the fascinating history of Ghent.
The Hop On Hop Off Water Tram offers a different way to get around town. With six stops including Castle of the Counts, Graslei-Korenlei, Museum Site, St Peter's Abbey, St Bavo's Cathedral and Veldstraat. This is a very scenic way to visit Ghent.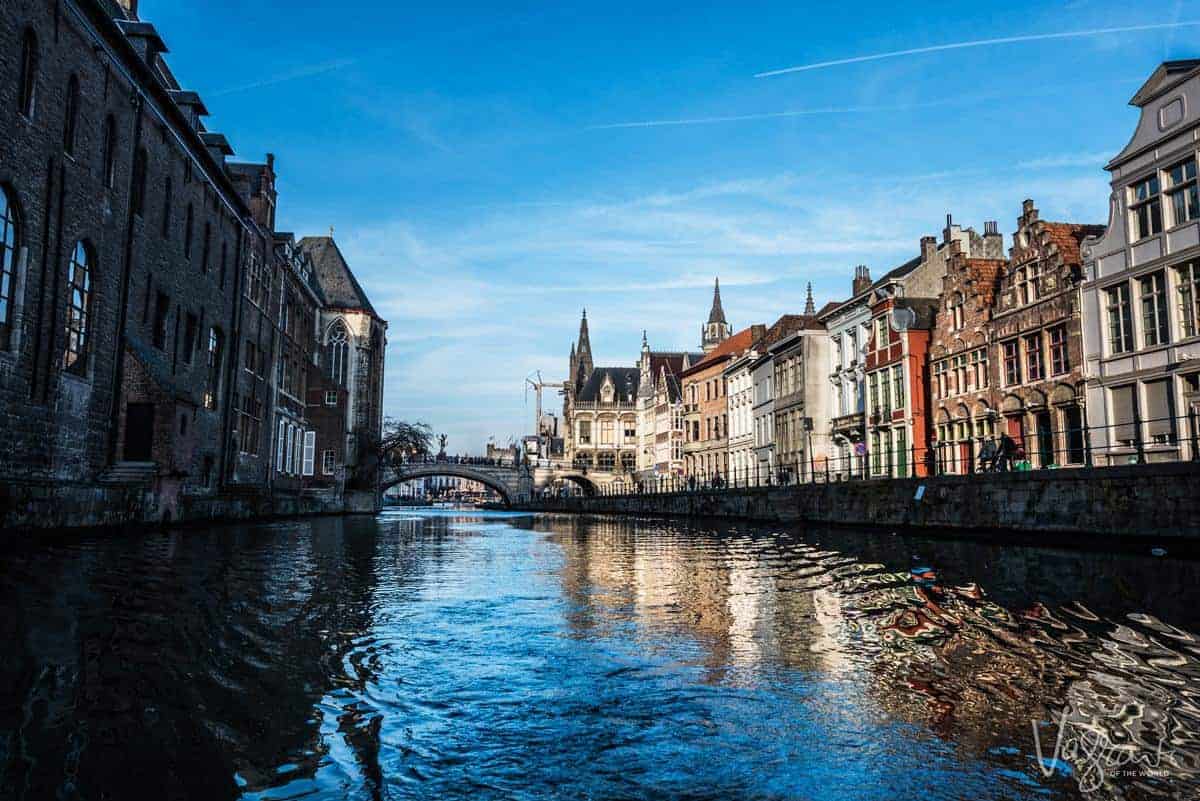 Boat Tour Facts
Boat tours range from €4- €7 pp or free with Ghent City Card. Boats run every day except public holidays. Times may vary seasonally.
Hop on Hop Off Water Tram ranges between €12.50 – €15. 1 day free with Ghent City Card. The service only runs on weekends between April & October
St Bavo's Cathedral and The Adoration of  Mystic Lamb – The Ghent Altarpiece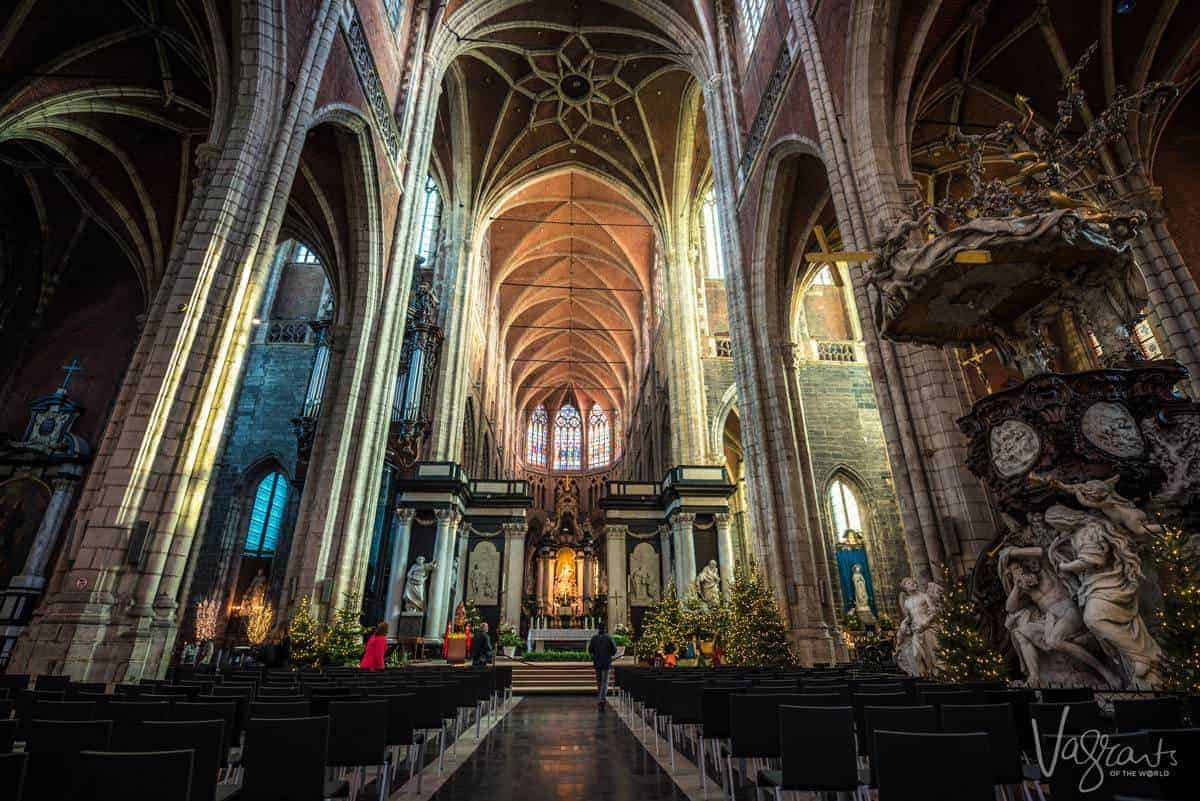 St Bavo's is one of the most impressive cathedrals we have ever visited. Not only is it an architectural spectacle, it houses an impressive number of art treasures including a major work by Rubens. Most notable though is the world famous Adoration of the Mystic Lamb, The Ghent Altarpiece painted by  Hubert and Jan van Eyck around 1432.
Considered to be the first major work of the renaissance and a milestone in art history, it has not been without an intriguing past. The piece fell into French hands under Napoleon. It was requisitioned by Nazi Germany during the Second World War. The 'Just Judges' panel, was stolen in 1934 and to this day has not been found. The missing panel is replaced by a reproduction.
St Bavo's Cathedral Facts
The Cathedral is open every day although may be closed during mass times to tourists. Entry is free.
Entry to view The Adoration of the Mystic Lamb ranges between €1.50 – €4.00. Free with the Ghent City Card. Opening times are between 10.30 and 16.00. Note – While the Ghent Altarpiece can be viewed during these hours, the panels are only open at certain times. Check at the cathedral.
The Belfry of Ghent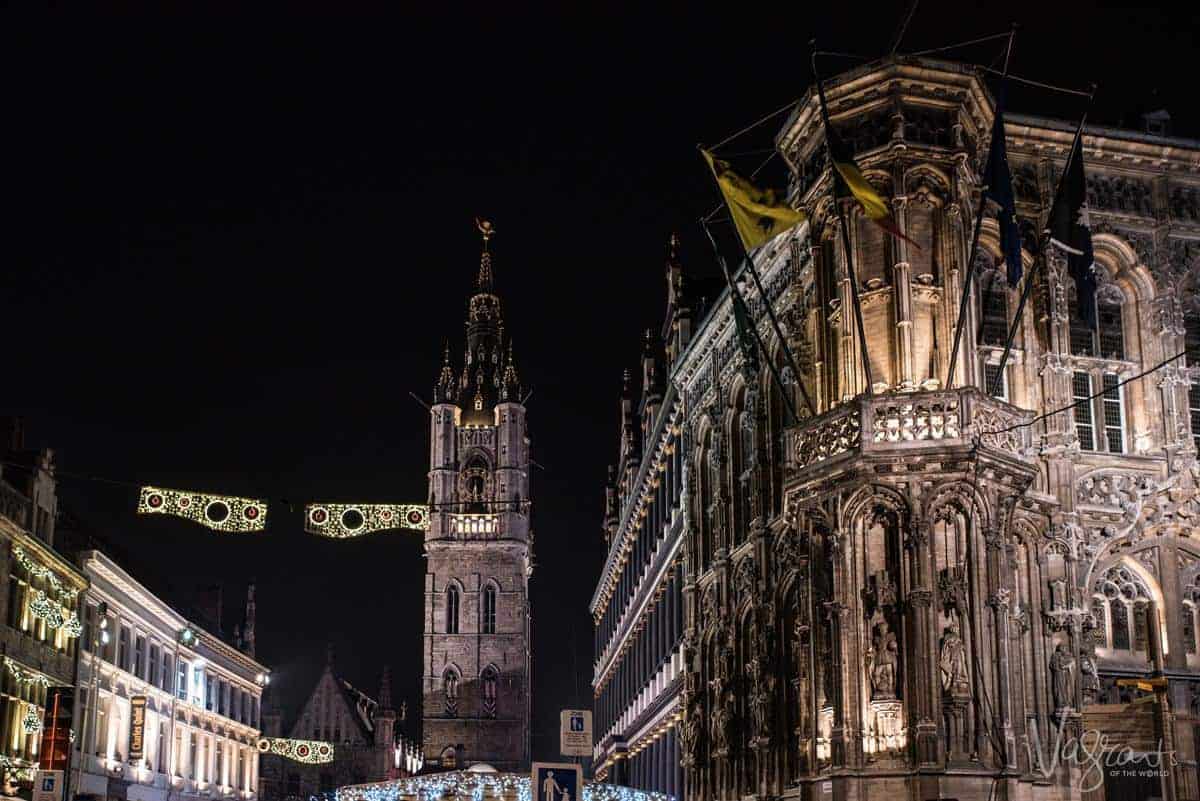 The skyline of Ghent is dominated by three medieval towers. Saint Bavo's Cathedral, Saint Nicholas' Church and the Belfry of Ghent. At 91 meters, the 14th-century UNESCO listed belfry is the tallest in Belgium. Perched on top is a large golden dragon. Visible from all over the city, the dragon is much more than just a landmark, it is something of a city mascot.
A climb to the top of the Belfry is one of the most popular things to do in Ghent. While there are some impressive bell exhibits on the way up, it is the view everyone comes for.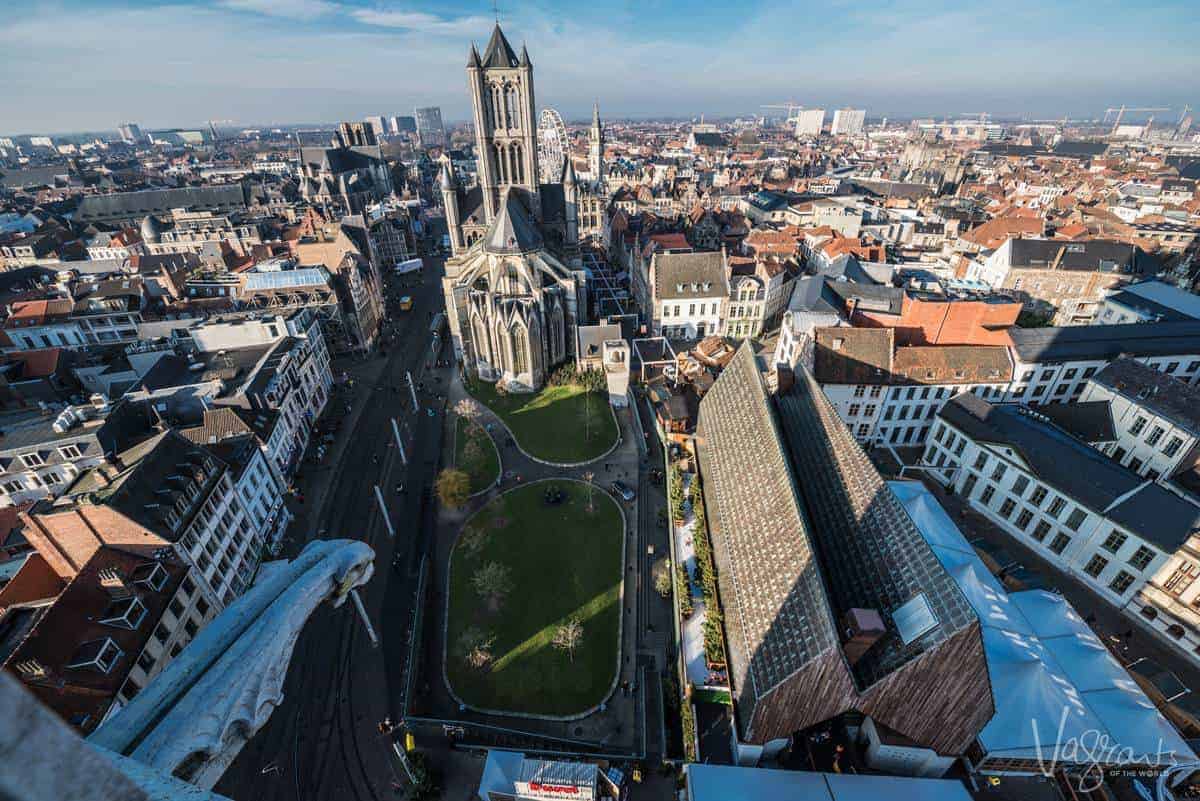 Belfry of Ghent Facts
The Belfry of Ghent is open every day from 10.00 – 18.00 except major public holidays such as Christmas.
Entry is between €2.70 – €8. Free with the Ghent City Card.
Ghent Museums
Ghent has loads of museums with both fixed and temporary exhibitions. You will find a myriad of choice in subjects ranging from history, visual and fine arts, photography, nature and even psychiatry.
You will find a full list of all of Ghent's museums here. Check opening times before planning a visit as hours may vary for each museum.
Entry to museums ranges from €1 – €8. Free with Ghent City Card.
Festivals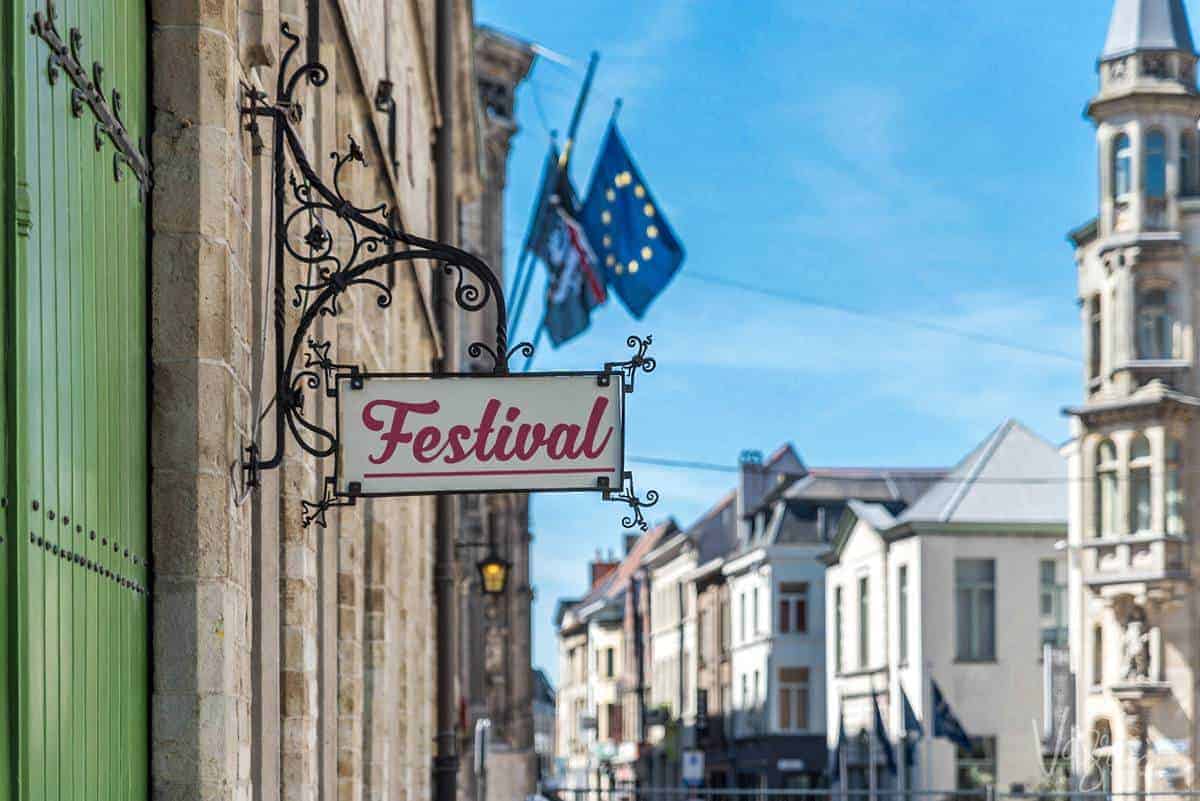 If you happen to be in Ghent during a festival, count yourself lucky. Better still, plan your visit to coincide with a festival because Ghent sure knows how to have a good time. There is a full calendar of events throughout the year worthy of a trip to Ghent.
The popular Ghent Festival which runs for 10 days in mid-July.
The Patershol Festival in August, a mini festival in Ghent's oldest quarter.
The Barrio Cantina Food Truck Festival which turns the Korenmarkt into a large outdoor restaurant with dozens of mobile kitchens, music and a fun summer atmosphere.
The Light Festival which celebrates the cities world acclaimed lighting plan. Light artists come from all over the world to turn Ghent into a spectacle of art and light.
Or maybe it is the 6 Days of Ghent bicycle race which piques your interest.
These are just a few of what Ghent has to offer throughout the year but whatever your fancy, Ghent is a city renown for its festivals and events.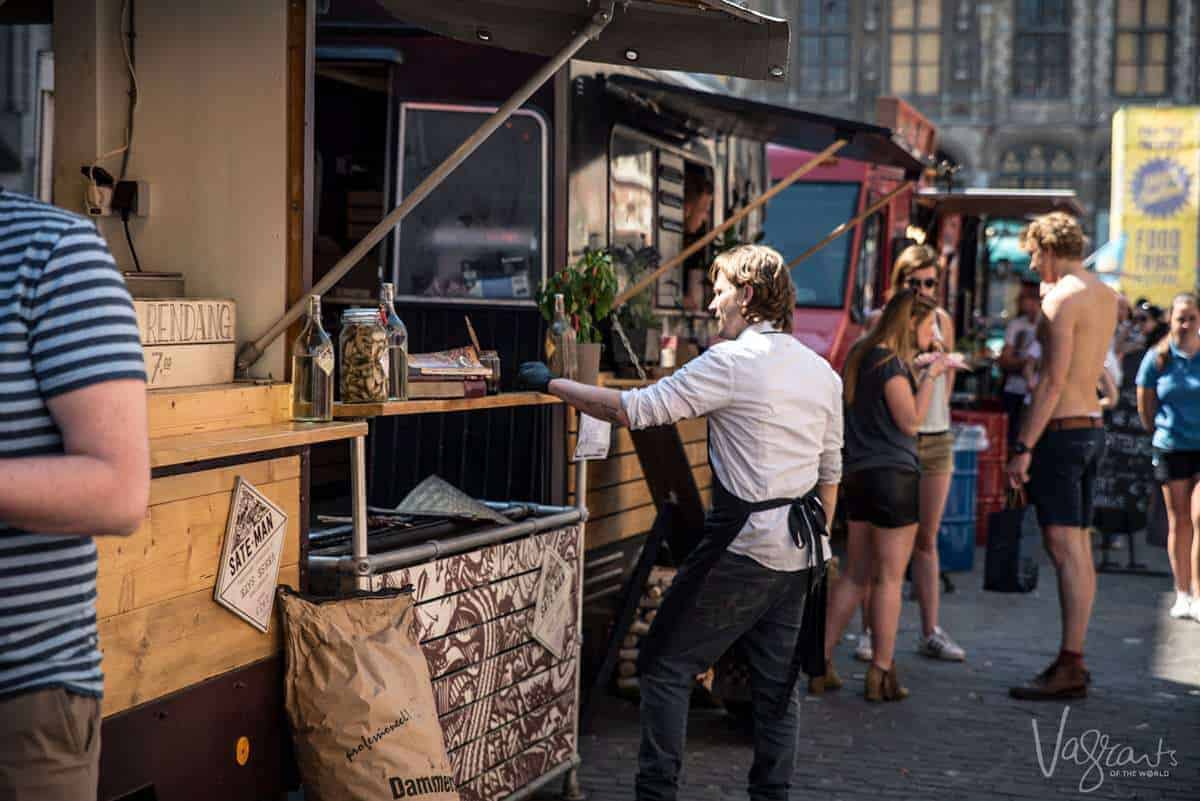 Gent City Card
The Ghent All In City Card give access to:
All top attractions, monuments and museums
Guided boat tour
Public transport
Bike rental – 1 day
Use of hop on hop off water-tramway – 1 day
Cost: €30 for 48 hrs – €35 for 72 hrs – Save approx. €15 in low season. €20.00 in high season
You can buy the Ghent City Card at The Ghent Tourist Office, all participating museums and attractions and hotels in Ghent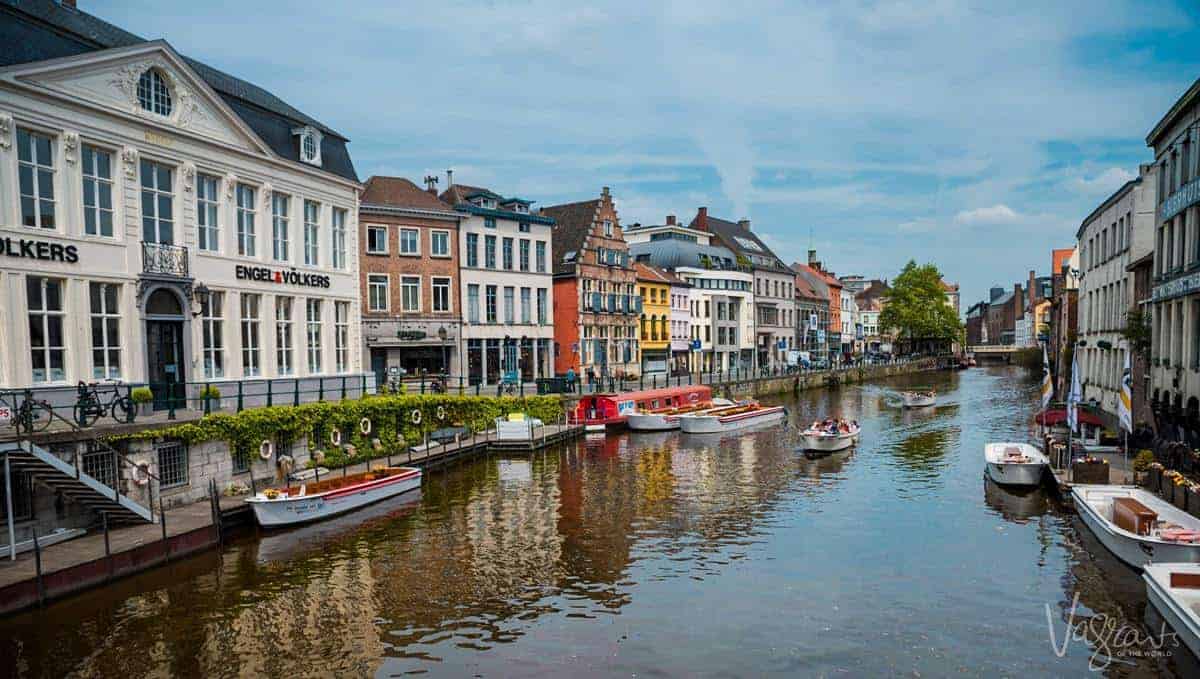 Ghent Quick Facts
Check Latest Accommodation Rates in Ghent
High Season: April – October Low Season: November to March
Region:
Ghent is situated in the north-west, the Flemish region of Belgium.
Belgium is part of the EU and in The Schengen Area
Getting To Ghent:
Ghent is less than an hour from Brussels. There are two main airports Brussels International and Brussels South Charleroi Airport.
Train from Brussels to Ghent will cost between €9 and €15 depending on the service and class.
Train from Bruges to Ghent takes approx 40 mins. Fares are between €6 and €10 depending on the service and class.
Train from Antwerp to Ghent takes approx 50 mins. Fares are between €9 and €10 depending on the service and class.
Language:
Dutch is the main language spoken in Ghent and the northern parts of Belgium. French is also widely spoken throughout. You will find most people speak excellent English.
Currency: Euro