Imagine a travel itinerary that takes you through some of the most beautiful places in Europe. Exploring Croatia's Adriatic Coast and Dalmatian Islands. Taking in the best of Slovenia and finishing in Italy's most romantic city, Venice.
Now, imagine this as an all inclusive package with all travel and tours arranged by a dedicated tour manager. The finest hotels, restaurants, and experiences in each region. Top of the range transport throughout the tour and a full porter service means you never have to move your bags – Luxury!

Discovery Tours by Gate 1 Travel offer a 14 Day Dalmatian Isles, Croatia & Slovenia small group tour that captures the very best of these regions and offers an experience you will never forget. And if 3 countries in 2 weeks are not enough, an optional tour to gorgeous neighbouring Montenegro will complete your Adriatic experience.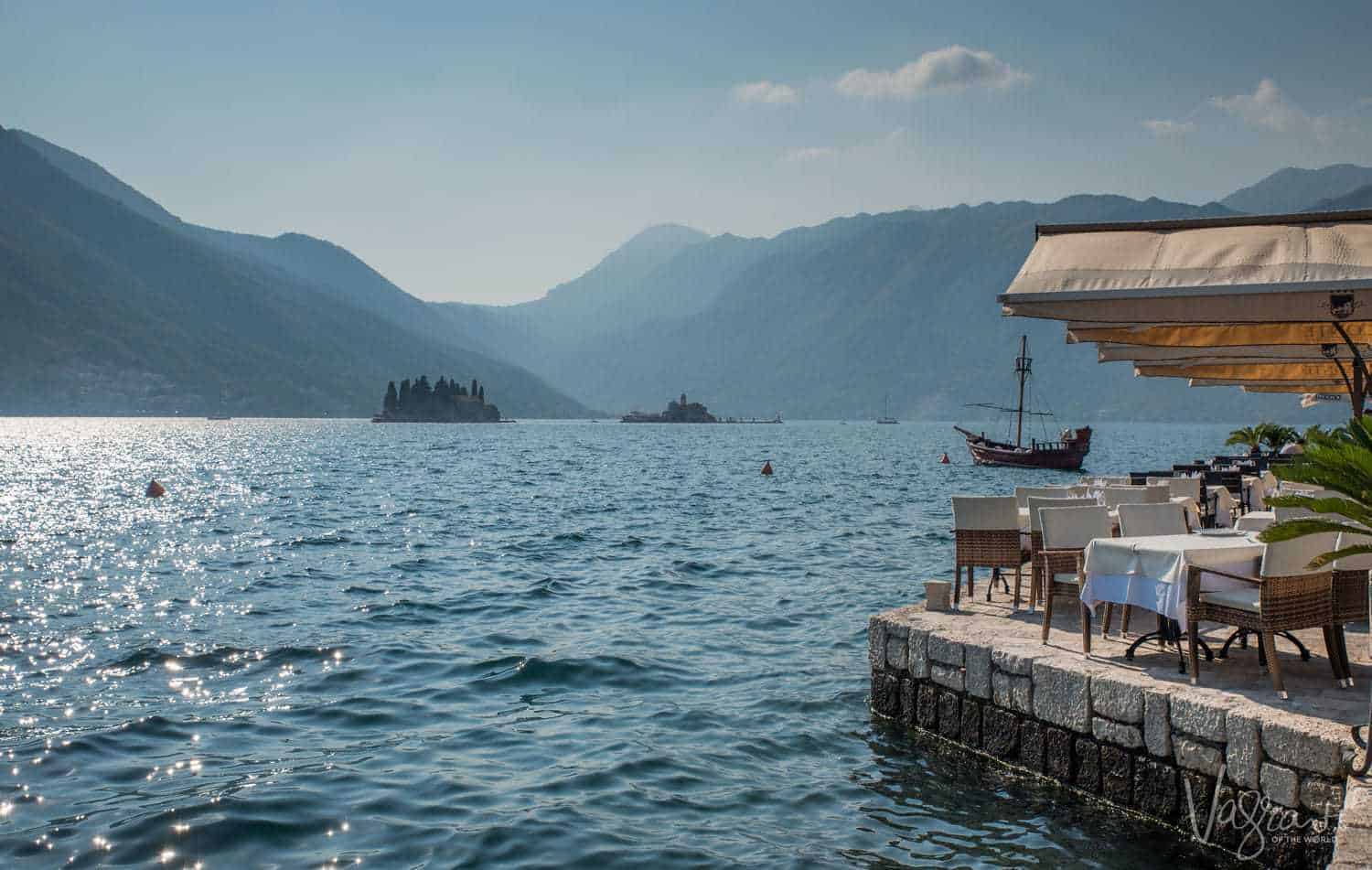 We have talked about the merits of small group travel before. Exclusive itineraries and access, the best accommodations and authentic dining experiences. Convenience, comfort and, value for money. This tour far exceeded our expectations, especially when it came to the quality of hotels and tours. 
While we found the tour arrangements surpassed our expectations, it was ultimately the itinerary which left the greatest impression. An itinerary carefully crafted to ensure the best of each region is experienced without any of the hustle endured in large tour groups. The flexibility of the itinerary also allowed ample time to explore on our own, an aspect we loved. 
Each destination reached in comfort and explored to it's fullest without any rush. Private tours run by local guides at each destination offered a great start to our own explorations.
This is the best of Croatia, The Dalmatian Islands, and Slovenia. 
Croatia 
Croatia's coast is the perfect Mediterranean package. Ancient walled towns rise from the sea while an unending number of islands seemingly float in the crystal clear Adriatic. Croatia delivers more than just a wonderful summertime destination. It is incredible history and architecture. Delicious local cuisine and world class wines. It is breathtaking natural beauty. 
Dubrovnik
Beginning in Dubrovnik is the perfect start to the tour. With 3 nights in one of the most beautiful hotels in Dubrovnik on the beach, there is ample time to relax and unwind after your journey to Croatia and still plenty of time to explore the best of Dubrovnik.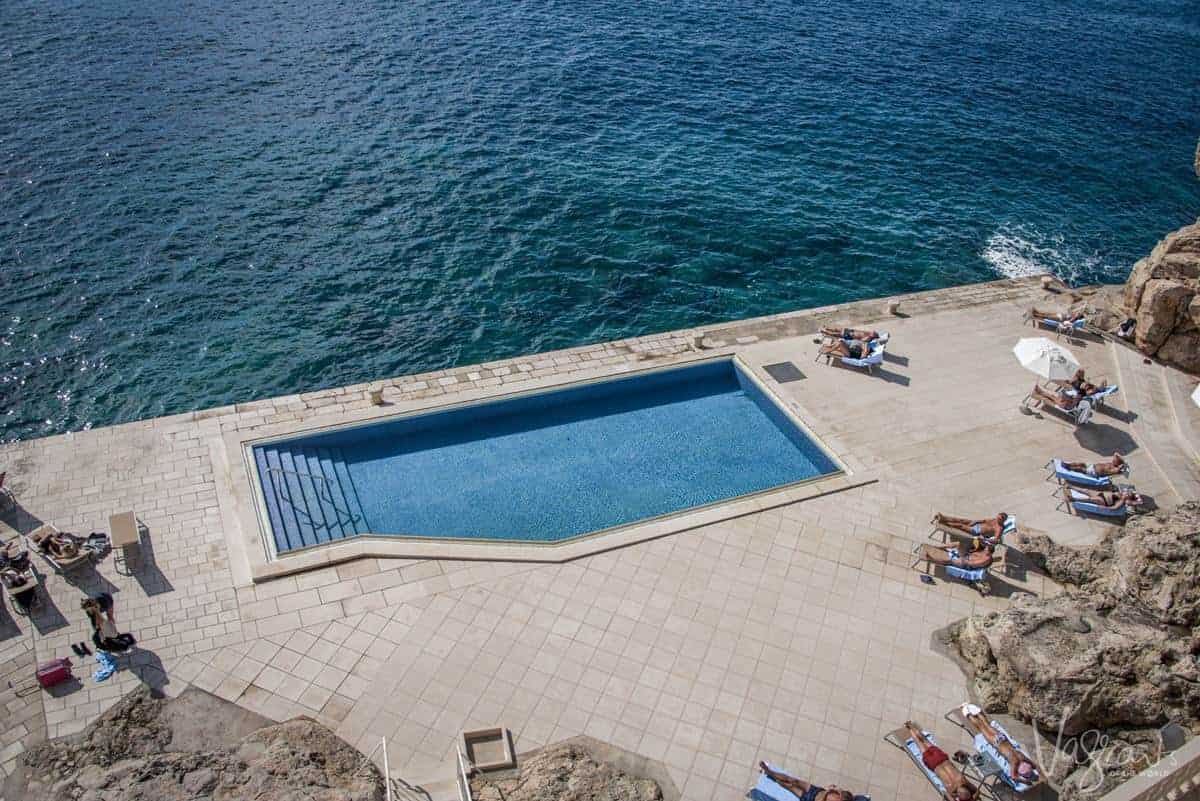 The magnificently intact walled city on the coast in the south of Croatia is one of the Mediterranean's best-known tourist destinations. Set against the magnificent blue of the Adriatic, even for second-time visitors, the old city of Dubrovnik never fails to impress.
Our introduction to this magnificent city was a private Dubrovnik walking tour. A few hours spent with an authority on the city was not only a wonderful insight into the history but a wonderful way to get our bearings in the walled labyrinth.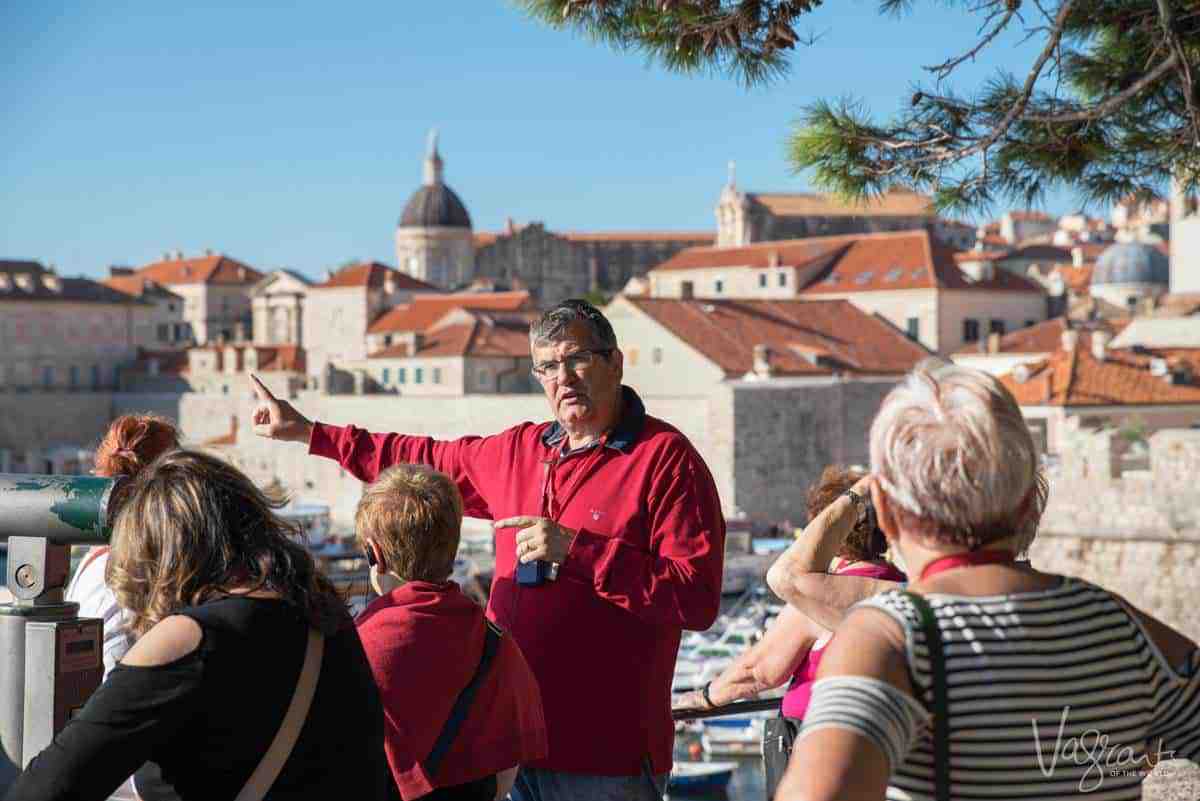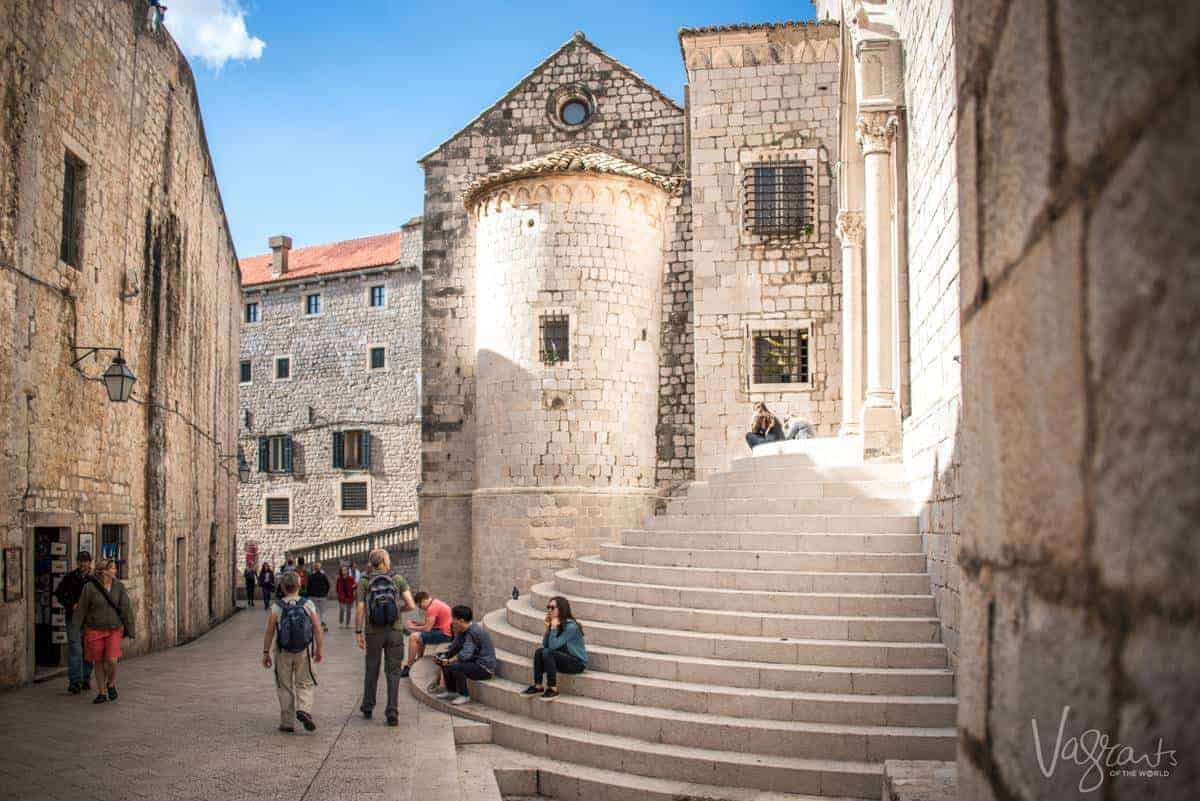 Included in our tour was entry to walk the walls, one of the most popular things to do in Dubrovnik. While some of the stair climbs may have left us a little short of breath, the views from the top literally took our breath away.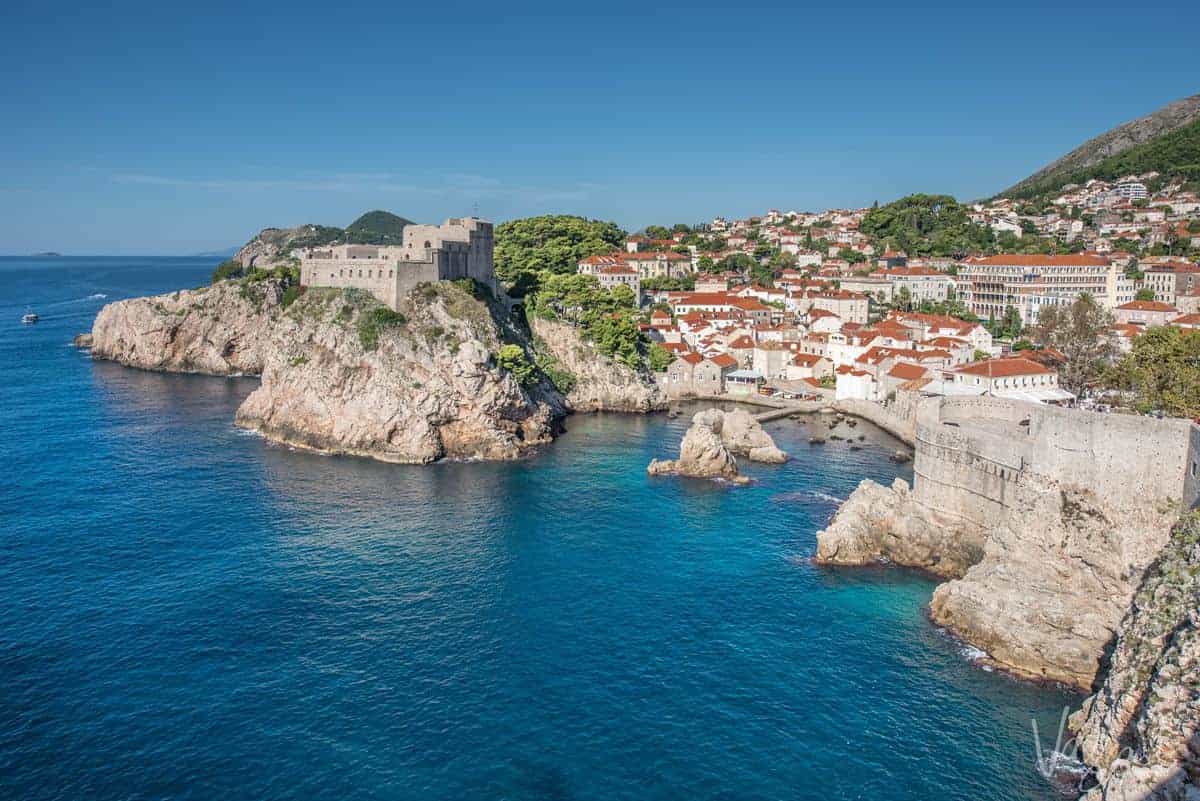 Having 3 nights in Dubrovnik also allowed us plenty of time to explore on our own. This meant the luxury of choosing the best time to visit Dubrovnik's old town. After the walking tour, we retreated to the hotel to relax by the pool and wait for the crowds of the day to disappear.
Dubrovnik by night is not only wonderful due to lack of crowds, the ancient city of limestone lights up in more ways than one. Streets polished through thousands of years of foot traffic literally, shines under the lights, creating a beautiful setting to indulge in some Croatian cuisine at any number of restaurants within the walls. 
These handy travel photography tips will help you get the best photos of Dubrovnik.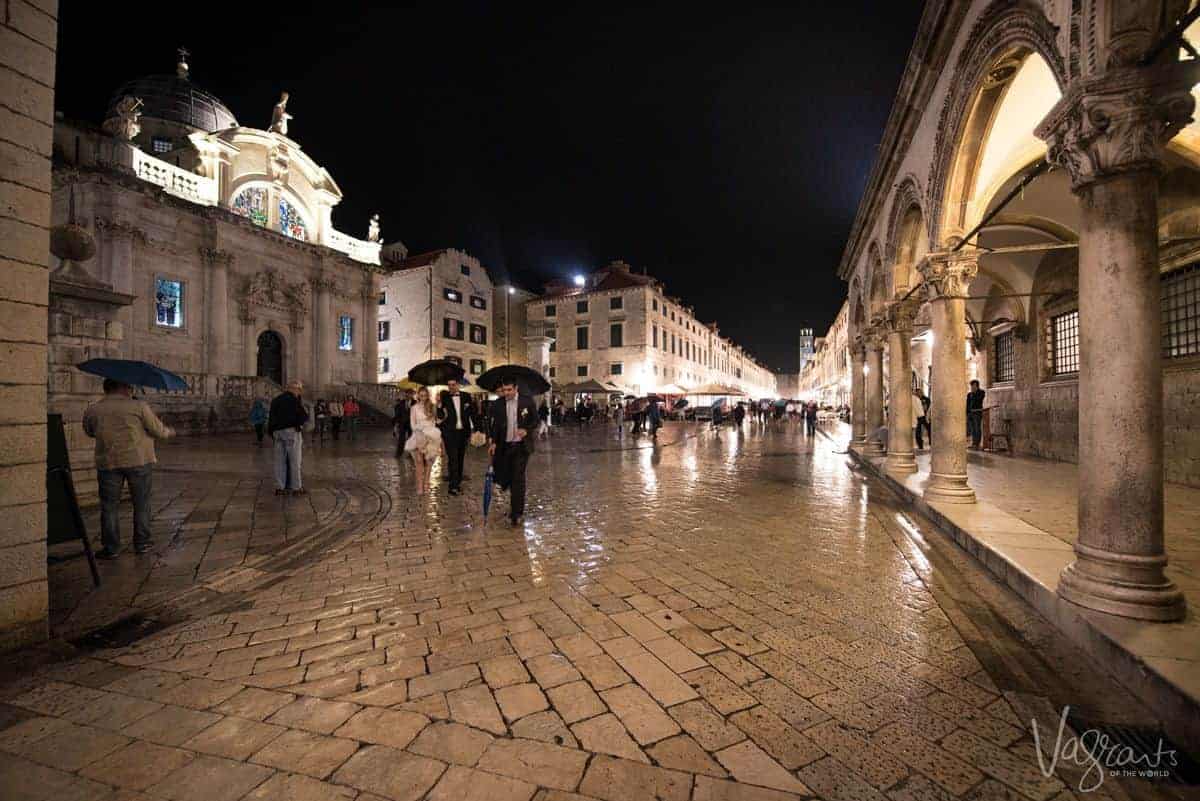 Korcula Island – Dalmatian Coast
Beautiful Korcula Island, the sixth largest on Croatia's Dalmatian Coast is known for its dense forests, pretty Mediterranean olive groves, and outstanding wines. It is also reputed to be the birthplace of Marco Polo. While not as popular as the northern islands of Brac and Hvar, it is still one of Croatia's most treasured holiday islands.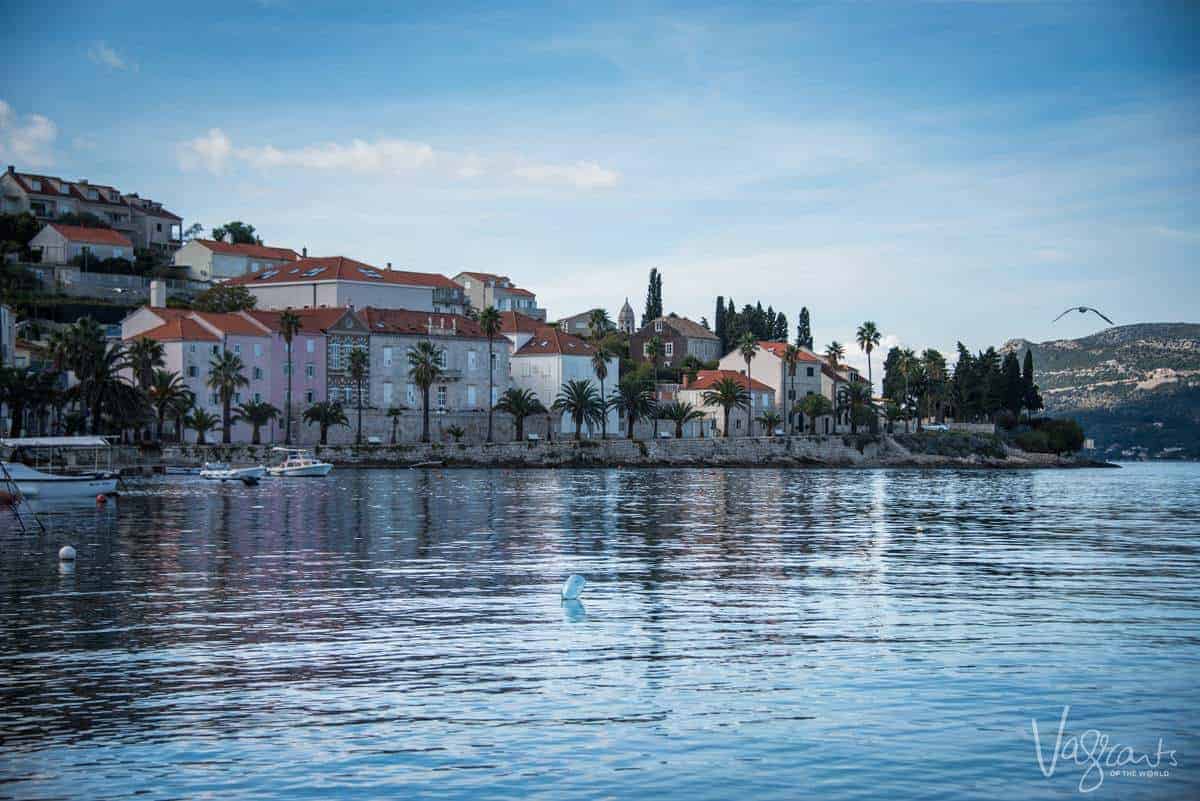 After a private tour of the Korcula old town often referred to as "Little Dubrovnik", we enjoyed a sunny afternoon exploring the islands namesake town. Beautiful medieval streets spill from central squares down to the waterfront promenades. Stylish cafe's and restaurants with Adriatic views offer a modern take on Dalmatian cuisine. Wine lists boasting exceptional local wines begged to be tasted.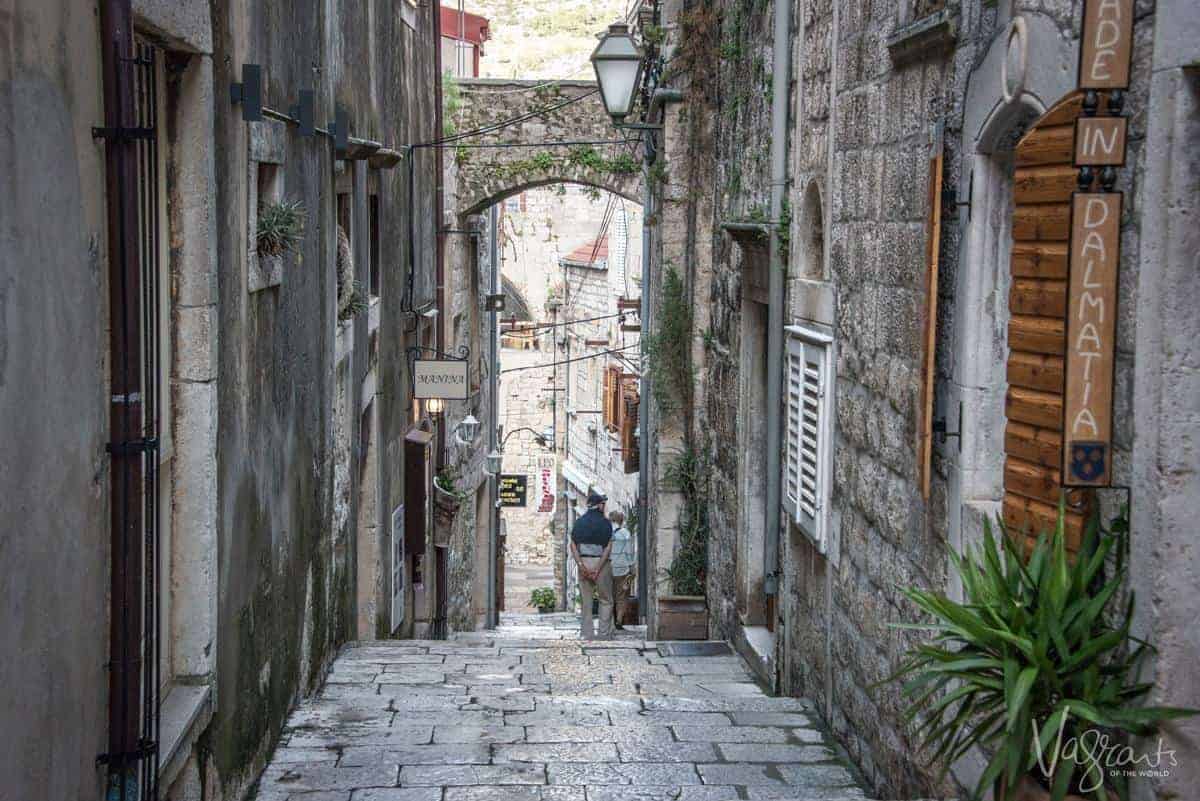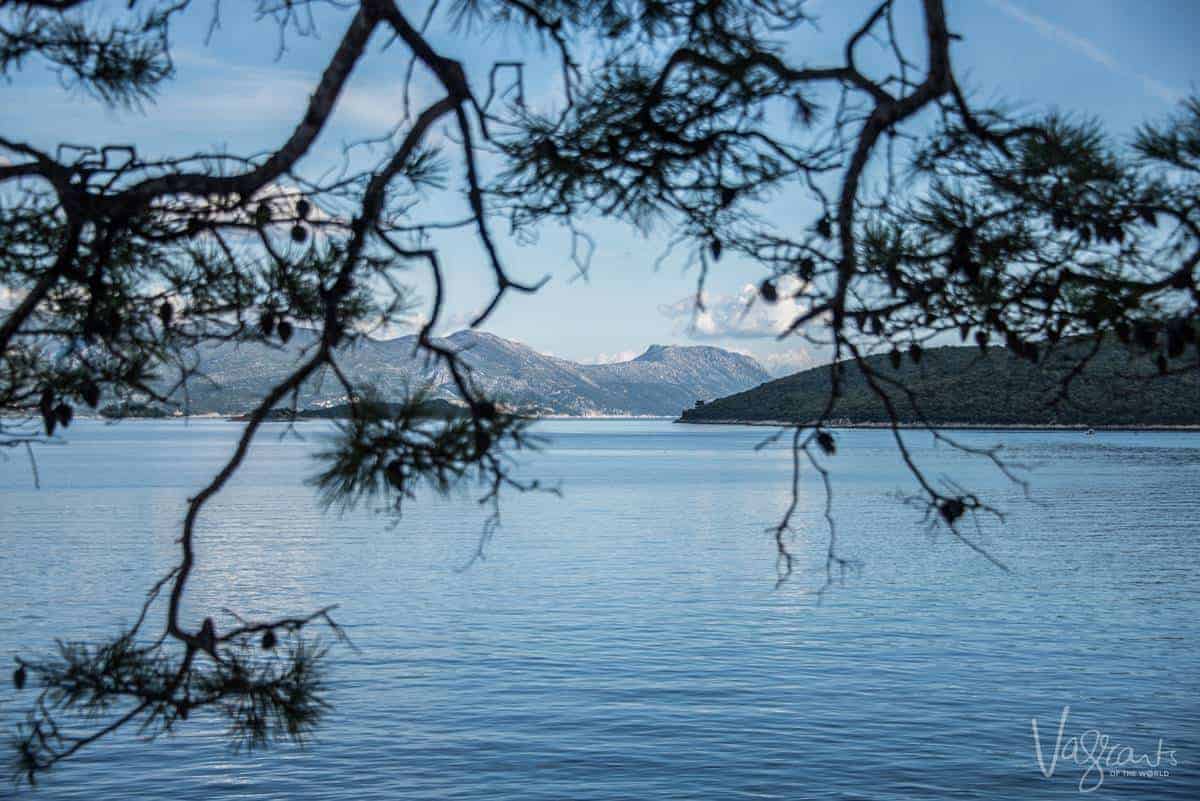 A lovely night in Korcula's other main resort town of Vela Luka confirmed why this island is so popular with summer vacationers. The boutique, cosmopolitan vibe, along with Korcula's beaches and quiet coves make this one of the prettiest we have ever visited.
Hvar Island – Dalmatian Coast
Further north on the beautiful Adriatic coast sits one of the most popular Dalmatian Islands – Hvar. Rated as one of the world's top 10 islands by Conde Nast Traveler magazine, Hvar has a well-earned reputation for a luxurious island lifestyle and as Croatia's premier party town. It is not surprising during the peak summer months, as many as 20,000 people travel from Split to Hvar each day.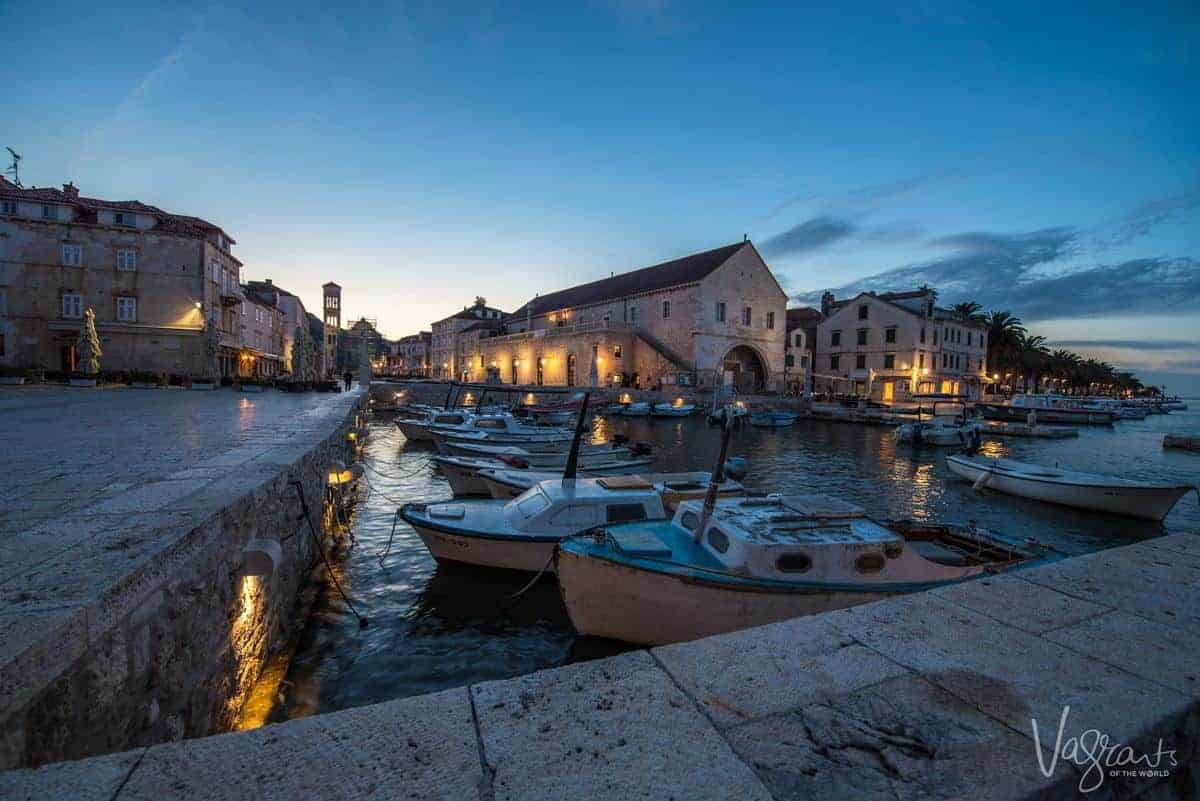 Famed for its inland lavender fields, pristine beaches and the marble traffic free streets of Stari Grad, the islands 13th-century old town, Hvar offers the perfect Mediterranean island experience.
We had two glorious nights to enjoy Hvar. Being there in October seemed to be the perfect mix of mild weather and a notable lack of crowds. We were able to soak up Hvar's charming boutique atmosphere at our leisure.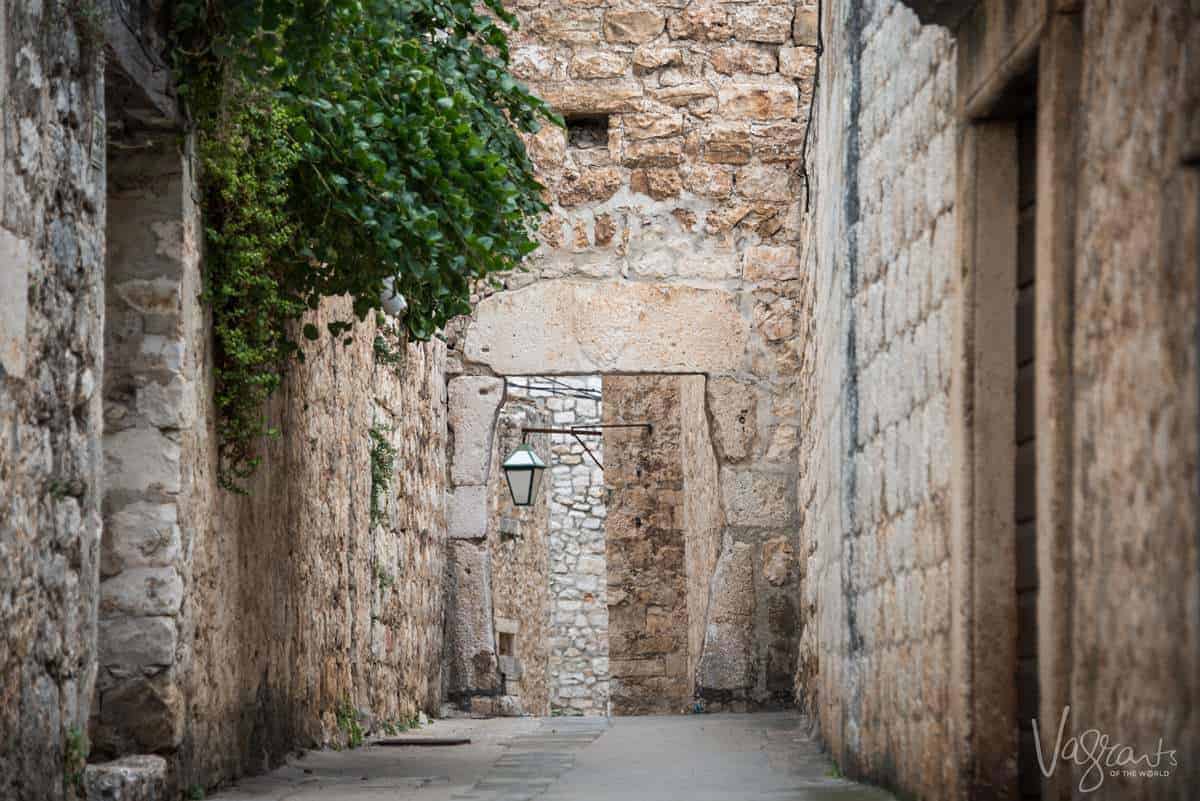 Whether exploring the back streets of the medieval village or sipping coffee on the main square with Hvar's notably well-heeled locals, this Dalmatian island exudes a delightful ambiance that makes you want to stay a little while longer. Had we slipped into the lovely Croatian lifestyle already or do the Dalmatian Islands leave this impression on everyone who visits. The feeling of wanting to linger a little longer?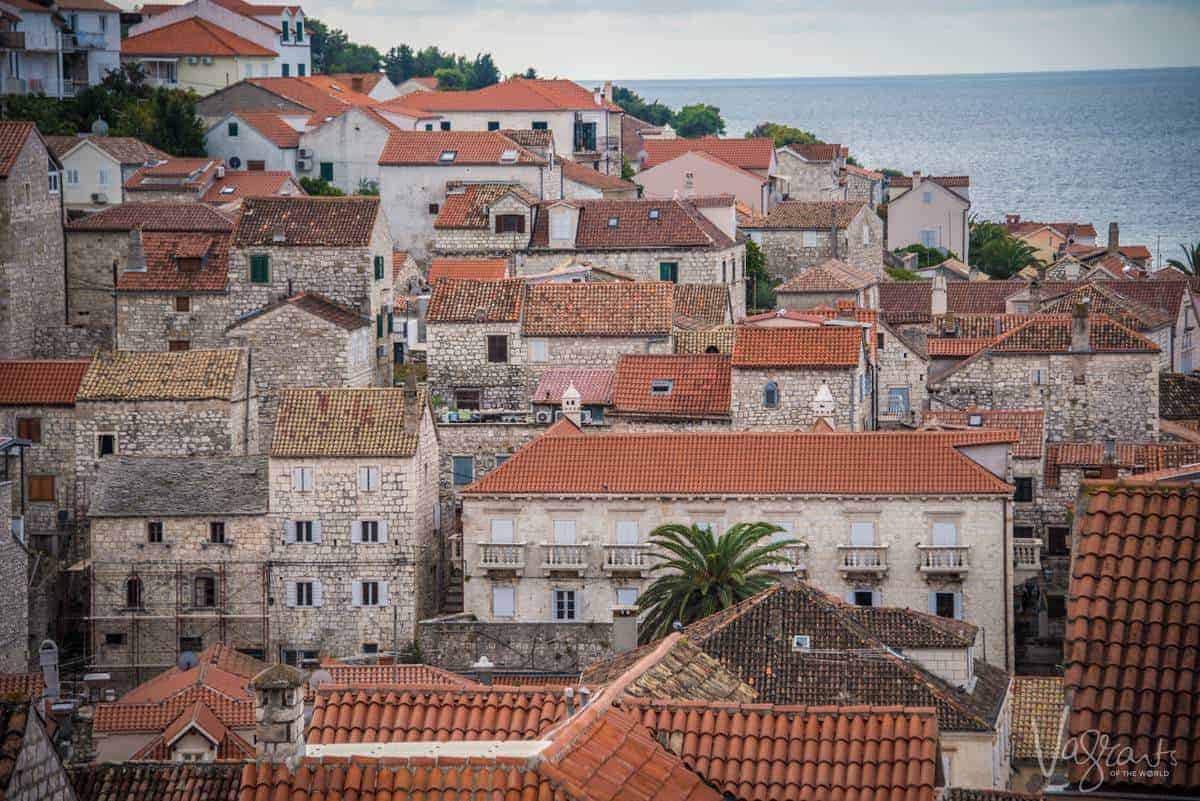 Split
A leisurely morning ferry from Hvar to Split afforded us one last glimpse of the beautiful Dalmatian Islands from the sea and a wonderful view of Split as we sailed into Croatia's second largest city.
A vibrant waterfront promenade set against a 1700-year-old UNESCO site and lived-in atmosphere seem to set this city apart from Dubrovnik. Split has the right balance of new and old, tourist and local. We just loved this city.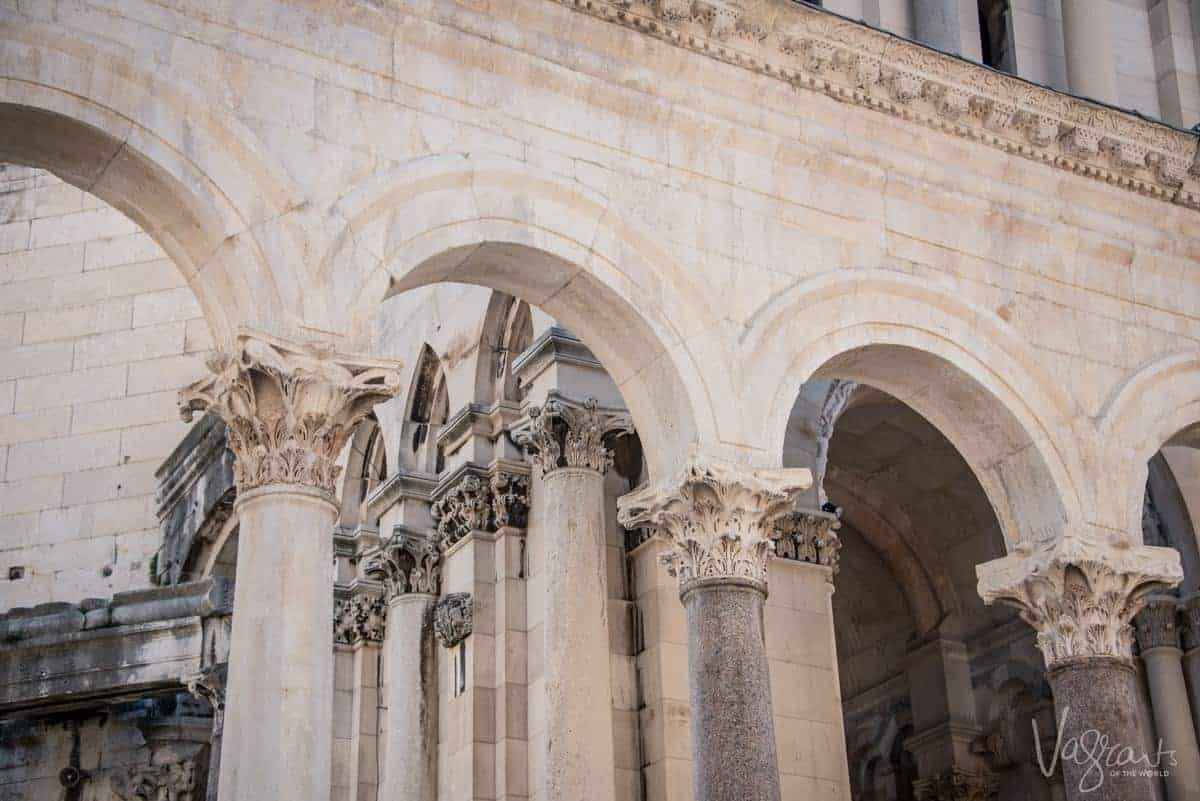 After a nice alfresco lunch, we enjoyed a private tour of the Diocletian's Palace, the 3rd-century retirement home of the Roman Emperor. Step inside the atmospheric palace walls, or "Old Town" as it is mostly referred to, and you will find a thriving world or restaurants, bars, and shops. Life ticks along here as it has for thousands of years.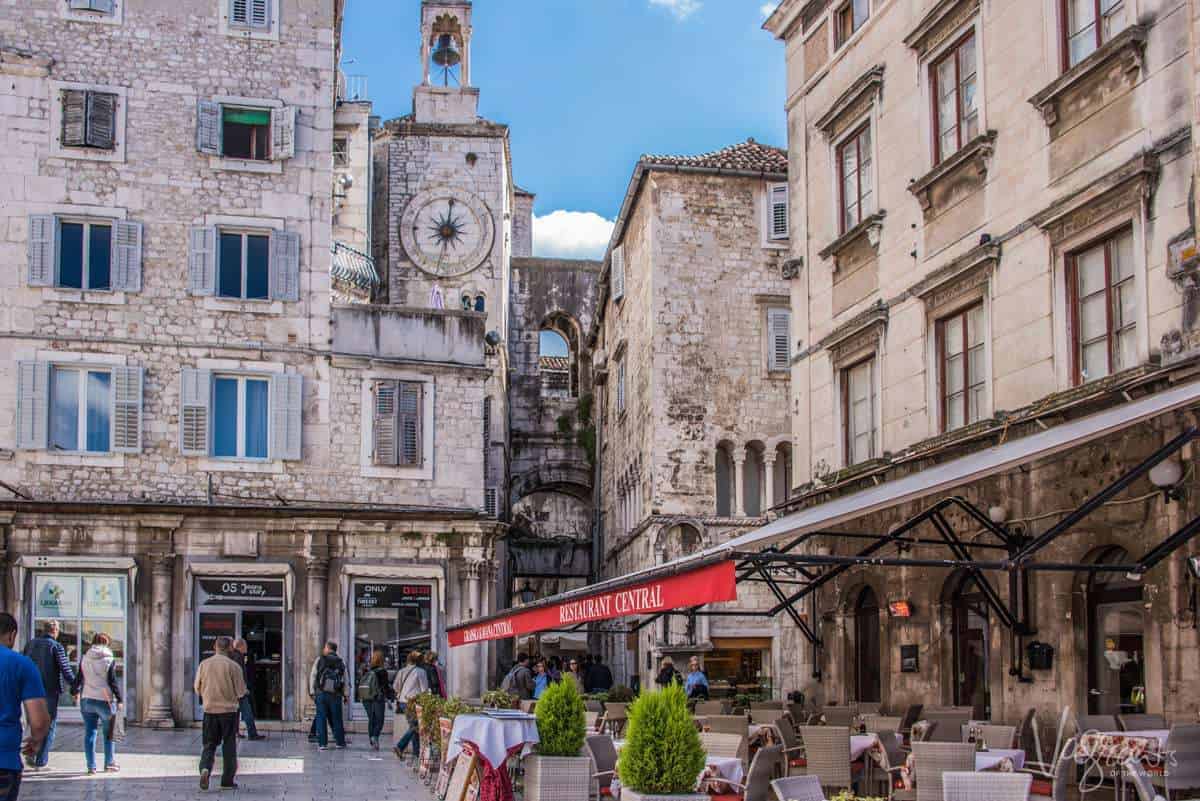 Our local guide took us for a tour underneath the palace, here we got a true understanding of the grandeur of the Emperor's vision when he ordered this city to be built. The few Game of Thrones fans amongst us were also rewarded with a glimpse of where  Khaleesi kept her dragons in the TV series.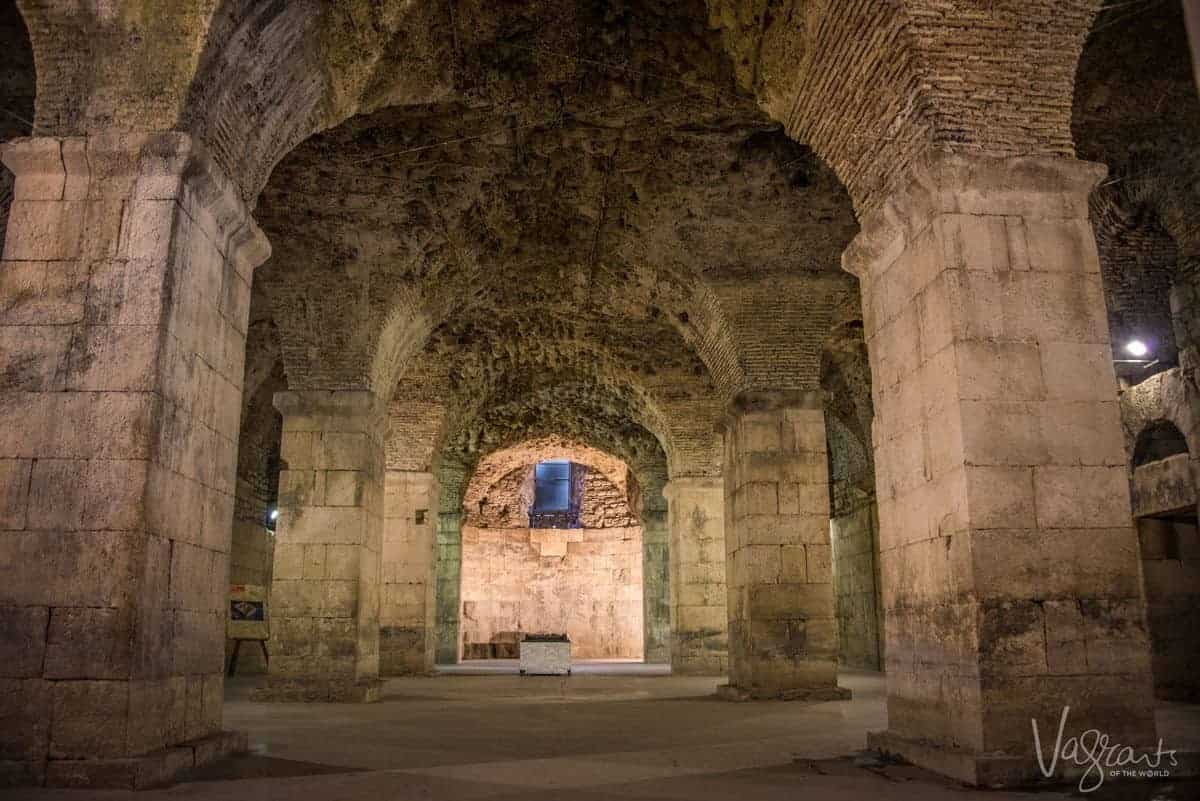 After an afternoon of exploring Split on our own, we found, much like Dubrovnik, there is no shortage of beautiful hotels in Split and no shortage of wonderful dining options. We were treated to not just a hotel of the finest standard, but exceptional fine dining.
Plitvice Lakes
A short detour inland, not far from the Bosnian border is one of Europe's most stunning national parks, Plitvice Lakes National Park. Listed as a UNESCO World Heritage site, the park boasts 16 terraced crystalline lakes, laced together by a series of waterfalls within a densely forested park.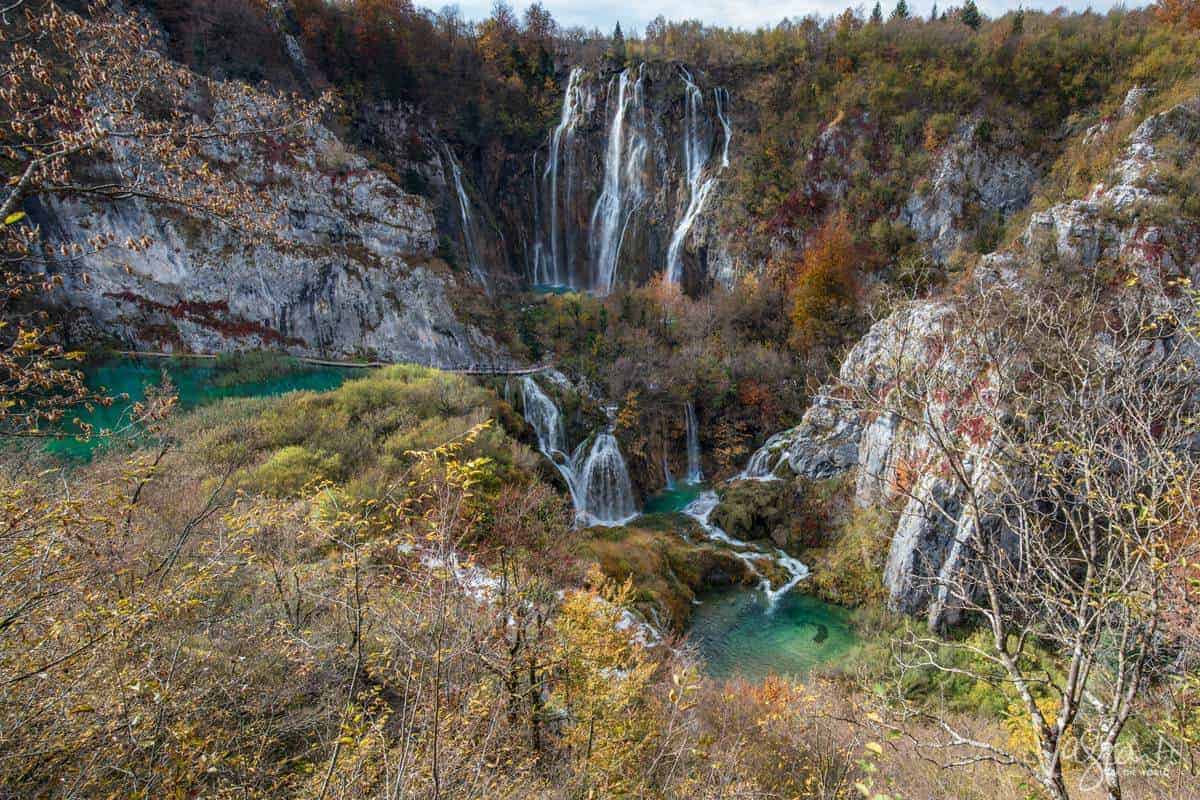 The mineral-rich waters deposit tufa on their journey down the rock canyon creating continually changing formations. A phenomenon known as petrified or tufa waterfalls.
18 km of wooden pathways snake their way around the edges of the lakes and across the many falls. This makes a hike through the park very accessible to most fitness levels. We spent a few hours strolling the park, working our way up the terrace of lakes with a local guide in tow. It really was a highlight to see this magnificent natural wonder in the full color of Fall.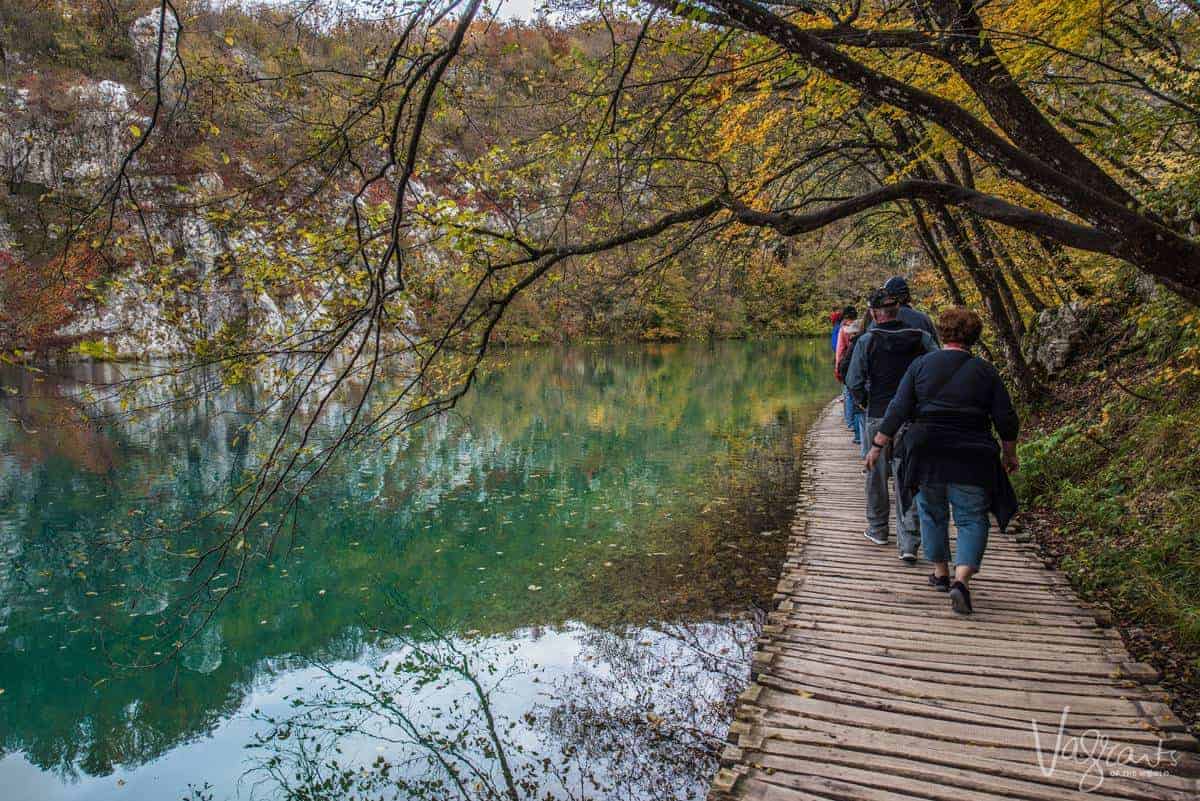 While it would normally take around six hours to explore all the lakes, we took advantage of the park boat services to cross the larger lakes and shaved a few hours off our hike.  A boat ride across the lake was a welcome viewpoint to take in the brilliant display of color.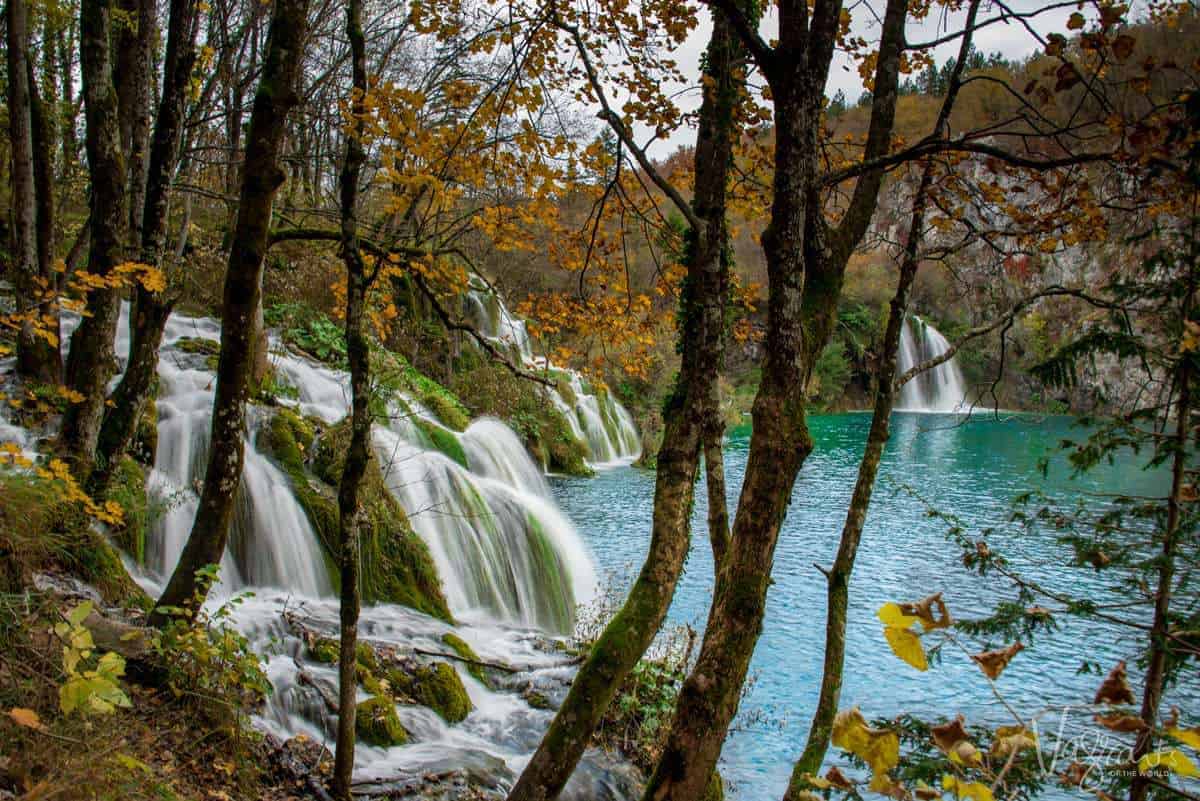 Opatija 
A full day to explore the beautiful seaside resort town of Opatija. Even on a very rainy day, Opatija oozed the same kind of chic charm that obviously appealed Austro-Hungarian nobility.
Stunning belle-époque villas still dominate the town's landscape, spruced up since the fall of Yugoslavia to bring back some of the grandeur of the Austro-Hungarian Empire.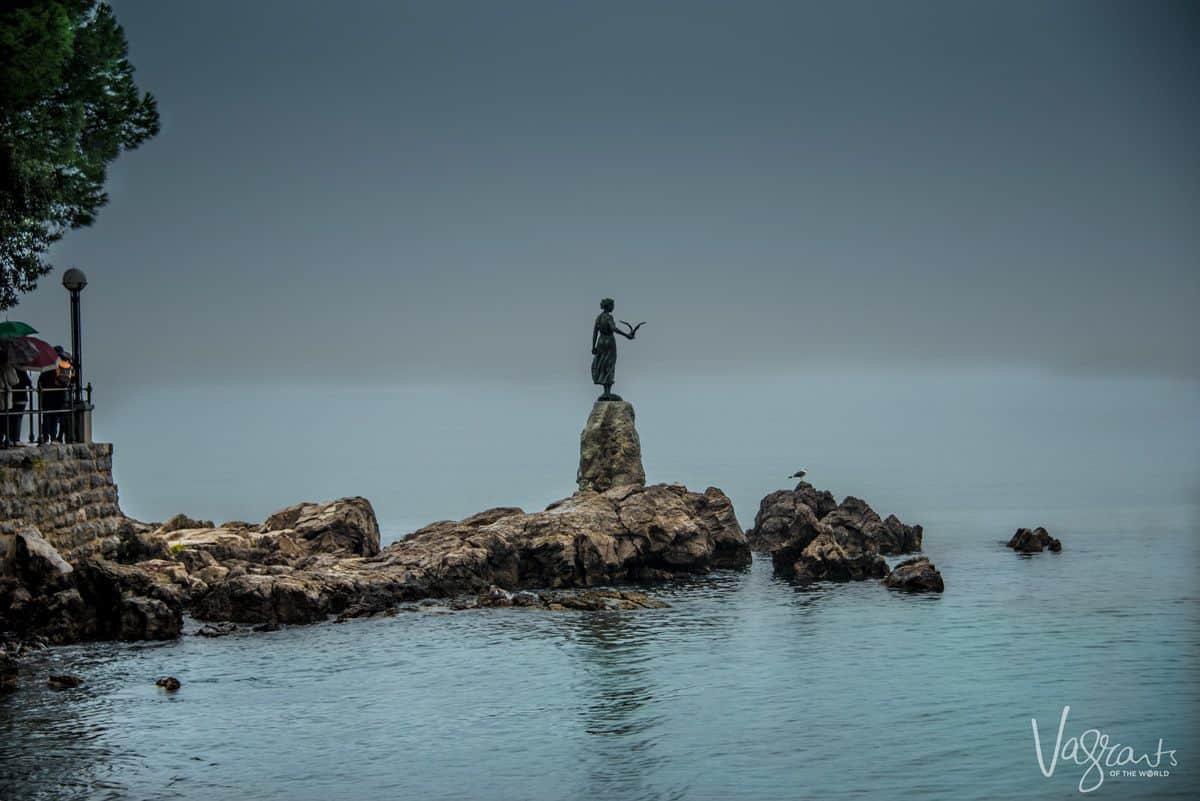 Opatija has always had a reputation as a genteel place to escape as reminisced by our lovely guide Maja. She remembered fondly coming to the seaside resort as a child to enjoy the beaches and grand hotels. Relaxation and rejuvenation seem to be de rigueur again as a mild climate and grand spa hotels attract a mainly mature clientele.
Slovenia
Ljubljana
Leaving Croatia, we crossed the border into Slovenia to the capital, Ljubljana. Ljubljana is one of those cities that endears itself to you the minute you arrive. This wonderful little city boasts a youthful university population, large green spaces and some of the most charming architecture we have seen since Riga, Latvia.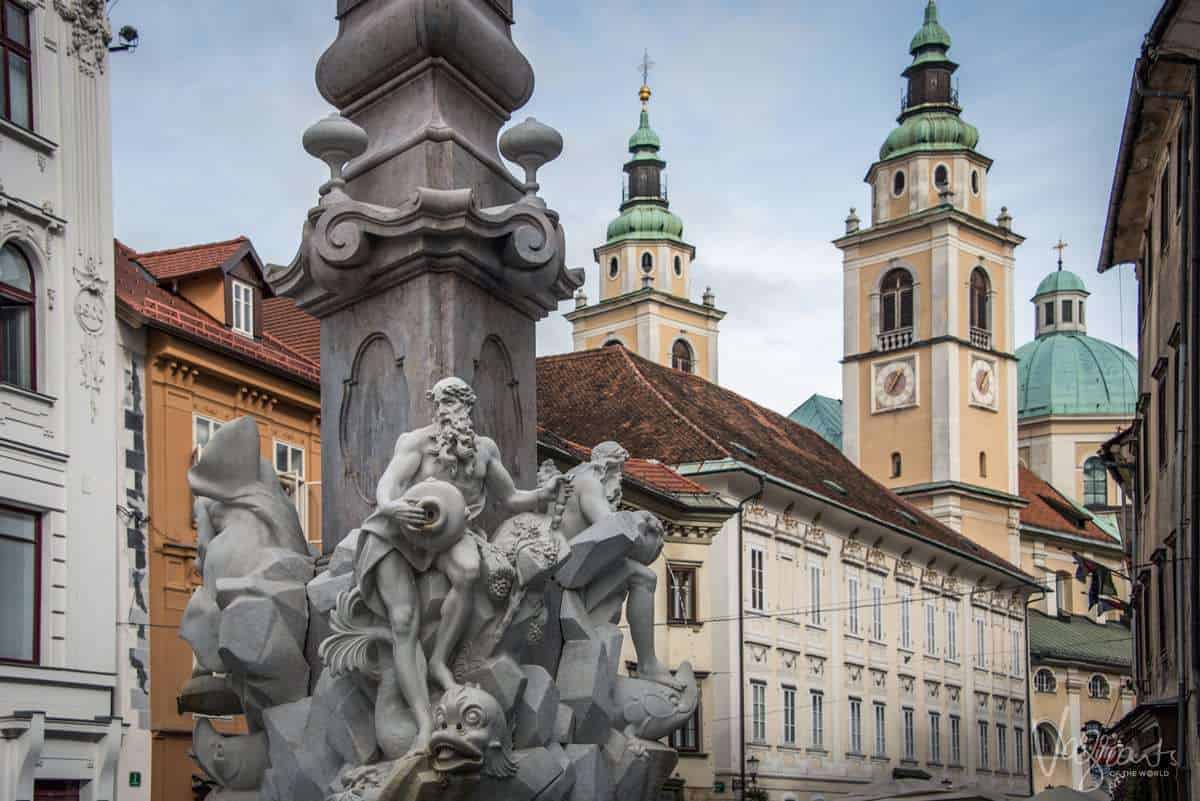 Traffic restrictions mean all the areas surrounding the banks of the Ljubljana River, which divides the city's old town from the commercial center, are free to be enjoyed by pedestrians and cyclists. Perhaps this is why Ljubljana has been voted one of Europe's greenest and most livable cities.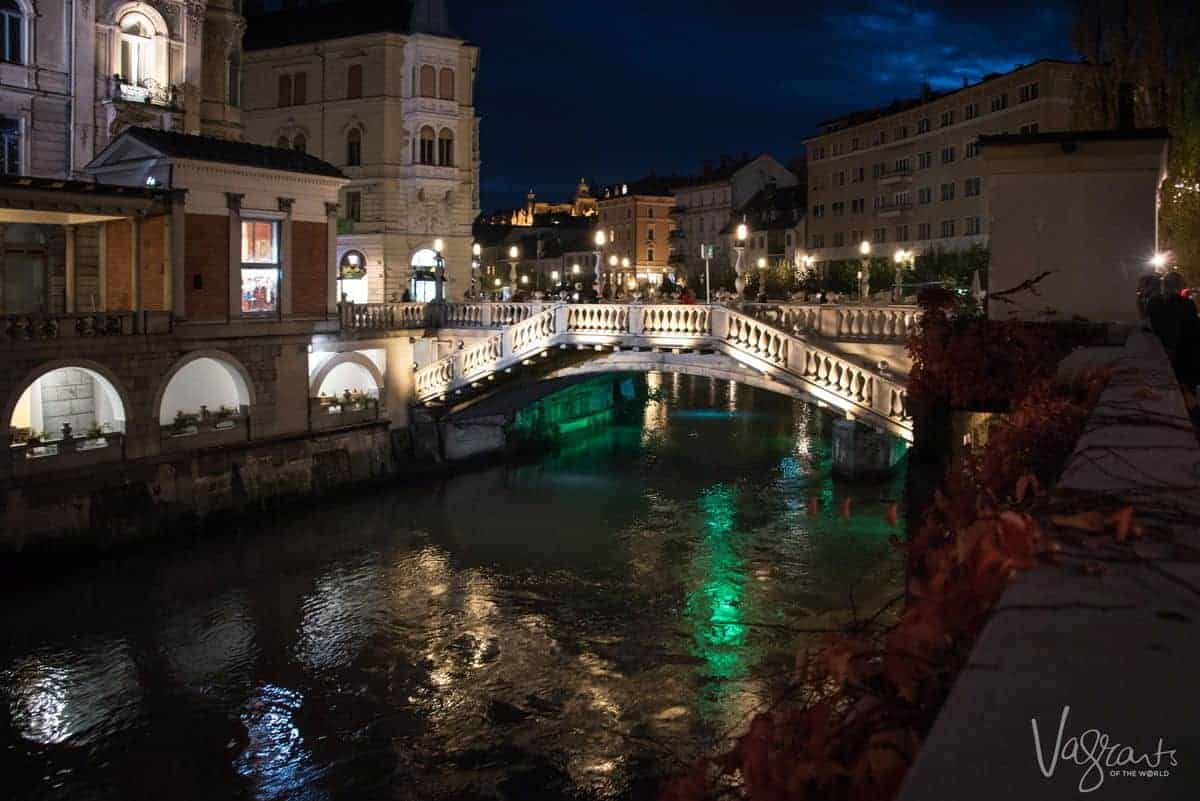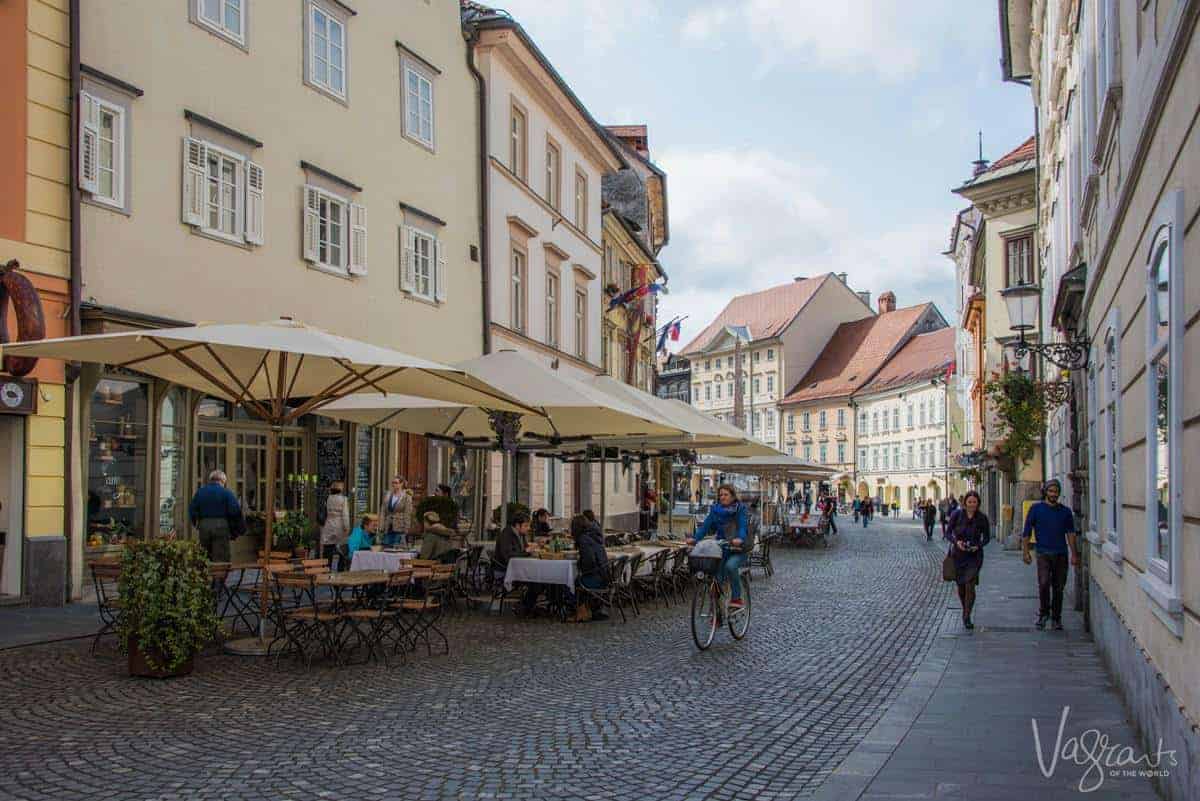 After a private tour of Old Town, we were free to enjoy this delightful town on our own. For a small city, Ljubljana certainly packs a punch. No end of exceptional quality restaurants and cafes line the river and narrow streets of old town. Take the funicular up to the 15th century Ljubljana Castle, which is visible from all over the city.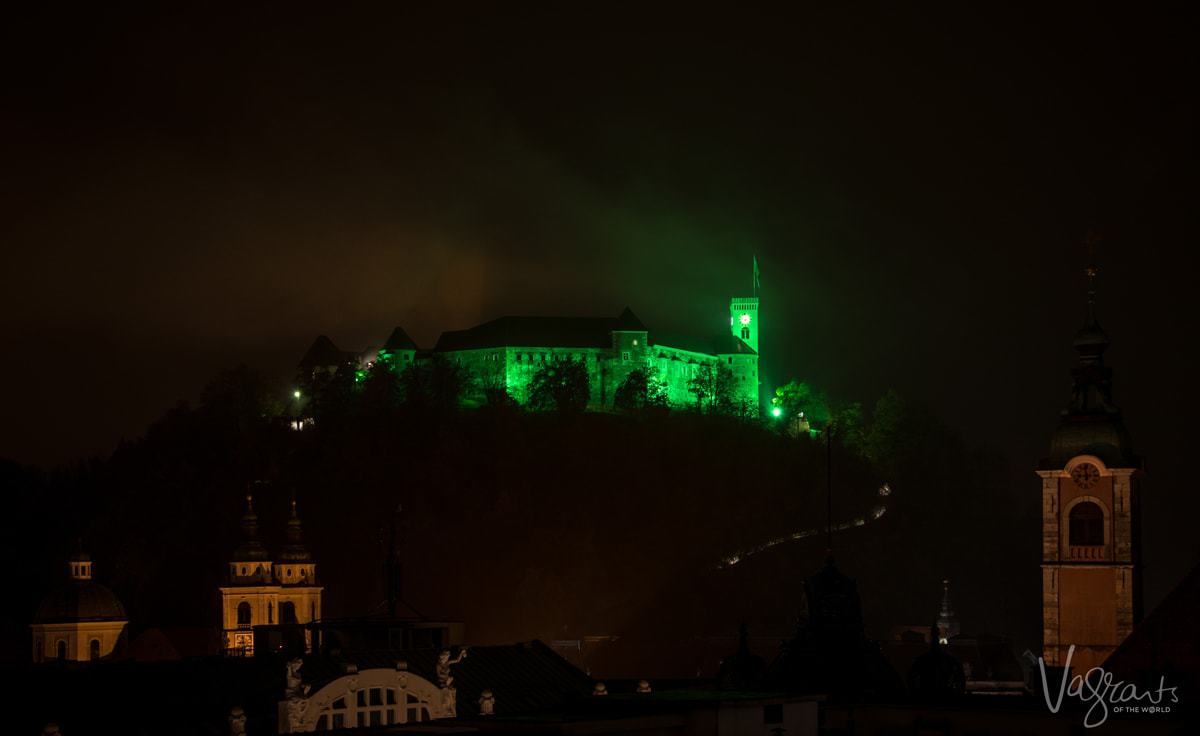 Walk the riverfront and find the famous Dragon Bridge, not just a nod to the city's coat of arms but also a protected technical monument. Soak up the atmosphere at the outdoor central markets or visit any number of the city's galleries and museums. Our suggestion – just go for a stroll. Day or night, Ljubljana has a wonderful atmosphere to be enjoyed and so much to see around the city streets. This city left a very big impression on us.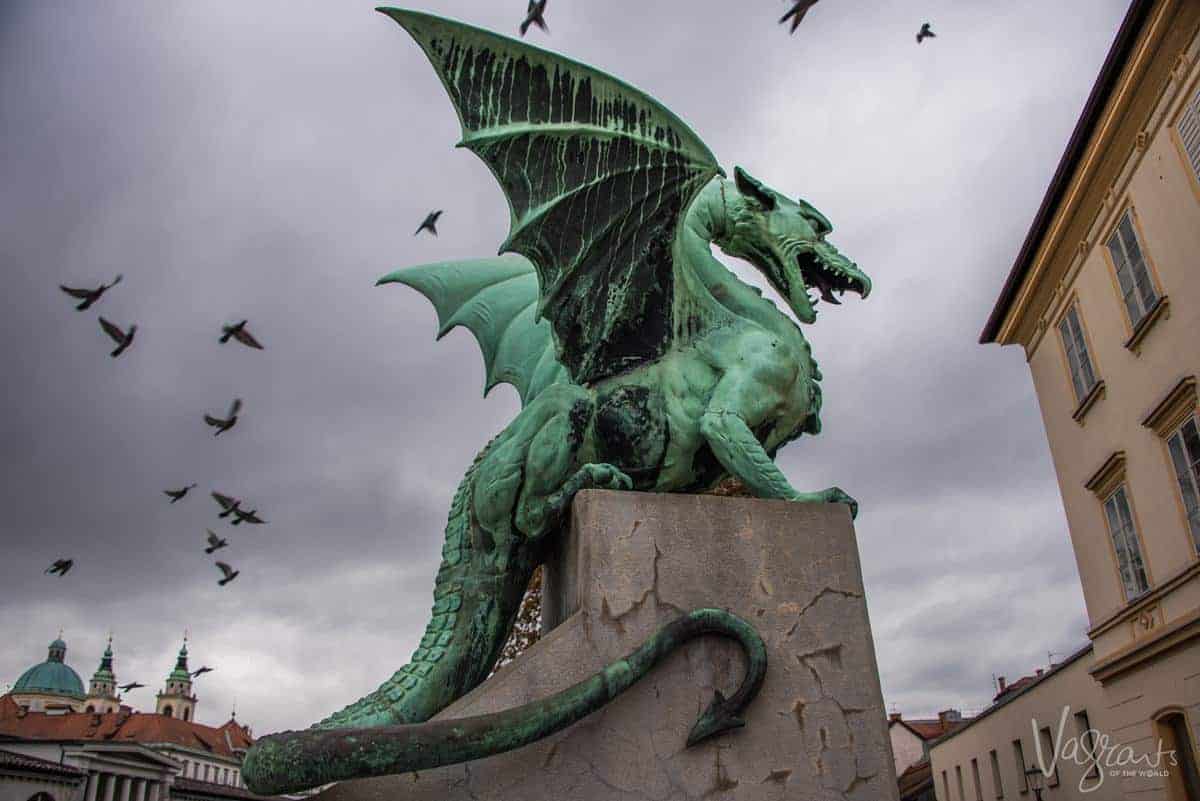 Lake Bled
You know when you see a photo and instantly want to know where in the world this beautiful place could be? Lake Bled has this effect on so many.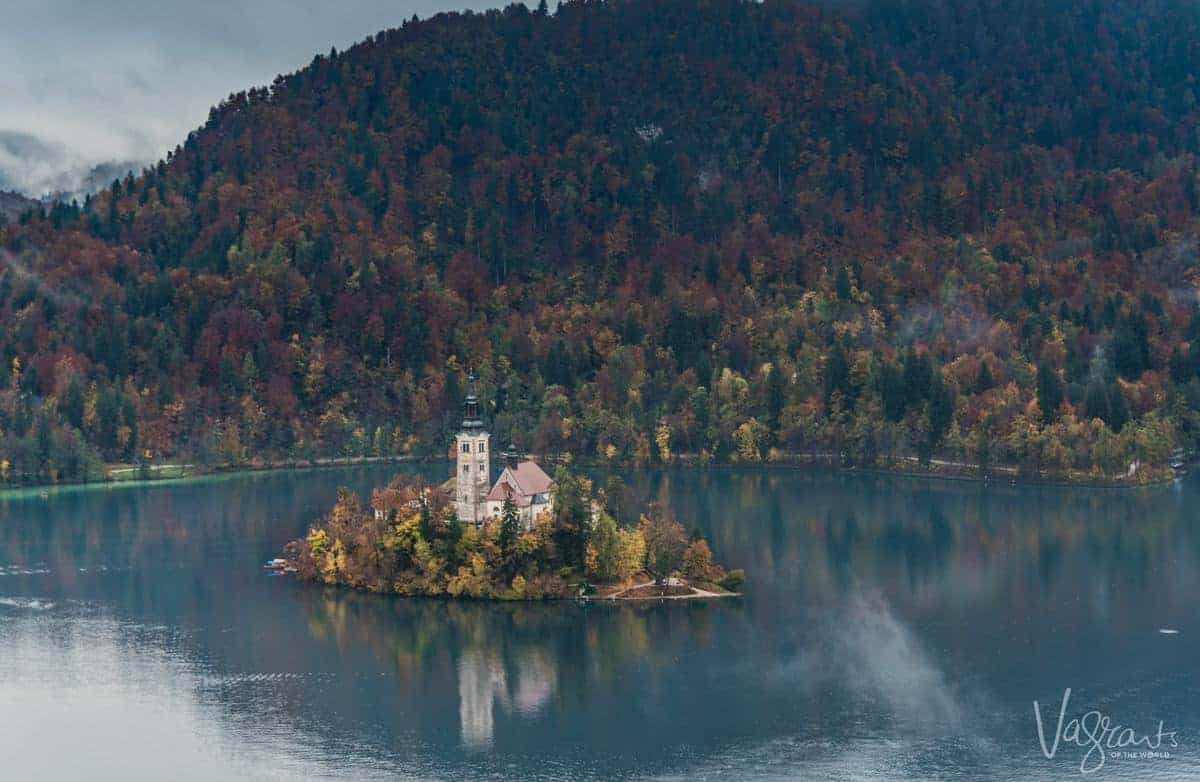 Lake Bled is only a short drive from Ljubljana. A postcard church on an islet sits centrepiece on a perfectly mirrored lake. A medieval castle clings impossibly to a rocky cliff face and boatmen, the legacy of generations row gently from church to shore.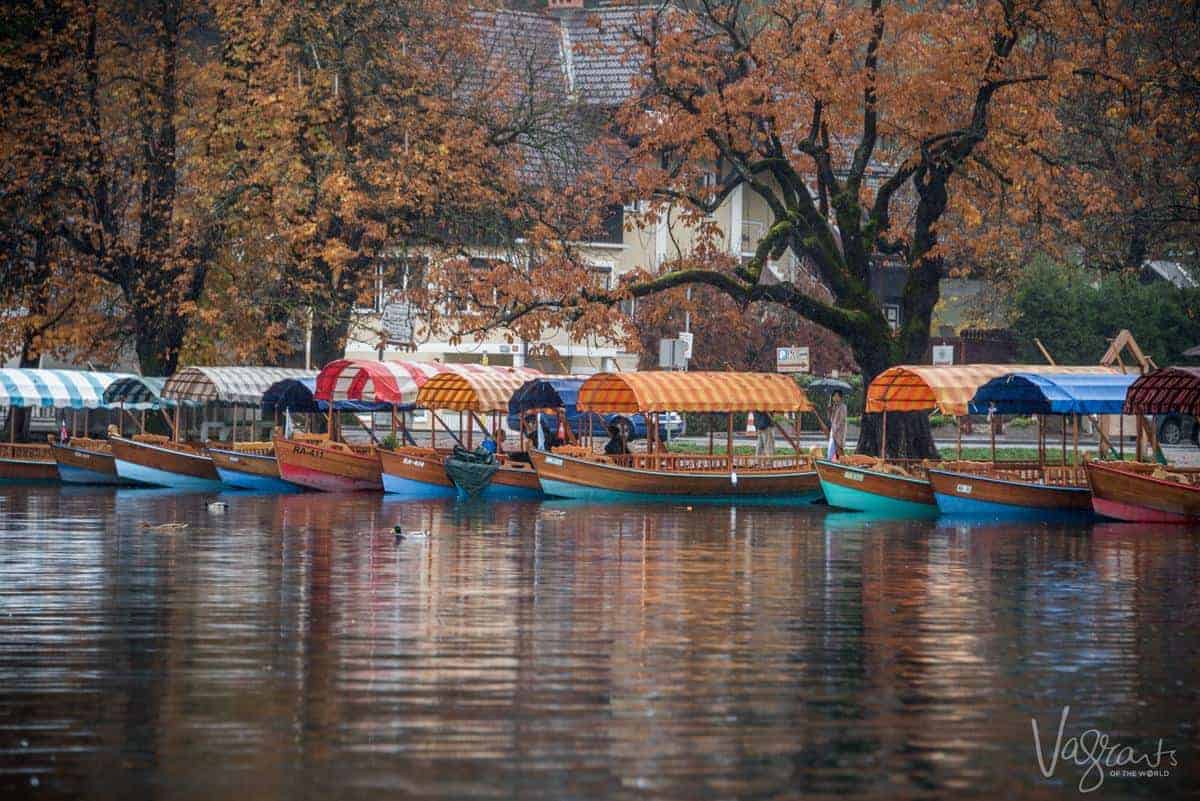 A spectacular view from Bled Castle above was only overshadowed by the serene boat ride to the church on Bled Island. Hand crafted pletna boats, a tradition passed down from generation to generation of local men row between the church and shore. Each son must learn how to build and to row the boats to keep the traditional alive.
While we imagine the peak summer months must be busy in such a beautiful place, there was a peaceful calm while we were there. We could have believed nothing on Lake Bled happens above a whisper.
To get a full impression of the magnificent Julian Alps, we took a drive to Bohinj, an alpine resort town. Passing through stunning landscapes we stopped to sample various fresh locally produced cheeses and for lunch in a local village restaurant. A day in the Slovenian countryside is like the pages of a fairytale. It is almost too picture perfect.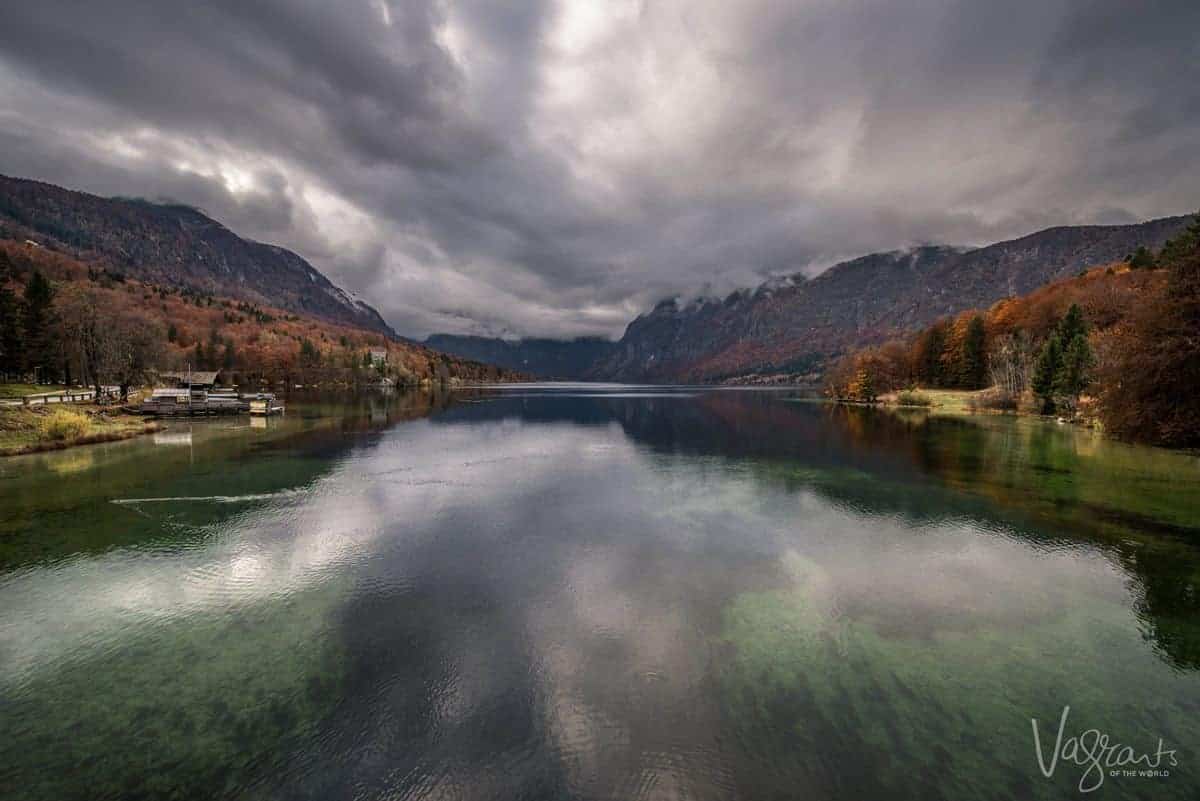 Venice
What better place to finish two fabulous weeks working our way up the Adriatic Coast than in Venice, Italy's most romantic city.
We arrived in Venice via private water taxi, an indulgence in itself. First stop Murano Island, famed for its high quality glass production. For centuries, Murano's glassmakers have handed down their craft, earning a reputation as the highest quality glass on the market. A demonstration of the technique confirmed why this is such highly prized glass.
A cruise down the famous Grand Canal arriving in time to enjoy lunch at our leisure. A lovely introduction to Venice. Then, an afternoon spent with a local guide on a tour of Piazza San Marco and the Basilica. After, our guide took us on a lovely stroll around Venice to capture the heart of this unique city. While we would love to say this helped us gain our bearings in the city, we don't believe you could ever get your bearings in Venice. Where would be the fun in that?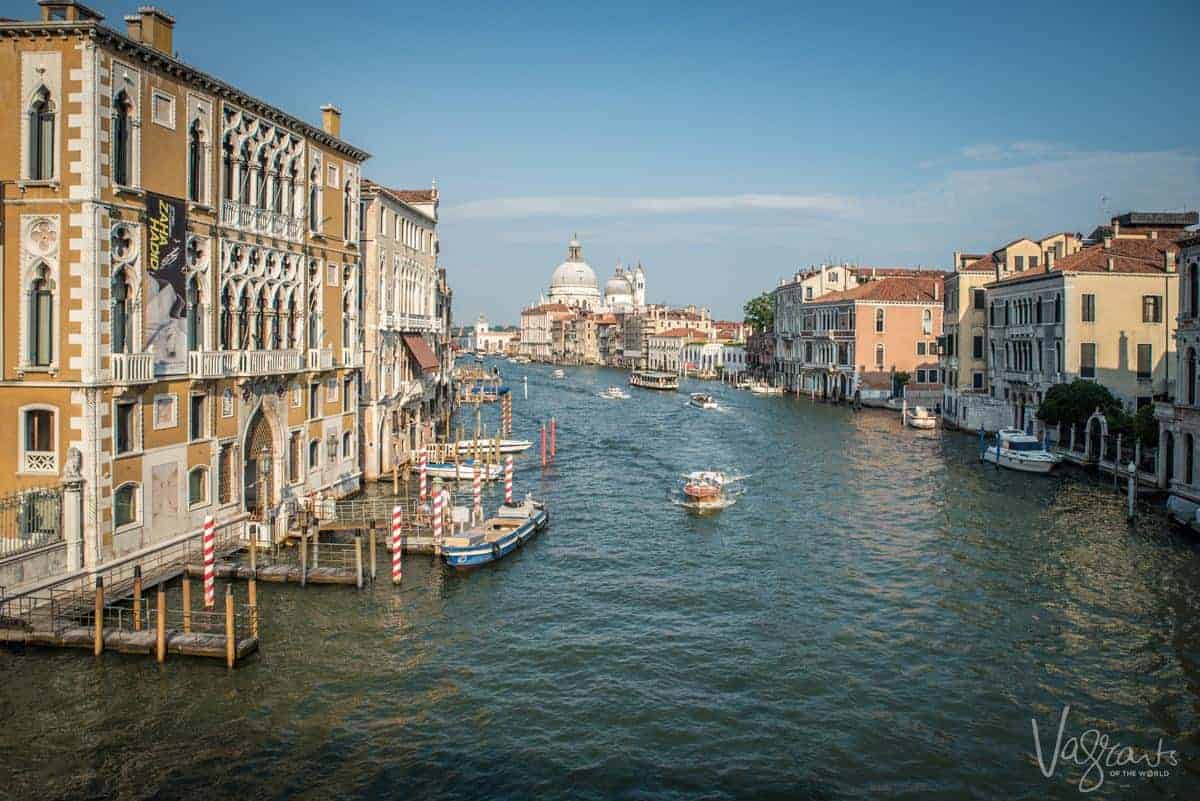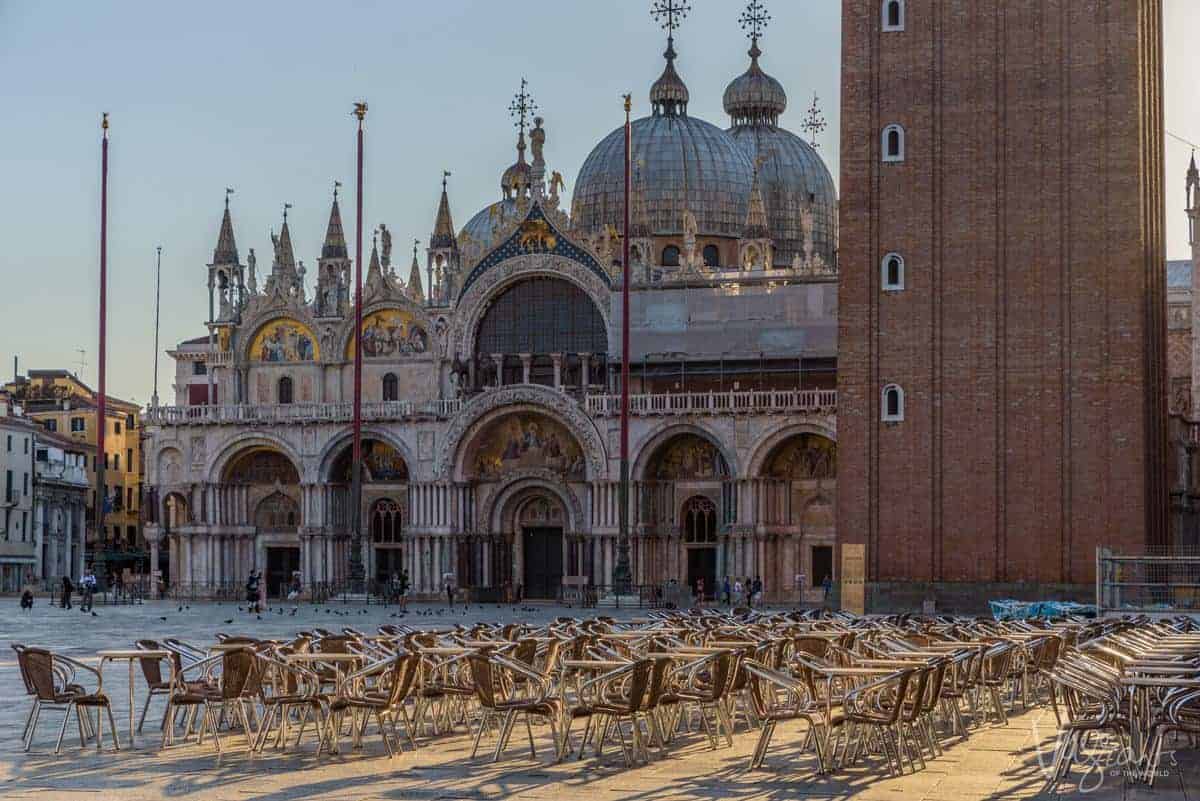 One final dinner to farewell our group and to enjoy our last evening in Venice .
Four countries in two weeks on one of the best quality tours we have taken. Highlights for us were the high quality of arrangements and quality of experience in the itinerary. For us, this equates to a value for money, quality experience.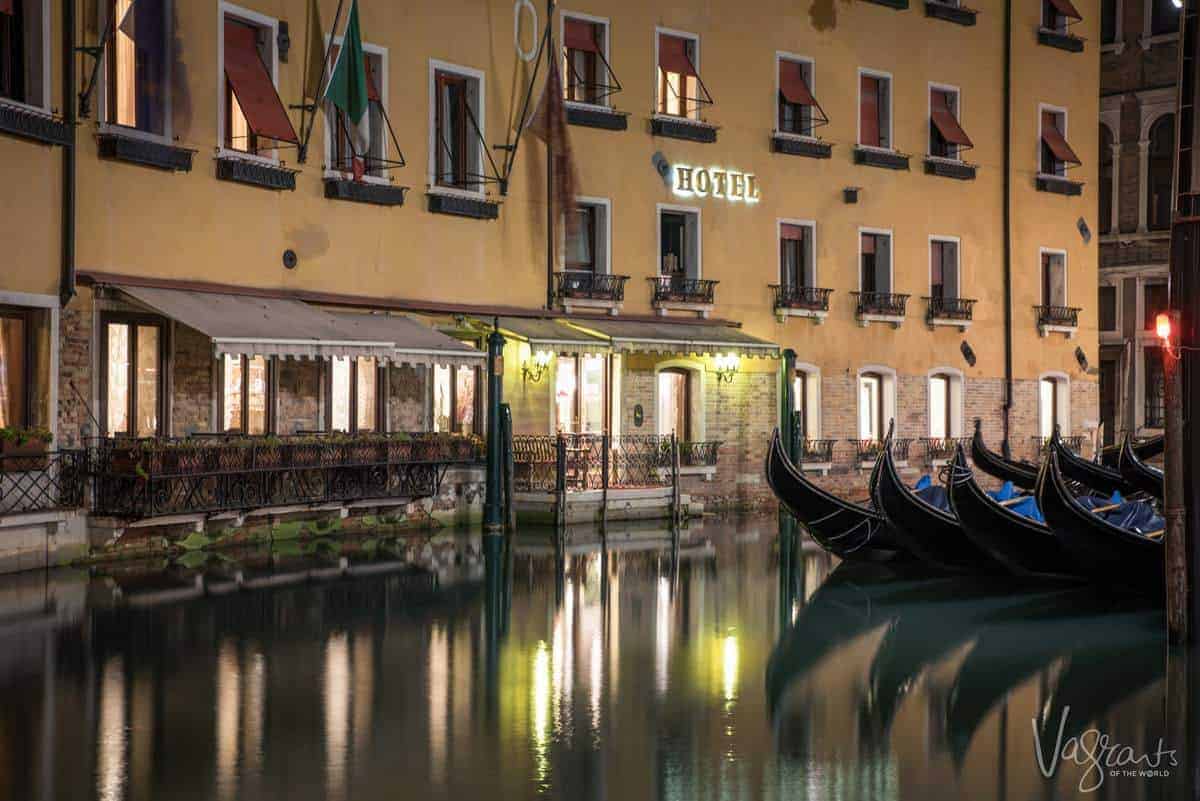 Facts.
Discovery Tours by Gate 1 Travel 14 Day Dalmatian Islands, Croatia & Slovenia tours run between 01 April and end October. Peak season in these regions is between June and September.
Small group of maximum 22 travelers guaranteed.
Early Bird prices start at $2749 for land only packages and $3839 for land and air if traveling to Croatia from the US.
The tour includes –
Accommodation – Hotel porterage – Some meals
All transfers in high quality vehicles – comprehensive guided sightseeing and entrance fees – bottled water during excursions. A local, English speaking tour manager throughout.
Additional or Optional Tours can be purchased. Optional Tours start at $63 
Check the Discovery Tours by Gate 1 Travel 14 Day Dalmatian Islands, Croatia & Slovenia for a more comprehensive list of pricing and inclusions.
We would like to thank Discovery Tours by Gate 1 Travel for hosting us on the 14 Day Dalmatian Islands, Croatia & Slovenia tour. As always, all opinions expressed are our own and have not been influenced in any way.
---