Embodying the French Riviera, Nice is known for its pleasant weather, beach culture, and Mediterranean flair.
One of the premier destinations in the South of France, the coastal city is warmer than much of France year-round. However, despite the Mediterranean climate, the weather can still vary dramatically throughout the year.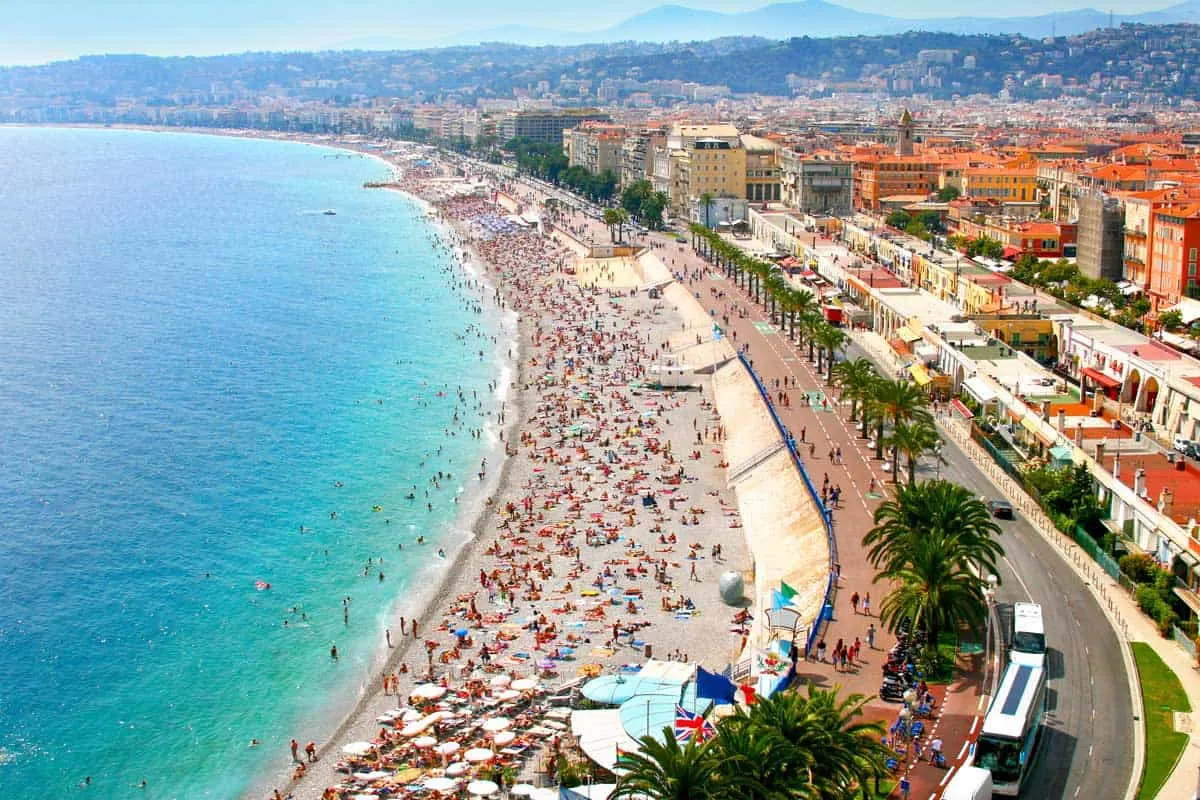 December, for example, can be drastically different from April. Planning ahead can help you find the ideal time for your trip- and save you from any surprises.
Best Time to Visit Nice France
The following temperature and weather estimates can help you tailor your trip to your tastes.
Weather in Nice in January
January is usually one of the coldest months in Nice and the height of the region's winter weather. Highs reach about 48-50 degrees Fahrenheit, while lows can dip to 40 degrees.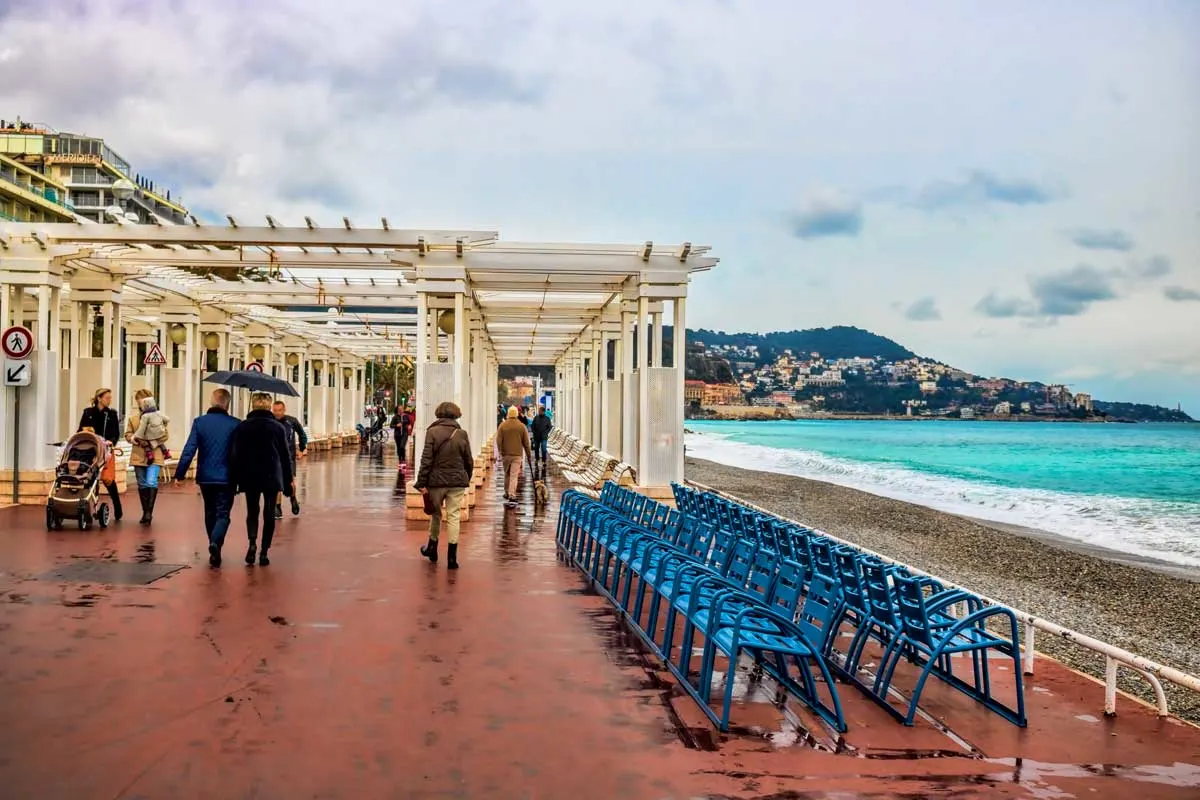 While snowfall is uncommon, snow flurries and rain are possible at this time of year. While still one of the more temperate places to visit in Europe in winter, if you're visiting Nice to ring in the new year, be sure to pack warm clothes and stock up on layers.
Even though January is not the most popular time to visit the city, most hotels, businesses, and restaurants will be open. If you want to experience Nice in the off-season, bundle up and start exploring.
Weather in Nice in February
February is often the coldest month in Nice, and temperatures rarely exceed the high 40s. Lows remain around 40 degrees Fahrenheit.
Weather-wise, February in Nice is quite similar to January. What makes this month a special month to visit Nice, however, is "Lou Queernaval," the infamous Nice Carnival, one of the more unique winter activities in Europe.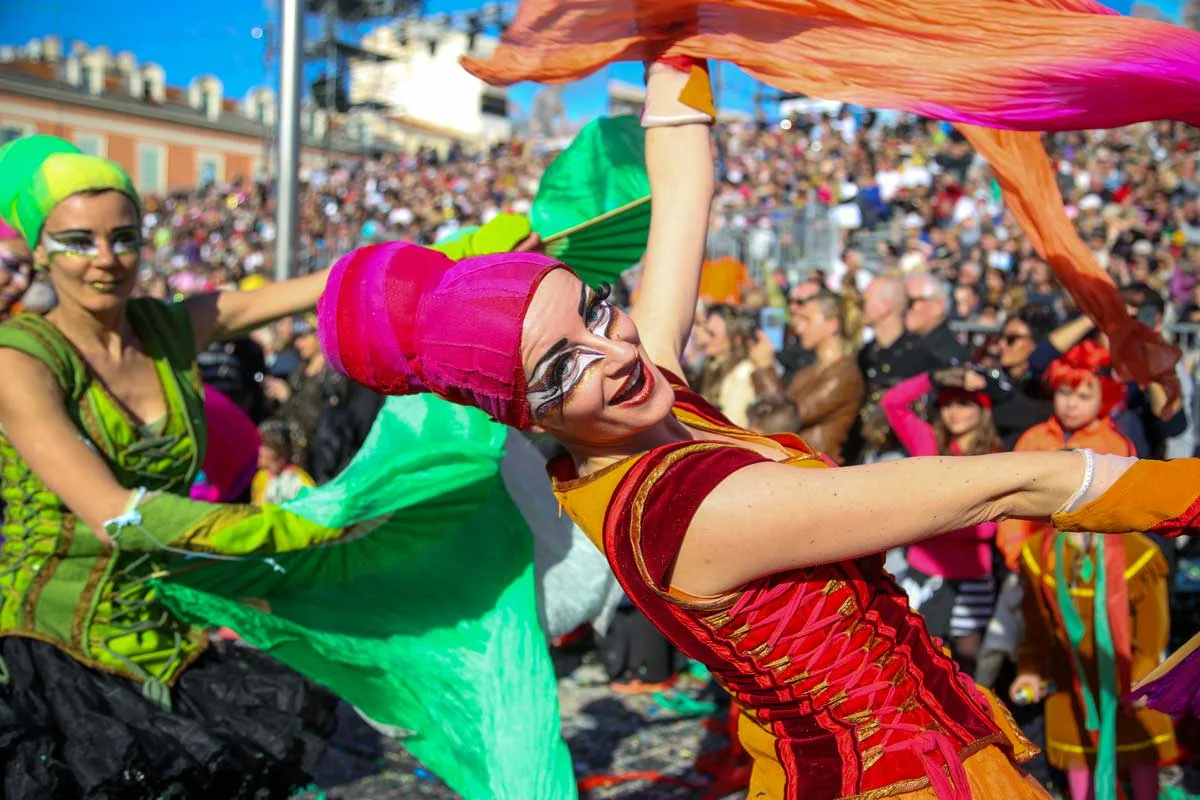 Taking place over the course of two weeks in February, this yearly event brightens up the entire city. Things to look forward to include costumes, parades, floats, and various showcases. The party is often compared to New Orleans' Mardi Gras and is well worth the winter visit.
While Nice will be cooler this time of year, you'll quickly warm up as you get in the spirit. Promenade des Anglais is one of the focal points of the festivities, with parades traveling up and down the famous walkway.
Weather in Nice in March
In March, the weather in Nice begins to warm up as temperatures slowly climb to the low 60s. Lows remain in the 40's.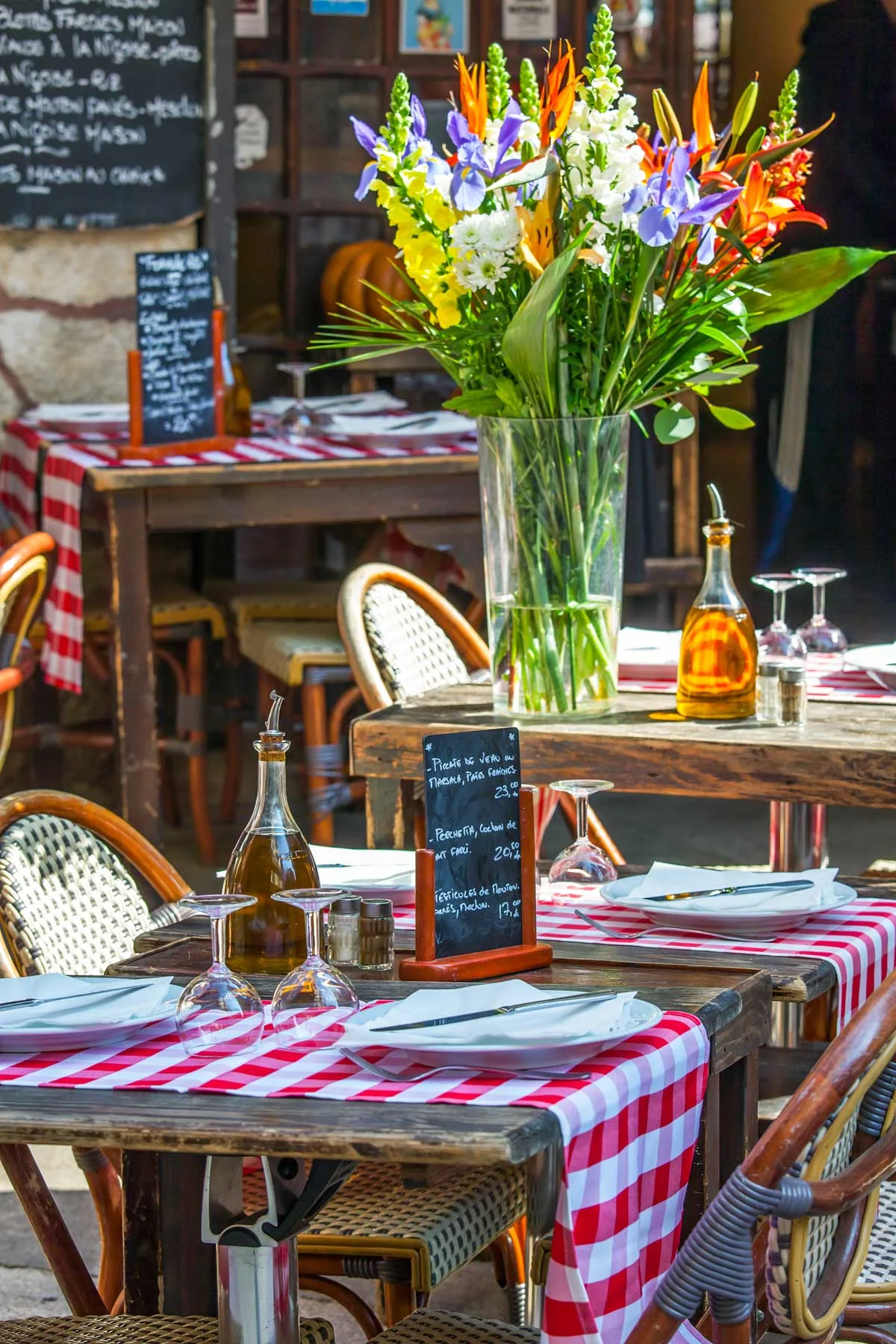 Rain can be somewhat frequent in March, so pack an umbrella. You likely won't have to worry about anything other than scattered showers.
While March definitely does not mean beach weather in Nice, you can still enjoy the seashore. Walks along the water are always pleasant, and the windblown waterfront offers unique photo opportunities.
Nice's yearly Festin des Courgourdons happens in March. A celebration of gourds, this is a fun, quirky event for the whole family.
Weather in Nice in April
April weather in Nice is quite similar to March in that temperatures remain around the low 60s during the day. Expect chilly evenings and mild daytime weather.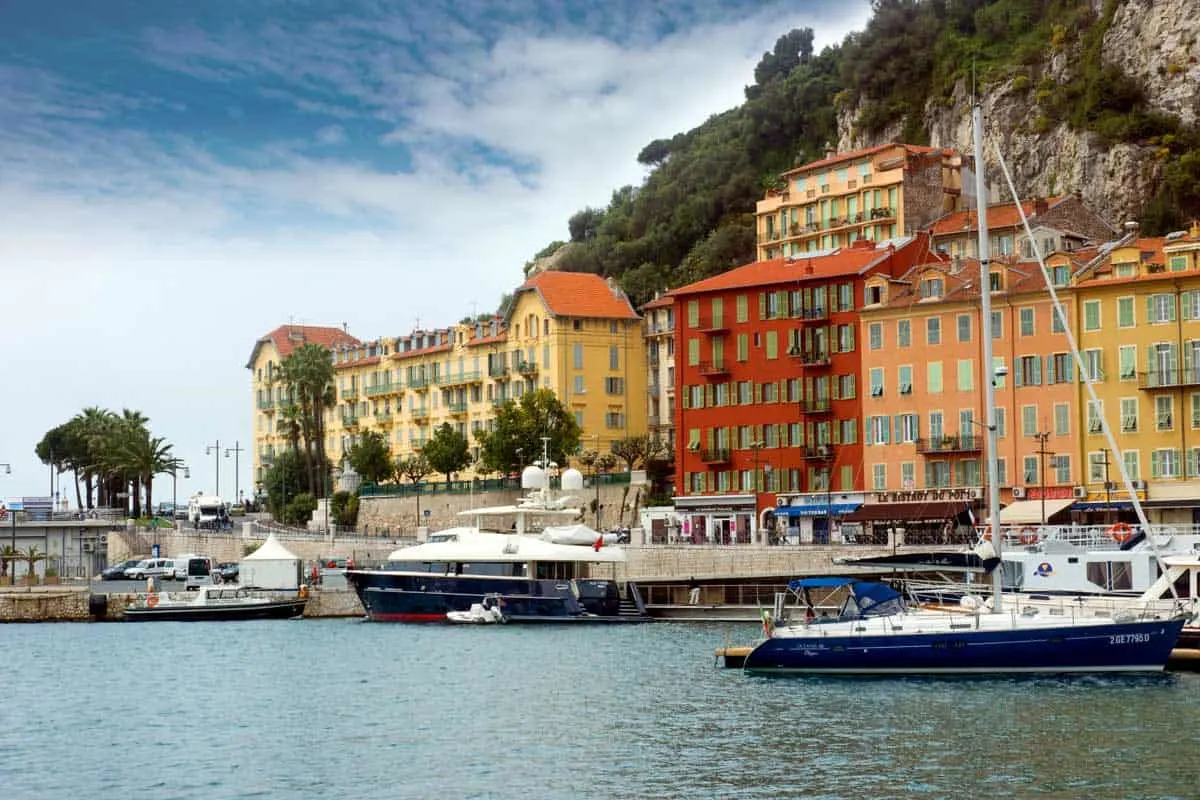 Not freezing but not yet hot, April can be an ideal month to visit Nice, especially because it's still far from peak tourist season. You'll likely be able to find bargains on hotel rooms and more.
Also, remember that many of the French Riviera's vibrant plants bloom in March and April, which might brighten up your visit.
Weather in Nice in May
In May, Nice weather begins to resemble summer. Temperatures tend to reach 70 degrees Fahrenheit, and the sun stays out much longer.
Each day in May receives roughly nine hours of sunshine. Rain is common as it is still springtime, so don't forget your umbrella.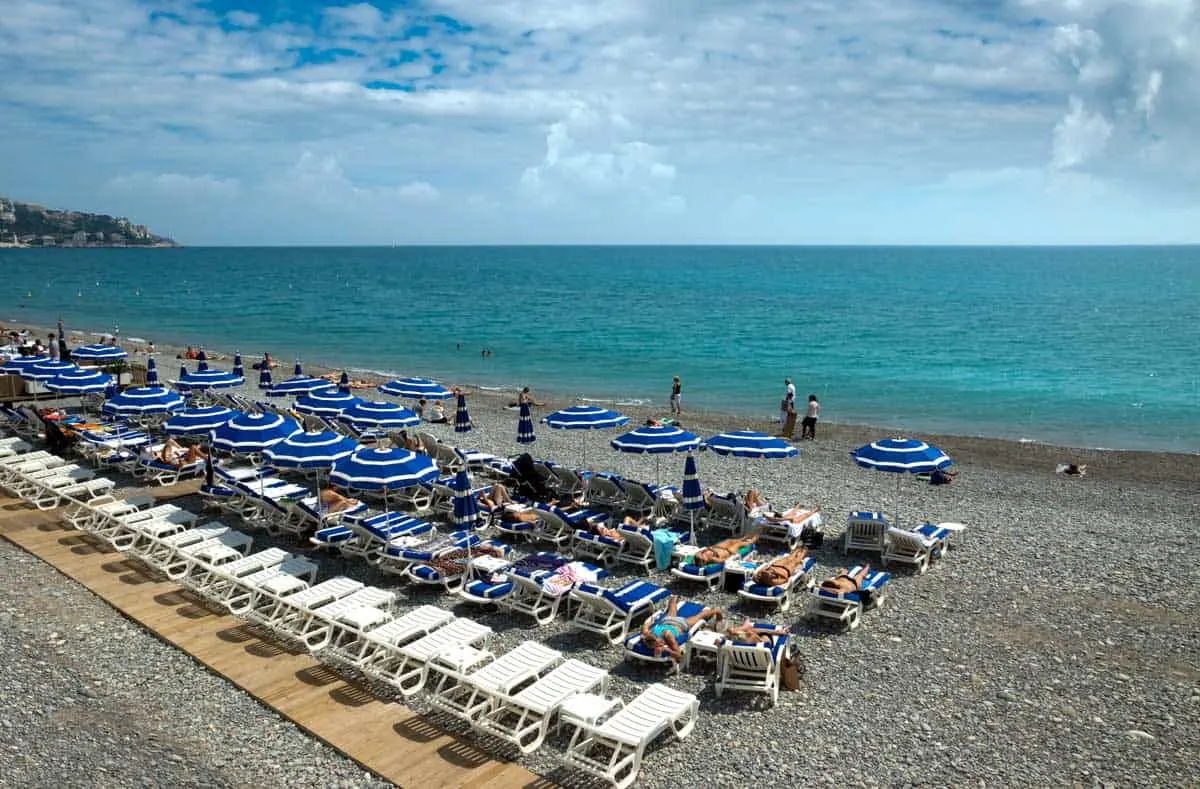 May tends to be the most humid month in Nice, with humidity levels measuring up to 80%.
Tourist season starts in May, but things likely won't get busy until the end of the month. If you want to catch spring in Nice right before peak season, early to mid-May is the time to go.
Weather in Nice in June
As expected, June marks the beginning of summer and tourist season across the French Riviera. Weather in Nice is definitely warming up during this time, so expect to see temperatures hit the mid-70s and higher. Lows will likely hover around the low to mid-60s.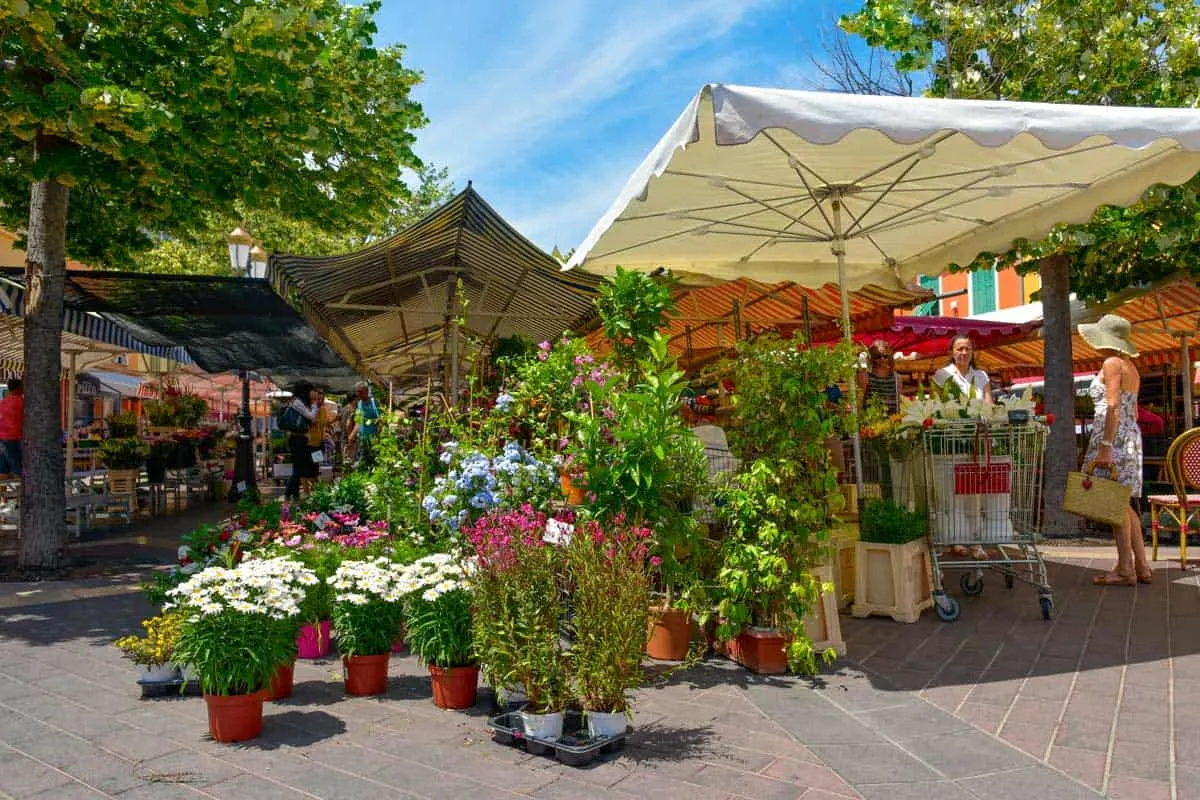 Average water temperatures around Nice are about 72 degrees Fahrenheit in June. This might be comfortable for some swimmers but too cool for others.
Nonetheless, the start of summer in Nice means there is plenty to do outdoors. Enjoy the promenade, spend time in the city's parks, and take some of the many fantastic day trips from Nice to explore surrounding towns and natural areas.
Weather in Nice in July
In July, temperatures in Nice reach 80 degrees Fahrenheit and above, meaning summer has truly arrived. Expect perfect French Riviera weather, including plenty of sun, clear skies, and long beach days.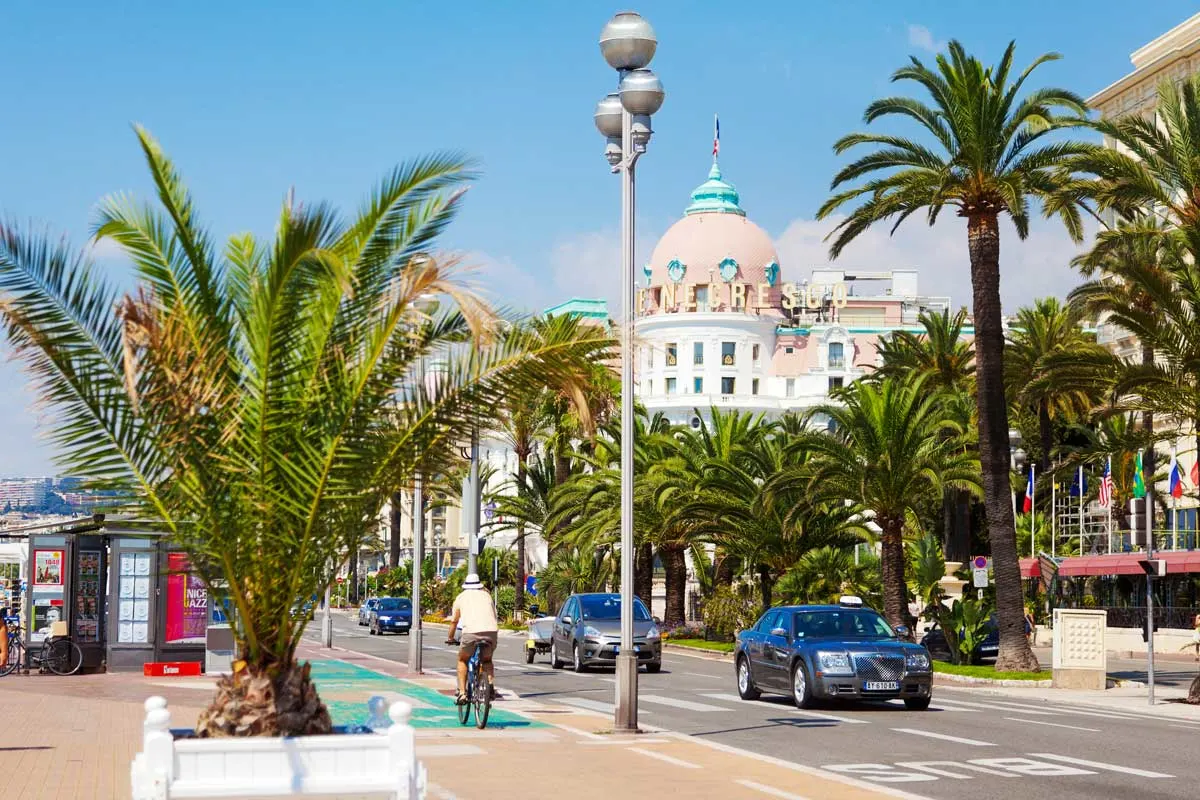 The waters around Nice should also be at a comfortable temperature to cool off by this time of year. Windsurfing, snorkeling, and scuba diving are some of the many water activities you can enjoy around the coast of Nice.
Weather in Nice in August
In August, the weather in Nice tends to peak, with highs reaching the low to mid-80s. This is still great weather for all French Riviera beach activities, including swimming in the Mediterranean.
If any rain does fall, it will be brief and likely refreshing amid the late summer heat. Trying yachting is a great way to still spend time outdoors during the hottest month.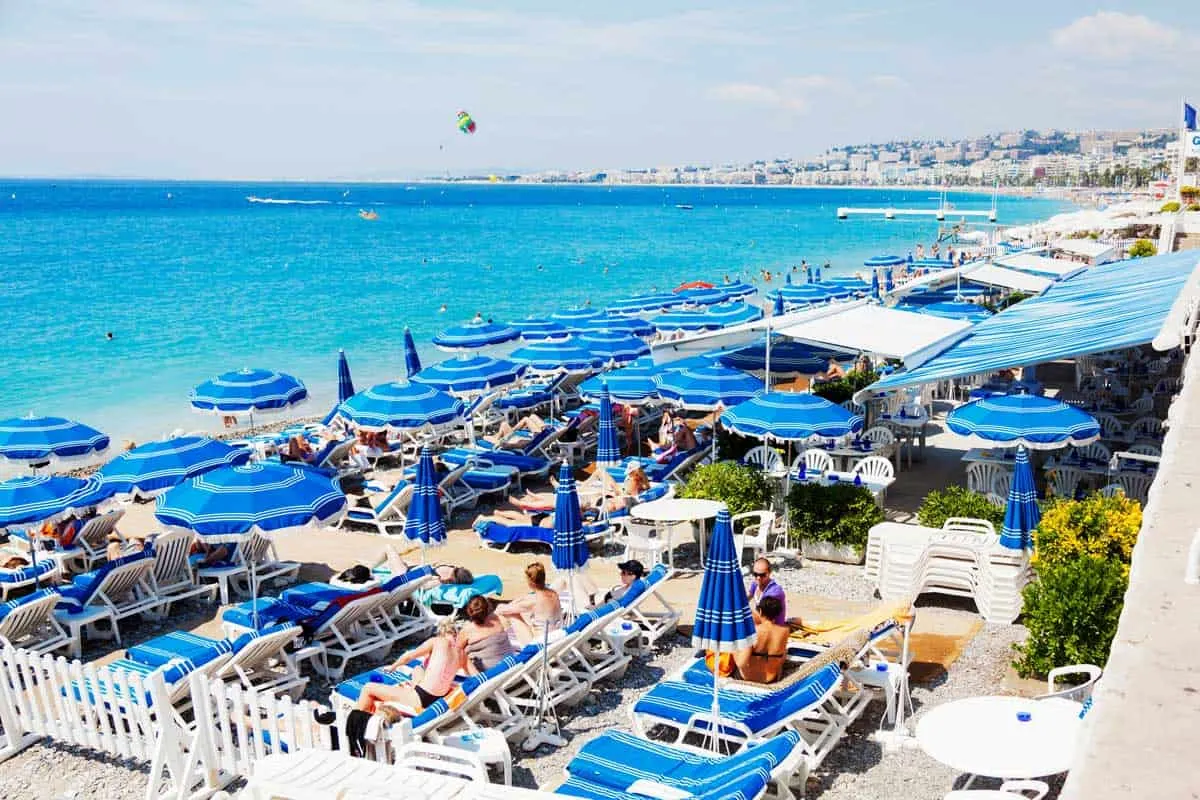 Taking in the French Riviera from aboard a yacht offers an entirely new perspective on the iconic shoreline. Sailing is best during the summer months when the weather is warm and most predictable.
You can book a charter from Nice with a local company to take you to neighboring Monaco. Combined with onshore excursions, a yacht tour offers a more complete picture of Nice and Monaco.
Weather in Nice in September
Summer in Nice begins to wind down in September, and temperatures drop slightly. September highs sit at around 75 degrees Fahrenheit, with lows at around 65 degrees.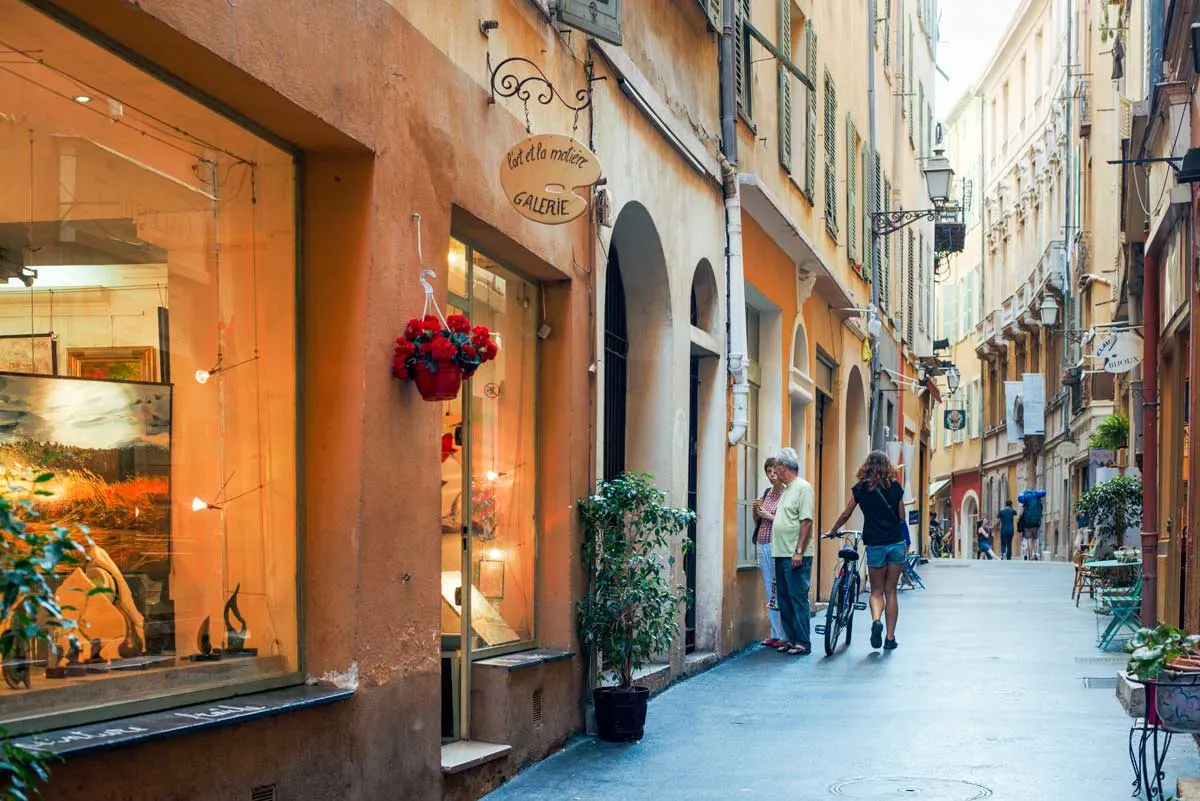 You'll still be able to catch some beach days, but September is a good time to incorporate other activities into your itinerary. September tends to be Nice's rainiest month, so pack accordingly.
Weather in Nice in October
In October, Autumn begins to set in. The weather in Nice cools, and the city quiets down as tourist season comes to a close. Temperatures hover around the high 60's, with lows around 60 degrees Fahrenheit. Rainy days are very probable in October, so pack wet weather gear.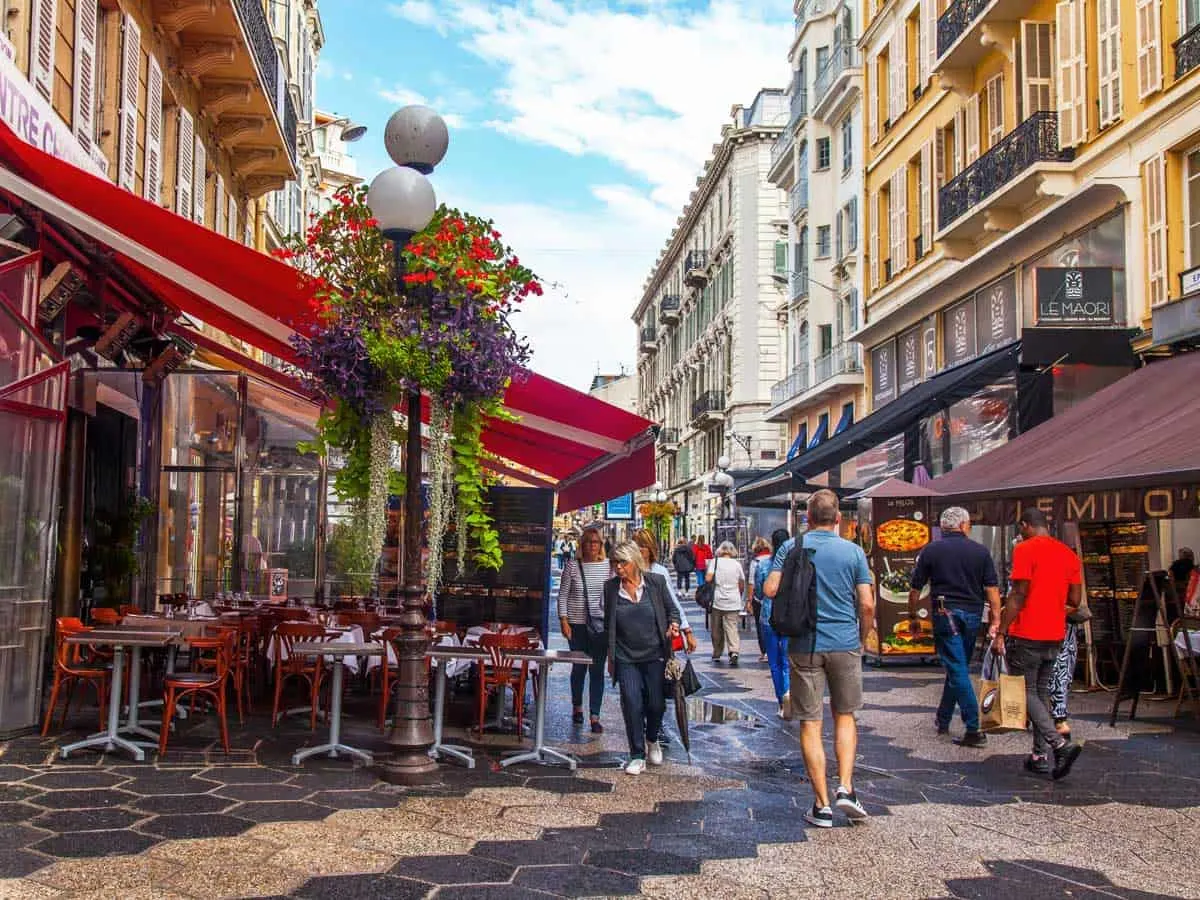 Weather in Nice in November
In November, temperatures in Nice continue to drop. Daily highs measure around 60 degrees Fahrenheit, while lows stay in the low 50's.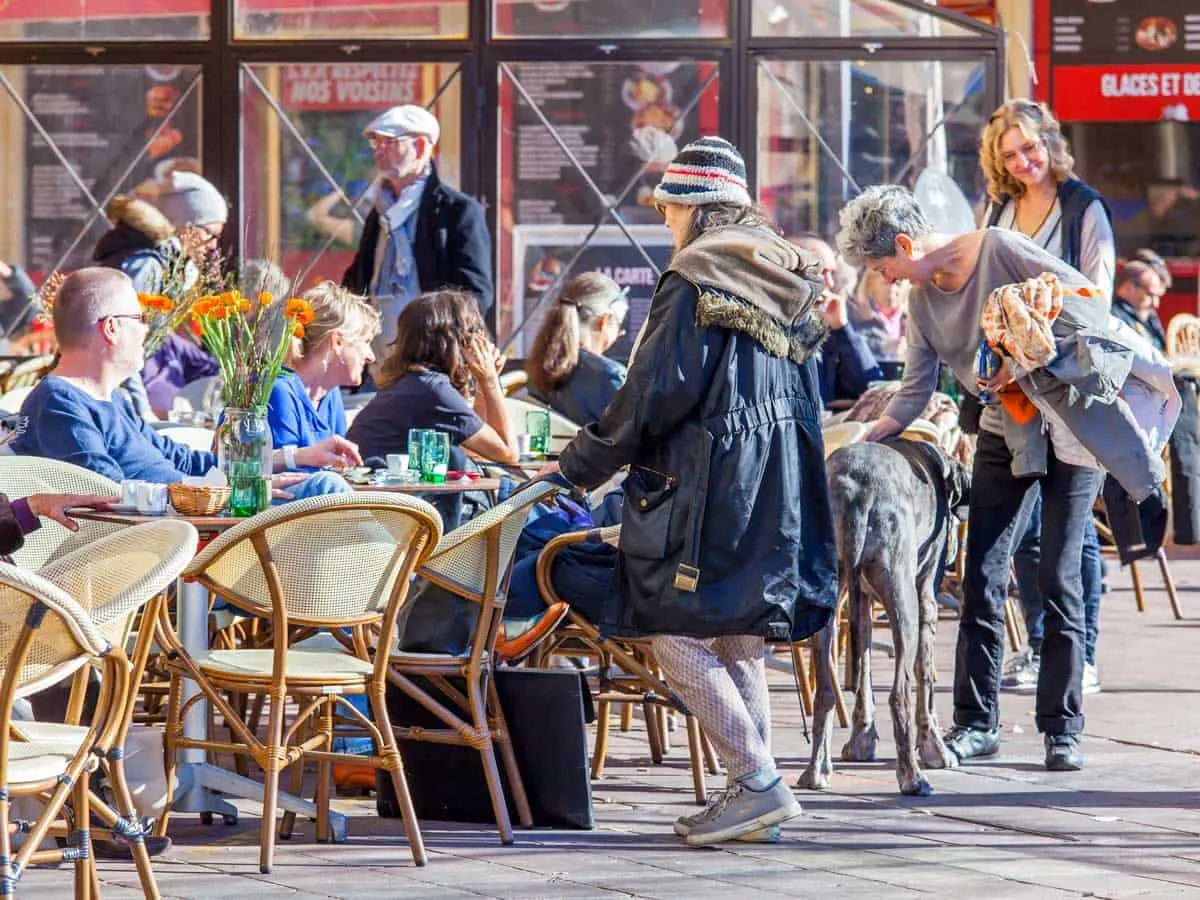 Evenings become much cooler, meaning you'll likely be having plenty of cozy meals in well-heated eateries. You'll still need wet weather gear, an umbrella, and warmer clothes for chilly nights.
Layering options are best, as days may still feel quite mild. Nice is generally quiet in November, but shops, restaurants, and hotels are still open and ready to welcome you in the off-season.
Weather in Nice in December
In December, temperatures in Nice peak in the mid 50's, with lows in the 40's. You likely won't experience much snow, as it's infrequent in Nice's Mediterranean climate.
While December won't offer a classic beach getaway, celebrating Christmas in Nice can be just as rewarding. The Promenade des Anglais is lit up during the holiday season as people bundle up and stroll the famous boardwalk.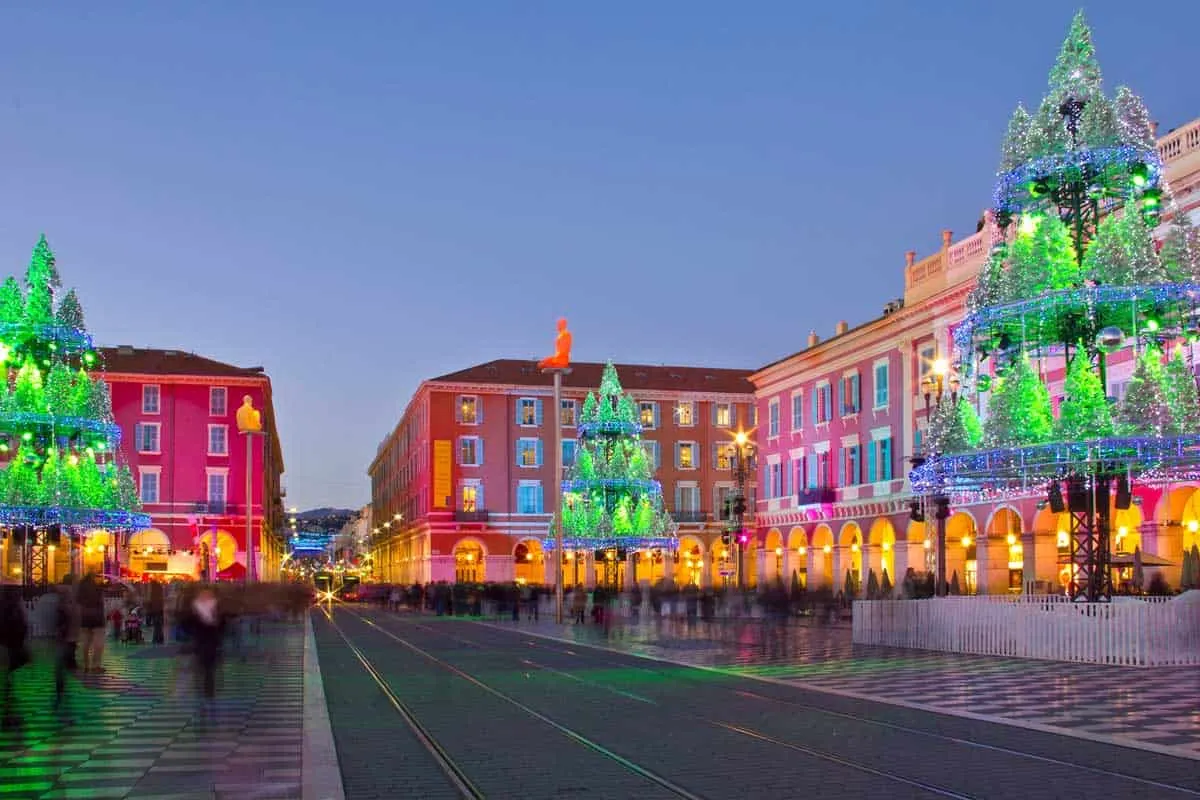 Nice's bustling Christmas village and market is the perfect place to find unique gifts and souvenirs while sipping mulled wine or hot chocolate.
Nice's citywide Christmas events include concerts, and the Cathedrale Sainte Reparate usually offers mass services on December 24th and 25th.
Spending the holidays in Nice offers a fresh perspective on this beach destination, even during cool weather.
If you find yourself staying until the end of December, don't miss Nice's New Year's festivities. The Place Massena in Old Town hosts a New Year's countdown while fireworks light up the Promenade des Anglais.
While the weather will definitely be cool and chilly, it won't be freezing, meaning you'll be able to stay out long enough to welcome the new year.
Bad Weather? Consider Visiting Monaco
If the weather in Nice turns sour and you're looking for a way to stay busy, consider a day trip to an entirely different country.
Nearby, Monaco is one of the world's tiniest nations, only a short train ride from Nice. Trains run regularly, and the entire ride takes only about 30 minutes one way. If you fancy a more luxurious commute, you can charter a yacht and enjoy the weather with a much better view.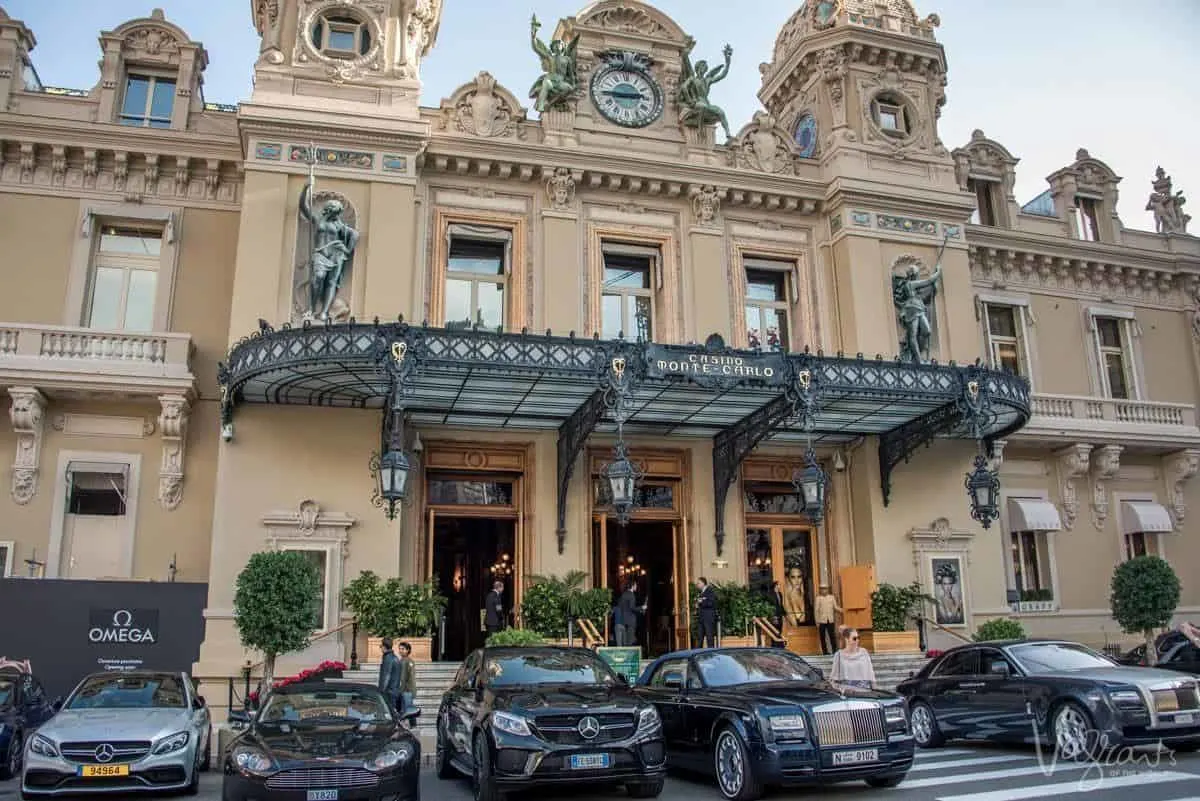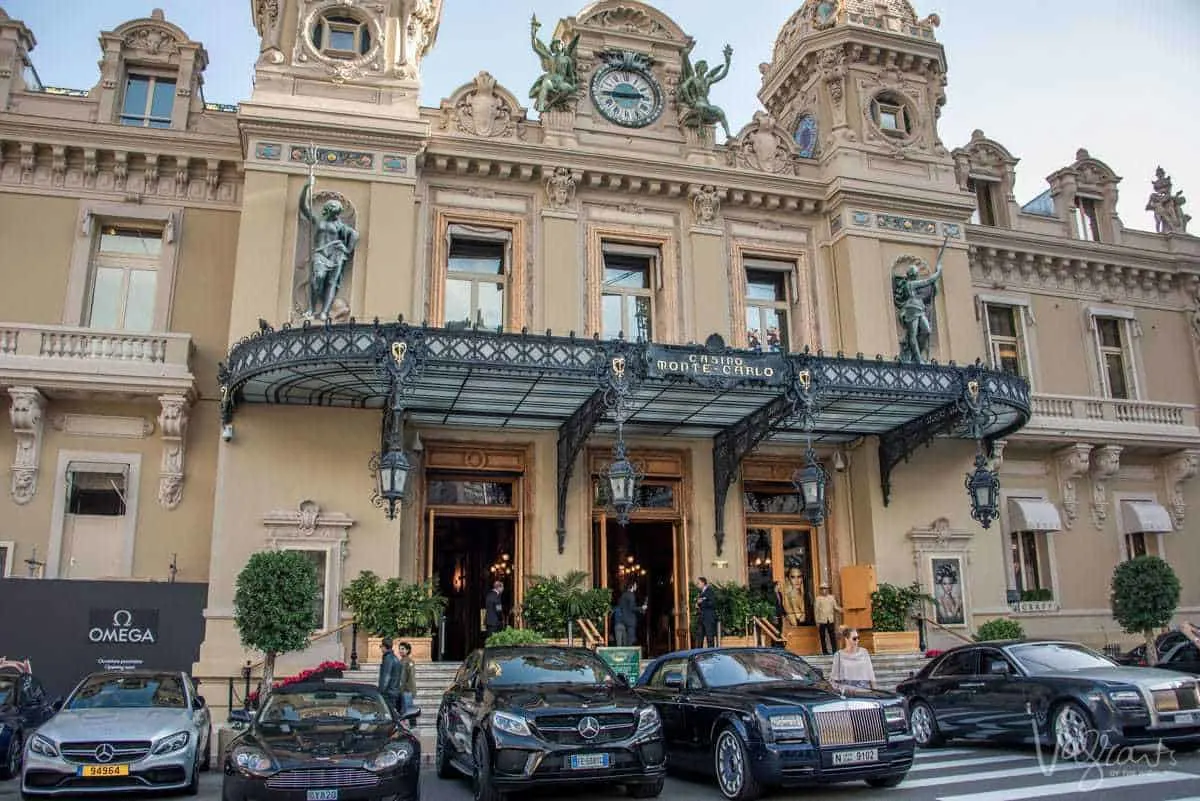 In Monaco, you can find plenty of indoor activities to take your mind off the rain. Tour the Oceanographic Museum, check out the interior of the Monte Carlo Casino, or admire the Prince's Palace.
If the weather isn't ideal for strolling Monaco's Old Town, duck into a cozy eatery and enjoy a meal as the rain falls outside. You can easily catch a train back to Nice that same day.
Nice is an iconic destination known for perfect weather. However, like anywhere, the weather in Nice can vary, so it's essential to be aware of monthly patterns.
Luckily, Nice and surrounding areas offer more than enough to do during the off-season and during the summer months.