Have you ever thought of The Philippines as a romantic travel destination?
If not, picture this: Stunning coastlines and beautiful beaches, magnificent sunsets, fantastic snorkelling, some of the best diving in the world, delicious food, unique resorts and much more.
The Philippines is a romantic paradise and one of the best value destinations for couples to visit in SE Asia.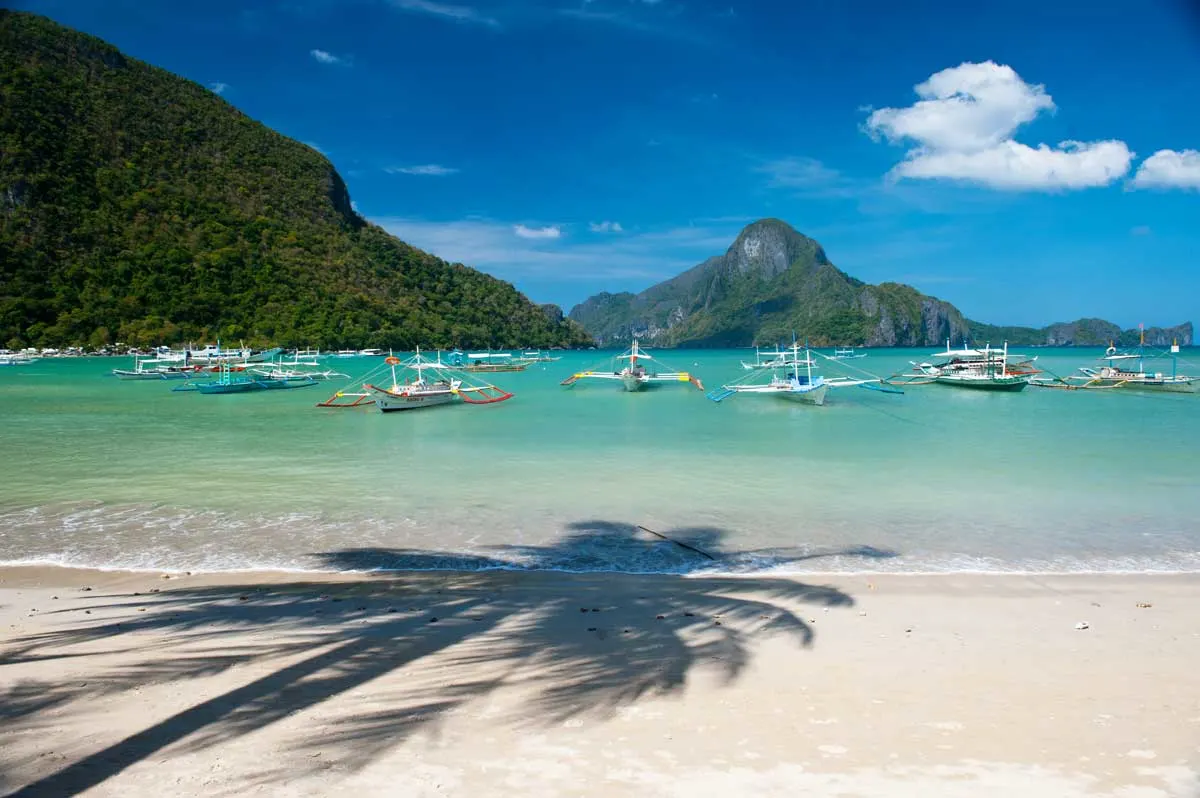 As one half of a travelling couple, I'm always looking for romantic locations and activities, and I've found lots in The Philippines.
Below I take you through some of the most romantic places in the Philippines, but first, let's look at what makes The Philippines so romantic.
Top Reasons The Philippines are the Perfect Romantic Destination
Seriously breathtaking sunsets almost every night.
Unique accommodation: Whether you want a luxury beach stay, a glamping beach experience or the chance to stay on an island houseboat, the Philippines has it all.
Extremely affordable: Whether you are celebrating an anniversary, a honeymoon, or simply having a romantic break; your money will go much further in the Philippines.
Easy to get around: Island hopping around the Philippines is pretty straightforward. You can explore lots of beautiful places in a short period.
Unique activities: A trip to The Philippines offers the opportunity to snorkel in beautiful waters, learn to dive, zipline, discover gorgeous waterfalls, and so much more. It's not your average romantic destination.
The Philippines also has easy visas which will allow you to stay longer so you can explorer all 6 of these romantic spots.
Most Romantic Places In The Philippines to Visit
---
Coron
Coron, oozing with natural beauty is one of the most beautiful places I've ever visited in the entire world. It's also bursting with romance.
We had the chance to stay on a houseboat on Coron Island – Floating accommodation is the only accommodation in the area, which makes it so unique and very romantic.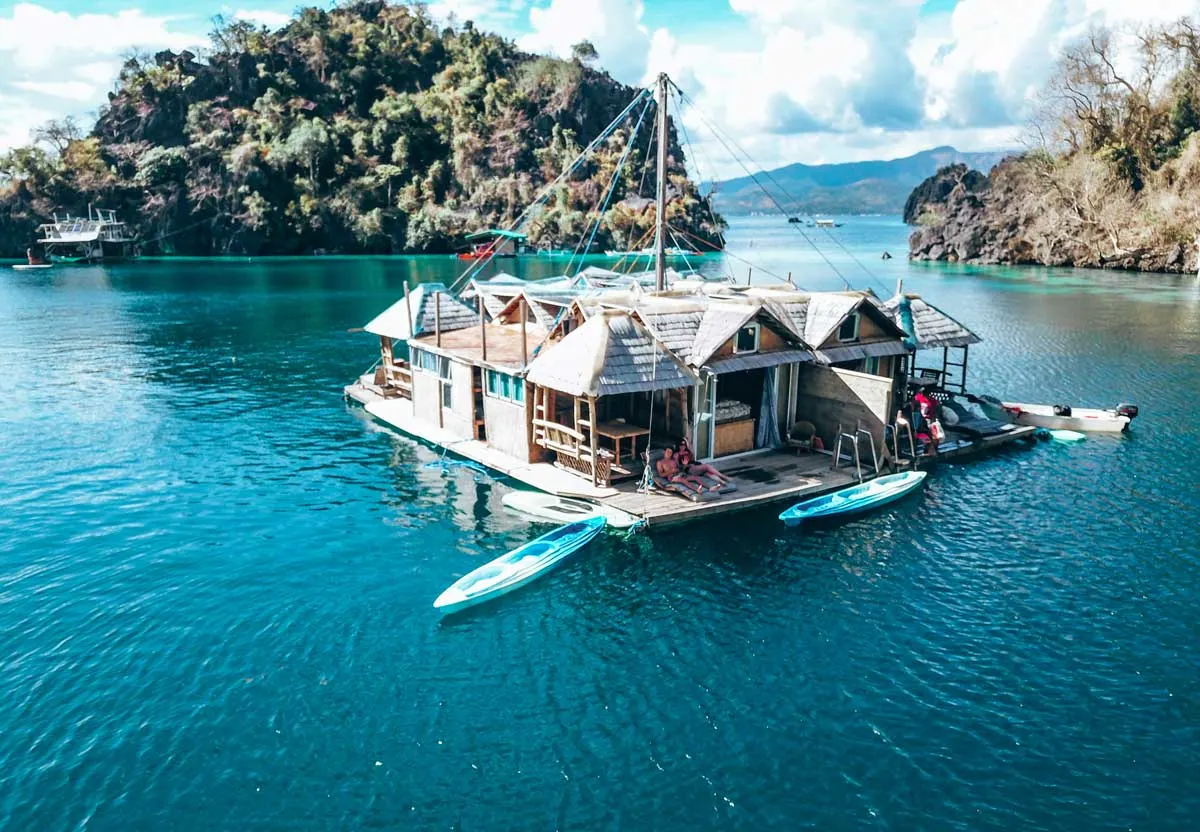 Our romantic houseboat stay included a private room with a balcony and dining area. We could step out from our room into the water to swim or kayak.
Each morning and evening, breakfast and dinner would be served on our private balcony.
The beauty and stunning water that surrounded us was astonishing. It was such a genuinely peaceful, tranquil and romantic setting.
Thanks to the location of the houseboat, we were able to visit some of the most famous spots in Coron such as Kayangan Lake & Twin Lagoon – with no one else around.
Top Romantic Things to do in Coron:
Kayak through the blue waters with no one else around
Enjoy a romantic dinner on the beach
Snorkel at Siete Pecados together
Relax in the Manquit hot springs
Enjoy a breathtaking sunset at the Coron Sign
How to get to Coron
Coron has an airport a short half-hour flight from the capital of Manila. Flights are around $50. You can also get there via Cebu, which takes a little bit longer.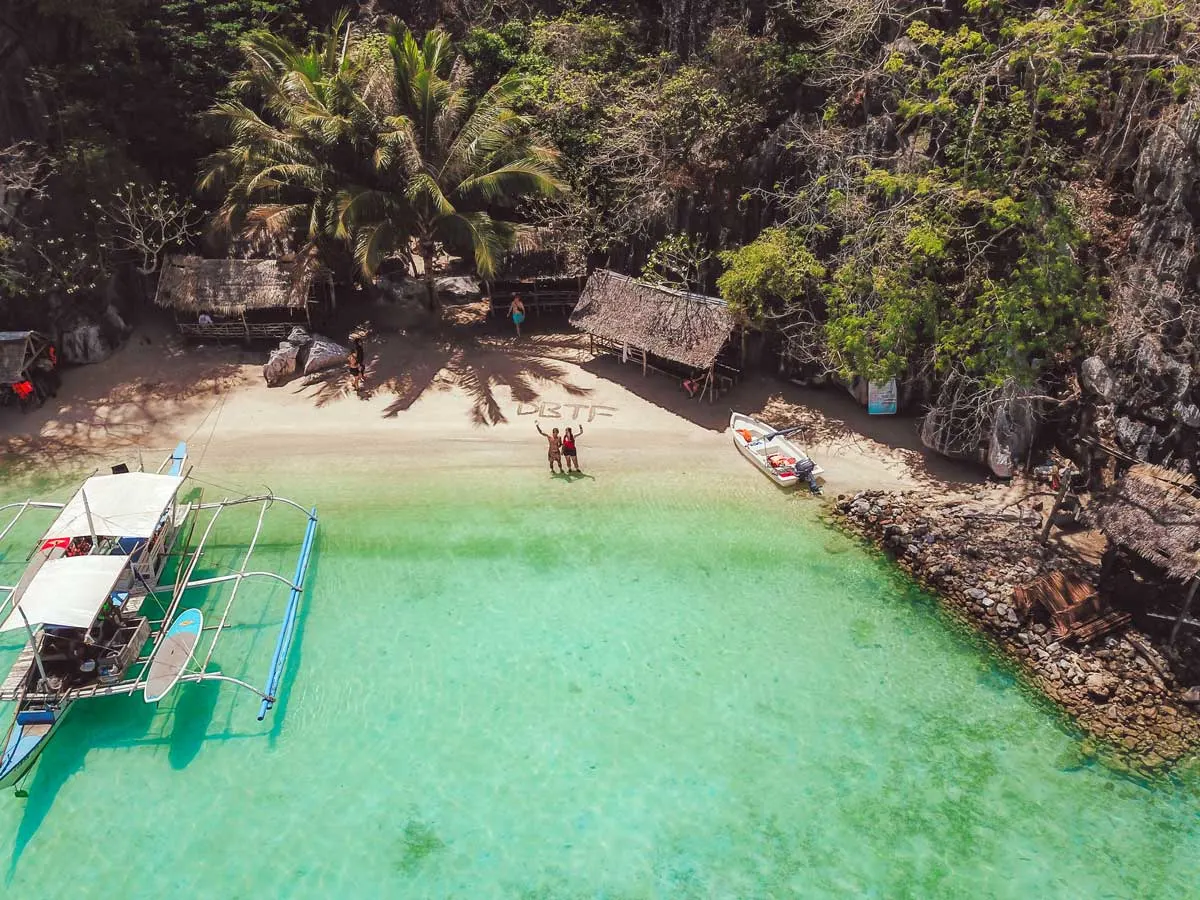 Siargao
Siargao is another incredibly romantic place in the Philippines. The island also has something to suit all kinds of couples.
Love sports and adventure? Try wakeboarding or go surfing (Siargao is famous for its surf). Love relaxing and sunsets? You'll be spoilt with amazing sunset locations and beach resorts.
Siargao also has some of the most beautiful locations in all of the Philippines, including Sugba Lagoon and the beautiful Guyam Island (which you can rent out for weddings).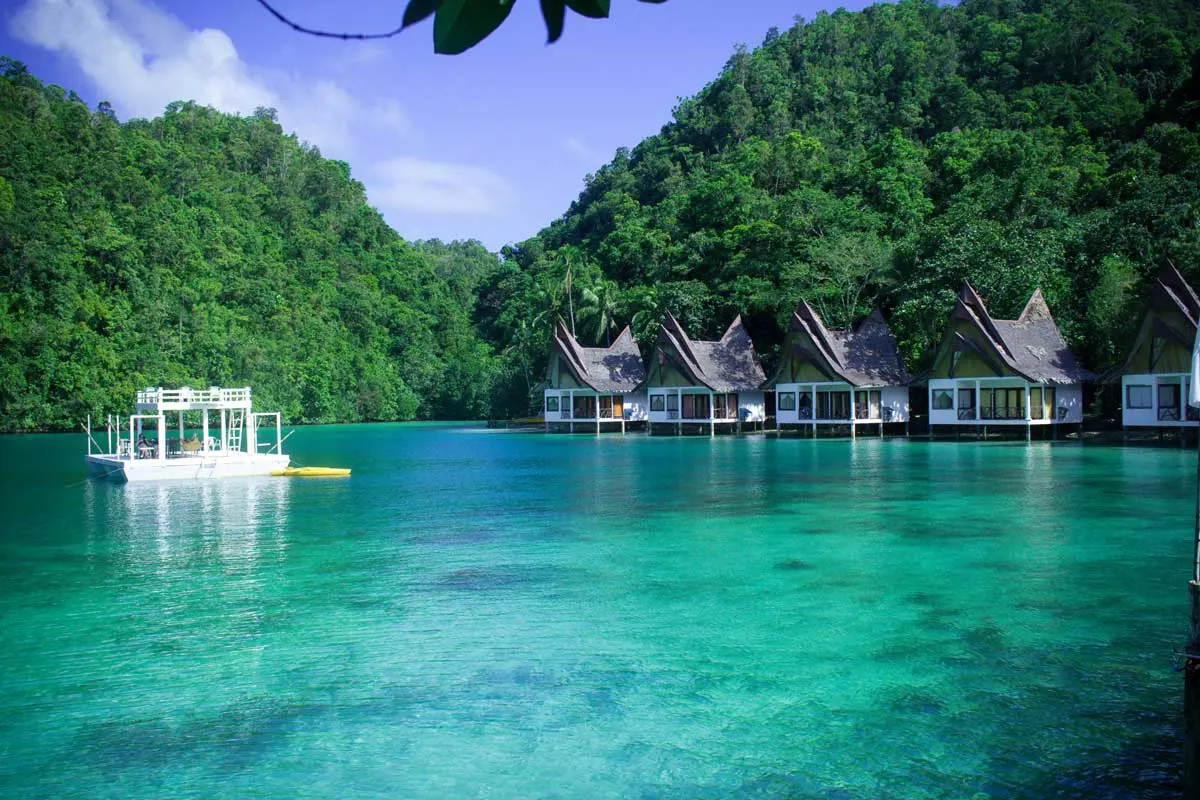 Siargao makes such a great holiday location for couples as there is so much to see and do on the island. There are also lots of romantic restaurants as well as great bars with a buzzing atmosphere. You'll make lots of great memories in Siargao.
Top romantic things to do in Siargao:
Go night surfing together
Enjoy Filipino rum on Guyam Island
Swim together at Daku Island
Have a romantic dinner on the beach
Walk among the coconut trees
Romantic beach walks
How to get to Siargao
Siargao has its own airport connected by flights from Cebu and Manila. Flights are relatively inexpensive, especially when booked in advance. You can also take a boat from Surigao.
Siquijor
Siquijor is without doubt one of the most romantic places in the Philippines, especially as it isn't too touristy – yet. It's such a small island you could see it in a day, but you won't want to.
With stunning waterfalls, postcard sunsets, beautiful beach walks, and excellent snorkelling opportunities, it is a lovers paradise. You'll easily slip into the simple pleasures of island life on Siquijor.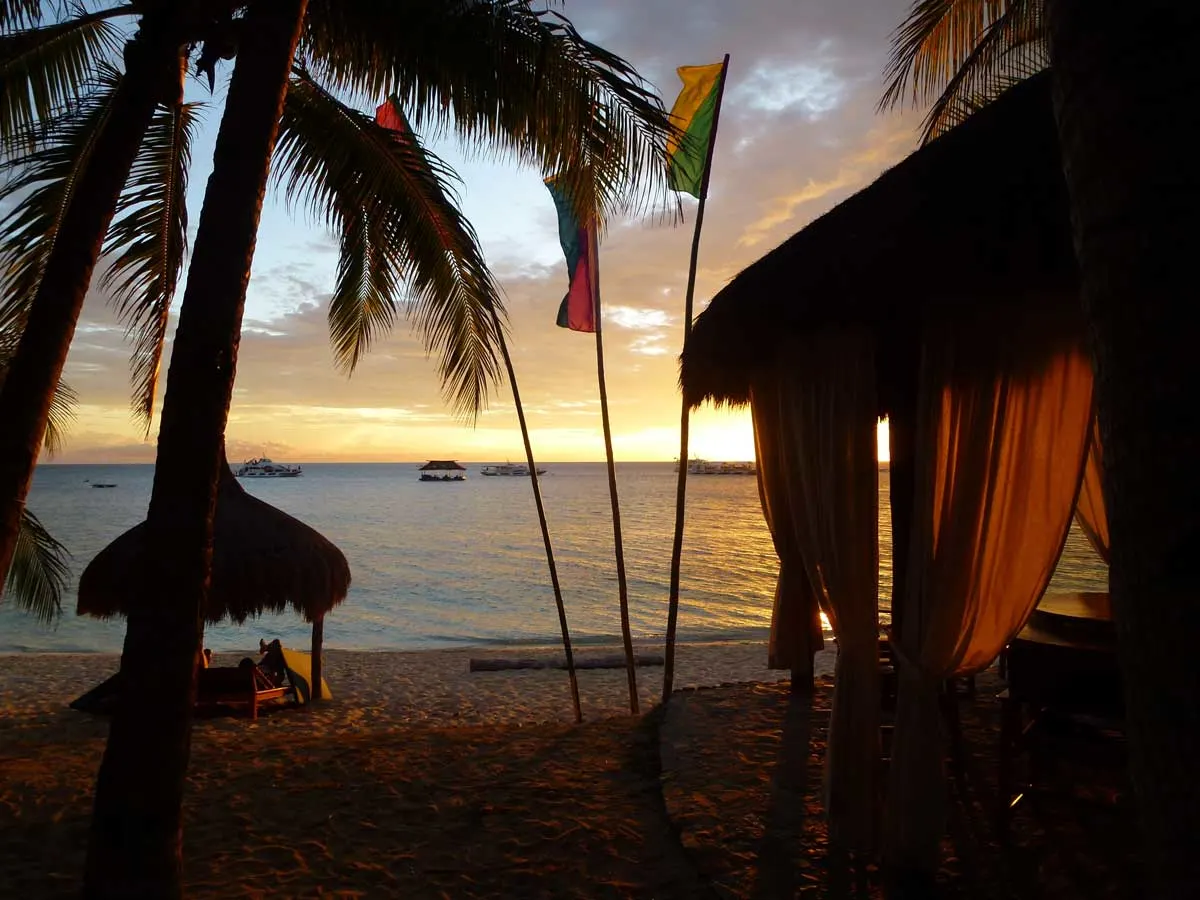 Romantic things to do in Siquijor:
Romantic sunset on Paliton Beach
Snorkel for turtles
Go waterfall hopping
Jump off Salagdoong Beach together
How to get to Siquijor
To get to Siquijor, you'll need to take a boat as there is currently no airport ( I think that will change in the future). Boats leave from Bohol & Dumaguete. Boats are fast, comfortable and not expensive.
El Nido
El Nido, while one of the most popular places in the Philippines, is still super romantic. Surrounded by postcard-perfect beaches, beautiful clear water for swimming & snorkelling, waterfalls and so much more.
El Nido is also home to some of the most fantastic island hopping tours in the Philippines. For the romantics – there are also plenty of private island hopping tours available.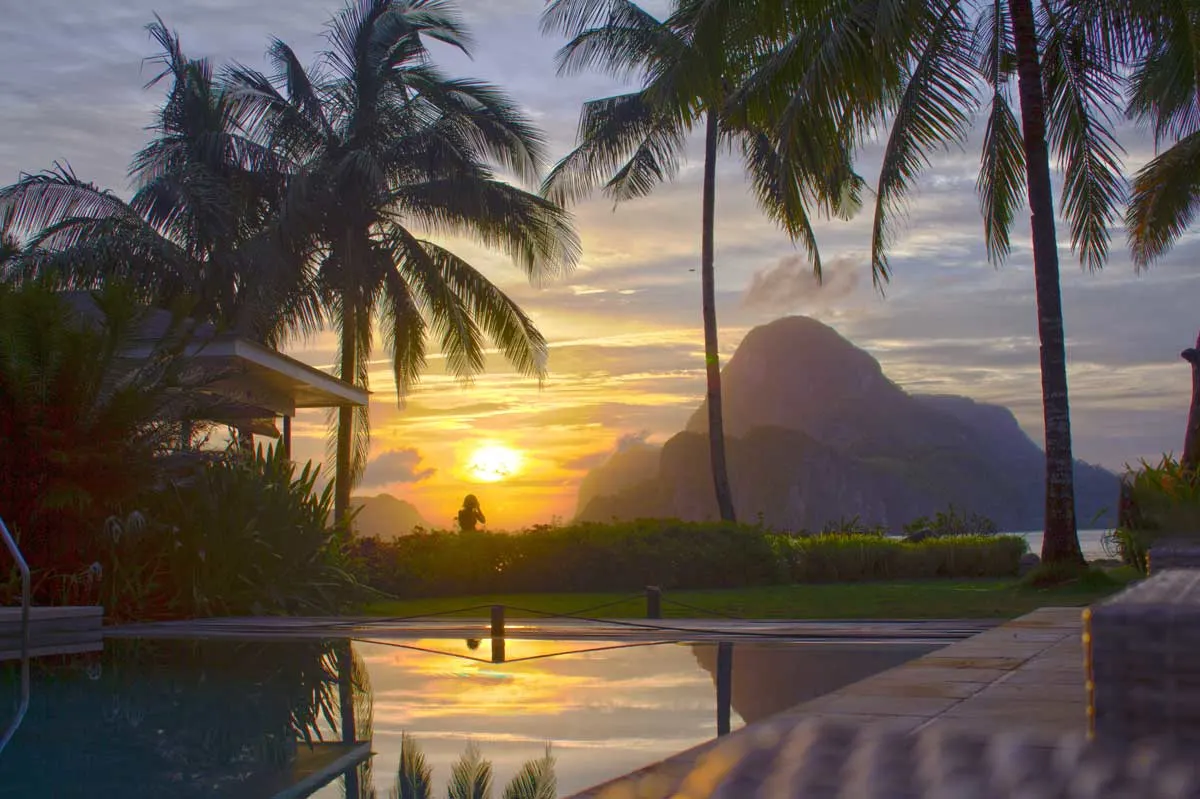 Romantic things to in El Nido
Glamping on Nacpan Beach
Romantic sunset walks on Nacpan Beach
Private island hopping tours
Romantic dinner at Las Cabanas Beach
Snorkelling in the crystal clear waters
How to get to El Nido
El Nido has its own airport connected with flights from Manila & Cebu (The two biggest cities in The Philippines). Flights are around $50, and it takes approximately 50 minutes.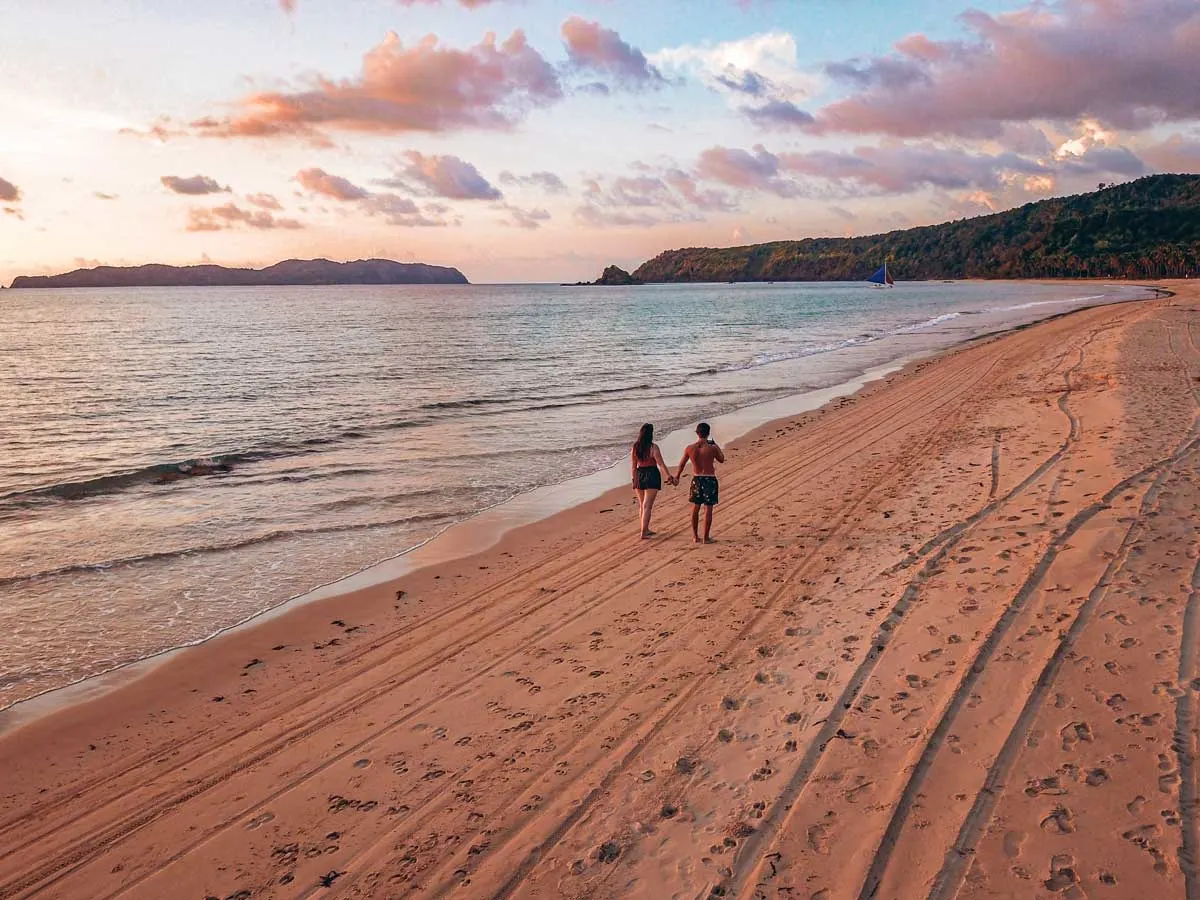 Bohol
Bohol is one of the islands in the Philippines that has it all. It's got beautiful coastline, beaches and sunsets you expect from the Philippines. But, there's plenty to do beyond the beach.
Bohol has wondrous forests, waterfalls and the geological phenomenon of the Chocolate Hills. Bohol is another island with loads to do, which will suit all ideas of a romantic getaway from the adventurous to the relaxing.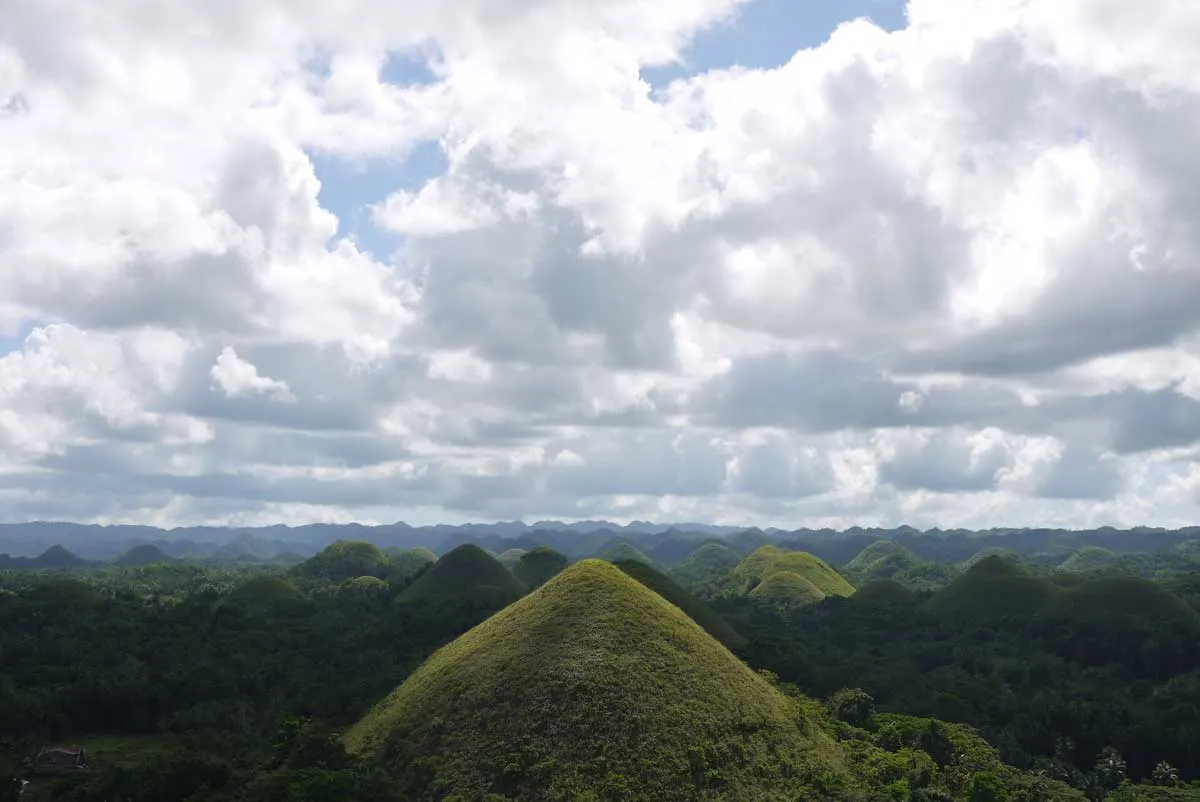 Romantic Things to do in Bohol
Sunrise dolphin spotting
Snorkelling in the beautiful waters
Romantic beachside massages
Dinner & sunsets by the beach
Breathtaking views at the Chocolate Hills
Lunch on the river at Loboc River
How to Get to Bohol
Bohol has an international airport, so it's pretty easy to get too. Flights in and out of Bohol are reasonable, especially if you book in advance.
You can also get to Bohol via boat, which is what we did. It's quick, comfortable, and inexpensive. Cebu to Bohol by boat is a popular route.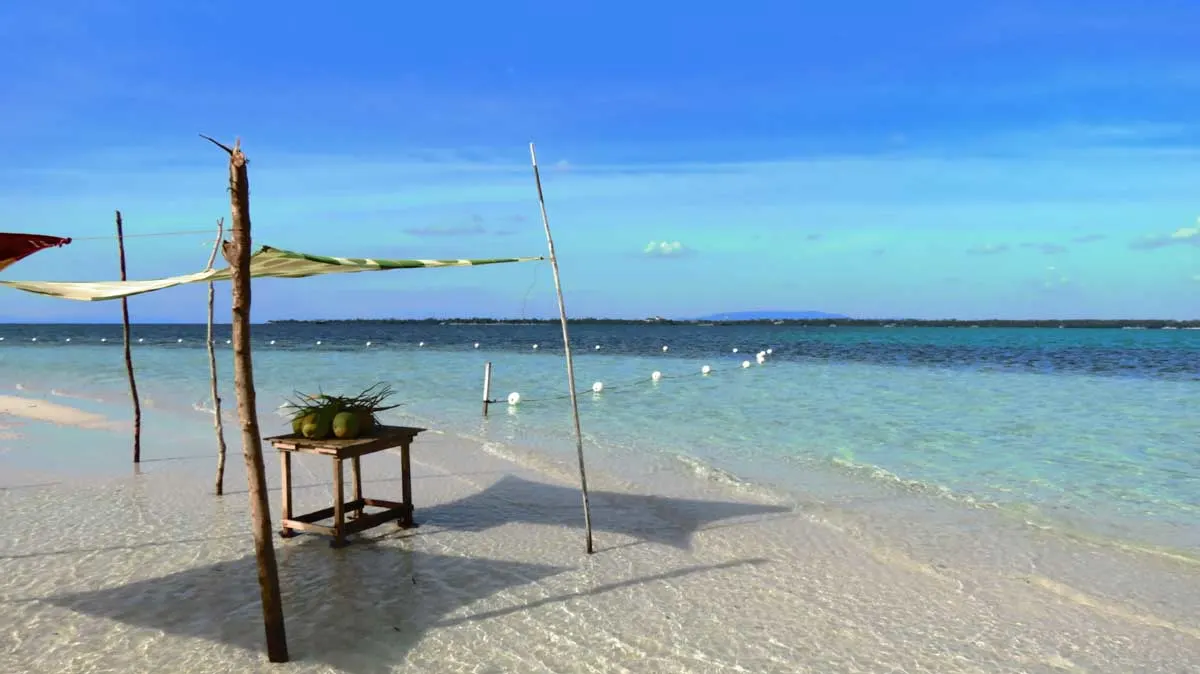 Port Barton
Port Barton is simply stunning and one of the least touristy destinations on the island of Palawan in the Philippines. It still retains a village vibe but comes with gorgeous beaches, incredible places to swim with giant turtles and much more.
If you're looking for a romantic destination that's secluded and quieter than most places in the Philippines, Port Barton is truly a special place. However, I suggest you visit soon before it gets as popular as other locations.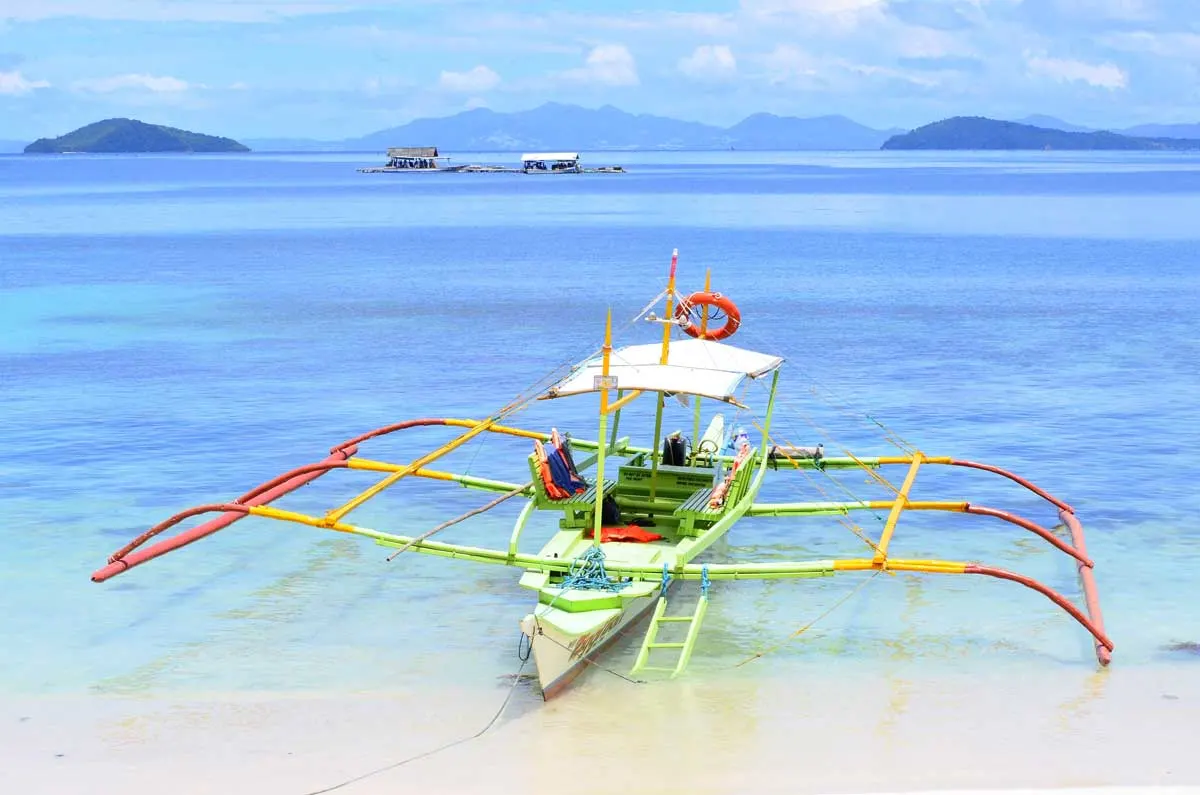 Romantic things to do in Port Barton:
Swim with the turtles
Private island hopping tour
Epic romantic sunset dinner on the beach
Beach massages in the evening
Relax at White Beach
How to get to Port Barton:
Port Barton is a couple of hours from Puerto Princesa and El Nido, both of which have airports. So you can fly into either airport then opt for a private transfer to Port Barton. Or, take advantage of shuttles that run daily from both El Nido & Puerto Princesa.
How long do I need for a romantic getaway in The Philippines?
A 10-day break in The Philippines is a great way to sample some of the best islands on offer. However, two weeks would be ideal, allowing you to explore more islands without rushing.
If you are limited on time, we recommend you stick to one area, such as Palawan, or Cebu & Bohol.
Either way, I'm pretty sure that once you visit The Philippines, you'll start planning your return to the country very soon. I know we have. Because there are so many beautiful islands to choose from, you'll never run out of places to discover and explore together.