In southern France's Languedoc region, you will find La Cité de Carcassonne – The City of Carcassonne. A magnificent medieval walled city and one of France's most famous monuments and one of the most popular places to visit in Southern France.
We have mixed feelings about the walled city of Carcassonne. Admittedly, when the double-walled impenetrable fortress with its 52 watchtowers suddenly appears, it is impressive, in a Disney fairytale castle kind of way.
Then, as you arrive at the site and navigate your way into the very organised, overpriced parking, you begin to realise the sheer volume of tourists you are about to encounter. You also begin to wonder if you have arrived at a film set, not a UNESCO site.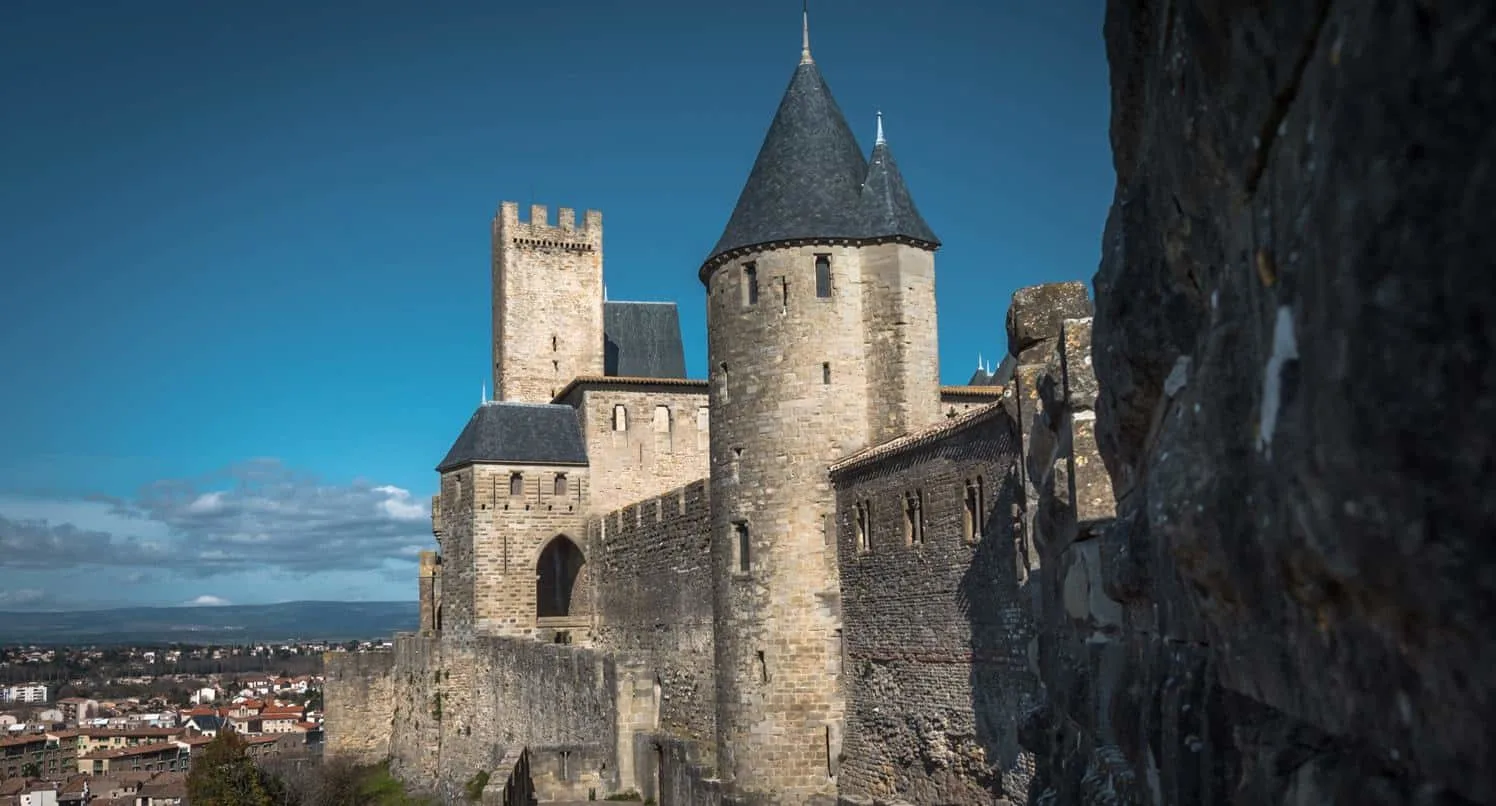 The History of Carcassonne
Carcassonne dates back to 100 Bc when Romans first fortified the hilltop. Major additions and modifications were made throughout the 12th, 13th and 14th centuries resulting in a very impressive, self-sufficient and impenetrable citadel. A city within a city.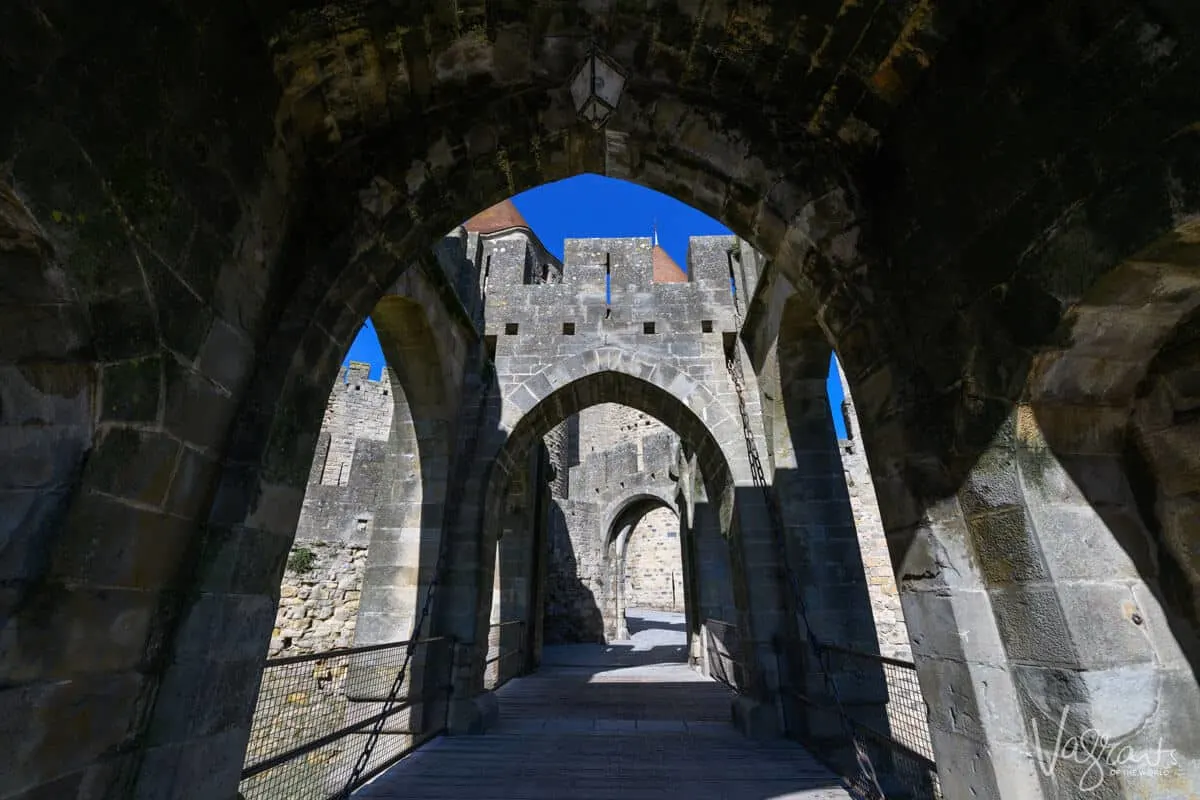 The city survived countless battles, abandonment of fortifications after the treaty of the Pyrenees and even an order of demolition by Napolean. Despite the odds, Carcassonne underwent a massive restoration project commencing in 1853.
The project met with a lot of criticism. The fortified city was in such disrepair some creative licence was needed for the architectural design. Regardless, the final product has been hailed as a work of genius and given the final nod by UNESCO. This is why the Disneyesque fortified city attracts nearly 4 million visitors each year.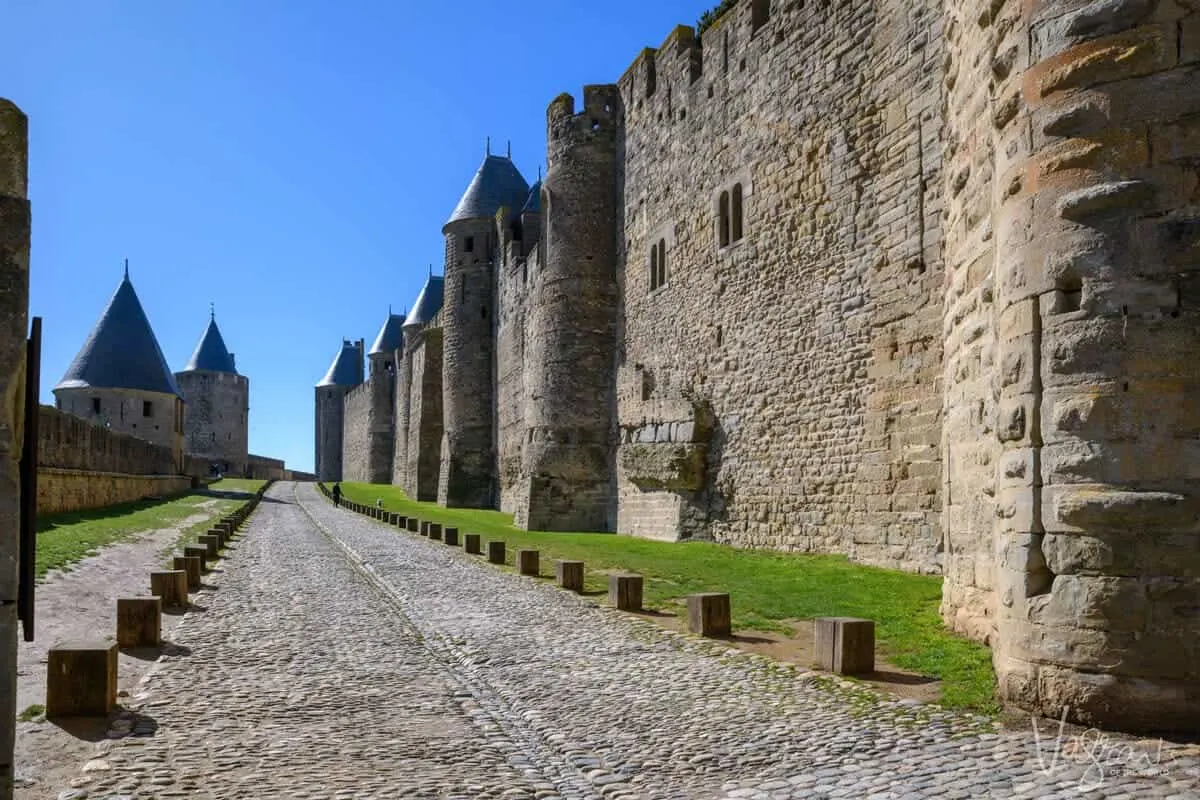 Inside the Fortified City of Carcassonne
Should we have mixed feelings about such an impressive monument that attracts so many visitors?
Once you come to terms with the fact this is not really a Disney castle or medieval film set and you wander into the narrow city streets, it really is very impressive. Sure, it's still touristy but it's kind of exciting to think Carcassonne is still an active, functioning city.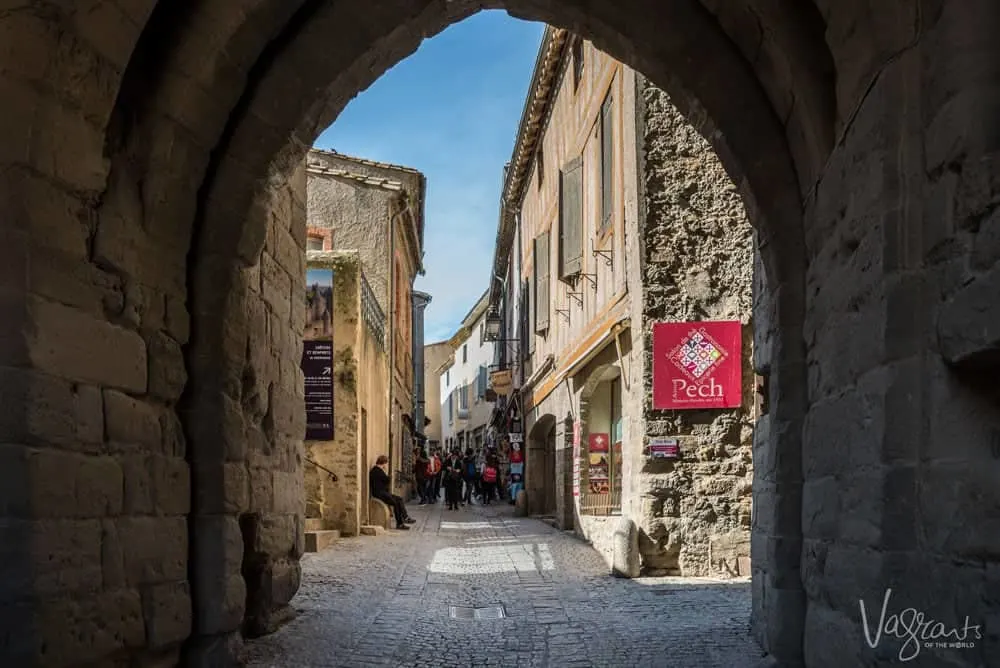 ---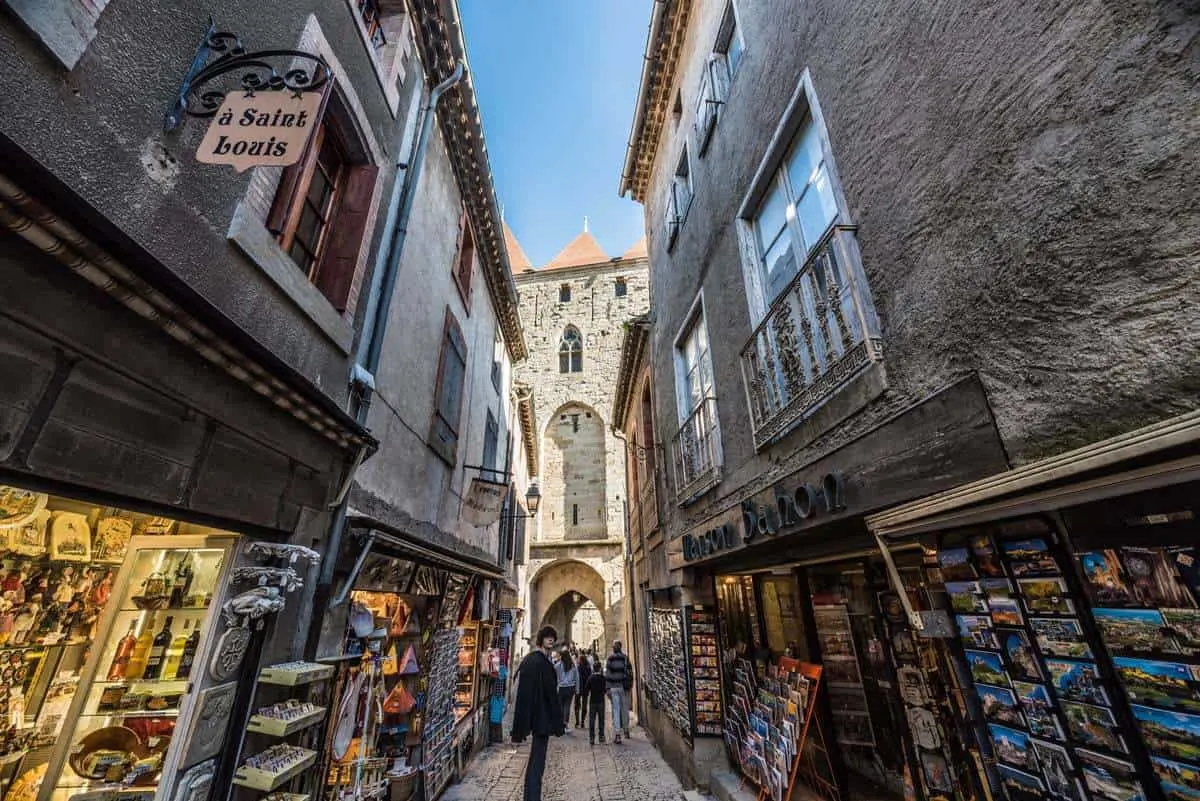 Meander down the narrow city streets, past the souvenirs and "Ye Olde World" themed shops. Hustle through the throngs of tourists and school groups and you will stumble out of the medieval maze onto gorgeous city squares.
Stylish clothes stores with hefty price tags, boutique hotels, cafe's and white linen restaurants stand side by side with postcard racks and plastic medieval weapons for sale.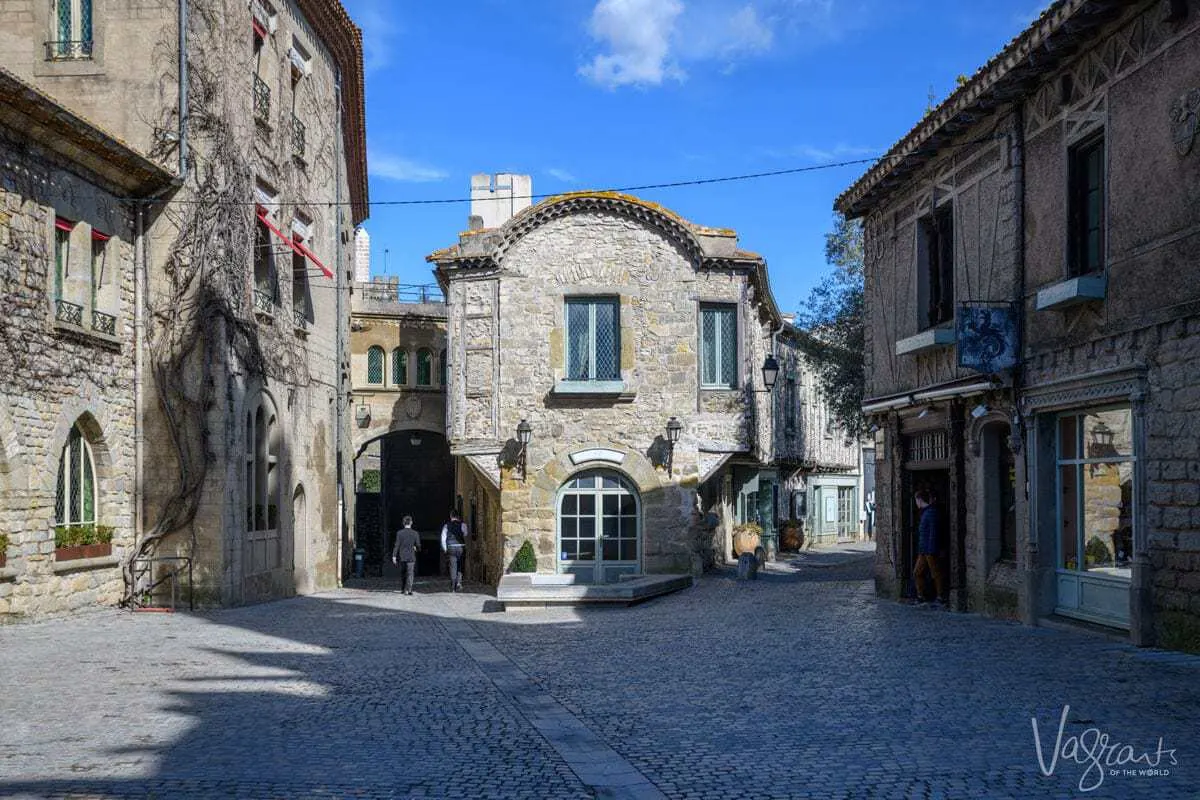 Things to do in Carcassonne
Here is part of our conundrum. While the city is clearly aimed at busloads of quick stop tourists spending a buck on medieval trinkets, there is also a certain style of establishment and business which appears to be aimed at the more astute, longer-term visitor. Day-trippers or locals with a long and relaxed lunch in mind.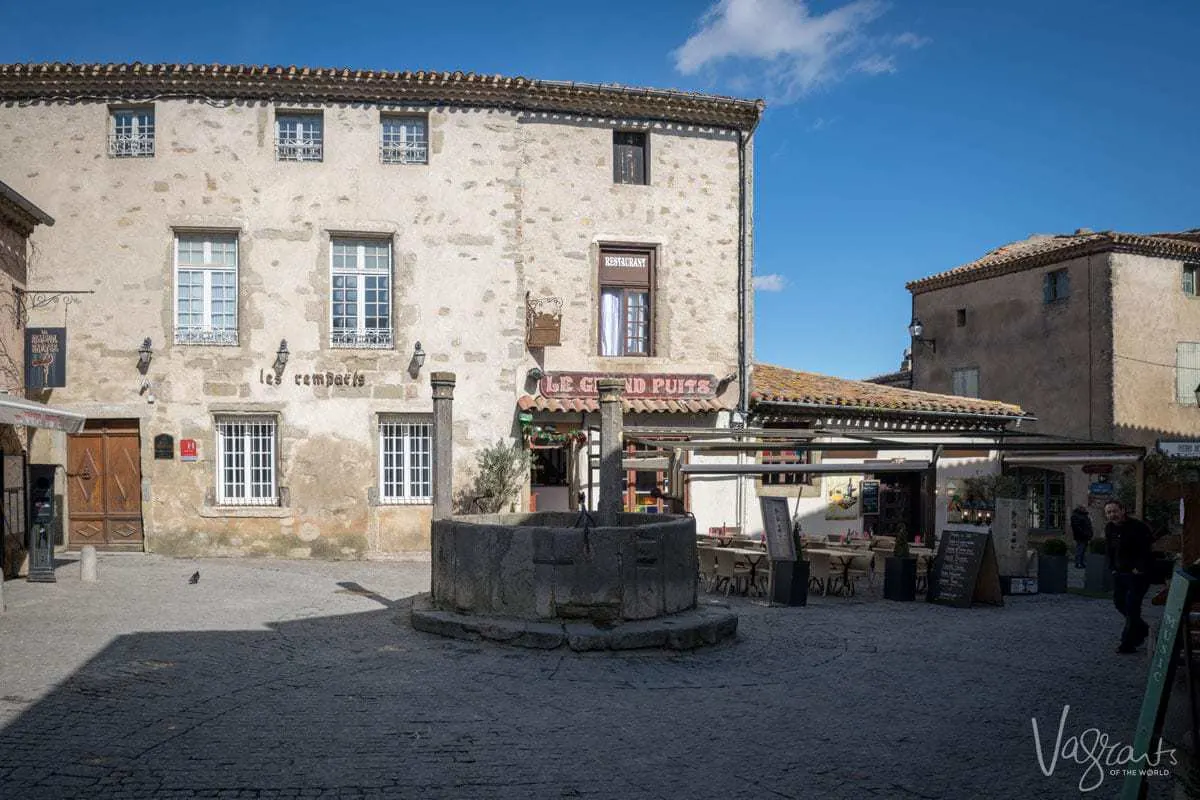 This gave us the impression La Cité de Carcassonne is much more than a tourist destination and must cater to locals and travellers alike. Perhaps there would even be a lively social scene after the buses had left for the day.
Unfortunately, we think once the tourists have left there is very little activity within the walls of the medieval city, save for special events and festivals.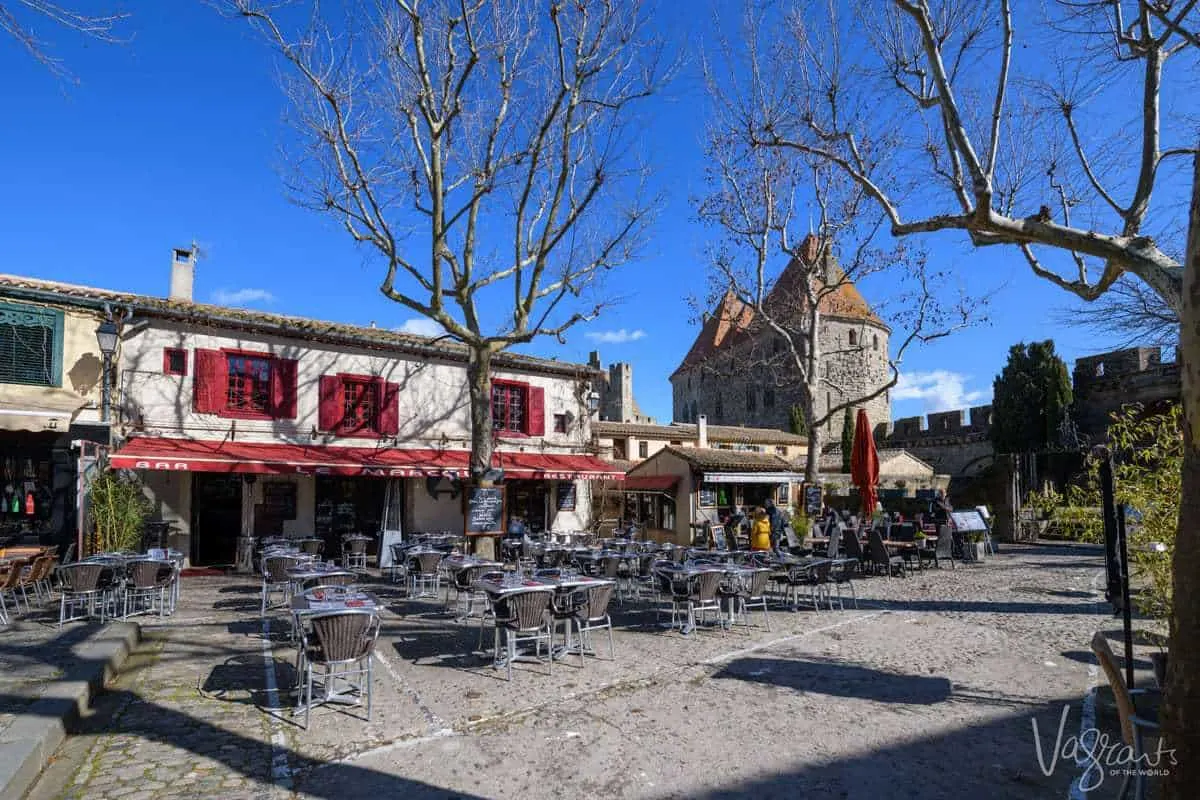 Staying in Carcassonne
So what would be the merit in staying within the walls at one of the quaint guesthouses or quite exclusive hotels such as Hôtel de la Cité in Carcassonne? Perhaps to have the meandering lanes to yourself for an evening, or to enjoy the silhouettes of the watchtowers against the night sky.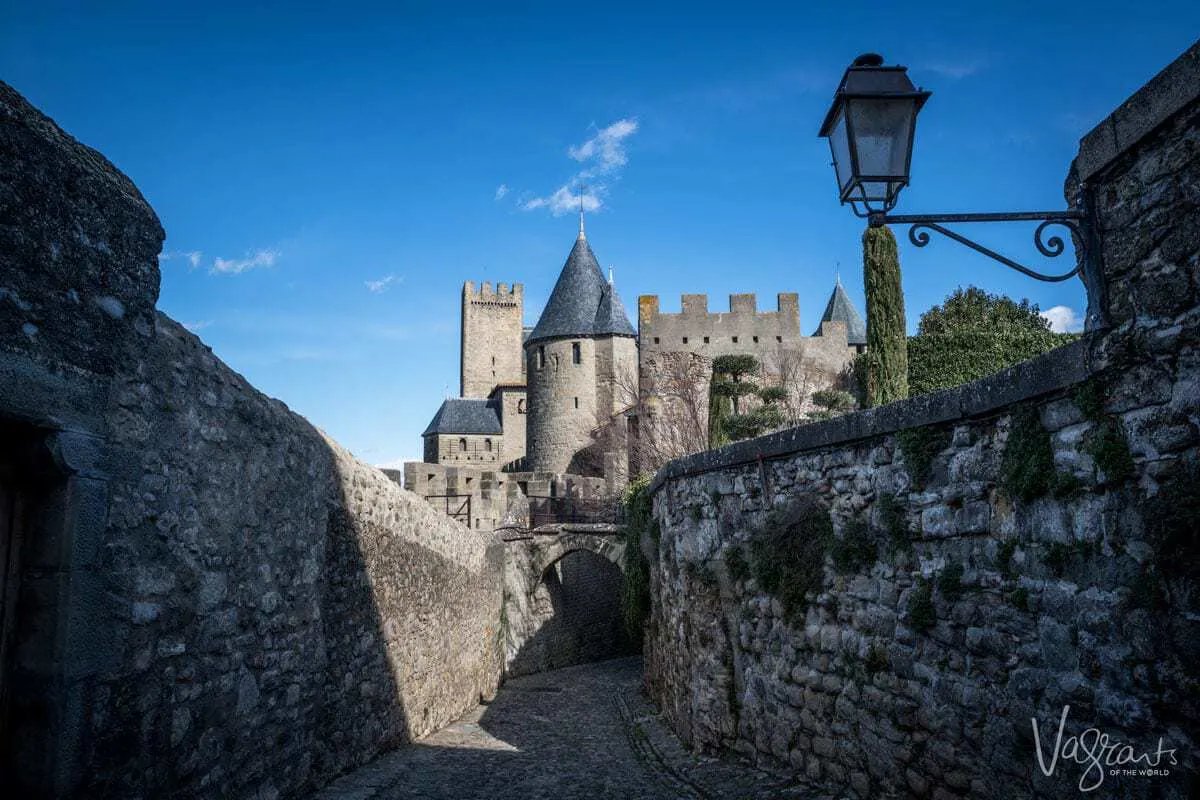 Possibly in the peak of summer, you could stroll the lanes in the evenings and enjoy the atmosphere of restaurants and cafes brimming onto the streets. The atmosphere of a historical city that is still alive, although we are yet to hear anything to support this.
Was there a vision for the future of this ancient city that has not yet been quite realised?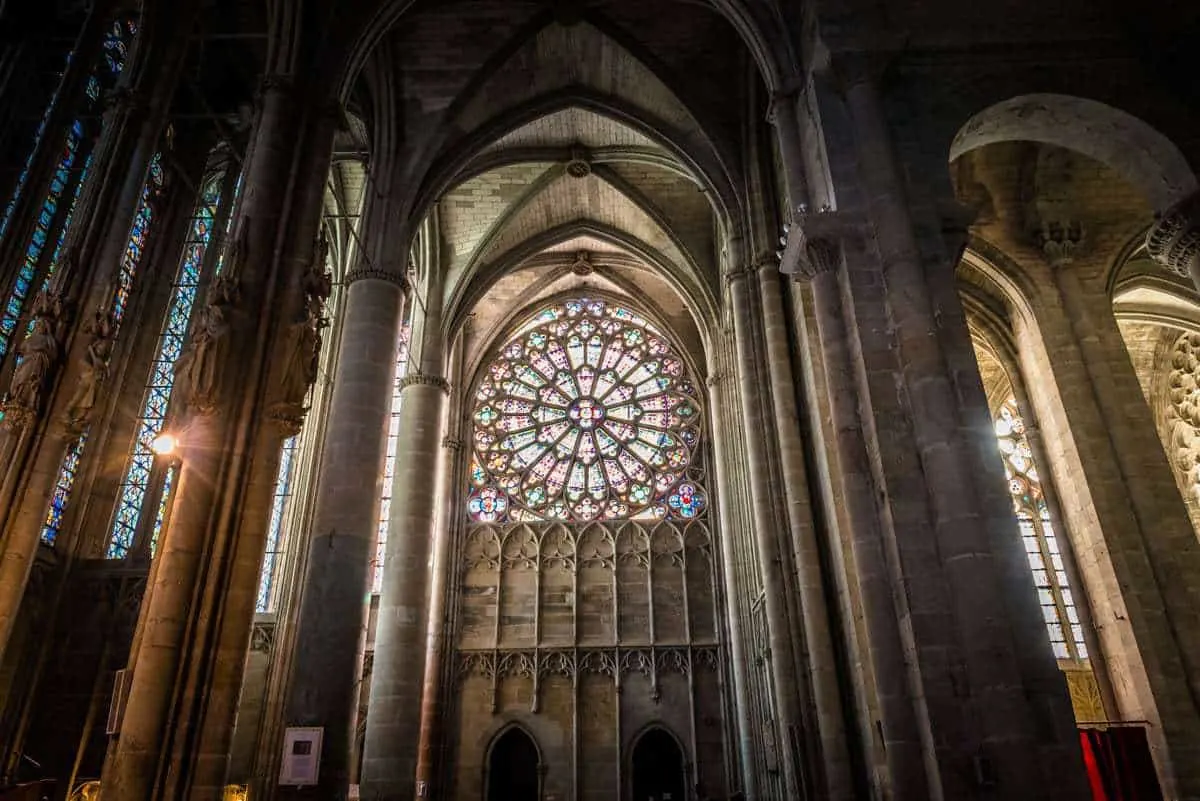 Walk the City Ramparts
While entry into the city is free, you must pay to enter the castle and walk the ramparts. Approx €8 per adult. This is something you really must do if you are to make the effort to visit Carcassonne.
Again, you will feel you have stepped onto a film set but will soon appreciate the enormity of the walled city and what it must have been like to live during medieval times. This is an experience to bring the inner child out in us all which is why Carcassonne is one of the great attractions in France for kids. From the ramparts, you can also appreciate some very scenic views.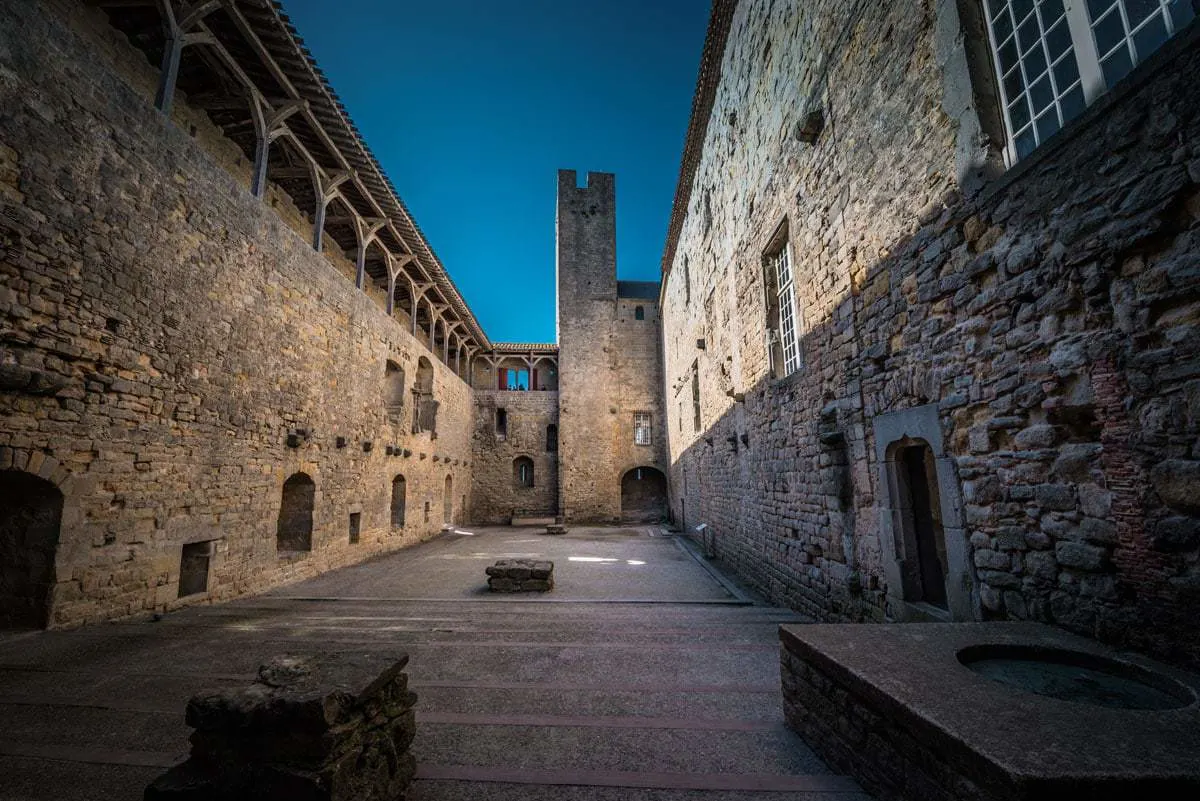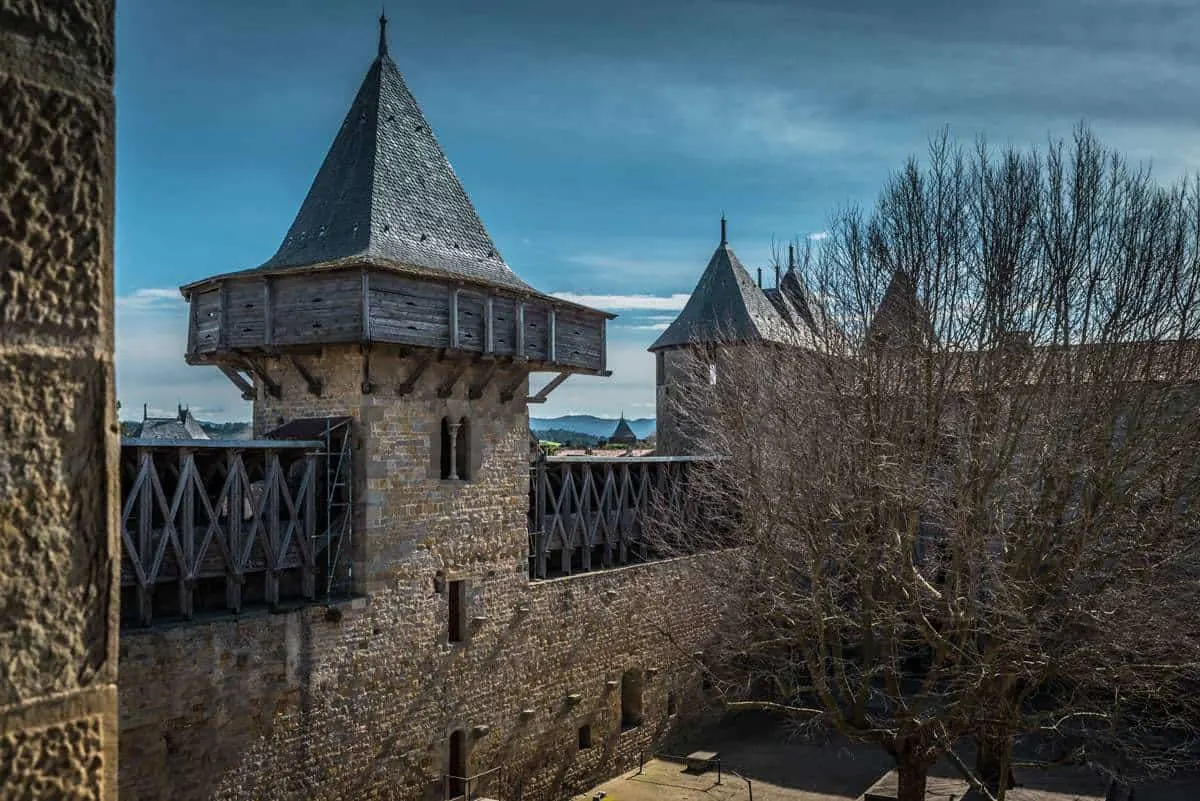 Day Trips and Tours to Carcassonne
All in all, a day trip to Carcassonne is fun. In the height of tourist season be prepared for long queues and the city streets to be quite congested. The downside to Carcassonne is there is not much else worth seeing in the area.
We were already close by in the Ariege Department of the Midi-Pyrenees so it was not much hassle to make the two trips to La Cité de Carcassonne. We couldn't find the enormous castle on the first trip. Go figure.
Carcassonne Tour Recommendations
Day Trip from Toulouse
If you don't have transport and want an easy option from Toulouse, you can take a full day tour which is transport to and from only leaving you to explore Carcassonne at your leisure. Prices start from €21 pp. See full tour details here.
Carcassonne Private Walking Tour
Take a 2-hour private walking tour of the medieval fortified town, castle, museum, and spectacular ramparts to learn discover the human and architectural history of the UNESCO-heritage listed city. Price starts from €18 pp. See full tour details here.
See a full range of Carcassonne tours here including wine tastings in the Languedoc wine region, Albi and surrounding Cathar Castles.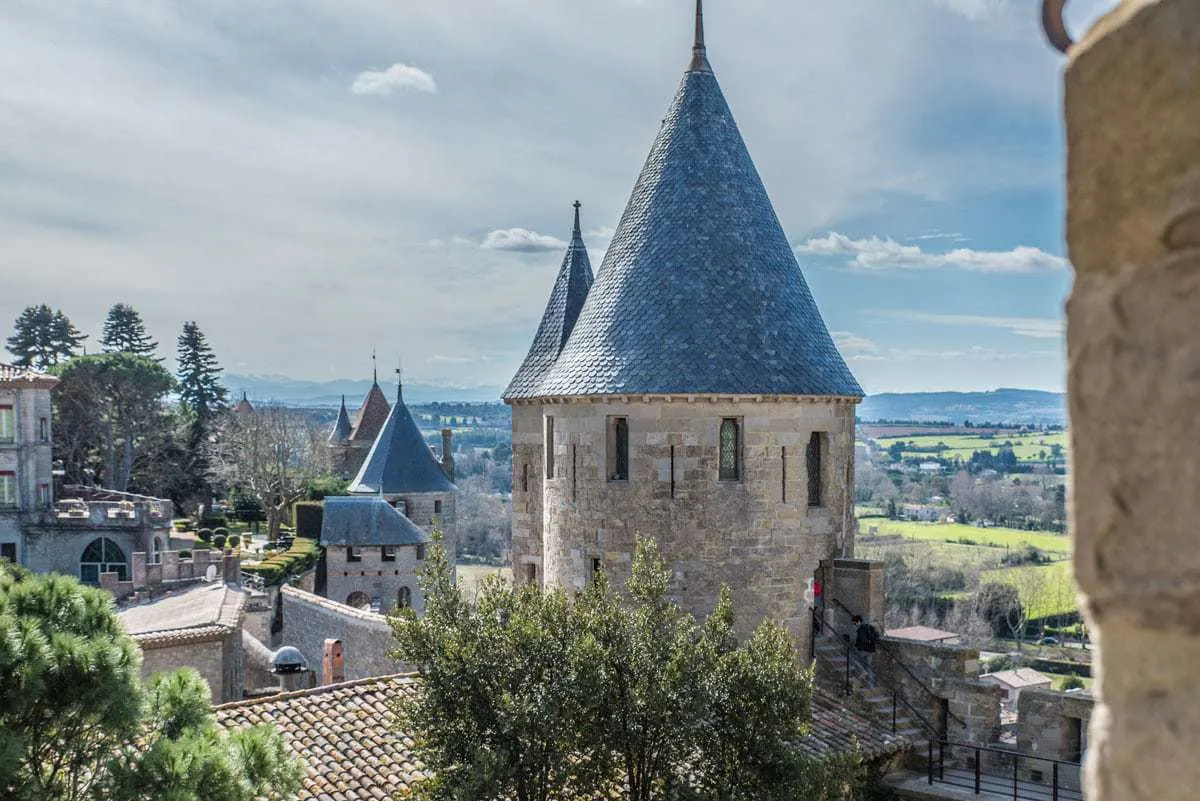 If you are a huge fan of the popular Carcassonne board and computer games, created for the walled city or a fan of Kate Mosse's book Labyrinth set in Carcassonne Le Cite de Carcassonne will be a must-visit. However, we believe the south of France has many beautiful castles, especially the Cathar Castles in the Languedoc and Ariege regions to keep you happy without having to make the detour or endure the crowds.
If you do decide to make the trip, we have it on good authority the Haunted House is worth the entry fee. We bypassed this as a cheap tourist trap but later found out this is an experience that will have grown adults fleeing white-faced onto the street.
Carcassonne Opening Hours
The walled city of Carcassonne is always open as it is a functioning city. The Castle and Ramparts are open every day as per the following hours.
2 January – 31 March & 1 October – 31 December | Every day from 09.30 – 17.00
1 April – 30 September | Every day from 10.00 – 18.30
Allow 45 minutes before closing for last admission.
Battlements close 30 min before closing.
Entry to the Castle and Ramparts: €9.00
---