Take a city tour of Johannesburg and you will quickly realize the cities most visited attractions have some connection to the apartheid era. However, the Gauteng Province has so much more to offer. We have 5 unmissable day trips from Johannesburg to top your list!
Within a couple of hours drive from Johannesburg city, you can be on safari on a game reserve, in the mountains or experiencing tribal cultures.
Make the most of your time in Joburg by including these great day trips from Johannesburg in your itinerary.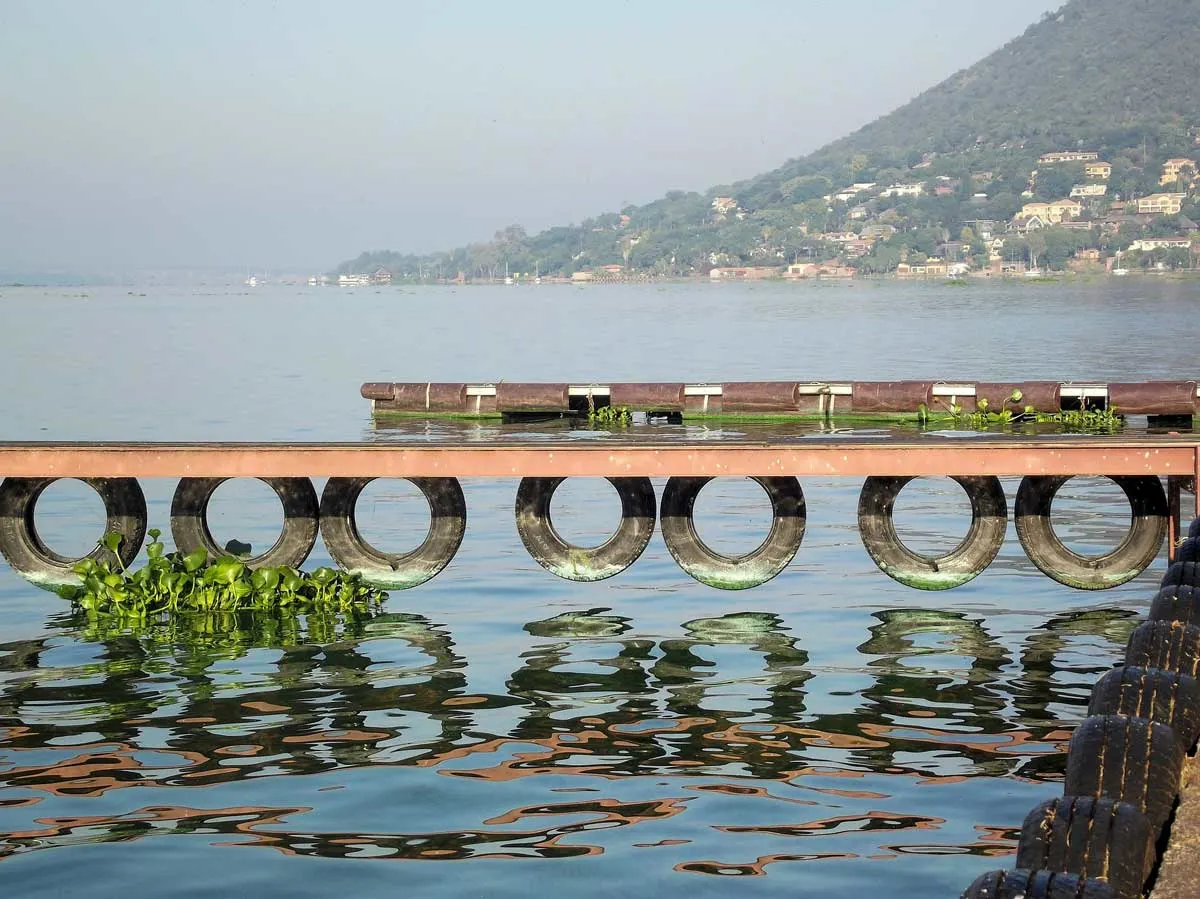 Things to Know About Travelling in Johannesburg
Tourism around the area of Johannesburg is on the increase. With so many geological wonders and so much natural beauty, it's no surprise.
While it is no secret that crime in South Africa is higher than in many other countries, it is much safer than in previous decades.
Safety Precautions for Johannesburg
When travelling abroad, it always pays to be safety conscious. Never carry too much money or anything of value.
If you are concerned about driving, arrange organised tours as these are much safer. We have provided recommendations of the best value for money tours for each day trip.
If you do decide to hire a car and drive yourself around, make sure you always keep the doors locked and the windows closed, especially at traffic lights or in traffic.
Slow down gradually at the traffic lights and leave plenty of distance between yourself and the vehicle in front.
Do not leave any personal possessions on show in the car or tour bus and always take your belongings with you.
---
Car Rental in Johannesburg
Car rental in Johannesburg and South Africa as a whole is very affordable and an excellent way to get around the city and out on day trips without relying on tours or public transport.
Discover Cars have excellent Car Rental Deals in Johannesburg with no hidden fees and free cancellation.
---
Top 5 Day Trips from Johannesburg
Safari at Pilanesberg Game Reserve
On a visit to South Africa, seeing the big five is at the top of most people's list, and there's no better place to go on a self-drive safari than Pilanesberg.
You can reach the gates of Pilanesberg National Park in the Northwest Province in two and a half hours from Johannesburg city. The reserve, once a volcanic crater, impresses visitors with stunning dramatic scenery.
Each section of the park offers different vistas with unique rock formations, thick Acacia thickets, vast open grasslands and pockets of arid land.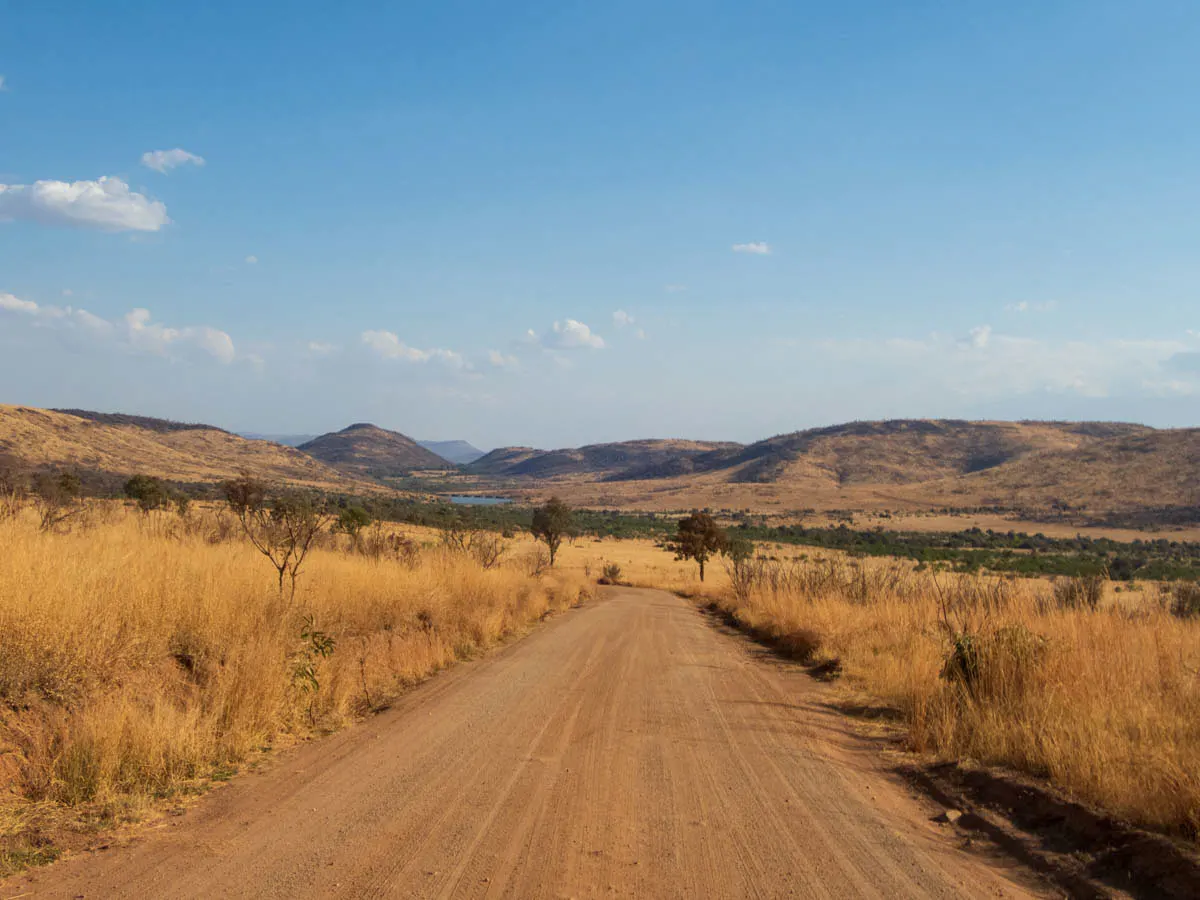 Pilanesberg has several dams with photographic hides where you'll often get magnificent sightings of elephants, zebras and other game. Home to over 300 species of birds, the park is a haven for twitchers and is also one of the best parks in Africa to see Leopards and African wild dogs.
You can take a self-drive safari around the game park or book a game drive if you would like to the experience of a professional safari guide.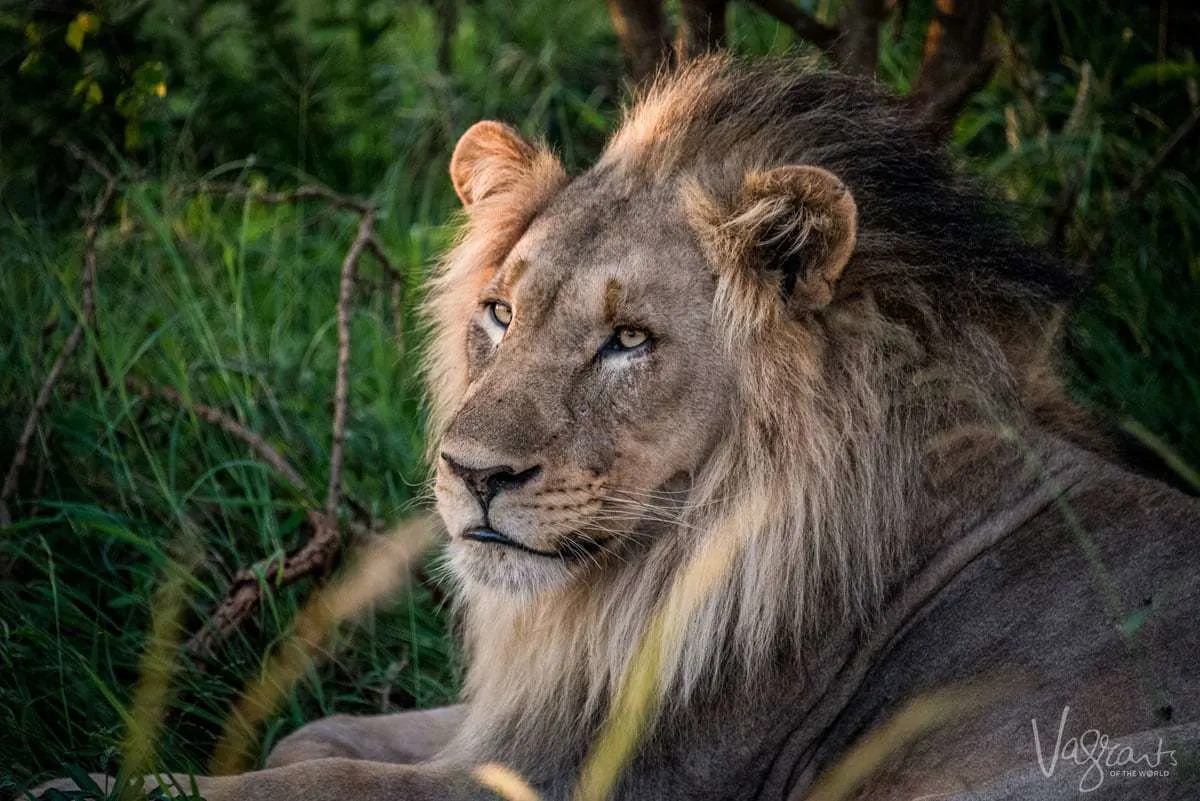 ---
Visiting Kruger National Park? Let us help you plan your Kruger self-drive safari with our Practical Guide to Kruger Self Drive Safari for First-Timers.
---
If you choose self-drive safari, the main road through the park is tarmac, and most of the tracks are accessible in a standard car. The best sightings are often along Kabu drive near the Bakubung gate and around the Mankwe dam.
The park has a visitors centre in the middle of the reserve which has a cafe and a shop.
Directions to Pilanesberg National Park
To get to Pilanesberg National Park, follow the N4 to the Northwest Provence and pick up the signs to Pilanesberg.
Open Times and Entrance fee to Pilanesberg
Opening Times: The gates are open from 6 am till 6.30 pm.
Entry: The entrance fee is 110 ZAR (~USD$5.90) for foreigners. There's also a charge of 40 ZAR (~USD$2.15) for your vehicle.
Pilanesberg Nature Reserve Tour Recommendation
Pilanesberg Nature Reserve Full-Day Safari from Johannesburg
Take a full-day safari tour of Pilanesberg Game Reserve from Johannesburg. The tour includes:
Return transportation from your Johannesburg hotel
Two 2.5-hour game drives with a qualified ranger in an open safari vehicle.
Lunch and all conservation fees
Extend your stay in Pilanesberg National Park
While you can easily take a day tour to Pilanesberg for Johannesburg, it's worth staying at least one night, as the best wildlife sightings are usually at dawn and dusk.
Sun City is the best place to stay as its close to the park. It has a multitude of facilities including a golf course, a casino and an outdoor water park.
If you prefer somewhere a little quieter, the African tented lodge is superb and only a 10 minute drive away.
Cradle of Humankind
The Unesco World Heritage site in the Gauteng Province is a fascinating day trip. Archaeologists discovered some of the oldest hominid fossils here in caves amidst the vast grass savannahs.
You can visit the Sterkfontein Caves as well as the Maropeng visitors centre, both of which have fascinating museums.
Maropeng Visitors Centre
The visitors centre takes you on a journey through the evolution of humankind. There are some superb interactive exhibits for children and some exciting fossils and bones to see.
Scientists now widely believe that Africa was where human life began over 3.5 million years ago. The world-class exhibits will give you great insight into your ancestors.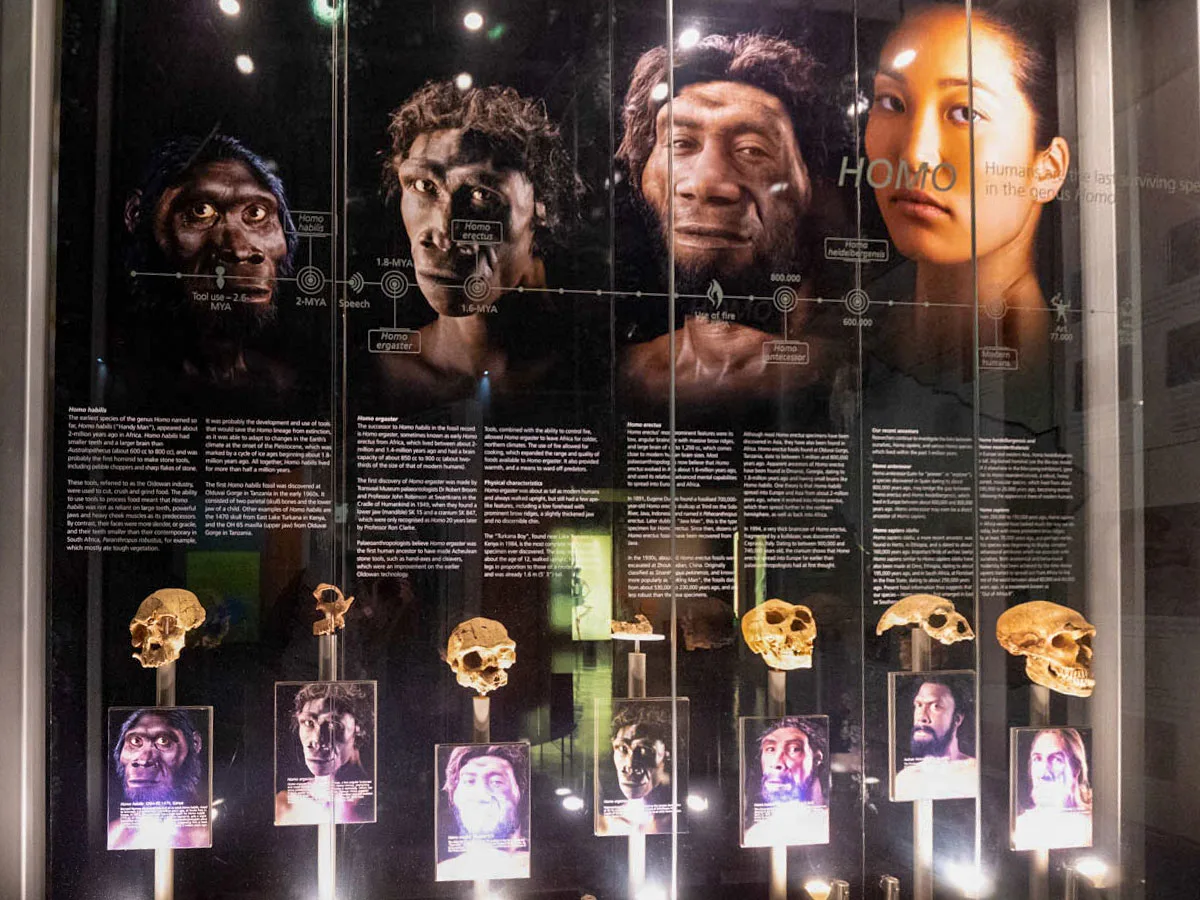 The architecture of the Maropeng visitors centre is also notable. The sizeable dome-shaped structure resembles a burial mound covered in green grass. It is quite striking amidst the arid landscape around it.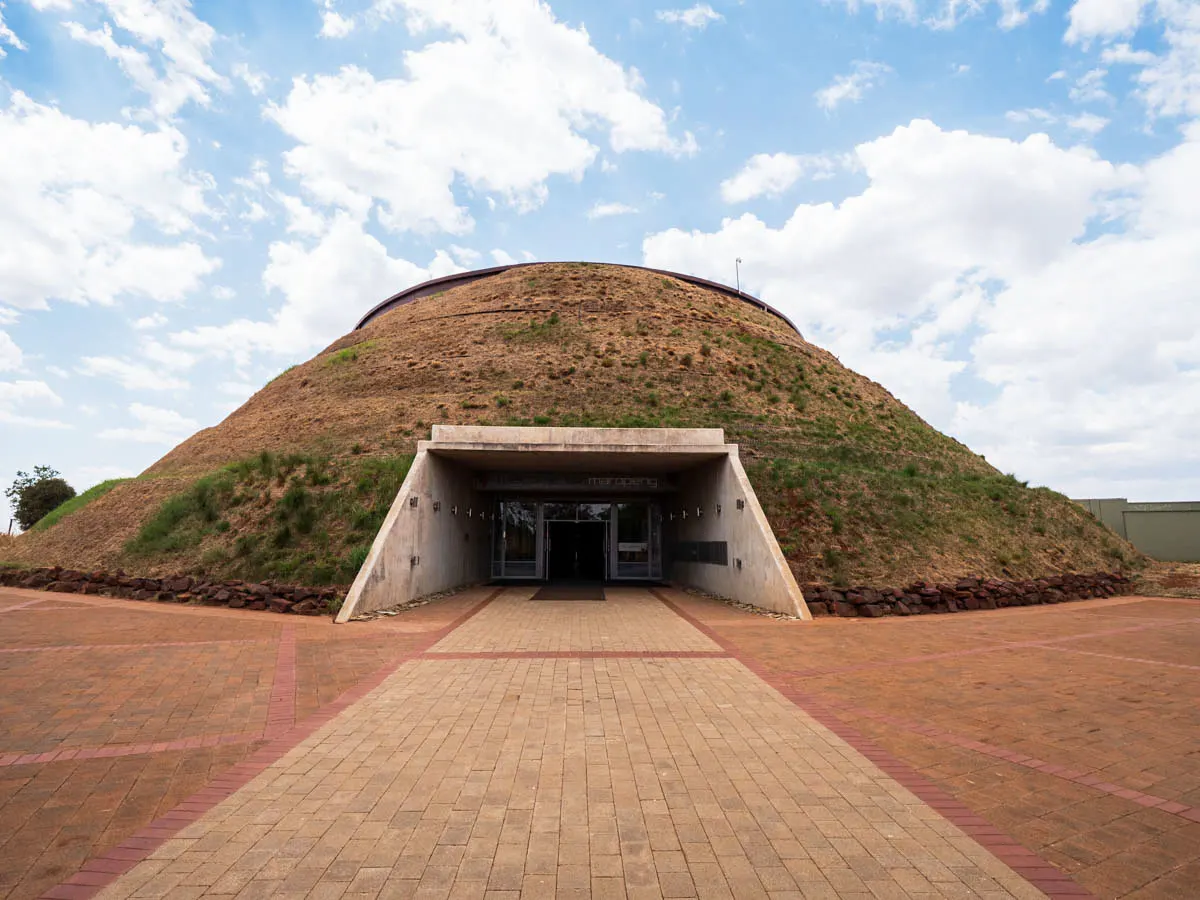 Sterkfontein Caves
Take a guided tour of the Sterkfontein Caves; only a few minutes drive from the Maropeng Visitors Centre.
It was here that Dr Robert Broom discovered an almost complete skull of an Australopithecus africanus- a pre-human that's nearly 2.3 million years old.
The caves are easily accessible with modern wooden walkways where you can observe the areas where these remains where found.
Excavations continue today with the Palaeo-Anthropology Scientific Trust funding much of the work.
One of the most recent findings was Little Foot, an almost complete skeleton of an Australopithecus, approximately 300 million years old. It's one of the earliest discoveries that shows the evolution of humankind.
How to get to Maropeng from Johannesburg
From Johannesburg take the N1 towards Pretoria and then the Hendrik Potgieter (M47) to Krugersdorp. Continue for 10 km along the N14 / R28 and turn right onto the R563 towards Hekpoort. Look out for the sign to Maropeng.
Opening Times and Entrance Fee to Cradle of Humankind
Opening Times: Both the Sterkfontein Caves and the Maropeng Visitors Centre open between 9 am and 5 pm. The last tour around the caves leaves at 4 pm.
Entry: A combined ticket to the visitors centre and the Sterkfontein Caves costs 190 ZAR for adults (~USD$10.20).
Cradle of Humankind Tour Recommendation
Cradle of Humankind: Shared Half-Day Tour
On this half-day ( 5 hr) tour from Johannesburg, explore the Sterkfontein caves where Mrs Ples and little foot were found. Visit the Maropeng Center and the world's most important hominin site
Tour includes:
Return transportation from your Johannesburg hotel
Entrance fees
Driver/ guide
Snacks
Bottled water
Nirox Sculpture Park
Close to Maropeng in the Khatlhampi Private Reserve is a sculpture park set in a stunning oasis of green.
The landscaped gardens and ornamental lakes are the perfect places to relax, take a stroll and enjoy a picnic.
The sculptures range from contemporary perspex images to more traditional stone statues. Many are brightly coloured, and around every corner of the gardens, you'll find something of interest to see.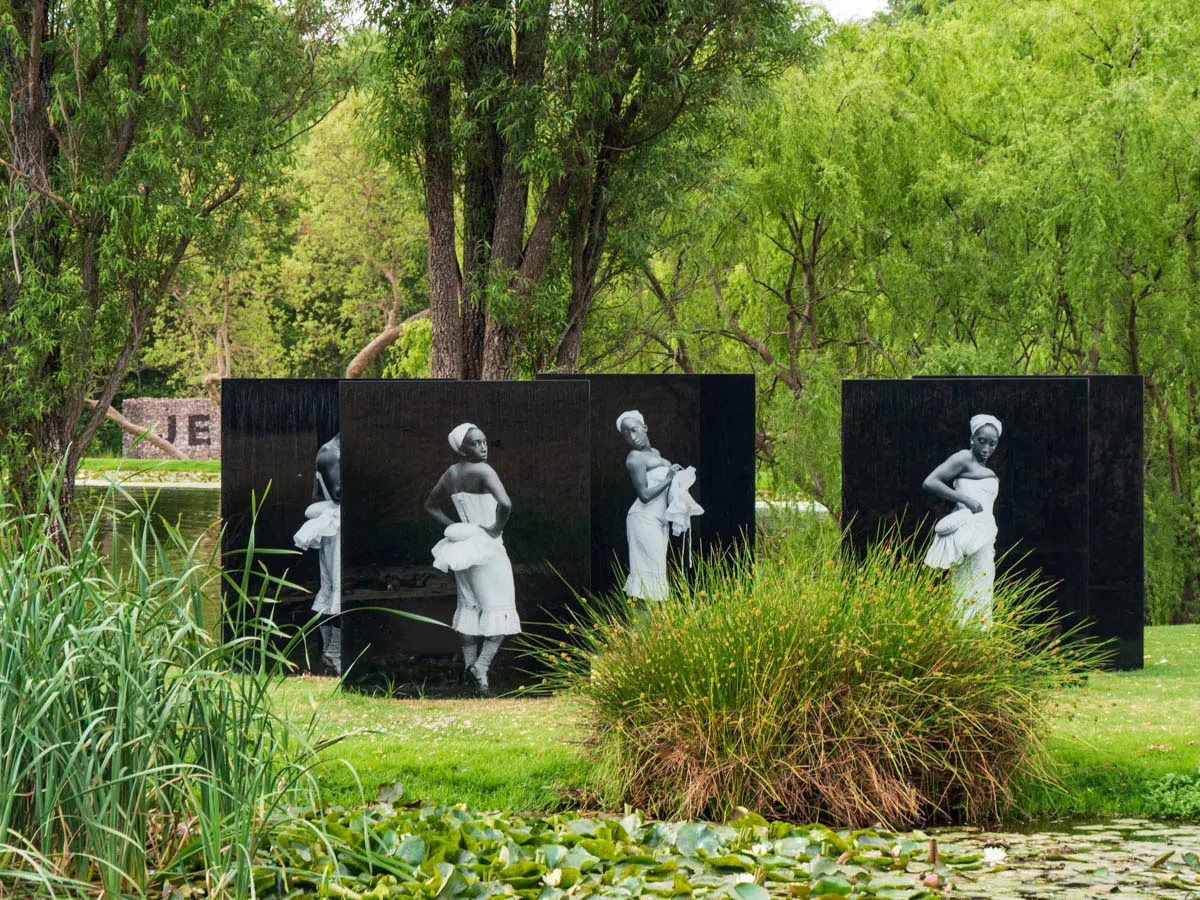 Close by the water, look out for the monitor lizards which are not quite as attractive as the park's impressive works of art. Don't worry, they may look like dragons but are vegetarian so won't bite.
There's a restaurant with a very chilled and relaxing atmosphere worth visiting which serves local gin and beer
Opening Times and Entrance Fee to Nirox Sculpture Park
Opening Times: The gardens are only open on Sundays between 10 am and 4 pm, although occasional outdoor concerts do take place on Saturdays.
Entry: The entrance fee is 120 ZAR (~USD$6.50), and there's a free onsite car park.
How to get to Nirox Sculpture Park
The GPS coordinates for your sat nav are: S25° 59′ 09.56″ E27° 46′ 59.17″ and the address is 24 Kromdraai Road. It's no more than a 15-minute drive from the Cradle of Humankind visitors centre.
Hartbeespoort Dam, North West Province
Another day trip from Johannesburg that should not be missed is the Magaliesberg Mountains. These mountains provide a stunning backdrop to the Hartbeespoort Dam, which is around an hours drive from Johannesburg.
A trip up Harties Aerial Cableway is a must if you want to experience the best panoramic views of the area. The cable car takes you to the top of the mountain where you can enjoy the magnificent views from the terrace.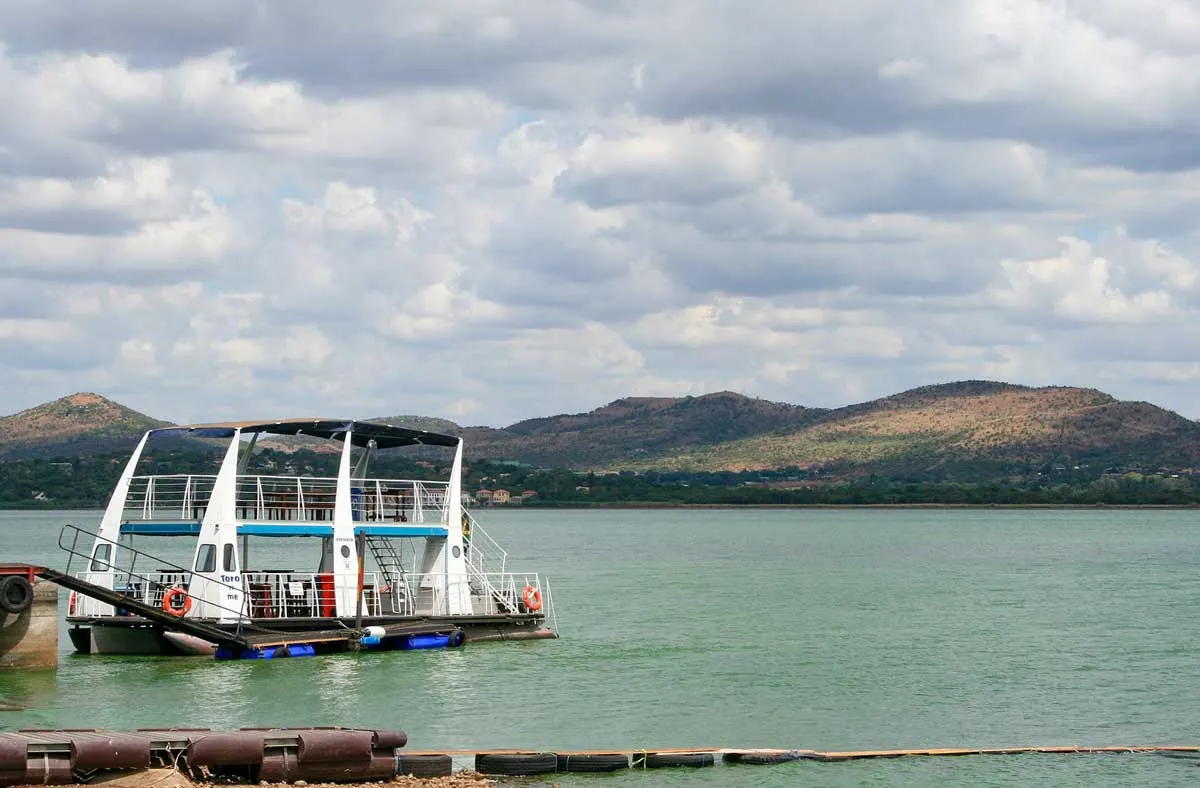 There's a short walk around the Dassie loop which has informative signs along the way that explain any points of interest.
You'll also find a children's playground and a small bar. Get there early enough, and you'll be able to grab one of the best spots under the veranda. Giant bean bags make it a perfect place to relax and soak in the exquisite vistas.
Hartbeespoort Dam Wall
If you want to get closer to the dam, there is a single lane road that skirts the water's edge. The route passes through a long tunnel and takes you across the dam wall.
You can park close-by for a closer look at the large wall, which is almost 150 metres long and nearly 60 metres high.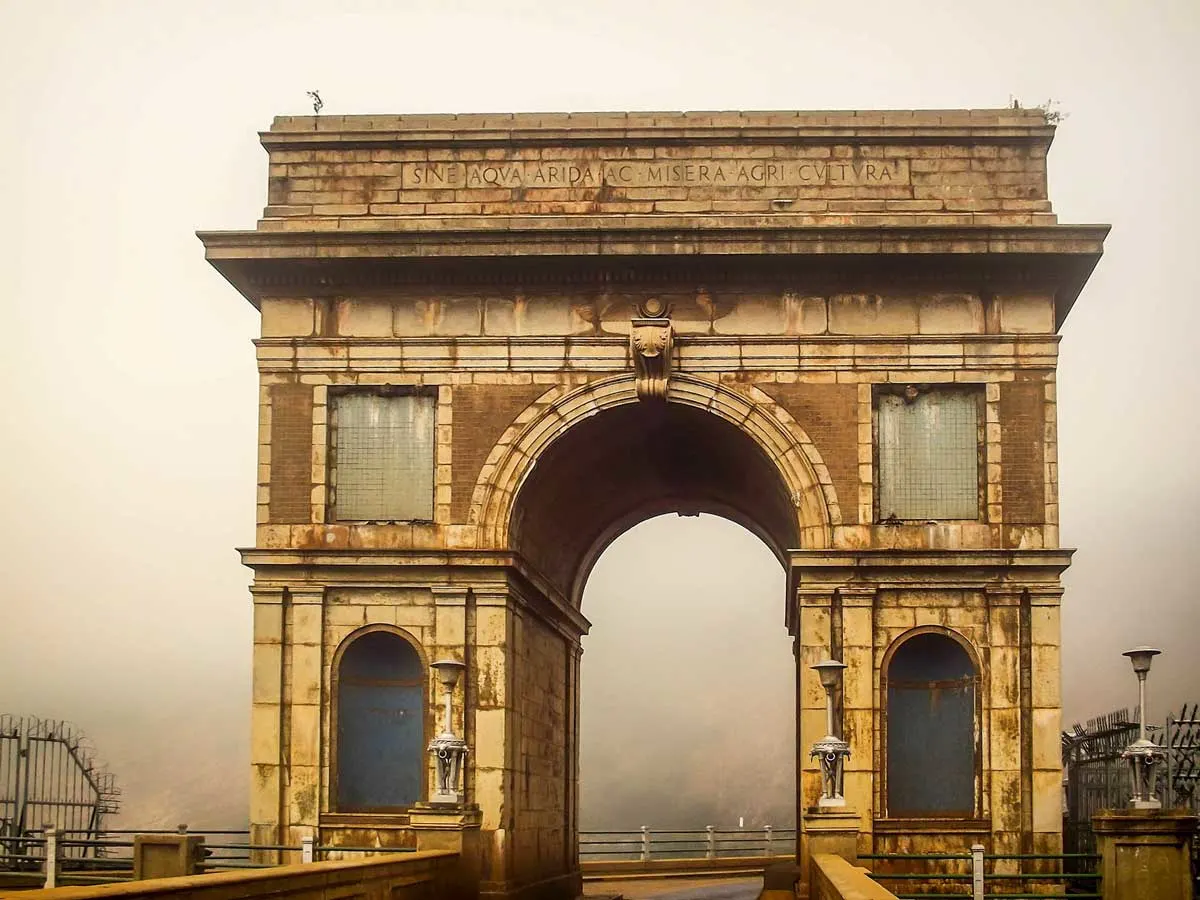 Hartbeespoort Dam Cruise Recommendation
Hartbeespoort Dam Cruise
Enjoy a luxurious, 2-hour boat cruise on the waters of the Hartbeespoort Dam with panoramic views of the oldest mountain range in the world. Tour includes:
2 Hour cruise experience
Local traditional South African food (or 3-course buffet lunch on Sundays)
Service and music
Day pass into the nature reserve
Schoemansville
In the nearby village of Schoemansville, you'll find several ticket offices selling boat rides on the water. There are also several activity places in the region including a Zipline at Amanzingwe Lodge.
Balloon Safaris across Magaliesburg
The ultimate way to experience the stunning landscape of the Magaliesburg is in a hot air balloon. A hot air balloon safari doesn't come cheap, but the experience will provide you with unforgettable memories. Get full details here.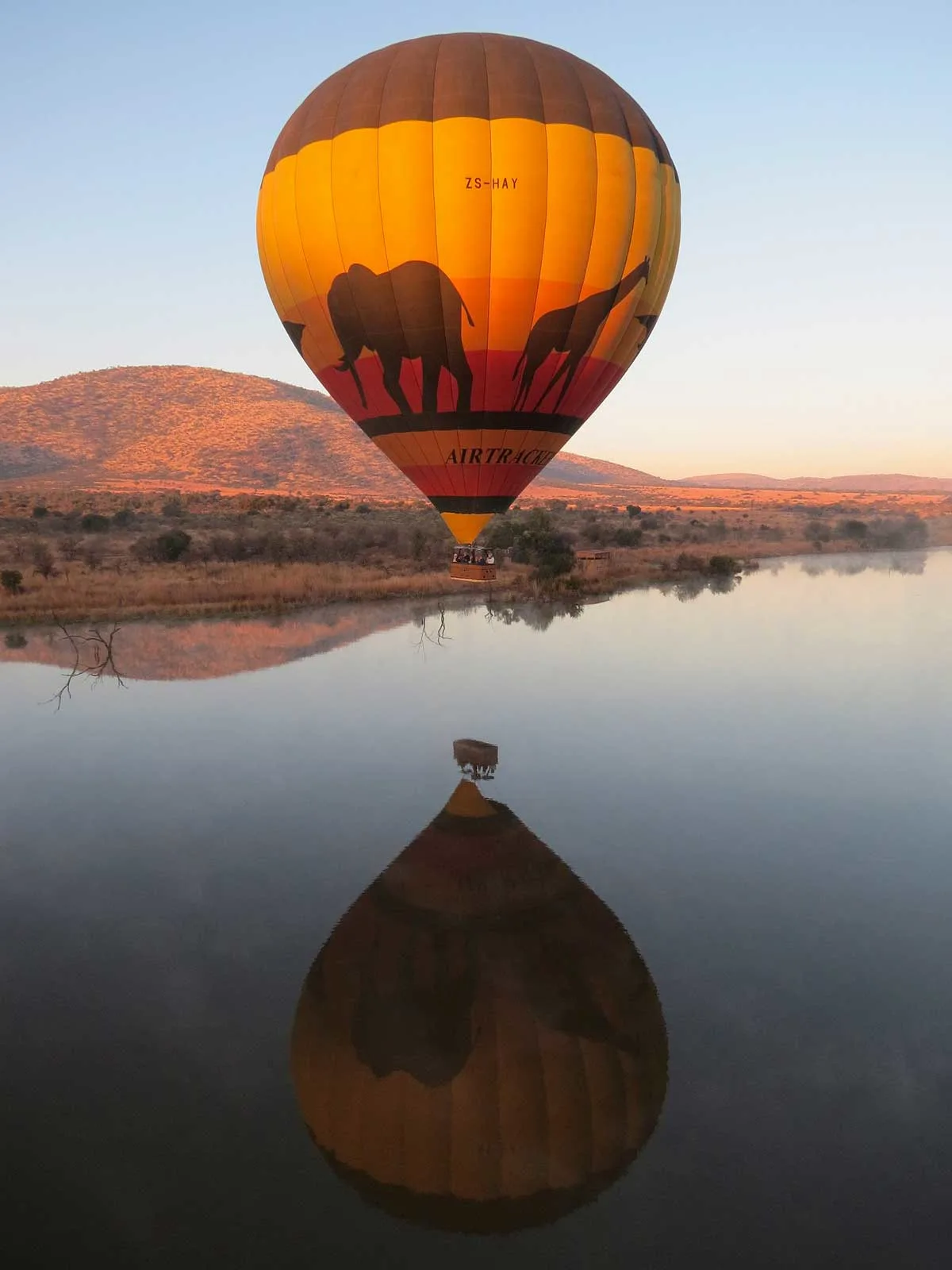 Lesedi Cultural Village
South Africa has a rich diversity of people and cultures with 11 official languages spoken.
On a day trip from Johannesburg to Lesedi Cultural Village in Gauteng, you get a real insight into the lives of people who are of Zulu, Xhosa, Pedi, Ndebele and Basotho origin.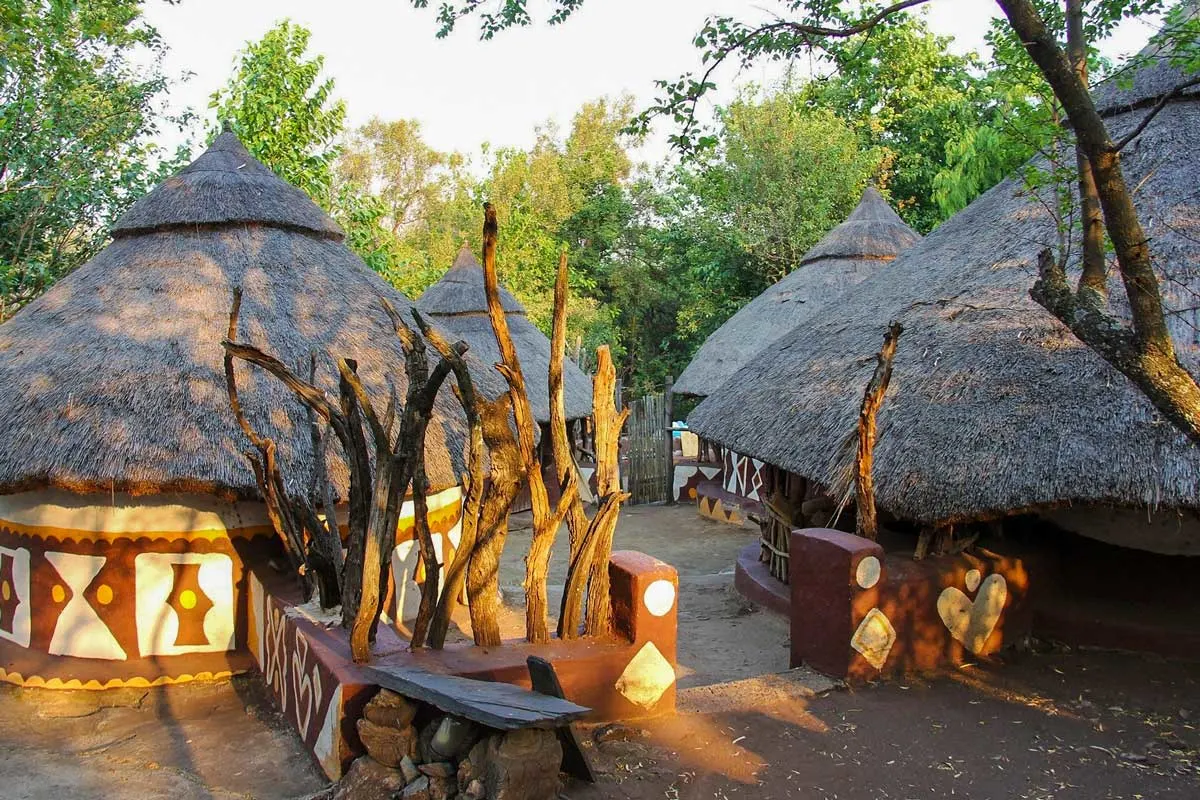 While the village is a tourist attraction, the homes and costumes give an informative insight into tribal traditions. The people are friendly and are always happy to answer any questions. You can also have your photograph taken alongside them in traditional dress.
During the tour, you'll hear stories about various tribes, and there's an exciting film to watch.
However, the highlight of the trip is the cultural dance show where the rhythm of the drums provides fantastic energy to the incredible dancing.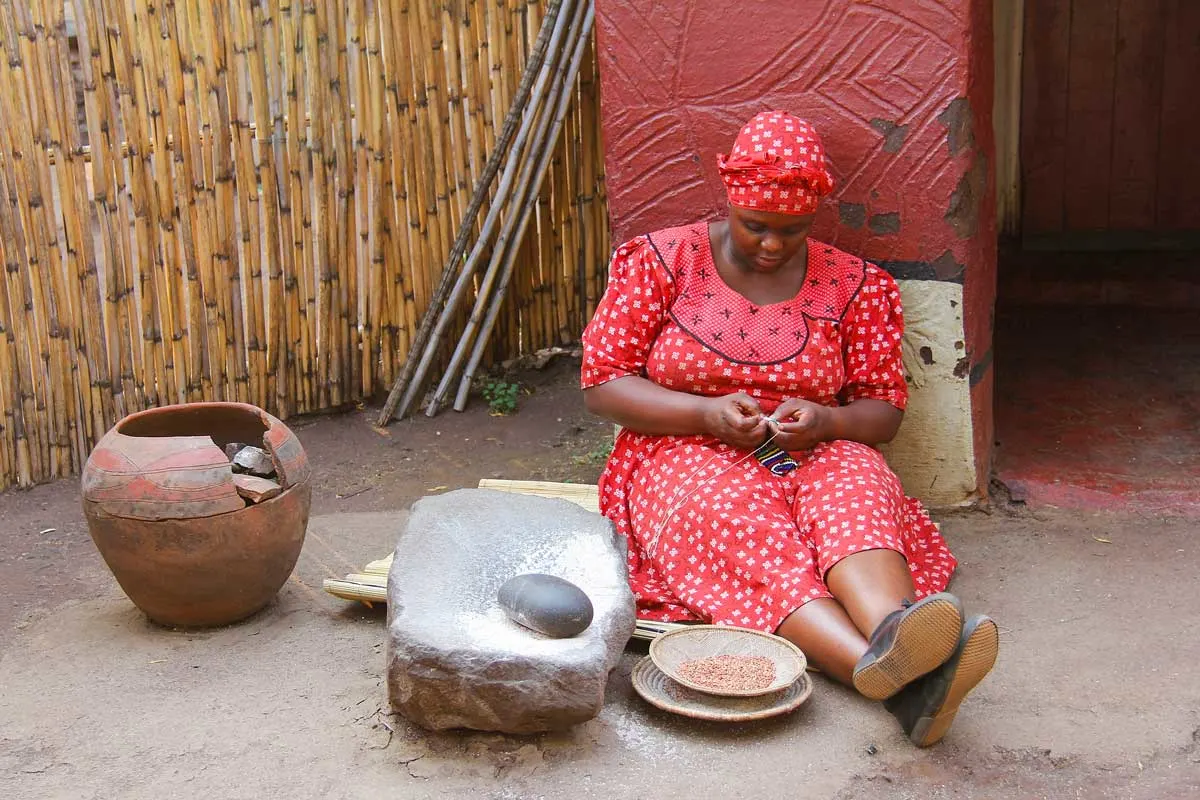 Lesedi Cultural Village is also a great place to pick up some local souvenirs. The jewellery, in particular, is reasonably priced and makes a perfect gift.
Tours to Lesedi Cultural Village
There are two tours to the village each day. The first is at 11.30 am and includes lunch while the second is at 4.30 pm and includes dinner.
Lesedi Cultural Village Tour Recommendations
Lesedi Cultural Village Half-Day Tour
Discover the history and traditions of various South African tribes on a half-day (4.5 hr) Lesedi Cultural Village tour with traditional music and dance and a feast of traditional African cuisine.
Tour includes:
Hotel pickup and drop-off
Lunch
Soft drinks, bottled water
Snacks
See here for full tour details
Full day Cradle of Humankind and Lesedi Cultural Village Day Tour
Experience both in one day. See the diverse cultures of South Africa at Lesedi Cultural Village and then step back in time at the birthplace of humankind with a visit Cradle of Humankind as you explore the Sterkfontein Caves and the Maropeng Visitor Center.
Tour includes:
Hotel pickup and drop-off
Entrance fee
Lunch and snacks
Bottled water
About the Author
Fiona Berry
Fiona is an international music examiner whose work takes her to schools all over the world. Her travel blog Passport and Piano is growing fast. It provides inspiration, travel tips, and resources to help people visit unique destinations away from the ordinary.