REVIEW La Gran Francia Hotel
La Gran Francia Hotel is a charming luxury boutique hotel located in central Granada offering 21 air-conditioned rooms with all modern comforts and amenities; a pool, restaurant and bar, and banquet hall facilities.
Overall Rating 5 out of 5
---
Do you like a hotel with a rich and intriguing history that leaves you with a story to tell, a faked suicide after the commission of a gruesome murder perhaps? Throw in some French royalty and a plot to cover up a potential scandal and you have a great place to stay in Granada.
Granada is packed with history and so is the La Gran Francia Hotel. We were lucky enough to be guests at this beautifully restored hotel which sits right on the main square in Granada.
Proclaimed Historical Patrimony of the City of Granada, La Gran Francia is an architectural jewel that exemplifies Nicaraguan Colonial Architecture.
The original construction was a one story home and dates back to the first few years after the founding of the city of Granada, in 1524. In 1856, this stately home survived a deadly fire which nearly destroyed the whole city of Granada.
The house or "casona" owes its name to its most famous inhabitant, the French Duke, Georges Choiseul Praslin, whose dramatic story seems to have been taken straight from a novel. As the story goes, after murdering his wife, the Duke of Praslin, helped by King Louis Phillipe of France, feigns his suicide and moves to Nicaragua, where he lived in the city of Granada, in La Gran Francia.
La Gran Francia was restored during the 1990's, and today houses Granada's finest hotel.
---
Arrival
When we arrived at La Gran Francia we were barely out of the cab when a staff member was there collecting our bags ready to escort us to reception. Even though we had arrived too early for check-in, they did their best to ensure a room was ready for us, which was really appreciated after a long morning travelling. The reception staff were very welcoming, as was the stunning foyer space of La Gran Francia which in contrast to the hustle and bustle of the plaza outside, presents like an oasis of calm. Check in was both a pleasure and a breeze.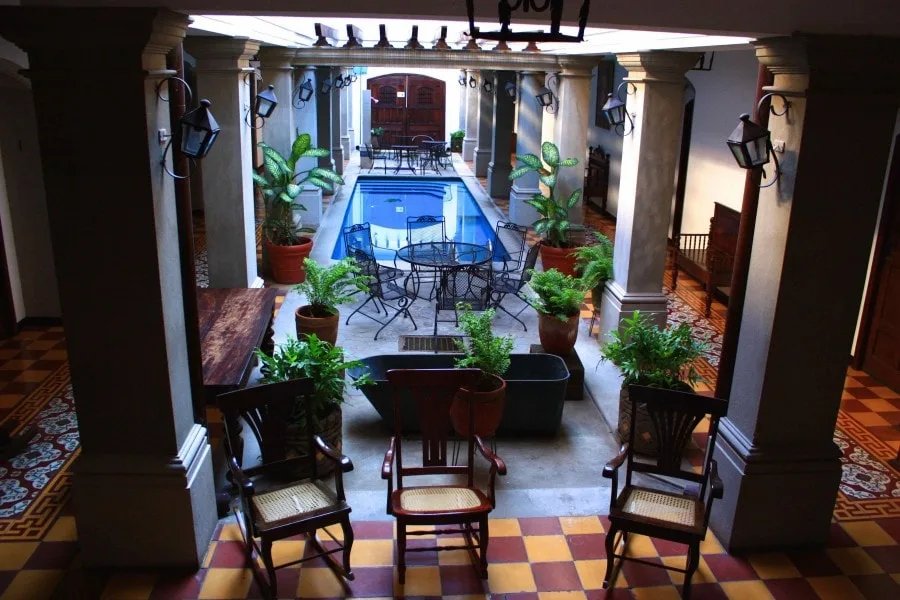 Service
The attentive service we received at check in was just the beginning of the lovely service we received throughout our stay. The staff were friendly, helpful and as charming as the hotel itself.
The Space
The rooms have been carefully restored to their original colonial elegance. Beautiful rich timbers and elegant luxury with modern comforts incorporated without compromising colonial origins. The rooms are a generous size with big comfortable polished timber beds. All rooms are air conditioned and feature a safe and TV with enough cable channels to keep you amused (if that's what you need in a hotel).
The bathrooms have been refurbished with all modern fittings that blend seamlessly with the original design. One feature of the rooms, which you will find throughout the hotel is the lovely hand painted sinks. It is these touches throughout that make La Gran Francia so charming.
Facilities
In the building across the road is the Pablo Antonio Cuadra Banquet Hall which has also been painstakingly restored.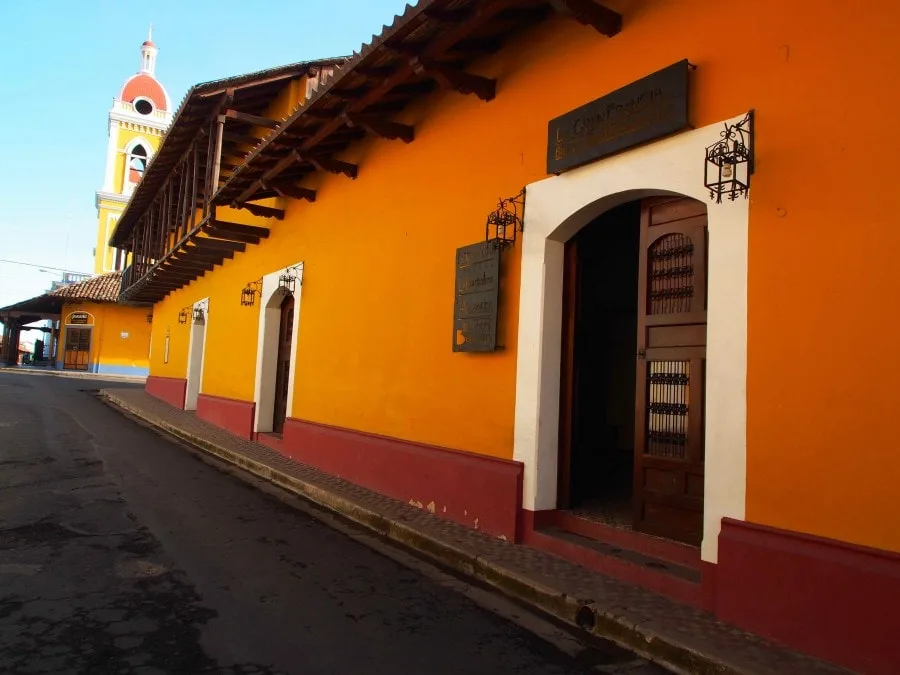 In addition to the banquet hall, you will find the restaurant and lobby bar. Breakfast is served in the beautiful garden area daily between 7 and 10am. The restaurant offers a high end dining experience with delightful ambience and an excellent menu.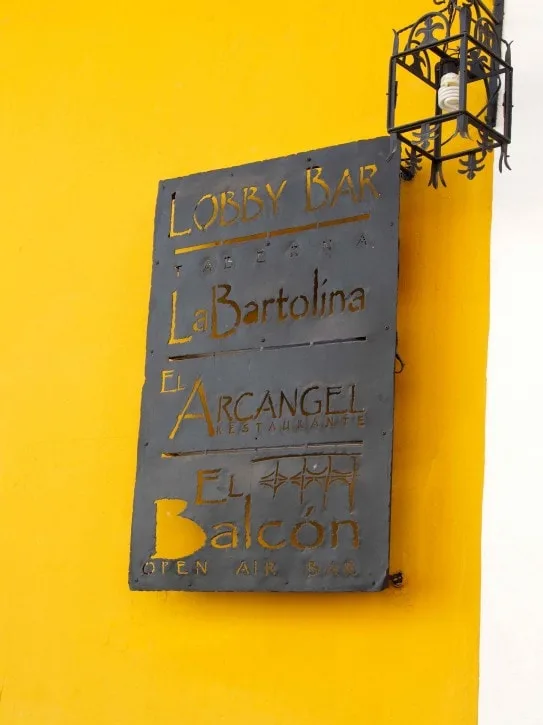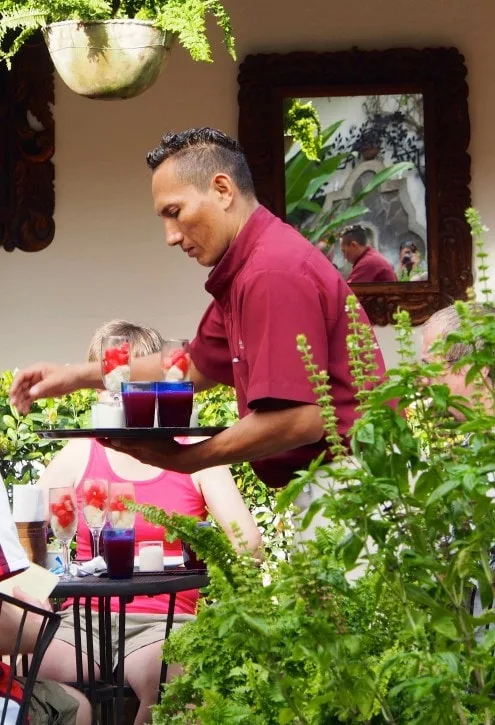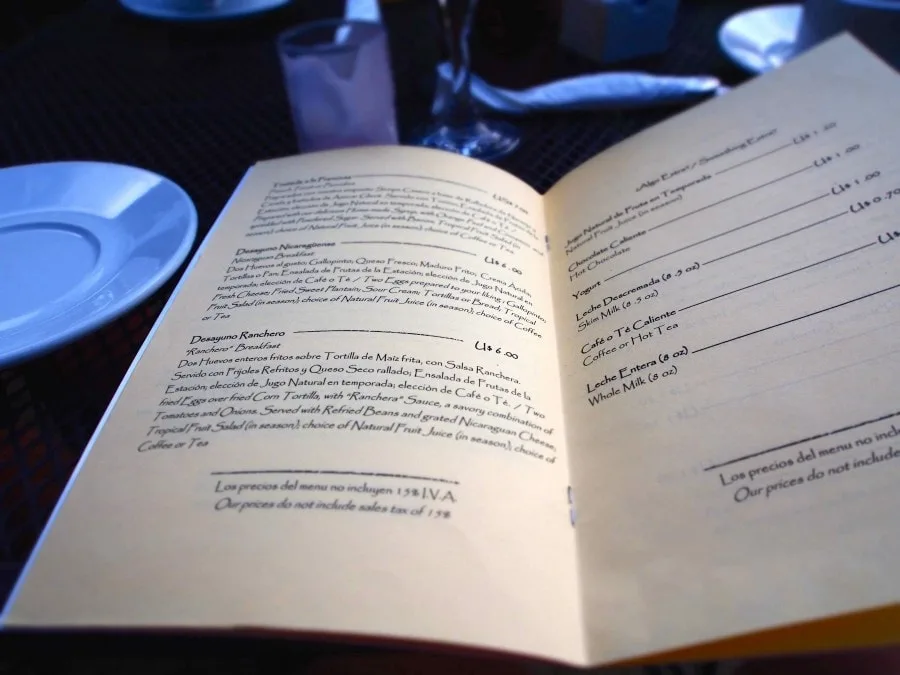 There is a pool in the main foyer area, guest towels are available from reception.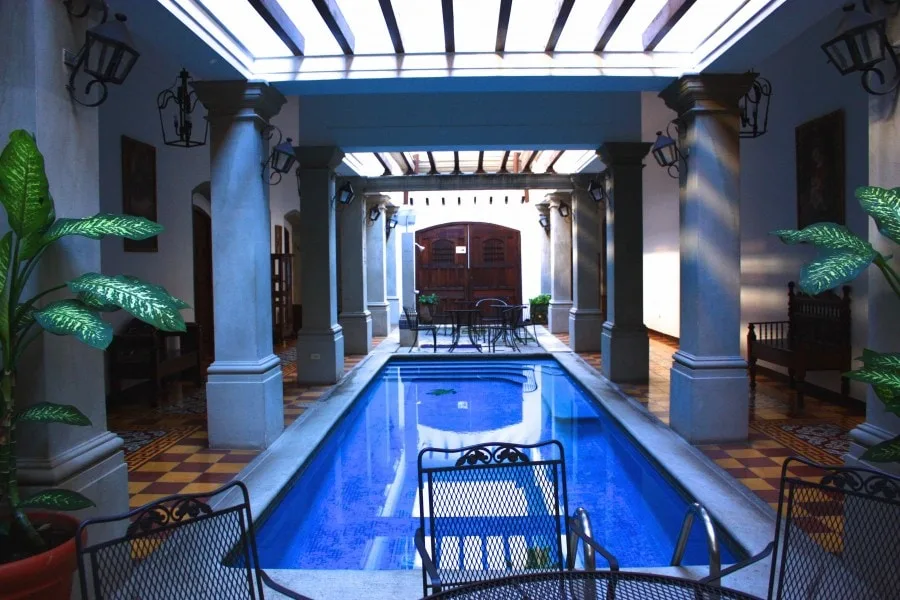 WIFI is easy to connect to and very fast during non-peak periods. As with most hotels, it has its down moments during those late afternoon/early evening periods.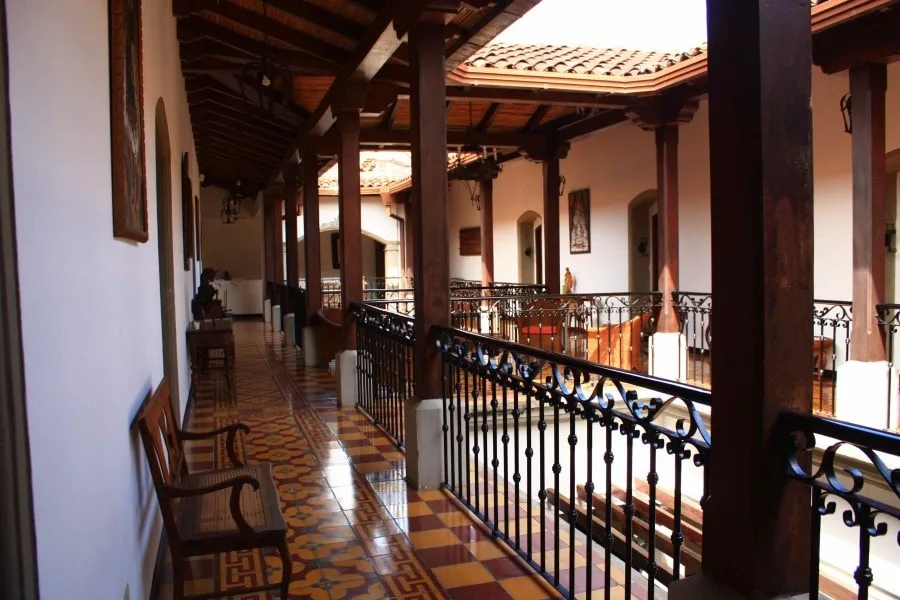 Location
La Gran Francia is located right in the historical centre of the city on the south eastern corner of El Parque Colón, close to Granada's most important government and religious buildings and the finest examples of Granada's colonial past. There are many restaurants and bars within walking distance and the market district is a short stroll down the road.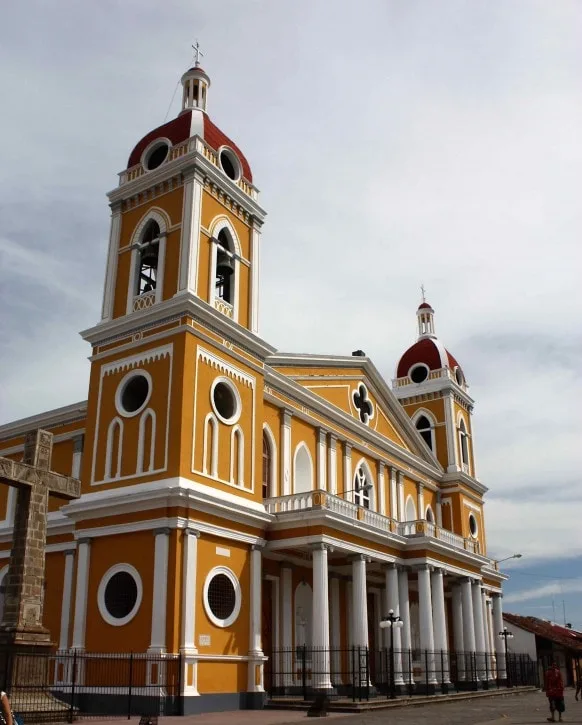 Rates
La Gran Francia has only 21 rooms so booking early is essential. Rooms start at US$120 for a double and suites start at US$132 – plus tax. Breakfast is complimentary.
Would We Stay Here Again
YES! This hotel is nothing short of gorgeous. It has the right amount of little luxuries that make a hotel nice without being pretentious. The restaurant is fabulous and the location is exactly where you want to be in Granada.
La Gran Francia is a fantastic boutique hotel and a great example of colonial Granada. If you want to make your stay in Granada special, then this is the hotel for you.
---
We would like to thank La Gran Francia Hotel for hosting us while we were in Granada. All opinions expressed in this review are our own and have not been influenced in any way.