Vieques has loads of great restaurants and lots of little bars, mostly Puerto Rican and American. Restaurants range from upscale dining to some great street vendors. There are many options, so we will not list them all, we will, however, share some we consider to be the better dining experiences on the island.
Here are just some of the choices for wining and dining on Vieques Island, including some tips on the ones we found to be great.
Eating
Our Favourites First
La Gran Parada
Style: This is a very simple family style Puerto Rican restaurant doing possibly the best food on the island. The quality of food is outstanding and their signature dish, Mofongo and the Mofonguitos are the best we have had anywhere, including Puerto Rico. Servings are plentiful and the service is always excellent. Open for both lunch and dinner.
Price: Mid range. Starters and mains ranging from $11 – $18 with a good assortment of sides from around $5. Beers from around $3.00 for imported brands.
Where: Corner of roads 200 and 201.
El Resuelve
Style: Another simple family style Puerto Rican restaurant although a little more casual than La Gran Parada. Food is homestyle cooking, plentiful and reasonably priced. Catering mostly to the lunch crowd and early dinners, they usually close around 6.00pm. El Resuelve is also great for an afternoon drink and snack. What El Resuelve does a great trade in is Pastillios. They are always fresh and the Pastillio Carrucho is what we keep going back for. They also do a big trade in phone in orders to go.
Price: Meals from around $8, Pastillios range from $2.50 – $3.00. Beers from around $2.75 for imported brands.
Where: On road 997 just before the 2 cows.
Coqui Fire
Style: Gourmet Mexican. The food here is fresh and fantastic. The atmosphere is both casual and intimate, dine by candle light on the outside deck or just prop yourself up at the bar. The staff are always very friendly and the chef (owner) will often do the rounds to check how everyone is. They also have their own range of Caribbean inspired hot sauces which are sold both in the restaurant, in local stores and on line at coquifire.com. People say no visit to Vieques is complete without at least one dinner at Coqui Fire. Make sure you book!
Price: Mid range $8- $30. Beers range from around $3.00 up to $6.00 for boutique imported beers.
Where: Calle Carlos Lebrum, in Isabelle II.
Next Course
Style: Upscale casual dining, set on a terrace overlooking a beautiful lush garden setting, this little out of the way restaurant has a lovely ambience. The menu is described as 'Food Inspired by Travel'. At first the menu comes across as a little confused but the quality certainly makes up for it. A great selection of seafood, lobster, tapas and steak dishes that, unlike some other restaurants, don't overwhelm you with portion size. They have it just right. Perhaps Caribbean international cuisine would be a better description.
Price: Meals range from $10 – $40. They have a good wine list not heavily marked up.
Where: On road 201.
Conuco
Style: Puerto Rican Cuisine. A family run restaurant in the main street of Isabelle II. This restaurant has a lovely, airy atmosphere and a good value for money menu. Traditional homestyle Purto Rican food with a modern twist. The meals are a good size and beautifully presented. This was our first foray into the traditional Puerto Rican Pionono and it was amazing. For a lovely authentic Puerto Rican dining experience, Conuco will not disappoint.
Price: Meals range from $10 – $25. A decent wine list is offered at reasonable prices.
Where: 110 Luis Muoz Rivera, Isabelle II.
Biekes Bistro
Style: Caribbean, Puerto Rican, Seafood. This laid back bistro style restaurant has a relaxed family feel with both indoor and outdoor dining in a small street front court yard. The food here is a fresh twist on Caribbean and Puerto Rican style cooking. The meals are quality and very reasonably priced, some of the best seafood we have eaten on the island. The Grouper fillet with creole sauce is outstanding. They also do Caribbean inspired Tapas selections and are open for brunch on weekends.
Price: Seafood meals around $25 for mains. Expect approx. $23 for a bottle of wine and around $3.50 for imported beer.
Where: 340 Calle Antonio G Mellada, Isabelle II
---
Other Dining Options
American cuisine with local influences
Tin Box
On road 996 Tin Box is, as it suggests, a tin shed with a fantastic outlook over lush jungle and gardens. It is famous for its Bloody Mary bar and brunches. Food is mid range in pricing and the menu is made up of mostly local produce and from their own vegetable garden. You will find things like ribs with mac & cheese, eggs Benedict with lobster tail, oysters and a good selection of salads. They have a good cocktail list and beer is served on tap, usually boutique ales.
El Quenepo
On the Malécon in Esperanza, El Quenepo leans towards fine dining although we would call it 'Island fine dining'. It is upscale casual with a lovely atmosphere. We found it to be very expensive for the standard offered, the servings unnecessarily large and the staff not to the standard portrayed by this establishment (a little annoying actually). In saying that, some people tout it as their favourite dining experience on the island.
Along the Malécon in Esperanza
Here you will find a number of american style touristy restaurant / bar establishments serving the standard burgers etc. These include places such as Duffy's, Bananas, Belly Buttons, Trade Winds and Lazy Jacks Back Packers. Any of these are a good spot to stop in for lunch or a drink. Note, you will be paying tourist prices for drinks here compared to other places on the island.

Mexican
Izzy's
Izzy's is a casual Mexican restaurant and bar at the other end of Esperanza near the bio bay tours. Izzy's offers good value for money Mexican food, in a nice breezy casual atmosphere. We have been more than once.
Resorts
There are also a number of resorts with restaurants and bars such as the W Resort, Blue Moon at Blue Horizon Resort, Carambola at Horizon Resort and Jose Enrique at the newly opened El Blok Resort.
In Isabelle II you will find a number of little restaurants dotted around town. Depending on the season they may not always be open and there is always a change in establishments opening and closing in the main town, so you never know, you may find a new hidden gem. The list above is probably the most reliable in established restaurants.
---
Drinking
In addition to the establishments listed above that are both restaurant and bar, there are also a number of bars on Vieques.
Isabelle II
In the main town you will find both Puerto Rican and expat bars. None are very fancy, but do have varying degrees of appeal (or not). While you will find small bars in the side streets and around the town, these are some of the more prominent ones.
Bar Plaza is a predominately local bar set on the plaza. The drink prices are very reasonable, the beer is always ice cold and the locals always friendly. Its also a great spot to sit for a drink when something is happening in the plaza.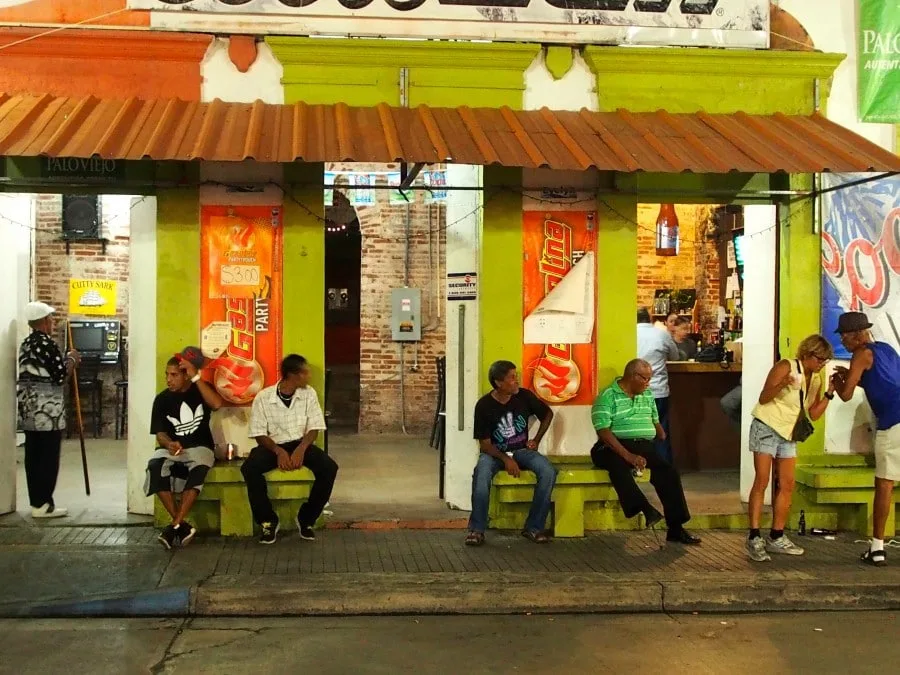 El Sombrero Viejo is a small bar and liquor store that attracts a predominately expat crowd. You will find they have a good selection of wines to take away and apparently if you ask for a hot dog with "John" bread you won't be disappointed! (John is a Baker on the island who bakes artisan breads in a stone oven and supplies a lot of the establishments around the island. He is also a top bloke, as Aussies would say!)
Mar Azul is an expat/ tourist bar right on the waterfront just up from the ferry terminal. It is by no means a fancy bar, but does have a lovely outlook and a basic bar type menu. Good for a casual drink at sunset.
There are also few bars down past the ferry terminal on the waterfront worth popping into for a drink while you wait for the ferry.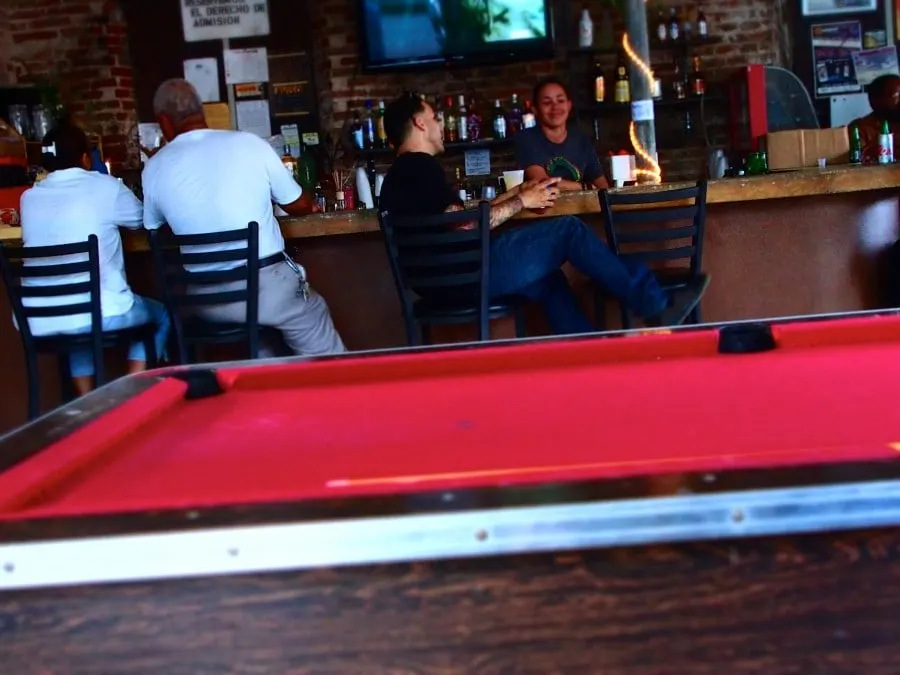 Esperanza
There are all the restaurant bars we have detailed above but our favourite bar on the island is La Nasa. You will find it right on the waterfront in Esperanza.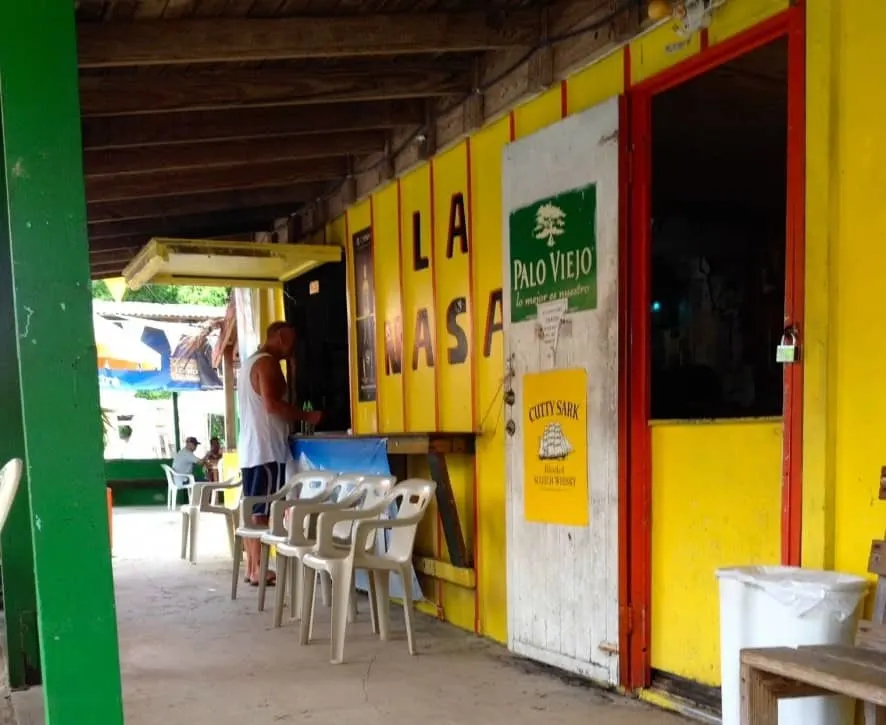 Most of the Colmados around the island also have bar facilities and it is not unusual to see people stop and sit at the tables outside for a cold beer and a chat.