Taking advantage of some cheap airfares we headed to St Croix in the area of the Caribbean known as the US Virgin Islands.
A quick 20 min island-hop from Vieques in a small 10 seater Caravan we headed over for the Jump Up Festival held four times a year in the town of Christiansted.

The largest of the US Virgin Islands, which include St Thomas, and St John, St. Croix was once one of the wealthiest islands in the West Indies thanks to sugar plantations, rum production and slave labour. Ruins of sugar plantations dot the island as well as grand plantation homes that have been carefully restored and are now open to the public.
This along with the restored Dutch harbour in Christiansted and the picturesque Victorian architecture of Frederiksted, you can easily imagine the island in a time when it was the capital of the West Indies and a trading mecca of the Caribbean.
St Croix is now a destination of choice for those looking for the idyllic Caribbean getaway. On St Croix, you'll find great food and hospitality, stunning beaches, a laid back atmosphere and some of the best diving in the Caribbean. The Island also knows how to throw a party.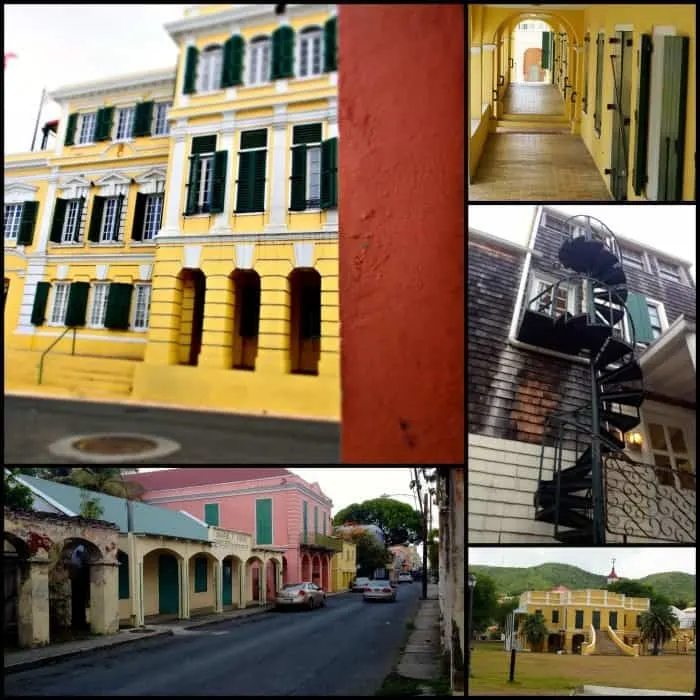 The Jump Up Festival celebrates the culture of St Croix. Starting at around 5.00pm (island time!) the streets of Christiansted are closed to traffic, street stalls are set up and shops stay open late. The city throws it doors wide open to an amazing street party that weaves through the main streets and historic narrow alleyways. The infectious carnival atmosphere is set to the incredible sound of Caribbean steel drums, dancing and the amazing smell of Crucian food being cooked in the streets.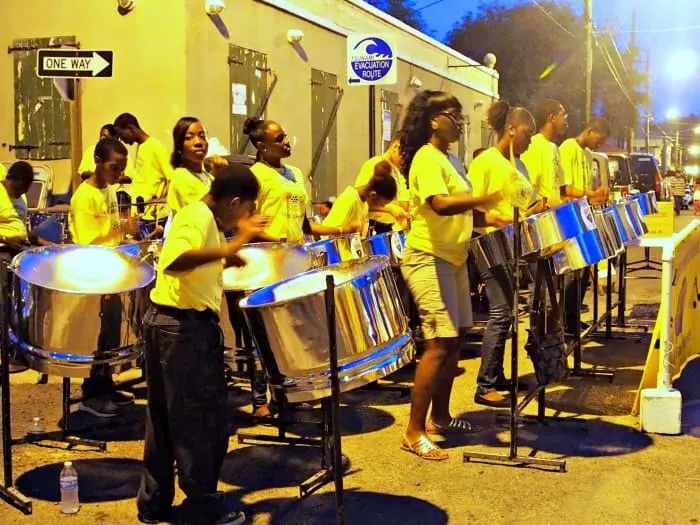 The highlight of Jump Up is the Moko Jumbies. These are the cultural icons bought to St Croix with the first African slaves and have been part of the culture for over 200 years. Said to ward off evil spirits, dancers perched atop 6 foot high stilts perform a group dance before working their way through the city. It is believed that the height of the Moko Jumbies allows them to see the evil spirits before they arrive, giving them time to warn the villagers and ward off the spirits. While their agility on the stilts was amazing they were also a little eerie.
St Croix is not shy at putting on great events and festivals including loads of live music festivals, arts, sports and food. Both St Croix Tourism and Go To St Croix are fantastic sites for checking upcoming events.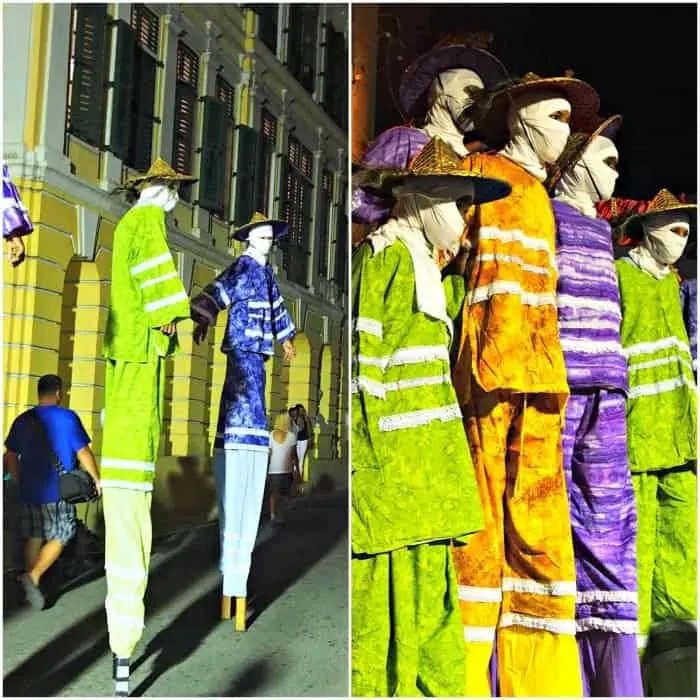 With sore heads and tired feet from Jump Up we hired a scooter from a very entrepreneurial scooter hire establishment in Christiansted. This scooter hire also doubles as a bar and offers an interesting "Ride & Drink" package. We opted for just the scooter hire but must say we also had a very enjoyable evening at the bar once we had handed the scooter back!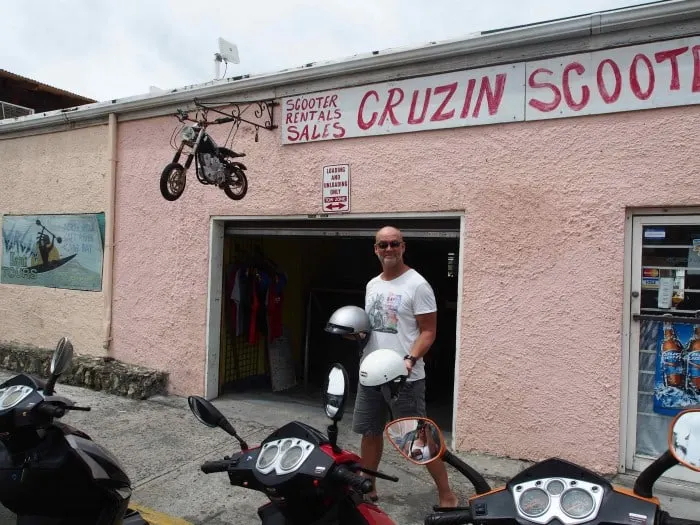 Now we had wheels it was time to see what else St Croix had to offer!
Sun, Sand & Swimming
You're on an island in the Caribbean so postcard beaches, crystal blue water, stunning diving and no shortage of water sports is what you will get on St Croix.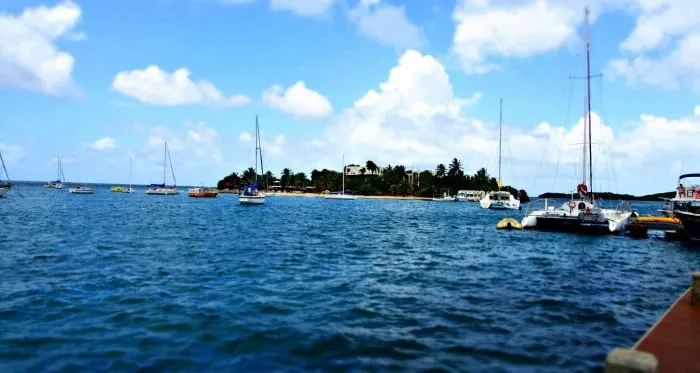 There are fantastic beaches all along the coast of St Croix, some more secluded than others as well as one of the largest living reef systems of any Caribbean island. All beaches are public so resorts must allow you access to any in front of their premises and most will have a beach access for this. On the north west coast you will find Cane Bay beach, a popular spot with beach front dining, full service dive shops and great access from the beach to "The Wall" a barrier reef drop off that runs along the north shore with vertical drops of 13,000′ in places.
Just 1.5 miles offshore is the Buck Island Reef National Monument. A small protected island deemed to be one of the finest marine gardens in the Caribbean. There are plenty of options for day trips to the national park for snorkelling and exploring.
And for something closer to town, Protestant Cay in Christiansted Harbour is a small island accessible by a short ferry ride (around $3/trip) and is home to Hotel On The Cay and The Harbormaster Beach Club.
Beer Swilling Swine
If you have had enough of the beach then think about shouting a pig a beer! Head to The Domino Club in the rain forest area on the western side of the island and spring 2 bucks to buy a porker an ale.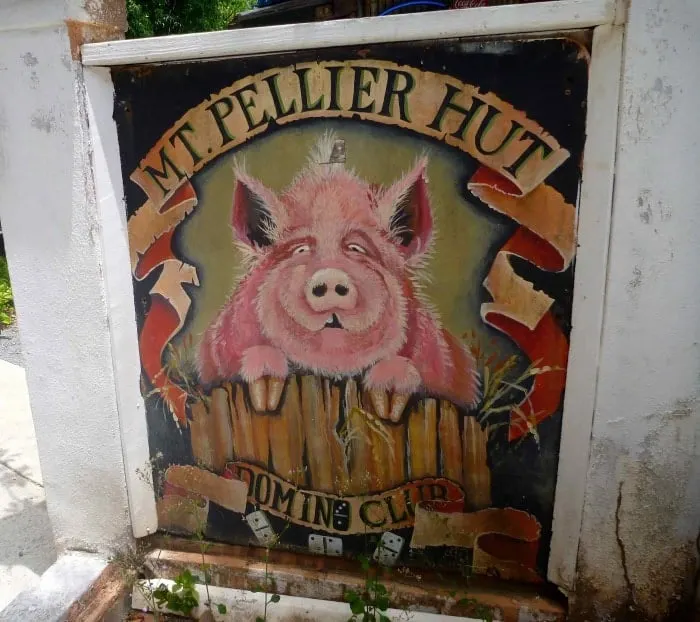 It is actually a little scary when a ginormous porker launches itself to snatch the unopened can of beer from your hand and throw it back, like a college student in a beer drinking competition.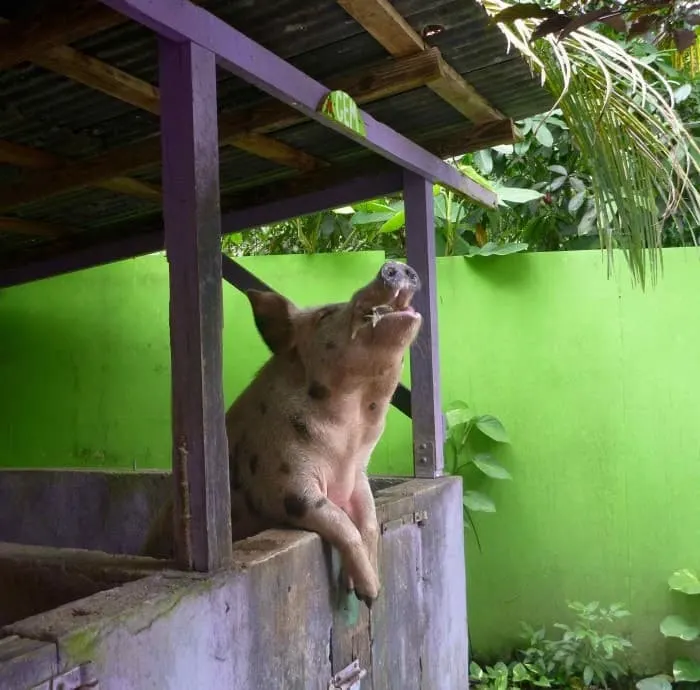 They will then chew the can to squeeze out any last drops of the amber fluid, spitting the barely recognisable remnants of can on the floor. They then look at you waiting for more. Yes this was one of the more bizarre things we have found at a pub!
Sugar Plantations & Rum Distilleries
Sugar and rum go hand in hand. Check out the Cruzan Rum Distillery and then see where it all started with ruins of the old sugar plantations. There are some beautifully restored plantations and plantation homes which are now museums open to the public. Admission to these is generally around $10.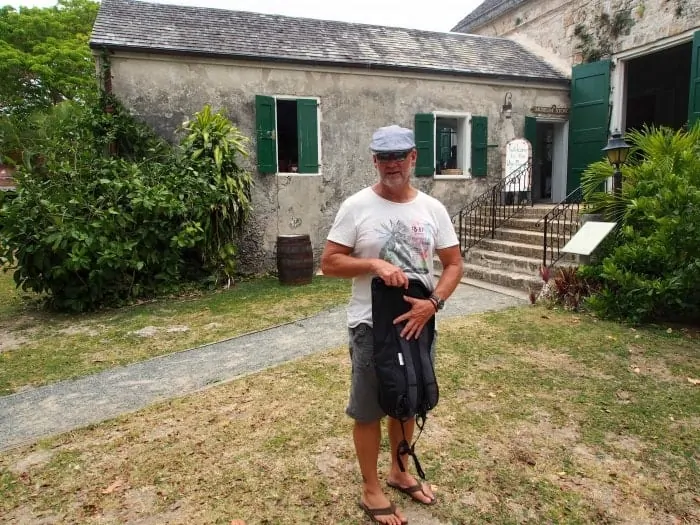 Tax Free Shopping
Unlike the rest of the United States and its territories there is no sales tax in St Croix, as well as having double the duty free allowance of any of the Caribbean Islands. This means $1600 per person for those heading back into the US, so shopping is big on most folks agenda and there are some bargains to be had. Along with Crucian (or Cruzan) rum, jewellery is a popular purchase with the "St Croix Hook" bracelet being a big selling souvenir.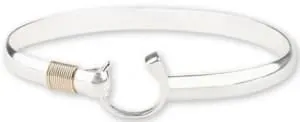 Originally from St Croix and now worn all over the Caribbean, the Crucian hook bracelet is not only worn for luck and prosperity but also as a symbol of love. Worn with the hook facing your heart shows you are either married or taken and facing down to your hand, you are free.
Eat, Drink & Don't Miss The Happy Hour!
There are so many fantastic bars and restaurants and a multitude of happy hours happening daily all over the island. And you can eat very well at very reasonable prices.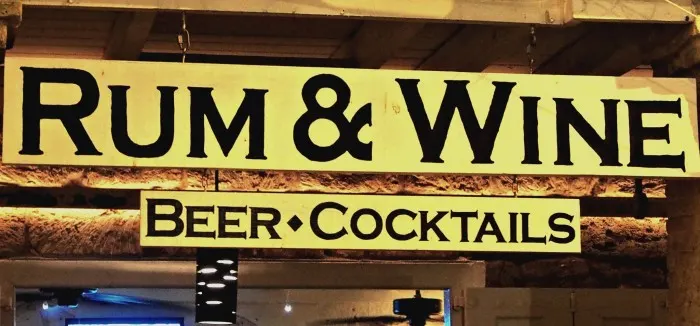 The boardwalk in Christiansted is lined with bars, mostly aimed at tourists and expats. All have the standard pub type menus you would expect of these kind of places, but they do have a lovely outlook over the harbour and pretty good happy hours.
Our favorite dining experiences were those recommended by our Airbnb host. Traditional family owned Cruician restaurants. Mum is in the kitchen cooking, the food is fresh, hearty, and very reasonably priced. We could not get enough of conch (pronounced conk) cooked in butter sauce, fish soup from Harvey's or shrimp in creole sauce – Amazing!
These are some of the top picks as recommended by locals:
Singhs Fast Food, King St- Good quality local food served fast to go. Very popular with the locals.
Harvey's, Company St– This iconic restaurant and typical lunch spot for locals has been part of St Croix for "donkey years" as they put it. Mama Harvey is out in the kitchen cooking up a Crucian storm and the menu consists of only a few items that will be read out to you at the table. The service is unbelievably friendly, servings large and the conch is to die for!
Kim's, King St– This is another one like Harvey's. The food is home cooked Crucian goodness. Very welcoming and very reasonable. You feel as if you are being welcomed into someones home.
Dashi, Strand St – Best sushi in St Croix
Kendricks, Company St – Fine dining. Amazing food and atmosphere.
Ital in Paradise– Touted as the best vegetarian restaurant in St Croix and even as best food by non vegetarians.
Cafe Fresco, King St – Situated in a lovely courtyard just off King St this café has great (and huge) breakfasts at a very reasonable price.
Club Comanche At Hotel St Croix– This beautiful little Rum & Wine bar is located in the Historic District in the heart of Christiansted, in St. Croix's oldest hotel. As the name suggest it specialises in rum, has a great wine list as well as a fantastic atmosphere and great music.
And finally, we must mention our second favorite bar – The Cruzin Scooter, scooter hire shop/bar. Owned by a quirky and very friendly expat American, he has been known to stand in the door of the bar pulling a bottle of beer on a string across the street to see if he can lure someone in for a drink!. While we were there this technique caught a visitor from Cape Cod, twice!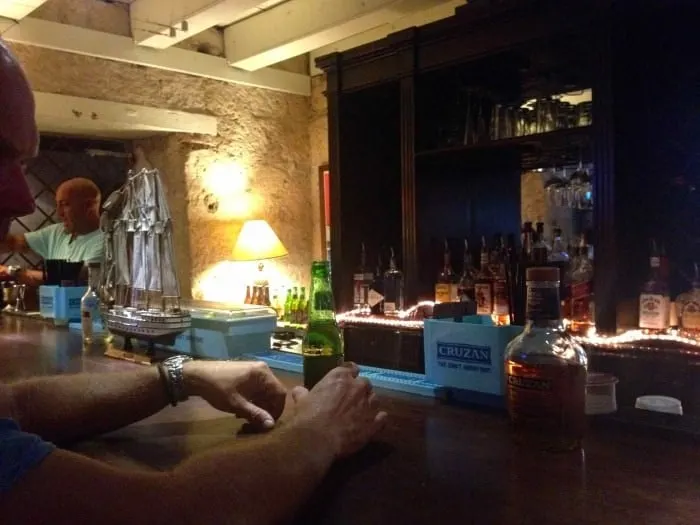 St Croix was one of the friendliest, most vibrant places we have been to. It is reasonably priced and there is loads to do and see. We wouldn't be surprised if we went back.
Where We Stayed
Booked via Airbnb we stayed at Trumpetbush Manor in the heart of Christiansted. A renovated self contained 1 bedroom apartment in a 17th century property comprising of 4 self-contained apartments. It was perfectly positioned and very comfortable for $75/night (+ $50 cleaning fee) and our host La Vaughn was very helpful.