Did you know there are 11 national parks in Florida? From the famous Everglades to the underwater paradise of Dry Tortugas, each one of these Florida national parks is well worth a visit!
Florida is one of the most fascinating destinations on the planet, and its national parks are living proof of it. Inside the national parks of Florida, you'll find deep caverns and botanical gardens, crystal-clear springs, mesmerizing flowing rivers, and untouched islands you can explore on foot.
Some of the most beautiful nature in Florida is found in these parks. Whether you're looking for a national park to visit in the winter or another season, you will find one that's perfect for your journey!
11 Incredible National Parks in Florida You Won't Believe Exist
From kayaking through mangrove mazes to spotting alligators on glass-bottom boats or searching for the next island on a park that's 99 percent water, here's a look into the most unbelievably unique national parks in Florida you need to see to believe.
Everglades National Park
Everglades National Park, probably Florida's most famous park, offers much more than most people are aware of. The Everglades National Park is home to a whopping 15 million acres of pure wilderness, the park boasts a huge array of subtropical ecosystems, including mangroves, marine, coastal lowlands, and so much more.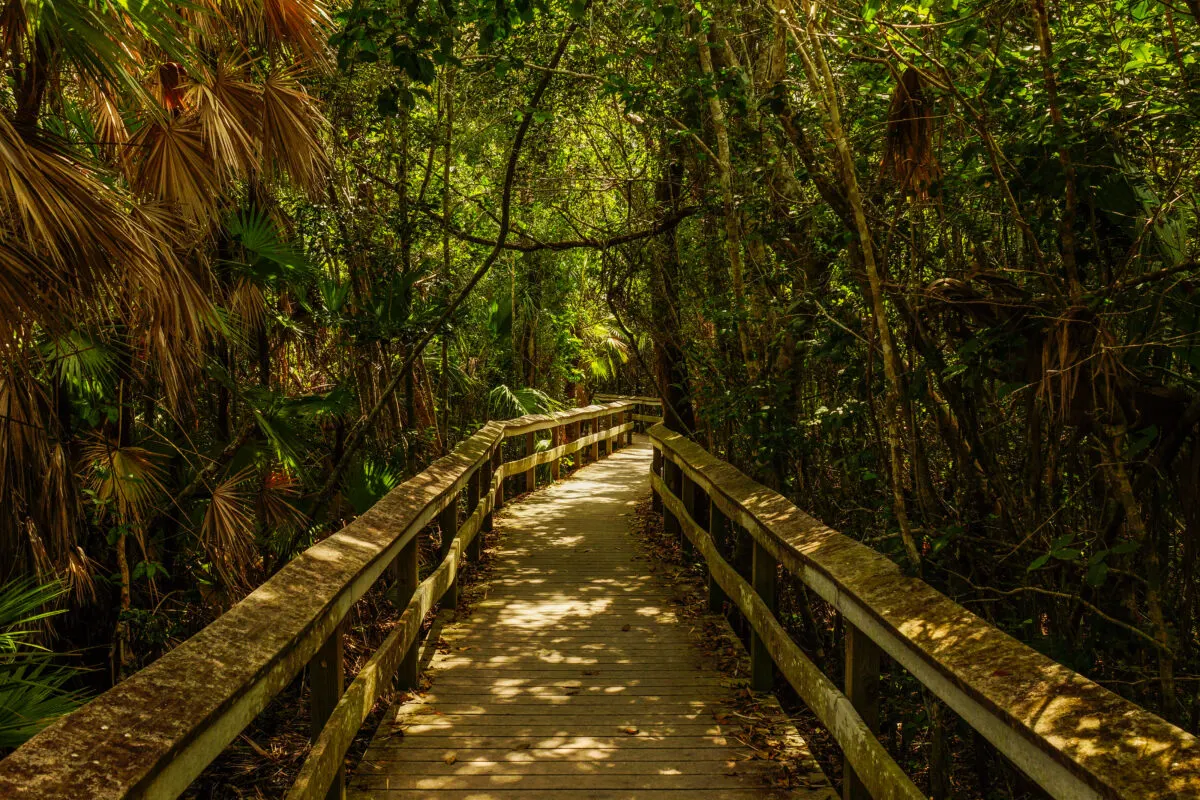 Alligators are the keystone species of Everglades, but the entire park is home to an incredible variety of wildlife. Here's a fun fact: Everglades is the only place on the planet where alligators and crocodiles co-exist!
While most people explore the Everglades by going on a scenic drive, the best way to go beyond the main sights and get close and personal with the nature around is by hitting a few hiking trails.
Consider the Eco Pond Trail which is great for flamingo sightings, and the Anhinga Trail is another incredible pick if you're brave enough to encounter alligators up close!
Another must-do in the Everglades is booking a boat tour in the Gulf Coast area to get to know the life around the Everglades' water, including manatees and dolphins!
While you can certainly explore much of the Everglades on your own, consider booking a guided tour to get the most out of your visit. Your guide will notice things you likely would have missed on your own!
Entry fee: $30 per vehicle
Best time to visit: November to March for wildlife sightings and bird-watching. Moreover, water levels are low during these months, which makes hiking trails and several other activities more accessible.
Closest airport: Miami International Airport
Biscayne National Park
Looking for a beach and nature combo? Biscayne National Park, located in the Florida Keys, is 95% underwater, which means you need to go below the surface to truly experience it.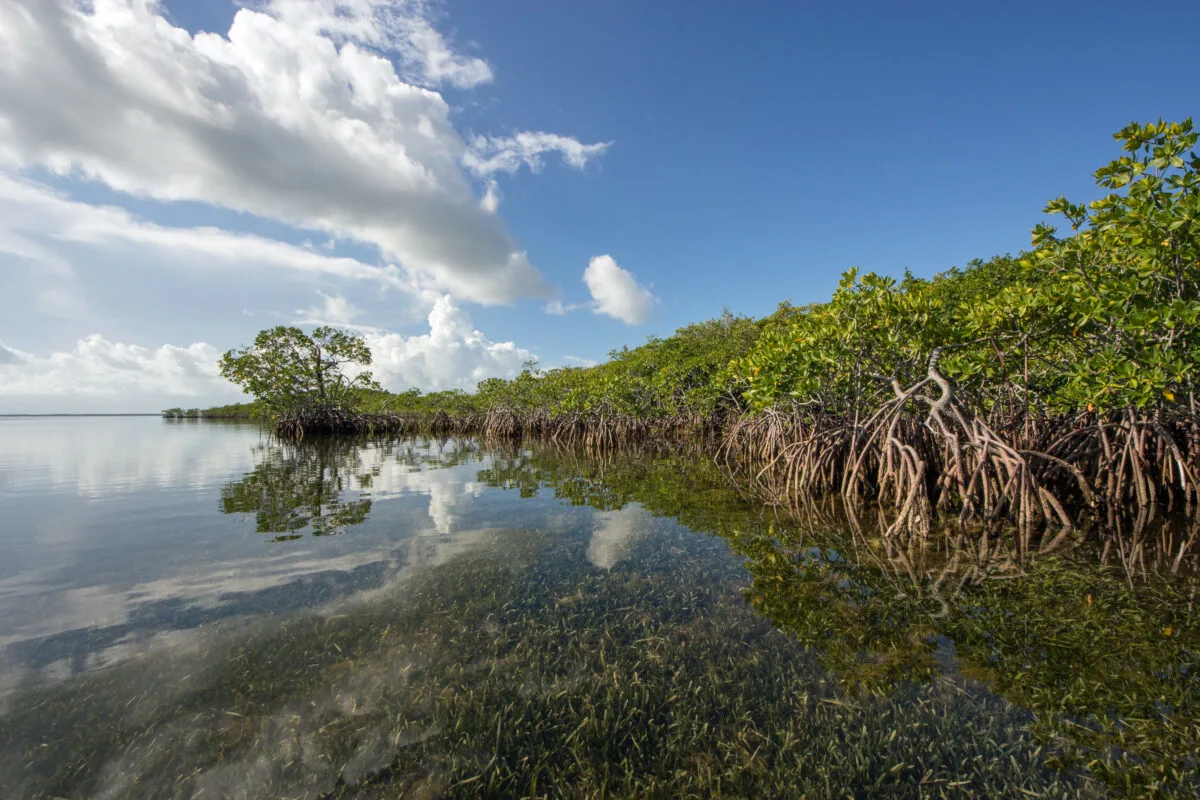 A day spent snorkeling or scuba diving is the best way to explore under Biscayne's waves. You can also book a glass-bottom boat tour if you don't want to get wet. This will allow you to see below the surface, which is incredible. Another option is a Biscayne Bay sunset tour out of Miami.
Even though 95% of the park is set underwater, the remaining 5% that's on land is also worth exploring. The rest of the park is made up of small islands. You'll find epic hiking trails, wildlife sightings you won't find elsewhere, and sunset views so good you'll want to stay a lot a while longer!
Entry fee: Free
Best time to visit: December to February in terms of weather, but you can expect the park to get a bit busier during this time compared to spring.
Closest airport: Miami International Airport or Key West International Airport
Dry Tortugas National Park
Crystal-clear turquoise waters and palm-fringed beaches? Yes, please! You don't need to jet set to the Maldives or Bora Bora to find paradise-like beaches, and Dry Tortugas National Park is proof of that.
If you've never heard of Dry Tortugas, that's totally cool – even most local Floridians haven't heard of it. Due to its remote location, this national park is one of the least-visited in the country, making visiting it a once-in-a-lifetime experience worth boasting about.
Dry Tortugas National Park is 99% water, with the remaining 1% constituting seven small islands. Dry Tortugas is only accessible via ferry or seaplane, so it never seems over-crowded. Many people don't want to bother with the journey, but we recommend it!
While visiting, you can snorkel in search of untouched coral reefs, find the colors of the rainbow in the sea life, or count how many different species of animals you can find below (sharks, sea turtles, coral, lobsters, octopus, and tropical reef fishes, to name just a few!)
Entry fee: $15 per person
Best time to visit: May through October for weather and snorkeling. Do keep in mind this is hurricane season, so make sure you check the park's official website in case of any closures due to severe weather conditions.
Closest airport: Miami International Airport
Gulf Islands National Seashore
Stretching along the Gulf Coast from western Florida and into Mississippi, Gulf Islands National Seashore encompasses emerald-colored beaches with a Mediterranean-like climate paired with an array of historical forts and sites that tell stories from way back.
There are miles of beautiful untouched shores on the Florida side of the Gulf Islands. Much of this area is uncrowded and completely unspoiled. Thanks to the place's expansiveness, finding a spot to enjoy the views in complete solitude is a pretty easy feat.
Another highlight for those who enjoy exploring on foot is the mezzanine of trails leading to mountaintop viewpoints, lighthouses, and forts that act as reminders of the First Nations and pioneer past.
Entry fee: $15 per person
Best time to visit: Any time of the year is great!
Closest airport: Pensacola International Airport
Canaveral National Seashore
Not as well known but definitely worth putting on your Florida bucket list is Canaveral National Seashore. This is the longest undeveloped Atlantic coastline in all of Florida.
The 24,000-acre national seashore encompasses 24 miles of practically untouched beaches, a barrier island, a coastal hammock, and pinewood flats. Two-thirds of the park is in the Mosquito Lagoon, one of North America's most diverse estuaries.
The best part about this Florida National Park is that it's pretty close to many of the state's other attractions. It's an easy national park to add to your visit to Disney, as it's located not far from Orlando, and it actually adjoins the Kennedy Space Center. You can even watch rocket launches from the beach!
Entry fee: $20 per car
Best time to visit: Any time of the year is great!
Closest airport: Melbourne International Airport or Orlando International Airport
Big Cypress National Preserve
Big Cypress National Preserve is found adjacent to the Everglades, so you'll find a similar ecosystem. In fact, the main difference between the two is that Big Cypress allows activities such as swamp buggies and airboats, which are prohibited within national parks but not preserves.
The 729,000 acres of national preserve are home to the endangered Florida Panther and it's also a designated International Dark Sky Site. Within Big Cypress, you can go on a self-guided driving tour or hike, join a swamp buggy tour, or rent a kayak or canoe.
Another big bonus of Big Cypress? There's no entrance fee!
Entry fee: Free!
Best time to visit: November to March
Closest airport: Miami International Airport
Castillo de San Marcos National Monument
Unlike the other Florida national parks on this list, Castillo de San Marcos focuses on history instead of nature. It is the oldest masonry fortification in the continental US, built by the Spanish to defend Florida and the Atlantic trade route.
If you're visiting St. Augustine, it's definitely worth a visit – history buff or not! The waterfront views are quite epic and if you time your visit right, you can even see a demonstration of how to fire a cannon.
Entry fee: $15 per person, free under 5
Best time to visit: Year-round, expect to encounter school visits Oct/Nov and Feb/May
Closest airport: Jacksonville International Airport and Daytona International Airport
De Soto National Memorial
Hernando de Soto was one of the Spanish conquistadors who invaded Tampa Bay. The De Soto National Memorial aims to teach this history while offering a beautiful memorial to explore.
Some of the activities at De Soto include kayak tours (June to October), nature trails, bird watching, camping, and the unique Living History Camp. The Living History Camp runs during winter and features the park rangers giving talks and demonstrations on the area's history.
Entry fee: Free
Best time to visit: Summer months for kayaking and winter for the Living History Camp
Closest airport: Tampa International Airport and Sarasota-Bradenton Airport
Timucuan Ecological & Historical Preserve + Fort Caroline
The Timucuan Ecological and Historical Preserve is found just outside Jacksonville, on over 46,000 acres. You can find several other sites within the preserve, including the Fort Caroline National Monument and the Kingsley Plantation.
Timucuan combines 6,000 years of nature and human history with salt marshes, coastal dunes, and historic sites. Here, you can visit Fort Caroline, the French's failed attempt at a colony in FL. It has its own national monument within the preserve, and you can also learn about the history of slavery at the Kingsley Plantation.
Entry fee: Free
Best time to visit: year-round, but closed every Monday and Tuesday
Closest airport: Jacksonville International Airport
Fort Matanzas National Monument
Fort Matanzas may be a national monument but it has the nature and beauty of the national parks in Florida too! Located off the coast for St. Augustine, Fort Matanzas is home to the 1742 watch tower and 300 acres of dunes, marsh, and maritime forest.
To get to Fort Matanzas, you need to take a quick ferry ride across the Matanzas River then you can take a tour of the watchtower. You can appreciate the gorgeous scenery and you may even spot a dolphin or two as well!
Entry fee: Free
Best time to visit: Year-round, though note that hurricane season is June-November and that can affect the ferry schedule. No ferry on Monday or Tuesday.
Closest airport: Jacksonville International Airport
Florida National Parks FAQs
How many national parks are in Florida?
Florida has 11 national parks run by the National Park Service in Florida, but only three are actually labeled "national parks." The rest are national seashores, monuments, and preserves.
Which national parks in Florida can you drive to?
You can drive to all of them, though technically most of Biscayne and Dry Tortugas are accessible only by boat. You'll also need a ferry to reach Fort Matanzas.
What is the biggest national park in Florida?
Everglades National Park is the biggest in Florida (and probably the most famous). It encompasses over 2 million acres (!!!), and is home to many unique habits and lots of flora and fauna.
What is so special about Dry Tortugas National Park?
Dry Tortugas has become one of the most talked about national parks in Florida lately. This unique park is almost entirely underwater, with just 7 small islands above water. It's famous for its crystal clear water, marine life, and coral.
We hope this list of amazing national parks in Florida helped you craft the perfect bucket list for your trip! While some are easier to get to than others, each and every single park in this list is vastly different from the last and worth visiting even if you already think you've seen it all.
Have you ever been to any of these Florida national parks? Which one was your favorite and why? Let me know all about it in the comment section below!