London is known for being pricey, but it is possible to visit London and not spend a fortune.
There's so much to do and see in London but it doesn't have to break the bank. Include some of these free attractions into your London itinerary to stretch your travel budget further. You may even see a different side of London.
The Scoop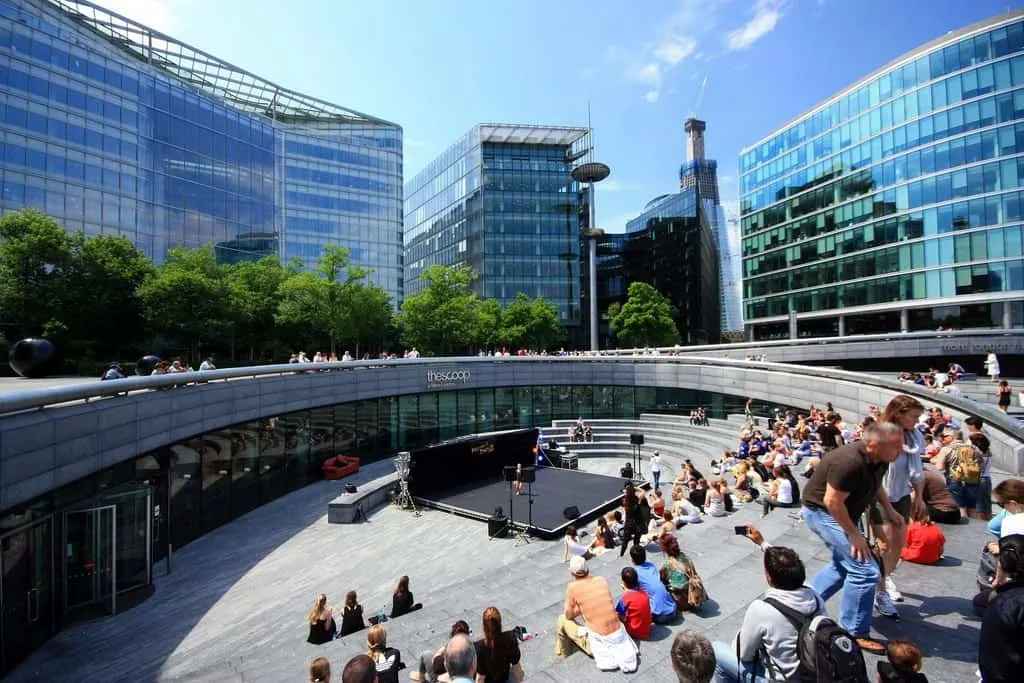 Image via Flickr by Mr Moss
If you're tired of visiting the museums in London, head out for a slightly different type of entertainment at The Scoop. This amphitheatre situated near Tower Bridge seats 800 people and offers free entertainment including film screenings, live music, and plays. There is something offered almost every night free of charge at The Scoop.
Postman's Park
Featured in the movie "Closer," this small park is worth the trip and the experience. Made famous by Natalie Portman and Jude Law's scene from the movie, this park is unique in that it is a Victorian memorial for people who died savings someone else's life. This park opened in 1900 with the most recent memorial added in 2007. Although the park is small, it's worth making it one of your first stops when you leave your hotel in London and to go sightseeing.
Changing of the Guard
While it may seem slightly cliché, no trip to London is complete without a visit to Buckingham Palace to see the changing of the guards. Every night without fail, a new guard replaces the guard on duty with a ceremony. The process takes around 45 minutes and takes place daily during the milder seasons. With a little imagination, this ceremony will take you back in time and make you feel like you are in London when the tradition first took place in 1660.
Angel Comedy
If you like British humour, you will love the free shows at Angel Comedy in London. There is no obligation to pay for entrance to see the shows, although the comedy club does accept donations. The comedians range from brand-new acts to famous comedians who want to do a dry-run of their next big show. Angel Comedy promises free laughs for everyone who visits.
Speaker's Corner
Located in Hyde Park, Speaker's Corner offers a rich history dating back to 1866. Every Sunday people gather to speak and discuss social issues, politics, and other relevant topics. It's famous for allowing citizens to speak freely, although the police have silenced people for profanity in the past.
Both Karl Marx and George Orwell have spoken there. You may also recognise Speaker's Corner from Bill Maher's documentary, Religious. A number of BBC programming has also featured Speaker's Corner.
Notting Hill Carnival
Commencing in 1965, Notting Hill Carnival originally started as an extension of the Trinidad Carnival. Although the carnival has changed, it still has kept its Caribbean charm. Over a million people visit the carnival every year with 50,000 performers at the event. If you're in London during August, put the Notting Hill Carnival at the top of your list.
Although there are plenty of free museums in London, sometimes you just need to do something a little different. These attractions are sure to make your trip to London memorable without breaking the bank.