Perhaps, without the farm animals, there would be no hot air ballooning in Cappadocia (or anywhere for that matter), and this is one of the big ticket experiences people come to Cappadocia for.
As the story goes the first hot air balloon flight to carry living creatures was on 19 September 1783. The flight was manned by a sheep called Montauciel, a duck and a rooster. The sheep was believed to be a reasonable approximation to human physiology. The duck as a control to test the effects created by the craft. The rooster, a further control for altitude, what better than a flightless bird!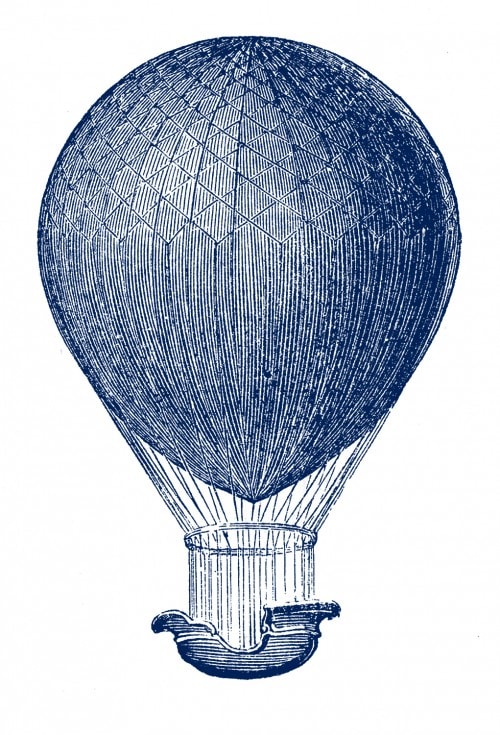 The flight took off from the royal palace in Versailles, before King Louis XVI of France and Queen Marie Antoinette, lasted around 8 minutes, reached an approximate altitude of 460 m and covered a distance of 3 km. The craft landed safely and none of the farm animals were injured in the experiment.
By October of the same year, the first balloon flights to carry humans, "tethered flights" were conducted. The test pilot, Pilate de Rozier reached an altitude of 24 m (79ft)  on the second of those flights; the length of the tether.
By November, our industrious aviators were ready to conduct the first 'free' flight with humans. King Louis XVI decreed that condemned criminals should be the first pilots. Rozier swayed the King for the honour and was accompanied on the first flight by Marquis François d'Arlandes.  The rest is ballooning history!
Now,  I share these stories not only to enlighten you to a brief history of this whimsically beautiful craft, capable of flight at extremely high altitudes (a 2005 record reached 21,027 m (68,986ft) !!), but perhaps more so to allay my initial concerns of leaving terra firma in a wicker basket with only the wind to determine our destination (Mark claims not to share the same fear).
My rationale; They bothered to name the sheep so this was not a random experiment with no real thought to the possible calamity of the maiden voyage. And noblemen, with everything going for them had such faith in the safety of this craft, they took the place of condemned criminals as the first human test pilots.
So in honour of the sheep Montauciel, (not the silly men that chose their possible fate) the first, possibly reluctant, substitute human to fly in a hot air balloon, we too made the decision to take to the skies for what people claim would be one of the most spectacular and memorable experiences of our lives.
This is, after all, what most people come to Cappadocia for. (this and the fairy chimneys)
---
So, early on a very cold winters morning, after we had received the "All Go" on the flight the night before, we bundled into the Sultan Balloons courtesy bus to head to our launch site.
After much discussion about the safety of balloon flight and whether this was something we really needed to do, we were actually getting pretty excited.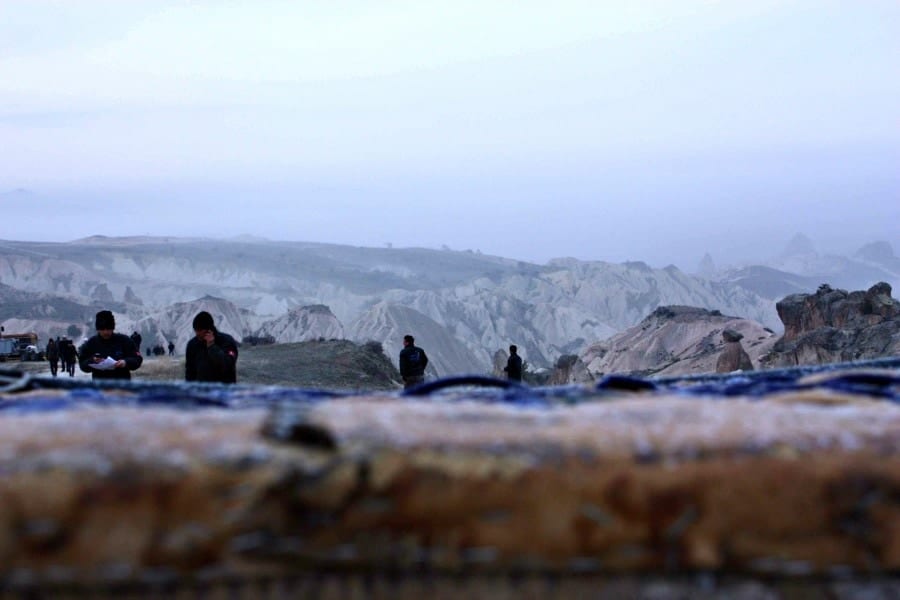 We arrived at the launch site to be greeted by Ismail Keremoglu, the founder of Sultan Balloons and a very accomplished balloon pilot, with more than 21 years of aviation experience.  In addition to passenger and recreation balloons, Ismail also flys balloons at competition level, winning his first of many Turkish National Hot Air Balloon Championships in 1997.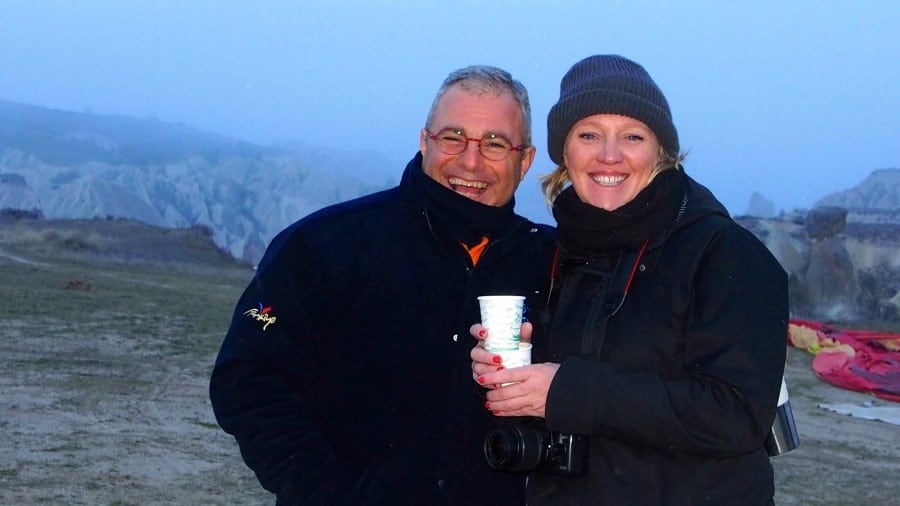 Ismail is one of the friendliest and happiest men we have met and his passion for Ballooning is nothing short of infectious. So not only did we feel reassured about our safety, we were hanging on his every word, wanting to know more about this romantic craft and the ins and outs of competition ballooning. It was truly fascinating.
Sipping hot coffee in the brisk early dawn, indulging in tales of ballooning champions, I decide to inspect the craft that will take us over the ancient valleys filled with fairy chimneys and cave dwellings.
So this is where we will stand. Ok, seems sturdy enough.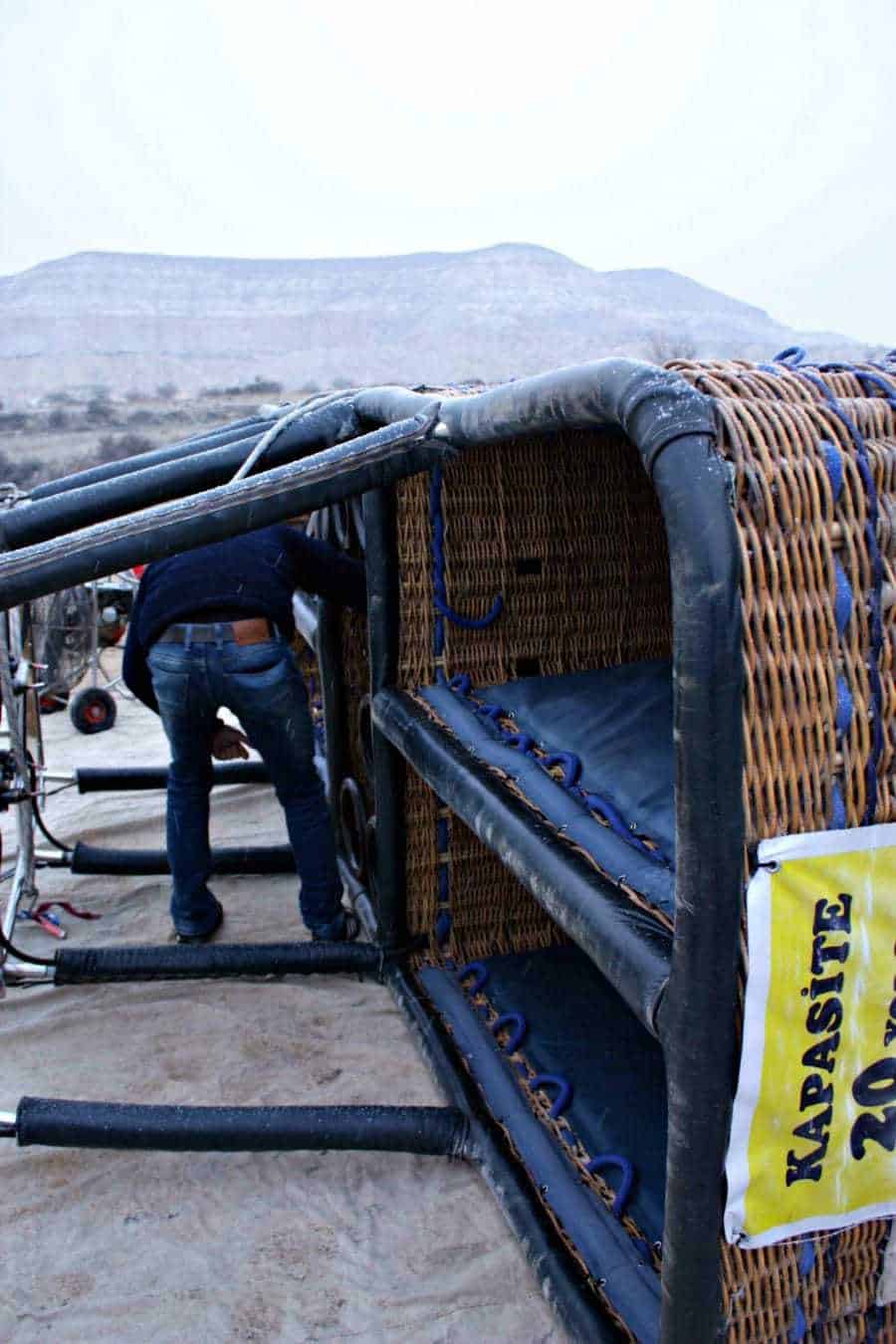 And these must be the things that will propel us into the air. Seem shiny enough!
And, of course, the balloon. We're not going anywhere without the balloon.
Not so sure about the fan. We'll soon find out I suppose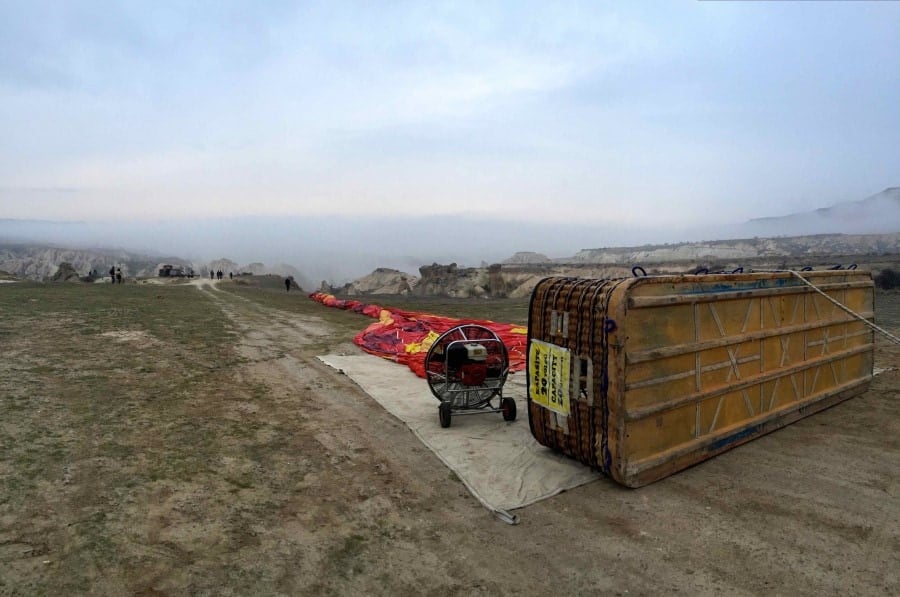 My inspection complete, I head back to see when we might be taking off. After all, this is meant to be a sunrise flight.
I find Mark and Ismail deep in conversation about all things flight when I notice a few snow flakes falling. Mark gets excited; "how beautiful the valley will look dusted in snow"  Then we notice all the crew glued to their smartphones. One man, in particular, was staying close by Ismail and giving him regular updates. On What?
Then Ismail says quietly "we might not fly." What we hadn't noticed in our new found ballooning enthusiasm, was the fog rolling in through the valley.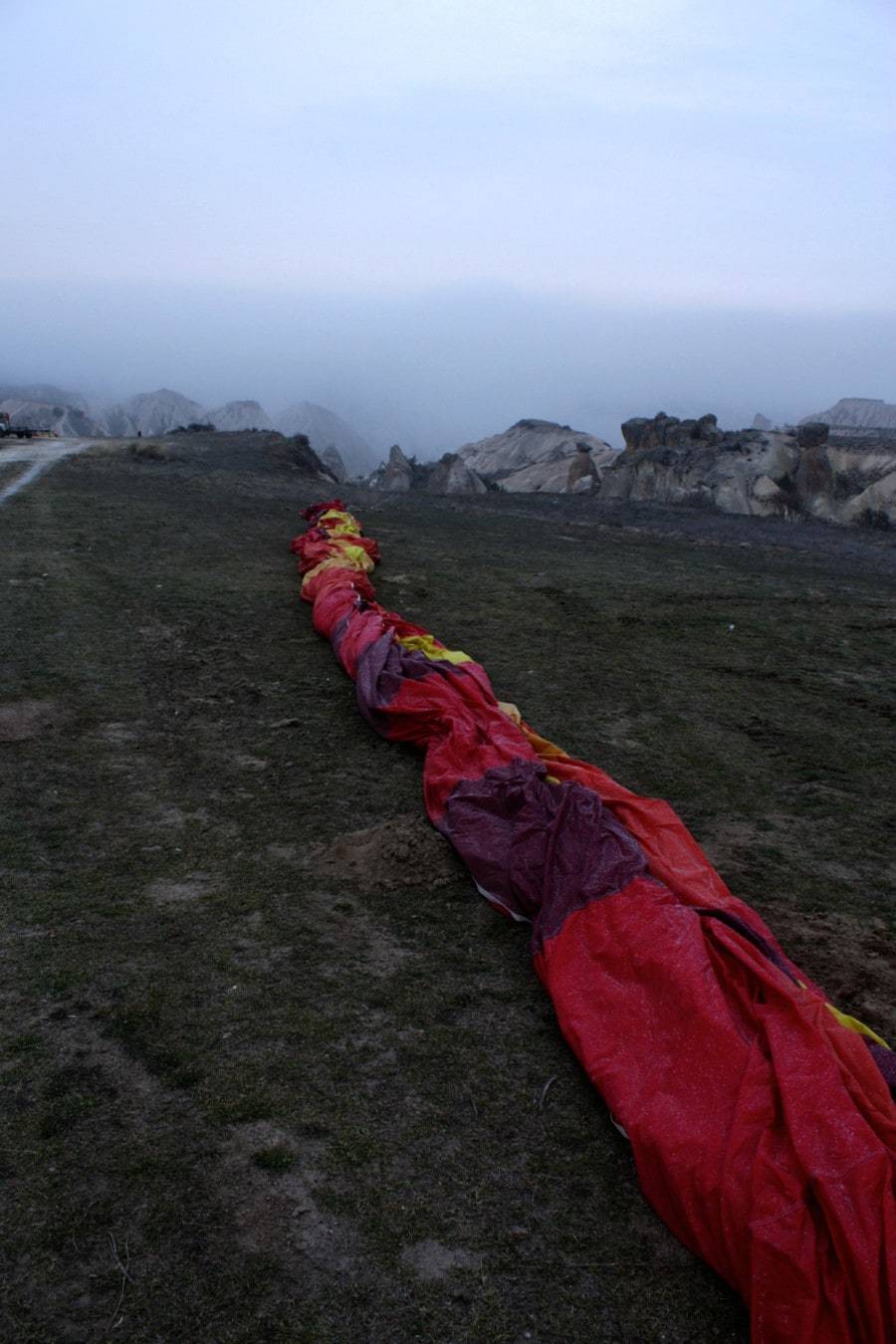 What everyone was glued to were updates being issued by the Civil Aviation Authority.
As the industry in Cappadocia ballooned (excuse the pun!) from a few small operators back when Ismail first started around ten years ago, to today where there can be as many as 80 – 100 balloons in the air on a good morning, the need for regulation increased.
In the past, there have been fatal accidents in the area and probably many more near misses. Some of these could have been avoided by not taking chances when the conditions were not guaranteed for the duration of the flight, or being better informed about possible changes in conditions.
So now the industry is ruled by a system of flags issued on the evening prior to and if need be, again on the morning of the flight. A green flag for all clear, yellow for standby and red for cancel. This was the reason we had been standing around enjoying the sunrise and lively conversation, a yellow flag.
The increasing fog meant that we would not be able to see a landing spot, something we agreed was fairly important and with snow becoming heavier, a red flag was issued.
So the crew were given the call; "Pack up the balloon, we're going home".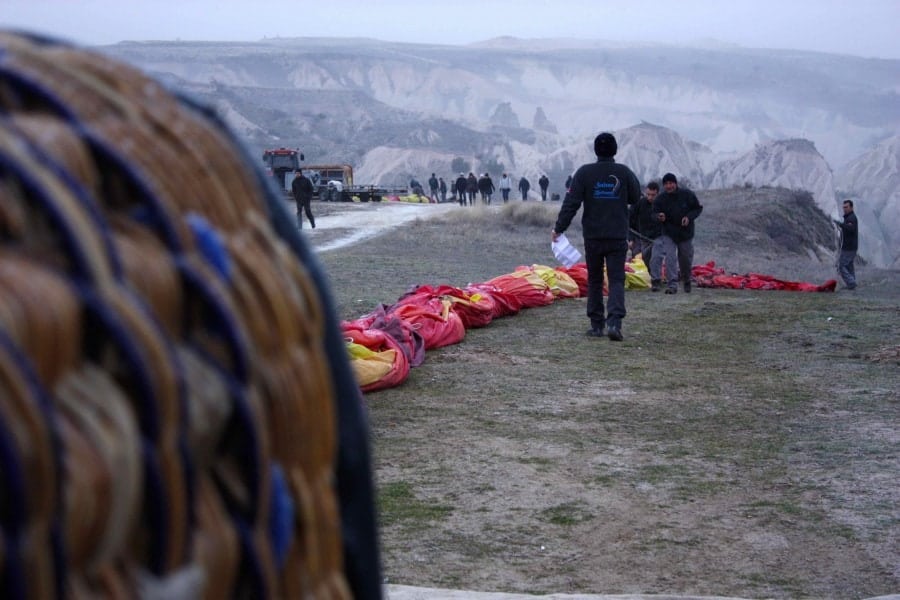 While we didn't get to go hot air ballooning in Cappadocia, and of course were slightly disappointed, we were still very happy with our close encounter with these intriguing and beautiful craft. We got to spend a thoroughly enjoyable morning having coffee with one of the most engaging men we have met, surrounded by the stunning Cappadocia landscape. We were also extremely happy to know ballooning in Cappadocia is very much a safety first industry.
We hope we will cross paths with Ismail again in the future, maybe when he competes in the European Ballooning Championships in Hungary this year or maybe in his home country of Bulgaria where he tells us there are some perfect ballooning locations. Either way, we no longer have the same initial concerns or fears about ballooning thanks to Ismail's infectious enthusiasm and consummate professionalism.
So here's a look at what we missed out on.
Things To Consider About Choosing A Hot Air Ballooning Experience In Cappadocia
Book your flight for the first morning you are in Cappadocia. If the weather is not favourable, you then have the opportunity to try for the next day. We had no such luck as a big snow storm hit just after we returned to the hotel that morning, lasting days.
Research the operators before you book. Things you might consider when choosing a quality operator:
How long is the flight? The better companies will offer longer flights, they are usually a minimum of one hour in the air.
Don't be scared to ask about the pilots experience and any accreditations the company has.
Ask how many in the basket. The smaller the group, the better the operator. Some of the cheaper ones really pack em in and I value personal space.
If the price is too cheap to be true, then the operator may be too. Would you scrimp on cost for skydiving? Then don't for Ballooning either.
And as Ismail says, if the companies biggest selling point is the breakfast they offer you at the launch site, take note. While they all offer a light breakfast before take off and usually a champagne toast after the flight, this shouldn't be the tipping point for your decision.
FACTS
Sultan Balloons have nine balloons of varying sizes, capable of carrying 5 passengers all the way up to 20 passengers.
Cost: prices start at ~€ 160.00 pp for a standard flight (€10.00 discount is given for cash payments). VIP or private flights start at ~€ 1200.00.
Included in a standard flight: Shuttle service from your hotel to the launch site (which changes according to conditions) and return. Pre-flight refreshments. Balloon flight of approx. 1 hour. Champagne celebration on landing. A personalised flight certificate of your experience.
Expect to start early, ballooning is an activity best undertaken before dawn to take advantage of the sunrise spectre from above and favourable ballooning winds.
Dress appropriately; warm and comfortable.
Above all else, enjoy!
---
 We would like to thank Ismail Keremoglu and Sultan Balloons for having us as their guests if only at the launch site. As always, all opinions expressed are our own.