Why We Love Travel Apps
It's no secret that we love travel apps. There are so many to choose from, but how many are truly useful? Of all the travel apps we download, very few become our go-to apps. When we do find one that's really useful, we like to share it, especially if it's free!
We've traveled around Europe for over two years. In that time, we've spent many hours researching and planning the best way to get from point A to point B, poring over multiple websites and outdated train and bus schedules. Getting from A to B in Europe isn't always as straightforward as booking a flight or a train.
Working out the best flight between two cities is easy, but trying to compare the efficiency and price of air, rail, and bus tickets is nothing short of overwhelming. This is especially true in the age of low-cost airlines. While a low-cost flight might seem like a good deal, many fly in and out of airports located a long way from where you are trying to go. With the false economy of cheap airfare and outrageously expensive luggage fees, low-cost carriers aren't always the best option. In Europe, it pays to research your options.
This is where the GoEuro app comes in. Imagine being able to compare the cost of rail, bus, and air tickets between any city, town, or village in Europe. They're even filtered by price, time, trip duration, and the number of changes involved. This app even provides transit times to and from the airport so you know exactly how close or far from the airport you will be.
How to Make the Most of Search Functionality
We're currently researching options for travel between Venice and Sicily later this year. As our search here shows, the cheapest flight is actually from Verona, two hours from the center of Venice. This tells us that the next fare up might be the better option, depending on transfer costs to Verona.



While the app itself is incredibly easy to use, the desktop offers even more functionality. Here you can get a closer look at car rentals and city transfers.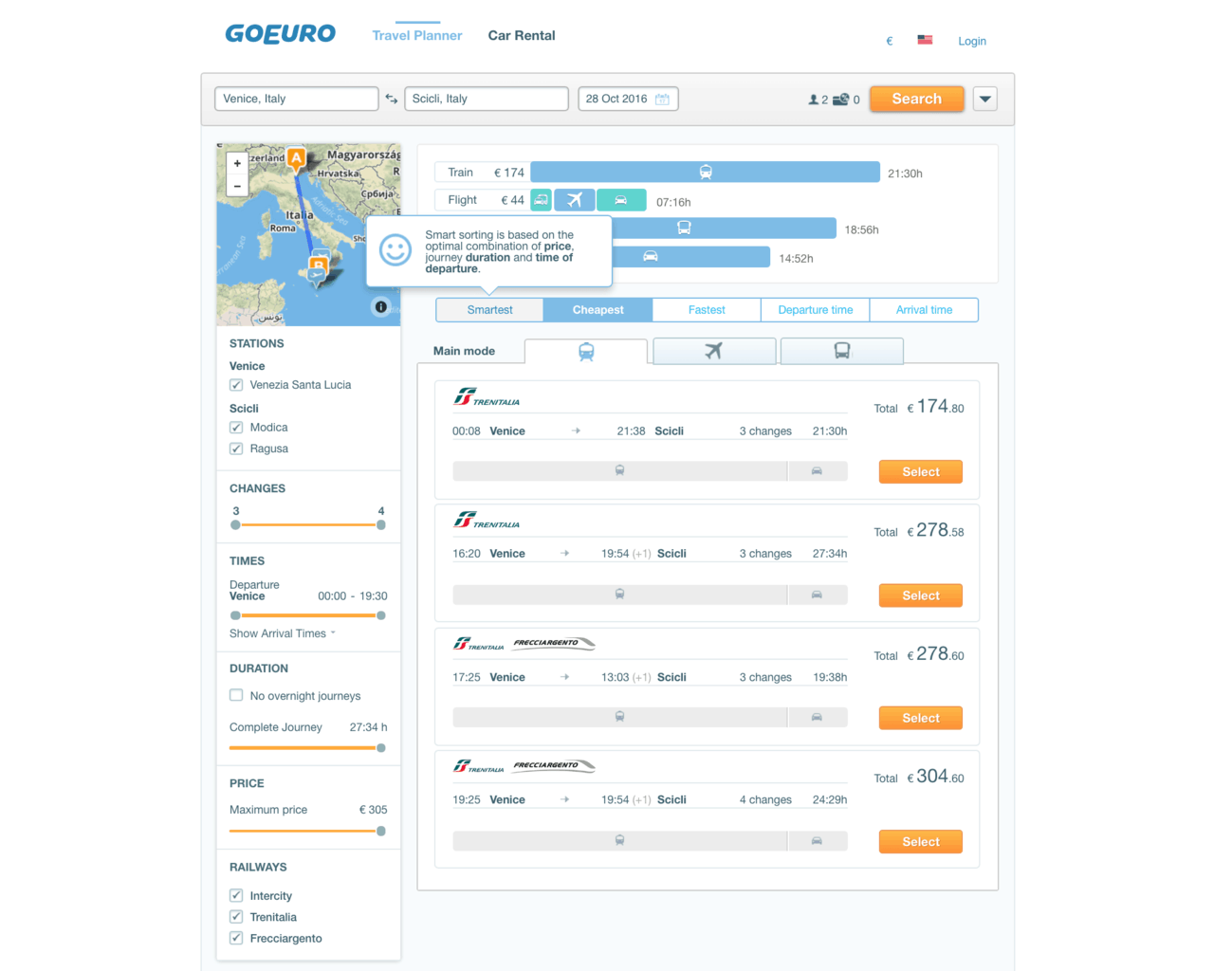 Which Destinations to Search
GoEuro currently works with more than 450 flight, rail, and bus partners across 12 countries. That means you can plan trips to more than 30,000 destinations with single searches. While GoEuro might still be in its infancy in terms of available route options through parts of Europe, it more than covers the core countries. GoEuro currently has full coverage in Austria, Switzerland, Germany, France, Spain, Italy, The Netherlands, Belgium, Luxembourg, United Kingdom, Czech Republic and Poland, and the app constantly adds new routes.
The GoEuro app allows users to create a personal profile, which includes stored payment options delivering handy search and booking tools to the palm of your hand. You can search, compare, book and pay right from your phone. As routes continue to expand, GoEuro will be your one-stop app for ease of travel through Europe.
You can download the GoEuro app for free from Play Store for Android or App Store for iOS.
Read More: Europe budget tips,  3 weeks in Italy for 4105 Euro – your way