We recently came across a handy and very stylish piece of kit that takes smart gadgets to a whole new level
ZUS Smart USB Car Charger
Apart from the highly stylised and modern design that appears to have taken its cue from a Bond movie, ZUS looks just like a normal two-port USB charger. However, ZUS is far from normal.
Based on design alone we were loving this gadget!
It's made from high resistance materials that meet military grade standards, meaning it can withstand heat up to 140°F and is resistant to chemicals. Finish the sleek and ergonomic design in Titanium. Then, up the ante with ZUS' exclusive "ElegantShine" lighting which offers "Top of the line lighting for increased visibility in dark environments" and you have a product that would give Bruce Wayne gadget envy.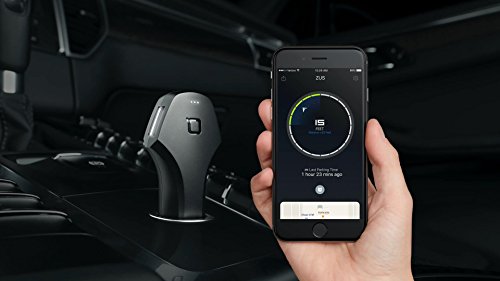 Although from a design viewpoint it is impressive, these are not the standout features here.
We never gave much thought to our car charger, other than we needed one until we came across ZUS.
So what makes ZUS so special?
---
Firstly, ZUS can charge two USB devices at twice the speed of any normal car charger. It cleverly detects what devices you have plugged in and using an inbuilt smart device detector it will deliver the maximum output to charge each device at its fastest speed. This means you can maximise the charge to iPhones, iPads or any USB device even on a short commute.
This feature is great for us. We run TomTom on our iPhone to find our way around foreign countries as it doesn't require wifi, but it absolutely sucks the charge from your battery. So, we were pretty impressed with the charging speed.
Ok, while all of this is quite exciting for the humble car charger, here's the kicker, ZUS will help you find your car!
Yep, ZUS has a supporting App for iPhone and Android that will locate your car from any distance. As soon as you step out of the car, the App talks with ZUS to sync the cars GPS location so you can track where you are parked. It has a very easy compass design which simply shows the direction and distance to where you should be.
We love this feature as we are prone to parking in foreign cities and heading off to explore without too much consideration of where we parked. No matter how many times we say to each other "note where we parked" when we get back do you think the car is ever where we thought we put it! Especially when you have a non-descript hire car.
The best thing about this App, especially for travellers, is it doesn't require wifi or data for it to work. Nor does it require a phone signal so it can be used for hiking or camping. Using GPS, it just runs in the background on low energy Bluetooth.


Should ZUS not be able to locate a GPS signal, which obviously happens from time to time, the App will offer the option to take a photo of your location as a prompter, so it appears to have all angles covered.
Another great feature is the Parking Time Alert. When you leave the car not only will ZUS sync your location, it will ask you if you want to set a parking timer, so no worries about possible parking fines.
---
We may be suckers for a sassy new gadget but is this just a fancy gimmick? We think not.
Nonda, the Smart Hardware startup behind ZUS has more advanced features planned for the future and has been awarded 2016 iF Design Award.
Perhaps this is the confidence in their product that prompted the 24K Gold Limited Edition
. Yes, it exists!
So watch this space, this could be the future for seemingly innocuous gadgets.
---
We really do like this product. As travellers who often have use of a car through House Sitting or when we hire a car, we rely heavily on a car charger to run the TomTom and this charger has really surprised us. We love it.
Now here's the bottom line. You would expect this device to be quite expensive, especially in the realm of the car charger market but it's relatively inexpensive.
Normal retail price is $49.99 but at the moment, ZUS is available direct from Nonda or from Amazon for around $29.99 or, if you really love your gadgets or happen to be Snoop Dog, $499.99
will secure you the luxe Limited Edition 24K Gold version.
---
While we received a Zus Smart USB Charger courtesy of Nonda (not the luxe edition!), as always, all opinions are our own and have not been influenced in any way. We only ever review and share products we honestly like and would use ourselves.