REVIEW Sea Star Spa Resort.
Sea Star Spa is a luxury resort located at Long Bay on the southern tip of Corn Island, Nicaragua. Corn Island sits 70kms to the east of the Nicaraguan Caribbean coast and is one of the Caribbean's best kept secrets, not for long though!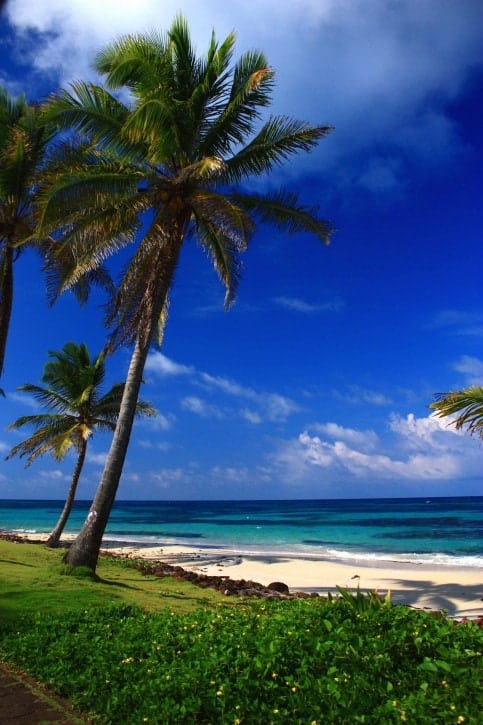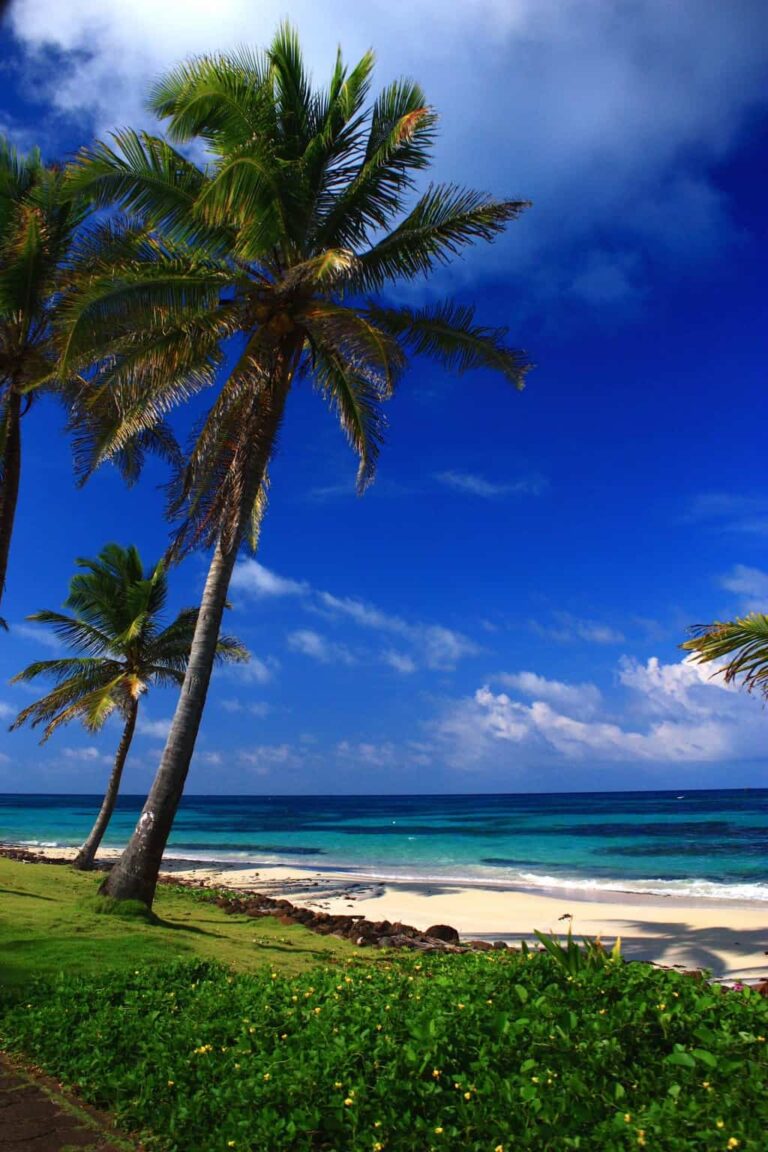 Our stay coincided with the end of the low season when most hotels and tourism services on the Corn Islands are either just re-opening or starting to get ready for the upcoming season after staying open through the slow period.
---
ARRIVAL
A taxi was waiting for us when we arrived at Corn Island Airport. At the hotel we received a very warm and happy island style welcome, "Welcome to paradise" – they were right. Taken directly to our room with out any messing about with check in procedures, the staff introduced themselves, showed us all the amenities of the room and explained the services available.
They offered to stock our fridge with any drinks we would like and explained that if we required anything, just press the red room service button in our room and they would be there directly. Check in was very easy and very welcoming. We were already feeling spoilt.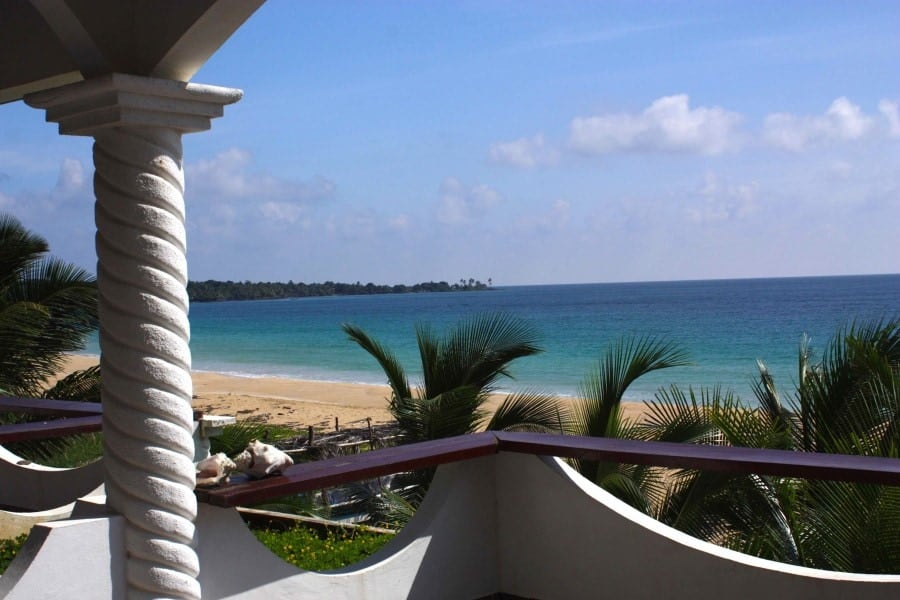 ROOMS
The rooms are gorgeous. Large, bright and airy with a spectacular view of the Caribbean Sea. We were on the top level, so had a large balcony overlooking the beach.  Big glass sliding doors gave the room a lovely open air feel.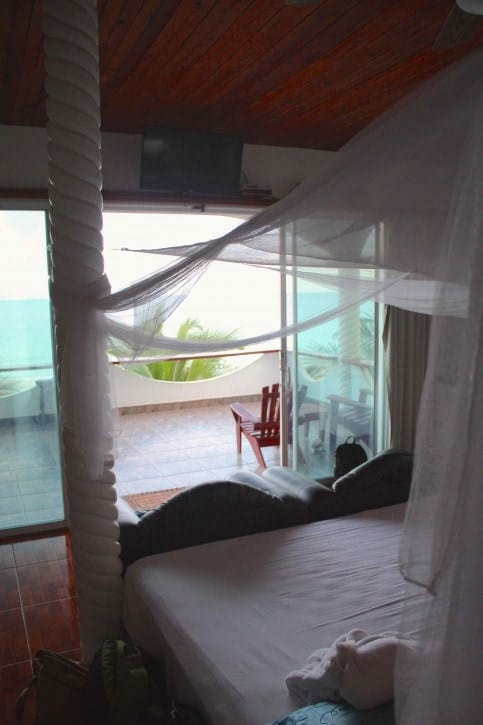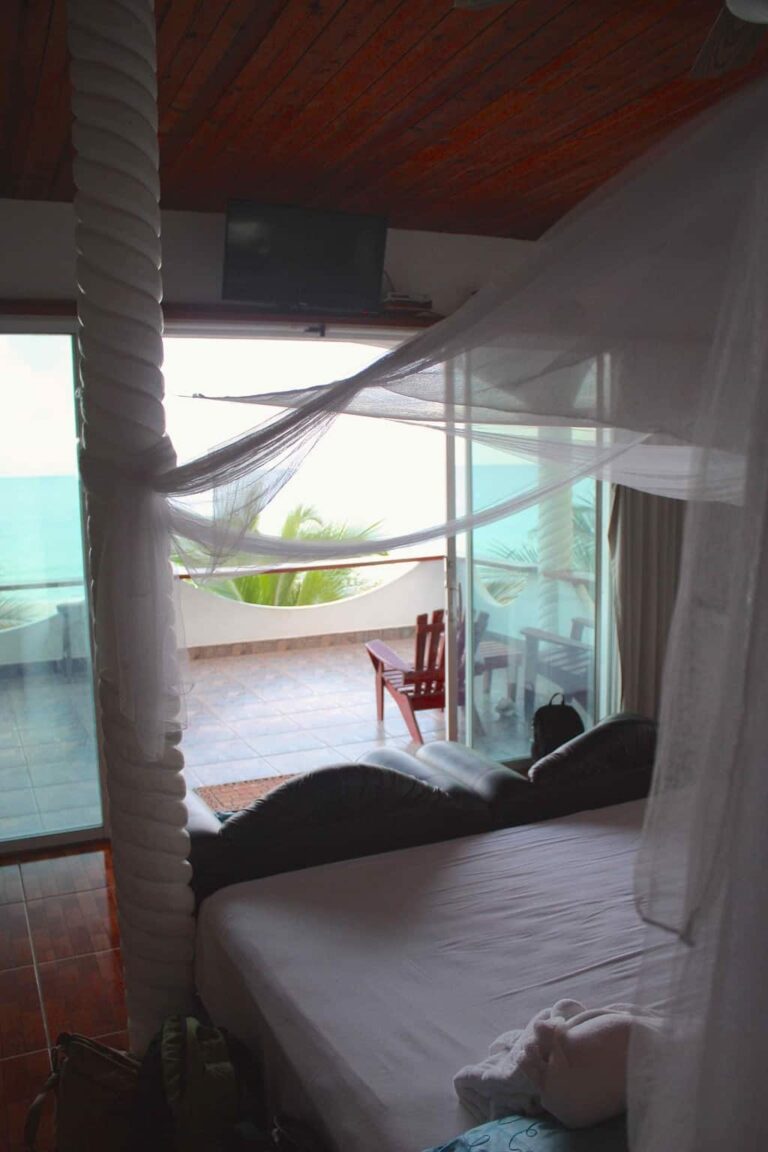 The room was designed so you didn't actually have to go onto the balcony to enjoy the view as happens with some hotels. Large comfortable armchairs sit at the end of the bed so you can enjoy the view in comfort without feeling stuck inside.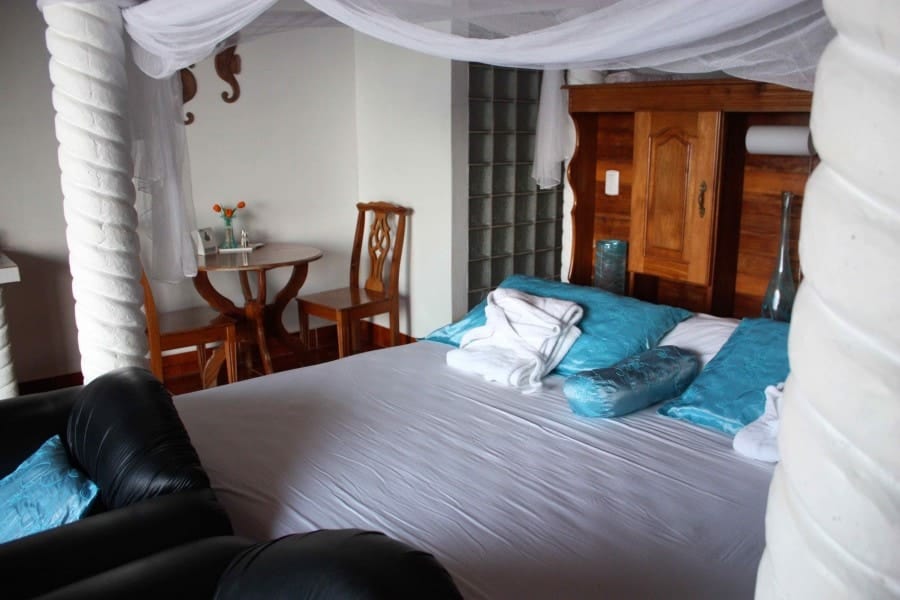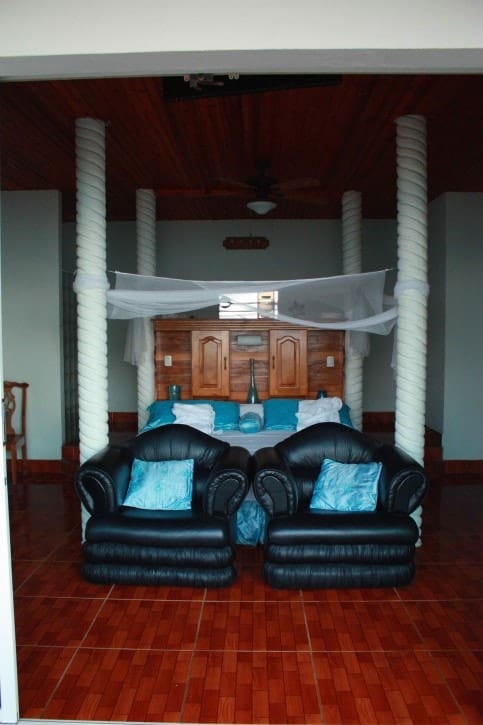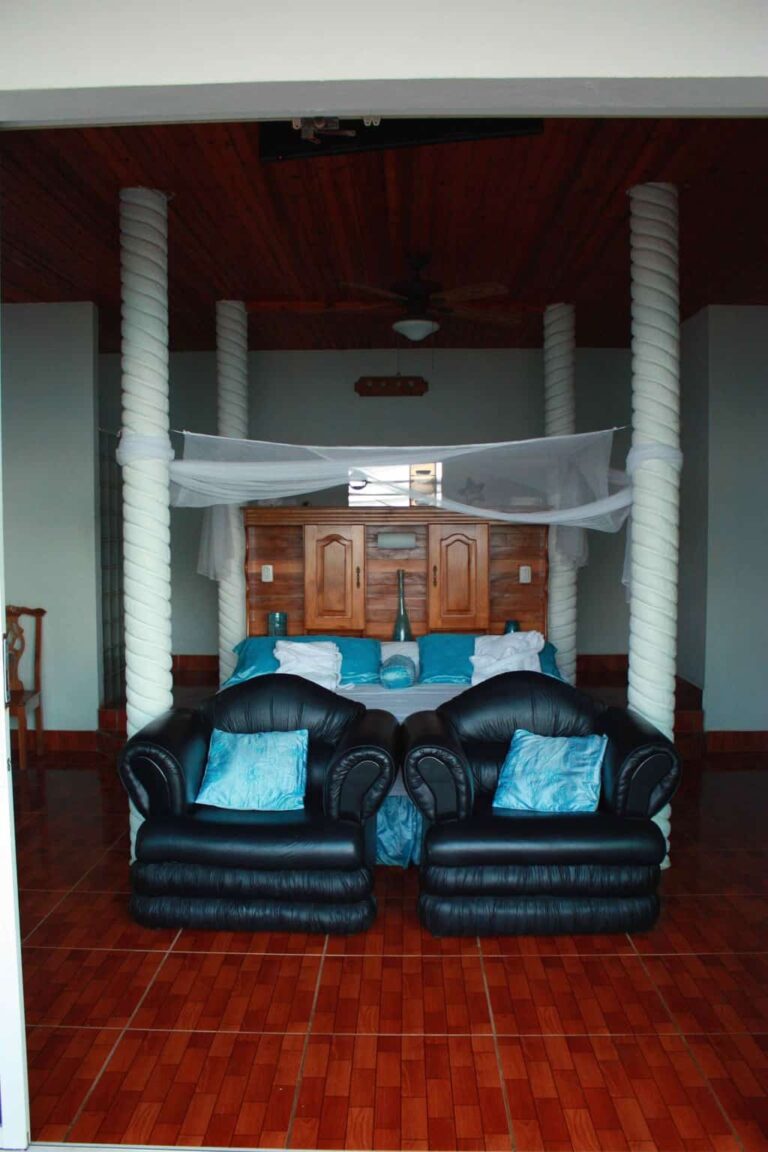 The room had a small, well equipped kitchenette so you could make coffee or even prepare a meal. They offer rental of cooking kits and there is a BBQ area adjacent to the rooms.  But why bother cooking when you can have a very reasonably priced meal delivered to your room. We had a lobster dinner for two (2 small lobsters each) for around $35 USD.  This is more expensive than a local restaurant but still very cheap for a private lobster dinner on your own beach front balcony.
The room has a small dining area and plenty of storage space.  The large bathroom is above and behind the bed so as to not detract from the spacious feel of the room.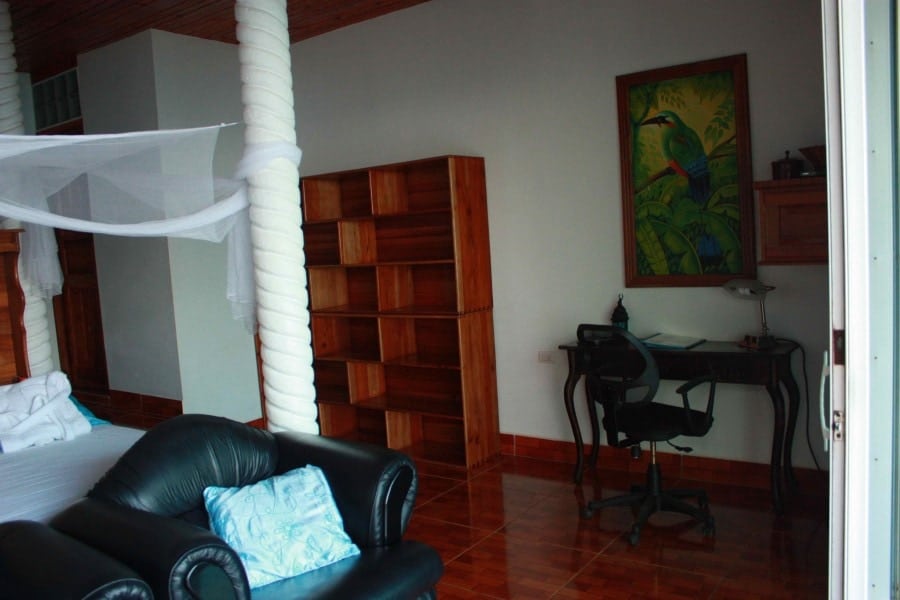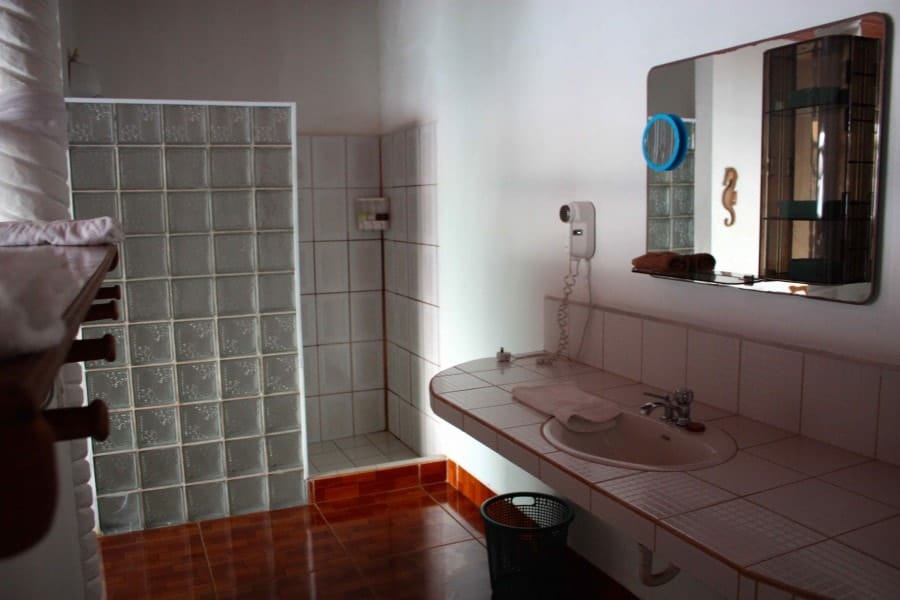 These suites are very comfortable and have all the facilities you require for a lazy beach holiday. Air conditioning, a very comfortable bed, cosy bathrobes and cable TV, all right on a spectacular beach!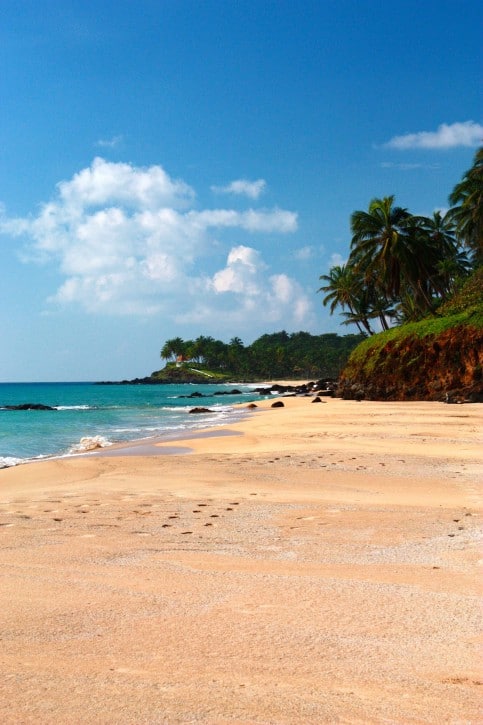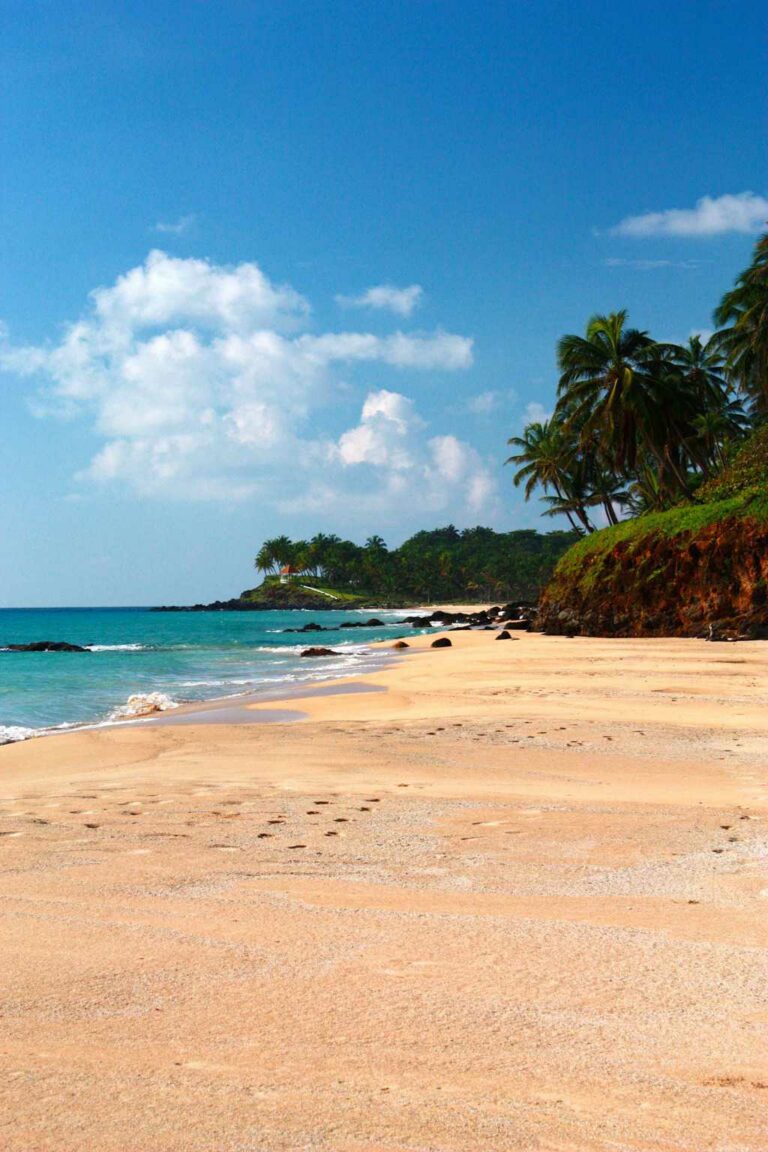 FACILITIES
While we were there the hotel was undergoing expansion and renovations. At the moment you will find 4 large suites and a small bar area (that never really seemed to be open but drinks could be bought to your room any time you required).
As well as some additional rooms earmarked for the future, current improvements being made are a pool/spa area, a fitness room and we think possibly modifications to the bar area. There are also some aesthetic improvements being made with water features and an open fire pit. It is already a lovely location with fantastic rooms and is only on the improve.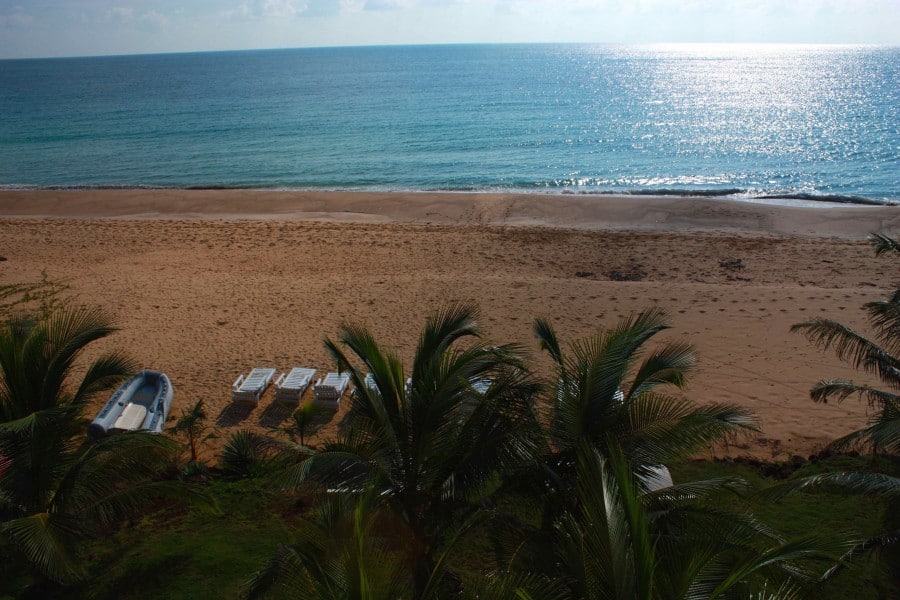 There are plenty of areas for lounging in the sun aside from your balcony, including a lovely roof top deck and sun lounges on the front lawn and the beach. The BBQ area also overlooks the beach.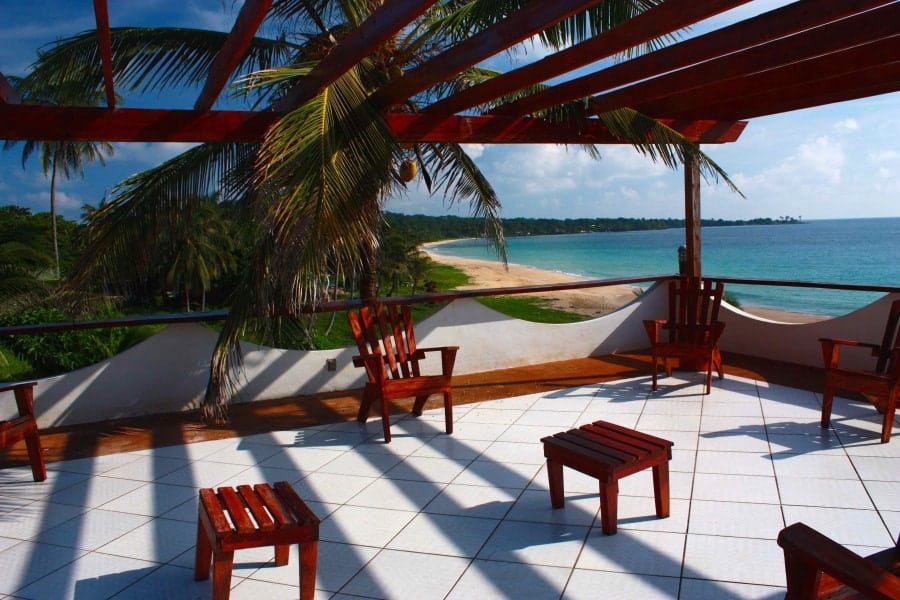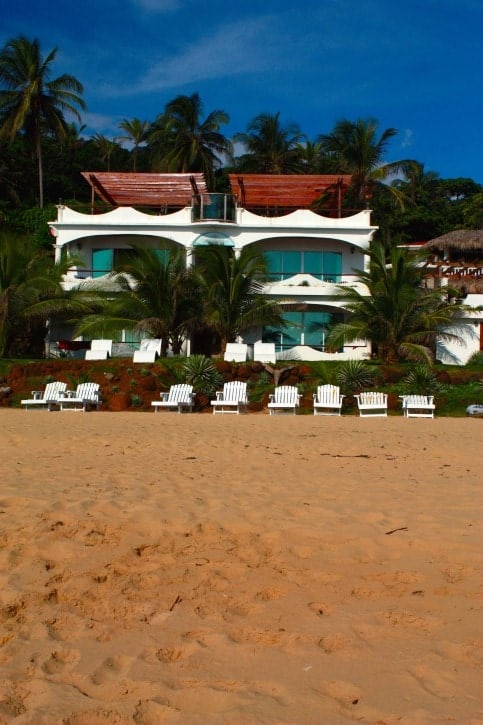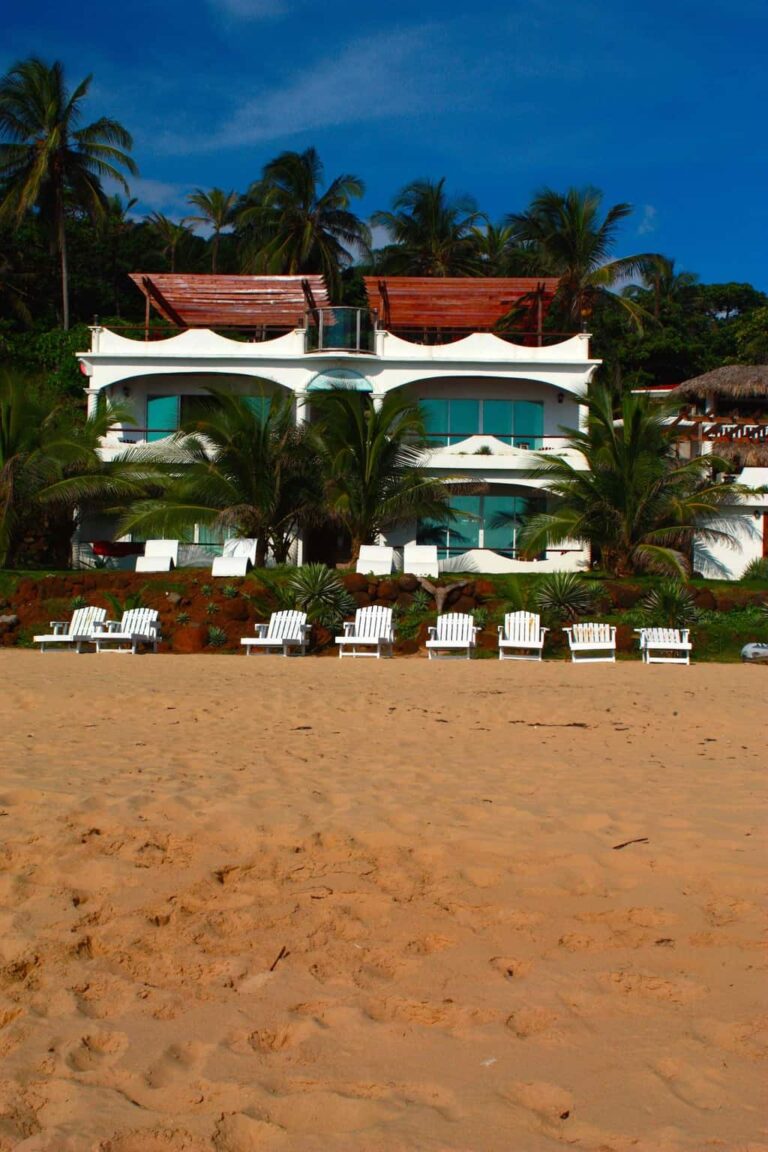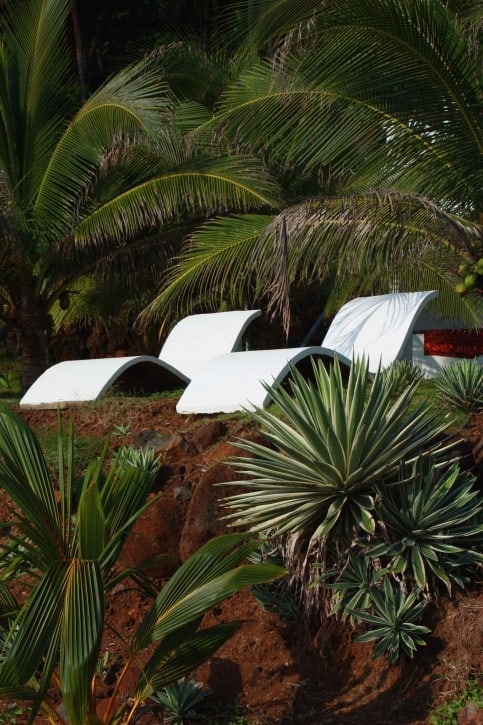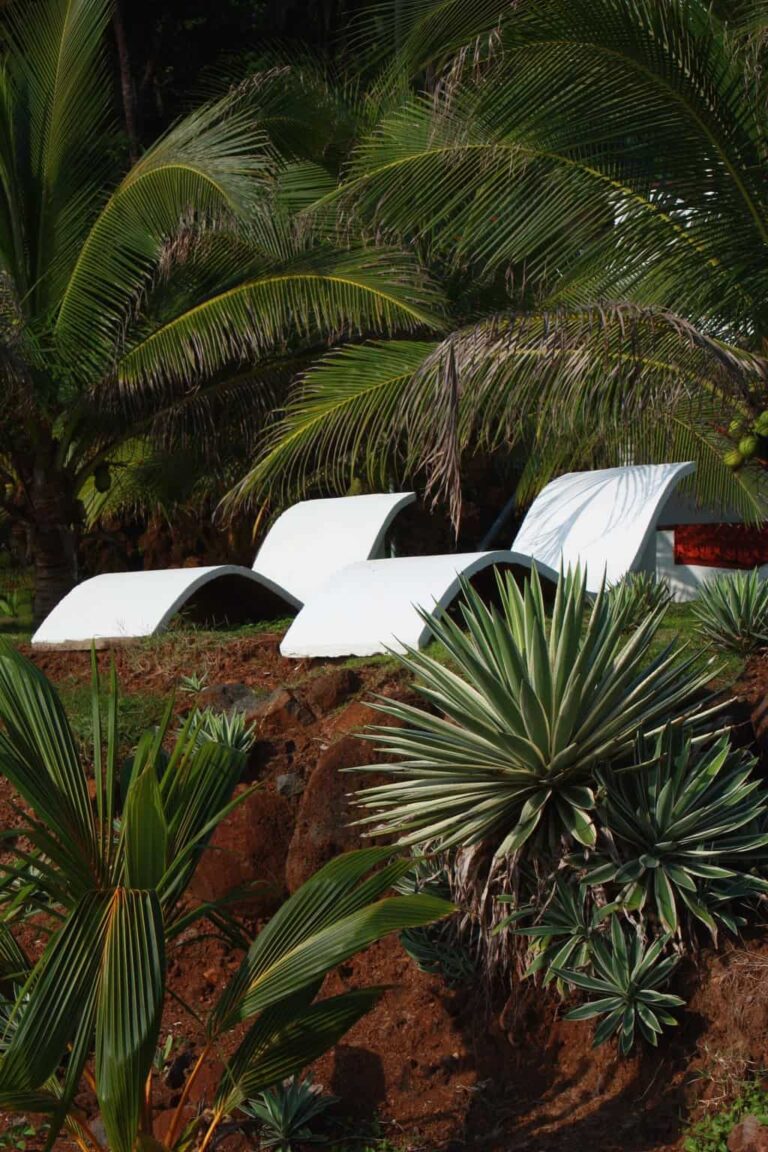 A trio of lovely cabanas up on the lawn overlooking the water, are dedicated to massage and spa treatments, although we don't think they were functioning while we were there.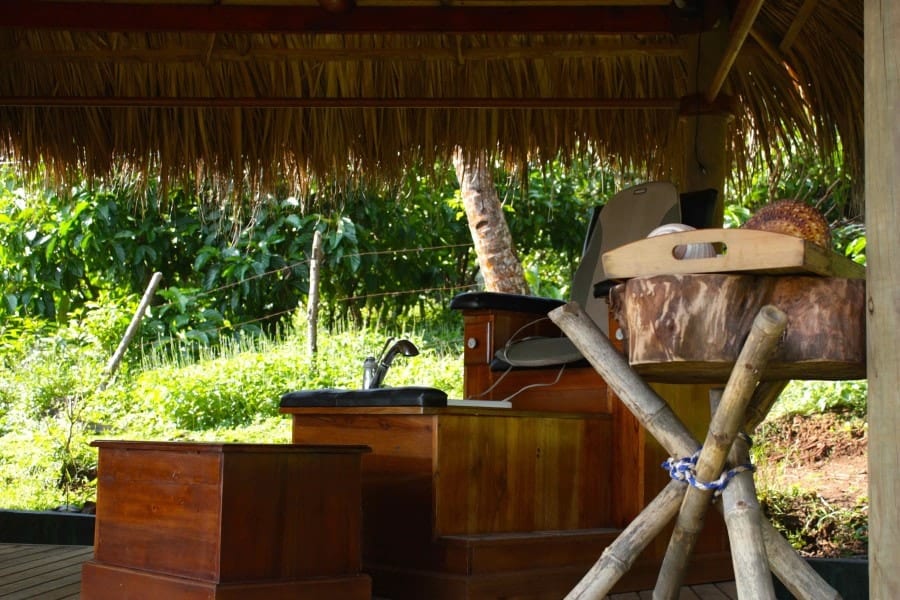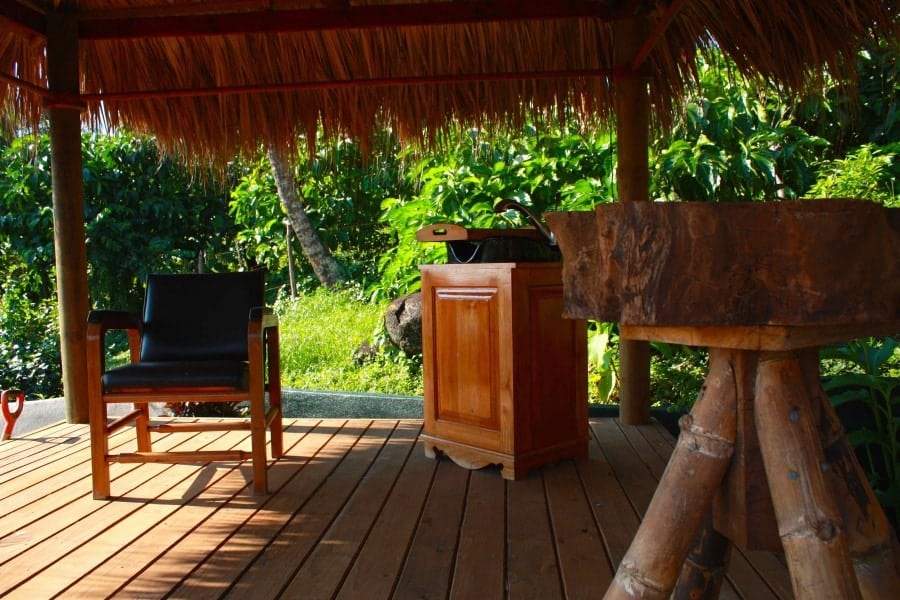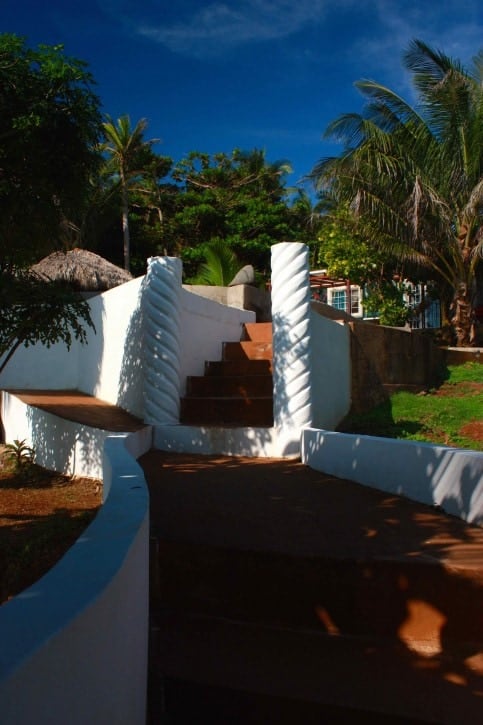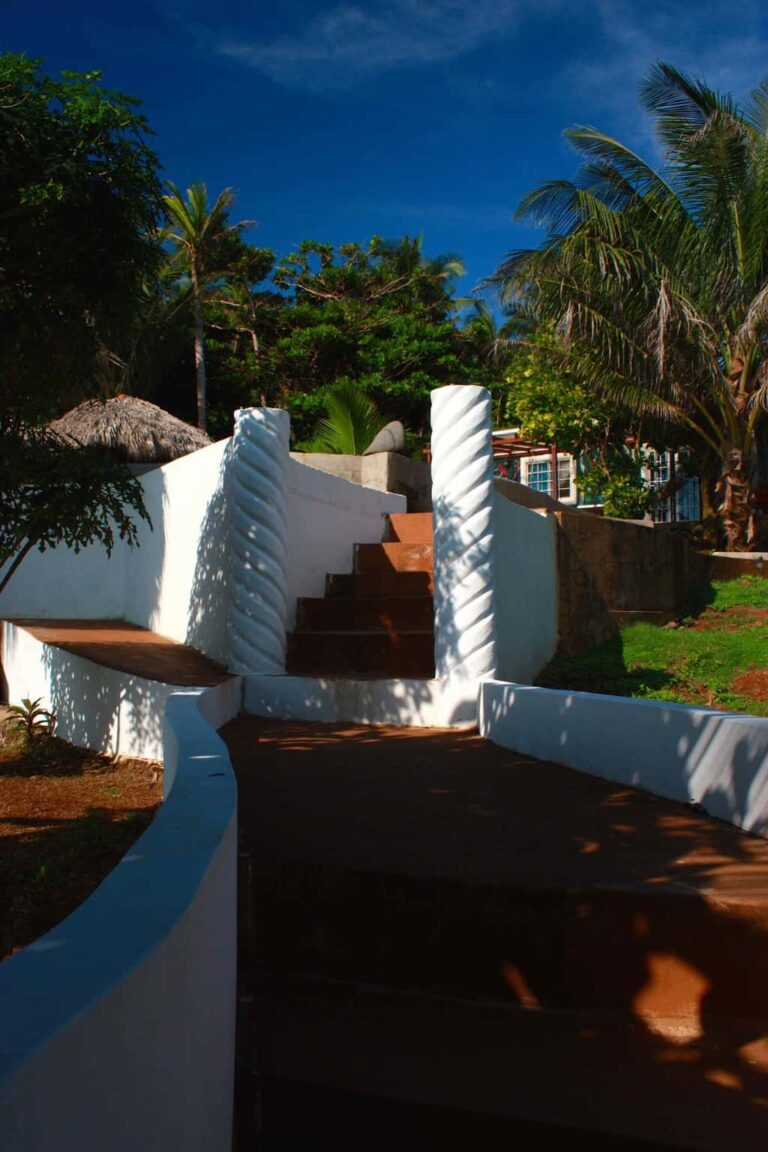 The rooms are advertised with free WIFI, although we had issues with this during our stay. While one could probably do without WIFI on an island holiday it has become something some people just cannot do without. While the WIFI was running it was fine, especially by the Nicaraguan standards we had experienced in various places, but it went down one morning, apparently due to the credit expiring, which the staff did not get around to fixing until later that evening. So while WIFI is advertised, we would not rely on it for any important communications you might have while on holiday. Note:  we would say this about most hotels outside of the city areas in Nicaragua.
The rooms have safes, they are actually very safe as we got our valuables stuck in the safe when the batteries ran out and it could not be opened! Eventually, the master key was located and disaster averted.
The staff can arrange for pretty much anything you would like to do. We organised an afternoon tour of the island in a taxi with one of the hotel staff and a snorkel off a local beach. Around 3 hours for $25USD.
As mentioned above, room service meals can be arranged for dinner and your bar fridge stocked with anything you require.
LOCATION 
Situated on the southern end of Long Beach it almost feels like the end of the road. This is great because you feel like you have an entire beautiful stretch of sand and crystal blue water all to yourself. Everything on the island is fairly spread out so you will require taxis to get around. You can hire a car or the hotel will arrange scooters for you. We found taxis to be just fine and not expensive.
Facts
A suite will cost around $750 USD per week.  As of November 2014 Sea Star Spa will only accept weekly bookings Sunday to Sunday.
The price includes breakfast- Press your room service button and someone will be at your door, anytime from 6.30am on with a fresh fruit plate ready to take your order. A selection of eggs or omelettes, served with fresh coconut bread, pancakes or french toast are included and will be brought to your room with fresh juice. For an additional $4 you can order the Nicaraguan breakfast (you need to order this the night before). The breakfasts were very good.
Taxis seem to cost around 20 cordoba pp per trip (or around $1USD) no matter where you are going on the island.
There are a number of restaurants on the island (don't expect anything too fancy).  A very good, substantial meal for two of fresh seafood with drinks will cost around $30-$40USD.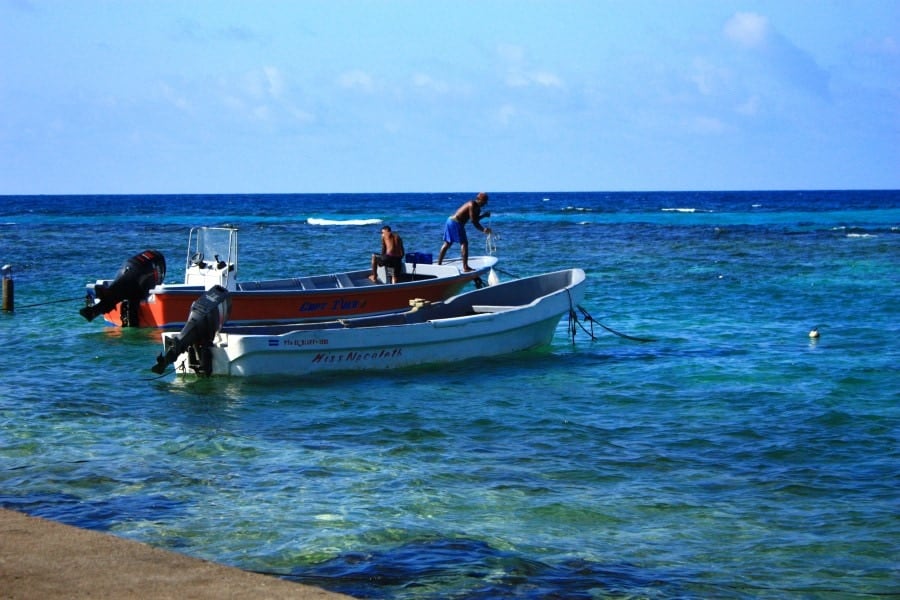 WOULD WE STAY HERE AGAIN?
Yes, absolutely! Corn Island is not the commercial tourist mecca people have come to expect of Caribbean islands, so has very limited options for any type of middle to higher end accommodation. While there are a few good hotels do not expect to find an abundance of choices, this is the charm and appeal of Corn Island. The rooms at Sea Star were fantastic, you just have to adjust your service expectations a little to "Island Time" and we think you will find this anywhere on the island. After all, "Island Time" is what we go on holidays for!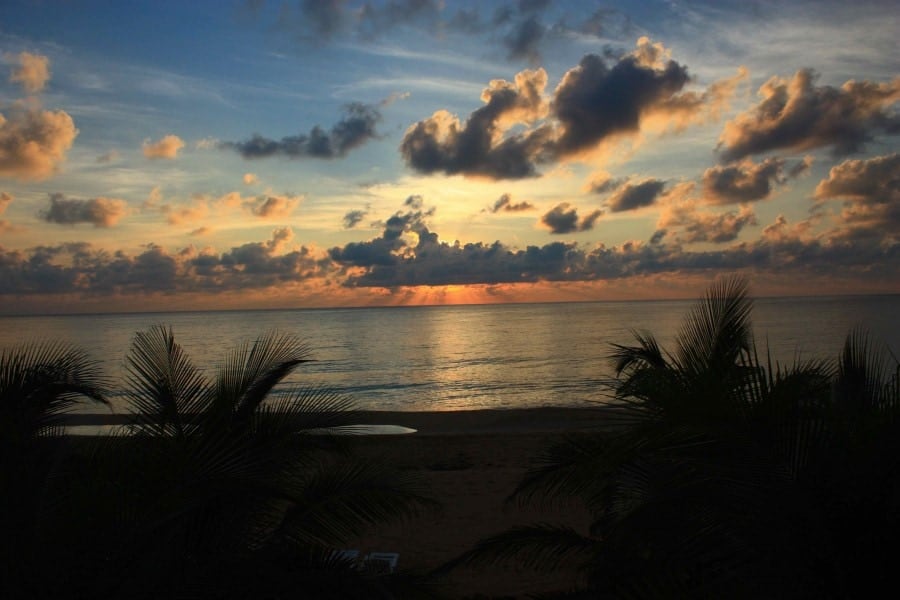 THE VERDICT
---
Sea Star Spa is a great place to stay, if you want to relax and get away from it all with the right mix of deserted island and creature comforts. We feel this is already a fantastic resort, possibly one of the best on the island and once the additional modifications are complete, this is a resort that will only continue to get better. The staff were very friendly and genuinely want to do whatever they can to make your stay great.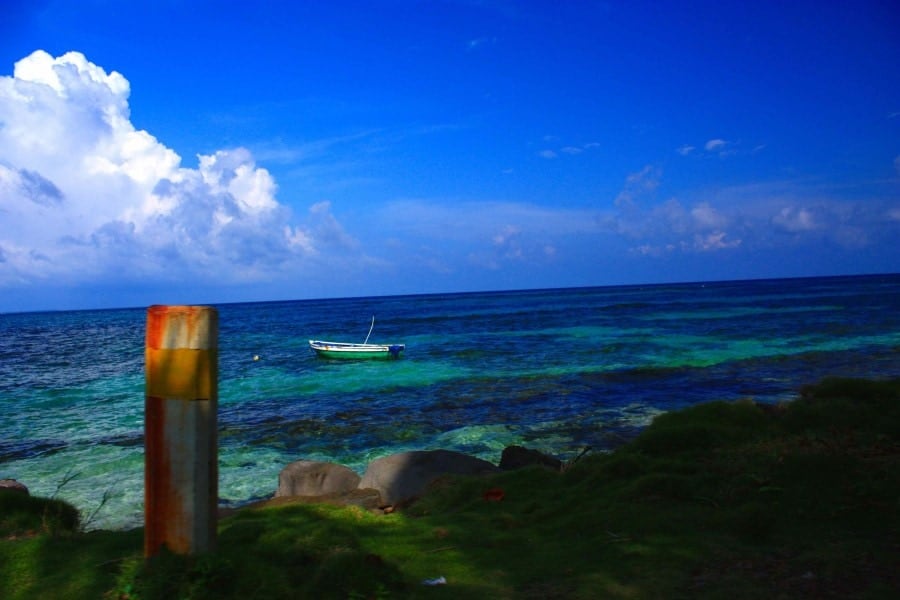 The Corn Islands are not fancy, and that's why people come. If you require the facilities of high end 5-star resorts with loads of activities and 5-star services 24 hours a day, perhaps the Corn Islands are not for you. If you want a nice laid back island holiday with amazing beaches, personal service, a welcoming smile and a little bit of pampering then Corn Island and Sea Star Spa will suit you to a T.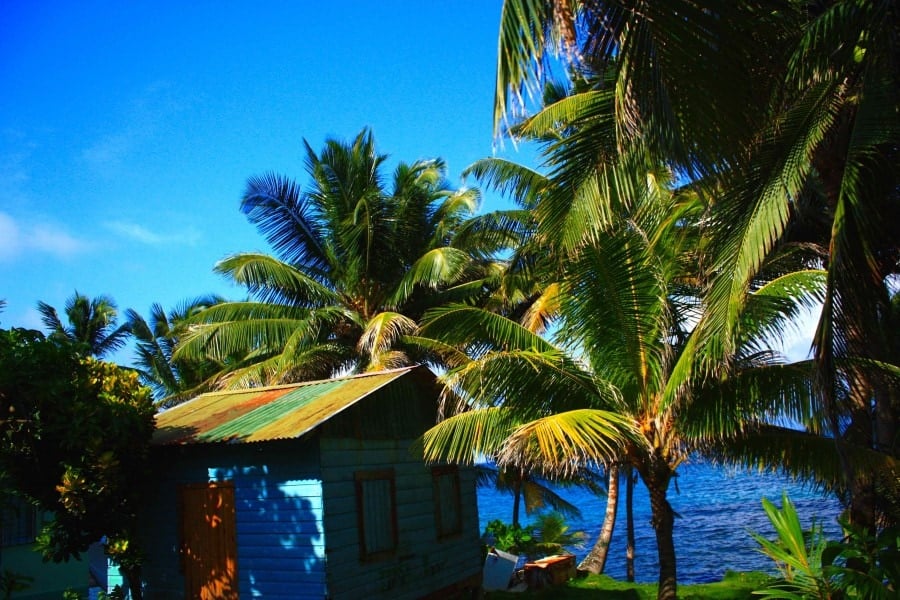 ---
  Disclaimer: Whilst we received a media rate for our 2 nights at Sea Star Spa, all opinions expressed in this review are our own and have not been influenced in any way.