REVIEW Hotel Presidente
Hotel Presidente is a boutique 4 star hotel situated right on the main mall of central San Jose, walking distance to the majority of San Jose attractions. The hotel boasts all the facilities you would require of a city hotel including a gym, day spa and restaurant.
Overall rating 5 out of 5
---
We chose to stay at Hotel Presidente because of its location, on the corner of Central Avenue Boulevard and Seventh Street on the pedestrian mall in downtown San Jose.  It was the right choice. We stayed twice, at the beginning of our trip to Central America and at the end. San Jose makes a great jump point for entering and exiting Central America.
Arrival
On our first stay we arrived after a very long day travelling, the welcome we received at The Hotel Presidente was very much appreciated, the staff were incredibly friendly and helpful. From the moment the taxi dropped us off at the side of the building there was someone there to meet us, take care of luggage and guide us to reception.  They are currently undergoing renovations so the main entrance was not accessible by taxi, but they have catered to this minor disturbance well. Checking in was a pleasant experience and the staff were knowledgable.  They could confidently recommend nice restaurants for lunch and provided a map showing a number of alternatives. Our second stay was equally welcoming, this time we opted to take advantage of their transfer service from the airport. Costing no more than a taxi, around $35 USD, just request from the hotel in advance.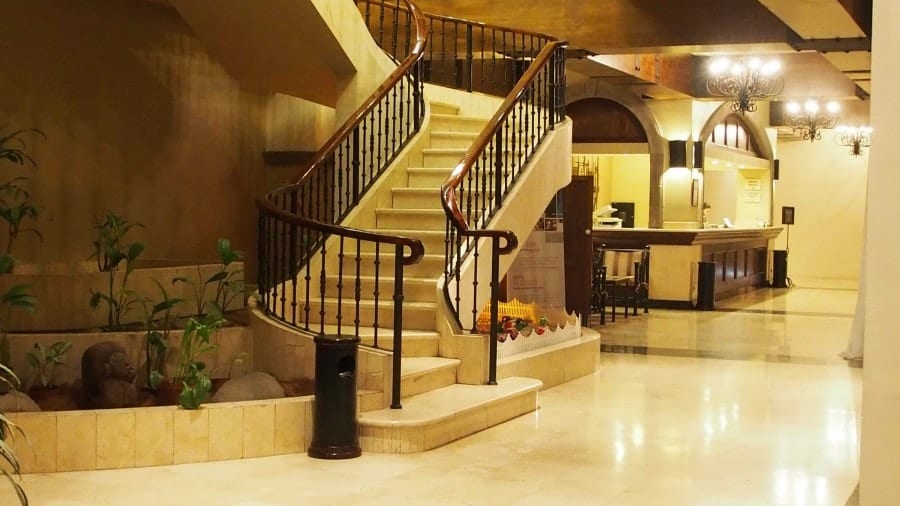 Service
Other than the hotel being well located and very comfortable, the service is really what we loved most about Hotel Presidente. The staff were very attentive and friendly and nothing was ever too much trouble for them. For a 4 star hotel, the staff offer a 5 star service.
The Space 
The rooms are spacious, well equipped, modern and very clean. On our first stay we were lucky enough to have been upgraded to a Grand Spa Suite where we enjoyed the comforts of a 2 person jacuzzi, a king size bed and a separate lounge with small dining area. Space, space and more space. Large screen TV's in both the lounge and bedroom, in case you can't agree on what to watch! (note-most channels are dubbed in Spanish).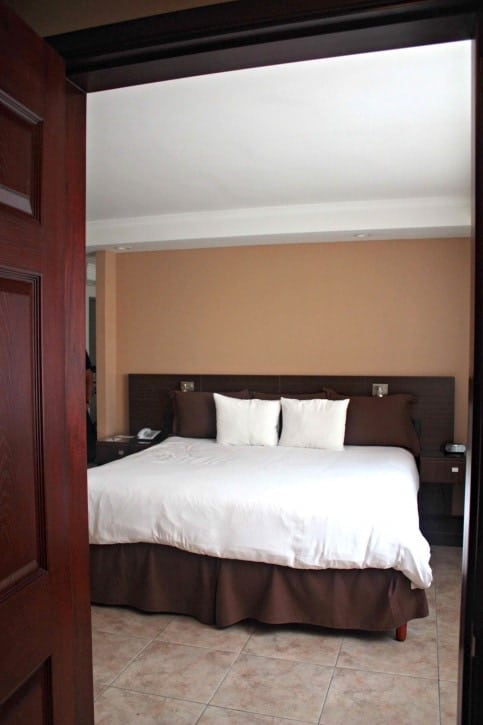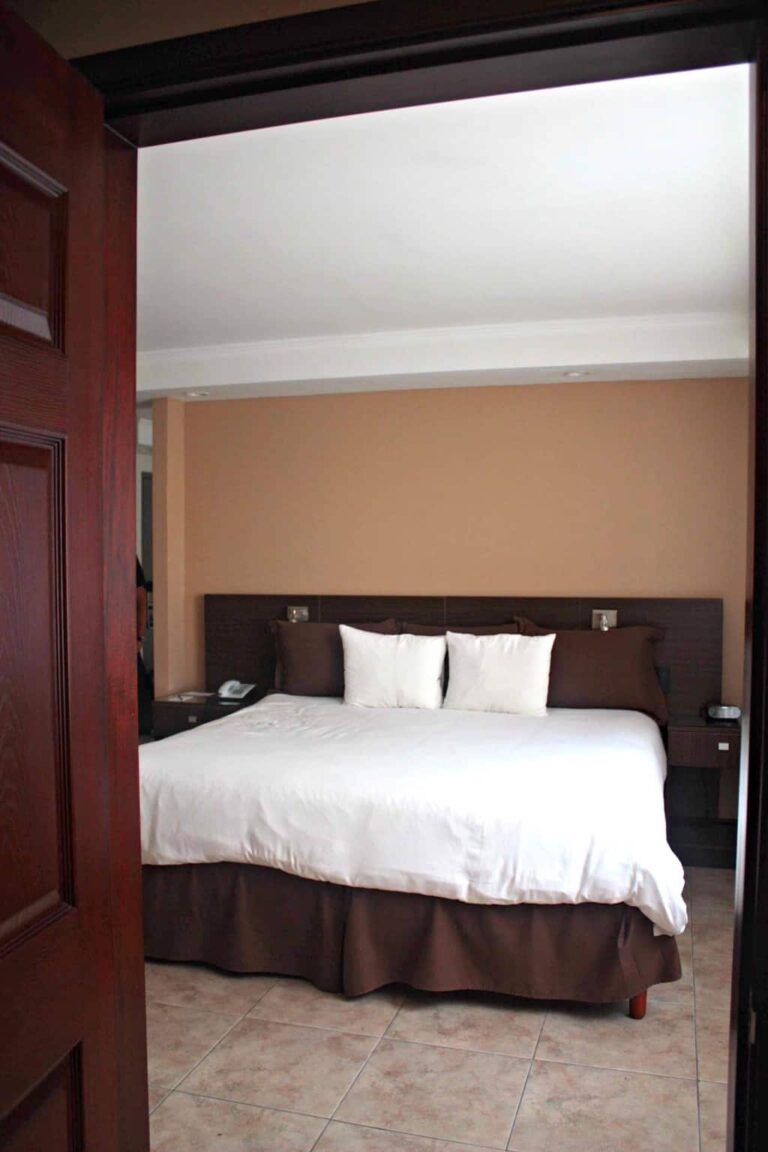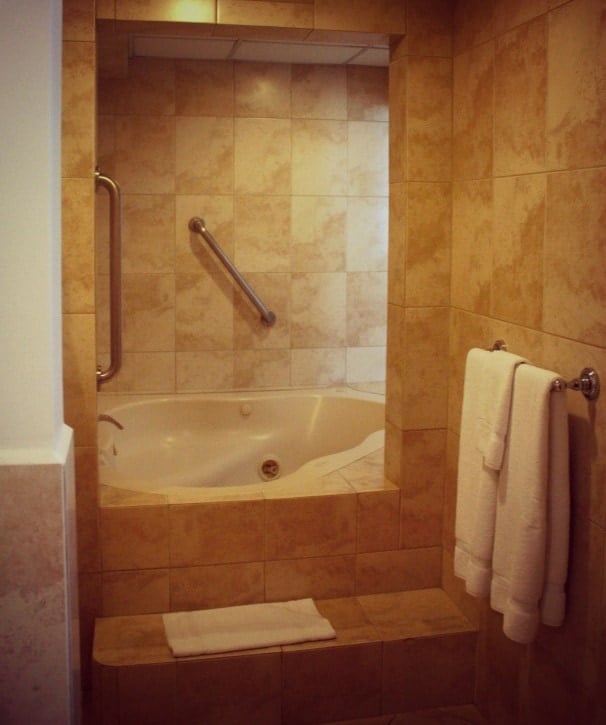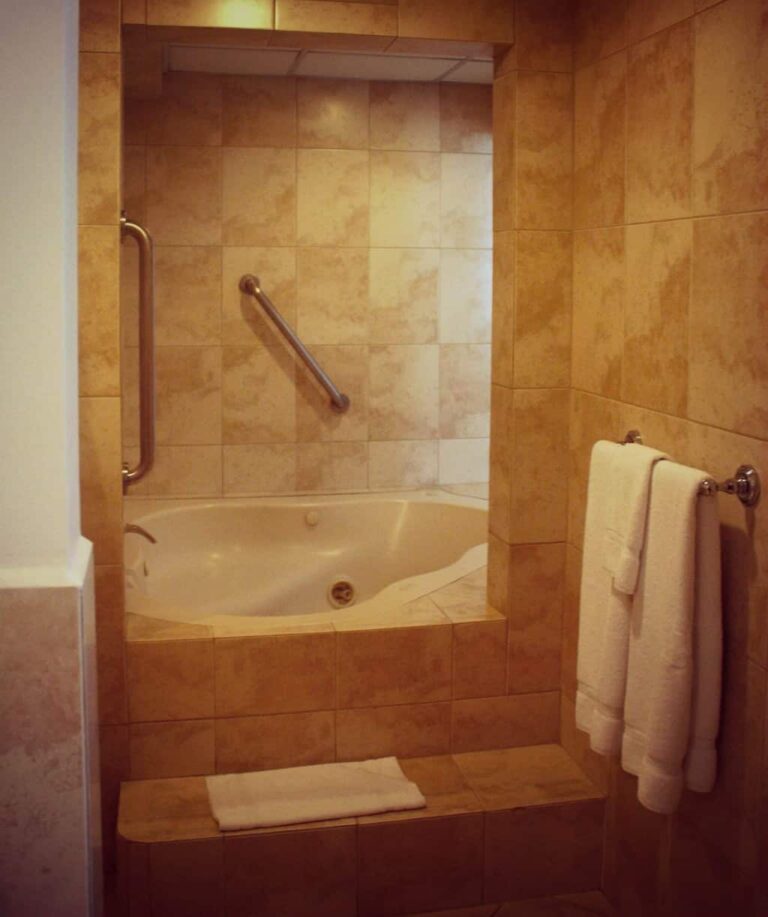 The bathroom boasted a separate toilet area and large shower, big fluffy robes and toiletries by Olive Branch Botanicals that are replenished when the rooms are serviced daily.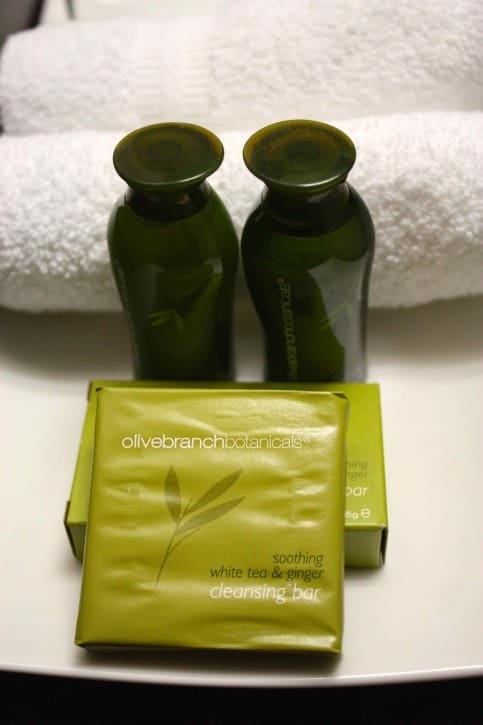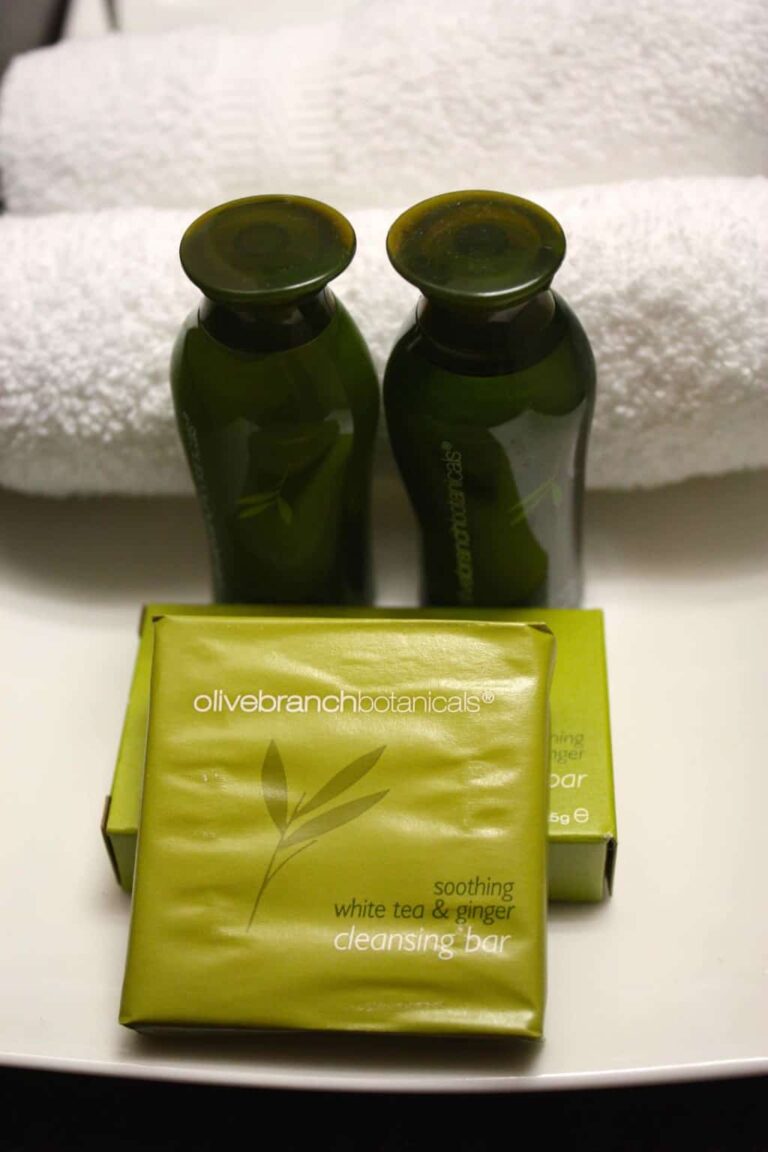 On our second stay we had a twin room, not as large or as palatial as the Grand Spa Suite  but we still we enjoyed all the lovely, quality furnishings of the Grand Spa Suite. Our only issue was, whilst at first the twin suite appeared to have two double beds, they were not really full size doubles. Certainly they were large enough if you were looking for a twin single arrangement. Regardless of the amount of time we have been travelling together, we were not looking for twin singles – Yet! Perhaps this was an oversight at reception. None the less, the room was more than comfortable. Our only complaint (other than not being able to share a bed) was this room attracted a lot more street noise than the other, to the point where we were kept awake at night.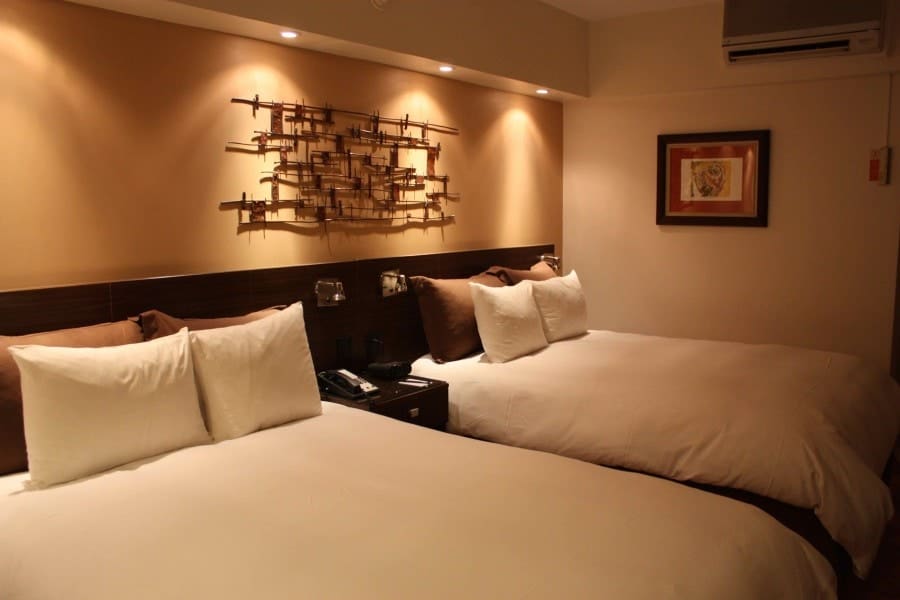 We really like a safe in the room, Hotel Presidente provides a lap-top size safe in every room. The complimentary Wifi in the room was fast and easy to connect, although did labour a bit during peak early evening times, this can be a common issue in hotels all over the world.
Facilities
La Cafeteria located on the 2nd floor serves a complimentary buffet breakfast, offering both Costa Rican and western style breakfasts. There is a great variety and everything was fresh. Lunch and dinner are also available in La Cafeteria but we chose to explore the myriad of restaurants nearby.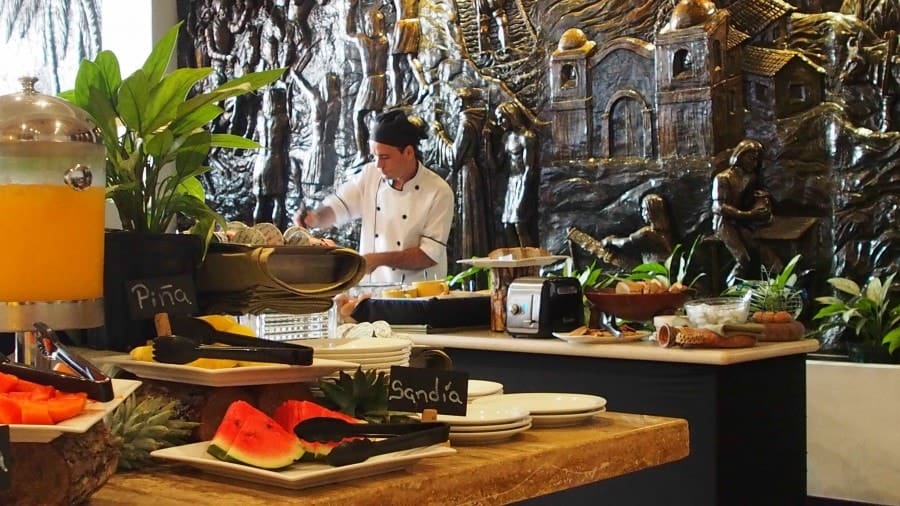 If you find you need to work off the calories then head up to the 7th floor to the well equipped gym. It has everything a traveler needs for a workout and once you are finished pop into the Rainforest Spa for a range of massage, body and facial treatments.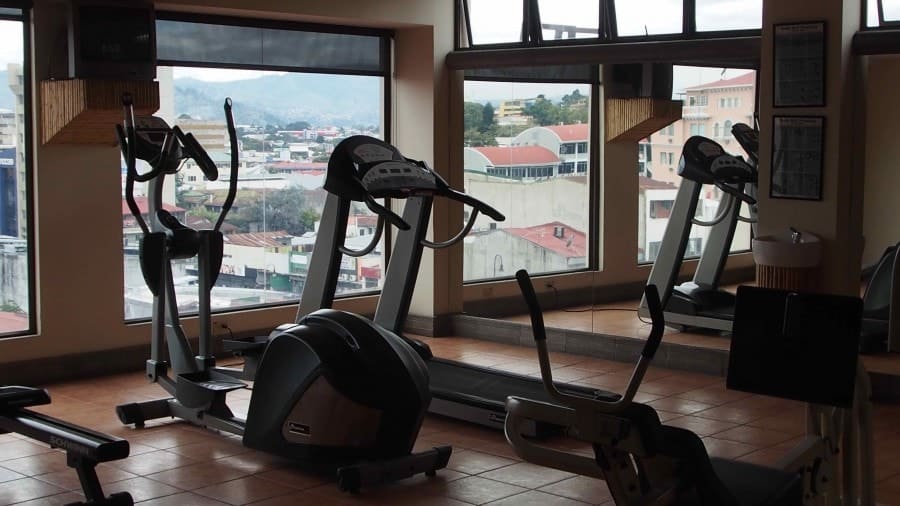 As we were staying at Presidente at the beginning and end of our trip through Central America, we took advantage of the complimentary luggage storage. Being able to leave our main luggage at the hotel whilst we went off travelling was a godsend.
The staff also arranged to have coffee and a takeaway breakfast ready for us when we had a 5.00am bus departure. This is a service that every hotel should take note of and so many overlook.
Location
On both our stays we only had one full day in San Jose and wanted to explore as much of the city as possible without having to hire a car, so the location of our accommodation became pivotal to our exploring success. Hotel Presidente was perfectly located for those of us looking to explore San Jose on foot. The hotel is walking distance to some of the city's cultural landmarks; The National Theatre, National Museum, Gold Museum, Plaza de La Cultura, the National Cathedral and so much more. We managed to take in a lot of the sights in one day thanks to a city walking tour on our first stay.
Within a two-block radius, there is a variety of shops and some great restaurants. We tried Chelle, a little Costa Rican family restaurant near the hotel which was great for lunch, Esquina de Buenos Aires, an Argentinian restaurant recommended by the hotel for a good value, excellent evening meal located just a couple of blocks from Hotel Presidente, we went twice because it was so good. The Central Markets are also located a few blocks down the mall for shopping and some great food stalls.
Would we stay here again?
Absolutely- Service, location, value, facilities. They tick all the boxes. This is a great value for money good service hotel.
Negatives
The only thing lacking in our room was a mini-bar or bar fridge, although we have found this to be common in this region of the world.
Essentials
A Standard Room starts at US$152 per night and a Spa Room starts at US$168 per night, with the Grand Spa Suite at US$201. Check current rates Here for any deals. especially off season deals
This price includes breakfast and WIFI. They do offer complimentary parking in a secure car park but can also arrange airport transfers for around US$35. Here's a tip – don't change US or Euro to Colon at the airport, the hotel provides a much higher exchange rate which is only just a little under what you will get at a bank.
The Verdict
Hotel Presidente is in the perfect position for you to spend a day or two in San Jose or as a base for you to explore the greater region of Costa Rica.  Day trips are now more than possible to some great attractions from the centre. We especially enjoyed the way the staff were so friendly, helpful and confident in their knowledge of the hotel and the region. They really made a good hotel a great hotel.
---
 Disclaimer:  Whilst we received media rates and complimentary upgrades for both our stays at Hotel Presidente, all opinions expressed in this review are our own and have not been influenced in any way.
---