REVIEW Dersaadet Hotel. Istanbul
A carefully restored, 19th century Ottoman mansion in the historic centre of one of the most exciting and exotic cities in the world.  In Ottoman Turkish, Dersaadet means "Place of Happiness"  and this cosy owner operator hotel oozes both charm and happiness.
  A boutique hotel offering a quiet retreat amongst the chaos and magic that is Istanbul.
Overall rating 5 out of 5
---
Dersaadet Hotel has an elegant 19th century ambience, blended with traditional Ottoman style. This is a hotel which represents everything you imagine of a true Istanbul experience, luxury with a hint of exotic opulence.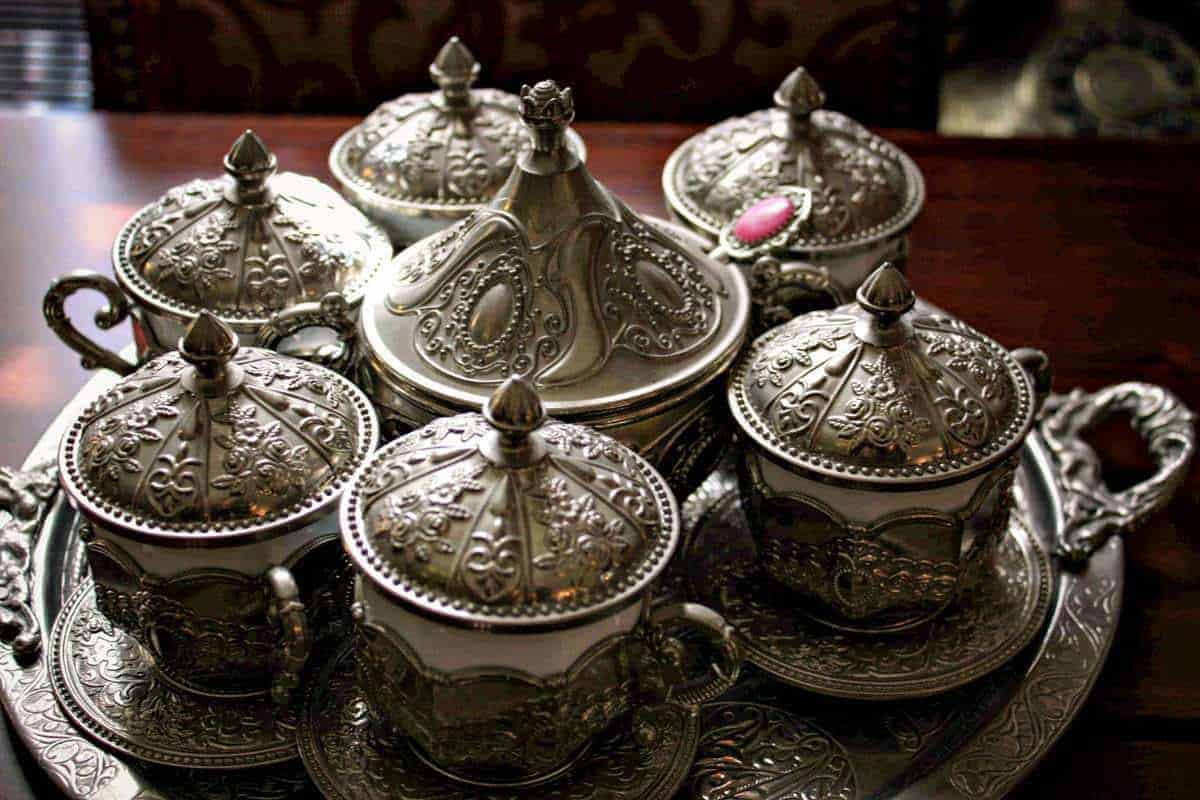 The Duyar family have been hoteliers in Istanbul for decades.  They provide a high standard of professional experience combined with family hospitality.
When acquired by the Duyar's, the building was being used as long term rental apartments. After an extensive restoration project, lasting more than two years, the former mansion and apartment building was transformed into a luxurious boutique hotel.
Dersaadet now offers 17 rooms, a gorgeously welcoming lobby lounge and indoor / outdoor roof terrace with views over the Sea of Marmara and the domes and minarets of The Blue Mosque. The Dersaadet is far more than just a place to stay.
 Arrival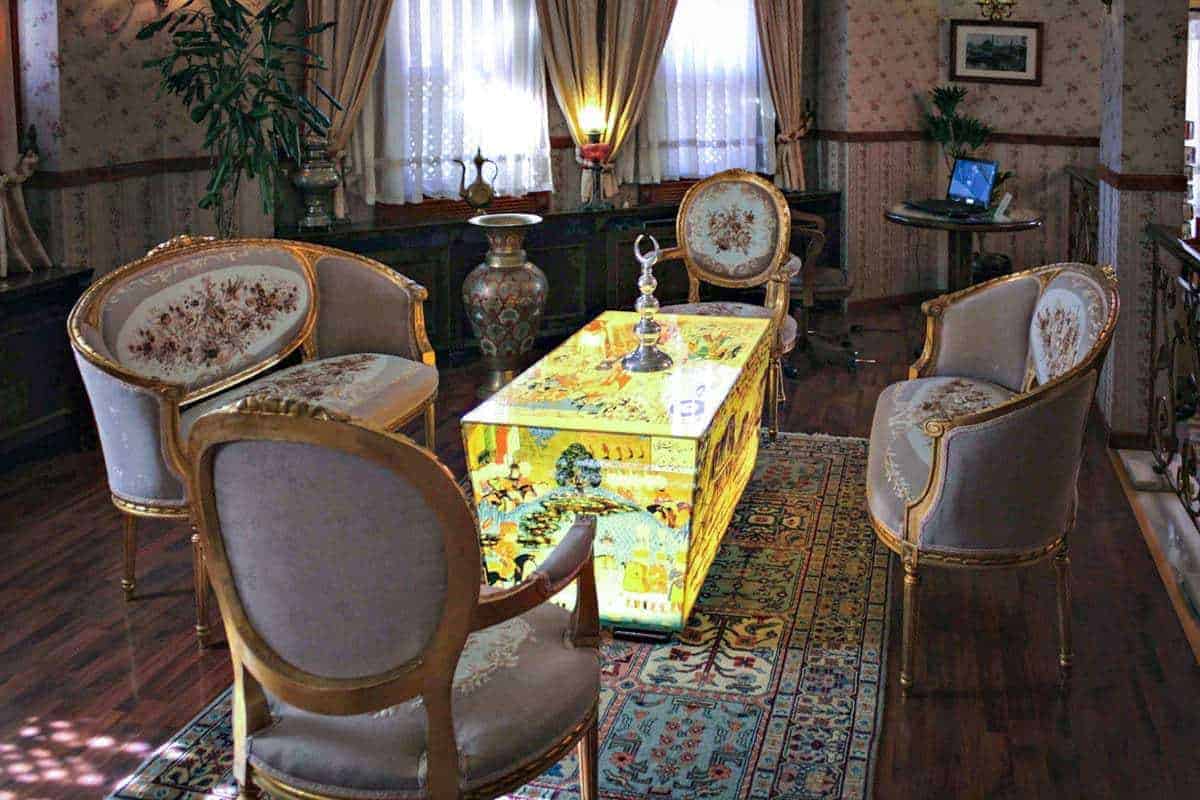 A good boutique hotel already knows who they are expecting on any given day and welcomes you exactly that way, as if they were expecting guests at their home. This is why we received a smile that masked a slightly puzzled look when we trundled in the door late at night in the middle of a snow storm, a day earlier than our booking. The concierge questioned our driver if we were in fact at the right hotel.
He knew he was not expecting any guests that evening. After explaining we were in fact, a day early due to the snow storm and had taken a chance on a room being available, we were welcomed with relief, we weren't a forgotten booking after all. Not only was he happy to receive us but he also seemed quite chuffed the very room we booked was available.
Our bags promptly disappeared and we were ushered to a gorgeous adjoining lounge to warm up and relax for a moment.  Hot Turkish apple tea was served, along with pieces of traditional Turkish delight. The concierge sensed we'd had a fairly stressful journey. This was the most relaxing experience we had had all day.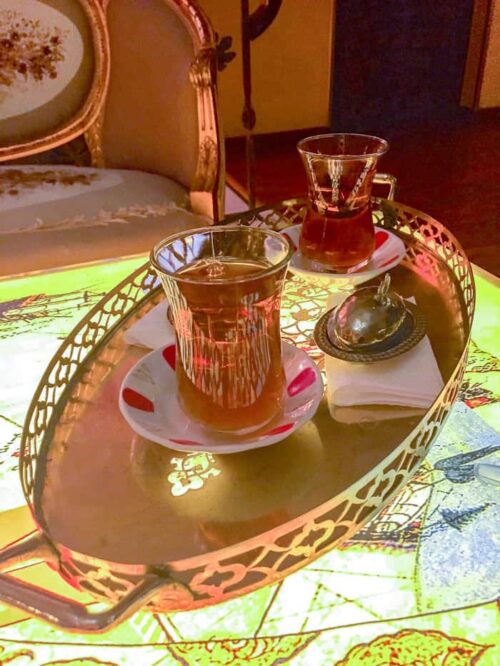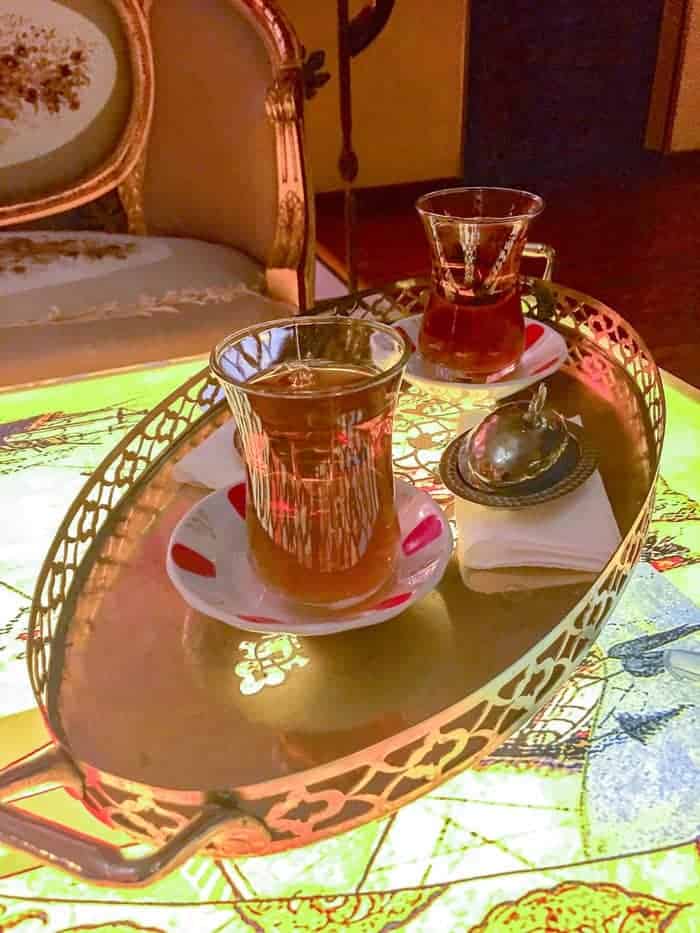 The Lobby Lounge
The Lobby sets a beautiful ambience with carefully selected 19th century decor and touches of traditional Turkish Ottoman design, including some modern takes on tradition by local artists that blend beautifully with the old world charm of this hotel.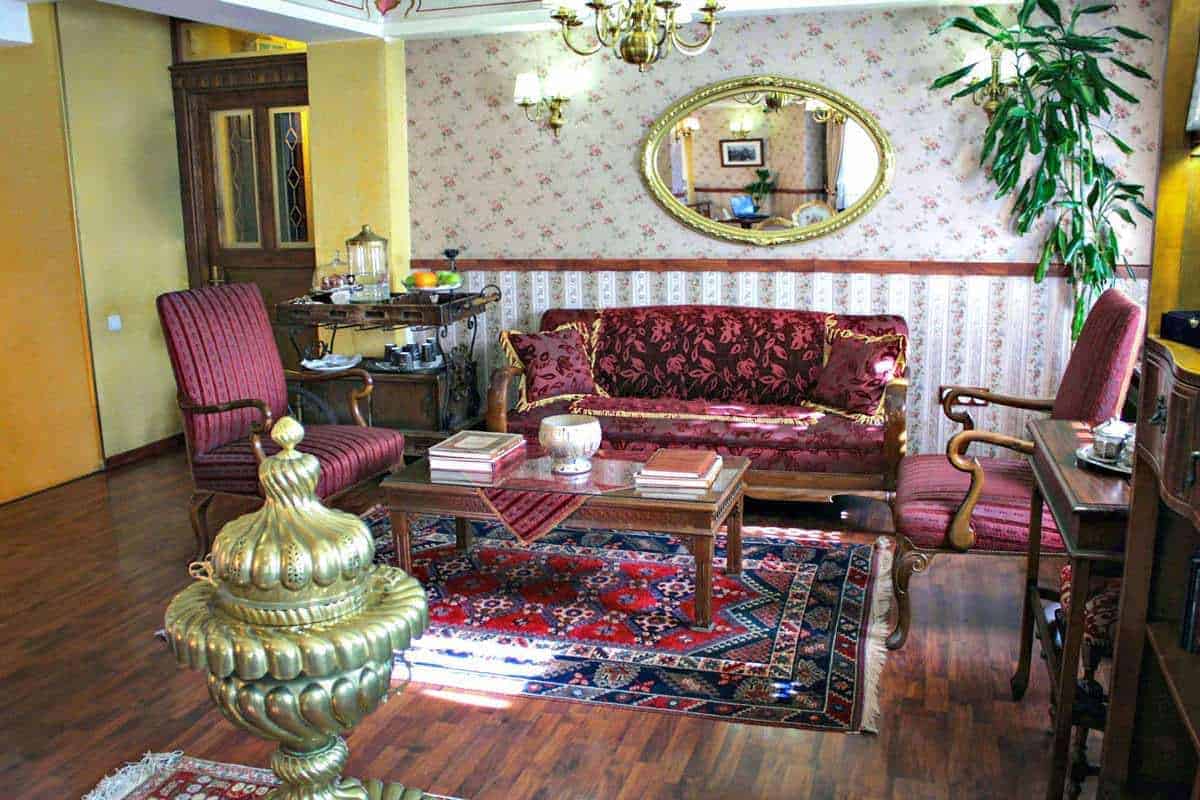 Sip traditional Turkish tea as a beautiful soundtrack of Jazz plays quietly throughout the hotel, complimenting the decors ambience and creating a relaxed atmosphere.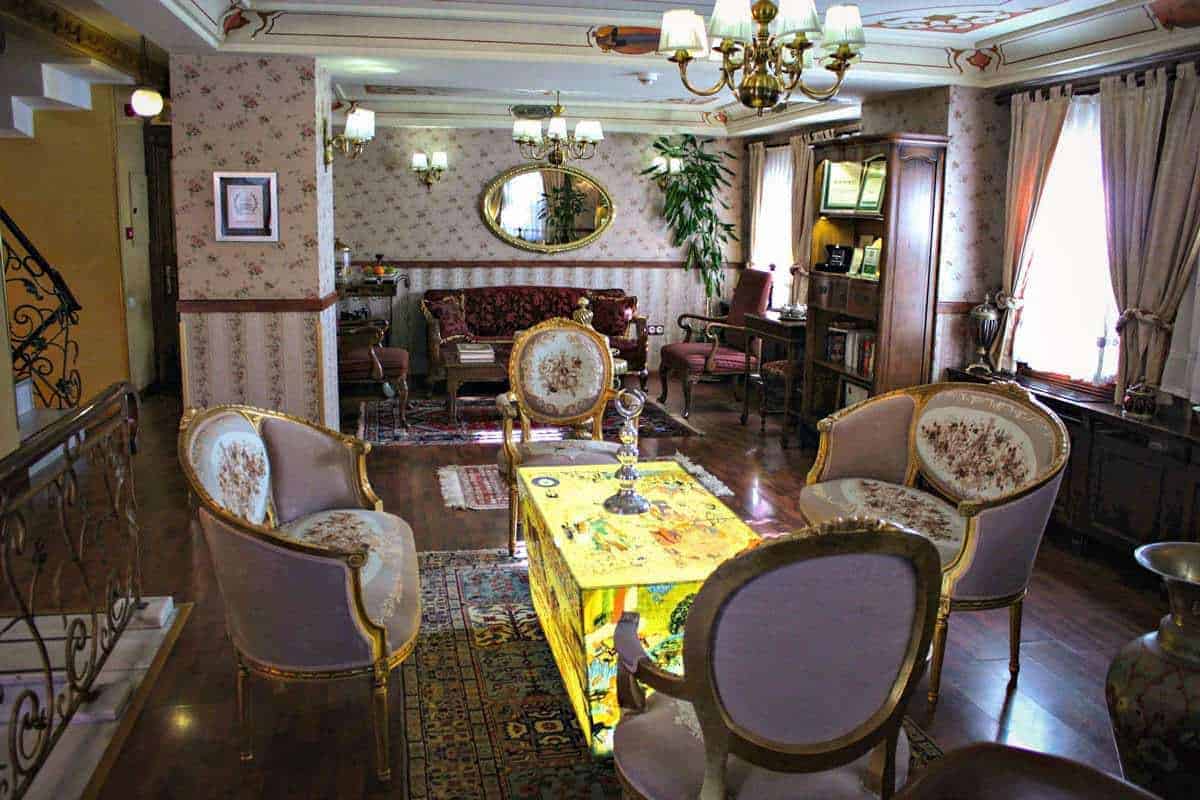 A complimentary guest computer is available in addition to WiFi and thoughtful touches such as complimentary Turkish pastries, filtered water and fresh fruit are always available in the lounge.
Service
This is a family run hotel with a small staff who offer a high level of friendly service, as if the hotel were their own.  You get the impression the staff are very much an extension of the Duyar family.  The service during our stay was impeccable. There was always a familiar, smiling face at reception (after a short time you will start to recognise each and every staff member). Nothing was too much trouble for anyone and there was always a welcoming smile from every staff member we encountered.
If you want softer or harder bedding, more lighting, extension cords or converters, a sign in your room will remind you that they encourage you to just ask. They understand guests tastes and preferences vary. 
The Dersaadet team come across as a genuinely happy team who enjoy their jobs and love their hotel. This is an attribute big hotel chains can rarely achieve.
Rooms
Hotel Dersaadet has 17 guest rooms ranging from Standard Double Rooms, Deluxe Rooms and Corner Suites including the Sultan's Penthouse Suite.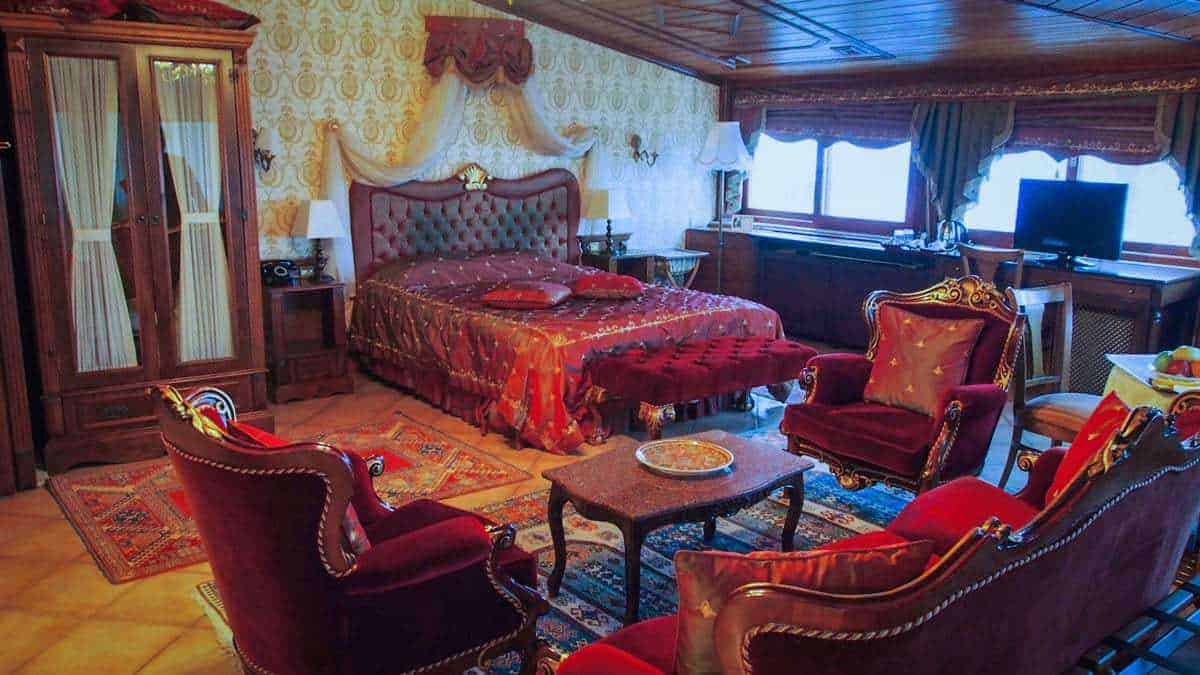 While each room is unique in size and design, all have an elegant, even opulent feel.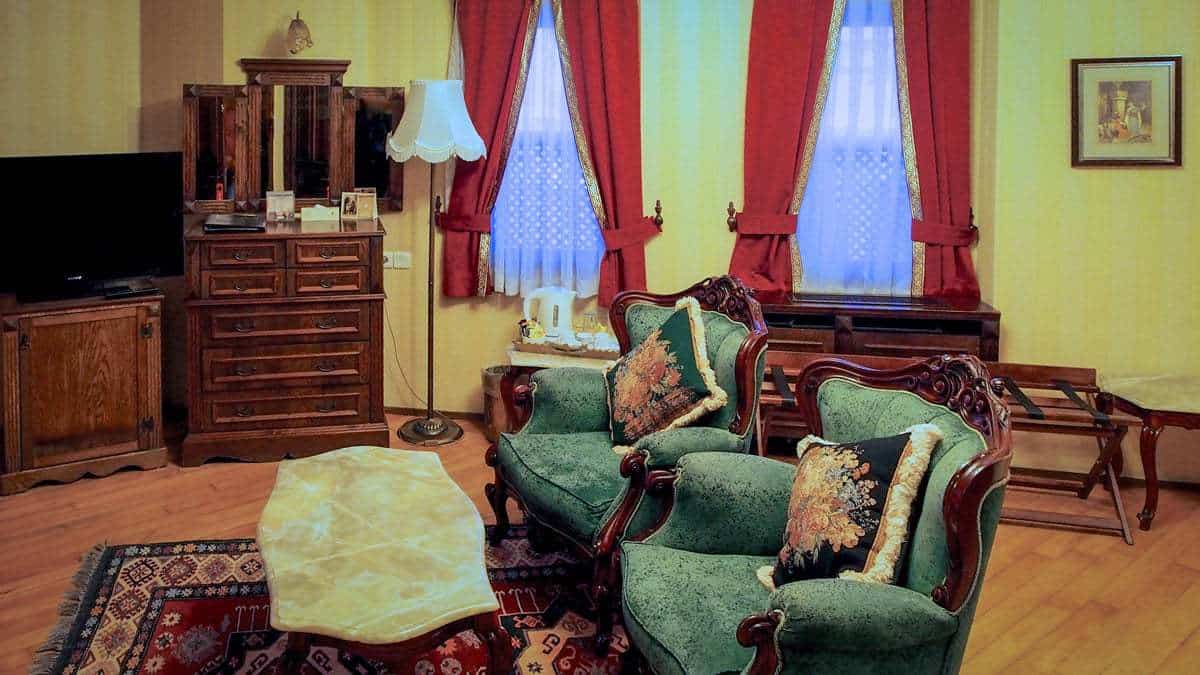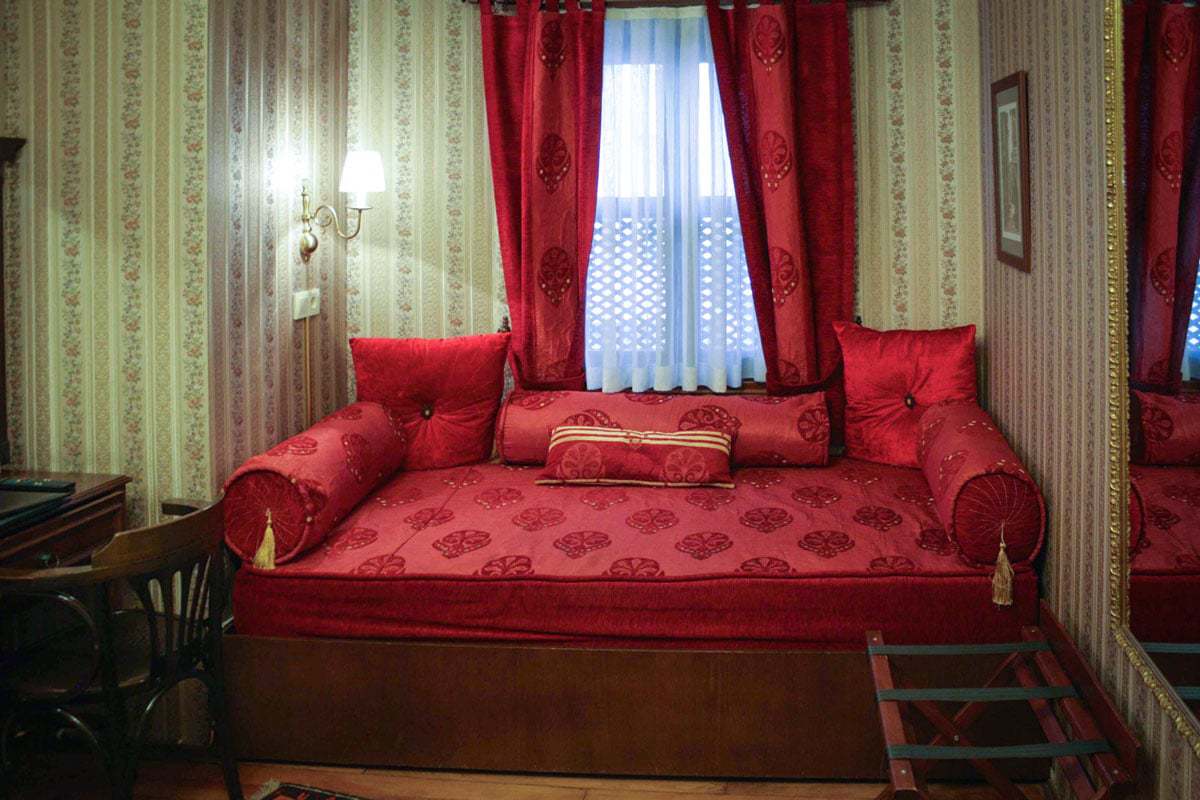 Decorated with fine Turkish carpets, antique furnishings and lovely details such as ceilings hand painted with traditional motifs while still paying attention to the modern comforts.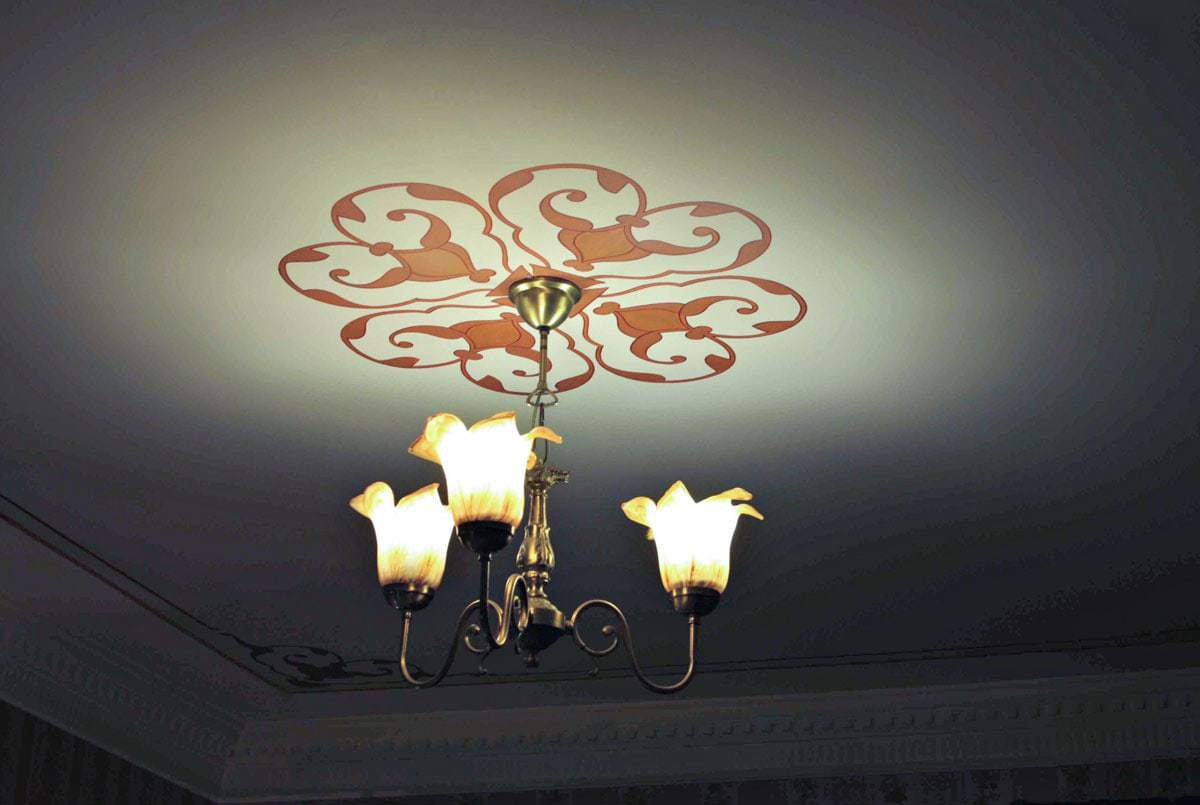 Upper level rooms have a view of the Marmara Sea while some lower rooms are fitted with traditional Turkish bath style bathrooms. Beautiful marble lined bathrooms with all the luxuries you require for the complete Turkish bath experience.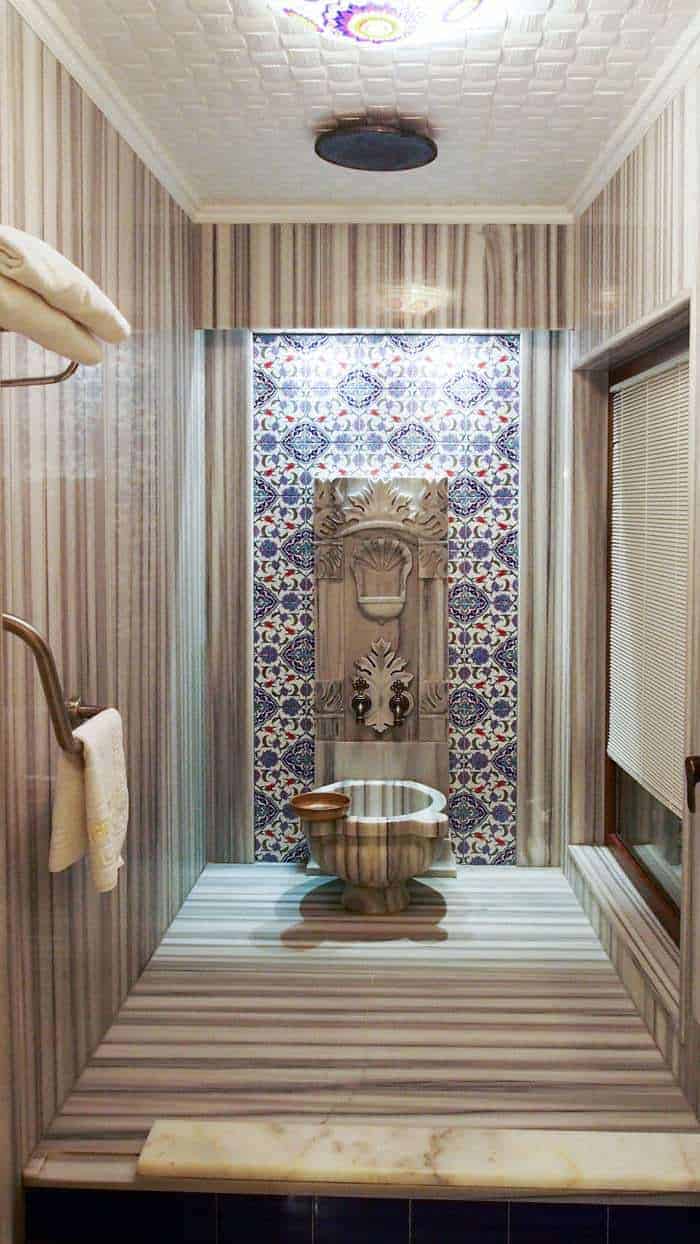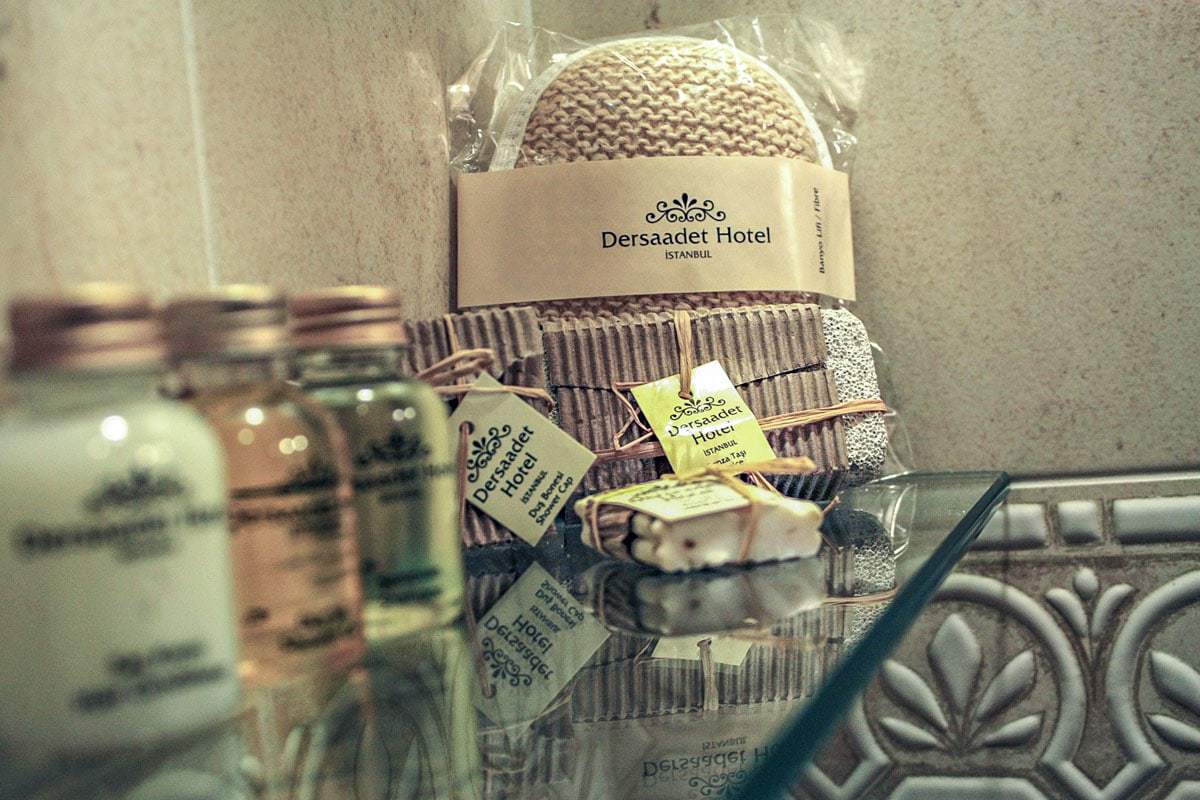 Facilities / Services
Breakfast
Buffet breakfast is served daily on the roof terrace overlooking Sultanahmet and the Sea of Marmara. A large and varied selection is on offer including traditional Turkish breakfast. Dersaadet also prides itself on making sure they have plenty of homemade options available such as breads, pastries, jams and local cheeses.


The Roof Terrace
Offering both open air and glass enclosed sections, the roof terrace can be enjoyed anytime. Open for breakfast as well as throughout the day until late evening for coffee and drinks. This is a lovely spot to relax and watch ships steam through the harbour or watch the sunset over the domes of the Blue Mosque.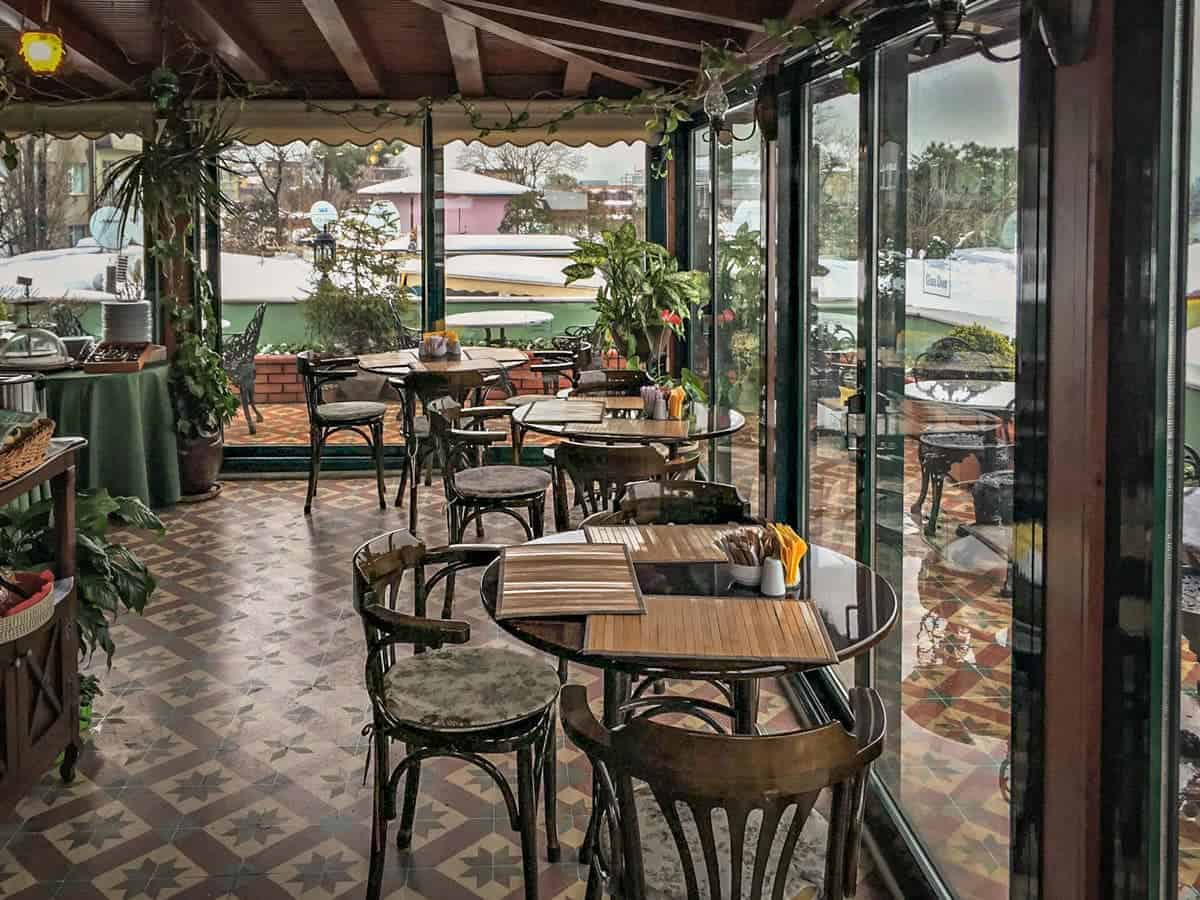 While breakfast is the only meal served at the hotel, they happily arranged for a meal to be delivered from a local restaurant for us and set a table on the roof terrace.
Airport Transfer Service
A one way complimentary airport transfer is available for bookings made directly with Dersaadet via the website and is for stays of four consecutive nights or more. For all other bookings or additional transfers, the transfer charge is ~€ 25.00
Additional Considerations
Small considerations are a constant part of the service. Such as the email we received 4 days before we were due to check in. To help you plan your visit, the email contained a list of any events that would be on in Istanbul during the dates of our stay, opening times of major tourist attractions and the weather forecast. These small touches make the difference in a personalised service.
 Location
Dersaadet Hotel Istanbul is located on a quiet side street in the middle of Sultanahmet or the 'Old City', putting you within walking distance of Istanbul's must see attractions. The Blue Mosque, Arasta Bazaar, Hippodrome, Hagia Sophia, the Basilica Cistern, Topkapı Palace, The Grand Bazaar and the tram line are all within 5 to 15 minutes walk from the hotel.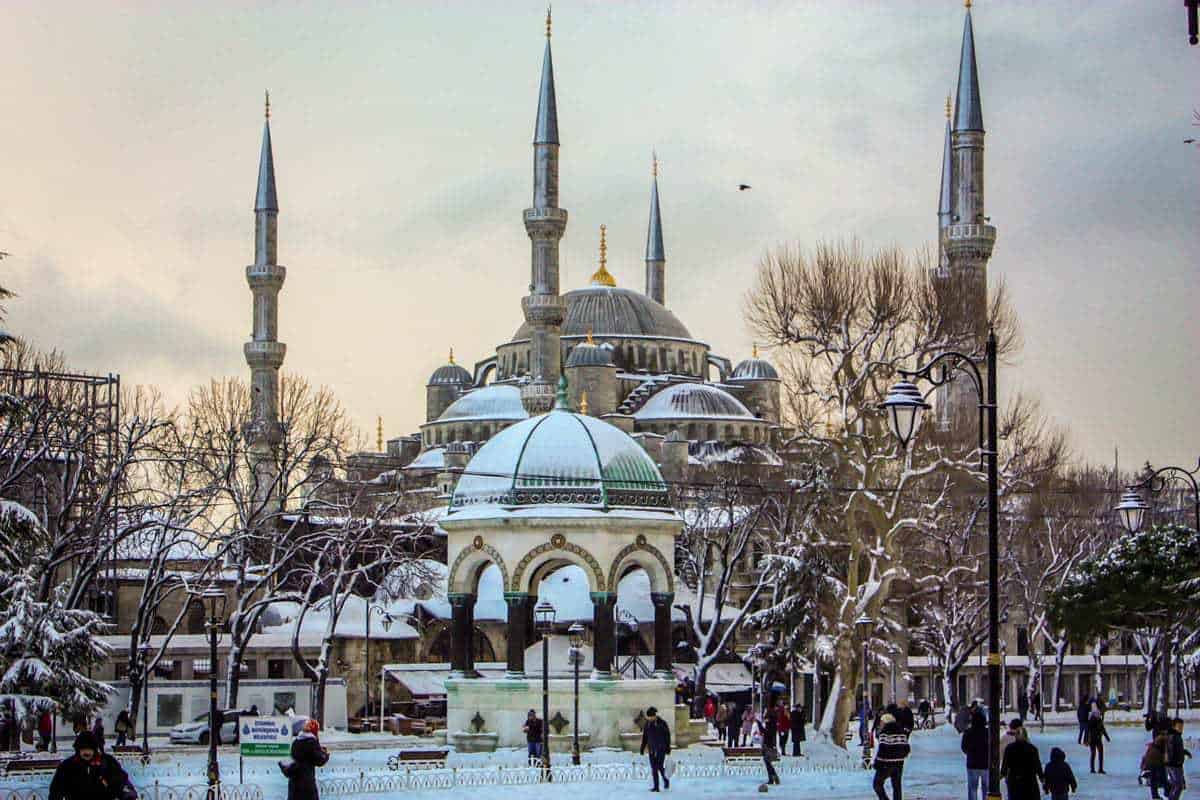 There are a myriad of excellent restaurants with walking distance if you don't feel like venturing out past the tourist district.
Would We Stay Here Again?
Yes, it is well located, well priced and a gorgeous place to stay.
Negatives
While the hotel is on the side streets, do still expect some street noise in the lower street level rooms.
Due to the style of the historic building, some of the rooms are smaller than you might expect of a standard hotel. This is addressed in the hotels website and where required, they recommend some rooms as being suitable for a single person. This is not so much a negative as an observation. 
Essentials
Rooms start at ~€ 70.00 / night for an economy room (small double room with ensuite)  up to the Sultan's Penthouse Suite starting at ~ € 182.oo, 2 or 4 adults can be accommodated in this suite.
Some Deluxe rooms can be adapted as a family suite.
All prices include breakfast.
The Verdict
Words like delightful, charming, elegant and sophisticated all spring to mind when you enter this wonderful hotel. And, at the risk of sounding cliché, the staff here do make you truly feel at home.
So while Lady Sings The Blues in the background, the staff at The Dersaadet Hotel deliver an accommodation experience so personal you will literally feel you have found a home away from home in Istanbul.
We would like to thank the management and staff at Dersaadet Hotel for a wonderful stay. As always, all opinions are our own and have not been influenced in any way