A very special little dog will be joining Vagrants of The World Travel this month to go on the biggest adventure of his life.
A 2,000km road trip through Bulgaria into Transylvania, Romania to see the world for the first time and to spread the word about how he and many other dogs came to have better lives. This is his way of saying thanks. During two weeks on the road, he will swim at the beach for the first time, take a boat ride up a river and even visit Dracula's castle.
Below is Sprocket's story about why we are embarking on this Rescue Dog Road Trip.
With support from Trusted Housesitters, Sprocket will be taking over Vagrants of The World's social media channels to share his  adventure. You can follow Sprocket on Facebook, Twitter & Instagram starting 21 May 2016
#rescuedogroadtrip #sprocketunchained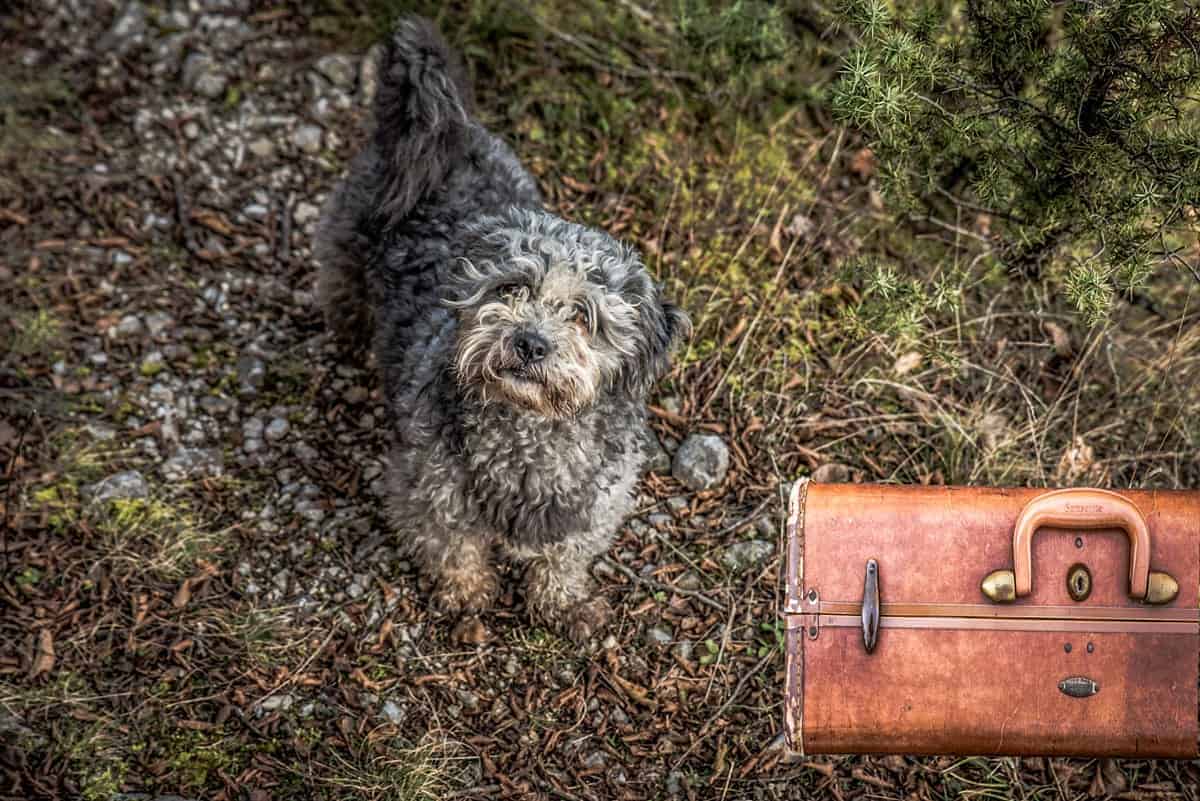 Imagine spending your entire life chained to an old box with no warmth, very little food and no one who really cared about you.
Imagine if your whole worth was to be a living doorbell.  No other purpose but to bark when someone came near. In Bulgaria and many other countries in Eastern Europe, dogs bred and kept on short chains for this purpose are a sad and common reality. These are known as "doorbell dogs". Often, stale bread is deemed an adequate diet and as these dogs are considered disposable, they never receive any vet treatment, are rarely vaccinated or neutered and never receive any kind of grooming.
My name is Sprocket and I was a doorbell dog in Bulgaria until Candy from Little Angels Rescue Bulgaria found me. This is me when I was rescued.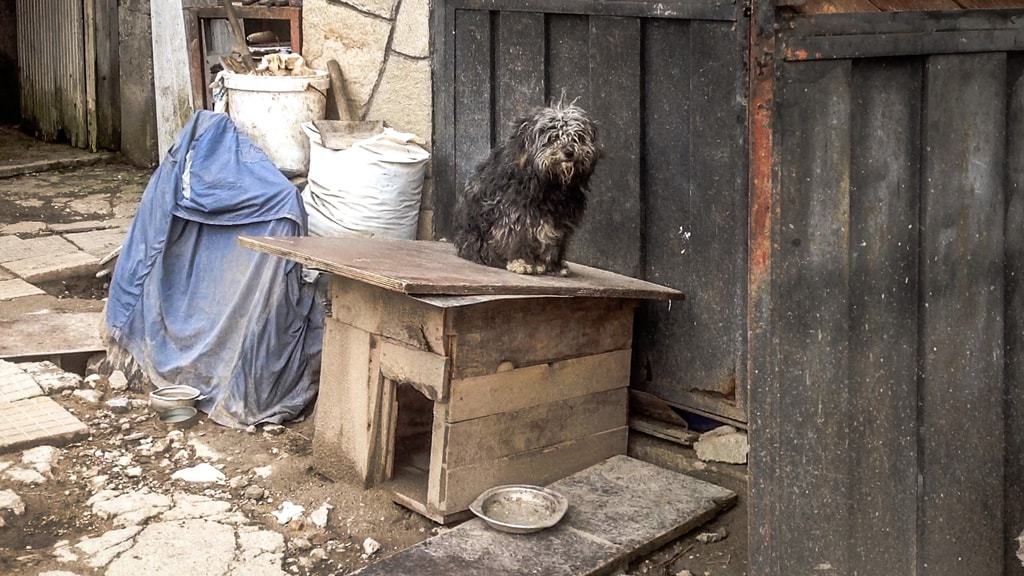 Sadly, where I come from, many dogs are not neutered so there is a big problem with indiscriminate breeding. This means many dogs, including tiny puppies, are thrown onto the street to fend for themselves when they are not wanted or no longer useful. There is a long culture of dogs being perceived as vermin in many countries, especially former communist countries. While the new, younger generation has a healthier, more caring attitude towards animals and pet ownership, there are still not enough services and facilities to manage and care for stray or injured dog populations.
This is why the job falls to the many small non profit organisations spread throughout Europe. Little Angels Rescue Bulgaria is just one of these organisations, spending much of their own time and money helping to rescue, rehabilitate, vaccinate and rehome many dogs each year. These organisations also work tirelessly to establish neutering programs and to re-educate communities on animal welfare. The long term goal, to instil a more positive attitude towards animals and pet ownership.
Candy rescues and fosters many dogs each year, some come to her with horrific injuries, terrible illness or have been treated so badly they need to stay with Candy at Little Angels Rescue until they are comfortable with being loved.  Some dogs need to stay for a lot longer than others, but once they have found their strength and know how to thrive in a loving home, Candy finds them a family of their own. These homes are far, far away in other countries in Europe. Candy gets a big van ready.  She loads it with special beds with fresh hand cut hay to sleep on, fresh mountain spring water and lots of snacks for the trip. She then makes a very long, non stop journey across Europe to deliver all the dogs to their new homes.
It's fun that we have so many dogs to play with at Candy's house, especially when we go on our big walk through the woods each day. But for every dog Candy rescues, there are many other organisations who have also received a dog in need. This means, when all of these dogs are ready and have hopefully found new families or foster homes, Candy must again load the van, often with more than her own dogs and make the big journey again.
This how I came to be an honorary Vagrant of The World for two weeks.
This is me with some of the gang at Little Angels Rescue. The walk is the highlight of the day. We get to run free through the woods for a couple of hours. It's loads of fun and you'll notice I'm pretty popular with all the dogs, big and small. Just Sayn'!




Mark and Kate came to care for us, all 14 of us (not including those pesky cats) last winter while Candy did a dog transport to Germany and the UK as well as taking some well deserved time out to visit her human family. Mark and Kate travel around the world taking care of lots of people's pets through Trusted Housesitters. So they knew a thing or two about dogs.
They had cared for many rescue dogs before but never dogs still in the process of being rehabilitated and waiting for new homes. And never this many at once! This house sit made them realise how much of a problem there was throughout Europe, and how much incredible work was being done by small organisations trying to remedy the issue. There are small organisations like this, working tirelessly all over the world, making a small but real difference with very little or no support or recognition.
Seeing first hand how much hard work goes into keeping these organisations running was how we (I say "we" because I wanted to go on the road trip) came up with the idea to use one dog's happy story (that's my story) to spread the message about the work being done and to recognise these small hardworking organisations. Because animal welfare doesn't always have to be about sad stories. Look at me.
So, about our trip.
Starting 22 May we will leave Candy's home in the mountains of Bulgaria in a VW camper van. For two weeks we will travel through the centre of Bulgaria, into Romania and back along the coast of Bulgaria. Here I will experience swimming in the Black Sea. I'm not sure how this differs from the stream on the walk but I am assured I will enjoy it.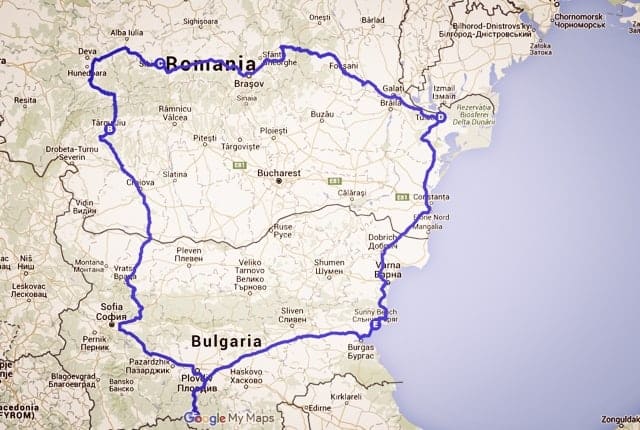 Along the way, we will travel down the Danube Delta on something called a boat. We will explore castles that once belonged to some guy by the name of Vlad The Impaler. They said to call him Dracula for short.  We will apparently meet lots of people who are looking forward to meeting me plus so much more.


Danube Delta, Romania- Image via Flickr by JC Kole                                                                            Bran Castle Transylvania- Image via Flickr byAlexandru Panoiu


Varna, Bulgaria – Image via Flickr byAliona Boico                                                                                                           Sibiu, Romania- Image Via Flickr by CameliaTWU
We have found some nice people who have houses called Airbnb's who say they are excited about having me come to stay. I can't imagine it could be more comfortable than Candy's house, but hey, this is an adventure.
Along the way, I will be telling you all about my big adventure and my take on the big wide world on something called social media. They tell me you will know how to find me there. Meanwhile, the other Vagrants will keep you posted on the travel aspect of our journey for those who are interested in the places we are going.
Most importantly, though, please follow my adventure to help me share a happy story about animal welfare. Hopefully, together we can create awareness, to help people like my Candy keep doing what they are doing – Helping dogs like me have incredible adventures.
See you on the road!
Sprockets adventure runs from 22 May to 4 June 2016 and is being supported on social media through Vagrants of The World Travel, Trusted Housesitters and of course Little Angels Rescue Bulgaria
#rescuedogroadtrip #sprocketunchained
Find out more about Little Angels Rescue Bulgaria here or to see what is happening in real time, head to their Facebook page.
Read more about Sprocket here – The dog behind the trip.
Read more about The lady behind the dog, behind Little Angels here
---
I had a proper city haircut to look good for my big trip. Pretty handsome ha?