Even with current restrictions in place, it is still possible to get out and safely enjoy the city of Chicago right now.
We have put together a list of socially distant Chicago activities as your guide to getting out while staying safe in the Windy City.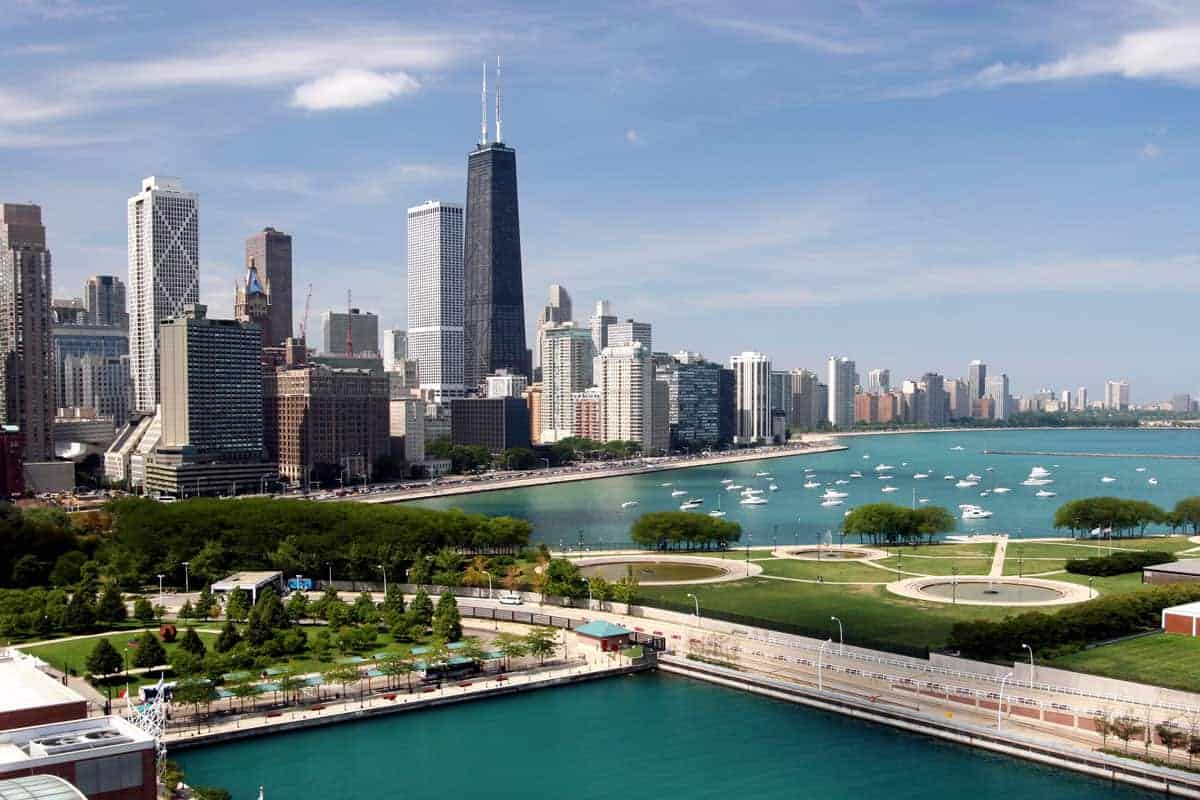 Safety Reminder
No matter what activities you decide to enjoy in Chicago at this time, we always encourage following these safety guidelines:
Stay up to date with the current status of Chicago advice by checking official government websites for the latest information on restrictions, policies, closures and status of local businesses.
Do not plan any activities if it goes against the current government advice.
Take the proper health precautions; always wear a face mask for the safety of you and others, follow social distancing recommendations, carry plenty of hand sanitiser and wash your hands regularly.
If you feel unwell, stay at home and take appropriate action as advised by medical professionals.
Fun Socially Distant Things to do in Chicago
If you're planning to get out and explore Chicago's less crowded activities, make a day of it, plan the perfect outfit and enjoy a day out in the Windy City.
Rent a Divvy Bike
Rent a Divvy bike for a self-guided cruise around Chicago's bike trails. Cycling is a great way to get a breath of fresh air in a city while avoiding the crowds. It's also a great way to explore a city and possibly see it in a new light.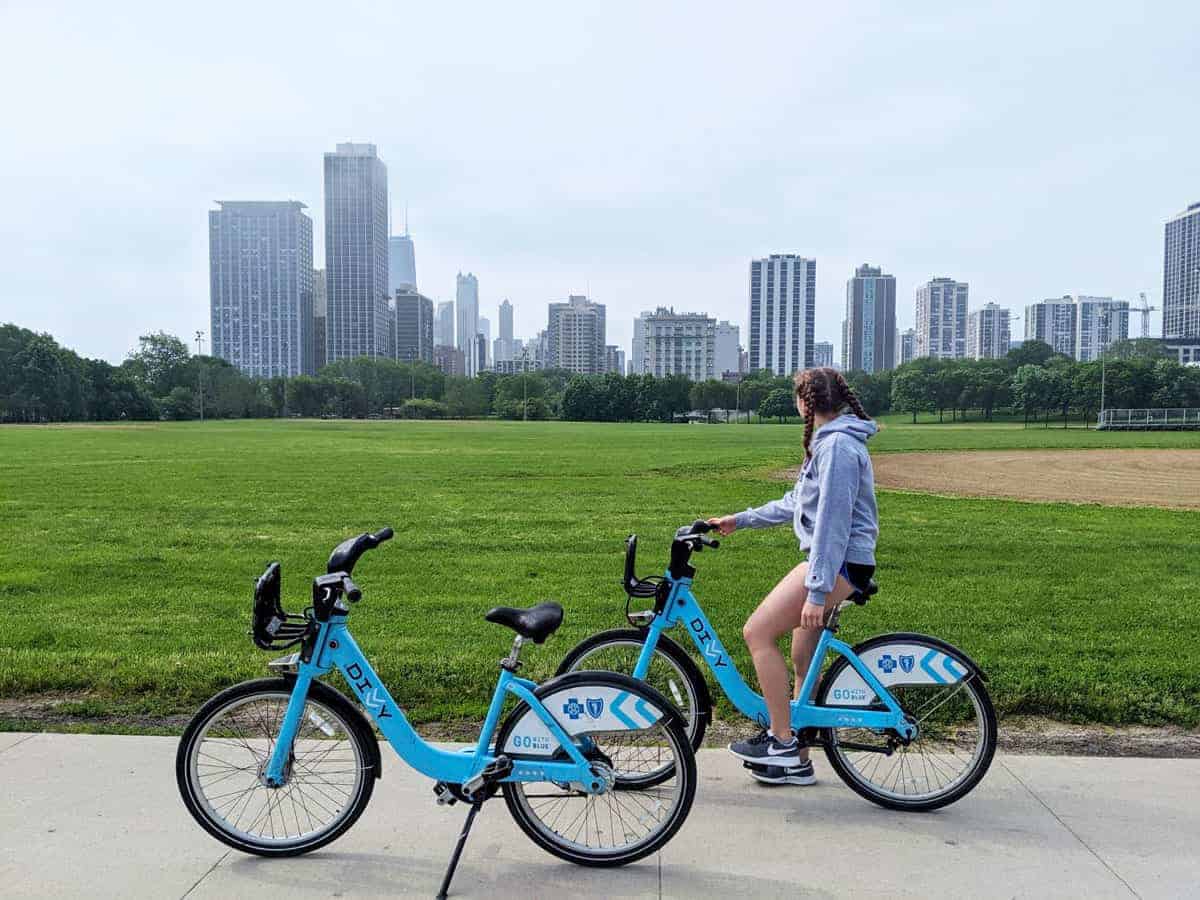 Divvy bikes can be found all around the city of Chicago, and you have almost endless bicycle paths to choose from. A Divvy Bike ride is also a great date activity.
If you don't fancy the idea of too much pedal power, you can also grab a Divvy e-bike which has a pedal-assisted motor for a chill ride through the city. Pedal when you want, relax when you don't. It's the perfect carefree, yet somewhat active, adventure.
Bike Rental Cost
Divvy bikes cost $3 to unlock, plus $0.20 per minute for non-members. For an extra $2, you can have the convenience of leaving them anywhere in the city on a pole or public bike rack.
Make sure you wipe down the Divvy bike with a Clorox wipe before use and use plenty of hand sanitizer throughout the day.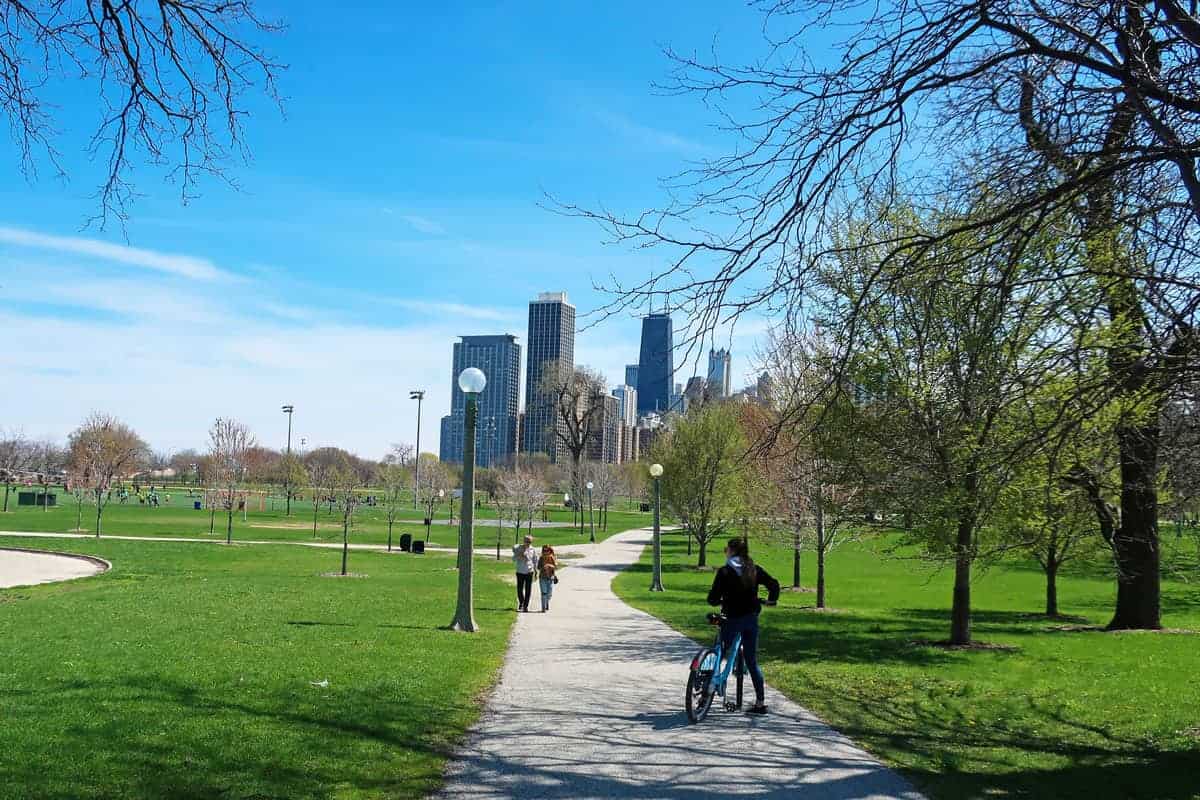 Bike Trails in Chicago
There are several nice biking trails in Chicago. You may consider the 606 Trail near Bucktown, an elevated historic railway lined with murals and sculptures from local artists.
Another excellent option is the lakefront trail. You can start on North Avenue Beach and cycle South towards the Planetarium (fabulous skyline views from this location). Otherwise, start near the Museum Campus and ride south towards Promontory Point (another scenic lookout spot).
You may also bike around Lincoln Park, just south of the Lincoln Park Zoo there are some paved trails that wind around towards North Avenue Beach.
Chicago Botanical Garden
The Chicago Botanical Garden with nearly 400 acres of landscaped gardens is another exceptional place for a breath of fresh air while maintaining a social distance.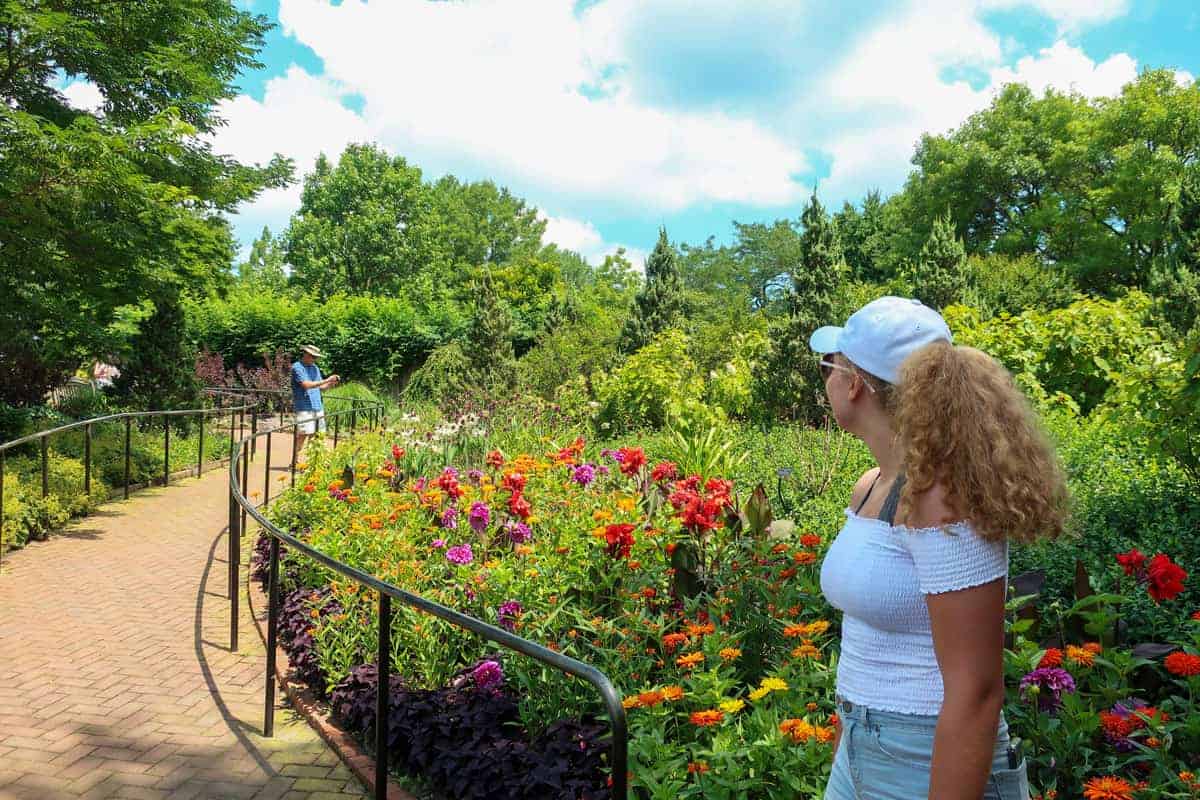 While named for 'Chicago,' the garden is located in the northern suburban city of Glencoe. You can drive to Glencoe in about 45minutes from downtown Chicago without traffic.
The Chicago Botanical Garden is ensuring visitor safety by requiring guests pre-register for a timed entry. Face coverings are required in the gardens, all indoor spaces or anywhere a 6-ft distance is not easily maintained.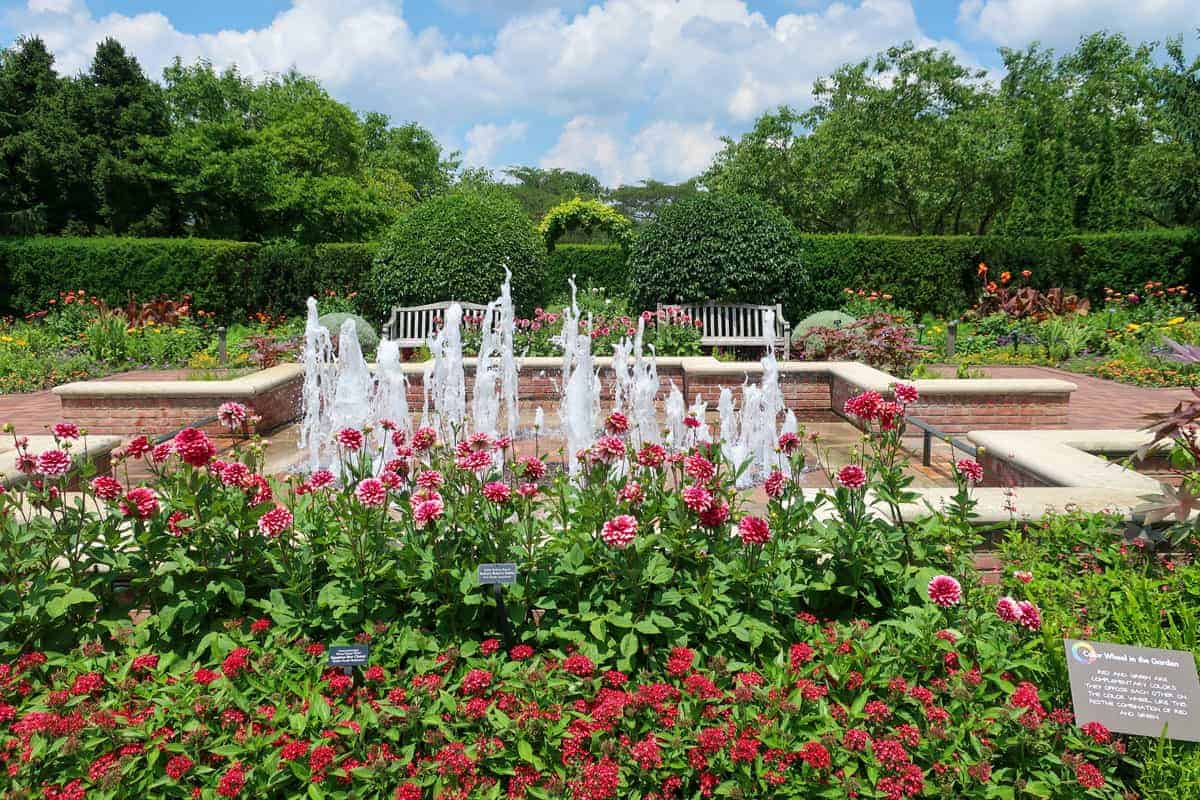 Admission to the Chicago Botanical Garden is free. However, guests can expect to pay around $25 for parking on site. The gardens are open year-round and feature fabulous seasonal displays and collections. Some of the most popular areas include the Japanese Garden, Bulb Garden, and Evening Island.
See the official Chicago Botanic Garden website to register for your timed entry.
Maggie Daley Park
Maggie Daley Park is a wonderful recreation area amid Chicago's Loop neighborhood. The most scenic way to get to Maggie Daley Park is to cross the BP Pedestrian Bridge from Millenium Park.
During the summertime, Maggie Daley's Ribbon becomes a skate park. There's also rock climbing, tennis courts, picnic groves, mini-golf, and a cancer survivors memorial garden.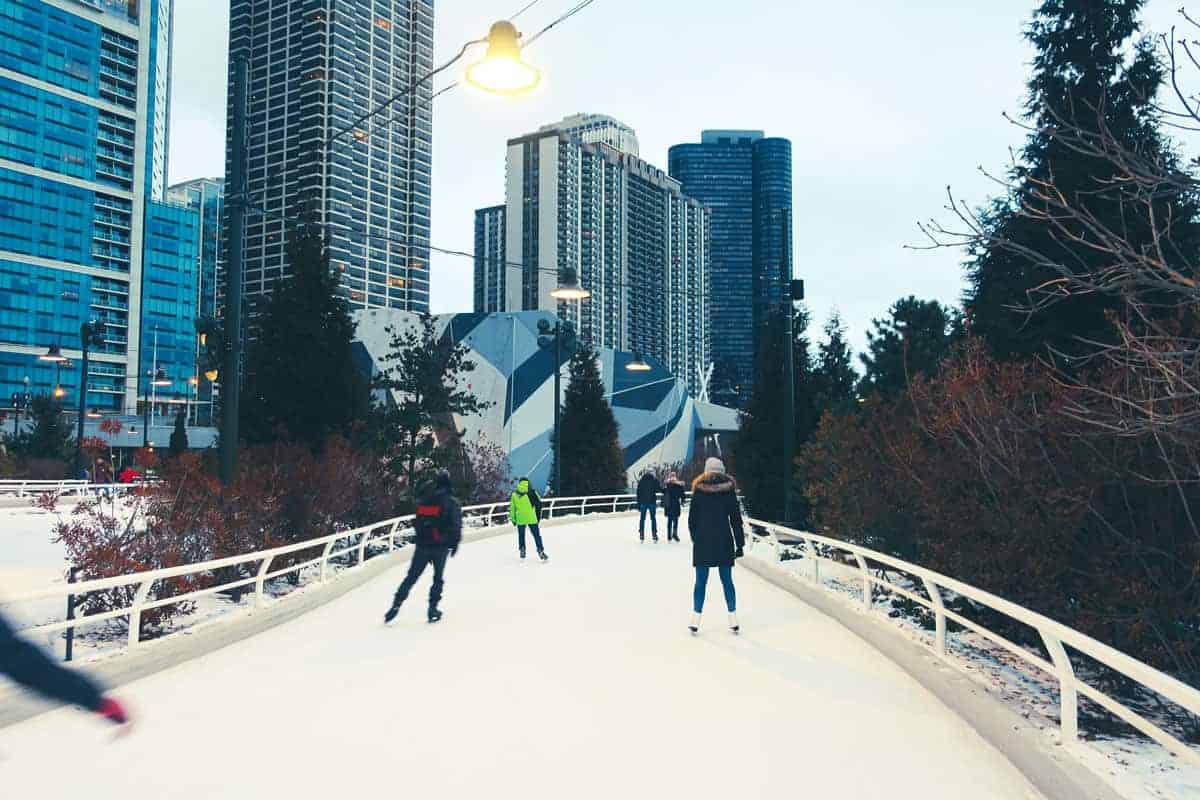 During the wintertime, the best thing to do at Maggie Daley Park is to ice skate on the Ice Ribbon. The Maggie Daley Ice Ribbon is the best place for ice skating in Chicago. The loop provides a perfect track offering phenomenal skyline views as you skate.
To ensure visitor safety, Maggie Daley Park requires all visitors to book tickets in advance. Regardless if you need to rent skates or not, you will need to pre-register to get access to the ice ribbon. Your reservation will only last 75minutes, so be sure to come on time. See the official Maggie Daley website to reserve tickets.
Tennis
Tennis is one of the safest sports to enjoy during this time, especially in a singles match where you have no close contact. An excellent activity to enjoy with a friend outside of your immediate household.
There are tennis courts all over the city of Chicago. In Lincoln Park, residents make great use of the Oz Park facilities. Gold Coast dwellers use the courts at Lake Shore Park, located right behind the Museum of Contemporary Art.
The Waveland Park Courts may be the largest on the north side, and you'll find them in Lakeview. There are also tennis courts in Grant Park. All of these sites are free to use on a first-come-first-served basis.
Golf
Golfing is another excellent activity you can enjoy away from crowds. Golf is also great because it can be a solitary activity, or enjoyed with a friend.
If you are looking for an expansive 36-hole complex, you only need to drive 20 minutes outside of downtown. The Harborside International Golf Center is one of the top-ranked golf facilities in Illinois. The Glen Club on Chicago's North Shore is another good golf facility that allows day-visitors. On Chicago's south side, you have the Jackson Park Golf Course.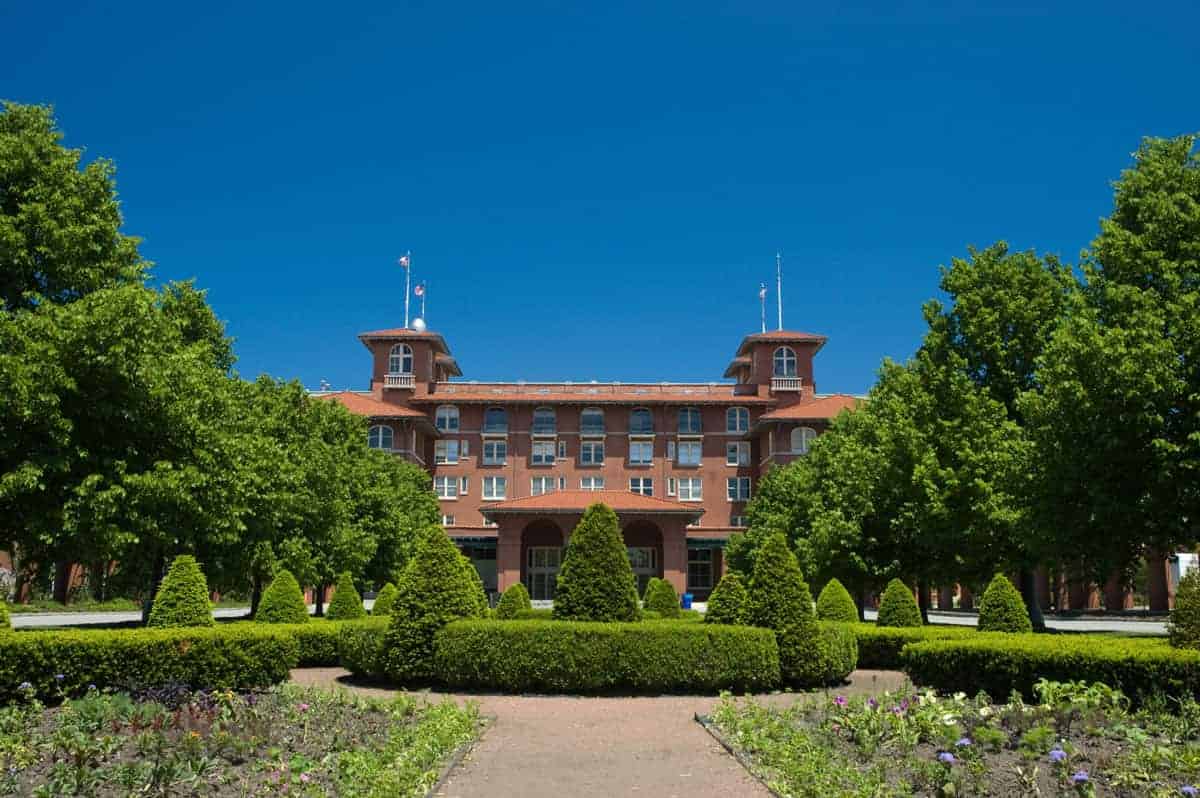 If you are considering smaller scale golfing, the Sydney R Marovitz 9-hole course offers spectacular views of the harbor and downtown skyline.
For a taster experience of golfing or you just want to whack some balls, hit one of the city's driving ranges or book a table at the low-key Top Golf venue.
The Diversey Driving range offers top of the line putting greens as well as an 18-hole mini-golf course. As a bonus, hitting mat areas are heated. Top Golf has suburban locations in Naperville and Schaumberg which offer tableside putting, as well as food and drink service.
Explore Sculptures in The Loop
There are several larger-than-life sculptures to enjoy in Chicago's Loop neighborhood which makes a lovely stroll from one sculpture to another. Bring your camera for some unique modern art shots.
One of the most famous artworks downtown known as 'the Picasso,' is a 50-ft tall and 160-ton mammoth which took two years to create. Pablo Picasso gifted the work to the city of Chicago in 1967. The easiest way to find the sculpture is to map out the Richard J Daley Plaza Fountain.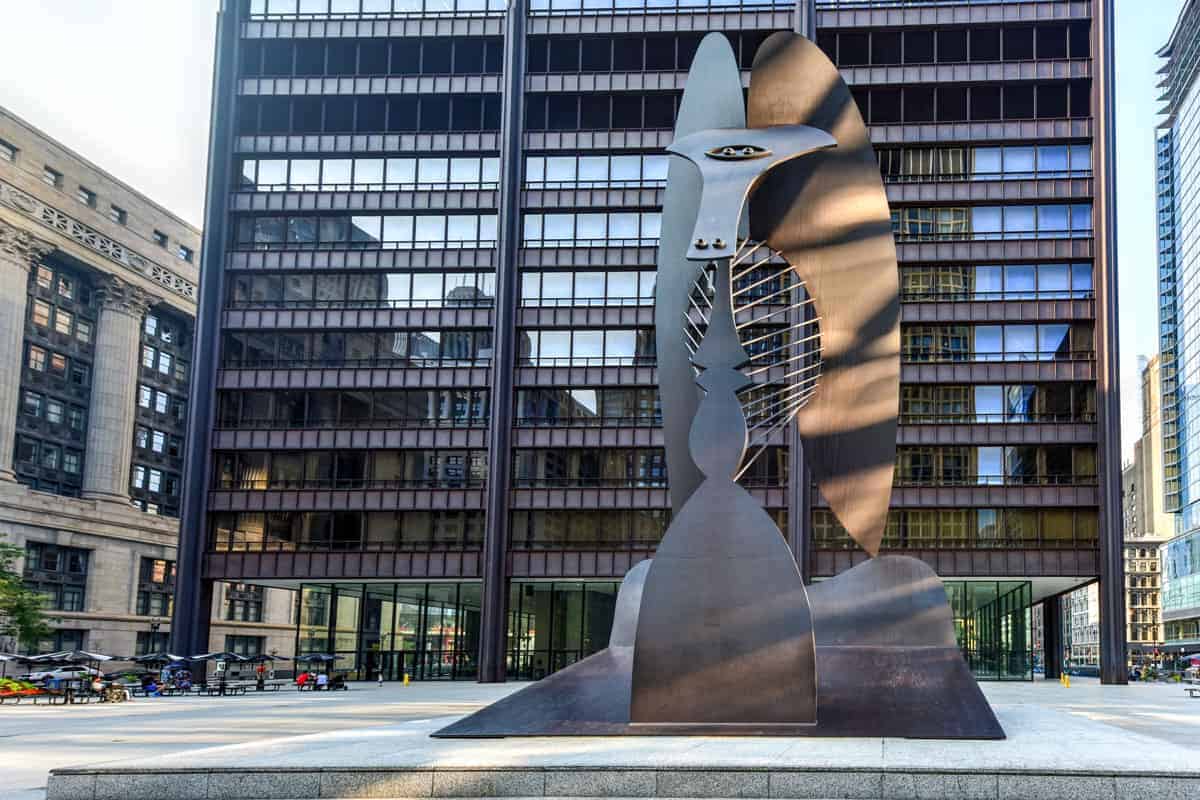 Walk across the street and admire the Joan Miro sculpture. The mixed-media display also towers at a height of 40-ft. It represents a female figure holding a moon with a star at her head. She's also referred to as 'Miss Chicago.'
Continue walking south & admire Marc Chagall's 'Four Seasons.' This mosaic piece features over 200 colors that bring to life the changing seasons in the Windy City. Be sure to also check out the Flamingo by Alexander Calder & Cloud Gate at Millennium Park.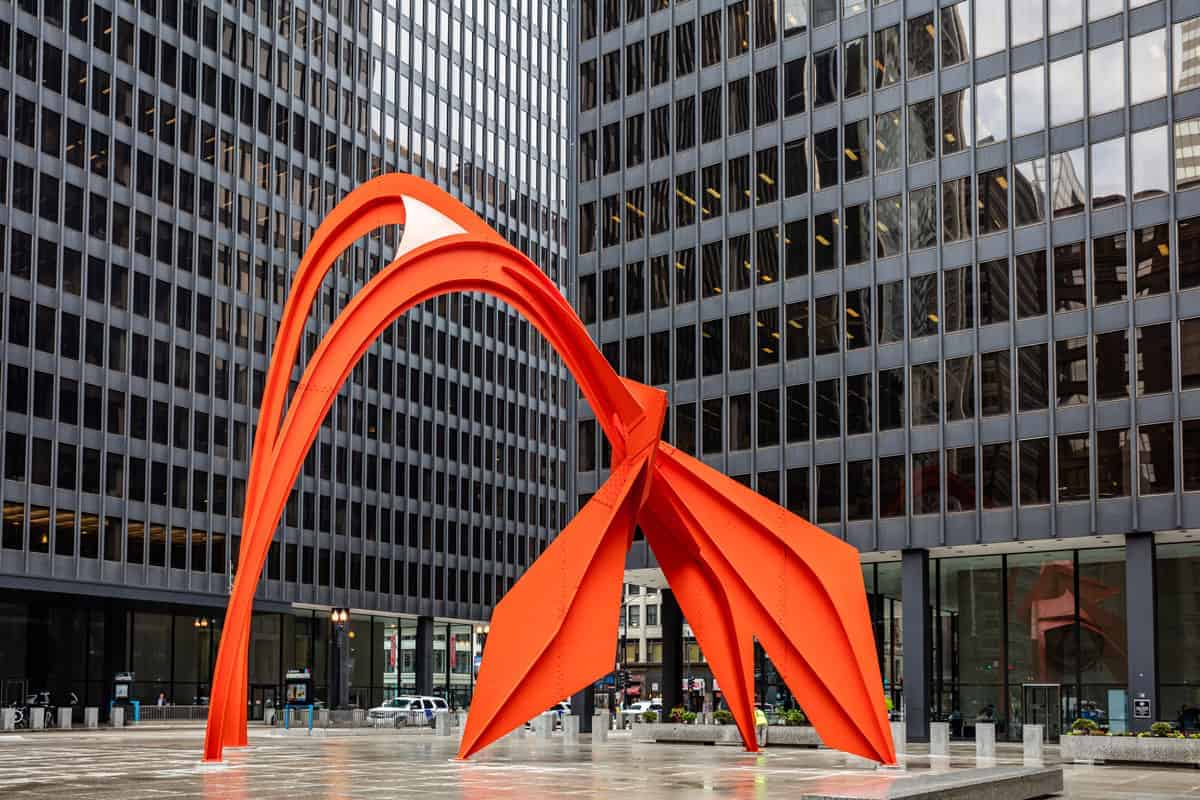 Visit the Wabash Arts Corridor
The Wabash Arts Corridor is another underrated tourist attraction in Chicago. It's essentially an open-air museum and creative collective in the heart of the South Loop neighborhood. You'll find endless colorful expressions around every corner.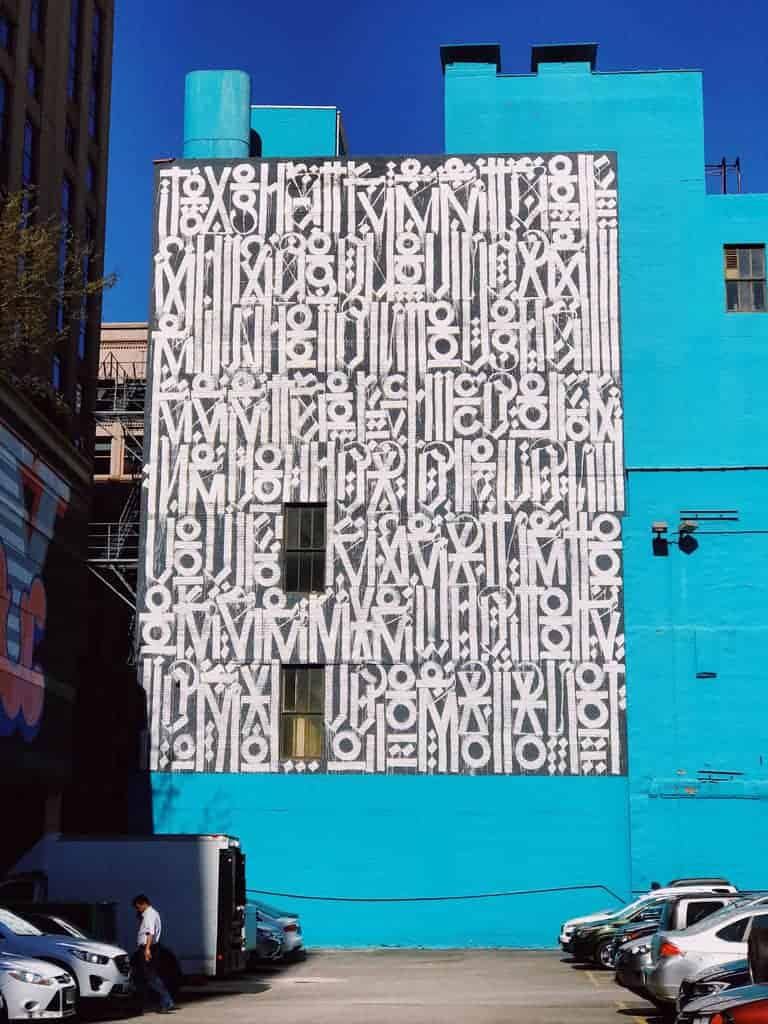 The Wabash Arts Corridor is made possible through a close relationship with Columbia College. It is one of the largest and most diverse art exhibits in the city of Chicago and it's completely free.
The murals are found between State Street and Michigan Avenue, and just north of Harrison Street and 16th Street. If that sounds confusing, I've just described a square. You may want to start at the corner of Harrison and Michigan and weave your way around. You can also find a detailed map of all the murals on the Wabash Arts Corridor website, but it's more fun to explore on your own.
See a Drive-In Movie
One good thing to come from the pandemic is the Drive-In movie scene has been revitalized. What safer way is there to enjoy a community experience, but to remain separate?
There are a few places in Chicago where locals can enjoy drive-in movies. Chi Town Movies is an awesome venue in Chicago's Pilsen neighborhood. You'll be able to see recent blockbusters from the comfort of your vehicle and reserve your car's spot in advance.
Another favorite is the Drive-In at Lincoln Yards. Handwashing stations are available at the facility, or you can bring your own hand sanitizer. You can even order concessions in advance, and have them dropped off at your vehicle. At Lincoln Yards, there is 10-feet between cars, so you'll be sure to enjoy the safe social distance.
Watch a Show at Art on the MART
Take a walk down the Chicago Riverwalk and stop by the MART building for a spectacular show. Art on the MART is considered the largest art projection on the planet. It presents contemporary artwork on 2.5 acres of the Mart building that faces the Chicago River.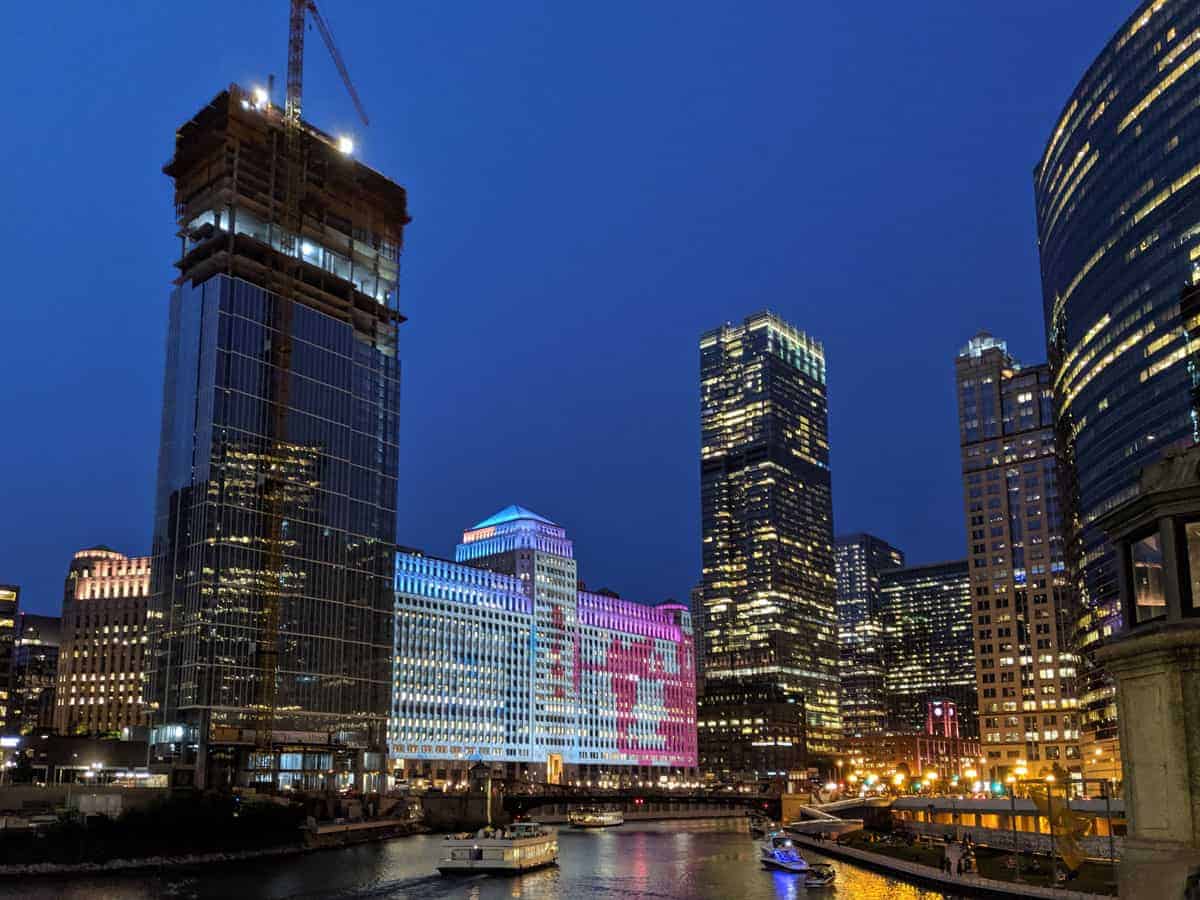 The Merchandise Mart building is one of Chicago's historic treasures, originally opening its doors in 1930. At the time, it was the largest building in the world. It spans two whole city blocks and rises over 25 stories. It was built in the Art Deco style by the Marshall Fields Company and was later owned by the Kennedys. Be sure to check the website for up-to-date showtimes.
Restaurants in Chicago Offering Outdoor Dining
The restaurant industry is struggling. They need our help, and they need our business. If you feel safe enough to visit a restaurant, we encourage you to. Otherwise, consider ordering food for pickup or delivery. Supporting the local restaurant community helps supports the local community in the long term. These are some restaurants that offer outdoor or private dining facilities.
In Fulton Market
The Darling is one of Chicago's top date night restaurants. You can choose to dine in the property 'Rose Garden,' and enjoy your meal from the comfort (warmth) and safety of a private greenhouse. Indoor reservations are also available.
Formento's, a neighborhood favorite, is an Italian restaurant offering outdoor greenhouse seating as well as indoor dining.
Aba, another excellent place for a bite is a formal Mediterranean restaurant with a spacious elevated patio. There are several types of reservations offered on Aba's website, you can choose from the outdoor greenhouse, outdoor patio, or indoor seating.
In River North & Gold Coast
Ramen San is River North's most hip ramen joint and is open for indoor and outdoor dining. They have delicious cocktails & innovative ramen options.
Gold Coast's Rush Street just south of Division is a hot spot for restaurants. Somerset and Tavern on Rush remain open for indoor and outdoor dining.
In Lincoln Park
Gemini Bistro is an upscale American restaurant that's currently open for indoor dining. During warmer weather, their outdoor patio gets equipped with space heaters, although, there aren't greenhouses.
The Willow Room is Lincoln Park's go-to spot for outdoor greenhouse dining, but indoor reservations are also available. The Willow Room is a brunch classic.
There's Plenty of ways to Beat the Crowds in Chicago
As you can see, there are plenty of great ways to enjoy chicago without being impacted by crowds, no matter the season. Whatever activities you decide to enjoy in Chicago, always keep the safety of both you and others in the forefront of your planning.
Author Bio
Valentina Djordjevic
Valentina, originally from Serbia, grew up in Chicago. She loves hunting down local restaurants, unique experiences, and hidden gems. Obsessed with researching, organizing, and planning her vacations, she knows many people don't have the time for extensive research, but they want to get the most out of their travels. Valentina's Destinations allows her to help other busy professionals maximize their travel experiences.