We have 10 days spare; Let's go somewhere she says. We need to leave tomorrow she says. Not Bali she says…
So the race was on to find a good, cheap and interesting destination that didn't involve visas or a long flight with crappy connections.  How about Taiwan I say. Why not she says, quick GO!
And we did thanks once again to another Air Asia bargain out of Perth. Pay homage to the dumpling, we're off to Taiwan!
We arrived in Taipei knowing absolutely nothing except it was cold, which takes us to the pack.  It was going to be a difficult pack. As we had only booked carry on in our haste to book a trip somewhere, anywhere! We had to consider cold weather and hiking gear whilst maintaining our 7 kg limit. This was not your normal South East Asia jaunt into warmer climates with light luggage! The pack was a success. Both came in under 7kgs (packing has become quite the competitive sport between us. Mark is always trying to get his bags smaller and lighter than Kate's!).
Once again a quick look on Airbnb found us in a fantastic little apartment located in the Da'an District of Taipei. This is probably one of the more interesting (and funky) areas of central Taipei to stay. Da'an Park is both lovely and well used by the locals, stroll through the beautifully manicured gardens and you will find busking and adhoc entertainment.
Taipei city; we were expecting an industrial city renown for the catch cry "Made in Taiwan" what a surprise. Apart from being incredibly clean, laid back and friendly on a level we have not experienced before; this is a city that is emerging with a social scene; a kind of hipster meets sophisticated cosmopolitan. Incredibly cool cafes and bars line the small lane ways around the city. Sophisticated restaurants, great shopping and night markets that are not only the best street food we have ever eaten but a social event that takes markets to a new level. Get a little dressed up and meet your friends for some street food and a few drinks! The markets have little mini restaurants if you don't want to eat on the street.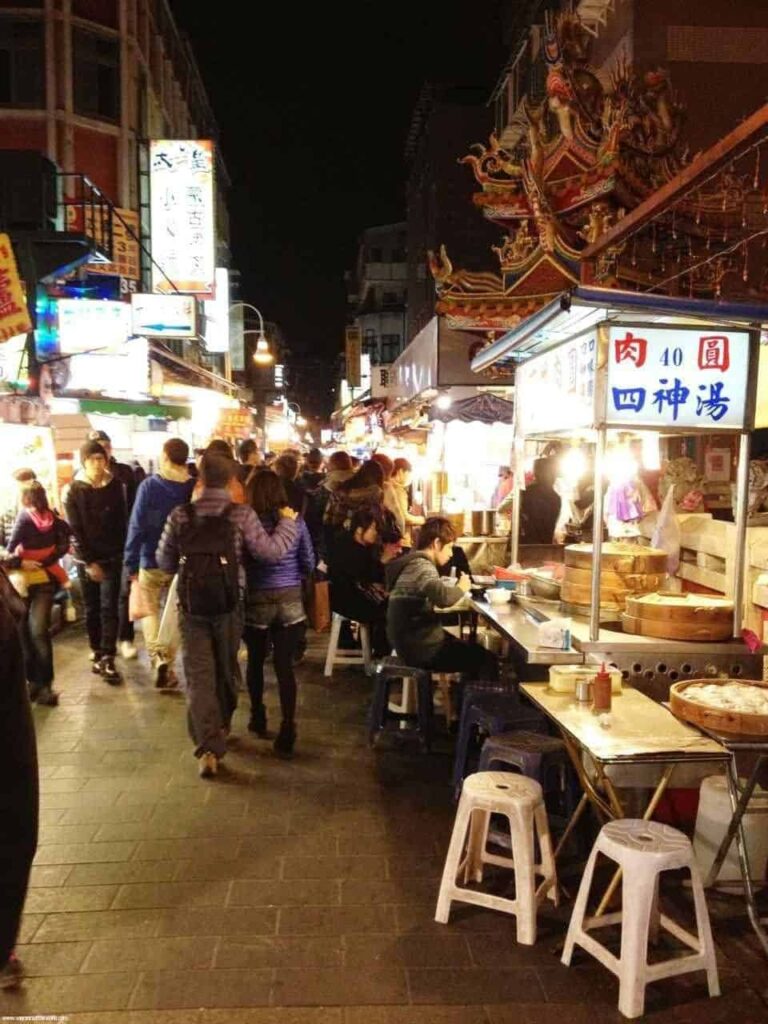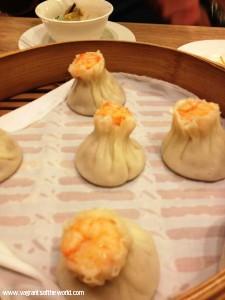 The vendors, markets, stalls and pretty much anywhere you go to eat is very clean and the food tasty and fairly priced.  For an upmarket dumpling experience, we highly recommend (based on two food coma inducing visits) Din tai fung on Ninyi Road.  It is easy to find, just look for the queue out the door and up the street.  Don't be put off though, there is ample seating inside. This restaurant was the original that was taken to Singapore and then all over the world earning it the accolade of first Michelin star dumpling. Believe us, star or no star, you must go!
We ate our way through two of the markets; the Shilin and Shida Night Markets. Some night markets in Taiwan are strictly food but in Taipei they also have some really cool clothes, shoes etc. This attracts the university sets from Da'an and around Shilin. As carry-on travelers, we had no room for trinkets but plenty of room for food.
As you wander through the markets, don't be put off by a really bad odour you might come across, this is in fact, stinky tofu, a Taiwanese favourite, we tried stinky tofu by accident and, well, must say, not as bad as it smells.  If you can find it and you don't mind clogging a few arteries then try bread soaked in egg, deep fried and stuffed with chicken.  It is grease dripping delicious. Or there is the sausage in a sausage, calamari, duck, octopus, syrupy fruit sticks…  It's amazing!


This is also the city that boasts the former tallest building in the world.  If you are wandering downtown and see a really tall building then you have found Taipei 101 so pop in, check the panoramic view of the city and don't miss the giant gold bowling ball hanging down the middle of the building.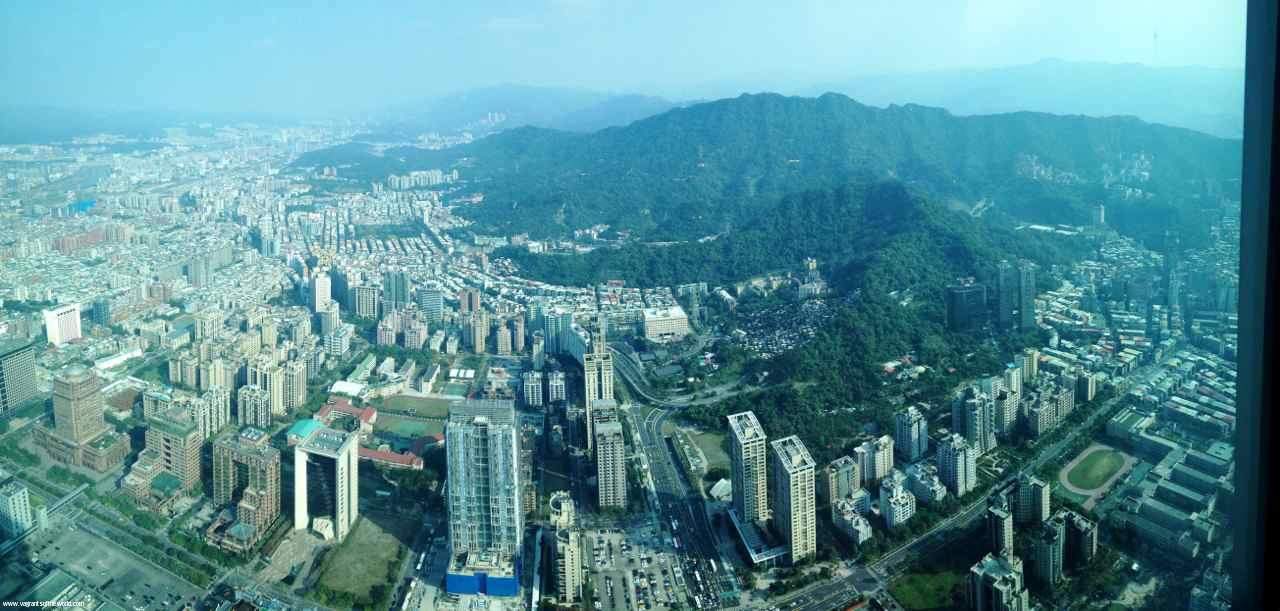 This giant orb is an engineering marvel and it stops the building turning into rubble during one of the frequent earthquakes that shake Taiwan.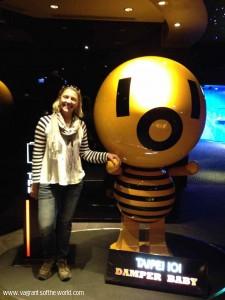 Getting around Taipei is a breeze, on foot the streets are well laid out, well signed and safe to walk along. Head out early; it's the best time to see the city when it's still quiet and treat yourself to some steaming hot dumplings from any of the street vendors dotting the city.  BEWARE – try and show some restraint when you delve into these delicious little morsels, steaming is the operative word here! Dive in to quickly and you will end up doing the reverse gold fish, not a good look.
Much to Marks delight; (being a newly outed train spotter! See Sri Lanka) Taiwan has a brand new shiny, super-efficient cheap to ride subway and train system. Lines are colour coded for those of us who can't read Taiwanese and there is always a friendly local willing to stop and point you in the right direction if you look lost or stupid enough(although with Marks obsessive train timetable studying I think he did learn some Taiwanese). We have found no other city so helpful.
So Taipei, only regret – we weren't in a position to stay longer.  We are looking forward to a return visit.
Taroko Gorge – Our Real Motivation – Walk off the dumplings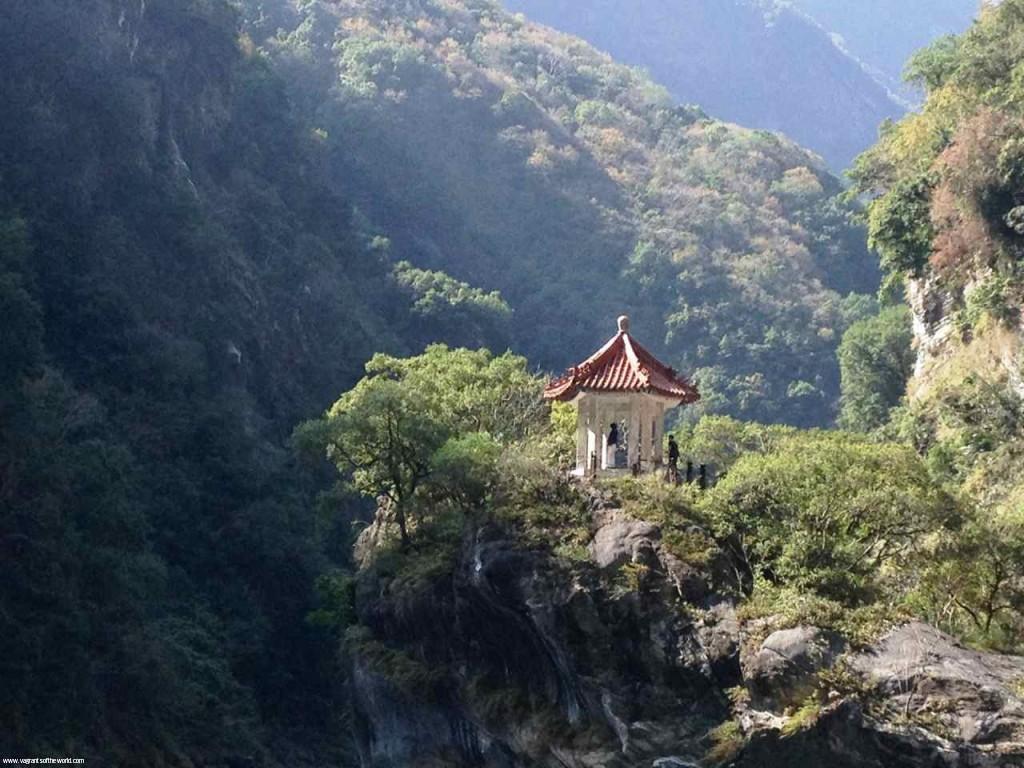 We legged it out of Taipei and headed by train up to Hualien Province; the gateway to Taroko Gorge.  Hualien is a great little town to base yourself for day trips into Taroko. It has some really nice restaurants, fantastic night markets which were on par for quality of food with Taipei (so much for walking off the dumplings; sausage inside a sausage anyone?) and good quality cheap hotels.
There are various ways to get to and around Taroko Gorge, but as usual Kate was keen on the scooter idea so we headed off on our little scooter once again wearing our Eric Estrada helmets. (why do we always end up with helmets that look like they came from Toys R Us?!)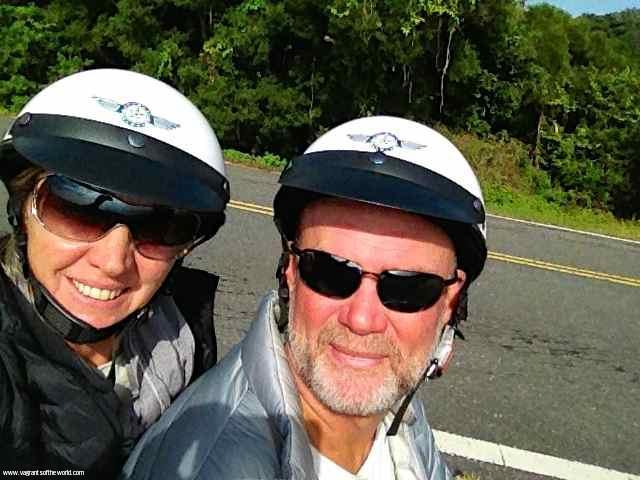 We spent two days touring around the gorge, it's an easy and pleasant ride on the scooter from Hualien (about 40mins) and a cruisy ride once inside the park.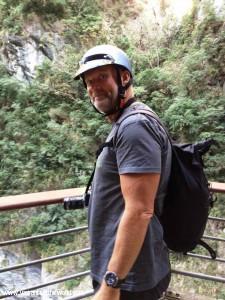 The scenery through the park is really quite stunning. The rock formations, bridges, walks and caves were truly brilliant as well as beautiful temples built with such intricacy in places you could only imagine how they got there! Rock falls and landslides are prevalent all the way through the park with some sections requiring helmets to be worn on marked walks; being scooterers we were already well prepared with our Mattel issue Eric Estrada specials.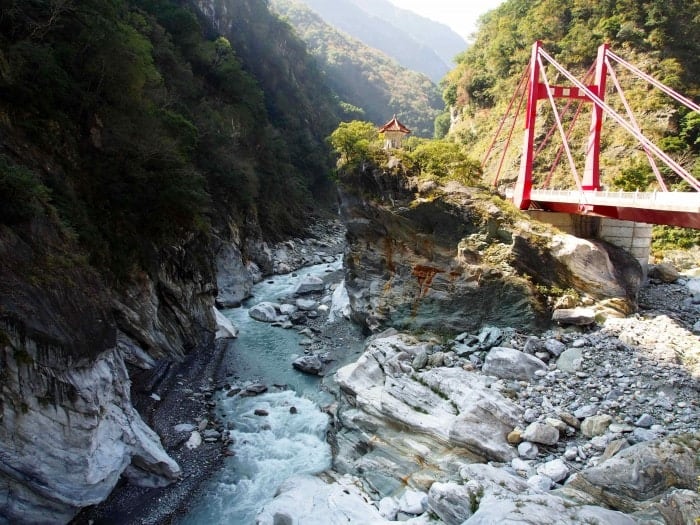 These landslides and rock falls will also determine what areas of the park will be open at the time of your visit. Unfortunately for us the Tunnel of Nine Turns was closed when we were there. The Visitor Information Centre has English speaking guides and will provide a really good map of the gorge.
Our highlight was the Baiyang Trail. The entrance is a little hard to find, we scootered past three times before we found it; it was like the secret entrance to the villain's headquarters in a Bond film. Instructions by super friendly Taiwanese man who appeared in the middle of nowhere-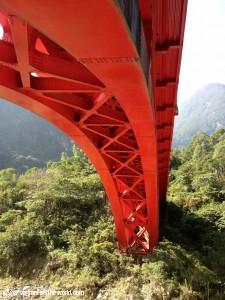 "You must ride through longest tunnel; in middle of tunnel where it is darkest you will find an entrance on the left hand side that leads into an even darker tunnel, make sure you have your torch, you must then walk to the end of this tunnel". I'm surprised it took us so long to find!  It was worth searching for though. It leads you to a series of waterfalls, one being a water curtain through a dark cave (exciting) at the end of the trail, you will get wet, so a cheap poncho is advisable and as per the advice of the friendly Taiwanese man (where did he come from?) a flashlight, as some of the tunnels you pass through are pitch black dark (scary).
Back on the road (train) to Taitung.
We arrived in Taitung, to be honest I don't know what the lure of Taitung was but we were not overly impressed and things only seemed go down hill from there. Once upon a time it would appear that Taitung was Taiwan's east coast seaside holiday destination. Years ago it might have been a lovely little town that for some reason was suddenly abandoned, Taitung looks semi-deserted and rundown. The Seaside Park is overrun with stray dogs and weeds and the holiday apartments and restaurants that line the foreshore all abandoned.  The only thing it hasn't got (yet) is tumbleweed rolling down the road.  So it was one night here and move on.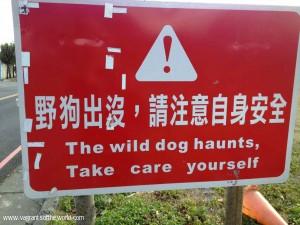 With every place that doesn't impress there is always that one little gem and in Taitung it was a crazy little Karaoke Bar opposite the hospital.  It was 5pm and we were looking to regroup over a couple of quiet ales. We could not find an open bar anywhere when the lure of a disco ball flashing from the darkness of a seedy establishment and the sound of 'Sweet Caroline' being sung in a distinctive Taiwanese accent, we had found our place. Apart from Neil Diamond and the karaoke family having dinner, we had the place to ourselves.  In typical Taiwanese friendliness we were set upon by the owner, ushered to a corner, ice cold beer materialised (from then it was self-service and bring the empties to the bar when it's time to pay), an encyclopaedia of karaoke songs was banged down with enthusiastic gestures to choose any song we want along with a plate of complimentary tomatoes that he seemed very proud of (not your usual beer snack). Suffice to say we stayed awhile.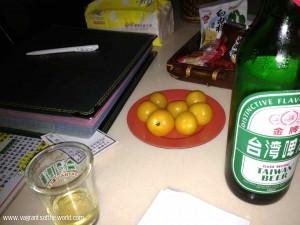 The only other draw card of Taitung (other than Karaoke) is it proximity to the natural hot springs at the foot of the Dawu mountains. We hopped on a bus and headed for the Chihpen Hot Springs. Sitting on the hill side is the Chihpen hot spring resort. You may purchase a ticket to spend the day and indulge in the luxury of either the outside hot spring (similar to the Japanese Onsen). Or the undercover assortment of naturally fed pools and spas. We soaked in pools infused with rose, lavender, chamomile, green tea and one that had an assortment of herbs that made you feel like you were being basted for roasting. Treat yourself; it's worth it.
To the very bottom of Taiwan – Kenting
A roundabout train/bus trip via Kaoshiung saw us arrive in Kenting at the very southern end of the country. Kenting is a very touristy little beach side town. Hotels and surf shops line the highway on the way into Kenting and beyond. Kenting is tourist central, the main street is lined with shops, restaurants, bars, nightclubs and hotels all catering to the tourist dollar. At night the street comes alive with the hustle and bustle of the night market selling the street food we had fallen in love with.
Another scooter hire (this time I think the scooter itself came from Toys R Us) and we were off. We spent an afternoon exploring Kenting National Park, which is made easy by the sensational service provided by the information centre.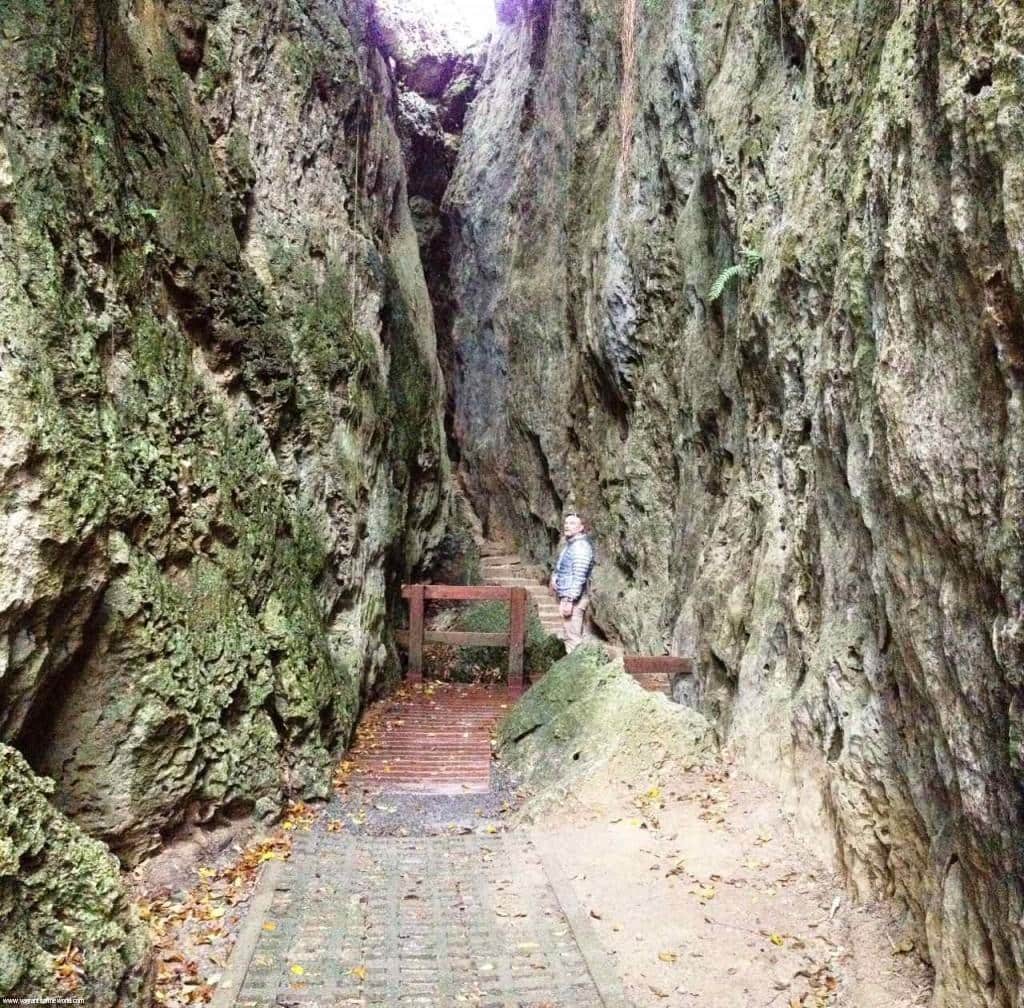 We rode the scenic loop down to the very southern tip of Taiwan, Eluanbi.  The old light house is well worth the visit and the walk around the headland is lovely.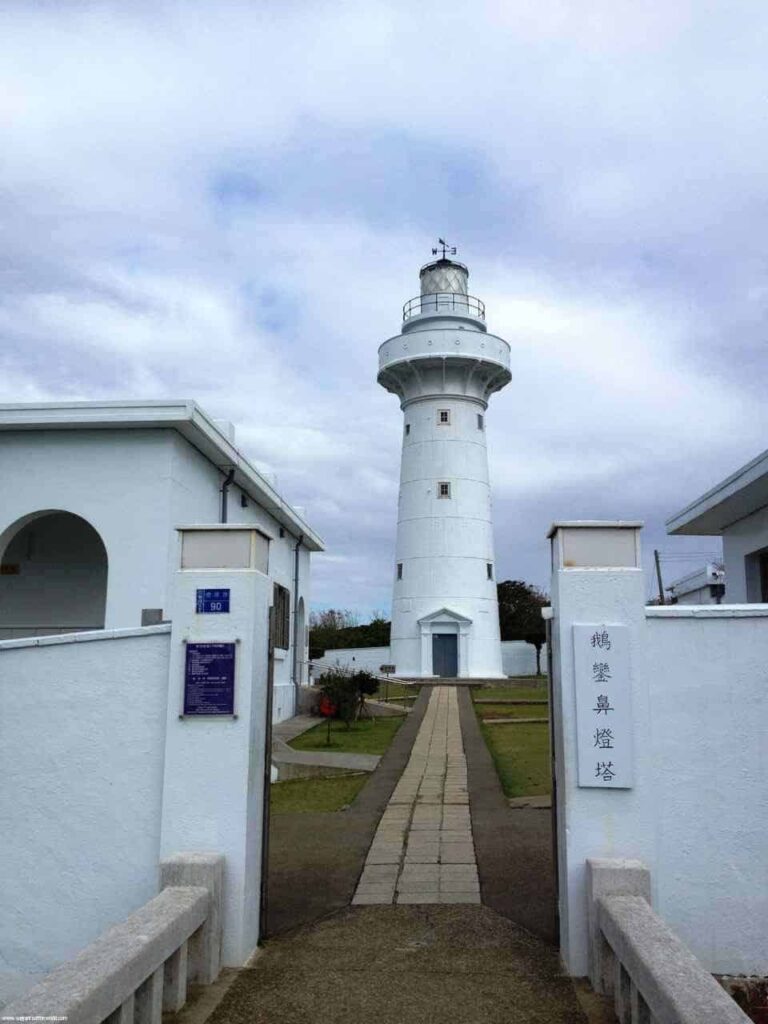 Then following the tourist route up the east coast and back across to Kenting
provides for some spectacular coastline and a quirky little spot where fire just spurts out of the ground at the Chuhuo Special Scenic Area. If you're lucky you will find the local entrepreneur there with some yams wrapped in foil being cooked on the fire that spurts out of the ground.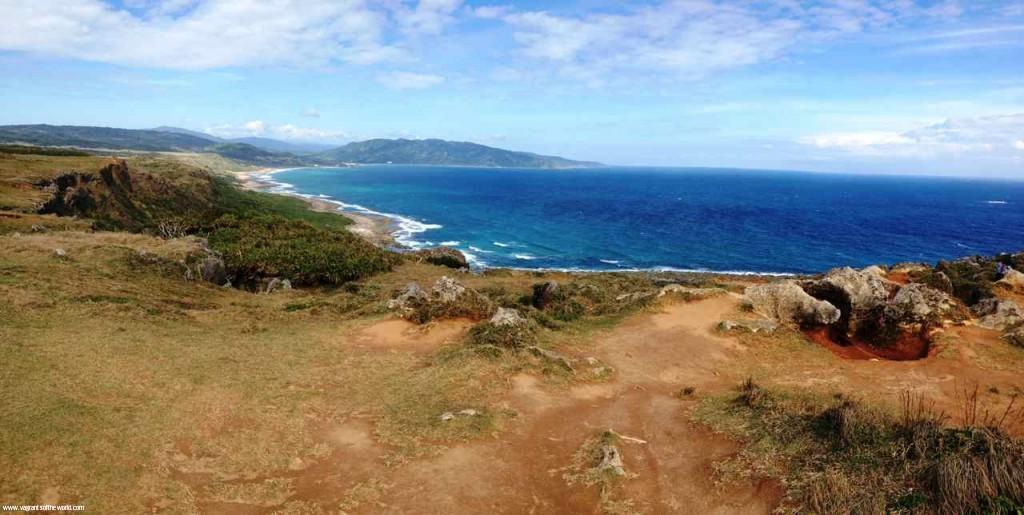 We went back to Kenting through Hengchun Township. Hengchun is worth a stop. Known as the gateway to Kenting it has much more to offer; a more urban feel than its touristy neighbour with lively markets selling fresh produce, clothing and home wares, modern cafes, restaurants and funky little stores that incorporate the back drop of the great wall and 4 gates that used to surround the town to give the town a lovely 'happening' vibe.
Kenting is a lovely place to kick back, relax, do a little shopping or have a swim.  The accommodation is tourist orientated and quite expensive when compared to other areas of Taiwan.  We did a fair bit of walking and talking before getting a little place overlooking the beach (there are plenty).  Don't be afraid to do a little bartering with the room price, especially when you know the place is empty.  We saved about 30% along with an upgrade to a much better room.
The Race Home…South to North- 1 Day!
To get the most out of our short stay, we took the punt that we could get from the bottom to the top of Taiwan in a day.  Too Easy!
First up; breakfast at the best brekkie place in Kenting – The Ocean Kitchen. At the western end of the main street, opposite the entrance to Kenting Forest Recreational Area. The best bacon and egg roll in Taiwan and possibly the best coffee in Kenting.
The Mad Dash- South to North. 
Taxi to Fangliao. Plan A. was to catch a bus. Should have been simple, after all we caught it there!
What a disaster.  Being the avid train/bus spotter /timetable expert; Mark did his best to work out (a) which bus (b) departure time and (c) the bus stop. We had no room for error on this one as any delay would mean missing our flight from Taiwan.
Mark sweated the timetables, he spoke to the locals, he stalked the bus stops comparing timetables with those on the net. Being the ex-detective; he felt something was amiss. All the information suggested the bus would be on time and was the right one but he couldn't shake the feeling. Go with your gut! Nothing else to do but a proper stake out! Mark gets to bed early the night before; he had to be at the bus stop bright and early the next day. He needed to see the bus for himself. He heads over at around 0600.
He waits in the cold for the elusive bus that would get us to Taipei in time for our flight. Some other guys were also hanging around the bus stop. Relying on Taiwanese friendliness and their overwhelming need to be helpful they assure Mark that the next bus to come was the one we needed to catch the next day. This matched all of his research, he was reassured. Feeling a sense of pride in his stake out he headed over to the Ocean Kitchen where Kate was waiting (hiding) with coffee.
The Scam revealed!!
The next morning we head over to the bus stop and stand in the drizzle with our bags for the elusive bus to Fangliao. Marks new found friends from the previous day's stake out arrive. (Is it not odd that these guys hang out at a bus stop???) Mark starts to get nervous, it should be coming, finally it comes, we hail it down as instructed then disaster hits. The bus diver informs us this is not the bus we need… Marks new found bus stop friends swing into action, they would get us a driver, Ahhh, the scam revealed. Not to be out witted Mark refuses their services, after all he had already priced the backup option the day before and knew a taxi to Fangliao was far cheaper than they were asking. His new friends were not so friendly now.
Will We Make It ?????????????
We legged it across the road while they yelled at us and hailed another taxi, we negotiated the price, as we suspected, much cheaper than the bus stop scoundrels across the road. He told us to wait there and another driver would be here shortly. The new driver arrives and a screaming match starts between our new taxi driver and the bus stop scoundrels. We had to get out of there fast. Thank god for the ex-detective and his obsessive timetable studying. We made it to Fangliao with time to spare.
The grand finale of Taiwan for Mark was within reach, the bullet train to Taipei. 300kph; from one end of the country to the other. Believe me, he had this timetable all worked out! This was one train trip he was not going to miss.
We made it to Taipei and only just in time for our flight and don't tell Mark but I thought the bullet train was pretty exciting as well!
Highlights of Taiwan
The people are amazing, friendly, unbelievable helpful and a pleasure to deal with.
Taipei – a really great city, would love to spend more time there.
The food; in particular – dumplings and all the street food.
Taroko Gorge – a true wonder worth spending a few days exploring.
Once again – the dumplings and street food!
Really easy to get around.
It has so much to offer no matter what your interest.