Sitting at the crossroads of Europe and Asia, with a rich and complex history, Istanbul has the highest concentration of attractions we have seen in a city, even before you venture out past the Old City of  Sultanahmet.
Within walking distance, you will find all the classic Istanbul attractions that draw millions of visitors each year to this magical city, making it one of the most exciting and accessible cities to explore.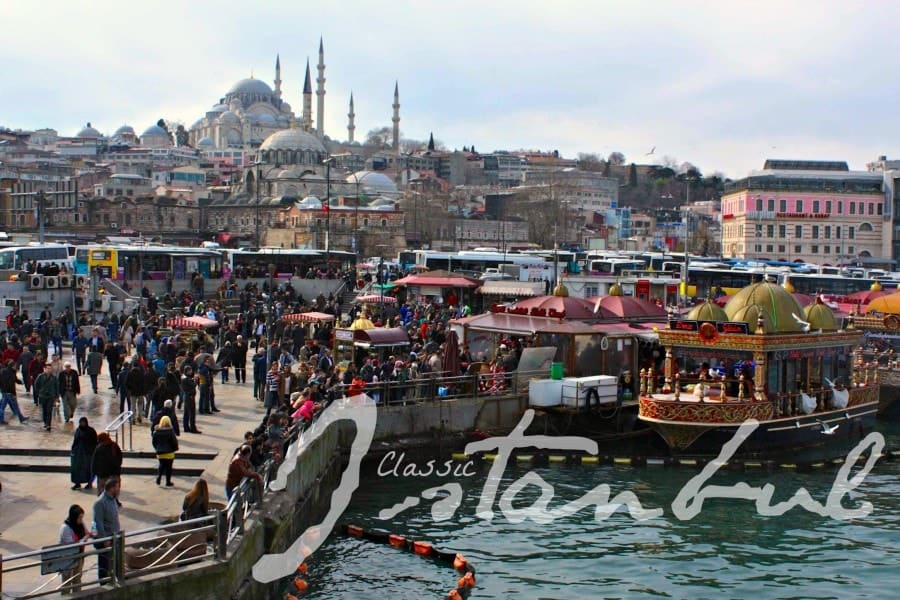 On a very cold, snowy day we explored the old city, Sultanahmet with Istanbul Daily City Tours. If you only had one day to pack in all the main attractions Istanbul is famous for, then the Istanbul Classics Walking Tour is the way to go.  And if you have more time to spend in this intriguing city, this is a great introduction.
First Stop- Sultanahmet Square. 
Sultanahmet Square is the heart of the Old City and central point for many attractions including Hagia Sophia and The Blue Mosque.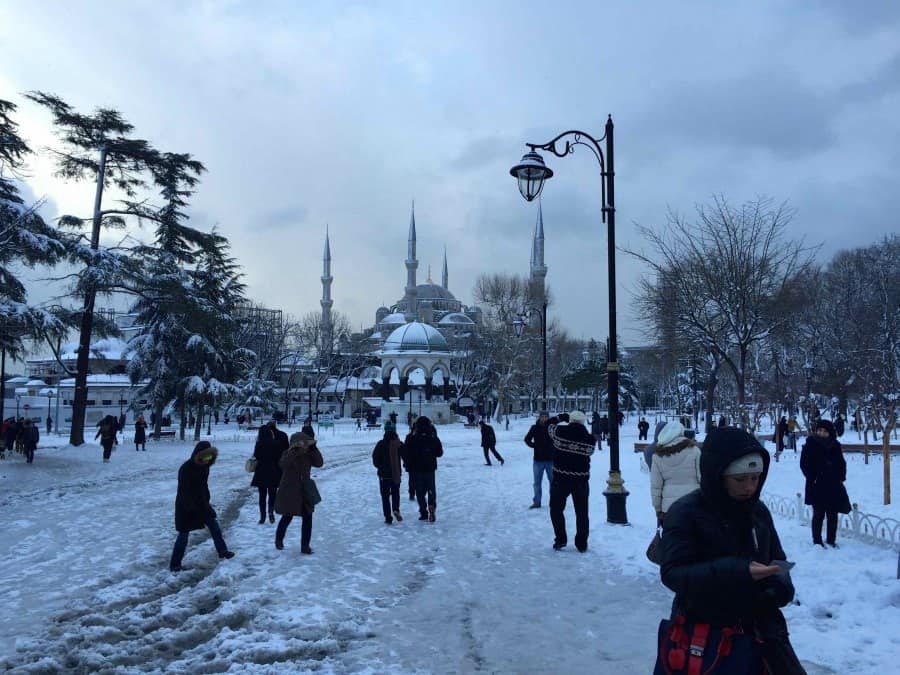 It was also the original setting of the Hippodrome, a venue for chariot races, athletic events and political activities, way back when the city was known as Constantinople. Measuring an estimated 450m long, it had a U-shaped race track and stands capable of holding 100,00 spectators. The Hippodrome was the social center of the city.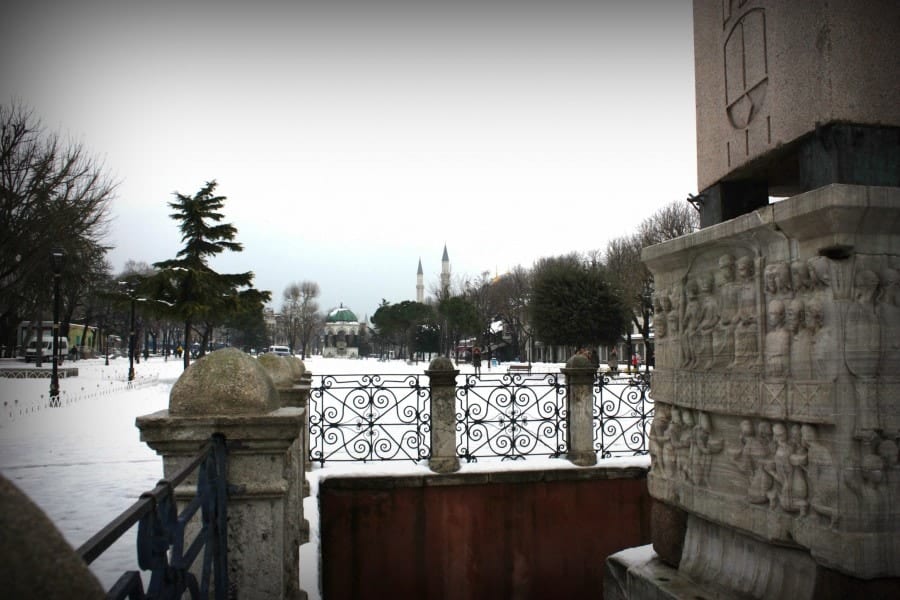 The Obelisk of Theodosius and the Serpentine Column (or what remains of it) still stand in the square as reminders of past rulers and the glory days of the Hippodrome.
Theodosius the Great bought the Obelisk from Egypt in the 4th century. To transport it, he had the original work cut into three pieces and erected the top section on a marble pedestal. This is where it has stood in near perfect condition for nearly 3500 years.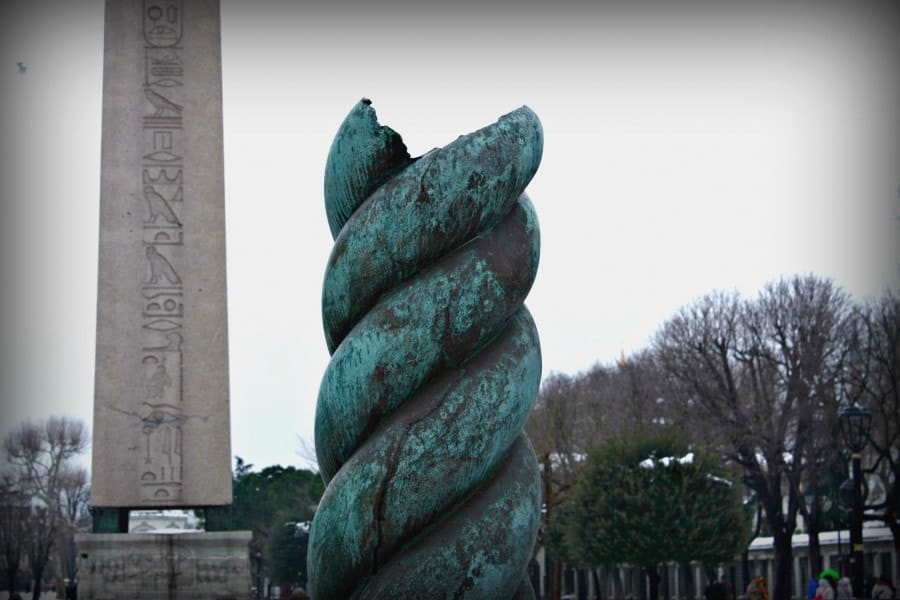 Like Theodosius, Constantine endeavoured to raise the image of his new capital, by erecting works of art in the centre of the Hippodrome. The Serpentine Column was commissioned to celebrate the victory of the Greeks over the Persians.
In 324, Constantine had the work moved from the Temple of Apollo at Delphi and placed in the Hippodrome. The original work was adorned with a golden bowl supported by three serpent heads. The bowl was destroyed during the fourth crusade and the serpent heads some time before the end of the 17th century, only the column remains.
Hagia Sophia (St. Sophia) Museum
Built by Byzantine Emperor Justinian, St Sophia has had many lives. Bult in 537 as an Eastern Orthodox Cathedral and aside from a brief period between 1204 and 1261 when it was converted into a Roman Catholic Cathedral, the building remained Orthodox until 1453. It was then Hagia Sophia became a mosque until 1931 when it was secularised and opened as a museum in 1935.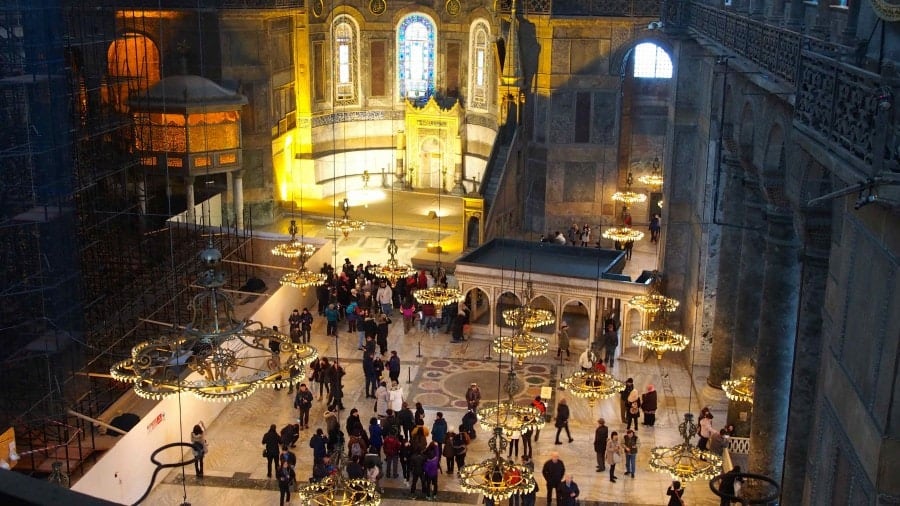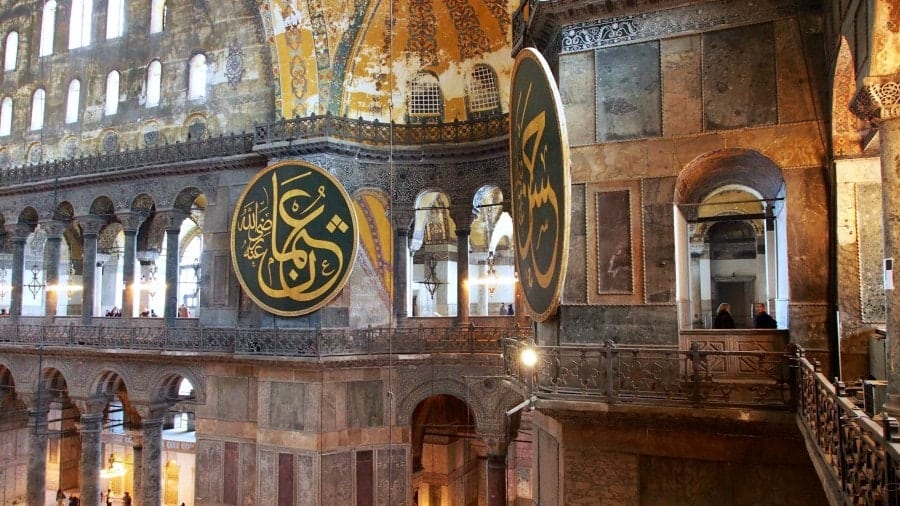 The largest cathedral in the world for nearly a thousand years, it is considered one of the greatest architectural marvels and a masterpiece of Byzantine architecture.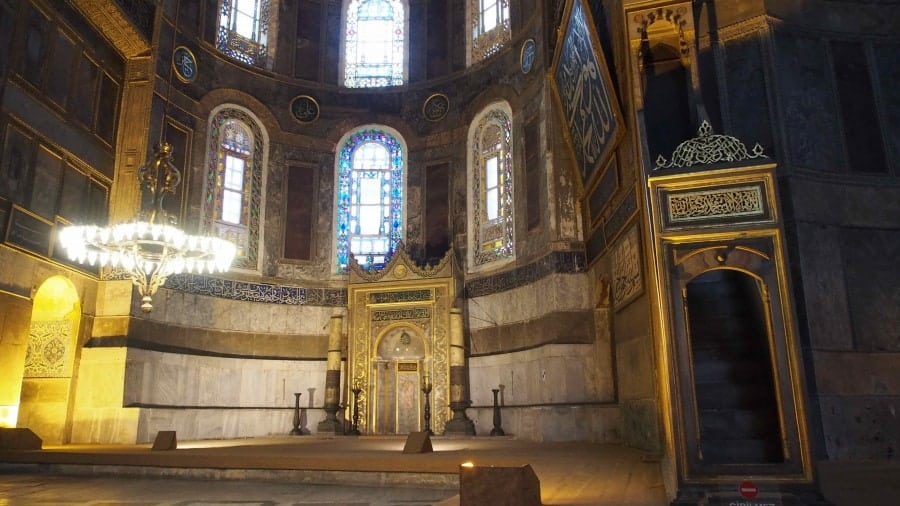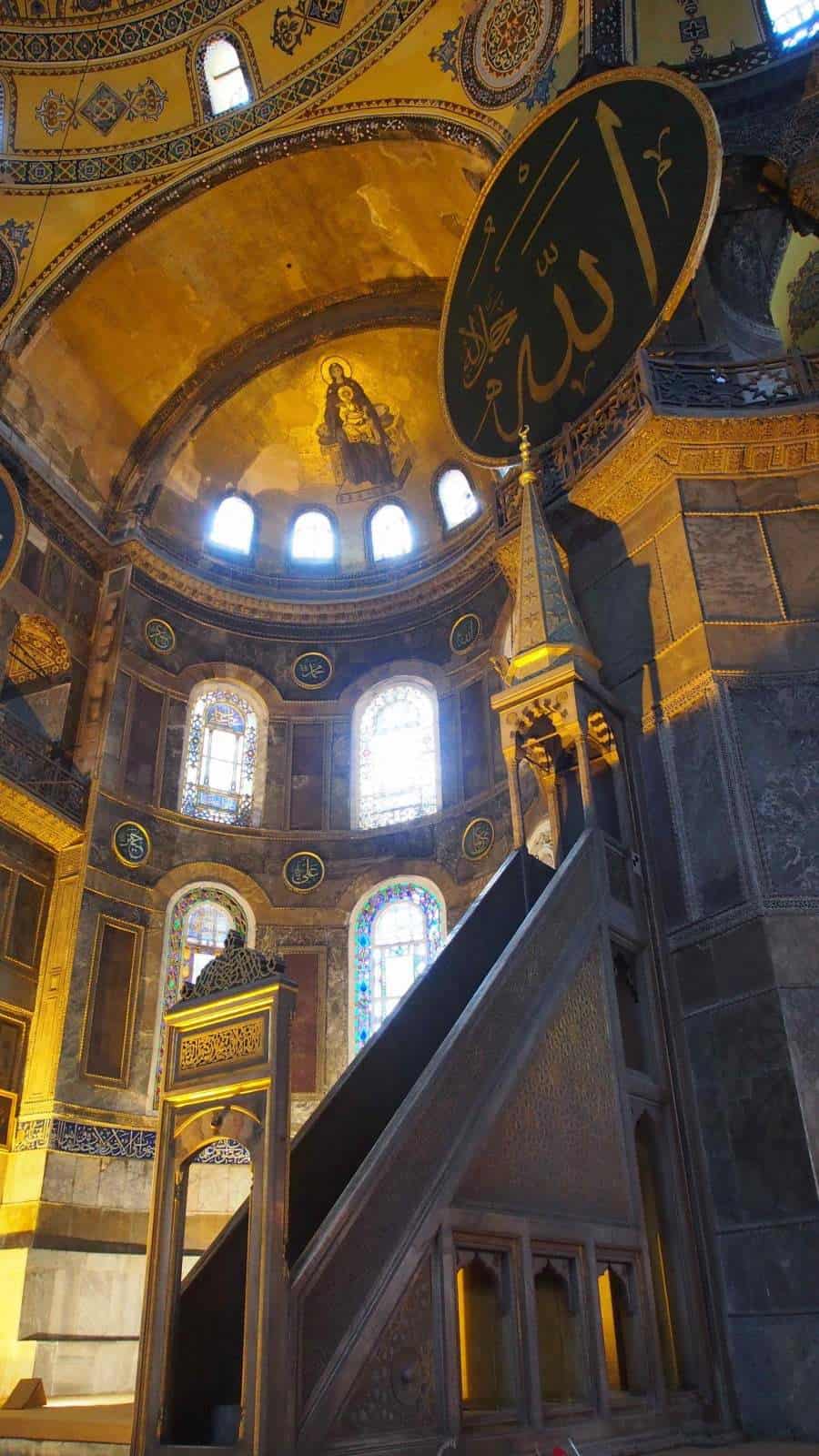 In a constant state of repair and restore, the imposing interior will have you craning your neck in awe as soon as you walk in the door.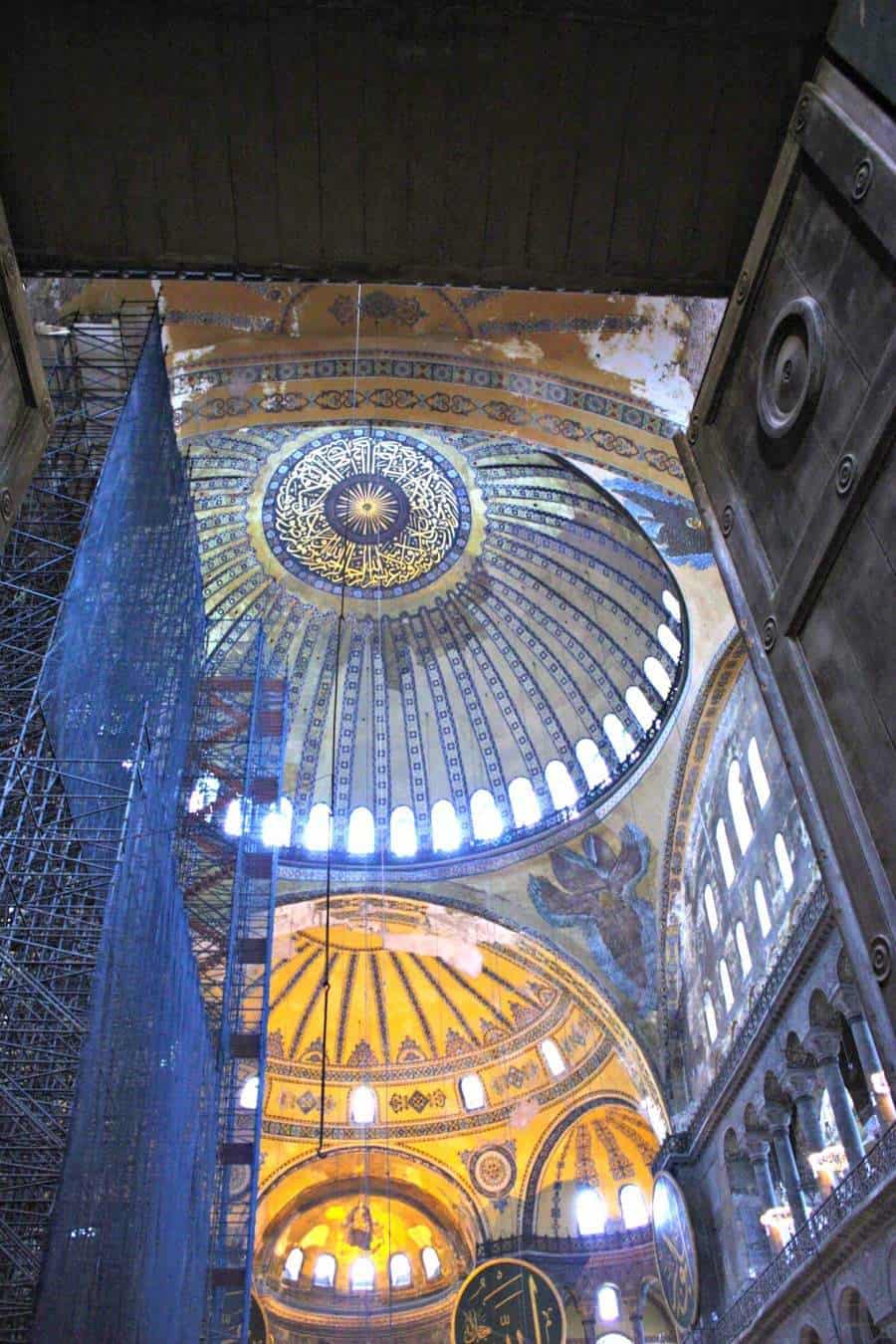 The entire building still bears impressive representations from all of her inhabitants. From the mosaics and paintings of Jesus, Mary and Saints to Islamic features such as the four minarets.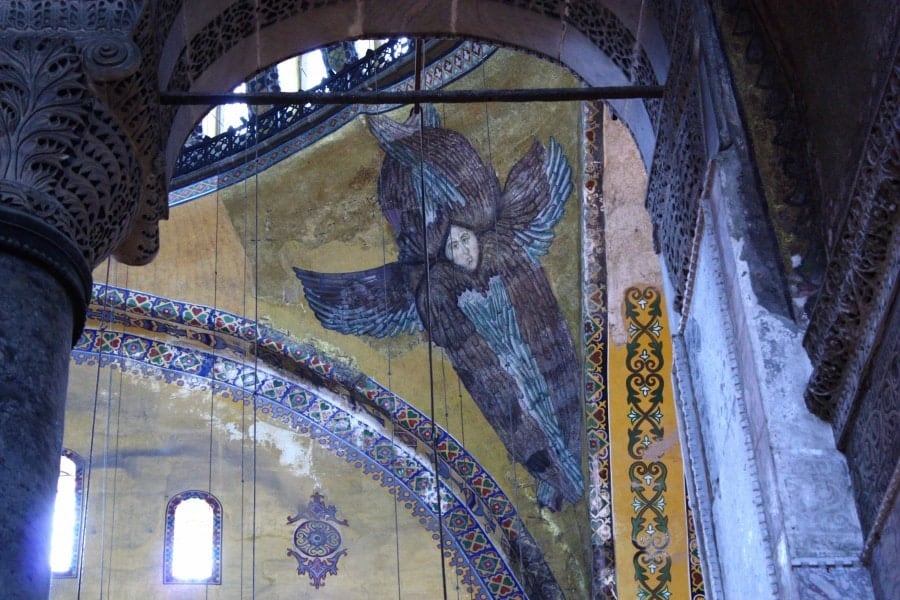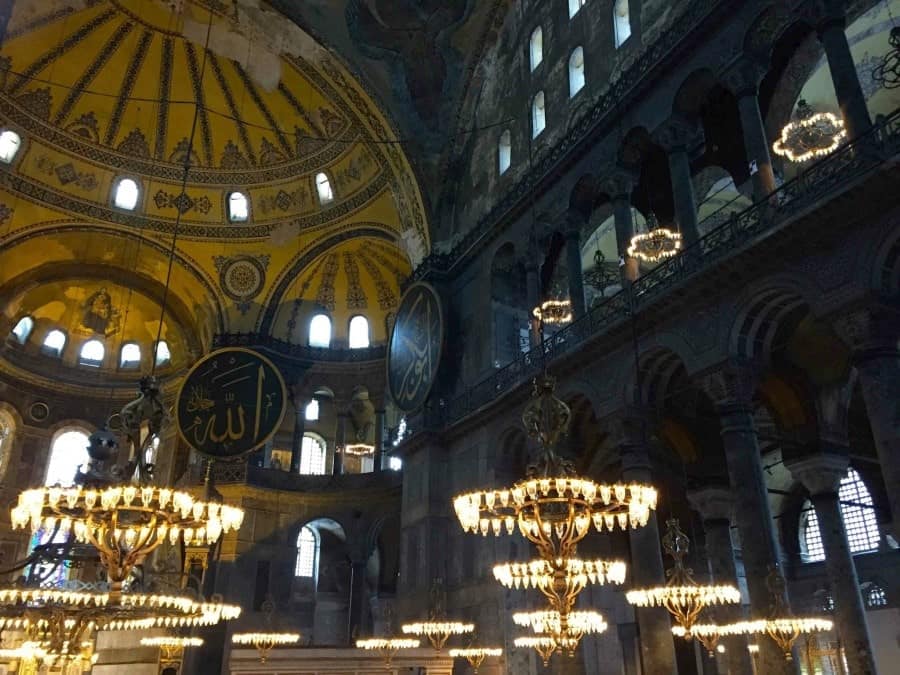 Now, if you happen to do this tour on a Monday or had planned on visiting Hagia Sophia on a Monday on your own, too bad, it's closed! Even a museum needs a day off.
The alternative:
Basilica Cistern
Another initiative of the Byzantine Emperor Justinian, the Basilica Cistern, built in the 6th century sits only 500 meters from Hagia Sophia. It is the largest of several hundred cisterns which lie beneath the city.  Historical archives claim it took 7,000 slaves to build the structure. At what price clean water, a timeless question it would seem.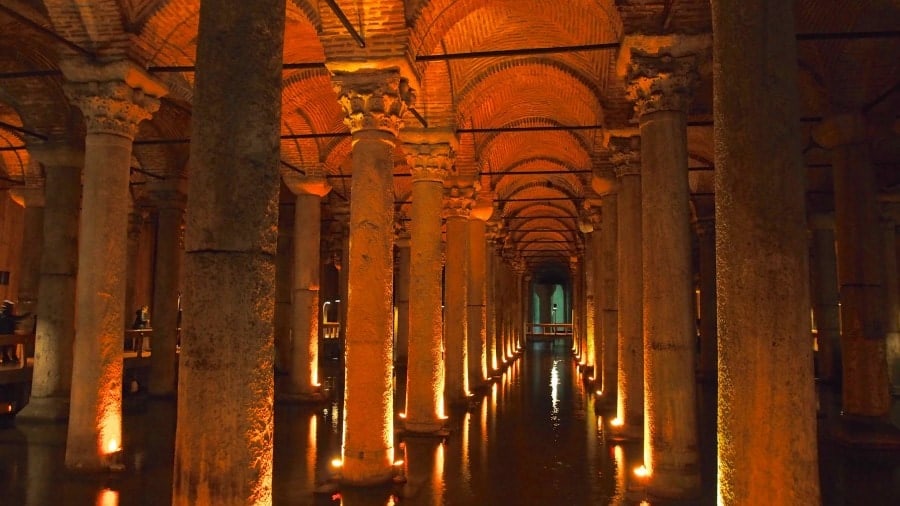 So, to put it into perspective; the cathedral size cistern is approximately 138 meters x 65 meters; is capable of holding around 80,000 cubic meters of water and requires 336 carefully spaced marble columns to support the cathedral style ceiling.
Even though the majority of the carved marble pillars appear to be recycled ruins from other parts of the empire, including leftovers from Hagi Sophia, it still makes for an impressive water holding facility.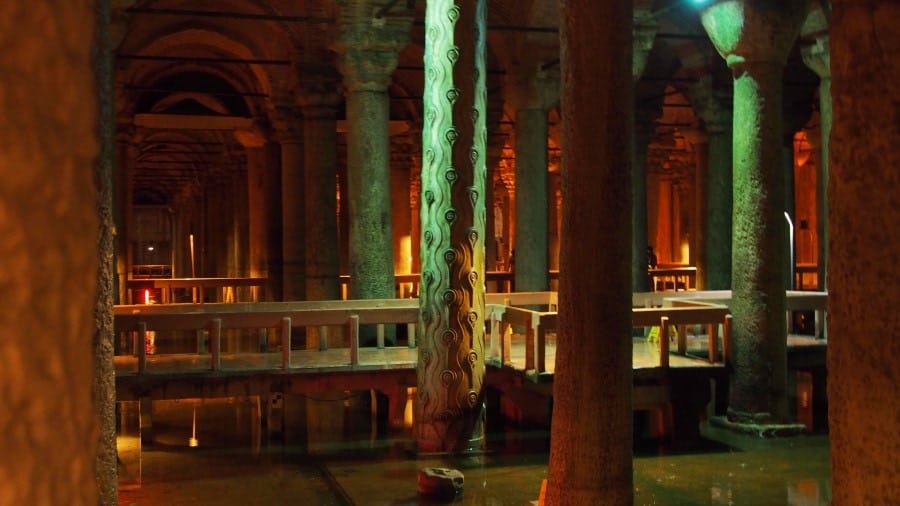 There are also a few random, or intriguing features in the Basilica Cistern. One being a single column carved with pictures of a hen's eye, slanted branches, and tears. It is said to resemble the columns of the Triumphal Arch of Theodosius and the tears pay tribute to the hundreds of slaves who died during construction of the cistern.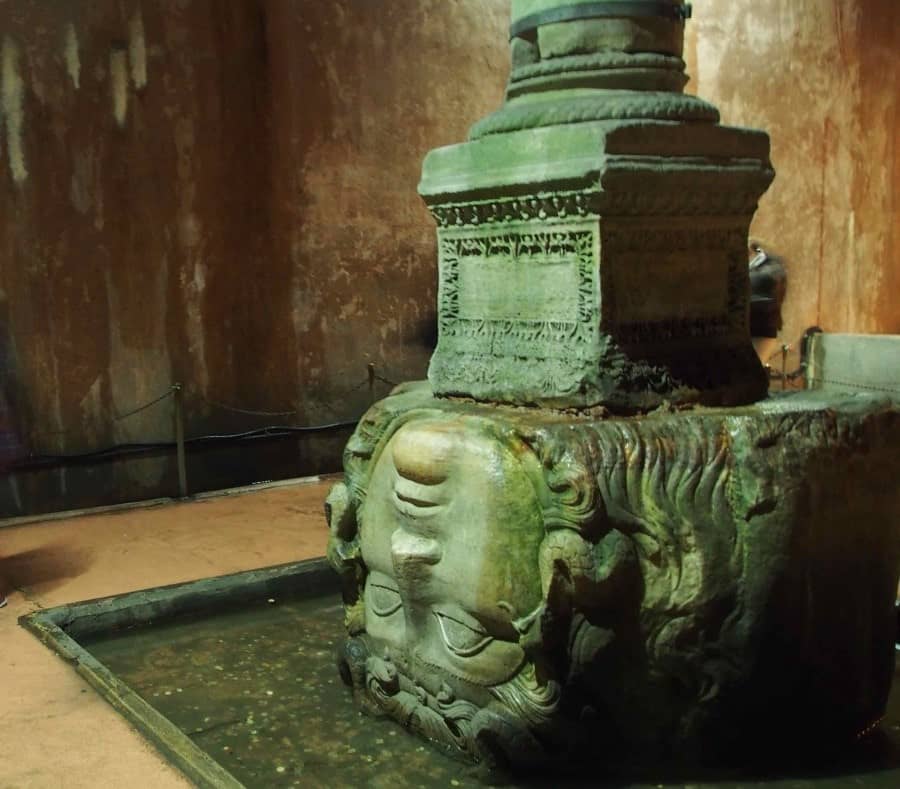 Another curious feature is in the far northwest corner. Two columns have pedestals with the appearance of Medusa carved into them. While it is assumed these carvings have been repurposed from another building, there is no evidence they were previously used as pedestals. What is unsure, is the intention behind their placement.
One Medusa is placed on her side.  Ancient urban myth suggests it was to negate the power of the Gorgon's gaze said to turn one to stone. This theory is often  dispelled as it is widely thought this placement was for no other reason than being the correct size to support the column.
Why the upside down Medusa is placed this way is unknown as she would be the same size upright as upside down.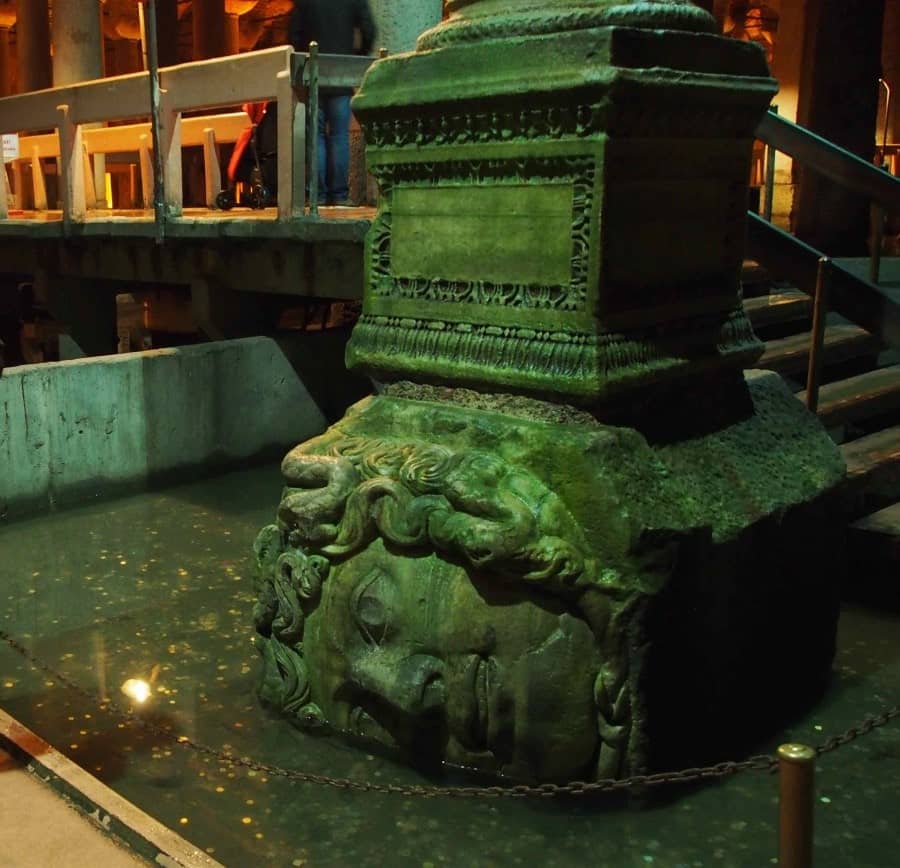 And for film fans, the Basilica Cistern also leaves its mark on popular culture. The cistern has been used as a location in a number of films, most notably in the 1963 Bond film, From Russia With Love.
Cafer Aga Madrasa (Also closed on Monday)
The Madrasa is like a school for the arts if you like. With more than a dozen courses on offer including the popular Turkish art of marbling (Ebru).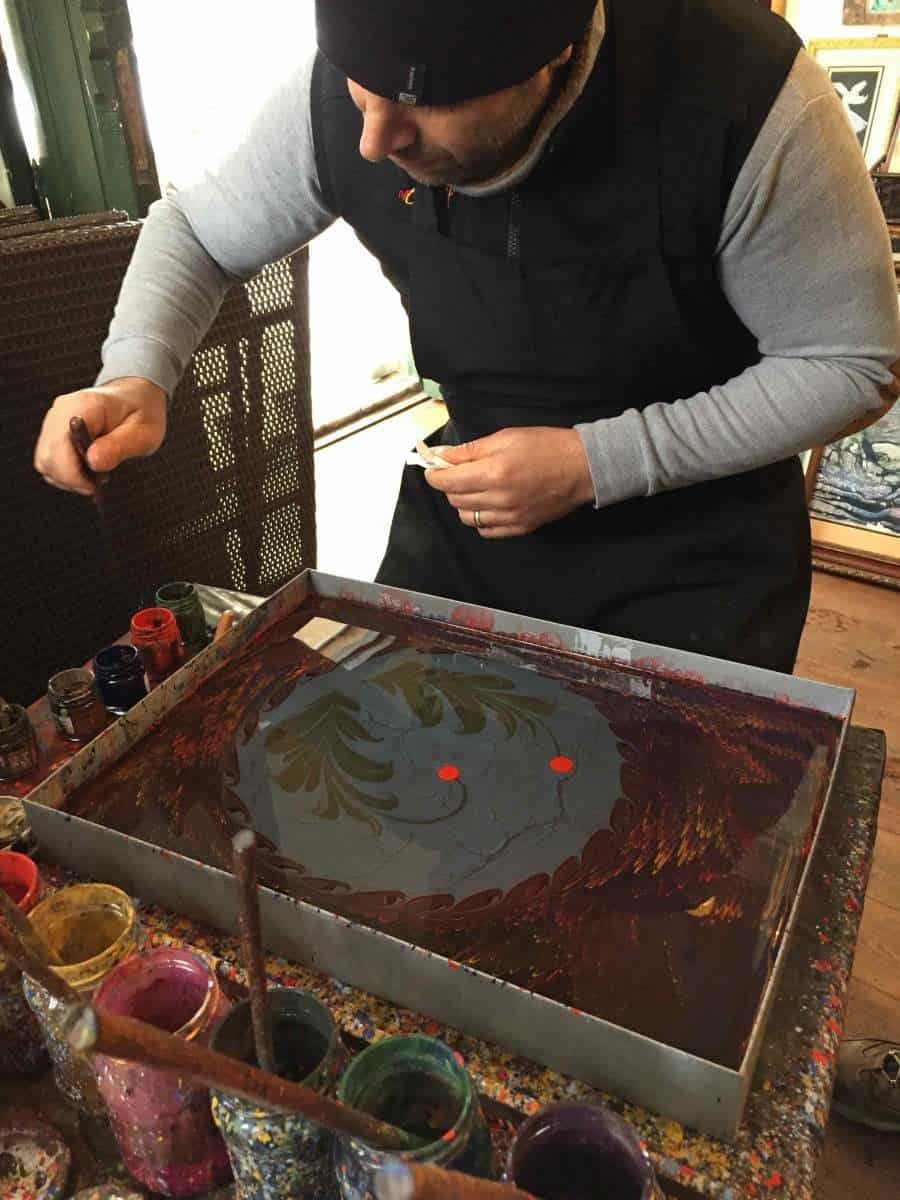 We were treated to a demonstration of this art form. The creation of the piece, set to beautiful traditional music is an art form in itself, it was really quite mesmerising watching this delicate picture unfold as if telling a story.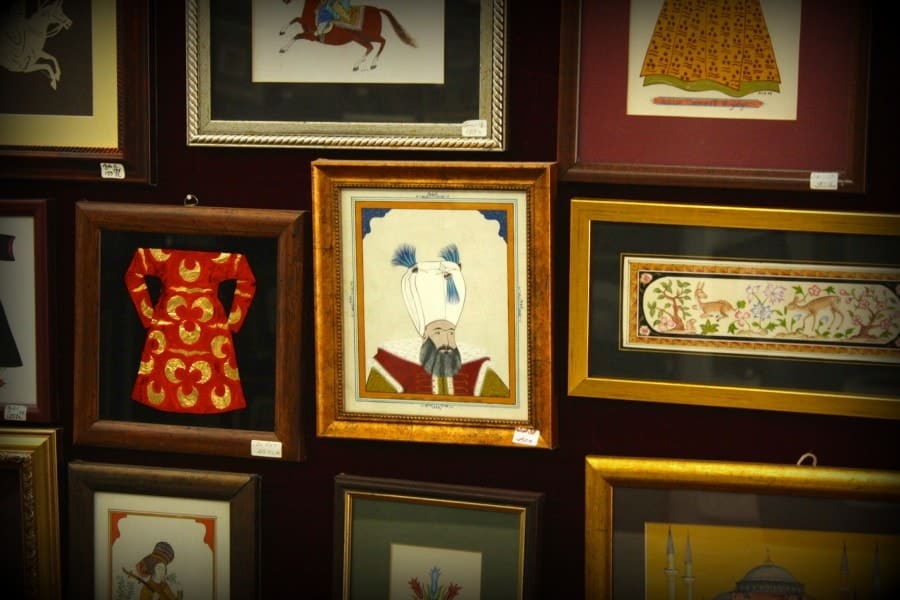 Offering everything from Ottoman language courses to calligraphy and reed flute (Ney), Cafer Aga Medresesi has become a popular place for both Turkish and foreigners to study traditional Turkish arts.
Topkapi Palace
Built in 1459 by Sultan Mehmed II, Topkapi Palace was the primary residence of  Sultans during the Ottoman period for nearly 400 years. Named by UNESCO as one of the finest examples of palaces of the Ottoman period, it is now a museum and popular tourist attraction.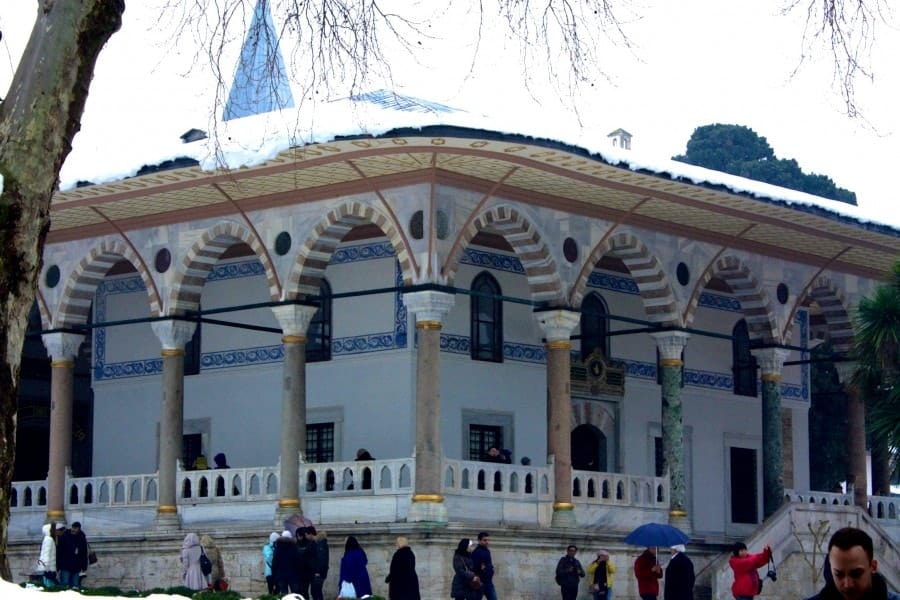 The palace complex consists of four main courtyards and an assortment of smaller buildings, once home to as many as 4,000 people. This small city within the city contained everything it required to be self sustaining including mosques, bakeries and a mint.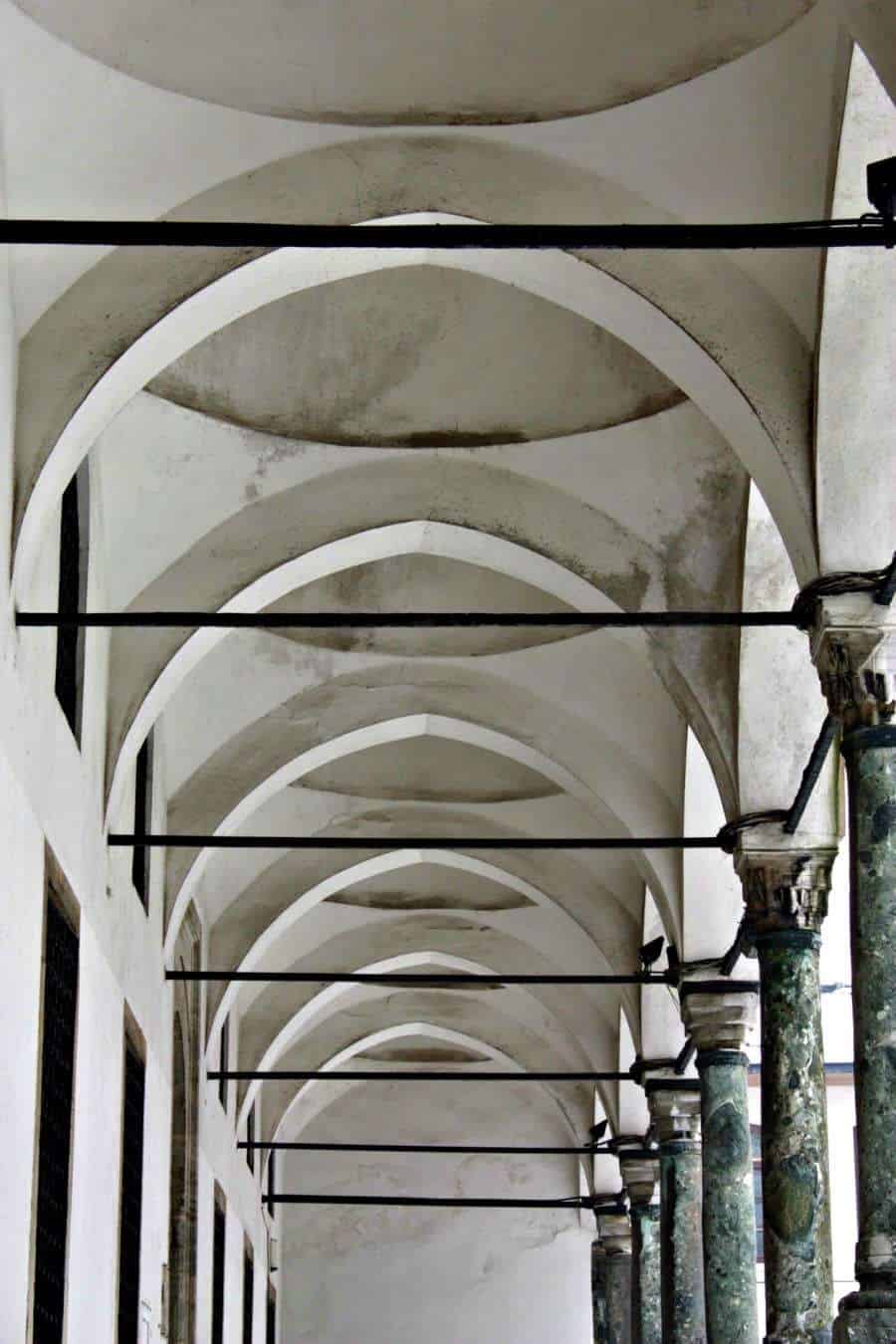 Throughout the palace are impressive collections of porcelain, clocks, weapons, shields and armour as well as some of the most precious jewels in the world. There are also important Muslim holy relics such as Muhammed's cloak and sword. Unfortunately, photographing of any of these collections is prohibited.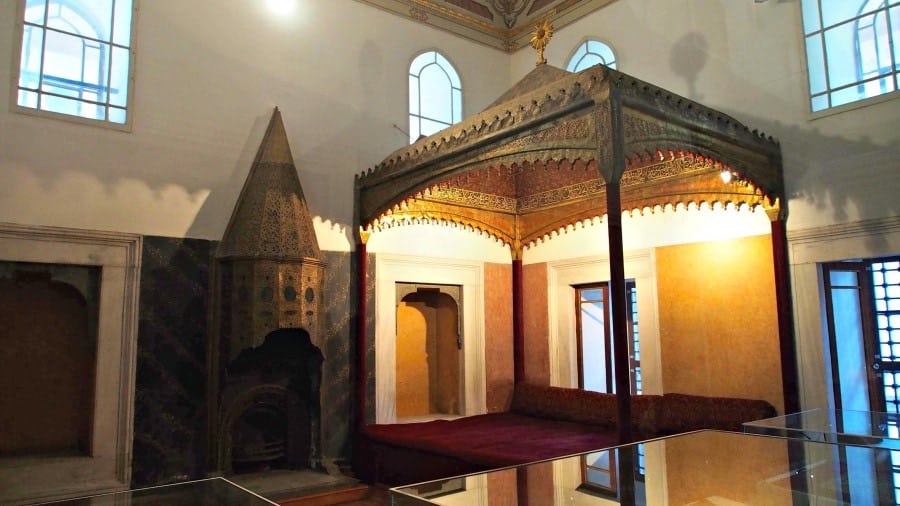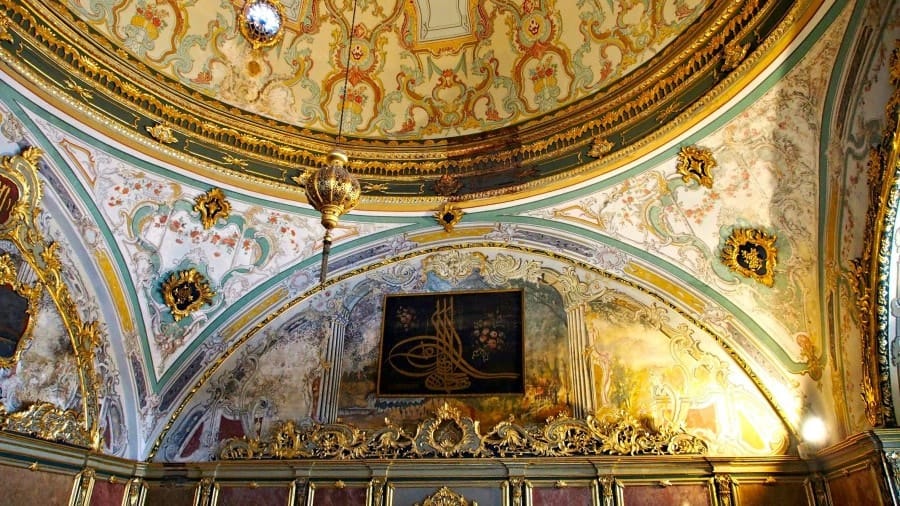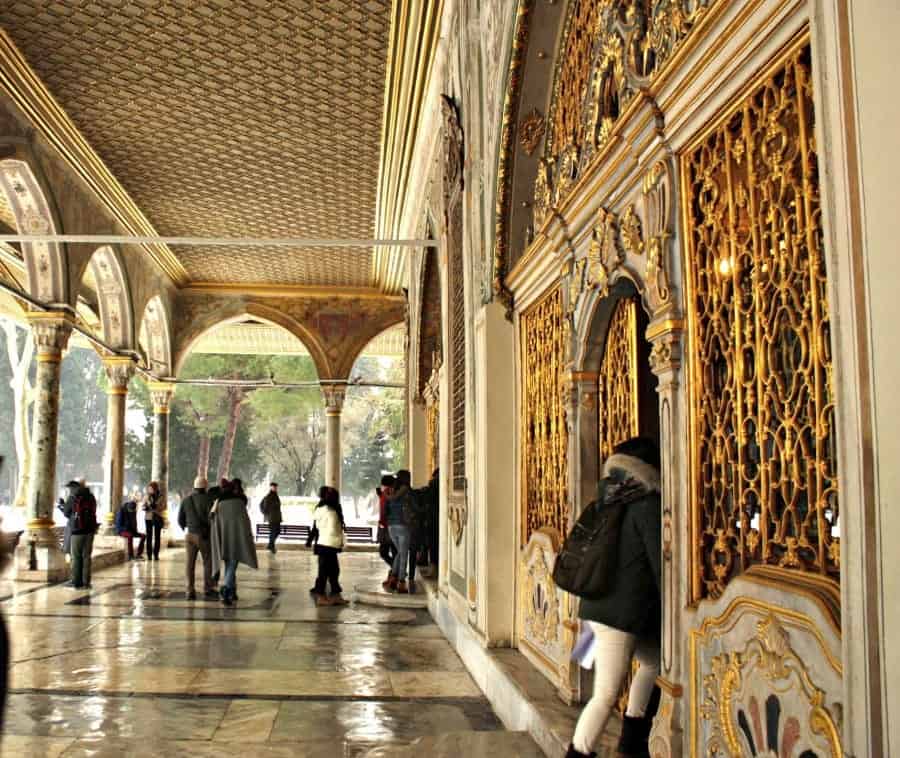 In the Mohamed Chamber, you will find a small booth where an Imam (prayer leader) has been continuously reciting passages from the Quran for 500 years. Shifts of a few hours are taken by various local Imam's as the readings continue round the clock, as they have done, non stop for 500 years.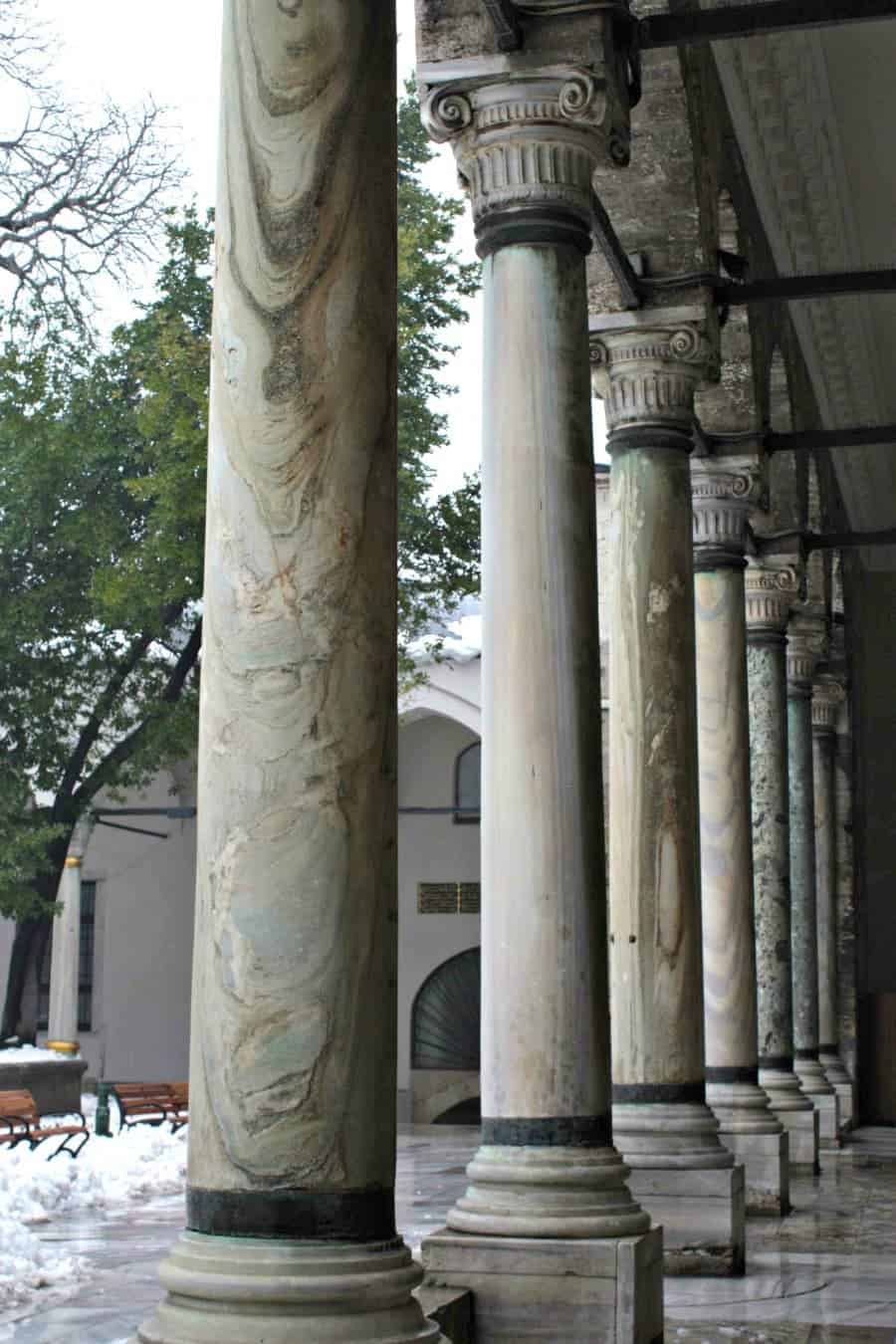 After a relaxing lunch at a lovely traditional restaurant, it is time to do battle with the Friday afternoon crowds at the Blue Mosque.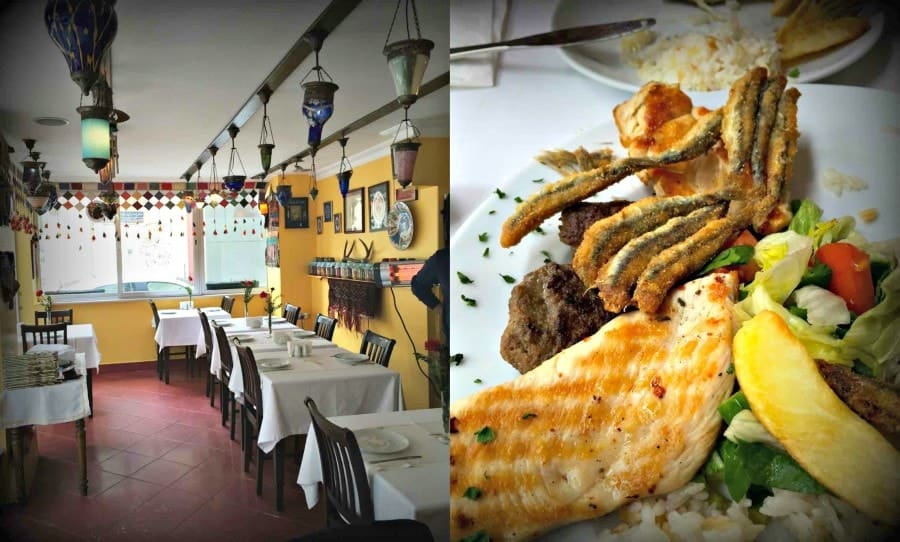 Blue Mosque (Sultanahmet Mosque) 
Sultanahmet Camii in Turkish, the Blue Mosque was built between the years 1609 and 1616 during the rule of Ahmed I.  Named for the 20,000 blue Iznik tiles around the interior walls, the Blue Mosque is still a functioning mosque and one of Istanbul's most popular tourist attractions.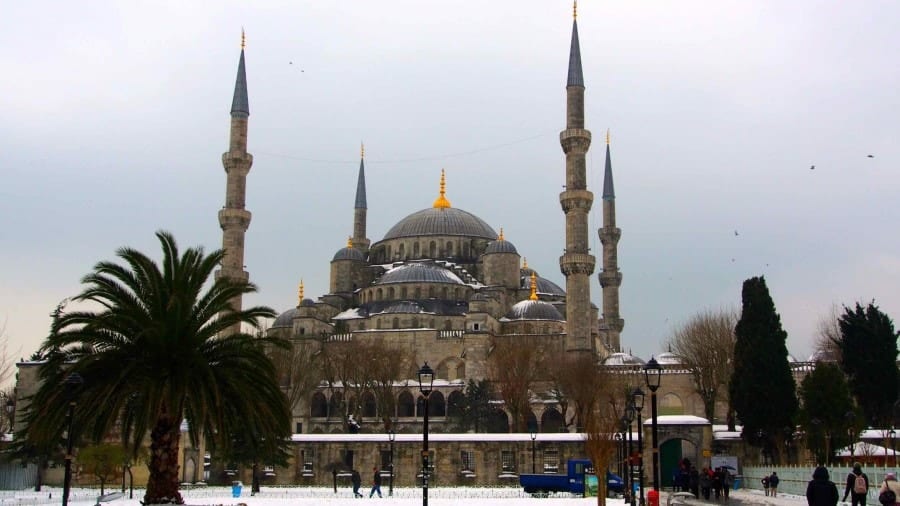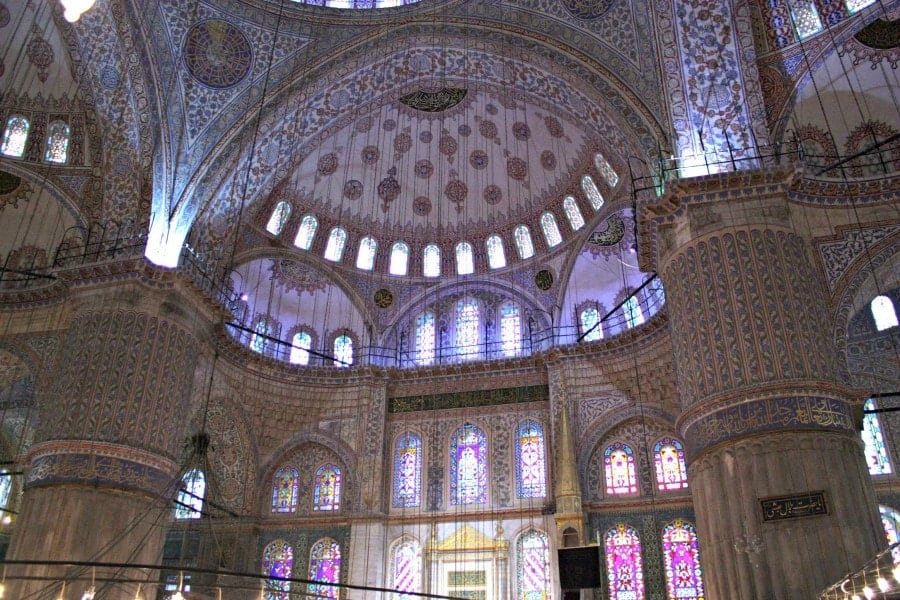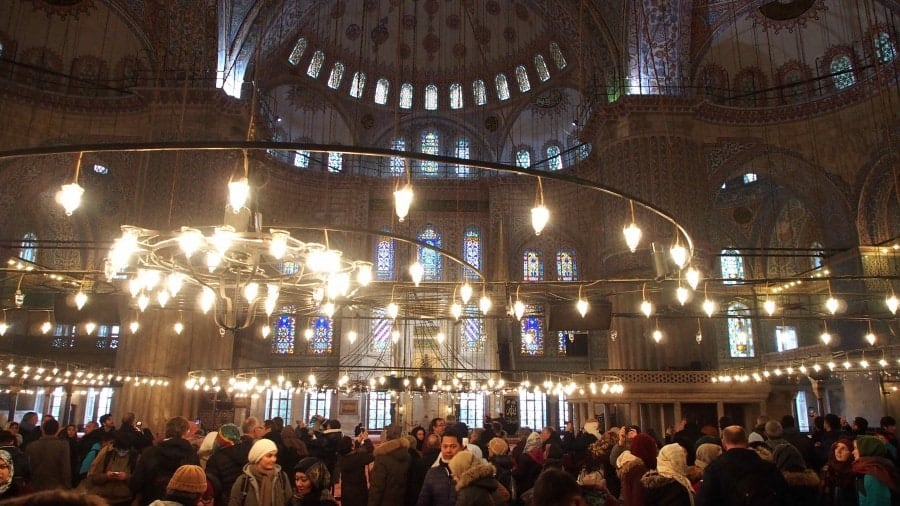 The Blue Mosque is only open outside of prayer times (prayer is 5 times a day lasting ~ 90 minutes) and is closed on Friday mornings for Friday prayer. This leaves only small windows for visiting, so be prepared for long queues and crowds. As you enter you will be required to remove your shoes and ladies must wear head coverings which are available at the entry, free of charge.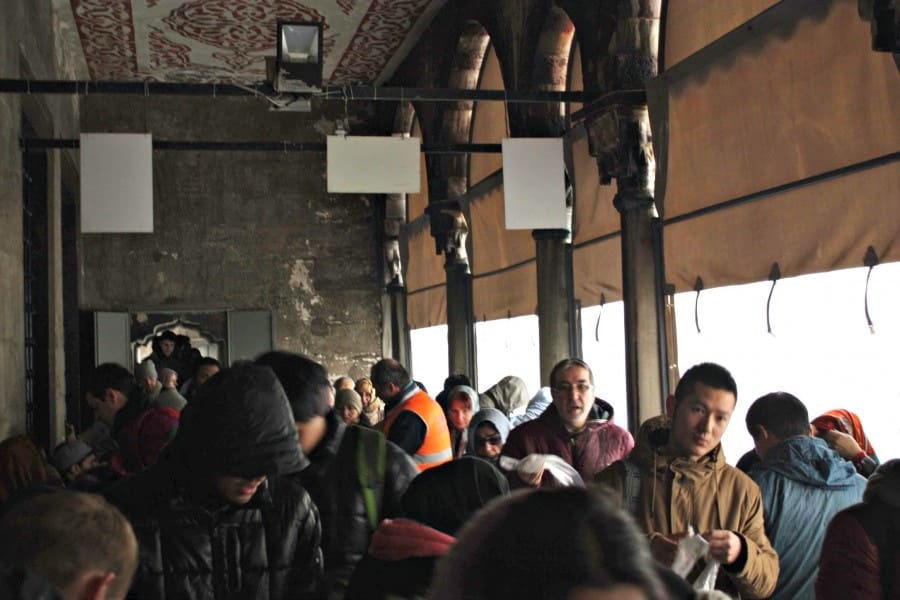 Once you have tackled the crowds, inside you will be rewarded, albeit briefly with the mosques beautiful interior.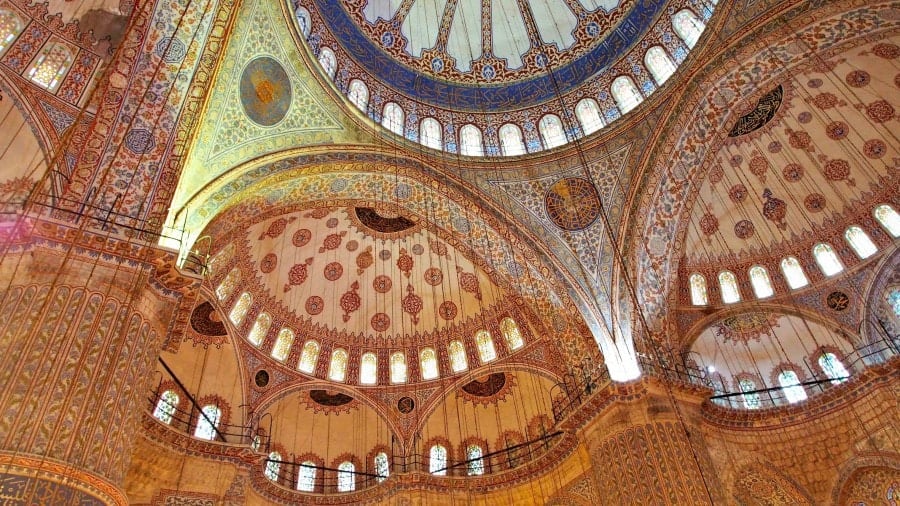 Grand Bazaar
What better way to finish a day of Classic Istanbul attractions than to wander aimlessly through the Grand Bazaar.
Commissioned by Mehmet II after the Ottoman conquest of Istanbul in 1453 to provide financial resource for Hagia Sophia. Covering an area of 54,653 square meters, with 61 covered streets and 3,000 shops, it is the oldest and largest covered bazaar in the world. It is also listed No 1 among the world's most visited tourist attractions.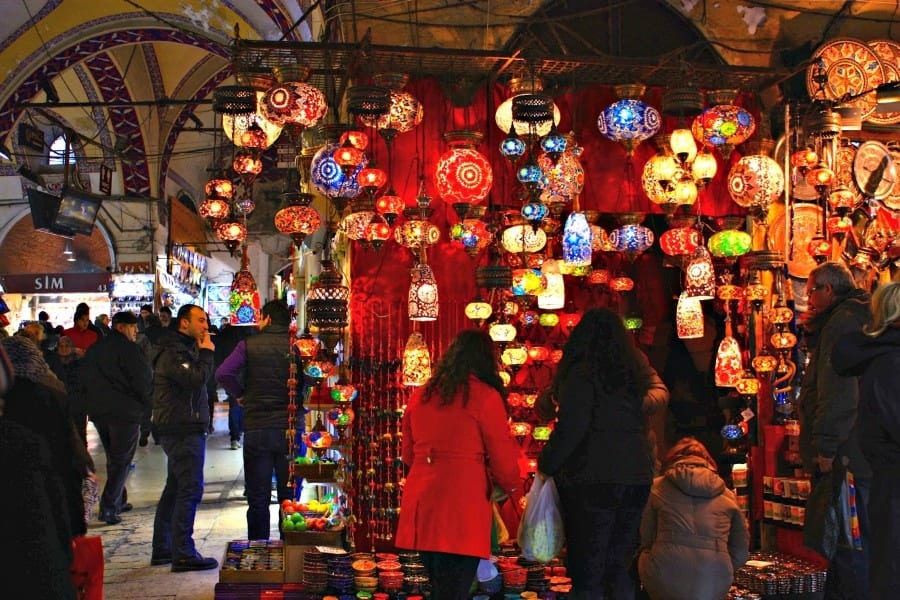 You can find almost anything at the Grand Bazaar, including Turkish rugs, gold, lanterns, and antiques. There seems to be an order in the chaos of the bazaar, a city that operates within a city.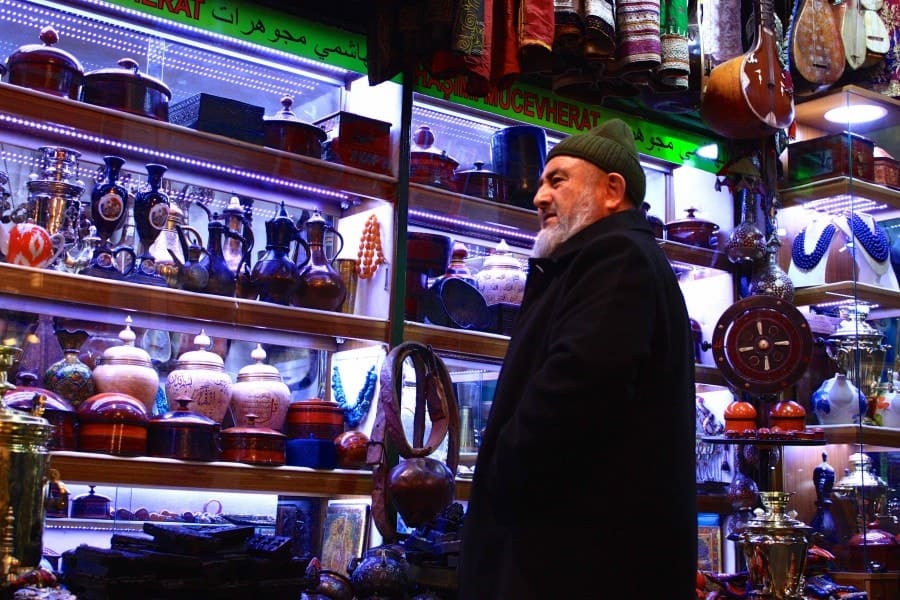 Imagine a shopping mall over 550 years old, employing over 26,000 people, with anywhere from 250,000 – 400,000 visitors daily. Now that's some impressive stats by any score.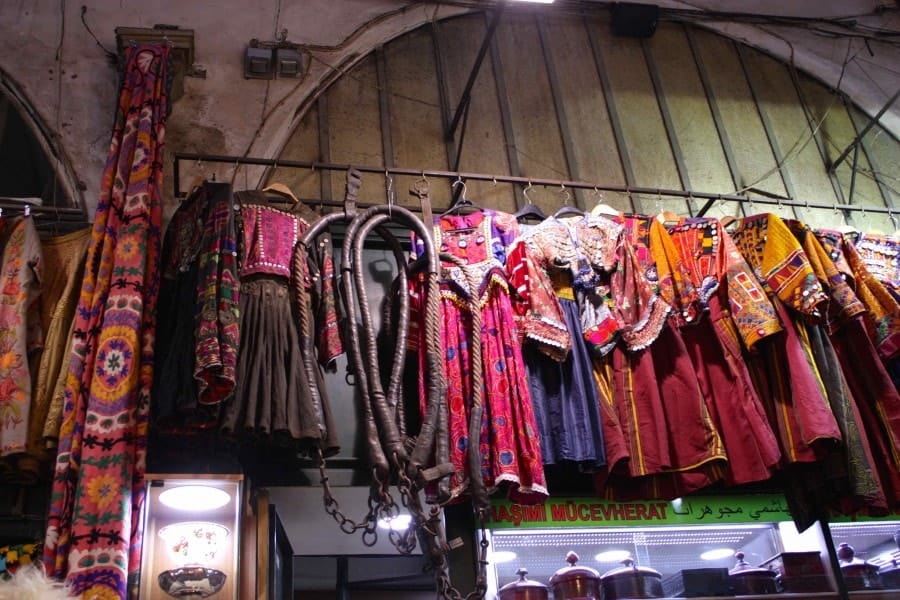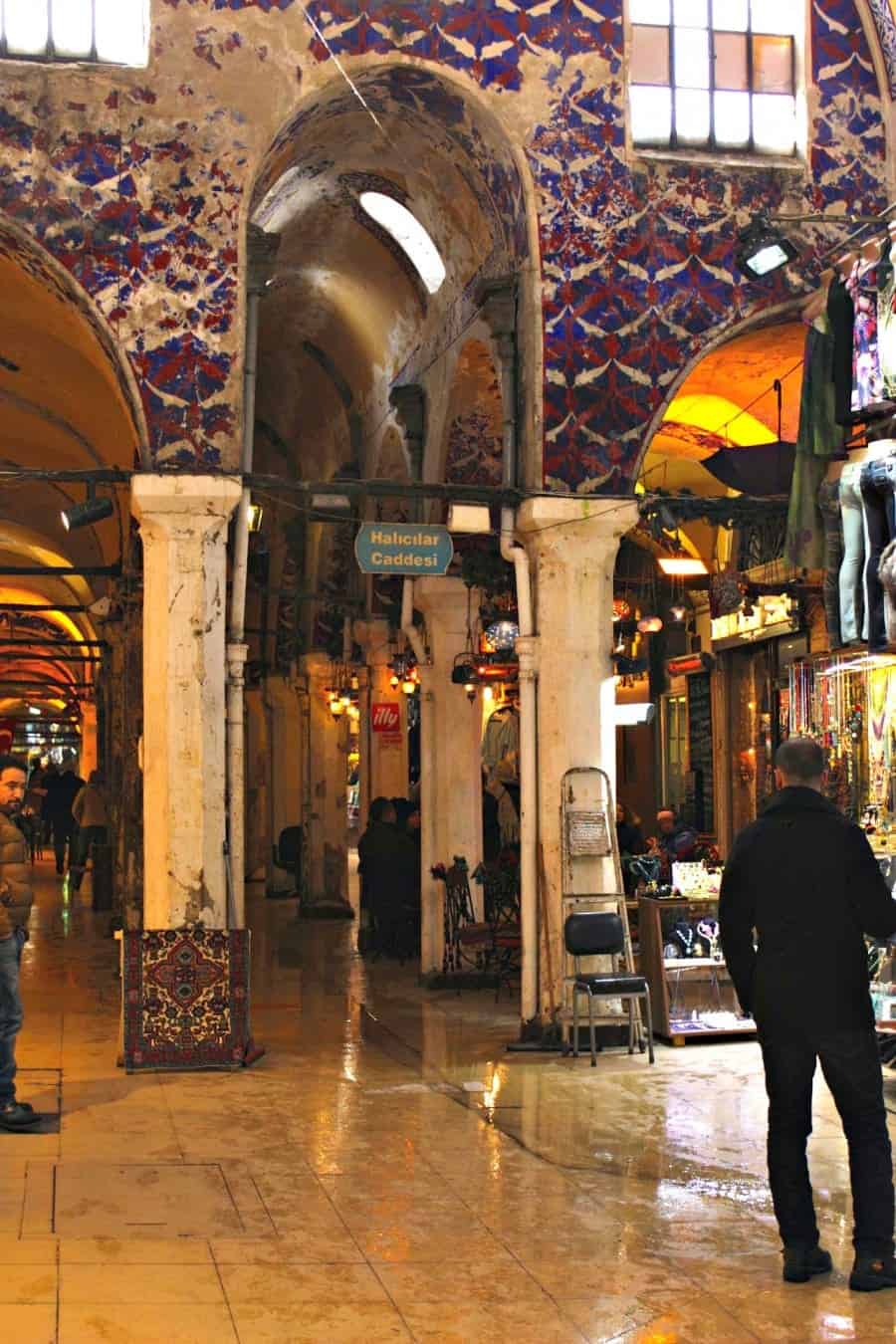 And if you happen to get lost in the Bazaar, there will undoubtedly be a Turkish Rug salesman standing at an intersection waiting to give you directions. After all, you look like someone who is in the market for a rug!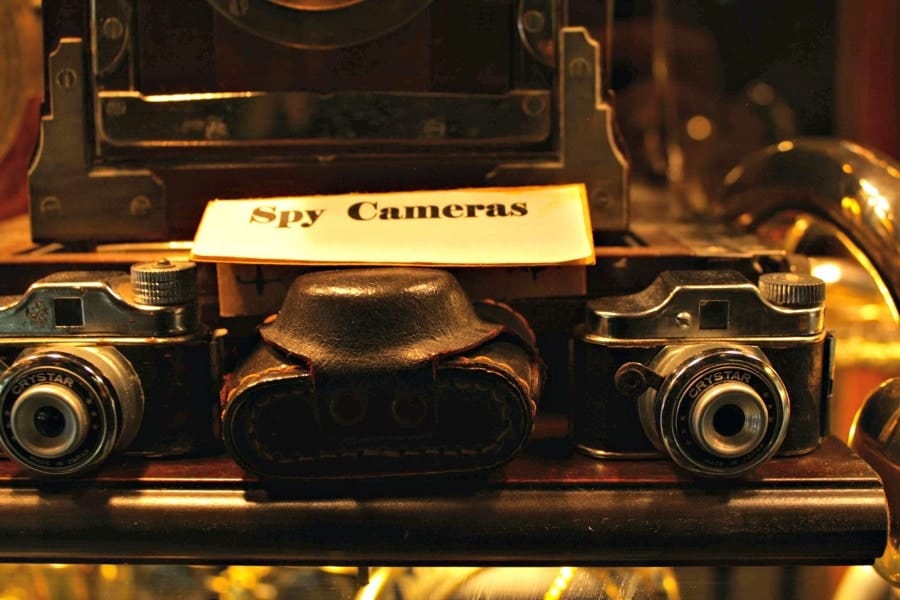 We did say you can find almost anything!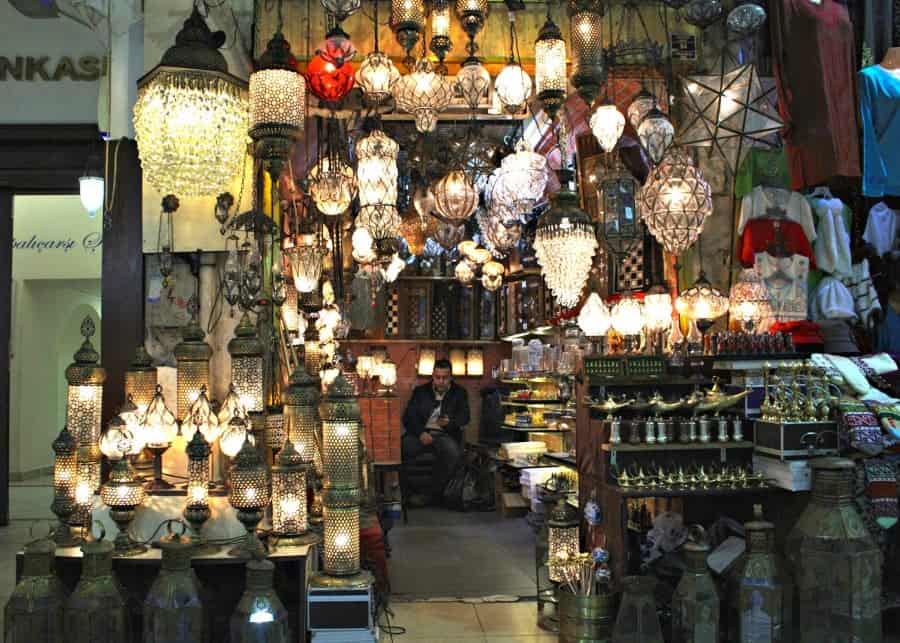 ---
While this may seem like an overwhelming day, remember you may only visit up to 5 of these attractions depending on the day. The good news is they are all within a short walk of each other.
Now, of course, all of these attractions may be visited under your own steam without a guide, but after taking this tour we believe this is the way to go. Why? Because it's like getting an upgrade or paying for priority boarding, they take the hassle out of it for you.
All tickets, where possible will be purchased for you prior, so you jump the queues.
With sights like the Blue Mosque where there is no ticketing, your guide will know the best time to get you there, to ensure minimal waiting and maximum time inside.
You can tap into the local knowledge for a quality restaurant for lunch. We found on all of these tours we were taken to good local restaurants, where the locals would eat!
The guides know each attraction intimately so can whizz you through to the good bits and know how to dodge the crowds while not missing out on anything.
The guides are flexible and never rush you.
If we had only one day to see the sights in Istanbul we would have gone away very happy with our experience.
---
FACTS 
The Istanbul Classics & Ottoman Relics walking tour is a full day tour departing daily at approx 08.30 from your hotel. Finishing time will be dependant on crowds at various sights and your leisure.
 Cost ~ € 70.00 pp  (€ 60.00 pp for booking enquiries direct through the website)
Tours include- Pick up & drop off from/to your hotel (only from Sultanahmet and Taksim hotels), professional guides (in English only, ask if other languages are required), all entrance fees.
Istanbul Daily City Tours not only offer a wide range of quality Istanbul experiences, but also arrange a number of package tours to popular destinations all over Turkey.
---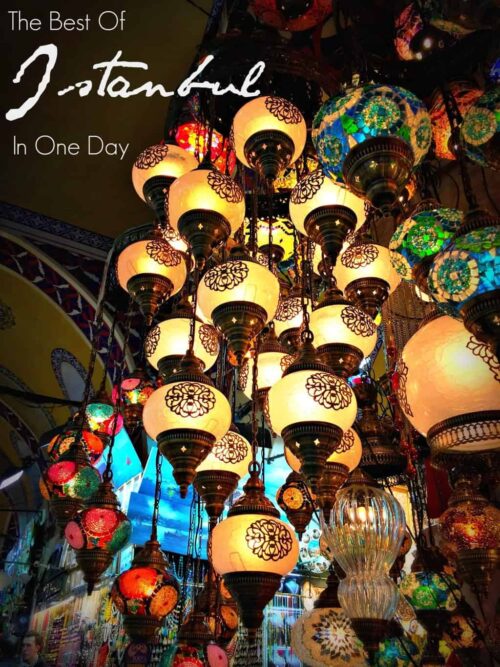 We would like to thank the staff at Istanbul Daily City Tours for hosting us during our stay in Istanbul. As always, all opinions expressed are our own and have not been influenced in any way