Even though we both had an interest in Cambodia, to be honest, this was a trip that was booked based on cheap airfares. But that's OK when you have no real expectation you can either be pleasantly surprised…Or not! You will certainly be more open and flexible in your travel.
We only had a short time in Cambodia so really had to be savvy about "The Must See" as well as leaving some time for 'the let's see where we end up'.
1st Stop Phnom Penh
We arrived during election week; Cambodia's elections have long been marred by controversy and this was no different. Needless to say Phnom Penh had a very interesting feel and there was plenty of enthusiasm, with lots of political party campaigning, marches, tinny loudspeaker announcements (completely incomprehensible of course), and political pelotons; all around the main streets and attended by hundreds of young campaigners. It gave the city a vibrant and charged atmosphere. But as we may want to return to Cambodia one day, we won't go into their politics too much!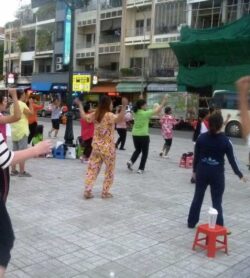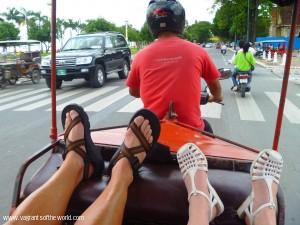 On a lighter side, one of our favourite things about Phnom Penh was the seemingly impromptu aerobics classes that pop up around the city. We joined an afternoon session on the waterfront which is just off the main drag.
The 'Instructor' as we shall call them, sets up a boom box and speaker on the promenade and starts what can only be described as Cambodia's snail paced version of Zumba. There are a number of these 'Instructors' dotted along the strip, all trying to outdo each other. Willing participants come along and join in for an entertaining and semi rigorous exercise class. It's great fun and obviously provides a fantastic community service. Everyone knew the steps except us!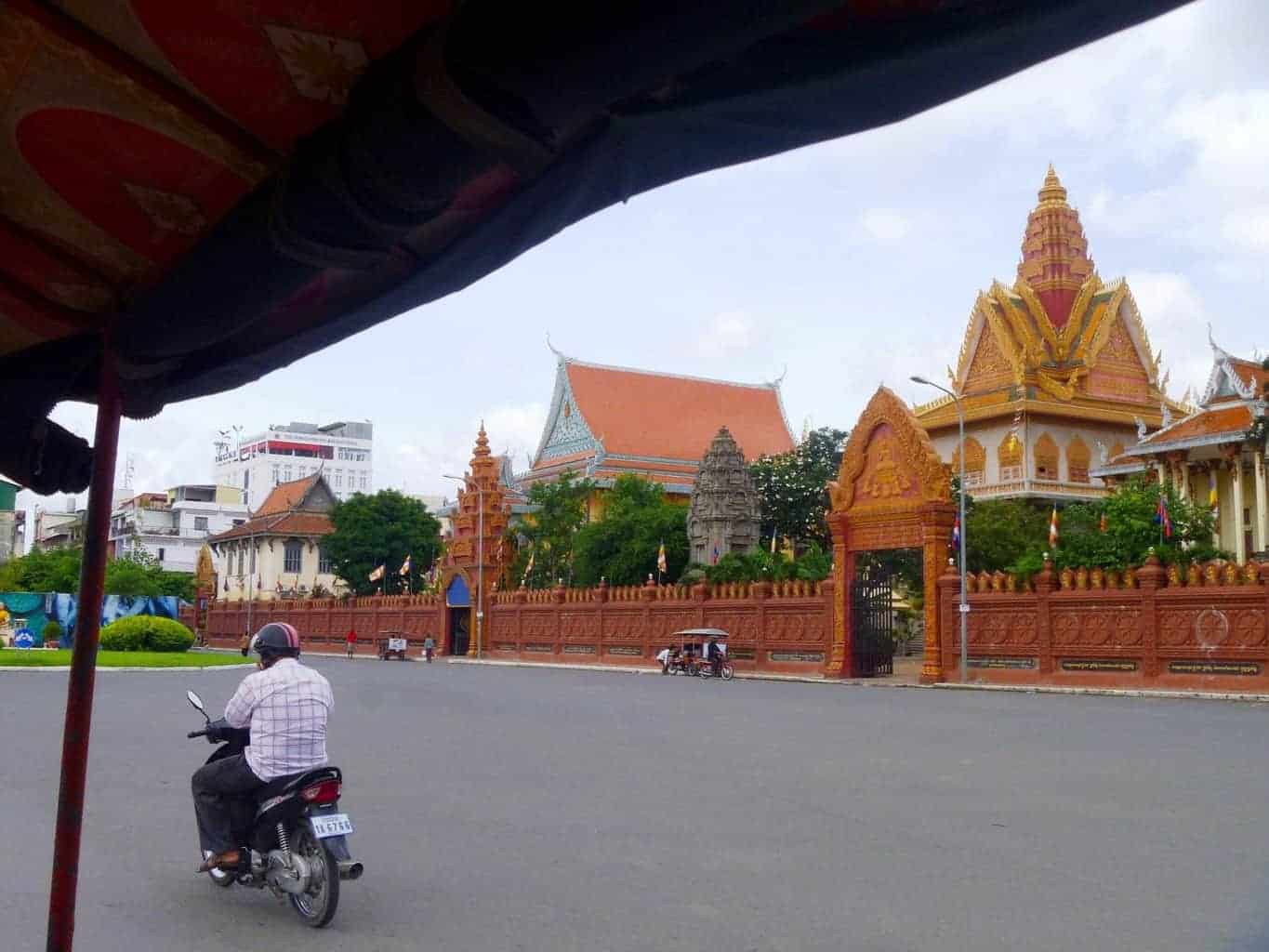 Phnom Penh has all the usual vibrant markets that you come to expect in south east Asian countries, although Phnom Penh certainly out does themselves with the Russian markets, a labyrinth of everything you never wanted from electronics to underwear, this is obviously Phnom Penh's answer to Macy's. The centre piece – a collection of jewellery stalls with some of the most amazing yet hideous bling that would put Bollywood to shame. Although, the building itself is worth a look. It's like a giant beehive.
Visits to The Tuol Sleng Genocide Museum known as S 21 in the city centre and to the Killing Fields are both confronting and necessary. You could not fully appreciate Cambodia without visiting these museums to understand what they have endured and how they survived. For us, this was both a highlight and low light.
There is a noticeable ex-pat presence in Phnom Penh. Obviously any country that suffers war and hardship attracts the usual ex-pat contingency; journalists, NGOs etc. The presence of ex-pats over a long period of time tends to help shape cities like Phnom Penh. (Saigon is another example of this). So a visit to the Foreign Correspondents Club overlooking the Tonle Sap River is worthwhile. As well as being a great spot for a drink and something to eat, it gives you a different insight into Cambodia's history. This is where the worst of their history was reported to the rest of the world.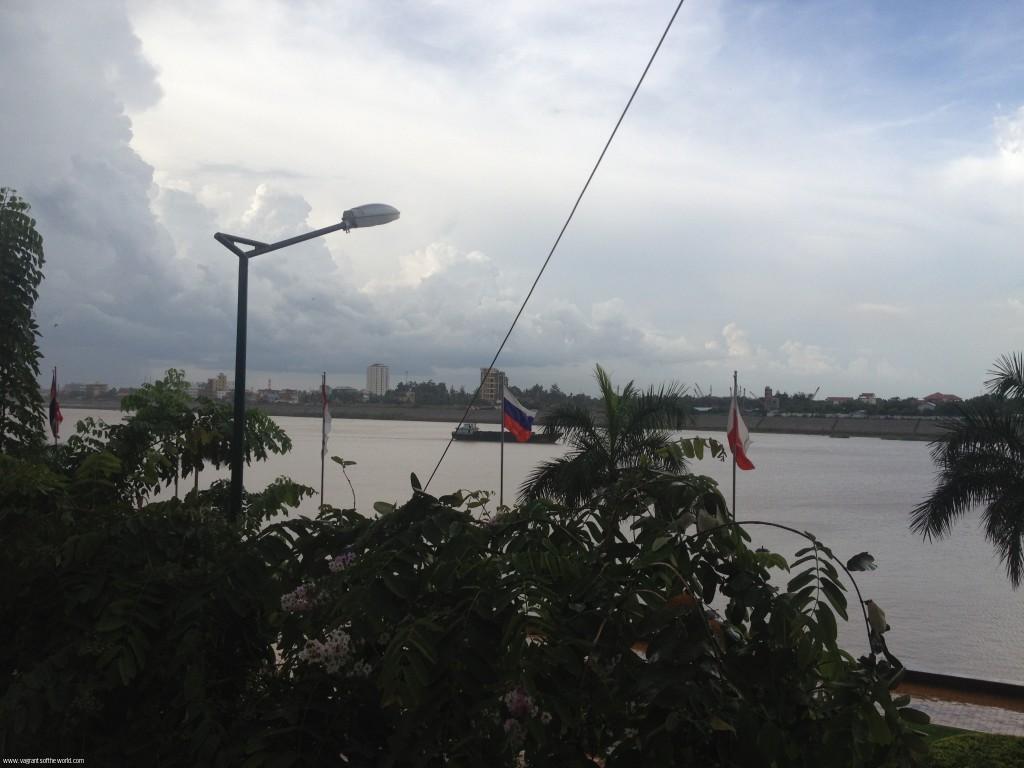 Overall Phnom Penh was a vibrant fun little city steeped in history, culture with an exciting emerging food scene and social vibrancy. We really enjoyed it.
Favourite place to eat: Friends Restaurant. This is one the many Good Cause restaurants set up to raise funds to aid Cambodia's recovery. They are usually staffed by young people, who may otherwise end up on the streets, learning skills to assist them in maintaining long term employment. Once we finally got a table (it's very popular) the atmosphere, food and service were great and the prices cheap.
Next stop Siem Reap
We flew down to Siem Reap on Cambodia Angkor Air. It was cheap and not a bad airline for the short trip.
Siem Reap is really quite a different city to Phnom Penh. Smaller, less hectic and quite picturesque; its atmosphere is more cosmopolitan and laid back. It has the right mix of excellent restaurants, bars and night life, good quality and reasonably priced hotels catering to all traveller types. Siem Reap is the gateway to Angkor Watt; the main reason people come to Cambodia and they cater to this well.
We did the obligatory trip to Angkor Watt for sunrise (along with about 5,000 other people!) This was the 'Must See' that we were looking forward to the most and by all accounts were very impressed and taken aback by the enormity and intricacies of the temple city – How could you not be! We arranged with our hotel for a tuk tuk driver for the day (This is the most flexible and cost effective way to get around for day trips) who collected us very very early in the morning.
One thing you must prepare yourself for when you arrive at Angkor Watt in the early morning gloom is the crowds; it will feel more like a rally in Times Square than the serene place depicted in tourism promotions. We certainly have no illusion about crowds at popular tourist destinations and are usually pretty good at timing our visits to hot spots to avoid the crowds, but Angkor Watt should be seen at sunrise and the earlier in the day you go, the more you can see. So unfortunately, the crowds are part and parcel in this one.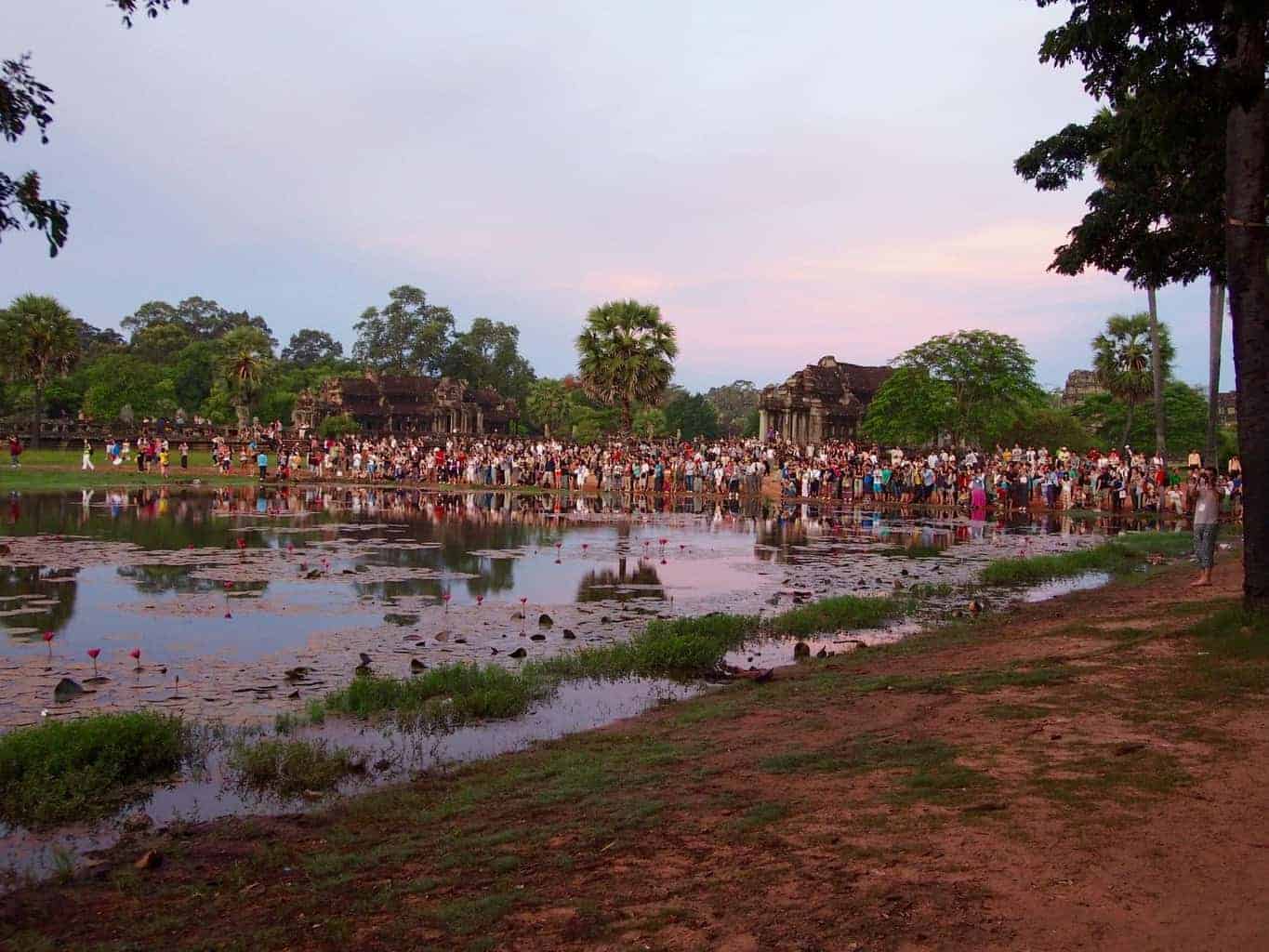 Do not under any circumstances buy the coffee from the vendors! You will line up forever and then receive a mug of the most god awful tasting sludge. You may want to opt to bring a sachet of Asia's answer to coffee- 3 in1! Yes, we have grown to love this sweet powdered goodness which for some reason only tastes acceptable in Asia. Don't judge.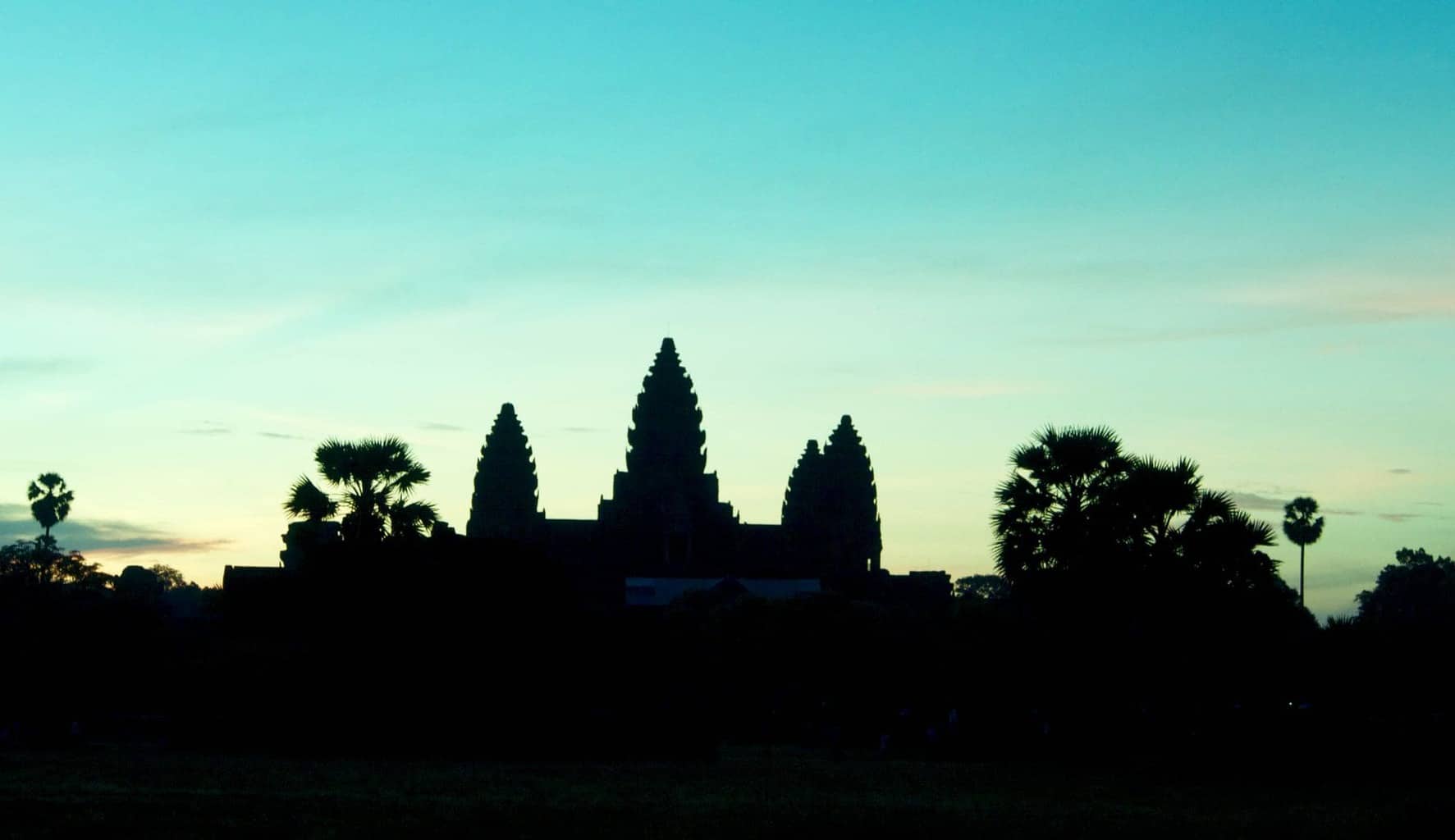 Once the awe of the sunrise is complete the masses do tend to disperse and it begins to feel less crowded. We spent the best part of a whole day at Angkor Watt and probably could have spent a few more exploring all of the outlying temples as well.


If temples are your main purpose for visiting Cambodia; set aside at least 2 full days. We tend to suffer temple fatigue after a full day (it really is quite overwhelming) so 1 day was sufficient for us, plus the temples of Cambodia are not restricted to just Angkor Watt.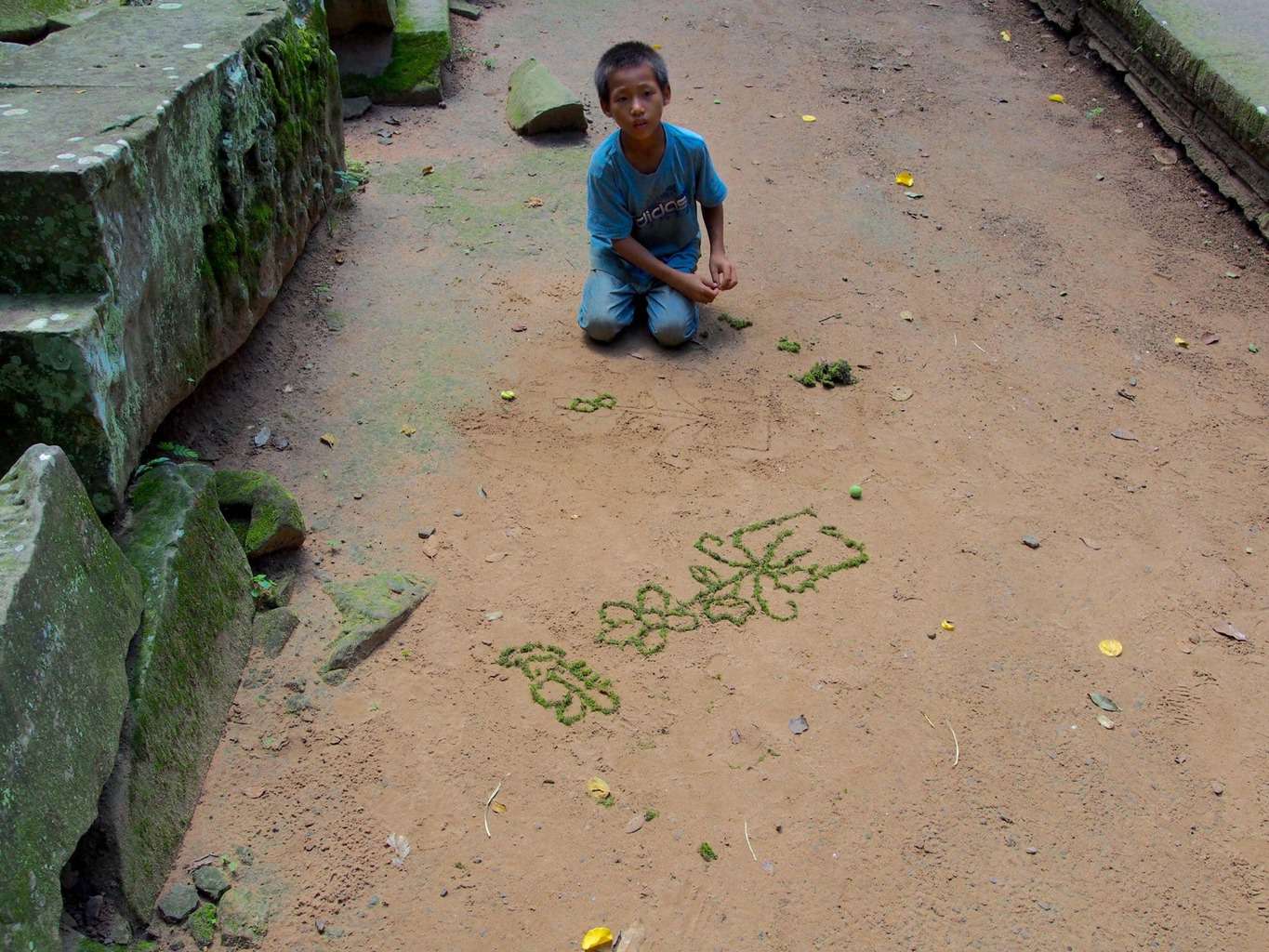 Favourite place to eat: Cuisine Wat Damnak. This little restaurant does a constantly changing modern Cambodian cuisine degustation menu using only fresh seasonal local produce. The restaurant is set in a traditional wooden Khmer house and garden. It has a beautiful contemporary design twist, with air-conditioned dining down stairs and fan cooled dining in the upstairs timber area of the original house. Hard to find in the back streets, but for such an amazing meal at good value its worth hunting down.
Next stop; 12 hours across the Tonle Sap Lake to Battambang
We chose to go by boat across the Tonle Sap Lake through the floating villages from Siem Reap to Battambang.
Highlights of This Trip:
The boat that we took was literally the bus and delivery service of the Tonle Sap. We had essentially booked on the milk run through all the floating villages on the lake and river all the way to Battambang- Stopping All Stations!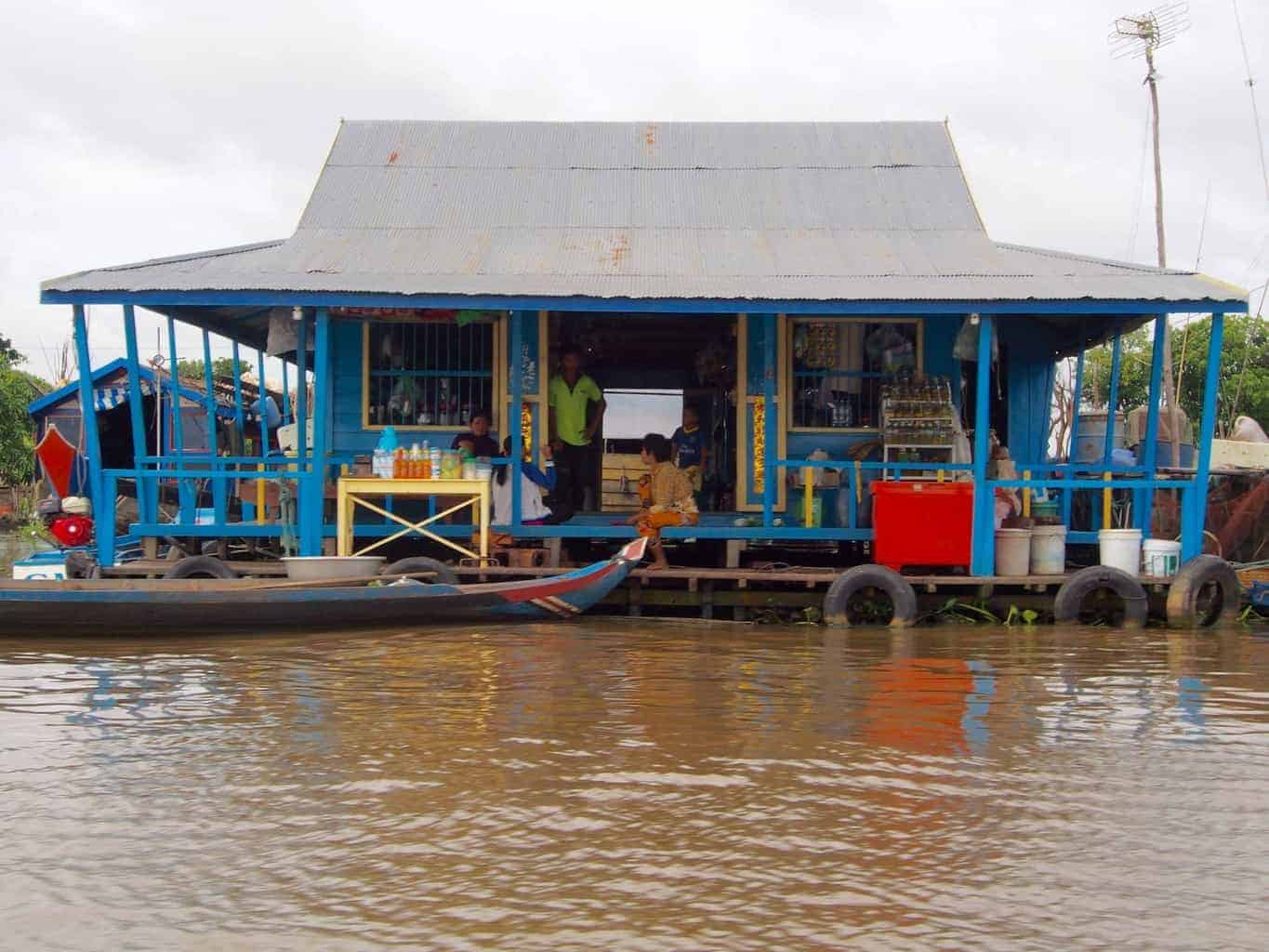 We popped in at various houses, shops, schools etc. as we wove our way through the villages. People got on and off at different stops. Various goods were loaded (including at one point a plastic tub full of baby crocodiles that needed to be transported to the next village!)
We popped in at various houses, shops, schools etc. as we wove our way through the villages. People got on and off at different stops. Various goods were loaded (including at one point a plastic tub full of baby crocodiles that needed to be transported to the next village!)
This gave us a beautiful first-hand look at the very established and thriving floating communities on the Tonle Sap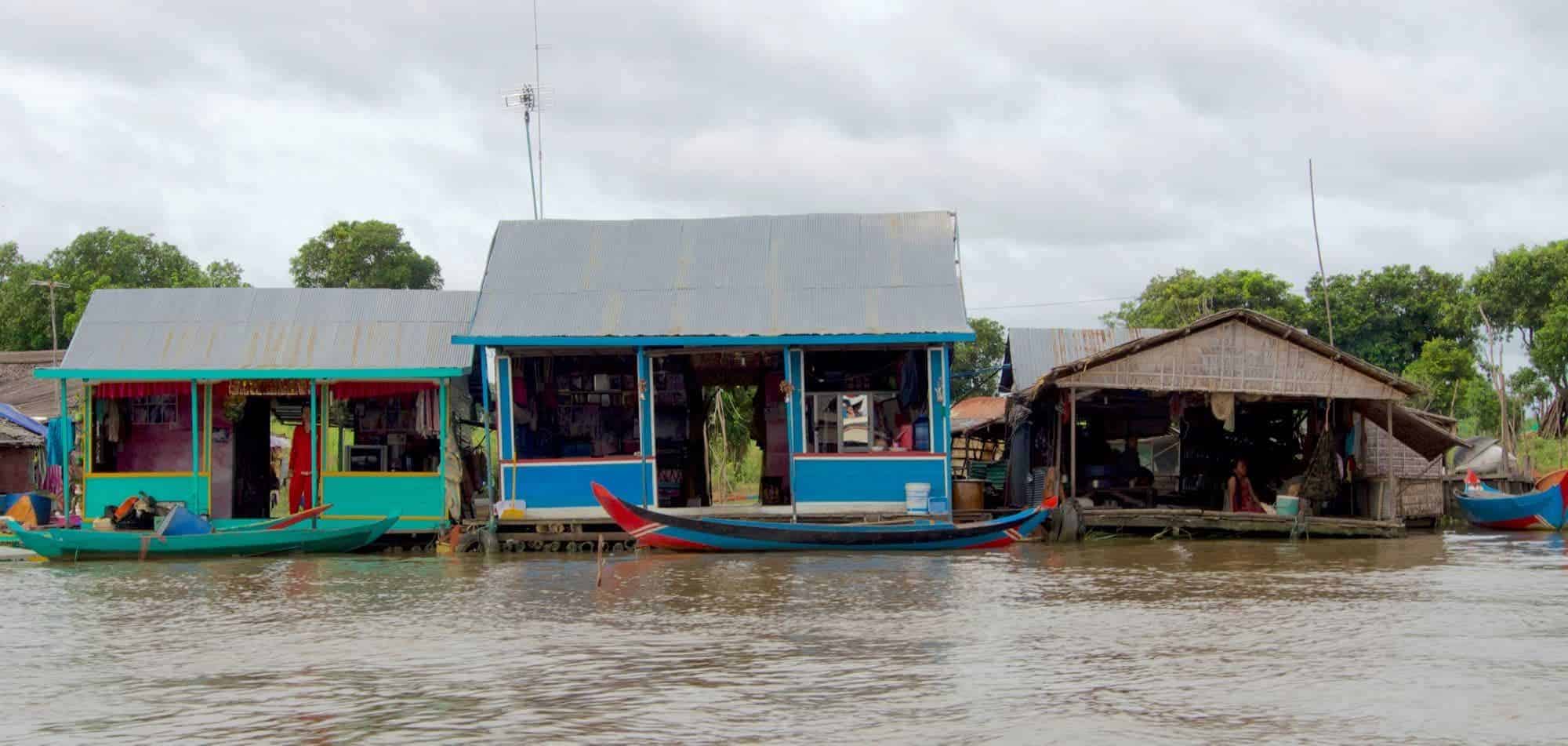 We suspect the man sitting across from us on the very small crowded vessel was an Elvis impersonator on holiday, this was also a highlight. 12 hours contemplating Elvis, very amusing!
Things to consider on this trip:
The boat is very small and crowded and as you would expect; quite uncomfortable. The trip took close to 12 hours so you have to be prepared for sitting in one spot for this long (there is no room to get up and move around, especially with baby crocodiles sitting on the floor!).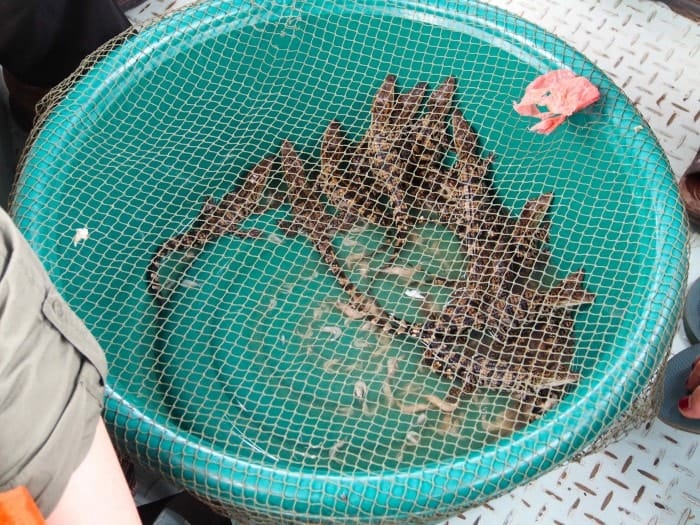 There is no real toilet on board, only some sort of basic set up in a small closet at the back of the boat. (No one dared use it!) Take all the food and water you will need for the day- it is very hot. They do one comfort stop around lunchtime at a floating shop that has drop toilets you can use. And you can pick up some more water and food if needed.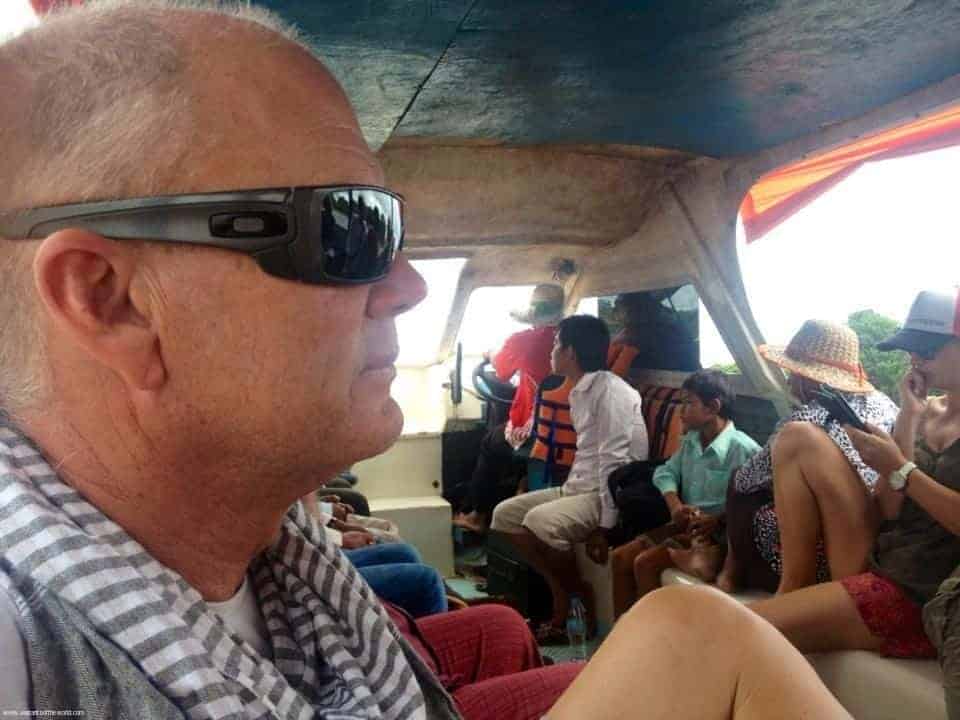 Finally- Battambang!
The province of Battambang is more or less off the radar of the tourist crowds of Siem Reap or Phnom Penh; this is more real deal Cambodia. The city of Battambang touts a reputation as having the best examples of colonial architecture. The banks of the river, which runs through the centre of town, are lined with colonial buildings; it is very quaint
This charming little city is easy to get around and it is cheap, cheap, cheap! (even by Cambodian standards) It has a maze of small side streets to wander around and they are lined with fantastic little cafe's and restaurants, all with very practical street names such as Street 2 or Street 2 1/2!
In the centre of the city is a lively market place that opens all day and into the night selling fresh produce, clothing, jewellery and household items. At night, there is a small offering of food stalls.
We chose to rent a scooter for a few days to explore the outlying areas of the province. Because the traffic in Battambang is not as hectic as the other cities this is a great way to get around and see the countryside.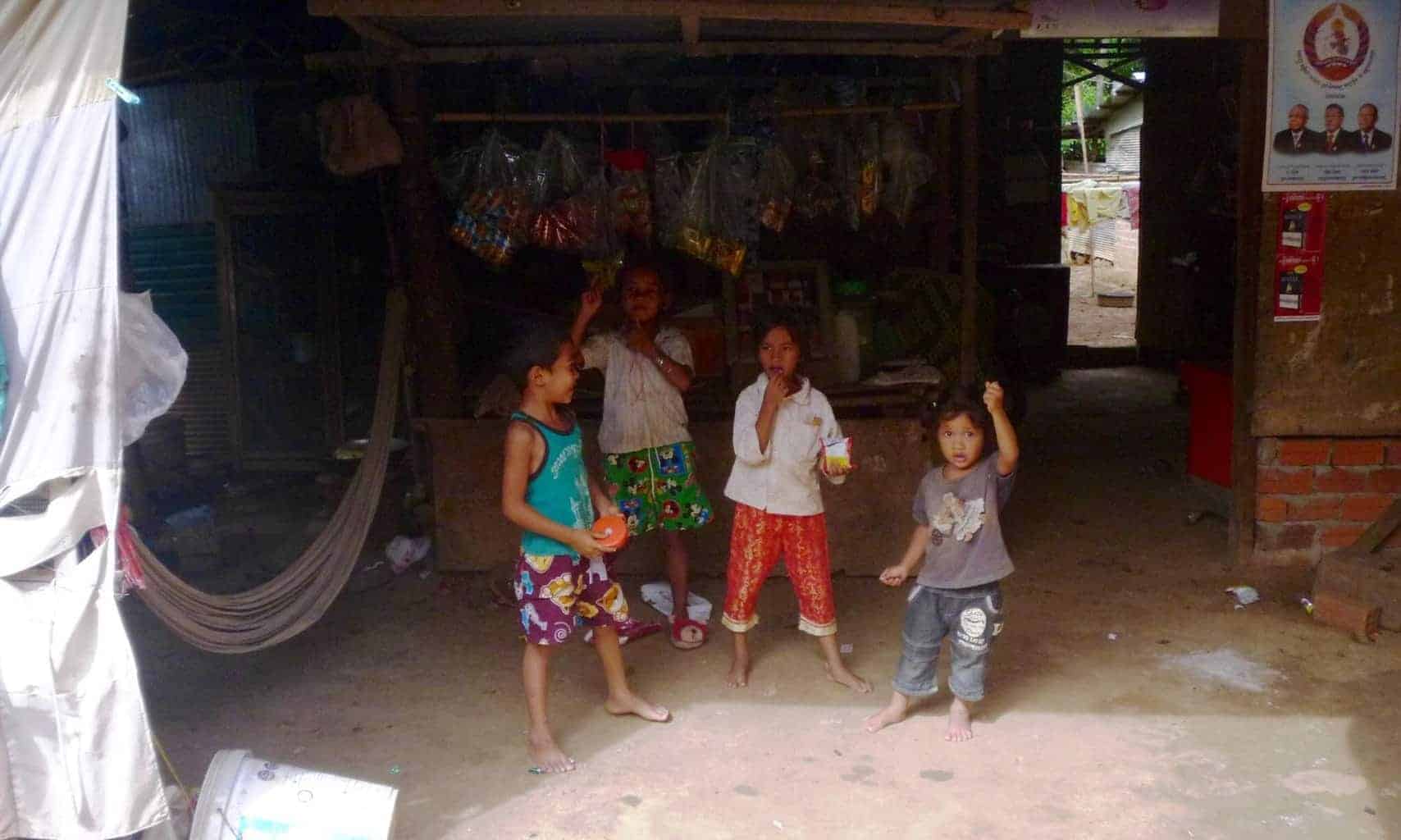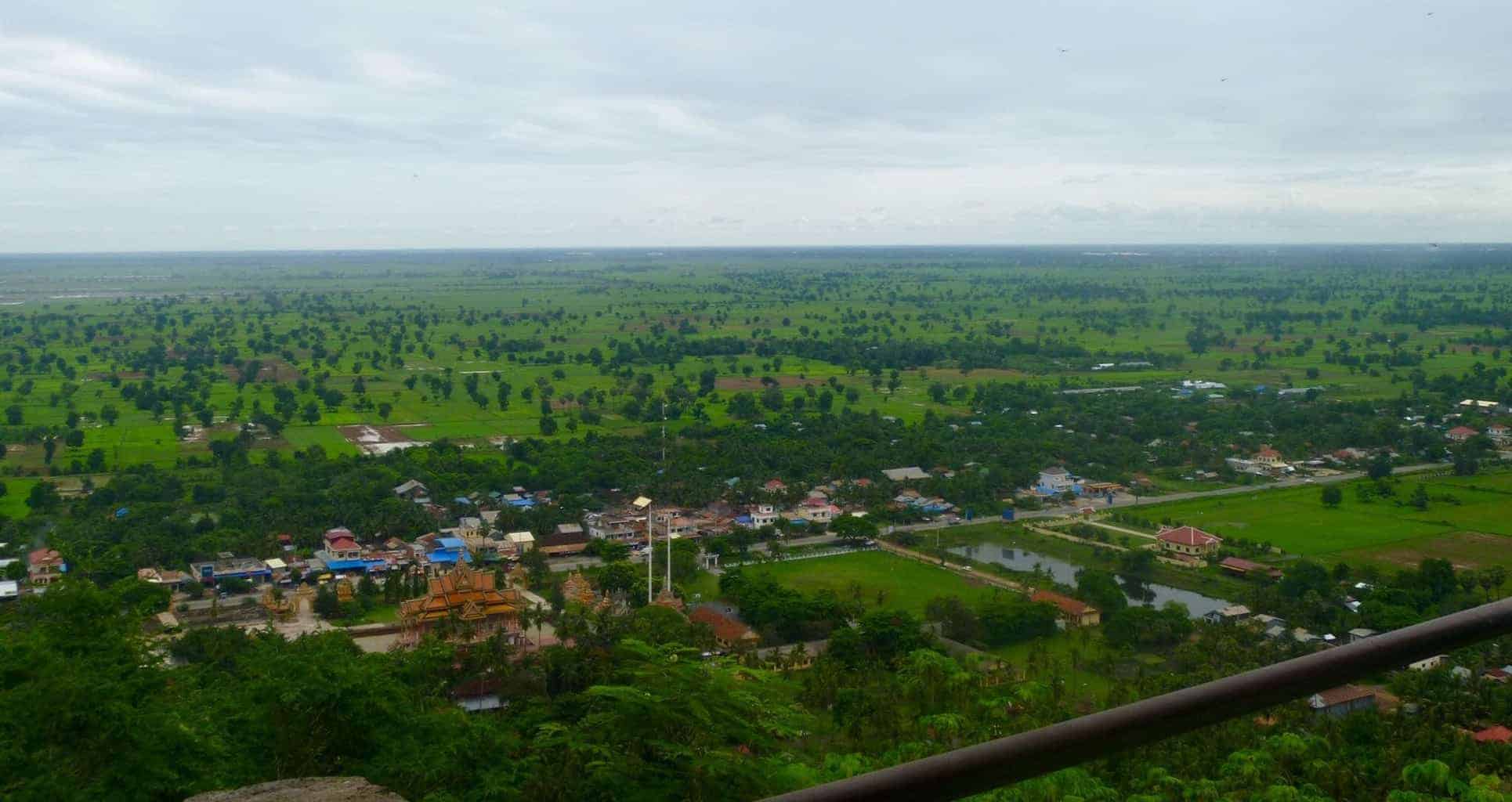 Although the helmets on offer may be a little small!
We scootered out to Phnom Sampeau summit; albeit with the help of some locals (our scooter was not powerful enough to make the final steep climb to the summit!) A donation of around $1 US was worth it for the ride up the hill on a much more powerful bike. The boys, who were trying to make a living from tourism, were really informative, sharing family histories and accounts of the horrendous Khmer Rouge activities at the Killing Caves and surrounding areas. The white knuckle ride to the top is worth it for the beautiful temples and amazing vistas and the Killing Caves is another place that while not the happiest of tourist spots, must be visited.
Phnom Sampeau The Killing caves

Phnom Banan is another popular temple visited by tourists in the area, very similar to those at Angkor Watt although much smaller in scale and this one has stairs – lots of them! It has something in the vicinity of 400 stairs to the top! Worth a stop and the climb if you can make it!
We took a ride out to the wine country. OK we may have ridden past it. Then ridden past it again! When you do find it I'm not entirely sure we recommend you stop. We did the wine tasting at the only small winery we could find; well let's just say that perhaps Cambodian wine is an acquired taste!
Favourite place to eat: Battambang BBQ & Buffet on the east bank. Hello food coma! This is a set price, all you can eat, help yourself BBQ at your table; food heaven. Everything is fresh, delicious and incredibly cheap. Not to mention a never ending bucket of beer.
We chose to catch the bus back to Siem Reap as the thought of the long boat ride was a tad daunting and were running out of time. Once we established what bus and what times this was another great local service. Plenty of stops at road side service stations to stretch your legs, grab a bite to eat at the local markets set up there (mostly big bowls of various fried bugs and spiders on offer!) or use the facilities.
Highlights of Cambodia
People really friendly and willing to help.
Food is amazing.
Beautiful countryside.
It's really, really cheap.
Aerobics in the streets of Phnom Penh.
Mark's first attempt at riding a scooter in another country on the wrong side of the road! Success
Things to consider
As with most 3rd world countries, it's not an easy country to travel around for services, communication and nothing runs on time! Be flexible and patient.
In Cambodia you have to suffer the usual bartering and humbugging by Tuk Tuk drivers and the like, even though they are for the most part relatively harmless (probably more so than some other countries), it is still advisable to be extra diligent with hand bags etc. and take the usual precautions on the streets at night. Increased tourism has bought with it an increase in petty street crime and at times worse.
We are not the kind of people to visit orphanages as if this is some kind of tourism. Some people feel that is something they would like to do and are convinced to donate money to buy bags of rice. Be mindful there are scams centred on orphanages and you could be ripped off for a lot more than what a bag of rice costs and that the orphans will possibly never see.
When we got off the boat at Battambang we were suddenly surrounded by hordes of men trying to drum up business for local hotels, they were grabbing the bags from the boat so that you would have to pay them to carry your bag up the stairs. I got separated from Mark (actually I think he ran and left me behind but the jury is still out on that one!) and was squashed in the middle of a big group of men pushing and shoving, yelling and trying to grab my bag. It was a little scary; the aggression of these men did put us a little on notice.
And keep an eye out for these sneaking out of side streets when scootering!