"If I were not King of France, I would choose to be a citizen of Venice." – Henry III
How long should I spend in Venice? seems to be the eternal question. As long as you like is the short answer. Venice is elegant and enchanting and with every turn of the corner, something new will amaze. Whether your stay is short or a long one, you will discover much but still be left wanting more.
While Venice itself will more than captivate your attention, there is a lot to see just beyond the canals of Italy's most romantic city. We have put together an itinerary that will give you 5 days in Venice and beyond. A vacation you won't soon forget.
---
This 5 days in Venice Itinerary is based on 5 days we spent with CroisiEurope on board the MS Michelangelo. Due to weather and the annual Festa del Redentore, the river cruise component of our trip was cancelled, although we still stayed on board the ship in Venice. The itinerary of excursions, however, was still entirely achievable from central Venice. 
---
Arrival
If you are flying into Venice, we strongly advise taking a water taxi or ferry (vaporetto) from the airport (~€15 one way for the ferry). For first timers, arrival by boat offers the most wonderful first glimpse of Venice.


5 Days in Venice
Day 1 – Tick the Lists
"Getting Lost in Venice" is a phrase you will often hear in reference to this labyrinth of a city. Why? Because it's true.   Getting lost is the best advice you can get. Even armed with a map or your phone's trusty sat nav you will still lose yourself in the maze of canals and countless bridges. Don't fight it, embrace it!
Our advice; wake up very early and hit the streets by 7am. This is a rare and fleeting time in Venice when you will nearly have the city all to yourself. Before the maddening crowds of tourists converge on the city blocking the streets and obscuring the best views. It is also a great time to get your bearings – if that is at all possible.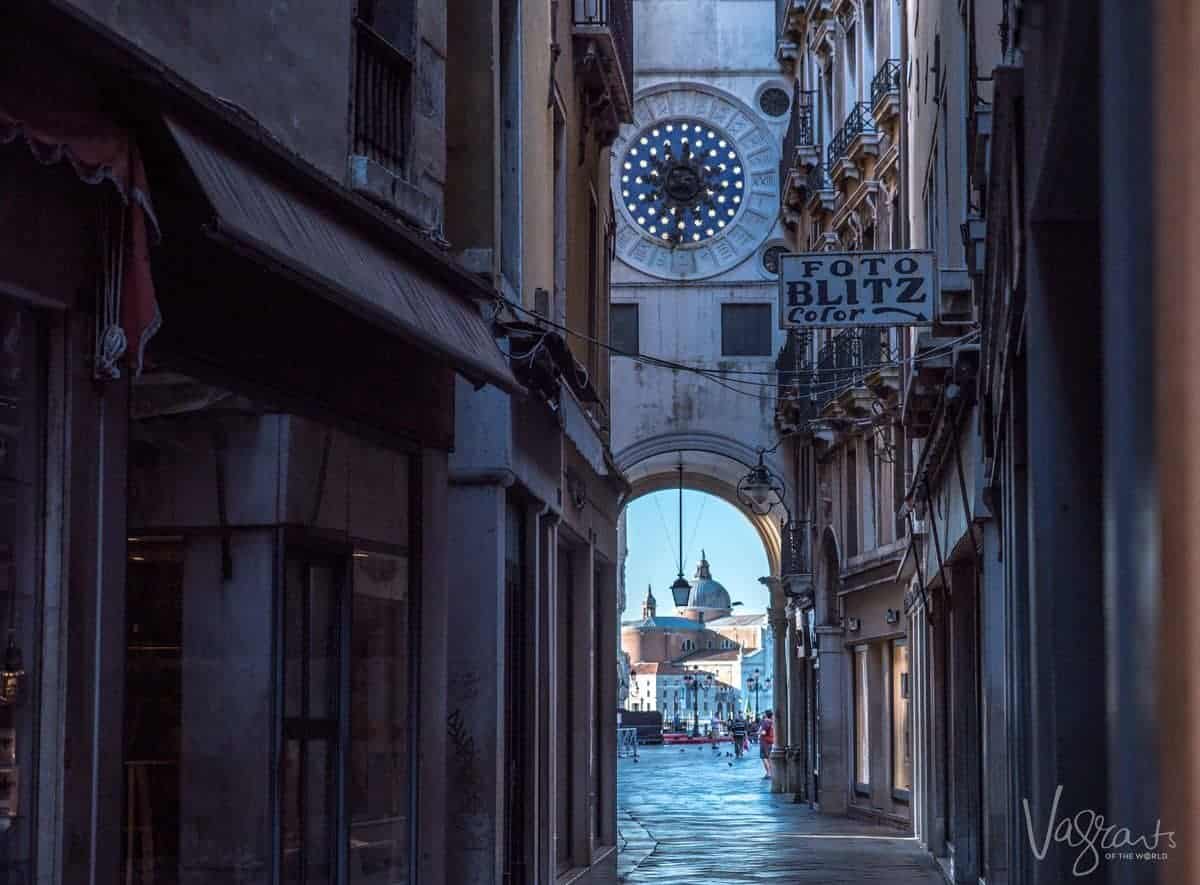 Make a beeline to Piazza San Marco and stroll the square unencumbered by throngs of tourists. You may well happen on the occasional bride and groom also making the most of the rare quiet for some opportune wedding snaps.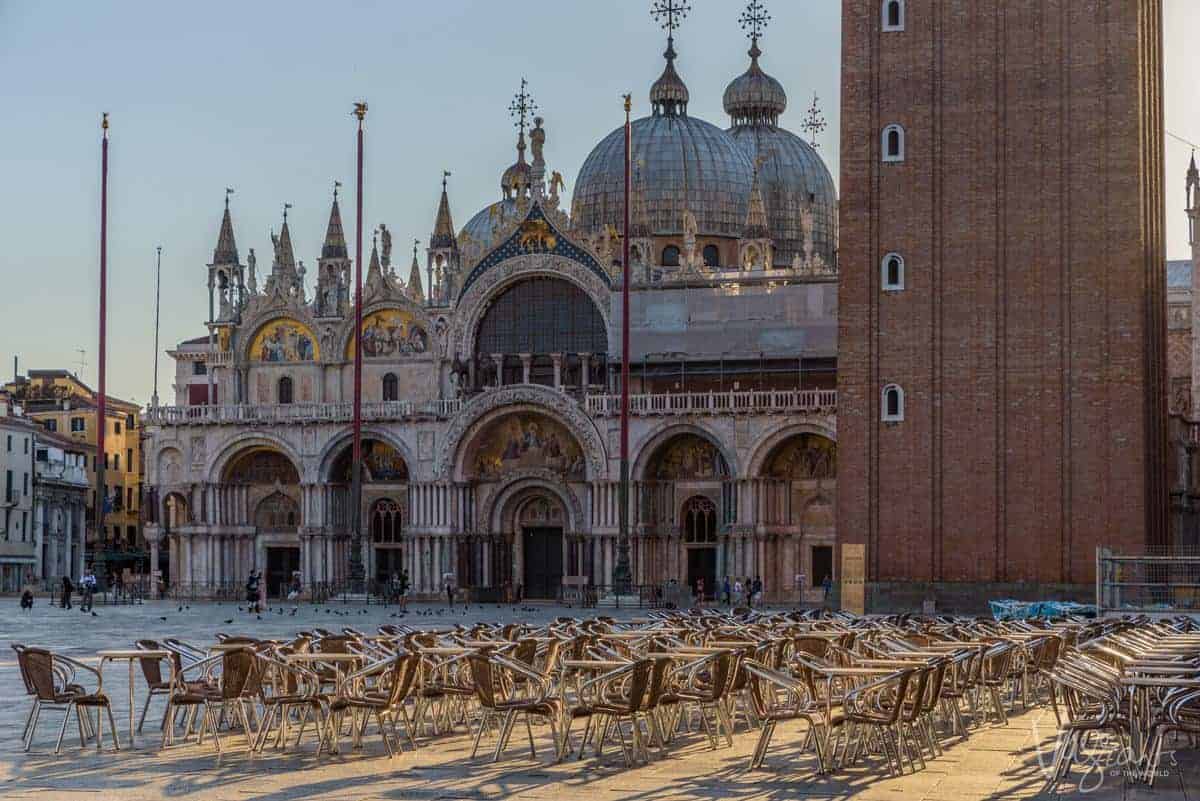 Be the first to enter the Basilica di San Marco. A visit to the basilica will only last around 15 minutes and queues will start forming early so don't waste your day waiting for tickets. It is best to check the official Basilico di San Marco site for opening and closing times as these will vary according to day and season.
If you prefer to be exclusive, Walks of Italy offer "Alone in St. Mark's Basilica After Hours" tours in the evenings but numbers are limited so bookings are essential. Expect a much higher ticket price at ~€79 but for access to areas normally closed to the public and an hour and a half private tour, the ticket price may just be worth it.


Stroll over to Doges Palace. One of Venice's most prominent landmarks, this now museum offers a wonderful insight into the history of Venice. Cross the Bridge of Sighs from the palaces dark prison cells for a different view of the Grand Canal. Your entry to Doges Palace gives you free entry to three other museums in Venice. While you have 3 months to use these tickets, why not spend the afternoon exploring Venice one museum at a time.
Spoil yourself to a gondola ride if it's within your budget. At €80 per half hour during the day and €100 per half hour at night, it may not be in everyone's budget. However, watching the sunset from Academia Bridge, for one of the best views in the city, before setting off for an aperitivo is definitely within everyone's Venice budget.
Day 2 – Murano & Burano
A trip to Venice is not complete without visiting the famous glass and lace making islands of Murano and Burano.
Jump on a ferry to the island of Murano in the Venetian Lagoon. Famed for the high quality glass produced there since 1291, when glassmakers were ordered to move their foundries from Venice to Murano. The Venetian Republic feared fire could break out and destroy the mostly wooden buildings in the city. From the 14th century on, Murano's glassmakers were held in such high regard they enjoyed an elevated social standing and many statutory privileges.
For centuries Murano's glassmakers have handed down their craft from generation to generation, developing and perfecting many technologies ensuring a monopoly in the high quality glass market. The glass factories have showrooms offering good deals on original Murano Glass. Some will also offer glass blowing demonstrations.
Getting There
Take the line 12 vaporetto (public ferry) from Fondamente Nove. The ride will take approx 15 minutes and will cost around €7 . 
In the afternoon visit the prettiest island in Venice and possible Italy – Burano.
As Murano is famous for its glass, Burano is famous for its lace. In the 16th century, the women of Burano were known for the fine, detailed lace they produced. Intricate pieces produced by not one, but as many as seven women. Each woman specialised in a single stitch, so each piece, no matter how small would be passed from woman to woman taking as long as a month to complete.  Due to the time and cost of the finished piece, today's Burano lace is made by machine but by no means any less beautiful.


Burano is also famous for its brightly coloured houses. Families used to paint their home different colours to designate where one family's quarters finished and the next started. Legend has it such bright colours were used so during the heavy fogs, the fishermen could establish which was their home. The tradition and legend have stuck leaving us one of the most photographed towns in Venice.
While Burano is inundated with tourists, there is still a lovely local atmosphere. It is also touted as one of the best places in Venice to dine out. Small local restaurants serve up exceptional food, especially locally caught seafood at very reasonable prices. A great place for a lazy lunch.
Getting There
The line 12 vaporetto will continue on from Murano Island to Burano Island and return to Venice.
Day 3 – Day trip to Ferrara
Ferrara city on the banks of the River Po is a perfectly preserved medieval and Renaissance city largely overlooked by the average tourist.
At only 112kms south of Venice and only 50 km's north of Bologna, it is a wonder the bike friendly, car free streets, within this beautiful walled city are not awash with tourists. This is truly one of Italy's little treasures. Medieval quarters, superbly intact, weave a path through the Jewish ghetto opening onto spacious streets revealing palaces and castles and impeccably preserved cathedrals.




Overtly rich in history, Ferrara also has a lovely laid back exuberance that may have you wanting to stay a weekend or more. Perhaps this is to do with the lack of traffic, a city that has twice as many bicycles than inhabitants. Or is it the contrast to Venice in the lack of tourists. Regardless, a day trip to Ferrara will be as rewarding as it is refreshing. A brief reprieve from the bustling hordes of Venice.
Getting There
Ferrara sits on the main train line that connects Bologna and Venice, 112kms from Venice. Travel times will vary between 50 minutes to 1 hr 20 min depending on direct services. There are in excess of 40 services per day. Ticket prices may vary from €15 – €21 per trip. Discounts of up to 50% on fares are available if booked in advance. See train timetables and available discounts here
Day 4 – A day Trip to Verona
"In fair Verona, where we lay our scene".
Shakespeare's take on a collection of poems and stories written in the late 1500's about feuding families and star-crossed lovers made Verona a household name. Stories based loosely on real events and real families of Verona. But Verona has much more to offer than just the tourist pilgrimage to Juliet's balcony. This city has a romantic outlook independent of the fictional tragedy.
Of course, you could not visit Verona and miss the opportunity to stand under the balcony where Juliet is said to have stood in the courtyard where the real Capello family once lived.  With, of course, a few hundred others. But once you have had your fill of romance, Verona offers so much genuine history to see and enjoy.
The city boasts a wealth of Roman ruins, mainly the grand Roman Arena which dominates the main square,  Piazza Bra. Once an arena for Roman gladiator battles, executions and plays, the 2000 year old arena now hosts Verona's famous summer opera season attracting opera's biggest names.




Strolling the medieval streets you will be rewarded with upmarket boutique shopping and charming traditional trattorias scattered amongst Roman columns and fossils embedded in the marble streets. The remnants of the cities distinguished past are evident everywhere you look, such as the elaborate tombs of the infamous della Scala family.
Verona flourished under this families rule in the middle ages. A family renowned for being both murderous tyrants as well as passionate patrons of the arts. The cities passion for the arts continues today. A visit to Verona is so much more than just Romeo & Juliet. A beautiful and cultured city steeped in fascinating history.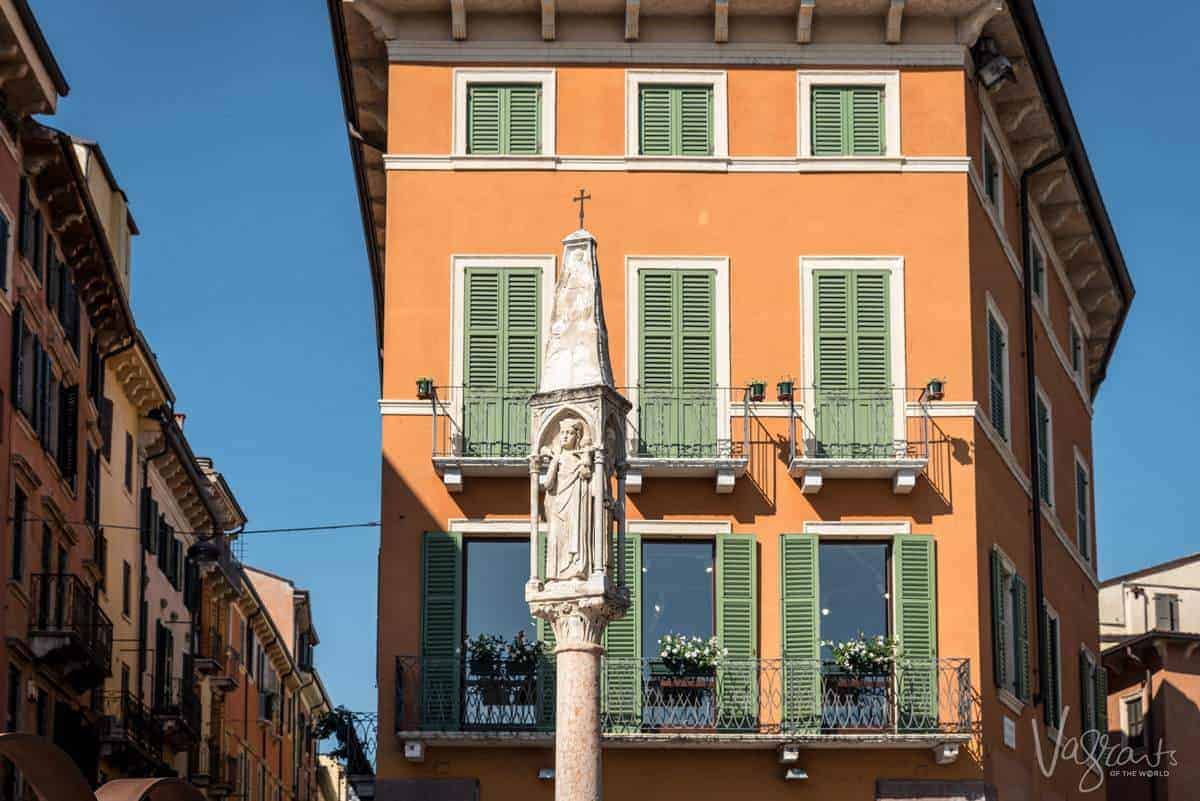 Getting There
Verona is 121 km's inland from Venice. Train services run all day from Venice to Verona. Travel times will vary from 50 min to 1hr 20 min depending on the service. See times and prices for Verona here. Look out for advance purchase discounts.
Day 5 – A morning in Padua, then an afternoon in Venice.
At only 45 km's or half hour by train from Venice, it is surprising Padua is often overlooked. Although in saying that, we have it on good authority this is where Venetians move to when they have had enough of Venice. Home to Italy's second oldest university, this handsome medieval town with it's Renaissance grandeur and Byzantine skyline has a more youthful, carefree vibe than it's bigger sister Venice.
Much like Ferrara, Padua boasts a bike friendly city, plenty of pedestrian only streets and large, uncongested piazza's that feel like a breath of fresh air after tourist clogged Venice. Padua oozes charm and history with a good dose of style and social pizzaz.




Aside from enjoying the space and sociability of this lovely town, Padua also offers quite a varied tourist itinerary. If  you want to venture beyond delightful alfresco dining, open air markets and boutique shopping. Padua hosts some of Italy's most important historical treasures. 
The University of Padua was founded in 1222, and lays claim to Galileo among its many noteworthy tutors. It is also the home of the first and one of the most beautiful anatomical theatres in the world. The beautifully preserved six-tier, wooden anatomy theatre was carved entirely from walnut in the 16th century. It is said students were serenaded by live lute music to calm the nerves as they watched cadavers being dissected.
Padua is also an important place of pilgrimage. The Basilica of Saint Anthony or "il Santo" was built in 1232 to enshrine the tomb of the Fransician monk. This magnificent church is not just the burial place of one of the world's most revered saints,  it is one of the most popular sacred monuments in the world. Many make the pilgrimage to witness the relics of Saint Anthony and to place a hand on his tomb.
Then for some contrast, visit the Basilica di Santa Giustina and the tomb of Luke the Evangelist. An imposing church although quite modest in comparison. Then head to the Scrovegni Chapel to witness Giotto's frescoes. Completed around 1305, the frescoes are considered one of the most important pieces of art in Italy and the western world.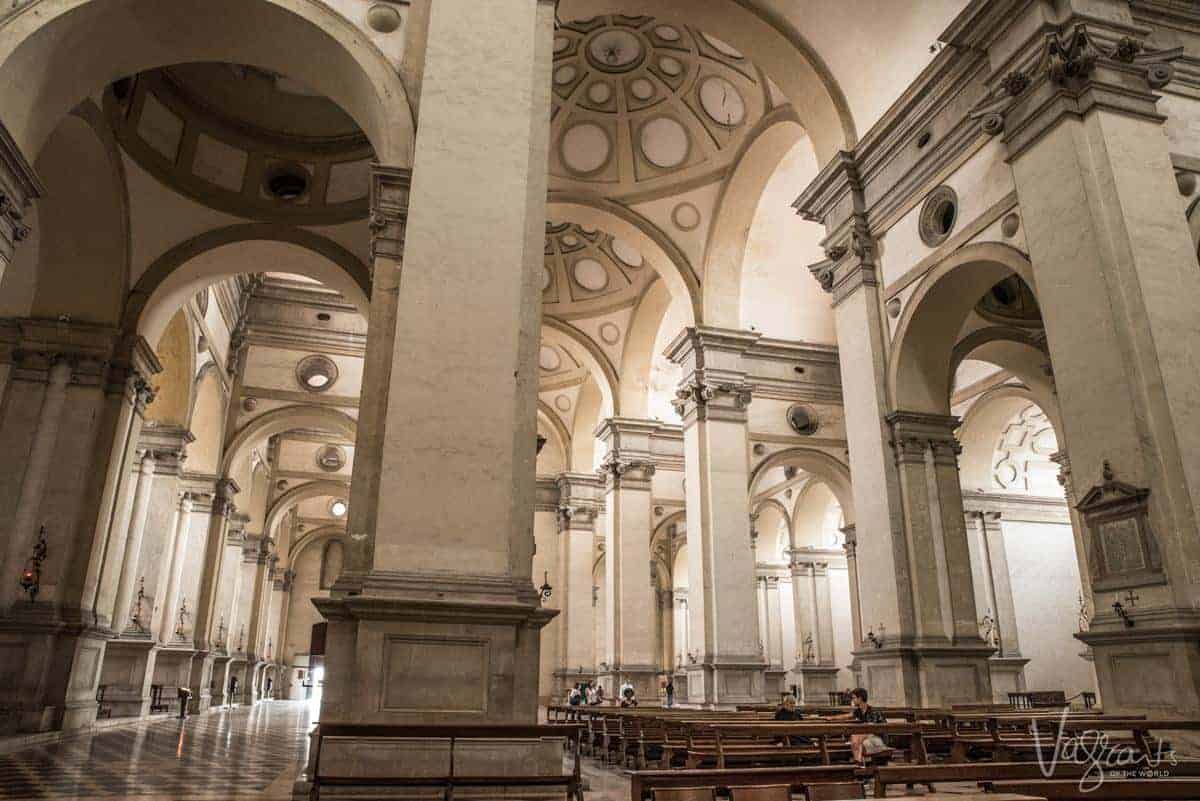 Padua is only 42kms inland from Venice. There are regular train services leaving Venice. Expect travel times of 25 mins.  See train timetables and prices here
As Padua is so close to Venice, it is possible to enjoy the best of this wonderful town and be back in Venice to appreciate the ebbing tide of tourists. Take time to stroll the streets one last time then, settle in for an apertivo and watch the sun go down on one of the world's most romantic cities.
Our trip to Venice was hosted by CroisiEurope as part of the "Venice, the Lagoon and Po Delta" Cruise.
6 day, full board cruises, including some excursions from this itinerary start at ~ €800 pp
---